Schneiderlin: Plenty of room for improvement

45 Comments [Jump to last]
Saturday 30 December 2017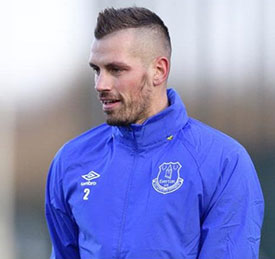 Morgan Schneiderlin has acknowledged that Everton need to play better if they are to continue to make up ground on the top seven.
The Blues ended the calendar year with Sam Allardyce's first defeat as manager after Ryan Fraser's deflected winner handed Bournemouth a 2-1 win at Vitality Stadium this afternoon.
The loss came on the heels of two dull 0-0 draws that have stalled the early momentum established when Allardyce first took over from David Unsworth at the end of November but while a general lack of attacking prowess has been a problem, it was defensive vulnerability that hurt them today.
James McCarthy marred his return to the team with a poor back-pass that led to the Cherries' opener but though Idrissa Gueye equalised early in the second half, Fraser took advantage of lapse defending to plunder a late goal.
"I think when we equalised we expected to keep the ball better and be more of a threat to them but we didn't do so and we were exposed to their play," Schneiderlin explained after the game.
"Then there was a deflection for their goal which was frustrating but we need to pick ourselves up, keep going to try and correct the things that are going wrong and improve.
"[Their first goal] was bad play from us but we can't blame the player who lost the ball; we need to blame each other because we need to create more options.
"Sometimes we don't move enough to create options for each other so we can't point the finger at anyone — we need to look to ourselves.
"We have some positives [to take into the new year] because we were unbeaten and we moved out of trouble. We turned things around and now we want to turn another corner and to win games.
"We know that these kinds of games are the ones we need to win to push up the table and we didn't do so. So, yes, there are some positives to take but there's a lot of things to rectify to be able to move on."
Allardyce blamed his team's attacking shortcomings for the lack of adventure and his decision to field three defensive midfielders.
"Our goalscoring abilities are limited, you don't need to be a manager to look at what the squad has got," he said.
"It's got players who can play well and create but not many out-and-out goalscorers. That's why I work so hard on defence as we're not going to be a free-scoring team."
---
Reader Comments (45)
Note: the following content is not moderated or vetted by the site owners at the time of submission. Comments are the responsibility of the poster. Disclaimer
Andrew Presly
1
Posted 30/12/2017 at 19:18:12
It's crazy how successive managers are relying on Schneiderlin in the centre of the park. No heart and strolls around like he's had a lobotomy too. Should be nowhere near the team.
Jim Bennings
3
Posted 30/12/2017 at 19:40:05
What was it that Morgan Schneiderlin said last summer?
He wants to take more responsibility???
I don't think I have seen one ounce of it from him all season.
Dan Davies
4
Posted 30/12/2017 at 19:45:08
Sell.
Tony Hill
5
Posted 30/12/2017 at 20:00:50
The lack of intelligent movement in the side, as referenced by Schneiderlin, remains a massive problem, it has been there for a long time. We are, above all, stodgy. God knows why that is, but poor fitness and confidence spring to mind.
Anyway, I think we need a Taoist solution to all this rubbish we're seeing. I've cited the principle of Wu Wei on here before and received, frankly, a lukewarm response. We need to stop fretting, thereby paralysing ourselves, and let the flow happen. I am sure Sam is on to it.
Ian Hollingworth
6
Posted 30/12/2017 at 20:10:50
Lack of intelligent movement, inability to pass the ball to team mates, lack of vision, lack of desire, lack of pace.
These are all things that can be labelled at most of our players.
Harry Wallace
7
Posted 30/12/2017 at 20:22:55
Let's sell him. No heart.
Roman Sidey
8
Posted 30/12/2017 at 20:23:57
He mentions a lack of movement. It's amazing how much the team's passing will improve when the movement off the ball improves.
Paul Birmingham
9
Posted 30/12/2017 at 20:29:00
If this fella would put his words in to action
Numbing performance today after increasingly sluggish performances,and not much more to say , zackly what we all feel and reality is.
The worry is any deals we are linked with are normally bull and any player coming to EFC must be naming his price.
Surely there must be outgoings but how much would we make and whom would buy any of our shirkers and dead wood players in January and the next close season?
Mike Keating
10
Posted 30/12/2017 at 20:37:45
Get lost Morgan
Ian Bennett
11
Posted 30/12/2017 at 20:58:54
I like Gana, he puts a shift in and is a good defensive midfielder who can play in a top 6 team. Schneiderlein on the other hand offers precious little - his passing, creativity, goal scoring are all sub standard in a key position.
If we can get anywhere near the money we paid, I'd sell now. His wages must be huge, and he's playing within himself for 3 years now. It ain't going to get better.
John Pierce
12
Posted 30/12/2017 at 21:27:12
Schniederlin has a skill. He can spray diagonal balls aplenty when he's actually at it.
He attempted several today. Right onto the head of the full back. Sure movement needs to be better but there's nothing behind them. Flat and with pace, thats what gets you in behind. He just chips and floats.
Whats better?; overhitting a flat diagonal or chipping every effort to the oppo?
A player devoid of confidence and lacks any sort of courage with the ball. Safety first, all about me is this lad.
What happened to the fella at Southampton?
James Stewart
13
Posted 30/12/2017 at 21:28:27
Fraud of a player. Mr paycheque, more bothered about his hair and pratting around on social media than improving his truly woeful form. Get rid asap, a disgrace to the shirt that was Hibbo's!
Andy Meighan
15
Posted 30/12/2017 at 21:44:18
If I was as bad a footballer as this impostor, I'd keep my mouth shut. Along with the vastly overpriced, overrated, and sluggish Sigurdsson, one of the worst buys in the club's history. Disgrace.
He should never been allowed near the club after that caper at Finch Farm a few weeks back. As someone brilliantly put it, he's only interested in his hair and posturing on social media.
Karl Jones
16
Posted 30/12/2017 at 21:56:49
These Everton players must be in a world of their own if they think they can catch the top seven. They are absolutely rubbish and have been all season. They are an embarrassment to Evertonians everywhere. Bournemouth were miles better in both games.
I have seen all the bottom sides, and they all have a go at least, and try to score goals. This Everton side doesn't have a Scooby doo about how to attack sides. Pass it back and hoof it up the pitch aimlessly is the only tactic.
With the fixtures coming up, I wouldn't rule them out of a relegation fight just yet.
Jay Harris
17
Posted 30/12/2017 at 22:16:30
Thats unfair to Scneiderlin.
He has a full range of passing.
Sideways, backwards and to the opposition.
Oh and he talks a good game too.
Brian Hennessy
18
Posted 30/12/2017 at 22:16:33
If we sell one player this window I hope it it this lad. Plenty of our players have under-performed this season but in my opinion no one has been as consistently bad as Morgan.
I know players have bad spells and lose confidence but this guy shows a real lack of effort - cant wait to see the back of him.
Doug Harris
19
Posted 30/12/2017 at 22:20:51
So here we have it – a player gets picked in a certain role that an infant kid could play and what does he do fuck all. If Sam can't see that this fella is one fraud he needs to get to Specsavers very quickly.
Man Utd fans I know have said the best thing that their club did was get rid. We need to quickly if not already. Shite.
Kim Vivian
20
Posted 30/12/2017 at 22:32:36
Dan #4 - I can go shorter than that .
Kim Vivian
21
Posted 30/12/2017 at 22:32:52
GO!
Chad Schofield
22
Posted 30/12/2017 at 22:38:55
I have no time for this clown. He's been abysmal this season and should be keeping his mouth well and truly shut.
Ashley Roberts
24
Posted 30/12/2017 at 23:08:58
Get rid of in the January window. Jay # 17 sums Schneiderlin up perfectly. If West Ham want him can we do a swap for Lanzini? I do not know how many times on TW this has been stated this year but you just cannot play Gueye and Shneiderlin in the same line up and then to add McCarthy to this duo is just adding insult to injury. I have never seen such a defensive midfield trio against a bottom 3 team. Just defies logic. Add to this an attacking formation of CL, Lennon and Sigurdsson the outcome was pretty much a foregone conclusion. The team selection today was straight out of the Koeman school of thinking and shows other than defensively we have not really progressed under Sam especially with all of the Lady Luck we have had since he arrived. We need more than 3players in January
Barry Thompson
25
Posted 30/12/2017 at 23:32:33
"Sometimes we don't move enough to create options for each other so we can't point the finger at anyone — we need to look to ourselves.
No shit Sherlock, if this team played on the local park half of them would have dogs pissing up their legs.
Shaun McGough
26
Posted 30/12/2017 at 23:46:16
you should not be anywhere near the first team, one of the worst engine room midfielders in prem
Les Martin
27
Posted 31/12/2017 at 00:02:32
NZonzi a player who works as hard as this fellow should, alongside Gana could do the trick !
Charlie Lloyd
28
Posted 31/12/2017 at 01:52:26
I agree that the movement of our players is woeful. Few seem to offer themselves to player on the ball. Schneiderlin though is so ponderous in possession that any runners would get tracked anyway.
I'm consigned to the thought that his better days, even at 27, are behind him.
Rob Baker
29
Posted 31/12/2017 at 09:21:32
Chad @22
Agreed
Just hide in the shadows Morgan as you are not wanted here anymore
Ajay Gopal
30
Posted 31/12/2017 at 09:57:33
All our players are so poor at keeping the ball, it is unbelievable! The opposition knows that they just need to approach the Everton player having the ball with a menacing look on their face and the said player will panic and hoof it away, anywhere. It is like stealing candy from a baby. How did Everton become so poor? These are players whose confidence is shot, they look frightened. Koeman completely destroyed this team. People here keep abusing Martinez, but that 1st season, we played some breathtaking stuff - Barkley, Deulofeu, Lukaku, Barry, McCarthy and yes, Osman, Baines and Coleman in their primes - all were part of a team that played some of the most joyful football I have seen an Everton team play (on Tv). Even the next season, we were excellent up to the group stage, tonking a Wolfsburg side for a combined 6-1 that had Kevin De Bruyne, Perisic, Olic, Junior Malanda (the Belgian footballer who later tragically died in a car accident). After that, it all went downhill. This summer was so full of excitement for me with us seemingly picking up top class talent -
Pickford, Keane, Rooney, Sandro, Klaassen, Onyekuru, Sigurdsson, Vlasic, Martina but barring Pickford and Rooney, they all turned out to be very poor buys. 145 million was blown on these players - and the result is there for all to see. Koeman also splurged about 60 million on Williams, Schneiderlin, Bolasie and Lookman. Just for comparison, for the money spent by Koeman, the RS got Sane, Coutinho, Salah, Van Dijk, Oxlade Chamberlain - enough said. It is going to be a long and painful recovery from the shambles of Koeman's reign.
Jim Bennings
31
Posted 31/12/2017 at 10:05:03
Ajay
Liverpool have always signed players that attack and excite whereas you can count on one hand the amount of truly exciting dazzling attacking players we have signed over the last 25 years.
Everton seems to be a club obsessed with holding defensive honest grafting lads rather than players who can go forward and entertain and this current Everton team going into 2018 is the absolute nutshell of that.
Si Miles
32
Posted 31/12/2017 at 11:11:23
This lad will be consigned to the group of players like, Claus Thompson, Gavin McCann,Scott Gemmill,Stephen Hughes,Alex Nyarko and Gareth Farrelly (don't care he sliced in an important goal )
UTTER DROSS
Jim Bennings
34
Posted 31/12/2017 at 11:42:35
I agree Si
I don't even think Schneiderlin has the football intelligence of Scot Gemmill to be honest , that lad scored a couple of crackers along the way despite being dross.
Paul Kelly
35
Posted 31/12/2017 at 12:09:20
i Watched this fucker closely yesterday, whilst trying to stay awake, and he has no urgency what so ever, he just trots about in his own little world, second to most things, (spraying cross field passes to the crowd and fouling a lot, would like to say he's breaking up play but he ain't that clever!
), but he's not the only one, no movement or urgency from a lot of those fuckers out there.
Winston Williamson
36
Posted 31/12/2017 at 12:51:59
Sam Allardyce has fallen into the trap of the previous managers – picking senior players based on reputation, under the false impression that he'll receive a more senior professional performance. Absolute tripe, same as this guys performances.
Morgan Schneiderlin should not be anywhere near this team. Ever again.
There is a complete absence of quality in this team. The whole recruitment team need to be fired, simply for the disgusting summer trading undertaken. How fucking hard is it to identify pacy forwards who can score? It's not that fucking hard! Middling European clubs, not offering our wages, find them and develop them.
We have a fucking footballing dinosaur as Director of Football and our previous manager had a superb golf handicap.
Does Allardyce have the clout, intelligence and desire to build a team which can attack with pace and purpose??
Alan J Thompson
37
Posted 31/12/2017 at 14:28:22
"Our goal scoring abilities are limited", and picking three defensive midfielders does what to fix that problem? Let's keep reminding this Manager of his own words.
Dave Abrahams
38
Posted 31/12/2017 at 15:38:02
John (#12), regarding spraying diagonal balls you are correct, everyone is reaching the full back too easily. Rooney did the same in the first half versus West Ham, each one headed out by the fullback.
Bobby Collins, a master of this type of pass, never tried to get it over the full back he it, at a more acute angle, inside the full back who then had to turn, and it was closer to the penalty area for the winger to run onto.
Schneiderlin and others using this pass try to look good but it seldom comes off; Steven Gerrard hit dozens of them for England and they seldom came off.
Tom Bowers
39
Posted 31/12/2017 at 15:52:59
We can analyze the teams problems until we are Blue in the face but the bottom line is that they are second raters.
When a team has a bad run it usually means they have been somewhat unlucky at times, ie, injuries, poor refereeing decisions, last-minute goals or opposing keepers having blinders. None of these excuses apply to Everton this season.
They have been poor in almost every game, lacking intensity from the first whistle and showing anything offensively that can threaten even the poorest teams.
Yes, they have picked up points lately but we all knew deep down that nothing had really improved.
Schneiderlin has been poor himself most of the time and should keep his mouth shut. New blood is the only thing that just might make this team more watchable.
At the moment, they are pitiful to watch and, as a fan for 60 plus years, I can honestly say I have never seen a poorer product representing Everton Football Club.
Matthew Williams
40
Posted 31/12/2017 at 15:53:02
Just sack this bloke off and go in for Pearson at Preston, then Mooy at Huddersfield next stop.
Add in Reach from Sheffield Wednesday & put Vlasic or Lookman on the right wing.
Sorted!
Tony Abrahams
41
Posted 31/12/2017 at 15:53:17
Fair points Dave, but I think the first thing to consider is if the pass is really on? It's the "fraught with danger" pass, unless it's really on, and it's the easiest pass in the world, when it is on!
Schneiderlin is not the worst player, I've ever seen in a blue shirt, but he's really getting on my fucking nerves right now though because he just doesn't look like he wants to play football.
Like a boxer who has been Champion, and made his fortune, it looks like Morgan has had enough?
Jer Kiernan
42
Posted 31/12/2017 at 16:04:06
dup
Jer Kiernan
43
Posted 31/12/2017 at 16:08:51
I am starting to get the same vibe about Sam Allardyce right now as I cannot remember us "creating" any chances on Saturday and cannot remember Calvert-Lewin missing any sitters etc
When we do buy in a striker, I fully expect him to take the same responsibility for our toothless attack performances as he does for our backs-to-the-wall hoof-ball defensive displays.
James Flynn
44
Posted 31/12/2017 at 16:38:13
Yeah, the drop-off from Barry to this fellow is dramatic.
Timothy Blanshard
45
Posted 31/12/2017 at 18:50:52
Morgan, enough of the turning corners, there aren't any corners on the playing surface but it looks like you have imaginary ones in your head. Work harder, face towards the opponents goal forget corners and pass to a blue shirt going forward if you can find one, we know you can play better.
David Currie
46
Posted 31/12/2017 at 20:24:46
Get rid, he is shit. Had way to many chances amazed that Gana got took off yesterday instead of this clown who has zero passion and heart.
Ray Roche
47
Posted 31/12/2017 at 20:36:47
David, I think Gana was injured.
John Davies
48
Posted 31/12/2017 at 22:33:58
Why is it that footballers want to do all their talking to the press instead of doing their talking on the pitch? This lad is yet another example of the overpaid bell ends who think they are something special but fail week in week out to earn their extortionate salaries.
Keep your mouth shut lad, get your head down and show us something worthwhile on a match day. Just for a change eh? Your inane drivel off the pitch is nothing short of infuriating.
Matthew Williams
49
Posted 01/01/2018 at 16:37:00
Cheeky bastard...sell & sign Ben Pearson from Preston.
Add Your Comments
In order to post a comment, you need to be logged in as a registered user of the site.
Or Sign up as a ToffeeWeb Member — it's free, takes just a few minutes and will allow you to post your comments on articles and Talking Points submissions across the site.