Double leg break confirmed for McCarthy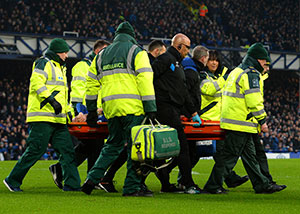 Tony Marshall/Getty Images
The sickening injury suffered by James McCarthy's in today's game with West Brom has been confirmed as a double compound leg fracture.
McCarthy's tibia and fibula were broken as he slid in to deny Salomon Rondon a goalscoring opportunity in the second half of the 1-1 draw, the Venezuelan striking McCarthy's leg with full force instead of the ball.
Rondon was visibly shaken and broke down in tears as McCarthy and goalkeeper Jordan Pickford called for medical help, with Everton physios and ambulance staff eventually carrying the stricken midfielder off on a stretcher.
Television pictures showed Seamus Coleman leaving his seat in the stands at the same time to make his way downstairs to comfort his team-mate before he left for hospital.
Coleman is close to making his return to action following a similarly disastrous double-leg-break last March while playing for Ireland.
For McCarthy, meanwhile, it represents another setback for a player who has been plagued by injury problems in recent seasons. The 27-year-old had only recently returned from a lengthy layoff with hamstring problem, while his 2016-17 campaign was severely affected by soft-tissue problems following surgery on his groin.
Sam Allardyce confirmed afterwards that the injury was "a tibula and fibula double fracture, compunded as well, so it's a very nasty injury.
"We'll do the operation as quickly as we can [but] that very much depends on what the specialist or surgeon says. He's paid a heavy price for his commitment there. A big blow for him and us."
---
---