Niasse in pole position at Everton for now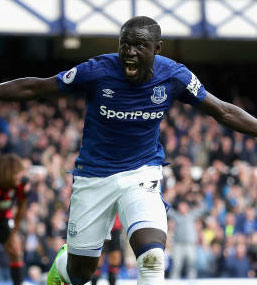 Sam Allardyce has suggested that, while new signing Cenk Tosun acclimatises to the Premier League, Oumar Niasse is currently Everton's most reliable source of goals.
The Senegalese striker is the Blues' second-top scorer with seven in all competitions but has the best goals-to-minutes-played ratio in the side with most of them scored coming off the substitutes' bench.
As a result, Niasse was handed his second start of the calendar year against Leicester City on Wednesday and while he failed to register on the night, missing badly with one opportunity and spurning another chance later on, he came very close to adding to his tally.
While impressed with the way in which Dominic Calvert-Lewin carried the striking responsibilities earlier in the season, Allardyce has acknowledged that it was a big ask of someone so young and that the 20-year-old needs time to develop.
Tosun, meanwhile, struggled to make an impact in what were two poor team displays against Tottenham and West Brom and watched the midweek win from the bench as an unused substitute.
Allardyce admits that he wouldn't say he has a "No 1" striker who would be guaranteed to start each week but Niasse is currently the closest thing he has at the moment.
"[I]f you look at Oumar and Oumar's minutes-per-goals, it's exceptionally good," the manager said. "Sadly, on Wednesday night he missed two very, very good chances. It could've been 2-0 and then after the kick-off it should've been 3-0 but he just over-hit that one.
"He could've had at least two goals in that game for us which would've been fantastic for us and him but the most important thing at the end of the day was we won, which we did.
"But he appears, at the moment, to be the best player to score goals for us at the moment.
"We don't know too much about Cenk yet, he's coming from abroad which is the hardest thing to do as a frontman — succeed in the Premier League and especially so in January.
"I think Dominic has been the most consistent performer, I don't think there's been any doubt about that since I've been here and from what people tell me about before I came.
"But it's the goal-factor. Your goal-factor, if you are No 1 in that position, has to be in double figures.
"[Dominic] is a young man who will get better and better with experience and not too many players play that amount of games at his age up front.
"So if he improves his goal-scoring ratio... because he's certainly got the physical attributes... but he has got to improve his overall game technically and he's got to find a way of finding more goals in the box when we get to that level."
---
---