Allardyce stresses the need to get to safety mark quickly
Monday, 5 February, 2018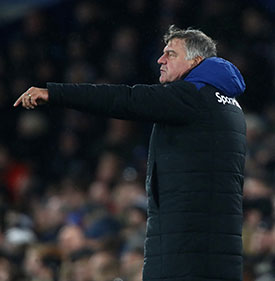 Allardyce: "When you make a few changes, give them a system to play ... it can only work if your team plays at its best."
Sam Allardyce says Everton need to get to a points tally that will guarantee safety from relegation so that the club can write off the current season and focus on 2018-19.
The manager was speaking in the wake of the Blues' latest humiliation, a 5-1 hammering at the hands of Arsenal, who recovered from defeat to Swansea City in midweek by tearing Allardyce's side to shreds at the Emirates on Saturday.
Whether the former England boss gets the chance to set about fixing what is a broken team, low on morale and prone to horrible collapses, over the summer remains to be seen but he put the blame for the heavy loss to the Gunners at the feet of his players.
"There are too many inconsistency levels in our performances at the moment," Allardyce is quoted as saying by the Liverpool Echo.
"I can take the criticism, it's no problem to me. I can tell you this though, as a man who tactically looks at every single area to play against the opposition, all those who said we should have played a back four, go look at what Swansea did against Arsenal with a back five on Tuesday. Systems will mean nothing if the players play crap.
"When you make a few changes, give them a system to play, and show them how a team on Tuesday night had played so well against them and if you implement that you might have a chance of getting a result against them, it can only work if your team plays at its best.
"Not one of our 11 played anywhere near their best in the first 45 minutes."
While the home win over Leicester City last Wednesday appeared to point towards improvement and the hope that Everton could finally start putting some significant distance between themselves and the bottom three, Saturday's loss saw them slip to 10th in the table behind Bournemouth and leaves them seven points above the drop zone.
Allardyce has warned against the danger of his team sliding back into a dog fight to beat the drop and he restated the need to get things back on track again quickly.
"We've got to write this season off as quick as we can by staying in the Premier League and then sorting out for the start of next season," he explained.
"There are things I can try if we can get safe quick, start performing like we did on Wednesday, trying to finish in the top half and not putting any more pressure on ourselves by starting slipping down the table."
---
Reader Comments (294)
Note: the following content is not moderated or vetted by the site owners at the time of submission. Comments are the responsibility of the poster. Disclaimer
Susong Hermawan
1
Posted 05/02/2018 at 07:03:36
Im just want to booing now, fat... Boooo!!!
Nimalen Naidoo
2
Posted 05/02/2018 at 07:04:05
If the manager shows some consistency in team selection, that may well help us become more consistent in our performances
Anthony Hawkins
3
Posted 05/02/2018 at 07:11:17
The team lack consistency of who they're playing with and getting to know exactly where they will be. The top teams know where to play the ball for their team because they've played together for a while. This team doesn't have that.
Rick Pattinson
4
Posted 05/02/2018 at 07:15:49
Stick with the same fucking team for once then!
Ian Bennett
5
Posted 05/02/2018 at 07:15:50
I am with you no 1 - booo!, fucking boooooo!
Kunal Desai
6
Posted 05/02/2018 at 07:18:07
Yes, I agree maintain Premier League status as quickly as possible?
However, starting the season off with a manager who knows what he is doing. Certainly not you, Sam.
Dennis Stevens
7
Posted 05/02/2018 at 07:36:33
Aye, get safe & then fuck Allardyce off - don't even wait for the season's end!
Ralph Basnett
8
Posted 05/02/2018 at 07:37:04
Our biggest problem now is that we have asked him for consistency so the fat bastard will play the same team that he did on saturday.
Consistently inconsistent!!!!!!
Lyndon Lloyd
9
Posted 05/02/2018 at 07:42:29
"
I can tell you this though, as a man who tactically looks at every single area to play against the opposition, all those who said we should have played a back four, go look at what Swansea did against Arsenal with a back five on Tuesday.
"
And I can tell you this, as a man whose only experience of a top-flight football pitch is dancing in the centre circle in relief at Goodison in May 1998 and a kick-about at Kenilworth Road as a teenager some time in the 80s, even I could see (and could have guessed) that we looked a damn-sight better playing with a back four in the second half on Saturday once you'd dispensed with that ill-advised formation.
For someone who has won nothing in the game as a manager, your arrogance, Sir, is quite astonishing.
Noleen Daya
10
Posted 05/02/2018 at 08:04:31
"We've got to write this season off as quick as we can by staying in the Premier League strong and then sorting out strongfor the start of next season," he explained.
NO! NO! NO! NO! NO! NO! NO! NO! NO! NO! If this @#$%!!!!! is here next season I will slit my wrists. How on earth can the hierarchy sit by, watch this mess and think that it is okay?
Moshiri apparently said at the general meeting that as long as he is owner of our beloved club finance will never be an issue.
Well, put your money where you mouth is... pay off this creep and spend your money on someone who knows what they are doing (e.g. Silva), get rid of 3/4 of the team, Walsh and co., and start taking our club forward.
My mouth hung open when I heard what he had to say after the match on Saturday. Can one be so gutless in public??! I almost wish that even our few good players will refuse to play for this lump of a man to strengthen the case for him getting fired. I await some positive action in anticipation .
Ian Hollingworth
11
Posted 05/02/2018 at 08:10:42
Lyndon, my only experience of top flight football was on the same day and pitch as yours.
Yes the players were crap but for god's sake man take some responsibility, your team and formation did not work.
I am in utter disbelief that he keeps referring to the way Swansea played. There are many differences such as Arsenal were away at Swansea and they fielded a different team for starters.
I will give you some advice albeit without your top flight experience.
Stop picking Schneiderlin and Williams.
Stop playing 2 defensive midfielders (especially at home)
Play a proper left back
Play Siggy in a position where we can get the best out of him
Give your new striker a chance
Use Niassie off the bench only.
Last but not least encourage your teams to have a go and try and win games albeit from a solid base.

Andy Williams
12
Posted 05/02/2018 at 08:18:35
He needs to get the safety mark so he can pick up his big bonus. He may have looked tactically at Arsenal but then decided 'Sod it, I'll play as many defenders as I can, have no midfield and put a couple of the pacy boys upfront just in case.' Let's all join with Susong Booo!!!!
Derek Knox
13
Posted 05/02/2018 at 08:22:08
Rick @4, I sincerely hope you don't mean he should stick with Saturday's first half team. :-)
I am with you exactly as I am sure 99.99% of Evertonians are, Sam has proved time and time again in the last few matches; Leicester excepted, that he fails to see, what is glaringly obvious to everyone else.
That, in a nutshell, is arrogance pure and simple. You can't go on with the attitude; well there is little chance of winning that game, so I'll just rotate the team for fun.
As has been mentioned so many times, you select your strongest team regardless of the opposition; with the objective of winning; all supporters are realistic enough to know, you can't win every game; but if you as a team have tried your very best and lost; it is reluctantly acceptable.
The knock-on effects are manifold from a defeat like Saturday's debacle. Confidence, which is pretty low to start with, takes a knock. It also sends a message out, loud and clear to your next opponents; go at these and they will fold.
Apparently there was an Exodus of almost Biblical proportion at the Emirates; when at half time, throngs of the travelling Support had seen enough. I am sure they will think twice about the next game; if the team can't be bothered, neither can we.
I read on another thread that there is a lady in her 70's, travels up and down the country to watch her beloved team, I truly admire her, and sympathise accordingly, total disrespect by the Players and Management, for loyal support which is sadly undeserved.
Jim Bennings
14
Posted 05/02/2018 at 08:54:14
I hate this current Everton, so depressing and boring and predictable to watch, no surprise element just the same shit week in week out.
I'm struggling right now to take Moshiri serious and if Allardyce is still here next season then I have completely accepted that Farhad is nothing but a fraud that has no interests at all in any ambition to challenge the teams above us.
Let's face the honest truth, if Allardyce is here next season you can write the season out on paper, results and points wise and get most of it right.
No wins against the top six home or away, set up just to lose by one goal instead of four.
Get to 40 points by April and celebrate it as success.
Dire football with limited entertainment.
Team selection that makes no sense.
No Cup run because "it interferes with our fight for survival ".
For gods sake Everton, do something to get the fans back on side before it's too late!!!!
Jimmy Hogan
15
Posted 05/02/2018 at 08:56:45
That's exactly what I was thinking in the second half Lyndon. Suddenly we looked a lot more comfortable at the back and we had a midfield presence as well instead of the 7-0-3 formation of the first half. Sam's talking out of his arse.
Bill Gienapp
16
Posted 05/02/2018 at 09:00:19
It's cute that he thinks he'll still be here next season.
Also, talk about a tactical masterclass - "Well, it worked for Swansea, so let's just copy them."
Gary Willock
17
Posted 05/02/2018 at 09:03:23
I have never been so angry with our Club and it's Manager. He's clearly playing percentages, and writing off games we're unlikely to win. That is an absolute disgrace! I would rather go down as Men, playing and fighting for every minute than play surrender. It demeans both the Club and the game.
I will not be renewing my season tickets whilst there is even a chance of this man being in charge next year my only hope is 40 points by April and he walks off with his bonus then.
If Club has any sense, it would sack Walsh now and give the role to Silva. Slowly start moving responsibilities from Allardyce to Silva - and make it clear to everyone that is the transition plan.
John G Davies
18
Posted 05/02/2018 at 09:17:20
"Systems will mean nothing if the players play crap"
True, very true.
Paul Turner
19
Posted 05/02/2018 at 09:17:52
"Sam Allardyce says Everton need to get to a points tally that will guarantee safety from relegation so that the club can write off the current season and focus on 2018-19".
No sh!t, Sherlock??!!
I'd have preferred David Unsworth to have been given longer in charge, but someone near the top of the club panicked. I didn't particularly want Sam Allardyce, but I was prepared to give him the benefit of the doubt. No longer. The club, be it Mr Moshiri or Mr Kenwright, needs to bite the bullet and ensure we have a top class manager in place well before pre-season starts. I'll be hoping Gerard Deulofeu has a stormer against Chelsea this evening, given the rumours that Signor Conte's position is at least on shaky foundations.
In the meantime, Sam Allardyce needs to pick a settled starting 11 - and please - not Schneiderlin...
COYB!
Johan Elmgren
20
Posted 05/02/2018 at 09:18:13
"We've got to write this season off as quick as we can by staying in the Premier League and then sorting out for the start of next season," he explained.
I find this a dereliction of duty and totally unacceptable for a manager to say. We're still not safe, how on earth can he say that "we've got to write this season off"?? How is he going to be able to motivate his players having said that? God, I'm fuming right now!!
Get this fat fraud out of our club now! Allardyce out!!
Jim Bennings
21
Posted 05/02/2018 at 09:18:16
Good point regarding Silva.
He's a young manager that could get better with learning and more financial backing etc.
Let's be honest our defence couldn't be any worse under him than it is now and we might even get a bit of exciting attacking football!
As it is now the defence is diabolical and the attacking side isn't much better is it?.
James Hill
22
Posted 05/02/2018 at 09:19:07
Gary Wilcock – that's how regiments got slaughtered in the war and I doubt Sam is doing what you are saying. At the moment he needs to uses the resource where will get the best results.
I guess you favour Silva because he goes down fighting but he does go down. Give me Sam any day of the week.
Dave Abrahams
23
Posted 05/02/2018 at 09:20:54
Does Sam listen to the rest of his coaching staff, Sammie Lee, Shakspeare and Ferguson, surely they can't be as dense as Allardyce is proving to be, or do they offer advice and he takes no notice or doesn't understand sensible advice.
It hasn't been a pleasant experience watching Everton over the last three seasons but now it is a chore and an effort to go to Goodison Park and I can only add my praise to those brilliant fans who travel all over the country watching this moral wrenching mess of a team< picked by Allardyce.
James Hill
24
Posted 05/02/2018 at 09:21:51
How can you call Everton games boring 6 goals in the last game. I thought it didn't matter who scored them. Isn't that what being a modern fan is rather than a true supporter.
John Charles
25
Posted 05/02/2018 at 09:37:02
Players playing crap have nothing to do with me. Tactics and system were correct but all the players are crap. Oh but I will take all the credit if we get a result. Even the result when I was not even manager. Possibly the most destructive manager I have seen at our club.
John Charles
26
Posted 05/02/2018 at 09:38:16
Give me literally anyone other than this fraudulent conman.
Mike Doyle
27
Posted 05/02/2018 at 09:40:18
#12. Andy you are spot on. The team he played on Saturday (i.e packed with defenders - plus a couple of willing runners up from to chase the big boot out of defense) came as no surprise to me. It was entirely predictable – and I expect exactly the same approach to be adopted when we play Man City & Liverpool – probably Burnley – and a number of other away games where the 2 Sams & Shakespeare (can I call them 'The Holy Trinity'?) think there is a chance of nicking a point.
Allardyce was appointed with a single objective = avoid relegation.
Thus I expect that when negotiating his appointment he will have explained his 'strategy for survival' to the Board. This will have included identifying games that are considered winnable and those which are not. He'll rest/sacrifice key players to have them available for games considered winnable e.g. Palace at home.
The reward for Sam & Co will be either (A) another 12 months in charge or (B) a big pay off – which can be viewed as a bonus for keeping us up.
The real mystery remains how Walsh remains in situ? Answers on a postcard please.

Ken Kneale
28
Posted 05/02/2018 at 09:41:22
Dave@23 I think the names you mention are part of the whole problem not the solution. The club is overstocked with sentimental appointments that the chairman can go wet eyed and sentimental over but the reality is can they command their role on ability. The evidence suggests not.
Lee in my view should never have been allowed over the threshold. He like our manager has a track record of zero real success as a manager or coach. We have the team in place our board deserves and without change on a major scale at all levels this is Everton circa 2018. How we can bring about that change is what should occupy all supporters at this point in time.
Gary Willock
29
Posted 05/02/2018 at 09:44:35
James Jill (Sic) @ 22
1) It would be awesome if you could read a name correctly.
2) His tactics are leading us to slaughter anyway.
3) Football has feck all to do with the war, so let's keep on subject eh.
4) Best players want to play in the best games, it is demoralising for them to sit on the bench in the showcase games to be saved for Palace at home.
5) Changing a winning team, and constant change of formation = zero chance of consistency. This has been our main problem all year.
6) We are out of all cups - there is simply no need to rest and change players at this stage.
7) I'd rather have a go and lose 5-1 than surrender and lose 5-1. The net result is the same. Except for completely losing the fans.
8) I favour Silva because he plays attacking football – and with our great fans behind us that is the formula to success. I also want to see a long term plan put in place now. The players know Sam isn't staying here long, he knows he isn't staying here long, so get on with the next bit whether it is Silva or not, let's start at least doing something for next season now.
9) Sam is a dinosaur manager – long ball percentages, big blokes and no kids. He'll kill this club for years, whether we survive or not.
With your comment at 24 also, I'm guessing I'm wasting my time trying to reason, but I've typed it now anyway.
John Charles
30
Posted 05/02/2018 at 09:46:32
The truly depressing thing is that it was all so predictable. The team, tactics and performances are no surprise, this is how Fat Sam has always operated. He has achieved exactly nothing in his many years as a manager – how has staying in the division whilst boring and alienating your own clubs support become success??
Derek McMonagle
31
Posted 05/02/2018 at 09:51:18
It's to be hoped rebuilding for next season involves replacing the current manager. He is not going to take us where we want to for the simple reason that he doesn't know how to get there.
Guy Hastings
32
Posted 05/02/2018 at 09:54:36
And just what is the safety mark this season? Remember when Palace though they were safe and Oldham won three on the bounce?
We're undoubtedly in the mix (and we're bloody 10th) with just seven points – and a –16 goal difference – between us and the thin red line. With the exception of Man City, Liverpool (both a home – but so what?) and Burnley every game from now in is a six-pointer against a so-called 'relegation struggler'.
If the dispiriting, disjointed, faint-hearted, tactically inept gash that we saw served up against Arsenal is what we can expect for the rest of the season (and who's to say it won't be under this neanderthal, self-aggrandising buffoon) then I have a cold, cold sense of foreboding for the final game of the season against WHU and, of course, David Moyes. Dancing on the pitch at the Olympic Stadium? Yeah, right.
Rick Tarleton
33
Posted 05/02/2018 at 10:00:45
Can I point out an excellent article in this morning's "i" ? I have quoted it more fully in the thread after Lyndon's article.
Victor Yu
34
Posted 05/02/2018 at 10:06:44
He sounds more and more like Koeman these days...
Victor Yu
35
Posted 05/02/2018 at 10:08:21
"Systems will mean nothing if the players play crap"
"Good players will mean nothing if the manager is crap"
Stephen Bird
36
Posted 05/02/2018 at 10:14:57
He shouldn't be allowed anywhere near 2018-19.
In fact ,he he can go before the end of the season for me, I seriously don't believe that he can influence whether we get to safety or not.
I don't believe we will be relegated, and that's more about other clubs deficiencies than our own control of destiny.
Get him out, pompous and oblivious are seldom seen in the same sentence but this guy rewrites all of that.
Whether I agreed with it or not, the club chose Silva as their man, get him in and get him working. Allardyce should be seeing more of his grandkids!!!
Andy Williams
37
Posted 05/02/2018 at 10:20:13
Mike (#27) the thought of another 12 months of him... no I can't even go there. Here's a thought; let him get us to 40 sack him with his bonus – get the long term replacement in and give them a few months to work with the players and see what we need before next season. It's a plan. Oh just realised my mistake! It's a plan.
By the way could a poll to never have our no.2 ever play again for us be the first to get 100% approval. Is there anyone who would like to support his selection?
Back with Susong - Booo !!!
Johan Elmgren
38
Posted 05/02/2018 at 10:23:22
Stephen (#36), I think with the statements he makes and the tactial nonsense he brings it will be far more risky to have him around. Bigger risk of being relegated if we keep him instead of replacing him with Silva.
It seems he's lost the players, and why wouldn't he? He's thumping them every chance he gets, and takes no responsability of the teams failures at all. He's like big, fat child.
Sack him now and get Silva in so he can get to know the team before next season starts. Most of these players will still be here then, so it would be good if they have a while to settle in the way he wants the team to play.
Allardyce out now!!
Phil Lewis
39
Posted 05/02/2018 at 10:28:32
Before he signed, my feelings were, 'anyone but him!' Allardyce is my worst nightmare come true. I cannot and will not subscribe to the panic stricken 'Needs Must' school of thought.
I have afforded him far more word space on these pages thus far, than his very limited talents deserve. He was bought to ensure our survival, short and simple.
He may accomplish his mission and then (hopefully) move on to the next desperate club queuing for his signature on the strength of some dubious tabloid headline of 'Big Sam saves the day again!' No doubt he will dine out on such headlines for quite some time to come.
Why are eyebrows raised at his latest declaration that Premier League survival is his priority? It should have been perfectly obvious to all, that he was hired solely with that objective. No surprises there then.
So hang on in there, all loyal Evertonian masochists and prepare ourselves for more boring, tedious, predictable, painful long hours spent at Goodison and elsewhere, between now and the end of the season, until that magical points survival figure is reached. Really whets the appetite doesn't it?
As far as team selection is concerned, it is admittedly difficult to know where to start. May I suggest the most important position on the pitch? Goalkeeper.
Am I alone in still not being entirely convinced about Pickford? He is no Neville Southall, then again, who is? I wouldn't dream of making Pickford a scapegoat for Saturday's debacle and I am definitely not basing my misgivings on that performance alone. But I am uncomfortable with the general concensus of opinion which seems to suggest that he is already a success.
Is he is too short for a keeper? I think certainly he is not commanding enough where crosses are concerned, perhaps his lack of inches account for this. Also I have noticed that his reflexes and positional sense have been lacking of late. That said, he may very well still have what it takes to develop into a top keeper in time. Although I believe he has a long way to go yet.
I see no reason why a spell on the bench, just like any outfield player, suffering a dip in form, would not benefit him. His confidence may be lacking just the same as the rest of the team. A spell out of the firing line may be what he needs.
Robles has been error prone, but lets not forget his good performances and above average clean sheet record. He has waited patiently and deserves another chance. I believe that some peoples judgement of players can be clouded by the players price tag. That may well be the case in their unfailing appraisal of Pickford. He is a young keeper with time on his side to improve. He is by no means the finished article yet.
Sam Hoare
40
Posted 05/02/2018 at 10:28:47
My fear is that we have a reasonable end of the season and finish around 9th which Walsh and co use as evidence to convince Moshiri that we are heading in the right direction and Allardyce deserves another crack at it.
To try and vindicate a system because it worked for another team against the same opposition is seriously football league. Surely he realises football is not that simple?!!
I still have a (somewhat) open mind as to the possibility that Allardyce might prove his doubters wrong and get us playing good football whilst being organised at the back but it's looking less and less likely. Tough (impossible?) for a leopard to change its spots. So at the moment all I can think of that gives me any hope for the future is the likes of Tuchel/Fonseca etc in charge next season and to be honest why not let them take over with 6 games to go if we are safe and they are available...
David Reid
41
Posted 05/02/2018 at 10:39:24
Ian 11 Jim 14 spot on. Can Big Sham not see different team + different ground = different result a pitiful excuse. Strategy for the season now is keep us up then take a pay off & let us get a manager who wants to play non hoof football.
Phil Walling
42
Posted 05/02/2018 at 10:49:42
Too many on here assume survival is a given. 'Sam never gets relegated' is the mantra that brought him to our door - it fooled Moshiri and it's fooling a great many Evertonians in my view.
Trouble is, we are in a lose, lose, situation. If, against the odds, he takes us down, the idiots will probably hire Neil Warnock who 'guarantees promotion' and if we stay up, Allardyce will get to see out his contract !
Badly burned as scolded, eh ?
Len Hawkins
43
Posted 05/02/2018 at 10:51:03
When I passed my driving test I didn't have a car, as soon as I could afford one I felt awkward and strange driving on my own but as the days went by I gained confidence until after about 3 weeks I was one of them "I know everything about driving" teenagers.
Tosun comes in and is thrust into the first team with expectations of goals flowing in left right and centre. He struggles so he is deemed unable to get into the requirements of the Premier League and is banished to the bench. Surely to anyone with brains the only way he is going to find his feet in the Premier League is to play and learn, what the hell is he learning sat on the bench.
A young lad with bags of pace and an eye for goal is brought in and he scores a few goals but yet again the bench or worse not in the squad is deemed the place to learn.
But the saving grace we have Bolasie who is the African equivalent of McGeady yes he can beat a man but then he must be so surprised at beating him goes back for a second go and loses it and this according to our Messiah is the way forward, scoring goals is not part of Bolasie's repertoire. So our young hopeful goes on loan and scores the winner in his first game. Good thinking Sam why let him learn here when we have the future keeping him out of the team.
I wanted to give him time and after the start of his managerial career at Everton I though he might just prove everyone wrong. No, just more of the same and I too now think we should go for anyone who could propel the team forward instead of driving round in reverse which has become the norm. Everton have become a WW2 Italian Tank 1 forward and 6 reverse gears.
Guy Hastings
45
Posted 05/02/2018 at 10:59:21
He'd lost the dressing room he walked through the door, despite the soft-worded diplomatic efforts of Rooney, and that goes for the significant majority Goodison Park, too. Disastrous appointment and I suspect that there were a few casting envious glances when Mirallas and Lookman sauntered out of the Finch Farm doors.
Never his fucking fault. Never has been, never will be. I can't imagine what was said in the dressing room at half-time, let alone the fun-filled time on the bus back.
I'd have hitch-hiked back rather than share the team bus with him. Jam an armful of truth serum in Rooney tonight before he goes on the Sky show and get Neville to ask him, 'So, Wayne, where's it really going wrong at Everton?'
Jim Bennings
46
Posted 05/02/2018 at 11:01:28
Allardyce was brought in to stabilise the defensive woes and after a steady start (aided by quite considerable good luck at times) he has since failed dismally to get the team in a stable position defensively.
He constantly changes the defence, insists on picking two holding midfielders who neither stop or trouble opponents and one in Schneiderlin who is in absolutely horrific form and has been all season.
Since Bournemouth on December 29th we have conceded 17 goals in all competitions and scored a paltry 6.
We have only scored 11 goals (two penalties) in the league since Allardyce took the helm at the start of December, it is quite frankly a weak weak return .
The honeymoon period he had of early December to Christmas is now over and realisation of the situation is he job he has done is no different to what's Unsworth did or Koeman before it.
Johan Elmgren
47
Posted 05/02/2018 at 11:05:01
Sorry I'm spamming here, but I'm so frustrated over this man my heads soon to catch fire.. I need to let off some steam...
To think a manager of a Premier League team takes his tactic setup from a game watched on TV. How stupid can a man get. How could he think it was going to be that easy?
If it was that easy all the managers in the league would show the matches of Manchester City to their players and say: "Play like that!"
It's so daft. What a moron.
Allardyce out!!
Mike Allen
48
Posted 05/02/2018 at 11:14:38
Well if the guy was brought in to keep us up then we are stuck with him. He will have it all boxed off for sure. What a shambles, Mr. Moshiri.
Jonathan Tasker
49
Posted 05/02/2018 at 11:32:45
I trust somebody, somewhere is writing an article called "Life after Sam".
Tony Abrahams
50
Posted 05/02/2018 at 11:33:44
Systems mean everything though Sam, and surely that is obvious to everyone involved in Sport?
Don't know about Mangalla, but I know that both Keane and Williams, hate getting dragged wide. I know Bollasie, isn't going to work back, and I know Snides, will never put his body on the line?
What kind of manager comes into work on Thursday, and says to his squad, did you see the way Swansea played against arsenal the other night boys? Let's try and copy them. First I'm going to make loads of changes, but don't worry if this doesn't suit yers, because if Swansea can do it then so can we.
I'm glad the players are getting stick, because it's about time the mentality of this club, was changed back to a bye gone time, and although many won't agree with me, (I don't even agree with me myself) I just hope there is a long term method to such madness.
Mike Doyle
51
Posted 05/02/2018 at 11:36:34
Guy #45. While the jab of serum would be good to see, even better would be to see the local media actually ask some hard hitting questions in the weekly press conferences. Instead of the usual bland "Any update on the injured players Sam?" it would be nice to hear "Why do you continue to play Schneiderlin, Sam?"
Sadly this won't happen as the last local media person who did (Phil McNulty if I recall correctly) ended up being excommunicated.
Dave O'Connell
52
Posted 05/02/2018 at 11:48:57
I was willing to give Sam a chance and, to be fair, he started okay but the last 6 weeks has been worse than Koeman's selection and tactics... woeful. Hope the board do the right thing and sack him at the end of the season.
Guy Hastings
53
Posted 05/02/2018 at 12:01:26
Johan 47 – not just stupid fixing your game plan to what you saw on TV but to actually admit it is the height of crassness. The man is so self-absorbed it beggars belief. Pundits won't touch him on TV – why the hell not?
He's a busted flush – have a go at him. As for Moshiri, does he actually have a clue? If this is his level of managerial appointment, God knows how he's made any money at all, let alone reach billionaire status?
Pat Waine
54
Posted 05/02/2018 at 12:05:50
I am not a fan of Sam Allardyce but I believe that any manager taking over at the time he did would face an impossible task.
Firstly I think Ronald Koeman wrecked the club seemed to have no plan or structure in what he needed to do. He ended up not solving any of the teams problems with the exception of the goalkeepers spot. The left back cover was well sign posted from before Koeman's period.
The centre back problem was made worse by the addition of Williams and Keane. The need for a playmaker on the departure of Barkley was obvious too. Koeman refused to deal with any of the problems which now gets to the departure of Lukaku which again was a well flagged issue and again Koeman failed to address it.
All of this would be bad enough except he spent a fortune and covered none of these problems. all that would be bad enough but we ended up not been able to clear out the mess of a huge squad of underachievers.
Financial Fair Play rules will make it even more difficult going forward. It is sad now that our manager calls his players crap and wants the season to be over asap in a period that we have spent big and should have been looking forward and not back.
Bottom line is Koeman wrecked the club and it will now take years to recover.
Gerard McKean
56
Posted 05/02/2018 at 12:12:29
Saturday's debacle saw Allardyce confirmed as second only to Harry Redknapp in the number of Premier League games lost as manager. People keep on asking how all this has come about; one of England's greatest clubs is in the process of betraying its traditions and accepting mediocrity as standard. Perhaps "mediocrity" is an exaggeration?
For Everton to appoint this arrogant carpetbagger there had to have been board consensus, or at least an absence of serious objection. Therein lies the answer to how all this has come about; a board stacked with people who lack the courage or nous (or both) to ensure that decisions like Allardyce, which will have lasting effects, are properly scrutinised, challenged and explored from every perspective.
A month before they appointed him he'd gone off on a strop and didn't want to know about Everton. The collective sigh of relief from the clubs supporters was deafening. But apparently the board didn't hear it. Allardyce did though, and for a man who consistently shows contempt for the supporters of his many clubs this was all the provocation he needed when he actually got the job to show us who's the boss.
His team selections, public utterances, and breezy dismissal of a season with still about one third of matches to play seem to me to be an invitation to the board to sack him. There's better things he could be doing with his time and the pay off if he's sacked will be further icing on this obscenely rich man's cake.
I don't know who should take over. Silva seems decent. Howe coaches what he has to work with; neither blame their players publicly. Sheedy had the makings of a manager but they let him go. EitC influence is behind appointing Baxter and Jeffers so there's nobody else coming through there then. All I do know is that Allardyce is spiteful enough to take the ship down if he's around long enough.
Lawrence Green
57
Posted 05/02/2018 at 12:24:33
Big Sam wasn't a popular choice by most fans but many of us were willing to give him a chance given our situation when he arrived, there was a short burst of positivity which disappeared as quickly as it arrived.
It has to be something other than an individual manager which is at the root of our problems. Player power? Perhaps, but that would mean that somebody is at the club actively telling the new recruits to 'down tools' at the drop of a hat, can't see that myself but it is possible. Agents actively working against the club by influencing their clients to perform to a level below their abilities? Shouldn't think so but again who knows.
Broken promises by the board to certain players? Unlikely because the players seem to be relatively happy with their salaries and one of them would have spouted 'unfair' to the media if that was an issue.
The unpalatable truth is that many of the players Everton FC has purchased during the last two or three years are way below the standards that we expect from Everton players. It's not solely down to Walsh, but he has to shoulder a lot of the responsibility, however, there are people above him who can sanction or veto a purchase and their judgement has to be questioned.
Sam can't solve the connundrum, Ronald couldn't and it begs the question who on earth can? The only thing I agree with relating to Sam's latest utterings is that Everton have to get to safety as quickly as possible. Following that the board and owner should do a full investigation as to how so many International footballers are unable to do the basics on a football pitch, lacking ability is not a crime, failing to follow the managers instructions - even if those instructions come from Big Sam - and not giving maximum effort is totally unacceptable.
Rob Baker
58
Posted 05/02/2018 at 12:48:03
We will surely(?) bag 9 more points in the next 12 games. Palace (H), Brighton (H), Newcastle (H) are the best bets seeing as our away form is woeful. I am looking down at the table again after a brief period looking upwards.
We deserve to go down but won't due to the Premier League being full of teams who are fodder for the top 6. I have never experienced relegation with Everton but wonder if it would be a shot in the arm to Moshiri. I'd play a core of young players and let the rotten lot fester on the training ground. Let them pick up their gross salaries but send out a message that we a want hungry players, not players going through the motions.
Also I'm amazed at how high attendances still are. I know if I were local to L4, I'd abstain from going until the brand of football is worth watching. I hope to god Fat Sam is fired once survival reached or at latest, end of season. Blaming the players, even if they are shocking, is a joke. He picks them and sets out our stall. Take accountability please.
Tom Evans
59
Posted 05/02/2018 at 12:52:38
If I were Sam, I certainly wouldn't be worrying about next season.
He'll be well away from the club by then.
Won't he?
Tom Bowers
60
Posted 05/02/2018 at 12:56:08
He has to pick a settled team and that means getting the defence sorted first.
It's no good bringing in Bolasie, Tosun and Walcott if the back door is falling apart.
Playing 2 holding midfielders who are weak is also a no-no.
You need one holding midfielder who is class and then 2 or 3 others in an attacking role.
There was a lot of praise for Seamus and what he brought to the Leicester game but the others were still not up to snuff for the most part.
All the chopping and changing after a win was unnecessary and took them right back to square one.
Hardly anything has changed since day one of the season when it seemed obvious the confidence of the team was low despite scraping past Stoke which just continued into the Europa matches and is still the same now.
Christian Watson
61
Posted 05/02/2018 at 12:56:46
This bloke is unbelievable. Off you go Sam and take the midget with you. Utter shambles and totally embarrassing. Making our club a laughing stock!!
Alan Smith
63
Posted 05/02/2018 at 13:02:12
The players are shit except Walcott who Sam bought.

Sam like us was upset so spoke against the players who only managed 3 tackles in the first half.

Can anyone not envisage that Silva could have lost a game by four goals with this squad?

Get off your bandwagons and start thinking.

He's lost a lot of games in the Premier League due to longevity in the league. Ffs that's why Redknapp is top. Moyes will be up there.

The negativity against a man who has very little time or chance to do work thing is so typical of this site. But it is also detrimental to our future success.
Winston Williamson
64
Posted 05/02/2018 at 13:07:27
How anyone can defend Sam Allardyce as our manager is beyond me.
The guy is so far away from what EFC is about it's unreal.
His record is now on par with Koeman. Says it all really.
I now agree with Phil W. Relegation is a serious possibility - because of this clown of a manager further destroying confidence of an already confidence-shy team!
He really needs to fuck right off - right now!
David Hallwood
65
Posted 05/02/2018 at 13:14:19
There's some merit in blaming he players for at least being equally culpable, because we've witnessed shameful capitulations under 3 different managers.
But all 3 of them have been guilty of changing teams and tactics so no game is the same; take Vlasic for example, plays then doesn't even make the subs bench for 3/4 games then picked again then disappears again.
WTF is going on whatever happened to having a squad of 16-18? Not changing a winning team? the only constant is Gana and Sneiderlain, and I that's the bad news.
But the formation SA put out on Saturday demonstrated worrying ineptness. 5 at the back with a makeshift LB who hasn't demonstrated any ability as a wingback. Gana & Sneiderlain in midfield, knowing that they don't go over the halfway line, WTF did SA expect.
Knives to a gunfight, shithouse selections, survive at all costs is the future of our club; get the fat fraud out of my club. My RS mate calls him Mike Bassett except I think he'd do a better job.
Ciaran O'Brien
66
Posted 05/02/2018 at 13:14:22
There is a cancer at Everton which is destroying our great club.
For too long we have been rank average and shite. I'm 27 years old and was only 4 when we won the the cup and I hardly remember it. Since that time Middlesbrough, Blackburn, Birmingham, Portsmouth, Wigan, Swansea, Villa, Leicester have won trophies alongside the usual suspects. Both Fulham and Middlesbrough have been in Europa League finals in that time. We have just one cup final in that time which we blew after going one up after 43 seconds. It is fucking pathetic with a club the size of ours being so mediocre for so long.
Kenwright and Woods have been here for too fucking long which is the sole reason for our failures. They may be great guys and I understand our charitable and community efforts are second to none but they are not fit to run a modern football club. Moshiri needs to get off his backside and bring in his own people. Likewise if it's Usmanov who really is the benefactor. A proper CEO is also needed and not Elstone who has been shite and is a total yes man.
Steve Walsh is a scout, not a director of football which is why so many of our recent signings have been extremely costly duds. He needs to go ASAP or revert back to being a scout.
Fat Sam plus his backroom team including Big Dunc need to go too. They are just not good enough. Fat Sam is only here for the fat pay cheque and should never have been hired. It was a total knee jerk reaction by Moshiri
SCHNEIDERLIN, Gueye, Klaassen, Bolasie, Sandro, Williams, Mirallas, Garbutt, Jags, Baines, Besic, Robles and Stek need to go too. We need to get in proper midfielders who can dictate play and dominate the middle alongside strong, tall and mean defenders. A top athletic attacking left back is urgent ASAP and some pacy, creative attacking midfielders/wingers.
But first, Moshiri needs to bite the bullet and go out for a top coach who has a clear plan in what way they want to play.
My choice is Simeone but I understand he might not come here but then again there were run outs that his representatives approached us.
If not him anyone of Silva, Tuchel, Mancini, Dyche, Howe, Jardim or even Brendan Rodgers would do.
No more negative dinosaurs with their percentage football.
Seamus Coleman should be made captain with Rooney as deputy.
Kevin Tully
67
Posted 05/02/2018 at 13:20:42
Allardyce is not a fit for this club and has to go at the end of the season. However, this squad is broken. It's clear there is no team spirit or camaraderie among this group of players. It doesn't matter who the manager is, this is the first thing that has to be addressed. You can tell on the pitch there are no partnerships, just a group of individuals.
The fracturing of the squad started under Martinez, with Distin and Howard causing unrest because of the way they were treated. Then we had the cold fish Koeman, who clearly didn't give a shit about team spirit. Now Allardyce is finding out to his cost that the dressing room at Everton is not a happy place. Obviously, all these new signings earning fortunes has not helped either.
The first job of any manager is to engender a do or die spirit within the team. It seems our lot are just sulking twats. You only need a couple of bad apples to ruin any club. I think we've got quite a few causing unrest behind the scenes. It won't take long for a few more stories to emerge, just wait.
Alan Smith
68
Posted 05/02/2018 at 13:21:24
Haha
Can we analyse the evidence instead throwing cliché, abuse and flawed logic around.
We lost to arsenal away with a team of shite players the manager did not buy.
If you have any evidence or logical reasoning to dispel my points please enlighten me.
If you have any evidence or arguments to suggest silva would serve us better then please present them.
Unlike nearly everyone on here I'll take you up on your points and I'm even willing to to change my point view in light of such new found knowledge
Russell Smith
69
Posted 05/02/2018 at 13:31:24
This is Sam's "modus operandii". The supporters at both West Ham and Newcastle know, like us, that our teams are light years away from challenging the top six teams, but we all expect to see them play with some style and commitment, to show the same passion as the supporters.
Newcastle and West Ham brought Allardyce in to keep them up but the fans hated his brand of football and he went during the following season at both clubs. Only Sunderland fans took to him and that was because they have played drivel for years.
The minute we get to 40 points, he should be removed and it is to be hoped that our board have his replacement lined up in advance (as per Watford) so that we don't go through the same shameful exercise that resulted in his appointment in the first place.
Sean Patton
70
Posted 05/02/2018 at 13:33:34
The hole he his digging for himself will reach the equator at this rate.
Johan Elmgren
71
Posted 05/02/2018 at 13:34:08
To all those who slate the players instead of the manager I would like to just remind you about the purpose of the purchases...
The players that were purchased during Koemans reign, was bought to play an entirely different type of football. They were purchased to play a possesionbased football with lots of passing and patience. For instance Schneiderlin was bought to play as a deeplying playmaker, to shift sides with crossballs and play penetrable throughballs when possible to get the ball into the opponents defending half. He isn't a player who goes around tackling and that's why they brought in Gana Gueye, to do that bit and complement Schneiderlin. And that's why Schneiderlin sucks now, because he can't play the Allardyce-way.
Keane was brought in because we needed new blood in the backline with aging Williams and Jagielka, and he is a solid defender (when the team is playing as a team) and he has relatively good feet to pass the ball out of defence. Sandro was brought in to create movement in attack along with the other attackers, possibly Lookman, Vlasic and Calvert-Lewin. Movement and smartness in attack is a must if you are going to play possesionbased football. Sigurdsson, Klaassen and possibly also Rooney were purchased to cover the central attacking area, sort of a highlying playmaker, a position which was occupied by Barkley last season. It was a good scheme, but unfortunately one thing didn't fall into place... a replacement for Lukaku. I think that's where it all went wrong for Koeman...
To almost change your whole team and bring in players to play possessionfootball, and then all of a sudden, they are now supposed to play backs-to-the-wall hoofball, how would you react as a player? They came here with the promise to play attractive attacking football, but it all came to a brutal halt. The Allardyce-appointment was a longshot and a panicjob, almost all of us knew that before Allardyce was appointed, but he got the job anyway. The first games went ok resultwise, but we didn't play very well. "New manager"-syndrome I would call it... Players giving a little bit extra to show the new manager they are the ones to be picked in his matchday squad. And to be fair, the opponents where of much lower class then all our matches before that...
Then came the games against WBA and Bournemouth away at the end of the year. I think that was when the players realised it's not gonna get any better... At least that's when I realised it... He played defensive, boring football against teams that are inferior to us. And now I think they have completely lost faith in him with his inconsistent lineups, playerswapping and "in the media"-ranting about how bad our players are... Players that have lost faith in their manager, will suck when playing...
So the big question really is, what brand of football do we want to play? Backs-to-the-wall hoofball, with no chance to ever break into the top half? Keep Allardyce! Attractive attacking football with a setup to win games, and a possibility to go higher up the table? A new manager! Silva is free...
I know which one I prefer!
Allardyce out!
Guy Hastings
72
Posted 05/02/2018 at 13:36:54
Alan 68, I am not all convinced when it comes to Silva. My convictions, however, over the selection of Allardyce have been vindicated.
Stephen Bird
73
Posted 05/02/2018 at 13:40:11
Alan #62 this isn't a bandwagon that i've jumped upon to criticise Allardyce ( I cant bring myself to call him by a jovial nickname ) this is a reality check being realised by virtually all our fan base.
You have a right to defend him and I hope the scars from your partial lobotomy heal within a decent timeline
Guy Hastings
74
Posted 05/02/2018 at 13:43:51
And the man can't keep his mouth shut. Slags Klassen off for not seeking to play football when there's a loan offer up for grabs. Then slags off Lookman when the lad does exactly that. Fool!
Keith Monaghan
75
Posted 05/02/2018 at 13:50:40
Wake up most of you!
The first problem to fix is off the pitch - Moshiri needs to get tough and get Bill K out of this club (yes he's been a good servant, but his time's gone & nothing goes on for ever) - thanks & goodbye.
Then he needs to get rid of the over-paid hangers on who, like Bill, are living in the past and wishing they were still players - I exclude Joe Royle from these. The club needs to toughen up mentally and become more professional if we're ever to compete like we did in the first half of the 53 years I've been supporting and watching the team.
Then we need a very good manager to sort out the squad - it's clear we have players who are either passed being up to performing well at the top level or never were. Bringing back Rooney was, at the time as well, an obvious sentimentally-driven, backwards-looking mistake.
We need to get people who are good at their jobs in post - being an ex-EFC player isn't a guarantee of being a good coach etc.
Re the players at Arsenal, there were at least 3 (Williams, Niasse & Schneiderlin) in the starting 11 who should never play for Everton again. For all his effort etc Niasse quite simply is a poor footballer, another disastrous signing that was obvious as soon as we'd seen him 3 or 4 times.
I don't understand the clamour for Silva by some people - what's his PL track record?
Nigel Munford
76
Posted 05/02/2018 at 13:50:53
Guy, Silva isn't the solution, I'm not sure there's a manager out there that could get this team to gel. We've tried three now, so how many more do we have to hire and fire before we find that magic solution.
Johan Elmgren
77
Posted 05/02/2018 at 13:52:03
Guy (#74) Haha, there's the man of consistency again... Totally deluded.
Allardyce out!
Kevin Tully
78
Posted 05/02/2018 at 13:53:11
Alan #68 - When any manager instructs a group of International footballers to hoof it anywhere as his main tactical instruction (Liverpoool & Chelsea) then unfortunately, I don't think he's suited to managing our club.
Add to the mix that the players, and manager, are some the most highly paid in world football, then I don't think it's expecting too much for them to play the football that befits their rather large wage.
I don't expect much these days, but sending out any Everton team to play like a non-League outfit is a step too far, even for me.
Dave Lynch
79
Posted 05/02/2018 at 13:55:18
I do a lot of match fishing around the North West and talking to a lot of Manchester United fans they said that Schniderlin all but downed tools there.
A couple also stated he was a bad influence in the team with his can't be arsed attitude.
Rudi Coote
80
Posted 05/02/2018 at 13:57:34
It just gets worse. I have never heard manager slag his team off as much as this joker.
How the fuck can't he see that Schneiderlin is shit? But he will be the first name on the sheet for the next game. It's like Allardyce actually wants to take us down. Because make no mistake, that's where we're heading.
Soren Moyer
81
Posted 05/02/2018 at 13:58:52
What a clueless, arrogant clown! Jardim or Silva. Either one will do.
Johan Elmgren
82
Posted 05/02/2018 at 14:14:05
Read this in an article just posted:
"Big Sam has collected just six points from Everton's last eight league games to take his average to 1.18 points-per-game since arriving at the beginning of December, almost exactly the same as the 1.2 average the Toffees won prior to his appointment."
Koeman/Unsworth had a better points average than the fat fraud! And that with tougher fixtures...
Allardyce out!
Phil Smith
83
Posted 05/02/2018 at 14:17:03
Personally, I feel that 40 points might not be enough this year. Should be aiming for 43, so we need 4 more wins from the next 12 games. Thats a third of our remaining fixtures. the next 5 are all winnable but not the way we are playing. There only Brighton, Newcastle and Southampton at home that I feel confident about. We have Palace as well, which we should win. Stoke, Swansea and Huddersfield away, which we should be aiming for at least a point. So we should be safe but that really isn't good enough. Can't wait for this season to be over.
John G Davies
84
Posted 05/02/2018 at 14:17:06
Sean 70,
Uf he takes his pay off in pound coins he can fill it
Chad Schofield
85
Posted 05/02/2018 at 14:17:55
Our next appointment is important, but we need to make this asap rather than let this buffoon continue to erode what's left of the squad.
We obviously can't now make any additions, but a new manager can try to work with what he has, experiment with some of the younger players (that haven't been loaned out), and be ready for a full clear out.
Surely there are mangers who would jump at the chance of cherry picking and revamping a squad, coaching setup - club in many respects.
There's no point in letting this fool get to the end of the season and only then looking to appoint somebody.
I wasn't hugely keen on Silva. I'd prefer Howe... but to be honest I'd take almost anyone other than this self-soft-centred dinosaur. Let him take his money and go.
Lewis Barclay
86
Posted 05/02/2018 at 14:20:53
How much is this guy getting paid?
Some other statements he could roll out:
We need our players to turn up to training.
Our players need to play with their eyes open.
The players need to kick the round thing.
The big posty thing with the net on is important

Dave Abrahams
87
Posted 05/02/2018 at 14:23:05
Alan (68), well Alan Arsenal might have took their foot off the pedal in the second half but their was a massive difference in Everton's performance in the second half when the ridiculous formation of the first half was changed, we attacked more, scored and created a couple more scoring chances,
Davies, although not back to his form of last season, brings an energy to the team that is totally missing from Schneiderlin's game, the change to formation should have been made after about twenty minutes when it was obvious to many, even before the game that this system wouldn't work, because it has never worked before with Everton.
Yes some of the players need to take a good long hard look at themselves and put their hands up and admit they are not giving value for money, Alan, Allardyce has to do the same, at the very least.
I wanted Allardyce to take over for the reason that he keeps clubs up, he might still do that but he can have no real hopes of staying on, even he must know that.
John G Davies
88
Posted 05/02/2018 at 14:24:36
A fat, cowardly, shithouse, fraud, criminal, chewy chewing, dinosaur.
Fuck me, he hasn't got much going for him 😂
Alan Smith
89
Posted 05/02/2018 at 14:35:43
What international footballers.
Go through them two teams and list the fully fit current international footballers we had on the pitch.
Against two billion dollar clubs in the last 16.
And we didn't play long ball. Defenders with zero time to pass hacked it out of play or up field is a clearance under pressure.
I am longing for a long ball to a striker. As that means, we have a striker!
Alan J Thompson
90
Posted 05/02/2018 at 14:40:35
He's just found out that everyone has found him out so he changes the subject to an even worse scenario - relegation. Lest we forget!
Alan Smith
91
Posted 05/02/2018 at 14:47:19
Completely agree, Dave (#87).
However, before the game I suspect most would have gone with the totally shite Schneiderlin over the totally too young and off form this season Davies. For his supposed defensive abilities. I did say Schneiderlin was shite last year as well, when the majority of you were lauding him. But that's another story. Another story of believing the reputation rather than using truthful analysis.
I agree arsenal on Saturday was Allardyce's fault because of his team selection. But give him a bit of slack. How angry and down must he have been during the post match interview?
However, when Moyes lost 7-1 with all his own players after about five years in charge. We're was this type of vitriol?
People chatting get Silva in ffs.
All the "styles" shouts as well. What are they talking about. Footy is footy.
No teams in the Premier League hoof it long aimlessly, with time to pass it. 20 years ago Wimbledon didn't even do it to the extent you lot label Allardyce.
Martinez pass pass pass sideways was hardly scintillating.
You're all seeing and believing what you want to see.
Self confirmation bias. A bias you learned by listening to our esteemed media and terrible punditry. Its not even original never mind enlightening. Just cliché after bandwagon after a cliché interspersed with abuse and hysteria. Oh and the odd bit of snobbery or moral high ground?
How does this help?
I'll ditch Allardyce, when Simeone, Conte, Mourinhio etc.. Line up for the job
Silva? Silva!!!!
Just remember Paul Scholes can't tackle.
William Gall
92
Posted 05/02/2018 at 14:58:06
Well he has admitted that this season is as good as over and they should just play for safety to avoid relegation.
How about the supporters, Mr Alladyce? Do you think they should just forget about this season and not turn up,this will please the board I am sure. The supporters are the backbone of this club and have been here long before you came, and will still be here long after you have gone, and by your attitude hopefully that will not take to long.
We don't no what your expectations are but surely a man with your supposed experience should be able to set up a team to play against another Premier League side without having to rely on how another club played against them previously. No two games are the same in the premiership that what makes it exiting.
The blame against Arsenal was your fault in your tactics and that was explained by the color commentator saying "Look at the huge gaps they are leaving and they are playing like they don't no each other" and a lot more critical comments.
You are paid a huge amount of money to manage this team even though your silverware and success in the premier is limited to saving teams from relegation.
A manager that is supposed to be that experienced should have realized in the first 10 min, that the set up was not working and instead of sitting there with a growl on your face changed it, that is what substitutes are for, not just to replace injured players.
The supporters of Everton are not dumb, and realize the situation that it is in, and are well aware that we are not top 6 material, but what they will not except is a manager blaming other people for his mistakes and failing to at least being able to have a team of professionals play as a team.
It is obvious to supporters that there are other teams in the league that may not have players who are as good, or as experienced as you have, but their managers still are capable of producing team work and spirit.
I can't believe how patient the supporters of Everton are, but hope it will not take to long for them to lose patience with you, and the people responsible for hiring you.
Paul A Smith
93
Posted 05/02/2018 at 14:59:32
Ste 73 a reality check by most of our fan base. Do me a favour mate.
Our fanbase is absolute gutless. They take 6 months to realise selling top players is a mistake. They even go along with the great plan and slag anyone against it until it becomes clear and still don't show any class toward people they criticise.
No fan has fallen like the Evertonian.
One on here last week advising people to google 'Mangala Useless'. The type of fans that say I'm sure Steve Walsh knows better than you mate then want him gone 8 months after you did.
Only the same boring old fickle fans will be looking at the manager. People should look at themselves. I didn't hear Allardyce say Schneiderlin was a Rolls-Royce like our fans did. (After 6 games!) Now guess what? The same people want him gone.

Brian Harrison
94
Posted 05/02/2018 at 15:01:00
Alan Smith
In your post 63, you say the players are shit except Walcott who Sam bought.
Then in post 68, you said we lost to Arsenal with a group of shite players the manager didn't buy??
So he had nothing to do with the purchase of Tosun and Mangala?
Stephen Bird
95
Posted 05/02/2018 at 15:11:10
Paul (#93),
I'm with you actually when you mention how far we have fallen. I have as much disillusionment with the crap that comes out of some fans mouths as I do with the state of the club, but surely the major percentage have had enough of Allardyce!!
Gary Russell
96
Posted 05/02/2018 at 15:11:46
@ 95... Wondering if you are the Ste Bird I grew up with?
Alan Smith
97
Posted 05/02/2018 at 15:23:29
94
Extremely good nit-picking. 20% of the outfield side Allardyce bought. One played well, relatively to the rest. The other made his debut.
All my points are now invalid because I should have said 80% of the team are not his player's rather than, "the manager didn't buy" these shite players.
Technically I'm still correct though, because the committee signs the players.
If I was so desperate to win a stupid argument and pt score I might pedantically raise this point.
However, I'm just going give up. And defer to your greater insight.
Safe in the knowledge that your haranguing of the manager after every defeat to prove to yourself that the knowledge you think you know because the Echo, MotD the Mirror told you is right. And that this slagging off negative shite you speak will make Everton better?
And Silva will ride into town and deliver us all from evil.
And top 6 glory. Whatever that is.
Jimmy Hogan
98
Posted 05/02/2018 at 15:24:06
Paul (#93), maybe Allardyce should have googled "Mangala Useless" before he bought him, because he looked it.
Lawrence Green
99
Posted 05/02/2018 at 15:25:51
Fans react to whatever is happening at the club at any particular time, they don't set the agenda, they don't purchase the players, they don't choose formations, they just call things as they see them at any particular moment in time. Sometimes they will be in favour of player X sometimes not.
I'm not sure what some Evertonians want from their fellow fans but surely they can't be held responsible for the club being in the state it's in or for the underperforming players – then again the 21st Century is proving to be a complete mystery to me.

Tony Kelly
100
Posted 05/02/2018 at 15:29:37
Fat Sam is a tactical dunce. When you play with 3 CBs and 2 wing backs you don't play with 2 wingers in front of them.
Arsenal's centre midfielders are their strength, and he played with 2 against their 3. No wonder they ran amok with Ramsey scoring 3.
Everybody could see from the first minute we would be over-run, but it took him 45 minutes to put an extra man in midfield which made us more tighter.
I hope the club is in discussions now for a new manager, because this Clown should never be anywhere near our great club.
Len Hawkins
101
Posted 05/02/2018 at 15:31:01
Someone mentioned Woods what does he do? other than sit next to Kenwright and take deep breaths when Kenwright farts so that others won't smell the stench.
Brian Harrison
102
Posted 05/02/2018 at 15:39:37
Alan Smith,
Sorry to have to correct you yet again but my knowledge comes from watching Everton since 1955 and having a season ticket for 50 of those years. I have never booed my team or left a game early, and certainly would never criticize our supporters as some posters have.
You're right – I didn't want Allardyce anywhere near this club and judging by the number of posts since he arrived, I am glad to see I am in the majority. In fact I would go as far as to say that I can't remember a manager alienating so many of our fans in such a short time.
Jay Harris
103
Posted 05/02/2018 at 15:40:28
There is something far more toxic at the club than Allardyce and those promoting Silva are far more knee-jerk than Moshiri.
The following questions need to be asked:
1. Why did Koeman lose interest at the start of the season?
2. Who made the decision to bring Rooney back on an over-inflated salary?
3. Who told Lukaku he could go with 2 years remaining on his contract and allowed him to talk shit about the club and get away with it?
4. Why was Barkley allowed to run his contract down?
5. Why was Walsh allowed to push for Allardyce?
6. Has Baines downed tools or is he really that seriously injured for 3 months?
I would propose that we get behind Allardyce for the rest of the season (no matter how hard it is for some of you) then clear out all of the hierarchy and get David Dein in as CEO and Wenger as DOF, no matter what it costs, and let them find a suitable manager and for me that would not be Silva. If the money is available go out and "buy" the best manager with the challenge of competing with Mourhino and Guardiola and get back to our motto of NSNO which seems to have been forgotten since Kenwright took over.
Johan Elmgren
104
Posted 05/02/2018 at 15:41:13
Alan Smith #97
I don't care what the rags you list write. It's plain for all to see what's happening on the pitch. My opinions are all my own, based on my own analyses... and I don't think the average Everton-fan is that easily duped.
Silva may not be the knight in shining armour, but at least he will set up the team to win, not "not-to-lose".
Stephen Bird
105
Posted 05/02/2018 at 15:45:00
Gary 95
this Ste Bird - born Edge Hill, lived Childwall, Rudston and St Margarets Schools
Andy Bacon
106
Posted 05/02/2018 at 15:49:56
The game plan was wrong from the start for the Arsenal match; the formation, personnel and the tactics were just wrong, just like they have been most of the season.
I really can't believe how playing 2 holding midfielders helps anyone at all. Schneiderlin is hopeless and Gueye looks lost when he is deployed next to him, it's like there is no communication between them at all. They are put there to protect the back four. What needs to happen when playing Arsenal, what Moyes used to do, was to get at them from the off, right in their faces. Not give them an inch. Far too many times this season we've shown too much respect to other teams and they walk all over us. You knew what you got with Moyes teams, players respected their manager and dug in for the club, what I have witnessed as a fan has been humiliating to say the least.
From what I see nobody wants to play for the shirt anymore, the only players I saw put in a shift for the team on Saturday was Walcott and Niasse. Everyone else was useless. Davies and Calvert-Lewin came on and showed some spirit, that is seriously lacking with our team at the moment.
Alexander Murphy
107
Posted 05/02/2018 at 15:49:58
Nobody wants this bloated bigmouth, so let's cut to the chase.
Time for the TW Poll entitled "Should Everton sack Big Fat Sam?"
Sooner we start the ball rolling, the sooner we are shut of him. So let's crack on.
Eddie Dunn
108
Posted 05/02/2018 at 15:52:32
I think that Allardyce realises that his dream of doing well enough to get a contract extension by perhaps getting us up to 7th is a forlorn hope.
He has therefore pragmatically decided to aim for winning certain games against our rivals for the drop.
Naturally, he wouldn't dare to suggest as much to the fans or press and so we see the tinkering with the team.
Unfortunately, the players can see through him, and those who will be surplus to requirements are most likely planning their own futures.
They (the players) all know he will be gone by the summer and a new man brought in. He is therefore a bit of a lame duck manager and his frustrations are clear.
Of course the players are at fault for not trying hard enough, but his management style is clumsy, to say the least.
Like Koeman, he is trying to operate with authority that is only in name and it is nowadays a common problem for all coaches in the Premier League, where players have lots of power and agents have lots of influence.
We will just have to hope that his strategy works, and we stay up.
Then we have to hope that the-powers-that-be appoint a new boss with a clear plan to get us back to where we were a few years ago.
Steven Astley
109
Posted 05/02/2018 at 15:56:36
I hate to be harsh here, as he has had a lengthy lay off, but I've been really disappointed by Yannick Bolasie. He seems a great guy and a good character, but I'm just not convinced on his ability and even though he has some pace, he isn't really what we need.
I would have much preferred to see him go out on loan (Palace would have had him in a heart beat) and used Lookman in his place.
It's such a shame that Allardyce is proving to be a bit of a dinosaur. I hoped that he could prove all of his critics wrong, but it only seems to be going one way. Everything looked quite rosy just before Christmas.
Alan Smith
110
Posted 05/02/2018 at 15:57:30
Lawrence 99
Just balanced well thought through arguments rather than hysterical behaviour is what I expect.
Take the furore over "the season over" comments and get safe as quickly as possible.
1. The season is over. Or will the FA let us re-enter the Cup. Or have the top 4 all been deducted 20 points?
2. Should we not get as many points as quickly possible? Or do our esteemed posters crave a relegation battle show down on the last day against West Ham? What are we to deduce other than this constitutes what they mean when they say the season is not over.
3. If we get safe as quick as possible, maybe we can experiment and try and play the wonderful brand of Silva football with safety guaranteed
If Allardyce is sacked tomorrow and Silva comes in says we need to get safe as quick as possible in order to prepare for next season, what would be said on here I wonder!
Oh the irony
If you want to slag Sam there is plenty to go on. He's a fat bung taker. Uninspirational character. Tinkered too much with his side on Saturday and naieve to think players could adapt to three at he back in two days after watching a Swansea DVD.
Is his a shit manager all round though?
The England job, his work at Bolton, his promotions, his saviour's
Judge in May... If we finish top 8 or 9 with this group, he's performed well IMHO
John Pierce
111
Posted 05/02/2018 at 15:59:03
Allardayce's arrogant comments are there to justify the team selection from Saturday. Getting safe? There is no way Everton are getting relegated, it shouldn't even be a conversation. The lowering of expectations to convince people we are still in some sort of battle is shameful.
If he had any conviction in his own ability he would look at the situation and go for seventh.
Phil Smith
112
Posted 05/02/2018 at 16:02:55
Big Sam will do (just) what he was brought in to do this year – keep us up. Then get rid!
Silva is waiting in the wings. I don't rate him all that much but he will at least get us playing some better football and seems to be able to bring a few Latin-American flair players to teams.
Wagner will probably leave Huddersfield after they go down. Whoever we get in, it should be a younger, hungrier manager and we start again from fresh. We have the best young English team waiting in the wings and I want a guy in who is prepared to blood them and not let them shine in Germany etc.
Andrew Clare
113
Posted 05/02/2018 at 16:06:16
Allardyce is the kind of manager who would have looked at the Arsenal game as a defeat before a ball was kicked. A bit like Moyes and other lower table mediocre club managers.
We don't want people like this anywhere near this club.
What worries me is that our owner and beloved Chairman would have the same view.
I just want the lot out. Totally the wrong loser mentality that pervades throughout our once great club and has done for 25 years or more.
I just hope Moshiri can see this but somehow I doubt it as it's obvious he hasn't got a clue either. He strikes me as someone with loads of money but little idea of what's going on in the real world.
Dave Abrahams
114
Posted 05/02/2018 at 16:06:52
Alan (#110), if we we finish 8th, 9th or even 10th, I think I would have the courtesy to say thanks to Allardyce but say "No thanks" to having him for next season.
James Stewart
115
Posted 05/02/2018 at 16:17:06
@107 Agreed. The Allardyce reign was a total faux pas. Get rid and let's start again with an actual appointment fans can get behind.
Andy Crooks
116
Posted 05/02/2018 at 16:17:07
Alan Smith@ many posts. Why do you constantly talk about "you lot" and "the majority of you were lauding him"?
I know some people like to take a contrary view to demonstrate their independence of thought and their special discernment. Often, though it can come across as sanctimonious and self righteous.
The absolute gem, however, is when you ask for evidence to be presented showing that Silva would fare better than Allardyce. You know as well as I do that no evidence is available for any prospective manager. Any appointment requires an element of chance.
I would suggest, though, that with his tactics against West Brom, Spurs and Arsenal; added to his public bad-mouthing of his players, his inability to accept responsibility for anything, his worrying and utterly self serving single-mindednes; there is overwhelming evidence that Sam Allardyce is unfit to be at our club.
Jay Harris
117
Posted 05/02/2018 at 16:19:23
Dave,
Let's be honest – barring a miracle, Allardyce will be gone at the end of the season which is why he was initially offered just a 12-month contract and ended up with a compromise 18-month contract.
He ended up as the manager we didn't want but the only "experienced" one who was available.
Danny Baily
118
Posted 05/02/2018 at 16:23:30
Dave (#114), I'd bite your hand of for 10th.
We can stay up if we beat Palace, Brighton and Newcastle. Any slip-ups in those games and we are in trouble.
I'm surprised at how relaxed people are with respect to the looming threat of relegation. We're in relegation form and it's tight at the bottom end of the table.
I agree with Sam. Get to 40 points asapand start giving game time to players who are part of the future plans here. Problem is it will take us until the end of March to reach that points tally and that's if all goes to plan!
Brian Williams
119
Posted 05/02/2018 at 16:23:33
Jay (#117).
I think he was initially offered a 6-month contract. That's when he walked away. Came back after the compromise.
I said at the time (not being a smartarse) that to me it was quite obvious that Moshiri had got him in on the shortest contract Allardyce would accept in the knowledge he'd be gone at the end of this season.
From Allardyce's perspective, it's a fucking good retirement present at the end of this season. From ours, he'll be gone and we'll hopefully still be in the Premier League with someone who can take us forward.
There must be someone out there for fuck's sake!
David Barks
120
Posted 05/02/2018 at 16:29:26
Well I for one completely agree with Sam that the rest of the season is a write-off, it's over. Nothing else to see here, we need to just start looking to next season.
So, that being the case, it's time to sack the arrogant dinosaur and be done with this horrible chapter of our history once and for all. Bye Sam, but you said it yourself, we need to focus on next season. And you not being within 100 miles of Goodison is the very first step in preparing for next season.
Jay Harris
121
Posted 05/02/2018 at 16:43:12
David sacking anybody is the easiest job in the world... the difficulty is replacing them.
Silva, although lauded by quite a few as being available now, is not the answer. We need to be thinking in terms of Simeone, Tuchel, Ancellotti etc, and nobody of that quality will be available during the season.
We don't need another knee-jerk response based on the recommendation of Walsh; we need a very carefully thought-out appointment with a plan for the future.
Tony Everan
122
Posted 05/02/2018 at 16:46:27
There is no way on god's earth Big Sam is starting next season. More chance of us signing Elvis Aaron Presley as our Lukaku replacement.
Keeping him on will be another year wasted, a panic sacking in November when we're third from bottom.
Moshiri needs to start planning now for next season. No 1 on the list is a new manager. A proper manager who can sign proper players and play them in a system they can understand.

David Barks
123
Posted 05/02/2018 at 16:53:16
Jay,
I'm not saying to appoint that manager now. I'm saying that the club should make it very clear right now that Allardyce will not be that man next season, by removing his ass immediately, and letting the footballing world know that we are looking for that caliber of manager by stating so publicly. Begin those back channel conversations now. He is a detriment in preparing for next season.
Soren Moyer
124
Posted 05/02/2018 at 17:01:29
Jay (#121), Simeone, Tuchel, Ancellotti etc have clearly stated they want to manage Champions League clubs. Forget about them. They won't come to us.
Why Fat Sam should get the sack now: https://uk.sports.yahoo.com/news/everton-sack-allardyce-now-bring-marco-silva-123746660.html
Tony Cheek
125
Posted 05/02/2018 at 17:04:29
Wouldn't it be absolutely brilliant, just as a protest for one week that all Everton supporters went to watch Unsworth's (if he does take the job) Oxford United instead of the blues..... Just one game!
Luke Welch
126
Posted 05/02/2018 at 17:08:08
Sam will do nothing but drag Everton down with his small time mentality. Every manager has his own way of building a team and there is some good footballers in the squad, but I don't think they are Sam's kind of footballers. We need to find manger who suits what is already there. What ever that is.
Paul A Smith
127
Posted 05/02/2018 at 17:18:57
I am happy Allardyce said the players were crap. That's highlighted the first step to sorting this disgrace out.
It's about time fans stop falling in love with energy and loved players for being good footballers. We've had 3 managers in 1 season working with half-hearted wimps with a serious lack of ability.
I love Gana's attempts and efforts but you would think he was Viera's nemesis if you listened to popular voice.
John Pierce
128
Posted 05/02/2018 at 17:21:47
Jay,
Sacking someone at this stage is far from easy, it's brave.
Sure it might be poor decision but so might retaining Sam and the limited ambition he is poisoning the club with.
David's point is a good one, beginning that conversation now and taking control of the situation which has morphed way out of control. 12 games left were only winnable ones we will play a full-strength side? Come on this is defeatist and soul sucking surrender monkey territory.
Everton even in this era of zero success are more than that. When the league is so poor, why when people are still jumpy about relegation, are they not equally enthused that 7th place (less points away) is eminently achievable and the strong possibility that it bring European football.
A staple requirement if we want to be considered a club with ambition.
I considered after Boxing Day that removing Allardyce even with no clear replacement would be stupid, and destabilise the club. But one month on several painkilling games more and I cannot see if we chose a to sack him now how things could become worse?
But as always despite the semantics, the true story is in a top brads who are hamstrung by their own incompetence. So, hey ho, let's just bumble along until it gets so toxic we have no option but to take action.
David Doran
129
Posted 05/02/2018 at 17:23:26
Does SA think Wenger didn't change his formation after the Swansea game. I think everyone knows Sam is not for us. Let's get rid and get in Silva ASAP.
Paul A Smith
130
Posted 05/02/2018 at 17:29:17
Andy Crooks, I get where you are coming from on management but when does it become acceptable that the manager isn't taking responsibility?
For instance if he picks a team we agree with before the game? Is it this case or if he picks the team we all agree with and they lose?
Is he okay to not accept responsibility then?
Jamie Crowley
131
Posted 05/02/2018 at 17:29:26
I think the best way to motivate players is to publically tell the world they are crap, then follow it up with quitting on the current season.
You gotta be fucking kidding me, right?
You can't make this stuff up.
James Hughes
132
Posted 05/02/2018 at 17:30:36
This is not the time to appoint another manager. Four in one season would be a record we don't need.
I believe we are safe for another season, well I have to cling on to that belief. So for another manager to bring another style of play etc would really put us in the mire.
Just limp along to end of season and we start again in the summer, for the umpteenth time.
Ken Kneale
133
Posted 05/02/2018 at 17:38:25
Mike@51 and Jay@103 excellent points that nobody seems to have picked up. McNulty is still persona non grata despite being a fine journalist and perhaps he aware of what the 'cancer' in the club is. are you out there listening Phil?
Jay Harris
134
Posted 05/02/2018 at 17:41:45
John,
I fully understand the dissatisfaction with Allardyce but to sack him now and create more instability would be suicidal.
Far better, IMO, to support him fully till the end of the season and in the meantime start the search for the"right" man.
I would also go much further and get Kenwright to stand down together with sacking Walsh and get a professional boardroom in.
Guy Hastings
135
Posted 05/02/2018 at 17:44:12
Any player we think worthy of Goodison Park but with half an eye on his career from next season will be looking at FC Clusterfuck as a more stable and encouraging prospect than us with the threat of Allardyce at the helm.
Paul Birmingham
136
Posted 05/02/2018 at 18:05:09
For me it's not the time to twist in the manager stakes. We can't afford 6 more bedding in games.
Stay up by any means now and after the last game, implement the rebuild of EFC and overhaul the squad and DOF, and management team. This Id like to think Moshiri has mapped out. I'd not opt for Silva as manager, and I'm not sure who'd take the chalice at EFC, from the so called high ranking European managers. If they did the club would be paying OTT in wages got his manager.

Saturday was another lowest ebb in so many low ebbs, the last 30 years in terms of events on and off the park.
Where EFC is now is not a good place and the club is sliding into oblivion and mediocrity, very quickly. Seeing the highlights of Spurs on MOTD, last night, shows the gulf and at least 4 years gap in squad development to be able to sustain a consistent top4 challenge.
We all hate this fact, does the club accept this fact, is questionable.
The board must decide if they are gonna be professional and serious about the future of EFC or pretend to be do, and suffer the consequences.
I hope I'm wrong but the manner of the heavy defeats this season is the traits of a spent and confidence drained squad.
EFC board, please plan ahead for the end of this season, and save the club, from demise and further humiliation.
Ian Bennett
137
Posted 05/02/2018 at 18:06:18
Definite lack of credible candidates for the Everton job, and explains how England have had Alladyce, Southgate, and McLaren in the recent past.
I haven't a clue who to go for, but I know Alladyce isn't the answer. Dyche, Howe, Silva? I struggle to see any of them turn it around and break the top 6. We are just so far behind them in terms of attracting genuine top class talent, it's hard to see us make a dent - and keep them from pinching the odd bit of quality we've got.
John Kavanagh
138
Posted 05/02/2018 at 18:22:00
Guy #135 Can you still get a season ticket for FC Clusterfuck as RB Leipzig sold out. Hear their new stadium plans are more advanced after Blue Bill ran out of crayons.
Joe O'Brien
139
Posted 05/02/2018 at 18:23:57
Jay 134 totally agree with you. Would be a bad idea to get rid of him now... even though I want him gone and can't stand the sight of him. But it would be suicidal. If it went wrong we could go down. There's not much breathing space between us and the bottom three.
For sure we should be putting the feelers out from now. Sam will be gone in the summer... thankfully.
I was pro Silva; not too sure now. I'd go for Dyche... solid, some good football, a bit of long ball type but, with a bigger budget, I think he could be become a more passing football manager.
Rick Pattinson
140
Posted 05/02/2018 at 18:38:13
I see Man Utd are sniffing about for Pickford now. We will probably sell him even though he's been the only plus this season... can't blame him if he does leave. This club's a fucking shambles.
Dave Williams
141
Posted 05/02/2018 at 18:38:22
Some strange points made by Alan Smith but we are all entitled to our opinion.
However ,the reason why Moyes was never slagged off for the seven goals we let in at Arsenal in 2005 is that we had already confirmed a 4th place finish and the players were hung over from celebrating.
Bit different from Saturday I think Alan?
Les Warham
142
Posted 05/02/2018 at 18:39:22
The "start again next season" routine is a sham – do your job, Allardyce, pick a team and a formation, repeat for a few games and try to morph these players into a coherent unit.
The play like a non-league team away in the cup approach, seen several times this season has completely made a mockery of the club and failed abysmally.
Completely shambolic, try and restore some pride, starting now, not next season, try and play some football with the multi million pound squad we've got. Thanks!
Eddie Dunn
143
Posted 05/02/2018 at 18:39:45
If we are looking at prospective managers, the man I keep thinking of is Howe.
Bournemouth have shown great fight and played some good stuff under him. He seems honest, upbeat and likable. He must be popular with the players and he has done well on a limited budget.
Carl Allan
144
Posted 05/02/2018 at 18:45:13
I can't believe some fans still want Silva. Watford were worse defensively than us under him. What other club would blow a two-goal lead to this Everton side?
Silva to me is just Martinez minus the Rogaine.
Phil Walling
145
Posted 05/02/2018 at 18:52:32
No point in naming successors to Allardyce. He'll keep the gig as long as we stay in the Premier League. Safe till next Christmas, I suspect!
Jamie Evans
146
Posted 05/02/2018 at 18:53:49
Credit where credit is due, what a fantastic thread. Seriously, I feel so much better knowing so many like-minded souls feel the same way as me about our current manager.
Some great shouts on here that have made me laugh out loud - (I believe the cool kids call that a LOL ?)
These include a previous poster describing it as 'cute' that Mr Allardyce thinks he will be still be with us next season, whilst another, simply calls him Hippo Head 👏👏👏
However, the best description of him by far is the word destructive.
9 more points all. 9. More. Points.
Tony Hill
147
Posted 05/02/2018 at 18:59:04
I wonder who we'll blame when Allardyce has gone?
Jay Griffiths
148
Posted 05/02/2018 at 19:07:32
Had a surreal moment in work today. There's a lad who does all the away games on the Z-Cars coach whilst we're on the official coach.
I had to liaise with him half-way through the morning. This is exactly how it went:
"Alright, Neil, that was bullshit Saturday. We were out of there on 39 mins."
He must've thought I was like some depraved cuckold that put up with 5 porn stars dry reaming his bird for watching so long...
"19 minutes mate, I'd had enough"
Straight up... Smashed our record!!!
Brent Stephens
149
Posted 05/02/2018 at 19:16:19
Tony #147 "I wonder who we'll blame when Allardyce has gone?"
The next manager. The players. Bill. Walsh. Moshiri. Sky and their darling favourites. That Tom Cobbley fella. The EU. The scrapping of National Service. The Welfare State. Benefits scroungers. Capitalism. The French Revolution.
Ian Bennett
150
Posted 05/02/2018 at 19:22:56
I blame Phil Neville and Simon Davies. I never liked either of them.
John G Davies
151
Posted 05/02/2018 at 19:25:49
Taking a leaf out of the Daily Mail's book.
Single mothers.
Colin Glassar
152
Posted 05/02/2018 at 19:32:39
Tax dodgers and scroungers (rich ones both).
David Israel
153
Posted 05/02/2018 at 19:32:40
Yes, sack him, and give Unsworth until Whitsun.
Colin Glassar
154
Posted 05/02/2018 at 19:34:02
Is that the same as Pancake Tuesday, David?
David Israel
155
Posted 05/02/2018 at 19:34:22
Eddie #143, adn they say Eddie Howe is a Toffee!
David Israel
156
Posted 05/02/2018 at 19:36:01
Colin, no, that is Shrove Tuesday, tomorrow week. :-)
David McMullen
157
Posted 05/02/2018 at 19:46:02
What worries me is there are so many bloody issues!
A lot of the players are too "unprofessional" for our football club
they are not putting in a shift. They have been like this not just this season but also under Martinez. How many managers?
The managers themselves are sub standard they are picking teams that we can all see are going to fail and they come out with stupid comments.
We're a club drifting down a road that the likes of Leeds and Villa have taken. Yet spent a fortune! What's that saying throwing good money after bad or something?
We can equally qualify for Europe in 7th again like last season and maybe push on with the right manager at the helm. We're all hoping for that!
Right now we just need to beat Palace and hope that we scrape away from the drop zone and then the inquisition can begin and maybe they can line up a new manager and a left back!

Brent Stephens
158
Posted 05/02/2018 at 19:46:05
Colin, you leave us tax dodgers alone.
Colin Glassar
159
Posted 05/02/2018 at 19:47:45
Love a pancake me, David. You're right, Howe was a Toffee like Lallana, Gerrard, Macca, Owen, Carra, Rush etc
Alan Smith
160
Posted 05/02/2018 at 20:01:16
Andy, I resemble those remarks, thanks
"It is a gem" ?
Do you mean that evidence that a manager will be good appointment doesn't exist because there is an element of chance involved in every appointment?
So you can't mitigate the chance of it going wrong by selecting the best candidate based on evidence like a CV or knowledge of getting good results previously?
So there is no evidence to suggest mourinhio, conte or guardiola etc.. Would be good appointments?
Even Silva has some good things on his cv from his time in Portugal and Greece.
You might have presented this evidence to prove silva is a better choice. Maybe examples of great attacking football he played at arsenal to back up your pt.
As for "element of chance" . There was virtually no element of chance with allardyce though was there? He's proved time and time again he stops the rot and improves nearly every club he goes to, and keeps them up.
Your quite right about his self serving attitude, very similar Moyes and mourinhio. I'm also seeing this trait in pep and conte. Its an undesirable quality but how it effects his overall ability to help Everton get results is uncertain. I'm sure it has a negligible effect either way.
He was Negative v West Brom so you say this makes him unfit to manage the club. I agree it's bad to hear him talk about this as a difficult game. We are Everton and they are West Brom. On the other hand though, that day we had no senior wingers, only two internationals, a Welsh and a Icelandic. Two dreadful full backs and other kids and journey men. We couldn't have played great football with pep coaching that group I'd suggest. Or do you think Kenny and Martina are like cafu and Carlos just badly coached?
Arsenal he played three quick forwards and the only two senior fit cms at the club.
His first Derby we had two strikers and rooney and sigurdsson and davis.
His post match press conference on Saturday he blamed the players. When he was at fault for picking three centre backs who hadn't played together. I've said that throughout the thread.
However, can you not understand his anger at the players after only 3 tackles in the first half and no bookings? Come on. Would you look in mirror and blame yourself if you picked that 11 and they made three tackles. Maybe you'd take all the blame and let the players go on cruising through to the end of the season. Weighing up damaging their confidence and giving them a kick up the arse I don't know were I would go.
I certainly don't think the manager getting it wrong tactically is an excuse for those individual performances. And do you want them to play shit again next time they can hide behind a tactical decision.
I agree, he was terrible on Saturday but he won't be the last manager to set a team up to play on the break away at arsenal.
By the way our best player is a player arsenal didn't want. We sold a 75m striker and arsenal bought a 60m one and had lacazette on the bench.
We will go on to win a good few games now. Coleman, Mangala and Walcott will settle in, we will play good football,get safe quickly and start giving tuson and davis a go.
Non of these shite players were his. The squad available at West Brom away was probably worse than what West Brom had.
And when we finish seventh or eighth non of you pricks will apologise.
Still waiting for the apologies when I was ripped on here for saying if we sign Barry and lukaku we are guaranteed to finish top 6. We finished fifth.
I'll generalise again, you all thought a prem league winner, 80 England cap player was shit and slow, and lukaku was lazy hahaha.
You all thought Mccarthy was better than fellaini.
I have to generalise Andy, because of the herd mentality so get some evidence or logical reasoning on the go mate. A few examples maybe.
I'll engage with original ideas and points of view. But in general I think this site is full of whoppers with no objectivity or thought through ideas.
Calling someone unfit to manage our club, isn't evidence, argument or a reason. It needs to backed up by more than self serving otherwise you've ruled out every ambitious person on the planet.
Anyway, I have got the feeling that most people on here couldn't wait for this result because like sheep they believed all the negative tactics shite about allardyce before he come here. They set their stall out early. And now they have their chance to prove that their bias was right. And all show their passion by being more outraged than the last anti allardyce person. There knives sharpened ready to be more negative than the last poster.
So ill ask again, how does any of this help the club?
You forgot arrogant. I'm very arrogant too.
And lukaku is lazy
Barkley is inconsistent
Scholes couldn't tackle
Eric Myles
162
Posted 05/02/2018 at 20:07:10
Phil #39, "Am I alone in still not being entirely convinced about Pickford?"
No, no you're not.
David Israel
164
Posted 05/02/2018 at 20:14:38
Colin #159, so do I. As for that illustrious list, one of these days someone will come up with a previously unknown document that proves Bill S****y was a Toffee.
Jimmy Hogan
165
Posted 05/02/2018 at 20:20:18
Isn't blaming the tax dodgers the same as blaming Allardyce?
Gordon Crawford
166
Posted 05/02/2018 at 20:26:41
I struggle to see why anyone wants Silva as the next Everton manager. For me he has done nothing that suggests he is any better than what we have had. He hasn't one anything of note and he hasn't managed anyone worth talking about. We need someone with a great track record as a manager, a proven winner, someone from the big leagues.
Alan Smith
167
Posted 05/02/2018 at 20:33:04
Careful Eric, telling the truth about pickford is blasphemous.
You have to subtly drip feed the idea over seasons before you can stick your head above that parapet.
He might allow the full backs to get forward like Mccarthy did, for all you know.
And don't start on Walsh he spotted kante an mahrez. One player for every 25 years of adult life is top scouting.
Brian Williams
169
Posted 05/02/2018 at 20:43:21
Antonio Conte anyone?
George Cumiskey
170
Posted 05/02/2018 at 20:56:31
I've said it before and I'll say it again, I'm sure some of Allardyces family and friends come on toffee web.
They use aliases of course, but my god do they defend him through hell and high water.
Andrew Bentley
171
Posted 05/02/2018 at 21:06:46
Comments like this are why I hate this man!!
Firstly, Arsenal played Swansea away from home and so set up differently then they do when at Home. Looking to catch teams on the counter rather than taking the game to them (which they did to us)
And secondly, Arsenal had both their 2 new players Aubameyang & Mkhitaryan playing from the start which changes the shape and focus of the team. So we didn't play a like for like team that played against Swansea so why play the same way
Everyone who has watched football for years knows that Arsenal at the Emirates is a very different team compared to Arsenal away from home. They've always been a jekyll & hyde team - rainy games away at Stoke were always their downfall for example.
For this ********* man to absolve himself of blame by picking a formation that this bunch of players have never played well in, put 7 defensive players on the pitch and wondered why Arsenal were able to attack at will (as we had no outlets to get at them) is a joke. How much are we paying him every week?????
I'm convinced that he knows he is going in the summer, and although he got his big 18 month contract that he was only ever going to be in for 6 months to keep us up. Moshiri never wanted him and we probably already have Silva lined up to take over in the summer. That's probably a contributing factor to why Watford got rid and no-one else has taken him on when he's highly rated. Anyway, pure speculation on my behalf!
David Israel
172
Posted 05/02/2018 at 21:11:50
Gordon #166, Silva has become a bandwagon, and you're spot on. He is the current favourite of the ABS (Anyone But Sam) brigade. If we are to look at a very good Portuguese coach, we should look at Fonseca, at Shakhtar Donetsk. But, as I have said before, Sam is on an eighteen-month contract, and he must go the whole hog, or we'll be a laughing stock.
George, #170, I am Sam's granny, if you really want to know.
Lawrence Green
173
Posted 05/02/2018 at 21:21:02
David #172 If Sam's teams continue to play as poorly as they have on so many occasions this term do you really advocate that he serves the full 18 months just so Everton FC and Evertonians don't become a laughing stock? I've signed up for next season already but I will not be looking forward to it if Big Sam is in the hot-seat come August.

David Israel
174
Posted 05/02/2018 at 21:29:02
Lawrence, in my previous posts on this subject, on other threads, I have added the qualification that, unless things go seriously wrong, Sam should stay on. Both my point of view and my qualification on this question are, I'd like to think, just plain common sense. And I don't mean performances, I mean results. If the latter go very much wrong, Sam should go, obviously. He should not, in any way, be kept until Midsummer's Night.
Robin Gomme
175
Posted 05/02/2018 at 21:30:49
"We believe that our current squad is capable of performing to a much higher standard than we have seen recently. We must all accept responsibility for the recent poor run of form, including our players who now have the opportunity to put it right.
"As such, we believe that a change is in the best interests of the club at this time in order to give us the best chance of finishing the season strongly."
If only poor old Stuart McCall .
David Israel
176
Posted 05/02/2018 at 21:48:11
Has he been sacked, Robin?
Alan Smith
177
Posted 05/02/2018 at 21:48:19
The wise old heads of Everton fans.
Too many runs down blind alleys
Too inconsistent
Negative cliché after negative cliche
Two assists and goal v Chelsea.
The fans are our problem. By far the most destructive element at the club.
Worse than kenshite most of them.
Jimmy Hogan
178
Posted 05/02/2018 at 21:48:49
Gerry has scored for Watford.
Soren Moyer
179
Posted 05/02/2018 at 21:51:51
Watching watford against chelsea and they are playing some very good, high octane football! 4-1 up now!!! We will be overtaken by them soon.
Lawrence Green
180
Posted 05/02/2018 at 21:52:47
Alan #177 you really are becoming a pain in the arse, you don't like some fellow Evertonians we get it. If you don't like the site don't bother coming on, disagree with certain posts or posters if you feel the need but don't try and make yourself out to be a superior Everton supporter to the rest of us.

Nathan Snell
181
Posted 05/02/2018 at 21:53:02
Bloody hell. I've just realised that we only have Four home games left. Away form is shocking so to realistically reach the magic 40 points to stay up we need to win 3 out of those 4 at home. Now that's a scary thought.
Chad Schofield
182
Posted 05/02/2018 at 21:53:17
Some odd ideas, and some great comments.
I'd prefer the board publically back "Hippohead", but leave an asterisk or cross their fingers behind him so we as fans know they're only joking. Fergusson could swap Sam's chewing gum for ink cartridges, so over the summer when Moshiri slays him in front of a baying Goodison like one of those freak halal camel killing debacles, his blood would be blue and spell out his successor's name. For kids or those less blood thirsty, they could guess Sammy Lee's weight, and if they're vaguely right (to the nearest million tons) they could ride him around Stanley Park.
Alternatively, sack him for gross misconduct/bringing the club into disrepute/masquerading as a slug whatever, for his comments. No pay off would hurt him more than almost anything.
David Hallwood
183
Posted 05/02/2018 at 21:53:42
Sack the Watford coach. Surely small teams must set up not to get beat against the big clubs
Ray Robinson
184
Posted 05/02/2018 at 21:54:10
The bad news: we play Watford in our next away game. Good news: Conte will be available

David Hallwood
185
Posted 05/02/2018 at 21:55:20
Nathen two of those home games v Citteh & the RS
Ray Robinson
186
Posted 05/02/2018 at 21:56:43
Nathan, six games! Not quite as dire as you think!
Tony Hill
187
Posted 05/02/2018 at 21:57:11
I suppose it helps if you're playing 10 men and the opposition players don't like their manager.
Lawrence Green
188
Posted 05/02/2018 at 21:57:21
Palace, Brighton, City, RS, Southampton and Newcastle left to play at Goodison Nathan unless of course you were doing a Moshiri and writing off the visits of RS and City.

David Barks
189
Posted 05/02/2018 at 21:58:19
What an idiot that Watford manager is. Doesn't he know you have to line up with 7-8 defenders and just hope for a draw!! These foreigners just don't know what old Sam does. You can't play football in England and Deulofeu is clearly not good enough for the premier league.
Nathan Snell
190
Posted 05/02/2018 at 21:58:33
Notwithstanding the two home games against Liverpool and man city BTW (that would make 6), but based on current form I excluded these two...I know what I mean...taxi!
Tony Waring
191
Posted 05/02/2018 at 21:59:50
I see that delofeu scored for Watford in a 4-1 victory tonight. Everyone we let go scores goals. Are you listening Sam ?
Nathan Snell
192
Posted 05/02/2018 at 22:01:09
Exactly that Lawrence - I'm a tad more concerned now. Puts that Leicester City result into perspective. Significant result.
Soren Moyer
193
Posted 05/02/2018 at 22:02:05
Even before chelsea went down to 10 men, watford were the only team looked like scoring!
David Barks
194
Posted 05/02/2018 at 22:04:58
But guys, safety first. Don't you know that we're in a relegation battle and can't afford to try to attack the opposition. Don't pay attention to Watford being 4 points below us entering today. They were wrong for setting up to attack Chelsea. That is not right and not acceptable. It's all about clean sheets and only worrying about what the opposition can do to you.
Si Cooper
195
Posted 05/02/2018 at 22:05:02
Alan Smith, the players became Allardyce's players when he accepted the job. That's just the way it is. It's not as though he had no opportunity to assess, to some degree, exactly what he was going to have to work with.
And then, I presume, during his negotiations with Farhad Moshiri he will have laid out his terms for taking on the job and the massive wages that go with it. I would expect any sensible manager would want some guarantees about being backed to the hilt in the pursuit of players to improve such a poor squad.
They are his players, it's now his unholy mess, and if they fail it will be his failure because he took the job.

He doesn't half mangle the English language. Like Trump, you get the gist of what he is trying to say, but if you actually read it through it contains a lot of intelligible, barely coherent rambling. How can we be looking to write off the games after we reach safety? It is crucial to get to 40 points asap, but surely the games after that are a potential bonus as that is when we can concentrate on performance over results, rather than the other way around, and build something for the future
The season will only be a proper write off if we barely avoid relegation. If we go down it is much more serious than a write off.
Jerome Shields
196
Posted 05/02/2018 at 22:06:41
The Important point that Big Sam is missing is that the Swansea players were coached on the training ground to play that way, whereas the Everton players weren't. They were shown a video of Swansea and told that is what they had to do. I can't believe he has actually admitted this...
Also talking Big Sam getting to a certain number of points and writing off the season in February, still wanting to be paid £6 million. Guardiola in contrast is 15 points ahead, says anything can happen, and Man City need to keep performances up.
Everton are really at a low ebb if the Board are prepared to tolerate this bare-faced swindle of a Manager.
Alan Smith
197
Posted 05/02/2018 at 22:07:18
Lawerance
I don't feel superior. I feel angry at the lack of support some have gave our young players. And now our current manager.
I'm angry because I want supporters to support.
And I wonder what might have been if we would have all got behind lukaku, Barkley, stones and deulofeu and insisted the board did not sell and made these players feel loved like big Dunc. Or even Joe parkinson! Haha Joe PARKINSON!
But "take the money and run", "too inconsistent" cliché bellend fans killed any chance of that.
And kenshite lacks ambition?
And I need to fuck off because I'm being superior?
OK ill leave you to your nonsense and bullshit reasoning.
I'll be back in May. All will be clearer then
James Kenny
198
Posted 05/02/2018 at 22:07:50
I sit every week watching turgid Stone Age football with a team that is so slow both in offence and defence and only really has one ball - the big hoof - and then I watch Spurs yesterday and Watford tonight - big powerful and quick teams always in the front foot and playing short ground based passing - wtf Everton where have we gone wrong
BOON JOHN M
199
Posted 05/02/2018 at 22:08:11
Some posts have suggested that getting rid of Allardyce in the very near future would make us a "Laughing Stock".Unfortunately we already are. Just hiring a multi time loser is cause for other supporters. amusement. They know that if their team need a new manager this season it won't be "Senile Sam". He causes even more hilarity EVERY time he opens his mouth.
Soren Moyer
200
Posted 05/02/2018 at 22:09:39
David Barks #194, And their useless owner has never said they had no chance against top 6 teams and they should not expect to get any points from them.
Jack Convery
201
Posted 05/02/2018 at 22:22:37
If the players want him out get to 40 points asap and give him his cards. Bring in Silva to see the season out once we are safe and start looking at how we will play next season. Who can and who can't play the Silva way. If Silva flops its defo the fact we have crap players as 4 managers and a caretaker can't all be wrong. Allardyce was brought in to keep EFC in the EPL, nothing more nothing less. Onces its achieved and he should do it - his own ego will see to that - he has to go - no arguements. If he is still here in August - god forbid - no one should renew their season tickets. Just buy a cut throat razor - you'll enjoy the ezperience much more.
Tony Hill
202
Posted 05/02/2018 at 22:23:43
This site has become deranged, all reason lost. What a shame.
Jim Bennings
203
Posted 05/02/2018 at 22:34:54
We must beat Palace because with our away record over the last year we are leaving Watford and Burnley with no points .
Failure to beat Palace will see us going into a monumental game at home to Brighton on March 10th.
Andy Crooks
204
Posted 05/02/2018 at 22:38:16
Alan # if we finish 7th or 8th be in no doubt I will say well done Sam, I was wrong. I will be happy to do so. I don' t agree with your argument that he improves every club he has been at. Both Newcastle and West Ham where, in my view and that of many of their supporters, in a worse position after he had gone.
Now I accept that short termism is what you get with Sam. The custodians of our club feared the worst and brought in the man who has proven, no doubt, that he can keep teams up. That was his remit and writing off the Arsenal game was part of how he does what he does.
Of course there are managers whose CV will strongly suggest that they will improve our club. However, Alan, they are never coming to Everton. We are in the market for coaches that are going to be a risk. Dyche, Howe even Fonseca could all go pear shaped.
When Allardyce was appointed I argued that he be given a chance and shown the tolerance that would have been shown to Unsworth. Had there been a sign, a glimpse of what he was trying to do I would still be on board. Contrary to what you seem to think I don't think Evertonians are too hard to please.
I do accept your point about his anger because that feeble spineless effort was shameless. I believe, though, that pubicly expressing it will be counter productive.
I took no joy from that result and I believe you are wrong about people wanting to be proven right about Sam. In your view is SA too old a dog to learn new tricks? Do you think when we reach 40 points we will see the new, imaginative Sam? When he was appointed I thought he might just grab this last chance. I don't, now, believe he has it in him. If he does, believe me I will happily gorge on humble pie.
Martin Clark
205
Posted 05/02/2018 at 22:39:02
I'd like us to make the change early so they can have time to see what's needed and hopefully get the right kind of players through the door early in the summer.
It's hard to fathom the change in performance from last season, as I was optimistic we'd properly challenge for forth with what appeared to be exciting signings.
We still have decent players and it's up to the managing staff to organise and get them playing with the aim of controlling and winning games.
Can't see Sam Doing this as he has just blamed his players as if he was faultless. Their was sooo much wrong with his selection most were predicting what happened.
Be brave and move on!
David Israel
206
Posted 05/02/2018 at 22:52:21
From tonight's result at Vicarage Road - where they even play 'Johnny Todd' - and some of the comments here about how great Watford were (I'm sure they were; I didn't watch the game), Gracia, or whatever his name is, is now the odds-on favourite to succeed Big Sam, having just overtaken his predecessor, the famous Silva. And Deulofeu, having scored a goal, has just shown how wrong Barca were to have let him go.
Jason Wilkinson
207
Posted 05/02/2018 at 22:53:19
WRITE THE SEASON OFF? Cheeky bastard! £6M a year and all he can come up with is get to enough points not to be relegated and write the season off?
Moshiri if you keep this fraud any longer you are mugging every supporter of this once great club right off.
Build your waterfront castle and see who's left around to fill it. With charlatans and frauds running the team and gobshites on the pitch the true fans will have fucked off and be watching professional tidly winks or anything rather than support that sort of contempt for their loyalty and hard earned cash.
Jason Lloyd
208
Posted 05/02/2018 at 22:59:33
Agree with points about Arsenal at home is not the same as away, but I do take Allardyce's point that it could be any formation, if the players don't have the stomach for the fight you are doomed anyway.
We have about 7 players who are just there for the cash, they don't give a toss about Everton at all. The longer we stay with this current set up the more the original spirit of the club is drained away to be replaced with a corporate entity rather than a community driven football club.
Andy Williams
209
Posted 05/02/2018 at 23:05:44
Alan #91. I agree with much you say and disagree with much. Not too sure about the way you have couched any of it. However, your comment: ' before the game I suspect most would have gone with the totally shite schnierdlin over the totally too young and off form this season davis (sic)' I suspect is entirely erroneous.
However I do entirely agree with Susong #1' Im just want to booing now, fat... Boooo!!!'
John Keating
210
Posted 05/02/2018 at 23:10:16
Allardyce out.
Let's get Silva in right now to turn our season around. Look how well Watford played tonight, hammered Chelsea.
What? Silva is not at Watford ?
OK no matter get the guy who is there here ASAP He's brilliant and he's got a foreign name.
In fact let's just get anyone who's got a foreign name in or Unsworth
David Barks
211
Posted 05/02/2018 at 23:16:55
John,
You're so funny. You take people pointing out that Watford, who were 4 points below us entering the game, chose to attack and got their just reward of 3 points to imply people saying it was down to Silva or we just need a foreign name. That's sad, because we were actually focusing on what a failure Allardyce is by pointing out the flaw in his ultra negative defensive approach. That you can, in fact, attack a team like Chelsea.
But keep reconstructing those straw men. They must be a lot of fun.
David Israel
212
Posted 05/02/2018 at 23:17:17
John # 210, and if it's Unsworth, make sure to give him until Christmas, just like Chamberlain should have been given until El Alamein.
David Israel
213
Posted 05/02/2018 at 23:17:17
John # 210, and if it's Unsworth, make sure to give him until Christmas, just like Chamberlain should have been given until El Alamein.
Ernie Baywood
214
Posted 05/02/2018 at 23:20:15
I get sick of reading that it's never been worse...
But has it ever been worse?
I know we're sitting in midtable, but I always had a bit of hope. Every now and then you realised a manager had lost it, and we've had plenty of times where we were incredulous that the axe hadn't yet fallen.
It was clear that Bobby and Koeman were going long before they did eventually go. But at least we had their exit to look forward to. Maybe a new appointment could turn it around.
What do we have now?
We have a manager who has lost it to an alarming degree. He's slating individuals, he's slating the team, he's refusing to accept any responsibility. It's worse than anything Koeman stooped to. And he's only been here 5 minutes!
We know he won't get sacked. We know he won't be here come August. We know he's not going to "try things" as he's claiming. We know it's going to be shite until the end of the season.
What is there to look forward to? And who DIDN'T see this coming when the club appointed him?
Jerome Shields
215
Posted 05/02/2018 at 23:22:30
Contrast Allardyce reaction to defeat to Antonia Conte.
"I have a great disappointment, our performance was very bad. We started poorly without personality, with the fear. We are not used to playing this way. We can lose but we always try to play football and be positive. The double yellow card did not change it but the situation became serious. Then there was the penalty and when you go 1-0 down it is difficult to come back with ten men.
"In the second half we showed good determination but confusion. You have to manage the situation, to understand it. But in ten minutes we conceded three goals. In this case it is right everyone to take the responsibility. Me the players and it was normal this."
Would prefer him as Everton Manager, at least he is honest. Give him the job and a 3-year project, forget about Silva and Howe.
Gordon Crawford
216
Posted 05/02/2018 at 23:28:33
Geri was also man of the match tonight against Chelsea. Prehistoric thinking from our short sighted football club.
David Israel
217
Posted 05/02/2018 at 23:33:15
Gordon, Barcelona had a buy-back clause on Deulofeu. Nothing we could do, even if we had wanted to keep him.
David Barks
218
Posted 05/02/2018 at 23:35:36
David,
But you're ignoring the fact that the previous manager, again with the safety first approach, wouldn't play him and sent him out. Sort of similar to the current dinosaur sending Lookman out in favor of 7 man defenses.
Brian Porter
219
Posted 05/02/2018 at 23:43:31
What sort of manager writes off the season when, mathematically at least, his team could conceivably finish in seventh place?
A spineless, gutless
Gordon Crawford
220
Posted 05/02/2018 at 23:44:34
David Israel I get what your saying. But we never got the best out of the boy, never given a proper run of games. And we should have been first in line to sign him when he became available again. I would rather have him that Bolasie.
David Israel
221
Posted 05/02/2018 at 23:45:06
David,
You have a point, but what I said about Barcelona would still stand if Koeman had played Deulofeu in every match, and he'd been a success. As a matter of fact, the better he had played, the more likely Barcelona would have been to take him back.
But I still remember plenty of moaning on here about Geri. Neighbour's grass and all that.
David Israel
222
Posted 05/02/2018 at 23:46:14
Gordon, on that, I agree 100%.
Brian Porter
223
Posted 05/02/2018 at 23:51:34
Something went wing wrong with my post above. A
John Daley
224
Posted 05/02/2018 at 23:52:00
"I wonder what might have been if we would have all got behind lukaku, Barkley, stones and deulofeu and insisted the board did not sell and made these players feel loved....But "take the money and run", "too inconsistent" cliché bellend fans killed any chance of that."
How so?
Stones submitted a formal transfer request when Chelsea wanted him, the summer before he was eventually sold to City. During the following season's games, the fans never got on his back once about the fact he had officially made it known that he wanted to fuck off. In fact, they gave him a tremendous reception the first game after Mourinho got a gob on, from what I recall.
Lukaku was making noises about needing to leave to advance his career from around the six month mark in his 'permanent' Everton career. After every story that appeared while he was away on international duty, duly reporting his self-fellating statements of ambition about the imminent next stage of his career at a 'big club', the crowd at Goodison roared him on, making it abundantly clear how much they wanted him to stay. When he came out and publicly questioned the club's ambition and prattish fannying about during the preceding transfer window, the match going fans backed him fully once more.
Barkley was, rightly or wrongly (the latter, in my opinion), the cause of many a groan and a "fuck off Ross", but after he was smacked in a nightclub and subsequently compared to a gorilla by a gozzy eyed shit spewer from the S*n, when he truly needed their 'support', the fans at Goodison, to a man, rallied around him at the next home game.
Fair enough, all three of the above players may have been heavily and harshly criticised on here at times, but it was never, ever, at any point, universal.
Even after Stones and Lukaku left they still had people posting in support, defending their right to put their own careers first and making a case for why the club would be much poorer for their pissing off.
Even when it became clear Barkley would not be signing a new contract, under any circumstance, and the situation dragged on and on and even added a medical drama to the mix for good measure, there were still many all too willing to defend his decision whilst declaring how much they wished he had reached a different one.
Not one of the players you list was pushed toward the exit door by Evertonians persistently putting them down. All moved to clubs with a higher profile and much healthier prospects of picking up trophies. It was simple common sense and putting their career first that prompted their moving on.
Absolutely fuck all to do with fans mouthing off or making them feel 'unwanted'.
Of course, those same supporters could have done what you suggest and (somehow) "insisted the board did not sell", but only a "cliché" spouting "bellend" would fail to realise that would be a complete waste of breath.
"Young Gerard must stay. We insist, Sir. We insist. Wait! I don't think you heard us. We said 'We insist'. There is intense insisting going on here. What do you mean we have no say, whatsoever? How dare you, Sir! How dare you. You just try and sell young Gerard without our go ahead and see what happens. Go on, just try it and see what we do":
Ray Robinson
225
Posted 05/02/2018 at 23:54:33
I we think Allardyce might have lost the dressing room (not personally convinced), why on earth would we want Silva whose Watford players seemingly likewise downed tools?
I agree with those that say that we are always going to be taking a risk with any manager that we are currently capable of recruiting. The proven winners will not come to Everton just yet and even they don't always cut it (Conte?).
Like it or lump it (the latter), we are going to have to stick with the present incumbent until the end of the season (unless things go even more seriously wrong), hope that we have enough in the tank to get over the finishing line and then take stock of who is available over the Summer - making the best possible choice we can, acknowledging that there will always be an element of risk.
Meanwhile all we can do is support the team against Palace, like we did against West Ham.
John Keating
226
Posted 05/02/2018 at 00:01:41
Ray I think that sums it up perfectly.
Rather than hate and slag everyone let's just get this bloody season over and start again.
Next season we should have a poll which everyone has to stick too. We choose only one person to hate and slag that way we don't hate and slag off each other.
Clive Mitchell
227
Posted 06/02/2018 at 00:06:48
Two years ago I promised myself not to listen to a single word on TV or radio from Jose Mourinho. I've stuck to it and my life has been measurably sweeter as a result. I've added Allardyce to the list.
Brian Porter
228
Posted 05/02/2018 at 00:20:42
What's wrong with the site tonight. Two attempts to post have resulted in early submitting and then no edit button appearing when I tried to correct it.
So I will try one more time.
What kind of manager writes off a season when, mathematically speaking, his club still has a theoretical chance of finishing in 7th place?
A spineless, gutless, guileless, useless, clueless, witless charlatan like Sam Allardyce, that's who!
He was the one who sent out a team that the rest of us knew was doomed to failure on Saturday, the minute we saw the team he'd selected. Never change a winning team eh?
Then, when they fail as expected, he has the audacity to blame the players, who were, after all, trying to follow his instructions and his game plan. What a bloody coward he is. Why the f**k did Moshiri allow himself to be panicked into bringing this awful man into our club? Oh yes, I forgot, Steve bloody Walsh recommended him of course, didn;t he? And there we have another reason for getting rid of Walsh in my opinion, but, I digress.
After 59 years of supporting Everton F.C. I have to say that there will definitely not be a 60th year if Allardyce is allowed to remain at the helm. Koeman may have virtually killed off this once great football club, a veritable institution of the English game, but Sam Allardyce is now effectively performing the last rites on the club I have followed all my life.
Do I deserve this? Does any Evertonian, young or old deserve this? and does Moshiri or anyone else connected with the running of Everton F.C really care or give a damn? Just how naive can a billionaire be? Is Moshiri so lacking in football knowledge that he allows himself to be constantly railroaded into making the most appalling errors of judgement in his various appointments? Or, contrary to public opinion, is he actually making these decisions himself, without any consultation with people who know the game far better than he does?
Whatever the answer, he has to do something soon to convince old farts like me and the young guns who follow the club all over the country that he has the club's real interests at heart, and he can start by getting rid of Allardyce, not at the end of the season but right now! I don't care who he brings in to replace him, Unsworth, or a foreign name, anybody but Allardyce who is strangling the dying breaths from this once great club.
Allardyce, for me, lost the dressing room a few weeks ago when he began regularly castigating the players in public. Bloody hell, Koeman did it to Barclay and shunned Niasse and look at the way the players and fans turned against him. Allardyce, by contrast is refusing to accept any blame or responsibility for his own decisions and selections and is instead collectively blaming the entire playing staff, basically. I can think of no quicker way for a manager to lose the respect and the support of his players. would I, or you, ever want to play for Allardyce again after his comments this weekend? I very much doubt it.
Then we have Lookman, surplus to Sam's requirements, scoring on his loan debut for Leipzig while Bolasie stinks the place out over here because we pain £30 million for him. Sam, please explain the logic, when you continually play Schneiderlin instead of Klaasen who cost more? Sam Allardyce is simply a highly pain fraud, who the club are paying £6 million a year to 'write off our season' when it's only just the beginning of February.
I'm sure I'm not the only one to say that Everton are drawing very close to the point where the supporters will begin to vote with the feet and refuse to continue watching the anti-football show, produced and directed by Sam Allardyce. I turned off after the fourth goal on Saturday, and certainly wont be watching another Everton game as long as Allardyce is our manager.
Fire the fireman, burn him at the stake, hang, draw and quarter him, something, anything, just get Allardyce out of our club, NOW!
Tony Stanley
229
Posted 06/02/2018 at 00:30:45
I wrote this season off when Allardyce was appointed our manager.
James Stewart
230
Posted 06/02/2018 at 01:19:28
The Fab Four Rom, Ross, Geri, Stones not doing so bad now are they. I can't think of a club with worse transfer policy than us over the last 3 years. Truly shocking.
Vijay Nair
231
Posted 06/02/2018 at 02:50:03
It's plain to see that just about everyone on here wants Sam gone from our football club, but what are we doing about it? Aside from whinging about it on forums, or booing the team at half time?? Our not-so-friendly neighbours across the park would have the pitchforks out, signs all over calling for the manager to be sacked.
Arsenal fans have been doing it all season, and Newcastle too with their owner. We really need to stop accepting this mediocrity and make are feelings known rather than sitting on our hands waiting for Moshiri to do the right thing!
Derek Thomas
232
Posted 06/02/2018 at 03:04:25
Brian @228; The Arsenal game (and others tbf ) absolutely reeks of resting players in games we won't win for games we will and must win.
Didn't Moshiri talk about 'expected wins and losses' well before Christmas
Whoever planted that little gem in his ear need his arse kicking and somebody did, because it's becoming increasingly obvious to me that Moshiri has not one clue about football, even in the broadest terms.
When people make comments like 'You wouldn't even do ?????????? in The Sunday League.' It's usually based on a background of first principles - basic football do's and don'ts.
We all, in our arrogance, but mainly by virtue of years of experience watching what does and doesn't work - in some cases puting it into practice at a much lower level like to think we could run the team better.
This whole concept of 'none winnable games' is total bollocks.
If this is the way he's going to run The Club he can fuck off right now and take his new ground with him... I'd rather stay at Goodison.
Moshiri's job now is for him (especially) to get all and sundry playing for the name on the front of the shirt, not the name on he back.
Jay Harris
233
Posted 05/02/2018 at 03:22:35
Why all this fascination with Silva a man like Martinez who has had his side relegated and been fired for the form of his most recent club.
I don't think he should be allowed anywhere near GP.
I am still firmly in the minority that says get behind our current manager until the end of the season and do a proper search for a first class manager with a pedigree.
Jay Harris
234
Posted 06/02/2018 at 03:28:03
Yes James, Ross cant get a game at Chelsea, Gerry has had to go on loan to Watford because he couldnt get a game at Barca and Stones cant get a regular game at City now that Kompany is fit again. Rom is also coming under increasing scrutiny at MU.
David Barks
235
Posted 06/02/2018 at 03:43:52
Jay,
Why do you continue to lie? You say Ross can't get a game for Chelsea. That's a bold faced lie. He only just returned to fitness and was immediately thrown into action. He then reinsured his hamstring, with question not being asked of him but rather of a Conte after a run of hamstring injuries and throwing Barkley right into action instead of slowly bringing him back.
Deulofeu, couldn't get a game for Barcelona. Well that is some indictment isn't it, after they spend a fortune on Coutinho after already having Suarez and Messi in his place. He made 10 appearances in the league for them and 3 in the Champions League, with that lineup. He didn't get as many games as he'd like ahead of the World Cup, which is why he went on loan.
Stones, he's injured. When he came back from injury he went right back into the lineup, but then picked up another knock. Pep has spoken about his knee knock being behind his recent absence but that he is expected to return for their upcoming league match and against Basel. He's started 14 league matches despite injury, 4 in the Champions League and 3 in the League Cup. Can't get a game?
Lukaku, he's playing every match and has scored goals. The pressure from the supporters has been overwhelmingly directed at Mourinho's boring and cautious style of football. He's scored 12 league goals, 3 in the FA Cup, 4 in the Champions League.
Jay Harris
236
Posted 06/02/2018 at 04:59:04
David,
I don't know why I even respond to you but Barkley was not immediately thrown into action. He was brought on as sub with the manager specifically saying that he found it difficult to take on board his tactics and formation.
If you think Barkley is going to get a game regularly for Chelsea whether he is reinsured or not then it is you who is deluded my friend.
And why do you in fact lie.
I did not say Stones cant get a game. I said he cant get a game regularly. There is a difference so why do you lie about other peoples posts.
You are entitled to your opinion but it does not get reinforced by knocking other posters.
Dont bother to reply because I'm going to bed.
Mike Gaynes
237
Posted 06/02/2018 at 05:00:25
David #235, sorry, you're wrong about Deulofeu. Neither Messi nor Suarez plays his position, and Barca consigned him to the scrap heap long before signing Coutinho, who also doesn't play his position. (Barca is my #2 team and I watch every game.)
Geri was handed the right-wing job on a platter at the Camp Nou, and he steadily played his way out of it. He completed 90 minutes only once, in a cup match against lower-level Murcia at the end of November, and stunk so badly that in the subsequent 13 games he appeared exactly once for 9 minutes.
And he only went on loan to Watford because Barca couldn't sell him to anybody in Serie A. World Cup? Not likely.
He did have a really nice dive today and won a pen for it. Maybe also a suspension, we'll see.
David Barks
238
Posted 06/02/2018 at 05:21:59
Mike,
What is this number 2 team shite? Who's your number 3, Juventus, PSG? Supporting a football club isn't like being in a Mormon marriage, you get one club, for life.
He had competition and didn't quite cut it at Barcelona this year. As I said, hardly an indictment. He won a penalty today and scored a well taken goal, right back into the action against Chelsea. Calling for him to be banned? I assume you thought the same about Calvert-Lewin then?
As for you Jay, yeah he was brought on and he didn't light the pitch up in his first match in more than half a year, in a new team with new tactics. He made another appearance, and has now injured his hamstring again. You implied he can't get a game. He's been injured and has now reaggravated his hamstring injury.
And you did say Stones can't get a regular game as if it was an indictment of his performance and manager's decision when it was not. He was injured in November and was out until January. Since then he's been starting every match until just missing the previous match, but expected to be right back in for their next game. Can't get a regular game? Jan 2nd, 6th, 9th, 14th, 20th, 23rd. Before that Oct 14th, 17th, 21st, 24th, 28th, Nov 1st, 5th, 2 England games, Nov 18th and injured. That's not regular enough for you?
Steven Sturm
239
Posted 06/02/2018 at 05:56:09
My number two team is the Los Angeles Dodgers. Three is the Los Angeles Rams. Four is Nevada Wolfpack Basketball. Five is Nevada Wolfpack Football. Six is the Reno Aces. Seven is the Oakland (soon to be Las Vegas) Raiders, Eight this year might be the Mexico National team in the world cup. But hey, I'm only 400 miles from Utah...
Back to the thread though....
Every position in the table is more money for next year. Writing off the season? It's not over until you have mathematically no possibility of moving up or down one position. WTF is Allardyce on about? We didn't need him to just "stay up".

John G Davies
240
Posted 06/02/2018 at 06:40:24
Aren't Barca everyone's 2nd team?
Mike Gaynes
241
Posted 06/02/2018 at 07:01:27
David Barks, who the frog are you to tell me who I can support and who I can't? I fell in love with Everton in 1985, the first time I ever saw them play on TV here in the US, when Sheedy hit the double free kick in the Cup tie against Ipswich.
I was 29 years old.
What do you think I was doing before then, sitting in a fucking trance like Buddha under a tree, waiting for a Blue enlightenment? Yeah, I followed Barca and Juve (what little I could) before then, because I'd seen them play on US tours as a kid, got autographs and everything. I still like them both. From '75 to '84 I was fanatically devoted to my hometown side, the old NASL Chicago Sting, the only two-time North American champion besides the Cosmos (and owned by my teammate's father).
So, one club for life? Can't be a true Blue unless you were born to it and there's been no other? Malarkey. Get over yourself, son.
As for Geri, he dived for the pen, and the goal was a tame effort that got a fortunate deflection. And somehow you turned my speculation about a ban into "calling" for it. For someone who's accusing folks of telling lies tonight, you've just been caught a bit false yourself, haven't you? My, my.
Mike Gaynes
242
Posted 06/02/2018 at 07:08:42
John G, not in my experience. On my old team in San Francisco, no matter what club the guys supported in their former countries (the Brits included a Hammer, a Gooner, a Manure and a former Birmingham hooligan with old knife scars), they all seemed to support Real Madrid as their #2.
Dermot Byrne
243
Posted 06/02/2018 at 07:12:30
Mike Gaynes: the rules were written in a grubby playground in North Liverpool over 5000 years ago.
Bill "snotnose" Jones told new boy, Mick "the gob" Flaherty, that he had seen him taking interest in Boudicca Wednesday results. He was duly pronounced a "false fan".
Anyway all these years later, Bill is Chairman and Mick was so broken by the "false" accusation he changed his name to Donald and last seen boarding a liner.
"And if, ya know, yer history" .!!
Dermot Byrne
244
Posted 06/02/2018 at 07:15:21
John G: no! Fucking Tranmere as my Dad played for them. Dealt v bad hand
John G Davies
246
Posted 06/02/2018 at 07:20:50
What happened to snot nose Dermot.
Did he also emigrate?
Ian Jones
247
Posted 06/02/2018 at 07:28:36
Darlington used to be my 2nd team. For no apparent reason!

Alexander Murphy
248
Posted 06/02/2018 at 07:31:32
Jay 233, whilst I can not possibly agree my friend, there is an ungrudging respect for your call regarding BFS.
With your fearless, tireless, determination instead applied to demanding far, far better from those wielding power at the club, who knows ?
Come on Jay mate let it go, your loyalty can not be questionned nor your bravery. Now, switch off the lights and let's go.
Eric Paul
249
Posted 06/02/2018 at 08:22:42
I'm with David Barks on the number 2 team bollocks
Jim Lloyd
250
Posted 06/02/2018 at 08:30:35
I think we are in a relegation battle, and will be until it's proved we are safe. A lot blame Alladyce for the situation we're in. I thinkl the damage was done before Alladyce came. I also think that we could get any manager available and we'd still be a poor side, with not much to bring into the team to improve matters.
From what I've seen this season and about the last third of last season we badly neede recruits and replacements the following Summer. Well, thanks to whoever( Koeman, Walsh, my money is on Koeman) we ended up with a lot of expensive imports without replacing some of the weakest postions we have.
I see Jagielka still in a side and he should have been replaced, Williams is to slow and needs replacing, Baines wasn't backed up/replaced, Lukaku went with no replacement. Koeman was insistent we buy Sneiderlin and he's gone from decent to awful. We've got Rooney and Siggurdson who are both quality players but more on the luxury side when we need an engine room.
Then we had Mirallas, who it depended on which Mirallas came out and all to often, it was the moody one. I might have missed someone out, oh yeh, the goalie. Excellent! The centre half Keane, I'm not convinced at all. He might be fine with a good defence around him. The feller we've got on loan from City, is just that...a feller on loan. If we get through to Summer in this division, then a massive amount of work has to be done. Not just bringing in players, but selling those who are never going to make it with us.<
r>I don't know if Klaasen will ever make it but he's not been able to break into the first team. Vlasic, a young lad with a lot of energy and talent, Bolasie, well I wait and hope he'll be a dynamic winger but have my doubts.
Thank the Gods that Seamus is just about back and Ramiro isn't far behind. Maybe, Cent Tosun will get up to speed to make a difference up front in a couple of weeks.
What we have with the young players is massive enthusiasm from Mason, Dom, and Tom and Jonjo but it's a hard learning curve for them, when we should be able to introduce them into a good side, not one that has many weaknesses.
It's up to Moshiri to decide whether that Manager is Sam Alladyce or A.N Other. He will probably have already made his mind up about who is the manager he wants. Until the Summer, it's likely to be Alladyce. If that's the case, I see no point in screaming like a bunch of the ould women, knitting away at the base of Madame Guillotine. I think the last thing this team/squad needs now, is further attacks on an already fragile confidence.
As far as I'm concerned. This season, or it's remainder has two objectives. Number one is to steer clear of relegation, then next, the development of those players who are new to the team, in the team.
I'd rather see Tom Davies in Midfield for the rest of the season but maybe that's asking to much of the lad, the same with Dom up front.
So whole a lot on here see Alladyce as the problem, I don't. The problem is we have a very dysfunctional squad, that a manager has to try and sort into a team
Jim Bennings
251
Posted 06/02/2018 at 08:33:31
Whatever we think about Deulofeu, he was responsible for the most majestic beautiful cross I've seen by an Everton player (that one for Funes Mori at Chelsea two years ago should have won the match).
It was purely placed on the number.
Ernie Baywood
252
Posted 06/02/2018 at 08:51:35
Mike #237 Barca aren't allowed to sell him to anyone are they? I seem to recall that our deal prevented them selling him in the year after they executed a buy back... and even then we would get first option.
On 2nd teams, each to their own. I struggle watching my first team nowadays, never mind having another to watch.
Victor Yu
253
Posted 06/02/2018 at 09:07:32
Big Sam is a smart man. He knows he is here for the short term. So he would try to drag a point here and there to achieve Premier League safety while mixing in a few terrible performances.
This way he will ensure that he will collect his paycheck next season without having to work. I believe he would rather be sacked at the end of the year since he knows he is not here for the long term.
Eddie Dunn
254
Posted 06/02/2018 at 09:13:38
On the subject of Bolasie, he hasn't got up to speed yet, but surely Allardyce is trying to give him minutes to get him match fit. He must have seen enough of him at Palace to think it will be worthwhile.
As for the romantics enthusing about Deulofeu, the lad has been inconsistent for too long and has been at enough clubs for it to be clear that the problem lies with him. He is physically weak with the lungs of a child. He has always been a serial diver too.
Lookman goes to Leipzig and scores. Let's see if he continues to get minutes under his belt and see if his German markers give him a little less space from now on.
For me Walcott looks streets ahead of all of the others and I am looking forward to him performing for us over the remaining games.
Incidentally, on the subject of second teams. Around here in West Wales many of my mates support Man Utd, Liverpool, Arsenal and Chelsea, a couple even support Everton! And their second team is... Swansea!
Derek Knox
255
Posted 06/02/2018 at 09:15:01
Victor @253, what is smart about his cowardly, egoistic attitude toward team selection?
He is playing a very tenuous and risky strategy in my opinion, you can NOT regard any team in the Premier Leagueas a certain one or even three points.
Look at Watford last night, no-one had anything but a Chelsea win on the cards, apart from Watford themselves, and their supporters.
Bill Gienapp
256
Posted 06/02/2018 at 09:21:30
In regards to having a #2 team, it could be worse... the actress Chloe Grace Moretz once tweeted that while Barcelona was her "#1 team," she also supported Chelsea, Arsenal and Manchester City.
I may be a fan of hers, but thought to myself "Christ, why not throw United in there too, just to make sure you've got your bases completely covered."
Ironically, I believe she's dating Beckham's son.
Mike Doyle
257
Posted 06/02/2018 at 09:28:51
Victor #253. Totally agree. Confirmation was effectively provided by SA's public criticism of the players after Saturday's game. Hardly the actions of a manager looking to keep the squad onside - or bothered about it. Brought back memories of Phil Brown keeping the Hull team on the pitch for a telling off / public humiliation. Less dramatic perhaps but the effect is the same.
In contrast I was interested to hear at the weekend rugby pundit (and Evertonian!) Matt Dawson explain how England coach Eddie Jones always publicly supports his players (irrespective of their performance) - even if he drops them for the next match. Of course Eddie Jones is one of the top coaches in his sport - a proven winner - while Sam is . well . er . Sam.
Paul A Smith
258
Posted 06/02/2018 at 10:12:22
Mike Gaynes, Deulofeu dived? What a sad way to argue a point. He never dived either. The keeper was dreadful.
Then he scored. He had a chance to shoot and it went in.
God knows I would have liked a deflection or 2 come our way this season.
Yes Deulofeu had moments of running into trouble and holding it too long. All things I have seen every last player do but because he came from Barca and cost a couple of quid he had to be a sensation straight away.
He had to relive the Kilbane years for our duracell bunny lovers.
Has anyone took the time to see how Productive Deulofeu was in his short game time?
Have you seen how many assists he was robbed of due to tiny details.
Koeman done nothing but moan about Productivity and basically in all the frustration and lack of form, Deulofeu was productivity.
Len Hawkins
259
Posted 06/02/2018 at 10:34:06
Jim #250 As I have already posted how can Tosun get up to speed playing in the P/L if he isn't played. Allardyce expects him to get up to speed sat watching but he must be the only thing on this planet that thinks watching is as beneficial as playing. Christ at that rate any of us could slot into the team. Moronic thinking by Allardyce but saying it as well is beyond stupid.
Stan Schofield
260
Posted 06/02/2018 at 10:34:46
Bill@256: I suppose there's a big difference between folks like us who've been supporting the team through thick and thin for donkey's years, and the 'hangers on' who are 'fans' of clubs when it's convenient for them. The hangers on will go for the 'top clubs' because it's fashionable. Politicians on the other hand, being professional liers, will go for any club just so long as they can say they 'follow soccer' or whatever. Some of them, like Cameron, can't even remember who they're supposed to be supporting.
Even at the match these days, there are folks who just seem on a day out, on their mobile phones or chatting away, and don't look as though they really give a toss.
Ognjen Mojovic
261
Posted 06/02/2018 at 11:02:26
Come on! Fight for the 7th place, man! We are closer to that place than to relegation zone. Come on!!!!!
Alan Smith
262
Posted 06/02/2018 at 11:11:18
John 224
The whole ground cheered when one of them scored as well. I bet everyone will cheer if Martina scores but that doesn't mean they were supported properly.
If your honest the constant nit picking and negativity around these young players was well over the top. Any other club would have lauded them.
But everyone got behind moshiri and Walsh instead.
They were treated like demi gods on here and by match going fans. You could not question anything they did. Someone even tried to make out Walsh found Drogba.
The first quotes I read of lukaku was of him phoning his dad to tell him about the quality of the Everton squad.
Then when billionaire moshiri came in to rapturous fanfare and bullshit promises Barkley and lukaku must have thought wow. Here we go. The two or three world class players we need will soon be on the way.
Nope. Instead koeman was brought in to sell them off. Ala Southampton re build.
Lukaku and Barkley see stones sold, and Everton pretend to go for koulibaly but buy Williams!
Still they considered signing a new contract, Barkley had to wait, probably earning less than Mccarthy, jags, Williams etc.. to be offered one. Whilst lukaku was offered a paltry 140k a week. Impossible to sign for that low ball figure.
Meanwhile koeman and the fans blaming Barkley for every bad result. Finding fault in everything from his character to his consistency.
There is a video of jags at half time in the semi final telling Ross that "they aren't booing" him. So he was not immune. They don't really live in bubbles.
The same fans that were lauding moshiri and Walsh who were ripping the team up, were blaming them and, nit picking there ability on social media.
Are they not human? Don't you think they read this now and again?
And yes: take the money and run bellends. I stand by it.
Were have we run to with the money?
Allardyce, keane, schnierdlin, that's were. You made your bed. I'm afraid an unfunny slap stick childish video and few examples of those players getting a cheer is a poor attempt to re-write history.
Weres the arteta money bill?
WereWis the telly money moshiri, the lukaku money... ?

We never done enough as fans to keep those players in my opinion.
I'm not niaeve enough to think the board would have listened but they could have been put under the pressure that your placing allardyce under now.
Instead they were praised: "were going about it the right way"
And I'm living in a reality were lukaku and Barkley who should have been loved more than Joe parkinson was, were barely getting the phil neville love!
So you've allowed this happen without a fight. And it will take years for you to admit to yourself you wet wrong. Just like it took three seasons to see Mccarthy is shite
Selling four boss youngsters to buy youngsters we've never heard of like vlasic, lookman is "doing it the right way".
There's always a cliché to cling too.
And now people are saying the other lot over the park would demonstrate to get allardyce out. Advocating getting rid of the man that walked into this mess. But were was the suggestion of a demonstration when a striker was sold for 90m and replaced by a 5m one.
Half condoned it! Take the money and run? How much did you get John?
I never saw a penny myself
Guy Hastings
263
Posted 06/02/2018 at 11:22:01
Season ended already? Where do season ticket holders apply for their refund? GP box office? Allardyce's agent? Is this the first TW post solely consisting of five questions?
Pete Clarke
264
Posted 06/02/2018 at 11:30:10
This might seem over the top but given that Moshiri knows little about football but is still willing to gamble his money.
Ask Wenger if he would like to build Everton back up to stability and help with the ground move. I do not like Wenger but he knows his football and just about everything else needed to know in this league. He is obviously on his way out at Arsenal and Moshiri knows him too. He is what Moshiri needs to educate him in the football world.
The other option for me would be to take a gamble with Eddie Howe. There is not one single player in his team that most of us would have but he has managed to hold his own in the epl.
David Hallwood
265
Posted 06/02/2018 at 12:04:52
Callin Fat Sam, Callin Fat Sam. Remember Mark Hughes; fielded a weakened side against Chelsea because they had no chance of winning, to concentrate on the home game vs Newcastle which was a must win game only to get beat. Moral of the story, life is like a box of chocolates etc etc.
On the subject of #2 teams; being 2nd generation Irish and 3rd generation Evertonian, our #2 team was Celtic. I've now outgrown #2 team nonsense and rapidly outgrowing the #1.
Brian Harrison
266
Posted 06/02/2018 at 12:29:08
For me Moshiri is totally blameless in all that has gone on since he became the major shareholder. He realized that despite a very good first season Martinez had to be replaced. Now many posters suggested many candidates, including my fanciful choice of Diego Simeone, but I accept without Champions league football we had no chance of getting him or any other coach at that level. So he looked around and Koeman a more pragmatic manager than Martinez, one who wouldnt offer false praise. Despite having many of his best players sold before he took over he did a very good job at Southampton. He too like Martinez had a decent first season, but it seems that Lukaku had an agreement that if we didnt make Champions league then he would be leaving. Also Barkley made it obvious that he wouldnt be signing a new contract.
So Koeman was losing 2 regular starters, on top of this Walsh had been appointed as DOF maybe Moshir,is only mistake. but between them they brought in 5/6 players to start in the first team which is never easy, accommodating 1 new player is hard to try and accommodate 5/6 was impossible in the time frame. Then despite buying these players they didnt replace Lukaku with a striker.
The fixtures were really tough playing all last seasons top 6 in our first 7/8 games was alaways going to be a tough ask.
Sadly the results didnt go well and Koeman was sacked, they offered Watford somewhere in the region of £10 milion for Marco Silva, but they refused to allow Everton to speak to them. They then appointed David Unsworth, but decided they might need a more experienced manager. I think they were reluctant to go for Allardyce, and even when they made their first approach they only offered him a 6 months contract which he refused. Then Southampton beat us 4-1 and the clamour to appoint a permanent manager grew to fever pitch. I think reluctantly they went back for Allardyce. Probably the most disliked manager amongst the fans, and despite Allardyce saying he could play a different brand of football from what we knew from his other clubs sadly he hasnt changed his brand of football. Maybe we were stupid to believe a 63 year old could change his ways.
So just to go back to Moshiri, he has allowed this club under his stewardship to spend in excess of £200 million more than any club outside the top 6. He is also looking to move us into a new stadium and got USM to invest in Finch Farm. I fail to see what else he could have done he has backed his managers and not interfered, and thats all you can ask of an owner.
Anthony Hawkins
267
Posted 06/02/2018 at 12:43:06
...Anyone else seen who the man of the match was against Chelsea last night?
Yup - Delboy!
Jimmy Hogan
268
Posted 06/02/2018 at 12:47:10
Some of the posts on here are awfully long. I can't get to the end of them.
Jim Burns
269
Posted 06/02/2018 at 12:47:24
We are 7 pts from the bottom 3 - but only 5 pts from 7th. Get a grip Allardyce - you morbid tosser - and earn your keep. Otherwise send my season ticket refund by return. Motivational session over.
Derek Thomas
270
Posted 06/02/2018 at 12:57:23
Brian @ 266; Moshiri blamless, only in a theoretical way...he didn't say buy Schneiderlin, but he hired the men who did.
He hired Walsh and kept Kenwright in the loop in a big way, then listened to both Re, Allardyce.
Blameless...maybe, but I doubt it. As majority owner he IS responsible though whether he likes it or not.
I still maintain he knows jack about football and is only here for the new ground.
Anecdotally; Last weekend 'a guardian sports writer' told the bro in law that Moshiri & Usmanov...specifically linking Usmanov...are ALL about the ground build and sell on, not the team.
Brian Harrison
271
Posted 06/02/2018 at 13:15:09
Derek 270
You may well be right that he is only in it to get the ground built then sell on. I think we have heard on a regular basis that Usmanov would take up the other 50% of the shares, but I havent seen anything to suggest that will happen. You are correct he hired the men who hired some poor players, but as I said all you can ask is he backs the manager with money and thats what he has done so far. I bet there are many supporters of Premiership clubs who wish their managers had been backed as financially as ours have.
Finally I remember when Abramovich took over at Chelsea nearly all the journalists were saying he would be there for 5 years and get bored. Well seems as still committed as when he first took over.
Dave Evans
273
Posted 06/02/2018 at 13:26:13
Alan (#262), good post.
There is something of the mob In the relentless slagging off of players that doesn't sit well. Lukaku, Barkley, Deulofeu, Jagielka, Baines, Keane, Williams, Martina, Stones, Rooney, Sigurdsson and many others have all had their relentless pitchforking.
Criticism is part of what we do as fans but, if it is relentless and lacks any perspective, I am sure it will affect some players on and off the pitch.
Steavey Buckley
274
Posted 06/02/2018 at 13:27:57
Is it all doom and gloom and Goodison? Yes it is. I have never seen a footballing shambles like the one Everton fans are experiencing at the moment. Most of the players signed over the past 18 months plus those in their 30's should leave at the end of the season. My guess, most of them will still be around next season for Everton fans to complain about and get whoever is manager sacked.
Lawrence Green
275
Posted 06/02/2018 at 13:46:20
Steavey #274 Yet Goodison Park is yet again sold out on Saturday and probably will be for the remaining half dozen fixtures - is it because we all disbelieve what we have witnessed thus far this season or is it a morbid fascination of seeing the players fail on such an epic scale?

Dave Evans
276
Posted 06/02/2018 at 13:50:21
Everton were in free fall towards the bottom three as many on here were saying at the time. Alladyce has helped move the side up the table.
Alladyce has signed Walcott, Tosun and Mangala. Walcott looks like best forward we have had for while. The other two as yet unproven.
The Leicester game was the most promising performance for a long while. Then we were stuffed at Arsenal.
It is not the opinion of most ( to say the least) but considering how long he has been here and the depth of the problems, Alladyce as manager is still work in progress.
Steavey Buckley
277
Posted 06/02/2018 at 13:57:29
A lot of season tickets for next season are sold during this season on the basis of spreading the cost over 12 months through direct debits. Yet, the time to decide to renew is limited for this special offer. So, many Everton fans will renew even though they are unhappy with the football served up.
If they had to renew by stumping all the cash all at one go, at least 5,000 would say no, but wait and see what is happening next season on a match-to-match basis, although empty seats don't look good to inspire fans or players alike.
Winston Williamson
278
Posted 06/02/2018 at 14:27:35
Bit tired of the revisionism of Allardyce pushing us up the table, like he has masterminded some sort of revival. When in fact, the much-maligned David Unsworth had a better points-per-game ratio and goals-per-game ratio in the five games he managed us. Unsworth moved us up the table, then Allardyce took over.
Unsworth was out of his depth. Koeman was shite (this season - totally shite). Yet, Allardyce has an equally poor record, poorer than Unsworth's (pro-rata), yet he gets people defending the worst football we've ever endured.
I'm an open-minded chap - If someone can defend the Spurs, Arsenal and Man Utd games, and Allardyce's decisions before and during those games, and his comments about our players after those games, then go-ahead! Because to me he's a spineless, shameful and shockingly-poor manager, not fit to clean the boots of anyone connected with our club.
I'd prefer Moyes to this guy! I'd prefer Moyes' wife to this guy!!

Tony Abrahams
279
Posted 06/02/2018 at 14:37:15
Derek @270, if this is the case then the ground will be getting built regardless then? Kenwright has run Goodison down that much, that all the staff are being relocated to,the liver buildings, so it's imperative that this reporter is right!
David Graves
280
Posted 06/02/2018 at 14:39:14
Jim Lloyd;
How can you possibly absolve the manager of any blame?
Do you really believe that Allardyce isn't the problem after the god awful football we have had to watch this season?
To be honest perhaps we need more of what you call fans "screaming like a bunch of the ould women" if we are going to at least get something out of this terrible season and get him, Lee and Walsh fired off at the end of the season.
You suggest that the whole squad is lacking confidence but surely that is down to the manager? Confidence will come from well managed teams at least having a go and not from the twattings we have had by Arsenal, Spurs, and United and the no-shows against West Brom and Bournemouth that were all his making.
You're not really blaming the fans for that are you?
We will all still be here when he has trousered his massive payout and is sunning himself on a beach somewhere. And come on – it's "Allardyce".
Dave Ganley
281
Posted 06/02/2018 at 14:43:05
Sorry Alan #262 you're way off the mark trying to pin some blame on the fans as to why lukaku and Barkley left. They left for a variety of reasons. Lukaku left for CL football, maybe the direction the club was going, maybe he didn't like the squad, who knows. Same with Barkley. Who knows why he decided to fuck us over, but he did. Players who play and put the effort in are lauded at Everton and rightly so. We laud our talented players, again rightly so but we're not stupid, we know when players are putting the effort in or not and Barkley and lukaku were both guilty many times of going through the motions. I get that you lose form and sooner or later that comes back but there's no excuse for downing tools and just coasting which those two did many times. You may say it's unfair to pick on those two but when the chips are down you look to your better players to inspire and they just didn't, not when it mattered. That is just not up for debate.
That leads me onto my next point. Lack of team spirit and lack of togetherness. Ever since Moyes left the vast majority of players have none of the above. All individuals who don't buy into the club and don't buy into team ethics. It's all about them. No homework from any of the last 3 managers (unsworth excepted) into how players will fit into the team. How they respond when it doesn't go their way, will they fight tooth and nail for team mates. Sadly little or none of that has been on show from many players brought into the club since Martinez appeared.
Which brings me to the sorry state we find ourselves in today. Lack of homework on the managers. No plan, no direction as to how the team are going to play, attack, defend, consistently challenge the top 6. It's a shambles from top to bottom. Martinez had a plan to attack and not much else and even then it just dissolved into dull to boring football whereby he totally killed the atmosphere in Goodison and it hasn't returned since. Hownthe fuck did a relegated manager get the job at Everton? Someone please tell me how cos I have absolutely no idea how he deserved it. Same with koeman. Now its apparent he had all the charm of a viper and was the same at southampton, how the fuck did he get the Goodison job? Who the fuck does homework on these people? Evidently no one. It's a bit like how we sign players now. Just stick a pin in a list and sign them up. And now we're left with a panic appointment in Allardyce. I said at the time how low can we go, evidently we can go lower. Why change a winning team to that idiotic shambles on Saturday?
So I have renewed my season ticket and most others will too but that doesn't mean we shouldn't protest and not just about Allardyce. We really need to protest about Kenwright and cronies. Everyone who applauded him after he survived the blue union protest should hang their head in shame. We need to get him out and all the other cancerous leeches that are making bad decisions. We need to protest long and loudly otherwise things will never change. We should boycott a game. Leave them with an empty stadium for a game. We should not be tolerating this shite we see in the pitch week after week and the idiotic decisions made in the board room. This has to stop now before it becomes terminal. How the fuck have we allowed things to deteriorate so badly that we are looking at the 40 point mark again. Shameful
John Daley
282
Posted 06/02/2018 at 14:52:07
Alan (@262),
"Any other club would have lauded them."
Was Lukaku lauded by Chelsea fans? Is he currently being lauded at United? Deulofeu lauded at Barca, Milan or at Barca again (via long distance while dumped at Watford on loan)? Stones at City? Is Ross Barkley on the road to being revered at Chelsea?
It's not just Everton where players face criticism from fans, both warranted and way over the top. It happens everywhere. I don't agree with it, but I posit it registers less than a peanut flicked full force at Paul Potts fucking arse.
Whether the club should have done more to retain the aforementioned players, fought harder to convince them their ambitions could be fulfilled at Everton (with a deadpan expression frozen on their face), made them feel more wanted, increased the monetary incentive for them to stay put etc, is an entirely seperate issue from supporters failing to fawn over them, or giving them froth-mouthed, finger-mashing, shit on social media (as is the manner in which Moshiri and Walsh messed up, or what fans said about the duo prior to, during, or after, any display of buffoonery).
As already stated, all four moved to clubs widely perceived to be bigger and better and in with a realistic chance of regularly winning, or at least competing, for trophies. If that wasn't so, they wouldn't have been willing to even countenance, never mind actually make the move, no matter if they had recently read some meff calling them a 'talentless wanker' on ToffeeWeb for the millionth time. Supporters not singing their praises enough, or slating them, doesn't factor into it.
If the only clubs in for Lukaku et al were consistently finishing lower than Everton in the League and/or unable to up their wages significantly, would they have been so keen to get off, simply because they had been getting some grief online and heard a few groans around Goodison?
Give me just one example where a player has moved to another club, purely and simply, because a section of Everton supporters said he was pish?
How about an example of a fan base holding within their hands the power to coerce a club into putting a halt to a player being transferred elsewhere? "Insisting" the board don't accept a bid isn't ever going to be sufficient, unless they are all sitting directly in front of you in their grots, strapped to a chair and gargling while being subjected to waterboard treatment.
You say "We never done enough as fans to keep those players in my opinion", yet then acknowledge the board wouldn't have blinked anyway. Putting aside the already admitted futility of it all, please tell us how you went about applying pressure, or signalling your refusal to 'stand for it'.
Paul Potts arse and a peanut.
Soren Moyer
283
Posted 06/02/2018 at 14:52:42
What? Our season ended already? How come every team above and below us are doing their best to win their games!!? Is Fat Sam planning to go into the winter hibernation!?
Paul Kossoff
284
Posted 06/02/2018 at 14:54:24
Moyes has stated today that even if West ham stay up, he will go at season's end. Anyone want to bet that Uncle Bill will be wetting himself with excitement at the thought of bringing Davey boy back home? I won't be surprised!
Kevin Prytherch
285
Posted 06/02/2018 at 14:56:11
Alan 262
I agree to some extent.
We slaughtered those four the same way people did with Coleman and the same way they do with Davies, Holgate and Kenny now.
At times we get what we deserve - mercenaries who are here for the money.
We had a chance to build a team around 4 quality young players, that chance doesn't come around too often but it already has. Plenty on here will make the same mistake though and we'll end up with even more of a soulless team than we have now.
Tony Abrahams
286
Posted 06/02/2018 at 14:56:41
Scary thought Paul?
Michael Lynch
287
Posted 06/02/2018 at 15:20:24
Deulefeo the latest ex or injured player to be deified on here.
He was poor for us, despite his undoubted talent, he was poor for Barcelona (twice), and he'll be poor for Watford. Great skills, no stamina.
Funes Mori? If he's the answer, the question must be "name one of the many Everton central defenders who aren't good enough for the Premier League".
Meanwhile, I'm with the others on here who've said we should approach the new Watford manager, whoever he is. He's won a game against Chelsea, so he must be brilliant, and I hear he's foreign so what the fuck is Billy Liar waiting for!
To be fair, it doesn't matter who we get in, in the short term he'll either make it or he won't, and in the long term he'll either go to a bigger club or be hounded out with the boos ringing in his ears.
Anthony Hawkins
288
Posted 06/02/2018 at 15:23:21
Moyes coming back is and always will be a bad idea.
Jimmy Hogan
289
Posted 06/02/2018 at 16:17:54
Moyes has failed wherever he has gone after leaving us. Why would we want him back? He had his Golden Period here. It's a shame he didn't have the money made available to Martinez and Koeman. We might have won something when we had Arteta, Pienaar, Yakubu, Cahill and Baines all firing. That's all in the past now. Never, ever, go back. Remember Kendall?
Paul Welsby
290
Posted 06/02/2018 at 17:24:53
Fuck me, there are too many Evertonians on these pages with that small club mentality, it's some type of disease spreading through the club. Stop mentioning Moyes, Deulofeu and look forward.
We will never move forward unless we change this attitude. Come up with some new original ideas for managers and players, for fuck's sake – we are where we are because nothing has worked for 25 fucking years.
Please don't come back at me with little bits of fluffed-up shite (If Moyes had money) he's crap and so was Deulofeu and like the majority of this squad, manager, chairman, coaches, Jeffers, Unsworth, Ferguson, Ebbrell and, at the moment, our clueless owner who I hope gets it right some fucking day, preferably before I die.
Dave Evans
291
Posted 06/02/2018 at 18:02:27
John Daley@282
What beggers belief is the reckless lack of discernment. Some of the same people slagging Coleman off before injury have now, after a great comeback, seen the light.
Why flick peanuts when you can throw reckless shit whenever you like without being challenged about the hypocracy ?
David Barks
292
Posted 06/02/2018 at 18:22:09
Dave Evans,
Who were these people and where are the examples you must have at your disposal?
Jay Harris
293
Posted 06/02/2018 at 18:37:29
Dave,
I totally agree.
I remember a certain luvvy saying never again and yet here we are with a relegation specialist in charge.
I hate to harp on but I would clear Kenwright and cronies, Steve Walsh etc out at the end of the season and in between would sound out David Dein and Arsene Wenger as CEO and DOF respectively and give them the task of recruiting a suitable coach.
John Daley
294
Posted 06/02/2018 at 18:44:43
Dave (@291),
It does beggar belief. Hence, my having to ask who has been slagging Coleman off? When, where and why? He's probably the most universally respected Everton player of recent years and I've not heard a bad word said about him.
Years ago there may have been those who doubted his defensive qualities (including Moyes), but those soon quietened down when he proved, conclusively, otherwise.
We all know people can jump in and fire off idiotic, ill-thought out, comments. Particularly football supporters caught up in the moment, fuming like an animated version of one of those plazzy consolation prizes Jim Bowen used to dole out on Bullseye. Steam shooting out of their nose and ears, arms flailing about all over the shop, like a stroppy teen whose old queen has bollocked him for his bed covers being as brittle (not to mention the same colour) as Kendal Mint Cake, mouth moving but seemingly minus manipulation from their mind.
Go ahead and challenge them. Pull them up for being short-sighted gobshites, if you like. I'd be a bloody hypocrite to suggest you do otherwise.
However, people are giving such poltroons far, far, too much credit if they think such comments can, cumulatively, chase a committed football player out of a club.
Fans don't determine who a club signs, who plays, who doesn't, nor how long they stick around (Schneiderlin would probably be moping down a country road, back pack slung over his shoulder, the mournful theme-tune from First Blood twinkling away in the background by now, if they could).
Blame can't be apportioned to Everton supporters for talented young players not being retained by the club, or wanting to leave to further their career, no matter how hard the self-annointed 'superior' fan points an accusatory finger their way.
Dave Evans
295
Posted 06/02/2018 at 20:38:28
John
First the Coleman issue.
He was criticised on here across a number of threads. Particular examples (though not all) - not getting forward/crossing like he used to, weaknesses/blame for headed goals at far post. On occasions during this period in interaction with the crowd he asked them for more support as he did in an in direct way in an interview.
Next. Seems bloated that someone with such a poor general memory asks for whys, wheres, names and whens. To save me googling, racking or more time. Deffo two on the current Coleman thread. But they have slagged off all nearly all Everton players at some point.
The last 3 paragraphs of your post can be ignored because you are talking to someone else in your head who said these things.
Nice written touch at the end though. Painting some fans as superior so you can you can go on your self appointed king like rant in defence of Joe Average.
Hope he read it all.
James Marshall
296
Posted 06/02/2018 at 21:13:07
First Blood is a bloody good film though.
Amit Vithlani
297
Posted 06/02/2018 at 21:21:39
Fans having the power to decide where a player's fate lies?
I have heard it all.
The power to stay or leave was purely in the hands of Stones, Lukaku, Barkley and their respective agents.
The Goodison faithful vs Mino Raiola? Like a fat kid who loves cake, not even 30,000 baying fans would have come between Mino and his Lukaku pay day.
Anyone who thinks star players and their agents are not in complete control of their footballing futures need only to look at the sagas involving Riyaad Mahrez, Raheem Sterling and Alexis Sanchez.
All players feted by their supporters who forced through a move.
If we want to blame the board of Everton for not providing a compelling enough set of incentives to retain these players - fine.
But to blame the fans is absurd.
John Daley
298
Posted 06/02/2018 at 21:36:58
Dave (@295),
Pointing out Coleman may have had a hand in a couple of goals being conceded in particular games, or that his crossing had gone off the boil for a period, seems rather tame criticism to be termed "slagging off".
It certainly doesn't follow that anyone who felt Coleman was somehow at fault for something, or performing below par, at some distant point in the past, should desist from heaping praise on his shoulders, here and now, for the manner in which he manfully made the long, hard, comeback trail his timid bitch, or from declaring that it's fantastic to see him back.
Refraining from doing so, in order to remain 'consistent' with critical comments they may have made a year or so ago, would be curmudgeonly and petty, both of which pip 'contradictory' on the prick'ometer in my book.
As for the Seamus interview you mention? I'll trade you this one:
"We get paid a lot of money to do what we do and if we can't take criticism then there's something wrong and it shows a weakness in a player.

I know that every player is different and I can only speak for myself. I always feel like I have to impress people and try and prove people wrong maybe. That might be because I've had to do it the hard way.

It's the game we're in. We're going to get criticised just like we're going to get praised when we're doing well. You can't just take all the good and not take any of the bad.

So you've just got to get the balance right and not be a baby about it, really

."
Tony Williams
299
Posted 06/02/2018 at 22:05:41
I have posted here that I would never accept Allardyce and want him out as much as everyone. All the talk is Silva but is his he good enough for Everton or is it he is just available.
Jack Farrell
300
Posted 06/02/2018 at 23:00:10
I want Allardyce out by the end of the season, hopefully with us still in the premier league. Don't know about Silva, I'd prefer a good director of football replacing Walsh, and a young coach coming in, preferably Eddie Howe.
Hari Singh
301
Posted 07/02/2018 at 04:02:40
Did Everton even know that Allardyce was a fraud and involved in a corruption scandal before he got appointed as Everton manager?
At least Unsworth was more of an honest man; by the way, he was in charge of Everton beating West Ham 4-0.
We should have been patient and let Unsworth manage the squad before we could find a suitable replacement. Now let's just focus on next season 2018-19!
Jim Hardin
302
Posted 07/02/2018 at 19:32:40
Yes, by all means get to safety sooner than later. That way, Fat Sam can continue to try formations and players that he uses on FIFA 18 for the rest of the season.
Add Your Comments
In order to post a comment, you need to be logged in as a registered user of the site.
Or Sign up as a ToffeeWeb Member — it's free, takes just a few minutes and will allow you to post your comments on articles and Talking Points submissions across the site.