Allardyce stresses the need to get to safety mark quickly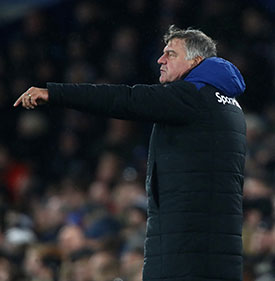 Allardyce: "When you make a few changes, give them a system to play ... it can only work if your team plays at its best."
Sam Allardyce says Everton need to get to a points tally that will guarantee safety from relegation so that the club can write off the current season and focus on 2018-19.
The manager was speaking in the wake of the Blues' latest humiliation, a 5-1 hammering at the hands of Arsenal, who recovered from defeat to Swansea City in midweek by tearing Allardyce's side to shreds at the Emirates on Saturday.
Whether the former England boss gets the chance to set about fixing what is a broken team, low on morale and prone to horrible collapses, over the summer remains to be seen but he put the blame for the heavy loss to the Gunners at the feet of his players.
"There are too many inconsistency levels in our performances at the moment," Allardyce is quoted as saying by the Liverpool Echo.
"I can take the criticism, it's no problem to me. I can tell you this though, as a man who tactically looks at every single area to play against the opposition, all those who said we should have played a back four, go look at what Swansea did against Arsenal with a back five on Tuesday. Systems will mean nothing if the players play crap.
"When you make a few changes, give them a system to play, and show them how a team on Tuesday night had played so well against them and if you implement that you might have a chance of getting a result against them, it can only work if your team plays at its best.
"Not one of our 11 played anywhere near their best in the first 45 minutes."
While the home win over Leicester City last Wednesday appeared to point towards improvement and the hope that Everton could finally start putting some significant distance between themselves and the bottom three, Saturday's loss saw them slip to 10th in the table behind Bournemouth and leaves them seven points above the drop zone.
Allardyce has warned against the danger of his team sliding back into a dog fight to beat the drop and he restated the need to get things back on track again quickly.
"We've got to write this season off as quick as we can by staying in the Premier League and then sorting out for the start of next season," he explained.
"There are things I can try if we can get safe quick, start performing like we did on Wednesday, trying to finish in the top half and not putting any more pressure on ourselves by starting slipping down the table."
---
---