Tosun determined to succeed in the Premier League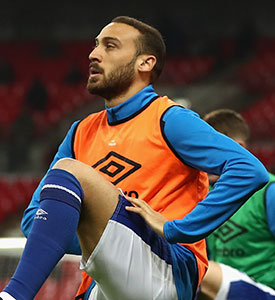 Cenk Tosun has opened up about his faltering introduction to the English game but expressed confidence he will make his mark.
The 26-year-old has only been with the Blues for a little over a month but his demotion to the substitutes' bench after just two starts and just 12 minutes' worth of action since has sparked premature speculation about the wisdom of his acquisition for £21m from Besiktas.
Tosun remains unfazed by his situation, however, accepting that making the transition from Turkey to a new team in a new country was always going to take time.
The German-born striker reveals that manager Sam Allardyce also told him to expect that it would be a big adjustment and even though he has seen little action since being named in the starting XI against West Bromwich Albion last month, his time will come.
"It's not easy to adjust to a new environment, a new atmosphere, new friends even a new house," Tosun is quoted as saying by Turkish outlet Haberturk.
"Even though I was born in Europe this situation is different. I moved from the Turkish league which was the league I'm playing for years to the toughest league in the world. It's hard to adapt. Sam told me that too.
"He always talks to me. I've zero problems. He told me that when I fit into the league and team, I'll be a regular starter."
"I've zero interest going back to Turkey at this point," he added.
"Yes I'm a Besiktas fan, but I'll never return to them without fighting and achieving things [at] Everton. That's not me. I'll show everyone in England who Cenk Tosun is. I have a dream. I never quit a [job] before completing it.
"After I finish my mission in here, and if the conditions are suitable I'd love to go back to Turkey but it's too early for that.
"I've just started to know my team-mates. AT Besiktas, my team-mates knew where I was going be on the pitch before they passed. They knew what I was going to do. Here they'll learn that too in time."
---
Reader Comments (100)
Note: the following content is not moderated or vetted by the site owners at the time of submission. Comments are the responsibility of the poster. Disclaimer
Mark Tanton
1
Posted 06/02/2018 at 16:23:31
He certainly deserves a real crack at it. What's the point in the club investing so much money in these players and then barely using them?
Colin Glassar
2
Posted 06/02/2018 at 16:35:27
1-2 more games before the knives come out lad. Whatever you do, don't come onto TW.
Dermot Byrne
3
Posted 06/02/2018 at 16:38:41
Talking about going back to Turkey already. Traitor. All down to Walsh and others. Makes my blood boil!
Sam Hoare
4
Posted 06/02/2018 at 16:42:05
Hope he gets more of a shot than Sandro and Klaassen. Current setup seem to think that playing badly only gets you continually picked if you have Premiership experience.
John G Davies
5
Posted 06/02/2018 at 16:47:23
Rooney "we are professional players. We have to take responsibility and perform. The manager can't take all the blame
Agree 100%
Clive Rogers
6
Posted 06/02/2018 at 16:48:00
Tosun and Mangala looked really bad signings on Saturday and previously. Tosun may improve a little but seems to lack pace while Mangala just didn't seem to have the ability.
Clive Rogers
7
Posted 06/02/2018 at 16:53:24
Lesson 1: don't believe what Sam tells you.
Minik Hansen
8
Posted 06/02/2018 at 16:55:18
I figure Cenk Tosun and Mangala will be given more games to prove themselves than some of the previous signings. Cenk seems to have the will and spirit to fight on. I won't have much word for Mangala just yet, I want to see more action from him. He is a very professional player on paper though.
Jimmy Hogan
10
Posted 06/02/2018 at 17:13:01
Oh God, this has a touch of "I could have been a contender"
Brian Williams
11
Posted 06/02/2018 at 17:16:46
Clive#6.
Do you mean the same Tosun who got 12 MINUTES (plus added time) playing time against Arsenal?
John Graham
12
Posted 06/02/2018 at 17:22:35
I wish you all the best and hope the fans give you the time you deserve. It will be a difficult transition but if you have the will power lots of effort, the fight and the patience then hopefully it will all go well eventually.
I think he should take a leaf out of Niasse's book where he may not have all the skills required but he has fought his way back into the team with his never say die attitude.
Wish all of the players would have the same attitude.
Tony Everan
13
Posted 06/02/2018 at 17:27:51
Cenk, here's a tip. Don't mention going back to Turkey at some point in the future. Even if you are a bit homesick.
The paint on your skirting boards here is still sticky.
Richard Mason
14
Posted 06/02/2018 at 17:28:33
Seriously Clive? How can you judge tosun against arsenal.
Ron Marr
15
Posted 06/02/2018 at 17:32:31
My memory of Tosun in those 12 minutes is him shaking his head after being wide open and Gana taking another weak shot instead.
William Cartwright
16
Posted 06/02/2018 at 17:38:40
Besitkas report their surprise and disappointment that Tosun is not being utilized by Everton;
Coleman at Sunderland says it is strange that Everton chose not to recall Galloway;
Deuofeu flagged as Man of the Match for Watford against Chelsea;
RB Leipzig management bullish about the prospect of Lookman and his potential value for their club...
Much as I am disappointed at Allardyce, and he has clearly contributed to the current malaise, including Garbutt and Vlasic potentially not seeming to have any opportunity to participate. What the hell are Everton management up to????
James Hughes
17
Posted 06/02/2018 at 17:51:58
He cost £21m what are we expecting? he may turn out to be good but not world class. I hope he does well.
Everyone keeps going on about how much money we have spent. The reality is we are still shopping at poundland for both players and managers.
We have spent £200m, well that is what Citeh's defence cost and basically what Manure spent on Pogba and Lukaku. Plus what Sanchez will cost them in just wages.
We have still spent a good sum but £20 mill is the modern day equivalent of an average player in the PL. we ain't buying from Harrods
Chris Gould
18
Posted 06/02/2018 at 18:00:33
Clive, how the hell can you judge either of them on what little you've seen?
Tosun is not lightning quick, but he's certainly no slower than Harry Kane. Speed isn't everything for a centre forward. Alan Shearer was one of the best of all time and was never blessed with pace. Give the guy a chance.
Soren Moyer
19
Posted 06/02/2018 at 18:09:20
It's not because he is not good. Our midfield is filled with brainless dross!
Jay Harris
20
Posted 06/02/2018 at 18:23:52
Agree with James and Soren.
Any striker needs quality around them and I don't just mean 40 yards away.
All any striker asks is get the ball in the box and give them support.
With the loss of Fellaini, Barkley and Cleverly we have lost that thrust from MF.
Oh for an Arteta or Manny Fernandes.
Anthony A Hughes
21
Posted 06/02/2018 at 18:30:50
You would like to think that Tosun had been scouted and was earmarked to fit in with how the team is going to play. Get the right players in and around him creating chances then we may see what he's about.
Bill Gienapp
22
Posted 06/02/2018 at 18:45:14
Seems to have the right attitude. I remain quite bullish on him, but then I remain bullish on Klaassen as well, so maybe I'm just a cock-eyed optimist.
Michael Williams
23
Posted 06/02/2018 at 18:45:34
Agree with James at 17. 20 million is nothing, especially in this age of inflation. A striker guaranteed to score in the p l is going to cost a lot more.
John Daley
25
Posted 06/02/2018 at 18:54:38
I thought Tosun showed some decent touches on his debut against Spurs. Certainly enough to suggest he could do a decent job if given a run to get to grips with playing in a more competitive league.
Given the lack of service, support and overall attacking intent in his limited game time so far, it would be foolhardy to start suggesting he's not up to snuff already.
John G Davies
26
Posted 06/02/2018 at 18:59:16
John Daley.
Spot on. Unfortunately logic is often in short supply on TW
Darren Hind
27
Posted 06/02/2018 at 19:01:30
the more attackers Sam puts n the pitch, the less defenders.
Don't hold your breath lad. when you get your chance you will be played in the Kevin Davies role.
Your only chance of a run of games is Sam being hounded out by the football lovers . .hopefully soon
John Raftery
28
Posted 06/02/2018 at 19:06:12
Jelavic came from Scotland in January 2012 and did nothing until March. Tosun has come from Turkey and has played just over two hours in a struggling team. It is hardly a surprise he has yet to settle. Given our lack of control in midfield it may take him until next season to do so. In the meantime when he gets his chance in the first team he needs to take a leaf out of Niasse's book and work until he drops.
Derek Knox
29
Posted 06/02/2018 at 19:11:45
I don't think the situation will have been helped by Motormouth Sam's comments to the press.
"Welcome to Everton, I've announced to the press, that I think you'll really struggle, I think basically we have wasted our money, I think you will find the bench quite comfortable though."
Just what the lad needed, a few words of discouragement.
Tony Abrahams
30
Posted 06/02/2018 at 19:25:29
John @28. Given our lack of control in midfield, says it all for me
Phil Sammon
31
Posted 06/02/2018 at 19:26:00
It's a disgrace that he feels the need to talk like this so soon after joining the club. Give the guy a chance to find his feet!
Sam has to go in the summer and, more controversially, so does Rooney. We need to build around Sigurdsson and foster team spirit. Rooney's been ok but I don't think he fits in. When he plays he has to be the funnel through which everything passes. I just don't think he's good enough for the role.
James Flynn
32
Posted 06/02/2018 at 19:28:05
John (28) - If Tosun scores 11 goals from March the way Jela did, count me in.
Our problem is that he came into a much better team.
Fraser Auld
33
Posted 06/02/2018 at 19:32:59
He got two starts - one against Spurs away where we got beat 4-0 and barely got out of our own half and a second against West Brom where we had a poor team performance but hardly down to him...
He had zero service in either game, nobody got close to support him and on the basis of those two games Sam has decided he's not ready? Sorry Sam, what was it you were expecting to see from him in those two games that he didn't do?
Tell you what, why don't you organise the team and personnel at your disposal to support the main striker and create chances for them? Then we can judge him. No, you're right, it's easier to blame him and say he's not ready than admit the problem is the way you're setting the team up. Excellent way to divert attention from your own failings!
Paul Kossoff
34
Posted 06/02/2018 at 19:39:50
Walcott's the player to bring out the goals in Tosun, play the both upfront 4 4 2, Theo has the brain as well as the skill, will Sam play that way? I don't think so.
Niall McIlhone
35
Posted 06/02/2018 at 19:53:00
Spot on Paul@34. The front two would need to be supported by four in midfield.Personally, I would play Siggy just behind, Vlasic and Bolasie in wide berths and Ghana holding. It does not matter who is selected back four as long as Seamus is at RB as an example to the others. I have a funny feeling Cenk might just get off the Mark if given his chance against Palace,.
Eddie Dunn
36
Posted 06/02/2018 at 19:56:50
He is only talking about it because Turkish media are asking him.
The lad has intelligent movement and a good touch. Like Paul above, I think Walcott will find him a good partner. We just have to hope he gets another start, perhaps with Niasse on the bench to come on against tiring defenders to bash his way through.

Lenny Kingman
38
Posted 06/02/2018 at 19:59:35
How much was in the envelope for Sam I can hear being asked.
Poor useless sod been here 5 minutes and he wants out and back to Turkey. Strange request for a German one might say.
I did suggest he was the new, much more expensive, Sandro on various threads but others thought I was being a little harsh. Not so, but he will take a big envelope of his own back to Turkey, Germany or wherever he is directed to next.
Brian Williams
39
Posted 06/02/2018 at 20:03:45
"I've zero interest going back to Turkey at this point," he added.
"Yes I'm a Besiktas fan, but I'll never return to them without fighting and achieving things [at] Everton. That's not me. I'll show everyone in England who Cenk Tosun is. I have a dream. I never quit a [job] before completing it
This translates to Lenny as: Poor useless sod been here 5 minutes and he wants out and back to Turkey. Strange request for a German one might say.

Amazing!
Björn Kausemann
41
Posted 06/02/2018 at 20:28:14
He's only born in Germany, but wasn't good enough for German football.
He is Turkish an signed for a Turkish Club in a league which is not a top level league. Our club was stupid to sign such a player for 21 Mil. He is an average player. Not more and not less.
George Cumiskey
42
Posted 06/02/2018 at 20:30:58
John G Davies your so right about the lack of logic on toffee web, especially those ones who think Allàrdyce isn't to blame at all.
John G Davies
43
Posted 06/02/2018 at 20:34:12
Who are they George?
Don't recall one on TW.
George Cumiskey
44
Posted 06/02/2018 at 20:38:37
You for one
Rob Hooton
45
Posted 06/02/2018 at 20:40:00
Quite right Brian, was completely bemused myself, lad said he wants to prove himself a success here - fair play, let's hope he is.
Eddie Dunn
46
Posted 06/02/2018 at 20:40:28
I did ask my Turkish friend, who has been here for around 5 years, what he thought of the signing of Cenk when it happened. Unfortuately my mate said that he was a Championship standard player, but he is a Fenerbahce fc fan and looks rather distainfully on Beskitas.
Lenny Kingman
47
Posted 06/02/2018 at 20:48:30
Sound bytes I would venture Brian. Prepared by an agent who has no interest in seeing his charge seen as an empty bazooka after such a big money transfer and short time on the battlefield. Showing no signs of effective marksmanship and already demoted to the bench of shame.
A complete unknown bought by a manager notorious for deals that suit him, not the club or the fans.
On the subject of dreaming. He can come and join the rest of us on the Street if he wants to do that. He will have grey hair by the time he has completed the "I have a dream." Sounds more Martin Luther King than Cenk Tosun.
John G Davies
48
Posted 06/02/2018 at 20:52:34
Haha.
George you obviously cherry pick the posts you form your option on.
Homework before accusation please.
Clive Rogers
49
Posted 06/02/2018 at 20:55:13
Brian, 11 and Richard, 14, I did say " and previously", meaning the two games he started against Spurs and WBA. I would guess he's not going to make it.
James Marshall
50
Posted 06/02/2018 at 20:59:51
Play him, give him support, use him effectively the way he's used by Besiktas and the Turkish national team - we lack a focal point and a proper gameplan, Tosun should be that focal point otherwise why bloody buy him?!
Put Sigurdsson behind him, play Walcott close to him, use wingbacks, give the bloke support - he can finish for sure.
Everton are still rudderless.
Chris Gould
51
Posted 06/02/2018 at 21:09:49
So it looks like Patrice Evra is going to WHU on a freebie.
Surprised we didn't make a move for him as a short term LB solution. He's still very fit and has bags of experience.
James Marshall
52
Posted 06/02/2018 at 21:11:33
Chris - why on earth would we do something so sensible & obvious?
Get a grip man!
Chris Gould
53
Posted 06/02/2018 at 21:12:26
SSN now saying that we are making a move for him but that we're likely to be snubbed.
Geoff Lambert
54
Posted 06/02/2018 at 21:12:48
Everton in for P Evra!!!!! SSN

Kevin Tully
55
Posted 06/02/2018 at 21:14:04
Quite a few posters now saying you can't expect much for €27m or nearly £24m these days. OK, so please enlighten me, what is the benchmark, in sterling, that we can expect a rounded footballer to appear in blue?
I'm not for one minute writing this signing off, as the whole squad are currently playing like an expensive version of Accrington Stanley, but for fooks sake, are we saying throw £30m in the kitty before we can expect 'decent?'
Some Blues have lost the plot after Walsh has spunked £250m. I suppose we can't expect anyone to run or complete a five yard pass unless you spend half a billion? Loons.
James Marshall
56
Posted 06/02/2018 at 21:15:15
He's been a free agent for 3 fucking months while we've dicked about with Martina. I give up
Chris Gould
57
Posted 06/02/2018 at 21:17:13
James, it appears that we may have attempted to do something sensible and obvious, but alas, we were too damn slow!!
The mighty WHU would seem to be more appealing! Sad times.
Jerome Shields
58
Posted 06/02/2018 at 21:28:31
Allardyce has put Niasse in front of Tosun in the pecking order. Niasse can work with scraps and generate confusion, moving always to get in front of his marker. He is not dependent on Allardyce's tactics.
Tosun is a team player, though technically excellent, he is dependent on support and movement around him; Allardyce's tactics don't suit him.
Tosun, a really good footballer, is going to have to develop a way of playing that is going to get him possession and give him scoring opportunities.
Amit Vithlani
59
Posted 06/02/2018 at 21:31:36
"Reports that West Ham are on the verge of signing Patrice Evra. A man famous for his happy outlook on life, loving the game & even seeming to enjoy Monday's. David Moyes will soon knock that bollocks out of him."
Ian Hollingworth
60
Posted 06/02/2018 at 21:31:59
We have NO midfield, so sorry Cenk lad but it is going to be tough for you.
Ian Hollingworth
61
Posted 06/02/2018 at 21:38:41
I am sure we will have many posters objecting to a move for a 36 year old left back as we have a 33-year-old LB in Baines who will be like a new signing when he returns, lol.
Meanwhile we continue with Martina, are there really no young left backs out there who could step up to the challenge?
Ian Bennett
62
Posted 06/02/2018 at 21:44:39
Just for one game id like to see two up top.
Drop Bolasie and Schneiderlein, and play Davies, Gueye, Sigurdsson, Walcott, Tosun, Niasse. Coleman, Jagielka, Holgate, Garbutt, Pickford.
Soren Moyer
63
Posted 06/02/2018 at 21:45:51
Ian Hollingworth #61, Nope. There are only midfielders!!!
James Marshall
64
Posted 06/02/2018 at 21:47:05
I don't see any worth at all in continuing to play Sigurdsson on the left. Sorry Ian, he's shit at it which isn't his fault. He's a central midfield player and quite literally nothing else.
That's another shoe-horn team in my view.
Geoff Evans
65
Posted 06/02/2018 at 22:07:43
If you want to succeed in the Premier League, sign for a team with a future and not just a past.

BOON JOHN M
66
Posted 06/02/2018 at 22:28:51
Despite all the ifs, buts, criticisms, plaudits etc etc, the poor guy, Tosun, really hasn't been given a chance. And when Senile Sam gives his opinion about Tosun or any other player it is usually negative drivel. In fact he doesn't need to even talk about a player. He spouts nonsense every time he makes his unwanted announcements about ANYTHING.
Martin Nicholls
67
Posted 06/02/2018 at 22:42:26
I've not always hit the ground running in my various jobs (in fact I never did!) and I suspect the vast majority on here were similarly not instantly successful. I am eternally grateful therefore that I did not have the likes of Clive and/or Lenny as a boss as instead of having a reasonably successful 51 year career, I would have been sacked very early on!
Andy Williams
68
Posted 06/02/2018 at 23:06:37
Christ almighty. The lad has just got here. As he said he hasn't acclimatised yet. He asserts that he will work hard to get going. Yet already he is being written off. FFS. I remember (one of many examples) a certain bang average goalkeeper coming to us from Bury before going on loan to the mighty Port Vale. Big Nev didn't turn out too bad. Get a bloody grip.
Tom Bowers
69
Posted 06/02/2018 at 23:28:40
Doesn't it seem that most strikers who have come to this club in recent years have somehow flopped for a variety of reasons ?
Apart from a few who did get a fair shake, Johnson, Bent and Lukaku all the others such as Staquilersi, Traore, Niasse and dare I say Tosun cannot seem to get regular games.
Okay so Tosun may still come good but if he isn't ready now then why did Allardyce get him ?
I submit that Allardyce is just winging it as Koeman did and hasn't a clue about getting back the attitude and team spirit necessary to create a good team.
In all honesty I have never seen an Everton outfit play so many bad games in a season and I mean bad to the point of being pathetic.
When you see clubs like Watford, Bournemouth and Swansea take Arsenal, RS and Chelski to the cleaners in a manner far removed from anything Everton have produced all season, one wonders what the hell is going on.
They have shipped out one way or another a whole slew of players in the last 12 months and still they are left with a bunch of underachievers getting paid big wages.
The same poor performers are being selected no matter what and the same results keep shaming this once great club.
I just hope they have a contingency plan well in place to change the manager at the end of the season no matter what it costs.
Lawrence Green
70
Posted 06/02/2018 at 23:50:17
It doesn't seem to me that Cenk Tosun is wanting to return to his home country anytime soon, judging by this Everton FC report at least.
Cenk Tosun says Everton is starting to feel like home after meeting fans at a special event for Season Ticket holders on Tuesday night.

The Turkey striker has been in England a month since joining the Club from former side Besiktas, and by his own admission is settling quickly into life on Merseyside.

Speaking on stage at Hangar 34 alongside fellow new signing Theo Walcott, Tosun was quizzed by hosts Leon Osman and Darren Griffiths on how he is finding his feet at the Blues.

"I am settling quickly," he said. "It has been easy to settle in so far. The experienced players have really helped me and the fans have been great to me. It has been really nice to play in front of them.

"It was great to meet the fans tonight. It was nice to be interviewed up on stage and share some things with those that were there.

"Everton is starting to feel like home now. I have been here for a month now and England and Everton have become my home for sure.

"I have been adapting on the pitch as well, like in training. It is different to how it was in Turkey – you have to be stronger and it is much harder. But I have to get used to it. I train as hard as I can and week-to-week I get better. I want to help my team and score goals.

"The manager, Sam Allardyce, has really supported me too. Our relationship is really nice. He wanted to bring me here and he is helping me a lot on and off the pitch. I am enjoying working with him. He knows my skills and its great to work with him."
Of course he's unlikely to say anything controversial on stage in front of a passionate bunch of supporters, but it does seem that he wants to do well which is good for us isn't it?

Don Alexander
71
Posted 07/02/2018 at 00:10:50
Let's get one thing straight; there's only a possibility he, like any new signing, may come good. In his case, coming from a league like Turkey's, the odds dwindle further however but that's not his fault at all.
If he turns out to be a Premier League turkey I just hope Moshiri's aware of who's earned a Royal Blue stuffing and takes appropriate action with a P45.
Darren Hind
72
Posted 07/02/2018 at 06:39:33
George Cumiskey
unerringly accurate.
Lawrence @70
Straight from the Horse's mouth
Good post fella

John G Davies
73
Posted 07/02/2018 at 06:52:51
The lunatic is on the grass
The lunatic is on the grass
Remembering games and daisy chains and laughs
Got to keep the loonies on the path
The lunatic is in the hall
The lunatics are in my hall
The paper holds their folded faces to the floor
And every day the paper boy brings more
And if the dam breaks open many years too soon
And if there is no room upon the hill
And if your head explodes with dark forebodings too
I'll see you on the dark side of the moon
The lunatic is in my head
The lunatic is in my head
You raise the blade, you make the change
You re-arrange me 'til I'm sane
You lock the door
And throw away the key
There's someone in my head but it's not me
And if the cloud bursts, thunder in your ear
You shout and no one seems to hear
And if the band you're in starts playing different tunes
I'll see you on the dark side of the moon
Paul Tran
74
Posted 07/02/2018 at 07:13:36
A complete non-story. Signing that has been here for five minutes says he wants to do well.
Get him on the pitch. Give him a chance, give him chances, give him time to settle.
Like Klaassen and Sandro, it's going to be hard to judge Tosun if he's never on the pitch for more than 10 minutes.
Clear that the current manager has decided he doesn't 'fancy' certain players. Hope the next one does.
John G Davies
75
Posted 07/02/2018 at 09:02:49
The next one will hopefully be brought in before the end of the season, ideally when we are safe. I would like the new manager to be able to assess the squad over 4 or 5 games. Until then, Sam will have my support.
Jim Bennings
76
Posted 07/02/2018 at 09:15:45
Comparing Tosun with Jelavic is a bit inaccurate though because Jelavic has experience of the British game/weather from his time at Rangers (a bit like Arteta).
Coming from a totally different culture like Tosun it's going to be hard, it's finished Sandro will to succeed here and you'd not be surprised if Tosun was only here short term before another Sandro/Klaassen situation develops.
Chris Gould
77
Posted 07/02/2018 at 09:17:00
John, I cannot believe we will sack Sam before the end of the season. 4 managers in one season would be a debacle.
He gets my support until his position becomes untenable. It certainly isn't at that stage yet.
John G Davies
78
Posted 07/02/2018 at 09:21:53
Definitely not at that stage, Chris. I reckon Sam, in taking the 18-month contract, suspected it was a "save us and go" job.
He covered himself. I don't reckon he would be too disappointed with the pay off.
Johan Elmgren
79
Posted 07/02/2018 at 09:32:07
I have supported Sam, although I never wanted him. My fear with his appointment was exactly what we are seeing today. Mediocre football and no support of youth.
I lost my patience after the Arsenal-game, there was so much wrong with that gameplan, the setup, the approach, the players chosen, the statements afterwards deflecting blame...
I feel the only thing he can do is more damage! If we drop points against Crystal Palace I'm totally convinced; Allardyce must out now!
Steve Mink
80
Posted 07/02/2018 at 09:49:12
Based on his debut v Spurs and one Besitkas Champions League game I saw, then I think he's good, but then I think Sandro, Lookman, Klaassen and Deulofeu are good. Worrying we can't keep players like this.
Ray Roche
81
Posted 07/02/2018 at 09:57:49
After reading some of the posts on here I don't think that English is the first language of some posters. I read Tosun's interview and decided that he was a guy who wanted to become a success at Everton. Others decided he wants to go home with a bulging envelope in his pocket.
Lenny (#38) "How much was in the envelope for Sam I can hear being asked." You must have ears like a Fruit Bat because I can't hear anyone saying that.
And just to put things in perspective, Jams (#17) mentions the disparity between our spending and the other clubs Man United are spending £1m a week... on the wages for Lukaku, Pogba and Sanchez. Just let THAT sink in...
Clive Rogers
82
Posted 07/02/2018 at 10:14:17
Martin #67, football is not like that though. You've either got it or you haven't.
Tony Everan
83
Posted 07/02/2018 at 10:40:31
Sam and his team deserve their chance. It's down to them to prove they're up to the task. The audition is not going well but there is still time to improve.
The club needs some stability until we are safe, so Sam and his team look like they have Moshiri's support until then.
However, any more of last weekend's rubbish and he may be gone a lot sooner, with Silva coming in initially short-term until the summer to see what he can do.
Firstly, Sam needs to realise Schneiderlin and Williams need to buck their ideas up or leave. They are 2 players just going through the motions. They are a liability in their current state.
Results and performances will determine whether he is the man for next season.

Tony Marsh
84
Posted 07/02/2018 at 11:27:09
Terrible piece of business, the Tosun deal. Much safer and better options paying the same money on a player from the Championship which is a far stronger league than the Turkish league.
I can not believe Kenwright or Moshiri sanctioned the Tosun signing after all the terrible business we did in the summer. It's one thing to back your managers but allowing them to squander huge amounts of money on unproven gambles from weak European leagues is another.
It's not Cenk's fault he is out of his depth at this level, it's the recruitment policy at this club that is fucked up. I could spend £25 million more widely on a striker than what we have bought in Tosun. I don't think the Turkish league is much stronger than the English League One. It is a disgrace and a shame to put the lad in this position.
I wonder if Allardyce had a say in this signing because he instantly froze out Tosun after one game. This deal has Walsh's fingerprints all over it. Awful piece of business yet again.
Justin Doone
85
Posted 07/02/2018 at 11:28:55
JH 20 "With the loss of Fellaini, Barkley and Cleverly we have lost that thrust from midfield. Oh for an Arteta or Manny Fernandes"
HA HA HA, I may have had a bit to drink but that's hilarious!
We have had no thrust from midfield since Gravesen! Barkley has a sticky thrust button and became so indecisive that he stopped using it. Shame because he still has that magic but he needs a Harry Redknapp manager not another drill sergeant that he's gone too.
I'm hoping Vlasic becomes that driver... in a year or two.
Terry Underwood
86
Posted 07/02/2018 at 12:19:29
What!!!!! How dare he join our club and not score at least 6 goals in 3 appearances? Get rid now... Boo, give 'em all free transfers, Boo, boo.
FFS, give the guy a chance, odds are he may be finding it difficult to settle in, language, food, customs etc.
George Cumiskey
87
Posted 07/02/2018 at 12:26:59
I can understand people saying give Allardyce a chance when he first came to the club fair enough. But he must of told the board that he could do something with the players that were there, that's why they gave him the job on a kings ransom.
It has become patently obvious that he can't, as seen by him him being first in front of the cameras to lay the blame on everybody else and not taking an ounce of blame himself for his team selection and tactics.
As someone said on another thread as soon as he signed that contract they were his players, and if he can't do anything with them have the good grace to let the club know and resign. I mean how can any manager worth his salt say he watched Swansea beat Arsenal and changed his tactics.
I personally think we will stay up not because of Allardyce but in spite of him, and soon as this egotistical dinosaur is gone the better.

Jim Bennings
88
Posted 07/02/2018 at 12:47:42
The reality is we'd have probably stayed up under Koeman anyway.
We did draw at City, beat Bournemouth, Stoke and draw at Brighton under Koeman this season so he's as likely to have done the same as Allardyce in the main results wise.
John G Davies
89
Posted 07/02/2018 at 13:01:32
George 87,
What and give up a years wages by resigning?
Not a chance. Would you?
George Cumiskey
90
Posted 07/02/2018 at 13:06:52
Just pay him off then, John, but FFS just get him and his gang of no-marks out of club.
There's got to be something out there, as Spooky Mulder said .
Jamie Evans
91
Posted 07/02/2018 at 13:24:27
Can we all please, please, please calm down and give this lad a chance.
Please.
He's been here 5 minutes for Christ's sake.
Has Allardyce been sacked yet?
Steve Brown
92
Posted 07/02/2018 at 13:47:21
John 89, I read your posts in the same way as George. You have been an apologist for Allardyce since day one.
To be fair, I would also consider a discreet piece of repositioning if I was you. It must be really embarrassing for the likes of Mike Hughes, Tony Hill and yourself to read the posts you made backing the great Neanderthal.
Lawrence Green
93
Posted 07/02/2018 at 13:56:21
Leighton Baines speaking to the Echo relates his feelings on his attempt to regain fitness and what his future holds
While he is feeling fresh at the moment, the left-back – whose current contract expires at the end of next season – admits that he isn't setting himself any long-term goals over longevity in the top flight.

He said: "I haven't set any targets, you just have to see how long your legs will carry you.

"Those decisions are not yours to make. The hope is that you can carry on forever but everyone knows it's not possible and your body will naturally decline.

"I think whoever is at the club, the manager and the other people, will eventually make that call.

"The onus is on the individual – myself – to live my life right and be as fit as I possibly can so I can look at myself in the mirror when the times comes when they say 'you're not for us any more' because I'll have given it everything I've got."
Perhaps, Leighton was just being pragmatic but has he inadvertantly let the cat out of the bag with his "whoever the manager is" quote, or more probably I'm trying to find a glint of light at the end of the long-dark tunnel?

Jim Bennings
94
Posted 07/02/2018 at 14:20:48
Bloody hell Baines sounds like a man that's contemplating retirement!
Declan Martin
95
Posted 07/02/2018 at 14:57:54
Hope Tosun doesn't turn out to be another expensive flop. We've had enough of those in recent years.
Niasse, Sandro, Bolasie, Lookman, Schneiderlein, Williams, Keane, Klaasen - the list goes on.
Ray Roche
96
Posted 07/02/2018 at 15:08:51
Declan, how can you label Sandro, Lookman, Klaassen and Tosun flops when they've not been given a chance? In a good team, and we are light years away from that, they would be good players. If they had a manager who understood attacking football, played on the ground with players who can pass the ball you might see the best of them. But with Fred Flintstone in charge we have got no chance.
John G Davies
97
Posted 07/02/2018 at 15:21:57
Steve Brown,
If you don't behave I will come around and pull your pigtails 😁
Embarrassed by giving an opinion?
Some foolish posts on here at times. Yours is right up there with them.
Quick one.
How do you get to be an apologist on day one?
What did Sam do on day one that required an apologist?
Dale Rose
99
Posted 07/02/2018 at 16:59:32
We need a fast 40 points. Once we have that we can experiment with this team. There is some quality there. Give these players some time on the pitch.
Also stop loaning players out. We bought them play them. Get Galloway back and when Lookman returns play him. Get some fire in these lads' bellises. No more of this negative shite. We have good forwards let them run at some of these defenders.
At the moment it's like the dressing room is cursed. Get in there and come on you blues. On our day we can best anyone.
Jamie Crowley
100
Posted 07/02/2018 at 18:59:17
Cenk Tosun you War Bull you!
Stop it with all the creative little flicks and quick touches. This is Everton under Sam! Hold the ball up you Neanderthal!
This man will flourish under the correct manager.
John G Davies
101
Posted 07/02/2018 at 19:07:23
Just dug up.
Wearing a no 6 Bolton shirt apparently
https://www.google.co.uk/amp/www.dailymail.co.uk/sciencetech/article-5358699/amp/First-Brit-dark-skinned-blue-eyed.html#ampshare=http://www.dailymail.co.uk/sciencetech/article-5358699/First-Brit-dark-skinned-blue-eyed.html
Stuart Brazill
102
Posted 08/02/2018 at 11:36:40
Some of the comments on here are ridiculous, saying what do you expect for £27 million, can't get a top draw player for that these days, I'm sorry but sixty grand anyone? Put that in perspective of the prices about when we got Coleman and you will find that yes you can indeed get top draw players for less than the going rate.
Also, to label Keane,Sandro, Klaassen, Bolasie & Lookman as flops is just plain stupid. All of these players have been quality players when we have brought them and all have been playing in a disorganised team with players who don't have a clue on the system or the tactics the manager has set.
Lookman is the exception here as last season he was playing in that team against city in which he showed his quality, Keane hasn't found his rhythm with us yet and that is mainly down to the fact he has not had a run of games.
Any manager will tell you that you pick your best back 4 based on stats and work in training and you leave them be unless injuries state otherwise, they need to play together to gel and they just haven't had that opportunity and that is the main reason we are leaking goals like we are.
Brian Wilkinson
103
Posted 08/02/2018 at 17:35:30
Bit harsh on some of the posters who said give Sam a chance at the time, see nothing wrong with that, however those who are still sticking by Sam baffles me.
We had it with Martinez who stuck with Tim Howard, we now have Sam who is sticking with Martina, Schneiderin and Williams.
For those still backing Sam, you might have a few more on your side if he realised what players are costing us games week in, week out.
Give Klassen a go alongside Gana, get Jagielka in Place of Williams or even Holgate, give Garbutt a run out at left back.
For anyone saying may not be up to scratch in training, that means nothing if the three above are pulling up trees in training, and getting picked because of it.
That is why a lot of us are hacked off with Sam and not posters defending him.
Never ever change a winning team, unless forced by injuries or suspensions.
Forget the Arsenal game, Sam needs to learn from the Leicester game, and learn from that game.
Tony McNulty
105
Posted 09/02/2018 at 14:39:13
It's a bit hard to judge whether someone is out of their depth when on their first jump into the water they were harnessed to a rubber ring and weren't given a pair of swimming trunks or a towel.
They had hardly dipped their toe into the water. I am sure you all get my drift.
Lawrence Green
106
Posted 09/02/2018 at 14:44:48
Michael (#104),
Either Big and Little Sam both threw double sixes on their die simultaneously or Big Sam was referring to the link provided. I get the feeling that too many football managers are over relying on technology, rather than assessing the talents of footballers with their own eyes. How long before Moshiri or other owners dispense with the manager altogether and pick the team via their lap-tops using specialist computer software?
Add Your Comments
In order to post a comment, you need to be logged in as a registered user of the site.
Or Sign up as a ToffeeWeb Member — it's free, takes just a few minutes and will allow you to post your comments on articles and Talking Points submissions across the site.