Tosun determined to succeed in the Premier League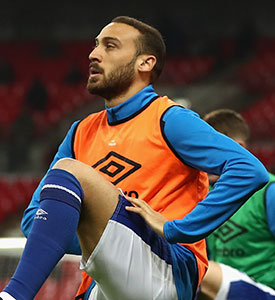 Cenk Tosun has opened up about his faltering introduction to the English game but expressed confidence he will make his mark.
The 26-year-old has only been with the Blues for a little over a month but his demotion to the substitutes' bench after just two starts and just 12 minutes' worth of action since has sparked premature speculation about the wisdom of his acquisition for £21m from Besiktas.
Tosun remains unfazed by his situation, however, accepting that making the transition from Turkey to a new team in a new country was always going to take time.
The German-born striker reveals that manager Sam Allardyce also told him to expect that it would be a big adjustment and even though he has seen little action since being named in the starting XI against West Bromwich Albion last month, his time will come.
"It's not easy to adjust to a new environment, a new atmosphere, new friends even a new house," Tosun is quoted as saying by Turkish outlet Haberturk.
"Even though I was born in Europe this situation is different. I moved from the Turkish league which was the league I'm playing for years to the toughest league in the world. It's hard to adapt. Sam told me that too.
"He always talks to me. I've zero problems. He told me that when I fit into the league and team, I'll be a regular starter."
"I've zero interest going back to Turkey at this point," he added.
"Yes I'm a Besiktas fan, but I'll never return to them without fighting and achieving things [at] Everton. That's not me. I'll show everyone in England who Cenk Tosun is. I have a dream. I never quit a [job] before completing it.
"After I finish my mission in here, and if the conditions are suitable I'd love to go back to Turkey but it's too early for that.
"I've just started to know my team-mates. AT Besiktas, my team-mates knew where I was going be on the pitch before they passed. They knew what I was going to do. Here they'll learn that too in time."
---
---