Allardyce keeps the door open for Klaassen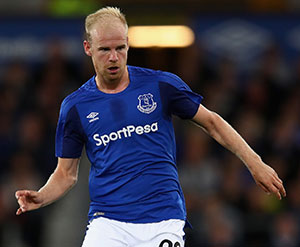 Sam Allardyce says that Davy Klaassen should set his focus on next season to make his mark in the Premier League after failing to make an impact this term.
The former Ajax captain was signed amid great optimism last summer in a £24m deal and had been expected to quickly become an automatic starter in Ronald Koeman's new-look midfield.
Klaassen struggled to find his feet as the Blues' form as a whole nose-dived and he found himself frozen out of the first team by the time Sam Allardyce replaced Koeman in November.
His only start since then was in the Europa League win over Apollon Limassol that month and a proposed move to Napoli collapsed on transfer deadline day last month.
Allardyce suggests, however, that Klaassen has suffered what he feels almost all European imports do in their first season and expects to see more from the Dutchman next season.
"He's tried to fight for his place the whole of this season and like many, many players that come here the first time around, they don't work," Allardyce says.
"There's more players that don't work in their first season than work. So contrary to what everybody thinks, players from abroad don't work in the first season, they fail more than they succeed, that's across the board and at every club.
"So it's season two that really counts. You want them to work in season two. You can't be patient because nobody will let you be patient but in year two, who knows?
"We could very well have a different player at the start of next season and, for him, he's got to fight to see if he can get in this season and that may be the case later down the line."
Sandro Ramirez is a player in a similar situation to Klaassen but, unlike the midfielder, the Spanish striker was able to secure a loan move, joining Sevilla until the end of the season.
Sandro could end up staying in Spain if his spell there works out but, if not, he would be in a similar situation to Klaassen.
"It's the start of a whole new season and when the new season starts everyone starts fresh and everyone has new chance to impress and you've got the whole pre-season to do that," Allardyce added.
Quotes sourced from Liverpool Echo
---
Reader Comments (77)
Note: the following content is not moderated or vetted by the site owners at the time of submission. Comments are the responsibility of the poster. Disclaimer
Dennis Stevens
1
Posted 07/02/2018 at 16:10:19
Ah that explains why we've bought a centre forward from within the Prem!
Jimmy Salt
2
Posted 07/02/2018 at 16:14:14
Sorry we may not be dining at the top table but I expect our signings to at least play a part over a full season.
If they cant then some one on a higher level has failed.
Richard Banks
3
Posted 07/02/2018 at 16:14:22
What's Schneiderlin's excuse then?
Robert Leigh
4
Posted 07/02/2018 at 16:21:56
Be very interesting to see if Koeman picks him for the Dutch national team given he rated him so highly.
Roger Helm
5
Posted 07/02/2018 at 16:27:24
A £23m international player who can't get into the team? And isn't working? Today I also read that Mahrez has downed tools at Leicester because he didn't get the transfer he wanted and the club are reluctant to take action as he may play the depression card.
Football today seems very different from when I was young.
Jim Bennings
6
Posted 07/02/2018 at 16:30:50
Surely Klaassen is worth a run once safety is secured?
What the hell are we gleaning from partnering Schneiderlin and Gueye every week and playing Sigurdsson out of position?
Get Klaassen the last 5 games of the season at least, with the full 90 minutes under his belt. If he doesn't get some football before then it's hard to imagine how things will change for him between May and August – it's just back to where he's at now, is it not?
Jimmy Hogan
7
Posted 07/02/2018 at 16:33:30
Pity Sam won't be around to see it. Having said that, will he care? He'll be sunning himself in Dubai, courtesy of our £6 million in his offshore bank account.
Michael O'Brien
8
Posted 07/02/2018 at 16:35:54
Agreed Jim, I'd rather see klaasen actually running around and trying to affect The game, then that shit bag shniederlan strolling around the park offering absolutely nothing.
Liam Reilly
9
Posted 07/02/2018 at 16:40:11
Yeah it's not working, Sam, and he wouldn't fit into the sleek, well-oiled midfield that you put out every week.
Allardyce is repeatedly complaining about the players not listening and downing tools in games but he keeps playing the same fecking players.
Tony Everan
10
Posted 07/02/2018 at 16:49:29
I would rather see him play midfield against Palace instead of Schneiderlin.
Gamble.
We need the player desperately that Klaassen is supposed to be. If he has a good game, we win or he does well it will inspire confidence in the player. Something he needs badly.
If he got a start I think all Evertonians would be willing him to do well, create or score. Even if he showed desire and tenacity for me it would be a tonic from watching Schneiderlin .
Get him in, tell him to do the basics right and see what happens. Playing Gana and Schneiderlin together is a recipe for another laboured disaster.
John Kavanagh
11
Posted 07/02/2018 at 16:54:42
Roger #5 - Depression may arise in any player (who is at least trying) seeing Schneiderlin being selected week in week out. It certainly depresses me. Doctors often recommend a change of scenery - somewhere like Leipzig.
Barry Metcalfe
12
Posted 07/02/2018 at 17:00:04
I could understand to a certain degree Allardyce's comments if Klaassen was actually playing. Given he has only played in one European game in weeks, how is he going to ever get up to speed in the Premier League? It is surely a leap of faith to expect that he will suddenly next season be able to cope with this level of football.
Does our manager's reasoning actually make any sense?
Ajay Gopal
13
Posted 07/02/2018 at 17:06:38
He could be a late bloomer, at least in the Premier League. I remember David De Gea did not have a great 1st season and then everything seemed to click subsequently and there was no looking back. Hopefully that is the case with Davy.
Kieran Kinsella
14
Posted 07/02/2018 at 17:26:28
My concern with him is that his attributes are hard work and energy. Yes, Kanchelskis took a year or too to settle at United. But he was about pace and skill. He toughened up and did well. Klaassen isn't a great dribbler, passer etc so as a physical player struggling physically I don't have much hope for him.
Ian Bennett
15
Posted 07/02/2018 at 17:35:12
No pace and too light-weight for the Premier League I think. The game is just too quick for him.
Eddie Dunn
16
Posted 07/02/2018 at 18:14:48
He just needs the right players around him, people who can pass and move.
Unfortunately, Rooney can pass, but can't move. Gueye can move, but can't pass. Schneiderlin can pass but can't move. The only centre back who can do both is Holgate.
Of the wingers, Walcott could play with him,as could Vlasic, but Bolasie is far too selfish.
I fully expect the midfield against Palace to include Schneiderlin and Gueye. The only good thing is that Sam certainly won't dare to play a back three.
Jamie Evans
17
Posted 07/02/2018 at 18:19:15
Can he be any worse than what we've seen recently.
Dermot Byrne
18
Posted 07/02/2018 at 18:23:30
I would take one of him to 100 Schneiderlins. I really think we sold him a lie. But next season with new boss... who knows? He track record suggests a good player with a team that can pass even slightly forward more than twice a game.
John Daley
19
Posted 07/02/2018 at 18:25:09
Kieran (@14),
Klaassen has demonstrated an intelligent array of passing in the past. Maybe not the flashy cross field arrow, or the defence splitting through ball expertly delivered with all the care of Dr Quinn: Medicine Woman manouvering a catheter into a japs eye, but his technique and vision is far better than he has been able to demonstrate in his few appearances for Everton thus far.
One of his strengths at Ajax was retaining possession, keeping the ball ticking over and dictating the tempo of the play. Another was a seemingly innate sense of anticipation that often saw him getting on the end of things in and around the box.
It's obviously going to be an uphill battle trying to bring those qualities to the fore in a side who hardly get bodies rushing toward the opposition box, readily cede possession, launch it forward without even looking, believe 'pass and move' is a tactic best deployed during a quick visit to the bog, and where most players regularly take three or four pointless touches of the ball, before passing it back where it came from and then standing there seemingly frozen on the spot.
He was the one signing I was slightly excited about last summer, as I thought it might signal a change to the way Koeman was wanting his side to play. I was envisioning he and Sigurdsson operating in tandem, centrally, and trying to work openings with clever one and two touch football. Instead, Klaassen was just expected to slot in and do...something... in a continuation of Koeman's directionless 'press, punt, panic' drivel from the previous season.
He lacks the physicality and pace to prosper playing to possession adverse pub team tactics, it's as simple as that.

Phil Walling
20
Posted 07/02/2018 at 18:26:38
Any day now I'm expecting to see the post that indicates 'we are unlikely to see what Allardyce can do for us until he had had a couple of windows in which to get his own team round him'
Lawd help us all !
Brian Williams
21
Posted 07/02/2018 at 18:39:41
I don't think we'll see what Allardyce can really do for us until he's had a couple of windows in order to get his own team around him.
You're welcome Phil ;-)
Tony Abrahams
22
Posted 07/02/2018 at 18:47:23
I think any manager who is in charge of Everton, right now Phil, is going to need at least two of those windows mate.
I agree with John Daley, and although I take Ian's point @15, about the game being to quick for Klassen, then I'm sure this could change, if we actually started playing some proper football?
Minik Hansen
23
Posted 07/02/2018 at 18:54:25
Robert Leigh (#4), regarding Koeman's Dutch team, interesting. I come to think of didn't Koeman bench Klaassen in his last games? I can't remember.
#10 Yea, Klaassen against a team such as Crystal Palace is worth a try really. Especially now that we have Walcott on the side, it might work well. Who knows maybe even with Cenk Tosun, he had some nice touches on his debut, might as well be able to exchange the ball with Klaassen.
Lev Vellene
24
Posted 07/02/2018 at 18:55:49
Klaassen needs that one thing Everton can't provide now: A midfield focused on receiving passes from the back, and wingers/AM's running to receive those passes!
Like many of our players, he's seemed like a headless chicken at times! But I noticed that when he DID play, he always tried the fast passes to get our forwards players going! He's not a ball-fondler, he's looking to move it on fast. And Everton have been unable to field players bothered to move around enough to receive those passes!
So keep Davy here! Once our team start to function, he'll be what we need! A linchpin in the middle, making those smart passes that none of our defensive forwards/midfielders learned to get onto yet... ;P
Rudi Coote
25
Posted 07/02/2018 at 19:04:52
Keeping the door open?
Oh yes! This the way out son.
Nicholas Ryan
26
Posted 07/02/2018 at 19:22:45
John Daley [19] .Spot on!
Darren Hind
27
Posted 07/02/2018 at 19:35:58
Klaassen's probably pleased not to be figuring in a midfield which is constantly having the ball hoofed over their heads... at least he won't have a Gregory shaped like the letter R come May!
Neil Cremin
28
Posted 07/02/2018 at 19:45:08
He is one player who I think has suffered from our consecutive mangers fear of playing football. Can't remember which game but it was Klaassen determination to win back a ball that resulted in us scoring.
I think if given a chance with the right blend of players (as identified in this thread) he could provide the much needed pace distribution which we need. Obviously room for Schneiderlin in such a set up or Klaassen gets by passed.
I know he is no Roy Keane, but he couldn't dribble or pass either but he won the ball and distributed it quickly and accurately to those who could use it e.g. Beckham to cross. Give him a go Sam and do not wait until next season. Such a crap statement.
Paul Kossoff
29
Posted 07/02/2018 at 19:58:25
My God! Is everything out of this man's mouth a negative?
Is a manager not supposed to motivate and encourage? Why is this man here if it's not to get the team playing and succeeding?
The sooner he's gone with his negative attitude the better for us.
I just hope when he goes, he uses encouragement once, and that's to get Kenwright to up sticks and leave with him!
Joe McMahon
30
Posted 07/02/2018 at 20:33:24
Roger - Everton paid £23 million only cos the Walsh/Koeman combo did. In reality take at least £22 million off the value. The Dutch League is on par with League One. The damage done by those two tossers may never be repaired, and one of them is still effing at Everton.
George Cumiskey
31
Posted 07/02/2018 at 20:38:57
Phil@ 20 it's started already.
Lawd and all the angels help us!
Charlie Lloyd
32
Posted 07/02/2018 at 21:39:53
To go from Ajax captain to not being able to even make the match day squad of a team with a very average midfield is one hell of a fall from grace.
Klaassen wasn't good in his fleeting appearances but to get so little chance is bewildering. Let's not forget he has Schneiderlin ahead of him in the pecking order. How does that effect his confidence.
So many things have gone wrong and been handled badly this season.
Keith Harrison
33
Posted 07/02/2018 at 22:17:28
The most depressing aspect of this latest brain fart from Big Ego is that he is obviously convinced he will be here next season. Sam that is. And his small rotund assistant Yosemite Sam. And Shakespeare. And Walsh.
We're doomed Captain Moshiri, doomed I tell ye.
Ash Moore
34
Posted 07/02/2018 at 22:30:04
A midfield Per Krøldrup basically.
He'll end up killing it and having a couple of really good years.
For Torino.
Tony Abrahams
35
Posted 07/02/2018 at 23:04:07
Darren, I honestly don't see what you see mate. I actually wish we would play with two forwards, and go more direct, rather than watch Schneiderlin go sideways or backwards and Gana constantly give the ball away.
Tom Bowers
36
Posted 07/02/2018 at 23:10:35
Is this a wind-up?
If an experienced player like Klaassen is not good enough to play this season, why on earth does Allardyce think he will be next season?
Methinks it's more BS from a manager who has lost the plot already.
Andy Williams
37
Posted 07/02/2018 at 23:32:39
Spot on, John (#31). Many foreign players don't immediately acclimatise to the Premier League but when put into a dysfunctional team such as ours it must be nigh on impossible.
Eddie Dunn
38
Posted 08/02/2018 at 00:10:34
I know this is irrelevant but the thought just crossed my mind that our manager, and two assistants plus Walsh, could well be the ugliest coaching team in world football.
Phil Lewis
39
Posted 07/02/2018 at 00:10:39
My initial reaction to Klaassen was, 'What on Earth have we bought here?!!'
He didn't seem to be making any progress or impact in any of the games I saw him play in. No direction or vision and physically weak. Like many others, I quickly wrote him off as a very poor signing. But on reflection, since he has been left out of the side, nobody playing in his midfield role has significantly improved things.
Which begs the question, were his lacklustre performances solely of his own making, or did he appear worse, because of inadequate players around him. Either way, since you would assume that he has now had time to 'bed in' in training and nobody else is performing well, perhaps it is time to give him another chance.
Could he really do much worse than our present bunch? I can't fathom how you can deteriorate from captaining Ajax to the Europa League Final, to his present plight in such a short space of time. Surely his past history suggests he is capable of much better.
Older contributors here will remember 'Inchy', Adrian Heath. When Kendall brought him, (from Stoke I think) he came in a blaze of publicity, yet for the best part of his first season and possibly longer, he struggled badly to make any impact and looked woefully inadequate. Looking back at that time, I felt the same way about him then, as I do about Klaassen now for exactly the same reasons. But all of a sudden it clicked for Heath and he became an integral part of that wonderful eighties team.
Who knows? Maybe in 12 months time, we might be saying the same thing about Davy Klaassen. I genuinely hope the lad proves himself worthy and silences his doubters, me included.
Jack Convery
40
Posted 08/02/2018 at 00:12:44
Eriksen at Spurs – he's 6ft-6in built like a brick outhouse and a strong as Sam's wallet. If Eriksen can do it, I believe Klaassen can. We just need better players who actually pass and move during the game... not just in wine bars.
Jamie Sweet
41
Posted 08/02/2018 at 03:27:15
Klaassen will never be in Eriksen's league.
What I'm certain of though, is if you gave him a decent run of games, he would have a far greater impact than the infuriating Schneiderlin.
And what better run of fixtures than Palace, Watford, Burnley, Brighton & Stoke to try a CM next to Gueye who likes to move the ball forward as well as get into the box?
If not Davy (which of course given these comments from Fat Sam it won't be), then surely it's got to be Davies or Rooney taking up that position in those 5 games?!
Si Cooper
42
Posted 08/02/2018 at 04:39:03
John Daley (19) sums up the player very well for me; he is not physically imposing so doesn't work as a proper defensive or box-to-box (as some have labelled him) midfielder. He needs to be in a team whose tactics and personnel complement his particular abilities. In that sense he could be similar to Eriksen, who generally doesn't have to worry about doing the bulk of the defensive duties.
What I would question in the OP, is what are the club doing to get him properly prepared to play? Have they identified abilities / qualities that need to be (and can be) improved, or is it all just trusting to luck or left up to the player to sort himself out?
What we need are specifics. What talents was the player brought in to add to the team? Why has he been unable to deliver in our team / the Premier League? What is he now working on to make him capable of doing it in the future?
As with a lot of Big Sam information, I see more style than substance. There is nothing that helps us to understand the situation – it is like he thinks he is dealing with things that are beyond normal beings understanding so we are told very little in a bluff, uncompromising way. This seems to satisfy, or even impress, some of the people who post on here.
In this day and age it should not take 12 months to iron out the kinks in an experienced pro's game. Klaassen will not make it at EFC just through some waiting game. He either needs major changes to his fitness regime or the team needs to be set up so that he has an appropriate role to play.
Bob Parrington
43
Posted 08/02/2018 at 05:49:33
Si (#42),
Your last sentence? Spot on! In the case of Klaassen we'd need to get inside Koeman's head to find out where he was intended to fit and the relevant team set-up. Possibly Koeman had a strategy in his own mind but we don't know what it was. As I've said before, it seemed like it was to build up to 10 midfielders and line them all linking arms on the half way line to form the Great Wall of Everton.
I can't help to think that Sam underestimated the challenge when taking the role. 'Cos, he seems to be acting irrationally, out of control, sniping at all but himself. The players follow his lead, running around like chucks with their heads cut off.
Simply, take the players we have and get the best formation possible to use the talents they have as a team. Don't change half of the team for every game. Play to our strengths and take the opposition on, making them at least have to think again as to how to contend with our strengths.

Chad Schofield
44
Posted 08/02/2018 at 06:44:03
John Daley (#19), spot on for me.
I think he could work alongside Gueye.
He seems as little unorthodox in a Dutch way... I mean he's not going to simply "play the way he's facing", "do the basics", etc. I don't see him as a 10, but he certainly looked good at Ajax. He looked good-ish preseason
God I hate everything about Allardyce. Gives the guy no chance since arriving and then spouts this crap.
Darren Hind
45
Posted 08/02/2018 at 06:44:32
Tony A
I called Schneiderlin and Gana a year ago. I was met with genuine anger for saying they were both liabilities. I called them the tackling machines and said at the time they would never play at a higher level. Right now Schneiderlin isn't even that. For the life of me I could not see why so many were lauding them. They were a nightmare match. not an ounce of creativity between them.
I understand why you want to go direct with these two, but I don't know of a scenario where hoofball can be justified at this level. The only way forward is to get the ball on the deck and play with it and if Klaassen can't get a game now he will wonder if he ever will.
I hate all this "write the season off" shite – it gives the manager the green light to spoil every game. Your average fan (even considering concessions) would have paid over two hundred quid for those matches in good faith. People like Rob Halligan will spend thousands. Nobody has the right to write this season off on behalf of somebody else.
I know from previous posts that you are a lover of the beautiful game. It's a measure of where we are that you just want to get the necessary points on the board so you can sleep at night.
I think a better idea would be to fuck Sam off and fuck him off now. If we really can't go toe to toe with teams like West Brom, perhaps we don't deserve to be in the top flight.

Anthony A Hughes
46
Posted 08/02/2018 at 07:11:50
Have to agree on this "write the season off " crap. With three months of the season left, Allardyce is giving himself licence to produce whatever dire results or performances without any recourse, all under the "write the season off" banner. Pure bullshit.
Liam Reilly
47
Posted 08/02/2018 at 07:35:36
I suspect the new Dutch Manager will be calling Klassen to tell him to get out of dodge and find a new club in the summer, as this club is far too unbalanced.
Rob Baker
48
Posted 08/02/2018 at 09:20:51
More verbal diarrhea from Fat Sam. I'm sick of reading or listening to his ridiculous comments. What naughty secret about Theo does he have that made Theo say working with him was a factor of signing for us?!? Or is he now giving bungs to players as well as taking them?!
We all want to draw a line under this season with hopefully that fraud going in the summer and a wholesale clear out with him including our crab midfielders.
Lee Preston
49
Posted 08/02/2018 at 10:35:06
Would it not be beneficial to all parties for Davy to play in the U23's for a spell? Essentially we're paying this lad to just train at the moment.
If he's not in the first team plans at the moment, surely a few U23 games to get his match fitness up to speed, confidence up and get some form of acclimatisation to the English game wouldn't be a bad idea. I know the U23 level isn't the same as the first team, but it's surely closer than training, plus it didn't hurt Niasse.
James Marshall
50
Posted 08/02/2018 at 11:46:38
Players can only play well if played in the right positions within the right system.
Klaassen has talent, he just needs to be played to his strengths like anyone else.
He's a natural finisher and should be played in a similar fashion to Frank Lampard. He scored a lot of goals arriving late from deeper midfield positions but we don't play like that so it won't work for him.
Come to think of it, I have no idea how we play anyway.
Steavey Buckley
51
Posted 08/02/2018 at 11:58:16
He can play football or not. What is so difficult understanding that?
Björn Kausemann
52
Posted 08/02/2018 at 12:13:24
Every time I saw Klaassen at our team, he played weak. He was not strong and quick enough. He might have a good technique but he was not determined to fight.
I'll be back vs Palace and would like to see Rooney at No 10. He isn't the fastest anymore but his fighting spirit and crosses are excellent.
The first XI should be:
Pickford, Coleman, Holgate, Jagielka, Mangala, Davies,
Gana, Rooney, Walcott, Bolasie (only cause Lookmann is on loan – can't understand) and Niasse.
COYB

Frank Bortoli
54
Posted 08/02/2018 at 12:58:19
I do believe this season is written off. The best we can do is finish mid table so lets secure the points we need to stay up and then look to build for next season.
It's essential we don't have a fire sale of those players we brought in which we spent a fortune on. Let's start playing them when we are secure and and give them a chance in their chosen positions. We might then see if they have any potential, and the making of something next season; if not, get shot of them in the summer window.
The likes of Klaassen, Sandro and Vlasic do need a proper chance as getting shot of them so soon could be a classic shoot-yourself-in-the-foot scenario. Why we haven't given Tosun a proper chance yet, I don't know.
Whilst we at it, let's get shot of Sam and Walsh.
John Clowes
55
Posted 08/02/2018 at 13:47:43
I think it's worth getting to safety and then we need to start giving other players a chance for next season. I mean if Allardyce thinks he'll be here next season, why wouldn't he?
And I see no harm in giving Klaassen a chance. Because, let's be honest, if he doesn't get a chance and he leaves, we'll be lucky to get £10m for him.
James Stewart
56
Posted 08/02/2018 at 14:14:57
Big mouth billy bullshit strikes again.
"Sigurdsson and Rooney can't play together" – Reality: we haven't won a single game without them.
Schneiderlin plays every week and doesn't even look like a professional. Ditto for Williams.
Brian Wilkinson
57
Posted 08/02/2018 at 15:19:42
Get the points safe then give them a run out, if it takes a season, then with very little game time, how long is it going to take next season, before he and Tosun are adapted to the Premier League?
Harry Wallace
58
Posted 08/02/2018 at 17:43:18
Former Ajax captain. Dutch international. Goal scorer. Box-to-box midfielder. Good assists.
And yet not good enough to make bench. With a team playing utter shite all season
Anthony A Hughes
59
Posted 08/02/2018 at 19:33:33
Can't be any worse than Schneiderlin.
Anthony Dwyer
60
Posted 08/02/2018 at 20:15:10
Klaassen has to bide his time as the midfielders ahead of him are doing incredibly well 🤓
Dermot Byrne
61
Posted 08/02/2018 at 20:24:10
Lol Anthony #60
Tony Abrahams
62
Posted 08/02/2018 at 21:05:31
Darren, I remember you taking some stick, when you said that this pairing were always on their arses, when tackling, but I think,I agree with you, more than I don't, especially the times when you are proved right mate!
I am a lover of the beautiful game, always was, always will be, but I'm also a lover of playing to your strengths, (i think it's both stupid and pointless if you don't) and these two are definitely our biggest weakness when they are played together.
It's not even about the points Darren, it's more about the pain of having to watch these pointless, sideways, backwards triangles. I left Anfield in the cup, thinking if we could just replace three players, we could start to become a decent team, but Lookman's reward was to be binned, then sent on fuckin loan?
McCarthy's injury was also a massive blow, because he has good energy, and also recycles the ball very quickly, which is ideal if a team is going to play 4-4-2. Now I don't think we have got the personnel in midfield to play this way, but this just makes things so much harder for the team, and the watching fans who have to watch so much directionless and boring football.
I think most teams play with 5 across the middle of the park, so they don't get over-ran, but this doesn't work that well for us, I don't think it stops the opposition, who get things way to easy. I don't want to watch hoof-ball myself Darren, but the most entertaining 30 minutes I've witnessed at Goodison, in the last 2 years, came against Watford, when we started playing longer and quicker, and just went for broke.
Not a long term plan, I know, but if it engages the crowd, and gives us a bit of excitement, then surely it's got to be the way forward, especially if it can put a smile on people's faces, in this really horrible time? Sorry I went on mate, but I'm tired, which is a bit like watching Everton at the minute!
Sean Roberts
63
Posted 08/02/2018 at 21:40:00
Yet more bullshit to come from our club.
If it takes a player coming from Europe a full season sitting on the bench or playing for the reserves to get the best from them in the second season. Then why have we sent Sandro back over to Spain!!!
He won't be any wiser on the English game after yet another stint in his native land where he has been playing before joining us!!!
Peter Lee
64
Posted 08/02/2018 at 21:49:50
Allardyce gets asked a question. Answers as he does, can't really say "Don't rate him, never did."
Klaassen won't be here 1 September. A change of manager would make no difference. Move on.
Gueye and Schneiderlin won't be in the first team either. Keane, Williams and Jags will not feature/ will have moved on, as will Holgate, maybe on loan.
None of this is manager dependent although a new manager, especially someone new to the Premier League, will waste time assessing all these and more when a clear out is needed straight after the last league game.
Si Cooper
65
Posted 09/02/2018 at 02:18:20
Peter Lee, are you tight with Sam or just speculating?
I would challenge your statements on Klaassen, Gueye, Holgate and even Keane, whose future at EFC will be hugely dependent on whether Allardyce stays or goes, and I think that extends over others in the squad that aren't listed.
Just as importantly, you haven't even considered the massive difference in player acquisition that is likely between managers with different approaches.
The point you are trying so hard to make seems to be that the only thing that would result from replacing the current manager at the end of the season is a potentially calamitous delay to the rebuilding process. That delay could be severely mitigated against in a number of ways; such as lining up the next manager well ahead of their official start date so that they can begin to plan how they would change the squad, or replacing Sam as soon as we are mathematically safe.
Long term, wouldn't the club be better to replace any poorly performing manager with a (hopefully) better alternative as soon as possible?
Darryl Ritchie
66
Posted 09/02/2018 at 04:39:19
Klaassen's main problem is the way our club conducts it's transfer business. He is a proven footballer, who was thrust into a very difficult position. He was doomed before he ever put on a blue shirt.
Most players new to the league, take a bit of time to acclimatize, but to do so, they need to have minutes. For Klaassen, being one of a multitude of midfielders competing for the same position, getting a sniff has proved impossible.
I hope the club can sort things out, because he is being totally wasted as thing stand.
Does he get any games with the U-23s? Training and warming a seat on the bench, doesn't seem enough for him to get up to speed.
Maybe next season.
Karen Mason
67
Posted 09/02/2018 at 16:02:08
Si (#65). Well said. I have just responded to another comment from Peter Lee on a different talking point. (Lyndon's assessment of Allardyce in the Liverpool Echo)
I criticised Allardyce's tactics of playing '10 at the back'. Judging by Peter Lee's response, he seems to think that Big Scam has it absolutely right??? So we can only assume that he knows nothing about footy or is Big Sam's brother or bezzy mate.
If Allardyce continues as Manager into next season, then we can look forward to the quality of incoming players such as Andy Carroll? Oh deep joy.
For me, there are a good number of talented players with us now. Whatever happened to coaching players to improve? Why are so many calling for a complete clear out?
Our young academy players are all great prospects and coping well in such bad circumstances. With a proper coach at the helm, many of the players we have now could be so much more.
Idrissa Gueye was second only to N'golo Kante in stats for balls won, passes completed in his first season with us. His game has come apart, but through no fault of his own. I believe the same can be said for many others.
A wholesale clear-out is not the answer or necessary for me. Get in somebody who can really coach and improve individuals (oh, and a left back) and then let's see where we are.

Si Cooper
68
Posted 09/02/2018 at 18:11:09
Yes Karen, football is a team game and for clubs like ours, where we can't necessarily bring in complete players, an alternate approach is to find a complementary blend of players.
Gueye would be fine with a Dier or Dembele (or Nzonzi). McCarthy was probably his best option and should have been replaced. The gaps in his game are just magnified by Schneiderlin.
Keane looked fine with Jags against Leicester. He wouldn't be the first slower central defender to be successfully paired with a quicker partner, and that pairing benefits hugely from another true athlete in the defensive midfield role.
Holgate has some maturing to do but there is no reason to cast him aside at this point.
A proper left back in their prime (sorry Cuco) could absolutely transform our left flank, balancing our attacking options and perhaps fitting in better with what Klaassen can bring.
What we can't expect to happen is that a mass purge will be followed by a mass influx of brilliant players who will all just click. Some players will move on no matter who is in charge but it is not going to be the majority of the squad. We are more than likely going to need to retain some players who have yet to shine other than fitfully and try to get them to be more consistent.
I'm firmly of the opinion that our latest transfer dealings were less than we required and we are seeing very little imagination in getting a better level of performance from the players we already have. It is hard to say who is ultimately to blame for these problems but how can you state the manager is doing anything other than a questionable job?
Peter and a few others are trying their best to tell everyone that all is well and the alternatives are all much worse. Despite their bullish language what they continually fail to do is substantiate their opinions with anything like enough proof to remove the reasonable doubt that Big Sam offers anything out of the ordinary.
For the money he is on and for the sake of our club, I would hope we would all expect more than ordinary from our manager.
Darren Hind
69
Posted 09/02/2018 at 19:07:23
Fair enough Tony.
As usual you call it like you see it and that's all anyone can do.
I don't disagree with you with regards to playing to your strengths. I just feel neither Koeman or Allardyce have not put effort into finding out what those strengths are. I feel neither cared enough about the Evertonian enough to even try.
I feel the football gods are paying me back for all that stick I gave Koeman. I didn't think our football could get any worse . .How wrong can you be
Tony Abrahams
70
Posted 09/02/2018 at 20:30:13
Fair points Darren, because if Allardyce, never had an ulterior motive against Arsenal, I'm dumbfounded, especially because we had played a lot better against Leicester, a few days before.
During the Leicester game my son said that our opponents, looked like they weren't bothered. I'm not sure I said, because they had started the game so much better than us, and once they got the pen, they pulverized us.
So we are a fragile team, and this total lack of stability isn't helping things, but I'm still glad Koeman, has gone though mate, even if he had just stated himself, that he thought that we would be better off playing direct!
Dermot Byrne
71
Posted 09/02/2018 at 20:40:11
Tony... I tend to agree. Just wonder how they explain this behind the scenes... "Listen, you lot, you are the crap ones we are playing as we are bound to lose."
Are they that dim?
Karen Mason
72
Posted 09/02/2018 at 20:45:25
Hi Si,
Yep, would pretty much agree with all. Except if Big Scam could even achieve being ordinary, it would be a big improvement on what he has delivered so far. Several comments I have read seem to say that a wholesale clear out is the answer. Perhaps those fans believe, perhaps somewhat naively, that they would all be replaced by outstanding quality, who all play well together with little time or effort being spent.
I have a wealth of experience playing hockey from club to international masters standard, and all the best teams I have played in, have been a blend of youth & experience, workman like players interspersed with technically gifted. But even that doesn't work without the right coach at the helm to lay down template of how we need to play to maximise the players we have. It's not rocket science, but does require vision – perhaps even more than experience.
I fear that our current manager is a one-trick pony, and lacks the vision to put together the right blend with the players we have, though I agree Koeman couldn't do that either. I favour bringing rough diamonds to the club, and home grown talent, rather than 'the finished article' who are normally journeymen. Then a young manager with ability to coach and develop the squad. A la Pochettino. That would be the absolute ideal for me. But I am a perpetual optimist and perhaps a dreamer when it comes to EFC.
Tony Abrahams
73
Posted 09/02/2018 at 21:07:03
If it was me Dermot, I might play some of the players, as if to prove a point that they need replacing, but I would obviously try and get a few more points on the board, before I was to try this though.
The reason for that would be simple, and it's that simple that a man with the experience of Allardyce, should be all over it. He played weaker teams over the xmas period, and this came back to bite him on the arse, and if he doesn't get a result tomorrow, then it could really put us back in danger, and the calls for him to leave, will also increase massively.
It's not what we need with such a fragile bunch of players, and it's the reason he's got to start playing our strongest eleven every week now.
Peter Lee
74
Posted 09/02/2018 at 21:52:40
Si, it's all opinion but I have gone on here in the past to address the shortcomings of those I've listed.
I said at the time that I wouldn't have bought Keane – turned repeatedly by Lukaku last season and no positional sense outside of a tight narrow four. I wouldn't have bought Klaassen – physically the last thing we need and unable to impose himself. Anonymous in the Europa League Final last season as example.
Repeatedly picked out Schneiderlin and Gueye as getting the wrong side of players and making last-ditch tackles towards our own goal. Holgate switches off. Needs to develop but not here if we want to stabilise a back four which can push out and do more than just recycle the ball.
This isn't directly about managers although I believe that a new one will dally without the opportunity of competitive fixtures when we need as far as possible to have a rebuilt squad in place as early as possible.
ps: I wouldn't have bought Pickford either. Great shot-stopper but too small, his aerial work is not just suspect but poor, and his inability to use both feet causes hesitancy every time we play a ball back to him. Players should be able to knock the ball to the goalkeeper without worrying which foot it's on.
Bob Parrington
75
Posted 09/02/2018 at 00:07:05
Like the language from a number of the recent posts on here. IMO there are two basic options. One is fully dependent on the club having the financial resources to buy whichever players they wish to buy. You have a system you want the team to play and get enough players in the squad that fit the pattern (including subs etc). Then drill it, drill it, drill it!
The other option is where Everton can fit in. You obtain the best players you can using some shrewd purchases and sales, of course with the various skills to fit in to a team environment. Then you play the team to the best of its abilities. Possibly 14 of the 20 EPL clubs fit in to this category, agreed?????
Thinking of it at the other extreme, except for money, this is close on to what almost all amateur team coaches have to do, isn't it.
So, at Everton, with the training resources available to the manager and coaching staff, why can't they reach a position of having a "preferred 1st 11 plus subs" and play them (subject to injury status) regularly. The change of team between the Leicester and Arsenal games appeared to be lunacy. Adopt a consistent selection policy that allows the players to fit together as a team!
I like the KISS principle but am I being naive?
Si Cooper
76
Posted 10/02/2018 at 02:29:04
Peter (74), there is much you have stated in this post that I couldn't disagree with, except I still think you are being quite extreme with your assessment of the usefulness of the players you have singled out.
There just don't appear to be enough truly 'complete' footballers around for teams like Everton to be able to afford them unless we pick them up as youngsters or when their careers are on the wane.
In terms of value for money I think our best bet is a young, rough diamond we can get a few good seasons out of at least and then still make money on. That is why I support the club's attempts to regularly reap from the crop of emerging talent.
It is easy to point out the flaws in particular players. Unless we can be guaranteed to replace them with better players you just have to accept those faults and try to mitigate them through complementary pairs/ groups and well suited tactics.
I think if you went back to the Everton teams in the eighties you could find flaws in most of the players but the point is the whole was much greater than the sum of the parts. Same in 1995 and the best of Moyes teams. As Karen Mason says, there are different ways to put together an effective team but it is a manager with the vision that is the key.
I think you are being very harsh on Pickford. I think, for his height, he does well enough in the air and most goalkeepers will have a preferred foot. It is because his left is generally better than most, and because he is always trying to be effective, that he occasionally overthinks and ends up rushing a clearance.
You can see he is considering bringing it on to his left so he can pass it rather than just hoofing it with his right. A lesser keeper doesn't have that quandary and can just concentrate on making the best contact he can. Until he makes multiple cock-ups I am happy for him to look for a proper pass as often as he can.
Peter Lee
77
Posted 11/02/2018 at 13:21:43
Si, "for his height", exactly. His reliance on his left affects defenders under pressure. Not good.
Alan J Thompson
78
Posted 13/02/2018 at 05:51:09
Will Big Sam get two windows? Only if he's going out onto the window ledge to think things over.
Add Your Comments
In order to post a comment, you need to be logged in as a registered user of the site.
Or Sign up as a ToffeeWeb Member — it's free, takes just a few minutes and will allow you to post your comments on articles and Talking Points submissions across the site.