Unsworth turns down Oxford opportunity
Wednesday, 7 February, 2018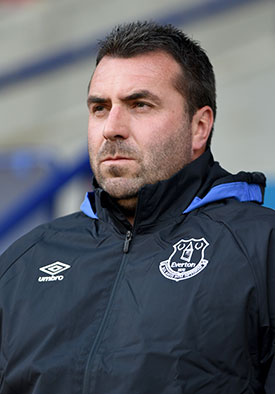 David Unsworth will remain in his role as manager of Everton's Under-23s after turning down an offer to take over at Oxford United.
Having guided the U23s to the Premier League 2 title last season and gained Premier League experience with a six-week stint overseeing first-team affairs in the autumn, the 44-year-old had been selected by the League One club as their chosen successor to Pep Clotet whom they recently dismissed following a poor run of form.
Following talks with the Oxford hierarchy, however, Unsworth has, according to the Liverpool Echo, informed them of his decision not to take the position.
---
Reader Comments (53)
Note: the following content is not moderated or vetted by the site owners at the time of submission. Comments are the responsibility of the poster. Disclaimer
Lawrence Green
1
Posted 07/02/2018 at 16:23:27
I'm pleased with that because losing somebody like Unsworth at this time may have left too huge a hole to fill at U23 level, and whilst some may argue that there are too many former Blues stealing a living at Goodison, David is not one of them.
Ajay Gopal
2
Posted 07/02/2018 at 16:23:59
Unsworth might be hoping (or maybe already sounded out) for a bigger opportunity in the Championship?
If things go really south this season, Moshiri may be forced to eat humble pie and call on Unsy to rescue him. God forbid that such a situation should arise!
John G Davies
3
Posted 07/02/2018 at 16:24:51
I thought he would knock it back.
Settled and comfortable with the U23s and a great job he is doing. Needs experience though if he has hopes of getting the Everton job three or so years down the line.
Roger Helm
4
Posted 07/02/2018 at 16:29:41
How will he advance his career if he doesn't take a post like Oxford? Perhaps he's happy to stay where he is indefinitely.
John Smith
5
Posted 07/02/2018 at 16:34:43
I thought he would leave, but good on him for being loyal to EFC.
Liam Reilly
6
Posted 07/02/2018 at 16:35:38
Perhaps he doesn't want to uproot his family as accepting this opportunity would necessitate.
He may be ambitious but is set on staying in the North. Nothing wrong with that.
Dave Abrahams
7
Posted 07/02/2018 at 16:37:45
Maybe the terms and length of the contract were not good enough? He has a good steady job at Finch Farm, and at David's age a regular and reasonably well paid position suits him better.
Mark Tanton
8
Posted 07/02/2018 at 16:47:26
Do I sense a little fear of making the jump?
Kieran Kinsella
9
Posted 07/02/2018 at 17:20:21
Oxford are a bit like Sheffield Utd some years back. Great in cups, mediocre in the league. The Football League is cutthroat. He could go there and find himself out of a job in six months. The guy has a family and bills to pay. It would've have been a risk with too little upside.
John Pierce
10
Posted 07/02/2018 at 17:23:39
Too comfortable were he is? Did the previous caretaker spell burn him to the reality of management or simply does he think he might Be required at Goodison again soon?
Regardless, needs to show some ambition and get out there. The example he sets to his young charges is to stay put?
Eric Myles
11
Posted 07/02/2018 at 17:29:16
"The example he sets to his young charges is to stay put?"
If they're any good John let's hope they do stay put.
Darren Hind
12
Posted 07/02/2018 at 17:42:37
FEAR??? Ha Ha!
The guy was asked to step in to sort out a motorway pile-up in the fast lane and he didn't blink.
Maybe he is looking at the number of fans who have turned against the fat fella and expects to be asked to step in for a third time.
Maybe he has already had the nod... The management now know he is better than Sam and I don't see them splashing out a fourth time... but you never know with this crew.

Jerome Shields
13
Posted 07/02/2018 at 17:45:29
This is good news. Unsworth is the last man standing as far as the Everton ethos is concerned. Hopefully Allardyce will leave him to keep youth development going.
We now know, if he had got the Manager,s job, he would have done better than Allardyce. He is tactically better, would have brought young players on, and was able to get more out of Rooney and probably some others had he been supported and given time.
Get more coaching badges, Unsy – your time will come. The fraud we have got is a dead man walking. Moshiri can't be that stupid and if he is (the mucking about he did when you where trying to Manage would suggest a problem), Usmanov isn't .
Sincere Good Luck in the future.
Mark Dunford
14
Posted 07/02/2018 at 17:58:50
Great news. He is doing a really good job with U23s and knows our club inside out. Whatever happens with Big Sam, Unsworth will almost certainly be there to fill in as caretaker (again), help his successor or succeed him (unlikely, I know).
The club needs level-headed people who can nurture and promote the obvious talents in the U23 set-up and (in some cases) needlessly out on loan. In this case, the best way to show ambition may well be to stay put.
John Keating
15
Posted 07/02/2018 at 18:08:04
I agree with Liam 6.
I think had it been a Northern club where he would not have to uproot his family he would have taken it.
Len Hawkins
16
Posted 07/02/2018 at 18:10:16
I find it insulting that people are putting their opinion on hwy he rejected Oxford. He knows why he turned it down and everyone should respect that decision.
He has been doing a great job at Everton so why should he not carry on???
Dermot Byrne
17
Posted 07/02/2018 at 18:20:06
"Regardless, needs to show some ambition and get out there. The example he sets to his young charges is to stay put?"
Please explain this John. Beyond me but not the brightest.
Mike Gaynes
18
Posted 07/02/2018 at 18:20:18
Agree, Darren #12... of all the factors being speculated about here (and a silly exercise it is), fear is the one thing
least
likely to impact a fellow like Rhino.
I still do expect him to take a manager's job somewhere else this summer... the next step in preparation for returning to our touchline in the future.
Jimmy Hogan
19
Posted 07/02/2018 at 18:31:41
Liam 6 has said all that needs to be said on the subject. Not a big enough job to warrant moving the family. He will wait for an opportunity in the North West
Lev Vellene
20
Posted 07/02/2018 at 18:39:27
Unsworth is a True Blue, so I hope that what this means is that we'll continue to have him sing praises about the up-and-coming talent to the deaf...! Our u23's (and below) need their champion to remind SA that talent often comes from BELOW the 28+ bracket, yet might need playing time to blossom...
Jamie Crowley
21
Posted 07/02/2018 at 18:50:04
Hopefully they are sacking FS and bringing Unsy back.
Will never happen, but I'd be happier for it.
John G Davies
22
Posted 07/02/2018 at 18:59:39
Visions of him rampaging across the hallowed turf. Visions of him battling with centre forwards no quarter given or asked,never a backward step.
Fear? No chance. He won't be given the job this time around though. Hopefully he will down the line.
John Pierce
23
Posted 07/02/2018 at 19:03:51
For those who need clarity Dermot
By staying put he shows little to no ambition. That is not an example to set. The opportunity in the real rough and tumble of league football is there, he should take it.
As a academy player I might think its more comfortable to stay put. You have to put yourself first.
For the majority of players at that level that will be it, staying put is rarely the answer.
John Raftery
24
Posted 07/02/2018 at 19:05:24
Unsworth's role also includes responsibilities as Director of Academy Coaching. I am guessing his salary is a lot more than he could expect to earn at Oxford. Michael Appleton, who managed Oxford last season, moved to Leicester as an assistant, presumably because he would earn more in a slightly less precarious job.
David Graves
25
Posted 07/02/2018 at 19:07:35
Nicely put Len.

Jamie Crowley
26
Posted 07/02/2018 at 19:12:05
John @23 -

By staying put he shows little to no ambition. That is not an example to set.
How do you English say...? Bollocks!!
Maybe it shows loyalty and the kind of example this Club desperately needs currently with all their outsourced hired guns on the payroll?
Jim Hardin
27
Posted 07/02/2018 at 19:23:18
Maybe he just felt it was a mistake to try to follow the great Pep just like for Moyes behind SAF. Oh, hang on, wrong Pep. For whatever reasons he is staying, I hope he continues to excel with the U-23s or whatever job he may have at Everton.
Dermot Byrne
28
Posted 07/02/2018 at 19:24:17
John P: I understand your logic but seems to me that would just send a message that to be at Everton is a bad thing to do. So loyalty and commitment become abandoned ideas. Seems to me, as we are, those qualities are vital.
I think you present a vision that is so depressing. But of course you can reply with "way it is"
John Graham
29
Posted 07/02/2018 at 20:15:53
Shame he didn't take the job. It would have been a big step on the managerial ladder and an opportunity to prove a few people wrong maybe. Possibly he feels it's too early or maybe he is too settled in with the U23s.
Not sure if he still has ambitions to manage Everton but would prefer him to get a bit of experience first as it's a very big step up and to attract the right players he would need the right credentials and success.
Joe McMahon
30
Posted 07/02/2018 at 20:38:31
Didn't he come back to Everton from West Ham because he was homesick (rings a bell). Oxford or Walton, mmm it's a difficult one.
I want him to succeed but I feel he needs to leave Everton, and then comeback another day if the times right.
David Bromwell
31
Posted 07/02/2018 at 20:38:37
This is good news, David Unsworth is one of the few people in our "management team" who is clearly doing a good honest job. I sincerely hope that he will get an opportunity to further his career at Everton. It is clear the the many changes during the last couple of years has had a detrimental affect and we are left with a dysfunctional first team squad with little prospect of any immediate improvement.
There are clearly a number of young players at the club who have potential and this is the one good thing on an otherwise bleak horizon. They and we will have a better chance of success if David remains with the club.
James Lauwervine
32
Posted 07/02/2018 at 20:48:05
As he was interviewed and then turned the job down that may say something about Oxford. Perhaps he saw their stadium and thought 'Er, hang on' (for anyone who doesn't know it's three stands and a garden fence).
Anyway, I agree with those who say the why is his business. I'd certainly rather he was at Everton, preferably in charge of the senior team given the shockingly shite job the current person is doing.
Having said that, the idea of him going off and proving himself elsewhere and getting serious lower league management experience appealed to me. Provided he then comes back and leads us to glory in the new stadium of course.
Geoff Evans
34
Posted 07/02/2018 at 22:34:00
Too cushy here, one of Kenwright's favourites, ask Ferguson, Jeffers etc.

Chad Schofield
35
Posted 07/02/2018 at 23:23:40
Perhaps if the offer had come at the end of the season, and things were clearer with what Allardyce's situation is, he might then go.
Hopefully we get a manager with a wealth if experience who wants to build a legacy... hopefully the need his experience as to who's ready to move up, who should be shipped off (from both squads)... because we sure as He'll don't need anymore of either Koeman's island or Alladyce's arrogance style management.
I would, as I keep stating, rather see whomever is next in line come in ASAP so they can fully assess what's needed rather than wait until summer.
Mark Boulle
36
Posted 07/02/2018 at 23:38:28
I live in Oxford. Their Kassam Stadium only has three sides to it. The 'end' behind one goal is just a low car park wall. Makes even Goodison Park look good, that's why he stayed. :)
Jack Convery
37
Posted 08/02/2018 at 00:14:15
Good. The U23s need him. We need him to keep bringing talent through.
Peter Gorman
38
Posted 08/02/2018 at 00:26:51
The only part of the Everton set-up who can honestly claim to be doing his job well.
He will never stray far from the tree so I was quite ambivalent about this potential move; he stays and we benefit from his excellent coaching. He goes and he prepares himself for the day he comes home as king.
Roman Sidey
39
Posted 08/02/2018 at 01:27:16
Not a bad move from Unsworth. As one person has stated above, the Football League is cut-throat and Oxford weren't exactly in crisis mode when the last manager was sacked – results-wise anyway.
It's true that managers need to start in the lower leagues before given an opportunity in the top flight – Barcelona managers excepted – but they also need to be very careful when deciding on their first full time job.
Make the wrong decision early on and it could mean a very short career – just look at Roy Keane.
Kristian Boyce
40
Posted 08/02/2018 at 01:47:40
I'm a little disappointed in him not going. Maybe he thought it wasn't the right move for family/personal reasons, but I hope it wasn't for the same reason other ex Premier League players have.
Over the last few years, there seems to be the mentality that if you were a Premier League player, then you should automatically get a big job. The awfully named 'Class of 92' goons, Sol Campbell, Craig Bellamy and others seem to expect that big jobs will fall in their laps, even though they have zero managerial experience. A lot of these former pros don't even have any real coaching experience, other than taking their coaching badges.
I have full respect for ex-players (even if I didn't like them as players) like Harry Kewell, Kevin Nolan and Jimmy-Floyd Hasslebaink who are learning their trade in the lower leagues. By cutting their teeth in this environment, can give a huge amount experience to fledgeling managers.
While Unsworth manages the team's youth, it doesn't give him the real day-to-day experience an actual first team manager would.
Victor Yu
41
Posted 08/02/2018 at 02:28:19
Perhaps he will become the assistant manager when we find the right manager after the season ends?
William Cartwright
43
Posted 08/02/2018 at 02:55:17
Len @ 16: Excellent post. Right to the right point. Who knows and why speculate – which leads me to a concern about ToffeeWebbers; myself included.
Do we believe what we read in the media? Whether its yes or no, sometimes the media is right and not wrong.
I really have no clue what it is to drive Allardyce to play Schneiderlin and Gueye together every week. But there must be some logic that makes sense to him. It could be conspiratorial or just the way he sees things.
I think we accept Walcott is a pretty good player; been around for a long while and seems an articulate and intelligent sort of bloke. Is his recent statement he joined Everton because of Allardyce true? If so there may be some really strange and inconsistent things happening in the dressing room that we simply don't have a clue about.
What is clear though, judging by the facts that emerge, is the transfer policy totally sucks, the EitC is brilliant, the playing strategy is not successful, the youth policy and management of same has been excellent (hope it remains so) and the owners / investors are seeming to / are spending money and will likely return a massive profit (thanks to Sky) so all in all, Allardyce isn't the only cog in the machine; The only thing I do know so far at Everton he has shown the ability to shore up a crap defense and dismantle one as well.
He is emerging as a crap man-manager if you judge the Lookman and Vlasic scenarios and it would not surprise me to see Unsy reprise the role he did last season, but perhaps a bit sooner.
Paul Tran
44
Posted 08/02/2018 at 07:44:32
I've always thought the best recruitment decisions are the jobs you turn down. Maybe he thinks he can do better, nearer to home. Good luck to him if that's the case.
Not convinced there's any fear involved here.
Tony Everan
45
Posted 08/02/2018 at 10:24:44
He may have been sounded out for a Championship job in the summer. A team like Nottm Forest would be a good test.
I think he has made the right decision. Stay put or go to a Championship club with half a chance.
John Clowes
46
Posted 08/02/2018 at 11:46:58
I'm thinking that he loves the club so much and would do anything to see us be where we belong. Maybe he thinks that his role as U23 manager and developing players to improve the first team is his way of improving the club, which would mean more than getting a league job elsewhere?
Jay Wood
[BRZ]
47
Posted 08/02/2018 at 12:02:19
David Unsworth is a top, top lad. He 'gets' Everton.
Many of us genuinely wanted him to make a success of it when he took over from Koeman. It didn't pan out like that.
At his very first interview on taking over, he declared himself as 'ready' for the 1st team manager's job and that he wanted it full-time.
If that is truly his ambition – and David is a very honest man – then he cannot continue his coaching career as 'merely' the manager of Everton's U-23s if he is to realise that ambition.
At some point, he has to make the leap of faith and take up the post of first team manager somewhere.
Oxford wasn't it, for whatever reason. I hope if and when the right offer comes along for David, he will seize it and make a success of it.
And – who knows? – if he is successful in the lower leagues, he may one day be a prime candidate to take up the Everton manager's job full-time.
Michael Williams
50
Posted 08/02/2018 at 12:34:09
I love it when people rip Unsworth when they have no information about why he said no.
"Fear," "no ambition," "Bad example." By finding a negative motive for Unsworth in this unknowable situation, those ToffeeWebbers are telling us more about themselves than Unsworth.
David Israel
51
Posted 08/02/2018 at 22:58:56
If, as some of you contend here, the Oxford job wasn't big enough for Unsworth and that is why he turned it down, why do you think he agreed to speak to them in the first place?
I don't really care why he turned the job down, and nobody here knows it, for sure. It was his decision and he's the one who knows best what he wants from life and football.
But I wish this Messiah cult about David Unsworth would go away. The man is already into his mid-40s, a bit late to start a managerial career, I'd say. And he's doing very well at his current job.
Don Alexander
52
Posted 08/02/2018 at 23:50:35
David (#51) those who endlessly extol Unsworth do so because he "gets" Everton, apparently, just like Kenwright's always fannied about because he also says he "gets Everton". I've no idea what his take-home is but I suggest it's enough for him to be sorted, with his family, for the rest of their years already. And he's still right up Kenwright's ass on his own admission so the gravy train rolls on for him regardless.
If his missus is as homesick as reported by the possibility of even visiting the likes of Birkenhead I'd be doing what he's doing; flagging to the board/Kenwright the interest in him of other parties in order to prise out of them/him an even more lucrative contract next time around.
Loads of Everton employees/players "get" Everton on that basis, hence the problems we have.
David Israel
53
Posted 09/02/2018 at 00:28:51
Yes, Don, I "get" you. ;-)
Nicholas Ryan
54
Posted 09/02/2018 at 02:40:45
Why apply for a job you're not going to take?
Eric Myles
55
Posted 09/02/2018 at 03:29:38
To practice your interview technique, Nicholas, for when the really interesting job comes along.
And I think Oxford approached Unsworth anyway?
Darren Hind
56
Posted 14/02/2018 at 07:04:07
Done Alexander
The only people who use the phrase "gets" Everton are those who think it's a good way to dismiss promoting from within.
Its exceptionally foolish logic. However if you CAN point to a post where somebody has suggested Unsworth should get the post because he "gets" Everton. I will of course retract that statement – Good luck
Your claim that he is "up Kenwright's arse" is another despicable and cringeworthy slur from you against Evertonians wanting to progress through the club.
It may have escaped your notice that Most people are in daily contact with their line managers.
"By his own admission" .... My arse
As I say; Good luck with the "he should get it because he 'gets Everton'" lark. It's always difficult to prove a point you and other critics have simply made up.

Tony Abrahams
57
Posted 14/02/2018 at 08:47:28
Reading this thread, it appears to me that he can't do right for doing wrong.
I disagree with Darren about him getting the Everton job again in the near future, but only because I'm trying to get one over on the man who usually calls it right, when it comes to discussing the boss!
Why did he go for the interview? Probably because it's his way of telling clubs, that he's available if the right job comes along.
Maybe Oxford is too far, because Stubbs was doing a very good job at Hibs, but probably went to Rotherham, because it was closer to home, even though it turned out to be a disastrous move for him, with regards to it being the wrong club.
Add Your Comments
In order to post a comment, you need to be logged in as a registered user of the site.
Or Sign up as a ToffeeWeb Member — it's free, takes just a few minutes and will allow you to post your comments on articles and Talking Points submissions across the site.