Allardyce looking to put Arsenal debacle behind him
Thursday, 8 February, 2018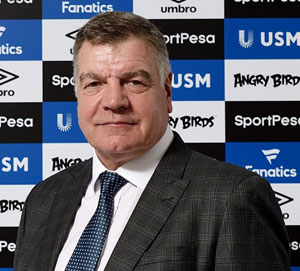 Sam Allardyce says that last weekend's crushing 5-1 defeat at Arsenal was a "blip" that Everton have to get over quickly, starting with this weekend's match-up with Crystal Palace.
The manager admits that a team of Arsenal's quality was always going to punish a poor performance like the one the Blues put in at the Emirates but he was heartened by the second-half performance.
The Gunners led 4-0 at the interval, the biggest half-time deficit suffered by an Everton team in the Premier League era, and understandably took their foot off the pedal, allowing Everton to score a consolation goal through Dominic Calvert-Lewin while Aaron Ramsey completed a hat-trick at the other end.
"I think we have all accepted that we weren't able to compete with Arsenal," Allardyce said in his pre-match press conference, "but I think, in reality, an Arsenal team as good as that punishes a lot of teams and has punished a lot of teams on their own soil.
"We found that difficult to cope with, certainly in the first 30 to 35 minutes. I have to say there was a spirited recovery that would be forgotten about when you see [the] 5-1 [scoreline] but there was a spirited recovery in the second half by the players.
"They actually took the game to Arsenal and created more chances in the second half. Only I would know that because it's my job to study the whole game."
The calamity at the Emirates was the second heavy defeat suffered by Everton in London so far this year. Allardyce's men were hammered 4-0 by Tottenham at Wembley last month and while they didn't leak as many goals, they were soundly beaten at home by Manchester United on New Year's Day.
Nevertheless, Allardyce argued that his team is usually able to fight back from adversity.
"It's one of those blips we've got to get over and get over it quickly as a team. They've managed to do that [before] because we've created more opportunities by gaining points from behind than most teams in the Premier League.
"So, we don't always fall foul to a heavy defeat. We actually lose a goal and actually come back and get a result quite well and as good as any team in the Premier League. So we've not really to forget that on one isolated incident at that particular time."
---
Reader Comments (84)
Note: the following content is not moderated or vetted by the site owners at the time of submission. Comments are the responsibility of the poster. Disclaimer
Tony Sullivan
1
Posted 08/02/2018 at 17:14:54
Cloud cuckoo land Sam or Reality Sam?
Brian Wilkinson
2
Posted 08/02/2018 at 17:20:46
Was it the same blip we had against Spurs, that he said would never happen again?, play your strongest 11 and stick with a winning team instead of chopping and changing.
Man City are in all cup competitions and plodding on, we just have league games, no reason to rest players.
Michael Kenrick
3
Posted 08/02/2018 at 17:23:00
Nice whitewash job, Sam. If Trump can do it...
Denny Kerr
4
Posted 08/02/2018 at 17:32:12
"Only I would know that because its my job to study the whole game."
Excuse me, Sam, but I think the fans know exactly what's going on in the games
The leadership at our beloved club is absolutely unbelievable!
Joe Ainsworth
5
Posted 08/02/2018 at 17:36:09
Why don't you put the debacle behind you by handing in your notice, you hideously arrogant, unbearably smug bucket of self-regard.
Mark Tanton
6
Posted 08/02/2018 at 17:36:55
It sure has been a blippy season.
Andy Crooks
7
Posted 08/02/2018 at 17:39:32
Sam says "only I would know that because it's my job to study the whole game". This is magnificent in its brain dead arrogance and confirms, at least to me, that no greater imbecile has ever managed our club. He is embarrassing our club and the panic-stricken fools who appointed him.

Harry Wallace
8
Posted 08/02/2018 at 17:41:34
Michael has nailed it
Tom Bowers
9
Posted 08/02/2018 at 17:42:02
Sam is in La-La land. Just a blip is it.
We have had the same blip in almost every game this season it's just that that it didn't reflect in every scoreline.
With twelve games left and only 7 points from the bottom three it goes without saying they cannot afford any more ''blips'' over these next few weeks.
Everton have been easy targets all season, home and away, so a game against Zaha-less Palace will still be very difficult to win.
Tony Waring
10
Posted 08/02/2018 at 17:47:32
"Only I would know that" !!!!!!!!!!!!!!!!!!!!!! Does he think he is the only one to watch the game ? The man has lost it if he ever had it in the first place.
Jimmy Hogan
11
Posted 08/02/2018 at 17:47:37
So, a blip eh? We've won 1 in 9. This man is deluded. We're in relegation form...
Mark Rankin
12
Posted 08/02/2018 at 17:49:56
What else can he say? We've played so badly this year we are so lucky to be 7 points from the drop. Getting hammered by Arsenal but beating the likes of Palace will keep us up but where next? The gap between us and the 'Top 6' seems further than ever.
I would tend to give managers a decent crack but from everything I've seen so far, Allardyce is not the answer and the absolute key Summer signing is a new manager.
Steavey Buckley
13
Posted 08/02/2018 at 17:57:01
Everton don't have a football team while so many players are just picking up fat salaries every week for failing to entertain the fans and get results for them.
Roger Sunde
14
Posted 08/02/2018 at 17:59:33
Sam is doing exactly what he was hired to do: save the team from relegation.
So he put on a 'B' team against Arsenal because he knew there was little or no chance of getting points there, and rested key players for Palace.
Neil Halliwell
15
Posted 08/02/2018 at 18:03:22
Allardyce made the decision to play 3-4-3 because of what Swansea achieved against Arsenal and we got thumped 5-1. It is obvious looking at the centre-halves we have (Williams especially!) we cannot play a back 3. I do hope he will not attempt to play this system against Palace or ever again.
Paul Setter
16
Posted 08/02/2018 at 18:05:42
A blip?? What about arsenal at home 5-2 as well as last weeks diabolical turn out..
Atlanta at home 5-1, spurs home and away 3-0 and 4-0, united away 4-0 and saints 4-1 of which Sam was in charge during 2 of those.
Then there was Bournemouth, Leicester away, West Brom home and away, all of which this delusional bully was in charge off...
Such is his way of presenting his sides I've got to the point where I couldn't care less if we lose whoever we play if it means we are well rid of this cowboy.
I can stomach a defeat and even a heavy one if we were deemed to be trying and was just outplayed by the better side but the bilge he sets up game in game out not for me thanks. SAM OUT!!!!
Minik Hansen
17
Posted 08/02/2018 at 18:11:35
Motivation is key, and this ultimately doesn't have to do with any motivation whatsoever. Behind closed doors I don't know how he motivates the players. Any blip again he is done.
Ian Jones
18
Posted 08/02/2018 at 18:12:17
As has been said by a few on here, the so-called recovery was probably more down to Arsenal relaxing second half.
I have watched most of the pre match and post match press conferences and a lot of what he says makes sense. Seems now he is under more pressure, he is struggling to make sense.
If we can get 7th this year, that would be a reasonable posn considering the season we have had.
Craig Shakespeare seems to have gone quiet..does he have any accountability at the club?
Kenny Smith
19
Posted 08/02/2018 at 18:18:30
He showed poor judgement picking the side for Arsenal. I don't mean that because we got well beaten, I mean that he thought we would settle for for it and be happy to scrape wins and more likely draws at home.
The sooner he does one the better. I couldn't bear another season like this. I know he didn't start off in the chair but he's there now and I'm not sure Koeman couldn't of done any worse. We need to move on as soon as the final whistle has blown on the season and forget Sam was ever here. He's just a blip in our history.
Ian Burns
20
Posted 08/02/2018 at 18:19:59
Out of his depth; out of his mind if he thinks we are going to buy that press conference. I will be astonished if this out of touch with reality manager keeps us in the top half.
Nick Lacey
21
Posted 08/02/2018 at 18:31:50
ONE of those blips!
Sam Allardyce
12 Premier League games.
4 wins, 4 Draws, 4 loses.
33.3% WIN rate
David Unsworth
5 Premier League games.
2 wins, 1 draw, 2 loses.
40%
Ronald Koeman
9 Premier League Game.
2 wins, 2 draws, 5 loses.
22% win rate.
Our best manager so far this season has been Unsworth and should have given more time. He was turning things around and the play was marginally improving.
Sam, you fell into an easy run of games and the optimism of the 4 nil at West Ham. Please, just leave the club.
Brian Porter
22
Posted 08/02/2018 at 18:37:16
Totally delusional. Does he really believe the crap he's spewing forth? Only he can see it? Does he think the rest of us were watching a different game then? His arrogance is beyond belief. Allardyce out!
Alexander Murphy
23
Posted 08/02/2018 at 18:40:58
"A blip", really ?
At first I hoped that it said b-l-i-m-p and that an airship had been made from his pumpkin sized head.
Float off into the ether BFS, and spare us the agony of yet another outpouring of your bilge.
Peter Mills
24
Posted 08/02/2018 at 18:41:06
Good old Sam. Still doing his job in the second half while hundreds were filing away from the stadium and many others had switched off the telly.
His "only I would know that" comment is an insult to every Evertonian. Surely this man is angling to get the boot and be paid off early.
Darren Hind
25
Posted 08/02/2018 at 18:41:29
Jethro Bodine
James Stewart
26
Posted 08/02/2018 at 18:45:10
Be gone already.
Tom Bowers
27
Posted 08/02/2018 at 18:54:11
Very few ''interim'' managers get to keep the job unless there is a miraculous turnaround in form in the short term. Most fans expect an imported manager and if he has a ''continental'' name then he is more likely to be accepted until the roof caves in with some of them.
I was quite happy to accept a seasoned veteran, an English manager in Allardyce but he hasn't come to grips with the faults in the team particularly at the back.
Only the Coleman performance against Leicester stood out and went a long way to getting three points despite the team still struggling to compete for a while and riding their luck.
Allardyce is a dead man walking!!!
Mike Gaynes
29
Posted 08/02/2018 at 18:56:49
This guy is so full of blip that it's coming out of his ears.
Clive Mitchell
30
Posted 08/02/2018 at 18:57:31
As I don't listen to, or read, what Sam says anymore, I don't know that he described the Arsenal effort as a 'blip'. Of course, if he or anyone else at the club described it as a blip they should be sacked immediately. Never before has 'Nil satis nisi optimum' been further from the truth.
John Daley
31
Posted 08/02/2018 at 18:59:48
"
They actually took the game to Arsenal and created more chances in the second half. Only I would know that because it's my job to study the whole game"

I love that.
Visions now of Allarydce cruising about, music blasting, one leather clad hand caressing the wheel, the other gripping a Ginsters Sausage Roll he's using as a makeshift microphone to bellow along to a bit of Chesney Hawkes, feeling on top of the world as he shouts "I Sam, the one and only. Nobody I'd rather be!!". Only for his saggy jowelled jaw to drop suddenly as the traffic slows to a crawl in front of a tatty, old, second-hand shop with one yellowing poster still on display in the window:
Ian Hollingworth
32
Posted 08/02/2018 at 19:01:29
I wouldn't bank on anything with Everton's board.
I also cannot see much changing regardless of who the manager is because we are hardly going to appoint a proven top class manager. It's Everton and we will gamble on somebody like Silva if he is still available in October when they sack Big Sam, and it will be a big gamble.
Tony Abrahams
33
Posted 08/02/2018 at 19:02:38
"Only I would know, because it's my job" is a really poor statement when you consider how many genuine Evertonians left the ground very early because they couldn't stomach watching a team with no stomach for the fight.
If there was no method in this madness (his team selection), then we definitely missed our vocation in life because, with six weeks worth of the money this manager is receiving, then most of us would be able to set ourselves up for life.
Kevin Prytherch
34
Posted 08/02/2018 at 19:05:41
"Only I would know that..."
Thousands of Everton fans knew that the second you lined up with only 2 midfielders against one of the best midfields in the league (and one of them being Schneiderlin so it doesn't actually register as having a player) that they would get completely overrun. Alas, an Arsenal midfielder scored a hat-trick, and we played better when a third midfielder came on.
If only you knew that was going to happen as well Sam.
Des Farren
35
Posted 08/02/2018 at 19:07:14
If the comments on here are indicative of supporter feeling one can only guess at the response of the players who have to endure this stuff first-hand, every day.
Jim Bennings
36
Posted 08/02/2018 at 19:12:46
More poppycock from Allardyce.
When are we going to have a manager that is in tune with how the fans are feeling and knows what the fans expect, which is 110% in EVERY match, that goes for the manager as well as players.
Allardyce is bullshitting on a weekly basis now.
There was no reaction whatsoever to the hammering we got at Spurs just a horror performance against West Brom where we got lucky to scrape a draw.
Arsenal took their foot off the gas at 4-0 last Saturday, they could have won that 9-0 if they had wanted and we were hapless to do anything about it!.
Picking and choosing the games you want to perform in is a disgrace but it's clear that's what Allardyce has now got in mind. It will come back to haunt him though should we lose to Palace and it wouldn't shock me if we did lose looking at how poor we can be more often than not.
He's dug himself a hole and last week he gave the players a ready-made excuse for that horror show by changing the team and acting like he didn't care, so why should they?
Pathetic for an Everton manager to do this.

Anthony A Hughes
37
Posted 08/02/2018 at 19:20:44
More ridiculous bullshit from soft lad. That Arsenal team that dismantled Allardyce's tactics and formation isn't one of the better Arsenal teams. One arrogant gobshite.
Eugene Kearney
39
Posted 08/02/2018 at 19:33:49
I think I detect an air of cynicism, mistrust and disenchantment about the posts on this article
Hmmm
I think we'll have a new manager in the summer. Hope they make the right decision this time. But a bit of a clear-out is needed too.
Jamie Evans
40
Posted 08/02/2018 at 19:51:22
It's almost like he's doing this on purpose. Or is that just me?
Surely he's only got this season.
What a lunatic. He makes Martinez's David Brent psycho-babble seem almost sensible.
Derek Knox
41
Posted 08/02/2018 at 20:04:13
Darren @38, don't beat about the bush, be more specific. :-)
Mike Keating
42
Posted 08/02/2018 at 20:07:41
If Schneiderlin is in the starting line up, I'll walk out
Nigel Munford
43
Posted 08/02/2018 at 20:20:50
I believe the 4-0 win over West Ham was a blip!!
Tony Abrahams
44
Posted 08/02/2018 at 20:24:46
Jamie @40, I've had similar feelings mate, about him doing things on purpose, but he's only copying the two, previous managers we have had this season, even if they had the excuse of Europe.
How can a manager with so much experience, not look for stability in his team? It's baffling unless he's got an ulterior motive, but it's something that has got me wracking my brains.
Dick Fearon
45
Posted 08/02/2018 at 20:29:50
I bleep bleep bleep don't bleep a word he is saying!
Geoff Lambert
46
Posted 08/02/2018 at 20:36:13
Bloody hell lads he's only had 12 games and there not his players I am sure we will stay up now.
Thanks Sam.
Brian Harrison
47
Posted 08/02/2018 at 20:42:20
Geoff
I don't think it would matter if he had 100 games in charge is dire style of football wont change. He has been in charge of numerous clubs and the fans of most of those clubs couldn't wait to see the back of him, and at 63 he isn't going to change.
Peter Lee
48
Posted 08/02/2018 at 21:29:49
Now expecting 110% of anyone is surely the definition of poppycock, no?
Nobody on here was happy with the squad from September.
Central midfield to soft, give the ball away, etc. As soon as Allardyce can do so, he plays McCarthy. McCarthy breaks leg. Obviously poor decision on the part of the manager, sack him.
No experienced forwards. As soon as he can, Allardyce buys two.
No pace. Allardyce buys Walcott and Mangala.
No left-sided players, buys Mangala.
He analyses the problems, tells it like it is and attempts to solve them within the constraints he's working with. Pre-Christmas the squad couldn't have entertained a pensioners' party. What sense is there in complaining because they still don't play "the Everton way"?
He will do his job with what he has at his disposal. If the owner has any sense, and doesn't want to throw good money after the bad of last summer, by and large, he'll fund Allardyce and his team to overhaul and rebalance the squad.
Off to renew my season ticket tomorrow.
Rob Baker
49
Posted 08/02/2018 at 21:37:39
What game have you studied Sam? Swansea again in their 8-1 demolition of lowly Notts County? or perhaps how Newcastle gained a draw from the grips of victory vs Palace last week?
Either way, you can put your mortgage on Schneiderlin the Crab making the starting line-up and picking up another match fee for nominal distance covered and very little forward passes.
George Cumiskey
50
Posted 08/02/2018 at 21:44:23
Peter @ 48 Sam is that you, come on mate come out from behind that false name.
Sam, Sam, are you listening come out mate we'll forgive you, God loves a trier.
John Pierce
51
Posted 08/02/2018 at 21:46:48
So all this spouting off again tells me is he's revising what happened last weekend to fit his narrative.
And by doingso places extra pressure on the team to win Saturday. By selecting a side that terrible side at Arsenal and resting his better players he better fooking hope they perform.
Were does he go if it doesn't work?
I actually think he'd prefer it if we were bottom six, it would then fit his MO. Instead as we are far better than he normally manages, he simply looks way out of his depth.

Lawrence Green
52
Posted 08/02/2018 at 21:48:04
Peter #48 I have already renewed my season ticket but that doesn't mean I want Allardyce to be in charge at the beginning of next season. How come he managed to make the team look solid in his first half dozen games or so and more importantly put points on the board only for his team to revert to type and look like rabbits in the headlights again.
He has added a striker but doesn't think he's able to play at Premier League level yet? I'm sorry Allardyce is doing nothing that much different to Koeman and for that reason he should be replaced as soon as Everton FC are mathematically safe from the dreaded drop.
I don't believe that most Evertonians are expecting miracles but at this point we should be seeing some semblance of a team but we're not, hence the disgruntlement.

Kevin Prytherch
53
Posted 08/02/2018 at 21:50:34
Off topic but I see that Rodriguez has been charged for racism where nothing else has been said about Firmino. Also Llalana never got pulled for the penalty dive.
Another example of red media darlings...
Andrew James
54
Posted 08/02/2018 at 22:02:08
I think everyone on here is being harsh towards Sam and his coaching staff. A member of the Finch Farm backroom team kindly provided me with a schedule of Sam's average day at training.
07:00 – wakes, has brief delusion he is still England manager before shuddering and going to bathroom.
07:15 – has a brew and a bacon sarnie while watching Top Gear repeats.
07:45 – shaves, wonders whether he should bring back the moustache before dressing and heading out.
08:30 – arrives at Finch Farm, hangs about in the canteen with Little Sam watching repeats of The Sweeney. Bacon sarnie consumed.
09:00 – opens first packet of chewing gum prior to attending a strategy meeting with Steve Walsh and Craig Shakespeare.
09:01 – meeting adjourned.
09:05 – briefly waves at the players as they are put through their paces by Little Sam. The sound of Tom Davies calling Little Sam "a proper red shite" might be heard.
09:10 – watches the last match featuring their up and coming opponents, makes notes on what the side they played against did tactically.
11:00 – the second packet of chewing gum is opened.
11:30 – bacon sandwich while watching The Professionals.
12:00 – snooze.
12:30 – rub down.
13:00 – tactical session with the squad using a Subbuteo set and a fizzy drinks plastic straw.
14:00 – ends the session along with Little Sam by shouting out percentages and statistics at the squad who gradually leave the room looking puzzled.
14:30 – the third packet of chewing gum is opened.
15:00 – team selection meeting with Shakespeare and Little Sam. Big Sam writes down the names of Jordan Pickford and then Morgan Schneiderlin (because he's proud he can now spell the latter) as 1 and 2 in the first eleven. The other players names are all on little strips of paper which are pulled out of a bag until the squad of 18 has been selected. The formation is then decided depending on who was pulled out of the bag the first 9 times. Sam then changes it around if more than two attacking players were in that group.
16:00 – some explanations for an Everton loss at the weekend are agreed between the three of them. It is decided that this week, to explain not winning at home with a 8-1-1 formation, they should blame Goodison Park's ground staff for making the surface lush and nice for the opposition to play on.
16:05 – Shakespeare, as the only one with internet savvy, finds an image of Plough Lane circa 1987.
16:10 – Pub.

Rob Dolby
55
Posted 08/02/2018 at 22:06:43
The only other time I can think of a surrender before a ball was kicked was a derby match under Moyes then getting beat by them again in the cup a couple of days later.
The club should reimburse the travelling fans their hard earned money for a start. It's embarrassing being a fan when your team are set up to lose before a ball is kicked. Subbing Walcott on the hour and saying "I am saving you for next week" makes things even worse.
The club are a mess from top to bottom. No pride, heart or passion.
Ray Robinson
56
Posted 08/02/2018 at 22:11:28
Andrew, as a former manager would say, "phenomenal!"
George Cumiskey
57
Posted 08/02/2018 at 22:18:45
Andrew @ 54 brilliant mate love it, especially the strategy meeting.
But as the saying goes (many a true word said in jest).
Pete Clarke
58
Posted 08/02/2018 at 23:16:10
Big Sam has probably called little Sam a few times to ask if there's any news of their sacking because that's exactly what they want.
The money is in the bank, They have took Everton for a ride and think the owner is a dickhead.
Can't disagree with them if my theory is correct!!
Tom Bowers
59
Posted 08/02/2018 at 23:25:11
Just when some of us thought that the Leicester result and the return of Seamus might just start to turn things around a little Allardyce goes bonkers and selects a team like he did to take on Arsenal still smarting from the Swansea game.
No matter what he does now will just confuse the matter further as desperation is bound to creep in with 12 games left and 7 points out of the bottom three.
That's not much when you can play so poorly, so often as they have this season.
Some teams below are starting to pick up whereby we are still awaiting Everton to start the season.
Like most I can't wait for this debacle of a season to end.
John M. Boon
60
Posted 08/02/2018 at 23:28:05
Dictionary definition of "BLIP": " A brief temporary interruption".
Sorry Senile Sam, but this season's losses have been anything but "brief interruptions". They have been regular occurrences and we have continued to have many "blips" since you came along. I do realise that we also had quite a few before you came to save us.
In the same dictionary and not too long after " BLIP", we come to a true definition and description of the Arsenal game, namely the word " BLITZ": " a sudden destructive or overwhelming attack". Arsenal had four of them inside of thirty minutes.
I just wish Senile Sam was a "BLIP". I hate to repeat myself but that would mean, " A brief temporary interruption". I don't really like to use the word "senile", because I am actually fifteen or more years older than than Allardyce. However I am not the manager of a Premier League team. I also realised my limitations many years ago.
One comment while I have my dictionary open.Not too far before "Blip" you will find the word "Bleep: "a substitution for an expletive,vulgar, coarse or taboo word". Most Blues supporters would like to direct many, "bleeps' in the direction of our own Mr Blip. Actually how about Mr Bean ? There are similarities.
ps: To Saviour Sam. "A dictionary is a very large book full of words". I am one of the thick Evertonians who wouldn't be able to understand just what happened to Everton on 3 February 2018. After all... only you can. Now I can relax and just bleep bleep bleep bleep about our blip blip blips.
John Davies
61
Posted 08/02/2018 at 23:54:39
"Only I would know that"!!! Can the man's head get any bigger?
Unbelievable arrogance.
Phil Gardner
63
Posted 09/02/2018 at 01:09:26
This 'team' was history, about to be relegated... FACT! Utter FACT! Allardyce keeps this shambolic outfit up, despite occasional humiliation, he's done his job because believe me, pre-Allardyce, we were headed straight for Burton Albion in the Football League!
Serenade survival because the squad he inherited was deffo going one way only! We stay up... he's done his job! Please chaps... shut the fuck up... Be elated that next season we might, still be in the mix!
David Barks
64
Posted 09/02/2018 at 01:27:15
Phil,
What you just said was strictly opinion, FACT. Just writing "FACT!!!" does not make a thing a fact. We were, what, 14 games into the season? If it was a fact that we were to be relegated, then we would be getting relegated. We haven't been. We were on 15 points and above the relegation zone by a few places when he took charge.
Nicholas Ryan
65
Posted 09/02/2018 at 02:59:39
Sam Allardyce's bad points are many and varied, and have been well documented elsewhere. Like many, I suspect, I was prepared (reluctantly) to overlook them, while he was winning, or at least drawing, football matches. But, now that he isn't, those bad points come back into focus, leaving me to think that it might be best, if he just faded quietly away.
Si Cooper
66
Posted 09/02/2018 at 03:26:06
Roger Sunde (14), according to the easily pleased (like yourself apparently) Sam had 'saved' us from relegation about 5 games into his stewardship. Since then things have got worse. If he'd done the rest of the job he is being paid to do (18-month contract remember?), ie, improve the squad and get the most out of all the players, then he wouldn't need people like you to defend him.
Rest key players by all means if you have to, but why on earth would you drop untested players into a formation the players aren't used to? Why effectively exile young prospects and reduce your overall options if you are worried about player fatigue? Why keep playing players who are not performing?
Peter Lee (48), - who wanted 'experienced' forwards? Proven would have been nice, and Tosun doesn't fit that bill. He is as much of a gamble as Sandro was and, thus far, as much of a success. We've needed two left-sided defenders all season but the absolute, 100% most important was left wing-back or full-back.
I doubt we would even have got Mangala if City hadn't recruited Laporte. Whether he's more help than hindrance remains to be seen. Allardyce was unfortunate with James McCarthy but, as he was so key to the way Allardyce wants to play, why wasn't he replaced in the transfer window?
So far it's a pat on the back solely for Theo Walcott, otherwise it was yet another uninspiring transfer window with serious squad issues remaining unaddressed.
Susong Hermawan
68
Posted 09/02/2018 at 07:12:17
And so the club has a 'blip' too for hiring you, Fat Sam!!
Joe Foster
70
Posted 09/02/2018 at 07:57:25
Maybe it's like a "blip" on a heart monitoring machine and we are just waiting for it to flat line.
Christine Foster
71
Posted 09/02/2018 at 08:44:08
Who on earth would enjoy watching Everton? Not just this season but go back ten years or more, from Walter Smith cobbled together crew, to Koeman not forgetting dire and dour Dave. .
Martinez played some of the most entertaining stuff we have seen but was so full of bullshit when it hit the fan... then Koeman and Co... the man who ruined a club, more akin to a demolition derby than a project, dismantled a team and was sacked leaving us with the worst – I can't say 'team' because there wasn't one left – with demoralised players leaving and no plan for replacements.
It's no wonder this season went to shit before a ball was kicked.
Talk of foreign managers untried in the Premier League was folly especially with the utter dross left behind by Koeman, was it really a surprise that the new transfers suddenly found themselves competing with each other for places in a team full of holes?
In the bottom three you don't have the luxury of ideology, nothing but the best is a great motto but the board doesn't believe it for a moment.
Allardyce was brought in to ensure survival, protect Moshiri's investment, not for anything else. Pragmatic and painful it's not the Everton we love or want, but it's a means to an end, survival is the objective. That's all purely short term.
This season was and still is disgraceful, every season ticket holder should be given their money back.
But right now I am not going to kick Allardyce for the very simple reason I too want safety, I too want an Everton side playing as a team in the Premier League next season, I too want a new stadium... and like it or not I still believe he will deliver what he is being paid to do, keep us in the Premier League.
Don't get me wrong, I am not an admirer of his style but his effectiveness in delivering safety.
That's all... it makes me cringe the way we play, it makes me angry because of the incompetence of the board and management whose dereliction of care caused this situation, but right now we need to get the points on the table and regroup.
It hurts watching Everton at the moment, but the frustration is better than watching them in the Championship any day.
Dave Evans
73
Posted 09/02/2018 at 11:13:24
Top class managers were not falling over themselves to come to Merseyside and Everton when Koeman left. Of those available at the time my preference was a new start with Dyche. Because he appeared to coach the fundamentals well and improve average players and teams.
Alladyce has brought in Walcott, potentially our best froward for a long time and also, the as yet unproven, Tosun and Mangala.Leicester was our best team performance for a while. Then we were stuffed at Arsenal.
For those of you returning dewy eyed to Unsworth we were also stuffed at Southampton 4-1 and fell within 2 points of relegation. Leaving all the insights into his Machiavellian like personal motives to one side – in my opinion Allardyce needs more time.
Colin Glassar
74
Posted 09/02/2018 at 11:53:48
If that was a "blip" then he's a Blimp!
Peter Lee
76
Posted 09/02/2018 at 21:30:39
Si, the only conclusion to draw when posters consistently recognise Calvert-Lewin's potential and add a "but" about his lack of experience is that we need experience.
Can't agree that a left-back, certainly not a wing back, was a priority. We need pace and strength at the back. Baines will return but none of the current crop of centre-backs are up to the mark.
A back four which has Coleman, Baines and Mangala gives us covering pace across the field, balanced distribution and, therefore, the opportunity to push out in a way we couldn't.
Allardyce made it clear that the club was seeking a full-back. He judged that none was available that would have advantaged the club given Baines's return. That's what he gets paid for.
Andy Crooks
77
Posted 09/02/2018 at 21:51:19
Phil @ 63, you appear to be confusing pure conjecture with " fact" or "utter fact", (What?)
The following might explain:
Sam Allardyce has won nothing as a coach? Fact.
A number of teams with, arguably, lower expectations than Everton have seen fit to sack him? Fact.
Everton would have been relegated had he not been appointed? Pure conjecture.
Sam Allardyce is possibly the worst appointment in our history? A matter of opinion.
Karl Masters
79
Posted 09/02/2018 at 23:54:26
Whatever your views on him, and I share the concerns about too many changes to the line up every week and his tactics, you can't judge him on just 12 games.
Some have got very short memories. After the Southampton disaster (and they've only won once since then themselves) which followed 3 days after the 1-5 at home to Atalanta, we were in free fall with relegation looking very possible indeed.
We are in a better position now. Not a good one, but a better one. I'm waiting till the end of this wretched season before I even start to judge. Like I said above, I'm not exactly enamoured myself, but he has to have more than 12 games. Even 26 isn't many, but we will have a better idea come the Summer.
Jerome Shields
80
Posted 09/02/2018 at 23:59:33
Allardyce is confident he can bullshit Moshiri. All we are getting is drivel, Come on Crystal Palace, that's how badly I want to see the end of this fraudster.
Jim Hardin
82
Posted 10/02/2018 at 01:51:19
Karl,
What? Koeman was given how many games this season? Did you want him gone after Arsenal? According to your "logic" Koeman should have been given more time. Also, Unsy should have been given more time. Did you object to him not being given additional games?
Odd you and other Big Sam supporters claim he is saving us from relegation when Unsy was already doing it.
Phil,
Since you like "facts' so much,, let me add to the posts of others to try to illustrate to you what is and is not a "fact."
Fact: Koeman's squad was in the relegation zone after the October 22 Arsenal match.
Fact: the opening 10 game schedule was hard.
Fact, Allardyce had an easier (based on relative position in the table) set of fixtures when he took over.
Fact: Unsy already had Everton out of the relegation zone.
Fact: BS used Unsy's line-up to produce some points initially.
Fact: Since BS has tried his hand at selecting a line-up and tactics, Everton's performances have deteriorated and the results clearly show it.
Fact: Using exclamation points after the word "fact" does not make it so.
Opinion: Anyone thinking Everton were in need of saving from relegation after less than half the season, when Everton was, err, not in relegation positions, to justify hiring the utter crap manager that is Big Sam, is either blind, delusional, or both.
See how it works.
John Daley
83
Posted 10/02/2018 at 03:36:51
Phil (@63),
I thought your Champ Kind impression was a cracker. Screaming "FACT!" like it actually adds credence to a purely speculative claim? Pitch perfect. Doubling down on the doltishness by dropping "Utter FACT!" as a direct follow up? Dead on. (I hope to fuck you finished by slamming your fist down on a table, while wearing a big Stetson, for the full effect.)
Then things got a bit too Brick Tamland for me. How is it that a team sitting 13th in the Premier League at the end of November were defo in imminent danger of the drop, but the relegation favourites rooted to the bottom of the Championship in February, with a minus 34 goal difference, are somehow not?
Jay Harris
84
Posted 10/02/2018 at 05:20:58
Very succinctly put, Christine ,and words which I hope will ring in the heads of the pitchfork mob.
To get rid of Allardyce now would be tantamount to suicide.
I have long since advocated getting behind the man and the team, no matter what our personal feelings are, and then hope the board have the good grace and sense to have a major overhaul of the club from top to bottom before preseason.
David Barks
85
Posted 10/02/2018 at 05:53:10
I despise the false premise that it is simply a choice between Allardyce and Premier League survival or relegation. It's an idiotic assertion and complete shite.
Furthermore, it's not just that we have to accept Allardyce, but also accept horrific football. Sorry, no. He's a disgrace of a manager and has never won a Goddamn thing and never will. He should have never been associated with this club.
Darren Hind
86
Posted 10/02/2018 at 06:25:17
Christine
As somebody who would be recognised on here as a cutting-through-the-bullshit kinda person, you are making the most surprising statements in defence of Allardyce.
This was not a rescue act such as the one Sam performed at Sunderland. We were not in the bottom three as you seem to suggest. We were not even in the bottom six when Sam arrived. We were 13th, we had put a 5-point gap between ourselves and the bottom three and we were heading north.
I will accept that we were not in home-n-hosed territory, but given the players the teams below us were relying on, you would have had to be a card-carrying panic merchant to have allowed yourself to lose sleep over our Premier League status
Sam was fortunate; he arrived just in time for a run of fixtures against three teams who will be on everyone's shortlist of those who will need to fight right up to the wire. Since then, we have seen a team which would be nailed on certainties (imo) to face the drop if we hadn't stolen a march on the teams below us.
It's not just results that are poor, Christine, If any team, anywhere, ever, has played so consistently in the face of the very spirit of the game, I'm pleased to say, they were doing it when I wasn't looking.
What Allardyce is doing is truly shaming. He not only dares to serve up this dross, he then insults us by claiming "only he would know that"... Who the fuck does he think he is?
I saw these players fight like fuck and reply five times to going behind to get results against Palace and Watford, despite being outplayed by both. Could anyone see them fighting like that for Sam? After the way he has so persistently hung them out to dry?
I never thought we were in a dogfight, but defeat today could change all that. While we slip and slide, others are starting to scrap.
Victory today is absolutely crucial, otherwise the guy so many believed was going to save us from the drop may well end up doing the opposite...
John Davies
87
Posted 10/02/2018 at 09:53:15
David (#85) and Darren (#86). Spot on both of you. Sorry others, you have got it all wrong. The man needs to be shown the door.
Christine Foster
88
Posted 11/02/2018 at 13:12:15
Darren, you and so many others are missing a rather glaringly obvious point. Without doubt I believe it was the choice of Moshiri to bring Allardyce in to safe guard his investment and ensure Premier league status.
As I stated in my post, contrary to your comment, I understand why he chose to do so and it was obviously the case we were in trouble, and frankly Unsworth was way out of his league in attempting to turn it around. Love the guy but sorry, okay for holding the reins but to steer a Premier League club to safety? The likes of Oxford and Barnsley are interested in taking him, not another premier league club though is it?
Do you think I am happy for the quality of football we have seen so far this season? I might add yesterday and at Leicester might have been better, but Atalanta, Southampton, Arsenal... in fact, most of the games before Allardyce we were poor. We may have more cohesion but no consistency now is still a major issue with me.
But frankly, as I have said before and will say again, both Unsworth and Allardyce did not have a "team" to work with. So many players short of a full deck... an unbalanced, distorted squad, lacking in key players in key positions, make-do playing players out of position. Address that one first before you slam Allardyce because the reality is exactly that. It would not have mattered who managed us, the issues would not have gone away.
Allardyce was brought in to ensure we avoid relegation. It's amazing to remember just how many on this site forget how bad we were, I mean so sodding bad that – for the first time in my living memory, I and many others believed we were the worst team in the league. If we weren't, we were certainly candidates for it. That's why Moshiri acted in bringing Allardyce in... pragmatism, money and realisation that it may not be pretty.
It wasn't a defence of Allardyce... it was an observation of the choices made and an opinion on it. The blame for where we are lies with the management of the club and it's the elephant in the room. As long as people keep slamming Allardyce then the real culprits slip under the radar, yet again. Koeman deserved to go but then again so did Walsh, Kenwright and Elstone.
Darren Hind
89
Posted 11/02/2018 at 13:55:43
Sorry, Christine, but I don't think anyone would have missed that point. I just don't think many will agree with it.
I do think there is a point being missed here though and it's being missed by just about everyone who is supporting Allardyce.
We were not in anywhere near as bad a position as they want to make out. Okay, we were bottom three when Koeman left, but by the time Sam had arrived we were five points clear and heading up the table.
That's where we differ. Some will accept the anti-football we have been served as a necessary evil, a consequence of getting in Sam to save us. Others (like me) think we didn't need saving, at least not from relegation and that we would have done far better if we'd have given Sam a very wide berth.

Dave Abrahams
91
Posted 11/02/2018 at 16:47:40
Christine, I've got to agree with your posts, mainly because that's the way I saw Everton's situation when Allardyce was brought in.
Just to clarify one point, Christine, I think I am right in thinking you do not want Sam here next season, do you?
Christine Foster
92
Posted 11/02/2018 at 20:22:37
Dave, my preference is that all he does is stabilise the ship and structure this season. But if he gets us into Europe I can see the board giving him his full contract. Dammed if you do and dammed if you don't...
I think the 18 month contract was really the price Everton had to pay for their complete and utter balls up allowing Koeman to manage the way he did, for allowing purchases to be made without structure considerations, and for allowing players to go without replacement.
Allardyce is a means to an end, but who knows we may even just make Europe.. and I am sure thats what he would love to do, prove his style and methods can produce results.. I just think he still hasn't got a team to do it.. not his fault though that one..
Christine Foster
93
Posted 11/02/2018 at 20:34:48
Karl, like any forum, there is an element of contributors who will never agree with anything you say, I agree that this season has seen more negativity on this site than I have seen for a long time, but then I have never seen the team in such a mess as a result of incompetence and yes I have walked away a couple of times because of it. Sometimes I cannot believe the level of abuse or vitriol even though it is well policed by Michael and Lyndon, yet even our editors have voiced their frustrations in negative editorials with some feeling, and they have every right to do so because we all feel it.
The levels have hit new lows this season because expectations were so high and many hated Allardyce with a vengence even before he was formally appointed and have looked for every chance to pin the tail on the donkey at the slightest opportunity. Its human nature. Its not great, but thats the name of the game.. hang in there...
Don Alexander
94
Posted 11/02/2018 at 20:58:22
Christine (#88), you sum up the mantra those still at the club whilst bearing huge responsibility for the shambles since the end of last season will most want to hear, namely "Blame Allardyce".
Like you and many others I didn't want him but the situation we were in more or less demanded him unfortunately. "Hugely Probable" rather than "Maybe Possible" I guess went through Moshiri's mind in the event he ever weighed Allardyce against Unsworth for the full-time post bent on avoiding relegation. That doesn't mean we're fans of his but for the record he's still without the left back Koeman said we needed over six months ago, we've only just signed an extra CB Koeman also said we needed, and we have also got rid off one of our four "no.10's", albeit for way less than we might have got with more astute leadership in the club, thereby limiting our spend on a consistent goalscorer to £20 mill (no disrespect Cenk).
And that's why in my opinion the issue of whether or not to give Allardyce an extended contract, which would in fairness make everyone at FF get real as a by-product (and no, I am not saying I want him!), should be way off the top of Moshiri's "must do" list well before this season ends. There are far bigger problems than that to resolve if he ever hopes to have his cash generate the max for him.
Add Your Comments
In order to post a comment, you need to be logged in as a registered user of the site.
Or Sign up as a ToffeeWeb Member — it's free, takes just a few minutes and will allow you to post your comments on articles and Talking Points submissions across the site.