Allardyce looking to put Arsenal debacle behind him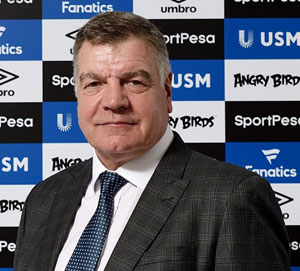 Sam Allardyce says that last weekend's crushing 5-1 defeat at Arsenal was a "blip" that Everton have to get over quickly, starting with this weekend's match-up with Crystal Palace.
The manager admits that a team of Arsenal's quality was always going to punish a poor performance like the one the Blues put in at the Emirates but he was heartened by the second-half performance.
The Gunners led 4-0 at the interval, the biggest half-time deficit suffered by an Everton team in the Premier League era, and understandably took their foot off the pedal, allowing Everton to score a consolation goal through Dominic Calvert-Lewin while Aaron Ramsey completed a hat-trick at the other end.
"I think we have all accepted that we weren't able to compete with Arsenal," Allardyce said in his pre-match press conference, "but I think, in reality, an Arsenal team as good as that punishes a lot of teams and has punished a lot of teams on their own soil.
"We found that difficult to cope with, certainly in the first 30 to 35 minutes. I have to say there was a spirited recovery that would be forgotten about when you see [the] 5-1 [scoreline] but there was a spirited recovery in the second half by the players.
"They actually took the game to Arsenal and created more chances in the second half. Only I would know that because it's my job to study the whole game."
The calamity at the Emirates was the second heavy defeat suffered by Everton in London so far this year. Allardyce's men were hammered 4-0 by Tottenham at Wembley last month and while they didn't leak as many goals, they were soundly beaten at home by Manchester United on New Year's Day.
Nevertheless, Allardyce argued that his team is usually able to fight back from adversity.
"It's one of those blips we've got to get over and get over it quickly as a team. They've managed to do that [before] because we've created more opportunities by gaining points from behind than most teams in the Premier League.
"So, we don't always fall foul to a heavy defeat. We actually lose a goal and actually come back and get a result quite well and as good as any team in the Premier League. So we've not really to forget that on one isolated incident at that particular time."
---
---