Allardyce doesn't regret coming out of retirement for Everton job
Friday, 9 February, 2018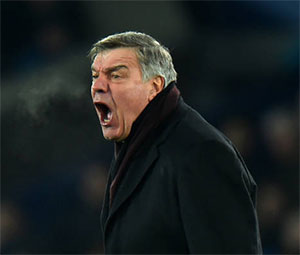 Sam Allardyce admits that the thought of returning to retirement fleetingly crossed his mind following Everton's awful result at Arsenal last weekend but he says he needs the challenge posed by managing the Blues.
The 63-year-old was asked if he wishes he had stayed retired rather than be tempted back into football management when Farhad Moshiri came calling.
"I think it always crosses your mind," Allardyce said in The Guardian. "[I]t crosses your mind sometimes when you are a bit down but that doesn't last very long. I need it [the hassle] because it keeps me alive.
"As Fergie said: 'I'm getting too old to retire.' A great statement that was. You see Arsène, you see Roy [Hodgson] doing so well so you keep going. The only thing that stopped me was health reasons really. The only way I stop is that or if I don't keep my job."
Allardyce also admitted to being troubled by Everton's 5-1 reverse at the Emirates but asserts that, having watched it back, the performance wasn't as bad as it felt at the time.
The Blues were 4-0 down by half-time to a brace by Aaron Ramsey, Laurent Koscielny's header and an offside goal from Pierre-Emerick Aubameyang that was allowed to stand by the officials. Dominic Calvert-Lewin came off the bench to head home a consolation goal but Ramsey completed his hat-trick later in the second half.
"I was terrible on Saturday night," Allardyce said. "You don't sleep. I don't sleep much anyway but I watched the game on Sky initially, the 30-minute game, and I've seen it again since and it was actually a bit better than I thought on the night. The first 30 minutes were bad but you have to give a huge amount of credit to Arsenal's movement and quality.
"We were playing a deep line and they found those spaces. We should have blocked them off more. You have to lift the lads, get moving and get them going again.
"The lads have been shown it again — they all get it sent to their iPhones and iPads — and now we have to put it to one side and look to the next challenge which is Palace."
Allardyce acknowledges in the Liverpool Echo"But in saying that, the first phase of eight we lost the last two games but still got 12 points so that was a very good phase. That was a top eight finish.
"So if I take this phase, it's not so bad because we've played four and got four points. So if I look at it that way it's still quite positive.
"Phase one, in the first eight games, we got 12 points but because we lost the last two games people try to...
"But I've broken that off and said to the lads: 'It's not that bad, we got 12 points in the first eight games, that is a top eight finish if you carried on that way."
---
Reader Comments (82)
Note: the following content is not moderated or vetted by the site owners at the time of submission. Comments are the responsibility of the poster. Disclaimer
Darryl Ritchie
1
Posted 09/02/2018 at 06:40:38
What ever you say about Sam, he's not a quitter. He's going to stick to whatever the hell it is he's trying to do,(and collect a few million), until somebody fires him.
Brian Porter
3
Posted 09/02/2018 at 06:58:16
Of course he won't retire while someone (ie, us) are prepared to go on paying him millions). He's laughing all the way to the bank while we slide closer and closer to oblivion.
Johan Elmgren
4
Posted 09/02/2018 at 07:05:42
You may not regret it, but we do...
Sam Hoare
5
Posted 09/02/2018 at 07:08:26
On the whole, the results have been pretty mediocre and the football has been terrible.
Admittedly he came aboard a real mess of a situation but I'm yet to see much evidence that Sam is a long-term solution.
Anthony A Hughes
6
Posted 09/02/2018 at 07:08:58
I think there's quite a few Evertonians who regret you coming out of retirement.
Johan Elmgren
7
Posted 09/02/2018 at 07:09:34
On another note.. the news that is popping up again about Allardyce insulting Roy Hodgson, calling him "Woy" in an interview and then not apologising to the man –I can't believe we hired this man, he is so classless... Biggest plump in Everton-history... We should get rid of him ASAP.
Dermot Byrne
8
Posted 09/02/2018 at 07:19:18
Johan ~7...what sensitive little souls we have become in footy.
I think he is naff manager but come on. Next we will have a thread on how poor his after shave is. Reminds me when we became a bit obsessed with elements of Martinez's clothing.
"Toffees Demand High Class Manager With Manners". Now that makes the search even harder!
John Charles
9
Posted 09/02/2018 at 07:27:42
I don't really care about manners – just don't take bungs or insult people who have achieved far more than you in their careers.
Duncan McDine
10
Posted 09/02/2018 at 07:30:51
He was brought in to keep us in the Premier League. It was that desperate, and we're still in danger, but I think he'll keep us up.
I was at the Emirates to witness that disaster, which was on par with several other batterings we've been on the end of during the last three years... performances that have been common under the control of 4 different managers.
That evidence would indicate that the problem isn't simply resilved by changing manager. The problem is much deeper.
Johan Elmgren
11
Posted 09/02/2018 at 07:35:59
Well, I don't mean we need to have a manager with "class", but I think our manager should be a role model to all the youngsters out there, not one spouting insults left and right.
Reg Gates
12
Posted 09/02/2018 at 08:13:34
Phase One should be get rid of this idiot – how the hell he got the job, I don't know. The interview must've been something.
"Won anything?"
"No."
"Any experience?"
"Six previous clubs in the Premier League."
"How did that go?"
"Sacked by three."
"Anything else?"
"Managed England."
"How did that go?"
"Well. I got sacked for trying to sell them down then river after one game."
"You sound like the guy were looking for. How does £4 mill a year sound? ... Can somebody get the smelling salts!!!!"
Jim Bennings
13
Posted 09/02/2018 at 08:29:42
Why would you retire when there's mugs out there like us to pay ridiculous amounts of money of what was only ever going to be a short-term fix (or short-term disaster!).
Eric Paul
14
Posted 09/02/2018 at 08:40:44
The bastard's winding us up: "thoughts of returning to retirement crosses his mind" – there is no way this money grabber will walk away from anyone paying him millions.
The only manager I dislike more than him is Klopp.
Chris Gould
15
Posted 09/02/2018 at 08:42:15
Johan, get a grip. Allardyce was half-cut in a restaurant when he made that remark. It was the same joke a million people have made about Hodgson and wasn't meant to offend. He didn't know he was secretly being recorded.
Think about the garbage that comes out of all our mouths when we've had a few drinks and believe we are amongst friends. Any one of us could make the same tasteless joke in the belief that nobody would be offended.
Honey traps were designed to catch sex offenders and criminals, when they are used to create a scandal and get someone sacked, they're a disgrace. We are all human and all chat shit when we believe we are in the company of friends, especially when drinking.
Criticise Allardyce for football matters, not for that 'journalistic' bullshit.
Johan Elmgren
17
Posted 09/02/2018 at 08:52:54
Chris, maybe it was blown out of proportions by the media and it just may have been somewhat innocent, but it's not like it's the only thing he has said.
I remember exactly the time I lost my respect for the man, and that was before a game against us when he managed Newcastle, when he belittled Everton and some of our players. Can't remember exactly what he said now, but I remember thinking "How can someone sink so low..."
And that "anyone of us" argument is completely out of place... we are not public persons spouting our opinions in TV. It's about being a rolemodel for all the kids out there, whether on or off the camera...
He's just arrogant and self-absorbed and it always shines through. That's one part of why he's totally wrong for our club... the other is of course that he can't manage on the level where we want to be...
Charlie Lloyd
18
Posted 09/02/2018 at 09:15:42
Dermot @ 8
I agree with Johan @ 7 if true.
Taking a cheap shot at a personal trait of someone is just low. Not what I'd expect of our manager. I'm not saying sack him for it, I don't know if it's true; it may sit okay with you but it doesn't with me.
Johan Elmgren
19
Posted 09/02/2018 at 09:19:20
And Chris, if someone makes a remark and the other party gets offended, the least one could do is be a man and apologise...
I agree with you on the "Honey trap"-stuff though, that's plain bad journalism... but then that kind of media is the most distasteful...
Brent Stephens
20
Posted 09/02/2018 at 09:22:59
Johan #7 "the news that is popping up again about Allardyce insulting Roy Hodgson, calling him "Woy" in an interview and then not apologising to the man I can't believe we hired this man, he is so classless... "
Like calling somebody "fat" etc?
Johan Elmgren
21
Posted 09/02/2018 at 09:40:16
Yes Brent, you are right, not my proudest moment, but born out of frustration and hopelessness... but then again I'm not a public person who is broadcasted all over the world. I don't go around calling my workmates names, and I don't go around calling people I don't know names... and not my family and friends... In fact I don't go around calling anyone names, but for this man, on this forum... and it's quite the difference, isn't it? For Sam it seems more of a habit...
What I'm trying to point out is that this man is the manager of our club. He should be a role model for all the kids out there supporting our club, and all the other kids who are interested in football, because they will see how he acts, and think it's okay to act way. I don't care if you or anyone else on this forum calls anyone names, because you're not a role model for thousands of kids...
But Sam is, and do we want such kind of man as manager of this club?
Johan Elmgren
23
Posted 09/02/2018 at 09:58:45
It's just not the "Woy"-thing, it's his whole arrogant and selfish approach. But as Charlie (#18) pointed out, it's not that he should be sacked for, but for the case that he can't bring this club forward on the pitch. He's not a good enough manager for our club.
Chris Gould
24
Posted 09/02/2018 at 10:15:18
Johan, it's no different at all. You've insulted somebody because of the way they look. You've done it in the belief that he won't be offended but it's there for anyone who reads TW to see. How do you know Sam doesn't read these fan sites to judge our reactions to his performances? How do you know you haven't offended other overweight TWebbers who read your insults?
Ridiculous isn't it? Getting knickers in a twist over an insult that was never meant to cause offence.
My daughter is autistic and I am very sensitive to anyone that may say something that is insulting towards her, but I wouldn't get upset with someone making a daft joke in a pub amongst mates. What's the point?
We live in a world where people actually take offence to people using the greeting, "Happy Christmas!" The look of indignation you can receive for failing to use the 'politically correct' term, "Happy Holidays!" instead. Granted, thankfully, that's more of an issue in USA than here, but it's only a matter of time.
We are all guilty of a bit of name calling from time to time, mostly we do it out of harms way and no offence is taken.
However, I do agree that he could've called Woy, er Roy, and apologised for what was a childish remark once he was aware that it had been made public.
Incidentally, recently 'fans' have started calling Allardyce 'Hippohead' on this forum. What do you think about that?
Edit: apologies Johan, I understand the point you're making. I just find the 'whiter than white' argument irritating. Nobody is, and nobody should be expected to be. He was tricked and got caught with his pants down. He was punished enough and we should move on. Judging him on his recent performances in managing our club is a very different matter.
Phil Walling
25
Posted 09/02/2018 at 10:18:14
All that really matters to the two parties involved – Everton and Allardyce – is whether the manager can secure the bonus for keeping the Club in the Premier League.
For his part, Sam will be as pragmatic as he needs to be to get his hands on the gold. Moshiri & Co will be glad to pay him. Between now and then, nothing matters to either party.
Johan Elmgren
26
Posted 09/02/2018 at 10:34:42
Chris, I don't condone it, but I understand it since he's the manager of a beloved club and he isn't doing it very well. That is bound to stir some feelings.
And I'm sorry, but it is quite the difference as to what I've pointed out before, Sam is the role model for thousands of kids to look up to, I'm not. Thousands of kids won't read my posts on here and say "Hey, Johan says Fat Sam, so then it's okay for us to say it as well"...
But of course you're right when you say that Sam himself could read this forum and take offence, which would of course be unfortunate. But if he does and comes out to say "I'm offended because Johan called me Fat Sam", then I will certainly apologise to him.
And from the looks of things Sam and Roy don't seem to be mates, so some banter with mates isn't really comparable either...
(Sorry to hear your daughter is autistic, hope everything pans out okay for you...)
Edit:
Aah, I saw your edit in your post. Apology accepted. No sweat :)
Steve Brown
27
Posted 09/02/2018 at 10:48:27
The person who decides whether the mockery of Roy Hodgson's speech impediment is offensive is Roy Hodgson. He has been clear in this press conference that he was offended and thinks less of Allardyce as a result.
The line that he was off the record, caught in a sting, drunk, is utter bollocks. By that rationale anyone can say anything with the rationale that 'I was just kidding, 'it was banter', 'I didn't really mean it' or 'I was a bit worse for wear.'
Not good enough. What we got was an insight into the man when he thinks the cameras are turned off. As for 'political correctness gone mad', that is the usually the catch all phrase for those who think it's okay to be a bully or a bigot.
Shane Corcoran
28
Posted 09/02/2018 at 10:48:50
The thing that bothers me about ToffeeWeb is the name-calling that goes on.
And this has nothing to do with whether someone might read the comments or whether such people are paid enough to not get offended. It's a reflection on the person making the comment. Why type "Fat Sam" when you can type "Sam"?
It's similar to the "fans" that shout abuse at opposition players when they take a throw-in or corner. What the hell would you be doing that for? Just shut up and watch the game.
Alexander Murphy
29
Posted 09/02/2018 at 11:04:32
Shite player.
Disgrace as a manager.
Just fuck this clod off.
Dave Abrahams
30
Posted 09/02/2018 at 11:07:13
I think there is a big difference in having a go at someone and insulting someone over a speech impediment; it seems to me over the latter it is pure ignorance. Johan, I'm with you, but I'd leave it: where ignorance is bliss, it is folly to be wise.
Chris Gould
32
Posted 09/02/2018 at 11:36:31
Steve Brown, it isn't an excuse to be rude or offensive towards people whether you are in a pub, restaurant, drunk or whatever. Of course that is true.
However, the fact is that everyone, at some point, speaks ill of someone else. Can you honestly say you have never taken the piss out of someone behind their back?
My point is that I don't think less of him for what was a childish remark, as he wasn't intending to cause offence and was just being a bit of a nob. I consider myself a decent and kind man, but I have also been a nob at times and therefore can't judge him on this indiscretion.
However, I do concede that, if offence has been caused, albeit because he was caught out by an arsehole journalist, then he should have apologised in private. Why he hasn't, who knows? Maybe there's more to it than we're privvy to. Maybe Roy once called him 'Hippohead'.
I dislike all the name calling on here as I think it dilutes what is a quality fansite, but sometimes frustrations get the better of some.
My point is that I don't think that this comment should be used as another stick to beat our manager with. Although, those of you who clearly detest the man will jump on every opportunity. So crack on.
George Cumiskey
33
Posted 09/02/2018 at 11:49:44
What everyone seems to be forgetting is why Allardyce was in the restaurant in the first place. He wasn't there half cut or not having a few drinks and dinner with friends. He was there telling someone how to cheat the FA for money, and him being the England manager at the time.
So let's not go down the poor old Sam road caught in a sting slagging off Hodgson.
John McFarlane
35
Posted 09/02/2018 at 12:05:04
Hi all, I think I have made my view on this subject quite clear, I find some of he language expressed on ToffeeWeb threads offensive. I can't understand how resorting to obscenity, can reinforce a point of view.
I have no way of knowing, but I would like to think that I'm not alone in believing that such language is not necessary, by the way, I don't consider myself a prude.
Shane Corcoran
36
Posted 09/02/2018 at 12:08:50
John, what's an obscenity?
I'm fine with what people call "swearing". It can be used to emphasise a point. Why say 'feck' when you can 'fuck'?
It's the intent of the language used that is the issue, in my view.
John McFarlane
37
Posted 09/02/2018 at 12:29:02
Hi Shane [36] according to my [very old] dictionary, an obscenity is [A] 'the quality of being obscene, [B] anything which is obscene or offensive.
To quote you from [28], Why type "Fat Sam" when you can just type "Sam"
I would ask, why type "fuck off," when you can just type "Go away"?
Lenny Kingman
38
Posted 09/02/2018 at 12:32:25
Slippery Sam is in denial. I watched that debacle at Arsenal and it should have been double figures to the Gunners. The north Londoners eased up and took their finger off the trigger.
It reminded me of the slaughter of the Brazilians in their home World Cup by the Germans a few years ago. They were storming away, walking the ball into the net at will. If they hadn't taken their foot off the gas that night I think they may have got triple figures.
Shane Corcoran
39
Posted 09/02/2018 at 12:36:06
John, sorry, my question was meant to imply that you might consider a word an obscenity while I may not.
Calling Allardyce 'fat' is insulting him in all likelihood. If he likes to be called fat then I suppose it isn't.
Saying 'fuck off' or 'go away' can often mean the same thing. It depends on context. The latter could actually be more offensive in a certain context. But that's my point, it all depends on the context, and the intent.
Tony Abrahams
40
Posted 09/02/2018 at 12:38:13
All this arguing because Allardyce came out of retirement! He was stitched up big-time because the English press are very powerful and probably didn't want him managing "their team" but he was also an absolute tool who has lived in a bubble (created by Sky TV) for years.
Money is power, they say, so the ego grows and the brain cells reduce, and desperate men pay absolute fortunes to hire someone they think will keep them in the filthy rich Premier League.
Back to the football, and it's been absolutely shite for years now but can this man make us better? If he can, it's going to take time, but no Everton manager has ever been so despised... so, for that reason, I'm not so sure he will be given much time?
Take us back to when you played the game yourself, Sam, take us back to the Goodison Park, that used to be full of passion. Tell your players to forget about the money, and go out and play for the fans! Absolute bollocks, in this day and age though, especially if Morgan Schneiderlin is on the pitch!
John Graham
44
Posted 09/02/2018 at 12:44:03
As long as we are still in the Premier League at the end of the season, is all that matters.
Chris Gould
45
Posted 09/02/2018 at 12:44:32
George Cumiskey
46
Posted 09/02/2018 at 13:12:23
Tony @ 40 tell the players to forget about the money?
Tell Allardyce to forget about the money and resign!
Greg Hasbrouck
47
Posted 09/02/2018 at 13:14:05
It seems people quickly lose perspective. Sam was not in to bring us to Top 6. Nor was he brought in to play pretty football. Sam was brought in to save us from being relegated, once a long-term solution could not be found. He's done that. He'll be gone in the summer.
Rob Halligan
48
Posted 09/02/2018 at 13:14:30
John, I fully understand were you're coming from regarding obscenities.
I mean why shout "Fuck off, you Red Shite bastard" when you can shout "Go away, you Liverpool fan"?
I think until it's a crime to swear at football matches, then you will always get abusive language at the games.
Rob Halligan
49
Posted 09/02/2018 at 13:28:21
Greg (#47). I agree.
I also think we are okay, and should get rid of him now. We were prepared to pay, I think, £15M to Watford for Silva but it will cost well less than half of that to pay off Allardyce now.
I personally didn't want Silva, and still don't. My personal choice would be Fonseca from Shakhtar Donetsk, so bin Allardyce now, put Rhino in charge, and get Fonseca in the summer.
John M. Boon
50
Posted 09/02/2018 at 13:46:27
John (37), I am of your generation but there are certain expletives which are far more effective than "go away". I agree that the one that is most effective is overused.
However I absolutely refuse to call the man who is presently mismanaging our beloved team by the name that his dear mum designated to him. That would make him a little too close to my cold heart. "Allardyce" is as much as he deserves.
Using the age factor I consider "Senile Sam" as an accurate description. I respect your point of view, in fact I usually do, but in this case I politely beg to differ.
Colin Glassar
51
Posted 09/02/2018 at 13:51:00
John, swearing has been, and always will be, part and parcel of the game. I went to my first Everton game when I was about seven and the foul language shocked me but my dad said if I wanted to go to games I'd better get used to it (my parents never used anything stronger than bloody at home) or watch cricket.
John McFarlane
52
Posted 09/02/2018 at 14:06:24
Hi John M. [50] I agree that there are some expletives that are more effective than others, and used in the right company, where no offence is likely to be taken, there's no harm done.
However I don't consider a website, where there's every likelihood that someone worldwide, will be offended, is the correct vehicle for such conduct.
I appreciate the fact that you can disagree with me in a civilised manner, and that to my mind, is proof that with a little bit of consideration, it's not beyond anyone using this website, to be just as civil.
John McFarlane
53
Posted 09/02/2018 at 14:26:01
Hi Colin, [51] I think there's a bit of confusion here, at the age of 79, I believe I'm familiar with most of the swearwords, and I actually know what some of them mean.
What I strongly object to is the use of such words, on a site that reaches all parts of the world, to people of all ages male or female, who may be offended by such use, in my opinion, for what it is worth, there is absolutely no need for it.
As I have said on a previous post, I don't believe that using such language reinforces any point of view. I can't quite follow how the subject of swearing at football matches came into the discussion.
Eric Myles
54
Posted 09/02/2018 at 14:46:32
Charlie (#18), "Taking a cheap shot at a personal trait of someone is just low."
Like calling someone "Fat Sam"???
Michael Penley
55
Posted 09/02/2018 at 14:59:32
If being fat is a personal trait, then so is the tendency to make rude quips about people.
Both are, I imagine, as easy or difficult to change as the willingness of the person to change them.
Len Hawkins
56
Posted 09/02/2018 at 15:02:41
Steve Brown #27
I'm patiently waiting for The Politically Correct Snowflakes Book of Non-Offensive Words of Derision, Insult, Condemnation, Sexual Deviation, Racial Description and Gender Identification so that I don't drive any easily offended ballet-dancing bricklayer into an apoplectic rage. Please let us know when it reaches WH Smiths.
One thing is for certain: the Red Shite will always be the Red Shite, no matter what laws the Parliamentary Scrupulous Word Checking Committee decide which words are to be banned from the English Language.
Jay Harris
58
Posted 09/02/2018 at 15:36:50
I just wish that we could park all this political correctness, outright hatred and divisiveness and just get behind the manager and the team the way it used to be.
I am all for opinions on who should be in the team and discussing the performance etc but it becomes tedious when you come on here and have to read some of the most vitriolic posts around.
No wonder the world is so messed up when people feel the need to post with such hatred and disdain for fellow Evertonians.
Sam is our manager for the foreseeable future and, despite the inane comments by some, is trying to improve us as a team and as a club. If it doesn't work he will be out in the summer anyway but no-one can accuse him of not caring.
At times it's as if some want him and the team to fail badly as they are so desperate to say they were right in not wanting him in the first place.
I have to be honest and say I didn't want him at all but when nobody else was available or interested he took on the challenge and, like it or not, he is now our manager.
Terry White
59
Posted 09/02/2018 at 15:59:00
John McFarlane (various posts on the (mis)use of language), I am with you all the way. Probably like you the only occasion I used to hear foul language was at the match. Not at home, not at school, not at work.
Now I am off to get much more pleasure on reading about your favourite number 10, a much more civilised thread.
Brian Harrison
61
Posted 09/02/2018 at 16:21:37
Jay
I believe everyone or nearly everyone who posts on this site wants Everton to do well and hopefully win things. But not everyone will ever agree on the players or managers that will achieve that goal, and because most passionately want us to succeed their arguments on either side are passionate. But inside the ground everyone wants to get behind the team, but this is a two way thing the players and the manager have to give the fans something to cheer. Now prior to the Leicester game I think we had about 3 shots on target in 5 games, so it is very hard to get excited about our team when they play so negatively. Which for me the manager must take a large share of the criticism, while not absolving the players from that criticism.
Also our manager has said in the last few weeks that Rooney and Sigurdsson cant play together, then plays them both against Leicester which was our best performance in weeks. He also said Lookman would not be allowed to go on loan yet days later he says he had arranged a loan for Lookman to go to Derby. But critisizes the boy for choosing Leipzig, stating the reason he was disappointed is he thought he wouldnt get game time at Leipzig and we all know what happened there in his first match. So when the manager says one thing and within days does the complete opposite is it any wonder that fans and players are confused with his mixed messages.

Jay Harris
62
Posted 09/02/2018 at 16:31:48
Brian,
They are all good points you make and back up the feeling why most Blues do not want this manager – I have no argument with posts like yours.
My objection is that we know we have him until the end of the season so instead of coming on here calling him shithead, fat Sam, arsehole or whatever else and finding ridiculous accusations to beat him with we see some positives and get behind the team and the manager until the end of the season.
That is then the time for recriminations and judgement.
None of us know exactly what is going on at the club but it does appear obvious he has been instructed to reduce the payroll and try to ship some players out.
Although I want him out and the end of the season, I actually feel for the man as he is putting up with a torrent of abuse and criticism when I am sure all he wants to do is improve the club and the players' performance.
Paul Kossoff
63
Posted 09/02/2018 at 16:55:39
Jay 62,
"Get behind the team and the manager until the end of the season."
When are the poor, very poor excuse for a team who have now, downed tools, stopped playing, what ever you want to call it under four different managers, going to get behind the supporters and the club and put some bleeding effort in?
I'm fed up with the lot of them, from boardroom, manager, coaches and players, oh and magic man Walsh! It's a pity that the supporters can't do a complete take over and get rid of all the over paid; lazy, uncaring sorry bunch of shysters, we can't do any worse, surely?
And your feelings for the overpaid dope are misguided, Fat Sam doesn't need them, and I'm sure he doesn't give a toss for the club or fans.
Paul Kossoff
64
Posted 09/02/2018 at 17:04:55
Len 56, well said!
Ajay Gopal
65
Posted 09/02/2018 at 17:08:31
Sensible posts, Jay. I agree, there is no point getting abusive towards anyone – manager or player. I am sure that they don't intend to do badly, everyone plays/works for professional pride.
Sometimes things don't work perhaps due to extraneous factors or perhaps because of incompetence. That does not call for a use or insults.
Personally, I would be delighted if Allardycegot us to 7th place, and we fluke it into Europe. But next season, I would like to see us start with a clean slate. My personal preference at the moment is Eddie Howe.
John M. Boon
66
Posted 09/02/2018 at 17:26:35
Woy only got on this always gweat site because we are pwaying Cwistal Palace.

ToffeeWeb is such a great place to be able post and read and to often laugh at our differences. We are all experiencing stress because of the struggles of our team.
As a Scouser I would prefer to laugh rather than cry. As a kid, long before we used such terms as "politically correct", I wore glasses. I was called four eyes, cross eyes and many other terms along with the usual expletives. When I put on weight I was also called "fat".I didn't curl up in a ball and become depressed. I responded with my own insults. That was and is "Life".
I am old enough to still be childish. It helps me to smile and to try to be young again. I know ToffeeWeb is a "Football" site, but sometimes our fanaticism is also laughable. Sorry to hurt all those who are more sensitive than I am but Senile Sam is also "fat", and Woy still needs help with his Ws.
For myself, I am still four-eyed, fat, and still "groovy" at 78.
Brent Stephens
67
Posted 09/02/2018 at 17:26:54
Len #56 - bit of a snowflake reaction there!
Jay Harris
68
Posted 09/02/2018 at 17:34:10
Ajay,
I like Eddie Howe and think he is very underrated but I am not sure he would be a big enough hitter in the corridors of power at GP.
My personal preference would be to get David Dein in as CEO and Arsene Wenger as DOF and let them sort out a new manager.
With Wengers Knowledge of football worldwide I am sure he could pick a few up and coming diamonds that we havent thought about.
Jay Harris
69
Posted 09/02/2018 at 17:40:23
Paul,
I agree with your point. I am on record myself criticizing the squad and Steve Walsh in particular.
My point was aimed mainly at the vitriol aimed at posters who have another point of view and some totally overboard reactions blaming the manager for everything possible.
By all means criticize team selection and/or tactics etc but lets try to put a bit of perspective into how low our club had sunken which was the reason behind the desperate appointment.
Brian Williams
70
Posted 09/02/2018 at 18:20:43
John M Boon. The voice of reason and common sense!
Phil Walling
71
Posted 09/02/2018 at 18:56:38
Jay Harris. You must be having us on!
Dermot Byrne
72
Posted 09/02/2018 at 19:05:07
Tell me – What is a snowflake in TW context?
Andy Crooks
74
Posted 09/02/2018 at 19:09:31
I've always likened this site to debating with Evertonians in the pub. Sometimes strong language will be used and sometimes it very effectively emphasizes a point. Saying "go away" or "fuck off" has entirely different contexts and meanings.
This site is brilliant as it is and no one is compelled to scroll through looking to be offended. In fact I very much doubt that anyone is. Vigorous, hard-hitting debate is, in my view, the very heart of this site. I find it hard to accept that there are faint-hearted would-be Evertonians across the world who will scurry off in shock and horror at what they witness on here.
Tony Everan
75
Posted 09/02/2018 at 19:13:37
We are in the danger zone still, a defeat tomorrow will heighten anxiety. It's too late in the day to be changing management now. So out of necessity, I am supporting Sam and his team until we are safe. Unconditionally.
Slagging him off at this stage is only going to make matters worse and could be fuel to a further slide in form.
For the next 3 months, it is up to Sam to prove to us that he is fit for purpose. If not, he will seal his own fate.
Paul Kossoff
77
Posted 09/02/2018 at 19:31:40
John 66, You are letting the side down now! It's Pawace, not Palace! Woy wiw not be pweased! Ewuff swaid!??? Aggh! Me pwawets stwuck! Fwk me!!!😋😋😋
John M. Boon
78
Posted 09/02/2018 at 20:44:20
Paul (#77)
Thanks for your response. I won't use the "W" stuff. I have just got back from a elocution, weight-loss, politically correct, sensitivity training session. All rolled into one and what's more Totally FWEE.
I am down to 27 stone. My Evertonian wife is delighted with my new bod and my willingness to give advice on anything about Everton. Senile Sam just phoned me. Must Go!!
Alexander Murphy
79
Posted 09/02/2018 at 22:25:22
For those piddling about on this thread arseing around debating the deployment of "norty words", consider this.
It's pompous pricks that create foul language, not those of us who call male genitalia 'bollocks'. Your refusal to use another word creates the very thing which your pale milque-toast deference looks down upon.
Without your pompous fuckery, there would be no bad language. I detest pointless censorship and loathe mind control most of all. Use all four corners of our language. Use them with articulation and use them frequently.
It's ignorant twats and their bloody "tut-fucking-tuttery" who decide what others can think or say whilst avoiding the absolute heart of the matter with their noses turned up fiddling with the deckchairs as "The Titanic" slips beneath the waves.
Everton FC is in a right sodding mess! Our sad buffoon excuse for a manager is a first-class arsehole, in my erudite opinion. He was a shithouse bully as a player, a yard-dog not fit to tread the same turf as our Corinthian Brian Labone.
Accord him due deference as you wish. I decline to do so.
My Everton are far and beyond better than his gutter shite. If you find my language offensive then just imagine how fucking offended I am at seeing "Everton Manager Sam Allardyce"!! Shove that up yer hoop, you sad excusists.
To have that man considered worthy of the very same title as Harry Catterick, Howard Kendall and Joe Royle? Talk about offended?!?
Get your bloody priorities right!!!
Paul Kossoff
80
Posted 09/02/2018 at 23:54:22
Alexander 79, I 100% agree with you, well said that man!
Jerome Shields
81
Posted 10/02/2018 at 00:59:24
Came out of retirement for £6 million a year and the compensation when he goes at the end of the season. Might even chance a dodgy deal. If you are greedy enough while England Manager to involve yourself in dodgy dealing, his tongue was hanging out for the Everton job.
John Daley
82
Posted 10/02/2018 at 03:02:06
"It is up to Sam to prove to us that he is fit for purpose."
Not according to the man himself. It's all down to the players, but it shouldn't be that difficult seeing as though there are only 15 fumers for them to shut up (and half of them can't even be arsed going to the game):
"It's not me who wins the fans over. The players do it for me because they go out and perform and get results. That is what I need them to do and that gives us all breathing space that we need at the moment.
We won against Leicester and they all said how well we had played and what a great job we were doing. Then we go and lose to Arsenal and we are all crap and rubbish.
That is what happens when you get a society that promotes people ringing up and expressing their opinion. But the vast majority of fans won't be like that. The ones who are volatile will ring in the most.
You know that the internet... you say look at that negativity but it is 15 fans arguing among themselves and some of them haven't even been to the game."
Michael Kenrick
83
Posted 10/02/2018 at 06:55:18
That should be our new tagline.
ToffeeWeb – 15 fans arguing among themselves and some of them haven't even been to the game.

Jim Bailey
84
Posted 10/02/2018 at 06:58:52
Sent to their iPads and iPhones eh. They should all be strapped down like Alex in A Clockwork Orange
Alexander Murphy
85
Posted 10/02/2018 at 08:58:35
John, previous post, thanks for that.
Here's why:
I bloody hated Big Fat Headed Sam as a player. An utter yard dog, donkey, a carthorse. All dark art and fuck all skill. A clogger.
I bloody hated Big Fat Headed Sam as a club manager. Preaching utter yard doggery, donkeying, cart horsery. All dark arts, no skill. Professing cloggery.
I bloody hated Big Fat headed Sam particularly as manager at West Ham and Newcastle. Odd because I have ALWAYS found their fans extremely objectionable as gobby self satisfied arseholes with an over bloated view of their own importance. Happily telling the world and its arse just what terrific fans they are, yet never truly singing their lungs dry for the lads in the jersey. Contrast to Everton away who are, to my mind, absolutely staggering supporters. They humble even the fiercest efforts of a rammed Gods Acre ! Never silent, always raucous, deafening and unstinting in their praise and celebration of the team on the pitch.
[Side note here: for a brief period in the mid eighties, I was a regular "Travelling Toff", what a fucking HONOUR ! ESCLA ! Me a Scouser amongst real hardcore Evertonians. People who LITERALLY scraped their last brass buttons together for each other. It was my distinguished privilege to have served amongst their honourable company. I wish it were so once more]
I hated Big Fat Headed Sam even more when these fans of their own fandom (deluded devotees) hounded this yard-dog from their scrap heap. If even these delusionistas could unleash such venom upon their manager then NEVER, NOT EVER, IN PERPETUITY must he take control at "The School of Science". A pig as head of Science ? No !
I hated Big Fat Headed Sam as England manager as his swollen ego bragged how "there is always a way around these things". What an utter twat ! Whether he could or could not bring these to fruition, what a fucking turd !
Then, we begin a season brimming with expectation, a manager of peerless reputation as a player. ( scoring record as deep mid/centre half as good as any given striker !!!!!!). New owner shelling out the bunce.
I must have nodded off !
Because .
I fucking hate Big Fat Headed Sam, but now he's telling Evertonians to STFU and suck it up, then swallow it down, and be fucking grateful. 'Cos there's only fifteen of us and only half of them (7.5 fans ???) even go to the game anyway !
I HATE BIG FAT HEADED SAM !
Fuck him off.
Fuck him right out of town.
The cockneys fucked him right out of town.
The geordies fucked him right out of town.
Now, let's fuck Big Fat Headed Sam right out of town.
John G Davies
86
Posted 10/02/2018 at 09:01:16
Alexander.
Did you know Paddy Slavin?
Alexander Murphy
87
Posted 10/02/2018 at 09:07:43
John G, nope.
(Am I doing a Mo Szyslak here ?).
I just fucking hate Big Fat Headed Sam, apologies if that isn't clear from my posting earlier.
Tony Waring
88
Posted 10/02/2018 at 10:02:19
John at 52/53
I agree entirely. The odd expletive is to be expected on a subject as exciting as Everton FC whom I have supported for over 60 years. However excessive use – for no particular purpose that I can discern – is pointless and can be offensive to some folks.
I have always believed that English is the most expressive language on the planet and has words a plenty to describe any situation.
Mike Allison
89
Posted 10/02/2018 at 10:29:25
Swear words are used to express and articulate emotion, Alexander. Thus when you see someone posting on the internet (or talking in real life for that matter) using lots of them, you get the impression that they're speaking from emotion, rather than intelligence, rationality or common sense. This makes their opinions carry less weight, as it seems they haven't really thought them through. This is why people pick up on it, not because they're 'delicate', 'pompous' or 'pricks.' You make yourself seem less worth listening to when you swear.
We all know that there are prohibitions against certain words in our culture, so most people, most of the time, decide to avoid them. That you choose to use them, and so often, suggests one of two things: 1) that you are not in control of your own emotions, even in the time it takes to compose and type up the text. This makes it seem like you think you're the only one feeling such emotions, when clearly you're not. To think that you are shows your lack of ability to think about and understand where other people's views are coming from. If you can't do that for others, why would anyone bother to read or respect your views? You come across like some petulant teenager stamping your feet and thinking that shouting louder and seeming angrier is the same as having a point that needs to be listened to. It isn't.
Or: 2) You've made a conscious and deliberate choice to be offensive, because you don't care what anyone else thinks. If that is the case, then again, why would anyone care what you think?
I don't think there are any Everton fans who 'want' Sam Allardyce as manager, but there are Everton fans whose ways of dealing with an unpleasant situation are different to yours. There are Everton fans who believe a 4th manager of the season isn't in our best interests and there are Everton fans who, by the time they're composing and typing up a contribution to an internet discussion are trying to do so in a way that contributes something meaningful, however small, to that discussion. Your posts simply express your own emotions very strongly, and do so in a way that is deliberately intolerant of other people's ways of looking at things.
This means your posts lack value, and contribute to a confrontational and deeply negative 'atmosphere' within the thread. That's probably why people see fit to mention the 'naughty' words in your posts, because there's nothing else in them to see. If you want to be listened to, say something worth hearing.
John McFarlane
90
Posted 10/02/2018 at 11:17:22
Hi Mike [89] many thanks for expressing my feelings, but in a much more eloquent way, than I could manage. Best wishes. John.
Peter Howard
91
Posted 10/02/2018 at 12:19:48
John M Boon
Well said.
As Easter is approaching I'm going to buy you a box of Fewwero Wocher.
Mark Andrews
92
Posted 10/02/2018 at 17:49:42
"Allardyce doesn't regret coming out of retirement for Everton job"
Everton fans may have a different opinion.
Alexander Murphy
93
Posted 11/02/2018 at 05:35:49
Mike A, nice try.
I am, however, not persuaded whatever by your explanation. Not a jot. I represent only myself, unlike some who pompously claim moral high ground purporting some representation of others. My participation on this side issue is closed.
I still fuckin hate Big Fat Headed Sam. I find reading, seeing or knowing that this "anti-football" entity is Everton Manager deeply, deeply offensive.
Fuck him off.
Dennis Ng
94
Posted 11/02/2018 at 18:22:10
Michael (#83), I wonder if the day that tagline becomes a main story, would we be way too comfortable or too embroiled about our club.
Other than overpaying Allardyce, I think Moshiri is happy with his appointment. We went from bottom 3 to 9th and within striking distance to 7th. It is another turnaround Allardyce can boast about, at Everton no less. We could have hired another negative coach and also be pissed at his style (e.g. Mou) but all things considered, I would think many of us would be satisfied at the current stature give the rut we were in. Definitely not based on our preseason goals.
Of course, many of our frustrations has to do with what we expect of what's to come but that won't be set in stone until end of the season. I would continue to hope for the best and prepare for the worst.
Add Your Comments
In order to post a comment, you need to be logged in as a registered user of the site.
Or Sign up as a ToffeeWeb Member — it's free, takes just a few minutes and will allow you to post your comments on articles and Talking Points submissions across the site.