Allardyce doesn't regret coming out of retirement for Everton job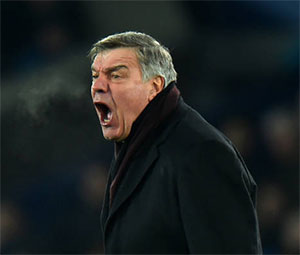 Sam Allardyce admits that the thought of returning to retirement fleetingly crossed his mind following Everton's awful result at Arsenal last weekend but he says he needs the challenge posed by managing the Blues.
The 63-year-old was asked if he wishes he had stayed retired rather than be tempted back into football management when Farhad Moshiri came calling.
"I think it always crosses your mind," Allardyce said in The Guardian. "[I]t crosses your mind sometimes when you are a bit down but that doesn't last very long. I need it [the hassle] because it keeps me alive.
"As Fergie said: 'I'm getting too old to retire.' A great statement that was. You see Arsène, you see Roy [Hodgson] doing so well so you keep going. The only thing that stopped me was health reasons really. The only way I stop is that or if I don't keep my job."
Allardyce also admitted to being troubled by Everton's 5-1 reverse at the Emirates but asserts that, having watched it back, the performance wasn't as bad as it felt at the time.
The Blues were 4-0 down by half-time to a brace by Aaron Ramsey, Laurent Koscielny's header and an offside goal from Pierre-Emerick Aubameyang that was allowed to stand by the officials. Dominic Calvert-Lewin came off the bench to head home a consolation goal but Ramsey completed his hat-trick later in the second half.
"I was terrible on Saturday night," Allardyce said. "You don't sleep. I don't sleep much anyway but I watched the game on Sky initially, the 30-minute game, and I've seen it again since and it was actually a bit better than I thought on the night. The first 30 minutes were bad but you have to give a huge amount of credit to Arsenal's movement and quality.
"We were playing a deep line and they found those spaces. We should have blocked them off more. You have to lift the lads, get moving and get them going again.
"The lads have been shown it again — they all get it sent to their iPhones and iPads — and now we have to put it to one side and look to the next challenge which is Palace."
Allardyce acknowledges in the Liverpool Echo"But in saying that, the first phase of eight we lost the last two games but still got 12 points so that was a very good phase. That was a top eight finish.
"So if I take this phase, it's not so bad because we've played four and got four points. So if I look at it that way it's still quite positive.
"Phase one, in the first eight games, we got 12 points but because we lost the last two games people try to...
"But I've broken that off and said to the lads: 'It's not that bad, we got 12 points in the first eight games, that is a top eight finish if you carried on that way."
---
---