Allardyce knows his future depends on results
Saturday, 10 February, 2018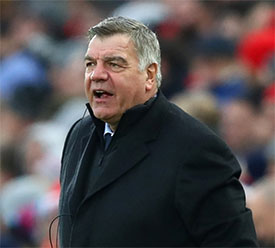 Admitting that pressure to win comes with the territory of being Everton manager, Sam Allardyce is nonplussed by suggestions of negativity emanating from the fanbase.
The manager and his team have come in for fierce criticism for the 5-1 reverse at Arsenal last weekend, their second heavy defeat by a margin of four goals this year following the 4-0 defeat to Tottenham Hotspur.
But Allardyce appears unconcerned by the criticism or talk about the duration of his 18-month contract, insisting that improved performances and results will get the fans back onside and give him a chance at earning an extended deal with the Blues.
"How do I win the fans around? By winning Saturday," the 63-year-old said in The Mirror, acknowledging that there is unrest among supporters. "The most important things for me are that the players on the pitch win the fans over for me.
"It's not me who wins the fans over. The players do it for me because they go out and perform and get results. That is what I need them to do and that gives us all breathing space that we need at the moment."
"I am not saying my job is on the line, but if you carry on losing football matches all our jobs are on the line if you are not expected to lose many. That is the name of the game," he explained.
"We won against Leicester and they all said how well we had played and what a great job we were doing. Then we go and lose to Arsenal and we are all crap and rubbish.
"That is what happens when you get a society that promotes people ringing up and expressing their opinion. But the vast majority of fans wont be like that. The ones who are volatile will ring in the most.
"You know that the internet... you say look at that negativity but it is 15 fans arguing among themselves and some of them haven't even been to the game. Negativity happens when you lose 5-1. Criticism happens and you accept it."
"I have talked about the contract length meaning nothing because the results mean everything for how long you stay," Allardyce continued.
"How long did Ronald have? Four or five years and it ended up being 18 months. Frank De Boer went to Palace after me, I had a one-and-a-half-year contract but he had a three-year contract and lasted four months.
"So my contract is as long as we go forward together and achieve results together, moving into the new stadium together, hopefully with a great team. I hope I see that time, but for the moment it's only the next game and the end of the season I'm focusing on."
---
Reader Comments (104)
Note: the following content is not moderated or vetted by the site owners at the time of submission. Comments are the responsibility of the poster. Disclaimer
David Baxter
1
Posted 10/02/2018 at 06:49:30
What Fat Sam fails to say is, whether he is sacked tomorrow or after 18 months, he will have stolen 9 million quid from EFC.
Darren Hind
2
Posted 10/02/2018 at 06:49:36
"Only 15 fans arguing amongst themselves" ?
That's just in our house.
Oh and by the way, Sam: There are thousands and thousands of Evertonians who just can't get to the game. That doesn't mean they don't get up all hours of the night to watch it.
You probably have even more obligation towards them than the people who live near the ground and can attend.
Anthony A Hughes
3
Posted 10/02/2018 at 07:02:14
How about, when we do lose, we go down fighting and show some attacking intent, Sam? Supporters know you can't win every game but at least set up and go out to win the game at the start.
Lyndon Lloyd
4
Posted 10/02/2018 at 07:12:20
"We won against Leicester and they all said how well we had played and what a great job we were doing. Then we go and lose to Arsenal and we are all crap"
I think you said that after Arsenal, Samuel, mate!
Rick Tarleton
5
Posted 10/02/2018 at 07:14:59
You'd have to have the sensitivity of an armadillo to have the effrontery to take on a job like the Everton job with Allardyce's very chequered history. His insensitivity to the fanbase is exactly what you'd expect from an arrogant egotist.
I just hope he doesn't totally destroy this club while he fiddles and postures, pretending to be a competent manager.
David Baxter
7
Posted 10/02/2018 at 07:36:12
It wasn't too long ago that Allardyce made the following comment.
"With my managerial experience and talent, I am more suited to managing Real Madrid or Manchester United. I would win them the League Title and Champions League every year."
Now just imagine the reaction when he tells the fans at Real or Old Trafford that they need to become, and I quote, "more boring"? The man is a charlatan and a pretender. The sooner he is replaced the better. He has earned more money in his career as a poor manager than most people on here earn in a lifetime.
As far as I am concerned, he has no place at Goodison Park, and is slowly destroying the image of this club. Imagine if we gave him £200 million in June? He would buy a load of has-beens, cos no decent player would be attracted to playing under his style of football. Get Rid. And soon...

Lenny Kingman
8
Posted 10/02/2018 at 07:40:20
The fans are clueless and the players are totally at fault if anything goes wrong. Delegating in action from our noble and heroic manager.
If our club don't win today, Mr Motor Mouth, you will be feeling the ire in a big way from the "15 fans" you think are behind the criticism of your flawed and prehistoric style of management. Get your ear plugs on standby.
Mark Murphy
9
Posted 10/02/2018 at 07:44:28
"Just 15 fans on the internet"
I hope we win tomorrow but, if we don't, I hope 38,000 boo the arrogant fat twat out of Goodison!
I was giving him time but fuck him! He hasn't got a clue!
Amit Vithlani
10
Posted 10/02/2018 at 07:52:47
"That is what happens when you get a society that promotes people ringing up and expressing their opinion. But the vast majority of fans wont be like that. The ones who are volatile will ring in the most."
He better start winning soon or the "volatility" will soon spread.
This is yet another deflection from the master of pinning the blame.
The players have been recipients of the blame apportionment and, when pointed out that many supporters are criticising his tactics and selections, this reads like "well they are all volatile nutters".
The descent down a slippery slope has well and truly begun...
Andy Williams
11
Posted 10/02/2018 at 08:02:49
FFS!
Derek Knox
12
Posted 10/02/2018 at 08:04:32
The thing is, it's all very well admitting his job is under scrutiny, based on results. Should he be sacked (sooner rather than later) like David @1 says he walks away with a lottery win.
Slightly off topic, but related to this thread, I was reading on Newsnow Everton, that Walsh is also being questioned by Moshiri, over £249M expenditure with little or no apparent success.
The article also states that Moshiri's choice of replacement would be Marcel Brands.
Eddie Dunn
13
Posted 10/02/2018 at 08:27:00
As his salary is indirectly paid more by people watching that fiasco on BT Sport, I think it's a bit rich him therefore not considering that armchair viewers should not have an opinion.
Rick Pattinson
14
Posted 10/02/2018 at 08:27:12
15 fans... yeah right! There's at least 18 of us chatting on the Live Forum while the match is on.
Jon Withey
15
Posted 10/02/2018 at 08:45:56
He likes to talk, doesn't he?!
In truth, you need a thick hide to be in those jobs nowadays.
But yes, you do need to win matches, Sam, and not lose them 5-1 too. And if you can't get the players to play for you, then you are also in trouble – whether it is their fault or not – and that would be the same at Real Madrid.
Jerome Shields
16
Posted 10/02/2018 at 08:46:03
No you don't win the fans around by winning on Saturday... The fans don't want to see a flawed defence system dependent on luck and an attacking system dependent on set-pieces and a lucky punt to seek a win.
We know he is non-plussed about the fans because he has Moshiri in his pocket and a contingent of players that are cheaters like himself.
John G Davies
17
Posted 10/02/2018 at 08:49:32
You know that the internet... you say look at that negativity but it is 15 fans arguing among themselves and some of them haven't even been to the game.
He does read ToffeeWeb then 😁
Jimmy Hogan
18
Posted 10/02/2018 at 08:50:50
So he does read ToffeeWeb and he's counted the regular contributors to the forum. I hope he's also read Lyndon's 1878 article. He might learn something.
Kunal Desai
19
Posted 10/02/2018 at 08:58:12
First the players and now the fans. Buffoon of the highest order.
Darren Hind
20
Posted 10/02/2018 at 09:11:56
He's got a nerve criticising his acolytes.
If he serves up the same shite he has been doing since he got here and we don't win today, those "15 people" are going to sound an awful lot like 35,000 when the whistle blows.
Then he'll be desperately looking for those 15 people who continue to apologise for him.
Jeff Spiers
21
Posted 10/02/2018 at 09:19:07
Mr Allardyce, please don't belittle Evertonians. You will soon feel the wrath if you don't keep us up. Take the piss, but trust me we won't let you watch it dry.
William Cartwright
22
Posted 10/02/2018 at 09:20:57
Amit @ 10:
He is not the master at pinning the blame. He tries to pin the blame and just makes himself look more culpable and ingenuine in the process. There is something afoot behind the scenes I believe, and Allardyce with his spontaneous and inconsistent moaning, is simply trying to 'get ahead' of the mounting criticism he is facing. He is right about one thing though, if he loses the players then he will almost certainly lose his position too.
It was strange to see the team shift away from Martinez then wholeheartedly play for Unsy in the last match of the season. Then it was less strange the see the team shift away from Koeman in a repeat of the removal of a manager.
Third time around, would be even more of a reinforcement of playing power, if we were witnessing the second repeat. Is this what is happening? It might be. If the players are angling for his removal after getting us into a semi-safe position then would their action be in the best interests of the Club? Conspiracy theory nonsense perhaps, but if it becomes the only way of getting rid of him then it would get my support.
Perhaps this is what Leighton was referring to two years ago but was not in a position to express it more clearly. As it was he was dressed down by Martinez for his remarks in a naughty schoolboy fashion. Also within a squad there will be cliques and joint interests, so a rebellion may not be a clear cut action.
However, when all is said and done, we are rudderless at present and the person responsible for that is, quite simply Allardyce himself. If he was capable of earning the respect of the team and squad, then he would have done do so. Possibly Unsy was in the process of achieving it when Allardyce joined? Who can tell.
I just wish we could gain gain some joy and self-respect on the pitch and at boardroom level decision making. The only good behaviour displayed by the club for a long time now has been the EitC set-up which one could describe as being in our DNA. What about the other similar DNA type characteristics such as the school of science, and passion on the pitch?
Roll on next season, but if Allardyce is still with us, then I for one won't be. I was up to a few weeks ago supporting the patient wait and see option but the Arsenal team sheet, the Schneiderlin fiasco and the crudeness of Allardyce's post-match conference together with his treatment of Lookman have done it for me.
So, If you think he is a master of blame gaming, think again. He is simply living up to his reputation and the sooner he leaves the better.
Jerome Shields
23
Posted 10/02/2018 at 09:23:34
Derick (#12),
No way will Marcel Brands end at Goodison. One look at the team playing and he will know the risk to his career. Never under Allardyce.
This is the problem we have now in the market place. The only Manager we will get is someone bought in for a quick kill or someone who has nothing to lose, and will certainly not be up to the job, like Silva or similar that have stringed some wins together.
The other problem is the squad we have. If you are a good professional footballer, you know that you are only as good as the players around you. Everton have a high contingent of has-beens and cheats who are well known in the game.
The final problem we have is Moshiri who, as far has Football is concerned, has more money than sense. We need Unsworth back to get some reality in place and return to fundamentals and we all need to get the fantasy football out of our heads.
There is no quick fix for the Everton project. The immediate danger and urgent concern is the minutes that Allardyce has a parking space at Goodison.
Dave Abrahams
24
Posted 10/02/2018 at 09:24:10
Sam is like a lot of politicians, a chancer, in the game purely for the money.
Well I hope you get your pay off, for keeping us up, very soon, you will not have earned one penny of it but will not bother one bit.
No doubt you will continue to be given further jobs in football by clubs in danger of relegation, God help the fans who support those unfortunate clubs.
Oliver Brunel
25
Posted 10/02/2018 at 09:28:43
Allardyce has never won anything or achieved anything in football. It beggars belief that a club of Everton's stature should appoint him. Likewise it beggars belief that a clown should be put in charge of recruitment or that a vast academy like Finch Farm is incapable of producing a few decent English footballers.
However I do agree with his assessment of his own incompetent, gutless and unprofessional players, the main reason being that the modern 'superstar' footballer believes he is above the fans and does not have to answer to them or respect them.
Moshiri seems incapable of recognising the hangers on at Everton, the nepotism, and corruption in transfers. Moshiri needs to act now with a ruthless clearout; if not, we will be bankrupt sooner rather than later. Come on down, Mr Usmanov..!
Jimmy Hogan
26
Posted 10/02/2018 at 09:33:28
The papers are full this morning of rumours of Walsh getting the shove. I don't blame Walsh though. We basically promoted him beyond his capabilities to Director of Football in order to get him. However, he is really a chief scout, so again Kenwright and Moshiri have shown how naive they are when it comes to footballing matters. We really need people who know what they are doing if we are ever going to get anywhere.
John Kavanagh
27
Posted 10/02/2018 at 09:53:17
What about all the supporters who paid a lot of their hard earned cash to go and witness the Arsenal debacle? At least those who stayed until the bitter end (15?) weren't arguing among themselves. They all agreed it was absolute crap and brought about by incompetent team selection. Whose to blame for that then?
Lawrence Green
28
Posted 10/02/2018 at 09:53:56
Sam says it all when he states it's only the next game and the end of the season I'm focussing on, it's that short-termism which means however the remaining part of the season goes the club will have to start from scratch at the end of it.
Firefighters don't pretend to build stuff they usually save what they can and then it's somebody else's job to rebuild out of the wreckage.
Mathematically safe and Sam's job is done - if it isn't he should remember that fans both match-going or TV subscribers help to pay his wages.
Darren Marsh
29
Posted 10/02/2018 at 10:00:03
Absolute knob of a bloke, the sooner the gravy swigging fraud is dismissed the better.
As for the people backing him, haha they're probably the idiots who think it's okay for this once great club to be anywhere near the drop zone. (As long as we survive.)
The motto means fuck-all to most of the players. We are decades behind where we need/should be.
Jay Woods
[LAT]
30
Posted 10/02/2018 at 10:10:18
So he thinks the fans who converse online are the dissident minority, the lunatic fringe, unrepresentative of the broader match-going fanbase?
Talk about shooting yourself in the foot!
And yes, I reluctantly wanted him appointed to stave off the big "R", but this is a bridge too far. His days are numbered if he's going to turn on the least culpable component of the malfunctioning entity that is Everton.
Neil Cremin
31
Posted 10/02/2018 at 10:11:40
Another manager who prefers to talk to the press for self promotion rather than to the players to motivate them to self actualisation (Maslow) in order to get from them to deliver thebest performance possible. A job which he as managers is responsible for moulding all the motivated individuals into a cohesive team.
Chris Gould
32
Posted 10/02/2018 at 10:11:51
I find Sam most amusing. He doesn't even try and be diplomatic or calm and collected. It's like poking a bear!
Some of the stuff he comes out with isn't too far from the truth, but his tendency to deflect criticism and not accept responsibility is doing him more harm than good.
We should be looking for 6-7 points from these next 3 (winnable) games. That will make us safe and allow us to play with a little more freedom.
Geoff Evans
33
Posted 10/02/2018 at 10:24:27
Like Allardyce or not, he's not been here since 1989.
I know someone who has been for most of those years tough.
This club will never be any good while Betty Turpin's boy has anything to do with it.

Jerome Shields
34
Posted 10/02/2018 at 10:25:15
Keep it up, lads! He has been reading ToffeeWeb and it has the wind up him. Anything that helps get rid of him.
John Davies
35
Posted 10/02/2018 at 10:25:33
The man is deluded. He lives in his own bubble where he talks himself up, deflects blame elsewhere and truly believes he is both inspirational and correct in everything his mouth spouts.
Please will someone put us all out of our misery and move him on.
John G Davies
36
Posted 10/02/2018 at 10:29:31
Hahaha.
He gets them biting this lad
John M. Boon
38
Posted 10/02/2018 at 11:02:58
36 up to now and at least one more. Let's face it he is just plain "THICK". For the few who might defend him, he has not said anything sensible since he took over, although he did indicate that he might leave.
Brian Harrison
39
Posted 10/02/2018 at 11:07:00
Darren 2
I have to disagree with your assumption that Allardyce owes more obligation to the people who watch the games via the internet or Sky than the match going fans. Without the match going fans we have nothing, doesn't matter how load you shout at the screen it has no effect on the atmosphere.
But something we do agree on is Allardyce's arrogance – even the small minority who were prepared to see how he did are fast losing patience. He obviously thinks that its only people on internet sites who are moaning; well I suggest he comes and sits next to me in the Upper Bullens, he would soon appreciate that its the match going fans who aren't happy as well. I said before we got him I didn't want him at any price, but the powers that be decided otherwise. I think Carragher hit the nail on the head when he said that Evertonians wouldn't put up with Allardyce's "me, me, me" attitude and how right he is.
He said everybody was happy with the Leicester performance correct so why make 5 changes for the next game. And not only make 5 changes also change the formation and include a player who at best had probably had 1 training session with the players.
No, Sam, the biggest problem at Everton is you... closely followed by Walsh. So, as 1 of the 15 you refer to, I hope come the summer you will be gone and hopefully we are still in the Premier League.
John Graham
40
Posted 10/02/2018 at 11:18:40
Good luck today for the team and the manager. Not only do we need the points we also need to show that we can play as a team. Hopefully there will be a lot more energy and organisation than the last game against Arsenal.
I would like to see the following team
Pickford
Coleman
Keane
Mangala
Martina
Gueye
Davies
Walcott
Sigurdsson
Niasse
Rooney
COYB

Keith Harrison
41
Posted 10/02/2018 at 11:20:46
"We won against Leicester and they all said how well we had played and what a great job we were doing. Then we go and lose to Arsenal and we are all crap"
I wonder if that was anything to do with his formation and tactics against Leicester, and the wholesale changes and gameplan against Arsenal.
As for being there to take us into a new stadium, the future is bleak, the future is darkness. The only surefire way for Sam Allardyce to win over the true fans at Everton is to fall on his sword and take his acolytes with him.
Gave up my season ticket today, 6 nations for me after watching my local rugby club in the pissing down rain. Preferable to a 300-mile trip to be royally non-entertained by a totally confused team led by the General Melchett of the Premier League.
Kunal Desai
42
Posted 10/02/2018 at 11:20:54
Walsh and Fat Sam and backroom staff solve the problem. Mass clearouts needed in the cretins who have been freeloaders for years abd decades - Kenwright, Woods and Elstone.
John Davies
43
Posted 10/02/2018 at 11:28:48
Does anyone else think that Allardyce is constantly spouting this tripe right now to try and goad Moshiri into giving him the bullet now? So that he can just take his cheque and go somewhere warm, rather than even finish this season off?
Andy Walker
44
Posted 10/02/2018 at 11:34:26
Allardyce smartly deflecting attention away from the inadequate players ahead of a crucial game. The only exceptions to inadequacy being Walcott, Sigurdsson, Coleman, Pickford. The last thing the players need is their confidence denting further by understandably pissed off supporters and Allardyce has seen to that with his comments.
The rest of the players are not remotely good enough, weak mental strength, poor attitudes with ability levels below the very best footballers in our league. Poor passing, poor control, poor reading of the play, poor positional sense, poor tackling, poor dribbling, poor shooting. You name it 90% of the players aren't up to scratch. Allardyce knows this, Koeman knew it. Walsh is probably mainly the culprit, but who knows how much involvement Koeman, Kenwright and Moshiri had in selecting players last summer?
Allardyce will take the stick, direct the focus onto him and hope it takes the spotlight off the players so they can perform better. Fundamentally though the players just aren't good enough. How many of our squad would get a game for a top 6 team? I suggest none other than the few I mention.
Mike Kehoe
45
Posted 10/02/2018 at 11:43:58
"They all said how well we played (against Leicester)": No, I thought we were lucky to get a win as we were lucky to get a win at Newcastle. There have been a few games we have won that could just as easily been a fucking good hiding. The style of play is so unconvincing and flimsy that we depend on teams being shittier than us.
Regarding people being encouraged to voice their opinions these days, I have to agree that this is not always a bountiful blessing as a lot of serious and determined fuckwits add their voices to otherwise healthy and intelligent debate. But deflecting criticism in this way is weak and it is hardly 15 of us.
I personally do not know a single blue who is not utterly horrified with how this season has gone and the poisonous, monstrous steaming turd of a cherry on the top of this disgusting ghastly and very expensive cake is a manager of such epically dreadful proportions: accompanied by Sammy fucking Lee. I am pleased that he seems to have fully seized the requirements of the job, that we need to win by scoring goals etc, very good, can't really fault that.
As soon as we get to 40 points, Moshiri has got to start a massive clear out and put this shameful episode behind us. His deflection of blame is justified to a point but it is starting to sound like an application for his next job in Summer: Middlesbrough of Forest would be a good fit for him.
Moshiri is a very wealthy man so it seems unlikely that he is an idiot. He's had time now to look around and assess the situation. Hopefully there will be big changes from top to bottom and Kenwright can focus his attention on the world of musical theatre and we can have a club to proud of again.
Drew O'Neall
46
Posted 10/02/2018 at 11:45:00
I don't have a problem with anything he's said there.
The views expressed on here are of the entrenched and, he's right, the only way to change them is to win games.
If you get emotional about this you should probably give your head a wobble.
Drew O'Neall
47
Posted 10/02/2018 at 11:48:15
Andy 44
Add Gueye to the list of 'adequate' players and I'm with you. Rooney as a squad member. Bolasie I think will be of the right standard when he makes a full recovery (which won't be popular).
Jimmy Hogan
48
Posted 10/02/2018 at 11:53:20
Except it's not just 15 people, Drew. Those like us moaning on the internet, or phoning the club up to complain, echo what every single Evertonian feels.
I don't know one supporter who is behind Sam and his dinosaur ways. It's just not the Everton Way. Even my friends who support other clubs can't get used to us playing hoofball.
Don Alexander
49
Posted 10/02/2018 at 12:02:32
The appointment of Allardyce was an understandable panic measure given the predicament we were in following the shambles of the summer transfer window. Somebody/s still at Everton delivered that shambles because no way was it all down to Koeman. It still permeates us and will severely hamper next season as a result of financial losses yet to be incurred in getting rid of unwanted players.
I hoped against hope that Allardyce would seize the chance to prove himself anything like he's always boasted he could be with "a big club", and we are as big as he'll ever get now. He's failing even in the basics of training ground drills though. He's had weeks to develop something like cohesion but it's non-existent, and he publicly announces he's baffled by it.
So, is it just him, a shite manager? Or is it someone/s else fault? Moshiri needs to find out and do something about it well before the end of this season, that's for sure.
Phil Walling
50
Posted 10/02/2018 at 12:02:38
I think the 15should be named and shamed.
Proudly, I'll set the ball rolling:- Phil Walling!
Paul Ellam
51
Posted 10/02/2018 at 12:05:24
This "new" Everton under the stewardship of Moshiri reminds me a lot of when Man. City were first taken over by Mansour. Lots of spending, lots of mistakes made by all, lots of bumps in the road, and lots of ins and outs (players and other staff).
Hopefully it will have the same end result too with lots of quality players, lots of wins and lots of trophies!
Are you reading this Mr. Usmanov? It's time you joined the party.
Drew O'Neall
52
Posted 10/02/2018 at 12:10:53
Jimmy
I won't pick you up on the 'echo every single evertonian' comment with a churlish 'asked them have you?' Eugene Ruane-ism but I will challenge the idea that people can't get used to Everton playing hoof-ball.. we've been playing it for the last two years and played it for a significant portion of Moyes's tenure.
Drew O'Neall
53
Posted 10/02/2018 at 12:23:37
Paul 51
We are making the same mistakes on a much smaller budget.
Moshiri could be wiped out by the time he learns the lessons.
Ian Bennett
54
Posted 10/02/2018 at 12:27:42
The player recruitment has been a complete disaster post Moyes. Bar Lukuka, I can't think of anyone who has justified anything remotely close to the fee.
Christopher Timmins
55
Posted 10/02/2018 at 12:32:37
Come the summer, unless there is a major pick-up in performances, I reckon that we will be in the market for a new manager.
If the owner has any ambition and wants to put things right then that signing will be his most important. If Conte is available, and that looks a likely scenario at present then we should move mountains to get him in and give him absolute authority for future signings.
Jack Convery
56
Posted 10/02/2018 at 12:41:32
Sam, if by some miracle you keep us in the top 10 or even make 7th I for one will still want you gone come June. You should be paying us for giving you the privilege of managing EFC.
If you think its just 15 fans having a go, you ain't figured EFC fans out yet. Your style of football is not wanted and neither are you and your team.
You picked the team last Saturday not the so-called 15 fans, who by the way would never have put Schneiderlin in the squad never mind the team. You played Mangala when most of us would have left him at City. You were a centre-half yourself so don't you know a fraud when you see one or do you believe you know more than Guardiola and can spot something he's missed.
You created a scenario for Arsenal to piss all over us. Bolasie is not fit. Niasse is better from the bench. Davies should be playing to give us energy. We had momentum after Leicester thanks to Coleman and Walcott but you fucked it up for a so called pragmatic approach. You say to try and have a go at Arsenal would mean we'd be wide open. I have a point to make here – setting us up with 8 defenders didn't work either – they murdered us – a boxing match would have been stopped after 2 rounds.
The only thing you have more than most EFC fans is money. Football nous ? nah !
Pete Clarke
57
Posted 10/02/2018 at 12:48:36
Sam knows he has no long term chance of staying as our manager.
He wants out but will continue to play teams without any solidity to just hope for a result until his time comes. He will unfortunately keep responding to the questions posed to him by media and most of his answers will be as plain as his managerial career.
Geoff Evans
58
Posted 10/02/2018 at 12:58:39
This club's been making up the numbers since 1989. Before blaming the current manager, have a look for a common denominator throughout every managers tenure.
Step up Betty Turpin's boy.

Derek Knox
59
Posted 10/02/2018 at 12:59:53
Phil @50, somehow I can't imagined you being shamed, my old mate, but you can add my name to that list too.
Jimmy Hogan
60
Posted 10/02/2018 at 13:01:36
Drew 52. I completely disagree. Koeman tried to play a pressing game, Martinez played a passing game and under Moyes, especially when we had Baines, Pienaar, Arteta, Cahill and Yakubu in the team, we played some lovely football. I didn't ever stop going, home and away, during all that time, but I have now and so have quite a few London Evertonians. The quality is just awful and doesn't justify the expense or wasted time until this charlatan has been Driven out of our club by the supporters.
Kevin Moorcroft
61
Posted 10/02/2018 at 13:32:29
To be fair to Sam, he came here to do a job under difficult circumstances. No other man would entertain coming here. People on here can't blame him because the money was on offer, simple as that; who would refuse? If results come and we avoid the drop, who can moan?
I fail to see how people can get upset at this stage. Survival for financial reasons is imperative; drop out of the Premier League and sponsorship /attendance money TV rights / all dip or disappear.
It's a pity people can't see it that way. Football is business these days.
Drew O'Neall
62
Posted 10/02/2018 at 13:33:30
Jimmy
I spose it depends on your definition of hoofball and what constitutes Everton playing it.
I'd say punting it up to Marcus Bent or Duncan Ferguson playing as a one upfront on their own during Moyes' tenure qualifies.
I've no idea WTF Koeman was playing at but I saw Jags and Williams smashing it aimlessly up the field plenty.
I don't have a problem with direct football. The best Everton teams I've seen in my lifetime weren't afraid to 'mix it up', as they say, but I'm with you that it is soul destroying watching us hoof out of the back.
George Cumiskey
63
Posted 10/02/2018 at 13:36:04
Andy @ 44 so Allàrdyce is doing a good job deflecting the attention from the players on to himself .
What about after the Arsenal game when he come out and said the players were crap, without mentioning the team changes and tactics he made.
Dave Evans
64
Posted 10/02/2018 at 13:41:53
Jimmy
You don't speak for all Evertonians. Leicester was our most aggressive and cohesive performance in a while. Walcott is our best forward for some time.
Sam was not my choice but he and his coaching staff need more time.
Colin Glassar
65
Posted 10/02/2018 at 13:44:46
Sam, and all his overweight mates, will be out once the season is over. Personally, I can't wait to see the back of them.
George Cumiskey
66
Posted 10/02/2018 at 13:48:13
Dave Evans more time to do what exactly ?
Jimmy Hogan
67
Posted 10/02/2018 at 13:48:57
Of course I don't speak for all Evertonians, but I'm pretty sure I speak for the vast majority. I'm basing my comments on what I overheard when I was leaving the Emirates last week. It wasn't favourable to Allardyce I can tell you.
Michael Lynch
68
Posted 10/02/2018 at 13:52:31
Sam's right of course, in a general way. The internet is an echo chamber, and is mostly used to slag people off, not laud them. I'd be really worried if he was taking notice of ToffeeWeb, even if we are all much more experienced Premier League managers than he is (in our heads), and would clearly make a better job of running a professional football team than him (if only we could stay sober long enough). It's the board that will sack him, not us.
Jimmy Hogan
69
Posted 10/02/2018 at 13:55:52
But the board will take their cue from us Michael. They have shown that in the past
Darren Hind
70
Posted 10/02/2018 at 14:04:55
Brian @39
That was kinda the point I was making. The matchgoer can vent his frustration and leave Sam in no doubt as to how he feels.
The guys who cant get there can only have their say on the internet. It's fucking disgusting that this fella can dismiss these people as a Tiny minority who haven't been to the game arguing amongst themselves . .the man's doesn't show respect which is one of the main reasons why most fans wont show him any
Dermot Byrne
71
Posted 10/02/2018 at 14:10:18
I am no Sam apologist but I think he has a point about online criticism.
It does reflect in many places an online society that is like a kindergarten at times.
But and a big but...if he hates it, there is a button called "off" to press.
Both ways he wants it methinks..and is getting it
Danny O'Neill
72
Posted 10/02/2018 at 14:46:22
He is either massively thick skinned given the ironic cheers, actual boos and "virtual noise" from the fifteen.
Or he doesn't like us (some would argue with reason) as much as many of us (or 15 of us anyway) don't like him as our manager and is therefore trying to wind us up.
Moyes' last match at Goodison 2013; West Ham fans bantered us with "Where's your Moyesy gone"
Our reply "you've got Sam Allardyce"
Their subsequent response: almost humble pie like acknowledged applause.
Touche and how the tables turn.
He's gone by the summer latest right?
Danny O'Neill
74
Posted 10/02/2018 at 15:34:38
But we've never been the match right?
Condescending tosser.
Ian Hollingworth
76
Posted 10/02/2018 at 17:07:36
Well, Sam, I hope you heard the 15 fans today when you brought Schneiderlin on.
Why not give Tosun some game time? Exactly how is he adapting to the premier league sat on the bench?
Jim Bennings
77
Posted 10/02/2018 at 17:50:50
Tosun must be dogshit in training if he can't get on that pitch at 3-0 up –that's all I'll say on the matter.
Ian Bennett
78
Posted 10/02/2018 at 19:20:57
Two more wins and then get rid.
Brian Wilkinson
79
Posted 11/02/2018 at 00:40:04
Will Sam start with the same 11 or near enough next away game? Will he balls! If you can win at home, it is a same football pitch away from home, don't chop and change and we just might get an away win, instead of setting up not to lose.
Kevin Moorcroft
80
Posted 11/02/2018 at 12:58:38
Well done, Sam
Bollocks to all these knockers on here – at least you had the guts to take us on. Let's be fair they'd moan at anything on here so who cares?
When you have us safe, I'd fuck off anyway. Job done. Cost £9 mill; brought in £60 mill... not bad for the club.
How"s that, ToffeeWebers?
Gaute Lie
81
Posted 11/02/2018 at 13:33:45
Anyway he's better than Koeman in every way. But I hope we get a new manager come the summer. But Koeman was a tragedy..

Simon Dalzell
82
Posted 11/02/2018 at 17:43:30
Alarming headlines in the Echo today saying "Allardyce planning for next season". We should get rid asap.
The second half of Koeman's full season, I'd seen enough to suggest he was not the man to trust with our new funds. Likewise, letting Allardyce have any influence on next season would be a huge mistake.
Paul Kossoff
86
Posted 11/02/2018 at 21:05:33
No Sam, it dosnt! End of season, no matter what, we want you gone and someone more likely to make a success of this club will hopefully come in. Off you pop!!!
Danny Broderick
87
Posted 11/02/2018 at 21:35:50
The next 3 months will decide whether Allardyce is in charge next season or not. I'm prepared to give him a chance. He probably wasn't my first choice, but whether we like it or not, he is our manager now.
I will be hoping we win every game between now and the end of the season and finish as high up the table as possible. If we finish in the top 8, he will have earnt a crack at being our boss next season, in my opinion.
For me, this has been a horrible couple of years – I'm sick of all the uncertainty, all the constant changes in players – it doesn't feel very 'Everton' to me. Let's hope it all settles down a bit. It would be nice to have a bit of a feel good factor at the match again.
I fear we'll be back to square one again if we sack Allardyce and appoint someone like Silva and it doesn't turn out great again. I'll back Sam if he can get a settled back 4 with Baines and Coleman back at full back, Schneiderlin on the bench and Rooney in midfield.
Danny O'Neill
88
Posted 11/02/2018 at 21:51:59
No Danny. He has to go. The clown claimed last night he entertained us. As Phil McNulty pointed out; bold shout. You got a result against a massively depleted Palace and even then, ride our luck.
Go. Just go please.
Trevor Peers
89
Posted 11/02/2018 at 21:55:25
I imagine Allardyce has already been given assurances about next season, providing he improves our abysmal away form. That will means he'll be earmarking the players he will need to buy and those who will be sold. He deserves credit for pulling us out of the relegation mire.
All the hysterics and personal abuse on here will count for nothing, nobody's opinion counts except the owners. Only a collapse in home form will see him in serious danger, most of the suggested replacements are no better than Martinez, god forbid.
Danny Broderick
90
Posted 11/02/2018 at 22:01:39
Why not give him a chance Danny? You might as well see what happens between now and the end of the season at least. The last few years have been awful - the fan base has been split on every manager since Moyes. Any problems we have run far deeper than the manager. We have a director of football, for instance, who has overseen the worst player recruitment I can remember. We have players who are so weak mentally they can't play away from home. We need a clear out. Getting rid of the manager again will only delay this further, as a new guy will come in and give all these players a chance again.
We have to give the man a chance. He has made mistakes - the line up at Arsenal was a joke - but he has also put Rooney in midfield, bought Walcott etc.
Give him a chance.
Danny Broderick
91
Posted 11/02/2018 at 22:02:57
Trevor (89),
Nail right on the head there mate.
Danny O'Neill
92
Posted 11/02/2018 at 22:54:20
Allardyce has had 20 years to show me what he can do. He has never done anything different at any club he has been at.
If your ambition and aim is to stay in the Premier league playing dreadful football then he is your man. "Throw" away games against difficult teams then gloat on your managerial capability when ride your luck against a massively depleted Crystal Palace at home; thats Allardyce. And lets not mention West Brom.
Put Evertonian discontent down to "15 people on the internet"; very condascending.
We talk about divisive managers, I don't think we've ever had one that unifies the support base so much in that we don't want him or his awful brand. And he knows it too.
It all comes down to ambition. Man City & Chelsea before them were seen as pretenders to the throne. Neither turned to the likes of Allardyce (he was around and available).
I will be dismayed if he remains in place beyond the end of the season.
Soren Moyer
93
Posted 11/02/2018 at 23:03:07
Whilst we are stuck with Fat Sam, Marco Silva is being lined up for Chelsea job apparently!
Keith Harrison
94
Posted 11/02/2018 at 00:12:30
Never mind Soren. I have it on good authority that our next manager will be Marco's cousin, Long John.
Kase Chow
95
Posted 12/02/2018 at 00:34:34
I really don't understand the Sam hatred.
He's made mistakes but deserves a chance.
No-one on here with a brain thinks we'll get relegated now and he has to take credit for that.
I also think we'll finish 7th. That would be an achievement too.
Let's see what he can do – give him a chance
Paul Hughes
96
Posted 12/02/2018 at 11:45:18
I don't often post on here, but after Newcastle's showing v Man Utd yesterday, I'd probably go for Rafa Benitez as manager in the summer. He knows the Premier League, he's a winner and his house is on the Wirral. His allegiance to the RS can be overlooked as it was with Sammy Lee, so long as he comes up with the goods.
Soren Moyer
97
Posted 12/02/2018 at 13:50:46
7th? We will be lucky not to go down!
Soren Moyer
98
Posted 12/02/2018 at 14:26:04
Keith (#94),
If we were so lucky lol. I want Fat Sam out when the season over.
Paul Kossoff
99
Posted 12/02/2018 at 15:08:40
Keith 94, Long John and John Parrott would do for me!
Dave Abrahams
100
Posted 12/02/2018 at 15:53:01
Kevin, (80), "At least Sam had the guts to take us on" – £9M had nothing whatsoever to do with guts, Kevin.
He is a chancer, he should go down on his knees every day and thank God that he has amassed an absolute fortune with so very little talent.
Martin Nicholls
101
Posted 12/02/2018 at 16:09:03
Dave (#100) - Kevin seems to be a bit confused! At post 61 he claimed that other than Allardyce, no-one else would entertain us then went on to ask who would turn down the money on offer!
Si Cooper
102
Posted 12/02/2018 at 18:00:48
Kevin (80) – he wouldn't pocket £9 million if he walked though would he? Just needs to wait until he gets asked to go and then he will get paid off as long as he has completed the first task of avoiding relegation.
I don't see any unwavering incentive to be already building for next season, and so he has always had the option of doing the bare minimum. If things go better than he expects then he can choose to stay and try his hand at empire building.
The point I will always debate is how difficult a job was keeping us up? I just don't agree he was the only realistic option who would have kept us up as I don't think it took much to improve the way the team was playing. The purchase of Theo Walcott is far and away the biggest step forward but could no other manager have secured his services?
Danny O'Neill
103
Posted 12/02/2018 at 18:12:33
I said that a few years ago, Paul Hughes. I'm not so concerned with Premier League experience; red herring as most of those succeeding in the Premier League have done and are doing with their first Premier League clubs. He does however have a knack of winning trophies. Maybe not league titles but a cup would do me just fine.
And he's a good tactician.
Tony Graham
104
Posted 12/02/2018 at 21:35:50
I wonder who's going to be whispering in Moshiri's ear when our next manager is appointed? nothing changes...

Victor Yu
105
Posted 13/02/2018 at 06:57:45
My biggest worry is that somehow he drags the team to a top 8 finish and convinces the management to give him one more season.

Alexander Murphy
106
Posted 13/02/2018 at 17:06:33
No!
No!!
No!!!
Sack him!
Then get out the "Dettol" and cleanse both Goodison Park & Finch Farm.
I feel disgusted at having him in charge. I never wanted him here, not even as a visiting manager.
Get him gone!
Get "The Pantomime Dame" gone!
Get the cobwebs in the "Trophy Room" gone!
Jay Harris
107
Posted 13/02/2018 at 17:18:13
We really need a nuts-and-bolts overhaul of the whole club, top to bottom.
Kenwright and Walsh should be competing for first out of the door and I keep advocating tempting David Dein and Arsene Wenger as CEO and DOF at the end of the season and let them pick the new manager and coaching staff.

Brian Williams
108
Posted 13/02/2018 at 17:27:42
I said when Allardyce was appointed that Moshiri had appointed him on the shortest contract Allardyce would accept and the longest one Moshiri would offer.
The only way Allardyce would have been here next season would have been if he'd managed an absolutely miraculous transformation, and even then it wouldn't have been nailed-on.
Allardyce is gone at the end of this season, deffo!
Alexander Murphy
109
Posted 13/02/2018 at 17:35:05
Jay 107, much truth there.
Although not Arsene for Me
Joe Royle as Club Leader.
Not some other Clubs model.
Ours.
Then, let Big Joe work things out. FFS He's the last surviving Toff that won the League as a player and the FA Cup as a Manager.
"Weepy Bill" reminds me of someone very closely related to me. Full of warm milk and best intention. Not a scrapper who will scare the living shit out of the lack-a-days and galvanise action.
"Wipe away all your tears,
No trophies for 23 years!".
Barren Bill.
The Pantomime Twat !

James Flynn
110
Posted 13/02/2018 at 23:00:37
No way he'll stay just to run out the last year of a contract.
We stay up, he gets his contract extended or is cut loose.
It's one or the other. I say the latter.
The latter being so, Mr Moshiri, you need to have Kenwright escort Sam out the front door and lock it closed behind the two of them.
If you really meant it when you said, "We can't be a museum." Prove it.
Tony Cawson
111
Posted 13/02/2018 at 00:24:07
I read this site everyday and would be lost without it, but every single point and disagreement can be summed up easily: 30 years of neglect, from the top down catching up with our beloved team.
How that becomes Sam Alllardyce's cross to carry, I don't know?..
Just the latest punch bag since the rot of Martinez, or back to Walker. Either way It all falls down from the top. Criminal behaviour.
Nil Satis, get that fat Bastard out of our club. Until the next Fall guy arrives.and repeat.

Add Your Comments
In order to post a comment, you need to be logged in as a registered user of the site.
Or Sign up as a ToffeeWeb Member — it's free, takes just a few minutes and will allow you to post your comments on articles and Talking Points submissions across the site.