Allardyce knows his future depends on results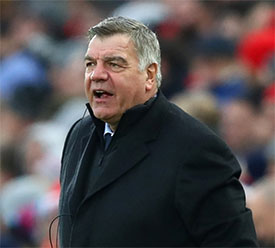 Admitting that pressure to win comes with the territory of being Everton manager, Sam Allardyce is nonplussed by suggestions of negativity emanating from the fanbase.
The manager and his team have come in for fierce criticism for the 5-1 reverse at Arsenal last weekend, their second heavy defeat by a margin of four goals this year following the 4-0 defeat to Tottenham Hotspur.
But Allardyce appears unconcerned by the criticism or talk about the duration of his 18-month contract, insisting that improved performances and results will get the fans back onside and give him a chance at earning an extended deal with the Blues.
"How do I win the fans around? By winning Saturday," the 63-year-old said in The Mirror, acknowledging that there is unrest among supporters. "The most important things for me are that the players on the pitch win the fans over for me.
"It's not me who wins the fans over. The players do it for me because they go out and perform and get results. That is what I need them to do and that gives us all breathing space that we need at the moment."
"I am not saying my job is on the line, but if you carry on losing football matches all our jobs are on the line if you are not expected to lose many. That is the name of the game," he explained.
"We won against Leicester and they all said how well we had played and what a great job we were doing. Then we go and lose to Arsenal and we are all crap and rubbish.
"That is what happens when you get a society that promotes people ringing up and expressing their opinion. But the vast majority of fans wont be like that. The ones who are volatile will ring in the most.
"You know that the internet... you say look at that negativity but it is 15 fans arguing among themselves and some of them haven't even been to the game. Negativity happens when you lose 5-1. Criticism happens and you accept it."
"I have talked about the contract length meaning nothing because the results mean everything for how long you stay," Allardyce continued.
"How long did Ronald have? Four or five years and it ended up being 18 months. Frank De Boer went to Palace after me, I had a one-and-a-half-year contract but he had a three-year contract and lasted four months.
"So my contract is as long as we go forward together and achieve results together, moving into the new stadium together, hopefully with a great team. I hope I see that time, but for the moment it's only the next game and the end of the season I'm focusing on."
---
---