Allardyce surprised by Schneiderlin boos
Saturday, 10 February, 2018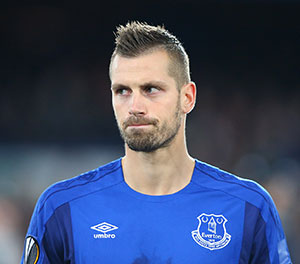 Boos were heard at Goodison as Morgan Schneiderlin came on for the injured Idrissa Gueye
Alex Livesey/Getty Images
Sam Allardyce says he wasn't expecting the reaction to his decision to introduce Morgan Schneiderlin as an 80th-minute substitute in today's win over Crystal Palace.
The Frenchman was thrown on as a replacement for Idrissa Gueye who had reportedly picked up a knock but boos rang out from some supporters, many expecting new signing Cenk Tosun to be given a run-out instead, as the change was prepared and then when Schneiderlin ran onto the pitch.
Schneiderlin has come in for sharp criticism from many supporters this season for a perceived lack of commitment, not helped by his apparent dismissal from training last autumn by stand-in boss David Unsworth.
And his performance in the 5-1 defeat against Arsenal has been highlighted by some as indicative of a lack of effort on his part this season following a successful start to his Everton career last season.
"I was surprised, very surprised" Allardyce said after the 3-1 win over Palace at Goodison Park today. "I've not heard it before, so I was a little surprised
"He's a very important part of the squad this year.
"Lots of players haven't played up to their potential that we know they've got this season but we're starting to get better at home. It's away from home that we've had problems."
This was only the second win that Allardyce has overseen since the turn of the year but he was pleased with his players' reaction to last Saturday's debacle at The Emirates.
"I was apprehensive today after being done 5-1 away from home but the players have responded magnificently," he said. "We have shown what we can do and hopefully we can improve for the rest of the season.
"We have to look at our own record and that is where the mainstay of our season lies. In the eight home games I have been here, we have picked up 17 points and conceded just four goals.
"We are getting it right, entertaining the fans and getting the result. The unfortunate away form is causing us the problems."
---
Reader Comments (242)
Note: the following content is not moderated or vetted by the site owners at the time of submission. Comments are the responsibility of the poster. Disclaimer
Ian Bennett
1
Posted 10/02/2018 at 19:15:07
I've never seen an Everton player booed on before. But then again I've never seen a player with such little heart either.
The Everton fans have had enough of his piss-poor performances. Hope somebody is stupid enough to pay him top dollar, and he goes in the summer or it's £24M up the wall.

Nick Lacey
2
Posted 10/02/2018 at 19:16:13
I don't think there is anyway back for Schneiderlin. With his extremely poor performances, leaving the training ground when asked by Ferguson to buck up his ideas or go home and the recent video of him on the internet which showed him strolling around for an Arsenal goal. A truly terrible player.
John Davies
3
Posted 10/02/2018 at 19:27:01
I could never bring myself to boo an Everton player but this lad's performances this season have tested me fully. Allardyce has continued to select him even though his lack of effort has not justified him being given the shirt. Both men have been booed this afternoon and no-one is entitled to tell those who booed that they were wrong to do so.

Allardyce needs to be careful as he is now "crossing the line" with the fans (although he was more careful today than earlier in the week) which will only lead to him leaving. I hope that is sooner rather than later.
Charlie Lloyd
4
Posted 10/02/2018 at 19:28:50
When he was lining up to come in, it must have been difficult; even I felt a bit awkward at the reception and don't like a player going through that.
However, he's had it coming to him. Some truly awful abject performances have been too much for the paying public to ignore. They made their opinion known today and it should come as no surprise.
Phil Smith
5
Posted 10/02/2018 at 19:29:57
He's not happy and his performances show it. Still, no player is deserved that reception.
Dermot Byrne
6
Posted 10/02/2018 at 19:35:07
Shit!
I hate the way he has played but feel a bit guilty now.
Did we get carried away on this poorly paid guy who at times did little?
Or should I be human about a guy who isn't poor on purpose?
Denny Kerr
7
Posted 10/02/2018 at 19:36:52
Sorry Phil (#5),
I have to respectfully disagree. In all the years of watching Everton, he is the one player who deserves what he got.
Alan Bodell
8
Posted 10/02/2018 at 19:40:11
If any player tries for the shirt, he will not get this reception. This guy is something like I've never seen for his "couldn't care less" attitude and it's so obvious.
I hate to see anyone get it but this guy must never get a Blue shirt on again and let's write off the big fee we wasted alongside his wages... Alex Nyarko had more in him.
My neck is ricked right now, in the Upper Bullens when Niasse headed his in, I was there with him but he beat me to it, love the guy,
John Malone
9
Posted 10/02/2018 at 19:45:23
Where any of you guys above at the game today??
The boos were not for Schneiderlin personally – they were for the negative substitution when we were 3-0 up.
The fans wanted to see the new signing Tosun for the last 15 minutes; that was my understanding of it anyway!
Alan Bodell
10
Posted 10/02/2018 at 19:49:43
Yeah, I was there, John, and all around me was not happy to see him and that's putting it mildly.
John Charles
11
Posted 10/02/2018 at 19:55:40
A lot of loud and vehement boos around me at the Park End. I didn't boo but wanted to, half at Schneiderlin who doesn't give a shit about us and our club, and half at Fat Sam who doesn't give a shit about us and our club.
3-0 up and cruising why not drop tom back and put on Tuson for a much needed run out?
Jer Kiernan
12
Posted 10/02/2018 at 19:58:14
Truth be known there are many who feel the same about you, Fat Sam, I have disliked some EFC players in my 30s watching and some have been absolute crap but I genuinely despise this guy – he is a beacon of everything that is wrong with our club right now.
My heart is also warmed by the fact the the Goodison faithful will actually boo a player who plainly gives not one fuck about our club.
The fact Fat Sam doesn't see this says more about him than the fans. I will not watch this club if he is in the dugout next season.
Jay Woods
[LAT]
13
Posted 10/02/2018 at 20:01:02
We lost 4-0 away at Man Utd earlier in the season.
As I recall, at the game's end Schneiderlin was fraternising with the United players as if it was the end of his shift at work.
Then, that very night, I believe the Daily Mail reported he went out partying with some United players, while we went home and had a rotten evening – partly thanks to his performance.
That alone says he deserved those boos today, before we even start to think about every other ghastly displays from him this season.
Jim Bennings
14
Posted 10/02/2018 at 20:03:01
I think the boos were for both Schneiderlin and the fact it was a unpopular move by Allardyce. Being in the Gwladys Street when Schneiderlin was warming up down the touchline, he was getting a poor reception even then. Either way, I agree with Nick Lacey (#2).
I don't think there's any way back for Schneiderlin now; once you lose the fans, it's virtually impossible to win back that faith and Morgan doesn't exactly strike me he's got the personality that he possesses the required desire and hunger or backbone to turn things around.
My guess is he'll be shipped out in summer to the first club that offers a reasonable amount.
Dave Abrahams
15
Posted 10/02/2018 at 20:05:31
Don't be shy, Sam, and let Schneiderlin take all the credit for the boos, at least half of them were for you.
Eddie Dunn
16
Posted 10/02/2018 at 20:09:08
Let's just be clear about this. Schneiderlin is capable of outstanding midfield play. He is at his peak, is athletic, carries no excess weight and is also tall with long legs. Manchester united bought him from Southampton because he had been an excellent payer for a couple of years. If he has been carrying an injury, then I can forgive him.
However, he has been at fault on many occasions this season and mostly his shortcomings have been down to a lack of passion and application. If our manager is so clever, with all of his insight and video clips, then how could he not be aware that this individual has been criticised more than any other for the recent performances.
Martina isn't perfect, and has made mistakes, but we can forgive him, as he is doing what he can. I would think that some of the boos were for Allardyce's decision not to bring on Tosun and not just for the lazy Frenchman.
I hear that Rooney told the boss of Gana's problem and so it may have been a purely pragmatic sub, but why not have Klaassen on the bench instead? I have never booed one of our players, but these guys are paid a King's Ransom and so a lack of effort is unforgivable.
Brian Williams
17
Posted 10/02/2018 at 20:10:39
John (#9).
I was at the game and I disagree. Gana was applauded and the supporters (not fans) waited until Schneiderlin's name was announced and he walked on, then started booing.
IMO, the booing was for Schneiderlin.
Matt Butlin
18
Posted 10/02/2018 at 20:11:17
I'm surprised that Sam is surprised. Schneiderlin is paid handsomely and football fans are charged a hefty amount to watch games. The least people can expect is some effort from players. Schneiderlin hasn't put any in all too often. Hence... 'Boooo'.
Chris Gould
19
Posted 10/02/2018 at 20:11:48
Gueye had run himself into the ground and Allardyce wanted to give him a much deserved rest. There were 12 mins to go plus added time, Allardyce isn't the sort to take unnecessary risks.
He brought on a central midfielder to try and see the game out without any hiccups. Bringing on another striker may have seen us overrun in midfield without the very effective Gueye. One goal from Crystal Palace (which happened anyway) could quickly turn into 2 and then we're crapping ourselves.
How much abuse would Sam have got if the unthinkable had happened and we had thrown away a 3-goal lead? I can't blame the guy for playing it safe. The work had been done and we needed the points.
Unfortunately there were no other midfielders to bring on other than Schneiderlin. Tosun didn't get an opportunity because of the earlier forced subs for Mangala and Coleman. I understand Allardyce's decision in this instance.
John Malone
20
Posted 10/02/2018 at 20:14:15
Alan (#10), did they boo him coming on?
If so, I'm shocked and appalled the only time I can ever remember booing one of our own and it was very briefly was Don Hutchison when he went head to head with Richard Gough and shoved him in the face.
I honestly thought the fans were booing the sub, not the player today!
John Keating
21
Posted 10/02/2018 at 20:20:24
John 9
sorry mate but where I was it was all for Schneiderlin.
I didn't boo him when he came on but many around did. I fully understand why and personally have no issue with those that did. He should never be allowed to wear our shirt.
They are genuine supporters that go every game and are fully entitled to boo a shirker if they feel so.
I was surprised at 3-0 why he came on at all. Guye didn't appear to have an injury and it was a great time to bring on Tosun with no pressure on the lad.
Good performances from Sigi, Rooney and Davies. Walcott looks a steal at 20 million and was excellent again.
Defensively we really are poor. I don't know what's wrong with the 6' 3" Keane, very poor in the air and his marking is abysmal. I was hopeful when he arrived and have been desperate for him to succeed but so far he has shown nothing.
Alan Bodell
22
Posted 10/02/2018 at 20:21:39
Dave Abrahams, ha ha, best post for a long time that and John, Evertonians don't put up with lack of trying, yes it was all around me for 'him'.
John G Davies
23
Posted 10/02/2018 at 20:23:45
A move in the summer.
Best thing for the player.
Best thing for the club.
Best thing for the fans.
Tony Abrahams
24
Posted 10/02/2018 at 20:26:06
No other midfielders? Our best midfielder IMO, has been playing out-wide all season. He scored today, he works his socks off, but he's never going to be much better than average playing on the wing, and if Bolasie, was swapped for Snides, because Gana, had a knock, then if I was Sigurdson, I would be knocking on the managers door first thing on Monday morning.
Roger Helm
25
Posted 10/02/2018 at 20:27:31
I don't like booing our own, but is Schneiderlin one of us anyway? I've never seen a more lackadaisical player - he never seems to break sweat and I have heard accounts that he is a bad influence in the club.
Darren Hind
26
Posted 10/02/2018 at 20:28:35
I thought all the boos were for Sam.
At least they were around me, They were accompanied by shouts like "You stupid fat Bastard".
He couldn't possibly have not heard the abuse he was getting from the 15 (Thousand) . .yet he is still claiming it was all directed at the player ?
If somebody ran down the touch line and knocked him spark out, he'd claim they were after Sammy Lee and it was a case of mistaken identity.
That said, I didn't like the booing. If your going to do it, do it after the game
Dave Evans
27
Posted 10/02/2018 at 20:31:18
Perhaps the other side of the coin. Great to hear and see Martina applauded for his efforts along both touchlines today.
George Cumiskey
28
Posted 10/02/2018 at 20:32:14
Chris @ 19 – can you understand the decision to even have him on the bench?
Brian Williams
29
Posted 10/02/2018 at 20:35:33
Gana had taken a knock and was brought off because of it.
With regard to Schneiderlin's effort, or anyone else's for that matter, Shaun Dyche summed it up perfectly on the TV ad:
"The minimum requirement is maximum effort." It's about the third or fourth time I've used that statement because IMO it's perfect, simple, clear and concise.

Tim Fowler
30
Posted 10/02/2018 at 20:36:29
Since Shakespearean times (and probably for a good while before) it has been the undiluted right of the paying public to voice their disapproval and disdain towards those who do not perform. Whereas previously one would throw rotten fruit (which would probably get you a ban) nowadays, people boo.
I have not heard any commentators suggest Schneiderlin has performed anything other than woefully all season. I would much prefer not to have to boo one of our own players but I get over it in a nanosecond and then wish I was front row armed with a mouldy pear.
Dave Evans
31
Posted 10/02/2018 at 20:40:45
Alas, dear Conference... I new him well.
Rick Tarleton
32
Posted 10/02/2018 at 20:41:56
Schneiderlin is very lucky that he is not booed every time he sets foot on the pitch. I've supported Everton since the last season they were in what was then called the Second Division and until now Ernie Hunt was the worst value for money buy, but Schneiderlin has taken that title without any doubt.
He is a shadow of the player who was so dominant for Southampton eight years ago.
Rob Hooton
33
Posted 10/02/2018 at 20:43:34
As Moyes once said, the minimum you expect is to run around a lot and bust a gut (or something like that). Schneiderlin deserves the boos because he is a coward on the pitch and doesn't even pretend to try.
Even when he came on today, he was marking 'space' and was not aware of Palace's players, his only chance of redemption is to work his arse off but I doubt he has it in him and would rather he was just sacked!
Michael Lynch
34
Posted 10/02/2018 at 20:48:03
3-0 up and you boo the manager for substituting an injured defensive midfielder with a fit defensive midfielder?
It's all about opinions I guess.
Anyway, I thought that was another decent home performance. As the manager says, we need to translate that into away form.
John Charles
35
Posted 10/02/2018 at 20:54:24
3-0 up and bring on an ineffective, lazy, generally appalling player instead of giving our new £27m player some valuable playing time. Manager deserves to be booed imo.
John Pierce
36
Posted 10/02/2018 at 21:11:18
Whilst the actual boos might be for Schniederlin, to me they are a tacit indicator of the displeasure of fans towards Allardyce.
The symbolism is not lost in that a player let who has, with many played poorly consistently, yet others cannot get a chance and he always seems too.
His defensive, safe & experienced qualities are in sync with those Allardyce espouses and values. Its the closest you can get to Allardyce in player form.
Any booing is completely justified, as is any form of criticism. On here, at the game or on social media. They are to mind my the same thing.
Maybe Sam should go check his algorithm or the Oracle to decide if Schniederlin should play for Everton again. Or perhaps just think even at his best would he benefit the team?
Probably not.

Peter Norris
37
Posted 10/02/2018 at 21:19:00
Chris (#19). What you say is fine about Gueye. But why couldn't Big Sam drop Davies into midfield to do the Gueye role and bring another forward on to keep the Palace defence on their toes? Rather than agree with what you say, it is clear he had other options.
Brent Stephens
38
Posted 10/02/2018 at 21:21:55
Those boos weren't our finest moment as fans today. Not something I could bring myself to do if they were intended for Schneiderlin – as much as I think he's a busted flush.
Anthony Murphy
39
Posted 10/02/2018 at 21:22:27
Not comfortable with it personally but fans are within their right. I just feel like the whole team and management have been appalling at times this season. The decision to not bring on Tosun is a missed opportunity and underlines our manager's risk-averse mindset. I guess we'll get to see the Turkish Kane once we've reached the magical 40 points...
Brent Stephens
40
Posted 10/02/2018 at 21:26:46
Justice for the Goodison 15!
Ian Bennett
42
Posted 10/02/2018 at 21:27:19
Yep, I was at the game and it was directed at Schneiderlin. Booed onto the pitch and some negatives when he got his first couple of touches.
As I say, I've never seen it before. We've had some truly appalling players – but I've never seen that before.
Ian Edwards
43
Posted 10/02/2018 at 21:28:45
The booing of Schneiderlin was an outrage. Typical of a small section of our supporter base. They invariably infest twitter and abuse people who hold a differing opinion to theirs.
As for Martina getting cheered... probably because the boo boys have a new target.
John G Davies
44
Posted 10/02/2018 at 21:31:51
If it's got a Blue shirt on don't boo it.
Call them all the swear words under the sun outside the game or in the pub. But never, never, boo in the game.
Colin Malone
46
Posted 10/02/2018 at 21:42:37
Fucking disgrace, booing a player when he came on and when he received the ball, Shameful.
It's not Schneiderlin's fault when the manager (Koeman and Big Sam) picks two holding midfielders that conflict with one another. As I have said before, it's like playing Matic with another Matic, Kante with another Kante...
Tony Abrahams
47
Posted 10/02/2018 at 21:47:43
I never booed Ian@43, but I can't accept that it is an outrage though mate.
Schneiderlin, has been cheating the life out of us for way too long, and I've never known a player to agitate the crowd so much, in all my years watching Everton.
Andrew Presly
48
Posted 10/02/2018 at 21:48:35
We've got some real A Grade shithouses representing our Club right now in Sam and Schneiderlin. They are a complete humiliation. Williams is another.
It's so depressing and I'm looking forward to liking the team again when these and a few others eventually move on to their next farce / payday.
Brian Williams
49
Posted 10/02/2018 at 21:51:26
Booing someone an outrage?
Serious assault is an outrage, rape is an outrage. Booing someone just isn't. Saying it is is being melodramatic in the extreme.
John G Davies
50
Posted 10/02/2018 at 22:01:44
Schneiderlin should not getting anywhere near our starting eleven. I have said that since the start of the season.
When I see grown men boo around me in the ground it is wrong. Something not quite right about a man booing.
John Pierce
51
Posted 10/02/2018 at 22:01:59
It really is very simple – if players, and by extension the club, take the adulation afforded them by a loyal fanbase that comes from playing well, then they must also accept criticism in whatever form, including booing at the game.
Christy Ring
52
Posted 10/02/2018 at 22:12:11
If you give 100% effort, our fans appreciate you, but if you are told to quit training, and go for a shower, because of lack of effort, as what happened to Schneiderlin and Mirallas, at a time when we were in deep shit, you deserve everything you get, and watching Schneiderlin stroll around the field against Arsenal, he deserves everything he gets.
Against West Brom, the ball McCarthy gave him, he let it run under his foot, we all know what happened next, and I'm not blaming him for the injury, it was the lack of effort, when the ball ran away from him, unlike Mccarthy's response to get the ball back. That's what you call, wearing your heart on your sleeve, and he doesn't have that.
Mike Gaynes
53
Posted 10/02/2018 at 22:22:14
I was hoping some of the folks at the game would post here about this. There was a brisk debate on the live forum about whether the jeers were directed at Sam or Schneids, and most thought it was Sam. But to me, watching on TV, it was clearly aimed at the player.
I've said before that I've never seen a good player go so bad so fast, and I'm so frustrated with Schneids that I momentarily enjoyed the booing, but it wasn't right. I agree with those who say we shouldn't do that to anyone wearing blue, no matter how poor he's been.
Ian #43, Martina got cheered because he played a fine game. Townsend is their biggest threat in open space and Martina shut him down today, never gave him room to breathe, let alone create anything. And his cross to Oumar was inch-perfect. Like most here I consider Cuco a weak link, but credit where it's due, he never stops trying and today he largely succeeded.
Dave O'Connell
54
Posted 10/02/2018 at 22:27:11
So sam was surprised with the booing of Schneiderlin. Well I'm surprised he keeps getting picked. Fans pay the money they have a right to voice a opinion.

Let's face it, Schneiderlin has been a disgrace for us. Can't wait to see the back of him.
Phil Lewis
55
Posted 10/02/2018 at 22:32:06
I have been a big critic of Schneiderlin for some time and I've been on the receiving end of ridicule for my opinion of him, when others have sang his praises in the past. However, I was at the game today and was ashamed and horrified at the moronic, cowardly booing that the man received when he came on, before he had even touched the ball. And there were enough who joined in for it to be heard around the ground.
What did these low-lifes hope to achieve? I'm the first to say, his form has been abysmal, but what do you think such disgusting behaviour is going to do for the player's already low self esteem and confidence. Talk about kick a man when he's down! Wrong wrong wrong! No excuse! I can't recall ever witnessing the booing of one of our own in such a way and I have been an Evertonian longer than most on this site.
Every person who booed Schneiderlin today should be ashamed of themselves. It's scum behaviour. The real fans should now cheer the man, regardless of his performance, the next time he plays. If only to show the morons what it means to be an Evertonian.
Jer Kiernan
56
Posted 10/02/2018 at 22:34:01
Ian @43,
Your attitude will give you the mediocrity you deserve, Somebody mentioned rotten fruit earlier I had been calling for a good auld-fashinoned pelting of the team coach more that once this season.
Our club stinks right now an nobody sums it up better than that prick and Fat Sam also. Only the fans who attend matches can pressure the club and set what is acceptable, I have stated that after 30 years I will not watch this club next season if Fat Sam is manager.
John Mckay
58
Posted 10/02/2018 at 22:36:28
First decent performance I've seen all season in my opinion.
Pickford great in goal.
Defence looked solid, Martina chip in with an assist using his left peg or am I mistaken? decent again, especially the poor bugger being played left back when he a right back.
Kenny done well when he come on with good link up play with Walcott.
Midfield solid and Rooney didn't hack anyone's leg off this week.
Niasse what can I say I like him more each week, hounded their defence for the break for the first goal and took his goal really well, at last a bit of a focal point up front.
Can't believe all the negativity Big Sam is getting.
Koemen and Walsh have ruined this season, got slaughtered for it.
Our boy Unsworth come in and couldn't get the players motivated to play maybe it wasn't enough time or too much pressure to get results too quickly but was shit under Koemen and Unsworth.
Big Sam has come in got us a few wins, ok we've took a few heavy defeats as well but he has taken a team drained of confidence, nothing upfront and slow all around.
We played well against Leicester, terrible last week and good again this week which I said before 1 of our better performances in what has been a shit season.
If Pep Guidiola come in when we got Big Sam the performances would have been the same you can't get a team playing the way you want straight away not when they was in the condition they was in when Sam took over.
I agree he isn't a long term solution but FFS he here to do a job, we are a couple of points off 7th place where we finished last season and this season has truly been a disaster.
Onwards and upwards.
Neil Humphreys
59
Posted 10/02/2018 at 22:38:00
I was at the game. I booed him on and I'm not arsed what that makes me...
He doesn't give a shit, never tries, and his performance, like every other this season, shows what an empty shirt will do for us.
I hope I never have to do that again – it was a first for me, but the feeling all around was the same...
Andrew James
60
Posted 10/02/2018 at 22:40:40
I booed him. We didn't need him so my booing was for him and Sam. Niasse was knackered and needed help. We were 3-0 up. Bring on Calvert-Lewin, I say. But we bring on the trotting and timid highly paid poodle.
Stephen Williams
61
Posted 10/02/2018 at 22:48:15
It was clear that Gana had had a problem from 35 minutes in. If we hadn't been forced into two defensive subs by half time there's no way he would have come out second half.
He was playing almost on one leg as the second half progressed (and still did great which is why I made him my MotM). Therefore, having gone 3 up and with Rooney tiring, it made perfect sense to swap Gana out for Schneiderlin (the closest we had left for like-for-like).
The booing was solely for Schneiderlin and was absolutely disgraceful – you should never boo your own player and those that did embarrass themselves and the club – yet should be ashamed of themselves.
For the record, I believe:
- Schneiderlin has been terrible this season and wouldn't be near my team (I'd have Beni before him), and
- everyone on here should already know my pathological dislike of Fat Sam, who should never have been given the job.
But booing on your own player is beyond the pale.
John G Davies
62
Posted 10/02/2018 at 22:49:01
Booing?
I get the picture of Bonnie Langford every time I hear it.
Boo yah!
William Gall
63
Posted 10/02/2018 at 22:55:52
I don't like to hear Everton players being booed, but on the other hand supporters can only be patient for so long and maybe some of the booing was more for taking off Gueye, as this enabled Palace get back into the game.
Jason Heng
64
Posted 10/02/2018 at 23:00:36
@55 It is rude to boo but permissible to call others "low life?
Brian Williams
65
Posted 10/02/2018 at 23:04:29
That many snowflakes on here may need a sledge!
Chris Gould
66
Posted 10/02/2018 at 23:22:40
Booing your own player is daft. Schneiderlin has been dreadful but booing him could unsettle the whole team. Hearing your own fans booing your teammate is not going to fill you with confidence. It's likely to make everyone feel a little nervous and jittery.
It's the fans job to support and lift the players. The team is supposed to feel confident and comfortable when playing at home. If they start to get booed they'll dread stepping out in front of their own 'fans'.
Bloody daft behaviour.
John G Davies
67
Posted 10/02/2018 at 23:24:11
http://www.britishtheatreguide.info/news/bonnie-langford-2525
She might lend hers out Brian
😂
Si Cooper
68
Posted 10/02/2018 at 23:28:03
Maybe the booing will serve a purpose as it sounds like the manager hasn't identified any problems with the player who is presumably similarly unaware that he is perceived as a useless waste of space (at best) and actually detrimental to the performance of those around him (at worst).
The game was 'Game of the Day' and shown in full on Sky. The commentators were fully aware of the crowd's displeasure in the run up to Gana's substitution and even checked that the crowd applauded one player off before booing as Schneiderlin came onto the pitch.
Andy Walker (who I know very little of) said he had been booed by his own Celtic fans when he was perceived to be performing badly. He wasn't at all critical of the fans saying they just had expectations of what made someone worthy to wear the shirt which he said could be a 'heavy thing' at times. They did say the booing of Schneiderlin would be one of the things to quiz the manager about but any interviews on that subject weren't broadcast on the programme before they moved on to the Match Choice programme.
As it wasn't a live broadcast of the game I guess the commentary could have been revised. Andy Walker also seemed to be well clued up on the situation, saying Schneiderlin had been considered to be sub standard by Evertonians throughout most of this season. That makes him much more switched on than Big Sam apparently.
Very much in contrast was the BBC 5 Live broadcast which featured Pat Nevin. So boring did they make out the first half to be that I was amazed when I saw it on Sky. Nothing outstanding perhaps but a much more composed, controlled and very nearly effective performance from Everton.
Palace may have had their moments but they were very nearly starved of possession in that first 45. Pat Nevin used every opportunity to big up Big Sam, apparently not noticing that he had made unforced changes in formation and tactics against Arsenal.
My view of the game was that we could have made a breakthrough at pretty much any stage up until we actually did. According to Pat Nevin our attitude was ripe for the hairdryer treatment at half time and our dazzling start to the second half must have been due to Sam setting things straight at half time. It seems strange to me that Sam Allardyce hasn't said anything remotely like that.
I thought this was a decent overall performance against an admittedly very muted Crystal Palace team. Given our up and down performances it is difficult to say how much we may have benefited from their extensive injury list.
Not particularly surprised to see that the highlights screened on MotD gave the impression of a much more dour and far closer game than watching the whole thing, although the after-match discussion seemed a bit more in our favour even if Roy was given a chance to stress that they have players missing.
Mark Andrews
69
Posted 10/02/2018 at 23:33:27
I'm surprised he's surprised.
Keith Harrison
70
Posted 10/02/2018 at 23:46:47
I paid nearly £600 for my ST. £50 to £60 in diesel each match.
Didn't go today for various reasons, but I would have booed both Allardyce and Schneiderlin.
I paid my money and makes my choice. It is a terrible thing I agree, but these are terrible times, and us long suffering fans need to make our feelings felt.
The 15 live!
Si Cooper
71
Posted 10/02/2018 at 23:47:45
The most startling thing is the manager's surprise. Hopefully he and the player can go over a few tapes of games from when he first joined and compare and contrast them with the last 10 months or so.
I'd much rather the player regain his form and leave the club, at some stage, on much better terms with the supporters.
Not knocking Cuco (his attitude is faultless) but that is two headed goals from 2 crosses dinked in with his left peg. Imagine what it could be like if he was whipping in half a dozen or more each game? Not going to happen because he is not left-footed.
Dick Fearon
72
Posted 10/02/2018 at 23:58:20
I don't get all this sympathy for a bloke who already has made at least a million quid and not once put in a shift.
Colin Glassar
73
Posted 10/02/2018 at 00:00:25
I wasn't sure, initially, who was getting booed, Schneiderlin or Sam, it was only after watching the full game on the box that I realised it was Schneiderlin.
I don't agree with booing one of our own but in Morgan's case I can understand it. I hope it makes him wake up and smell the freshly made coffee.
Eddie Dunn
74
Posted 10/02/2018 at 00:11:10
In the past, players lived near the fans and would run the gauntlet every day out buying their daily paper. Even in recent times, players might bump into fans when out for a meal or a drink.
Today, these guys live in gated communities, or country mansions, and socialise in exclusive places that keep out the riff-raff (unless you are Barkley).
They are used to not putting in a shift with no come-backs. Therefore it is actually quite a wake-up call for them to see that there can be consequences for a lack of effort. Perhaps it will give them all a kick up the proverbial.
Nicholas Ryan
75
Posted 11/02/2018 at 00:11:15
Dear Morgan: Go home, sit down in a dark quiet room, and ponder, why you get booed, but Oumar Niasse, a player with one tenth of your natural talent, gets a standing ovation.
Lawrence Green
76
Posted 11/02/2018 at 00:15:50
Not at all in favour of any Everton player being booed by the crowd before he had touched the ball, but even less in favour of calling fellow supporters scum. Whoever posted that earlier should have a word with themself.

Andy Crooks
77
Posted 11/02/2018 at 00:20:26
Good point, Lawrence. I think booing has a negative effect but calling Evertonians scum because they might hurt the feelings of the appalling Schneiderlin is, in my view, pretty self-righteous.
Brian Wilkinson
78
Posted 11/02/2018 at 00:30:53
Chris @19, I would have put a training cone on before Schneiderlin and probably got more movement. I am all for supporting a player, but this guy does not give a rat's arse about our club. He should be nowhere near an Everton shirt again... makes Nyarko look like Pele.
Brian Wilkinson
79
Posted 11/02/2018 at 00:31:43
Nyarko even.
Declan Martin
80
Posted 11/02/2018 at 00:34:25
One of the most disappointing players we have ever signed.
I thought he was going to be good. He is actually a decent enough player, but his attitude is up his arse.
John Raftery
81
Posted 11/02/2018 at 00:43:11
Shocking, shameful and stupid. This season Schneiderlin has been our worst player in a highly competitive field for that title. But to boo him on to the field was just disgraceful. It had the effect of deflating our team and giving a shot in the arm to the opposition. It came from a sizeable minority of supporters who should hang their heads in shame.
The last time I heard a home player booed so loudly at Goodison was in 1967 before a game against Leeds when Derek Temple was on the receiving end when his name was announced before the kick-off.
Clive Mitchell
83
Posted 11/02/2018 at 01:07:35
There wasn't the slightest doubt in the Lower Bullens that the booing was all for Schneiderlin, and a clear consensus that those booing were telling the club he has to go – it's not about 'can he do a job for us', it's about the fans simply not having someone whose effort has been shameful all season.
James Flynn
84
Posted 11/02/2018 at 01:12:22
Still remains, Barry out – Schneiderlin in.
A huge drop off.
Eric Myles
85
Posted 11/02/2018 at 01:14:51
Si (#68), those commentators also made the point that it was not just a few fans in an isolated section of the ground. The boos rang out from around the ground both when Schneiderlin was warming up and when his name was announced.
Phil Sammon
86
Posted 11/02/2018 at 01:30:00
To those admonishing the booers... how else are the fans heard?
Writing on forums clearly doesn't count for much. Allardyce had no idea there was even a problem until this weekend.
Soren Moyer
87
Posted 11/02/2018 at 01:35:10
Someone should have told fat Sam that the boos where for him too!!! Oh my word! Did we hurt their feelings with that? Poor chaps!
Patrick Pulis
88
Posted 11/02/2018 at 01:36:13
I remember Anichebe getting booed at Goodison when there were murmurs that he turned down a new contract (which true or not, he did eventually sign).
Which brings me to the question (a bit off topic), will Barkley get booed when he comes back to Goodison as a visitor, and if he doesn't, what's so different?
With Anichebe, he at least eventually signed the contract; Barkley did actually turn down a lucrative contract with us and caused us to lose quite a bit of money.
Henry Lloyd
89
Posted 11/02/2018 at 02:00:40
I am glad that the booing incident has drawn so many comments. An extremely poor player was shown how Evertonians feel about him. Real Evertonians who are sat watching the match at Goodison!!
What is wrong with that?? How else are we going to get our views across...? Moaning on this site and talking shit will not cut it!
Ed Prytherch
90
Posted 11/02/2018 at 02:01:15
Sam is so stubborn and arrogant that he may pick Schneiderlin just to piss off the fans.
John Pierce
91
Posted 11/02/2018 at 02:06:51
Phil (#86), I agree with your observation. There's some interesting moral advice being meted out tonight. The paradox is interesting.
Some booing at the game is beyond the pale, yet pointed insults to the many on this thread who don't agree is fair dos?
We are all to some extent hypocrites, and the interesting notion that this type behaviour didn't exist before social media and 24-hour news came about is ignoring the past.
Moreover, the social code around match-goers has dramatically changed and is evolving season to season. That shouldn't be dismissed.
The complete disconnect between fans and the players has never been bigger; unable to bump into them locally, a well aimed boo is nothing to handle.
To suggest it affects the players might be true, we don't know, but then doesn't that itself validate the booing? If the mental fortitude isn't there and they are not focusing on the game, then perhaps they aren't right for Everton?
Drew O'Neall
92
Posted 11/02/2018 at 02:08:03
I think Sam might be starting to lose his faculties, especially if he wasn't aware of the Schneiderlin issue. He's still got enough to react to defend himself interviews but he isn't anywhere near as bullish and imposing as he used to be. Perhaps we got Sam when he was just over the hill.
Steve Brown
93
Posted 11/02/2018 at 02:52:12
Allardyce may be a crap manager but he knows the score. He put Schneiderlin on as a big "screw you" to the fans, leaving the player out to dry.
He is as canny as he is incompetent, he knows exactly what he is doing when he feigns ignorance, blames the players or derides fans – and by the way, there are plenty more than 15 who think he is useless.
David Currie
95
Posted 11/02/2018 at 03:53:27
The reason for the Schneiderlin booing is justified.
Our fans can forgive poor performances, but here is a player who does not give 100%, is so lazy, does not show any desire and obviously does not give a fuck about our club. He has had enough chances to turn it around; Klaassen and Sandro always tried hard to impress.
For god's sake, Allardyce, keep him out of the squad – he doesn't want to play for us.
David Barks
96
Posted 11/02/2018 at 04:03:11
Tony Hill,
When you say all these ingeniously offensive victories, are you implying that there have been many victories? 2 wins out of the last 10 matches, with one of the worst beatings witnessed in modern times at Everton just a week ago. Those 2 wins being aided by a missing Mahrez at Leicester and 9 senior players missing for Palace, including their best player Zaha.
All these victories. Yes, that's it. We all want the victories to stop. Or maybe, we don't accept being down 4-0 to Arsenal after 30 minutes, and only winning 1 of 9 before today? No, that can't be it can it?
Jamie Crowley
97
Posted 11/02/2018 at 06:16:21
I can't take the temperature of the crowd being 9,000 or so miles away. But, even with that distance, I think I can safely say:-
In my decade of long-distance support, I have seen Everton fans embrace some pretty shit footballers because they bled blue and gave 100%: Straq, Hibbo et al.
Evertonians are very discerning, but very fair. They'll back just about any player who puts in a shift. However...
When a player simply gives up and stops giving his all for the team? It's not tolerated.
When you see a man coming on the pitch who hasn't been 100% committed, and that substitution is made by a manager the majority of fans do not like, you get what happened today.
Booing any Everton player isn't anything I condone or want to see, but I'd argue in this instance it's entirely understandable.
Sam, not ever giving a shit what Evertonians think, will start him next game. And the frustration will grow.
The manager and Schneiderlin are a duo of grief and frustration. The sooner they both leave, the better off we will be. Whether that's fair or not I'd argue doesn't matter. That's the reality in an incredibly frustrating season – frustration brought about in no small way by Schneiderlin and Allardyce.
And that duo together in one action of a substitution created a spontaneous emotional response – a negative one that has been brewing for a while.
At what point do you stop the happy-clapping and say "enough is enough"? Probably about the time a manager who throws away games against "superior" opposition and plays an awful brand of football subs in a player who just can't be bothered – all the while watching a £27 million striker get splinters in his ass.
I think the match-going fans have shown sublime restraint up to this point. Same fans who would back a donkey in a blue shirt if he ran his nuts off for the cause.
Brian Porter
98
Posted 11/02/2018 at 07:08:34
To say he's surprised shows how much and how far Allardyce is out of touch with the fans and with the general 'pulse' of supporters feelings. Enough has been written about Schneiderlin in the press, but I suppose he never reads press reports either. Bad move, Sam. You are only serving to increase the gulf between you and the fanbase.
Peter Barry
99
Posted 11/02/2018 at 07:27:10
So Allardyce is 'surprised' by the Boos for a rubbish player? Well all that shows is just how out-of-touch the Everton hierarchy are with the feelings of the average supporter.

Neil Cremin
100
Posted 11/02/2018 at 08:03:22
In summary, we let ourselves down badly by booing our own player but some of the threads here have short memories. Macca was booed when he came on to replace Rooney vs Man Utd and then went on to silence the boo-boys by putting in the only real fighting performance on the pitch.
I was appalled that Sam would put on Schneiderlin for the following reasons:
1. Unless he is living on the moon, he knew that it would not be a popular substitution and as said on the live thread at the time that he had no regard for the player by exposing him to potential ridicule.
2. I would have expected that Tosun would have got a run to see what he could do with a team which created chances.
But if Gana was crocked, what were his options. Replace with Bolasie, Calvert-Lewin, Tosun, what would have happened if we had conceded two late goals (like in Martinez days) because he played to the crowd. Then the boo boys would be on here moaning about the substitutions.
Unfortunately, he had no option. Still does not get away from the fact that we won another game when Schneiderlin was not playing.
Baningime may be the better option as sub in future as Schneiderlin has no future at the club.
James Kenny
101
Posted 11/02/2018 at 08:03:49
Never nice to boo one of our own but what else is there to do when Arrogant Fat Sam isn't aware of the fans' feelings but worse can't see that neither Schneiderlin nor Williams are giving 100%. Worse still Holgate and Baningime are sitting in the stand.
Holgate may be young and inexperienced but he's the best defender at the club. Whilst Baningime has the legs and enthusiasm that Schneiderlin does not. Guys, let's forget Klaassen – he simply is too slow and lightweight. The big crime though from Arrogant Fat Sam is losing Lookman.
John Charles
102
Posted 11/02/2018 at 08:20:33
If only Fat Sam had another option. Like dropping Tom Davies back a bit and giving Tosun a run out. Or dropping Tom back, moving Sigurdsson inside and using the speed of Bolasie to stretch a poor defense.
But we were only 3-0 up at home against a very poor side, we can't expect him to do anything else but to cling on. Whilst I have heard boos at the ground before today, that was the most widespread aimed at one particular player.
Vinny Garstrokes
103
Posted 11/02/2018 at 09:01:10
Absolutely no class from the Manager – even trying to take credit for the West Ham result on MotD.
Neil Cremin
104
Posted 11/02/2018 at 09:01:23
James,
I don't agree on Klaassen. I'd like to see him in a more settled set-up not in the chaos of Koeman's teams. Is he any slower than Rooney, Sigurdsson or Schneiderlin?
We have a lot of players who need to be properly evaluated before we write them off.

Mike Connolly
105
Posted 11/02/2018 at 09:05:37
Sam is so out of touch, he was surprised by the reaction to Schneiderlin... and there lies the problem. Everyone for weeks could see he was not trying, looks like Sam didn't.
Some of Sam's selection have been woeful but he cannot see it. Get safe and then get rid in the summer.
Liam Reilly
106
Posted 11/02/2018 at 09:09:48
Booing our own players is disgraceful.
Schneiderlin didn't pick himself, but It's Allardyce's arrogance that confuses me. How can he not be aware of the ill-feeling in the terraces regarding Schneiderlin? But it his continued use of this lad and Gana in the same side that's led to this.
Tony Abrahams
107
Posted 11/02/2018 at 09:13:35
Phil@55, if you want to cheer Schneiderlin because of the moronic way you felt he was booed, then that's up to you, mate, but don't expect me to join you though because I'm afraid that won't be happening.
Read Mike Gaynes, and what he says about Martina, a kid who most don't feel is good enough, and some feel is part of the problem left by Ronald Koeman. Sometimes inside the stadium, you can feel the crowd don't like him, but he's winning people over because "he's trying"
Schneiderlin is earning a fortune, and he's simply not trying. I've been going to Goodison for 42 years now and never heard this before, which tells me everything I need to know about this player. They say there is no hiding place on a football pitch, and Morgan Schneiderlin found this out yesterday afternoon.
I didn't boo, but I definitely won't be cheering him though, well not until he starts putting in the required effort anyway.
Keith Harrison
108
Posted 11/02/2018 at 09:13:51
There's nothing like 15 boos to polarise opinion, eh? I would guess that 95% of the posters on here think Schneiderlin should never wear the shirt again, it is just the boos that have led to the usual bunfight on here amongst us.
If they serve to galvanise the team, or put the proverbial rocket up Morgan's arse, they will have done well. The lad was a player in his first 6 weeks here, a breath of fresh air, but has gone inexorably downhill since. I don't know if his marriage is any co-incidence (I assume a few lads on here will be nodding sagely), but in my opinion, he has traversed beyond redemption now.
On a slightly different tack, I watched the game in full last night, and alarm bells ring for me when the ball is in the air in our box, as Pickford dropped yet another routine catch. There are quite a number of instances of this happening this season that I recall. He's an excellent shot-stopper but this is definitely a chink in his armour for me.
He is, however, just a young lad still, so it may be ironed out in time. He did though, seem to have a slight tweak in his right hamstring in the 2nd half, and I hope it's nothing serious as Joel has had no match experience to speak of this season.

Ajay Gopal
109
Posted 11/02/2018 at 09:14:46
I didn't hear any boos when the equally unpopular Williams came on to substitute Mangala, or when Kenny was announced to substitute the very popular Coleman. The boos were directed clearly not for Schneiderlin's perceived lack of ability, but for his lack of effort.
Colin Glassar
110
Posted 11/02/2018 at 09:15:54
Booing Kenwright the next time his fat, ugly gob appears on the big screen might just have the desired effect. The flotsam has to go.
Steve Brown
111
Posted 11/02/2018 at 09:26:46
If this is the first sign that Everton fans are not going to put up with the crap we've endured any longer, then I can live with an upset, spineless, lazy multi-millionaire.
Ian Hollingworth
112
Posted 11/02/2018 at 09:28:12
So Sam is surprised at the reaction, that kind of says it all for me.
Morgan can be a fine player which makes the situation even worse as he clearly has not been trying for us.
We can all morally object to booing an Everton player entering the field of play but where have his morals been picking up a fat salary and not giving a toss about the effort he puts in whilst wearing the shirt of our beloved club???
In short, don't waste your time feeling sorry for the guy.
Danny Baily
113
Posted 11/02/2018 at 09:37:32
Keith (#108), couldn't agree more about Pickford, some parts of his game need work.
I would have loved the new manager to come in and establish real competition for the No 1 slot, either with Joel or a new signing.
Regarding Morgan, no doubt he'll be off this summer for a fraction of what we payed for him. Fair enough, lesson in why not to buy overjoyed shite at over-inflated prices.
Brian Williams
114
Posted 11/02/2018 at 09:47:25
For the people who consider booing a player (that's who I believe was getting booed) an outrage, disgusting, or whatever else has been said. Is booing not merely the supporters voicing their feelings, the same as clapping or cheering?
Do these same people think it's an outrage when our supporters boo an opposition player who's dived for a penalty, previously injured one of our players, or cheated somehow? Or booing the ref for having a bad game?
It seems that we are only supposed to voice positive feelings and to behave in an exemplary manner in case someone gets upset, or someone thinks bad of us.
I didn't boo Schneiderlin. Personally I think it might be counter-productive when he's about to come on as a sub.
But to those who booed him because they felt that he's not putting any effort into earning his £100k a week, and those who spent plenty of money to travel to Arsenal and watch him "stroll around doing sod all" (I'm going by reports here as I couldn't watch after 2-0) and those who have seen him on more than one occasion shit out of 50/50's (I have), I would say to those people, feel free to voice your opinion, feel free to show your displeasure if it's warranted.
When people are being castigated and called all sorts by fellow Evertonians for doing that, then we're on the slippery slope to a sanitized world where negativity is banned and voicing a negative opinion is ridiculed because you're only allowed to be positive and upbeat, or silent!
An excerpt from Article 10: The right to free expression would be meaningless if it only protected certain types of expression. So Article 10 protects both popular and unpopular expression – including speech that might shock others – subject to certain limitations.
Dale Rose
115
Posted 11/02/2018 at 11:15:35
Glad to see Martina coming good. Things are coming together which is a good sign. I don't think any of us know what has been going on behind the scenes at the club. Whatever it is has been toxic.
Let's just move along to next season and see what emerges. Schneiderlin has been appalling all season. I don't hold with booing but it has to said – there's been no effort from him at all... but, there again, Jose wouldn't have got rid had he been any good.
Jimmy Hogan
116
Posted 11/02/2018 at 11:18:39
Off topic, but this is dynamite https://twitter.com/thejeremyvine/status/962484770906230784
John Graham
117
Posted 11/02/2018 at 11:34:51
No player should be booed by his own fans before coming on. That was a disgrace and they should all feel ashamed. While he wears the blue shirt, he deserves our full support before coming onto the pitch.
How do people think we are going to get the best out of him if he doesn't feel he has our support? It's no wonder our players struggle sometimes and don't play to their full potential, when they are scared if they make a mistake the fans will turn against them.
Support your team. Support the players. Support the manager.

Eddie Dunn
118
Posted 11/02/2018 at 11:35:36
Jimmy, that is fecking brilliant! If only there were more interviews on MotD like that!
Rob Baker
119
Posted 11/02/2018 at 11:47:53
I'm surprised no-one has picked up on this part of Sam's BS "He's a very important part of the squad this year". It's the words 'very important' that trouble me. How so? Explain, Sam.
Anton Walsh
120
Posted 11/02/2018 at 11:53:14
Not very nice. Airing our laundry in public is not good. He obviously has something as when he first came and playing with some different players and system he was good. Combination of bad man management resulting in lack of will and confidence.
On the flip side, once safe, I think we'll see more of him and other non-deserving players as they need to go in the next transfer window.
Jer Kiernan
121
Posted 11/02/2018 at 11:57:13
There is a direct correlation between not booing the likes of Kenwright and Schneiderlin and the mediocrity that our club has endured for what, now 30 years.
So be nice all you like but be assured the powers that be are only too happy to serve up more mundane shite as long as we/you are silent on the subject.
I cannot believe some of the terminology used on here to describe the "booers" like "disgraceful behaviour" – even "low lives"!?? What??! and I get censored for telling these snowflakes to get a life... Shocking!!!
We have only ourselves to blame – the other side of Stanley Park would have petitions, protests, a walkout...
Simple: "Why strive for quality when they are happy to accept shite?"
To the snowflakes, you have very much reaped what you have sown.
Phil Lewis
122
Posted 11/02/2018 at 11:57:58
Brian (#114).
I believe you are playing the 'Devils Advocate'. Of course players are booed for bad tackles, refs for bad decisions, even managers for poor substitutions. This type of booing is accepted practice, for fans, players, refs and managers alike. You know that as well as I do.
But what Schneiderlin suffered was something entirely different and new. It was cynical and nasty. My comments earlier were deliberately harsh in an attempt to highlight the wrong in this behavior and nip it in the bud, as sadly, it can all to soon set a precedent and become accepted, if we are not vigilant.
Many fans are like sheep, they will give undue praise for certain players who clearly don't warrant it – Barkley a prime example. Yet when mob rule mentality kicks in, the same 'fans' are only too eager to attack a player out of form, simply because 'everybody else does'.
I personally wouldn't class Schneiderlin as lazy. For a long time, I have observed him to be a 'ball-watcher', with very poor positional sense. He covers a lot of ground, but it is usually running in the wrong direction. His sideways and backwards passing, suggests to me a slow thinker, with a lack of vision.
I am not going to boo the man because of these deficiencies, because I firmly believe he is capable of no better. Not for lack of effort. He should have been sold in January, perhaps he will go in the Summer.
I hope he finds better form and proves me wrong. Allardyce was wrong to even have him on the bench on Saturday, let alone bring him on after recent performances. But I wholeheartedly confirm that those misguided 'fans' who booed him, were far more guilty.
Booing can sometimes be justified, but never for our substitute, yet to kick the ball, coming on to the field.
Martin Nicholls
123
Posted 11/02/2018 at 12:10:31
Phil Lewis (#55) – an appalling post. Jason (#64) rightly, but briefly calls you out on it.
You have called a sizeable number of your fellow Evertonians "moronic, cowardly, low-life and scum" – if that's not an offensive post, I don't know what is and I only hope that the moderators not removing it and you from this site is an oversight on their part.
You're just as entitled to voice your opinion as a sizeable number at Goodison Park yesterday, Phil – you're not entitled to verbally abuse those with whom you disagree. If I were you, I'd withdraw those comments now.
There are clearly mixed views as to exactly who or what the boos were directed at yesterday – for the record, I was in GS4 and my feeling is that most were booing Allardyce's decision to bring Schneiderlin on rather than booing Schneiderlin himself.
What irritates me more is the individual on Row K who, by the 7th minute of his comeback game, was screaming at Bolasie, "Fuck off, you lazy cunt!" and yesterday lambasted the limited but committed Cuco Martina similarly throughout the game.
Dave Speed
124
Posted 11/02/2018 at 12:16:41
I could never boo an Everton player. There are other ways to do things. The fragile confidence of the team could have been shattered. Imagine a player thinking "What if I make a mistake, will they boo me?" I wonder if it's coincidence that we were under the cosh a bit after the substitution.
It could be argued that Morgan being there screws up the dynamics, or does the manager wanting to shore things up show that he is not confident in them holding on by putting on Tosun? Perhaps the substitution contributed to the Palace goal? Who knows?
Personally, I thought it was a missed opportunity to reduce our negative goal difference, which could prove crucial if we want to get a Europa spot in 7th place. We could have brought on Tosun and put Sigurdsson in just behind a front 2, with Walcott delivering from the flank.
I doubt that we would have thrown it away, as the Palace defence would have been too over-occupied to attack in numbers like they did late on. At worst I believe that it would have been no worse than the 3-1 that it was, with the bonus that Tosun would have been given some match minutes to acclimatise. And it could have been better if we had got the last goal instead of Palace.
Andrew James
125
Posted 11/02/2018 at 12:23:33
I find it difficult to dislike Martina when he's playing out of position. Everything he does going forward deserves applause.
Williams looks like a man not enjoying his game but he does try. I thought he did well yesterday.
I'd applaud Schneiderlin if Everton FC were in a Dressage competition. But we're not. We play football where contact and urgency are required. I see none of this from him.
Jay Woods
[LAT]
126
Posted 11/02/2018 at 12:39:24
Martin Nicholls, I don't want the moderators to remove his insulting post – it dangles there like a fetid dangling thing for all to see. I personally can take it, I'm not a snowflake and I know most of the rest of us can too.
Schneiderlin would have seen his transfer from Man Utd to us as a backwards step, which may explain his going through the motions. Maybe now he will understand the fury directed at his apathy and unwillingness to seek a forward pass.
And who knows, being newly married, he may be distracted behind the scenes as well. His wife, if she has any sense, should be telling him to not lose sight of why he is so well paid.
John G Davies
127
Posted 11/02/2018 at 12:39:29
I don't consider anyone who boos at a game scum, cowardly, moronic etc.
I just consider the sight of an adult man booing laughable. Even a touch effeminate.
Phil Lewis
128
Posted 11/02/2018 at 12:42:41
Martin (#123). I have explained my deliberate attempt, using harsh terms, in my most recent post. I used those words to get a reaction. It obviously worked. Yes, I am angry with the 'Boo-Boys'. (I call them boys because it wasn't a very manly thing to do in this instance.) I actually later conceded to refer to them as misguided.
You in fact, have unwittingly proved my point, with that moronic individual's abuse of Bolasie, who wasn't even on the pitch, and Martina, who actually had a decent game, playing as usual out of position.
This modern term 'Snowflake' amuses me. I can 'eff and blind with the best of them and boo when I see fit. It doesn't make me any tougher. Constructive criticism wins hands down every time. My harsh words previously achieved their objective. They at least drew your attention!
My apologies go only to my fellow Evertonians who thought that the booing of our substitute was unnecessary and wrong. I meant you no offence.
Jer Kiernan
129
Posted 11/02/2018 at 12:52:10
@Phil Lewis.... Laughable :)
"This modern term 'Snowflake' amuses me. I can 'eff and blind with the best of them and boo when I see fit. I doesn't make me any tougher. Constructive criticism wins hands down every time."
Constructive criticism to who? You going to write a letter to Morgan Schneiderlin to discuss his apparent apathy and laziness? Look in the empty trophy cabinet and look at yourself. If you are saying that some fans are mistaken in seeing this guy's unwillingness to put in any kind of effort, you are wrong
This guy gives not one fuck about this club or its fans for that matter – it is obvious – and he seems oblivious to the fact, so there is only one way I can think of to let him know we see through it.
John 1@27
"I just consider the sight of an adult man booing laughable. Even a touch effeminate." Nice try but you are just lowering the standards to try to make your point; pitiful.
Ray Robinson
130
Posted 11/02/2018 at 12:52:37
I don't care much at all for our manager and I think Schneiderlin has been utterly useless this year but in the absence of another midfielder (why wasn't Baningime on the bench?), I didn't actually disagree too much with the substitution. Gana had been struggling for some while pulling up sharply when facing the Bullens Road – clearly injured. 3-1 up with Palace throwing everything at us was not the time to throw Tosun up front.
Martinez got absolutely slaughtered for bringing an extra forward on a couple of seasons ago with the score 2-0 to us but when West Ham were throwing the kitchen sink at us – and guess what happened? we lost 3-2.
Like others, I am surprised that Allardyce didn't appreciate the strength of feeling against Schneiderlin at the moment. It really does show how out of touch he is with what the supporters are thinking.
The booing (from the Park End at least) was definitely directed towards Schneiderlin not Allardyce. Of course, if you've got another agenda to follow, then it was obviously directed at Allardyce.
Jamie Evans
131
Posted 11/02/2018 at 12:57:29
Regardless of which camp you are in, to boo or not to boo, fans of other clubs are buzzing off us this morning.
That doesn't bother me personally but what do other posters think?
Are we being seen as passionate fans having our say for all to see and hear – or actually, was the booing yesterday a touch on the wool side?
Discuss.
David Connor
132
Posted 11/02/2018 at 13:03:11
As many people have said before me, it's obvious Schneiderlin doesn't give a shit about our great club so tell him to get ready to pack his bags at the end of this shitty season as he is no longer welcome here.
As for Fat Sam not being aware of the fans' feeling towards Schneiderlin, I for one don't believe him. Anyone with half a brain would know we can't stand the player. He is everything I hate with most of these arrogant overpaid powder puffs. The sooner they are both shipped out, the better for all concerned. Two frauds of the highest callibre.
Phil Lewis
133
Posted 11/02/2018 at 13:06:05
Jer (#129),
Glad I gave you a laugh.
My comments regarding Schneiderlin, as I have already stated many times, were borne of observations I made of him. Even at a time when everybody thought he was playing well, I couldn't see it then and can't now. I based my conclusions solely on what was apparent to me on the pitch.
For you to suggest that his mental state is obvious regarding our club and it's fans, I must assume that you know the man personally.
Peter Lee
134
Posted 11/02/2018 at 13:17:50
He has stunk the henhouse out for over twelve months. Allardyce says he's an important part of the squad "this year". True because we've nobody else. Like it or not, we need him.
That said, whether we need him or not, I can't abide booing the team much less an individual in a blue shirt. Nobody gets better through getting that kind if abuse. If you did it or you were in agreement with it, you are a disgrace to the club and you are at best an "I pay my money I can do what I like" shithouse. Call yourself a spectator or customer or whatever but don't insult the rest of us by calling yourself a supporter.
Jer Kiernan
135
Posted 11/02/2018 at 13:23:07
@Phil
I don't know what sport you follow but after playing and watching for 30+ years, somebody jogging about the pitch and tracking back without any apparent effort who gives not a fuck! His attitude is apparent in how he plays. I don't need to know the clown personally. I have higher standards of whom I associate with, thanks.
Busting a gut to get back to block a shot and having your leg broke, a la McCarthy, is giving a fuck. Running fast does indicate you care about the result and gives you more chance of getting a block in. Simple mathematics.
I have lost count the number of the times he has been swanning across our midfield, not to mention curling up in a ball when the opponent's shot looks like making contact with him,
He doesn't give a flying fuck and the only way for the paying fans to show their disapproval with this and the thousand other things wrong with our club is to boo (childish or not). I doubt any of the parties concerned – Kenwright, Schneiderlin, Moshiri – read these blogs
"Constructive criticism" gets you 30 years of mediocrity and beside will most likely be drowned out in a large stadium so is impractical.
From my perspective, it's about time the EFC fans got angry and those who are happy to endure embarrassment and mediocrity have had their time and should shut the fuck up!

Phil Lewis
136
Posted 11/02/2018 at 13:25:15
Peter #134
Amen to that.
Brent Stephens
137
Posted 11/02/2018 at 13:36:51
Any booing while a game is in progress risks having a negative impact on the guys on the pitch and so the result of the game. Dangerous territory. If you think we can afford to lose games at the moment, then you make your choice with that in mind.
John Keating
139
Posted 11/02/2018 at 13:45:12
Phil 55 – an absolute disgraceful post.
So it's wrong to boo a player who doesn't break sweat for the shirt but it's okay to call the paying fan a low life moron ?
If you thought it was wrong to boo Schneiderlin just say so. You crossed the line far more than they did.
I didn't boo Schneiderlin yesterday but there were loads around me who did – as is their right as regular matchgoers some of years standing.
I know a lot of the lads who did vent their feelings against Schneiderlin, some of them like me have been going since the late 50s and early 60s. It is up to them to decide what they want to do.
I wold have loved you to be near me yesterday and called the lads morons and low life's I can guarantee you Phil you would not have been able to write that despicable post last night.
Disgraceful.
Paul Hughes
140
Posted 11/02/2018 at 13:47:07
Schneiderlin has given the impression of not caring this season. For an international player his performances have been utterly unacceptable, the worst of a pretty bad bunch of similarly decorated players in the squad this season.
The booing – which in my opinion was largely directed at the player, who has alienated himself from a significant proportion of the crowd for reasons explained by others in this thread – was not mentioned at all on MotD, but was on the Sky highlights coverage.
The Sky summariser was Andy Walker (ex Bolton and Celtic), and was asked if he'd ever been booed. Interestingly he said that he had been, in his Celtic days, and that, while unpleasant, it just spurred him on to prove the fans wrong.
Another interesting point that I noticed yesterday, was the crowd reaction (or lack of it) to the warming up subs in the first half. Schneiderlin, Williams and Bolasie went for a trot along the touchline towards the Gwladys Street end. No applause for them, nobody standing up in the corners to cheer them as invariably happens when a sub appears. It wasn't as if there was any distraction on the pitch in the first half either. They were just ignored.
This underachieving bunch have a lot to do to win back any affection.
Eddie Dunn
141
Posted 11/02/2018 at 13:47:24
Letting your feelings known to a player is common at all grounds. Personally, I don't like people slagging individuals off when it is not warranted, and there is nothing worse than the sort of prat that Martin Nicholls (#123) describes.
Individual comments tend to get lost on the wind, unless you are pitchside and players have learnt to ignore the majority of them.
I enjoyed Cantona's retribution on that Palace fan back in the day, and at the time the arguments raged about the rights of fans to abuse well-paid footballers. However, the "boo" is different because people join in on them and they become a bigger thing and therefore everyone hears them.
I have absolutely no problem with our fans booing Schneiderlin. It was a little embarrassing for him, but perhaps it will help to focus him on his commitment.
It has certainly got the attention of our manager who claimed to have been shocked. He is either lying or completely out of touch with reality. I am sure a good percentage of the boos were also for what was read as a defensive substitution.
it will be interesting if Sam continues to pick him, or if his effort increases. We shall see.
Neil Cremin
142
Posted 11/02/2018 at 13:48:41
Keith, Danny,
I have been saying this for some time and each time I question his glorification on these threads I nearly get devoured. A very good reactive shop stopper he is but he:
1. Does not hold the ball usually needs a second chance to collect.
2. Often parries hot shots back into play instead of out for a corner.
3. Is woeful in distribution on kick out.
And I have no evidence of this but suspect that he is a poor organiser of his defence infront of him which means that they are all working on instinct rather than a cohesive unit. He is no Southall or Shmeichel (Peter) – maybe has the potential but the constant exempting him from the team's poor performance make no sense to me.
Phil Walling
143
Posted 11/02/2018 at 13:52:52
Guess you'll be booing the kid at the next game then, Neil ?
Paul Kelly
144
Posted 11/02/2018 at 13:54:55
For those who feel guilty or don't condone booing poor little Schneiderlin, all I will say is, instead of the booing, we should've thrown spears or sacks of piss at him.
I might invade the pitch and see if he'll swap my 'Nyarko' shirt with his.
Brian Hennessy
145
Posted 11/02/2018 at 13:56:33
Given his performances over the last 12 months, I think any Everton fan who paid their hard earned cash to go to the game yesterday was well within their rights to boo him.
We can tolerate players with limited talent, but I have never seen a player with the significant talent he has, show so little effort over such a long period of time.
The biggest surprise, and what probably drove the fans to breaking point yesterday, was that first Koeman and now Allardyce continue to pick this player despite his terrible performances.
Klaassen, Lookman, Vlasic, Sandro have all been cast aside without been given half the opportunities Schneiderlin has.
I hope Morgan gets the message that he is no longer wanted here and tells his agent to find him a new club where he can continue to take home huge wages without breaking sweat.
Phil Lewis
146
Posted 11/02/2018 at 13:58:40
Jer (#135),
'Running fast does indicate you care about the result." I would agree with you, at least in the case of Usain Bolt. May I suggest however, that where football is concerned, that timing is of the essence. I reiterate, the timing of the boos aimed at Schneiderlin were unproductive and cowardly.
I get frustrated with inept performance and lack of effort. I get angry at the manager's decisions. I feel that you and others are missing the point here.
During the course of a game, it's perfectly right to let players know if they are under performing or showing a lack of effort. But once the final whistle goes, that game is over. Every player should then go away, work out where he went wrong and put it right in training. He gets the opportunity to improve his performance in his next match, whenever that may be. Not to be castigated or in this case booed because of previous games, before he has even touched the ball. That is bang out of order!
Paul Tran
147
Posted 11/02/2018 at 13:58:48
Clear to me that Allardyce rates Schneiderlin and is trying to play him back into form. An uphill battle for manager and player.
I wonder what's happened behind the scenes with Morgan? Against a poor side, we looked better with Gana on his own.
Neil Cremin
149
Posted 11/02/2018 at 14:02:17
Phil,
If you read my posts earlier am no Schneiderlin fan and do not see any place for him in our squad not to mind the team but I am not a boo boy.
As stated earlier this season of frustration has seen a lot of players exposed for what they are and others formally vilified recognised for putting in the effort.
Cuco always put in a hell of a shift even though he is constantly being played out of position but up until the last few weeks has been vilified here.
Macca was booed when he came on for Rooney against Man Utd and started to get us back into the game with a few uncompromising crunching tackles eventually breaking a leg to stop a shot on goal.
Team formation and cohesion is what we need and I believe there are enough of players in the squad to comfortably climb the table. The manager's job is to find the combination but I don't think Big Sam is the man.
Darren Hind
150
Posted 11/02/2018 at 14:06:54
Pickford is an outstanding young goalkeeper, I'd go as far as to say he is already as good as I've seen when forwards go low and around his feet.
He does have a problem with long range efforts, especially those going over either shoulder, but this is all to do with not moving his feet quickly enough. A good coach will iron this out of him.
He does spill the occasional cross and he's not the finished article, but how many are at his age?
He is already one of the top goalies. I expect him to be generally regarded as the best in 2-3 years.

Paul Kelly
151
Posted 11/02/2018 at 14:08:48
Phil Lewis, "He gets the opportunity to improve his performance in his next match, whenever that may be. Not to be castigated or in this case booed because of previous games, before he has even touched the ball."
How long do we have to wait? He's had months to improve his performance. He don't give a flying fuck! As you said he does have the chance to improve his performance, but he hasn't!!! Fuck him, our club deserves better.
Jer Kiernan
152
Posted 11/02/2018 at 14:13:58
@Phil 145 That's were we differ:
" During the course of a game its perfectly right to let players know if they are under performing or showing a lack of effort. But once the final whistle goes, that game is over. Every player should then go away, work out where he went wrong and put it right in training. He gets the opportunity to improve his performance in his next match." – Says who?
He has had more opportunities than half the squad and it is obvious he doesn't give a flying fuck, If you cannot see that I don't know what to make of it And yet again here we are with "lets see how he does next game"? Loser mentality
This is the attitude that has festered at this club for 30 years. "Nothing but the best" – my arse... As I said, you don't want to boo, that's fine but expect the same mundane shite and embarrassment that has plagued this club for 30 years.
And I believe it is also very productive if it gets this guy dropped as the stats will show we are a better side without him.
And there is more than a hint of hypocrisy from you. I don't know how your mind works when you're insulting your fellow fans for boo-ing a multi millionaire who is robbing the club blind "low-lives" – For shame, you owe an apology if you're man enough
As I said Look at yourself and look at the empty trophy cabinet. 'Nil satis' should maybe be changed to "more of the same please"!
Kevin Tully
153
Posted 11/02/2018 at 14:18:01
I'm a firm believer that it's up to the fans to hold the players, manager and custodians to the high standards that befits a club of our size and history. Whether that's leaving the ground early, booing, not renewing season tickets, or flying planes over Goodison Park. If you pull on that shirt, you should be left in no doubt what is expected in terms of effort.
This isn't an amateur game, the players are among the highest paid sportsmen in the world. I'm not a shouter or screamer when I watch the footy, but what gives the right for anyone to tell people how to express their dissatisfaction when they are clearly being short-changed?
Some people boo to get their point across. You would think he had been assaulted by some of the reaction on here. Get over yourselves, and save your self-righteousness for something more deserving. There's plenty to choose from at Everton.
Phil Walling
154
Posted 11/02/2018 at 14:19:51
After just two more victories, Allardyce will be proclaimed our saviour and a big fat cheque will find its way into his already over-flowing bank account.
I wonder how many on here will then cheer the success of his mission and call for a revision of his contract to provide him with security into his old age?
Just asking, like!
Phil Lewis
155
Posted 11/02/2018 at 14:26:11
Paul (#151),
Let's get this straight. I am as much in agreement as everybody regarding Schneiderlin. He has never been my type of player. I fully agree with your question, "How long do we have to wait"? for him to come good. I doubt he ever will.
My point is that he should not be playing, he shouldn't be in the squad even. Any booing should be aimed at Allardyce because it is him who continually picks him.
By all means, let Schneiderlin know how you feel during a game, I certainly do. But I stand by my comments, it is totally wrong to boo our substitutes when they come on the pitch. Anybody who does is out of order in my book.
John G Davies
156
Posted 11/02/2018 at 14:26:36
Phil,
We are two points from our usual 7th position. The football has been crap to watch but he was brought in to do a job and he has done it.
I hope he is paid off in the summer and we bring a young dynamic coach who likes to play attacking football in, there is no denying Allardyce has achieved the target he was appointed for though.
Tony Abrahams
157
Posted 11/02/2018 at 14:27:27
Jamie (#131), I would say neither, and it was more to do with anger.
Fuck what other people are saying, mate – Man City fans were getting slaughtered the other year because they weren't selling out for Champions League matches at The Etihad, even though the prices of the tickets were astronomical for a working class supporter.
Modern day football belongs to "the balmers" because it's not really a working class sport anymore?
Martin Nicholls
158
Posted 11/02/2018 at 14:27:35
Phil (#128) – crossed wires over Bolasie! It was 7 minutes into his first (Goodison) game back that the abuse started! Cuco however gets it every game from the guy I mentioned.
As an aside, I and my 9-year-old grandson met Cuco after (I think) the home Bournemouth game and whilst I have reservations about his footballing skills, he seemed like a really nice bloke.
I think we must agree to differ about the name-calling of fellow Evertonians – I understand your reasons but just feel you went too far.
Jer Kiernan
159
Posted 11/02/2018 at 14:28:28
@Phil 155
Since you are now changing your argument, will you also be man enough to apologize for your insulting and oafish terms used to describe your fellow supporters? So we can wrap this up. :)
And you can save "some" face.
Gary Mortimer
160
Posted 11/02/2018 at 14:32:16
Phil (#146),
"Every player should then go away, work out where he went wrong and put it right in training. He gets the opportunity to improve his performance in his next match, whenever that may be. Not to be castigated or in this case booed because of previous games, before he has even touched the ball. That is bang out of order."
Morgan Schneiderlin has had 39 starts for Everton and a further 7 appearnaces from the bench. In my opinion his performances this season have been spiralling downwards at a rate that just beggars belief.
What is clearly obvious is his lack of effort and application, his unwillingness to break sweat, his jibbing out of tackles, his constant "hiding" behind an opponent when teammates need to pop it off and his habit of ball watching instead of following runners.
After all his games, there is absolutely no evidence that he will ever demonstrate the heart and determination to play himself back into form. You see Rooney and Sigurdsson put themselves about to get into the game... but that type of effort is beneath our Morgan.
The booing in the Top Balcony where aimed at Sam for throwing him on and to him because, I think, the fans have had enough of the chap. Even a crocked Gana is 100% more effective than Schneiderlin.
If the fans made catcalls and whistles, like they do in Spain and Italy, rather than booing, to voice their displeasure would that be more acceptable? Somehow the fans need to make Sam know that we think that Schneiderlin is not the answer – let's face it, his recent interviews show he thinks it's only 15 fans!
Bobby Thomas
162
Posted 11/02/2018 at 14:35:54
I remember Neil McDonald getting booed the next time he received the ball after missing a penalty against Leeds on the opening day of the season in 1990.
It was quite isolated compared to how it seemed yesterday though. The bloke booing McDonald by us was swiftly told to shut the fuck up or get up the road to Anfield if he was going to be like that.

Jer Kiernan
165
Posted 11/02/2018 at 14:42:02
@Phil
We are still waiting for the apology...
Si Cooper
167
Posted 11/02/2018 at 14:47:02
Can we assume from the manager's words on this subject that Morgan Schneiderlin's on-field contribution has never been questioned? Some players are not particularly self-aware and need someone to be brutally honest with them to keep them on their toes. Maybe he is really popular with the players and the coaches so no-one at Everton has been applying the tough love?
Although he has international caps I don't think he is a current starter. At his age he should be desperate to be playing in the World Cup this summer but I don't think he has that impetus.
Hopefully the booing can trigger some serious introspection and get this player playing to his potential instead of just meandering along in his comfort zone.
If he's mentally fragile or arrogant it could just break him or make him sulk, but the manager and coaching staff should have been on his case for a long time now.
Si Cooper
172
Posted 11/02/2018 at 14:58:22
"I've seen some as big or bigger than you boo.
It's a laugh every time I see it.
Quilts, was a descriptive term my old grandad used."
John G, perhaps you need to explain why it is a laugh and why 'quilts' is descriptive?
Dermot Byrne
176
Posted 11/02/2018 at 15:09:47
No Jer...you are.
But on a funnier side, this post from someone has made my day
"For those who feel guilty or don't condone booing poor little Schneiderlin all I will say is, instead of the booing we should of thrown spears or sacks of piss..."
Would be more entertaining than the football.
John Pierce
181
Posted 11/02/2018 at 15:17:41
Neil, re Pickford.
Yes there are elements of his game which needs tinkering with, fundamentally he is very sound. I'd argue this is not any technical flaw but just rashness, an impetuous nature, youth!
He goes early and often hard at the ball, actually overdiving, and creates poor rebounds.
Such is his desire to get on with it, he can mishandle crosses focusing on his next action rather than the one at hand.
His kicking is the same, the focus on getting the pass away. Experience, a calmer disposition and maturity will smooth those edges out.
Currently a very good goalkeeper, I believe who will become a great one.
That said, he is hands down player of the season.
Steavey Buckley
182
Posted 11/02/2018 at 15:18:42
I was one of few (very few) who did not want Schneiderlin signed in the first place for obvious reasons: Manchester United did not want him, he was over 27 years of age (a bit late to change old ways) and a hefty transfer fee and wages.
The reasons Everton are struggling this season are that Everton are not building a team around younger players no older than 24 years of age. So there is a tendency of short-termism, by paying over the odds for players with no Premier League experience or/and towards their late 20s.
Phil Lewis
185
Posted 11/02/2018 at 15:22:16
Jer (#259), Read all my posts on this subject. They haven't changed one bit. I have nothing to apologise for. If it makes you feel better, I won't call these so-called fans morons. How about divvies? Will that do you?

Jimmy Hogan
187
Posted 11/02/2018 at 15:24:16
Si 183. Just follow the link. It's Roy Hodgson being interviewed after the game yesterday. Needless to say, it's the interview that MotD couldn't show. He completely makes a fool of himself and it is hysterical. You are all so busy arguing, you've completely missed it.
Jer Kiernan
188
Posted 11/02/2018 at 15:28:51
@Phil
You went well over board in using the terms used for the crime of boo-ing a footballer who is clearly scalping the club and short changing the fans, If you choose not to apologies that reflects more on you than the boo-boys is all. :)
Si Cooper
189
Posted 11/02/2018 at 15:29:31
Steavey, at 28, I would expect a defensive midfielder to still be in his prime, not past it.
I see a player who needs a kick up the backside. If we take the manager's word for it, no one at the club has identified his performances as sub standard. That really alarms me, but on the flip side it means the situation may be retrievable.
Neil Cremin
192
Posted 11/02/2018 at 15:35:26
John
May well be and become a great player but I find it difficult to accept his glorification above all others.
He has flaws which make him a good prospect but assurance and confidence in goalkeepers passes onto the defenders in front and I believe he (as you call it youthful exuberance) may be contributing to uncertainty in our many different defensive set ups.
One keeper who always seemed to make goal keeping look easy was David Seaman (Ronaldo free kick aside) well positioned, no dramatic dives, just in the right position to gather and collect the ball.
Hopefully Jordan will learn but as of now there is plenty of room for improvement.
Dave Abrahams
194
Posted 11/02/2018 at 15:36:10
I didn't boo, but the booing of this player yesterday didn't bother me at all, he has played poorly and without interest all season.
I did get upset last season when Tom Cleverley, a lad who always tried and was played out of position on the wing, his substitution was cheered as he was leaving the field.
As for the French player, he will be used again and again this season because Allardyce will not play Beni Baningime as he doesn't trust young players, and there is no-one else in midfield.
He has to play Davies and Gueye, they are the players who bring energy to midfield and we would be poorer without them. Sigurdsson does a great job, out of position, and gets stick on here, other players get away with being average, so get used to Schneiderlin playing again, and if he doesn't start putting a shift in, he will have to get used to the booing.
David Barks
196
Posted 11/02/2018 at 15:40:11
As for the booing, the Goodison supporters had every right to make their feelings known. Not just his play, but his effort has been appalling. That video of him walking in the game as Arsenal were assaulting our goal was posted in the Echo but more importantly made the rounds on social media, so a hell of a lot of supporters saw it.
Of course we've seen that level of light jogging around the pitch all season. Yet he continues to get picked no matter what. The supporters had every right to let him and the manager know they're sick of it.
John Pierce
198
Posted 11/02/2018 at 15:46:20
Neil, I think you might look at our current season and then put 'others' comments into context?
He has been one of our best players, mostly due to how poor others have been. That has elevated him beyond we're his development is to my mind.
If he had less to do then the issues might be more obvious. I agree with you that temperament is the key asset of any goalkeeper. The almost revolving door of defenders hasn't helped him either.
Neville who has always been my hero, had this quality above all else, a serene presence. But if you can take a look at his early days at Everton, a tough time before he got the jersey.
John Charles
199
Posted 11/02/2018 at 15:47:46
How are fans supposed to voice their frustration at either a mercenary footballer or a dinosaur of a manager? We can vent our spleen on sites like this till the cows come home. Give up our season tickets, why should I be deprived of watching a team I first saw live in 1974? Voice their displeasure through boos!
I didn't boo yesterday but wanted to at both Schneiderlin and Fat Sam. There was no outrage around me in the Park End, even amongst those who decided not to boo.
I find it frightening that Fat Sam sees Schneiderlin as an important part of the squad and doesn't get the crowd's dislike.
Danny Baily
200
Posted 11/02/2018 at 15:49:19
Neil, hit the nail on the head there about Pickford being exempt from criticism.
Paul Thompson
202
Posted 11/02/2018 at 15:50:07
My objection to booing is wholly pragmatic. Systematic booing of your own player is not only likely to adversely affect him, but the rest of the team. Weirdly I want my team to win. I don't boo during the game. At the end, as a generalised show of displeasure at a performance, no problem.
I'm also wary of assertion of 'rights'. There is a minority element of our support (and no doubt others) who have long been willing to get on the back of particular individuals and it is far from the case that it has been solely or mainly for lack of effort. Joe Royle for being picked in place of Alex Young anyone? Or honest triers like Dennis Stevens. Okay, I'm going back a bit, but that's my point, it ain't new. So yes, you have a right to be a knobhead, but I'd prefer you not to exercise it.
For clarity, I'm not saying everyone who booed Schneiderlin is a knobhead. That was clearly a widespread and heartfelt feeling of frustration. I still say, save your boos for the opposition or the end of the game.
Tony Stanley
209
Posted 11/02/2018 at 16:04:21
The supporters pay their hard-earned money and do have a voice in their club, so they can cheer or boo who the hell they like.
Andy Crooks
211
Posted 11/02/2018 at 16:10:21
There a few "better Evertonians", on this thread. Not happy to explain their dislike of booing a player, they feel the need to lecture other Evertonians and describe them in pejorative terms. Indeed going as far as to say they are not supporters.
I have never booed or barracked an Everton player and I would say that for many who did so yesterday it was a first. Some of the terms used on here and at games are appalling. However we are talking here about booing. Not racial abuse or personal abusive but booing.
Also, we are in my view, talking about a very special case. The attitude and performance of the vastly paid Schneiderlin stinks. Yes, he doesn't pick himself but when selected he owes it to everyone at our club to try. He deserved to hear what he heard and if he behaves like a professional with some pride and integrity he will not hear it again.
This was a very unusual occurence and those who made their feelings known by merely booing do not deserve to be decried by pompous, condescending, 'better' Evertonians.
Ian Hollingworth
212
Posted 11/02/2018 at 16:13:56
Andy (#211) – well said!!!
Karen Mason
214
Posted 11/02/2018 at 16:29:34
John (Post 58).
I agreed with all your opening comments, but then you say you can't believe the negativity Allardyce is receiving? Where you not on planet earth last week?
A totally humiliating defeat in every sense and not the first under his management. Not just the score, but the manner of the defeat. In the main – due to the manager's team selection and lack of game plan.
If I may be so bold as to point out, that we seem to hit on the right line up under Unsworth, before Allardyce even arrived. His last game in charge was the best we had played all season up to that point, and he only had 6 games to do it. Equally he was not being paid zillions to do the job.
Scam Sam, on the other hand, is. I have witnessed some of the most appalling games this season I have seen us play since Gordon Lee was Manager. He has orchestrated these games with his negative game plans. That is – if there is a game plan. In the games we have suffered heavy defeats, we have looked disorganised and ill-prepared. That's down to manager and coaching staff.
If Pep Guardiola had come in, believe me, things would not have been the same. He would have done what he has done at every club he's been at. He would have coached each and every player to improve them as individuals to get the best out of them. Have you noticed any individual improvement in players? Coz I haven't and that is not a criticism I am levelling at the players.
So, while we may not have won the Premier League under Pep at the first time of asking – be very sure that every player would have been much improved – as would the brand of football. I'd rather go down fighting and competing, than waving the white flag before the players even go onto the pitch, as Sam Allardyce does, especially when we play away from home.
So for the money we are paying him, I ask you – Do you really not understand why he is so unpopular?
David Barks
215
Posted 11/02/2018 at 16:31:24
Well said Andy. The fact that it is such a rare, and to some shocking, incident should also prove the level of anger at the plauer's performances. It's not a question of his form, players dip in form all the time and would not get booed. It's about the lack of effort.
I'm not one of those that gets excited just because a player runs a lot. For example, I see plenty of flaws in Davies's game that were apparent earlier in the season and the hard running didn't make up for those.
But, the lack of effort and hard work from Schneiderlin has been so apparent for so very long, it's inexcusable. Coupled with Allardyce's claims about fringe players getting one chance with him and that's it, when he continues to ignore the horrific effort and play by Schneiderlin, it's just too much.
Si Cooper
217
Posted 11/02/2018 at 16:35:32
I'm still not sure why booing would be considered to be unmanly. I've never directed it at any player who is simply performing poorly for the simple reason that I doubt its efficacy and would expect the player's self awareness and the opinion of their team mates, coaches and manager would be sufficient to get them trying to be better. Mind you, after Sam Allardyce's comments on the player, we obviously can't rely on him to be on top of the situation.
Booing seems like a sensible way for a crowd of people to demonstrate a shared displeasure. Everyone simply shouting out their opinion (or a few choice words) seems much less likely to get the message across as clearly or as succinctly. Everyone understands what a boo means. Booing together is simply a way of unifying that display of dissatisfaction.
Argue against its effectiveness by all means but why criticise something that is an attempt to communicate feelings of frustration, annoyance, dissatisfaction, etc?
Si Cooper
218
Posted 11/02/2018 at 16:38:14
Andy Crooks, beat me to it. At least I think you are saying what I have tried to say.
Alan Bodell
221
Posted 11/02/2018 at 16:47:38
Quite strange how this thread has endured beyond so many others about this guy getting booed or not.
Who gives a fuck? He certainly doesn't.
Neil Cremin
225
Posted 11/02/2018 at 17:17:54
Danny @200
I am presuming you are meaning that he shouldn't be exempt from criticism. I am not singling him out for particular criticism but do not agree with the general consensus that everybody else in the team is being criticized without exception whereas he seems to be immune.
As stated many a time, he may be one day but as yet I do not see a keeper who is commanding his area.
John G Davies
226
Posted 11/02/2018 at 17:20:21
One fan sitting next to me shouts, "Schneiderlin, your a lazy twat!" I think, "Spot on, you're dead right."
Fan sitting the other side boos. Works for some, doesn't work for others. That's life.

Brian Williams
228
Posted 11/02/2018 at 17:23:28
Jimmy#116.
Yer bastard, I spat me tea all over my jeans watchin' that!!!
Brian Williams
230
Posted 11/02/2018 at 17:37:05
One fan sitting next to me shouts "Schneiderlin, your a lazy twat!" I think, spot on, your dead right.

Fan sitting the other side boos. Works for some, doesn't work for others. That's life.
I'm just struggling to see how several hundred, or a few thousand supporters (not fans) could manage to co-ordinate, all purely with the purpose of conveying a clear message to the player, the shouting of "Schneiderlin you're lazy twat"?
Basically they couldn't, and the message would get lost in a cacophony of mistimed and garbled "Schneidertwat" or "Lazylin" or "Twatterlin."
Pity the poor bloke tasked with going "Right, after three, not on three, but after three, it's Schneiderlin you're a lazy twat." "Nonono section over there you're getting your twat in too early.
See the problem?
So, to simplify things, to get the message across, to perform the message in a co-ordinated manner, you simply boo the lazy twat.
Sorted, Oh and don't forget to boo in a manly non-effeminate manner.
John G Davies
231
Posted 11/02/2018 at 17:40:57
You're a booer then Brian?
Steavey Buckley
232
Posted 11/02/2018 at 17:41:12
Si (189) Players over a certain age play a certain way. No doubt, Jose Mourinho probably wanted Schneiderlin to adapt to his playing style, but he could not change.
What Everton fans are witnessing with Schneiderlin is a man who sees himself just wanting to intervene now and again on the field but not throw himself about just to please anyone.
Dave Speed
233
Posted 11/02/2018 at 17:46:17
Brian #230. Brilliant! I nearly choked on my lavender flavoured cous cous at your Python-esque "Nonono section over there you're getting your twat in too early."
Still laughing. Sums it up perfectly.
Brian Williams
234
Posted 11/02/2018 at 17:47:33
John (#231).
No. If you cared to read my previous posts, I pointed out that I didn't and wouldn't boo.
I'm just not one of those people telling others they should do exactly as I do because I'm right!
Brian Williams
235
Posted 11/02/2018 at 17:48:34
*Bows to Dave Speed* "I thaaangyou."
Si Cooper
236
Posted 11/02/2018 at 17:53:19
One last thing, John. What is your opinion on:
Booing a poor refereeing decision?
Booing a player who has got away with light punishment after a really nasty 'challenge' on one of ours?
Booing / jeering the opposition goalies who don't acknowledge our applause when they approach the Gwladys Street?
Do you really think isolated shouts are going to be heard? I don't expect the boos to necessarily have any effect but at least there is chance they may be heard.
I very rarely boo (or scream abuse) for that matter, but when I do it is to add my voice to a chorus of disapproval and nothing else.
It is just the same as (but the opposite of) applauding; a way for a group to make their shared opinion heard. Surely you can accept that it a legitimate (and recognised) way to protest en masse, and probably more effectively than blokes effing and jeffing in isolation?
John G Davies
237
Posted 11/02/2018 at 18:00:21
Brian, if you read my post previously you will see I said "each to their own"
How do you express your dislike of something on the game? By shouting?
Has anyone ever shouted something along the lines of "get up you big tart" when a player does an arched back swallow dive whilst screaming in pain?
Si Cooper
238
Posted 11/02/2018 at 18:02:46
Brian Williams says it most eloquently. Neither of us habitually boo our own players.
Paul Kelly
239
Posted 11/02/2018 at 18:07:52
Phil Lewis, I commend you for your responses on this thread and as you say, our disgust should be aimed at the manager as it is he who picks him-fair comment, but once he walks on that pitch (Schneiderlin) it's up to him to step up and put in a performance that the wearing the shirt requires. Effort is the easiest and the minimum requirement.
Dennis Ng
240
Posted 11/02/2018 at 18:13:14
I wonder, does the booing change anything?
I'm disappointed at the sub and might direct my anger a bit at Sam Allardyce but at this juncture, a few wins from being and securing 7th, it is not going to change anything. I would focus on things like "play Tosun" or something.
Schneiderlin will get played as long as he is still in Allardyces's plan.
Paul Kelly
241
Posted 11/02/2018 at 18:17:06
Anyways, Schniederlin has had it easy. I remember being in the Street End in the 90s and a lot of people singing 'Let him die' when one of our players was injured and then booing when he got up and carried on!!!!!!!
Phil Walling
247
Posted 11/02/2018 at 19:03:00
Just shows how fucking boring Everton's football has become. These days we spend more time analysing the verb to 'boo' and the noun 'quilt'than we do arguing just where the 'Scheid one' is recalcitrant in his duties.
For my part, I don't think he even hears it from his permanent place in the closet.
Amit Vithlani
258
Posted 11/02/2018 at 19:59:07
They use white hankerchiefs in Spain to display their displeasure at games.
The question that has always haunted me is: how come so many Spanish blokes walk around with white hankerchiefs?
Booing seems so -basic- in comparison to an orchestrated show of white hankies.
Darren Hind
259
Posted 11/02/2018 at 20:05:09
A couple of weeks ago, somebody on here suggested we bring back the cushions...
Dermot Byrne
262
Posted 11/02/2018 at 20:16:27
God I forgot the cushions Darren. My granddad used to chuck his now and then. Bring them back!
Jerome Shields
263
Posted 11/02/2018 at 20:19:10
The boos where a reaction to Allardyce's negative substitution policy.
Alexander Murphy
267
Posted 11/02/2018 at 20:25:32
Evertonians booing an Evertonian ?
Poor form in my book. I, personally, do not boo nor condone booing of Everton or Evertonians.
I do, however, entirely understand the fucking livid fury which drives others to do so. Are they right to behave that way and am I wrong or vice versa ? I confess that I HAVE felt bloody close and have been the thickness of a rizla away.
For Me, booing and walking out early are just not an option.
Then, I'm faced with a dilemma, just HOW do I make it patently obvious that I want Big Fat Headed Sam royally fucked off ?
Now !
This very instant !
Rock vs Hard Place.
Walking out really isn't an option. It's running away, admitting defeat. It's abdicating responsibility, leaving the boxing to someone else. Fuck that.
Booing Big Fat Headed Sam.
If it gets him gone, I'll gulp one down.
I just simply can't go to the match and sit three seats away from my wonderful Goddaughter and have "that" in charge. At 17, she deserves better from her club. I have no concept as to how dreadful it must be to (drown me in failure statistics dating back to 2001) have never seen Everton as winners. She LOVES Everton. THAT shatters my heart.
Schneiderlin ? WTF happenned to the class act of last season ? Sorry lad, your shite. The reason they are boooooooing is cos it must be deliberate on your part. Can't choose to be brilliant, you can however choose to be shite. Guilty as charged !
Bill Gienapp
268
Posted 11/02/2018 at 20:43:58
As I said on the match thread, booing one of our own isn't a great look, but if that's what it takes to get it through Sam's thick skull that Schneiderlin shouldn't be playing, so bit it.
Unfortunately, Sam's skull appears to be *really* thick.
I simply can't believe that he could treat Klaassen like something he scraped off the bottom of his shoe, all but run Sandro and Lookman out of town, bury Vlasic, dismiss Tosun... and then fawn all over Schneiderlin, going so far as to declare him "an extremely important part of the squad?" Lord have mercy.
Mike Allen
269
Posted 11/02/2018 at 20:50:30
Bad management for me once we saw that Schneiderlin was coming on there was more than a few rumblings before his number came up.
A top manager would have picked this up and protected the player and put him back on the bench. I would be very surprised if he can come back into the fold. Goodison has always supported players who give a 100%, good or bad. This player is not out of form, he lacks commitment.
Some of his away performances make me wonder why he is still anywhere near the squad. He is certainly the last player to put on to close the game out.
Si Cooper
270
Posted 11/02/2018 at 20:58:10
Dermot, I take John at his word. Can't see any trace of mischievous leg pulling in anything he's posted and I still don't understand his deep-rooted assumption about the personality traits of anyone who ever has or ever will boo. He's not for shifting that opinion, fair do's it's each to their own and no one is getting hurt.
The Roy Hodgson interview/ fume is funny enough but I thought it was supposed to be something he said after our game. The video I saw was from whenever Palace lost to West Brom. Has he done it more than once?
Si Cooper
271
Posted 11/02/2018 at 21:04:23
Alexander (267), isn't the point in question whether he can be considered to be an Evertonian? I think most of us are very tolerant fans but Morgan Schneiderlin's perceived dedication to the cause is exactly what is driving the animosity that is being displayed.
Michael Kenrick
272
Posted 11/02/2018 at 21:54:00
Quilts, low-lifes, morons... really pathetic, those of you stooping to that level, and no excuse for your self-righteous posturing stance on this, Phil Lewis, that would seek to deny other Evertonians their right to voice displeasure in the time-honoured fashion. Sorry, you don't get to make the rules for others. Make them for yourself by all means.
But Tony, "the balmers"? That one had me (and Google) scratching our (virtual) heads... I'm guessing the main matchday sustenance of "the balmers" would be prawn sandwiches?
Alexander Murphy
273
Posted 11/02/2018 at 22:13:48
Si 271, I confess that I can't really follow your post. (Sometimes the autocorrect here is frankly B-fucking-Zarre). If, as I follow, you also feel that "More Gone Missing" Schneiderlin is a wanker. Then we agree.
Conversely, if you think that he is being badly done to for there are numerous others also apt to be slapped with the same shit-dipped brush, then I can only concur.
There are, to my view, many wank performers masquerading in Royal Blue this season.
Slackarse Schneiderlin, however, appears to be a culprit with malice a forethought.
Talented ? Yes.
Crap ? Yes.
Why ? Twat !
Tommy Meehan
275
Posted 11/02/2018 at 22:20:01
At least not yet, Brent.
Keith Harrison
277
Posted 11/02/2018 at 22:22:46
I take you must have missed the corking post 134, Michael. "Shithouses". Never mind, if people posting that are calling other Evertonians, at least they're not having a go at poor undeserving people like The Sams and Morgan.
Keith Harrison
278
Posted 11/02/2018 at 22:26:22
And to end with some kudos, I thought Martina played quite well yesterday. He seems to gain confidence where Walcott switches over to the left and 'protect' him.
We still need a genuine left-back though.
Ian Linn
280
Posted 12/02/2018 at 00:04:06
I would have booed Schneiderlin if I was there, and I think fans have every right to do so.
James Stewart
281
Posted 12/02/2018 at 00:26:02
Look forward to the day neither Schneidershit and Allardyce are at Everton.
Si Cooper
282
Posted 12/02/2018 at 00:55:16
Alexander (273), you say you can't condone the booing of Evertonians, and so I ask whether Schneiderlin remains under that umbrella term when many supporters don't think he is doing enough to deserve such a special label?
Phil Lewis
283
Posted 12/02/2018 at 09:47:07
Michael (#272),
There is nothing self righteous about me, I am as fallible as the next person. Sometimes the truth hurts. I used extreme descriptions to make a point. I stand by my words, simply because in my 'time honoured' transition' as archaic as it may seem to you, I refuse to kick a man when he's down.
My final word on this whole business, I wouldn't play Schneiderlin, I would have transferred him in January. But he is still an Everton player and as such, just like any other member of our squad; if he plays, I will reserve judgement.
Players can go very long spells out of form and lacking confidence. Booing only makes matters worse.

Karl Meighan
284
Posted 12/02/2018 at 09:48:35
If Schneiderlin is being booed what about the rest? He has been poor but so have at least 6 others been at least as bad if not worse imo I mean the likes of Klaassen hasn't been picked by how many managers, yet he still seems to have support of fans who want to see more of him.
Allardyce also cannot win, fans here want managers from foreign leagues who they know fuck all about apart from their team's last 6 results, or magicians like Dyche or Silva. What Allardyce at least deserves is our support until he has had a chance to put his own ideas across, which is at least a season.
Alexander Murphy
285
Posted 12/02/2018 at 09:55:46
Si (#282), I'm certain that my entry 273 covers the matter fully and requires nothing by way of further clarification, surely?
Alexander Murphy
286
Posted 12/02/2018 at 10:06:16
Karl (284), I must strongly disagree. What Big Fat Headed Sam deserves is his marching orders. If you think that in a years time we will be playing free flowing football with this donkey in charge then, please, disabuse your self of such well intended, polite delusions.
How on earth did we hire the utter anti-embodiment of "Nil Satis Nisi Optimum" ?
I believe that Dyche has both the grit aand imagination to carry us from our recent parlous state of misfortune and could grow and develop both our style and his own. Didn't Howard Kendall do just that?
Karl Meighan
287
Posted 12/02/2018 at 10:16:00
Sorry Alexander crystal ball shit that, "if ye think we will be playing free flowing football" if you think in a years time we will be playing great stuff under any manager I beg to differ.
As for Dyche your entitled to your opinion but I don't see any difference in him to Allardyce infact I would say he is a worst version. I mean Sam Vokes and Andre Gray spearheading your strikeforce, 2 strong centrebacks sounds familiar to me.
Karl Meighan
288
Posted 12/02/2018 at 10:22:57
Yes I know Grays at Watford its the style of striker the point I am trying to make.
Steve Solomon
289
Posted 12/02/2018 at 11:17:19
I'm not sure it's a good thing to boo one of our own, but he is shite.
What is Sam seeing in him that we aren't?< We watch the same game as Sam does. He clearly doesn't read papers or the internet forums like this one.
All that tells me is that he doesn't give a shit about what the supporters think or say. Not a good sign for an Everton manager.

Tony Abrahams
290
Posted 12/02/2018 at 11:21:12
Along those lines, Michael, fellas with more money than sense!
John G Davies
291
Posted 12/02/2018 at 11:25:41
It's up to the individual if they choose to boo. Each to their own.
I would never boo an Everton player, some would. That's all it is down to. You pays your money...
Alexander Murphy
292
Posted 12/02/2018 at 13:54:36
Karl 287, where did I say we will be playing free flowing football in a years time ?
Quite the opposite.
Judge Me, only, by what I say and NEVER EVER by stuffing words in My mouth.
Big Fathead Sam will NEVER EVER have Everton playing free flowing football. NEVER.
That is why I never wanted him.
Truthfully, I really don't know just who I really do want. I do know what I want them to deliver. That magical stuff that briefly Bobby had us playing. Thats EXACTLY what I want.
Pour as much cold stale piss on my dream as you wish. I still want that magic and I always will.
BFS is the absolute antithesis of everything that makes my Blue Heart beat .
"There are always ways around these things ", then we hire him.
Get him gone.
Because, if we deserve him, then get us out of business.
I love EVERTON.
And I'm scared shitless at what we may become.
We accept HIM today, then what next ?
Moyes was a bloody master at lowering our expectations. Be grateful etc.
Sir John must be raging.
Our least successful Chairman EVER appoints our worst ever manager and yet Me pointing this out is wrong ?
This nightmare isn't and will never be over until Evertonians stop begging for more humiliation and then thanking the perpetrators.
Barry Jones
293
Posted 12/02/2018 at 16:38:06
This is a difficult one, a very difficult one. Generally, I don't believe in booing an individual because if it affects that player then it impacts the entire team. No matter what our feelings, we should not make the team effort more difficult.
However, as someone on this thread said, "how else do the fans get heard?" I hate to say it, but I do not have a great deal of sympathy for Schneiderlin personally. He needs to take that sentiment on board and act on it if he has any chance of turning this around.
Jim Wilson
294
Posted 12/02/2018 at 20:23:57
Booing helps no-one and it certainly ain't going to help a player play better. Some Evertonians need to understand that it won't help the player or the team.
McCarthy got a few boos coming on as a sub a few weeks ago, Kone and Howard suffered from jeers in the past and Arteta and Barry have also received unwarranted stick in the past.
Gary Mortimer
295
Posted 12/02/2018 at 20:41:00
Jim – we could give him a standing ovation every time he draws breathe – it won't make him play better.
At least Sam knows how the majority of fans feel about his non-performances this season.
He just doesn't deserve his place in the squad.
Colin Glassar
296
Posted 12/02/2018 at 20:54:30
I can't wait until the summer. Fonseca and Brands plus Alderweireld and Danny Rose!
Si Cooper
297
Posted 12/02/2018 at 21:34:29
Jim Wilson (#294), that is just opinion, not fact. How the player reacts is up to him, as was clearly expressed by Andy Walker who was commentating for Sky and who was booed when playing for Celtic.
Unfortunately, if his manager isn't also questioning his performances and asking him to improve, then he is more likely to just carry on as he is.
Darren Marsh
298
Posted 13/02/2018 at 06:36:59
Regardless whether you agree or not about the booing, it is a team game. And the way I look at it is that, when Schneiderlin plays, we are a man short, which impacts on the team more than a bit of booing.
I couldn't give a monkey's about the multi-millionaire's feelings... give it him every week for all I care, because he needs to know how shite he is.
Karl Meighan
299
Posted 13/02/2018 at 10:16:16
Alexander, first sorry for the mistake; second, I think 99% of Evertonians believe in Nil Satis Nisi Optimum but are worst ever manager? He's been in charge less than 6 months.
We have signed many players who I never fancied as a player and didn't think they were good enough to wear are shirt, yet many of them turned out to be great players for our Club.
I will take winning football over looking good any day of the week although the two normally take care of themselves in any case.
Paul Tran
300
Posted 13/02/2018 at 12:39:14
Darren & Dermot, my lasting memory of my first few years going to Goodison was watching those cushions float out of the sky. I also saw a few people stick them under their coats.
They'll never bring them back, probably for health & safety reasons. Probably for the safety of the playing and coaching staff!
Joseph Mullarkey
301
Posted 13/02/2018 at 12:50:56
To the supporters that booed him I applaud them wholeheartedly, Indifference is not what I expect from Evertonians, We have a strong feeling of
pride
in our club and expect no less from our players when they pull on the Blue.
Oumar Niasse is an example of what can be achieved with persistence, Pride and hard work.
Mr Schneiderlin needs to apply himself for the club that pay his wages, for the fans that fund his wages and for his self respect as a professional.
Redemption is not lost for him and fans will react in a positive way shows more industry and pride.
John Hughes
302
Posted 13/02/2018 at 14:00:42
As Joseph says (301), I would like to think that there is still time for Schneiderlin to redeem himself at Everton.
Moreover, I am more concerned with Michael Keane. I think Keane has an excellent chance of becoming an Everton stalwart but I think you have to accept that as a defender he will be more in the mould of Dave Watson than Richard Gough.
And talking of Dave Watson, I remember the amount of stick he took from the crowd when he first arrived at Goodison. It took him well over a season to establish himself in the first team, following a very shaky start which saw him lose his place to a rejuvenated Derek Mountfield, who he was brought in to replace.
But Waggy stuck it out, ignored the boo boys and came back with a point to prove. And didn't he just?
Mark Rimmer
303
Posted 13/02/2018 at 14:21:15
Taking so much from this great club and giving nothing in return, just another mercenary and deserves to be booed.
Andy Meighan
304
Posted 13/02/2018 at 14:22:02
Re the booing of Schneiderlin... he's brought it all on himself. He should have been bombed out of the club after that disgraceful caper at Finch Farm a couple of months ago.
Gives an air of "I'm too good to play for this club" and his attitude absolutely knocks me sick. A shocking buy... and the sooner he's gone, the better.
While I would never personally boo a player, especially one coming on as sub, my take is people are paying good money for season tickets and can see fit to give him as much as he deserves.
His performance at Arsenal will live long with a lot of our fans So I was shocked to see him actually get a run-out. If this manager has anything about him, he'd be wise not to include him in any more squads or starting XIs because, believe me, the fans will really let him know what for.
Jim Wilson
305
Posted 13/02/2018 at 19:41:34
Some people will never learn.
Roger Helm
306
Posted 14/02/2018 at 19:41:12
Recruitment has been flawed ever since the Moyes era. Not enough attention is paid to character. We need a version of the All-Blacks' no-dickhead policy.
Bill Gienapp
307
Posted 14/02/2018 at 20:09:14
Roger (306) – the weird thing is, I feel like Koeman *did* try to put an emphasis on character, bringing in a lot of guys who'd been captains of their prior clubs – Rooney, Williams, Klaassen (heck, even Martina's the captain of the Curacao national team) – in addition to reliable professionals like Sigurdsson.
Somehow, it hasn't worked out and we seem as mentally fragile as ever. Maybe there really is something in the water at Finch Farm.
Dermot Byrne
308
Posted 14/02/2018 at 20:21:03
You are right, Paul. Wonder how many millions a Premier League player would get for a cushion injury!
Mick Davies
309
Posted 14/02/2018 at 23:44:50
Those who say Allardyce had to put Schneiderlin on because we needed a midfielder, not a striker, are deluded: putting him on just took us down to 10 players. I seriously believe McCarthy would have been more effective, even on crutches.
Tony Stanley
310
Posted 15/02/2018 at 00:36:19
Joseph Mullarkey (#301), I couldn't agree more.
Keith Harrison
311
Posted 15/02/2018 at 13:19:09
Bill (#307),
Maybe too many chiefs. None of which seem to grasp the mantle of captaining our club like it should, a grock who commands and has respect – or fear – from the rest. A "drive us on" guy.
Keith Harrison
312
Posted 15/02/2018 at 13:21:16
Colin (296), have you resurrected your Glasstrodamus role there pal??
Wonderful if true.
Add Your Comments
In order to post a comment, you need to be logged in as a registered user of the site.
Or Sign up as a ToffeeWeb Member — it's free, takes just a few minutes and will allow you to post your comments on articles and Talking Points submissions across the site.