Allardyce: Tosun needs to bide his time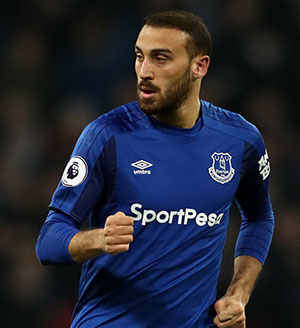 Catherine Ivill/Getty Images
New signing, Cenk Tosun, will have to be patient as he waits for more chances to impress, with Sam Allardyce saying the Turk has struggled to adapt to the English game.
Tosun arrived in a £21m deal last month as the much-vaunted striking acquisition aimed at finally adding some firepower to the Blues' front line following the sale of Romelu Lukaku.
However, he was dropped to the bench after just two starts and failed to make it off the bench on Saturday as Everton beat Crystal Palace 3-1 at Goodison Park.
The home fans were hopeful that, with the score at a comfortable 3-0, the conditions were apt for Tosun to get some minutes but Allardyce elected to go life-for-like instead, introducing Morgan Schneiderlin with 10 minutes to go.
"We had two players injured in the first half then another injury so we had to put Morgan on," Allardyce said, insisting that he had no other option. "Had we not had injuries we'd have put attacking players on, particularly when 3-0 up, but injuries made it impossible for me to consider."
A Mail On Sunday article suggested that Allardyce is yet to be convinced that Tosun is putting in enough effort in training but the official line from the manager is that the former Besiktas striker needs to get to grips with the Premier League and may not get another start until safety from relegation is confirmed.
"He is struggling with the pace," the manager said. "That happens to more players than it doesn't when they come in in January. There are more who struggle than succeed.
"As time goes on and the more we get closer to our safety the more we can release and see what he's got. There is no doubting his goal-scoring ability but you have to have the capabilities to get in those positions to score, and that is the hard bit. We have to try to be patient as the team are winning without him."
---
---