Allardyce: Tosun needs to bide his time
Monday, 12 February, 2018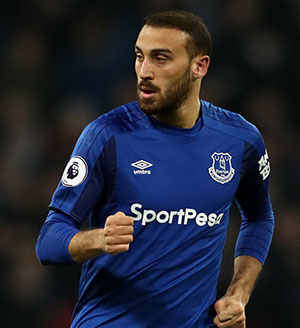 Catherine Ivill/Getty Images
New signing, Cenk Tosun, will have to be patient as he waits for more chances to impress, with Sam Allardyce saying the Turk has struggled to adapt to the English game.
Tosun arrived in a £21m deal last month as the much-vaunted striking acquisition aimed at finally adding some firepower to the Blues' front line following the sale of Romelu Lukaku.
However, he was dropped to the bench after just two starts and failed to make it off the bench on Saturday as Everton beat Crystal Palace 3-1 at Goodison Park.
The home fans were hopeful that, with the score at a comfortable 3-0, the conditions were apt for Tosun to get some minutes but Allardyce elected to go life-for-like instead, introducing Morgan Schneiderlin with 10 minutes to go.
"We had two players injured in the first half then another injury so we had to put Morgan on," Allardyce said, insisting that he had no other option. "Had we not had injuries we'd have put attacking players on, particularly when 3-0 up, but injuries made it impossible for me to consider."
A Mail On Sunday article suggested that Allardyce is yet to be convinced that Tosun is putting in enough effort in training but the official line from the manager is that the former Besiktas striker needs to get to grips with the Premier League and may not get another start until safety from relegation is confirmed.
"He is struggling with the pace," the manager said. "That happens to more players than it doesn't when they come in in January. There are more who struggle than succeed.
"As time goes on and the more we get closer to our safety the more we can release and see what he's got. There is no doubting his goal-scoring ability but you have to have the capabilities to get in those positions to score, and that is the hard bit. We have to try to be patient as the team are winning without him."
---
Reader Comments (176)
Note: the following content is not moderated or vetted by the site owners at the time of submission. Comments are the responsibility of the poster. Disclaimer
Derek Knox
1
Posted 12/02/2018 at 07:06:16
This is another enigma, we hear the lad is struggling for pace, so is Schneiderlin, (different position I know) we have hardly seen him play at all.
Considering the negotiations to get him in, Walsh flying to Turkey, meetings in London etc, it was on it was off, we finally land him and say he isn't up to speed and fail to play him.
Come on, what is going on here?
It makes my blood boil, when at long last, we get the benefactor we have craved for so long, then the money has been squandered, between Koeman, Walsh and Allardyce.
All will benefit again when sacked with compensation, okay Koeman has already had his ill-gotten booty.
We have players too stealing a living (a very luxurious one at that) the sooner we get a manager with some sense of proportion and not a Monopoly pretender, the better.
Anthony A Hughes
2
Posted 12/02/2018 at 07:12:43
More waffle from the Waffler. Tosun's barely played how can we know if he's struggling with the pace of The Premier League? As for the "team are winning without him", won one have you Sam?
Jay Woods
[LAT]
3
Posted 12/02/2018 at 07:16:22
Given the lack of game time Tosun has been granted, it's hard to see how he could be "struggling with the pace of the Premier League".
Maybe there is some in-training issue that's being hidden behind the official story?
Dennis Stevens
4
Posted 12/02/2018 at 07:17:04
The bullshitter never stops bullshitting.
Jeff Spiers
5
Posted 12/02/2018 at 07:27:49
FFS. Do we not run the rule over these players, or are we that desperate?
Rick Pattinson
6
Posted 12/02/2018 at 07:28:02
Half of our fucking team have struggled to adapt to the Premier League despite playing in it for years This shit gets worse doesn't it.
I've got a good idea: Why don't you sit him on the bench every week... that'll work... FFS.
Keith Harrison
7
Posted 12/02/2018 at 07:28:33
Why don't Tosun, Klaassen et al get game time in the U23s to try and get them up to speed and their confidence up?.
I see his £27 mill fee is now suddenly £21m, normally a sign the club think we've signed a pup, and try to lessen the blow to us numpties who won't notice the difference.
As Derek (#1), says, we actively courted the guy, so we should have known everything about him.

Colin Glassar
8
Posted 12/02/2018 at 07:29:14
Until Moshiri gets rid of the useless bunch of cretins surrounding him, he will continue to waste his money and time buying duds.
Jim Bennings
9
Posted 12/02/2018 at 08:19:52
Obviously we aren't seeing him in training so he must be absolutely shocking. It usually is a managers polite public way of protecting a player by saying "he's struggling to adapt to the English game ".
I really did find the big money signing of Tosun in January rather strange though. We were desperately crying out for a striker to hit the ground running and someone who wasn't going to go through months of acclimatisation so signing a player with no British game experience for a whopping fee was a bit of madness.
When you think of the wasted money on Schneiderlin, Klaassen and now Tosun, it's maddening we didn't just throw a wad of cash at Jamie Vardy last summer.
I believe Tosun will only be here short term anyway, most likely there will be rumblings of him being unsettled, it will either be the "pace of the Premier League or the lifestyle and culture" as the reason he wants off.
Nick Lacey
10
Posted 12/02/2018 at 08:28:20
Let him start all games until the end of the season, at least we'll see if he is ready and if not it will give him game time so that he'll be ready for next season. If we are not going to play him then we might as well not bought him and waited until the summer.
Also, we need to let Klaassen get some game time to see if he really is a dud.
Disappointing that Beni isn't playing, he looked fantastic when he did and a massive step up from crabman Schneiderlin. Surely Everton couldn't have bought 10-ish players this year and only one (Pickford) is any good.
Kim Vivian
11
Posted 12/02/2018 at 08:39:09
Personally I am seeing a more pragmatic mindset from Tosun – not unlike Oumar, who may even be mentoring him to stick with it, to just knuckle down and wait for his opportunity. He has said in a way that convinced me that he wants to make a success of the Premier League with Everton and he may, just may, become another of our contemporary favourites alongside Oumar.
Liam Reilly
12
Posted 12/02/2018 at 08:40:05
It's déjà vu with Tosun and Niasse.
Exact same story minus the wrist (or was it a finger) injury.
If the scouting is shocking and the evidence suggests that it is, then surely the axe must fall on Walsh (who should wear a mask, as he's stealing a living).
Tony Everan
13
Posted 12/02/2018 at 08:53:56
What is certain here is that we are being lied to. There is a cover-up of him being unfit, injured or just out of his depth.
We have the most amateur scouting set-up in world football at the moment. We just seem to stumble from one embarrassment to another, when so many smaller clubs seem to find better players at half the price.
The whole recruitment and scouting set-up needs the water cannon treatment. A new coherent and professional set-up needs installing right away. One that can match (or better) any of the top six.
Rob Baker
14
Posted 12/02/2018 at 08:54:33
Keane, Klaassen, Sandro and Tosun must all be excellent on Championship Manager as this is how we scout our players. Everyday there's a new pathetic story to read.
Tony Abrahams
15
Posted 12/02/2018 at 08:56:01
Tosun seems to be rated highly off enough people so I hope he turns out okay. He didn't look that bad against Spurs, but it's been really cold these last few weeks, which is something he will have probably felt before, but I'm not sure he will have felt the cold with the wind?
I remember Rondon, saying that because he had played in Russia, he thought he knew what the cold was, but he said he took ages to adapt to an English winter, because of the freezing cold wind.
Hopefully he will get his fitness up in Dubai, and by the time of the next game, the temperature will start rising enough for us to see the real "TO-SUN"
Seb Niemand
16
Posted 12/02/2018 at 09:11:45
God, every word this disgraceful oxygen thief we call a manager says makes me want to vomit. We have tainted and tarnished ourselves forever just by being associated with him. I trust neither him nor his opinions any further than I could throw him.
Tony Marsh
17
Posted 12/02/2018 at 09:12:26
Did Walsh sanction this Tosun deal? If so, was it against the wishes of Allardyce, hence the freeze-out? I know Allardyce was linked with a few strikers then suddenly the name Cenk Tosun popped up. It looks like a Walsh fingerprint to me.
Like I said previously, I'd much rather we had taken a punt on a top Championship player for that type of money rather than an unknown quantity from a weak Turkish league. Guess Steve Walsh knows best though!!!
Derek McMonagle
18
Posted 12/02/2018 at 09:15:00
Didn't Allardyce say something about Tosun being the best striker for the money in Europe?
Michael Penley
19
Posted 12/02/2018 at 09:21:00
"He's struggling with the pace"
What pace? There sure as hell isn't any in Everton!!!
Anthony Murphy
20
Posted 12/02/2018 at 09:21:57
Here we go again... clearly the Director of Football model at EFC isn't working. Not blaming one specific individual, but our scouting and selection is extremely hit-and-miss... too many cooks.
Jimmy Salt
21
Posted 12/02/2018 at 09:29:22
Utter bollocks. We needed a striker who could hit the ground running so you cant blame the lad. And I agree he looked better than anything else I've seen up front against Spurs.
One thing I notice against Spurs was he had fuck-all support. So maybe he is too cultured to be part of this desperate long-ball car-crash football we are witnessing.
Brian Harrison
22
Posted 12/02/2018 at 09:35:16
I think this season has proved that you cant bring in 5/6 new players and put them in the first team and expect them to gel. Spurs did exactly the same with the Bale money.
Also if you have to unload any of these players as seems likely the resale value will have dropped a lot. So I would hope that we take a lot more care in who we buy come the summer, as we can't make Goodison a revolving door for players, as proved this season that just adds to the inconsistency.
I think the next couple of months are going to be so important for our club, and many decisions to make. Does Moshiri stick with Allardyce for next season, is he still prepared to keep his DOF, and these decisions will be need to be taken sooner than later.
Now should he dispense with Allardyce who does he replace him with, and if that's what he plans then he needs to get that man on board very quickly.
Also let's not forget this is a World Cup year so all the players you might want to sign will be away with their International teams. Which will make the job of whoever is manager even more difficult.
John Davies
23
Posted 12/02/2018 at 09:38:51
Every time Scientific Sam opens his mouth, he embarrasses the club and himself. The man just drones on and on. Who signs these players by the way?
60 years I've been a Blue and I've never known the club to be in such a shambles from top to bottom. It's truly soul destroying.
Jimmy Hogan
24
Posted 12/02/2018 at 09:39:28
Our board is chucking Moshiri's money around like a chav lottery winner.
Let's face facts: we are the 7th biggest club in the country. We don't stand a chance of breaking into that top 6 until we have a shiny new stadium in Bramley-Moore Dock, at which time we start to look like a very attractive investment.
Until that time, the board (or please God a new board) should concentrate on consolidating our position and finding a brilliant young coach, supported by a first class backroom team and forget about trying to buy success.
It just won't happen. If they don't know how to do this, then fucking well get someone in who knows about football.
Jon Withey
25
Posted 12/02/2018 at 09:42:36
Seems like there wasn't much of a rush to buy him in the end.
Lucky we have Oumar with his two-year adjustment out of the way!
It must be difficult to come in January to be fair – Keane and Klaassen at least had some sort of pre-season.
Daniel A Johnson
26
Posted 12/02/2018 at 09:58:43
How Steve Walsh is still at Everton FC is beyond me. All his signings bar the goalkeeper have not been good enough. All players we've signed are good on paper but in reality where are they? Nowhere near the first team that's where.
Our decline started with the appointment of Steve Walsh. He was even instrumental in the appointment of Allardyce, Lee and Shakespeare.
We are buying cheap and still getting rubbish as someone had said earlier would have been better to spend £100M on Vardy not mid tier Euro rubbish.
Paul A Smith
27
Posted 12/02/2018 at 09:59:58
Is there a problem with Tosun sitting out while he settles into the new club, climate and language? Wouldn't we rather have him settling on the bench than playing badly while he is unsettled?
I don't mind not seeing him while he is not ready. Once I knew we were not spending £50 million plus on a striker, it was quite obvious he would need time.
Paul A Smith
28
Posted 12/02/2018 at 10:05:17
It amazes me how Tosun not being ready and the manager honestly informing you, can result in a dig at the manager.
I am only mindset with anything concerning the Kopites. Anything else I am a football fan.

Brian Porter
29
Posted 12/02/2018 at 10:06:55
So he was good enough to play (and score four goals) in the Champions League but he's not even good enough for a twenty or 30-minute substitute appearance to gradually allow him to acclimatise to the English game?
Have any of the posters on here ever experienced a full Turkish winter? It can make our winters seem positively Mediterranean by comparison. He scored for Besiktas in his last game before signing for us so I can't see how he can become suddenly unfit and not even worth a few substitute appearances.
Is it just a case of Allardyce not liking the lad on a personal level? Something just doesn't sit right about his excuses for not giving him any game time at all.
I just don't see Allardyce as having any inclination to play real attacking football and if that is the case then he shouldn't have signed a striker who operates best with support runners joining him in attack and playing him in to scoring positions in the area. I feel sorry for Cenk Tosun.
Jerome Shields
30
Posted 12/02/2018 at 10:07:43
Bide his time, Tosun will be waiting a long time before Allardyce will provide the tactical support for his style of play. He is going have to develop a style of play to get lose balls and out-muscle opponents as long balls are hiked up to him. He has to learn from Walcott and Niasse.
Walcott has decided Everton have to play higher up the pitch and puts all his efforts into this. But even away from home he is left abandoned by Allardyce's tactics of withdrawing deep, abandoning the forwards and midfield. Niasse chases lost causes, getting the lose ball and endlessly getting in front of his man, Away from home benefits when a behind Everton have to push forward.
It's a fallacy that Allardyce's tactics won the Palace game. The only smart thing he did was to play Rooney in the Unsworth position, allowing Sigurdsson to play in the Number 10 position he excels at.
Tosun is going to have to become self-motivated in his tactical play; Big Sam with his megaphone Management is already writing him off.
When Allardyce pushes things into next season, he is not thinking of next season, he's not even thinking now. It's his "can't be bothered" answer, and his face doesn't look bothered.
David Hallwood
31
Posted 12/02/2018 at 10:13:11
These days having a DoF is a must have but why? It seems to be a case of the right hand not knowing what the left hand is doing. Not only at this club, look at the troubles at Chekski among others.
Questions need to asked who actually signed him, was Allardyce involved, does he fancy him etc. The idea of we pick 'em you coach 'em IMHO is seriously flawed; a manager should be in sole charge if who goes in and out and should stand or falll on his judgment.
Alexander Murphy
32
Posted 12/02/2018 at 10:27:15
Poor Cenk. Worshipped by Turkish fans, so much so that many said they were about to follow Everton. Then.
Champions League to hoofball courtesy of the two fat Sam's. I should bloody well hope is struggling to adapt. What self respecting professional footballer would not be in culture shock?
A striker dropped from a team that has a "body" as left back and creates fuck-all chances? Like starving the poor bugger and blaming him for lacking energy.
It took both Bobby & Ronny a year to become delusional in their outpourings. Big Fat Headed Sam was taking credit for Rhino's 4-0 because he was in the stands! So was my mate's 10-year-old son, but he wasn't claiming the credit for the display.
Get this bullshitter gone, and let's start the run up to next season right now, not in May!
Paul A Smith
33
Posted 12/02/2018 at 10:28:54
Brian, wow. He doesn't like him on a personal level. What a ridiculous assumption. You've typed over a hundred words to come up with something as likely as guessing Lottery numbers. Obsession with digging at the manager is causing some ridiculous statements from Evertonians.
Alexander. You start with moaning and sarcasm then openly admit we don't make chances. If all these 50/50 posts don't make people see our fans are dramatic extremists nothing will.
And we will carry on seeing Ken Barlow rants forever.
Lawrence Green
34
Posted 12/02/2018 at 10:36:50
The Everton manager is entitled to make whatever changes he deems fit whether we fans agree or not, but what doesn't help is when the local media and the manager alter history to fit their arguments.
And though Everton were 3-1 up at the time of his last change, Allardyce says he was not willing to risk the three points by putting on another striker.
But the Blues boss is hoping to start using Tosun more towards the end of the season but insists his immediate focus is making sure they reach 40 points.
Asked why he didn't bring Tosun on he replied: "How could I?
"Putting Davies alongside Rooney might have meant they had made it 3-2 and that would be the last thing we wanted.
Palace didn't gain the penalty award until three minutes after Niasse made way for Schneiderlin, so how the heck could they threaten to make it 3-2 if Sam had made the wrong call on his substitution?
Laurie Hartley
35
Posted 12/02/2018 at 10:38:11
Read everything that he said:
Alexander Murphy
36
Posted 12/02/2018 at 10:48:47
No Paul 33, I started with sympathy, not sarkiness.
Then, I continue with yet more sympathy again for Cenk.
Finally, I conclude with a positive "call to arms", because if you seriously believe that Allardyce is in any way shape of form fit to lead Everton Football Club to success, then I wonder just how low you are prepared for us to grovel ?
Ask your self this very simple question. Would Man City, Man Utd, Chelsea, Liverpool, Arsenal, Spurs hire Allardyce?
But we have. Then we hark back to 1995 for our last glimpse of silver. Not exactly nuclear ballistics is it?
Colin Malone
37
Posted 12/02/2018 at 10:57:28
What has he done wrong? I thought he was our best player against Spurs, feeding Tuson with the hoofball. Mangala has played ahead of better defenders and he has definitely not adapted.
Len Hawkins
38
Posted 12/02/2018 at 11:09:36
I know I'm not paid £millions to offer advice on something so simple as football, but pardon me for suggesting (as I have on other similar threads) the man is learning the biggest fattest ZERO you could imagine sitting on the bench. He needs to get up to speed and Fat Sam suggests sitting on the bench is getting him up to speed... Maybe anyone on here who works at Ashworth can enlighten us on the strange actions of the criminally deranged.
Here is a thought which could get me slapped down by an expert like Sam but a lot agree that Niasse is at his best being introduced off the bench so WHY not start Tosun give him a taste of the obviously baffling English game (it is "get the ball in the net more than your opponents" isn't it?) and then when he is obviously struggling to hold his head above water bring on Niasse to rip the britches arse out of the opposition.
In order to baffle us plebs these millionaire managers can make us wonder how we eat and breathe at the same time whilst listening to our Mrs mithering about decorating the scullery when you only did it 35 years ago.
Dave Cooney
39
Posted 12/02/2018 at 11:18:42
I was out with the family celebrating my mum's birthday on Saturday night in a busy Turkish restaurant when in walked Tosun. Big smile, quiet and unassuming he was lead to his table, in the far corner. I yelled over to him, 'Tosun baby', it all happened a bit quick and my usual witty repartee had deserted me. He looked over with a big smile and waved. A while later as he was leaving, he looked over and waved.
Touch of class, not something 90% of today's players would do. But something else struck me the next day when I thought about it. He was wearing his Everton club tracksuit. He went out for a meal on a Saturday night with, what looked like normal people, wearing his tracky. It seemed to me to be the very antithesis of what today's footballer does on a Saturday night.
Saturday night after a 3-1 home win against Crystal Palace:
Jordan screeches through the country lanes testing his reflexes, in his nippy, yellow. sports car to his gated new build just off the M6. After eating his mum's hearty roast dinner, he continues the family table tennis competition, he's 237 games ahead of his dad.
Around 10ish, after their showers, the family sit down to watch an action movie, this week's choice is 'Lethal Weapon'. As the movie starts, his dad remarks that Ashley Wiiliams is a bit of a weapon.
Coleman, Keane and Martina are sitting with the extras from 'Game of Thrones' having a team meal in a private, exclusive section of Goodison Park. Allardyce is holding court:
"Saves a few bob this doesn't it lads" he says to much hilarity.
"Yeah, squashed the fucker's hand to bits at the end, watch it on 'Match of the Day' tonight. Texted Gaz earlier so he'll probably highlight it with a top comment, he's fucking hilarious." Blah blah blah.

Meanwhile Gylfi is having a soirée with Wayne, Theo and their respective partners. After a couple of bottles of champers the boys are talking in a corner about how boring Ashley Williams is when Wayne demands to go to the games room.

"Sorry Wayne, I don't have one. I have a sauna."

"Is your bird gonna join us!" Wayne blurts out (he has been mixing the champagne with diamond whites and a shot of whiskey to make 'damage', his drink of choice).

"What!" exclaims a flabbergasted Gylfi.

Silence ensues but is suddenly broken by Theo's angelic tones, " Yeah I'm up for that but bagsy Gylfi's bird."

Tom, Dom and Jonjoe are comparing their relative outfits:

"Jason of Beverley Hills blows your Louboutin and Gucci right out the water" Dom notes. "Loads of hills in Sheffield isn't there Dom," Jonjoe smiles.

A young Evertonian who has somehow smooched into the super exclusive bar, overhears and says to the young men, "How many immature people does it take to change a light bulb?" The young footballers cower together and a 6 minders come out of nowhere dragging the young scamp outside. "Your ma!" yells the lad.

Dom gets out a medal from under his silk sarong "Yeah when you've got one of these and drive a Bugatti Veyron EB 16.4 you can tell us a joke. Mug. Get your's out Jonjoe!"

Ashley is driving Idrissa, Joel and Yannick home in his car.

"Scientific team bonding, we used to do it at Leicester, season I won the Premeir League. I suggested they all do it and Claudio agreed. The owl codger did everything I said that season . and they sung HIS name! Civvies, know fuck all. Listen to me Sam and I'll do it again mate, I'll do it for you big fella."

Allardyce had listened and now 3 thoroughly decent men had to listen to the man from Wolverhampton talk about his captaincy of Wales. Joel interrupted,

"My turn to be dropped 1st this week."

"It's not you liar, it's mine."

The 2 large, mild mannered men start scuffling in the back. Idrissa feigns sleep in the front seat.

Meanwhile Oumar is still in hospital with Mangala.

"The doctor's said it's gonna be fine Oumar, you can leave me now."

"Yes my friend, I will wait a little longer."

In exclusive Alderley Edge Morgan is eating his fresh lobster flown in from the Med and prepared by his Michelin starred private chef. Head in his hands he puts down his glass of Dom Pérignon Rosé. His model French girlfriend simpers

"Quel est le probleme mon Cher?"

Ignoring her completely, he starts whimpering before he stands and beats his chest violently.

"I will prove them wrong!" he roars.

"On Monday I will come to training in a helicopter and I will have the most expensive car in the world expressly delivered to Finch Farm to drive home in. See Wazza and the boys laugh at my car then!"

Meanwhile Tosun ambles into a mid-priced Turkish restaurant at Childwall Fiveways in his Everton tracksuit. Hope he's normal and not simply a mingebag.

Dave Abrahams
40
Posted 12/02/2018 at 11:27:03
I hope Tosun turns out to be a good buy, but what is obvious is that we needed a good steady midfield player more than a striker in the January window, especially with James McCarthy's terrible injury, if any of the other centre midfield players suffer an injury then we are in real trouble, Gueye and Davies particularly.
Finally there is little hope of Tosun's transfer being explained in relation to who suggested him and who gave the nod, just for future reference, if needed.
Paul A Smith
41
Posted 12/02/2018 at 11:34:07
Alexander. Ask yourself this very simple question: Why am I asking other Evertonians stupid questions?
The way some of you lot talk about "brand of football" we must have won more trophies than I remember in the last 30 years. It's a great opportunity to be trendy this Allardyce era.
Guess what Alex. City Man U Chelsea Arsenal never just finished a group in Europe with the worst record ever. The board had just seen us stuffed by Southampton not long after Atalanta who by the way couldn't buy a win away. That's Southampton not Arsenal. Southampton. Check their home record.
So after this joke form the board felt we needed Allardyce. Do you think Moshiri or Kenwright really wanted him?
To listen to the average Evertonian now is near comedy. The same fans who called Schneiderlin Rolls-Royce for a few tidy performances. Same fans hate him now. Dead sharp aren't we. Same fans who said Gana could play for Man Utd. Same fans who said McCarthy was the new Roy Keane only to be happy he was replaced by Schneiderlin. You couldn't make this stuff up.
Ask yourself this too. Was I saying Schneiderlin was great last season? Was I one of them extreme fans throwing hype at anything Everton.

Jimmy Hogan
42
Posted 12/02/2018 at 11:34:21
Allardyce tried to sign him for Palace so there's your answer.
Alan Smith
44
Posted 12/02/2018 at 11:39:05
I don't think it was a case of Cenk not being good enough to play thirty mins on Saturday. We were winning a game comfortably yes. But we used two subs already on defenders.
The only defensive minded midfielder we had on the pitch was carrying a knock.
In the last home game Rooney and Sigurdsson faded badly. So he left Gana as long as he could in case anyone else got injured. He then subbed like for like.
The striker he never replaced with Cenk (Niasse) scored. Cenk has said himself he wants time to adjust and he is not quite ready. Some of the fans have said they want a style of play they can get behind. Surely they should then be glad he kept the same shape all game.
What hoof ball? I've witnessed Rooney hit a few long passes and Pickford has also attempted some. To great praise. No-one else goes long unless it a defender under pressure and he has no choice but to clear? Five goals in the last two home wins, with two signings and a late loanee.
I think these are all statements of fact. Allardyce comes with a lot of false pre conceived ideas about his style of play. Liverpool, Arsenal, utd etc.. Would not want him. But we are never in the same shops as them for anything. Players or managers and our stadium be worse than spurs and Emirates. His cv is better than Dyce, Silva, Howe, etc...
He is Everton's manager. He's inheriting a mess and he needs our support. Already saying he's not fit to manage the club doesn't help. Koeman, Martinez turned out not to be fit. But let's just find out if Allardyce is or isn't please.
He may not be. Be instead of chatting hysterical nonsense and picking fault over a sub. They'll be plenty of time for real constructive criticism.
I think your worried that if your wrong about Allardyce what else in your fake news reality maybe wrong? Everything you know about the beautiful game maybe fake. The echo, the mirror, sky sports may have been lying to you. So your desperate fir him to fail. Plus you've already dug yourselves into the biggest Allardyce is not fit hole and you would hate to be proved wrong.
Barry was a good signing – who thought that at the time? Rooney isn't finished Maybe Paul Scholes could tackle?
Paul A Smith
45
Posted 12/02/2018 at 11:54:07
Alan, it was all started by spoilt managers Allardyce took points off. And because Allardyce wouldn't bow to their mind games. Yes, the likes of Mourinho who parks the bus with £700 millions worth of talent.
Our fans thought Kevin Nolan should cast aside all his attributes and go toe to toe with Carvalho and Terry. Couple of Lollipops and step overs and Bolton were bound to be Chelseas nemesis.
Ask an Evertonian when we last played long ball under Allardyce. Bet they don't know or make it up.
I love the way great footballers like Anelka Okocha and Gudjohnson bought into the long ball game.
They must have really enjoyed playing spot the ball as it passed over them to Nolan.
Zack Yusof
46
Posted 12/02/2018 at 12:11:52
Alan, Sam's record is not better than Marco Silva's. Nowhere near as good in fact. Silva won the Portuguese Cup with Sporting in 2014, the club's first bit of silverware since 2008. Moving to Olympiacos the year after, he won the league, the club's 43rd title, with six games remaining.
Sam Allardyce on the other hand, has won zip all thus far with only one cup final appearance to his name, which he ended up losing. Sam does, however, boast a perfect record as England manager though!
Dave Bowen
47
Posted 12/02/2018 at 12:14:28
Alan @ #44. Your post is absolutely spot on. Aside from WBA & Bournemouth away over Xmas, when he was overly negative, I've not been too unhappy.
Tosun will need time. Look at Lacazette. He's hardly set the world on fire. Aubamayang likewise, other than one offside goal.
Some Blues think we should be playing like Man City every game. Allardyce is on an 18-month contract. Give him that long to sort out Koeman's mess & if not get shot then.
Tony Abrahams
48
Posted 12/02/2018 at 12:17:00
Alexander@32; I would say Theo Walcott, doesn't appear to be in a culture shock, even though comparing his new manager with his old, is like chalk and cheese.
I thought the Allardyce effect, definitely helped Everton against West Ham, especially considering I hadn't seen Rooney play deep before that game, I'm pretty sure he never even got a game the week before?
As for Koeman, he never came across like he had much time for the Everton project, and doesn't it show right now?
We have been left a dis-jointed squad, and we now have a manager who nobody really wants. I'm going to,give him time though, because it's not easy walking into a place where not many people like you, especially when they feel,they have good reason.
The biggest worry on Saturday, was that we are still very fragile, and once a team get at us, then unless we are being ultra-cautious defensively, we are just so fucking easy to play through. Benteke missed some easy chances, and the way that Cabaye, played one two's off their centre forward, a couple of times was way too,easy.
This is possibly the most fragile squad since Mike Walker, and considering Allardyce has been here for only 3months, then I don't think,it's fair to blame him for everything that his wrong with our club?
I'm not a big fan of Allardyce either Alexander, and if he's condescending, then unless it's with good reason, then I'm sure most people can see through him. Most of us think targeting certain fixtures, and discounting others is an absolute disgrace to Everton FC, but when you consider our results against the teams we are not expected to beat over the last 15 years, then maybe he's being more professional than we realise? (I also expect Everton to beat anyone!)
Not defending him by the way, but just trying to,look into the mind of someone who might just know a lot more about reality, than his sometimes cocky, sometimes act daft nature, lets on?
Paul A Smith
49
Posted 12/02/2018 at 12:22:06
Dave 47. The same boring people keep using the WBA and United games as excuses. As if this side isn't going to drop silly points. Are they all silly though or is it a measure of Everton.
West Brom progressed to the next round of the cup by doing something Everton haven't done since Kevin Campbell played for us.
Is losing to Man Utd such a bad thing? This is the club that sold us their dud while the player they needed took the piss out of us all game. All Allardyce's fault, I suppose.
Then again losing at Bournemouth with "this brand of football" (I love that quote) is awful. We should have done what Martinez did there and at least defended for 88 minutes playing dream football.
My sarcasm is more straight-forward than any sheep comment you're likely to hear.
David Barks
50
Posted 12/02/2018 at 12:25:46
What hoofball? It was literally what led to the first goal on Saturday. Pickford hoofed the ball from our own box all the way to the edge of the Palace box, their defender completely botched a simple clearing header and the ball went straight into the air. It was a goal that completely relied on the defender making a complete mess of a header.
Paul A Smith
51
Posted 12/02/2018 at 12:29:38
So that defines hoofball, Dave. More extreme nonsense of the highest order. What about the other 89 mins. I bet he bollocked the players at the end for not starting the 2nd and 3rd goals from our half.
Why didn't we try that from every goal kick? Bet Barca and Man City have never scored from a clearance or goalkick. See the Red Shite's first goal yesterday. Oh, because the keeper didn't kick it before the defender's mistake, it's a lovely goal.
Paul A Smith
52
Posted 12/02/2018 at 12:33:27
We score from a goalkick. Our own fans call it hoofball. I actually feel sick reading that. What a club.
Absolute lunatics.
David Barks
53
Posted 12/02/2018 at 12:37:44
Paul, literally hoofball is hoofing it over the midfield from the back, yes. That's what it is. We didn't score from a goal kick. Pickford was holding the ball at the edge of our box, not a goal kick. Did you watch the game you are speaking of?
That goal in no way resembled Liverpool's goals other then that they resulted in goals. Liverpool's keeper tossed the ball out to the right, the midfielder took the ball in space and drove forward to midfield and then played a pass into Salah's feet, who in turn squared it for Firmino to score. Do you see the difference?
Paul A Smith
54
Posted 12/02/2018 at 12:51:47
Dave, why are you clutching at straws to justify your obsession?
Calling us hoofball because we scored from a goal kick or as you say from the keeper's hands (in effect, a goal kick) where Pickford must have thought "Let's see if these can make a mistake from this..."
So are we hoofball because of that goal? That is what you are suggesting? My ma wouldn't be that naive or empty when it came to football.
Michael Lynch
55
Posted 12/02/2018 at 12:58:28
I might be wrong, but I reckon the management team have seen more of Tosun than I have. I think I might bow to their experience on this one.
On the other hand, how is Steve Walsh still in a job? He seems to be getting it wrong far more often than he's getting it right.
As for the hoof-ball... seriously? I've seen no more hoofball under Sam than under Koeman or Unsworth or Moyes for that matter.
Allardyce is doing okay, the football at Goodison is definitely improving, especially with Coleman and Theo in the team. I'm sure the board will look at it in May and decide what to do moving into 2018-19 season. My guess is that, unless we nosedive, Sam will start next season in charge, which seems reasonable to me.
David Barks
56
Posted 12/02/2018 at 12:58:30
Paul,
It wasn't a goal kick. It wasn't the sole example of playing it long, we do it all the time. The question was asked "what hoofball?" You said no man could state the last time Everton played long-ball. I simply answered your question with the fact that our first goal in a game that had been fairly dreadful in the first half, came from us playing a long ball from Pickford to the edge of the Palace box. That's all.
FYI, the stats say we rank 3rd in the premier league when it comes to long balls played this season: Premier League Stats | Total Long Balls
We're behind Brighton and Burnley. Man City are bottom of that list, naturally. They very clearly do not rely on their keeper hoofing it past their supremely talented midfield. In fact, he was signed for his ability to play accurate balls to those midfielders to get the attacking move started. That was Pep's first requirement.
Michael Lynch
57
Posted 12/02/2018 at 13:05:23
Interesting stats link that David Barks. But, as a balance, the stats cover the entire season. Allardyce has been in charge for less than half of it, so I would guess Koeman and Unsy were also encouraging the long ball then? Also, the stats are pretty congested – there's very little difference between us and Spurs for example.
Len Gowing
58
Posted 12/02/2018 at 13:10:21
All 3 goals came from open play, Pickford merely did what most every other keeper in the league would do, kicked it quickly and long to a defence that was on the back foot from their own attack, forcing the error that gave Sigurdsson the chance. Nothing wrong there as I see it.
The second and third goals were from open play, no suggestion of hoofball there at all, just perseverance in each instance again from Sigurdsson with a little bit of skill & luck thrown in. I'll take a win any way at the moment that puts us safe.
David Barks
59
Posted 12/02/2018 at 13:12:25
Michael,
Please read what I said. Others were making the claim that there is no hoofball at Everton and that nobody could name an example of long ball football played. That's all. This wasn't my claim that Allardyce does nothing but play hoofball. Simply answering the very false claim that he doesn't play that brand of football.
He clearly does. I never said it's only him. I never said Koeman didn't play that way. I never said Unsworth didn't play that way. I never said the rest of the Premier League never play long balls. Clearly everyone does. We just happen to play the third most, and that our first goal on Saturday came from a long ball from Pickford over the midfield to the edge of the Palace box. That's all.
James Marshall
60
Posted 12/02/2018 at 13:15:52
Allardyce loves technology so I can only assume that he's talking about Tosun not keeping up in training. It certainly can't be in the league games.
To be honest, I'd rather not know about all this stuff. We have way too much information and demand even more these days.
That aside, I'd still like to see him play but I suppose Allardyce has his remit and sees Niasse and Calvert-Lewin as his forwards until we're safe.
Kevin Moorcroft
61
Posted 12/02/2018 at 13:21:15
Tosun will come good – totally different here than his previous position.
Alexander Murphy
62
Posted 12/02/2018 at 13:21:29
Paul A (#31), I'm not responsible for how other Blues think. Nifty swerve, nice try. Failed.
"Why am I asking other Evertonians stupid questions? The way some of you lot talk about "brand of football" we must have won more trophies than I remember in the last 30 years."
What kind of convoluted bullshit is this, Paul? I am not responsible for the expressed views of others, don't waggle your fingers like some "Jedi mind warp" and infer that I am.
My, view is that (and I've stated it earlier) we have won fuck all since our blip season in 1995.
I hate Allardyce.
I love Everton.
I want him gone.
Is that bloody plain and simple enough ?
In closing, Paul, sadly the limitations of texting can make any of us appear here what we really are not. I'll bet that, in Real Life, us two can have a bevvy and set our Blue world to rights with smiles on our faces. This isn't an apology, it is a genuine acknowledgement that the written word is still a pale excuse for face-to-face dialogue. Take Care, Blue.
James Stewart
63
Posted 12/02/2018 at 13:21:45
The sooner Walsh and Allardyce are out the better.
Anthony Hawkins
64
Posted 12/02/2018 at 13:22:33
Has anyone else noticed that the team is essentially the same as we had pre-Christmas? Walcott aside, is there anyone different?
Oh, wait – Coleman who is literarily like a new signing!!
We've still not, technically, replaced Lukaku. The player we've got who was touted as his replacement isn't playing and barely makes the bench.
Equally amusingly, we're only 2 points off 7th place. The team could still finish in 7th with a subjective Europa League place! After the torrid season, woeful football and abysmal player performances, we could finish where we were last season!!!
I don't know whether to be happy or sad about it. Imagine the claim Fat Sam could make about taking the team from 19th and finishing 7th and getting us into Europe. Whilst it's a fantastic result on paper (that's all the records will show), it masks so so much more...
Paul A Smith
65
Posted 12/02/2018 at 13:34:00
Dave. So Pickford's kicks make us a hoofball team? I may have worded it wrong but I don't see how a goalkeeper hitting it up the pitch, even if it is every time, makes us a hoofball team.

Paul A Smith
66
Posted 12/02/2018 at 13:38:13
Alex, the reason I mentioned the last 30 years is because the brand of football thing is a mental block people try to convince themselves with. They should be looking at brand of footballers we have.
If you notice within my original reply I am suggesting Evertonians are usually wrong in general. If you're not, I will be back to tell you I am wrong but I wouldn't mind seeing the manager get a fair chance.
Steve Ferns
67
Posted 12/02/2018 at 13:48:19
I wrote a long post criticising Allardyce's tactics, but I couldn't be bothered to post it. In a nutshell: the defence is too deep; the midfield keeps going missing, leaving the opposition time and space in the middle; we cannot control the ball; the front three are far too isolated; and shape-wise we look like an Under-8s side – all defence or attack, and no-one in the middle.
Of the three managers this season, Allardyce is by far the worst. His tactics are appalling, he is out of his depth, his football is soul-destroying, and the quicker he leaves the club, the better.
Tom Bowers
68
Posted 12/02/2018 at 13:49:34
This is yet another case of wasted money and time. If Tosun wasn't ready, why all the hustle to get him? If he didn't show enough in Turkey, why on earth bother trying to get him? After all, they already had bought another who wasn't ready in Niasse!!
Why do Everton keep doing this? I suppose we will never get the answer and if Niasse keeps getting an occasional goal then Tosun will be down the pecking order and at £27 million, he will be another in the loss column when they get rid of him.
He will go the way of other dinosaurs that have come to the club in recent seasons. What is sad is all the fans who lambasted Lukaku as not being good enough for Everton.
Alexander Murphy
69
Posted 12/02/2018 at 14:07:12
"if you notice within my original reply, I am suggesting Evertonians are usually wrong in general."
What?
Hop back under the bridge deep, deep in the forest and await the arrival of "The three billy goats Gruff".
Alan Smith
70
Posted 12/02/2018 at 14:10:42
At £27M, he's the price of a squad player anyway.
Aubameyang £60M
Lukaku £90M
Paul A Smith
71
Posted 12/02/2018 at 14:16:15
Alex. Somebody so small minded and insulated would never understand.
David Graves
72
Posted 12/02/2018 at 14:16:47
Every time the goal keeper receives the ball he quickly launches it as high and as far as he can towards his team's isolated striker.
Actually the true definition of "Hoofball".
Reference: Shoot Magazine, 1979.

Geoff Williams
73
Posted 12/02/2018 at 14:18:22
Everton 's transfer policy needs to come under close scrutiny. No club, not even Spurs with Bale's transfer fee, has wasted so much money in the transfer market on players clearly overpriced and not good enough. Steve Walsh's role was over-hyped from the outset. He is surplus to requirements, any contribution he has made to the future of the club has been negative.
As for Sam Allardyce, I don't hate him, I just don't rate him. He was the wrong appointment and, like many supporters, I cannot see him here in the summer.
Fran Mitchell
74
Posted 12/02/2018 at 14:23:09
People mention the fee as if it is nothing. But think, City got Gabriel Jesus for £27 million. He came from a much inferior league, was only 20, and needed no time to adapt and bang them in.
Alan Smith
75
Posted 12/02/2018 at 14:58:24
There will be many examples of cheaper players and more expensive players. But I'm guessing most people got my point.
The fee is nothing to go by. And if the fee is the players true value then I would suggest he's only a second-choice striker for a club with Champions League ambitions.
However, he may turn out great. But let the management team manage him and judge the player after he's settled and the team are playing better.
It's hard work this TW. Everything twisted to suit arguments. I'd be asking the board why we were not bidding £70M for Aubameyang. Not moaning over Tuson being managed correctly
Dave Abrahams
76
Posted 12/02/2018 at 15:01:10
Just in relation to the fee paid for Tosun, I think Michael or Lyndon,maybe both, made a point that the fee paid was €27M, including additions for enhanced performances, and initially the fee was €21M – still a big fee but not as big as being reported.
Michael Williams
77
Posted 12/02/2018 at 15:02:15
I have problems with Sam but this is not one of them. Allardyce sees training and we don't. With Niasse scoring goals, we can let Tosun adapt instead of ruining him if he's not ready. Like I said before, £27 million is just not that much for a striker.
Jimmy Hogan
78
Posted 12/02/2018 at 15:04:23
Blimey. This thread's become a bit passive aggressive. Funny though. You can see who's argumentative, who's a pedant and who's a bit, well you know, thick. Keep it coming.
Len Hawkins
79
Posted 12/02/2018 at 15:07:41
Alexander Murphy what a privilege it is to read your thoughts on Evertons requirements regarding players/management etc. I remember you being signed for St Helens at 16 years of age and establishing yourself as a World Class Scrum Half with speed to burn and a not backwards in coming forwards attitude. It is an honour to post on the same Forum as you sir!
Michael Lynch
80
Posted 12/02/2018 at 15:37:41
Of all three managers so far this season, Sam is by far the best. He doesn't stand for any nonsense, he's lifted us out of the relegation zone and we're heading towards a Europa League place.
We're winning games at home, we've got Walcott and Coleman attacking thrillingly down the right, Sigurdsson is slowly coming good. Niasse is scoring, even Martina is starting to look more confident.
Alan Smith
81
Posted 12/02/2018 at 15:37:56
David 72 and David Barks.
Pickford has had a trademark long ball or hoof since he came here. He thinks he's David Beckham.
At first, the fans loved it. If anything this has been toned down under Allardyce. However, Pickford is still very fond of it.
Allardyce is responsible, however, for Rooney playing deep. And I reckon this may add to the long ball stats.
But nearly every fan I speak to and every pundit on TV drools when Rooney attempts or pulls off these passes.
And for all the criticism Mangala gets, I can already tell his passing is better than all the other central defenders and he's more confident on the ball.
Yes I am aware of that dodgy back-pass.
I personally don't see any club playing long-ball football. Playing twice as many or even three times as many as Man City still probably doesn't constitute long ball football. In fact it's probably half as many as Watford or Wimbledon in the 80s.
With Sharp and Gray vs Bayern Munich did the best goalie in the history of the game roll every ball out??
John G Davies
82
Posted 12/02/2018 at 16:01:22
Alan (#81),
Absolutely spot on. A lot of fans choose to forget the fact that we knocked it long at times into Sharpe and Gray. Not just in the game you mention either.

Alexander Murphy
83
Posted 12/02/2018 at 16:03:27
Len 79, not me, sadly.
I have all the pace of continental drift.
However, thanks, just for a few moments .
Still, it was wonderful, while I daydreamed.
Anthony Hawkins
84
Posted 12/02/2018 at 16:14:41
I have no issue with players being managed correctly. I do have issue with the team being in dire need for a quality striker to kick start our season and it seems we got another 'one for the future' which doesn't help the here and now.
The team has fallen lucky with Niasse in as much as he is unorthodox and not your typical striker BUT he has a knack.
I'm not dismissive of Tosun but I am hugely disappointed we were sold him as a replacement but still have no further viable additions to the striking options.
David Graves
85
Posted 12/02/2018 at 16:25:42
Come on, Alan, no long-ball football? Liverpool (especially the Cup game!), Arsenal, West Brom, Bournemouth, Spurs, Man Utd? We can't just ignore those games. It was hardly easy on the eye was it?
I don't disagree that there will always be the need to mix it up a bit but to suggest that the football we've endured recently is similar to that played in the 1980s is ridiculous.

Michael Lynch
86
Posted 12/02/2018 at 16:27:20
I suppose the only positive is that, although we seem to have wasted a fortune in the transfer market this season, we haven't wasted a huge amount on strikers. In fact, Tosun is the only outlay, considering we theoretically have the Lukaku £75M available for strikers (Sandro cost buttons, and we'll get that back).
Allardyce has said he'll start playing him when we're safe (40+ points) – though I would imagine he might play him earlier if Tosun starts showing improvement in training or we have injuries to Niasse and Calvert-Lewin – so that should give him a couple of months to see what we need to add up front in the summer.
Not sure I'd trust Walsh to pick the next striker though.
Michael Kenrick
87
Posted 12/02/2018 at 16:36:28
Let's have some balance over this hoofball business.
I admit I hate seeing us play hoofball, but I think there is a subtle difference between racking pin-point cross-field passes, as done recently by Rooney and (Yes!) Schneiderlin, versus the all-too common hoofball upfield in the general direction of the striker that usually leads to a contested header at best. Both are probably classed as 'long balls' in the stats David Barks cites.
But I believe we have indeed seen less of the true hoofballs in recent games, probably since the Leicester game. Up until then, the number was far too high, and contributed to the exceptionally poor 'zombie' football. Perhaps someone can find the game-by-game stats if really interested?
You showed your colours when you embarrassingly conflated a goalkick with a goalkeeper's clearance upfield, Paul, and then gracelessly failed to admit your error. Hence your rather ridiculous generalization: "Evertonians are usually wrong in general."
Pickford, when he came, was touted for his accurate long-ball distribution, so I think we expected to see much greater accuracy from him than we have. But this thread is really about Tosun, and the supply lines to him have not been great, with contested long balls always being a lottery, especially for a new guy transitioning to the Premier League.
Kris Boner
88
Posted 12/02/2018 at 16:52:10
Without really reading how this thread has gone I'm going to drop one point here.
The last striker we signed in a January transfer window was from Martinez. One and a half seasons later we are finally seeing the best of him.
If he is as good as we were led to believe than I'm happy to give him time to acclimatise.
Mark Rimmer
89
Posted 12/02/2018 at 16:58:14
Basically he looks crap in training.
Steve Ferns
90
Posted 12/02/2018 at 16:58:39
Some good points Michael.
Can anyone truly say much about Tosun at this point? All I can really say with any authority is that he isn't big or tall, but he looks strong. He isn't lightning fast, but he isn't slow.
He has some nice flicks, but these failed to go to blue shirts. The passing, link up play, and technique will all improve with confidence, familiarity and game time. I hope to see some more of him before the season is out.
I'm sad to see Dominic Calvert-Lewin is so easily ousted for Niasse. I think Dominic's all round game is much better than Niasse's, and that Niasse causes more damage late in games, particularly when the game is stretched and there is more room for him to operate against tired legs. Dominic is much better in the air, laying it off, and holding it up. I hope to see him get some more game time soon.
Paul A Smith
91
Posted 12/02/2018 at 17:28:08
Yes Michael the editor. Very clever. I work hard all day so it's hard squeezing everything in perfectly. Plus I did say I may not have worded it properly so thanks for missing that. Apologies to anybody who is offended by that.
The frustration came from lack of patience. A bit like some fans and Allardyce. You me and everyone knows the label is to suit opinion. How on earth can we be classed as a hoofball team with Niasse up front? Who is he winning headers against? What is the definition (if there is one)?
I would suspect in a hoofball team, every defender would hit the ball to a target man that the rest of the team can win 2nd balls around. Wimbledon were known as that. They had 9 or 10 giants. We have how many?
If I am wrong about that, I do apologise, but to pull me while somebody suggests we are hoofball because Pickford hit a ball the defender missed and we scored. Wow.
Alan Smith
92
Posted 12/02/2018 at 17:48:45
Michael,
Bang average defenders under a shit load of pressure with no obvious pass are going to clear the ball. I don't think this constitutes a tactic by the manager. The Liverpool away game with our defence and their high press is good example of this situation.
The example of Schneiderlin is a poor one. He's a poor player with no confidence and probably didn't have an easy ball on. Because he always takes the easy pass if it's available.
All this snobbery about not liking the long-ball game I find ridiculous.
1. Because no Premier League team does it anyway;
2. Over 50,000 loved it against Bayern Munich;
3. I'd quite like to see a team like Wimbledon in the Premier League (not us) try and ruffle some feathers.
Or do you all want to see everyone play like Man City and City win?
I also don't think Paul conflated anything. His terminology of a goal kick to mean a goalie kicking it out of his hands was incorrect; however, the main thrust of his argument was right.
One goal from one long ball isn't enough evidence of a long-ball team.
Michael Kenrick
93
Posted 12/02/2018 at 17:54:11
Paul, you are taking one issue – Pickford's hoof upfield for the first goal against Palace – and making out that someone is using this to label Everton as a hoofball team.
We have (at least until recently) played a lot of hoofball this season; that's what the stats show. That's what watching Everton should tell you. That's what these posters are trying to tell you.
Again, to suggest "we are hoofball because Pickford hit a ball the defender missed and we scored" is not an accurate characterisation of what is being said here.
Alan, to reference ancient history (Bayern Munich, Wimbledon) rather than talking about this season, doesn't strengthen your arguement. If you like hoofball, fine. There's plenty who don't. But labelling such views as "snobbery" kinda makes it pointless to discuss any further.
Colin Malone
94
Posted 12/02/2018 at 18:02:52
David Barks@56.
Great proven stats. What can't speak, can't lie.
Alan Smith
95
Posted 12/02/2018 at 18:12:01
The stats don't show it Micheal. They may have all been deadly accurate.
Everyone loves Pickford and Rooney going long so should we eliminate them from the stats?
As I've said before, having the most long balls in the league doesn't necessarily mean you're a long ball team. What if no-one in the league is a long ball team?
Worse players or not as good teams will be forced into the long ball by better ones on occasion. This is no way means they are using it as a tactic or deliberate style of play.
Were Everton 85 long ball?
Mountfield 15 goals from corners. Is this anti football? Non entertainment?
Big Dunc.
I thought Delaps throw-ins were entertaining, did you? If not why not?
Also, if we are a hoof-ball team at the moment it makes sense to use the headless chicken rather than Niasse does it not?
Steve Ferns
97
Posted 12/02/2018 at 18:33:19
People seem to be forgetting Sam Allardyce's core philosophies, as clearly stated in his appearance on Sky Sports prior to getting the job, where he banged on and on about the first ball should always be into the opponents half.
Now if that is not coaching players to hoof it up the pitch, then what is? No-one plays like Wimbledon of the 1980s, no one does. Even Pulis's Stoke were nothing like that.
Allardyce clearly does not have the players to play pure route one football. He wasn't allowed to sign anyone other than the two strikers, and just how much input he really had into them remains to be seen.
If he is here for next season, then expect to sign a few grocks in the summer. If, instead, he is gone, then the team is still full of players who can (potentially) play football.
David Midgley
98
Posted 12/02/2018 at 18:40:40
Didn't Allardyce say something when the transfer window first opened on the lines that, re a striker "You have to get your first signing right. You are judged on that"?
Didn't anyone scout Tosun?
It could be worse: leaves on the track or the wrong type of snow.
Tony Abrahams
99
Posted 12/02/2018 at 19:02:17
It's getting good this thread now, and whoever is manager next season, I definitely hope we sign a few grocks, Steve, because we just aren't good enough in the air.
Good point about Pickford, Alan @81, he's definitely toned it down under Allardyce, because up until the West Ham game, he was always kicking it before the defence had regained its shape.
I think Allardyce has been our best manager this season, but that's not saying much really. Sometimes I wonder how they earn their money though, because, even though I was only a Sunday league manager, I always made sure we had someone on the front post, whenever we were taking a corner!
Alan Smith
100
Posted 12/02/2018 at 19:07:43
Dave (#98)
He's got his second one right. And Mangala was a no-brainer. Tuson has a decent pedigree so let's wait and see.
For me, at €27M I hope he's the type to come of bench and score 15. And deputise for the main striker at time.
If M for real, a £60 to 70M Bellotti or Werner type should be signed this summer.
Steve Barr
101
Posted 12/02/2018 at 19:09:52
Tony, Oh and someone coming in from wide at the back post for set pieces/crosses! Lost count of how many goal scoring chances go begging because of the lack of that basic practice!
"Emperor's New Clothes" comes to mind whenever I think about anything to do with football management, administration and ownership!

Michael Lynch
102
Posted 12/02/2018 at 19:19:04
As I said earlier, the stats prove nothing about our current manager as they relate to the entire season. Unless we can see a game-by-game breakdown, there's no reason to assume Sam's long ball stats are any different to Koeman's or Unsworth's – in fact, we may well be playing less "hoofball" under him, not least because (as has already been mentioned) our goalie has toned down his big kicking philosophy recently.
Anyway, whatever the stats, as others have said, long ball does not equate to hoofball necessarily. Stevie G was renowned for his accurate long passes from one side of the field to the other – was he a hoofballer? Not really.
I agree with Tony, Allardyce has been our best manager so far this season. Not saying he's brilliant, but he seems to have a plan which Unsworth didn't, and he seems to have desire which Koeman didn't. Just my opinion.

Dave Ganley
103
Posted 12/02/2018 at 19:42:23
Crikey – how low we sink when we are comparing our so-called managers this season.
They've all been pretty garbage and if some are trying to say Allardyce is our best after Arsenal Spurs Bournemouth West Brom and complete bus parking against Liverpool and Chelsea then we are in deep shit, which I suppose we are.
The fact that this discussion is even taking place just typifies where we are at. Allardyce is a fucking mess and his so called football is appalling. He's just another in a list of not-good-enoughs at our club and to have "best of" in front of his name just shows how small our ambition is.
This conversation whether in jest or not is just wrong. He should never be here and can't go quickly enough. Never good enough and never going to be. Best of a bad bunch?
Fuck's sake have a word with yourselves. No wonder we haven't won a trophy for 24 years with people trying to find godawful crumbs of comfort from this shambles of a season. Shite managers and shite running the club at the top.
Some complain about the booing at the stadium, as far as I'm concerned we've all been far too tolerant for too long. 24 fucking years and still no trophy in sight and were having a discussion about who's the least shittest manager this season. Ffs – the mind boggles.
Dermot Byrne
104
Posted 12/02/2018 at 19:58:18
Surely the man needs to play before judgment? Then we get to sensible first 11 starters. Maybe Sam is just doing his "let's stay up" stuff. Maybe that is what his job description was. So, if that is his job, done more or less.
Longer term I still believe the strategy is to create a good team with good boss when we get new ground.
Until then it is just Premier League survival.
And we have to have crap until then.
Proof of different strategy? In the end none of us know and we all guess.
Brendan Fox
105
Posted 12/02/2018 at 20:12:33
Dave G @ 103 nail on head Sir!
The club reeks of apathy ATM and Sam is a large part of that with his dumbing-down of expectations yet not giving attacking fringe squad players (Lookman, Vlasic, Klaassen, Sandro and now Tosun) a look in at getting the Premier League experience they all need to see if they have what it takes to make a difference in games and potentially grabbing or creating goals, which funnily enough win games.
As others have said it is pure bullshit being spouted about Tosun by Sam saying he's struggling with the pace of the league when he's barely been given any minutes, Saturday being a big case in point.
The sooner the better for Sam to be shown the door to allow a truly inspirational leader of men (Fonseca) who wants his team to play proper joined up footie to be brought in to get Project Moshiri back on track!
Michael Lynch
106
Posted 12/02/2018 at 20:13:11
Dave Ganley, I look for the positives. I've been going to the match since 1967-68 season, and if you think this is shite you weren't there with about 18,000 of us on a bitter night watching us draw with Ipswich in the early 70s.
Christ, this is one of the better seasons mate compared to some. If you're waiting for us to win a trophy before you cheer up, good luck to you.
Allardyce is a decent manager; you might not think so, but I do. Opinions, like arseholes eh, everyone's got one.
Brian Harrison
107
Posted 12/02/2018 at 20:26:00
Changing the subject completely, I see that the accounts for the PFA have come out today. Gordon Taylor who is the secretary of the PFA earned a staggering £2.2 million!!!
Yes this is a man in charge of a Trade Union, included in this salary is £41,000 for a car, and he has his gas and electric and private health paid for.
So he earns 10 times more than the Prime Minister, and probably has the fewest number of members of any in the whole trade union movement.
Colin Glassar
109
Posted 12/02/2018 at 20:35:47
Calling Joe Anderson. Calling Joe Anderson. THIS transfer needs a police investigation not the Barkley one. This is one of the biggest dodgiest deals since, well, most of the summer ones.
Gerard McKean
110
Posted 12/02/2018 at 20:56:33
As Chief Steward at Goodison, the most distressing incident I dealt with in those 7 years was trying to stop a fight at the back of Lower Gwladys while a game was going on. It was vicious and horrific and it was between 4 young men all calling themselves Evertonians; so Blue on Blue.
When EFC appointed Allardyce, I said on a TW thread that this would be the club's Brexit moment and that the fan base would become deeply divided. I abhor the Blue on Blue attacks on this and other threads and even though I'll never understand why anyone brought up to respect the legacy of Dean, Lawton, Collins, Young, Harvey, 1985, 1995 et al can find anything positive to say about this mediocre narcissist, I have to respect your right to hold that view.
Please don't bother with accusing me of being holier than thou; I'm just deeply saddened that what happened at West Ham and Newcastle and, yes, Bolton is being repeated here.
The man is interested in money. Full stop. He cares not a jot about you or me or what we think about him. No, I'm not taking any high ground other than that we should all strive to reach, the one called NSNO.
Dave Ganley
111
Posted 12/02/2018 at 20:56:48
Michael,
I look for the positives too mate but this isn't it. I'm too young to have been in the early 70s, I started going in the mid 70s, which considering how that period is ridiculed, is particularly good compared to now. I've been through the late 70s and early 80s when there was even less of a crowd, sometimes reaching less than 10 thousand but never have I been as dispirited as I am now and have been for the last 4 or 5 years.
If you are comparing this season to say the seasons we were nearly relegated, avoiding on the last day of the season then yeah it's good. If not then God knows what you're comparing it with then.
I despair when folk justify the rubbish we are watching on a weekly basis just because it's been shite before. As I say, no wonder we never win anything when we tolerate this shit.
To be honest I'm never happy if we don't win a trophy. Every fan should say the same. That's not the same as acknowledging there's been progress but surely to fuck we must be aiming for trophies and if we don't win one then how can we be happy?
I was reasonably happy with Moyes because he pulled us back from the brink and at least made us competitive and, whilst he stayed on too long, left the club in a decent state. Look at it now. An absolute shambles.
A string of awful managers and a bunch of individual players who don't play for the team. Allardyce, well what can you say about him. Never won anything never likely to.
Comes out with shite like we were fine in 2nd half against an arsenal side who had stopped playing, "only 15 internet people unhappy" and a string of other such bullshit that we are expected to swallow.
He's never good enough for our club any time. The football, such as it is, is as bad as I've seen for the last 5 years and that's saying something, but if you're happy then it's your choice. I'm not, he's not a good manager in my opinion, and never will be. Just like an arsehole you're entitled to your opinion.
We are not much better if at all when Moyes first came. We have gone backwards over the last 5 years, Martinez, Koeman and Allardyce make Gordon Lee and Billy Bingham seem like football geniuses.
Maybe you've gone too long without a trophy – you'll accept any old rubbish to watch. Me, well I still remember the title wins and the cup wins and what is and isn't acceptable. This isn't and – no matter what kind of spin you put on it – never will be. The ambition now is reaching the 40 point mark. Jeez yeah this is a great season isn't it!
Colin Glassar
112
Posted 12/02/2018 at 21:00:54
Brian (#107), I read that and I find it disgusting. Plus, he's been in that post for donkeys years now and no-one really knows what he does apart from talk shite every so often. Football is sick.
Alan Smith
113
Posted 12/02/2018 at 21:19:39
103, 105.
Having rational arguments about Allardyce does not equate to not being ambitious. I have said we should buy a £60-70m striker whilst his detractors crave the arrival of Marco silva?
Leicester won a title by finding a way to play, that unsettled the big boys. Two grocs at centre-back, long ball to Vardy, and Ranieri in charge. All the football purists on here would send the trophy back would they?
It pains me to say it but, in light of not having Man City type money, the "heavy metal style" of Klopp satisfies both the effective and entertainment criteria.
And when was the last time Spurs didn't play with 8 or 9 six-footers?
Hurling abuse like "Sam Allardyce is a mess" isn't argument either.
Also, Vlasic, Lookman, Sandro, Klaassen were not played by the man who signed them.
So who is dumbing down expectations? The man who bought Walcott or the fans who advocate playing kids who aren't ready and only cost £10m and are nowhere international level?
The top 6 have current international players on their bench. Some of our fans advocated selling Lukaku to bring in five no-marks, and now throwing Vlasic in like he's a world beater.
Who is dumbing down expectations?
If you're ambitious direct your anger at the board. Sam would take Ronaldo and Messi wouldn't he? I'm sure he'd have taken Aubameyang over Tuson.
Slagging Allardyce when your favourite players are Joe Parkinson, Phil Neville, Lee Carsley and Big Dunc is somewhat ironic.

Andy Crooks
114
Posted 12/02/2018 at 21:25:19
Is it true that Tosun has not been working hard enough in training? If that is so, surely it is an appalling indictment of the trainers.
Dave Ganley
115
Posted 12/02/2018 at 21:40:52
Alan (#113), – I don't recall me saying Parkinson, Carlsey Ferguson etc so we're my favourite players, why make stuff up?
Leicester actually played like a team and fought tooth and nail for each other, something we haven't done for quite a while. They weren't a hoof ball team either, they played quick incisive football. You don't win the league by being a bunch of cloggers.
Sam Allardyce's football is a mess to be honest. It's dull uninspiring anti football really. I've said before on other threads that I don't blame Allardyce for the mess we're in he's just a symptom to the cause. The cause is the board and I've also stated that we should protest long and hard against Kenwright and his cronies for once again dragging our club into the gutter. Allardyce isn't good enough and should never have been considered let alone appointed.
If you're going to highlight my post at least attribute my comments to your criticisms not a load of others which I didn't say.
If you're saying that Allardyce doesn't dumb down expectations just because he bought Walcott then does that mean he hasn't in fact said the season is dead? He didn't give up the game at Arsenal with his team selection, same said about Bournemouth and West Brom likewise? If you're going to support Allardyce, then fine that's your right but let's not pretend that Allardyce hasn't dumbed down the season himself.
As I've pointed out earlier, it was Allardyce who is aiming for the 40 point mark – now that is dumbing down.
Phillip Warrington
116
Posted 12/02/2018 at 21:42:42
Tosun is no mug as he has proved for Turkey and in the Champions League. And the same for Klaassen but they both need and excel in teams that have structure which under Allardyce Everton will never have.
Tosun has had what, one game and 45 min of playing time and Klaassen hasn't had much more. If they were shown the same patience as Niasse and Schneiderlin... And like Vlasic and Sandro, why in Gods name haven't these players been given game time in the U23s to get match fit and gain some confidence like they would at any other team except Everton?
Instead of warming the bench getting more pissed off week after week. That's one big question that should be asked as how can a player get match fit or get acclimatized to a country if they're not playing?
Allardyce, if he stays, will ship or bench any player who shows flair or who is prepared to take players on. The thing Evertonians should be worried about is that he will probably see out his contract and more.

Alan Smith
117
Posted 12/02/2018 at 22:12:09
Bournemouth he brought players on to win the game; West Brom we drew and won.
"40-t Mark as early as possible" he said. You would want 40 pts as early as possible if you were going for the title.
The season is over because we can't win a trophy. Unless you value success in other ways? He might think Everton should be winning Trophies.
You can read into comments taken out of context any way you want.
I used Walcott in reference to the Vlasic and Lookman comments and did not attribute my "Parkinson, big Dunc, Neville" to you personally but as a fan base on the whole. (I too like those players, especially and obviously Ferguson).
I referenced Leicester for everything you said. They were fantastic. But they played long ball to Vardy and had two absolute cloggers at the back. Nothing wrong with it. It worked.
I agree with Gerard (#110) NSNO and all that.
And yes, Allardyce has many faults and I don't like the man's personality as well. I wouldn't much care for Mourinhio either.
But results are results. I don't let a person's public persona cloud my judgement. When he plays long ball, I'll say it. It hasn't happened yet. It might do.
Some games we've been cautious but West Brom away. Ffs, the squad we had available that day was nothing short of disgraceful. The DoF and board are wholly responsible for that and possibly Koeman is too.
Moshiri gets away Scott free every time. Koeman wanted Depay, Giroud and Koulibaly. And a left-back-cum-centre-back. All the Lukaku money, all the TV money.
Allardyce's last 7 at home: won 4, drew 2 lost 1.
Signed Tuson, Walcott and Mangala. Great start for any manager under such conditions
Lev Vellene
118
Posted 12/02/2018 at 22:19:57
Tosun might need to see a few games from the sidelines, to believe the hype is true!
But after that, being willing to carry your heart on your sleeve is all that counts for Everton fans! You can fail to hit between the posts, you might even be forced beyond that, but you try again, and again!
That's how an Everton hero is born! So run your heart out, then know you've succeeded when any kind of Schneiderlin replaces you to see the game out!!!
John Davies
119
Posted 12/02/2018 at 22:20:19
Gerard (#110).
You are absolutely spot on in everything you have written.
Tony Abrahams
120
Posted 12/02/2018 at 22:29:58
It's all contradictions IMO, and we usually believe what we want to believe. After reading your last post, Dave, I think you probably meant that Moyes left us a decent team, rather than a club in a decent state, in the post before that.
Sammy Lee, scouser, some of his extended family are Evertonians. Sammy was a very hard working footballer, it won't have been lost on him that Schneiderlin is cheating us. Allardyce puts him on, knows the fans don't like him, laughs to himself and thinks I can't wait to see Moshiri, tell him what kind of a mess I came into, when I agreed to straighten this club out!
I was being serious when I said Allardyce has been our best manager this season, and we might have been 13th when he took over, but we were just outside the bottom three and looking ten times worse than we are now, when he first came into Goodison Park.
James Flynn
121
Posted 12/02/2018 at 22:30:20
Gerard (110) - A fine sentiment well-written.
Alexander Murphy
122
Posted 12/02/2018 at 22:37:37
Mike (#106)?
Things were even shitter once. So this isn't so shit after all?
Dave Ganley is articulating for Me. Good bloke, we've sat nearby each other since he was a punk. Now we both have grey hair.
For the first time since I got My first "Seassie" over 42 years ago, I'm thinking about binning Everton. Completely. probably wont, 'cos I'm a junkie for The Toffs.
Then again, I never thought I'd see Allardyce where Harry, Howard & Joe once were.
I'm off to sob my heart out.
Tony Abrahams
123
Posted 12/02/2018 at 22:49:12
Everton Junkies are taken for granted Alexander, and although I'm sure I could take it or leave it right now, like yourself, I will probably watch Everton until the end of my life. It's wearing thin though, because nothing can justify the lack of empathy, or the wages.

Don Alexander
124
Posted 12/02/2018 at 23:02:23
For the record, I've never met him or nattered with him but if ever our truly esteemed guvnors, Lyndon and Michael, feel the need to appoint a third "apostle" they should ask Dave Ganley to take up the cudgels on our behalf of us fans on this site. Seriously.
Dave Lynch
125
Posted 12/02/2018 at 23:14:33
I've virtually had it with footy, full stop. I didn't renew my season ticket and only today cancelled my Sky subscription.
I watched the other lot in patches at the weekend and witnessed one of their players (don't even know his name) dive at every opportunity and scream for a pen or foul. Niasse got done for the same offence and every week the top teams get away with diving like ducks with no retribution.
We have managers whinging about their players being tackled, demanding they are afforded more protection... FFS. The game is so flawed and corrupt it's unreal, to top it off we have as our manager the most despicable bung taker the English game has witnessed.
I honestly have lost all love and hope for the game.
Ray Robinson
126
Posted 12/02/2018 at 23:36:54
Leaving Allardyce and his questionable tactics / team selections aside for one moment and acknowledging that some of the football served up this season has been dire, which football fans can truly say that they have been entertained this campaign?
Man City's obviously – one of the best footballing teams that I've ever seen in 57 years of watching football. Liverpool (pains me to say it but...) and then who?
Which set of supporters is really happy with their team, style of play, manager, coaching staff?
There aren't many are there? Football has become a game of chess, statistics (why so many short corners? because statistically most goals come from near-post flick-ons), a game of tactics and counter strategy and for over half the league a game of survival (avoid relegation at all costs). Individuality is to a large extent stifled in favour of a team / work ethic.
Now bringing Allardyce back into the equation. This is exactly why he was appointed and continues to be in demand. Football for the most part craves a "safe pair of hands". Pure entertainment for entertainment's sake, unless you're blessed with riches beyond our current means, is an unattainable for all but the few. Besides, we tried that with Martinez and became adept at blowing 2-goal leads.
I don't know what the answer is. The Premier League is a gravy train that nobody can afford to get off. Sad, but we're probably not the only set of supporters complaining about lack of entertainment.
Kevin Prytherch
127
Posted 12/02/2018 at 00:14:41
Anyway – back to Tosun.
I've heard via an Under-18 player that Tosun has been training with them – and getting shown up by them!
Inspiring...
Peter Lee
128
Posted 12/02/2018 at 00:41:18
Steve Ferns. You are one of the people forgetting what Allardycesaid on Monday Night Football months ago.
He said that once you gained possession the first pass should go forward. No sense of that as the opponents' half.
I'm a great believer in listening carefully to what people say. When asked about Davies he praised him for asking the coaching staff what he needed to do to get back into the first team. He was told that he needed to improve his training stats. He did, he got picked.
Now it is obvious that the players are monitored closely in terms of what they deliver in training. Tosun's readiness or otherwise is measured and currently it's found wanting. Seems fair to me.
The previous time Sam Allardyce was asked about Schneiderlin, he said that he was improving but that he knew that he had a long way to go to be the player he was at Southampton.
See what I mean about listening?
Derek Thomas
129
Posted 13/02/2018 at 00:43:04
Kevin @ 127; Shown up in what way? Attitude, fitness, skill?...hopefully only fitness, you can work on that.
Alexander Murphy
130
Posted 12/02/2018 at 01:36:35
Don, he's sound in Real Life, mate. And despite "Desperate Everton" you'd struggle to ever see him without a smile upon his face.
I've frequently wanted to buy him a post-match bevvy. Never have, he's almost always in the company of his equally likeable Mum or failing that his daughter (who, like her Dad, is also seemingly able to change the colour of her hair – last seen sporting a very fetching shade of Ash Grey). Proper Blues.
Alexander Murphy
131
Posted 13/02/2018 at 02:19:22
Tony 123, following the death of My True Blue Mum (fave player Dave Hickson. Best quote "I went to see us at Anfield once. Never again, the place stank of wee".) My 86-year-old Dad is seriously considering taking up his season ticket again.
His main factor in not doing so, isn't the fact that his hearing is crap, not that his eyesight is dreadful, not that he's seven stone wearing his overcoat, frail, dodgy on his feet.
Allardyce.
Elder abuse is a crime. I can't do that to a man who has seen William Ralph, Gentleman Joe, Tommy Lawton, Dave Hickson, Brian Labone (Brian used to press flesh with Dad on the train of a morning from Maghull), Big Joe Royle, "The Holy Trinity", Tricky Trev, Scruffy Nev, Kanchelskis.
Allardyce?
No, Dad. If needs be then I'll just stop going, if for no other reason then just for us to spend more time together.
Sweet Sheedy's left peg, have we really come to this? Have we?
Darren Hind
132
Posted 13/02/2018 at 03:00:01
I too have heard stories (from the arl fella of one of the youngsters) that long looks have been exchanged between youth players when Tosun has looked uncomfortable with balls fizzed into him.
I don't write the guy off (I haven't seen enough of him to do that); some players lose everything when they aren't match sharp, but he will not get his game together sitting on the bench. Either send him to Unsworth for a month, or get him on the pitch.
Dave Evans
133
Posted 13/02/2018 at 08:07:49
The Premier League is the toughest to play in and adapt to. Even Pogba is struggling. So players with no experience of it need time.
That said, with obvious exceptions, the Everton buys of all kinds in recent times do not seem to be improving the team. A worry that is probably on Moshiri's mind as well.

James Hughes
134
Posted 13/02/2018 at 08:15:34
11 days until we play again Sam, get a behind doors game organised and give him some game time.
Also, Sam, please re-visit your retirement plans – I'll send the rep from Saga round to your house.
Colin Glassar
135
Posted 13/02/2018 at 08:21:37
Everyone involved in this deal should be sacked.
Mark Tanton
136
Posted 13/02/2018 at 08:35:29
I can't believe that we can sign one of Spain's most promising forwards, a Dutch champion captain, one of the best centre-half prospects in this country, Turkey's leading goal-scorer and barely find a role for any of them. All roads lead back to recruitment.
Victor Yu
137
Posted 13/02/2018 at 08:59:59
Other than Saha and Lukaku (and also Yakubu before his injury), every single striker we have signed since the Moyes days have gone south since joining us.
Tony Abrahams
138
Posted 13/02/2018 at 09:19:08
I can't see how training with the kids is going to help Tosun though, unless he's doing some extra training, to try and adapt to his new environment.
Paul Tran
139
Posted 13/02/2018 at 09:24:21
If he's that bad, why did we buy him? Maybe he's like one of those horses that's rubbish on the gallop and shines on the track? Like Sandro and Klaassen, he's not good enough? I'm not convinced. They need time on the pitch to prove themselves and they're not getting it.
What a great advert for future players we're making for ourselves!
John Keating
140
Posted 13/02/2018 at 09:44:49
We have known for a long long time the positions we needed to fill.
Regarding strikers, we have known for at last 2 seasons that Lukaku was on his way and have had loads of time to replace him.
We got Niasse during Martinez's time and he didn't play him. Excuses for this season really are unacceptable both pre-season and in January it was imperative we got a striker in who was up and running and ready to go, especially in the position we have found ourselves in.
People can argue the toss about whose fault all this is; however, what is indisputable is that the common denominator is our Director of Football.
I understand new players coming here with weather, language and cultural issues but football is now global and if players cannot adapt, and adapt quickly, they are in the wrong profession.
Serious questions need to be asked regarding Walsh.
Clive Rogers
141
Posted 13/02/2018 at 09:53:00
It sounds like they are saying he is too slow for the Premier League. They are not going to coach extra pace into him at 26, so it could be end of story, move him on.
Laurie Hartley
142
Posted 13/02/2018 at 10:08:30
Meanwhile Oumar Niasse continues to confound us. I have just read in the Echo that in 18 appearances he has scored 8 times and provided 3 assists.
According to their calculations, because of when he scored them, his goals have been worth 7 points. Using the same criteria, they point out that Lukaku's goals last season won us 10 points??
He is a menace too. Ungainly and awkward he unsettles defenders and makes them make mistakes. And he never gives up. Nearly everyone wrote him off but where would we have been without him this season.
It appears to me that Cenk Tosun has got his work cut out to displace him.
Len Hawkins
143
Posted 13/02/2018 at 10:32:30
I am retired and after working all my life, the last 15 years of employment after having both knee joints replaced, I actually find it obscene that people like Walsh are being paid enormous amounts to find players like Sandro, Klaassen and Tosun. Then £millions are paid out to acquire their services plus lottery win wages.
I want someone to justify why so much money is being wasted by Walsh, Koeman and Allardyce.
My working life consisted of trying to earn money for my employers first and then a bit was passed on to me in wages. These "Footballers" are rewarded handsomely for nothing!£millions in the bank and hardly a ball kicked in anger.
What a very sick joke football has become; it must implode before long.
Jay Wood
[BRZ]
144
Posted 13/02/2018 at 11:28:27
Len @ 143.
Given your sentiments, it might be best that you don't check out this video on 'The Footballers' Barber'
WARNING: it opens with Wilfred Zaha saying, in all seriousness to the camera:
"Me before a game I like to have a fresh trim, for my confidence and everything, d'ya know what I mean? So barbers are so important!"
You might end up laughing, or crying, or both.
Cracking stuff...
Chris Corn
145
Posted 13/02/2018 at 11:38:18
Len (#143), I totally agree with your sentiments except the implosion part. I remember over 20 years ago when Joe Royle took over and Vinny Samways was out the team. We were slagging him for sitting in the reserves on circa £7k a week and said it couldn't last. Haha. That's probably a good League 1 wage now.
It seems to go on and on and we are spunking big money on sub par players and staff. The club seems to have lost its heart and integrity and it's sad.
Paul Kellett
146
Posted 13/02/2018 at 11:50:41
Then why buy him? If he is so called struggling for pace in our game it seems mad to spend such an amount on a player?
The only way he will get better is playing games. Bit parts perhaps. Why not in U23 games? Oumar Niasse had a great spell with them.
Similarly with Klaassen... why not play these players "struggling to adapt" in our other team to build up game time?
Poor coaching? Poor set-up? Fish rots from the head!
Shane Corcoran
147
Posted 13/02/2018 at 12:18:59
I've heard that Cenk's mediocre start is getting to him. Can't sleep a wink. Constantly tosun and turnin.
Tony Abrahams
148
Posted 13/02/2018 at 12:20:58
Allardyce has told him to stop tosun, and start turning!
Kevin Tully
149
Posted 13/02/2018 at 12:21:46
I find it totally incredible that there would be no data on his sprinting ability? Surely these clubs wouldn't purchase a player for £24m, only to find out he can't sprint quickly enough for this League?
In these days where almost every stat is pored over by the likes of Walsh, then how could you find yourself left with a player who isn't quick enough? Not having it. Not even at Everton.
Ian Edwards
150
Posted 13/02/2018 at 12:42:31
Strikers struggle at Goodison for the very simple reason that the tactics, particularly away, are negative and they get very little service or support.
This stems from the days of Moyes and his negative stench still permeated the team.
Clive Rogers
151
Posted 13/02/2018 at 12:46:47
Kevin, you wouldn't think so, but after his first two games, I said to a mate and posted on TW that he didn't look mobile enough. Bit like Brett Angel and Bernie Wright.
Craig Walker
152
Posted 13/02/2018 at 12:52:58
Reminiscent of Moyes signing Per Krøldrup and then realising he couldn't head a ball. Only at Everton.
Nicholas Ryan
153
Posted 13/02/2018 at 13:02:29
A striker who is 'not up to speed'...hmm... I don't remember Bob Latchford, Gerd Muller or Paolo Rossi ever giving Linford Christie any sleepless nights!
Mike Price
155
Posted 13/02/2018 at 13:18:28
I met Walsh last season and was instantly unimpressed, he reeked of a dodgy second-hand car salesman persona.
With wages we must have lost over £100 million at least in a year, meanwhile the RS have probably accrued £120 million plus, on Salah alone. Added to the profit on Coutinho, that's a quarter of a billion on two players1
How can one recruitment department get it so right and one so devastatingly wrong!
Christine Foster
156
Posted 13/02/2018 at 13:26:19
Just seen that the owner of West Brom has sacked the Chairman and Chief Exec... dreams do come true!
Now, all I have to do is hope Moshiri is watching... please god!
Jim Burns
157
Posted 13/02/2018 at 13:52:38
Well said Laurie @142. There are quite a few on here – as well as Everton's hierarchy, who need to feel a tad embarrassed at the early diagnosis regarding this lad.
Has someone been holding the 'key requirements of (even) an average striker 'guide for recruiters upside down?
Oumar has been an example to many of the players we have brought in – whatever he lacks in 'natural' ability – he more than makes up for in nearly every other department – hang onto him for dear life.
Aside from Walcott picking the ball up and having a run at defenders – Oumar chasing a ball down or harassing the defence, is the only time I shift forward in my seat these days at Goodison Park.
John Pierce
158
Posted 13/02/2018 at 14:24:29
Tosun is like so many players this season. Bought and scouted, so we believe, without thought to the overall plan.
What plan I here you cry?
Well the lack of an obvious playing style, including under Koeman has completely screwed the players, and whilst, yes, they have not played well most have not been given any period of time to do so.
Many posters have rightly imo, asked why Klaassen, Sandro, Vlasic et al have not gained any minutes in the U23?
But what's the point, fitness aside, if the youth teams either don't or have no clue how the first team play?
The blueprint to how we play each week has left several players exposed & insecure. Michael Keane has played in a back four, a three and a flat five with more dance partners than anybody. Do you expect him to play well given that level of change?
The fact Unsworth has been successful at youth level is in spite of everything, because he should be playing the same system as the first team. Is that Unsworth being disrespectful or simply a manager in Koeman first and now Allardyce who couldn't give a fuck about an overall plan?
A genuine Director of Football would be clear that all teams play like the first team, and players outside looking in get regular minutes at U23 level and are able to step in without being plunged into a side with no identity and are given an extended run without the half a team changing around them each week.
Clueless.
John Keating
159
Posted 13/02/2018 at 14:32:59
In normal circumstances I believe no Premier League team can afford to "play" someone just to give him minutes on the pitch or time to adapt.
Competition in this league is fierce and margins are extremely small. Carrying someone to give him a bit of experience is just crazy unless you're 3-0 up with 10 minutes to go. Like last weekend!!
Niasse wasn't so much given a chance in the normal sense, he was played initially out of pure desperation and fortunately for us it appears to have worked out to a certain extent.
As others have mentioned, Tosun's abilities should have been fully dissected long before he was acquired. If it wasn't, and this is all a surprise, then heads need to roll asap.
Walcott was brought in and was immediately up to speed. This should be a prerequisite, especially for us at this time.
John Pierce
160
Posted 13/02/2018 at 14:50:42
Under Moyes, due to financial constraints any one who flopped was removed quickly because, well we need the money back!
Under Moyes, there was a system, an identity and actually players who were fastidiously scouted were given a run in the team. Pienaar & Arteta are good examples, this was also driven by the lack of money.
It would seem the current Everton are awash with the green stuff think transfer duds are okay because well, we can buy another. If there is no identity and excessive chopping and changing, which all three incumbents this season indulged in, then transfers have a much lesser chance of integrating well into an ever rotating cast.
I want Allardyce gone for many reasons. But with 11 games left, one a week, there is no reason to change the team other than for injury. With most opponents in the bottom half, no excuses to introduce a player from the bench and play them into form.
The team that started Saturday and most importantly the system should stay, even in this shitstorm of a season it will yield seventh.
Mike Dolan
161
Posted 13/02/2018 at 15:37:44
Could it be that with Walcott being brought in and is exceeding expectations at the moment (brilliant signing), the reason for signing Tosun diminished exponentially (in Allardyce's mind)? Now it is perhaps thought that playing Oumar is a safer bet because you're only making one change instead of two.
To be fair we do sometimes look like we might score goals just lately and, for all our obvious flaws, we are in with a decent chance of finishing a disappointing 7th. It's dumb, I know... but it's what we do!
Let's not boo our own players though – lots of bad Karma attached to that.

Brian Wilkinson
162
Posted 13/02/2018 at 15:48:23
So Tosun is not fit enough to play against the likes of a Palace and Leicester, yet one degree higher over in Turkey, he would have been deemed fit and ready to play against Bayern Munich.
Can someone please tell me what I am missing here?
James Hughes
163
Posted 13/02/2018 at 15:55:47
Christine, you beat me to it. Show Bill the door.
Brian Williams
164
Posted 13/02/2018 at 16:17:37
There's no way Moshiri will sack Kenwright, no way at all. People are gonna have to wait for him to stand down voluntarily I'm afraid.
Kim Vivian
165
Posted 13/02/2018 at 17:46:22
Wake up and smell the coffee, people. Moshiri does not own Everton. He doesn't even own half of Everton. Bill ain't getting sacked in anyone's lifetime.
David Barks
166
Posted 13/02/2018 at 17:49:15
Kim,
Yes, he does. He owns 49.9% of shares and there is no ability for any combination of other known shareholders to outvote him.
Brian Williams
167
Posted 13/02/2018 at 17:56:49
Kim. Although what you state is mathematically correct Moshir is to all intents and purposes "the owner."
Clive Rogers
168
Posted 13/02/2018 at 18:06:09
Kenwright scared off both Paul Gregg and Sheik Mansour by insisting on remaining chairman apparently, so I feel sure that him remaining chairman will have been written into the takeover deal. We are stuck with him.
Lawrence Green
171
Posted 13/02/2018 at 18:31:05
Bill won't be going anywhere until the Stadium is approved or fails – it will be his legacy to the club he loves.
I'm sure I read when Moshiri first gained 'control' that Bill and the others would be here for three years at least. Valentine's Day 2019 may be one to remember.

Kim Vivian
172
Posted 13/02/2018 at 18:39:25
David, 49.9% is less than half the last time I looked.
In any event an individual, or combination of share holders who have a holding of 25% or more can veto a shareholders decision. 74.9% is the magic number above which the decision becomes over riding.
So as I said before, Bill ain't getting sacked certainly in my lifetime.
Clive Rogers
173
Posted 13/02/2018 at 20:32:47
Lawrence, Kenwright has made £90M out of his shares in the club, but doesn't love the club enough to give it a single penny, unlike Moshiri. Not a single penny in over 20 years while he has become a very rich man out of EFC.
"He loves the club" – don't make me laugh. He has turned us into a small club which Moshiri is trying to turn around and has put himself before the club time after time.
Brian Williams
174
Posted 13/02/2018 at 20:41:26
Company law rules generally provide that the directors of a company are responsible for day-to-day management of its business, and make most of the decisions. Only a few matters (such as changes to the company's share capital, or to its articles) have to be referred back to shareholders for a decision.
The shareholders have relatively few, but important rights to intervene, principal amongst which is the right to appoint and remove directors.
As, between the shareholders themselves, company law rules generally provide that the will of the holders of a majority of the voting rights will prevail. A minority shareholder only has limited power to block shareholder decisions.
Kim Vivian
175
Posted 13/02/2018 at 20:46:44
It may not offer much sway in the real world, Brian, but as you know 25% carries the power of veto. I'm not defending or condemning Bill, but the process to 'remove' him is a hell of a lot more complicated than many on here seem to understand. I believe he will step down relatively gracefully within a couple of years. Health notwithstanding.
Brendan Fox
177
Posted 15/02/2018 at 10:39:45
I've pasted part of one of my comments on another thread below as it relates to the verbal diarrhoea coming from Big Sam's mouth:
If the Sammies truly think the fans are that gullible to believe that a player that has played 24 games for Besiktas this season, scoring 14 goals in their domestic league, cups and the Champions League, is not fit enough to come on as a sub for 20-30 mins per game to freshen up the attack, then more fool them because I and many others aren't buying that excuse.
Paul Kossoff
178
Posted 16/02/2018 at 14:50:00
I wonder how many teams in the Premier League have bought a striker to go straight in the side to score goals and then found he's not good enough, doesn't fit into the team, or is not fit enough to play!
What the fuck is Walsh and his team playing at if they, with all their expertise and know-how, identify a target, suggest that target is bought (obviously because said target is good enough to go right into the side), then the manager says that player is not up to standard! It really is beyond a joke.
Even West Bromwich Albion have just sacked top staff: "Chairman John Williams and Chief Executive Martin Goodman have been given notice of termination of their contracts and have been placed on garden leave with immediate effect."
How is Walsh, for one, still in a job?
Paul Kossoff
179
Posted 16/02/2018 at 15:12:00
John (#159),
"In normal circumstances I believe no Premier League team can afford to "play" someone just to give him minutes on the pitch or time to adapt."
Tosun must be on £70,000 a week, cost £20 million + and we cant afford (as in "take the risk") to play him?
What the fuck are we paying him for, then? Why was he bought if he's not ready?
I don't believe, as others have said, that he's not fit, or not ready, that's a whole pile of very weird bullshit from Everton, and you know what? I'm not surprised at this new cock-up!
Andrew McLean
180
Posted 16/02/2018 at 19:27:31
Last time I checked, the game of football was the same in both leagues. 11 men a side, 90 minutes in two periods of 45 minutes, you kick a ball. If you kick it in the goal you score. Teams who scores the most wins.
Dave Abrahams
181
Posted 16/02/2018 at 20:33:28
Kim (#175) – is that just a gut feeling, that Kenwright will retire gracefully in a couple of years, or do you know something?
Kenwright has always looked after himself and profited financially from his time at Everton, taken without putting anything back into the club, so when he retires gracefully, does that mean he is going to do something decent and put something back into the club for once? – and I don't mean buckets of tears.
Tony Abrahams
182
Posted 16/02/2018 at 20:39:27
He paid for all the coaches so the fans could go to Fulham in the FA Cup for nothing once, Dave.
John Keating
183
Posted 16/02/2018 at 21:21:17
Paul (#179),
If you had read my post 140 you would se what I was getting at.
I mentioned that we'd known for a couple of seasons we needed a replacement for Lukaku so we should have had someone in place and ready to go when Lukaku went.
We should not have been in a position at the start of the season where we had no recognised striker. Bought an unknown guy to the Premier League in mid January and finished up with not playing him for whatever reason.
I think you went a bit off on one there.
Add Your Comments
In order to post a comment, you need to be logged in as a registered user of the site.
Or Sign up as a ToffeeWeb Member — it's free, takes just a few minutes and will allow you to post your comments on articles and Talking Points submissions across the site.