Tosun extolls the benefits of Middle East trip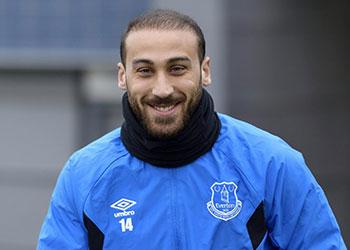 Cenk Tosun feels that this week's warm-weather training camp in Dubai will stand him in excellent stead in his attempts to settle at his new club.
The Turkish international arrived at Goodison Park last month as Everton's much-needed striking signing in a £21m deal from Besiktas but he managed just two starts before being demoted to the substitutes' bench.
Tosun failed to make it onto the field in each of the last two home games, against Leicester and Crystal Palace, with manager Sam Allardyce saying that the striker was struggling to adapt to the pace of the Premier League and the English climate.
Anecdotally, Tosun has impressed in training in the Middle East and in addition to the physical benefits, he believes the opportunity to bond with his team-mates means he will be ready to go back into the starting XI this coming weekend.
"We didn't go to Dubai for sun and relaxation", the 26-year-old said. "We trained hard, with sessions on the grass followed by gym sessions and then recuperation in the late afternoons. The temperatures were hot and we worked hard each day.
"Team-bonding is very important and getting to know your teammates as the people they are, as individuals.
"Spending every day around the guys means that we know one another better now. I've settled in very well, I really believe that. But the training camp in Dubai was perfect to help me adapt even further to my new surroundings, my new club, a new league.
"We had a lot of fun along with the serious work and I hope it will help me on the pitch for the next games. I believe it will.
"The Premier League is more physical than how the game is played in Turkey, but I like this," he said. "I really enjoy the high-tempo of the game here. It's hard physically, it's a tough game, but I embrace this.
"The first few weeks were difficult maybe for my body and the adjustment, but I can feel already that I'm adapting and I'm more comfortable now."
---
---