Allardyce: Lack of attacking threat is on the players
Monday, 26 February, 2018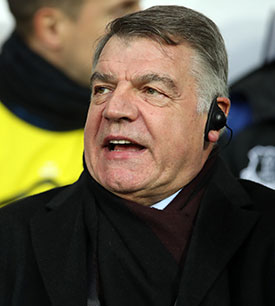 Sam Allardyce insists he can't be blamed if his charges won't move the ball forward and he argues that Everton's expensively-assembled side needs to be dealing better with the pressure to perform.
The manager faced the media after Saturday's 1-0 defeat at Watford, the latest reverse away from home where the Blues have only won once all season, and he was in deflective mood.
Though his comments immediately after the match focused on his belief that the difference in the match was the fact that the Hornets had a finisher in the form of Troy Deeney in their side, he later asserted that his Everton team didn't attack effectively.
Once again, the Toffees failed to really test an opposition goalkeeper, fashioning just one clear opening and putting only two shots on target.
"They get the ball and pass it, not me," Allardyce said. "So, if you get the ball and move it forward to one of your front men, they get in the game and attack the other team's defence. But you can't blame me if they don't pass the ball to each other."
Allardyce was asked whether he thought more could be expected from a team that cost in excess of £200m and he agreed, although he disagreed that the sport psychologist that he and his staff are apparently looking for would make much difference.
"Yes, I would say the players need to be dealing with it more for the money we've paid for them," he explained. "For me it's the players' own desire and determination to put this right.
"What they need is to just believe in themselves when they play away from home. The home form is the complete reverse. I don't think there's a lot wrong [to] bring in a sports psychologist now.
"To be fair I can't find the right one anyway at the minute. It's a hard job finding the right one who delivers the right stuff we want to deliver. There's a lot out there but not one who would benefit us at this moment in time.
"We got a disappointing result today but we've still got the opportunity to stay in the top half of the table and then I'd say it's been a decent season."
---
Reader Comments (202)
Note: the following content is not moderated or vetted by the site owners at the time of submission. Comments are the responsibility of the poster. Disclaimer
Victor Yu
1
Posted 26/02/2018 at 06:11:52
Yes, I would say the manager needs to be dealing with it more, for the money we've paid for him...
Phillip Warrington
2
Posted 26/02/2018 at 06:00:44
Is this guy for real? And, more importantly, is this club for real. This is the latest try to get out of jail (take responsibility for the team's performance) that I have read.
How the hell does he think the players will play for him when he comes out with this? You see reactions to defeats from Man City, Chelsea, Man Utd – their managers don't go and blame the players. 100% they take the blame themselves and deflect it from the players creating team harmony and spirit which is defiantly lacking.
How long are the board going to allow this to happen? This club needs a huge jolt and the only way is to stay away until it happens. The club banks on the loyalty of the fans to support them no matter what, but maybe that trust has to be broken.
Dick Fearon
3
Posted 26/02/2018 at 06:17:50
Sam is quick to accept plaudits for home results yet the away failures are everyone else's fault.
Kevin Miller
4
Posted 26/02/2018 at 06:20:32
I am a season ticket holder and I am asked to renew my season ticket. I wonder if the chairman Bill Kenwright produced a show and every performance got negative criticism, would he still expect the punters to go and watch just because of his name?
The point is, football should be about being entertained, to enjoy the game and have something to talk about – not just hope that we sack the present manager.
Fed Up.
Peter Hadwin
5
Posted 26/02/2018 at 06:23:00
Yet again, Sam blames the players, he takes no responsibility for defeats. How is he ever going to build team spirit with comments like this? Yes, he doesn't make the players misplace passes but he does select them.
If the players are not doing what you tell them to do then drop them and play someone that will. It is that simple. Just slagging them off after every defeat is getting us nowhere fast.
Mark McDonald
6
Posted 26/02/2018 at 06:54:26
It all starts now – him distancing himself from the players, the supporters (those that actually support and wanted him in the first place), the club etc. This is his cunning plan for the inevitable in the summer to get a big payout.
He has already had a nice holiday in Dubai at the club's expense; well come June/July he can afford to go and retire there. Perhaps maybe some rich Shiekh might require your services for his local amateur side, just to keep your hand in!
Andrew Presly
7
Posted 26/02/2018 at 07:06:25
We've got Mike Bassett managing Everton Football Club. Surreal.
Frank Sheppard
8
Posted 26/02/2018 at 07:09:43
Sam rarely sounds in his interviews like he expects to be in the job next season. He speaks of "Everton" in a way an unimpressed commentator would.
Tim Michael
9
Posted 26/02/2018 at 07:18:11
This really is embarrassing for the club to have the manager say that he is not to blame for the players not passing to each other. Also it's embarrassing that a manager of his age and experience is saying these kind of things.
It emphasises that he has no future in management, never mind manager of EFC. It was interesting that he declared to Palace that he was retiring when he left. Well, these latest comments have all the hallmarks of a man who's basically finished as a manager and who is just holding on.
I tend to agree that he's talking his way out of a job because that's what he wants. His ego is such that he will want to leave the game saying that I have never been relegated and that is now his goal.
Should the club retain his services for next season, he will operate in the same way as now because he knows that money will be spent by Moshiri. However, as it stands today, I think he has very little stomach to go beyond the end of the season. That now seems evident. The question is: Can the club itself see that?
Ken Kneale
10
Posted 26/02/2018 at 07:32:02
Yet further proof if indeed needed that the manager, his team and those above all need a taxi journey away from Goodison Park as soon as possible.
We need all supporters and smaller shareholders to galvanise and pressurise the owner to review how the club operates and regain Everton's footballing identity on the pitch and decorum off the field.
Rick Tarleton
11
Posted 26/02/2018 at 07:32:27
As Allardyce seems to see it: he is there for the short term and there is no onus on him to look at the long term. He seems to be saying that it's not his fault under any circumstances, as he would not have assembled this group of players and he isn't there long enough to make a new team.
His tactics and attitude is simply to get through from game to game and, whatever happens, it's not his fault. And this man wonders why the fans at Newcastle, West Ham and Everton all despised him for his negative tactics and lack of a long-term coherent plan.
How has he got any reputation within the game?
Tim Michael
12
Posted 26/02/2018 at 07:43:02
Also, I have been watching his demeanor on the touchline in recent weeks. It's smacks of a man who has lost interest in his job.
In many ways he should never have taken the EFC job on. He should have retired but this man has ego to feed and perhaps thought that he could go out of the game with a bang. That's not going to happen at the moment.
The other matter was his achievement of 1000 games recently. Make no mistake, that kind of praise will have been in his mind at some point. He feeds off that. It all adds up to the way he is now.
Ajay Gopal
13
Posted 26/02/2018 at 07:43:32
It is all so frustrating – frankly at the moment, it appears that all other teams (Championship teams included) play better football than us, it is as though the players have completely forgotten how to play and enjoy themselves.
I watch enviously how Man City, Liverpool, Chelsea, Man Utd, Spurs, Arsenal play their football – light-years ahead of us, sadly. It seems that ordinary players become better when they play for these teams, but even good players become shit when they play for us.
This is the worst season for Everton fans in a long time. Many players need to be moved on at huge discounts on their purchase values – Williams, Bolasie, Besic, Schneiderlin, Klaassen, Sandro, Vlasic, Tosun (?). Build the team around youngsters and players who are hungry for success, with a proper footballing manager to coach them and mentor them. The fans need to realise that it will be a long process needing their patience over many seasons before we start challenging for the Top 6 again.
Build the team around Pickford, Holgate, Keane, Coleman, Kenny, Walcott, Davies, Sigurdsson, Calvert-Lewin, Lookman, Onyekuru, Dowell, Baningime. The loan system served us well (Barry, Pienaar, Lukaku, Deulofeu, Lennon) before we got too ahead of ourselves and started splashing money on mediocre talent.
We need to get back to basics, start at the basement and start the rebuilding process from there.
Terry Hayes
14
Posted 26/02/2018 at 07:49:56
He gets paid £6 mil a year for picking the team... For fuck's sake, you don't expect him to know how to set up a team and sort out the tactics as well, do ya?
Kenny Smith
15
Posted 26/02/2018 at 08:15:42
I would say the reason why we pass the ball and lose possession is because of the lack of cutting edge. The players (all midfielders by the way) are trying to work it constantly to a player in a better position rather than push on to create opportunities themselves.
This is down to Allardyce. We've got an option to play two centre-forwards, one of which he's bought and the other (who's his preferred option) he's brought back in from the cold. Not to mention Walcott can play there if needed and is his preferred position.
This is dire stuff and I wish Sky and BT would stop putting our away games on telly because (A) it is hard work watching this shite, and (B) because it's embarrassing. I can't wait for this nightmare season to end. I can't even glance across the park with envy because I'm too angry.
Sam Hoare
16
Posted 26/02/2018 at 08:17:58
Buck-passing of the lowest nature.
We have, since Sam arrived, the lowest chances created from open play in the entire Premier League! And faced the most shots.
Perhaps if it was his first month in charge but he's been here long enough now that in no way can you distance yourself entirely from what happens on the pitch. I guarantee he would be saying that if the performance had been positive, then he takes the credit.
Depending on who the boards choice for next manager is, I'd be delighted if they brought him in tomorrow to start assessing and preparing for next season.
Tony Everan
17
Posted 26/02/2018 at 08:18:31
How are we 9th?
It must be the most damning statistic for the quality of the Premier League. After another shameless performance, it is fair to say Sam has not improved us at all. We have remained the same as under Koeman.
He may have a point that the expensively assembled squad are not performing to their potential. Guess what, Sam, that's exactly what we are employing you to do.
Rob Baker
18
Posted 26/02/2018 at 08:29:55
Tony, you are right. It says more for how poor the 14 other teams in the Premier league are that we are actually still in the hunt for 7th.
It's been a disgraceful season and I just want to see how it's going to pan out in the summer with a massive cull of manager, coaches and players hopefully. We should buy hungry Championship players and from leagues such as Belgium and France.
Bill Gienapp
19
Posted 26/02/2018 at 08:34:54
Six million a year and he acts like his job is to pick a starting XI (which he frankly can't even do right half the time) and then just throw his hands up in the air. God, what an insufferable asshole.
At this point, I'd honestly have rather just stuck it out with Koeman to this mummer's farce. It's that bad.
Any Allardyce apologist (assuming there's any left) who'd try to argue that Big Sam would have done any better over those first nine fixtures that got Koeman axed is delusional.
If anything, he wouldn't have managed the draw against Manchester City. (Koeman, if nothing else, had a knack for outfoxing his old pal Pep.)
Christopher Dover
20
Posted 26/02/2018 at 08:38:21
If, as he says, he is not responsible for the bad passing and movement of the players then why is he being paid a king's ransom to manage Everton?
Just put someone in to manage on a fraction of his wage but with enthusiasm and a little bit of knowledge and we would be no worse off and – heaven forbid – entertaining to watch.
Rob Dolby
21
Posted 26/02/2018 at 08:41:29
Is it the players who pick themselves and sort the formations, set pieces, tactics, defensive shape etc.
Watford won the game as they put a nightclub bouncer upfront and played more direct. Did he put himself on as a sub? No, the manager did.
Sam was putting Morgan on to stick with the draw. Why not put Tosun on and leave Niasse on the pitch.
The manager is paid to manage not blame everyone else. Just say it was a poor end-of-season game that was won with one decent strike on goal and leave it at that.
Sam has been around long enough to know that talk like this will get him the sack and hopefully that's what he will get.
David Morgan
22
Posted 26/02/2018 at 09:10:59
He said after the Dubai trip and before the game, "The players have no excuses". Now he is keeping in character and blaming the players. That's absolutely fine by me as long as he doesn't pick the same players and preferably changes his tactics in the process.
In my opinion, the most important position on the field is Centre Midfield – you can buy all the strikers you want; if you don't have a class midfield, you aren't getting the ball. Pep once said he would play 11 midfielders, or 10, I can't remember.
Look at our side, that's the problem. Half the team can't pass a ball or keep it. Play two centre midfielders that play in the middle of the pitch – not in front of our defence. I think Rooney and Davies were supposed to be doing that.
Rooney gave it away a lot and Davies was running forward a lot. Those two, whoever they are, have to run the game. We could play zero defensive midfielders against the bottom half of the table at home in my opinion.
In conclusion: It's the midfield that's the problem! They spend too much time protecting some obviously weak defenders and don't run the game. I don't even think we have two players who could run the game if Big Sam was brave enough to push them up the field.
Jim Bennings
23
Posted 26/02/2018 at 09:13:13
Utter popppycock!
Martinez might have been slated for his defensive negligence (47 – his worst tally conceded – will be soundly beaten this season anyhow).
But at least Roberto had a team capable of attacking and exciting more often than not when he had the players available ( and for far far less money on the pitch on offer).
For Allardyce to spout this bullshit just patronises the intelligence of fans that have been watching Everton for decade,s and we have seen very limited Everton teams over the years, the struggles of the 1990s, but those woes were down to a lack of genuine quality at times (95/96 excluded) and investment on players .
The one thing with struggling Everton sides over the years is, while we have been limited technically, we have always had heart and soul, and ambition to at least have a go and win.
Today's team is soulless and spiritless and the Watford game was yet another carbon copy of the Arsenal and Tottenham away days of "We can't really be arsed today; let's get it out of the way".
Allardyce is being paid a king's ransom to make a bigger impression than the last manager was earlier in the season and he is not doing it. He is failing dismally to bring anything new to the table, even his fabled clean sheets haven't materialised.
The lack of attacking threat, just four goals away (three from open play) from home since he took the job is abysmal despite being allowed to spend £47 million in the January transfer window.
I think he knows, maybe even knew at the time of taking the job, that it was only going to be a short-term fix and it's perhaps become a lot harder than he anticipated after the initial honeymoon period of early December.
I expect him to eek out 42 points with two more grim wins and maybe two draws to scrape survival; afterwards, I fully expect he will then receive his payoff for a final retirement come May.

Simon Jones
24
Posted 26/02/2018 at 09:15:11
There is a line between blaming the players for not carrying out their instructions / tactics, and the manager being responsible for a defeat, or at least, the manner of the defeat.
I would suggest that if "Big Sam" was a more popular figure, we'd be giving the players a shoeing right now. However, because of his baggage and the fact that he is, at best, described as a divisive figure, then the manager is getting the blame today.
At several clubs, he has organised far worse teams than this current Everton squad into effective units, so I'd be surprised if he was unable to repeat that at Everton... so maybe the players really are letting him down? Maybe they think they are too good to play in an Allardyce side?
Lenny Kingman
25
Posted 26/02/2018 at 09:26:39
A couple of thumpings to Man City and the hated reds may put his and our position in a more realistic light.
Tony Waring
26
Posted 26/02/2018 at 09:36:15
Simon (#24),
I am in my seventies and I know I'm too good to play in an Allardyce side! The man is a charlatan and should be dismissed as early as possible. Unsy can do better in the short term until we get another Pep – if one exists.
Paul Welsby
27
Posted 26/02/2018 at 09:38:35
Look, I come to expect this from a shit manager and a coward who has said the same things from day one. He will take the glory for the win and lay the blame at the players for a defeat.
The fact the owner hired this vile man in the first place says a lot about him, which in itself is very worrying, but more worryingly after so many unacceptable performances and the insisting that none of this is his fault, our owner and other board members thinks this is okay.
I said on another thread over the weekend after the defeat, that we are the laughing stock of the premier league and the board are relentless in their pursuit of embarrassing the most loyal an passionate fans in the world but there will be more embarrassment just around the corner. Fuck me, even I didn't think it would be Monday.
This board are so out of touch with the fans and all they want is our money. Well then this won't be a surprise to anyone, if we keep giving it to them this is only going to carry on as it has done for the last 30 years – 30 fucking years!!! Think of how much of our hard earned money in that time we have give and for what, we get nothing back zilch fucking zero.
Unless we just protest with our feet by not attending it's never going to change. What will I be missing if I don't go? Fuck all, as the football is terrible. The board don't give a fuck, the players don't give a fuck so I for one will not give a fuck for now as enough is enough. Yes, I know it would take thousands of empty seats for Moshiri to take notice but I wouldn't let anyone take the piss out of me like Everton do in normal everyday life so why should I accept it from multi, multi-millionaires.
No thanks, Everton, you have gone too far with this one. To let a terrible manager on £6 million a year which I contribute to not do his job and blame everyone and anyone is a disgrace, embarrassing and not acceptable. Everyone has a breaking point; well, I have reached mine.
James Hughes
28
Posted 26/02/2018 at 09:44:01
Does this guy think we haven't got the brains we were born with?
What do you mean — we can't blame you if they don't pass it to each other? That surely is the point of the manager and the coaches. You know all those training sessions at Finch farm where you teach them tactics. Practice set pieces and training drills, look at videos of the opposition etc. Unless of course you just play poker all day.
I see he even has an article in the Echo, saying our new signings are giving value for money. Such profound insight from the man. But it's not his fault – it's just the market – as everyone knows we've got a bob or two.
Taxi for Allardyce
Derek Knox
29
Posted 26/02/2018 at 10:22:34
I have to agree with comments above, how can he absolve himself of any blame whatsoever?
Okay, I understand as everybody else probably does, the ill-balanced transfer business; initiated between Koeman and Walsh; which Allardyce inherited was not ideal, but a tradesman doesn't blame his tools, even if they are ill-suited for the job in hand.
No, you make the most of what you have at your disposal; after all, it's not as if he is being paid peanuts to rectify matters.
They have produced some half decent performances, eg, Leicester and West Ham with the same players give or take, appreciated they were at home, but the likes of Man City, and – although it hurts me to say Liverpool too – don't think 'we are away' so change the mindset and hold out for a draw.
No, they go to win. I was prepared, after his initial appointment, to back him to a degree; even though he was nowhere near my choice of manager for Everton; but my patience has well expired now, and I can't wait to get rid of this gum-chewing mercenary with no game-plan or strategy, other than to publicly blame the players for his failings.
Mike Allen
30
Posted 26/02/2018 at 10:25:53
It's costing us a fortune trying to replace Moyes. It's no use banding names around – we are now one of the many clubs in and around mid-table changing managers every 2/3 years, always in transition.
We should have tried to stabilise the club after Martinez. Joe Royle and David Unsworth would have done that or were in a better position to do it.
There is no come back for a lot of the players the manager has belittled since being here – they don't want to play for Everton, not now, it must be a terrible place to work in for many of the players.
Not far off 80% of fans didn't want the guy; however, he's got a top deal for himself and his hangers on because we panicked after Mr Moshiri thought he could wave a fat cheque at Watford and they would bite his hand off.
We are the worst footballing side in the division and he is slowly eroding what respect we have left. After another dreadful performance, we are going into to the Burnley game with the manager is rubbishing the players.
We as fans are not expecting to win but hoping, yes hoping, we can get a point to keep our heads above water – that's how far we have come since the Moyes era and Moshiri's millions.
Pete Clarke
31
Posted 26/02/2018 at 10:28:31
So what's his excuse for being beaten then?
Keane and Williams don't talk to each other but that's not his fault either! He picked the team and his organisation and encouragement to the players are non-existent.
He should be stood down without pay and allowed to be pelted with eggs at the Gwladys Street End before the next home game, before being marched down to the Mersey for a dip.
The longer he stays the less faith I have in Moshiri because this big turd is taking the piss out of us all.
Brian Harrison
32
Posted 26/02/2018 at 10:36:29
Strange that Allardyce was lecturing all other coaches that they don't spend enough time coaching the defensive side of the game. This from a manager whose team hasn't kept a clean sheet since Xmas, and now says "Don't blame me if the players can't pass to each other."
Now he has just had these players away for 2 weeks with no distractions and there is absolutely no improvement in our game whatsoever. When we win which is at home he takes all the plaudits but when we lose, it's the incompetent players fault. We are in 9th place with the lowest total of points for a side in that position after this many games, since the start of the Premiership.
I like many didn't want this man anywhere near our club, I said before he signed that it would be many men behind the ball football and zero entertainment which is pretty much what we have got.
This isn't I told you so comment this is just looking at what a man who has been in the game for many years has produced. So how anybody could expect anything else was deluding themselves.
I remember Carragher saying when Allardyce signed that he needed to drop his "Me, me, me" approach and some on here had a go at Carragher over that. But he was right; he like me was saying look at how this man managers look how victories are all about his tactical awareness but losses are down to the players.
He said we lost on Saturday because we didn't take our chances; I can only remember 2 the Michael Keane header and possibly the scramble from a corner in the last few seconds of the game. He went onto say the main difference was that they had a striker and we didn't. That's despite him having spent £47 million in the last window on strikers. He also used every striker he has at the club on Saturday, so that must give them a lot of confidence going forward.
Also with the game having 15 minutes to go he was bringing on Schneiderlin, certainly not to try and win the game that's for sure. But had to change tack after they scored.
Just let's hope and pray that we get enough points to survive and can dispense with this man. Although I would suggest that Moshiri councils the best brains he can from outside the club before appointing the next manager. I suppose the only positive thing to take from the defeat was it looks like, as bad as this league is, we won't now get 7th which would make it harder for Moshiri to sack Allardyce.
John Graham
33
Posted 26/02/2018 at 10:40:14
The problem is we are too slow. It's great if you are controlling a game and you can pass the ball around but we struggle to put more than two passes together and, if we do get in the opponent's half, we have taken that long to do it, they have everything already organised at the back.
We need to quicken everything up – our movement, our thinking, our passing and our pressing. For me, Rooney just slows everything down.
Our midfield three should be Gueye, Davies and Sigurdsson. Then an attacking three of Walcot, Niasse and Calvert-Lewin. Get the ball forward fast and in front of the attackers for them to run on to.
Also, looking at the weekend, I thought Tosun looked at least a stone overweight. I know he's a big guy but he needs to be more mobile if he wants to succeed in the Premier League.
Johan Elmgren
34
Posted 26/02/2018 at 10:42:34
I didn't support his appointment. I thought he was a dull manager with dull tactics and a man without morals. I didn't think he was going to succeed and get us playing attacking football and winning matches, but I was ready to give him a chance.
He's been here a while now and it has turned out even worse than I expected. His tactics, his arrogance, his unwillingness to take in criticism and change... He was a dinosaur, he is a dinosaur and he will always be a dinosaur... Do the right thing, Allardyce, and resign! This club is far too good for you!
Allardyce out now!!
Andrew Keatley
35
Posted 26/02/2018 at 10:44:43
I don't know what Allardyce genuinely offers within the halls and fields of Finch Farm but, when it comes to matches, his influence can effectively be described as poor, and his post-match interviews divisive.
Can he please just go now? I'd rather not have a manager at all and save the cash than have a rich bully who is so behind the times — it is embarrassing.
Steve Brown
36
Posted 26/02/2018 at 10:47:48
He sounds like he knows he is done and won't last beyond the end of the season. He is not even trying to be constructive now and sounds defeated and defeatist.
He'll be gone soon enough I suspect.
Dave Ganley
37
Posted 26/02/2018 at 10:48:18
Sounds like the RS – never your fault...
Brian Harrison
38
Posted 26/02/2018 at 11:02:07
Maybe if – and hopefully when – we get safe, we can use the "Spartacus" approach and all carry a sign saying "
I am 1 of the 15
".
[Alluding to Allardyce's claim that the only dissenting voices are 15 or so people on the internet.]
David Hallwood
39
Posted 26/02/2018 at 11:11:04
Lack of attacking threat cost us the game, did it, Sam. Is that you were about to bring Sneiderlain on to introduce some attacking threat.
Piss off, you fat fraud, and take your monochrome, coward football with you. I've watched some utterly shite Everton sides but none that has ever made me fall out of love with the game. At least the missus loves you.
Liam Reilly
40
Posted 26/02/2018 at 11:18:27
Allardyce: "...But Mr Moshiri, I brought them all away to the sun and they are still shit!"
Moshiri: "But why don't you pick some of the other players; maybe try Klaassen, or Beni or maybe start that guy that YOU asked me to pay £27M for"?
Allardyce: "Huh – errrr that was Steve Walsh and it turns out that he's shit too. Next up, it's Burnley away; I'm thinking I'll play the same team but bring Morgan back – that way, the crowd will give him dogs abuse and they'll forget about me".
Moshiri: "But shouldn't we be trying to beat Burnley?"
Allardyce: "What — definitely not. They have a striker! Let's try and scrape a nil-nil; that should keep us in 10th. I mean, that's a great day for everyone."
Martin Reppion
42
Posted 26/02/2018 at 11:27:20
What a turn around. I was in the 'no way' camp before we appointed Allardyce. I was then in the 'I was wrong' camp when we had a honeymoon period. I'm back in the 'Let's get divorced quickly' camp now.
I've said it before in this forum, I look at the other squads outside the top 6, and I can't see one that is man for man better than ours.
These players are good enough to go out and just play. We don't need a manager to confuse and bewilder them like Martinez. We don't need a manager to undermine their confidence like Koeman. And it seems we don't need a manager to blame everyone but himself when things go pear-shaped.
I do not believe that we are in a position to demand a Pep, or any other of the super coaches. These guys are looking to show their credentials in the Champions League. They are not going to be seduced by a club's history and potential.
My shortlist includes Jagielka, Arteta and even Big Duncan. As with Howard Kendall, we want someone to motivate and bring belief back to this club. Give him a decent senior figure to fall back on. (The equivalent of Keegan's Arthur Cox.)
And the brief is to put the smile back on the faces of people at the club. And also play players in a format they understand. (After all, Leicester defied modern thinking winning the league playing 4-4-2.)
I'm with those who want to see us develop our talent rather than go solely for quick fixes. But we still need to have some top players for the rest to play around and learn off.
Pickford, Coleman, Kenny, Keane, Davies, Baningime, Lookman, and several more should be told they are the heart of the squad. Walcott, Sigurdsson and Rooney are the footballing brains and class they can learn from. We may have to fix left back and centre-forward. They should be told to play, not gung-ho, but expressively. We may still finish outside the top six. But we would have fun doing it.
I still keep the faith. I still love this club. But I want to see something good come from this debacle.
I am waiting.

Jim Bennings
43
Posted 26/02/2018 at 11:27:57
I don't think I've ever seen such a dull drab and utterly heartless Everton team.
The first six months was dull under Walter Smith but fair enough at the end of his first season he had the bottle to go with two strikers in Campbell and Jeffers,; it resulted in a better attacking team., Do you really need to be Einstein to work it out?
But this Everton team just appears like you find 11 strangers on a Saturday morning and then go and ask them to play in the afternoon.
It's down to the manager to gel the team and bring ideas that the players can easily adapt to. For instance, why the hell is he making the same mistake as Koeman and playing Sigurdsson on the left still when it's obvious he appears a far more dangerous player when he's in the middle of the pitch? the Palace game should have shown that by the shots Gylfi was having from the middle of the pitch!!!
It's down to a manager with a positive bouncy mental outlook. Liverpool were in turmoil in Rodgers last six months but Klopp came in full of beans and his positive mentality of "Let the opposition worry about stopping us" rubbed off on average players like Henderson, Milner etc. Allardyce is the complete antithesis of that mentality.
Jay Wood
[BRZ]
44
Posted 26/02/2018 at 11:39:07
Jim Bennings @ 23.
A small point of order.
That's a couple of posts now you say Martinez's Everton conceded 47 goals in his worst seasons with us. You are wrong. It was worse.
In his 2nd season in 2014-15, it was 50.
In the 37 games he oversaw in 2015-16, it was 55.
Our worst-ever goals against total in the Premier League was in a 42-game season, in 1993-94 under a combo of managers: Kendall, Gabriel and Walker – 63.
The worst in a 38-game season is 59 by Walter Smith in 2000-01.
With the team currently on 47 goals against with 10 games to go, it's a 'record' Sam (plus Koeman and Unsworth) could yet 'better'.
Ernie Baywood
45
Posted 26/02/2018 at 11:39:16
It's a group of players who have been told there's nothing to play for. The manager actually used the phrase
"we've got to write this season off as quickly as possible"
.
Anyone here undertake any kind of people management? Would you tell your team that?
I just laugh at his comments now. He's a mess, the club's a mess. It's inconceivable that he's still our manager in June.
Kevin Tully
46
Posted 26/02/2018 at 11:52:28
He knows he's going after the final whistle on the final day. No doubt about it. He will have heard about approaches for other managers, and it's clear he is doing everything to protect his reputation. Managers who think they are here to build something wouldn't come out with statements like this. He had a dozen games to prove he was good enough, but has fallen flat on his face. The players simply aren't responding to him, or his staff.
There is no team spirit in this squad, it is so clear to see. No fight, no confidence, or passion. All the job of the manager to instill these qualities in a squad.
I'd like to ask, who is leading this club on a daily basis? Moshiri is a tax exile who resides in Monaco. Kenwright is in London, with a full time job. So, who will be at Finch Farm this morning asking questions? Not Elstone, he has no input into the footballing side of things. So that leaves us with our esteemed Director of Football. A fucking PE teacher is running Everton – right into the ground!
If this season hasn't taught Moshiri about a requirement for a full restructuring, then he deserves to lose his fortune. What a fucking shambles of a club.
Paul Welsby
47
Posted 26/02/2018 at 12:13:46
Moshiri: "Bill, what should we do about this mess? We can't keep letting the supporters down, embarrassing them, making them the laughing stock of the Premier League – they don't deserve it!"
Kenwright: "Don't worry, Farhad, I told you these fans are the most loyal and passionate fans in the world. They will keep spending their hard-earned cash every week, no matter how we treat them. I have been doing it for almost 20 years!"
Moshiri: "Don't you think, after what we have told them about how we have the money to buy any player we want, as long as they want to come to Everton, the money is there? Also, Bill, I told them myself I want us in the Champions League and challenging for the title. I look like a tool and sound like I am bullshitting them."
Kenwright: "Ha, ha, ha... I have been bullshitting these fans for almost 20 years! Don't worry, it will be a full house a week on Saturday against Brighton, season ticket sales will break all records for next season. Sit back, Farhad and relax!"
Now not for one minute am I criticising supporters like me who attend the game but when will all this stop? As I see it, not until they see empty seats, in my opinion. I maybe wrong but, until we try, who the fuck knows?
I understand supporting the team until we are safe but, if this man isn't immediately sacked, then how about taking a stand for once? Please don't tell me it's not the Everton way, because who has any right to tell us what is the Everton way? It's embarrassing and ridiculous.
I ask myself the question: Would I not attend a few games if it meant this dinosaur being sacked? And for me, yes, definitely. I know there is no guarantee that it would happen but, until we try, we could be stuck with him.
The alternative of paying hard-earned cash to watch utter shite, then have to listen to his shite while the board do nothing just fills me with anger and dread.
Who of us wants to witness this vile coward doing that stupid dance he does at every last home game, as if he has been amazing and saved our club? We are better than this, ladies and gentleman – let's not see this man walking around our pitch being clapped for doing nothing but killing our passion and being blameless for utter shite.
Anthony Hawkins
48
Posted 26/02/2018 at 12:16:22
If the manager was going to bring in a sports psychologist, he would have done it within days of appointment. It was all talk.
Allardyce took this job in an attempt to clear his name and get back into management. I wonder who he'll take on next season?
The team needs a clear-out and the next manager needs to have a strong character and be a winner.
Gio Mero
49
Posted 26/02/2018 at 12:23:02
Allardyce needs a sport psychologist
James Cadwaladr
50
Posted 26/02/2018 at 12:25:54
Bring David Moyes back the moment his contract at West Ham expires.
Brian Harrison
51
Posted 26/02/2018 at 12:32:14
I just read that, since Allardyce has been in charge, Everton have had the fewest shots and created the fewest chances from open play. So let's just forget our league position, I hope one of the press would like to ask him what he puts these stats down to?
I mean, to be the worst in the Premier League at both creating and having shots, does this not highlight our complete lack of attacking intent. I think this manager needs reminding that our attacking set-up is just as important as our defensive ones.
Mike Powell
52
Posted 26/02/2018 at 12:32:55
After the Arsenal game, I said "I am done with this, I am not watching Everton again this season while Fat Head is in charge. So, like an idiot, I watched the Watford game – I can't help myself... glutton for punishment; I could not believe what I was watching, I know it wasn't football.
I am disgusted with this board of ours. How can they let this carry on? I am defo finished watching them this season. I can't put myself through it anymore.
Tom Bowers
53
Posted 26/02/2018 at 12:33:04
Sam, be a man and admit you are not good enough. The players are not good enough and the strategies are not good enough.
Surely to God, Moshiri has realized his error (again) and has a contingency plan for next season.
This nightmare has to end!
Eddie Dunn
54
Posted 26/02/2018 at 12:37:40
The problem lies with everyone knowing he will be gone in the summer. His distancing himself from the players smacks of a man who knows he can't throw caution to the wind because his main aim is to simply finish in the top half.
He will be gone with a golden handshake in the knowledge that he kept us up. He has no interest in putting two up top.
His ambition was to get a point at Watford.It is very disheartening for the fans who go to watch. How do we still fill our away quotas?
Colin Glassar
55
Posted 26/02/2018 at 12:38:34
The worst, imo, manager we've ever had!! With all the baggage this fat sod brought with him, and a carte blanche cheque from the board, he has the bleedin' nerve to say this? Sod off Sam you fat twat!
Ian Burns
56
Posted 26/02/2018 at 12:52:34
Colin (#55) – you got that off your chest!! Don't blame you.
"The buck stops there; er no it doesn't it stops there, I'll do another press release later and I will then decide where the buck stops, I know it's not my fault."
I've posted so many times how much I hate, loathe this clueless, dinosaur of a manager, I'm beginning to get bored of my own posts!
Tony J Williams
57
Posted 26/02/2018 at 12:53:59
"But you can't blame me if they don't pass the ball to each other."
To be fair he does have a point here.
However, the formation, tactics and team selection fall square at his fat head door.
Susong Hermawan
58
Posted 26/02/2018 at 13:03:22
And maybe the manager in charge lacks the knowledge of how modern footballers perform... eh?
James Stewart
59
Posted 26/02/2018 at 13:07:59
Never been so embarrassed of Everton, but having this clown in charge is just too much. Just make it stop.
Jim Bennings
60
Posted 26/02/2018 at 13:25:44
Brian Harrison
That's a truly woeful stat about the fewest shots etc since Allardyce arrived... but, witnessing the games in the last month, you can't argue with it.
That West Brom game at Goodison in January was the most appalling game I have ever witnessed in terms of trying to play football or trying to attack – it was worse than Sunday league.
Craig Walker
61
Posted 26/02/2018 at 13:30:17
Jim @23. Spot on. Martinez's tenure was frustrating towards the end and there were some abject performances but at least we scored goals and carried some threat. I'd take a 3-3 draw at Stamford Bridge with this lot.
I've never been as low supporting the Blues as this season. Our away results are just inevitable. We are where we are because we tend to beat the teams around us at home. The teams above us turn us over with ease and we are useless on the road.
I saw some of the Carabao Cup Final yesterday. The cameras focussed on a young Arsenal fan who was in tears when the third goal went in. My lad is a similar age and has never even experienced us beating our local neighbours. That Arsenal fan will have witnessed three FA Cup wins in the last few seasons plus Champions League football nearly every season and a proud record against their neighbours.
I'm fed up of having my weekend ruined by a bunch of over-hyped prima donnas and a manager that shouldn't be anywhere near our once-proud club. For those who said Allardyce is the man for the job, his points percentage is worse than Martinez and Koeman whilst playing atrocious football.
We have several players who are competing for the worst ever Everton signing: Tosun, Keane, Klaassen, Schneiderlin, Bolasie. I honestly think I could have bought players for their prices and moulded a team better than the last two incumbents. I wouldn't mind so much if we were on a budget and just punching above our weight but we've spent vast amounts and wasted the majority of it. Totally depressing.
James Marshall
62
Posted 26/02/2018 at 13:43:06
While I don't think he should say it, I can see his point. He doesn't tell the players not to pass to each other, and they are generally shit at it.
Otherwise I agree with everyone on here that he wants out. Money in the bank, Everton mid table and thank you very much, job done.
Our focus should be on a new manager and a change of direction next season. Moshiri needs to take some lessons in how to run a football club ASAP.
Ken Williams
63
Posted 26/02/2018 at 13:52:46
Allardyce would make a great RS boss, its never my fault seems to be his strap line
Michael Lynch
64
Posted 26/02/2018 at 14:13:09
Yeah, I agree that Allardyce wants out as much as the fans want him out. It's been a disastrous swan-song for him, if he really does retire after this. He knows that fans hate him, the players must hate him too, and he can't get them to play for him.
Clean sweep and a new broom in May. There's no way Moshiri won't pay him off – it's not like the old days where you stick with a manager... no coach lasts more than a handful of bad results these days. He's gone. Hopefully the board are already looking at options.
I would prefer someone with a track record, but chances are it will be the likes of Silva or Eddie Howe. I don't particularly want either of them, but I'm not sure we can attract better even though we pay top wack.
If Steve Walsh doesn't go at the same time, then we can expect more shit signings and another two or three managers in the 2018-19 season. Half the team need shipping out as well.
Clive Rogers
65
Posted 26/02/2018 at 14:18:07
He seems to be admitting that the players he signed in the last window, Tosun and even Walcott, are not good enough.
Jim Burns
66
Posted 26/02/2018 at 14:42:56
Eddie @ 54 – that's a great question and one me and my son were asking all the way back from Watford.
I go with one of my three children (on rotation) to all away games – have done for years, and it struck me after Saturday that during this abysmal run of away performances, we've never once heard Allardyce, during his toe curling post match interviews (or the Board) make reference to the incredibly loyal away following.
Away games are invariably sold out and I've met fans who regularly travel away from Denmark, Ireland and all 4 corners of the UK – as well as the home games.
Anyone travelling away will know the stomach-churning disappointment and after-match stick we've suffered at Spurs, Arsenal etc. And the sickening realisation that, yet again, we've had hard-earned cash, commitment and time – as well as naive hope – stolen from us by disinterested charlatans.
At least some recognition of the effort and commitment we've made – some humble acknowledgement of the fact that despite the shite we've been served game after game – we remain one of the best supported clubs away from home. Is it too much to ask?
Allardyce's complete lack of empathy and embarrassment – I 'd never expect an apology – tells us everything we need to know regarding his attitude towards his tenure at our club and the complete disregard and lack of respect for especially, the travelling fans.
He shot down the tunnel on Saturday after the final whistle – and only Walcott had the bollocks to come over to us. He got verbally hammered by those who had remained, but at least he came over the rest hovered in the middle and applauded us sheepishly from a distance.
So Eddie – great question mate – why on earth do we do it? See you all there at Burnley on Saturday, fellow Moonies.
Jamie Evans
67
Posted 26/02/2018 at 14:48:00
Search your feelings, my fellow ToffeeWebbers.
How do his latest comments make you feel?
Angry? Livid? Fewwwwwwmin?
Now imagine being a player and reading that you can't pass a ball. Would you be bothered pulling your tripe out and running around fighting for the cause with this lunatic in your corner? Neither would I... and that's what worries me.
Tim Michael
68
Posted 26/02/2018 at 14:53:13
Many of us are now seeing that Allardyce is pretty much washed up and out of ideas. In all honesty, he probably was before he arrived but his ego got in the way once EFC came calling. He knew he could rinse us as soon as the second approach came. However, besides Allardyce, there needs a complete overhaul. This is well overdue.
I know that many fans are uptight about him but play to his ego, get to the so-called safety total and then start the restructure. He knows he's finished as a manager and he knows he's going. In the next few weeks, it's important that the club starts that process of change. Future positive change.
Tim Michael
69
Posted 26/02/2018 at 15:00:59
Jim (#66),
See my comment earlier in the day about his touchline demeanor. He's finished mate. All he's interested in now is protecting his so-called reputation in the game. That's why he talks the way his does and acts in that way.
David Barks
70
Posted 26/02/2018 at 15:10:02
This would be a perfect opportunity for Moshiri to make a statement defending the players and asking publicly "After Mr Allardyce's comments, I would like to know what I am paying him £6 million a year to do?" This man really is a disgrace.
Pete Clarke
71
Posted 26/02/2018 at 15:15:59
If the manager is free to say any shit he wants about his players, then I would love to hear the players' views on him.
There's got to be some charge we can throw at him to get him out without pay. How about dereliction of duty, or stealing a living live on TV??
Kevin Moorcroft
72
Posted 26/02/2018 at 15:27:05
Poor squad in a very competitive league apart from 6 clubs. No manager would be able to do much with these players.
Badly bought indeed by Messrs Koeman and Walsh. Directors no idea at all as regards to Premier League football. I think Bill should retire and the jury's out on Moshiri.
Sam Allardice may be a scapegoat to many but his brief is basically to 'keep us up with what you have'. We have sold all the better players so what can the club expect?
Sam will get the points and retire and let the supporters (ha ha) give someone else a load of shit. Keep the ToffeeWebers busy!!!!

John Davies
73
Posted 26/02/2018 at 15:31:01
If there was an entry for Sam Allardyce in the Oxford English Dictionary you would find the words Deluded, Arrogant, Cowardly, Dishonest, Charlatan, Fraud, Clueless, Detestable, Uninspiring, Deceitful, Archaic and Shameless all listed by way of explanation.
Dean Augustine
74
Posted 26/02/2018 at 15:46:43
I hated it when Fat Sam was appointed as the manager of my beloved club. I do not understand why so many fans wanted him to be our manager when we could not get the other targets that were mentioned.
And how long do we have to take this suffering? I am still waiting after 40 years hoping that the Blues will excel. But with every step and every move this club is being damaged by fools who do not love the club as we fans do!
Ray Robinson
75
Posted 26/02/2018 at 15:57:53
"We got a disappointing result today but we've still got the opportunity to stay in the top half of the table and then I'd say it's been a decent season."

Even if we finished 7th (which we won't), nobody can say by any stretch of the imagination that this has been a "decent" season – it will have been abysmal! Save for a few crucial penalties and a fair number of opposition shots that have smacked against our woodwork, we would definitely be in a relegation spot.
Now, whilst I don't totally blame Allardyce for all our woes – most of that goes down to Koeman and Walsh in my opinion – although the present incumbent certainly hasn't helped matters with his tactics and team selections, it's bullshit statements like the above (of veritable Martinezesque proportions) that turn me against any manager. Most Evertonians can see through such baloney – please don't insult our intelligence.
Darren Alexander
76
Posted 26/02/2018 at 15:59:15
I think most of us on here would do a better job of motivating these players – motivation being the main missing ingredient, as far as I can see. And most of us here would have the stones to aim for something more than a draw at the mighty Watford – and to admit to our shortcomings if/when it all went south. It's as if this guy says – "hey – I'm only the manager here, getting by on £6M a year – what do you want from me?" This whole circus gets ever more ridiculous by the week, even when you think it can't possibly get any worse.
I can't believe we have as many points as we do and are somehow in the top half of the table – what a piss-poor league this is. Getting two wins from the final ten games should not be too difficult, but I bet we'll find several ways to make it more than difficult. Come to think of it, we effectively have only five games left as the manager forfeits any and all away fixtures. Hopefully we'll get just over the line, but it's not going to be pretty...
Tony Everan
77
Posted 26/02/2018 at 16:06:52
I fear that Sam knows he's out in May and he and the players will drift on, unmotivated in any way. This is very dangerous for the club.
It will be unpalatable for the board to sack him until May and I don't think they will. They will calculate we will beat relegation by a couple of points.
The fans should be prepared for 10 games of hoofing and dire play, scraping a couple of wins and three draws. He is here until the end of the season I'm afraid. We will have 43 points and Sam will be gone, telling everyone that he saved us.
Tim Michael
78
Posted 26/02/2018 at 16:24:20
Yes, Tony (#77), that's pretty much what's going to happen. Target the games where Allardyce thinks the point or points are and then scrape to the minimum number of points.
All this talk of 7th is whitewash. He's not interested. The bonus structure he agreed will be solely based on avoiding the drop.
He will then retire as a manager and be invited as a pundit to discuss how he saved all these clubs of which we are one of them. Smile and wave, he'll be gone soon.
Jay Harris
79
Posted 26/02/2018 at 16:30:20
The problems go much deeper than Allardyce. A lot of what we are seeing has gone on for years. No bottle, conceding goals like a sieve, no camaraderie or team spirit, no goal threat, no purpose, soulless and demoralised.
Allardyce didn't go out and get our superstar £150k a week flop that was finished at this level a few years ago.
Allardyce didn't sell our top goalscorer who had 2 years left on his contract and then not replace him.
We will not improve as a club until we get that parasite Kenwright and his smoke-and-mirrors routine out.
We should be looking for a CEO and DOF that actually know the game inside out and let them shortlist suitable managers with a proper plan for the club and playing style.
The problem is we have been building on sand as evidenced by the failure of Martinez, Koeman, Unsy and Allardyce, all with different styles and philosophies, none of which worked.
Just sacking Allardyce is easy just like sacking the others was. The hard part is in persuading a top manager to come and sort it out. How can we expect Moshiri or Kenwright to get this right when they don't have the respect of proper football people?
Stephen Williams
80
Posted 26/02/2018 at 16:30:51
I was one of the few that never wanted him, then when appointed wanted him sacked the very next day and everyday since – one day as Everton manager is a day too long. But many on here defended him, 'give him a chance' etc etc. Well it gives me no pleasure to see who was right and who were blind.
He is an absolute embarrassment. Never ever good enough for this (once) great club.
I refuse to get worked up over him as:
- it'll do my health no good,
- won't improve the performances,
- can't take away the shame of him having been our manager (regrettably that stain will be with us forever),
- and I am 100% certain that he won't be with us much longer.
In the meantime, I'll still go home and away but just try to ignore that Fat Sam ever existed.
As I've said many times before – I hope that the powers that be use the time till the season's end wisely to identify, approach and tie up a deal for a proper manager to take over.
Danny Baily
81
Posted 26/02/2018 at 16:43:45
Tim (#78), agreed and I don't really blame Allardyce.
This is a poor team and if he wins the games at home to Brighton, Newcastle and Southampton, then we'll be safe. Anything else is a bonus.
Even if we do end up finishing 7th and qualifying for the Europa League, we won't be contenders to win it.
Michael Lynch
82
Posted 26/02/2018 at 17:19:36
Jay @79, sadly very true.
Total restructuring of the club needed, sack everyone at the top Mr Moshiri and bring in some fucking football brains. Then let's start to rebuild once again. It can't get much worse, short of relegation.
John Pierce
83
Posted 26/02/2018 at 17:24:00
The irony of the biggest long-ball merchant in football turning on the players for not passing to each other.
Sam they've not see the fucking ball for weeks and there necks are locked from looking skyward.
Arrogant prick about covers it.
Lawrence Green
84
Posted 26/02/2018 at 17:28:17
Four different managers, four different styles? Did I miss something – as far as I can tell all three (I'm discounting Unsy as his stay was all too brief), insist on having two defensive midfielders, one striker and all seemed to play some players in roles that they weren't suited to.
Martinez's idea was to keep the ball for as long as possible and hope that the passing led to Everton scoring but forgot that too many misplaced passes may result in the opponents scoring more often and in truth watching his team usually put the home crowd into a stupor after around 20 minutes.
Koeman's idea was to press but he didn't purchase that type of player as he went for experience over everything else and his style of play was probably more coma-inducing than that of Roberto's.
Both Martinez and Ronald benefited from having Lukaku in the side as at least he could finish off the chances – when provided – more often than not.
Sam's idea is to keep clean sheets and nick one on the break. Unfortunately he didn't strengthen the defence in his only window and chose to buy two strikers, in his effort to make his team more attractive?
In short, the last four season's have been an utter shambles, when I hear and read that David Moyes' time at Goodison is looked upon as a 'golden era' I cringe, particularly when you see the number of players that have come and gone since the Ginger one left.
The people at the top of the club have lost the plot, blinded by the vision of the new stadium and too heavily focussed on the legacy they will leave in Liverpool 4 after Goodison is no longer our home.
What about the legacy that Martinez, Koeman and Allardyce have left us with? How many long-term supporters will decide to pack in attending if things carry on as they have done over the last few years?
Andy Crooks
85
Posted 26/02/2018 at 17:44:24
I think defending Allardyce with stuff like "he doesn't tell the players not to pass to each other", is redundant. I could use the same type of defence if I was coach. "I didn't tell the players to concede 4 early goals against Arsenal", etc, etc.
What on earth does he tell them? His driving force, by his own admission, is money. Grabbing money is carved on his soul. It is what he lives and breathes for.
He cares not at all for Everton. His reputation is tarnished beyond repair. It would be merciful to give him more money and let him retire to plot getting even more.
Darren Marsh
86
Posted 26/02/2018 at 17:59:41
This bung-taking charlatan needs to stay off the crack pipe.
How many more managers are we going to have who don't come out and say what really happened?
Absolute shambles of a club run by knobheads. We have become a laughing stock. All we heard at the weekend was "free-scoring Liverpool this", "free-scoring Liverpool that" while we struggle to get the ball in the opposition half. Blow the fuckin' whistle now and end this season, ffs.
George Cumiskey
87
Posted 26/02/2018 at 18:20:47
Did anyone else see the interview Allardyce gave before the match? Straight away, before anyone asked him, he told everyone how his away record is better than the last manager.
Like I said on another thread, is that anything to brag about? Self-promotion at its highest level.
Paul Welsby
88
Posted 26/02/2018 at 18:34:20
He also said the players have no more excuses after training in Dubai. He threw them under the bus before a ball was kicked at Watford, the man is a rat.
Christy Ring
89
Posted 26/02/2018 at 18:55:12
How can the players respect him now?
Spineless; how do you motivate the team now?
Matt Hunter
90
Posted 26/02/2018 at 19:00:34
He is a master at bullshit. It's interesting that we have won 1 away since January 2017 against Big Sam's Crystal Palace says something.
I have spoken to a lot of Everton fans and I tell you this man is killing the fans, we will have no fans left by the time he has finished. Big Sam sells bullshit for a living – just like Bill Kenwright.
Paul Tran
91
Posted 26/02/2018 at 19:07:41
It's not about what he doesn't tell them, it's about what he tells them. Whatever it is, it isn't working, is it?
Lawrence Green
92
Posted 26/02/2018 at 19:13:27
Matt (#90),
Sam's Everton team also won at Newcastle late 2017, so it's two away wins since January 2017 – whoopee!

Ian Bennett
93
Posted 26/02/2018 at 19:17:33
I wonder where we would be if Unsy was still in charge?
Sam picks the team, but the players are getting away with murder. No heart, no guile, and no intelligence.
Kevin Brewster
94
Posted 26/02/2018 at 19:19:54
We are an absolute joke, lack of attacking threat is on players.
Two transfer windows we have had to improve our squad in this area and twice we haven't bought anybody nearly good enough to wear our Royal Blue Jersey!
Danny O'Neill
95
Posted 26/02/2018 at 20:18:28
Ian, had we kept Koeman, we'd have at the very least been no worse off; probably better. Everton, the club renowned for ignoring the media hype / protester pressure (Kendall Out campaign 83, the Moyes years in general) buckled and panicked. I thought Unsworth's inexperience got exposed; however, he'd have accumulated more points than we have under this fraudster.
For the record, I accept the modern landscape and didn't actually have issue with the Koeman decision at the time, I just thought there was a plan in place.
I can't listen to anything he says anymore (not that I did from the onset).
Soon it will be over.
Peter Cummings
96
Posted 26/02/2018 at 20:34:51
Yet again it is obvious that those 'up above' are not in the least interested in what we, the fans, have to say about the current situation our beloved Everton is now in.
I keep praying to see the headline 'Allardyce sacked' every time I check the papers, or 'Fat Sam' abdicates and apologises for being/doing wrong' – wishful thinking maybe, but as we all know he's here for the duration of another totally unacceptable season, of mediocrity and failure both home and abroad, a season that ended for us months ago and realistically, as a successful club,many years ago.
We have seen the game itself go from being a working class sport for the 'cloth cap' generations to the prima donna age of the multi millionaire footballing classes we now have to put up with today where one-club loyalty is now a sick joke, except for those who turn up game after game to see 'their' local team in action. In my case, it was Everton FC both home and away,even missing the birth of my first son in Fazakerley hospital to watch us win the cup in '66,
So maybe I can be forgiven, along with thousands of Blues, for feeling insulted and betrayed, not forgetting humiliated by the club and system we are now being subjected to week after week with no apologies or explanations from those in the ivory towers of Goodison Park. The latest kick in the teeth could possibly be the cancellation of our proposed new stadium because of cost over-runs, especially if we are in danger of relegation.
Mike Price
97
Posted 26/02/2018 at 21:07:51
We're still in a relegation fight. This is the worst squad I've seen and every other team in the Premier League looks better and more threatening than us. We've been unusually lucky this season to get the points we have but I'm worried that the home games we're relying on against relegation rivals may plunge us right back in it. I honestly think that this team would struggle in the Championship.
There's very little fight in this team, no team spirit, liabilities in defence and limited attacking threat. The manager is a joke and has taken Moshiri for millions because we all know he's a dead man walking and that's exactly what he wants. It's a very poisonous mix and we could easily go down. Our only positive is the home crowd which could 'will' the few results we need.
Utter shambles... and, if we do stay up, we've been very lucky.
Thomas Rigby
98
Posted 26/02/2018 at 21:38:07
"Don't blame me if they don't pass the ball to each other" – so what does a manager do? Can you imagine Clough or Paisley arguing that it is not the manager's responsibility when players can't or don't pass the ball to each other ?
Clough insisted that the ball was passed quickly and along the ground.Anyone who didn't simply did not last long at Forest.
Paisley talked about the game being uncomplicated: "pass the ball to the nearest red shirt and move". The great double-winning Spurs side of the early sixties was based on a "pass and move" philosophy introduced by Arthur Rowe in the early fifties.
Recently critics in this country were arguing that Guardiola could not play his way in the Premier League. It has taken him one season of relative failure to get it right. He has made his vision of how football should be played into a breathtaking reality by coaching his players to play in a way they themselves never imagined.
Are would Allardyce argue it is nothing to do with Guardiola? I argued on another thread that Everton are losing their identity because we do not try to play football anymore. The fans might believe in "the beautiful game" but we are forced to endure anti football.
Just consider the way Everton played at Anfield in the League game this season.They kicked the ball away aimlessly for the whole game until Rooney produced one sublime pass to cause panic in Liverpool's defence.
The truth is most of this Everton side can't pass the ball rather than they don't pass it. If Allardyce is upset that they don't pass the ball why has he let Lookman leave on loan? Why is Niasse his first choice striker when virtually everyone can see his severe limitations.
Bizarrely, Allardyce starts talking about Psychologists. We don't need Psychologists we need natural leaders on the pitch. People who have faith in their own ability, people who are self motivated and demand high standards from everyone in a blue shirt.
What about transfer policy? We have a manager, Assistant Manager, and a Director of Football to ensure we get the best players available.So consider the signing of Tosun (who is blameless in all this )
The situation in January was that relegation was a real threat and the feeling was we had to get a striker who would have to hit the ground running. So we buy someone who has never played in the Premier League.
He takes part in a couple of games and Allardyce declares that he needs time to adjust to the pace of the League and needs to be fitter. Really? Who would have thought that? Oh and there goes another £26 m or thereabouts. And that was a decision we had to get right.
What on earth must Moshiri be thinking? He buys into the club, he is prepared to spend,he needs help and advice and then finds that most of the players signed are complete failures. Oh, there goes another £140M! In the real world he must now be thinking, "Who can I trust?"
Finally, Allardyce believes it would have been a decent season if we finished in the top half. No it won't! It has been a horrible season (my 60 th) and it has been made worse because so many of your correspondents are right when they say we are the worst football team in the Premier League and worse than a few in the Championship.
We are going to need a miracle to get it right in future. We definitely need a new manager, but how is Moshiri going to know how to choose the next one? Who in Everton Football Club has the knowledge to advise him?
Is it going to be Walsh? Kenwright? God help us!
Tony Williams
99
Posted 26/02/2018 at 21:54:07
Does Moshiri understand the strength of feeling against this clown?
He probably stays away from ToffeeWeb; if he does read these posts he must think to himself, "What on earth have I done?"
Vijay Nair
100
Posted 26/02/2018 at 22:01:47
Can't believe there's still 5% (of people polled) on this site who want to keep this clown for another season!
Drew O'Neall
101
Posted 26/02/2018 at 22:14:05
You can't blame me for the players not passing to each other?
Pathetic. Loser.
Stephen Bird
102
Posted 26/02/2018 at 22:18:10
Danny (#95),
I'm with you, we would have probably been better off with Koeman, I also felt I had to go with the majority when everyone turned against Koeman, he certainly never helped himself. I don't think he ever hid behind the players though and he also took the responsibility for poor performances.
This ape is far too keen on himself, never an Everton manager in my opinion. It shows the people running this club haven't a clue about our expectations and aspirations. I'm not so sure we will ever be able to recover the lost ground of the last 12 months due to the fast evolving money gulf of the top 6.

John Belshaw
103
Posted 26/02/2018 at 22:18:41
Come the end of the season, major decisions need to be made over the ownership structure of the club, the manager, coaching and playing squad.
Kenwright, associated with years of failure and mismanagement, should do the honourable thing and go. The disastrous Director of Football, Walsh, should be dismissed and bumbling manager, Allardyce and his coaching staff also shown the door. There also needs to be a major clearout of players – Williams, Schneiderlin, Keane, Klaassen, Marina, Tosun, Niasse, Ramirez, Bolasie, Mirallas, Besic, Baines, Jagielka and Vlasic – simply not good enough.
If Everton are ever to trouble the top 6 again or win anything, they need the backing of a multi-billionaire owner like an Alisher Usmanov.
Kase Chow
104
Posted 26/02/2018 at 22:22:47
I
did
think Sam would be a good appointment. And after 7 games, I believed I was correct.
Turns out, I was an idiot – the Watford match was the final straw for me – he's a numpty
We're crap at the back. Even worse going forwards and we are super boring to watch.
Awful results coupled with terrible football. I'm sick and tired of this.
Ray Smith
105
Posted 26/02/2018 at 22:31:12
I've decided not to go to Burnley after the Watford debacle.
I'm going to the Brighton game, but that's it for me until Allardyce has gone.
I'm fed up to the back teeth of him blaming everybody else except himself.
Sam, please just go, we can manage without you.
Jerome Shields
106
Posted 26/02/2018 at 22:42:50
I can't believe he believes this regarding forward play.(Explains a lot!) He sets up the deep defensive way they play and the hoof-ball tactics, which the players have lost faith in, since it gets no results.
It's both these tactics which enable teams, especially away from home, to play higher up the pitch and press our play. He definitely told Walcott to play deep and move the ball fast forward (hoof ball) in the Watford match.
What he is really saying is he can't improve things and he can't manage or coach the players. He should have the guts to deduct the Dubai freebie from their wages, if he believes what he says is true.
No wonder he doesn't now want a sport psychologist, because he would quickly come to the conclusion that Big Sam is the problem.
Glad he agreed that a £200 million team should be making a better effort. What about you,Sam, on £6 million – should you be doing better? All the fans agreed you should.
Allardyce is so barefaced, it's ridiculous; he obviously thinks Moshiri and the Board are Muppets and his £6 million salary is safe. We really are at the bottom of the pit now, lads.
Danny O'Neill
107
Posted 26/02/2018 at 22:55:12
We are Mike (@97). 7 points off the bottom 3.
Thing is, Allardyce will target the Brighton home game and take us to 37. As bad as we are, with that points tally mid-March, we will reach his ambition.
Thanks Stephen. Seems that now Everton have succumbed to the Sky panic that sets in around October / November time. Just as our colonial cousins across the park often declare themselves Champions elect, we seem to have fallen into the trap of believing the season is decided in the Autumn.
Howard Kendall would never have happened and Moyes would have been gone way before he laid his foundations on this principle.
Jay Harris
109
Posted 26/02/2018 at 23:11:23
In a season that's been full of poor teams below the top six, if we can't get 5 points from the last 10 games, we deserve to be relegated.
Seriously, there is more likelihood of a nuclear war than us getting relegated.
In fact, it's a nuclear war that needs to break out in the boardroom to reinvent ourselves as a serious club after 20 years of Pantomime Bill.
Phil Lewis
110
Posted 27/02/2018 at 00:24:18
I will keep this post concise. Before we signed him, I described Allardyce on these pages, as 'A Dog of a player, a Dog of a manager and a Dog of a man'. (With apologies to the canine community.) Nothing I have witnessed under his guidance has convinced me otherwise. If it takes relegation to get rid of him, then so be it.
Barry Jones
111
Posted 27/02/2018 at 00:35:07
He is 100% correct but people don't like to hear it because they want Sam to be responsible, because everyone hates him. Most modern managers protect the players publicly because they feel it's their job. Behind the scenes, they are seething about the players.
Sam is just being honest and doesn't give a shit as it may be his last job. He can coach them week-in and week-out and decide upon best formations suited to the players but the players have to perform.
We actually have a talented group of players but they lack confidence individually and as a unit. Koeman failed in remedying this as did Rhino and now Ffat Sam. They need to be able to step out onto the park and believe in their ability and start stringing passes together "offensively" not sideways or backwards. Easier said than done, I suppose, but the players need to step up.
Tony Stanley
112
Posted 27/02/2018 at 00:53:46
He's a bum; how he ever got near Everton Football Club is one huge mystery to me.
Ian Riley
113
Posted 27/02/2018 at 01:24:32
Barry#111. Sorry, Sam is the manager and he can't take responsibility for Saturday's performance. Who does then?
The players? Sigurdsson is played as a left winger. Rooney lacks discipline to be a central midfielder. His desire is not questioned but central midfield was exposed by a poor Watford team.
We spent a week in Dubai for what? Sam spent nearly £30 million on a striker who would look out of place in the championship.
I accept players must take responsibility and, yes, our players do lack confidence. I cannot accept our manager, paid millions, doesn't take responsibility for his team that he coaches for that performance. We are not improving under his leadership in any area of the pitch.
It's easy to sit back and say "Not my problem". A "couldn't careless, pay me off end of the season" attitude. I would be embarrassed if that was my team performing in that way. Get them in 8am Sunday morning to go over what went wrong but don't wash your hands as a manager of responsibility.
I wanted Sam as our manager and respect him as a coach and forward thinker in sports science. When May comes, let him continue with his retirement.
Barry Jones
114
Posted 27/02/2018 at 01:40:47
Ian. Good comments and largely I agree. But where are our leaders on the field? We do not have any.
Most top teams have one or two or more players that all the players respect and can put the fear of god into the rest of the team in helping them to apply the commitment necessary. We have none.
Rooney would have been ideal had he been able to perform consistently himself, but this is not the case. The dressing-room leaders need to be on-the-field leaders and we are woefully short at the moment.
I feel that Theo Walcott can play a part in this regard. He is a senior player, loads of experience and has a big heart. I hope that he grows to be an Everton leader.
Tom Dodds
115
Posted 27/02/2018 at 01:56:54
Thomas Rigsby (#98),
I have been reading the views and inputs of many thousands of fans on the various Evertonian websites since their inception and beyond – in many cases since the early nineties.
I think, as time has gone by, a steady hardcore of 'switched on' fans has slowly but surely infused into the wider body of contributors a sense of overview and perspective of where things are 'at' at any given time over these (especially) last 20 years of the club's history.
And I feel, never more so than right now ,our fans are becoming a swollen body of people whose opinionated thoughts are starting to sail in the same direction. They have long since started to question the roles of the Chairman and his structure of command and the roles his subordinates are playing within the running of our club.
I never tire personally, of, when speaking to many Liverpool supporters, putting to them that, if they had inherited Kenwright, they would not've put up with him for one or two seasons – let alone 22. He would've been hounded through the front and out through the back gates of Hell, fast-style.
That he latterly courted our new investor is perhaps some sort of saving grace, but nevertheless, it, I think has started to become apparent that maybe Moshiri was only the 'bank' and not the new 'leader', ensuring Betty's son kept the controls of his 'trainset'.
I won't go on in that direction. I want to suggest that the time is never so right or apt than now for an Open Letter to Fahrad Moshiri from some sort of centralised body of fans, including or especially the main contributors or owners of the largest of the fanzines, to impart their knowledge and views and overviews of where things seem to be going wrong on and off the pitch in their view.
And to point out most importantly, instances of how and or when large numbers of fans had trepidation over the appointments of certain managers (ie, Martinez's relegation CV, his onset of cluelessness etc). Koeman's previous track record from 3 fucking identical Everton-related club debacles before Southampton.
The selling of our under-contract goal-machine to our lords and masters, the same lords and masters whose fans sing (sic) the most hideous verbal diarrhoea against our city every time they come here, especially when our previous (Scouse) goal machine was doing the business for them???
I think by now you get where I'm coming from. I don't need to dwell too much on our long- and short-term comings; my point now, which may well be a shot in the dark, is to infuse into our editors or recognised (outside) media writers to think of a way to attract attention to our new owner and offer our take on EFC and all without and within. Never mind God know..., we know, and have seen, and can certainly now tell that this club is adrift!!!
Victor Yu
116
Posted 27/02/2018 at 02:05:07
Get Mancini in asap.
William Cartwright
117
Posted 27/02/2018 at 02:54:55
Tom: 600 words – 100% correct.
Victor: 4 words – also 100% correct.
We might express things differently but the basic message is the same!
Ed Prytherch
118
Posted 27/02/2018 at 03:34:07
Sam is a poseur and a charlatan and he will be laughing all the way to the bank when Moshiri gives him £5 mill to go away at the end of the season.
Nicholas Ryan
119
Posted 27/02/2018 at 03:58:39
Andrew [7], No, we've got Bertie Bassett managing Everton Football Club!!
Darren Hind
120
Posted 27/02/2018 at 06:19:49
Good thread.
Tom Dodds, for somebody who has been logging into websites like this since the nineties, you don't post on here nearly enough.
Raw passion. Good post, Fella!

David Barks
121
Posted 27/02/2018 at 06:50:49
Tom Dodds, great post. I honestly believe that we need a unified voice of the supporters and stated a few months back that I think this site could take a stand on one side and be that voice.
Kenwright and everyone from that precious regime needs to be driven out of the club ASAP.
Pete Clarke
122
Posted 27/02/2018 at 07:06:47
Sam is not a charlatan at all. He is a thief. They give us scousers stick for being robbers and thieves etc and we let one in to try and run our team. The irony of it is killing me – he needs a few fans to have a go at him at the next home game.
Guy Hastings
123
Posted 27/02/2018 at 07:08:26
The man is without shame. If it's just a matter of getting the ball forward, then stick a note to that effect on the dressing room door and fuck off out of it toot sweet.
Nitesh Kanchan
124
Posted 27/02/2018 at 08:45:15
Well, nothing to worry about here. What he says, he has only been given the job to rescue us. He has almost done his job that the board asked him to do. He was retired and we turned to him for only one reason – to avoid threat of relegation, nothing more.
Unsy was inexperienced for doing that, though we will never get to know what would have happened had he stayed for another 3 or 4 games after humbling West Ham, but the fact we were getting turned over by 3 goals in every other game called for desperate measures.
So it was probably the right choice at the time. I don't think we can expect much from him other than negative football, that is the only way he knows to get points on the board.
But the biggest worry is the upcoming transfer window: all the big calls will be made, probably the biggest since I have been following this club. The new manager, the older players – namely Rooney, Baines, Jagielka... probably time for all to leave unless they are happy with sub roles.
Then the younger ones, the unwanted ones, the on loan players and most importantly the incoming ones... Playmakers like Shaqiri or Mahrez or Salah or DeBruyne – the former two are gettable, especially Shaqiri if Stoke gets relegated. One strong central defender with leadership qualities, just like Liverpool spent £75M on Van Dijk. And a left back with strong full back and wing back qualities (like Coleman at right-back).
Can we trust our Director of Football, Walsh to again be making all of the above decisions? That should be the biggest worry of all.

Chris Gould
125
Posted 27/02/2018 at 09:17:54
Tony Waring
126
Posted 27/02/2018 at 09:27:05
I've got some news for you, Sam: Ademola Lookman had more attempts on goal in his last match than all Everton players put together – in several recent matches! What do you make of that?
Paul Welsby
127
Posted 27/02/2018 at 09:44:16
Tom Dodds, I agree, we have to all move in the same direction and be one voice as this club we love is a mess from top to bottom, but an open letter to the big man who is getting rings run round him by the dog Kenwright and his cronies. It just seems a bit lame to me.
You mention in your post you never tire of speaking to many Liverpool supporters regarding are unfortunate attachment to the chairman and who, in your words, would of been hounded out the front door and through the back gates of hell fast style after one or two seasons never mind 22.
So it sounds to me what your saying, but look I might be wrong that the shite supporters would kick right off, protest make there feelings known like they have done in the past and been successful in ousting owners and other figures in there club that haven't been doing there jobs to a certain standard, but we should write an open letter!
Why can't we protest, kick off, hound these lying, cheating, robbing bastards out of our back door. Someone is going to tell me it's not the Everton way. Fuck me, that makes me laugh and angry at the same time. Who has the right to tell anyone what the Everton way is? What is the Everton way? Sit back and get the piss taken out of us for 20 years whilst doing nothing but fill their pockets with cash, let them bullshit us whilst filling their pockets with cash that must be the Everton way because that's is all we do.
So the shite fans demand progress and success and won't have anyone at their club who doesn't adhere to this. We sit there moaning and maybe write an open letter... fucking Wow! – that is the difference right there and that is why we are here and they are there.
That is my understanding by the words you use like hounded out through the back gates of hell. So what we should do is write an open letter to Moshiri who has shown he is a complete novice at running a football club.
Take some of the things he has said openly on radio or through the Everton website. "Sam is one of the most underrated managers around"... "I have been Following his career since the magnificent job he done at Bolton 25 years ago"... "We have our own fab four"... "I would never of sold McCarthy he is part of the family" after the deal fell through etc, etc need I go on.
If there is no action everyone should stop moaning. Why moan about something you have no intention of doing anything about. Writing an open letter is something but I might be shooting in the dark here, somehow I can't see it sending shivers down the spines of are inept board. Tom, I mean no offence to you, and I am going to put my words into action even if i'm on my own. Reference my earlier post #47.
Brian Porter
128
Posted 27/02/2018 at 09:49:17
Today's newspapers and numerous Internet sites are all featuring Everton's problems, and more specifically, the growing fan disconnect and dissatisfaction with Allardyce's performance as our manager.
Apart from the fact that these articles are all telling the truth (for once), it is totally embarrassing to read such universal public condemnation of the overall management of our once great football club.
Add the fact that a growing number of former players are now publicly speaking out against Allardyce and his so-called 'style' and it all makes for depressing reading, first thing on a cold winter morning.
The thing is, if the rest of the world and his dog, and the club's own fanbase can see just what's happening to our club, why the hell can't Moshiri? It's plain he is quite naive when it comes to the nuts and bolts of running a football club, but surely even he can see what a shambles we are under Allardyce's inept leadership. I didn't think we could fall much further than we did under Koeman. Shows how wrong you can be.
How further do we need to fall? How much of a laughing stock does Moshiri want us to become? Does he seriously expect to finance a new stadium based on a team with no heart, no style, no courage or will to win, or with a manager so ingrained with the attitude of a bygone age?
If he doesn't do something fast, perhaps someone can give him a history lesson based on clubs like Villa (European Cup winners), Nottingham Forest (two time winners) and Leeds Utd, once major forces in English football, and show him just what will happen to his investment if he allows the current situation to continue.
Allardyce must go, asap, together with his team of acolytes, as must Walsh for whom the description 'Director of Football' has to be the biggest misnomer of the century.
Bobby Mallon
130
Posted 27/02/2018 at 10:07:19
The blame falls completely at Sam's feet. He is responsible for playing Martina at left-back (god, he is awful). Sam is the one who plays Sigurdsson at left-midfield and he is the one who let Lookman leave.
I don't get why Vlasic never plays left-midfield, why Jagielka does not play left-back, and why Klaassen does not get in the midfield.
We all know what needs to happen: Protest, Protest, Protest. But the apologists will say we are not like that lot over the park and nothing will get done. It's going to be a long time before we play football like we did under Martinez in his first season... oh, I loved that football.
Bobby Mallon
131
Posted 27/02/2018 at 10:17:18
You know what annoys me about ex pundits like Ray Wilkins?
He slates Brunt from West Brom for making public what he said about manager and players in the dressing room. But says nothing about Allardyce doing exactly the same thing about Everton players.
Len Hawkins
132
Posted 27/02/2018 at 10:21:49
Well for years we have waited for the money man coming so that we could take off and fly with the best, what have we got the money to eat at the Ritz but we are still queuing up in the chippy which wearing a dinner suit makes us look stupid.
Thanks, Bill, for saving this club from Johnson but your job was done then, you have long overstayed your usefulness by years. There is no-one in the club who knows what it needs to make this club great again.
Perhaps Mr Moshiri should start looking for a partner with a vision who doesn't want to blow his fortune like the lottery winning binman who blew about a £million a month wrecking top class cars in the grounds of his mansion and snorted the rest up his hooter.
It is patently obvious that a team run like the Toytown Tiredarses has little chance of doing anything other than emptying your bank account faster than the binman could.
A cull is required, no teary eyed bygone players who used to get Bill's crown jewels twitching, proper professionals with a desire to win things and rule the roost are needed not get rich quick merchants.
Get Everton back where they belong leading the way not trotting along behind blubbing coz the big boys won't let us play.
Gary Edwards
133
Posted 27/02/2018 at 10:27:37
Brian (#128), It's the same on footie shows here (Qatar) too, where any mention of Everton is invariably (a) team is not playing well and it's down to Allardyce and (b) all is not well at the club. I'm afraid the masses comprehension or care extends no further than that, nor should it.
It galls me that those masses consider Kenwright to be our savior / Mr Everton / a proper footballing man. He's hoodwinked the lot.
This club will continue this downward spiral into oblivion until such time as Kenwright is removed. God forbid that he should preside over the club should the new stadium ever happen as that would be the end of the club.
Bobby Mallon
134
Posted 27/02/2018 at 10:35:37
I also think we as fans need to realize that we are not going to be any better than that 6 for the foreseeable future. We need to stop thinking we can get into the top 4 – it's not going to happen because the top 4/5 will never let a Leicester happen again.
We need an identity, a playing identity, that we stick to and the fans get behind (I personally would love a Spurs style of play) with at least 4 youth players in the match squad. With a remit that players are always played in their natural position and a squad assembled that has two players for each position.
Tony Abrahams
135
Posted 27/02/2018 at 10:38:00
Very good post, Tom Dodds, it makes a lot of sense, but as you say first the fan-base has to really unite. I have heard loads of scouse Evertonians give both KEIOC and The Blue Union loads down the years, while loads of people genuinely love Bill Kenwright because they say he's one of us.
If Kenwright was genuine, then some of the people from KEIOC should have been invited to work for the club in some capacity IMO, but I think these people probably care too much about Everton Football Club, and that would have been a major problem for Bill.
Michael Lynch
136
Posted 27/02/2018 at 10:47:04
While I agree Allardyce has not produced either the results nor the style, and should be replaced at the end of the season, there are some mitigating circumstances.
Martinez inherited a team with a spine of Stones, Barkley, and Lukaku. He had Coleman and Baines at the peak of the careers on the right and left of defence. Koeman started with much the same, minus Stones. Allardyce inherited an injured Coleman, a past-it and then injured Baines, an injured and then departed Barkley, and Niasse rather than Lukaku.
Of those players, Lukaku certainly glossed over our shortcomings while he was with us – he might not have been universally loved, but he's a goalscoring beast.
Compared to the squads available to previous managers, we are incredibly weak. Sacking Allardyce will solve one problem, but the real challenge is to improve the squad.
Peter Reid in his autobiography finishes by saying "it's all about the players" – managers will stand and fall on the quality of their squad and how much they can get from those players. Koeman, Unsworth, Allardyce – three managers have failed to get this lot playing, especially once we lost Lukaku.
Get Allardyce out, but get Walsh out too. Bring in a manager who can actually improve our squad by getting rid of the shite and bringing in some half-decent players instead of the mediocre over-priced disasters we've bought recently.
Alan McGuffog
137
Posted 27/02/2018 at 10:55:07
I hold no brief for Sam. Get him out asap is fine by me. But please please understand: he is a symptom of our malaise – not the cause.
Tom Dodds
138
Posted 27/02/2018 at 10:57:57
Paul @127.
I wouldn't argue with you matey re physically hounding the Grand Shyster to fuck out of it. I advocated this back when the 'Blue Union' where on the march and I joined in with them (outside Goodison) btw.
The trouble is, or has been in the past and to the present day that it is clear as crystal glass that there (seemingly) is no 'spirit of Shankly' type 'take no shit', 'boycott the game' groups anywhere to be found amongst us???
We do have, to be fair, fans who have kept a roving inner eye on certain secretive inner workings of the club, like @Watched Toffee etc – people who sussed (and via the factual likes of Companies House et al) deals that weren't all they should be, ie, Destination Kirkby etc.
I mean how, just fuckin' how the likes of that Robert Earl who was on our board throughout all those years who was worth up and around the half-billion mark and never put as much as 2 red cents into the club, and visited it only once to promote his mate Stallone's film??? He was then bought out by Moshiri for tens of millions of profit on his shares!!!
How we sucked on that apple.
I could,and we,on these forums post tirelessly of where EFC is heading right now, more so I suspect than in previous times but, all-in-all, it's all about the numbers.
It's like politically in this country I believe nothing will change effectively till 'those' people get their noses rubbed right in it and squeal like stuffed pigs when financially the whole shithouse goes up. My opinion, but whatever.
A very similitude reigns over Everton right now because if the worst becomes the worst and we were to get relegated their (Maybe!) be loud wails from the fans.
All I'm saying really here, Paul (all-in-all) and in my previous post, is try the pen first as we don't seem to have a bloody (sic) sword. Dig?
Lawrence Green
139
Posted 27/02/2018 at 11:28:43
Forgive me for using Ian Wright's thoughts on Arsenal but what would the likes of Wright et al have said if they had to have put up with Everton FC's exploits in the last couple of decades? Many of the things that Wright points out that are wrong at the Emirates can be amplified ten fold with the issues that Everton FC face today and indeed have faced for many many years.
Remember that Arsenal are one of the clubs that we dream of emulating and competing with, unfortunately, we seem to be copying some of their worst aspects and if Wright worries that Arsenal can't truly compete at the top table what chance have Everton got?
"I want Arsenal to challenge again, for them to sign players who will get you excited. I want someone in the boardroom who will lay it down. A few of the players are on easy street, own properties and are renting them out.
"How long would it take Arsenal to get back? It will take them a few years. Everyone is progressing and moving forward in that top five. Arsenal are going the other way. They need to stop it, get a successful manager then get players to go forward. It is a long road.
"The owner has to take a lot of blame for this. Kroenke does not care. If he cared, Wenger would not have got a two-year deal.
"Everyone else can start to see that is it getting to a point where Wenger needs to go. The owner has to be here, find out what is happening, how is this working, what are we going to do, how are are we going to get back to where the fans want us to be.
"The fans have been saying it for years but no-one is paying any attention to them. The owner has not done anything and has given Wenger carte blanche to carry on.
"There is no accountability for the players, there is no consequence for their poor performances or their inconsistency so they will carry on what they are doing."
Brent Stephens
140
Posted 27/02/2018 at 12:12:41
Tom Dodds. Excellent. Step up Michael and Lyndon? Here's the chance?
Nick Armitage
141
Posted 27/02/2018 at 12:32:58
Ajay Gopal – how can you write off Vlasic, Klaassen and Tosun after so little game time and little opportunity to adapt? Mind boggles.
Tony Abrahams
142
Posted 27/02/2018 at 12:40:16
Only my opinion but I think an open letter would be a good start, simply because Moshiri knows what it's like to write an open letter to the largest shareholder of a football club.
Paul (#127), I agree with most of what you say, but first you have got to really understand what Kenwright, best ever manoeuvre was. Divide and conquer was his policy, and only when the tide began to turn a couple of years ago, did he get over his debilitating illness and find us an investor?
Liverpool fans united because they could all see the damage that was getting done to their club, but too many people genuinely like Kenwright because they think he really cares.
He might do – how do I know he doesn't – but I think he cares more about money than Everton, because – let's have it right – would David Moyes have gotten more than four years in any other part of Everton's long history? Not unless the owner was skint!!!
Si Cooper
143
Posted 27/02/2018 at 13:07:05
Alan McGuffog (137) – he was never going to be the cure for our malaise (on the pitch or at Finch Farm); a sticking plaster at best. That is why he should never have been given the job in the first place (despite the apparently large vote of confidence from various pundits).
However, he is in danger of actually doing an even worse job than many of feared, making the next manager's job even harder.
The flip side is that he has (inadvertently) exposed the deep-rooted problems at the Club to a wider group of people.
Tony J Williams
144
Posted 27/02/2018 at 13:21:51
I wish people would stop giving the RedShite fans the credit for getting the two American Shysters out of their club.
The banks made them sell, it had fuck all to do with the big-mouthed arseholes shouting at the top of their voices.
Stephen Bird
145
Posted 27/02/2018 at 13:31:15
Tom Dodds,
I am with you, how do we collate and collaborate? We need a vehicle for all our collective forces, a figurehead to get behind, someone with profile, media savvy and cachet.
Any suggestions? Our legendary goalkeeper "Our Nev" is never shy!!

Paul Welsby
146
Posted 27/02/2018 at 13:51:50
Tom Dodds and Tony Abrahams – I think we are singing from the same hymn sheet and yes I do agree with a lot of what you both posted. I'm just at a loss as to why other supporters still thinks Bill has just had Everton and its loyal supporters best interests at heart. The way I have seen it, he has only ever been in it to obtain as much cash as he can for himself and the greedy bastards he has and still does have round him.
This man tells anyone who will listen that he hasn't taken a penny out of Everton??? Well, if you believe that, you deserve this twat at our club. Amongst a catalogue of other things over the years – lies, bullshit, downright contempt for us supporters – I just don't get it, but eh, each to their own...
If Mr Moshiri receives this letter and it has the desired effect, then I will be thankful to whose hand it was written by. As there doesn't seem to be any movement for other protests, can please someone, anyone, get this done asap... because, unless there is a change, this time next year we could easily be bottom of the Premier League with no chance of getting out of the shit.
We really are perennial losers! If what as happened and is happening to this club doesn't want you to do anything and everything to put a stop to it, or at least show these bastards that we won't just be told to get on with it – and be grateful we are not Portsmouth, Blackburn, Forest or Leeds – then I just don't get it. This is our club; without us, they don't exist – as long as what Tom and Tony say, we all move in the same direction and become one voice.
I do feel though that it will fall on deaf ears and i'm slowly losing the will to even bother. Moaning about something without being willing to act is a complete waste of anyone's time and energy, I just don't see the point.
Good luck with the letter – I hope our owner listens because, if the other twat gets wind of it, no chance.
Rob Halligan
147
Posted 27/02/2018 at 13:55:48
It's all very well the amount of disgruntled fans posting their anger on ToffeeWeb. I doubt very much anyone of importance within the club reads this site, and they probably think we are all satisfied with what's going on – after all Allardyce thinks there only 15 fans who are not happy with things.
Tony Abrahms (#142). Yes, a letter to Moshiri is probably as good a start as any, but what we need is protest marches, protest banners inside and outside the stadium. We have two consecutive home games against man city and the RS coming up. What two better games to vent our feelings towards this shit board and manager. Both games will be live on TV and our feelings will be broadcast around the world.
Quite simply, something has to be done by us fans ASAP.
Brian Wilkinson
148
Posted 27/02/2018 at 14:02:03
Tom@127 and Tony@142 both spot on posts, also a great post from Tom Dodds, it's time we put its the Everton way to one side, too many times we have not spoken out because we believe it's the Everton way, we do it with style.
All this is playing into the hands of the very people who have knocked our club back in the last 20 years and made us a laughing stock.
For the first time, not just a few, but most are now shouting from the same hymn sheet, no longer are fans sitting back, accepting what shite is being served up. Evertonians will take so much and I feel the fuse is now lit for action by our supporters to rid this club of the problems from the top right down to management and playing staff.
Starting with banners and protests at games.
This is not acceptable, we need a big broom to have a good long clean-out of our great football club.
Paul Welsby
149
Posted 27/02/2018 at 14:04:35
Tony J Williams, it's not giving credit to the big-mouthed arseholes, as you so lovingly called them. It did make me laugh, though, Tony. That is exactly how it is they are loud so yes, I fucking despise them, but if it's not going well for them their protest get heard loud and clear, whereas we just moan on websites and amongst ourselves.
Steve Brown
150
Posted 27/02/2018 at 14:15:12
How about an open petition on the government website? 100,000 signatures and we could have parliament debating Kenwright, Elstone, Walsh and Allardyce!
William Cartwright
151
Posted 27/02/2018 at 14:45:18
It has been suggested before that a boycott of a home match would be the strongest message that could be sent. A boycott accompanied by a pertinent message to be displayed from the stands, especially on a matchday where Sky, the BBC and others were expecting to sit back and watch another hammering of Everton, could suddenly become the unwitting agents of action and change on behalf of a club they already dislike (or despise).
Now that sounds like a good way to catch Moshiri's attention. Pie in the sky? Yes. Will it happen? Of course not. Would it work / be effective? Absolutely. Could it happen? Of course it could. But the unification of disparate elements and the sacrifices required to be made make it very unlikely.
Dave Abrahams
152
Posted 27/02/2018 at 14:47:54
I hope more and more of us passionate fans start protesting in earnest to rid the club of Kenwright and his partners in crime, who care nothing for the club.
Including the voices of Kenwright, Sharp, Snodin and other hangers on who make a living out of Everton but do nothing to show how poor the club is run but try to tell us what a great club Everton is. Well they were once upon a time, before the self-serving Chairman got his greedy grubby hands on them.
Let the protests be in place for the next home game, with some preparation from the most loyal and unrewarded away fans in the Premier League at Burnley on Saturday.
Soren Moyer
153
Posted 27/02/2018 at 15:02:38
Housekeeper: "You've ruined that piano!"
Clouseau: "What is the price of one piano, compared to the terrible crime that has been committed here?"
Housekeeper: "But that's a priceless Steinway!"
Clouseau: "Nyot Anymeur."
Fat Sam is our own inspector Clouseau!
Jamie Crowley
154
Posted 27/02/2018 at 15:11:25
The comments by Sam are ones abdicating responsibility and distancing himself from what he sees as a train wreck to save his own future and reputation best he can.
This landscape is worse than when Roberto lost the players, worse than when Koeman was shown the door, and way, way worse than at any time Unsy was in charge.
I hope all the local Blues do something along the protest lines the next two home games. Would Liverpool fans sit around on their hands? Not a chance in hell.
It's time to make some noise over there and let your feelings be heard in my opinion. He has to go. He doesn't even give a shit any more and is more concerned with pointing fingers than managing.
Paul Kossoff
155
Posted 27/02/2018 at 15:47:27
I've never heard a manager put so much blame on a team or individuals as Allardyce. Surely a manager is brought in to sort out all problems in a club? Every negative thing that's happened since he's been here he's deflected blame on to others.
Yes the players have to take responsibility on the pitch, but surely Allardyce as the manager and his coaches have to ultimately take full responsibility for the tactics, fitness and performance on the pitch!
Klop at the dark side always takes full responsibility for his team, and even apologises when things go wrong. Allardyce seems to be justified in taking no blame whatsoever!
Please get this conman gone by season's end, the thought of him taking charge next season doesn't warrant thinking about.
Paul Kossoff
156
Posted 27/02/2018 at 15:52:19
"This landscape is worse than when Roberto lost the players, worse than when Koeman was shown the door, and way, way worse than at any time Unsy was in charge."
Jamie (#154), that statement makes the whole sorry mess now very very scary, and I agree 100%.
Alexander Murphy
157
Posted 27/02/2018 at 15:59:02
For Everton,my sorely missed beloved Everton, I want the following:
● Moshiri to politely retire our long serving Chairman (Evertonian, yes; leader, no!)
● Moshiri to clear the boardroom of the do-fuck-alls;
● Kenwright to enjoy a long and happy retirement;
● Moshiri to just shake your head at Walsh and say "Now go!"
● Big Fat Sam to get the fuck away, as far, far away as your payoff will carry your bullshitting spacehopper face!
● Sammy Lee to jump back into your master's bag before he leaves
Then:
● Moshiri to appoint someone forward thinking, dynamic and clear-headed as new Chairman in the boardroom. A protégé maybe, someone with ice, fire and steel
● Moshiri to include fans in the new structure, you'll not always like or enjoy what we have to say; however, we'll never lie to you where Everton FC is concerned.
● Moshiri to appoint a tiger as manager, young/older but someone who has our whole playing staff from kids to senior pros turning up for work early with smiles on their faces
Do that, Moshiri, and you will be revered like Sir John Moores.
Tom Dodds
158
Posted 27/02/2018 at 16:15:23
The best way forward, to organise any letter of protest, is by first building a bomb (so to speak) to drop on the recipient, ie, obviously Moshiri.
The 'ingredients' in this case would be collecting /collating and gathering amongst ourselves and anyone else remotely interested both far and wide (with other fan sites included) everything that proves or even points the finger at the misleading and slovenly way this club has been run, right from the very day it was purchased for 'Twenty Million Squid' by Mr Bill "No Money" Kenwright.
For instance:
● "We won't sell Rooney for less than £50 mill (only a year later, he would of been worth 3 times that);
● Fortress Sports Fund money ring-fenced.
● The actuality that Gregg gave him the money but gave it back to him (via his wife) because Gregg wanted to share power ("My train set" etc)
● £240mill offered by Sheikh Mansour... (documented)
● "My train set" again and becomes a recurring theme for 21 years after.
● The Arteta money.
● Kitbag, cheap as shit £3mill sponsorship deals while others made hay with big real deal firms...
● Destination Phillip Green's wallet – via Kirkby...
● The Vibrac loans;
● Players we nearly had in the bag then hit "Hitches" (Manny Fernandes etc)
● Season tickets pawned for 5 years..
Annual General Meetings banned for 5years
● Guardian article including Green's recommendations of Kenwright's credit status to Barclays. Ha!
● Year-in, year-out of scrimping to buy that 'player' we needed.
Anyway... you all catch my drift.
Just place all similar contributions in the ToffeeWeb bin of sins against our club and hope maybe the force majure of this site along with its eloquently gifted writers cum owners can drop right in his head!
Banners, oh and renditions of "If you love the club, let it go" (and take the whole fuckin useless lot of hangers-on with you as well)
It would be shit-hot good. Over to the Gwladys Street for that 'Kick-off', methinks.
Mike Doyle
159
Posted 27/02/2018 at 16:20:33
Rob (#147). A couple of years ago an estimated 10,000 RS fans stood up and left the ground around the 70-minute mark as a protest against £70+ ticket price proposal. A very effective as the pictures/video go round the world – and the RS Board backed down.
Something similar would provide a good excuse to leave an Everton game early – quite appealing these days I'd have thought.
What about a 40th-minute walk out – as a protest against Sam's 40 point obsession? Most of us have seen enough by the 40 minute mark.
In the absence of cushions to throw from the main stand, perhaps this is something to consider. What do you reckon?
Paul Welsby
160
Posted 27/02/2018 at 16:28:08
Look, it's just my opinion, and it may well be way out of touch or wrong but organising protests I imagine takes some doing as you have to rely on everyone being there and singing from the same hymn sheet. Also agreeing what you want to do in your protest i.e marches, banners songs walk outs etc.
I just believe once we are safe because I understand supporting the team so that we don't go down as that is everyone's worst nightmare. We as one in mass don't turn up until this mess is sorted out.
Mr Moshiri looking round at an empty stadium or at least a half-empty stadium will have him at least asking the question why and then hopefully seeking the answer to that question. Of which there will be plenty of people to give him the answer, maybe someone to hand him a letter as to why we just won't be treated like gobshites handing over are hard-earned cash year after year.
This way, it's a individual choice we are not having to arrange meeting points and hoping that enough people turn up. Look, it's just an idea and I am not telling anyone to do it or would I criticise anyone who chose not to. I'm just tired of doing nothing whilst they just take the piss whilst we make them richer.
No-one has to shoot me down because Evertonians don't protest, it's not the Everton way, as that argument doesn't stand up – it has no substance. No-one has any right to tell any fellow Blue there is an Everton Way – as what does that mean, and who exactly made it up?
Mike Dolan
161
Posted 27/02/2018 at 16:32:19
I could even take the losing but the performances are unwatchable. We have tried caution and the results have been atrocious.
Let's bring in someone young and bright who knows our club and what the supporters expect. Bring in Arteta, give him a long term contract, let him hire his own coaches. He has been taught by the best.
It is just frigging criminal that really good players like Lookman, Vlasic, Klaassen, and Tosun are not given a look.
It is no reflection on the lad but how is Martina shoehorned into left back for months on end when we have young left backs on the books, etc, etc.
David Barks
162
Posted 27/02/2018 at 16:38:35
25 thousand Dortmund supporters boycotted their last match just because it was a Monday night game. Surely it would be possible to get a few thousand Evertonians organized to protest the Board, specifically the old Board of Kenwright and Elstone and their cronies.
Rob Halligan
163
Posted 27/02/2018 at 16:43:19
Mike (#159). Any idea is worth considering, but it's getting something like that across to the fans. The only possible way is leaflets given out or banners outside every other turnstile notifying of the intention.
Besides, if the Man City and Liverpool games go the same way as Arsenal the other week, then there will be a mass walkout after 30 minutes.
Paul Welsby
164
Posted 27/02/2018 at 16:52:43
A walkout is a cracking idea but, like Rob said, it takes a bit of organising. If you're willing to organise it, I will be one of the one's who walk out with you.
Brian Harrison
165
Posted 27/02/2018 at 16:57:45
You don't become a billionaire because you are an idiot, so I think we should give Moshiri a bit of slack. He fired Koeman as he knew his methods weren't working, he then made approaches for Simeone, Fonseca and offered Watford £10 million for Marco Silva.
Sadly, with results not picking up under David Unsworth, he probably felt he had little option but to hire Allardyce. I think he did this to try and ensure that his purchase of the land at Bramley Moor wasn't a waste of his money.
He has allowed his managers to spend a fortune and, as it turns out, so far that gamble has failed. Yes he appointed Walsh who Moshiri believed was responsible for bringing in some of Chelsea s and Leicesters best players.
I didn't hear too many descending voices on ToffeeWeb when we hired him. And again many seemed happy in the summer with our signings. Now yes in hindsight we can all say the players we bought seem as not being up to the job.
So I am sure Moshiri will make the right choices come the end of the season. So if there is one man at this club we need to get behind its Moshiri. Not castigate the bloke because his employees have spent over £200 million to produce very little.
Maybe in the summer, he will buy most if not all of the other 50.1% but if he thinks the fan-base isn't backing him he might just sell up to a hedge fund and God help us if that scenario comes to pass.
Jay Wood
[BRZ]
166
Posted 27/02/2018 at 17:08:31
Organizing, messaging, unifying a match day audience of 40,000 at Goodison is no small matter.
It is wrong to assume that match-goers in their tens of thousands avidly follow fans' forums such as TW, or that they even agree with the idea of protesting in the first place.
That said, taking TW as an example, there is still a significant number of match-going fans who can help implement unified action in small pockets and spread the word by other means, eg, over a pre-match pint at their local.
Within the ground itself, a possible starting point to test the waters of feelings of fellow match-goers (rather than expecting someone else to organize, prepare, print-off, distribute and explain a 'protest leaflet') is the following:
At the 18th and 78th minute of games (the timing should need no explanation) – home and away, if you like – match-going TWers should stand up and silently turn their back on the game for 60 seconds.
Yep! You may look a twat at first, but by explaining your actions to those sat near you, you are one of the early messengers saying 'enough'. Having explained your action, it may appeal to others who next time the clock ticks around to the 18th and 78th minute stand up and turn their backs on the game with you.
This would get media attention, which would help accelerate the spread of such a protest movement and flush out activists willing to 'lead' 'organize' and 'direct' such a movement.
Just a thought. From small acorns, 'n all that...
William Cartwright
167
Posted 27/02/2018 at 18:13:21
It worries me just how close we are, and how easily we could slip into the relegation battle in the coming weeks. If we lose against Burnley and draw (or lose?) against Brighton, and then follow up with 2 beatings by Man City and Liverpool, we could be back in serious trouble.
Traditionally you get one team who drops away, one or two teams battle for 17th place, and then one team suddenly falls like a stone in the last few weeks – and that could be us. Could it be one of football's stories with a twist in the tale, with David Moyes's Hammers the team to send us down on the last day of the season? I hope not but, the way the team are playing at present, it could happen.
Life in the Championship would be a new experience for me (I'm in my 60s) so it would need some adjusting to. Is it really possible?
Mick Conalty
168
Posted 27/02/2018 at 18:29:23
Brian (#165), Regards Moshiri, are you asking us fans to thank him for the shambles he has helped to create?
Moshiri is not bigger than EFC, if he waned to leave because the fans protested, "So What"? If he cannot see the dire state of the club, he is a fucking idiot; we would be well shut of him.

Jon Withey
169
Posted 27/02/2018 at 18:29:37
165 – Brian, that was the most sensible post I've read in weeks.
Personally I'd be leaving the protests until we reach 40 points at the moment, it's looking bad again.
Dermot Byrne
170
Posted 27/02/2018 at 19:23:18
Brian: "He might just sell up to a hedge fund and God help us if that scenario comes to pass." – You did well to bring some balance and what could happen.
As an Evertonian I would fully expect a protest, absolutely understandable and dreamed of my some, to become yet another one of those events in our history we discuss in years to come as we prepare for the next home game against Nottm Forest or Notts County.
To me the saddest thing is that a protest would probably achieve sod all apart from making the protesters feel they at least did something (which is fair enough).
As I have gloomily said before, over recent years, fans are there to provide background noise to a plaything of the rich in modern Premier League. What Brian points out is the different types of toy owners.
Before anyone accuses me of caring less than them, or suggests I am criticizing protesters, that is not my point. The current play by our team depresses the hell out of me but what depresses me more is that the voice of the fans is for atmosphere behind a global product and that's about all really.
Clive Rogers
171
Posted 27/02/2018 at 19:30:37
I agree with Brian in that Moshiri doesn't need to be told that the fans are not happy. I would certainly back a "Kenwright Out" protest though as he has been responsible for 20 years of misery which will probably continue as long as he is chairman.
Jeff Spiers
172
Posted 27/02/2018 at 19:34:11
Jon@169. Let us get safe from the drop first. 40 points may not be enough!
Brian @165, I totally agree. Fellow ToffeeWebbers, I feel the anger, trust me, I really do. The way the charlatans at our club are ripping us off, and have been doing so for years, is really making me ill. Fucking gobshites.
It only takes one brave soul to post names. I wish to fuck I could help. Thanks.
Brian Harrison
173
Posted 27/02/2018 at 19:38:38
Does anyone actually believe that Moshiri wont sack Allardyce at the end of the season? So, if we believe that, then what are we meant to be protesting about?
Moshiri was perceptive enough to sack Koeman and there were no demonstrations inside or outside the ground, no banners, no planes with messages, but Moshiri knew it was right to sack Koeman.
Let's remember, he tried to get Allardyce to agree to a 6-month contract so he knew like us Allardyce would not be his long-term appointment.
As for Walsh, I am sure he is in no doubt that Moshiri isn't happy, so maybe he will also be culled come the end of the season.

John Keating
174
Posted 27/02/2018 at 19:41:51
Looks like times have changed.
A few years ago, when the Blue Union was at the fore, there were a lot on here slagging them off.
The meetings at the Casa were relatively well attended but again put down by many. Many spent more time arguing exactly how many marched outside the ground rather than the reason for it.
Pity we didn't succeed at that time as there is a possibility we wouldn't be calling for protests now. Those calling for protests then were called Kopites amongst other insults.
Allardyce won't be here too much longer so it's not worth the effort; however, if it gets rid of The World's Greatest Evertonian, Elstone and Walsh then it might be worth that effort.
Mark McDonald
175
Posted 27/02/2018 at 19:50:51
Last home game is against Southampton where the players and staff traditionally do a lap around the pitch to thank the fans for their support -
hopefully we shall have enough points by then.
It would be interesting to see how many fans stay behind to applaud the players after the season we have had. It may even be an ideal time to stage some sort of "protest" or "walk-out" before the final whistle.
I really cannot see Allardyce walking around Goodison (if he is still here, judging by the last ToffeeWeb poll)... Imagine the reaction he will get.
Paul Welsby
176
Posted 27/02/2018 at 19:58:39
Brian, I understand your support for Moshiri as he has, from the outside looking in, been the best news we have had for sometime but Brian he has made some big mistakes in such a short space of time.
I don't know if you have listened to Moshiri on TalkSport or interviews on the Everton website? If you have? At the very least it should fill you with worry – the man talks utter shite along with his sidekick. If you haven't, you ought to. But look if he does sack Sam brilliant it still leaves Walsh, Kenwright, Elstone, Ferguson, Jeffers and other useless twats right through the club.
I said in an earlier post I hope Moshiri learns from his mistakes and he is a complete novice, which for me is worrying. I don't want Moshiri out and I haven't read on here anybody that does. I think supporters are worried he's getting taken for a knobhead by Blue Bill and his cronies. People are sick and tired that's all I think.
You have a bit more faith in Moshiri and fair play – I'm just a bit more cautious, Brian, because of what tripe he has spouted and the mistakes he has made.
Which one of us is right? Time will tell but honestly for Everton I hope it's you Brian.
Tony Everan
177
Posted 27/02/2018 at 20:01:20
The season ends in May, Moshiri's focus has to be on a new start from June onwards. A new younger, hungrier manager is needed, a winner. Procurement thereof needs to start now.
Failure to implement a brand new set up in June will precipitate another calamitous season. Whoever it is Fonseca, Silva etc. needs to hit the ground running in June and get a good pre-season into the squad. Conveying his methods and changing the mindset of the players. Along with strengthening the squad with his own players.
This will only happen if he has some time, he must be appointed June 1st. Start informal talks now.
Lawrence Green
178
Posted 27/02/2018 at 20:03:33
Confusion already surrounds the proposed 'protests' – what is it again that we are protesting against?
The removal of Allardyce and to show our dissatisfaction with the manager?
The removal of current board members, who have been at the club for eons?
Or the removal of the majority shareholder?
I can get behind the calls to get rid of Allardyce and protests may well result in his removal, although as others suggest it would be a huge surprise to see him in the Everton dugout beyond the middle of May, with or without protests.
The removal of Moshiri is patently not going to happen unless he himself decides to sell up to another party or the people he bought his shares from originally – besides which his only error is to trust those who were already at the club and the appointment of Big Sam, so I don't believe there would be much support for that amongst most Evertonians.
The removal of the old guard of Bill and Bob, it might happen but again it wouldn't be due to protesting fans but it may well depend on whether Mr Moshiri wants to stamp his authority on the club and bring in his own people.
If Moshiri and company don't know about the fans feelings at this point in time, then they would be unlikely to act in the face of mass protests; if Moshiri is as savvy as many believe him to be, he will make the right calls without our help.
If come the Summer he hasn't made the correct calls, ie, removing Big Sam, then it would be incumbent on the supporters to begin planning for some form of protest.
Whilst we have points to be earned to preserve our status in the Premier League, it could prove counter-productive if we destabilised the club and the team by venting our feelings. That doesn't mean I want Allardyce to continue in his job a day longer than necessary and if he was fired tonight I don't think it would adversely effect the chances of staying in the division.
It also doesn't mean that I'm at all happy with the way the club has been run in the last 12 to 18 months – if there aren't signs that the club is making changes for the better in the next few months, then I will be among the first to join in any protests.
Mike Allen
179
Posted 27/02/2018 at 20:14:18
Hiring staff is a risky business... So okay, I see the logic in Koeman but it didn't work out... fired! He wanted a Director of Football,; okay, so go for experience with a track record – not promoting a chief scout from another club. We panicked over Allardyce because the board and Walsh didn't do their homework for a replacement.
And the transfer dealings... well, no logic whatsoever for most of the dealings just throw money at getting numbers in. I don't think Mr Moshiri is a football person and has to rely on others for their football knowledge. I just hope he knows he has been let down and clears them all out as soon as possible.
Rob Halligan
180
Posted 27/02/2018 at 20:14:52
Allardyce is planning another trip to Dubai next season with the club. I don't know if that is for pre-season, or the fourth or fifth round of the FA Cup?
We need to get shut of him now while us, as fans, have the opportunity to voice our concerns this season. Those saying any protests now are probably futile, then fair enough – that's your right. I personally think we are safe this season, so hopefully any protests inside the stadium won't affect the players.
Brian (#173) thinks Moshiri will give Allardyce the bullet after the season ends, but what happens if he doesn't? We could be stuck with him all summer until the new season kicks off.
As Tony (#177) says, we need a new manager in for the new season, and in my opinion, the only way for that to happen is to voice our concerns now.
There are 10 games left of this season. I don't think I can stand another 10 minutes of Allardyce.
Kevin Tully
181
Posted 27/02/2018 at 20:39:58
Rob, I can get you the number for the Walton Luftwaffe. Just let them know what you want the trailing banner to read.
Tony Abrahams
182
Posted 27/02/2018 at 20:42:16
I'm sure we could protest against Kenwright and Elstone, without alienating Moshiri, but it probably depends on what the majority shareholder's true intentions really are?
A poorly run club? Not Everton, they punched above their weight for years, even though they are 4th on the list for league titles. Kenwright robbed Peter, to pay Paul for years because it was the only way to keep hold of his golden egg. (And he's still our fuckin chairman even now!)
We could start by asking Moshiri, the real reason he's moving most of the staff into the Liver Buildings, because I'm sure the most honest answer would be because Goodison has been ran into the ground?
The best protest for me, would be an empty stadium for the players and the manager, but only once we are safe. Something even better than that would be a fan-base that was united because I'm sure this only happens when the football is really good.
Rob Halligan
183
Posted 27/02/2018 at 21:06:44
Haha
Cheers Kev.
"FUCK OFF, ALLARDYCE" will do.
Roger Helm
184
Posted 27/02/2018 at 22:07:06
The club would look ridiculous to sack him before the season ends – four managers in one season would make us a laughing stock. But, as soon as we are mathematically safe from relegation, the club needs to source a new manager to be in place for the close season.
The problem however I think is not with the managers as much as the board. Something is very wrong with the club and it must relate to how it us run, so I am not hopeful about significant improvement till Kenwright goes.
Alexander Murphy
185
Posted 27/02/2018 at 22:30:13
Reading the unity here regarding ousting Big Fat Sam, and the present poll running at such a clear mandate also, then I'd suggest that all efforts now be aimed at Kenwright. Getting a groundswell to shift him would see them both gone.
Furthermore, I'm prepared to suggest some free yet public guerrilla action. Take the comments section of any online newspaper, eg, the Guardian. bombard any and all football article comments sections with two simple sentences:
Kenwright Out!
Allardyce Out!
Hundreds, hopefully thousands of such postings.
The journos cannot pass up a story. Once they put the words out, then The Chosen Have Spoken!
Bobby Mallon
186
Posted 27/02/2018 at 22:32:53
We really don't need to sack him. Just put him on gardening leave, tell him don't bother coming in for training. That way, we only pay him his monthly wage. He won't be able to manage anyone.
Thomas Rigby
187
Posted 27/02/2018 at 22:33:00
Paul Welsby, Tom Dodds, and Tony Abrahams – many thanks for your contributions to this "debate" about how we should react to this situation. Obviously we have differing views on the most effective way forward but we should always consider and respect each contribution.
Within the club, there is an alarming void. No sense of direction – only evidence that the management is totally inept and not to be trusted. Moshiri avoids blame at the moment because fans realise that, for him to help us, he needs first class professional advice. The horror scenario is that he has to depend on Kenwright, Walsh and Elstone. So things could get worse!
The good news is that it is becoming clear that there is a groundswell of opinion among fans that not only should Allardyce go, but the club must listen to the fans. Moshiri can either go out of his way to find out what the fans think... or he can experience a drop in attendances, planned walkouts or demonstrations outside Goodison Park. No-one wants to resort to such extreme measures, but neither do we want to be led into oblivion by the usual suspects.
The difficult part is establishing what Everton should be aiming for under a new regime. What does the average fan want? I would suggest a few basic objectives:
1) Aim to play attractive positive entertaining football.
2) See the club show some ambition and strive to qualify for Europe every season.
3) See stability provided by a manager who wants to come to Everton and has a clear idea of how he wants the team to play.
4) Appoint someone who has a strong enough personality to meet the best the Premier League can offer on equal terms.
It will need an experienced coach and we will have to accept that it will take time and that there will be ups and downs along the way. But as long as we can go to the match and feel that we are going to compete, whoever the opposition, then we will accept that.
Of course, it would help if the club had a clearly thought-out and well-planned transfer policy – not the embarrassing unforgivable shambles of last summer. nb: No-one has ever taken responsibility for that!
Director of Football or no Director of Football? The man who should have first and last say must be the manager... that is he says "This is how we will play; I need these qualities in my players; go and find the players I need. And make sure they have the right character – they must want to play for Everton!"
Finally, we need to deal with the biggest problem of all. Who can advise Moshiri? May I put forward one possible candidate to do just that.
Many people in football believe that the most influential coach in the world in the past decade has been Marcelo Bielsa. So common sense would suggest that he should be the first person to ask for advice. Ask him who are the coaches who have most impressed him.
In his book "History of Football Tactics... Inverting the Pyramid", Jonathan Wilson reports the following comments:
"He knows more than anyone in the world, he is elite."
"His was a very aggressive style looking for every man to win his personal duel."
"He wanted to control possession as well as to go forward and attack."
"He himself says... beneath all my technical talk the great principle is not to concede too much space."
"He wanted to win the ball back as far up the pitch as possible "
Among the many influenced by him are Guardiola, Pochettino, Simeone and Klopp.
Wouldn't it be worthwhile seeking his advice?
Lawrence Green
188
Posted 27/02/2018 at 23:08:13
Daily Star - yes I know - say that Moshiri is contemplating a change of manager, they claim an exclusive,
Everton owner Farhad Moshiri prepares for life after Sam Allardyce
Moshiri expected much more for his investment and it is understood he will have the final say on the next steps, with chairman Bill Kenwright not actively involved.
Moshiri is also willing to cut his losses on some of the players recruited at great cost last summer by Director of Football Steve Walsh, whose position remains under threat.
Everton are looking at PSV Eindhoven transfer guru Marcel Brands in what could be a major shake-up of the management team.
However, the Telegraph via Chris Bascombe are also contemplating the future of Big Sam as Everton manager:
Everton owner Farhad Moshiri reaches crossroads as decision time over Sam Allardyce nears
Don Alexander
189
Posted 27/02/2018 at 23:46:17
In saying what he said, Allardyce has waved good-bye to any future as a manager, albeit banking an obscene amount from Moshiri in the process, as ever.
Moshiri must surely see that, to even begin to find a route to what he says he wants, he must, repeat, must rid the entire club at board and coaching levels of those responsible for the malaise that's been all too visible for years.
A new, good manager will be a start but to expect him to prosper in the cess-pit that is the Kenwright hallmark of our club, burned very deep into Finch Farm flesh by him as it is, would be bizarre.
We don't need a manager or owner who "Gets Us". We need winners.
Stephen Buckley
190
Posted 28/02/2018 at 00:04:41
Not only are Everton players, bought for huge amounts, are mainly wrong but they find themselves in wrong positions, while Allardyce is content to play a lone striker and hope for the best. This can work at home where the Everton fans are amazing and create this wonderful atmosphere to spur Everton on, but away from home, Everton are dismal.
Even if a new manager was to replace Allardyce, the same problems would still persist, because the same players, who failed previously with Koeman and Unsworth, would continue to fail with someone else new to the job as manager.
David Israel
191
Posted 28/02/2018 at 00:43:44
Phillip #2, not necessarily: Jose Mourinho is an expert at finding scapegoats, and not just among the players.
Anyway, this is awful stuff. It's not his fault if the players don't play the ball forward?? What is coaching for, then? It reminds me of when Malcolm Allison arrived at Crystal Palace, back in 1973 (1974?). After a few crap games, he was complaining that the players couldn't even run!
I'm beginning to think that Sam Allardyce will be gone at the end of the season. At first, I thought he would stay the full course, but I greatly doubt it now. He seems to have given up on improving the players, with this sort of outburst.
Bobby Mallon
192
Posted 28/02/2018 at 05:33:23
There is only one manager out there. Uni Emery – pay him a king's ransom and give him free rein.
Martin Nicholls
193
Posted 28/02/2018 at 12:07:46
Bobby Mallon (#192) – I agree 100%. Emery was my choice to replace Martinez although I appreciate that PSG was probably a much more attractive proposition for him. Bring Monchi in to replace Walsh and we'd have the dream team.
I think we should enquire around the top managers in Europe (plus Fonseca) to see who fancies a move to the Premier League – they will understand that, with the possible exception of Chelsea and Arsenal, there are no "top six" jobs available... so would no doubt look to us as next option. Having established a shortlist of interested parties, we then pick the one we want.
Phil Lewis
194
Posted 28/02/2018 at 12:15:32
Just like the words to that old song, "Can it be that it was oh so simple then? "
Going back to the time before the intrusion of Sky TV and all that followed, the business of football was so simple. And more honest. When a team who had enjoyed former glories began to struggle badly over a prolonged period, it inevitably ended in relegation. More often than not, this then became a time for rebuilding and restructuring of the club in decline.
Positives could be taken from defeat, in so much as a complete re-think and clear out would become the catalyst for success. Pre-Premier League days, a couple of seasons in the then second division, could actually be for the good of such a club and they would bounce back up, stronger than before.
Unfortunately, because of the obscene amounts of money generated by television, such a scenario will never be allowed again. The threat of relegation is now the absolute death sentence for most clubs. All of this saddens me, as it only serves to endorse the fact that money, not football, rules my beloved sport.
Against this background, it is fairly obvious that Allardyce's appointment was no more than a panic measure to avoid relegation at all costs. It was all about money. Football wasn't even a consideration. Neither were the fans. Much less, what is being served up to them each Saturday.
Evertonians have to show their dissatisfaction with their feet and stay away. Or stage a deliberate unified walk out, similar to the Liverpool protest over ticket increases. It is the only way the club will take notice. They can't afford the bad publicity, as it frightens off prospective investors. And that is the last thing (next to relegation), that Moshiri needs.
Millions of words of protest, spoken here or elsewhere, will not make the slightest difference to this sad predicament that we, as fans who love our club, find ourselves in. Action just might.
Ian Edwards
195
Posted 28/02/2018 at 12:27:18
There are quite a few disingenuous fans above. They berate Allardyce for playing one up front but were quite content for 11 years when Moyes did it every week. Koeman also played one up front.
The Board should see how the season pans out. I wouldn't take notice of the fans. They wrongly supported Moyes for 11 years who played dire football, especially away.
The fans demonstrated to get Martinez out the season after he got 72 points. They wanted Koeman out. Now they want Allardyce out.
Stop moaning and get behind the team.
Lawrence Green
196
Posted 28/02/2018 at 12:47:25
Ian (#195) One of my pet-hates is when fellow supporters blame fellow supporters for the style of football, the appointment of managers, the formations, the state of the team and everything else that surrounds the team.
Fans can do little to influence the club – no matter how supportive they are, but to tell supporters to stop moaning is a misplaced call.
Moyes had to employ one forward most of the time because he only had one to choose from and he tried to push up the likes of Cahill or Fellaini to help up top. Sam has just spent £27m on a forward who he deems unfit for purpose and has Walcott, Calvert-Lewin and Niasse which at least gives him options to change the formation from time to time.
If the team were playing football that was entertaining and looked like they might win away from home now and again, there would be few fans moaning, even if we played four up top or none. The fact that the football for a number of years (including Moyes's time at the club) has been mostly pedestrian and aimless – save nicking a point here and there at away venues – gives any supporter the right to complain and moan.
Many of the fans who are 'moaning' will be at Turf Moor on Saturday, attempting to cheer their team to victory, they can't do any more than that can they?
Sam Hoare
197
Posted 28/02/2018 at 12:52:16
Well said, Lawrence. Plus it's a myth that we played dire football under Moyes. He he was a pragmatist but at times we played great stuff with the likes of Arteta, Pienaar, Baines, Coleman, Osman etc all capable of lovely interplay. Remember Ossie's goal against the mighty Larissa? Gorgeous.
We lacked proper forwards and put defense first but I don't remember us ever going 4 games without a shot on target, as happened under Allardyce recently...
Dean Augustine
198
Posted 28/02/2018 at 13:24:16
Fat Sam earns £6 million a year and that means only Conte, Klopp, Wenger, Mourinho & Pep earn more than him. And what kind of football he is dishing out? Only appreciated by the 5% (of people polled) on this site who want to keep him for another season!
We can moan the players are crap and the previous managers screwed up the team. Why are we paying Fat Sam so much then? To ensure Everton will be the most boring team in the history of the Premier League! I guess Fat Sam is nailing it right...
Ray Smith
199
Posted 28/02/2018 at 15:16:55
What are the chances of Moshiri pulling off a quadruple?
1 Allardyce out. Highly likely, I hope.
2 Walsh out. On borrowed time. Please go.
3 Elstone out. Possible but unlikely.
4 Kenwright to resign/retire. Very unlikely.
Sam is the biggest problem we currently have, however, the other 3 must take their share of the blame when they appointed him.
1 out of 4 – odds on
2 out of 4 – possible
3 out of 4 – very unlikely
4 out of 4 – unfortunately no chance
Darren Marsh
200
Posted 28/02/2018 at 15:18:05
Get him fucked off. And he can take the 5% with him. They are probably the type that are happy with a 8th, 9th or 10th place finish and a good cup run. No wonder we've won nothing for nearly a quarter of a century with mediocre expectations.
Bobby Mallon
201
Posted 28/02/2018 at 15:25:05
I have said it before – just put him on gardening leave, no pay-off and he can't work for 18 months.
Jay Harris
202
Posted 28/02/2018 at 15:37:23
Sam,
I don't know about 4 games but certainly Martinez and Koeman had dire games of no shots on target.
I think a lot of it has to do with the players' mentality and fragile confidence.
There seems to be a reluctance to get up and support an attack in case the ball is lost and comes back on them.
The sooner we get a no-bullshit positive coach in place, the better.
Jamie Crowley
203
Posted 28/02/2018 at 18:52:33
Jay -
I'm not sure Martinez ever had a game without a single shot on target?
Jamie Crowley
204
Posted 28/02/2018 at 18:54:51
Nevermind... The derby in 2016 – just looked it up. He did have a game without a shot on target.
Lennart Hylen
205
Posted 01/03/2018 at 10:10:41
I thought the club paid him to draw up the lines on how the players should play. Who to blame but the manager, if the players do not follow what he has told them to do on the pitch? He will not be here next season – that is for sure.
Add Your Comments
In order to post a comment, you need to be logged in as a registered user of the site.
Or Sign up as a ToffeeWeb Member — it's free, takes just a few minutes and will allow you to post your comments on articles and Talking Points submissions across the site.