Allardyce: Lack of attacking threat is on the players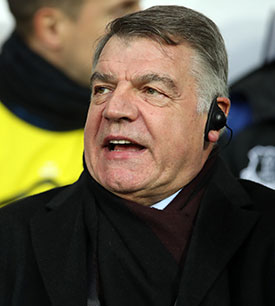 Sam Allardyce insists he can't be blamed if his charges won't move the ball forward and he argues that Everton's expensively-assembled side needs to be dealing better with the pressure to perform.
The manager faced the media after Saturday's 1-0 defeat at Watford, the latest reverse away from home where the Blues have only won once all season, and he was in deflective mood.
Though his comments immediately after the match focused on his belief that the difference in the match was the fact that the Hornets had a finisher in the form of Troy Deeney in their side, he later asserted that his Everton team didn't attack effectively.
Once again, the Toffees failed to really test an opposition goalkeeper, fashioning just one clear opening and putting only two shots on target.
"They get the ball and pass it, not me," Allardyce said. "So, if you get the ball and move it forward to one of your front men, they get in the game and attack the other team's defence. But you can't blame me if they don't pass the ball to each other."
Allardyce was asked whether he thought more could be expected from a team that cost in excess of £200m and he agreed, although he disagreed that the sport psychologist that he and his staff are apparently looking for would make much difference.
"Yes, I would say the players need to be dealing with it more for the money we've paid for them," he explained. "For me it's the players' own desire and determination to put this right.
"What they need is to just believe in themselves when they play away from home. The home form is the complete reverse. I don't think there's a lot wrong [to] bring in a sports psychologist now.
"To be fair I can't find the right one anyway at the minute. It's a hard job finding the right one who delivers the right stuff we want to deliver. There's a lot out there but not one who would benefit us at this moment in time.
"We got a disappointing result today but we've still got the opportunity to stay in the top half of the table and then I'd say it's been a decent season."
---
---