Allardyce 'surprised' by speculation over his job
Friday, 2 March, 2018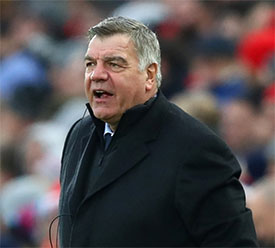 Sam Allardyce has shrugged off speculation about his future at Everton by insisting that the Blues are in a "very good position" as they prepare for tomorrow's trip to Burnley.
The manager has become the focus of a growing amount of talk in the media about the possibility he could be replaced this summer following yet another away defeat last weekend, this time at Watford, but Allardyce says that such commentary comes with the job.
Even so, he has expressed surprise that there is talk of him losing the Everton position at the end of the current season.
"I think I've answered this question many times," the 63-year-old said in his press conference this morning after keeping the media waiting for half an hour. "If you don't win it doesn't matter how long your contract is — you lose your job.
"If you win you keep your job and can plan for the future. At the moment, we are in a very good position. I am slightly surprised about the speculation.
"People speculate on no information at all. The exaggeration comes in and you have to live with that. The ups-and-downs have been speculated at every club I've been at. My job is to focus on the players here and do the best they can. That's what my life is."
Whether Allardyce is under ongoing pressure from his superiors at Goodison Park to improve results and the style of play on offer from his team or whether merely securing safety from relegation will be enough this is unclear.
The former Bolton, Blackburn, Newcastle, West Ham and Crystal Palace boss appears to be losing ground in his battle to win over Everton's fans, however, and his indignant comments at today's presser probably won't have helped his cause.
Though he didn't overtly compare two of his former clubs to the Toffees, merely mentioning them in the same context as Everton in terms of expectations has already got many supporters' backs up on social media, while his approach to away games continues to rankle.
"Style of play is only brought up by people making out we played a certain type of football but that was more than 10 years ago," he continued. "Style of football is about a team going on the pitch and playing to its best to win. Style of play has never really been an issue apart from the legacy which was laid against my name. Style of play is about going out and performing better than the opposition and getting a win.
"We all want to get into a position of safety as quick as we can. We haven't achieved the results that we've wanted. The losses are the big problem. If you draw away from home, it stops the pressure coming on you, but when you don't win the pressure comes on you.
"The pressure at Everton is the same as Newcastle United and West Ham United. They have lots of fans that want to see the club win things and Everton are the same. You have to try to build a team to get success back.
"We are not good enough away from home, but good enough at home. From where we started, down in the bottom end and everyone talking about relegation, to where we are now [is an improvement].
"Burnley are having a magnificent season and if we beat them we are level with them on points. That is the realistic view and all the other speculation will go on.
"The away form is a longstanding problem at the club. It hasn't only arrived with my tender. It was under Ronald [Koeman] and Roberto [Martinez] before I got here. It is not something I want. It's something I have to remedy but it is a long-standing problem.
"In 2017 there were only two games won away from home. We were very close to a result at Watford, we made one slip up and it cost us a point.
---
Reader Comments (96)
Note: the following content is not moderated or vetted by the site owners at the time of submission. Comments are the responsibility of the poster. Disclaimer
Gerry Quinn
1
Posted 02/03/2018 at 16:19:59
Can't see the woods for the trees, eh!
Stephen Bird
2
Posted 02/03/2018 at 16:23:20
Oh god, this is so hard to bear.
How could the club inflict this prick on us? He sits there smug and arrogantly deflecting blame, he is doing a fantastic job apparently and we have it all wrong. We are of course a club on a par with Newcastle and West Ham!!!
Catterick got a kicking off fans once in the sixties after previously delivering league and cup success. Based on that, this chimp needs taking out quickly, form an orderly queue!!
John G Davies
3
Posted 02/03/2018 at 16:25:15
I'm surprised he's surprised.
Scott Hall
4
Posted 02/03/2018 at 16:32:14
"We're in a good position." Wow.
"We were very close to a result at Watford." Were we?
We were very close to what would have been a really poor draw against a really poor side and then we managed to cock that up as well. But close to a result? No Sam. We were not.
Mark Murphy
5
Posted 02/03/2018 at 16:34:13
I have never ever wished defeat on Everton in all the 50 years I've been a blue but, if that's what it takes to get this fool out, I'm beginning to dither.
So long as it's not against the RedShite, of course!
Derek Knox
6
Posted 02/03/2018 at 16:46:36
Stephen and Gerry, you are not alone in your thoughts about what the hell have we done to deserve this?
This guy is almost beyond belief, not unlike Koeman in many respects, arrogantly selecting mis-matched players and teams.
Thinking that he could never be wrong or blamed, but at the same time not being bothered if he were ever to be.
They get compensated for failing, no matter what, and in Koeman's case he takes over as National Coach of Holland.
Unbelievable, well almost, but then again this is Everton!
Dean Augustine
7
Posted 02/03/2018 at 17:00:38
Could not believe he compared our ambitions are same as Newcastle and West Ham! This is what the fans of Fat Sam get who wanted him to be the manager. Sad!
Danny O'Neill
8
Posted 02/03/2018 at 17:06:17
I seriously can't listen to him anymore than I even wanted to in the first place. He is either winding people up now or believes his own deludedness.
And the achieving safety and comparison with West Ham & Newcastle confirms the limitations of the man's own ambition and why he even failed at either of those clubs let alone Everton.
Jay Woods
[LAT]
9
Posted 02/03/2018 at 17:06:50
A nil-nil draw at Watford is not any kind of "result" most Toffeemen would be happy with. Would be lovely if someone at the club conveyed that message to him.
Brent Stephens
10
Posted 02/03/2018 at 17:12:10
"If you win you keep your job and can plan for the future. At the moment, we are in a very good position. I am slightly surprised about the speculation."
So we're winning games at the moment?!
"People speculate on no information at all."
Ay, those losses are mere speculation.
Anthony A Hughes
11
Posted 02/03/2018 at 17:16:13
I think he just made my All-Time Top 10 of Fuckwits.
George Cumiskey
12
Posted 02/03/2018 at 17:19:07
I wonder how many people would call Jamie Carragher now for saying Everton fans wouldn't like Allardyce's "me, me, me" culture.

Spot on, Jamie!
Ian Burns
13
Posted 02/03/2018 at 17:20:28
I used to love weekends. Now I dread them.
I used to love watching EFC. Now I dread it.
I used to have my sanity .
Ron Marr
14
Posted 02/03/2018 at 17:23:56
Get rid ASAP
Tom Bowers
15
Posted 02/03/2018 at 17:31:03
Just heard him on Sky. What a load of BS!! The man is out to lunch big time.
Everton disgracefully are 20th in the Premier League in most offensive categories.
Surely Moshiri has pencilled in the departure date for Allardyce as he has totally misread what is required of him.
Steve Hogan
16
Posted 02/03/2018 at 17:49:37
It's like 'death by a thousand cuts' listening to his 'pressers' every week. Even for a club with Directors as inept as we have, I simply cannot believe they have not already decided this imbecile has to go in May.
They won't get rid before then, but it really would be catastrophic if he was allowed to continue next season. His comments get more and more comatose each week, the man simply has no charisma! The next managerial appointment simply has to be the right one.
Andrew Keatley
17
Posted 02/03/2018 at 17:50:24
Good position? We are about to hit the tail end of a woeful season and have somehow – more through luck than judgement – managed to put a bit of a gap between ourselves and those currently in the relegation places. That gap should be enough to see the season out and give the club and players time to shuffle then re-group over the summer, but if Allardyce is anywhere near this club come July then we are a shambles.
As far as I'm concerned, we have not played well all season. Over 40 games, I really don't see that changing under Allardyce.
David Connor
18
Posted 02/03/2018 at 17:53:02
He's more out of touch with the club and its fans than Bobby Brown Shoes and the Dutch fraud put together. FFS, Everton – get shut asap and make the next boss the right one.
You couldn't make it up, could you? Only at Everton. We are the laughing stock of the Premier League. Who in their right mind would want to come to us?
Ken Williams
19
Posted 02/03/2018 at 17:59:45
Some people got what they wished for in Fat Sam. Seeing Big Sam and Little Sam on the touchline on matchdays just turns my stomach, it like some nightmarish double act.
The sooner the season is over and the fuckwits are bombed out, the happier our many supporters will be. Who takes over is a whole new debate.
Sam Hoare
20
Posted 02/03/2018 at 18:01:30
I never wanted Allardyce here (where are all those that did out of interest?) but when he first came, I thought he did give some decent press conferences in which he talked with sense and honesty.
That has totally gone now. He would be much better putting his hand up and saying, "We haven't been playing well and that is my fault as well as the players'." Everton's ambitions are top 7 if not higher and if we do not get there, or very close to there, then we will be disappointed.
Eddie Dunn
21
Posted 02/03/2018 at 18:18:26
At Watford I seem to remember Pickford making some very good saves..."one slip" my arse.
Tom Bowers
22
Posted 02/03/2018 at 18:34:02
Andrew Keatley, you it the nail on the head.
I have seen every game this season and not one have I been satisfied that they really played well, even the ones they won.
Maybe the Man City game when City went down to ten men did they do well not to lose all the points. But it's been a painful season, to say the least, with already 2 defeats to Liverpool and probably a third by the end of the season unless the defensive side of things is sorted out.
But we have been saying that all season and still it's a mess.
John Davies
23
Posted 02/03/2018 at 18:40:50
What planet does this buffoon live on? We're in a good position? He's surprised by the speculation? OMG this clown simply gets more ridiculous with every statement he makes. Surely he is the most arrogant man ever to have managed our football club.

Moshiri must surely by now have grasped the fact that he has employed a complete fraud. This is all so painful now it has gone way beyond a joke.

Ken Williams (#19) you're spot on mate, it's quite sickening having to watch and listen to this idiot.
Hugh Jenkins
24
Posted 02/03/2018 at 18:41:03
I must admit that, based on his more progressive seasons at Bolton, I, for one, thought that he just might be able to surprise a few people if he was given the opportunity and a decent squad of players.
Much to my chagrin and regret, his abysmal failure is rounding off a season that I would like to quickly forget.
What adds insult to injury is the ludicrous comments he is making about our current league position, predicament and the asinine comparisons he is making with regard to our pedigree, compared with West Ham and Newcastle.
Some are wondering whether Moshiri will fail to pull the trigger this summer due to the compensation that Allardyce will be eligible for, should that happen.
I wouldn't be surprised (although I don't know whether it would be a good or bad appointment), to find that Marco Silva is already lined up for the vacancy and, as he was sacked by Watford, no compensation will be payable.
Since it was rumoured that Moshiri was willing to pay Watford £10M compensation if his pursuit of Silva had been successful earlier in the season, the loss of £6M compensation for Allardyce will see Moshiri get his original target and be £4M better off than he might have otherwise been.
With that in mind, I don't doubt, for a moment, that Sam's days at Everton, are numbered.
Jamie Sweet
25
Posted 02/03/2018 at 18:49:01
Since he has been in charge, these are our Premier League rankings in some key areas:
Shots 20th
Shots on target 20th
Chances created 20th
Chances created from open play 20th
Shots faced 19th
And the pudding is surprised he's under pressure?
Get out of our club.
James Stewart
26
Posted 02/03/2018 at 18:49:36
Pig headed arrogant dinosaur. An embarrassment to the club.
Guy Hastings
27
Posted 02/03/2018 at 18:50:21
He knows the fan base, at best, dislikes him. He doesn't care. That's why he's 'subtly' attempting to belittle us. He doesn't care. And it will continue. He doesn't care.
Lawrence Green
28
Posted 02/03/2018 at 18:52:58
Tom (#22),
We lost the FA Cup tie at Anfield and drew the league game thanks to Rooney's penalty. I'm struggling to remember the other occasion we have played against LFC this season.
Guy Hastings
29
Posted 02/03/2018 at 18:54:08
'We made one slip-up and it cost us a point.'
No – you chose the team, you chose the tactics, you instilled the attitude on the day. I'd argue that cost us three points, not one.
Lev Vellene
30
Posted 02/03/2018 at 19:03:39
"We were very close to a result at Watford, we made one slip-up and it cost us a point."
That would not have been a result; that would have been two points lost that were there for the taking!
Sam, we expect to at least fight for wins against anyone at our own level or lower!!! Home, or away! No more two central midfielders especially at home, and not even away for most games! If the opposition sees no attacking threat, they'll roll us over every time!
And then we must rely on luck to keep that one silly point...
Ray Smith
31
Posted 02/03/2018 at 19:08:38
When are the management going to come out with a statement over our future?
Even Jim White (who I personally dislike) has not updates from 'my friend' Moshiri, says it all. When he doesn't have a quote, he creates one, based on a unsupported hypothesis.
So if he is keeping quiet, what's going on behind the scenes?
I said it on another thread: Allardyce won't jump, he will have to be pushed. But who is going to push the arrogant, delusional half-wit, who thinks he's doing well. Until he goes, we will never progress.
Nicholas Ryan
32
Posted 02/03/2018 at 19:11:45
"If you win, you keep your job..." So, presumably, you'll be resigning on Monday, then!
David Greenwood
33
Posted 02/03/2018 at 19:16:22
What are the point of pre-match press conferences? Not one journalist there would probably even be aware of the stats provided by Jamie above. If they are they don't ask them.
Or challenge Allardyce when he's clearly lying/contradicting himself/twisting the facts to suit his own agenda.
If any of the journos who attend these things (and we know you read these pages) could reply, I for one would be very grateful to hear your answer.

Jim Bennings
34
Posted 02/03/2018 at 19:17:17
Pure bullshitter.
He starts by talking about trying to remedy the lack of away successes, then says we very nearly got a result a Watford, but a 0-0 draw would hardly have classed itself as an away success surely?
He goes on about being in a good position now, but we were actually 5 points clear of 18th place in Allardyce's first match in charge on December 2nd.
We are now 7 points clear of 18th place and in early March, does that really constitute as 'great progress'?
Could David Unsworth or Ronald Koeman have not got us in this same position we sit in right now?
It also grates on me the way he keeps mispronouncing our players names, for anyone listening to his press conference today apparently we have a centre-half by the name of Michael Kenny?
Last season, when Allardyce managed Crystal Palace, it was "Simon" Coleman who scored the winner for Everton!!
It annoys me that our manager appears muddled with his own players' names and it can't do much for you as a player that either to have your gaffer mixing up your names, it's like a bloody Carry On film.
Tom Bowers
35
Posted 02/03/2018 at 19:22:26
Laurence Green, sorry my mistake. That was the game when Klopp went mad we had gotten a point from them.
George Cumiskey
36
Posted 02/03/2018 at 19:25:56
By my reckoning, that's more than 15 people ranting on social media, or are some of you coming on more than once using different names?
Peter Roberts
37
Posted 02/03/2018 at 19:34:02
Absolutely farcical state of affairs at our club.
This clown has taken the deluded arrogance of Koeman and raised it to an unprecedented level.
What on earth have our fans done to deserve the constant levels of provocation from highly paid employees of the club??? Let's face it, Allardyce is trolling us the powers that be at our club need ejecting from their positions.
It's time for the fans to really make their voices heard. Something seriously rotten going on at our club.
Joseph Mullarkey
38
Posted 02/03/2018 at 19:37:29
The man should never have got another job in football after being exposed as the corrupt and shameful person he is while coaching the national team.
He doesn't care one jot for the future of our club, He just smiles in the face of criticism Knowing full well that it will be yet another big payday if we sack him before the 18-month contract is up, Then he will be on to the next gullible club to start the cycle over again.
It is a sign of the times, in my opinion. Players are no different, In many cases strolling around totally ignorant to the displeasure of supporters while earning in a week what most earn in a decade.
I am deeply saddened to see the poison of modern culture seeping into our club.
Mr Moshiri, it is time to sharpen your axe, for Everton and for humanity.
George Cumiskey
39
Posted 02/03/2018 at 19:39:59
The biggest problem we have with Allardyce is his arrogance and ego, he just can't be shamed.
He knows he's got a massive payoff secure – win lose or draw, so he doesn't give a damn what we think of him.
It's like the Trump syndrome – it doesn't matter how blatant or obvious the lie is, he'll just deny it.
Ron Marr
42
Posted 02/03/2018 at 19:56:51
Get back to
Easter Island
where you belong with the other big heads
Paul Welsby
43
Posted 02/03/2018 at 20:12:22
Have a read of the latest headline in the Red Echo. Fat Sam backs Steve Walsh's transfer record as pressure grows.
To me, it's another attempt at Fat Sam taking the piss and backing his mate Walsh; also deflecting the blame from Walsh as he thinks he's good at that.
Hopefully he know's the writing is on the wall and he is trying to save Walsh's job because wasn't it him who badgered Moshiri into hiring this clown?
John M Boon
44
Posted 02/03/2018 at 20:29:17
As noted by 95% of the vote it is time to go. I honestly think the man is quite incapable of seeing reality. He has put himself in a no-lose situation. If we stay up he has the nerve to consider that as success. His impact on this club has been disastrous.
I was brought up 20 minutes from the ground and have supported my "beloved" team since 1947. As regards achievements such as win or lose, I don't really care. He may not be the worst in that area. We have had some bad managers in the past, but I have never been so embarrassed by anybody as I have with Allardyce. Every time he opens his mouth I cringe. He should not be allowed to speak before or after a game. He spouts total drivel, and he never sees himself as responsible in any way for how lousy the team play.
He must be sapping the confidence out of each and everyone of the players as he publicly castigates their performances every time he opens his mouth. He is never wrong.
Gio Mero
45
Posted 02/03/2018 at 20:29:41
Unbelievably, people are still talking about 7th place. If we get to 7th it's a travesty, having played the worst football I've ever seen Everton play. Can't defend... won't attack.
The Premier League obviously sucks.
Phillip Warrington
46
Posted 02/03/2018 at 20:33:43
This sounds like Martinez before he was sacked. This man and the club can't be any more delusional. Everton are playing the worst football by an Everton team in modern history.
The only questions are: Is the man with the gift of the gob convincing the board? Or is he doing enough to stay up and intentionally playing anti-football to make sure no manager would contemplate applying for the job? Or maybe delusional as his comments.
Is he also being paid by the RS to destroy Everton, with a bonuses for how many skilled players he can ship out or turn to shit, but hey – we are in a good position.
John Kavanagh
47
Posted 02/03/2018 at 20:50:43
Unbelievable, but the Allardyce should be kept on vote has increased to 5% in the TW poll. Even allowing for Sam's army of analysts and advisers voting (none of whom can spot that Schneiderlin is crap) this means there are in theory 200+ Everton supporters who are registered on this site and still believe in Allardyce?
The ToffeeWeb poll must have been nobbled by the Kremlin or, worse still, Kopite spies. Simply can't accept that any EFC supporter still believes in this bloated egotistical fraud.
Fonseca In – Allardyce Out, asap please!
Max Murphy
48
Posted 02/03/2018 at 20:52:57
Let's see... Burnley away tomorrow. I wonder what Sam's excuses will be after we're soundly beaten:
1. The players forgot to wear their woolly underpants for the cold weather;
2. They never converted their chances (after zero attempts on goal);
3. They were shattered after the long trip to Turf Moor;
4. The players are a bunch of useless, lazy bastards;
5. The bench didn't perform;
6. Seven of our players are snow-blind;
7. I'm a shite manager.
Voting closes 12:30 Saturday, 3 March 2018.

Eric Paul
49
Posted 02/03/2018 at 21:00:17
If West Brom lose tomorrow, they might poach him and pay us compensation. I wish!
Kunal Desai
50
Posted 02/03/2018 at 21:13:58
Amazing. Never known anything quite like it where a person employed, paid extremely well but takes the piss out of his employers and those associated with the club.
Kenny Smith
51
Posted 02/03/2018 at 21:39:45
I'm not surprised about the speculation about his job cos he's shite. Take Walsh with you. You can leave Sammy Lee here, though, cos we need someone to drive the team bus now Gibson's gone.
Ray Smith
52
Posted 02/03/2018 at 21:44:48
Gio (#45),
7th is a possibility!
However, my concern is that if we achieve 7th, the charlatan at the helm may well be with us next season!!!
Do we really want to qualify for Europa League next season?
Without Sam – yes; with Sam – No!
The silence from on high is deafening!!!
Joe Hurst
53
Posted 02/03/2018 at 21:56:17
"In 2017 there were only two games won away from home."
But you fixed that, after how much salary, Schnorbitz?
Andrew Presly
54
Posted 02/03/2018 at 21:59:55
I don't mind if we lose tomorrow. I've felt this way for about two months. It's a logical reaction to this nightmare. What will get you to wake asap.
It's treasonous thinking but the bigger picture is more important. I love us in Europe for the trips alone and 7th would get us that this term but I'll sacrifice it, with a heavy heart, for the change we need.
Frauds in any walk of life need to be exposed. This oaf is one. Moshiri, are you another?
Dark times at the Club. Tuchel, Fonseca or Howe. Any of these please. Or Unsworth until they arrive.
Ernie Baywood
55
Posted 02/03/2018 at 22:06:22
I'm surprised that people are surprised by his comments.
He can legitimately claim a successful reign. We hired him to keep us out of trouble. It's all he's ever done in his career. He's keeping us out of trouble. By his metrics, he's doing his job.
The problem isn't what he's doing, as hard as it is to watch and listen to, it's the very fact that he was hired. It was a decision that didn't align to any kind of plan. If you were ambitious, you wouldn't sign Allardyce!
Andrew Presly
56
Posted 02/03/2018 at 22:16:23
Ernie, Unsworth would've got us to this position or higher with some backing from above.
The best win of Fat Man's beyond emabarrasing tenure is the West Ham one which he adds to his stats, obviously, despite not being in charge for it! Bleak as fuck.
Unsworth has been badly let down in this farce. Points to game he's better than this fool too isn't he? Koeman as well.
We're on snooze until the nightmare ends in a few months.
Eddie Dunn
57
Posted 02/03/2018 at 22:19:46
If we get 7th, it will just expose the bullshit talked about this league being so good. It obviously is not.
There are the top six, then Leicester who have quality, the rest are ordinary, playing some shite football. Despite all of the money I have watched some truly dreadful footy this season.
Man City, Chelsea and Liverpool have produced some marvellous stuff, but the gulf has grown between the top teams and the rest.
Shaun McGough
58
Posted 02/03/2018 at 22:20:02
Don't all get on Sam's case. Remember he nearly didn't come because he felt he wasn't wanted. I hope he doesn't mind if I order him a taxi after our next defeat. Just put Unsy in charge. We only need two more wins.
Andrew Clare
60
Posted 02/03/2018 at 22:29:42
There is no way that we will finish 7th and it is highly unlikely that we will win tomorrow.
We are in a very perilous situation. Relegation is a real possibility. We are the poorest team in this division and with ten games left we could easily find ourselves in the bottom three come the end of the season.
I have seen nothing in our play that gives any reason for hope. What has changed since the Watford defeat? Nothing. We still have the same useless manager and his useless coaches.
Sorry to sound so pessimistic but I have never seen an Everton team with less heart and motivation.
David Currie
62
Posted 02/03/2018 at 22:31:43
He is too old and boring for our great club.
Jamie Crowley
63
Posted 02/03/2018 at 22:52:20
Hitting the road! Time to lose all desire to actually win!
If you draw away from home, it stops the pressure coming on you,
Aim high Sam! A point against Burnley is exactly what we want!

Just fuck off.
Keith Harrison
64
Posted 02/03/2018 at 23:17:54
He's definitely hawking for the sack.
Or he's Saddam's man, Comical Ali – "There are no tanks in Baghdad", as they rolled down the street behind him.
Get him on a flight to Switzerland, he's living in his own world, and is lost to humanity.
Andrew Oxton
65
Posted 02/03/2018 at 23:20:26
My Everton – mentioned alongside Newcastle and West Ham? There is the problem. We have employed this guy, the is why we are now in the same bracket as West Ham, Newcastle, West Brom, Stoke, etc.
Honestly, Pulis and Pardew and the rest of the awful mediocre merry go round managers must be licking their lips. A club with the history of Everton has been pulled into their sights. Fucking shambles.
"Very good position"? Our board and our Manager are low-expectation mother fuckers. Disgrace.
Ray Roche
66
Posted 02/03/2018 at 23:29:21
Allardyce! What a manager!
.
.
.
.
Or.
.
.
.
.
Allardyce? What?? A manager???
David Baxter
67
Posted 02/03/2018 at 23:46:49
The average yearly wage here in Australia is A$82,000. So I presume the current exchange rate converts the average annual wage in the UK to about £47,000.
That means it would take 135 years for yer average worker in UK to earn what Hippo Head earns in 1 year. Sobering thought??
Si Cooper
68
Posted 02/03/2018 at 23:46:54
"Burnley are having a magnificent season and if we beat them we are level with them on points. That is the realistic view and all the other speculation will go on."
Burnley are having a magnificent season for a club of their size / resources! For us to be merely hoping to reach their level is simply unacceptable. We are below Burnley and Leicester, and miles behind Arsenal who are miles behind the rest we should be challenging.
If this guy is not under serious pressure from inside the club, especially considering how much he is getting paid, then he has the cushiest job in the world.
Jerome Shields
69
Posted 02/03/2018 at 23:47:01
He knows he has a 50/50 chance of being sacked. This is just a pitch for the floating supporter to scrape himself more time and extend his £6 million salary being paid.
Pete Clarke
70
Posted 02/03/2018 at 00:15:38
He is not going to jump, that's for sure, but he is winding the club up so he gets pushed. The other scenario is more frightening and that is he gets on well with Moshiri and Kenwright, with plans set in for new players next season under his guidance that will take us to another level.
I hope I am wrong on that second one but if he's here next season then Big Sam is only a small part of our very big problem. All the same, his disrespect for us all makes me feel like he needs a number putting on him.
Duncan McDine
71
Posted 03/03/2018 at 05:29:05
It's not easy to take, but our current and previous two managers have turned us into a Newcastle / West Ham club. Prior to that, at least we had some character and a team with some fight.
The only positive I can say about Allardyce is that he's not as bad as Koeman.
Gio Mero
72
Posted 03/03/2018 at 06:45:37
Sam, you're needed at West Brom. Hurry!
Tim Michael
75
Posted 03/03/2018 at 07:26:58
Oh dear. Allardyce has now really confirmed that he has no idea of the stature of the club he is managing.
To compare expectations with West Ham and Newcastle as being the same is woefully wrong. Both those clubs have found themselves slipping out of the Premier League in recent years and have suffered because of it. He must know that expectations are considerably higher at Goodison.
As I have been saying, the man knows he's going and just continues to talk his way out until the end of the season.
Strangely enough though, I think we will win at Burnley today. However it only would be another step to the survival target that Allardyce breeds into these players and the negative thinking that this creates. It will soon be May and he will be gone.
Alexander Murphy
76
Posted 03/03/2018 at 07:30:26
Spacehopper Head is a gonner and he knows it.
Why do I say that? Because of the TW Poll; The Guardian article on Monday; The Star "exclusive" and The Telegraph articles; plus a complete morning about Big Fat Sam, Farhad Moshirir and Everton FC onTalkSport on Tuesday.
I've been entirely relaxed ever since.
Now, I'm watching him troll out the exact very same lines that he used at West Ham and Newcastle as their fans turned up with freshly sharpened torches and burning pitchforks. Lines as well rehearsed as if he was appearing in "Son of Turpin" (a Boys Pen production).
I'm enjoying watching him squirm. Make no mistake, squirming is what it is. Once the wider fanbase was alerted, then Fathead and his yapping familiar were toast.
My solution for the rest of the season? Seeing as Balloon Head is such a devotee of twisted statistics. Allardyce in the stands, Rhino in the dug-out. Rhino's lads do the business on the pitch, Hippo Head grabs the credit for himself.
Rhino would take a do-or-die penalty for Everton, even if his own dignity depended upon it. He'd score. He'd score for Everton.
Spacehopper Head wouldn't give a shit (or so he'd say) as he swaggered away. Try this future quote after he's given the chop.
"I can walk away with my giant head held high, I did what I came here to do". (Meaning to fill his pockets – not to save Everton from the drop.)
Sit back, relax and enjoy the pantomime, just remember, boys & girls, to shout out "Oh no it isn't!" whenever the sneering villain says something nasty.
Andrew Clare
77
Posted 03/03/2018 at 08:19:39
Peter#70,
That's my fear. Moshiri and Kenwright planning for next season with Allardyce at the helm.
It not just the manager that's the problem at this club. It's the whole footballing set up. It's quite obvious that none of them have a clue about Everton.
Derek McMonagle
78
Posted 03/03/2018 at 09:01:05
Watching Everton at the moment is like having a dearly loved relative with a terminal illness. You visit every week and hope they will get better - but deep down you know there is nothing down for them.
And when you hear their consultant tell them it's their fault they are ill that just about puts the cap on it.
Roll on the end of the season.
Jack Convery
79
Posted 03/03/2018 at 09:13:42
He's going don't worry - if he stays run away run away asap.
We could form FC Everton of Merseyside and run it ourselves. I'm sure we can find a squad of 22 amateur Evertonians who will play for free and give their all. I would make Big Nev Manager he still gets EFC and us big style. As chairman I would ask Big Joe Royle. Sounds good to me.
Ken Kneale
80
Posted 03/03/2018 at 09:21:12
As said above, if this guy and others are not under internal scrutiny then heaven help us all

Alan McGuffog
81
Posted 03/03/2018 at 09:23:44
A lot of people are going to have a very rude awakening. When Sam goes .and I, too, hope he does, very little will change. The problem is the CLUB not whoever is managing it. Sam will go and we shall still have a board of directors that treat us like idiots. We shall still have a decrepit ground. We shall still be living in the past. So yeah try and get Fonseca or Silva or Guardiola ( more likely McClaren or Bruce or Pulis ). But don't go holding your breath about a new dawn. Seen too many of em.
Tony Everan
82
Posted 03/03/2018 at 09:27:47
The decision on Sam will have already been privately taken between Moshiri and his very close circle.
They will know that we can't go into a new season with a walking dead manager. He is on borrowed time now imagine the damage it could do next season when protests are raging in October. The fans won't put up with it.
No news will be forthcoming at all until we are mathematically safe to ensure some stability in the interim.
Then, rumours will start to flow and the picture will become clearer as to who is interested and who Moshiri wants.
Derek McMonagle
83
Posted 03/03/2018 at 09:30:08
Good point - if they gave cups for false dawns we'd have a cabinet full.
Liam Reilly
84
Posted 03/03/2018 at 09:30:15
"If you don't win it doesn't matter how long your contract is — you lose your job."
We're not winning Sam and I don't know where you are getting this horseshit about our home form being good.
It isn't! It's painful to watch.

Stephen Davies
85
Posted 03/03/2018 at 09:46:13
Oh for a Sir John Moores now.
He wouldnt have stood for any of this nonsense and sorted it out from the start.
Moshiri now has to get a firm grip and shake this club to its core...get rid of deadwood and sentimentality get respected professionals in who excel in their field and get this club moving forward and earning respect and a wiinning mentality.
Anything else is not acceptable.
He has this opportunity in the coming months and he has to take firmly take it.
John Davies
86
Posted 03/03/2018 at 10:03:37
Duncan (#71).
Sorry mate, I have to disagree. He is worse than Koeman. He is worse than any manager I have seen since 1962 when I started supporting our club. He is the very worst – and the most dislikeable. But that won't bother him one bit.
John Davies
87
Posted 03/03/2018 at 10:17:12
Stephen (#85). You're spot on mate and 95% of us hope he starts by shoving Old Big Head overboard first. 95% of us also worry that he simply doesn't have the stones to do it, or surely he would have done it this week, after the continuing arrogant pressers that the fraud keeps rolling out.
Allardyce is an embarrassment to the club and Moshiri sits back and lets him be so. What type of man do we have at the helm? Time for him to show his mettle.
Mike Kehoe
88
Posted 03/03/2018 at 10:50:25
This is all bollocks, people criticising and calling him names, he's on 6 million a year so why would he give a fuck? We can all see a direct correlation between playing one up front and focusing on defending and not posing an attacking threat and being shit to watch. Everyone's pissed off that he distances himself from the abject performances and then blames the players, etc. It's all been done to death before and all this moaning and venting is utterly pointless and nothing will change. All the outrage and common sense, all the sage observations and humour so evident on these pages counts for nothing at all: nothing at all.
It is quite possible Moshiri thinks all is well.
Rather than impotent posts could we have a significant protest that is not damaging to the team's delicate morale but gives the clear message that all 15 of us are not happy, things are less than tickety boo and this man has simply got to go.
As much as it pains me to say the RedShite would not accept this and their protests would be significantly more than disgruntled fans expressing constant dismay and calling people names. TW has become like a form of counselling for an Everton supporters post traumatic stress disorder.
I have read posts on other threads calling for fans to turn their backs on the 18th and 78th minute to get a clear message across. What do you all think? Wouldn't take much organising.
My first thought was for a group of TWers to drag him out onto the centre circle and twat him with a selection of lump hammers and pipes while reading out a selection of particularly salient and well articulated grievances but I think that maybe sends the wrong message to future managers: political correctness gone mad and all that.
Protest folks, serious and thoughtful protest that cannot be dismissed as 15 wankers that will shame this charlatan and hasten his exit.
Or violence.
George McKane
89
Posted 03/03/2018 at 11:12:45
I was in Gdansk not long after the fall of Communism - - I was sitting waiting for a tram and on the bench were two older guys who had obviously been around during the Communist days - - we sat initialy in silence - - the tram was late - - one man muttered - - quietly - - still the instinct not to say anything out loud - - "I guess the government have changed the timetable without telling us" - - the other guy who had a Solidarnosc badge in his hat said - - it was March - - the beginning of Spring - - "the buds are coming out on the trees and there is fuck all the government can do to stop them" - -I wrote it in my notebook - - I knew it would be of use one day.
So Up Yours Mr Allardyce - - we are Evertonians and there is fuck all you can do to stop us - - most of us will dance the day you leave you miserable negative cynical pick pocket. On Your Way.
Peter Mills
90
Posted 03/03/2018 at 11:27:10
Good to have you back, George.
Eugene Kearney
91
Posted 03/03/2018 at 11:28:50
Roll on Monday 14th May.
Brian Harrison
92
Posted 03/03/2018 at 11:45:39
What arrogance from the world's biggest egotist, of course he thinks everything is wonderful his whole purpose in management is survival. I have never seen a manager have such a miserable expression at every press conference, it just screams I don't want to be here but if they are paying me £6 million a year I will have to bare it.
He will tell us how lucky we are to have him and he will no doubt go on to say we where 13th when he took over and now we are 9th. The problem is the performances are getting steadily worse with each game.
Pete Clarke
93
Posted 03/03/2018 at 12:40:38
This task is well beyond SA and he knows it. The England job was nothing compared to tackling this so he wants out.
Blaming the players is low enough but to try antagonise us with this theory that all is going well just smacks of a man who is taking us for mugs, and he is.
There are a few things eating away at me as to how this is going on. The big one being Moshiri and his silence. Another one is the lack of tough moral and professional questions being thrown at SA by any of the media and the last one and main one is that there are so called true Evertonians sat next to this big headed prick at every game, training session and coach trips and not one of them has stood up and questioned or even challenged him or at least it hasn't come out that somebody has.
If he is not challenged by somebody before he leaves us then we will look like some non league outfit that nobody cares for apart from a bit of history.
James Hopper
94
Posted 03/03/2018 at 13:07:54
We as fans should never have accepted this appointment. We should have m shown our collective disdain for this man and made it clear to the clubs hierarchy that even considering Allardyce was unacceptable. Some of us did.
Others said stupid things like "At least he's guaranteed to keep us up!" as if relegation was ever a realistic concern or like Sam Allardyce has some kind of free pass against relegation. Moshiri and his advisors, and many commenters on these boards panicked and now we're stuck with this arrogant, fat, deluded bag of shit.
Ray Morgan
95
Posted 03/03/2018 at 14:48:48
Is this man for real?
Tommy Coleman
96
Posted 03/03/2018 at 14:57:45
Ignore everything he says.
He's in contract termination mode.
He's been sacked enough times to know that anything he says can be used against him to reduce his compensation.
Geoffrey Williams
97
Posted 03/03/2018 at 15:15:07
The man is not good enough and he lacks credibility with the fans. His team selections are poor and lack consistency. He has been found out tactically and his lack of ambition is stifling the club.
A manager doesn't have a succession of jobs if he is good at his job.
Harvey Miller
98
Posted 03/03/2018 at 20:54:21
West Ham fans were calling for his head for a long time because of his dull tactics and wrong selections and stupid changes. He should never ever be in charge of a football team, be it small or big.
Rob Halligan
99
Posted 03/03/2018 at 21:22:26
The "Fuck off, Sam Allardyce" and "You're just a fat greedy bastard" chants booming from the away end in the second half should tell Allardyce all be needs to know:
You're not wanted at Everton Football Club!!!
He walked off at the end with his head planted firmly beneath his knees. Not once did he look up and glance towards us. Get rid of him now. We will have enough about us to survive this, and I don't want that fraudster trying to claim all the plaudits for keeping us up.
To say his appointment has been a shambles is stating the obvious. His points-per-game ratio is worse than Koeman's or Unsworth's. He said himself a manager is judged on, and keeps his job by, winning football matches. Well Allardyce, you are not winning football matches and at the moment don't look like winning anymore. So do the honourable thing and fuck off.
I know however, you won't resign and forego circa £6M, so it's time for Moshiri to put you out of your misery and give you the size nine welly, and give you the boot.
If you think today was bad for you, then just wait until next Saturday. Better still, wait until Stoke in 2 weeks time when you will have to walk right past the away end, taking the full gauntlet of every blue in that ground. Assuming, of course, you are still our manager.
Keith Harrison
100
Posted 03/03/2018 at 22:13:39
We said similar about Martinez. Then Koeman, but Everton don't do 'knee-jerk'.
ToffeeWeb will not be a barometer for Bill, nor even Moshiri. However much fume and angst is on here, a proportion, especially on away days, are by definition not at the game.
Maybe time to take a lead from the RS supporters and have a stage-managed, properly orchestrated show of non-support so the hierarchy – all of them – realise the depth of hatred for our manager, DoF, and others.
As Rob says, let them run the gauntlet, show the arrogant bastard there are more than '15 internet users' that are ordering pitchforks and flagons online.
Who's up for the job?

Rob Halligan
101
Posted 03/03/2018 at 22:26:03
You trying to volunteer me, Keith? 😂😂😂
You're right though, we need to let Moshiri know the true extent of our feelings towards Allardyce.
Keith Harrison
102
Posted 03/03/2018 at 22:33:01
God, I'm so transparent!
But if you're volunteering, Rob!
Add Your Comments
In order to post a comment, you need to be logged in as a registered user of the site.
Or Sign up as a ToffeeWeb Member — it's free, takes just a few minutes and will allow you to post your comments on articles and Talking Points submissions across the site.