Allardyce 'surprised' by speculation over his job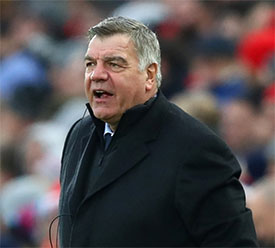 Sam Allardyce has shrugged off speculation about his future at Everton by insisting that the Blues are in a "very good position" as they prepare for tomorrow's trip to Burnley.
The manager has become the focus of a growing amount of talk in the media about the possibility he could be replaced this summer following yet another away defeat last weekend, this time at Watford, but Allardyce says that such commentary comes with the job.
Even so, he has expressed surprise that there is talk of him losing the Everton position at the end of the current season.
"I think I've answered this question many times," the 63-year-old said in his press conference this morning after keeping the media waiting for half an hour. "If you don't win it doesn't matter how long your contract is — you lose your job.
"If you win you keep your job and can plan for the future. At the moment, we are in a very good position. I am slightly surprised about the speculation.
"People speculate on no information at all. The exaggeration comes in and you have to live with that. The ups-and-downs have been speculated at every club I've been at. My job is to focus on the players here and do the best they can. That's what my life is."
Whether Allardyce is under ongoing pressure from his superiors at Goodison Park to improve results and the style of play on offer from his team or whether merely securing safety from relegation will be enough this is unclear.
The former Bolton, Blackburn, Newcastle, West Ham and Crystal Palace boss appears to be losing ground in his battle to win over Everton's fans, however, and his indignant comments at today's presser probably won't have helped his cause.
Though he didn't overtly compare two of his former clubs to the Toffees, merely mentioning them in the same context as Everton in terms of expectations has already got many supporters' backs up on social media, while his approach to away games continues to rankle.
"Style of play is only brought up by people making out we played a certain type of football but that was more than 10 years ago," he continued. "Style of football is about a team going on the pitch and playing to its best to win. Style of play has never really been an issue apart from the legacy which was laid against my name. Style of play is about going out and performing better than the opposition and getting a win.
"We all want to get into a position of safety as quick as we can. We haven't achieved the results that we've wanted. The losses are the big problem. If you draw away from home, it stops the pressure coming on you, but when you don't win the pressure comes on you.
"The pressure at Everton is the same as Newcastle United and West Ham United. They have lots of fans that want to see the club win things and Everton are the same. You have to try to build a team to get success back.
"We are not good enough away from home, but good enough at home. From where we started, down in the bottom end and everyone talking about relegation, to where we are now [is an improvement].
"Burnley are having a magnificent season and if we beat them we are level with them on points. That is the realistic view and all the other speculation will go on.
"The away form is a longstanding problem at the club. It hasn't only arrived with my tender. It was under Ronald [Koeman] and Roberto [Martinez] before I got here. It is not something I want. It's something I have to remedy but it is a long-standing problem.
"In 2017 there were only two games won away from home. We were very close to a result at Watford, we made one slip up and it cost us a point.
---
---