Coleman feels fans' frustrations
Monday, 5 March, 2018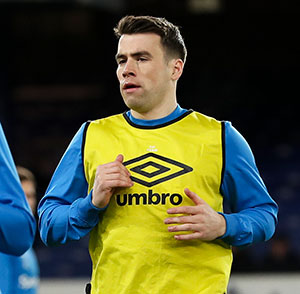 Seamus Coleman says that Everton need to repay the fans's support by putting in winning performances in the next two games.
The Blues return to Goodison Park to face Brighton this weekend after yet another demoralising away defeat at Burnley, their sixth on the bounce in all competitions since the goalless draw at West Brom on Boxing Day. They then travel to struggling Stoke looking to pick up only their second away win of the season.
Saturday's trip to Turf Moor should have ended in victory after Cenk Tosun's first goal in Everton colours set them on their way against a Clarets side that hadn't won in 12 games but missed chances at one end and horrendous defending at the other allowed Burnley to come back an claim all three points.
The match marked Coleman's second return from injury this season, this time from a thigh injury, but after providing the crucial flick-on for Tosun's goal, he was unable to prevent the Blues conceding two goals in the second half.
The Irish skipper says that he feels for the travelling fans who braved icy conditions and a freezing afternoon to pack out the away end and has pledged a response.
"I don't think any of the lads came here thinking about anything other than getting three points," Coleman explained in the Liverpool Echo. "You need that positive mindset.
"When they got the first, maybe that's when we need to stand up and be counted and fight back and maybe get the second ourselves, which didn't happen. Unfortunately, there was no way back for us then.
"Can I understand the fans' frustration? Yeah, of course. They're travelling all round the country supporting us. We know what it means to them.
"It's no different if I'm sitting in the stand and my team aren't winning away from home, then of course you can understand their frustration.
"They're paying good money. It's up to us on Saturday to put in a performance for our home fans, and then kick on and try to win away from home.
"We need their support between now and the end of the season, and we've got no questions about that, because the away fans have been fantastic, and it's up to us as players to make sure we perform."
---
Reader Comments (73)
Note: the following content is not moderated or vetted by the site owners at the time of submission. Comments are the responsibility of the poster. Disclaimer
Mike Gaynes
1
Posted 05/03/2018 at 06:46:17
Spoken like a captain, Seamus.
Your return is the best thing that has happened in this miserable season.
Peter Healing
2
Posted 05/03/2018 at 06:50:34
I like you, man, but more lip service. We've been hearing this since Martinez's second season.
Terry Farrell
3
Posted 05/03/2018 at 06:54:38
Agreed, Mike, spot on.
Off thread but I just heard supposedly strong rumour that we are lining up Wenger as our next manager.
No! No!! No!!! He's past it.
Gerry Quinn
4
Posted 05/03/2018 at 07:15:06
At least Wenger will have a face that will match exactly the way we play!!!
Alexander Murphy
5
Posted 05/03/2018 at 07:32:23
My thoughts precisely, Mike G.
Ken Kneale
6
Posted 05/03/2018 at 08:04:03
He should definitely be captain in the absence of Jagielka. Not sure how that divisive fraud Williams is even in the team, let alone captain of Everton Football Club.
After Saturday's performance and conduct, even if he does play again, he must be stripped of armband duties surely!
Christopher Dover
7
Posted 05/03/2018 at 08:05:52
As much as I respect and like Seamus, this is just another player talking about putting things right in the next game. Likely the other players who have put out the rallying cry to no avail have been put back in the box so the top respected player can try and muster support for a failing club.
Next Saturday at home to Brighton will be the acid test of actions speaking louder than words, but I am not holding my breath.
Colin Glassar
8
Posted 05/03/2018 at 08:15:30
Agreed Christopher, talk is cheap and we've heard it all before. I'm sick of it.
Jim Bennings
9
Posted 05/03/2018 at 08:17:17
You get a bit sick of just hearing players coming out with words and no action though.
The fans are feeling very patronised and players stating the obvious but still producing the same results just won't cut it anymore, I'm afraid.
It was a slap in the face going on a "holiday" to Dubai for some training and what has it reaped other than two more away defeats to pretty ordinary but harder working teams than ourselves!! That's the biggest issue for me.
Clubs like Brighton, Burnley, Bournemouth to name a few might not have as illustrious a history as Everton but the players at those clubs seem to actually want to play for them. You watch them and they sweat blood for the shirt and wear the badge with burning desire.
I've never been so embarrassed by a bunch of Everton players that just look so damn rudderless and leaderless once it sets foot out on the pitch. My question to them would be:
Do you all want to play for Everton Football Club??
Do you all care enough?
Karl Meighan
10
Posted 05/03/2018 at 08:59:29
If the players felt that bad, how about a offer to refund the price of match tickets?
Actions on the pitch, wins and points and getting out of this season still in the Premier League is poor reward.
Brighton are playing well Stoke are improving, the trap door is opening, and I for one have no confidence in them piss poor players getting us out of it.
It's one thing lacking quality but lacking will, fight, desire and pride in the jersey is truly disgusting – this bunch haven't showed any of those things.
Ralph Basnett
11
Posted 05/03/2018 at 09:14:47
How easily we are all bought!!!!
Repay us by giving winning performances in the next two games... what about the rest of the season!!!!!
Just a bit of fuckin effort over 90 minutes would be nice!
Ernie Baywood
12
Posted 05/03/2018 at 09:15:53
Karl, it's a group of players who have effectively been told that they just have to stay up. In fact, scrap the word "effectively", it's exactly what they've been told. Get to 40 points and then write off the season.
They're not playing well, but there's no motivation. Anyone in any job would be affected by that.
Vinny Garstrokes
13
Posted 05/03/2018 at 09:49:12
Thankfully Williams will not be wearing the shirt for a few games at least but, even with him out, I think at best it will be a draw this weekend!!
Phil Greenough
14
Posted 05/03/2018 at 09:50:27
Just another talking head, spewing the same rhetoric. The fact is the spirit is willing in a couple of players, like Coleman, but the spirit is weak.
Des Farren
15
Posted 05/03/2018 at 09:51:07
Agreed, Ernie, but lack of motivation leads to lack of interest and lack of effort which we see game after game. Getting to 40 points is not a given with this team. I see us sleepwalking our way into a dogfight and, if that happens, then God help us.
Tony Everan
16
Posted 05/03/2018 at 10:17:15
The team and club would benefit from some straight talking and honesty.
Mr Moshiri should tell the players the truth. Give it to them straight and give them a reality so they can concentrate solely on their football.
Tell them that Sam Allardyce won't be here after May.
Tell all the players that the ones who let their standards slip, they will be out too.
Much would be learned in these last 9 games about characters and commitment.
Paul Birmingham
17
Posted 05/03/2018 at 10:24:42
Groundhog Day... This is the standard rhetoric after another bad result.
Time for the club to get wise soon before this season is lost. We've had two last-day sink-or-swim games in the 90s – this time, there's no guts or fight in this team.
Ralph Basnett
18
Posted 05/03/2018 at 10:26:43
International break coming up – are we looking at another warm weather training session?
Dave McDowell
19
Posted 05/03/2018 at 10:31:03
Jim (#9), I agree with everything you say. Unfortunately a post at the weekend from a forum member who is mates with an ex player who is friendly with three current Everton (I know my mates, mate etc.) players told him minimum of five of our squad could not give a rat's ass about the team, the fans and if we stay up, it's all about the money. We drop they bail, he said.
You could see it when Burnley players were busting a gut, some of our players just went through the motions.
Ferguson use to examine a players character as much as his ability. Do they hate losing, like Peter Reid did? How many in our squad hate losing and rip in to their teammates at half- or full-time.
I would prefer to go to battle with team mates of limited quality but know they will give it all.
Quite rightly a lot has been said about Lukaku 's departure but the key player for me leaving has been Barry.
Look at our midfield: we have energy in Davies & Ghana but no general who can manage a game. Sticking Rooney in and expecting him to do that is just naive.
It is a specialist position and we do not have anyone who can play it, not even an "on form" Schneiderlin can do it as he doesn't have the mettle.
The hope is that our home games with the Goodison roar and a bit of luck get us the points we need plus the deficiencies of those below us because I do not want to be playing Moyes in a 'must win' last game of the season match with this lot.

Jim Bennings
20
Posted 05/03/2018 at 10:39:21
What gets me is why these so-called professionals need a manager that has to motivate them? Surely when they set foot on the pitch, shouldn't they be full of passion and work and desire and for their own personal pride want to achieve something?
Kids go on the pitch at the age of 11 and don't need motivation to want to make themselves heroes so why the hell do our players continually need wet-nursing and fail to do the basic minimum of actually just damn-well running and walking off at the end with dirty kits and sweating?
David Connor
21
Posted 05/03/2018 at 11:15:18
Out of all the gutless bastards we have at our club I think Seamus and Rooney are the only ones who actually give a fuck about us.
The rest can go and fuck themselves for all I care, I'm sick to the back teeth of the whole club.
We are a huge club with a small mentality both on and off the field and, until that changes, we will always be fighting with the likes of West Brom for Premier League mediocrity. Just not good enough. Change of manager needed then root out the garbage we have in our squad, of which we have a lot.
Bradley Smith
22
Posted 05/03/2018 at 11:32:11
This is one of the only players I'd keep for next 2 years. The problem is we will try to keep him for 5 years because we have nobody at the club with a brain of when to move players on at the right time! Baines, Jagielka, Williams... Rooney shouldn't be back here – his best days are gone or he would still be at Man Utd, simple as... The player with age they should've kept for one more year is Gareth Barry!
The decision-making and the lies about ground moves have made me fall out of love with the club. In life, you should try to be the best you can be – and this goes for football as well... aim high.
We don't have a winning mentality at this club and it starts from the people at the top. Liverpool, Man Utd, Barcelona, most top teams that have won things keep some legends on because they have created their own dynasty at the club, they have set the example.
Can someone tell me why Duncan Ferguson is still here? He was never good enough. He carried the fight at a bad time for the club; that's about it.
Franny Jeffers left when he was a decent player – showed the club no respect – why's he back here?
Wayne Rooney is finished; you will get the odd glimpse but, if he was anything like the player that he has been, he'd still be up the M62.
David Unsworth, John Ebbrell, Phil Jevons – all these ex-players who are now coaching or playing have either shown the club no respect when it mattered... or were simply not good enough.
We are meant to be ambitious – shouldn't we be trying to create a winning mentality and forgetting the last lot because they weren't good enough???
Now, we are hearing more lies about the new ground again; this will fall through, as they all have over the last 15 years!
All this has contributed to me never going to spend a penny on the team I love, because the people at the top will not kid me. Nil Satis Nisi Optimum is our motto – unfortunately, the people at the top wouldn't know the meaning of that!
Rick Tarleton
23
Posted 05/03/2018 at 11:45:10
Coleman ought to be club captain.
I see the press is speculating that we need Wenger as manager, now there's a man who picks three number tens most weeks, and hasn't got a clue how to coach a defence. Just what we need.
Bill Rodgers
24
Posted 05/03/2018 at 11:56:53
What's he suggesting? That they weren't trying last week? That after each and every abject failure the platitudes from senior players were false? That they only give their utmost in exceptional situations? That the weekly wages they all take are insufficient to motivate them?
I've had it with senior EFC pros giving us excuses and promises. They should either name names – exactly who is it you think let us down. If that can't happen, then keep silent but sort in out at the training ground. Mealy-mouthed apologies are useless and insulting.
Justin Doone
25
Posted 05/03/2018 at 11:59:57
Unfortunately all of the above is at least partly true.
Williams and Schneiderlin have been two of our worst players. Their Everton careers should have been over a long time ago. However successive managers have given them plenty of chances.
If either had been a youth team player you would say shown some promise but not yet ready. Pull them out get them a loan somewhere for experience. But there not!
Coleman wasn't ready at 22 but a good loan move that suited his play as a roving wing back gave us all a chance to think he'll do. He's turned out top notch due to his spirit and desire as much as his ability.
I'm actually nervous another team will take him from us in the Summer now he's proven his fitness, but I hope I'm wrong.
We need to get the Bristol City left-back (Byrne?), fab player.
Steve Ferns
26
Posted 05/03/2018 at 12:01:09
Rick, as opposed to a man with no idea what a midfield is, other than that group of players you kick it over?

Darren Marsh
27
Posted 05/03/2018 at 12:14:42
All well and good coming out and saying "We need to be better" or "The boys are hurting" – load of bollocks if you ask me.
You could probably count on three fingers who looks anywhere near pissed off that we're garbage. The club is rotten from top to bottom. Something is drastically wrong.
Talk of Wenger, fuck off. Talk of Arteta, fuck off even further. I, like every Blue out there, don't have the answer to who to get, but this current crop of clueless management needs to be fucked off pronto.
Come the weekend and The Old Lady will be toxic once again if we roll over and have our tummies tickled as usual. Something needs to happen asap. As for our motto, well, that means nothing to any of them.
Eddie Dunn
28
Posted 05/03/2018 at 12:50:40
Cynical of the club to wheel out the one lad who we all respect. His personal effort is unquestionable but he was there on Saturday and we still lost.
This team are lacking balls; some know they are finished, others are waiting for the new manager, but all of them seem to think they have enough points to avoid a scrap. Wake-up, fellas, because every other side in the mire is improving and there are two relegation spots up for grabs.
I certainly don't want to be feeling sick on the final weekend.
Tony J Williams
29
Posted 05/03/2018 at 12:51:07
Heard it all before.
Sam is rolling out Seamus because he's probably the only one who can't be blamed for all the shit that has gone with the past 29 games.
Don Alexander
30
Posted 05/03/2018 at 13:03:16
Coleman is the one player I'll listen to, and I don't blame him for speaking as he does to us fans. He can hardly give us names but I'd like to think a black eye or two becomes visible soon as a result of an inter-squad set-to at Finch Farm, or even the dressing room.
The good attitudes in the squad will obviously see who's taking the piss out of them, the fans, the club and football itself so any of those tossers deserve a good slap minimum.
The only problem is that the only firebrand mentality we seem to have who cares is Rooney, a washed-up liability if he's playing anywhere but as a forward. And no, we've got nowhere near the talent to carry him in that role in any event. £150k a week allegedly. The mind boggles.
Karl Meighan
31
Posted 05/03/2018 at 13:07:16
Ernie, the motivation, as with any team, is win your next game – get the 3 points. Man City and other top teams don't look any further ahead; them players are poor, no creativity, not a player capable of going past players with a piece of skill, weak defenders, and vision – them idiots think were talking about sight.
The jury is out on any of our so-called top youngsters. I've heard fans on here comparing Calvert-Lewin with Kane when he was coming through; there are comparisons to be made – but not with Kane, more like Rodwell and how he vanished.
I would maybe keep 6 of that squad for next season, and that's at a push; the rest would be shown the door but who would take them? Its a huge job and its gonna take time.
Jim Bennings
32
Posted 05/03/2018 at 13:18:57
The likes of Dominic Calvert-Lewin, Tom Davies and Jonjoe Kenny could do with spending next season out on loan at a respectable Championship club that's where you learn the hardships and where you can make mistakes and not be as brutally punished on a weekly basis.
I'd still be surprised if Calvert-Lewin really makes it as a top Premier League striker, I just don't feel he has the footballing attributes even at nearly 21. He may become a competent striker at lower Premier League or Championship level but you won't be challenging the top six in this league unless you know what you are doing .
I'd spend the summer bringing in some players that were like Carsley, Cahill, Stubbs, Distin etc back in the day, guys around 24 to 28 years old already functional in the English league with strong characters.
They don't need to be massive mega signings either, there's plenty of players busting a gut at small Premier League clubs that would improve on what we are currently being served.
I personally think Everton would have fared far better this season with a few canny signings, maybe a year long contract for John Terry partnering Kurt Zouma who went on lone to Stoke but has apparently been one of their best performers, or maybe Harry Maguire?
Xherdan Shaqiri instead of Klaassen or Rooney would have made more sense to me, a strong running player who has scored 7 and created 7 goals this season and is surely destined for better things than Stoke. Pursuing Jamie Vardy instead of the nonstarter that was Giroud, Vardy arguably more suited to altering the dynamic of a slow pedestrian team?
Back up players could have seen Callum Wilson or Josh King brought in or maybe a couple of others who work their tits off at the likes of Bournemouth and Burnley. Ashley Barnes looks a handful and Chris Wood looks far more threatening than watch the likes of Calvert-Lewin amble around tamely.
It's what we need to do this summer to just get ourselves performing with a bit of pride again and get back to basics which is what Everton have lost now, a work ethic and a desire.
Don't spend another summer just throwing massive wads of cash on every man and his dog.
Tony Abrahams
33
Posted 05/03/2018 at 13:27:24
Tony J, do you really think Allardyce gives that much of a fuck at the minute? Read what Dave says, at post 19, because although it's only come from a mate of a mate, we only have to use are own eyes, to know how much this is true.
It looks like the manager is adopting a couldn't care less attitude because he's getting most of the blame even though he has adopted a squad, with too many players that don't really care
Ask Unsworth, even ask Koeman, maybe it was Ronald's attitude which started it, but I thought it even started to affect Walcott during the second half on Saturday, although that's just my own opinion.
If the players don't care enough, then no manager in the world will fix it. Not unless he's given carte-blanche anyway with everyone working towards his structure, but the players are getting it way too easy, because they know that the fans despise the current manager.
Steve Ferns
34
Posted 05/03/2018 at 13:47:54
Jim, Tom Davies was rated as the best premier league prospect and you want to push him off to the Championship? He'd be straight onto his agent asking for a move to another side.
Calvert-Lewin is a matter of opinion. But stats up until Allardyce dropped him showed that he was as good as any striker in the Premier League at winning aerial duels. I think he's very good in the air, he clearly has pace. He is wiry, tough and strong for his age and build. I think he'll fill out some, but hopefully not too much he loses that speed. His passing is not very good at times. But he has neat little flicks and tricks. This side of his game will develop with age.
Not every striker is a goal machine. You need lots of different types of striker. I'm surprised Allardyce benched him, and played Niasse. Of the two, I'd say Calvert-Lewin right now is a much better footballer, and that's his actual ability, not potential. Niasse has the striker's knack of scoring though.
Calvert-Lewin has scored a lot of goals in the youth levels. He has been prolific and this just needs time to manifest in the big leagues with confidence. Harry Kane can attest to that. Sure, if Calvert-Lewin reaches 24 and there's still the same issues, then draw conclusions but you can't say that at 20 years of age.
As for sending him off to the Championship, as I said before, he's as good as anyone in the air, and therefore is of use to us. Tosun is the better striker (I say I more in hope than assessment), but he's completely different to Calvert-Lewin. Calvert-Lewin is a good alternative and an option off the bench. What we need to stop doing is playing him on the wing. He's not a winger. He's fast but he's not got a wingers ability. He's wasted out there and not learning to be the player we need him to be. Also, have you noted that our best form has come with him leading the line and we've been on a rotten run with Tosun or Niasse up top?
Jonjoe Kenny should be good enough for a loan to a Premier League side, but what if Coleman gets injured? He's already picking up knocks, and at 29, age will be catching up with him. I'd rather have Kenny on the bench and ready to come in. I'd also rest Coleman in the cups, unless it's a big game. And make sure we aren't putting too much on him too soon.
This talented trio, and Holgate, and Lookman need games. Games now, and for us. We've largely gone with alternatives and it's not worked. So why not give them games?
Paul Williams
35
Posted 05/03/2018 at 14:02:06
Player of the season for me.
Eddie Dunn
36
Posted 05/03/2018 at 14:05:00
Steve Ferns, Calvert-Lewin is miles off what a Premier League striker should be. It's not his fault that he has been played on the left, so it is hard to judge him fairly, but to me he looks like James Vaughan, without the edge.
As for Jonjoe Kenny, he has escaped a lot of flak purely because he is local. The boy wouldn't get near a start with Leicester, West Ham, Bournemouth etc. He might develop, but a loan to the Championship would be perfect for him.
Tom Davies shows promise and with an old head next to him giving him advice, he may come on, but at present he just isn't good enough.
The best of our youngsters is at Forest, and the only others I would have in the squad are Baningime and Evans.
Tony Abrahams
37
Posted 05/03/2018 at 14:08:50
Steve, these kids are also playing with-in a toxic squad, with most of the senior players, only interested in looking after themselves. That's the hardest lesson to learn, when you are only a young kid, unless such a thing comes naturally.
They are even seeing the new manager doing it now, for whatever reason. Possibly because it comes naturally to him, or maybe because he knows he's not staying, so he's just copying the squad of players he's inherited.
A talented coach or manager, would be able to work with these youngsters, but we have definitely got to get rid of the players that don't really care first.
Kevin O'Regan
38
Posted 05/03/2018 at 14:32:37
Just a crazy thought – in terms of renewal of the club, hierarchy, squad etc... what would happen if Everton were actually relegated ?
Would it be a nail in the coffin or could it be used as a cosmic kick up the arse to everyone at the club to get their act together and start working hard?
Not that I would want It by any means… but relegation has had a positive effect on many teams in the past. Obviously not all and would depend on what is done and what changes in that time but in theory it could be the wake up call we need. Or the beginning of the end... who knows?

Roger Helm
39
Posted 05/03/2018 at 14:54:02
Not a crazy though at all, Kevin, unfortunately.
Ash Moore
40
Posted 05/03/2018 at 14:58:57
I stopped listening to this sort of shite years ago - regardless of who drew the short straw and had to go and trot out the usual empty promises. Sorry Seamus.
If we were relegated would depend entirely on the largesse of Moshiri and getting at least one managerial appointment right to get back. Long odds.

James Hughes
44
Posted 05/03/2018 at 15:26:29
Ash, not sure you made your point there, mate. :)
Rick Tarleton
45
Posted 05/03/2018 at 15:46:45
Vardy sounds attractive, but you don't buy a"speed" player when he's turned 30. It'd be like buying Williams for his reputation when his best days are behind him.
Jim Bennings
46
Posted 05/03/2018 at 15:52:32
Rick
Some athletes are super fit and still quick over 30. I mean, at 35 years old, remember Distin? How about Cristiano Ronaldo!?
Vardy seems like one of these that will still be blisteringly quick in two years time, unlike Rooney whose bit of pace he had 10 years ago has evaporated completely now, or other pie-arses over 30 like Williams.
I'd much rather we had bought Vardy last summer and us had a better season going forward than waste a season on kids nowhere near ready. It's okay saying they are going to make mistakes but that shouldn't be to the detriment of the team.

Paul Ritchie
47
Posted 05/03/2018 at 16:27:54
I think these Wenger comments have some legs. I can see him here in a DOF role with Arteta next season.
Rick Tarleton
48
Posted 05/03/2018 at 16:29:41
True, Jim, some are, but it's more problematic at his age and I live in Vardy's town and his lifestyle isn't always perfect for an athlete.
"Jamie Vardy likes to party"...
Eddie Dunn
49
Posted 05/03/2018 at 16:32:32
Rick, I read that he drinks a lot of RedBull and Port too, interesting fuel.
John Davies
50
Posted 05/03/2018 at 16:42:25
I love Seamus Coleman and want him to be given the captain's armband asap but I'm sick to death of listening to players talk about what they should be doing.

We fans don't need to hear from players that we deserve better than the tripe that Allardyce and his team are serving up. We already know we deserve better.

Please guys, all of you, stop the verbal and perform on the park, not off it.
James Hughes
51
Posted 05/03/2018 at 16:47:22
No thanks to Wenger. Great manager in the past and still a decent one now. Maybe he is stale at The Emirates... not our problem or our solution.
If he was to be a DoF, then surely The Arse would have first dibs.
Paul Ritchie
52
Posted 05/03/2018 at 16:54:05
James, I agree. My comment isn't necessarily what I'm hoping for or based on any information – just a feeling, but you're probably right... more likely that, despite our best efforts, that pairing ends up at Arsenal and we move Allardyce upstairs and bring in Tim Sherwood.
Dermot Byrne
54
Posted 05/03/2018 at 17:12:59
My only worry, Jim (#46) is he comes for an end-of-career bumper pay packet. He knows this so no need to show great things to get to Barcelona. Seems to avoid the scouting problem we now have.
Tony Twist
55
Posted 05/03/2018 at 17:42:12
Wenger as DoFwith Arteta as manager is a risk but must be better than what we have now.
James Stewart
56
Posted 05/03/2018 at 18:06:54
Love Seamus, but it's too late for any redemption for this team. A total clearout is needed and the players that should be kept you can count on one hand.
Darren Hind
57
Posted 05/03/2018 at 18:10:27
Give it a rest, Seamus, lad. Regardless of how genuine your comments are, we've heard it all before.
Go crack some heads together, we don't want the players telling us how hurt they are, we want them to show us.
It's bad enough listening to Mr Anti-football fobbing us off with hot air. Please, don't you start.
Bobby Thomas
58
Posted 05/03/2018 at 18:33:44
It's a toxic dressing room and has been since Martinez's first season. We've signed some right gobshites. We've been had off by agents and players, and we need to get rid, or get a manager in that can sort them out.
Ashley Williams is one of the first candidates. He needs flogging for £2 million max to a Championship club, which is where he belongs. The lard arse can look like a hero sitting deep, defending his penalty area, and getting no higher up the pitch in that division – which is all he's good for and is capable of.
Barry Jones
59
Posted 05/03/2018 at 19:04:42
Terry (#3), Seems that there may be a scrap of truth in it.
http://www.tribalfootball.com/articles/moshiri-interested-in-arsenal-manager-wenger-replacing-allardyce-at-everton-4222452
Barry Jones
60
Posted 05/03/2018 at 19:06:28
Wenger seems like a chronic depressive at Arsenal. He would be suicidal at Everton.
Jack Convery
61
Posted 05/03/2018 at 19:29:13
Seamus, ffs, don't agree to come out and do the PR platitudes for Kenwright and the Club. I thought you were better then this. Your return has been the only bright spark for me this season. Please say it as it is.
The lads we have brought in apart from a couple have been shite. The Managers we have had / are shite. No one knows WTF we are doing. Not the team, not the board, not the back room staff, not the DOF, not the manager. We are a club in crisis. We all need to do better and if individuals are not thinking that way there is no room at Goodison for them.
That's what you need to say and don't worry if you get fined or suspended, we will march on Goodison in support of you. Baines said it at Man Utd under Martinez and we all agreed with him, which is why Martinez couldn't do much about it, other than to try and say he had been misquoted haha.
The club needs a leader – you are that leader – Evertonians will follow you all the way make no mistake. You get EFC like we do – that's why we expect better.
John Davies
62
Posted 05/03/2018 at 19:48:03
Jack Convery (#61). Perfectly summed up, mate.
Ralph Basnett
63
Posted 05/03/2018 at 20:26:38
Fuckin' bad news when the commentator of the Palace vs Man Utd game states Palace had an off night when they lost to Everton – shows how little people think of us!!!!!
Jamie Crowley
64
Posted 05/03/2018 at 20:40:06
I've heard this all before too. But when Seamus says it, why does it just seem more genuine and not claptrap?
Well said, Seamus.
Captain Seamus for sure Mike @1. Hell, Seamus for President!
Ian Hollingworth
65
Posted 05/03/2018 at 21:02:41
Clever PR from the club, sending Coleman out. I don't want to hear anything from any of them – I want to see actions on the pitch.
It's time for some of them to step up now but I am not sure they have it in them.
Michael Lynch
66
Posted 05/03/2018 at 21:10:09
Palace two up against Man Utd now. Can someone give me those figures about how we can't possibly be relegated please?

Meanwhile, the RS are nailed on for 2nd place now. What a fucking season.
Kim Vivian
67
Posted 05/03/2018 at 21:13:02
Also watching Palace. They really do look twice the team we are. I despair. This season has been complete waste of a year of my life.
Michael Lynch
68
Posted 05/03/2018 at 21:16:14
Mind you, the goal that Palace just gave away – their defence looked even worse than ours for a moment.
Brent Stephens
69
Posted 05/03/2018 at 21:21:39
Ralph (#63),
"Fuckin bad news when the commentator of the Palace V Man Utd game states Palace had an off night when they lost to Everton, shows how little people think of us!!!!!"
Yes, and looking back to "yer history" means nothing. As does "getting Everton". We delude ourselves thinking that we're anything special. Pains me to say it.
Joe McMahon
70
Posted 05/03/2018 at 21:35:49
Brent, just to add to that, apart from a few months of Martinez, Everton have on the whole been rotten to watch since the early 90s. I loathe Kenwright, Moyes, Grand Old Team and crappy Woodison. This season is killing EFC.
Like you said, what the commentary said, it's embarrassing being an Evertonian these days. We have no identity and have become a nothing club. Worrying times.
Brent Stephens
71
Posted 05/03/2018 at 21:57:37
Joe, and I can see why really good players wouldn't think about signing for us. And a top manager likewise. God knows where we go from here. When we're touting Unsworth as our saviour, it says it all.
Roman Sidey
72
Posted 05/03/2018 at 22:53:58
I saw the interview on tele when Seamus made these quotes. I believed him and I do think he should be the captain of the team in place of Jagielka, Williams or whomever else has had the armband. I wanted him to be made captain when Neville retired.
But, like the majority of posters on this article, I'm sick and tired of hearing it and not seeing any actual improvement on the field.
A couple of seasons ago when we beat Sunderland, they interviewed the lad Duncan Watmore afterwards. This was early in the season and by no way a nail in Sunderland's coffin yet, but the young fella was almost in tears and you could see how much he was hurting. I've never seen that reaction from any of our players in the 16 years I've followed Everton. You could mute the tele when Jagielka is talking and just play a recording of any of his post-match interviews and they'd sync up perfectly.
Tony Everan
73
Posted 06/03/2018 at 06:35:31
Jags has been a loyal servant to the club. As a personality, he is not a leader or a motivator. He seems introverted and quiet.
Go through the squad and we haven't got anyone with that character.
Seamus comes closest and must be permanent club captain.
Mike Kehoe
74
Posted 06/03/2018 at 08:20:33
Nice sentiments and all that you'd expect.
Refund the fans who traveled and witnessed the performances at Burnley and Watford. Talk is cheap and so is the financial outlay to the management and playing staff to do the right thing.
I find it an obscenity that Allardyce is the Everton manager in the first instance – but worse that he clearly sees his future as elsewhere and he is seemingly unchallenged when he abdicates responsibility to the players.
The vast majority of fans, a tad over 15, are desperate to see him and his staff gone and the atmosphere on Saturday will be toxic.
Show some humanity and refund those who earned their money and wasted their days supporting the team they love.
It would be one less thing to despise the twat for.
Justin Doone
75
Posted 06/03/2018 at 09:19:54
We lack leaders but, to be fair to Jags, he's been the most vocal, giving instructions and trying to rally the team. No one else seems capable of positive communication.
This season Rooney has contributed too but neither are consistent in their fitness, play or communication.
Keane tried to in a few preseason friendlies but then has stunk the place out and has shut up.
Pickford will give the odd shout now and again but the rest only use their voices to moan.
It's not going to be easy but our next big signing needs to be a quality player but also a leader. A mean streak, kick-ass giant of a player for now, not 5 years!
Paul Ellam
76
Posted 07/03/2018 at 20:55:40
All Everton players tell us is (especially after defeat) how they are going to improve, going to put things right, rediscover their passion and/or form. I'm fed up of reading or hearing it. Just do it!
Don't tell us how you're going to change the world. Just do it! Less time speaking to journalists, more time on the training ground.
Rudi Coote
77
Posted 08/03/2018 at 15:49:32
Love you to bits, Seamus, but spare us the bullshit, please.
Actions, not words, win matches.
Add Your Comments
In order to post a comment, you need to be logged in as a registered user of the site.
Or Sign up as a ToffeeWeb Member — it's free, takes just a few minutes and will allow you to post your comments on articles and Talking Points submissions across the site.