Funes Mori declares himself fit for recall
Tuesday, 6 March, 2018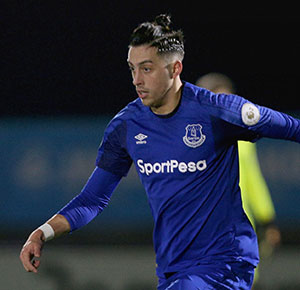 Ramiro Funes Mori came through 90 minutes of action for the Under-23s last night and says he is 100% ready for Saturday if selected.
The Argentine played in the second string's 2-0 win over Swansea City at Goodison Park, his third appearance for the U23s since regaining fitness following two surgeries on his knee.
Funes Mori tore the meniscus in one of his knees playing for Argentina last year but is now ready for Everton's run-in and on course to be included in his country's World Cup squad.
"I've been training [well] these past weeks," he told evertonfc.com. "Even though I wasn't playing for the first team, I've been playing for the Under-23s to get the rhythm, get the tempo. I'm 100-per-cent fit to play and I'm ready for Saturday."
Funes Mori, who also turned 27 yesterday, hasn't played a first-team game for Everton since coming on as a second-half substitute in the home win over Hull City almost a year ago.
He says it was great to be playing at Goodison again, however, and with Ashley Williams suspended and Phil Jagielka battling injury, his prospects of playing are good.
"It felt good to play back in Goodison, to feel the pitch, the stands. I really miss it so I'm very happy."
---
Reader Comments (47)
Note: the following content is not moderated or vetted by the site owners at the time of submission. Comments are the responsibility of the poster. Disclaimer
Simon Hermansen
1
Posted 06/03/2018 at 16:39:05
Worth throwing him in I'd say. He's a decent defender, though prone to the odd error, but let's compare that to what we're seeing at the moment, couldn't possibly be worse!
Brian Wilkinson
2
Posted 06/03/2018 at 17:05:24
Can you imagine Funes Mori, Coleman, Baines and Holgate in our back line this weekend instead of the three stooges, maybe rusty but Jesus wept, cannot be any worse than what we have witnessed this season.
Iain Love
3
Posted 06/03/2018 at 17:45:32
I agree with the previous posts. Strikers must rub their hands together at the thought of playing against Keane and Williams .

I was shocked at how poor they where against Burnley. Pick your man, then effin mark them. I thought Sam was a great defensive coach?


James Brand
4
Posted 06/03/2018 at 18:06:03
Stop sliding on your knees when you score!! No wonder they're crocked! Insert that clause into his contract... fined 2 weeks wages every time he does it.
James O'Connell
5
Posted 06/03/2018 at 18:30:13
Welcome back, Ramiro. Does Williams's ban start immediately? 3-game ban for a red card and hopefully another 6 for being just fucking woeful.
Colin Glassar
6
Posted 06/03/2018 at 19:10:21
It's not up to you, sunshine. Sam will probably prefer a cardboard cutout of Williams than risk some dodgy Argie who's name he can't pronounce.
Paul Welsby
7
Posted 06/03/2018 at 19:12:02
He has got a left peg so I can't see Mori getting anywhere near are starting eleven.
Dermot Byrne
8
Posted 06/03/2018 at 19:13:38
Just had a beer with an old friend who is Welsh and cannot understand what has happened to his hero Williams. I couldn't give him an explanation to be honest.
David Currie
9
Posted 06/03/2018 at 19:17:04
Dermot,
Your friend must be absolute nuts to have Williams as his hero.
James Power
10
Posted 06/03/2018 at 19:18:52
He has got so much better since he has been injured. I just hope he is good as we mis-remembered him to be. Although as people have already said, can't be worse than we have been putting out. Can he?
Dear old Funes Mori... he has missed the poison pot that Goodison has become, simmering tension and spitting invective of a ground tinged with sadness and furious disappointment for far too long.
But what joy could be unlocked by players with effort, passion and some get up and go.
James Power
11
Posted 06/03/2018 at 19:21:41
Dermot are you sure he didn't mean JPR Williams? I think he must have...
Darren Hind
12
Posted 06/03/2018 at 19:23:30
In a league bursting with poor centre-halves, we've got three you couldn't give away.

Dermot Byrne
13
Posted 06/03/2018 at 19:24:37
Ah, James. JPR... part of the best try ever. And, few know, a good doctor. My Dad knew him. If ever a man dived... NOT.
Makes ya think, my friend.
Dermot Byrne
14
Posted 06/03/2018 at 19:25:43
Pay to take, Darren. We are.
Raymond Fox
15
Posted 06/03/2018 at 19:32:41
Stick him in.
We could do with 10 more Argy internationals.
Clive Rogers
16
Posted 06/03/2018 at 19:34:59
Dermot (#8), it's no secret, he was 32 when we signed him; 34 in August. It happens to the best.
Andrew Presly
17
Posted 06/03/2018 at 20:02:59
Should definitely start from here on in. A good lad, brave, got a goal in him, gives his all despite certain limitations and when on form a worthy place in Argentina's World Cup starting team.
We should be proud to have him amidst this shit show. Williams and Keane have been a farce the last two games.
As said though, this oaf manager will probably ignore him. Nothing surprises me with Everton anymore.
John Kavanagh
18
Posted 06/03/2018 at 20:20:49
We should definitely risk Mori as he can head a ball and can get more than 1 cm off the ground, which Keane and Williams respectively are incapable of. Thank you, ref, for Williams's 3 game ban, which we should have appealed in the hope that the FA would then extend it.
Funes Mori is definitely a professional and committed to the cause (as was evidenced by his coming back early for pre-season training in 2016 to get himself extra fit). In the mess we are in now, a professional attitude like that is all important. Shame about his occasional bouts of headless chicken, but he is capable of improvement.
I'd also risk Baines, despite his loss of pace. As this is risky, Martina and Kenny should be on the bench as cover, along with Jagielka or Keane.
Andrew Presly
19
Posted 06/03/2018 at 20:39:14
I agree, John, and wouldn't be too harsh on Keane yet bearing in mind he has had Williams and Martina either side of him.
The last two performances have probably seen off his England World Cup chances, though. You shouldn't be as soft as he seems if you're that slow or limited technically. Let's see how he goes next term under a manager worthy of the name.
John Kavanagh
20
Posted 06/03/2018 at 20:54:18
Andrew (#19). I agree. There is enough there to persist with Keane for a while, especially if he gets good coaching and has a clear game plan, like he got at Burnley.
The sooner we get a manager & coaching team in capable of giving that, the better, especially for all our younger players. I'd have had Unsy back in last Monday just for that.
James Power
21
Posted 06/03/2018 at 21:10:43
Dermot, I saw him and Phil Bennett speak this time last year at the Barnes rugby club do. Different class...
Peter Mills
22
Posted 06/03/2018 at 21:34:54
Dermot (#13). I'm not a huge rugby fan, but JPR Williams, what a player. One Welsh friend told me of how he was stamped on the face in a match but played on with blood streaming from the wound.
The friend was chatting with him after the match, JPR having a pint while holding a handkerchief to his cheek, dabbing away the blood as it leaked through the stitches.
We haven't got many like that. Possibly Seamus.
Keith Harrison
23
Posted 06/03/2018 at 21:57:55
Peter, JPR once ran 80 metres to join in a fight on the pitch with the Lions, while he passed Phil Bennett running the other way. The infamous '99' tour. Great stuff.
And let's hope Funes Mori isn't as good as when he got injured, as unless he's vastly improved, it will be like the second coming of Bolasie, another player whose stock rose every day he was injured.
Peter Mills
24
Posted 06/03/2018 at 22:07:41
Keith, JPR clearly taking his Hippocratic Oath to the full, to tend to the wounded!
Dermot Byrne
25
Posted 06/03/2018 at 22:12:05
Rugby was the game I played at County level and Everton the team I love. Result... love the footy skills and hate the modern wimps/con artists that play it now. Love to see one game vs another! First game good. Second game... one side ran away!
Peter Thistle
26
Posted 06/03/2018 at 22:24:12
Thank gawd Williams is suspended. I hope he never plays again for us.
Time to bring back Funes Mori and Jags or even Holgate to replace the dog shit of Keane and Williams. It really couldn't be any worse
Christy Ring
27
Posted 06/03/2018 at 23:43:46
I still don't know why Holgate lost his place, I'd play him and Funes Mori at left back. It shows how bad we are at the back, because Funes Mori last season made a few blunders, but I'd have him every day ahead of Williams, another Glen Keely.
Keith Harrison
28
Posted 07/03/2018 at 01:03:27
Peter, only fair really, as he caused a few of the wounds.
Dermot, agree entirely.
Given up my ST this Saturday again for our Rugby re-union. England v Ireland the week after.
Karl Graham
29
Posted 07/03/2018 at 01:16:02
I think Funes Mori alongside Keane is the partnership we should stick with in the last 10 games. Give them a chance to stake a claim. Holgate as back up.
If they gel. we may only need one CB in the summer. Neither have much pace but they are quicker than Williams and Jagielka so we will be able to play a higher line.
He is prone to an odd error but so are the rest of them and at least he might help us with set pieces at both ends and adds the additional balance of being left footed. If we beat Brighton, it should take the pressure off a little, so here's to hoping he can make an impression.
Jay Harris
30
Posted 07/03/2018 at 02:20:50
Christy,
Holgate hasn't really had a look in since the "racism" issue.
I just wonder if the management were a bit upset with him.
Ajay Gopal
31
Posted 07/03/2018 at 03:21:58
Whenever I have recommended this line-up at the back, we have been tonked, but here goes once again:
Pickford
Holgate Keane Funes Mori
Coleman Rooney Gueye Baines
Sigurdsson
Walcott Tosun
Subs: Robles, Jagielka, Davies, Klaassen, Bolasie, Niasse, Calvert-Lewin

Darren Hind
32
Posted 07/03/2018 at 06:50:15
Holgate committed the cardinal sin of trying to play his way out.
Sam is keeping him out until he gets rid of the fanciful notions that football should be a game of patience, creativity, art, passion, bravery and guile and that professional football should be about entertainment.
He made Mason stay behind and write "Have it" 1000 times. Despite paying the penalty, Mason still doesn't get a game as Sam believes he still harbours those fanciful notions.
Looks like this particular youngster, is proving difficult to ruin.
Jim Bennings
33
Posted 07/03/2018 at 07:31:22
Holgate hasn't got the repertoire of footballing distribution to "play it out" – at times, his distribution has been worse than Williams's.
Devendran Saegaran
34
Posted 07/03/2018 at 11:04:20
I agree, Simon Hermansen (#1). He should have at least a shot in the first team to see if he does his job. I think he can and he'll do it better that Williams.
I also think that Holgate should play despite the problems faced because he has potential too.

Tony J Williams
35
Posted 07/03/2018 at 12:48:46
"
I think Funes Mori alongside Keane is the partnership we should stick with in the last 10 games
"
Agree with this 100%
Keane has had to play with different players every couple of games and he needs to get an established partnership going.
He is also probably confused because he has got to consider covering Williams position too for 90 minutes because he is fucking shite.
"Neither have much pace but they are quicker than Williams and Jagielka. "
I have to disagree with this though, Jags is still the fastest defender we have on our books.
Paul Williams
36
Posted 07/03/2018 at 13:33:59
No-brainer. Play him alongside Keane. Does that mean Keane plays on the right which is his better side? Maybe it gives him a chance to show his worth.
David Nicholls
37
Posted 07/03/2018 at 14:14:57
Tony @ 35,
Spot 0o Re Jags. I can't think of many quicker centre backs, even now.
It's like people don't really watch the game and just assume because he plays centre-back, is in his mid-30's and Jamie Carragher says we have no pace at the back, then Jags must be slow.
I once read a match report many years ago where the journo noted about Osman "The Everton youngster has pace to burn". I had to laugh!
Dermot Byrne
38
Posted 07/03/2018 at 14:21:38
David... yep. Just not Captain.
Ray Robinson
39
Posted 07/03/2018 at 15:06:00
If fit, start with Jagielka and Coleman and build the defence around those two guys.
People fall into the trap that because he is "old", Jags has had it. Well he might not quite hit previous highs but he's still the best defender by a country mile – and he's no slouch either.
Fran Mitchell
40
Posted 07/03/2018 at 15:29:09
Keane is just not good enough. Sell for what we can in the summer.
Funes Mori makes mistakes, and takes risks, but I would prefer him alongside Holgate. Jagielka on bench, and maybe a chance for one of the U23 lads (Foulds).
James Marshall
41
Posted 07/03/2018 at 18:51:29
I would just like to point out that I too am fit and available for selection.
As you were.
Darren Hind
42
Posted 07/03/2018 at 19:29:49
Jim Bennings.
I'm not sure who you have been watching, but Holgate is a footballing centre-back trying to play with a midfield who either run away from the man in possession, don't have the courage to take it from defenders, or simply don't show for a ball.
You couldn't have been watching if you think he can be compered in any way to Hoof Williams.
Jim Bennings
43
Posted 07/03/2018 at 23:08:26
Darren,
I must have been watching a different Holgate all season then, it's all about opinions of course but the Mason I've seen slice the ball out for throw-ins or punt the ball 60 yards even when there's been a ball on in front of him.
But at the end of the day, when all is said and done, we had that with Stones playing it out from defence, I'd rather we had a defender that just enjoyed defending, watching Juventus tonight and Chiellini would be a dream in defence!
Darren Hind
44
Posted 08/03/2018 at 05:41:16
I hear you Jim – "Aviiittt"
Holgate is the one skilled central defender we have... and he's the one you claim hoofs it.
I know opinions will always differ, but when I see some of the comments on here and wonder what people are watching.
Sam Hoare
45
Posted 08/03/2018 at 09:35:43
I'm not sure we have a single centre-back that fills me with confidence in the way that Distin, Lescott or younger Jagielka did.
I'd rate them in this descending order:
Jagielka – Is still quickish but has definitely lost a yard a pace, was never the best in the air. Still probably our best defender when fully fit.
Holgate – Has some of the raw potential but does seem to switch off on occasion and lose his man. Could be a good centre-back in time.
Funes Mori – When fully fit, he is decent in the air, okay on the ball, and firm on the challenge. Also gets a few goals. He's prone to wild moments and losing position and we're yet to see how his injury affects his physical ability.
Williams – Has had some decent games this season but far too many suspect moments. Lacks pace and does not always read the game well. Does not organise the defense in the way I hoped he would.
Keane – A huge disappointment to me. He's good in the air but that's about it. He's horribly slow, does not mark well and is caught ball-watching far too often. Does not seem to anticipate danger and as such his positioning is often out. Probably on a par with Williams but, as he is younger and cost us £30m, he gets the bottom spot.
If I were playing fantasy football, I'd probably keep Holgate and Funes Mori and sell the rest to start again. Shame we got Keane instead of Maguire who looks twice the player at half the price. Perhaps he'll improve under a proper manager in a settled system but, as an amateur centre-back myself, I see some basic flaws that would worry me at any level.
Clive Mitchell
46
Posted 08/03/2018 at 18:34:03
Straight in the team please.
Brian Wilkinson
47
Posted 09/03/2018 at 02:44:57
Ray@39, spot on with Jagielka. A few have said too slow, he is not as fast as he used to be, but is still our best centre half who will put in a block tackle, rather than put his hands behind his back in the box, if in doubt, Row Z safety first.
Anyone who thinks Jagielka is past it, have a good look at the Anfield derby a few months ago.
If fit. I would start Jagielka without hesitation.
Add Your Comments
In order to post a comment, you need to be logged in as a registered user of the site.
Or Sign up as a ToffeeWeb Member — it's free, takes just a few minutes and will allow you to post your comments on articles and Talking Points submissions across the site.