Allardyce: I want to be here long term
Thursday, 8 March, 2018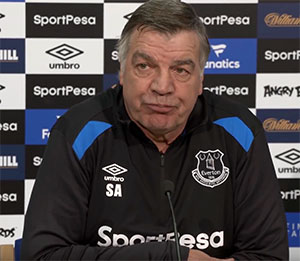 Sam Allardyce has insisted that he still wants to remain as Everton boss on a long-term basis as he moved to clarify his comments about expectation levels at his previous clubs compared to those at Goodison Park.
After initially having a positive impact with the Blues when he picked up from where interim boss David Unsworth left off in November by winning four of his first five games in all competitions, the 63-year-old has seen the club slip back into possible trouble at the wrong end of the Premier League table.
A run of seven defeats in the last 10 matches has led to mounting frustration among Everton supporters and, with it, has come speculation about Allardyce's future with the club.
"Of course," Allardyce replied when asked if he still wanted to be at Everton next season. "There's tough times and there are times when you have to draw in, close the doors and stay focus on what you're trying to achieve.
"I think it's very disappointing for everybody, myself included, that we've slipped to where we have when we put ourselves in such a fantastic position in the early stages of me walking through the door.
"I've always said that I came out of retirement because there was a long-term plan at Everton, a long term aspect of going forward that I was excited about being a part of.
"Rather than it being short term, I want it to be a long-term appointment.
"I'm having talks with [Farhad Moshiri] but those talks are confidential, of course. We're in a difficult period at the moment but we've got to start on Saturday.
"It's my responsibility to get the team to play to a level that we know they can play and it's the players' responsibility to play their best and I think when they play their best we can give anybody a game."
The manager was asked about his relationship with the fans in the wake of audible chants of criticism aimed his way from the travelling fans at Burnley last Saturday and boos at the final whistle as he and his team left the field at Turf Moor.
Allardyce didn't directly address the disgruntlement at his own performance but he did try to reset his comments from last Friday's press conference where he tried to compare the expectation levels at Goodison with those of two of his previous clubs, Newcastle and West Ham.
"Everybody's passionate, everybody has ambition and when they don't see the players playing to the level that they expect, they show their disapproval and rightly so.
"Every club's fans have a lot of passion and like I said at the time, the history of Everton is far greater than Newcastle and West Ham but every fan has great demands and when there are big crowds the demand is bigger.
"That's what it's all about and for me, Everton is completely different from Newcastle or West Ham but it was just a comparison. It wasn't anything other than that.
"The ambition at Everton is different to the ambition at Newcastle or West Ham but if you don't play as well as they expect you to, they show their disapproval. That's what you have to deal with as a manager on the basis that you have to turn things around and get everybody behind you."
---
Reader Comments (143)
Note: the following content is not moderated or vetted by the site owners at the time of submission. Comments are the responsibility of the poster. Disclaimer
Kevin Tully
1
Posted 08/03/2018 at 16:55:07
Light the blue touch paper, then retire to a safe distance.
Matthew Williams
2
Posted 08/03/2018 at 17:01:21
God help us!
David Barks
3
Posted 08/03/2018 at 17:09:56
Thank you, but no.
Gaute Lie
4
Posted 08/03/2018 at 17:22:36
We, the supporters, don't want you to stay for another minute, Sam.

Brian Wilkinson
5
Posted 08/03/2018 at 17:25:50
Until prematch and aftermatch matchday comments, I have a feeling this thread could top the 300-mark.
If our board back this guy to do his 18-month contract, I feel even darker days ahead for our club.
Tom Barton
6
Posted 08/03/2018 at 17:25:56
Sam, not with us matey. If you want 'long haul' give Eddie Stobart a call.
Ken Kneale
7
Posted 08/03/2018 at 17:26:48
This confirms comments made by other threads and contributors that we have as a group been passive about his promulgation. So we must demonstrate the need to proactively get the message over to the owner that team management and coaching roles, along with officers of the company, needs major overhaul.
Liam Reilly
8
Posted 08/03/2018 at 17:27:53
Deluded fool.
So what he's saying is: "I've got an 18-month contract and I'm not going anywhere unless it's paid off in full; then it's back to retirement".
He'll see the end of the season I suspect, then he's gone.
Gary Fenton
9
Posted 08/03/2018 at 17:28:26
On your bike, Sam, ASAP!!!
Brian Wilkinson
10
Posted 08/03/2018 at 17:35:04
We know Goodison is passionate, can be a bear pit or no hiding place for an under performer, however away from home, whether home or abroad, our supporters are the best at supporting the team.
Yes, we have had the famous Nyarko fan, heard the odd abuse, but when the full away support vent their anger, you know something is seriously wrong.
James Stewart
11
Posted 08/03/2018 at 17:44:59
And I want to wake up next to Natalie Portman every morning, neither is going to happen! Shut up and get out of our great club!
Gerry Quinn
12
Posted 08/03/2018 at 17:46:15
Unbelievable arrogance of someone who just doesn't understand how fucking unpopular, nay unwanted, he is...and apologies for the swear word, but for probably the first time in my life I seriously meant it! Have hardly watched Everton most of this season please let it end!
Kim Vivian
13
Posted 08/03/2018 at 17:46:52
You know? I do genuinely think he had ambitions over and above with Everton and our 'project'. Unfortunately it's "old dogs new tricks" not learned with this guy, and he has stuck with his established dross. I think Liam nails it above but there about 350 people who have voted on the right who will be made up to read this. Step forward guys, let's see who you are.
If Sam stays, I don't know about the 96% but I for one won't bother with another match while he's here.
Daniel A Johnson
14
Posted 08/03/2018 at 17:46:53
Bye bye bye cheerio the players wont play for you and the fans don't want you.
Get out and take your cronies including smirky Steve Walsh with you

David McMullen
15
Posted 08/03/2018 at 17:54:27
It's all window dressing. I bet he's been briefed at the beginning and the prolonged deal (extra 12 months) was always a sweetener. Can't imagine he'd be kept as the results and performances have been pitiful.
Matt Hunter
16
Posted 08/03/2018 at 17:55:07
You might want to be here for a long time but we don't want you here, so do the right thing and leave a.s.a.p.
Ian Bennett
17
Posted 08/03/2018 at 17:59:15
96% on ToffeeWeb aren't so keen.
The other 4% must be either reds, have a nasty eye stigmatism when clicking or go by the name S Alladyce Esq...
Steve Ferns
18
Posted 08/03/2018 at 17:59:49
I hope those talks with Farad Moshiri are to terminate his contract. God help Moshiri if he extends the contract.
Darren Marsh
19
Posted 08/03/2018 at 18:01:39
Absolute gobshite's running or is it ruining this once great club?
Last week's pre match conference where hippo head was yawning his hippo head off,then post match where hippo head was chewing his hippo head off was the last straw for me.
The clueless,believe his own hype charlatan, should of been kicked up the arse all the way down County Rd and told to do one.

I can't believe he is still here, one thing's for sure and that's our "unwashed sister smashing cousins" from over the park, would never of put up with this. Nil Satis fuck off.
Will Mabon
20
Posted 08/03/2018 at 18:04:57
We're being played with, pure and simple. Scripted, deliberate bread & circuses shite. An endless succession of "Talking points" that don't get near to properly addressing the problems but merely aim to provoke Facebook quality drama and controversy. Patronizing and insulting.
Alexander Murphy
22
Posted 08/03/2018 at 18:10:24
Congratulations Sam, you have succeeded in uniting Everton fans into a single voice, and that voice is loudly and clearly roaring:
"Allardyce Out !".
Paul Welsby
23
Posted 08/03/2018 at 18:17:23
I went off topic on the Vlasic thread once I read this in the echo. Maybe I shouldn't of? But he just riled me so much I couldn't help myself.
I am not going to repeat it. I just hope we get our wish for this rat not to be our manager much longer. Those who voted for Sam to stay, words fail me.
David Currie
24
Posted 08/03/2018 at 18:19:49
We are the worst attacking team in the league under this manager. He has never been a man that produces creative football and he never will.
Kim Vivian
26
Posted 08/03/2018 at 18:23:14
Paul Swan
27
Posted 08/03/2018 at 18:23:56
Forget about flying planes over the ground, if this bastard is still there after Saturday I may fly over the main stand unaided myself with a banner tied to me arse.
Tony Everan
28
Posted 08/03/2018 at 18:24:45
He won't see the end of this school term, never mind here long term.
Roy Adams
29
Posted 08/03/2018 at 18:27:16
Who next?
Bill Gienapp
30
Posted 08/03/2018 at 18:30:02
I'd love someone to put Allardyce's feet to the fire and ask him to name ONE positive about his tenure so far. The fanbase loathes him, the players don't want to play for him, we've improved in neither attack nor defense, our overall style of play is dreadful, we're as bad as ever on the road and his management of the squad has been atrocious. Signing Walcott has been his one and only genuine contribution to the club.
Our improved position in the table has been due to circumstance more than anything. Allardyce basically took advantage of a favorable run of fixtures upon his arrival, manufactured a couple of chickenshit draws against Liverpool and Chelsea and has produced a handful of wins that most people would regard as the absolute bare minimum (home fixtures against Huddersfield, Swansea, Crystal Palace, etc...). If you'd given him those opening nine fixtures that got Koeman the sack, it would have been an even bigger disaster with him in charge.
Clive Mitchell
31
Posted 08/03/2018 at 18:32:14
Ta ra.
Darren Hind
32
Posted 08/03/2018 at 18:32:47
Sigh
Derek Knox
33
Posted 08/03/2018 at 18:32:53
How deluded is this charlatan? Or maybe it's a ploy by him to guarantee him getting his full payout, claiming "I wanted to see out my contract" etc.
Probably be subjected to another Turdfest this weekend, obviously don't want to lose against Brighton, but if that's what it takes to get shut of him, I will reluctantly accept it.
Having said that, I watched the whole of the Brighton vs Arsenal match, and if we play anything like we have recently, I can see us getting turned over.
Jay Harris
34
Posted 08/03/2018 at 18:38:33
I have a feeling that Sam knows he is on his way out and he is just lining up his compensation package and defense of his reputation.
I was one of those who didnt want him here but having been appointed thought we should all get behind him until the end of the season but I am now of the view that he has not endeared himself to anybody especially the players so he needs to go asap.
Kim Vivian
35
Posted 08/03/2018 at 18:41:11
We can wish all we like but we won't see him gone before May. I have said before - if he gets 20/21 points over the rest of the season I will happily soften my opinion.
And pigs might fly....
....trailing banners ideally
James Brand
36
Posted 08/03/2018 at 18:42:54
This is depressing.
Mike Gaynes
37
Posted 08/03/2018 at 18:48:29
I'm certainly in the minority here, but I think there's a long-term place for Allardyce at Everton.
The club website lists a current opening for Laundry Assistant. The job responsibilities are as follows:
To wash and prepare all First Team and Academy kit. To wash and fresh up kitchen laundry on a daily basis.
To liaise with the First Team and Academy Kit Managers to ensure that deadlines for kit use are met.
To maintain a high standard of excellence in ensuring all laundry items are washed and made available for use when required.
To make sure all laundry equipment is kept clean and suitable for use.
To maintain information of all necessary resources and ensure the laundry is fully stocked with detergents.
To ensure the storage and use of chemicals conform to the Club's COSHH policy.
To report any damage or faults of the laundry equipment to the Facilities Manager either directly or via the Facilities Team.
To sniff all the jockstraps and make sure they are clean.
Okay, so I made up that last one.
Actually, some of these qualifications may be a bit beyond him (especially "maintain a high standard of excellence"), but if we're going to be paying the fucker £100,000 per week anyway, we might as well get some clean kit out of it, instead of just sacking him and mailing checks. Besides, the fat lunker could carry more laundry per trip than most.
There's also a job opening in HR, but given his shit people skills that's probably not a good fit. I think bleach and borax is more his level.

Paul Welsby
38
Posted 08/03/2018 at 18:50:19
Derek Knox, I never want us to lose but that's not to have a pop at you. I think especially this weekend mate if we get beat and other teams below gain points we would be right in the mix if we're not already.
With this manager and these players I wouldn't fancy are chances of escaping the drop. Sam has proven he is a shit manager and a lot of our players I think lack quality but – more so in a scrap to stay up – they certainly haven't shown any fight.
Eddie Dunn
39
Posted 08/03/2018 at 18:51:32
Sam is a pragmatist and will know only too well his precarious position. This is clearly posturing in advance of his severance payment. After all, he isn't going to say "Oh, things are going worse than I expected – I really can't see my employers keeping me until the end of my current deal".
I am not surprised at our poor attacking play, but I did expect him to sort out our porous defence. I know he has been robbed of Baines and Coleman for some time and the club have to take the blame for not investing in another left-back but I did expect more fight in the side.
The fact that 3 managers have now failed with this squad speaks volumes. Sam may be at fault for his tactical set-ups, but often his team selections have looked good on paper but not worked out. I think the focus should also be on the players.
Sammy Lee, Craig Shakespeare, Big Dunc and Allardyce himself all out there on the training ground, and yet we seem to be playing like a team of strangers.
One win and we will be virtually safe and Sam will prepare for his long holiday in Dubai, but another reverse and the pitchforks will be out in force.
Mike Gaynes
40
Posted 08/03/2018 at 18:51:55
Gerry (#12), no fucking apology necessary.
He's got us all doing it.
Barry Thompson
41
Posted 08/03/2018 at 18:54:44
Mike G – if we pay the useless twat for doing that job, he will then have fans accusing him of money-laundering as well.
Sam Allardyce – the man who thinks his middle name is 'fucking'
Paul Ferry
42
Posted 08/03/2018 at 18:56:03
Amongst everything else – the turgid droll/troll, the unearned arrogance, the narcissistic unseeing, the me, and so on – two things stand out for me from the same old, same old.
"I'm having talks with [Farhad Moshiri]...' Note to Lyndon: your parentheses is accurate, he is definitely speaking with Moshiri only? If so, I find this revealing. This is not some 'good mate of mine said', 'or someone I trust said' sad fluff. It's from the horse's mouth. Kenwright matters less and less with each passing day.
And, a little smile at Sam's grasping efforts to ingratiate: 'Every club's fans have a lot of passion and like I said at the time, the history of Everton is far greater than Newcastle and West Ham.'
He's right though!
John Davies
43
Posted 08/03/2018 at 19:01:56
OMG! The fella is off his rocker. Why does he keep spouting his inane drivel?
If he's with us at the start of next season I will never watch Everton again. 57 years I have been a Blue but I will turn my back for good if this fabulous football club keeps the arrogant fraud in place.
Bobby Thomas
44
Posted 08/03/2018 at 19:04:35
Allardyce isn't here beyond the end of the season, and he knows it.
John Davies
45
Posted 08/03/2018 at 19:05:35
Mike Gaynes #37. Bloody hilarious mate. Loved that.
Drew O'Neall
46
Posted 08/03/2018 at 19:06:24
Roberto Martinez was extremely popular when he took up the reigns at Everton in a way that Koeman and Allardyce haven't been.
He bothered his ass to find out and talk up Everton's history. Allardyce is so transparently not bought in to anything other than receiving a pay check, that he's hasn't even done that.
Even know when he should be trying to save his job, he doesn't care enough to offer anything more than generic platitudes. I'd make him see out the remainder of his contract as penance.
Anthony Flack
47
Posted 08/03/2018 at 19:14:15
If we beat Brighton, I would sack him before 5 pm – then make sure we get the right man in before the holidays kick in
What we can all predict if we sack him in August, then get a new guy in by about the first game, and do not manage to recruit good players, or motivate the existing players, connected to uncertainty, bad start to the season etc.
Go on, Everton – prove us wrong and get shot asap!
Paul Setter
48
Posted 08/03/2018 at 19:14:44
There's no way my renewal is happening till I know what this maggot is doing next season... I never disliked a man in football as much –
and this was long before he became part of our club.
Kunal Desai
49
Posted 08/03/2018 at 19:18:57
Naa... you're alright mate. The fans don't want you and I think you know that. Pick up your nice small little earner at the end of the season and piss off back to Dubai.
Seb Niemand
50
Posted 08/03/2018 at 19:20:30
I feel dirty every day this creature continues to be employed by this club. Appointing it was the lowest point of my 40 years as a supporter and every day we do not sack this abomination is a further bump along the bottom. 10 minutes from now is too far in the future for it to be in charge as far as I am concerned.
Mark McDonald
51
Posted 08/03/2018 at 19:22:18
Yeah, he knows he is gone!
Why does he mention his meeting with Farhad Moshiri and that it shall remain confidential? We did not need to know this but he has cunningly and cleverly told everyone.
Who knows... he maybe gone before the end of the season – especially if we do not get 3 points against Brighton.
Jack Convery
52
Posted 08/03/2018 at 19:26:38
He knows he's pressing our buttons. Don't let him. He will go at the end of the season. If, for some insane reason, he stays... then it won't be just his head we'll be calling for but Moshiri's as well.
A wind-up merchant – that's all he is – get him out asap, please!
John Graham
53
Posted 08/03/2018 at 19:37:52
I am not against anyone managing Everton. Not even Sam Allardyce. If they do a good job, then supporters will back them to the ends of the earth. But, before he throws his name in the hat he needs to answer a few questions:
1) Will we play attacking football and not sit back and hope for a breakaway or lucky goal?
2) Will we try to win every game, no matter who we play, instead of going out to defend and then hoping we score first and can hang on?
3) Will we play the modern football which is all about speed, energy and directness, and not long balls booted up field and then hope for the best?
4) Will we feel proud that our team has played with skill and given everything and had enough chances to win games even if we get beat?
5) Will he put the emphasis on youth and try to bring young players through?
I know it's important that we stay in the Premier League for the money it brings but I am sick of other people's perceptions of our team that we once were a big team and now we turn up just hoping not to get beaten.
Nil satis nisi optimum – Nothing but the best
If you can make us proud you will get the support and the job.
Jim Bennings
54
Posted 08/03/2018 at 19:39:37
We can get rid of Allardyce in the summer but, as I've said for a while, that's just one small segment of the bigger picture and bigger problems.
We can't expect Allardyce to say anything other than the fact he's wanting to stay longer but, let's not forget, it was down to an act of desperation from Farhad Moshiri that he was brought in and it certainly wasn't Allardyce that gave himself £6 million a year on an 18-month contract, that's down to Moshiri I'm afraid.
The players need to take a long long hard look at themselves too because they have been poor and under-performing for several managers now and they don't come anywhere near close enough to showing the desired work ethic and passion to warrant playing for Everton Football Club, in my opinion.
You play for Everton then you shouldn't need a man on the sidelines motivating you – motivation should be every time you set foot on that grass you bust a gut and work for the team, every man in that Blue shirt should... but they don't!!
Kenny Smith
56
Posted 08/03/2018 at 19:43:20
We can't take another season of shite footy if we have any ambition to bridge the gap to the so-called top 5 (I refuse to acknowledge the RS so don't count them).
Allardyce will undoubtedly bring shite footy next season like he has everywhere he's been. Who will join us if he's here? Who will join us if Walsh is here as well? A total clear-out is needed and a fresh approach taken to recruitment and transfers or this 'project' will fall at the first hurdle.
Dean Cooper
57
Posted 08/03/2018 at 19:44:52
I never wanted Allardyce and was disappointed when we signed him. But then I saw a clear defensive improvement against Liverpool and thought, maybe, I was wrong. Then he signed the striker we've been asking for and Theo Walcott who was a player out of our reach for many years, and things were looking up.
But, fuck me, I don't ever think I've seen us play as badly as we do now. I think those talks with Moshiri are positive (from 96% of TW's perspective!)
Chris Gould
58
Posted 08/03/2018 at 19:45:55
I was a fan of Moyes and supported him until he left. I wasn't initially a fan of Martinez but he had a clear plan and earned our respect during his first season. I supported him until the end even though I was relieved when he left. I felt Koeman was the right man for a stripping down and rebuilding job, and think his first season was positive. Unfortunately the poorly planned summer recruitment and early fixtures made his position untenable, but I supported him until the end.
Allardyce makes it impossible to support him. He comes across as arrogant, obnoxious, and pig-headed. If results were going our way then those traits would be forgivable, but they're not. We're very poor and he's full of shit. What's there to admire, respect or like about the guy?
Obviously there are 5% of us that have seen something. Can one of those be brave enough to post what it is that they see?
Kim Vivian
59
Posted 08/03/2018 at 19:53:44
Jim (#54) – remember Sam wanted a 3-year contract and Moshiri wanted 'til the end of the season, I think... so the 18 months was a compromise. I think Moshiri wanted to go 'til the end of the season and then take stock.
If Sam had done a decent job, talked sense instead of bollocks and evolved his ways a bit, he might have earned himself an extension.As it is it's like he's just screwing us over because he didn't get his way originally.
Craig Walker
60
Posted 08/03/2018 at 19:58:51
Just like I knew Burnley would come back and win when we went a goal up on Saturday, I knew this is how life would be under Allardyce.
Sometimes the disappointments as a Blue are so obvious. The games being thrown away because we can't keep the ball, the inevitable derby defeats, the signings that look good at lesser clubs but awful for us, the manager with a promising start that falters when teams work his "style" out.
The only thing keeping me interested is Bramley-Moore and I have doubts about that. Why do we do this eh? It isn't for the glory!
Steavey Buckley
61
Posted 08/03/2018 at 20:02:19
There is a dark cloud of despair hanging over Everton at this moment. I can't wait for this season to be over then start all over again for the next.
If Allardyce wants to be manager next season, results and performances, so far, don't justify his long-term future.
Jim Bennings
62
Posted 08/03/2018 at 20:13:48
Kim (#59),
Moshiri could have walked away when Allardyce gave him ultimatums, just as he did when Watford played hardball over Marco Silva.
You can't blame Allardyce for fleecing the club knowing the money that's there nowadays; he's a crook, yes... but Moshiri went down that path, didn't he?
As I say, removing Allardyce removes one small segment of a bigger problem that's been long rotting at Everton; for me, that's the players' attitudes.
Rick Tarleton
63
Posted 08/03/2018 at 20:16:26
I know that in a democratic situation the wrong choice can be made, Brexit being the prime and obvious example, but on the right of this page is a poll. This poll states that 96% of Evertonians who have taken part in this poll do not want Allardyce anywhere near our club.
I suggest that when the majority is 96% the democratic process is delivering a clear and incontrovertible message. Allardyce you must go. Your feelings or ideas have been totally rejected. Go with a modicum of honour.
Paul Kennedy
64
Posted 08/03/2018 at 20:20:36
He stays, I go. Really cannot stomach this man.
Phil Sammon
65
Posted 08/03/2018 at 20:23:24
Rather than longing for your own team to lose, I think a better angle is to clearly demand Allardyce's removal before and after kick off, regardless of the result.
Unfortunately, my chants from Australia are not heard by those in charge – but the match going crowd have the power to make it abundantly clear that 96% of us think he needs turfing out!
Kim Vivian
66
Posted 08/03/2018 at 20:25:50
Can someone remind me what happened when Allardyce was first mooted/approached because he walked didn't he? And then we went crawling back with a better offer or summat?
I forget the detail amid the despondency.
Paul Tran
67
Posted 08/03/2018 at 20:55:41
Kim, we showed a bit of interest and left him alone in the quest for Silva. And Allardyce hinted as much.
When that got nowhere, we went back to Sam and the crafty crappie turned the screw – 8 months became 18 months. And all because, like many on here, Moshiri panicked.
Kev Johnson
68
Posted 08/03/2018 at 21:00:45
Take it from me, he's gone by May.
Brian Wilkinson
69
Posted 08/03/2018 at 21:04:07
If we do not get the three points on Saturday, Goodison will explode, he lit the touch paper a few weeks back when bringing Schneiderin on; this continued last week when even the most ardent away fan vented their anger.
If it goes tits up Saturday, the abuse will be defeating. The only team talk the Brighton manager needs to give on Saturday is "Go for the throat early doors and get an early goal".
Paul Rimmer
70
Posted 08/03/2018 at 21:06:19
I hate his brand of footy. Watch us kick off against Brighton with someone trying to boot the ball over the opposing right back's head. Depressing and miles from where we were under Martinez.
Ian Riley
71
Posted 08/03/2018 at 21:24:08
Has Sam been popular anywhere he has managed? Do you think he gives a flying fish if people like him? What you see is what you get? Honest appraisal of match performance's?
Sam was brought in to save us from relegation? If he achieved that. Does he deserve a full pre-season? Probably harsh but have we been shite on and off for 20+ years? Can a manager have one year left on his contract, get the best out of his players? Do we put Sam as Director of Football and put a young manager/coach in charge?
Whatever happens next season, there is a job to do now. Questions over the manager's future are for a later day. Focus on the now!
Stephen Jones
72
Posted 08/03/2018 at 21:29:14
Rick Tarleton No 63...
"I know that in a democratic situation the wrong choice can be made, Brexit being the prime and obvious example."
I disagree.
It wasn't the wrong choice.
Paul Welsby
73
Posted 08/03/2018 at 21:32:32
Ian Riley, the mere suggestion of putting Sam as a Director of Football made me spit out my coffee, then I just laughed.
Don't mess, Ian.
Vijay Nair
74
Posted 08/03/2018 at 21:41:58
Ian (#71), Director of Football????
What exactly would make him a good DoF?
His impeccable people skills?
The great players he's capable of bringing to the club?
Or his tactical nous?
No none of the above. No... just NO!!
Ian Fisher
75
Posted 08/03/2018 at 21:49:42
If anyone was lucky enough to have a mouth on a teat of the cash cow paying ridiculous amounts of money for ( as it seems to those watching ) who wouldn't want to stay long term ??
Another useless leech who has attached himself and his cronies to the club, and all should be dismissed as soon as possible.
Tony McNulty
76
Posted 08/03/2018 at 21:50:44
Well, Sam, I want Brad Pitt to play me in the story of my life. And when I told my wife, she announced that that was fine, so long as she could play herself.
Neither of these is going to happen though. A bit like your continued management of EFC.
Jim Hillier
77
Posted 08/03/2018 at 22:10:40
The only explanation I can think of for the 4% who voted for Sam to stay is that they were all pissed when they came on here and clicked on the wrong answer by mistake.

Paul Ritchie
78
Posted 08/03/2018 at 22:11:41
Well off topic here, but underneath the current poll is the opportunity to click a link and look at previous results. Interesting to see how we've all got so much wrong; don't need a new left back, De Boer as next manager, and accept a Lukaku bid to name a few. Hindsight!!
Steve Sweeney
79
Posted 08/03/2018 at 22:13:02
Now Wenger as DoF and a young manager to take on board and use his vast experience, with a proven motivator as the No 2...

Step up Arteta, Cahill with Wenger behind them and David Dein as CEO. Now, IMHO that would be a big message of intent.

George Cumiskey
80
Posted 08/03/2018 at 22:14:35
Don't laugh Paul@73 I think he's deadly serious; I've seen some of his posts before.
Paul Welsby
81
Posted 08/03/2018 at 22:27:23
George I didn't want to mention that, but now you have I know exactly what you mean. I enjoyed the laughing. George. It was spitting my coffee over my new carpet that pissed me off.
Ian should've maybe thought about suggesting gigantic head as DoF before he posted it?
Paul Welsby
82
Posted 08/03/2018 at 22:40:12
Paul Ritchie, it was Mourinho as the next manager who got the most votes!
Trevor Powell
83
Posted 08/03/2018 at 22:46:49
I think ToffeeWeb should conduct a survey to see how many season ticket holders would not renew for next season if Clapped Out Sam is given a longer contract – or even allowed to complete this one into 2019!
Peter Cummings
84
Posted 08/03/2018 at 22:54:42
Long-term?? Surely he doth jest, the end of the season can't come too soon for him to take his ill-gotten gains... call a cab, hopefully along with Kenwright, and take hike.
Phillip Warrington
85
Posted 08/03/2018 at 22:59:24
Now he's pissing all over this once great club.
Jerome Shields
86
Posted 08/03/2018 at 23:01:58
Allardyce is what he always was – a greedy bastard. His objective was to get the Everton Manager's job and hold onto it as long as he could.
The initial negotiation of the contract was 18 months and Allardyce did everything he could to make sure that he got 18 months so that he had the insurance of breach-of-contract payments. He also negotiated a review of contract extension before the end of the first season.
This puts Moshiri in the situation of either a big payout to end the contract, or extend the contract for another two years. Big Sam can't lose, even though Everton are losing. This shows you the despicable character he is.
He bluffed Moshiri he could turn the team around using the players that had been bought in. By having them on his side, some of them mercenary types like him myself. Rooney allowed to develop his future pundit career, other get to play.
He then off-loaded Martinez signing and the youth squad, leaving some isolated on loan.This was to deliver the squad reduction costs he also had promised Moshiri. Again to extend his wage payments as far as he could.
This explains his whole defensive strategy and negative saving some isolated on loan. This was to deliver the squad reduction costs he also had promised Moshiri. Again, to extend his wage payments as far as he could.
This explains his whole defensive strategy and negative substitutions. He is not interested in developing Everton on the playing side, but to accumulate survival points. Good technical team player not required. Tosun bought to appease Moshiri and the Fans. Needs Niasse who doesn't need tactical support play.
He now talks about players plans for next season, long team strategy and longer term contracts to quieten any resistance and put pressure on Moshiri.
Allardyce does not give two fucks about Everton Football Club and has the support of the Director of Football, most of the first team squad who are of a similar disposition.
Allardyce's sole purpose is to keep the gravy train running and If Everton are damaged, so be it.
Phil Sammon
87
Posted 08/03/2018 at 23:02:22
Paul (#78),
Regarding the polls. I think you're only getting half the story there. People argued we didn't need to get a new left back because we didn't know Baines would be out for so long. We didn't know Galloway would be on loan, we didn't know Garbutt would be unregistered, we didn't know Martina was the alternative.
With Lukaku, some of us assumed that bagging £80M would mean we'd go after a ready-made replacement instead of three Number 10's and a youngster from Spain.
I think in future we should add a caveat to every poll. Basically remember that, whichever way you vote, EFC will find a way to screw it up.
Keith Harrison
88
Posted 08/03/2018 at 23:08:18
At the end of this season, we should have a statue of Sam placed behind the Park End stand.
Posthumously.
Jamie Crowley
89
Posted 08/03/2018 at 23:13:44
Seb @ 50:
I feel dirty every day this creature continues to be employed by this club.
Yup.
There's something just wrong with this. This isn't Everton. Say what you will about Martinez, but he's a seemingly classy guy – polite, presents himself well, etc. Moyes did too, in his more "People's Club" down-to-earth way (except when he went Johnny Big Britches when he left, but you get the drift).
Koeman came for? Money! Big Sam came as the heroin-shot quick fix.
We need the next managerial appointment to be perfect. And we need it done quickly because this guy needs to be shown the door pronto.
I'm sick of feeling dirty too, Seb!
Andrew James
90
Posted 08/03/2018 at 23:33:37
Looking at the above, Kev Johnson says he'll be gone by May.
That's good enough for me... and promising if Kev is saying that.
I mean, what else can Big Sam say? If he intimates he'll be off, it will ruin any slender hope he has to continue and make the players down even more of their tools.
No, he will probably get a juicy bonus or pay-off for staying in the Premier League and that is that. For me, he's been a cynical and grubby character for a long time but, to be fair, the nature of this league made him more so. He got spat out by Newcastle and unfairly fired by Blackburn. Subsequently he's treated clubs with the same contempt they did him and charged them a fortune.
When you bring a man like this into your club, it won't be on your terms. We blinked and basically surrendered any pride or entertainment for the remainder of the season. He's a mercenary and our board wanted a gun for hire.
Shame the gun rarely shoots.
Keith Harrison
91
Posted 08/03/2018 at 23:37:57
Andrew, Kev is a professional hit-man.
If he says Allardyce will be gone by May, the gun will definitely shoot.
John Malone
92
Posted 08/03/2018 at 23:51:10
Sam's a goner – what's more worrying is the rumours linking us with Wenger!
I only hope that is what they are and Moshiri is lining us up with the next Pochettino as we speak.
Jamie Sweet
93
Posted 08/03/2018 at 00:04:26
Well this makes the decision whether to buy a season ticket or not a very very simple one.
Happy to wait until he no longer has anything to do with our club.
Andrew James
94
Posted 08/03/2018 at 00:06:41
Keith
I can see the next ToffeeWeb poll right now...
How would you like Sam Allardyce removed from Everton FC?
1) Carey cab style
2) Hitman
3) Quietly abducted during the night to be taken to a safe house
4) Head hunted by the RS
Jay Harris
95
Posted 09/03/2018 at 00:16:28
Steve (#79)
I have been touting Wenger as DOF and Dein as CEO for months with the initial remit of finding a new manager but it didn't seem to garner much support on here.
Another possibility would be to reunite Emry and Monchi. I just hope Kenwright and Walsh aren't allowed to influence the next decision.
Andrew James
96
Posted 09/03/2018 at 00:28:31
Jay
Both Dein and Wenger are dyed-in-the-wool Gunners. They won't come to us and are both too old now. It's a fantasy idea, a bit like buying across a scout from the shock Premier League Champions to be your Director of Football...
Emery is an often quoted name but what strikes me is how well he's done in Spain but the PSG gig is one that guarantees the league yet he's not progressed in the Champions League. But his work with Seville was excellent.
Not that we'd get him...
Paul Birmingham
97
Posted 09/03/2018 at 00:34:32
Garbage In = Garbage Out...
Never has such a formulae and statement ever been more real than at EFC this season.Tripe and more tripe?
The club this season has lost its identity and path in life.
Hope... for next season?

Eugene Ruane
98
Posted 09/03/2018 at 01:00:57
Jamie # 89 –
"Say what you will about Martinez, but he's a seemingly classy guy – polite, presents himself well, etc. Moyes did too, in his more "People's Club" down to earth way."
If 'Big' Sam (or anyone else) could put a side together, that could get past the mental frailty that has infected us for more seasons than I care to remember, I wouldn't give a shite if he dropped his trackie bottoms and knocked one out after every goal.
Classy?
Polite?
Stammering?
Pig-ignorant, covered in gravy, Slovenian?
Not important.
What's important is finding someone who, as a manager, has... the right stuff.
Someone who can squeeze every ounce of energy and desire out of every player.
Someone who can make them gel together as a real unit.
Someone who can find players who can pass a ball and keep a ball under pressure.
Someone who can find players with real pace and real strength.
Players with brains (nb: we've been as dumb as fuck for years – ALWAYS the wrong, ball).
We need someone who can convince players to press the opposition and have a bit of nerve.
If we could find that manager, he could be the most hideous, odious, classless piece of shite ever to stand in a 'technical area', I'd happily applaud him.
When Koeman arrived I said (on TW) I was fine with the appointment...as long as he has a plan that has a chance of succeeding.
He didn't; neither, it appears, does this feller.
So, once again, we exist in a shite football limbo until it's déjà vu all over again.
And meanwhile the years are passing at what feels like a rate of knots.
By the way, just so I don't sound like an entitled Arsenal-style supporter, I've long since given up on the idea of titles and Champions League, but I'm fucked if I'm going to give up on the idea of a watching a half-decent Everton side with a bit of spine to it.
So I'll take any manager who'll get behind that (rant) as a philosophy.
Up the (sigh) Toffees!
Nicholas Ryan
99
Posted 09/03/2018 at 01:42:18
I just fell asleep, and had a dreadful nightmare. I was at a Queen concert at Wembley Stadium, and up there on stage, bulging out of a Freddie Mercury suit, was Fat Sam, singing: "I want to be here God knows, God knows I want to be here..."
Horrible!!
Mike Gaynes
100
Posted 09/03/2018 at 02:31:29
Eugene! You're back!
Keith Harrison was about to send out search parties. Tracking dogs and everything.
Mike Gaynes
101
Posted 09/03/2018 at 02:43:13
Kev (#68), you are my most trusted source, above all others. I am pinning my hopes on your certitude. Thank you, my friend, for helping me sleep better tonight.
Victor Yu
102
Posted 09/03/2018 at 03:28:06
I don't mind Wenger coming over if it happens.
It would be a good step forward.
Brian Wilkinson
103
Posted 09/03/2018 at 04:15:26
Kev @68, I really hope you mean May 2018 and not 2019... give me some hope please.
Brian Wilkinson
104
Posted 09/03/2018 at 04:25:44
I hope he means long term is an anagram for goner LTM (later this Month).
Lee Brownlie
105
Posted 09/03/2018 at 04:37:19
Well, as things stand, as we continue to play, he can't be surprised that
no-one, no fans
, wants him here... However, I'd be happy to change my mind... at least soften my stance as someone said above.
If he suddenly managed to change how we are doing, finish on a proper 'high' etc.. Can't see it, but the ball's in his court right now, no?
Darren Hind
106
Posted 09/03/2018 at 05:38:23
Lee
Everybody on here would be happy to change their mind. Nobody wants to see the club sink slowly towards oblivion playing shite football under a succession of managers.
The best solution all round would be for Sam to do a complete U-turn. Stop players putting all their energy into spoiling the other teams plan. Create some movement and options to dispel the myth that these players can't pass a ball – Pirlo couldn't pass in a team as static as this one.
If Sam was to mould this squad into a snarling aggressive attacking unit, which feared nobody, we'd all change our minds.
It's not going to happen though, mate. We knew it as far back as when we used to mock other clubs for employing him.
Keith Harrison
107
Posted 09/03/2018 at 08:15:32
Good to see Eugene back. Just need Ken Buckley to post now.
And Allardyce gone.
Jamie Sweet
109
Posted 09/03/2018 at 08:21:34
What Eugene said.
Dave Abrahams
110
Posted 09/03/2018 at 09:06:54
Back with a bang, Eugene, plus a post a lot of can us can relate to and agree with.
Now you are back, Eugene, stay here.
Jer Kiernan
111
Posted 09/03/2018 at 09:33:34
Somebody draw his attention to the TW Poll results and hopefully make Moshiri and Kenwright aware also; I won't watch this club next season if he is there.
And please instead of splurging money on average prima donna footballers who contribute nothing, let us go out and get a manager who has actually won something, no just maybes like Silva, Howes, Dyche...
We should be making Simeone, Conte, Pelligrini offers of £15+million a season. We can blow that much on Klaassen, Scheneiderlin etc – why not secure a manager who has lifted at least one trophy and let's see what happens...
Sorry for that... I will get my coat.
Colin Glassar
112
Posted 09/03/2018 at 09:42:58
Another easy £6m Sam? I don't think even Moshiri is as big a fool to give you another season. Get lost!!
Mark Andrews
113
Posted 09/03/2018 at 11:12:32
I'd like a month in the Caribbean with Kelly Brook but that's not going to happen either.

Karen Mason
114
Posted 09/03/2018 at 11:13:31
As always on this site, some great, knowledgeable and funny posts.
I just wanted to add, that it really doesn't matter which players he puts out there. The fact of the matter is, that Allardyce's tactics and no doubt, preparation team talks, game after game, are sending a message, loud and clear to every player. "You are not good enough to win this, so let's just try not to lose."
I know the players are paid obscene amounts of money and should be professional, but in terms of life, they are still young men and human. They must all be completely demoralised by the negativity Allardyce brings.
The wins he is claiming credit for were, in my opinion, down to the hard work, discipline and passion, that Unsworth brought to the table. And as that slowly disappears into the ether, it has been replaced by negativity which has, ultimately brought down & stripped every player of their confidence. Even the more resilient players have been affected. Hence, our team, whichever players are put out, are not equal to the sum of its parts.
So, our results are not based on which team he selects. They are based on just how badly our opposition play that day. That won't change until the master of negativity is removed from our precious, unique, People's Club.
Danny Broderick
116
Posted 09/03/2018 at 15:13:55
I have been open minded about having Allardyce as manager until last week at Burnley. I was prepared to give him a chance. But it is not working for me now. The team is not playing well enough for starters, and the things he says are beginning to annoy me also.
When he says things like, "I need to win more football matches" I wanna tall him that it's not all about him! And likewise, when he absolves himself of blame when we lose (like saying we only lost at Watford because Michael Keane missed a header, or at Burnley because Sigurdsson missed a chance), I wanna tell him that he is part of these defeats as well – a big part, as he is in charge!
In addition to the results, I don't think the fans have warmed to him – and that is where he has failed this audition for me. If he had got half decent results and got the fan base onside, he would have had more chance of being our manager long term. His failure to do this means he will have to move on in the summer, as the fans don't want him...
Steve Barr
117
Posted 09/03/2018 at 15:40:39
Based on the stats below Sam has a losing (ie, less than 50% winning) record over his whole managerial career. That alone would raise my concerns in recruiting and appointing him as a long-term manager.
Add to that his defensive/negative disposition then my conclusion is that the real culprits in all this are the board. Once again they've demonstrated they don't have a vision going forward, nor do they have any idea on how to run a football club.
Sam, being brought in to stave off relegation was a desperate measure forced on the club by its many previous bad appointments and decisions.
Sadly we need a clear out across the board before we get anywhere near a successful football team.
From Until Win%
Blackpool 1994 1996 43.14
Bolton Wanderers 1999 2007 41.24
Crystal Palace 2016 2017 40.00
Notts County 1997 1999 38.62
West Ham United 2011 2015 37.57
Blackburn Rovers 2008 2010 35.56
Newcastle United 2007 2008 33.33
Sunderland 2015 2017 29.03
John Davies
118
Posted 09/03/2018 at 15:43:02
Karen Mason (#114). You have summed it all up perfectly.
Tim Taylor
119
Posted 09/03/2018 at 15:51:07
Danny Broderick (#116): with you...
Eugene Ruane
120
Posted 09/03/2018 at 16:10:10
Danny # 116 -
"In addition to the results, I don't think the fans have warmed to him."
In addition to?
I guarantee you 'warming to' a (our!) manager is 99.9% results based.
It's the nature of football supporters that with a winning manager, every manager personality defect can (and will be) excused.
A winning manager could spend his Sunday's molesting Swans in Sefton Park and we'd be saying "he's not killing them for fuck's sake, just rubbing their arses a bit, I've heard they love it.." etc.
Conversely, a losing manager could spend all his free time handing out state of the art crutches to cripples* (* shows age) and he'd be the biggest gobshite in christendom ("fuckin' goody-two shoes, thinks he's Mother Theresa...")
Harry Catterick, though certainly not loved, is definitely respected and well thought of by Evertonians.
Given he sounded like a right miserable twat and could be devious (nb: that was the players opinion) I'd suggest this respect is purely down to him producing a winning side (and would be outright hatred had he never won a carrot for us).
Right now, I'd warm to Pol Pot if he had a half decent plan and the power to motivate players who (obviously) lack the required motivation.
By the way, what managers say after defeats, irritates us not because it's anymore or less stupid than what they say after a win, we're just in a much better mood after a win.
Lawrence Green
121
Posted 09/03/2018 at 16:11:07
Sam, I want to be here for the long-term too, but I'm finding it extremely difficult to summon up the enthusiasm required to keep watching a team that is so bereft of passion, skill and any sort of work ethic. The team is going through the motions, the manager is going through the motions and it would seem so are the board, whomever they are led by.
When this scandalous season draws to a close, hopefully, with our Premier League place secured for next season, there are many questions to be answered by each and every person associated with the football side of the club.
If Bill Kenwright and Robert Elstone have not been responsible for the gross mis-management of the club in the last couple of years, then it surely follows that Moshiri has made some elementary blunders at no little cost to the club. The money spent by the club in recent times, may not be recouped very quickly and it may need the club to be more circumspect when offering contracts and assessing the value of players in the future. Eventually over time that can be overcome, but the damage done to the club, both on the pitch and off it, is at this time unquantifiable.
Many fans that I know personally are losing the faith, not solely because they don't like the manager, but because they are finding it very difficult to like what the club has become or perhaps they are waking up to the fact that, even with money, the club has become complety unfit for purpose as a footballing institution that one day can repeat the triumphs of its glorious past and maybe the Moyes years masked the deeper rooted issues that have beset the club for longer than most of us care to remember.
Whatever happens in the remainder of this season, this viscous circle of underachievement cannot be allowed to continue, there has to be a root-and-branch examination of what the real issues are that have undermined the club's progress in recent years and those who are not adding value to the project should be removed and replaced.
Obviously keeping Big Sam for any amount of time, past the final whistle at the home of West Ham United, would signal that the club has no ambition and that it has sacrificed it's principles to remain on board the Mediocre Express.
If this season doesn't draw a line in the sand for the club and its guardians then I don't know what will.
Colin Grierson
122
Posted 09/03/2018 at 16:25:17
I can hardly be arsed to comment!
Just go, Sam.
You're like a drunk chatting up the barmaid at closing time. Take the hint and just leave quietly without making a fuss. You're only making a fool of yourself.
Jay Woods
[LAT]
123
Posted 09/03/2018 at 16:38:21
Yes, he has to go. I'm sorry I ever believed in him. I think none of the players believe in him either.
Mike Gaynes
124
Posted 09/03/2018 at 17:24:05
Eugene #120, Pol Pot was certainly a peerless motivator with a plan, and he would have instilled a great hunger in his players, but Khmer Rouge FC had a lot of trouble maintaining fan support.
But seriously, I'd contest your winning = popularity formula by pointing out that even winning managers get harsh criticism from the fans if the side isn't playing with the style desired.
Valverde is actually hearing it now because Barca (undefeated in its last 43 in all competitions) is considered too "industrious" by supporters who want more of the old flair.

Jamie Crowley
125
Posted 09/03/2018 at 17:28:28
Eugene @98 -
A man works for a living - a LOT in my case.
TW is that "relaxing thing" on a Friday lunch, late evening, weekend type of schedule. So time goes by and you check posts.
It's nice to know my half-a-dozen or so rosaries said for the presumably dead Eugene Ruane actually worked.
Knock and it shall be opened to you.
Couldn't agree more, Eugene – I said the same about Koeman and playing style the beginning of the year. I don't give a fiddler's fart how we play, I just want to win.
In true Trump American fashion, I've done a 180. I'm over it all. I want a man who runs our team I can be proud of, I want to play pretty stuff, and I want to win.
Fuck it, it's so bad right now why not ask to lasso the moon?
Stephen Jones
126
Posted 09/03/2018 at 17:34:01
Please prove your credentials pretty darn quick. Norman failed... now you. Time running out rapidly; however, the common denominator is the squad so no guarantee a new face can turn it around.
David Moyes delivered a side which achieved greater than the sum of its parts. This is the complete opposite. Tough conversations required with each player if this hasn't happened already.
I can't imagine Sam minces his words, however. Start playing younger blood and drop the prima donnas. Only way I can see. Desperate times call for desperate measures.
Karl Meighan
127
Posted 09/03/2018 at 17:39:47
Sorry to piss on the parade bu,t unless were relegated, why would he be sacked? He has picked up a shit team only made two signings and none of the young players have been brought in by him.
He wouldn't have been my choice but results are no worse than Koeman achieved he who blew the transfer kitty on shite or under Unsworth.
We all want to progress and get better but it wont happen with that squad of players regardless of how many times, we change the manager.
Guy Hastings
128
Posted 09/03/2018 at 18:31:43
Nick 99, 'I had a dreadful nightmare. I was at a Queen concert...'
I'd have left it at that. Allardyce or no Allardyce..
John Daley
129
Posted 09/03/2018 at 18:58:24
"
When Koeman arrived I said (on TW) I was fine with the appointment...as long as he has a plan that has a chance of succeeding.

He didn't; neither, it appears, does this feller
"
That's not fair at all, Eugene.
One thing Allardyce can't be accused of is not having an efficacious plan to cure Everton's ills. So confident was Sam in his scheme for sure-fire success, he chose to reveal it on Sky before he had even got round to cramming his 'cunning' arse into the hot seat.

● Keep clean sheets.
● Don't lose possession in your own half.
● Play the first pass forward.
● Win knock downs and transitions.
● Capitalise on set-pieces.
● Exploit the opposition's weaknesses.
● Produce quality in the final third.
Fair enough, as well thought out, intricately thorough, foolproof 'plans' go, it was kind of like someone coming up with an international counter terrorism strategy consisting of the following steps:
● Break Murdoch out of the mental hospital.
● Drug BA's Dandelion & Burdock.
● Find a plane with plenty of fuel.
● Have Face flirt with a bird with Farah Fawcett hair.
● Get locked in a portaloo...on purpose.
● Construct a flatulence powered flame tank out of said portable crapper in a couple of minutes flat.
● Fuck terrorists up using non-lethal methods.
● Give each other the thumbs up.
● Smoke shitloads of cigars.

Still, better than a shrug of the shoulders, I suppose.
Ray Said
130
Posted 09/03/2018 at 19:40:26
Laughing my head off at Eugene's (#120) and John's (#129) posts.
Sam Allardyce as Hannibal is inspired and the 'swan molester' line have made my day.

Gaute Lie
131
Posted 09/03/2018 at 20:40:31
He's just in it for the money. I don't believe he cares for Everton at all.
I cant really understand what he has done better than what Unsworth would have done.
Phil Walling
132
Posted 09/03/2018 at 20:42:34
Just how anyone can have faith in the guy who appointed Allardyce as manager of Everton is way beyond me. His next choice is likely to be just as bad.
Whether 'Moshiri the Messer' takes counsel from the likes of Walsh and Jim White or just does the bidding of his old Russian boss, the Arsenal 'would-be', he should never have risked his wad on football because he has no feel for it, it seems. And anyone who throws money at Kenwright must 'have a loose one' and lacking in any bullshit antennae whatsoever.
They are still saying the Venkys fucked up. But not this much !
Gary Edwards
133
Posted 09/03/2018 at 20:59:54
He's obviously being advised saying what needs to be said and positioning himself for a nice payoff / settlement. Does anyone truly think / believe it was ever going to be different? He is what he is and Kenwright, Moshiri etc are a soft touch.
It's not even acrimonious, it's pathetic, standard Kenwright drama.
Jimmy Salt
134
Posted 09/03/2018 at 21:14:34
And I want a big yacht.
Ian Riley
135
Posted 09/03/2018 at 22:20:37
The board acted correctly in appointing Sam as our manager. Sadly, we were heading south in the league and out of it under Koeman. He may have saved us but the results proved different. If the club secures premiership status for next season. Then job done for Sam and the board.
The board made a balls up not having a manager in place when Koeman was sacked. Sadly by the time Unsworth tenure was coming to an end panic set in. Who is more qualified to save a club on the slide? Why should Sam take an 8-month contract? If he gets a payout for sacking him and keeps us in the league then so be it. He deserves that as a bonus payment. That's business and in the business world bonus payments are given for success and meeting targets.
Staying in the league is more important now than any other time in our history. Transfer fees and salaries paid out could signal the end in the Championship. Some fans think the players are not playing for the manager. Why? Play for your wage, fans, and the club. It's unprofessional to not give a 100%. If you are and still not performing, then simply your not good enough for Everton Football Club.
Everton is not a quick fix and it can't all lay at this manager's door. If he goes in May, we start again. We are getting good at fresh starts.
David Barks
137
Posted 09/03/2018 at 22:52:47
Ian,
You were doing okay until you typed your first sentence.
Eugene Ruane
138
Posted 09/03/2018 at 23:50:27
Mike (#124) –
"Valverde is actually hearing it now because Barca (undefeated in its last 43 in all competitions) is considered too "industrious" by supporters who want more of the old flair."
I'll concede to your point only when we are undefeated in 43 and complaining because we're too industrious.
John (#129) Funnily enough, had we been able to guarantee 'don't lose possession in your own half', a lot of the rest of the plan may have fallen into place.
(re the A-Team plan, I was going to say "what if no-one could provide the flatulence?" but BA and planes – hell-OH!)
Mike Gaynes
139
Posted 09/03/2018 at 00:05:13
Eugene (#139), we were undefeated in our first seven after Sam's widely unpopular arrival (giving up only two goals), and I saw many posts here complaining about our dire hoofball style.
I don't think those early results had much of a positive impact on the community's overall view of The Bulbous One.
Don Alexander
140
Posted 10/03/2018 at 02:04:49
David and Ian (#137 & #135 respectively), your points of view exactly reflect the fact that the issue is way bigger than mere Sam Allardyce. That issue is "Who in our club is making the decisions from here on?"
If it's to be the same muppet that sacked Koeman without a prepared, available successor, we're in the shit.
If it's the same muppet that eventually appointed Allardyce and then chopped him at the knees by way of ruining his credibility to the squad with a mere 18-month contract, then, again, we're in the shit.
If it's Kenwright, we're in the shit, as ever in recent years, if not decades.
If it's Walsh, we're in the shit, full stop.
If it's the Finch Farm cleaner...... well, who knows?
It just looks and reeks of shit from where I am, whatever.
James Marshall
141
Posted 10/03/2018 at 08:47:52
Kevin @1
The most important word in your post is 'retire'.
If only Lardiola would.
Brian Porter
142
Posted 10/03/2018 at 09:26:23
I think Moshiri has already proved his ultimate lack of football knowledge but if he now flies in the face of the great majority of the fanbase, (and the current quite correct reading of the situation by the press), he will be proven to have absolutely no idea whatsoever about what is needed to drive the club onwards and upwards.
Just look at the managers of the teams in the top six. While they have names like Guardian, Content, Pochetino, Kopp and Wenger, we have... Sam bloody Allardyce.
If fat boy Sam is the height of Moshiri's ambition for the club, we might as well all give up and go throw ourselves in the Mersey. Just how low have we sunk as a club if Allardyce is the best we can do?
He plays not to lose rather than to win, best example being his surrender against Watford, ready to bring Schneiderlin on to settle for a draw instead of trying to win a very winnable game.
We were bad enough under Koeman's reign but Allardyce has actually taken us backwards from then, his stats now worse than Koeman's.
For God's sake, Moshiri, get real, wake up and smell the coffee, listen to the fans, who turn out and spend a fortune to follow a team that isn't really a team, as they blunder from one disaster to another under a manager who doesn't have an attacking bone in his body.
Perhaps only dwindling attendances and a refusal to accept the stale, turgid and uninspiring dross being served up by Allardyce each week will drive the point home to Moshiri that we are not prepared to follow a team led by Allardyce as he attempts to turn us into a modern day Leeds or Villa.
Or do we just watch on helplessly as our beloved club slides ever further into the mire of mediocrity!?
Mike Powell
143
Posted 10/03/2018 at 09:41:33
I am starting to despise Fat Sam. I can't listen to the bullshit; how much more off this do we have put up with? Please, please go now!
Anthony Hawkins
144
Posted 10/03/2018 at 12:58:41
Allardyce won't be sacked before the end of the season because it won't make any significant difference this season. The new manager should be bought in at the earliest opportunity so the new manager can select new players and team can get the most time to gel and settle.
May be in 5 games time. Not now.
Jason Broome
145
Posted 10/03/2018 at 17:09:55
Yes Sam... and I want more than just my feelings to run deep into Natalie Imbruglia... Doesn't Mean It's Going To Happen.

Seb Niemand
146
Posted 12/03/2018 at 11:09:58
Every day he malingers here, he stains the club. This used to be a club of good men, of decent men and of men of honour. What became of that?
Filipe Torres
147
Posted 12/03/2018 at 12:36:22
Aaron, Espanyol left back;
Jerome Roussilon, Montpellier left back;
Lucas Digne, Barcelona left-/centre-back;
Wendell, Leverkusen left-back & left winger.
You are no manager if you can't spot a quality player...
Phil Lewis
148
Posted 13/03/2018 at 13:08:44
Should my worst nightmare persist and Allardyce remains as manager, then surely we ought to revise our motto. Are there any scholars out there? Please translate to Latin, 'Only fraudulent mediocrity will do'.
Paul Columb
149
Posted 15/03/2018 at 03:32:12
The self-aggrandizement evident in the latest OS piece on a trio's return from injury is hopefully not a harbinger of a longer than reasonable tenure for Sam and Co?
I know we're lacking a communication director of any pedigree but surely pieces like this have to pass a sniff test somewhere on Goodison Road.
Add Your Comments
In order to post a comment, you need to be logged in as a registered user of the site.
Or Sign up as a ToffeeWeb Member — it's free, takes just a few minutes and will allow you to post your comments on articles and Talking Points submissions across the site.