Allardyce: I want to be here long term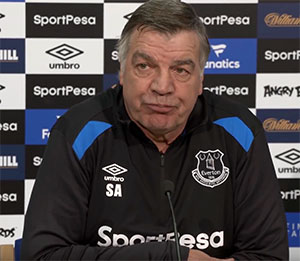 Sam Allardyce has insisted that he still wants to remain as Everton boss on a long-term basis as he moved to clarify his comments about expectation levels at his previous clubs compared to those at Goodison Park.
After initially having a positive impact with the Blues when he picked up from where interim boss David Unsworth left off in November by winning four of his first five games in all competitions, the 63-year-old has seen the club slip back into possible trouble at the wrong end of the Premier League table.
A run of seven defeats in the last 10 matches has led to mounting frustration among Everton supporters and, with it, has come speculation about Allardyce's future with the club.
"Of course," Allardyce replied when asked if he still wanted to be at Everton next season. "There's tough times and there are times when you have to draw in, close the doors and stay focus on what you're trying to achieve.
"I think it's very disappointing for everybody, myself included, that we've slipped to where we have when we put ourselves in such a fantastic position in the early stages of me walking through the door.
"I've always said that I came out of retirement because there was a long-term plan at Everton, a long term aspect of going forward that I was excited about being a part of.
"Rather than it being short term, I want it to be a long-term appointment.
"I'm having talks with [Farhad Moshiri] but those talks are confidential, of course. We're in a difficult period at the moment but we've got to start on Saturday.
"It's my responsibility to get the team to play to a level that we know they can play and it's the players' responsibility to play their best and I think when they play their best we can give anybody a game."
The manager was asked about his relationship with the fans in the wake of audible chants of criticism aimed his way from the travelling fans at Burnley last Saturday and boos at the final whistle as he and his team left the field at Turf Moor.
Allardyce didn't directly address the disgruntlement at his own performance but he did try to reset his comments from last Friday's press conference where he tried to compare the expectation levels at Goodison with those of two of his previous clubs, Newcastle and West Ham.
"Everybody's passionate, everybody has ambition and when they don't see the players playing to the level that they expect, they show their disapproval and rightly so.
"Every club's fans have a lot of passion and like I said at the time, the history of Everton is far greater than Newcastle and West Ham but every fan has great demands and when there are big crowds the demand is bigger.
"That's what it's all about and for me, Everton is completely different from Newcastle or West Ham but it was just a comparison. It wasn't anything other than that.
"The ambition at Everton is different to the ambition at Newcastle or West Ham but if you don't play as well as they expect you to, they show their disapproval. That's what you have to deal with as a manager on the basis that you have to turn things around and get everybody behind you."
---
---