Sigurdsson to see specialist over knee concerns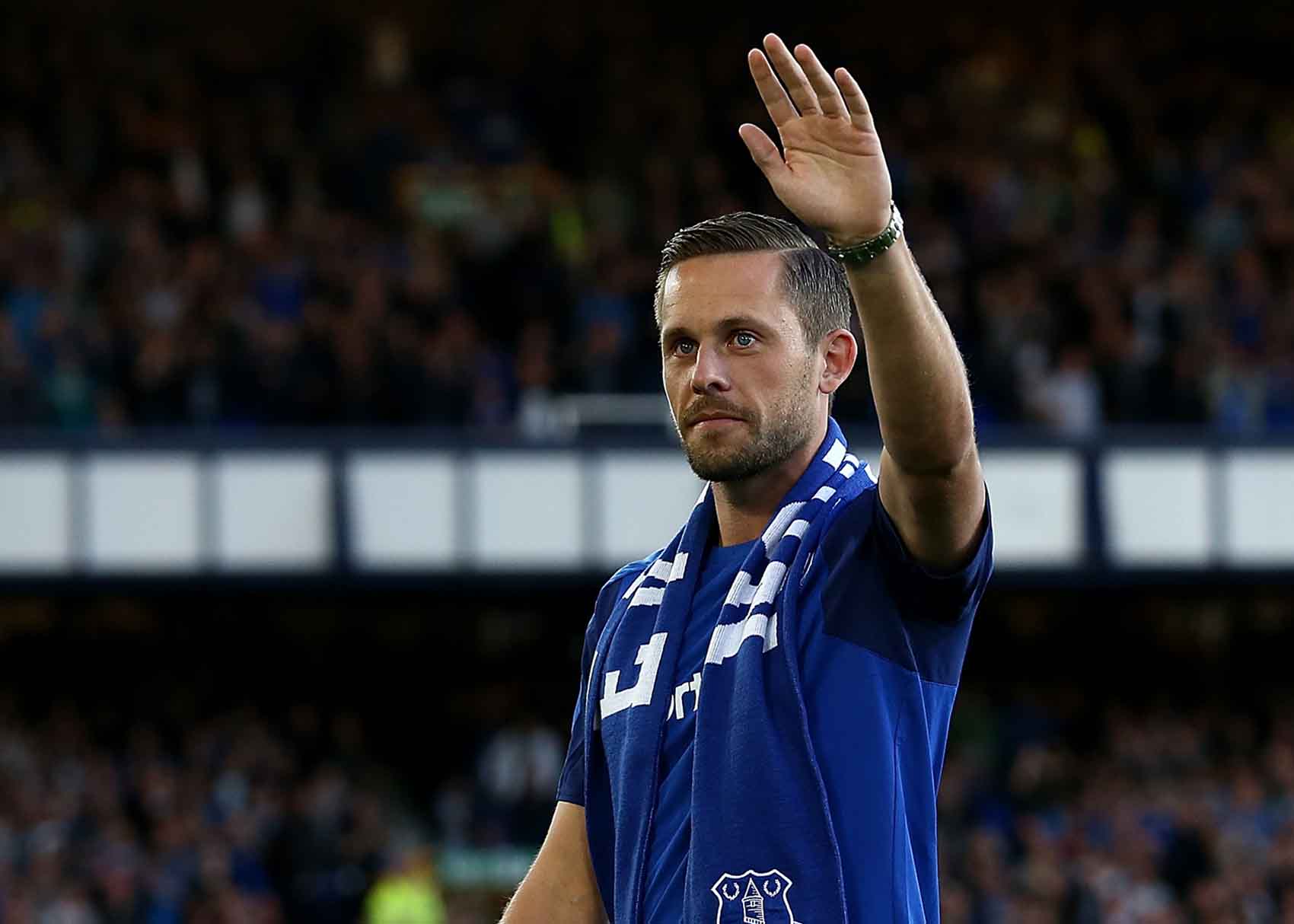 Sigurdsson played on despite pulling up when feeling something in his knee
Gylfi Sigurdsson is to undergo further tests on his right knee amid fears he sustained serious damage to it in Saturday's victory over Brighton.
A statement from Everton earlier today cautioned that the Icelandic international "could be sidelined for several weeks but it will only be after consulting with the specialist that a definitive timeframe will be known."
Sigurdsson hobbled out of the action against the Seagulls and received treatment for a time in the first half before resuming play and ultimately finishing the match.
He underwent preliminary scans after the game, however, and will need additional examination by a knee specialist before a full diagnosis can be made but there are concerns that Sigurdsson has injured either the joint or surrounding ligaments putting his participation in this summer's World Cup is under threat.
Sigurdsson's brother, Olafur Mar, spoke to Icelandic media and said the joint of the right knee is damaged.
---
Reader Comments (75)
Note: the following content is not moderated or vetted by the site owners at the time of submission. Comments are the responsibility of the poster. Disclaimer
Ray Roche
1
Posted 12/03/2018 at 10:49:42
Also here:
https://www.101greatgoals.com/top-stories/everton-iceland-gylfi-sigurdsson-world-cup/
Danny O'Neill
2
Posted 12/03/2018 at 11:03:08
Sigurdsson ligaments done?
Brent Stephens
3
Posted 12/03/2018 at 11:25:59
Ray, it's surprising that he played 90 minutes if the injury is so serious.
Rob Halligan
4
Posted 12/03/2018 at 11:39:37
Saturday may have been the last time we see Rooney and Sigurdsson in the same starting line up this season, as there are reports Sigurdsson is out for the season with torn knee ligaments. There is a danger he could also miss the World Cup.
Chris Gould
5
Posted 12/03/2018 at 11:52:05
These reports on Sigurdsson are repeating an Icelandic tweet. But the original tweet doesn't know the extent of the damage to the knee and has no idea if a ligament has been torn or not.
I would imagine he is having scans today and nobody will know the extent of the injury until a full medical assessment has been completed. It could be a strained ligament and 2-4 weeks out as opposed to a season ending injury.
Here's hoping.

Stephen Davies
6
Posted 12/03/2018 at 12:07:50
Rumours from Iceland Gylfi possibly out long term.
May miss the World Cup.
Ray Roche
7
Posted 12/03/2018 at 12:08:54
True Brent, but I thought he damaged his knee quite late in the game? He looked to be finding a bit of form as well. Shame if he is injured quite badly.
Michael Lynch
8
Posted 12/03/2018 at 12:17:19
OS report on Siggurdsson:
"Gylfi Sigurdsson will see a specialist this evening to determine a timeframe for recovery from the knee injury he sustained in Saturday's Premier League win over Brighton at Goodison.
It is anticipated that the 28-year-old Icelandic international could be sidelined for several weeks but it will only be after consulting with the specialist that a definitive timeframe will be known."

Ernie Baywood
9
Posted 12/03/2018 at 12:17:31
Well Everton have said they are anticpating it is just "several weeks" but that he'll see a specialist to get a definitive timeframe.
Ray, he pulled up pretty early on after a simple pass. Looked like one of those innocuous injuries that must be serious. I thought it very unusual he then played on and assumed that he must have just felt something and assured himself it was nothing.
That looks a bit silly now, if it was the same injury and he played on for that long.
Ray Roche
10
Posted 12/03/2018 at 12:19:53
Thanks Ernie, for some reason I thought it was late in the game.
Jon Withey
11
Posted 12/03/2018 at 13:05:27
Argh, not Gylfi. He did pull up though early on, didn't he?
Kevin Molloy
12
Posted 12/03/2018 at 13:26:28
Unfortunate for Siggy but an opertunity for Klassen to show us if he can make it with a run in the first team. I for one hope he does.
Steavey Buckley
13
Posted 12/03/2018 at 13:42:06
I thought Walcott was the one who was really injured last Saturday. What's the news about him?
Ajay Gopal
14
Posted 12/03/2018 at 13:54:20
The curse continues, can't wait to put this nightmare season behind us.
Ray Roche
15
Posted 12/03/2018 at 13:56:16
Steavey, it said on the radio when I was driving home on Saturday that it was cramp. I've heard nothing since .
Terry Underwood
16
Posted 12/03/2018 at 14:19:35
Bit of a bummer if he is out for a long time, just when he is settling in.
Sam Hoare
17
Posted 12/03/2018 at 14:19:53
Thats a shame. He was just starting to really settle in his position.
On a separate note I hear that Besic has been stellar at Middlesborough. I wonder why he was not give more of a chance here given how poor our midfield has been and that he has the pace we have badly lacked in the middle. perhaps he will come back and be the athletic box to box midfielder that we have needed and still need.
Gavin Johnson
18
Posted 12/03/2018 at 14:34:43
Good job Klaassen didn't go in the last window. A couple of weeks ago there looked no way back. Now he has an opportunity to show what he can do. As one Jimmy Greaves used to say, "It's a funny old game"
Mike Gaynes
19
Posted 12/03/2018 at 14:44:49
If you think we're worried, try being an Iceland fan. Fotbalti, the Icelandic football website, reports the entire nation holding its breath. Gylfi is a god there and if he's out of the World Cup it's considered a national catastrophe.
Sam #17, I'd say 56 appearances was "more of a chance" than Besic deserved, given that only once in all that time (the City game) did he appear to be anything we needed, least of all a box-to-box midfielder. He's found his level at Boro. Good for him and them. Let's get 12 million from them and complete the transfer.
Derek Knox
20
Posted 12/03/2018 at 15:55:52
A bit of a blow just when he was starting to gel in his role, while we are all gutted, this is what having a squad is all about, you can't just rely on one or two players; we have experienced that all too recently in many positions.
Like many have mentioned, maybe this the ' last chance saloon ' for Klaassen, I hope he proves to be an able replacement, for however Siggy is out for.
Dermot Byrne
21
Posted 12/03/2018 at 15:58:30
Woe is us!
Sam Hoare
22
Posted 12/03/2018 at 16:15:02
Mike @19 and who in that time has appeared to be what we needed?!
Also, Besic hasn't had 56 appearances for us he has had 45 and close to half of those have been from the bench, possibly for a few minutes.
Plus he's been played in many different positions.
I wonder how many times he's been started in his chosen position for more than 3 games in a row? Once? Never!?
Obviously he has not set the world alight when he has played but it speaks volumes to me of the current Everton philosophy that the senior experienced pros with Premier League experience get in over the untested ones every time, no matter how badly they are playing.
You rather condescendingly say that he has found his level but I'd suggest a pacy midfielder who's been the standout player for the promotion chasing, in-form team in the Championship is very much someone who might be worth a look, given how poor our central midfield has been this season.
Jason Broome
23
Posted 12/03/2018 at 16:15:30
Not bothered. Simply hasn't been the player I thought he'd be when we paid £45 Million. Klaassen, Rooney and Walcott can play the number 10 role.
He'll be fit for next season and ready to show everyone why we paid such a large sum.
David Barks
24
Posted 12/03/2018 at 16:17:43
This doesn't hurt for us, we aren't playing for anything. I'd be really sad for him if he misses out on the World Cup though. That would be a real shame for him and his country. Hopefully just a 6-8 week layoff. Best of luck to him.
Scott Hall
25
Posted 12/03/2018 at 16:22:43
Bolasie, Funes Mori, Coleman, and now Sigurdsson. Not to mention James McCarthy.
Definitely cursed.
John M Boon
26
Posted 12/03/2018 at 16:41:00
Whether Sigurdsson has or has not played well for us is not really a factor. He may have a serious injury and as such we can only wish him the best of luck and a speedy recovery.
He may not have reached his full potential for us, but the fact that we have concerns about who will replace him indicates that he is a very valuable asset to Everton. We are likely to miss him far more than many supporters might think.
John Davies
27
Posted 12/03/2018 at 16:45:35
Bad news for the lad but maybe it gives others an opportunity to show what they can do. We've nothing to play for so I hope he recovers in time to go to the world cup with Iceland and comes back to us next season fully fit and raring to go. Good luck to him.
Lennart Hylen
28
Posted 12/03/2018 at 16:45:59
#23 So speaks a person with no empathy. :(
Roger Helm
29
Posted 12/03/2018 at 16:53:05
Lennart, it sometimes is hard to feel much empathy with millionaire footballers, especially when they don't seem too bothered themselves about playing.
Perhaps Gylffie's misfortune is Davy Klassen's opportunity as now we have no chance either of winning anything or being relegated, he may be given a run in the ten position.
Eddie Dunn
30
Posted 12/03/2018 at 16:54:12
I hope it is just strained ligaments and not torn, but it will take a few weeks even if it's not too bad. At least we have some cover in his position.
Tony Everan
32
Posted 12/03/2018 at 17:00:18
I hope he doesn't,or Iceland don't, rush him back. If it's bad he will need the summer to make sure it is 100%.
Don't want him aggravating it by playing the World Cup and missing next season for us.
Terry Farrell
33
Posted 12/03/2018 at 17:41:31
I think Siggy has been playing well working hard and is a touch of class. No doubt he will miss the derby and he is one of our few match winners
Liam Reilly
34
Posted 12/03/2018 at 17:47:19
I doubt he could've played on with torn ligaments, so it's more likely a strain that will keep him out for a few weeks.
It beggars belief that he played on. Maybe (going against the grain here) but maybe this millionaire does care about the club and it's supporters.
Come back soon lad I think we'll see the best of him after a solid preseason (hopefully under a new Manager,).
Tony Everan
35
Posted 12/03/2018 at 17:47:57
Jamie Carragher, when Arsenal got beat earlier in the season, said something along the lines of:
"I wouldn't want any of them players marrying my daughter."
The man has got such high standards.
Phil (Kelsall) Roberts
36
Posted 12/03/2018 at 18:02:56
Besic stats for those who are interested.
Started 23 games and came on as a sub in 13.
Spent 1958 minutes on the pitch.
Last appearance, half time sub at Chelsea last August. One before that was a start at home to Bournemouth at the end of April 2016 and subbed at half-time.
17 of his 23 starts were in a 5, and 8 and 4 game run.
So I think he has, after 4 years at the club shown what he can do, or more precisely what he can't do. And that is be a Premier League player.
Adam Forshaw Mk II?
Colin Glassar
37
Posted 12/03/2018 at 18:51:33
Can this horrible, crappy, nightmarish season just end?
Jason Broome
38
Posted 12/03/2018 at 18:52:39
Empathy???
If you are an 8-year-old Asian kid sewing footballs together with your hands and teeth, or a 7-year-old African girl walking 10 miles to get water each day... yeah I'm empathic.
If you are a multi-, multi-millionaire (who often times this season) half-heartedly played a game most of us would passionately be happy to do for free (with a massive grin on our faces)... then not so much.
Footballers get injured and he will recover. Get well soon, Siggi – in the meantime, I'm sorry that you can't drive one of your many 6-figured sum sports cars, have to earn your weekly six-figure sum in rehabilitation, have to stay at home watching Holly Willoughby in your multi-million-pound mansion and unlucky for sum have to be careful and alter your position when you are screwing your superfine, super-fit wife.
If you spend money on a plumber you expect the tap not to leak...
£45 Million and he can be replaced by several squad members. Just saying.
I do care that he is injured because I stopped being Genghis Khan in a former life; however, I save my empathy for those who really deserve it.
John Pierce
39
Posted 12/03/2018 at 18:58:18
Mike Gaynes, spot on re Besic, no debate, found his level and hope he does some damage in Champo, he deserves to be heathly and do well.
This injury represents a massive chance for Davvy Klaassen, the odd man out in a plethora of number 10's.
If, and I say if Allardyce has any nouse, he'll keep the same shape and play Klasssen where Sigurdsson was. Don't move Rooney, just keep the shape which suits us best.
By keeping the shape and 'playing him in' is truly a god send for Klaassen, play him regardless for the last 8 games and that would be the best way for all to see if he has got what it takes?

John Davies
40
Posted 12/03/2018 at 18:59:28
Jason Broome (#38). I can see where you're coming from on most of what you say. But to lower your "holier than thou" standards by referencing "screwing his wife"?
You have no class mate. None at all.
Paul Welsby
41
Posted 12/03/2018 at 19:09:22
I hope it's not a long term injury because he seemed to be gaining some form after each game. So best wishes Siggy! Come back stronger and better.
On the other hand Sam has a ready made excuse if he fucks it up against Stoke! I can just hear him now: "We missed Sigurdsson this week – it's a massive blow."
Mike Gaynes
42
Posted 12/03/2018 at 19:20:36
Sam #22, according to the club website, Transfermarkt and his Wikipedia bio, Besic has appeared for us 56 times. (Phil #36, those stats you listed are for league games only -- he also had five Cup matches and five Euro appearances.)
During that time Besic has had zero goals. Zero assists. Five shots on target. Five. For a so-called midfielder. He has more yellow cards than shots on goal. And he gave us one really good game. Just one.
Whatever the question, Besic isn't the answer. Phil's comparison to Forshaw is apt. Great lad, wish him all the success and adulation that Forshaw has enjoyed in the Championship. But it won't happen at Goodison.
Mike Gaynes
43
Posted 12/03/2018 at 19:23:56
John #39, agree wholeheartedly and hope you're right... but fear otherwise.
I think we're much more likely to see Rooney moved up to #10 again and you-know-who brought back in for the deep-lying midfielder position.
John Pickles
44
Posted 12/03/2018 at 19:32:10
WW2 German U-boat crews didn't have the casualty rate we have at Everton.
Mike Berry
45
Posted 12/03/2018 at 19:34:59
Just when he was coming good, playing where he should – not wide on the left.
Bill Gienapp
46
Posted 12/03/2018 at 20:07:47
Klaassen getting a run of games would be far too logical. As Mike (43) said, you can all but take Rooney shifting back up to the 10 and Schneiderlin making his not-so-triumphant return to the starting XI to the bank.
As for Siggy, I'll feel gutted for him (and Iceland) if he has to miss the World Cup.
Kim Vivian
47
Posted 12/03/2018 at 20:19:34
Jason. I empathise. But do you mean sympathy?
Bobby Thomas
48
Posted 12/03/2018 at 20:26:05
Astounded by the notion Besic may have pace.
Kim Vivian
49
Posted 12/03/2018 at 20:29:00
Bobby
https://www.youtube.com/watch?v=9usQFDzhRv0
Christy Ring
50
Posted 12/03/2018 at 20:58:27
Disappointed for Sigurdsson; he was playing well, hope it's only short term. If he injured his knee early in the game, and after treatment, lasted the 90 mins, it can't be that serious?
Besic is playing well for a Championship club, he had ample chances for us, and apart from the one game against Man City, he's not premiership standard. I wish him all the best, always liked him, and hope he signs for Pulis.
Bobby Mallon
51
Posted 12/03/2018 at 21:09:43
Well said, Kim. Check out that whole game. Mo had him in his pocket.
Jack Convery
52
Posted 12/03/2018 at 21:32:51
Allardyce to Southampton – Please god please.
Sigurdsson – I hope its not too serious. Looking forward more to seeing Iceland playing than England. At least the Icelanders play for their country with pride. Unlike our over-paid over-hyped never-wases.
Kristian Boyce
53
Posted 12/03/2018 at 21:59:30
It will be interesting to keep an eye on who gets the Saints job. You would think Marco Silva would be a shoo-in for it and I would imagine him being one of the favourites.
If he doesn't get a mention, it might mean he has something else lined up for this summer when hopefully Hippo Head goes.
Filipe Torres
54
Posted 12/03/2018 at 22:59:08
i have to be honest... hope he doesn´t set foot on the pitch in the near future, and gets fit in the transfer window, to be shiped out.
he should never be at Everton in the first place.
40 M is way too much for him, and are clearly better footballers than him for at a lower price tag.

David Barks
56
Posted 12/03/2018 at 23:08:35
What a funny post from Filipe. I love it when a person who never posts on here comes out of the blue with a post like that.
Michael Lynch
57
Posted 12/03/2018 at 23:14:21
Can't see Silva taking the Southampton job – wouldn't look too good on his CV to relegate two teams in back-to-back seasons, with a sacking in between. It's made to measure for Sam though. We should ask for £6m compensation.
Andy Williams
58
Posted 12/03/2018 at 23:18:43
Filipe (#54). I have to disagree, I think he is a class player who struggled to get going whilst playing out of position in a very dysfunctional team.
And Mike (#42), Besic has only started about 12 games since he was 22 (mainly due to injuries). He was bought as a prospect and been judged as a fully rounded player – sounds familiar that. He has never really had a run but maintained a pass rate of nearly 90% and had a tackle rate the same as Jimmy Mac's.
He only had one season – when he was 22 – when he was on the pitch for about 15 games worth of minutes. It would not surprise me if he has matured into the player that many of us could see glimpses of.
David Hallwood
59
Posted 13/03/2018 at 00:31:29
If it wasn't for bad luck... have we pissed off a druid or something? Just when you thought the season couldn't get any worse.
Laurie Hartley
60
Posted 13/03/2018 at 00:55:41
We will miss Sigurdsson for sure. I hope it is only short term.
As for Besic, I ask myself who would I rather have as a left sided defensive midfielder for the derby game. I would take a fit Besic over Schneiderlin every time. As Pulis has recognised, he has the right attitude.
Lee Brownlie
61
Posted 13/03/2018 at 01:11:23
Too many snide comments on here! They get paid what they all get paid, doesn't mean they all don't give a fuck or that we shouldn't if they get injured...
To snidely compare them to skint kids in Asia or Africa is an old one to use.. we could even do that about our own standard of living as far as those kids are concerned if you were really so concerned. Hey lads, you re not... BS!!!
Kevin Dyer
62
Posted 13/03/2018 at 02:05:48
Lee (#61) bang on. Mean-spirited. The "multi-millionaire" spiel is outdated: All of our squad would classify, except those youngsters on initial contracts. It's often used to slate our players, parodixically by contrast to our opposition (also multi-millionaires) and is a nonsense. Coleman is a rich man, we should feel bad for him but not for Sigurdsson?
Also, in this shambolic, stop-start season he's never shown any quit, even when out of position or having a poor game or when the team has stunk his head has never dropped. The idea that we have players who'll seamlessly slot in is without weight.
Mike Gaynes
63
Posted 13/03/2018 at 02:54:52
Jack #52, at least your country is playing this summer. My red-white-and-blues will be on the fucking golf course trying to figure out how they choked away their trip.
Laurie #60, can't argue with that. If there's one thing Besic does have, it's heart. Would take him in a minute over #2, who has lost his.
Andy #58, maybe so. I never saw that glimpse, but he has the terrier ferocity to turn into a pretty decent CB someday, especially if paired with a taller partner (like Mascherano with Pique at Barca), where his lack of attacking talent won't be a handicap. I do wish him the best.
Felipe #54, always lovely to have a visitor from another planet drop in.
Brent Stephens
64
Posted 13/03/2018 at 04:16:18
Lee #61 and Kevin #62 (and others) - well said.
"They get paid what they all get paid, doesn't mean they all don't give a fuck or that we shouldn't if they get injured..."
"It's often used to slate our players, parodixically by contrast to our opposition (also multi-millionaires)". Great point.
Jason Broome
65
Posted 13/03/2018 at 04:35:18
Wow, drop a post and people get MAD.
Do I sympathize with his Injury... yes. Do I empathize... Hell No.
I'm no tin man in need of a wizard. Regardless of wages I would gladly walk the length of a yellow brick road to shake the hand of anyone who wears the shirt with the same passion and pride that I share with yourselves.
So whilst we quibble over definitions Siggi is probably planning a holiday on board his multi million pound, 3 storey yacht after he and his superbly designed, munch of a wife have worked out a suitable position around that dodgy knee.
As for the Asian and African kids... I have been to these countries and donated a lot of money. Poverty in those countries is as real today as it was many years ago. Dismissing it as an age old thing whilst mourning the temporary loss of a millionaire footballer (who doesn't know you exist) tells me a lot about the writers.
Our season is over. His season may also be over. Let's hope he gets fit and produces for next season.

Gareth Clark
66
Posted 13/03/2018 at 06:16:37
Really going to miss him, he brings energy to the team & has a great attitude and work rate.
Especially sad as he was finally being played through the middle.
My team for Stoke:
Pickford
Coleman Jagielka Keane Baines
Idrissa Davies
Walcott Rooney Bolasie
Tosun
Subs: Robles, Holgate, Funes Mori, Baningime, Klaassen, Calvert-Lewin, Niasse
Holgate & Funes Mori on the bench give us great versatility – as they can play centre-back and right-back or left-back respectively. Plus they have the pace to slot into a back 3.
Vlasic is unlucky to miss out.
If Idrissa is back to full health, he'll slot back in. If not, Klaassen to play in Siggy's position, and Rooney to continue at central defensive midfielder.
Kenny Smith
67
Posted 13/03/2018 at 06:22:13
Bad news this but opportunity knocks for Davy Klaassen. I'd rather see an off-the-pace Klaassen than a 'can't be arsed' Schneiderlin any day. Davy's got loads to offer and I hope he stays and is given a proper run.
Jerome Shields
68
Posted 13/03/2018 at 07:17:28
I hope the injury isn't too bad. Good Luck to Sigs regarding his recovery.
Laurie Hartley
69
Posted 13/03/2018 at 10:01:58
Gareth (#66) – I like the look of that team. I think that is the team he will send out at Stoke if available.
Kenny (#67) – I can't see Klaassen starting unless Idrissa and Schneiderlin are both unavailable... but Davy might get put on later in the game.
It would have been interesting to see if Idrissa (or Schneiderlin) would have got back in if it hadn't been for this injury to Sigurdsson. Unfortunately, we will never know.
I suppose the other big questions are: Will he replace Davies with Schneiderlin or play Schneiderlin and Davies and leave Idrissa out?
One thing is for sure: he will start with the same back 4 and Rooney, and probably the front 3 of Walcott, Tosun, and Bolasie.
Two wingers and a an old-fashioned centre-forward away at Stoke? I hope so.
Tony Everan
70
Posted 13/03/2018 at 11:16:34
Time to give Davy Klaassen some responsibility. Give him a run of starts in these last eight games. He has got the ability, just needs the confidence.
Put him at the heart of the midfield and see if he can produce. If he can help manufacture a win at Stoke it would be fantastic.
I think there is a lot of goodwill towards Klaassen from a lot of fans. He seems to have stuck at it a bit like Niasse.
If he is working well in training and looks sharp and committed, start him instead of turning to Morgan Schneiderlin.
Sam Hoare
71
Posted 13/03/2018 at 13:04:55
Mike @42, I got my stats from whoscored.com, who I previously thought were quite reliable. I'd like to think the OS would get it right though you never know...
I still think as others have said that its hard, for a foreign player especially, to show what he is made of when not given a proper run. Which Besic has seldom had.
I'm not saying he will make it at the highest level but I would not be surprised if he outstrips Forshaw, who to be fair has done fairly well in the game and held his own at times in the Premier League.
Either way, I'm not convinced that Besic (or Forshaw for that matter) would be a less useful option than the likes of #2, Klaassen or the sadly mostly injured McCarthy.

Bobby Thomas
72
Posted 13/03/2018 at 14:08:59
Kim (#49),
In that 4 year old pre-injury clip, Besic was 22 years of age. He had at least a yard on Bale when they enter the picture after 1 second.
After that, Bale is running with the ball. Besic isn't.
Bale still smoked him over 40 yards and is a yard ahead of Besic when he executes what is a very, very good last ditch slide tackle.
He hasn't got pace. Mobility may have been a more appropriate word. However he is now 26/27 and coming off a load of injuries.
Let's put it this way. I've seen him attempt to play right back, and he certainly wasn't, or isn't, mobile enough to play there.
Sam Hoare
73
Posted 13/03/2018 at 16:33:14
Bobby, anyone who can keep up with Bale with or without the ball has got some pace in my book. He might not be rapid but i'm pretty sure he's the fastest of our central midfielders.
He's 25.
I don't think he's a world beater by any stretch but has been playing very well on loan and I reckon he may be as good as anyone else we have in the same position.
Bill Gienapp
74
Posted 13/03/2018 at 17:30:21
Man, Filipe (54) - that is some impressively grade-A nonsense you posted.
1.) Sigurdsson getting "shipped out" isn't even in the realm of possibility.
2.) Whether we overpaid for him, or could have gotten better value for our money, is immaterial. The deal's done, he's here now. You don't get to send players back to the toy store for a full refund.
3.) "He should never be at Everton in the first place." Oh yeah? He doesn't fit in with all our world-class talents, like Schneiderlin and Williams? Give me a break.
It simply amazes me, given the club's litany of issues, that anyone would waste their breath dumping on Siggy, who's one of the few players on the squad you'd definitively keep, and build around. It's like these people who are suddenly calling for Robles to get a run of games - Pickford may not be perfect, but we have enough problems without trying to suddenly make an issue out of the keeper position.
Kim Vivian
75
Posted 13/03/2018 at 19:52:32
San H -. Thanks mate, said it for me.
Kase Chow
76
Posted 14/03/2018 at 00:48:25
Eddie Dunn
77
Posted 14/03/2018 at 13:37:38
OS now saying Sigurdsson out for 6-8 weeks.
Add Your Comments
In order to post a comment, you need to be logged in as a registered user of the site.
Or Sign up as a ToffeeWeb Member — it's free, takes just a few minutes and will allow you to post your comments on articles and Talking Points submissions across the site.