Funes Mori wanted to return to River Plate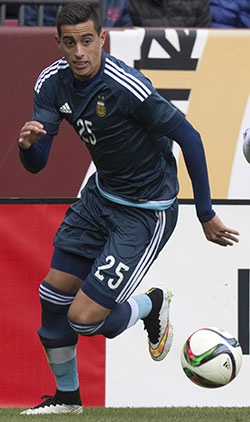 Ramiro Funes Mori admits that he tasked his agent with engineering a move back to his homeland to better prepare for the World Cup.
The Argentine defender was nearing the end of a long recovery from a serious knee injury during the last transfer window and he felt his chances of making his country's squad for this summer's tournament in Russia would be best served if he could return to River Plate.
Funes Mori says that there are no problems between him and Everton, although his comments do betray a little frustration with manager Sam Allardyce in that he insists he is fully fit to play but hasn't been selected.
"I wanted to go back to River to get up to pace and get to the World Cup well," the 27-year-old told TyC Sports in Argentina, "so I told my agent. But it was difficult, so it's over and everything is fine.
"I've already demonstrated what I can do with the national team," he said in a separate interview with Ole. "I'm fit to play. If I haven't had so many minutes after the injury it's because of the decisions of the coach."
Everton signed the 27-year-old from River Plate three seasons ago in a £9.5m deal and this is not the first time he has indicated a desire to return home.
He admitted to a bout of serious homesickness during his first season at Goodison Park but he will reach his three-year anniversary with the club this year if he is still with the Blues come September.
---
---