Opinion
Let's Make Everton Great Again
A chat with Elizabeth France, wife of the good Dr Everton, on renewed hope for the stop-start Farhad Moshiri era, reminiscences of the great Ray Wilson, and what may lie ahead under Marcel Brands and Marco Silva
Lyndon Lloyd chats with Elizabeth France
I've said this before; Everton Football Club is supported by some of the finest people on earth. My conviction grows stronger with each interaction with Elizabeth France. Much has happened since her last contribution in March 2017 — remember 'We'll Play with the Smell in the Second Half!'? Having discovered that her husband was unwell, I took the opportunity to talk at length with the Toffee Lady.
---
LL: How's the patient? Is the good Dr Everton still under the weather in sunny Sedona?
EF: If it's not one thing, it's another. As you know, David survived a heart attack last year only to endure a stroke in March. While he had angioplasty to tackle the former, recovery from the stroke — during which he lost his vision for a short time — has been more frustrating. Thankfully, he's in good spirits which is something given our embarrassing season, but I must confess to weeping after discovering that his MRI results show some irreversible damage to brain tissue.
Last month the neurologist reviewed them with me. Yes, I've seen what goes on inside an Evertonian's head — and believe you me it's not a pretty sight! After bragging that his brand spanking new MRI equipment had cost an arm and a leg, the consultant explored the cross-sections of the brain until he reached the two areas of concern. I'm sorry but I couldn't resist and had to ask: 'Can this state-of-the-art machine differentiate between the damage allegedly caused by Koeman from that allegedly caused by Allardyce?'
Somehow my attempt at dark humour turned into a discussion about the impact of an under-performing sports team on the mental health of its supporters. After I had outlined Everton's decline from pre-season optimism to a bitter gloat-fest at our neighbours' expense, he proposed that we should ditch our existing shirt sponsor and contract with Xanax — an attractive palindrome.
As for the patient, he is hooked on Sudoku to keep his brain active and has embraced the world of Tai Chi to reduce the stress associated with supporting modern-day Everton.
LL: Any thoughts on the 2018 World Cup and the summer of football?
EF: Isn't it relaxing to watch matches — even at an unholy hour in Sedona — and not fret about their outcomes? I thought Jordan Pickford did his club and country proud as did John Stones, but I wasn't overly impressed by the England side. In my eyes, Gareth Southgate appears to have embraced his predecessor's love of pedestrian build-up play and dependence on set-pieces.
Despite the euphoria of winning a penalty-shoot out against a bunch of Hispanic thugs, we've turned a blind eye to the inconvenient truth that we were gifted the easiest route to the final only to lose 3 of our 6 games.
The harsh reality is that we boast no world class players. Whereas back in 1966, there was Ray Wilson and four others (Banks, Moore, Charlton and Greaves) in the World Cup winning squad. I believe strongly that the only Englishman to capture the World Cup while on the books of our beloved club never received the recognition he deserved nationally or locally. Ray enjoyed interacting with football fans of all persuasions — especially Evertonians — and I had the good fortune to meet this unpretentious, dignified and witty Yorkshireman on several occasions.
The first time was at a Hall of Fame bash where, because Ray had arrived very early, my other half asked me to chat with him until his team-mates showed up. Almost casually, David mentioned that he was the finest defender in the club's history — although TG may disagree. Ray greeted me with a big smile: 'Don't call me Ramon and don't ask me about my bloody mistake in the World Cup final.' Instead, we spent a good hour talking about the rugged beauty of English countryside and the challenges of hiking the Pennine Way, which we both had conquered.
I looked forward to meeting him at the annual Adelphi dinners and enjoyed hearing his vivid recollections of playing for Everton on Saturdays and training as an undertaker under the guidance of his father-in-law on Sundays. As for the 1966 World Cup, eventually he described chairing Captain Bobby (Moore) on his shoulder at Wembley and sharing a hotel room with T'Other Bobby (Charlton) at Hendon Hall.
I'll never forget how his team-mates treated him with great reverence, almost awe. For example, Alex Young asserted something like: 'Nimble and skillful with expert spatial awareness that allowed him to stay on his feet — unlike Alex (Parker) who converted sliding on his bum into an art form.' Brian Labone added: 'Whenever I was in a pickle — which was more often than I like to admit — I would pass to Ray who had an instant command of the ball and would waltz his way out of trouble. As a left-back, he was up there alongside Santos and Facchetti.' But most of all, I remember the words of Alan Whittle: 'Ray was truly exceptional. He possessed immaculate football etiquette.'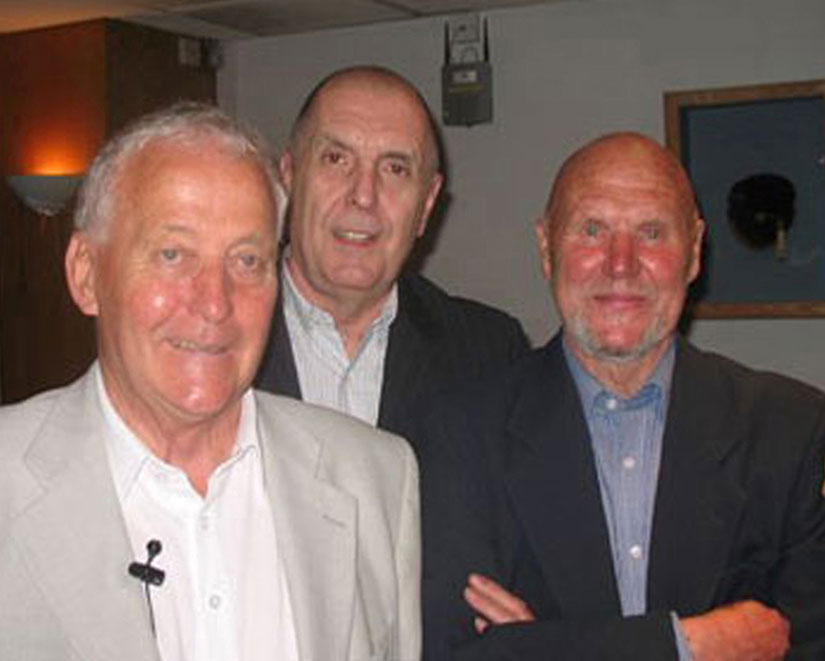 Our final meeting was in 2008. By then Ray was troubled by dementia but was ever so proud of the work of his Alzheimer's support group in Yorkshire and our Former-Players' Foundation. He was cheerful but clearly anxious about the impact of the disease on his family. At the launch of Alex's biography at Goodison, Ray asked me to arrange for him and his FA Cup-winning team-mate to walk around the pitch. As we savoured the silence of the empty stadium, he told us about a couple of fans who stood immediately behind the wall in the Paddock. Whenever the ball went out of play in their vicinity, Ray's efforts to pick it up in order to take a quick throw-in were hindered by these Evertonians proclaiming 'Ra-mon, Ra-mon, we love you Ra-mon'. Disturbingly, the well-wishers were deep-voiced dockers with wind-swept comb-overs. Ray confessed: 'Whereas Brian Harris would have provided a side-splitting counter, I simply turned scarlet with embarrassment.'
LL: Chaotic? Shambolic? Calamitous? Any thoughts on the past 12 months? Who was most to blame? Koeman and Walsh or Allardyce and Walsh?
EF: Much better-informed Evertonians have documented how a season so jam-packed with optimism ended in chaotic disorder, but let me offer my tuppence-worth. Of course, we endured our fair share of misfortune with injuries to Coleman, McCarthy, Barkley and Funes Mori and a schedule of daunting opening fixtures before we had time to integrate our new men, but fickle fingers of fate had little to do with our ill-advised signings. The club's exploits in the transfer market mirrored Viv Nicholson — the Yorkshire woman famous for telling the world that she would 'Spend, spend, spend!' after hitting Littlewoods' jackpot in the early Sixties. Unlike her, we made throwing money at mediocrity into a daily soap-opera. Even worse, the excessive transfer fees, inflated wages and pay-offs made us look both desperate and dumb.
Shambolic? Calamitous? No, it was much worse. The week-after-week menu of disjointed and toothless football bereft of entertainment was more than a comedy of errors — it was a bad joke with no punchline. I suppose it says something about the true quality of the Premier League that it includes a dozen teams worse than us. That's hard to believe.
It's difficult to defend Ronald Koeman or Steve Walsh. Allegedly — in the eyes of some insiders — Señor 'I won the European Cup for Barca' intentionally gave the impression that he was doing Project Everton a big favour. As for the ex-director of football, all recruiters make errors — even Catterick and Kendall — but never before has our club been lumbered with so many costly and high-maintenance flops.
Others have spent the summer castigating Schneiderlin, Williams, Bolasie, etc. (The list is endless.) Whereas my biggest disappointments had to do with Our Wayne and Our Ross. I'd expected so much more from the super-star who was engaged to raise our profile; I still remain shocked by the manner of the youngster's exit and suspect that we haven't heard the last of Barkley. Allegedly Walsh, in the eyes of the same insiders, was 'Old Mother Riley' whose efforts were so bad that Merseyside Police taped off his office and declared it a crime scene. To his credit, however, he did secure a crop of promising youngsters, namely Bowler, Calvert-Lewin, Gibson, Onyekuru and Lookman, for about £20 million. Fear not, I've not forgotten Vlasic or Ramirez.
Then there was our awkward marriage of convenience with Sam Allardyce who I remember fondly as a bit of a bruiser with my home-town club in the Second Division. My grandmother and other Bolton fans called him 'Super Sam - Bionic Man'. Complimented by a polished defender named Paul Jones, they held their own against Big Bob and Little Dunc in the League Cup semis. While he should never have been considered for the Goodison job, he did succeed in dispelling the relegation fears as he was paid — rather handsomely — to do. Personally, I don't blame Allardyce. Our hierarchy knew what we were getting when they hit the panic button. But tell me, was relegation such a threat as to justify lowering our standards to adopt his toxic brand of football?
Last season we wasted a great opportunity to hob-nob with the Top Six. In retrospect, I fear we've slipped backwards since the arrival of Mr Moshiri. Hopefully it's temporary and we'll make a swift recovery because there is much work to be done and so little time for us to spark our beloved club back to life. Rightly or wrongly, I use our neighbours as my yard-stick. It's 20 years since Gareth Farrelly saved our bacon and I had expected us to have closed the gap on them — if not catch them — by now. During that period, however, they've been out of sorts yet still picked up five domestic cups and two European trophies and expanded their stadium to 54,000 seats. What have we accomplished? Zero, Zilch. Zippo. Last season, while we were impersonating Mrs Nicholson, they were appearing in their twelfth European final and finishing 25 points ahead of us.
Did you notice that our goal difference was minus 14 — our worst for a dozen seasons and certainly nothing to celebrate at the Philharmonic Hall? To avoid future embarrassments, the club needs to establish rigid criteria for holding 'The Dixies'. Last year, ToffeeWeb should have organized 'The Booby Awards', with an online ballot and an alternative ceremony at the Winslow. Mirroring the Razzies (the Golden Raspberry Awards held before the Oscars), the event would've recognized failure in royal blue. I'll leave it to you and your readers to come up with a list of candidates — short or otherwise — for 'Big Booby 2017/18' and 'New Booby 2017/18'. Go on, I dare you!
Joking aside, we need to pick up the pieces of last season and work together in making Everton great again — whatever that may be — especially in the eyes of others. As you know, the window of opportunity continues to close on us rejoining the Top Six and the European elite. While waiting for David at Cottonwood Hospital, I received a reality check courtesy of a tourist whose buddy had fallen off an ATV in the local desert. During our chat about football, this Tottenham fan voiced: 'Everton is an embarrassment of a football club! A mid-table laughing stock spending £250 million on duds. They're a well-run registered charity with a football problem. Once an also-ran, always an also-ran!' Then he bragged that Spurs had Kane and Alli, Lewis and Levy, a state-of-the-art stadium, a future NFL franchise and guaranteed membership of the European elite.
This leads me to the long-term costs of our joke season. Brace yourself. The shake-up of club football orchestrated by the US billionaire (Stephen Ross) who created the International Champions Cup is well underway. Be it 6 or 8 years, the revolution is coming and will result in a league competition restricted to the Continent's 20 favoured clubs. Are we one of them? No, but the real question is: can we become one and continue to rake in the massive media revenues to support our new stadium and other ambitious plans?
Assuming it will include the top four clubs from Spain, Italy, Germany and England plus a couple from France, Portugal, and Holland, you can draw up a list using the Deloitte Money League, sophisticated UEFA coefficients or your own preferred criteria such as size of media market like the NFL and European pedigree. The likely candidates roll off the tongue … Barca, Real, Atletico, Sevilla or Valencia … AC Milan, Inter, Juve, Roma or Napoli … Bayern, Dortmund, Schalke, Leverkusen or Wolfsburg … PSG, Lyon, Marseille or Monaco … Benfica, Porto or Sporting … Ajax, PSV or Feyenoord … as well as City, United, Liverpool, Chelsea or Arsenal or Tottenham. I'm sure you and your friends have your own favourites as well as candidates from the smaller national leagues.
It's going to take 20/20 vision, mega investment — that is Make Everton Great Again investment, hard work, expert — or at least much better — judgement and aggressive marketing plus a few pieces of domestic silverware for us to knock on the doors of the selectors. Even if we navigate through the minefield of European politics, we'll be lucky to make the Continent's top 40 anytime soon. My main worry is that the departure of the elite clubs would leave the remaining Premier League clubs to struggle with severely diminished media revenues. History may show that missing out on the founding of the European League was the real price to pay for flirting with the likes of Messrs Walsh and Koeman.
LL: Back in February 2016, Farhad Moshiri's purchase of a near 50% stake brought a wave of optimism. What's your impression of the state of the club today?
EF: No doubt Mr Moshiri is shaking his head in disappointment. While we are blessed to have someone with such deep pockets at the helm, I suspect that more pressing business matters have prevented him from being fully engaged with Everton. Therefore, I suggest — respectfully — that it's time for him to either lead or appoint someone to lead from the front in order to deflect incoming flak about his stewardship. He isn't blameless but let's delay judging our golden goose until after he's completed his first 1,000 days.
You know it, I know it. We need leaders in the club's hierarchy to turn Mr. Moshiri's vision into reality. Worn down by years of disappointment, Evertonians like me cry out for people with ambition and ability. Regarding our new intake, I don't know much about Marcel Brands or his grasp of the Premier League but, in the short-term, trust that he'll be active in making space for quality signings. There are no quick fixes for a squad that's too big, too old at one end and too raw at the other. He needs to be ruthless yet patient; the trimming and rejuvenation pruning may take a couple of windows.
Brands, who was hailed for his alchemy in the Dutch Eredivisie, has been in office for four months and no doubt has pin-pointed who to keep, who to cull and who to sign. While most Everton fans crave a creative midfielder with the ability to unlock a defence with a delicate pass — when did we last have one of them? — as well as a proven goal-scorer, I believe that an equal priority should be attracting leaders on the pitch: men with charisma, heart and commitment. After watching the indifference on display last season, I'm sure I'm not alone in longing for a backbone composed of the likes of Southall, Ratcliffe, Watson, Reid, Gray, Cahill and even Pip Neville. I'll say it again — we need leaders.
Elsewhere on the pitch, the replacement of our creaking rearguard with an imperious one is another priority. Given our abysmal defending during pre-season, I think we need to invest in the best defence coach that money can buy — and not some pal of the manager — as much as a formidable centre-half and a fleet-footed left-back. Even though I might be guilty of teaching a grandmother to suck eggs, I'm confident that Brands will transform our squad. As for a prediction? Sooner rather than later, we'll acclaim him as one of our shrewdest-ever leaders worthy of a seat in the boardroom.
Moving on to Marco Silva, who confirms that clubs who have won nothing for decades are unlikely to attract the likes of Emery, Enrique, Simeone or Tuchel. Actually, I know little about him except that he's had six jobs in the last seven years, took Hull down and didn't do much better at Watford. I question whether this young manager would get an interview for the top job at Liverpool or Arsenal. Maybe it's his age but I've a nagging fear that he is a Meghan Markle of a football manager who will dump us as soon as a bigger gig comes calling. I wish Silva well and pray that he'll work miracles, especially since the Watford cloud still hangs over him. I had hoped that the obese fee for Richarlison masked the settlement of all liabilities associated with our alleged shenanigans as well as an agreement for them never again to play 'Z-Cars'.
Now tell me, why do clubs clear out most of their coaches after they terminate the manager? Don't they realize that such mass changes cause instability? I'm puzzled by our new posse. They appear a little wet behind the ears and possibly short of stature when it comes to motivating multi-millionaire stars to improve their percentage possession and passing accuracy. I wish them success. Don't worry; I've not forgotten the big man. I was never a huge fan of Duncan Ferguson after his return from Newcastle. I thought of him as an expensive substitute. Nowadays, I hail him as a much-needed talisman in a club dearth of modern-day heroes. I'm not sure of his coaching abilities, but value his unique talent in indoctrinating his charges in the pride of representing Everton Football Club. Without him, our senior coaching staff is blue-less.
Now to our most valuable playing asset … Jordan Pickford must have had five specialized coaches during the past 15 months. Surely to advance him from a very good keeper to a truly great one, he needs a personal coach — again, the best that money can buy. Like an elite tennis star, he'll benefit from someone he trusts giving him objective analysis and one-on-one mentoring. I really like 'Lofty' Pickford. He's an organizer and a natural leader.
Despite enduring one of our most dismal pre-seasons in memory, I'm upbeat and expect us to be battling the two North London clubs and maybe West Ham for 5th and 6th places by the time of Mr Moshiri's 1,000-day anniversary in mid-November. My crystal ball predicts that our results against tougher foes in December will be key to further progress. Years ago, Brian Labone outlined to me Harry Catterick's formula for a rewarding season: 'Win all your home games, draw all your away games.' Howard Kendall's strategy was slightly more complex: 'Not dropping points against the bottom 8 clubs, securing home wins and away draws at the 6 mid-table opponents and putting in decent home performances against the leading sides should realize, after a few hiccups, an average of two points per game — enough to bag a decent place in the table back in my day, but not nowadays.' Howard made it sound so easy that I asked him: 'Why didn't you do it more than three times? His response: 'More red wine, anyone!'
LL: For as long as I've known him Dr Everton has been beating the drum for an Everton Centre in the city-centre, therefore you must be delighted about the relocation of the club's staff to the Liver Building? Any suggestions for other improvements in the imminent future?
EF: How can we have chatted for so long without mentioning Bramley-Moore Dock, the heart of Mr Moshiri's plans? It's not gone unnoticed that clubs who make massive investments in stadiums, such as his first love, suffer on the pitch. Obviously, there's a limit to the money available via Mr. Moshiri and the price of our new home — which must provide seating and standing for 60,000 or why bother — will exceed that at Tottenham and most likely stifle our ability to compete in the transfer market and catch those North London clubs. Therefore, unless we lure another wealthy investor — are you listening in Uzbekistan — or negotiate some extremely creative financing, I expect project delays and having to settle for getting our money's worth from the lipstick applied to Queen Nefertari for a little longer than anticipated.
So how are we going to turn an also-ran into a contender? There are no short cuts. Let's start at the top. We want respected leaders throughout the club — owner, chairman, chief executive, director of football and team manager — with courage, zeal and an unwavering passion for all things Everton. We were fortunate to have unearthed an ambitious investor but, if he's not able to do so, someone must grab the reigns and drive our club forward. Ideally, we need a young David Dein to turn us into 'The Arsenal of the North'.
Is Keith Harris that man? I've had the pleasure of chatting with him — or rather listening to him — for a couple of hours over lunch. David's career brought me into contact with many leading US executives and like them Dr Harris comes across as a very smart cookie with 'snap'. He exhibits the characteristics of a progressive leader with rare football knowledge well equipped to develop us into a very profitable business. Although his CV and business contacts are mind-blowing, some Evertonians question if this lifelong United fan is blue enough to lead us? Personally, I don't think it matters. Rather I regret that we didn't conscript someone like him three decades ago. It's been alleged by those in the know that Dr Harris came on board to build a breath-taking stadium, push us into the European elite, and then package us for resale to another billionaire. If so, I wish him well.
Also I've rubbed shoulders with Sasha Ryazantsev. He's somewhat reserved for a diehard West Ham fan but an equally impressive addition to the board. His commercial nous will augment the strengths of our new Chief Executive. I sat behind him during the draw with Palace in late 2016 and noted his body language. With the exception of Bill Kenwright, I've never seen an Everton director as involved in the action. I was impressed but afterwards warned him that Everton will capture his heart and carelessly walk away with it.
Of course, I'm well aware that the business of football is changing and, in the not too distant, we may no longer have a blue zealot as chairman. I'm mindful of other people's opinions of his shortcomings but Bill will offer much-needed stability and cohesion during the regime change. In the immediate term, the new intake will benefit from his know-how and blueness. Without him, we would have more colours in the boardroom than in Joseph's amazing technicolor dreamcoat. Indeed, if rumours of his retirement are founded, I trust that all Evertonians will support his nomination for an EitC-influenced knighthood in the 2018 New Years' Honours List. It would be a unique retirement gift. Seriously, ToffeeWeb should set the ball rolling for Sir William.
In future, however, I suggest the adoption of strict term limits for directors to ensure business savvy and youthful gusto in the boardroom. At this instance in time, we need to add one or more directors with real stature within the game and meaningful clout. In addition, unless Mr Moshiri buys out all minor shareholders, they deserve an independent soul to represent their not-insignificant collective holdings. Given that most of the Everton hierarchy resides in London, the club should consider opening a plush office in the nation's capital to accommodate them as well as our financial, commercial and marketing leaders, promote our ambitions and drive the business forward. That's what a big club would do. Of course, there remains speculation about the attraction of another wealthy investor. After USM sponsored Finch Farm, I had hoped Alisher Usmanov was shadowing Mr Moshiri. And thanks to the behaviour of Stan Kroenke, perhaps he still is.
Now to the day-to-day grind… My Widnes-born husband enjoyed talking rugby league with Robert Elstone and loved to deride his support for our loveable red neighbours. Given his unnecessary clashes with the Shareholders' Association, Liverpool Echo, Mayor Anderson, Lord Grantchester, EvertonUSA and others, I fear that Robert was troubled directly or indirectly by conspiracy fears.
From all accounts, his replacement is equally hard-working, a tremendous organizer and highly respected as someone who gets things done right the first time around. David avows Dr Barrett-Baxendale as a breath of fresh air — he doesn't say that about many folk — and claims that her appointment will enhance the productivity and morale of both the dedicated troops and the whingers. I don't like to hear of them making mischievous references to 'Captain Paranoid' and 'Pen and Teller in the boardroom'. It smacks of that embarrassing email mutiny in 2011. The new Chief Executive may appear inexperienced in the eyes of some supporters but, with the right support, I'm confident that she'll grow and run EFC as well as she has expanded and operated EitC.
I've no doubt, however, that every now and then she'll have to a wear a helmet and ballistic vest to deflect the insults from keyboard warriors and the abuse from Gwladys Street when her actions don't quite match her words. To prosper, however, she must focus on the challenges at Everton Football Club and not be distracted by other interests. I admire her support our junior teams, women's team and community outreach programmes but our and her future emphasis must be placed on building a vibrant business and promoting our status as a contender. As for a prediction? I'll wager that Dr Barrett-Baxendale will enjoy tremendous success at Everton before progressing to head a prestigious university or a prestigious international charity or both.
This new dawn should provide opportunities for key staff to blossom. Richard Kenyon (a life-long and knowledgeable Blue) and Dave Harrison (a knowledgeable and life-long United fan) are top-class individuals. I understand that Harrison is a superior administrator who works tirelessly behind the scenes and should be forgiven for being photographed smiling alongside so many newly signed turnips. Kenyon is a distinguished PR guru facing the far more demanding challenge. After brushing off the silly name-calling by Allardyce, he must focus his staff towards changing the minds of the football world and how it thinks of Everton Football Club. Public relations are key to our efforts to rejoin the elite. After being dormant for decades and slipping backwards in prestige, we're rarely in the news beyond match reports. Our recent advances under Mr Moshiri have yet to be reflected in the positive perceptions of the majority of the footballing public. More important, we must market the club farther afield by selling Everton as a brand. To do that we must understand who and what we are and differentiate ourselves from our rivals.
At the same time Kenyon's staff must expand the club's engagement with Evertonians across the old coun,try and the globe and continue to embrace independent initiatives outside of Goodison Park and Finch Farm. Some very capable people wear Everton on their sleeves. Personally, I'm impressed by the folks at Everton Business Matters podcast, the Heritage Society, the numerous independent websites, WSAG fanzine, DeCoubertin Books, ToffeeTV, EvertonUSA and others. And how can I forget the celebrations organized by Ronny Goodlass? After all, these fine folks — like you and Michael — help to make our club so extra-special. Hopefully, the new regime will support rather than demonize the more independent-minded of these fans.
Should I continue? Commercial development is another big challenge. While global companies flock to the Top Six, our sponsorships will remain relatively modest and stagnant for another four years. They reflect our current standing. We trail about £30 million per year behind our neighbours and their peers. Our relationship with Sport Pesa and Angry Birds, which brings in about £10 million per year, is equivalent to half of what Walsh and Koeman wasted on Klaassen's transfer. Our commercial staff must be so disheartened. I've been advised by Sasha Ryazantsev and others that trophies accelerate commercial growth and the closing of the gap with the elite clubs. So there you have the solution to all our problems — silverware! The more the better. Easy peasy?
As a contingency plan, I suggest — politely — that Mr Moshiri tantalize Mr Usmanov with tales of The School of Science, The Golden Vision and The Holy Trinity and offer him the most comfy over-stuffed chair in the boardroom. The seduction of Mr Usmanov is our best chance to elevate football's perceptions of Everton Football Club as well as to garner a riverside stadium, a healthy kitty to buy the top stars and long-term European football and his best opportunity to prove himself as a commanding force in the Premier League and beyond.
LL: Back to Dr Everton, did he enjoy his 70th birthday? Do you have any cartoons to share?
EF: Since the publications of 'Everton Crazy' and 'Everton Proud' and his interview on ToffeeTV, we've had unsolicited media interest in his roaches-to-riches journey. Several US documentary-makers wanted to film David during the 2017-18 season. Given the club's melt-down, it's a good job he had other things to worry about.
Regarding his collaborations with cartoonist Peter King, the recent goings on at Goodison Park and Finch Farm have been gifts from the comedy gods. Although their gags were never intended to offend anyone, I can confirm that they – particularly the yet to be published one showing Sir Philip Green sumo wrestling with Keith Wyness over the control of the boardroom – weren't well received by some people. I'm not sure if any more Evertoons will surface during David's life-time.
Sorry, I've got to pick him up at Tai Chi. Apparently, meditation will prepare him for the euphoria associated with watching Richarlison, Walcott and others yet to be revealed. We've delayed celebrating his 70th birthday because he talked about sky-diving. Although I don't want to discover him scattered across the Arizona desert, we've compromised that he can jump out of a plane to mark Everton winning a prestigious trophy or participating in the International Champions Cup — but not beforehand.
Like all Evertonians, I've grown tired of the annual erosion of our hopes but feel invigorated by the combination of Mr Moshiri, Dr Harris, Mr Ryazantsev, Dr Barrett-Baxendale, Richard Kenyon and Marcel Brands. They are well aware that we've accepted mediocrity for far too long and deserve entertaining football with flair and heart. So let's get behind Marco Silva and his coaches. Let's think big like Will Cuff and John Moores. Let's return to behaving like a club that's about to enjoy an unprecedented 116th season in the top flight. Let's act like a contender in 2018-19! Let's start to make Everton great again!
---
I always enjoy catching up with the lovely Elizabeth and getting her measured take on all things Blue. Though further removed geographically from Goodison than most, she and the good Dr France provide a vital and lasting link with the soul of Everton Football Club.
As discussed above, the Farhad Moshiri era has not gone according to his plans or our fervent wishes but, despite a worrying pre-season programme, the moves made by Marcel Brands and Marco Silva thus far hint that lessons are being learned by what is still a very young administration.
A more pragmatic approach certainly appears to have been taken thus far — the significant expenditure on Richarlison has the potential to be money well spent if the right pieces are assembled around him — and the flame of hope that Mr Moshiri can indeed lead us to the promised land continues to burn.
In the meantime, I'm sure Evertonians everywhere will join me in wishing David a very speed recovery and very much look forward to chatting with Elizabeth again next year; who knows, we might be reflecting on a fine season of progress following two years of bitter frustration. Fingers crossed!
---
---
© ToffeeWeb