Opinion
The Impossible Dream
I wonder about our ability, indeed desire "to run where the brave dare not go". Part of our DNA I believe as Evertonians is to "reach the unreachable star" – let's do what's required to achieve it.
Paul The Esk

04/04/2019
22

comments | Jump to last
Share:
The Impossible Dream.
So sang Frank Sinatra. There are times when supporting Everton, being interested in their business approach and questioning how on earth we will compete on the pitch, paying for an expensive but not hugely cash generative stadium, I wonder about our ability, indeed desire "to run where the brave dare not go"
Now some supporters will claim that this is just another opportunity to be negative about the club pointing to the "award winning" achievements of Everton in the Community, the match day ticket pricing policies and some of the softer aspects of fan engagement as examples of bravery, initiative and evidence of the club "getting things right". There's no doubt that the charity has improved the lives of thousands of people and provides a valuable service to those most impacted by years of austerity. Not only that, but it has saved the lives of numerous people, one or two I know personally who frankly wouldn't be here today if it wasn't for the good people of EITC.
But, and with the greatest of respect to the work of the charity, it can also be viewed as a comfort blanket within the club itself. Has the good work of the charity become a substitute, a false feeling of well-being that doesn't match the condition of our core business – being a successful football club?
I say this because any analytical or objective view of the business would point at a myriad of issues where more than three years into Moshiri's share ownership of the club that are either unresolved or that progress is painfully slow. It would also point to our competitive position not improving to date.
Objectively, let's look at what I consider the five main issues:
Our cost base:
With the extensive investment in the playing squad our cost base (as measured by wages plus amortisation costs) doubled between 2016 and 2018. Projected costs for 2019 show a further increase.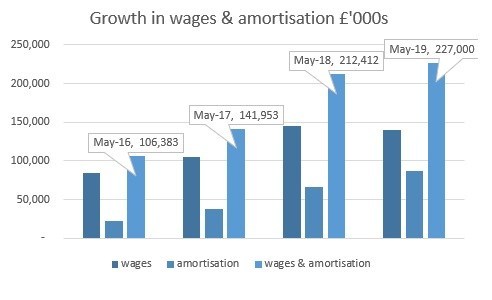 When plotted against turnover (expressed as a %) the issue becomes very apparent (2019 estimated):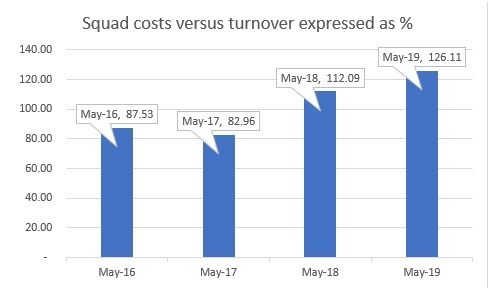 The final comparison is against the "top 6" financial clubs in the Premier League, all of whom have significantly higher squad costs but most importantly, even higher levels of turnover: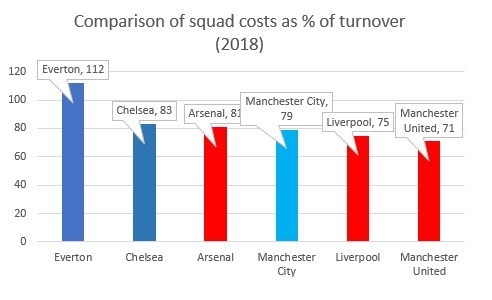 It's well documented that following the arrival of Brands in particular, reducing squad costs whilst rebuilding the squad is a key priority. To be fair to Brands he has not had a complete summer window in which to operate. Much is expected this summer both in terms of recruitment but also in removing those surplus to requirement. From a financial perspective the need is very clear, we are spending more than we are earning, and the ratio looks particularly unhealthy versus the top 6.
Income generation:
The previously noted increase in costs brings the importance of income generation firmly into focus. Historically, it has been an area the club has operated poorly; impacted by the constraints of Goodison Park, a much lauded affordable ticket pricing policy and a failure to exploit the commercial opportunities presented by being ever present in the Premier League (one of only six clubs).
Turnover has 4 main contributors, broadcasting income, gate receipts, Sponsorship, advertising and merchandising, and "other commercial". Totals are shown below:
The main component is broadcasting revenues. Currently we are into the second of the latest three year broadcasting deal. The significant improvement between May 16 and May 17 is the result of the latest deal starting, which was a significant uplift on the previous 3 year cycle.
The key differentiator for all clubs is the income they generate from their own activities. For Everton, gate receipts at Goodison are effectively capped at current levels given capacity crowds and the ongoing commitment to affordable pricing. Much of our commercial activities are outsourced which again impact the ability to grow revenues other than by renegotiation when contracts expire or indeed termination if there was a commercial case.
The figures for May 2018 include revenues from our 2017-18 Europa League campaign totaling approximately £12.5m. The estimated 2019 figure takes into account the failure to qualify for European football.
It is true that our commercial performance has begun to pick up. During the Moshiri era the following major deals have been negotiated:
Sponsorship of Finch Farm by USM worth £6 million a year
Replacement of Chang by Sportpesa as main shirt sponsors, 5 year deal to 2022 worth £9.6 million a year.
Shirt sleeve sponsorship by Rovio (Angry Birds), thought to be worth just under £1 million a year.
A renewed deal with Fanatics, (kit and other merchandising) length and value unspecified.
A renewed deal with Umbro (shirt manufacturer, "technical partners") length and value unspecified but reliably reported at around £9 million a year.
Several minor sponsorship deals including Blackwell, Moneycorp, Davanti, Sure and Fratelli Beretta each worth up to several hundreds of thousand pounds.
However, it is also true that each of these deals pale into insignificance when compared to the sponsorship and commercial deals enjoyed by the "big six". Whilst in real terms our non broadcasting income is beginning to grow our low base and inability to win the largest contracts means that in cash terms we lag further behind those above us.
This chart shows the continued growing difference in non-broadcasting income (the red bar) with all other than Arsenal whose non-broadcasting income has stalled in the period 2015-18. The red bar to the left shows how much further we have fell behind in this period (2015 to 2018 not aggregated).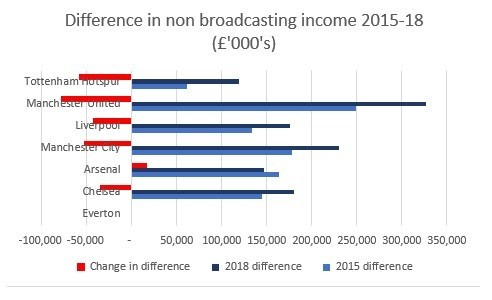 Funding
The above figures show that the club has significantly spent much more than the income it generates. It's interesting to look how that was achieved and what happens in the future.
The difference between spending and income has been covered by three contributors:
Farhad Moshiri. Moshiri has injected £250 million of cash into the business since 2016. This funding is considered equity given the absence of a repayment schedule or formal obligation to repay.
Player trading. In the period since Moshiri took a shareholding the club has very successfully generated player trading profits. In the last two accounting periods (2016/17 & 2017/18) player trading profits have contributed £138.7 million
External debt. In May 2016, Everton had external debt of £54.7 million. As of May 2018 external debt had grown to £75.2 million (ICBC and Santander)
In the interests of balance, these figures include the exceptional costs of removing the management teams of Martinez and Koeman (£25 million approximately) plus the continued cash costs of progressing Bramley-Moore (£22 million approximately).
With a stadium to fund, it is not clear where or how continued operating losses can be funded without an increased contribution from our major shareholder, Farhad Moshiri.
Bramley-Moore Stadium
There is not the time and space to cover in detail the issues regarding Bramley-Moore (much of which is covered in previous articles and podcasts). However it is accurate to say that in the 3 years of Moshiri's involvement the progress of the stadium has been patchy at best. The stadium progress has been materially affected by the proposed Commonwealth Games bid, the proposed funding by Liverpool City Council, Robert Elstone's departure and a harsher investment environment in the last 18 months.
As a result, with cost increases, it is fair to assume that certain elements of the stadium have been scaled back, namely capacity and dare I say it, but the "grandeur" of the proposed stadium. If I may speculate for a moment the clever money would say whilst we will have a magnificent new home designed by Dan Meis, it will inevitably be smaller and less grand than perhaps reasonable expectations in 2016 anticipated.
The consequences of such, a smaller capacity, increased costs but lower income generation put pressure on all involved. Whilst the stadium remains a necessity as does the location, it is fair to say that the financial impact on the club (and perhaps the major shareholder) is less attractive than previously thought.
Nevertheless it is essential that the stadium is built, and if I may be so bold, built to the highest specification and capacity we can possibly achieve (certainly more than 52,000) in order to maximise the immense opportunity it presents us. I will continue to argue the very clear business case for 60,000.
The stadium will be cash generative, it will increase our global exposure and will certainly attract a new class of sponsors and partners. Now is not the time to lose faith but to reach out to every possible contributor to the success of the stadium and work even harder to achieve beyond our expectations. The impossible dream?
Finally, and perhaps less objective than the above:
Identity
Who are we? What do we want to become? Is our branding locally, nationally and internationally consistent with our behaviour?
For the first time in my life time as Blue I worry about our identity. There's been plenty of times when I've worried about our ability to compete (most of the last 30 years) but I've been pretty sure about what the club represents and felt that a return to our past footballing glories, whilst increasingly more difficult due to competitive erosion, was both possible and a shared ambition.
I have to be frank – I'm not sure at this moment in time. We've been ambitious (but unwise) in our spending, we are on the cusp of a brand new stadium, we have a much better footballing model in a highly impressive Director of Football, so why do I feel this way?
It's down to the owner and board of directors. I want to hear and see an unwavering commitment to becoming a footballing force again through their commercial judgement and excellence, their established operational capability, their vision and ability to be ahead of the pack not lagging behind, and in addition the "smart" behaviour of Brands and Silva. I want a mind blowing stadium not just presented with a fait acompli but with real and proper engagement with the many fan groups & interested parties. I want a focus by the executive team on our primary business – football. Everything else we do, including the great work in the community, benefits most from our success as a football club – that is the most effective and efficient way of achieving great things elsewhere, success on the pitch – doing it and the means of doing it should be our sole focus.
If that sounds like a great sense of entitlement it's not I'm afraid. It's the expectation that should come with being associated with Everton Football Club.
Part of our DNA I believe as Evertonians is to "reach the unreachable star" – let's do what's required to achieve it.

Follow @theesk
---
Reader Comments (22)
Note: the following content is not moderated or vetted by the site owners at the time of submission. Comments are the responsibility of the poster. Disclaimer
Si Pulford
1
Posted 04/04/2019 at 22:49:26
Ahhhh football. When did we stop talking about players, formations and rivalries and start talking about amortisation, 'other commercial' and broadcasting revenues. When did we swap blind optimism with unwavering negativity. None of this is new, we would need a staggering amount of money (that we wouldn't be allowed to spend) to compete with Man City etc the drawbridge has been well and truly closed. No offence to the esk, it's a balanced, thought provoking article but fuck me, I hate what football has become.
Paul [The Esk]
2
Posted 04/04/2019 at 23:11:02
Si, I don't disagree with a single point you make. The question for the club is do we do what is necessary to compete (even if that requires holding our noses) or do we continue as an organisation embedded in the PL, no prospect of winning anything but we're very useful and helpful to the local community?
The 2 need not be mutually exclusive
Minik Hansen
3
Posted 04/04/2019 at 23:48:23
The unreachable star we have reached before. The stardust is part of our DNA. That's what makes us forever hopeful to achieve the better. COYB NSNO.
Bill Watson
4
Posted 04/04/2019 at 00:53:50
I hope Moshiri was listening to Daniel Levy when he was being interviewed about 'Spurs' new stadium.
Levy said the capacity had to be around the 60,000 level to generate enough income to allow 'Spurs to compete. It had nothing to do with just matching The Emirates for the sake of it.
52,000 for B-M would be to waste the opportunity of a lifetime. The carrot being dangled, to appease fans, is the future prospect of being able to increase capacity, in areas designed for safe standing, by a ratio of 1 to 1.5. Surely other clubs would also be able to increase capacity in this way?
Karl Masters
5
Posted 05/04/2019 at 00:59:23
Another very interesting and revealing article.
We certainly need to unload the dead wood from our squad. The contracts for Mirallas, Bolasie, Williams, Niasse - all out on loan, but we are paying most of their wages, total £300k a week, so £15m a year plus they cost us nearly £60m in transfer fees. Only Mirallas ( signed in another era really ) has given anything like a return on what we invested.
When you factor in the money we are paying long term servants like Jags and Baines for very little playing time plus the likes of Walcott and Tosun, who still have a lot to prove, you can see our player investment has been questionable to say the least.
As mentioned many times before, Spurs are what needs to be our guiding light. Get the team heading in the right direction on the pitch, without paying crazy money, whilst building a stadium to be proud of. As you say, Paul, if we get cold feet over the size and spec of the new stadium it will be another own goal. This isn't the time to be weak.
Derek Thomas
6
Posted 05/04/2019 at 01:12:18
Well reading that has cured my happy mood. We need to stop living off the football equivalent of the visa card and get our finances in order?
Don Alexander
7
Posted 05/04/2019 at 02:14:38
Just watched the Two Tribes TV documentary from another thread so my mood is admittedly low, but the fact is that having being born a Blue in 1955 I have actually enjoyed the experience for way less years than I have fingers. And frankly I now expect to die before using up those remaining fingers not already crushed by history given what I fear Moshiri is now driving toward.
Sighs.
Bobby Mallon
8
Posted 05/04/2019 at 06:30:13
Paul, I'm happy being Everton, whether it's premiership, championship I don't care. I just want us to play attacking good football and concentrate on the two domestic cups. Leicester have shown you can do it. I love what we do in the community.
Tony Abrahams
9
Posted 05/04/2019 at 08:58:28
Interesting article Paul, but I think post number2, both simplifies and asks what we really want, in a much more straight-forward manner.
Hopefully Moshiri, has seen the folly of just getting anyone in, and throwing money at it, and we are now going to see a much more sensible and sustainable model coming into play, once Brands has sorted out the wage bill?
Honestly still think Usmanov, is the man who is really behind Moshiri, but will he choose to stay in the shadows, or is it more about the bigger picture, which is the total transformation of this long neglected area?
Bill, that's a good point what Levy said, but my "four season tickets" have just cost me £923, because three of the seats are for under 16's, so unless Everton rapidly change the pricing structure, I'm not sure how much of a difference this will really make?
Danny Broderick
10
Posted 05/04/2019 at 09:12:38
Player recruitment is what we need to improve to break the glass ceiling. The recruitment under Koeman and Walsh was generally a disaster. We wasted big money on players who no longer play for us, like Williams, Bolasie, Klaassen, Vlasic etc.
The signs are positive that this has improved under Brands and Silva. We need to beat the big boys to unearth up and coming players, and then move on the older members of the squad - kind of like Atletico Madrid have been doing. This is not easy by any means, but it's our only hope of getting back to the top. We will never be able to outspend the bigger clubs.
What will be will be off the pitch. It's not going to be enough to take us to the promised land, however. Only recruitment can do that.
John Keating
11
Posted 05/04/2019 at 09:22:52
Paul
excellent thought provoking piece-as usual.
The stadium issue is still my main concern.
We learned what was planned at Kirkby which would have made the Reebok look like a palace.
Now Spurs have really upped the ante.
Although we will get the "London" factor thrown in surely our expectations should aim high regarding the stadium.
Peter Mills
12
Posted 05/04/2019 at 10:27:38
I'm with Bobby Mallon#8, in that I am bewildered by our Club's care-free attitude to the domestic cups.
We should be in the semi-finals for one of these trophies every season. From there we have a chance of a kind draw, and/or the chance to bloody the nose of one of the "top 6". If we win a trophy or two, players start to think it's a fun place to be as well as a well-paid job, older supporters are encouraged, and the younger ones are rewarded for their faith.
Build the future of the club on some success on the pitch.
Jerome Shields
13
Posted 05/04/2019 at 10:53:43
It has been obvious for some time that the commercial capability of those that run Everton has not been up to the standard required for some time.
Before I knew of any other Supporter outlets, I tried to join the Supporters Club at that time (in the late 80s) mainly to receive the Evertonian newspaper, but found that, although an adult, I was sent a pack for an under-12 fan, with an Everton Shooter certificate – and no Evertonian newspaper.
On contacting the Club, I got a very nice middle-aged lady, who seemed to think that someone part-time had got it typically wrong. I was sent the same pack again. I never got the correct certificate, but was able to buy the Evertonian second hand in a newsagents, where the owner (a Supporter) resold his copy. His wife who worked the till use to laugh knowly when I bought it. Being in business and having appropriate qualifications I could work out the lack of everything that resulted in my experience.
For myself, it has been obvious that the revenues resulting directly from Premier League membership has acted as a subsidy that Everton has lived off for some time. The main objective prior to Marcel & Marco (the first time an effective plan was put in place, though only on the playing side) has been to survive in the Premier League and to pursue a matey policy to keep the fans sweet, so as to get them through the turnstiles and buy something from the Everton shop. The online shop was the only innovation.
This was all going quite nicely under Moyes, until he got carried away with his actual ability and left – fortunately, to balls up Man Utd. It was then that the fans started to ask questions and the status quo, became unacceptable.
The resulting below-par Moshiri era is the result of the regime, as described above, being given money and not having the ability to utilise it effectively, except get a new title with wages to match. They never had to do much before that, lucky ducks, only lift their wages. What they did do was reinforce their sponger mentality on the club. They still are fundamentally in Premier League subsidy-dependent mode.
Any resources provided – whether it be money for players, funds for a new stadium and progress in the Premier League on the playing side, is seen as a bonus on top of the Premier League subsidy to the maintain and advance their position. This is why the lack of vision from Everton is so apparent to Paul, when he seeks some crumbs of positive direction from those that manage Everton.
There is no doubt that the deficiency in non-broadcasting revenue, the high wages percentage (wages / turnover), the stadium plan scaling back and lack of a Mission statement are the direct result of this regime's continuing mentality and culture.
Whilst there is a positive change in the Everton Culture on the playing side and Brands has started to sort out the backroom staff, the Senior Management of Everton is still dominated by the old regime mentality. Unfortunately, the pleasant and not so former Everton in the Community Chief Executive is their figurehead in a Club that has no effective performance targets at Senior Management level.
To achieve the necessary changes that are apparent from Paul's excellent analysis, Moshiri needs a clear out at Senior Management level. Bringing only Brands onto the Board, which I think was inappropriate, is only a sticking plaster approach to the continuing complication of symptoms evident in Paul's analysis, that has Everton as it is today.

Dave Ganley
14
Posted 05/04/2019 at 16:52:35
Yes I'm also with Bobby Mallon and Peter Mills. As a fan I don't much concern myself with the financial aspects of the club, although I guess I should, but it's what's on the pitch that really focuses my attention. I subscribe to the blind optimism camp, it's why I renew my season ticket year after year. Yes we are in a period whereby the so called money clubs like Citeh, the chavs and United out spend everyone but I'm quietly optimistic that Brands will get things right given time.
I also like the fact that when we eventually win something, and we will at some point (I have to believe that) then it will mean so much more to us than the aforementioned clubs. They now think they have a devine right to win things and it's just run of the mill for them. Dare I say it but the RS fans are pretty much in the same boat as us in that respect. The proper RS fans in Liverpool who I know are so excited at the fact that they may win the league. I mean they are really nervous yet really excited, the way we woukd be if we were in that position. That comparison won't sit well with most evertonians but it's true that there is still a lot of magic in football in that you go years without winning anything, then when it all comes together it makes it all worth while. The money clubs have lost that and it's their cross to bear. I know I've gone off on a bit of a tangent but for me, regardless of all the diving and prima donnas and money that's plagued football there is still magic there. Ask Watford or wolves this weekend when they play their semi this weekend. I believe our time will come with brands at the helm I just hope that it's sooner rather than later. Always optimistic in spite of all the disappointment we endure.
Stan Schofield
15
Posted 05/04/2019 at 17:33:04
Dave@14: I agree 100% about Liverpool, they have been a 2nd tier club for some time, not in the elite anymore but above us, and the Reds I know are clearly frustrated a lot of the time, just less frustrated than us.
We think we're like the Keystone Cops at times, but so do they with blunders like slippy G's and Karius'.
However, I don't agree that supporters of the elite and big-moneyed clubs (Chelsea, City and Utd) have lost that feeling of magic. They just love winning stuff and watching great football, just like us when we were one of the wealthiest clubs. I know a City supporter who does get cynical about the cheating that goes on in the game, but that goes for a lot of us, and it doesn't seem to diminish his pleasure at winning stuff, and he seems in 7th heaven.
Dave Ganley
16
Posted 05/04/2019 at 19:05:06
To be honest Stan I'm basing the lack of magic for the moneyed clubs on things like Citehs empty spaces around the Etihad, their apparent boredom with the CL, the chavs turning up to play us at Wembley half an hour before the game starts, United fans behaving like spoilt brats now they're not winning all before them etc. I don't doubt there are fans of those clubs who still love winning trophies but it's not quite as good as that first time. You end up with an expectation of winning and reaching finals and tend not to appreciate it as much as you think it will go on forever.
Bill Watson
17
Posted 05/04/2019 at 19:12:48
Karl #5
Thankfully, Williams is out of contract this summer, so that's one less for Brands to worry about!
Tony #9
My fear is that the lower the capacity of B-M the higher the ticket prices will have to be. With our current season ticket holders and waiting list, coupled with around 2500 sat aside for away fans, I reckon 52,000 would sell out for most games even with the chaotic recent seasons we've just had.
I think most fans spend very little inside Goodison (I spend nothing at all) Surely, the aspiration must be to be nearer 60,000 which would be another 8000 to sell stuff to, apart from the ticket price.
Lev Vellene
18
Posted 05/04/2019 at 20:10:52
I read on another thread that Marcel Brands' comment about Everton being a club who needed to sell players, was totally misunderstood! He said we needed to recruit players aged 25-26, or under, as we'd need to sell (for a profit) later on.
As I understood that, ANY club will need to offload players who do not work out, so they can bring in other players who are hopefully better. And today EFC's roster of aging players on too high wages are very impossible to sell! But a player aged 25+/- who don't work out for us in the end, will still maybe find someone willing to pay top dollar for the potential they still see there!
Paul Birmingham
19
Posted 05/04/2019 at 22:06:58
Great article Paul, and I have said before and will say again, there's no harm in the club using your insight to consult the forward plans for the future of the club. There's more honesty and reality in your articles than the club ever publicly presents.
Business as they say is business, and EFC, hopefully has now crossed the Rubicon, in terms of business planning, but this and the stadium planning, commercial planning are all locked in. A difficult balancing act.
I would say if EFC had a great stadium on the Mersey which we all hope will happen soon, then great but, after all this time you'd think like the club, motto, only the best is good enough, would be realised in the stadium design and build.
As many of us have said the last three years, it's the chance of a lifetime, and must be seized.
My Spurs ma8, sent me a picture from their first home game which I will try and add to this forum over the next couple of days.
It's inspiring to any sports fan.
EFC must aim to be getting as much income as possible from semis, concerts etc.
As ever Old Nick, casts a shadow, but this can be removed for good in many ways if a new state of the art 60k stadium can be built.
No rational for an 8k upgrade, after the initial build. The club must start a crusade to promote, grow and nurture the EFC fan base and grow it more now than ever.
Perhaps soon the Uzbek financial might, may join, consolidate with EFC.
But if he does or doesn't the club must plan to be strong, and as I freely admit the game has changed, and in life you change, become adaptive, agile and hopefully flourish and prosper in health and wealth.
Wealth prosperity isn't all about money, and being happy within, the family and friend and good health counts more than money. And EFC, is family and brings its challenges, as we all know, but we love the club.
Sadly football is not the game it was, and never will be.
Paul, I hope the club, does take on board the economics, and reality of the times for EFC.
But I live in hope for the promised land and hopefully in my time..
Now to do the business against the Gunners. Let's hope we can do it and in style.
Good weekend TWrs.
Phillip Warrington
20
Posted 05/04/2019 at 22:22:54
The biggest problem at Everton would be at least 10 players who will never play for Everton but demand big wages until they are off the books can we look ahead; otherwise, we get the 4 - 5 players we need then to be stuck with a bigger squad which will lead to jealousy and disharmony and start the cycle all over again.
I would say we are in a position where we can take some losses on some players and really thin the squad that's when we will see how good Brands is.
Mark Andersson
21
Posted 05/04/2019 at 01:46:50
Im grea5ful that at 24 I was at the right age to attend our brife glory years...
Its all too sad to know that its highly unlikely that we will ever reach the top... made more gauling because tge shite are still up there...
However nothing last forever so just maybe we will rise to tge top and watch the reds sink into oblivion back were they belong...
Bitter maybe but justified...
Now lets just win more games than we loose but in style and live up to our notto...
Jerome Shields
22
Posted 07/04/2019 at 10:15:30
I have visions of a functional stadium like the Reebok Stadium and the leaked plans confirm this.
Add Your Comments
In order to post a comment, you need to be logged in as a registered user of the site.
Or Sign up as a ToffeeWeb Member — it's free, takes just a few minutes and will allow you to post your comments on articles and Talking Points submissions across the site.
© ToffeeWeb