Report
Cech repels fine Everton attacks to steal the points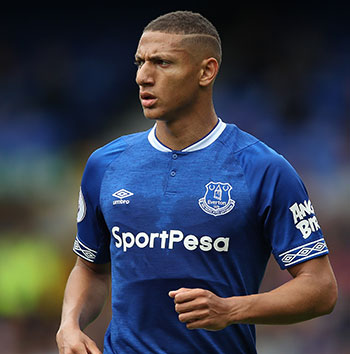 Richarlison makes a welcome return to the side after serving a three-match suspension
Arsenal 2 - 0 Everton
Everton took the game to Arsenal brilliantly in the first half but crucially failed to score, and the inevitable happened in the second half.
This was Marco Silva's biggest test as Everton manager to date as he took his team to North London to face Arsenal, with Theo Walcott returning to take on the club where he spent 12 years.
The manager made a number of changes to his line-up, including the selection of Michael Keane after nearly a month out with a hairline fracture of the skull and the dropping of striker Cenk Tosun to the bench.
Tom Davies came into midfield at the expense of Morgan Schneiderlin and is named as captain for a second time, with the team rather unnecessarily wearing all black rather than Royal Blue. Richarlison makes his expected return to the side after serving his three-match ban but Mina is clearly not ready despite lots of talk about him in training last week. Gomes is also still not fit.
Things got underway and Everton made a very promising start, moving well down Walcott's wing. Davies played in Calvert-Lewin brilliantly behind the Arsenal defence but he took twoextra touches (rather than playing in Richarlison), completely messing up a glorious chance.
Arsenal settled, and forced a corner, cleared commandingly by the head of Richarlison. Arsenal played it slow and farted around on the edge of their area; Gana took it of Xhaka and set up a great chance, Walcott getting himself offside when it should have been the second goal.
Brilliant work by Richarlison who beat Bellerin all hands down but somehow Calvert-Lewin managed to foul rather than challenge for the ball. Arsenal created havoc at the other end, Pickford pulling off a fantastic save off Monreal.
More great work in defence by Richarlison set Calvert-Lewin to run down the left wing but he lacked any conviction and easily lost the ball. Torreira was cautioned for a shockingly poor lunge on Keane. Moss then had a strong word with Xhaka for another poor tackle.
Everton got a turnover and surged forward at pace down the right but the final ball in was to a panicked red shirt. Everton were playing very well, with lots of fouls from Arsenal, but still no shots on goal.
Some great play from Walcott to Richarlison who made space for a fair strike, but within saving range for Cech. A corner to Everton, played very deep to the far post, batted behind by Cech for another corner played from the other side and picked out by Cech.
Everton won another corner that Digne took from the right, but too close to Cech. Another free-kick to Everton, totally wasted by a silly routine with Sigurdsson and Digne carded for clipping Aubameyang after being needlessly dispossessed.
Richarlison turned brilliantly after a great pass from Digne, but curled his shot just wide. Another fine move with Walcott driving forward and Mustafi forced to down him for a yellow card. Another fantastic free-kick chance, decent this time, Digne forcing a tip-over by Cech. The corner from Digne was at least away from Cech but cleared and setting up an Arsenal attack that required some fine defensive work from Everton.
Mustafi stayed down after a midfield challenge on Calvert-Lewin, requiring treatment. Calvert-Lewin gave away a poor free-kick wide right that was cleared and fell nicely for Walcott to breakaway but he overhit it with a poor first touch and the initiative was lost.
Another fantastic chance, this time for Walcott, whose first touch was a fraction heavy, allowing Cech to come out and deny him, Walcott getting a nasty bash to his right eye. Injured Soktratis was replaced by Holding. Arsenal attacked and it looked like chaos in the Everton area, Gueye dispossessing Lacazette as he set to shoot.
In a rare good spell for Arsenal, a looping cross almost caught out Pickford, Arsenal crossing well, Everton defending well, including corners, another headed away by an Everton defender.
A great release, Walcott and Richarlison exchanging passes, ending with a fine strike by the Brazilian, but tipped over by Cech. Another better corner, driven a little deep but at least away from Cech. Torreira fouled Digne, Moss ignoring it until the players stopped.
Some really good enterprising play by Everton in a fine first half with one massive exception: no goals, despite a slew of fine, fine chances to score.
The Gunners restarted, but Everton soon won a corner, headed away by Lacazette. Sigurdsson did well to keep a ball in and put a great cross to the far post where it bounced away off Keane's bandanaed head.
Davies was putting in a fine captain's performance, always looking to play the ball forward, unfortunately with the increasingly useless Calvert-Lewin obviously offside. From an Arsenal corner laid back, Ramsey drove at Pickford. Everton advanced with the deft feet of Richarlison again creating something. The next attack was more laboured down the right and the final pass from Davies loose this time.
Another chance for Calvert-Lewin to cross in, he loses the ball. Fantastic work by Richarlison, all over the pitch, playing like a man possessed, but still things not quite working despite raucous support from the Evertonian contingent in the corner, liking what they were seeing but wanting that much-deserved goal.
Arsenal made a rare advance and claimed a handball for nothing, but they scored in the next attack, Lacazette a fantastic shot off the inside of the post beyond a despairing dive from Pickford, Kenny unable to block him.
Marco Silva immediately thought about changes but just minutes later, it was 2-0, as Arsenal waltzed through, Aubameyang offside as he scored from a ridiculous three on one situation that developed rapidly when Digne lost the ball in the middle third, and providing no full-back cover.
Silva seemed paralyzed while Arsenal now dominated, Aubameyang being replaced by Iwobi... still indecision from Silva as the life had been sucked out of Everton by those two quick cruel goals.
Calvert-Lewin broke the offside trap and galloped forward but too wide, and Richarlison could not do much with the deep cross. A dangerous free-kick, delivered brilliantly by Sigurdsson, a good downward header by Keane, but not good enough to beat Cech. Nothing from the corner, and finally, changes by Silva: Calvert-Lewin the obvious choice for the hook, with Tosun on in his place. Walcott was replaced by Bernard.
Everton got forward but this time Digne overhit his cross poorly well behind. Gueye and Davies were doing their best to halt Arsenal and move the Blues forward, but it really wasn't happening, Richarlison colliding heavily with Mustafi, who came off better despite taking one to his gonads.
The ball was no longer running for Everton, who had lost belief, Gana easily dispossessed in midfield, unable to get the ball back. Bernard laid of to Sigurdsson whose shot was deflected slightly over, the corner taken short and eventually leading to another corner, punched clear by Cech, a cross by Bernard shockingly overhit.
Tosun did well to get a sight of goal but Cech saved his shot. A free-kick had to be retaken, Keane bravely getting clocked by Cech. Everton had some nice but meaningless play around the Arsenal area in the last minute, without really threatening, a sad but telling end to a game in which Everton were seemingly destined never to score.
Scorers: Lacazette (56' minutes), Aubameyang (59' minutes)

Arsenal: Cech, Bellerin, Sokratis [Y:30'] (39' Holding), Mustafi, Monreal, Xhaka, Torreira [Y:15'], Ramsey (79' Welbeck), Ozil, Lacazette, Aubameyang (68' Iwobi).
Subs not Used: Leno, Lichsteiner, Guendouzi, Elneny.
Everton: Pickford, Kenny, Keane, Zouma, Digne [Y:26'], Davies, Gueye, Sigurdsson, Walcott (72' Bernard), Richarlison, Calvert-Lewin (72' Tosun).
Subs: Stekelenburg, Holgate, Baines, Schneiderlin, Lookman.
Referee: Jon Moss
Attendance: 59,964
---
Reader Comments (291)
Note: the following content is not moderated or vetted by the site owners at the time of submission. Comments are the responsibility of the poster. Disclaimer
Ciarán McGlone
1
Posted 23/09/2018 at 15:18:47
Is Sigurdsson undropable because of his price tag? It seems that way.
Davies will get sent off and Sigurdsson will watch the game pass him by.
Stephen Brown
2
Posted 23/09/2018 at 15:22:17
Please don't have Calvert-Lewinin wing and Ricky down the middle!!
Neil Lawson
3
Posted 23/09/2018 at 15:24:53
2 "p"s in undroppable. Not because of his "p"rice tag but because he is one of the better "p"erformers to date. Interesting selection. Let's not moan before the game kicks off. Rather, we get behind the team ( whoever it may contain) and reserve sensible judgement until later.
James Stewart
4
Posted 23/09/2018 at 15:25:31
@2 That is exactly what it will be!
Ciarán McGlone
5
Posted 23/09/2018 at 15:33:58
Better performers to date?
In which parallel universe?
Raymond Fox
6
Posted 23/09/2018 at 15:42:48
What's the betting we have one of ours sent off today? It wouldn't be a huge surprise to me.
Ciarán McGlone
7
Posted 23/09/2018 at 15:43:06
Did I just hear that right... Tom Davies is captain?
Brent Stephens
8
Posted 23/09/2018 at 15:48:57
Yes — he's captain.
Sean Herbert
9
Posted 23/09/2018 at 15:49:42
Sigurdsson one of the better performers!!!!?I must be missing something here because I think he has been bloody useless.
Jay Wood
[BRZ]
10
Posted 23/09/2018 at 15:58:54
That's a huge vote of confidence in Tom Davies by Silva, naming Tom as captain.
Courageous.
Brian Wilkinson
11
Posted 23/09/2018 at 15:59:54
What odds for Sigurdsson to knock a goal in today now that he's been whipped to death on here.
Derek Taylor
12
Posted 23/09/2018 at 16:00:13
That team has 'losers' written all over it.
We now have a Martinez back as manager and a team of expensive crocks and no-marks.
Forget top four, top seven and settle for top half. If we are lucky.
Andy Crooks
13
Posted 23/09/2018 at 16:18:20
Tom Davies is captain? That is truly astonishing.
John Graham
14
Posted 23/09/2018 at 16:28:41
Before the game even starts, too many people on here are quick to have a go at any easy target they can find.
Sigurdsson has played okay in the few games we have played this season; great to see Davies get his chance as captain; and great to have a manager who will get the best out of the players.
Whether we win, draw or lose, they need our support – not stupid comments.
COYB
Alan J Thompson
15
Posted 23/09/2018 at 16:28:42
Astonishing that Davies is Captain, really? We want someone who leads and there's nobody who puts in as much effort as this lad. Much as I dislike the expression, that's the message.
Colin Malone
16
Posted 23/09/2018 at 16:38:48
Much better balance with one holding midfielder.
Stephen Davies
17
Posted 23/09/2018 at 16:50:32
Derek (#12),
I realise there's still another half to go but do you think this team is playing like losers so far?
Ciarán McGlone
18
Posted 23/09/2018 at 16:50:37
"Get behind your team or go support another team."
This is a forum for people to produce their opinions on the game. If you don't like the comment, address it – rather than coming off with inane nonsense like your above quote.
As for the game... Curate's Egg. Some good, some poor. A couple of big misses from Calvert-Lewin in what appears to be a 4-4-2 with Sigurdsson alongside him.
This game is here to be won... Arsenal are having the customary Europa League hangover. Bernard on... let's go for it.
If Walcott's eye gets any bigger, then get Lookman on too.
Kevin Tully
19
Posted 23/09/2018 at 16:50:53
I don't care how the 2nd half turns out, we've played like a real Premier League side at a ground we usually turn up looking and performing like a 4th division outfit in the Cup (Both tactically and mentally).
Green shoots appearing that Silva brings something different. That'll do for me – for now.
Ernie Baywood
20
Posted 23/09/2018 at 16:52:20
Well I can't think of many times we've had those kind of chances at Arsenal. Calvert-Lewin and Walcott both one-on-one. Richarlison has created a few half-chances for himself.
Got a bit desperate towards the end of the half. Hopefully we can get back on the front foot and put pressure on this Arsenal defence.
Peter Gorman
21
Posted 23/09/2018 at 16:53:10
Well, at half time I'd say Everton are looking the most likely to score in an otherwise very tight game. How often have we been able to say that at Arsenal?
They're all playing well and hopefully they can keep it up. Richarlison is our best hope – he can seemingly turn their defenders at will and has fired off a few decent efforts.
Digne's yellow card for a failed lunge on their player reminds me how much the game has changed in recent years, almost a complete non-event. If a red is coming, it'll probably be for him, knowing our luck.
Steve Ferns
22
Posted 23/09/2018 at 16:53:37
It's a 4-2-3-1, Ciaran. Calvert-Lewin is dropping back with his speed and energy and Sigurdsson is getting forwards.
The lines blur at times but it's a 4-2-3-1 for sure. But you've probably spotted why the 4-2-3-1 is really just an update on the 4-4-2, especially when played by a team with a lot of energy.
Sean Herbert
23
Posted 23/09/2018 at 16:56:07
John@14, I agree with your sentiments about negativity, but please don't try to tell me Sigurdsson has been okay — he has been downright poor.
I get the feeling that Mr Kenrick doesn't like Calvert-Lewin in the slightest, judging by his comments so far!!
Peter Gorman
24
Posted 23/09/2018 at 16:56:14
"That team has 'losers' written all over it.
We now have a Martinez back as manager and a team of expensive crocks and no-marks."
Derek, I can vent with the best of them but I normally wait until after the game has been played. I hope that first half brought you some cheer because it was very solid if not spectacular. Everton's losers marginally on top.
Jay Wood
[BRZ]
25
Posted 23/09/2018 at 16:56:50
A thoroughly entertaining half. Enjoyed that.
With a better touch from Calvert-Lewin and Walcott, we could be ahead.
The defence looks so much more solid than last week, because the team is defending as one, rather than as separate entities.
An impressive return to the side for Michael Keane. Tom Davies tidier in his work. Sigurdson influential. Richarlison is the magic dust. We can get something from this.
Pity about the co-commentary of Jim Beglin. It really sticks in his throat to offer any praise anything about Everton, doesn't it?
Tony Abrahams
26
Posted 23/09/2018 at 17:02:21
John@14, 100% correct mate. Kev Tully 100% correct mate. Just my opinion, but I agree with both of you 100%.
Ernie Baywood
27
Posted 23/09/2018 at 17:02:52
Was it Torreira with that lunging challenge? That was a red card on the opening weekend wasn't it? In the games I've watched this weekend it seems to be just a yellow now.
Will be interesting to see what they do with Walcott's eye. Had that happen to me in a game once and couldn't see anything coming from my left side. Drove me crazy and I ended up coming off.
Ernie Baywood
28
Posted 23/09/2018 at 17:19:28
Poor from Zouma but that's an abysmal non-decision.
Tony Marsh
29
Posted 23/09/2018 at 17:26:09
And there were those amongst us who said good riddance to Lukaku because Romelu did nothing but score goals. I wish we had someone as shite as Romelu Lukaku these days.
We really are an embarrassing club. No real striker in place since Lukaku left us. You reap what you sow in this game.
Joe McMahon
30
Posted 23/09/2018 at 17:30:29
As Liverpool sit top winning all matches, I think Everton fans have the club they deserve, and it's killing. Think about it putting up with years of Kenwright, years of Moyes winning nowt, accepting Kendall for a third stint, Unsworth is doing a great job, Calvert-Lewin is still only 21.
I look across the park and just a sad situation for us.
Stephen McNally
31
Posted 23/09/2018 at 17:35:50
I don't think this as a particularly good Arsenal side but we're currently 2-0 down. I'm beginning to think we're still suffering the same defensive frailties that we've suffered for a few years and we seem to lack any real craft going forward.
Everton could do with getting some of this Summers signings on the pitch asap to improve quality. This season could well turn out to be another frustrating one.
Jim Bennings
32
Posted 23/09/2018 at 17:42:09
Really who's arsed anymore?
Spend loads of money and still can't do the basics of putting the ball in the net and doing basic defending.
Today we have been turned over by a poor Arsenal team, let's be honest about it, and I feel already this is going to be just as predictable and boring a season as last.
It's okay banging on about returning players but who the hell scores the goals?
Jim Bennings
33
Posted 23/09/2018 at 17:43:28
Maybe we can get Calvert-Lewin on a January loan to Tranmere while we are at it!
Susong Hermawan
34
Posted 23/09/2018 at 17:47:49
Sigurdsson looks shit.
Ian Lloyd
35
Posted 23/09/2018 at 17:52:02
We are a disgrace of a club – can't score + can't defend = relegation.
Everyone in the country knows we need(ed) a striker – barring the owner and several managers!! Sigurdsson, Calvert-Lewin, Davies, Tosun, Kenny, Schneiderlin etc etc wouldn't get a game in a Championship team – disgrace to the shirt.
We've spent millions and millions and are still one of the worst teams to watch!
I'm going to stop watching as we are beyond a joke – why on earth did we chase Silva? Joke of a manager and will be gone by November.
Stephen Davies
36
Posted 23/09/2018 at 17:52:14
Yes, we've lost this game; however, there are signs of hope.
It will take a couple of windows to rectify this. A quality centre-forward required as well as a quality creative midfielder.
The best and busiest Arsenal player today has been Cech. Overall, we haven't been that bad and generally positive...
The first goal they had was quality and we couldn't do much about it. The 2nd... well... the quicker VAR comes in, the better.
2-0 flatters the Arse. Oh, and btw, Richarlison is ace!
Paul Carsley
37
Posted 23/09/2018 at 17:53:40
Jim (#32) — that is the problem, I just don't care anymore. Have more fun watching Harrogate Town with my kids.
Same old garbage, season after season.
Jim Bennings
38
Posted 23/09/2018 at 17:53:40
I think we take this Everton in the Community thing far too serious, it's actually stretching to on the pitch now as well... Arsenal — first clean sheet — against guess who?
Charitable we are!
Might have been different if Dominic Bellend Barlow-Lewin had taken a simple first-half chance — how the hell is he still starting games after we have pissed away so much money?
Phillip Warrington
39
Posted 23/09/2018 at 17:55:07
Another week... more disappointment — that's 1 win in 6; Liverpool, 6 wins in 6. More worrying is Arsenal are the first of the big teams we have played; on this form, we will be lucky to finish in the bottom 8 and that's probably the reality.
I keep thinking we can challenge for top 8 but really we should be hoping just to stay in the Premier League.
Peter Gorman
40
Posted 23/09/2018 at 17:56:16
In a word; frustrating.
2-0 completely flatters Arsenal but the records will only show they've accrued 3 more points at our expense.
Quality is the difference but is that really a surprise to anyone? Lacazette scored a goal of pure class and the second was a total offside missed by the linesman, though a chance brought about by more quality from Ozil.
Other than that – this Everton side, for all the naysayers, played football today that was far more competent than the shite we've only just forgotten last season. Corners and chances were not taken today but we created plenty of them, which I'll take.
ps: Perhaps people should wait a bit before calling for Bernard constantly - he is clearly not at full fitness and will take a bit of time to adapt to the Premier League. He should be decent though, just in a little while.
Ian Lloyd
41
Posted 23/09/2018 at 17:56:32
Cannot believe I'm hearing people say there were good signs in that game? Where??????
Sums up a lot of Everton fans – happy with mediocre at best... Really gets my goat!
Speaking of goats, can we sign Shaun Goater for £30 million still? We've signed every other useless player for £30 million, so why stop?
Ernie Baywood
42
Posted 23/09/2018 at 17:57:11
Well, you couldn't fault the tactics or the effort. There's no shame for the players involved.
In the end, it comes down to quality. We can't make the final pass, can't finish the chances we get. Whereas, when we make defensive mistakes, they have someone like Lacazette with the quality to put one in the top corner.
Phil Smith
43
Posted 23/09/2018 at 17:58:28
How we didn't win, that I don't know — let alone lose! If Richie 'Golden Boy' doesn't score, we don't score.
New striking coach needed as Calvert-Lewin and Tosun don't look like scoring at all. Missing a top-class striker. It will be next season now before that changes.
Frustrated as fuck...
Jim Bennings
44
Posted 23/09/2018 at 18:00:09
I can't see any good signs?
People are raving because we create a few chances against a shocking Arsenal defence that even some unpronounceable Ukrainian bunch hit two past on Thursday, big wow!!
We have spent shit loads of money — are we not expected to play Arsenal and create a couple of good chances? What are we? The Dog and Duck?
I'm disgusted that we are still picking players that are nowhere near Premier League standard despite having so much money to spend.
Ian Lloyd
45
Posted 23/09/2018 at 18:01:40
Jim (44) completely agree
Peter Gorman
46
Posted 23/09/2018 at 18:01:52
Ian, I don't know what to say if you can't see signs of improvement – you can lead a horse to water but you can't make him drink.
As for accepting mediocrity – I will for now if I don't have to accept pure shite, which I was watching this time last season.
Call such fans realists but rebuilding the side will take time. I am not sure what to call your type of fan. Histrionic maybe?
Ciarán McGlone
47
Posted 23/09/2018 at 18:02:07
Second half was abysmal against an ordinary Arsenal team. Keane looked like he was still concussed for that second goal... just stopped and put his hand up. Disgraceful.
Tom Davies is not a captain or indeed a guaranteed starter. The lad had a reasonable game. But captaincy is not simply about energy.
Jim Bennings
48
Posted 23/09/2018 at 18:03:11
Basically, same shit – different day. No wonder the atmosphere is always dead at Goodison Park these days... how can you expect people to get excited when they see the same movie drawn out year after year after year?
Stephen Brown
49
Posted 23/09/2018 at 18:04:41
Fulham is must-win!
More positive this week than after last week's feeble effort! The lack of goals and lack of clean sheets is a very dangerous combination!
These habits are hard to break! Great for Davies personally to be captain but does really say a lot about the senior players that Silva picked him as captain!
Lack of winners all over the pitch with a lot of players who have been in relegated or near relegated sides: Gueye with Villa, Zouma with Stoke, Pickford with Sunderland, Keane with Burnley, Sigurdsson with Swansea, Sneiderlin with Southampton! Winning or losing becomes a habit and we are lacking any winners!
Add to this a load of kids: Davies, Kenny, Holgate, Calvert-Lewin (not good enough!)
Patience is needed but worrying times! Even the manager is realistically a regular loser in the Premier League!
George Cumiskey
50
Posted 23/09/2018 at 18:05:13
We've got the worst two strikers in the Premier League in Tosun and Calvert-Lewin and the biggest waste of money in the history of the Premier League in Sigurdsson.
They didn't even need Ozil who was crap, and Silva doesn't escape criticism with his starting line-up and his too-late substitutions.
Ian Lloyd
51
Posted 23/09/2018 at 18:06:54
Peter (#46),
I've sat in the Lower Gwladys for years watching really poor Everton players and Everton teams (Mikel Madar, Bakayoko etc etc) but can honestly say I really enjoyed it as at least those players tried and could pass a ball 5 yards.
I've now got to watch multi millionaires not give a toss about Everton and can't pass a ball to each other from 5 yards away. My point is we have blown millions on very very poor players who aren't even bothered.
Mark my words, this current manager will be gone by November. Instead of spending £40 million on players – why didn't we do it with a proven manager that can structure the club properly??!?
Gary Willock
52
Posted 23/09/2018 at 18:07:12
It was better today. Not good enough, but better. We're severely missing quality up top, but just need a bit of luck somewhere to get a result. The difference in the players before and after the goal was massive, and shows how far confidence goes in football.
For me the key is now consistency. Stop chopping and changing, and play the same 11 for a few games in a row. The only question mark is Calvert-Lewin but the lad has speed and battles. Until we get someone else in, he may as well get a run.
John Graham
53
Posted 23/09/2018 at 18:08:09
Decent performance. Had our chances but just couldn't get the goals.
Good captains performance from Davis and a few positive signs.
If we continue to improve, I can see us finishing mid-table which would be okay for Silva's first season.
Football looking lots better than last season under Big Sam and Koeman though.
COYB
Joe Clitherow
54
Posted 23/09/2018 at 18:10:48
Irrespective of who we have actually played (and the fixtures were quite kind to us) this is clearly now a bad start to the season. One win and two defeats from the first six games is very poor. Bad starts often leave team struggling for most of the season, and now, before end of September, Fulham at home suddenly looks like a must-win game for us.
We have a striker who is really low on confidence and lacks pace (Tosun), one striker who simply does not score enough at all (Calvert-Lewin), and one striker who is never ever good enough to play at the Premier League level (Niasse) and it shows. Who decided that was sufficient firepower to be going into a new season? We also look marshmallow soft at the back and we are shipping on average 2 goals a game with no clean sheets.
I am really starting to worry that Silva may be Martinez Mk II and I hope I am wrong, but it really isn't looking too clever at the moment.
Sean Herbert
55
Posted 23/09/2018 at 18:11:27
Sorry but that was a much better showing, despite what a few others are saying. I agree, we desperately need someone to put the ball in the net but if people can't see an improvement after that performance, I am not sure what they are really looking for.
Joke of a manager — after 6 games!!? Let's get some realism into our thinking before making totally crass statements.

Jim Bennings
56
Posted 23/09/2018 at 18:12:54
Fulham is must win yes indeed!
There's only so long you can keep saying it's early days.
We have had a rather friendly fixture list and we have frittered away too many points already with some seriously tough away games on the horizon and our home form is looking creaky to say the least.
Usually a new manager has a honeymoon period but Silva has started very very sloppily especially if you include a poor pre-season.
Waiting on these injured players is all well and good but the fact remains we still can't do the basics well and the goal looks the size of a letterbox for most of our attacking players, they just always seem to lack confidence in front of goal and Calvert-Lewin looks as likely to score as a man in a chastity belt walking around a convent.
We are heading for an autumn like last again, discontent and unrest.
We need to beat Fulham AND Leicester (away from home so how?) before the next international break.
ps: Our away form is despicably bad!!
Peter Gorman
57
Posted 23/09/2018 at 18:13:17
Ian, I appreciate the response but your description of today's game is very far from what I saw.
Ian Lloyd
58
Posted 23/09/2018 at 18:15:51
Realism is we have 6 points from 6 games and only played 1 team with any sort of pedigree – that realistic enough for you?
We also set records every time we play anyone – West Ham's first win this season, Arsenal's first clean sheet – all these things aren't coincidental!
And yes, what has Silva ever done or won to warrant us head hunting him? Farcical!!!

Jay Wood
[BRZ]
59
Posted 23/09/2018 at 18:15:59
"Really who's arsed anymore?"
I am for one and will continue to be as long as there is an Everton and as long as I am mentis compos and breathing.
Yes, football is a results game and that is another defeat.
Does it naturally follow that all was shite and we are doomed? Not from what I saw today.
We were at least their equal in the first half. We were totally dominant for the first 15 minutes after the interval. Arsenal's first came totally against the run of play. A stonking finish from a quality striker.
When you suffer a second 3 minutes later it's hugely deflating, all the more so when it should have been ruled out for offside. I called it live before seeing a replay: the goalscorer was clearly offside, but the FIFA rated linesman didn't see it.
For the last 30 minutes we showed very little of what we had displayed in the first hour. That said, we still finished strongly and a case can be made that their MotM was their goalkeeper. As I write this, he is the player chosen to give the post-match interview and the importance of his performance is being discussed.
Yes, as always, there are things to improve. But there were lots of positives for me, even so.
Was Pickford seriously worked as much as Cech? No. Neither Kenny nor Digne were burnt or seriously exposed by speedy opponents. I thought Keane was outstanding, putting his head on everything – all the more impressive considering the injury he is returning from.
Gueye and Davies not only competed well in midfield, they also showed some guile and telling passes. Did Tom overhit a couple of passes? Yes. Did he also look more like his old self in his breakthrough season, having confidence on the ball to side step players and play in some lovely slipped passes? Yes.
Was Sigurdsson more involved and showed some of his ability? Yes. Did Richarlison continue to show he has something about him to trouble any defence? Yes.
Calvert-Lewin's and Walcott's touch at critical times cost us, both they also contributed good moments.
But for the 3 minute spell for the two goals, the whole team played as one and looked so much more solid defensively than last week. The midfield were very incisive at times. There is pace in the attack.
Overall, plenty to be encouraged by today. But I have no doubts that plenty on TW will not share my optimism.
Jim Bennings
60
Posted 23/09/2018 at 18:18:07
I'm with you, Ian.
Realistically, we are still shite!
People talk about better attacking football but none scored today and just one each against the mighty Huddersfield and West Ham at Goodison Park!!!
We still carry the punch of a glass of water.
I'm all for giving Silva time but he needs to start showing results. As I said usually there's a honeymoon period for a new manager but it's not even got off the ground yet for Silva.
Eric Paul
61
Posted 23/09/2018 at 18:18:59
Ian,
Which proven manager are you talking about?
Ian Lloyd
62
Posted 23/09/2018 at 18:19:18
No probs, Peter – I guess that's the beauty of different opinions.
I'm very frustrated, as you can probably tell, and only want the best after enduring years of purgatory.
After spending the money we have recently, we are no better than 20 years ago and that's one of the main things that matter to me.
Jim Bennings
63
Posted 23/09/2018 at 18:20:14
Jay Wood
You go through all those points but the record book will state Arsenal
away lost 0-2.
So for all your points made, the result was the same as last season's annihilation and we are meant to be happy because we gave a far from vintage Arsenal a few things to worry about?
That's why Kopites laugh at our losers mentality.
Tony Twist
64
Posted 23/09/2018 at 18:21:09
Second rate, pathetic excuse of a team of footballers and a manager who hasn't got a clue with regards to not conceding goals.
That is me keeping a lid on it. I see only failure with this team and manager. Roll on the next game!
Ian Lloyd
65
Posted 23/09/2018 at 18:23:03
Eric – I would have broken the bank for Wenger, ad asked him to put a structure in place (that clearly works). Yes, he may be past it but still is 100 times better than what we have employed in the last few appointments and then he could have handed over to a younger manager (working at the side of him).
We have spent £30 million on pure bang average players so why not spend £30 million on a proven manager?

Danny Baily
66
Posted 23/09/2018 at 18:23:41
Some positives to take from that.
Mina and Coleman coming in might help at the back.
Next game can't come quickly enough. Absolute must-win. I still think we've got enough about us to stay clear of danger this season.
Björn Kausemann
67
Posted 23/09/2018 at 18:23:51
This is not a team. No movement, no power.
Our academy players – Davies, Calvert-Lewin and Kenny – are Championship players. Not good enough for the Premier League. And Lookman gets no chance.
Silva is blind. What's his record in England? Why was he chosen? Get Richarlison to centre-forward and Lookmann to the wing. Tosun to the bench and sell him to Turkey next transfer window.
George Cumiskey
68
Posted 23/09/2018 at 18:25:32
Jay @ 59 Sigurdsson was more involved and showed some of his ability — what match were you watching?
Sam Hoare
69
Posted 23/09/2018 at 18:25:35
Funny how those who've been saying all week how we are going to be hammered by Arsenal now seem so outraged and surprised that we lost!
I'm just out of Emirates where I annually watch Everton and I thought it was one of our best performances there since early Martinez.
The only difference between the teams was a top class finish from a £50m striker and then individual mistake/missed offside.
We need a striker and a dominant central midfielder.
Better times are coming. I see the signs!
Steve Ferns
70
Posted 23/09/2018 at 18:26:37
We were the better side until the goal. You swap Lacazette for Calvert-Lewin and we'd have battered Arsenal.
Lacazette is a case in point. We tried very hard to sign him, but he wouldn't come. This is the level of striker we need, but they simply will not come. So either we sign the level below, who are not as good, or have flaws to their game, or we gamble on youngsters.
I thought it was a good team performance today. Much better than against Arsenal last season. We are improving. We need Mina in to lead that defence and we need a top striker to lead the line. Add in Gomes and you've got a side that will climb the table.
Lukas Polster
71
Posted 23/09/2018 at 18:27:48
We don't play in London, don't have a history like the RS (sad but true) and Man City had money when it mattered. We have no more right to be challenging top 6 than Newcastle do. Look at Leeds, Villa, Blackburn etc... so when we moan about under achieving, it'd be nice to be where Spurs are but we could easily be where Sunderland are.
Jim Bennings
72
Posted 23/09/2018 at 18:28:17
Björn
Can't help but feel we missed a trick not going for Marcelo Bielsa, a proven manager with worldly experiences and seems to command respect wherever he is.
I'll give Silva time but I'm worried his overall lack of experience might be the same downfall as it was for Martinez and he might not have the options in his Arsenal to really change the dynamic at this flailing club.
John Keating
73
Posted 23/09/2018 at 18:30:07
It's all relative but that was our best performance of the season and we still lost.
First half very impressive but no finishing. Second half we go one down and just fold. No passion, fight or belief and that is the scary thing. Their first goal was a peach their second well offside.
Cech voted MotM, so that says something.
Sigurdsson needs dropping and Bernard should play in his position.
I said before the West Ham game was a must-win and a few thought I was stupid, well Fulham is definitely a must-win as we can't keep making excuses for this run.
Silva has to play to our strengths – we are still trying to play a system the players are not suited too. Unless we start to keep clean sheets, we will find ourselves in deep shit... even this early in the season.
Jim Bennings
74
Posted 23/09/2018 at 18:30:22
Mind you, whoever the manager is, when you still have to pick Barndoor Calvert-Lewin, I suppose limitations are expected anyway.
Eric Paul
75
Posted 23/09/2018 at 18:31:45
Ian,
Wenger was done, Arsenal fans have wanted shut for years... remember Howard Kendall Mk 2 and Mk 3???
I would have gone for Hughton or Howe but we have to give Silva time
Paul Columb
76
Posted 23/09/2018 at 18:32:02
Jay (#59),
Well summarized. Been deflated by Everton for going on 3 decades but expecting Silva to turn this around in a half-a-dozen games is a tad ridiculous.
Positives for sure from today and, over a couple of more transfer windows, we'll likely see more consistency, balance and more attacking quality and threat. We were undone with a quality strike and a hungover linesman.
More intensity in the final 20 would have been good but they ran themselves ragged and performed at a level above the dismal showing vs West Ham. Amazing away support as always in contrast to a half-empty Emirates for the final 15.
Clive Mitchell
77
Posted 23/09/2018 at 18:34:18
I've been reading ToffeeWeb for years now and contributing from time to time. This thread reaches a new low. I had to check to confirm that some of the first few posts were actually written before the game started. How is it possible to write as negatively as that before the game has even kicked off?
Worst post of the lot in my view, Ian, 35 - and I've marked your words Ian. If Silva is gone by November I'll post on here that Ian Lloyd should pick our next manager because he's so prescient; and if instead we're clearly getting our act together by then, perhaps you'll come on and admit you were wrong.
Kunal Desai
78
Posted 23/09/2018 at 18:34:20
Clearly evident that the first phase of the clearout is over with. Next summer there needs to be another clearout of around half-a-dozen players, including our record signing. Just doesn't cut it for me, take a hit of over £20 million plus for a 30-year-old and move him on along with another four or five more. Breakup the central midfield and start again as well as the forward areas.
Joe Clitherow
79
Posted 23/09/2018 at 18:35:12
Yes, we need a striker desperately, as I and others here have said, but, on reflection, the most important thing for me would be concentrating on clean sheets. It would be very nice to see one of those again. We have enough in our wide attackers to make KITAP1 (remember that?) an immediate objective to pick up points and we need to start there and go on from that.
Every decent side (except Guardiola's, who just buys the best and most expensive players in the world) starts building from the back.
ps: I hope never to see BA (Bad Attitude) Lookman in a blue shirt again in response to the post above.
Pat Kelly
80
Posted 23/09/2018 at 18:35:23
Everton got what they deserved, sod all. A Premier League Club without a striker is a sick joke. And where are those great signings? Injured or still unfit to play a part.
And the Captain today is a kid out of his depth in the Premier League. Is anyone at the Club taking this serious?
Jay Wood
[BRZ]
81
Posted 23/09/2018 at 18:36:18
Jim @ 63.
For someone who is given to claiming not to be arsed any more, you don't half love to vent negatively about the club, pretty much on a daily basis.
Yes. We lost, Jim. Very observant. Try to engage in the discussion, rather than dumb it down.
Answer the question in my post. Does it naturally follow that all was shite and we are doomed?
You and others are given to pinning lazy labels on fellow supporters as happy clappers, too easily appeased, passive recipients of the mediocre, ad nauseum.
WRONG! I want a TROPHY winning team, arrogantly sweeping all before us, home and away, regardless of the opposition.
I do not expect Silva and Brands can possibly deliver that NOW, immediately. It is a process.
I (and based on this thread alone) and others, unlike yourself, are more tolerant and patient than others are prepared to be.
We are definitely down on the anticipated points tally we could reasonably have expected given our opening fixtures. Disappointed as I am by that, I remain positive because I can see a method, a strategy, being applied.
Is it working 100% yet? Evidently not.
But I won't be jumping on your misery bus in condemnation just yet, ta very much.
Steve Ferns
82
Posted 23/09/2018 at 18:37:30
Jim, I love Bielsa more than anyone, but he looked finished. He'd been a shadow of himself at Marseille before falling off badly, he'd been terrible at Lille, losing game after game and bottom of the league, and it's well over 10 years since Bilbao.
To throw back at what everyone used to say to me about Bielsa: outside of South America, what's he won? And even South America was 20 years ago.
So no, Bielsa is in the Championship because his relationship took a beating. He's onto his 60s now and his tactics looked creaky, and his energy dimmed.
I'm made up he's rediscovered his mojo but no-one could have predicted it. He was a manager in decline.
George Cumiskey
83
Posted 23/09/2018 at 18:38:39
Kunal, you'd be lucky to get £10 million for Sigurdsson.
Tony Abrahams
84
Posted 23/09/2018 at 18:39:09
It hurts when you lose; it hurts me more today than it as for a long time. Not good enough in certain areas, but also some good link-up play at times.
Some will say we are shite, others will try and look at it more objectively. I've seen us play a lot worse and win, but it's a results business and, because we never won, then that's enough for some people.
If we can't realise it's going to take time then the pressure is just going to grow on both the players and the manager, and that's the last thing we need right now.
George Cumiskey
85
Posted 23/09/2018 at 18:40:39
Jay, you answered the question in my post.
Ian Lloyd
86
Posted 23/09/2018 at 18:40:53
Clive – we're all entitled opinions are we not? I still don't understand how you think it's the worst post? It's quite accurate in my opinion. I've paid my money for 20 years and therefore I'm entitled to have a say, no?
Not one of those players I mentioned would get into a top 8 side but they are the first on our team sheet! I'd rather play the Under-23 players – at least they might be bothered.
If you believe there were good signs there then that's entirely your right. I was just merely expressing an opinion (albeit a very frustrated one).
Peter Gorman
87
Posted 23/09/2018 at 18:42:53
Such a range of opinions – I didn't even think it fair to say Everton lost confidence after conceding the second goal, to me it was more a case of Arsenal finding theirs.
When you read out the names on the Arsenal team-sheet, the gap in quality is all too apparent. Given the players on the pitch today, I was happy enough with their effort and work today as one could be with no points.
People still call our youngsters Championship quality but I thought Kenny was very good and Davies much, much better than last year. Calvert-Lewin a disappointment but then Tosun has also been to date so his exclusion wasn't a great shock.
Joe McMahon
88
Posted 23/09/2018 at 18:43:34
Danny, Coleman's not the player he was. Calvert-Lewin always will be the player he was, he needs to be playing for a team such as as MK Dons.
As Jim says, year-in & year-out, it's the same pathetic outcome, it's gone on for decades. Being an Everton fan is now embarrassing and has been for a good while. What do we actually achieve as a club???
Ian Lloyd
89
Posted 23/09/2018 at 18:44:30
Clive – I will gladly admit I'm wrong come November if we have got our act together – I want nothing more!
But I just can't see it at the moment!!

Christopher Marston
90
Posted 23/09/2018 at 18:45:03
That's the thing — he fucking doesn't have to pick Calvert-Lewin!!! If he's a good manager, he knows that it's better to play with 6 quality midfielders than a shit like Calvert-Lewin!!!!
Frank Wade
91
Posted 23/09/2018 at 18:46:54
Agreed, Sam and Steve (and Jay), good to hear the view of fans who were at the game. I was dependent on Sky Sports, but I could see big improvement in performance.
Frank Crewe
92
Posted 23/09/2018 at 18:48:22
It is now 21 years since we won at Arsenal, How long since we won at Liverpool, Chelsea, City, Spurs etc? It just goes on and on. We can rearrange that side until we are as blue in the face as the shirts they wear but, until the players believe they can win, we will just go on losing. Half of football is confidence and we have none.
We had a good first half but we didn't turn it into a lead... so, the moment they scored, our fragile bubble was burst. The second goal was a mile offside and drained whatever confidence we had left and the game came to its inevitable conclusion. Everton lose again. We had some decent chances in the first half but we didn't take them so, once again, the pressure was on the defence to keep a clean sheet which just isn't on.
I'll bet if we had played with their forwards and they had played with ours, we would have won today. That was the difference. We have to get a striker from somewhere because scoring builds confidence. If we don't then the best we can hope for is the usual mid-table, no silverware season, as every other season.
BTW Mina and Gomes missing again. Every summer, we buy a bunch of players we don't see until October. Why do we do this?
David Barks
93
Posted 23/09/2018 at 18:48:52
If we had a competent striker we would have been up 1-0 in the opening minutes. But we have Calvert-Lewin for the reason that Steve Ferns eloquently pointed out.
We were the better team up until the goal. But we did not "fold" or "capitulate" as certain people continue to say. They got a second that was clear as day to be offside. We then continued to have chances although we had to be careful because they shifted to a counter-attack game to try to catch us out. If we just threw everyone forward, those same posters who say we capitulated would then say how naive Silva was.
Cech made save after save while Calvert-Lewin continued to show that he is not in any capacity a Premier League striker at this point in his career. I don't care if he becomes one — all that matters is right now he is not. Silva and Brands will address that position as theycontinue to overhaul this squad.
I also don't understand when people say Silva needs to change the tactics to play to our strengths. What exactly does that mean? We were far better than them but missed chances. We pressed them into mistakes and turning over the ball throughout the first half and into the second. We were the threat, not them. There was nothing wrong with the game plan or the tactics.
Chelsea weren't able to score against West Ham today. Nothing is guaranteed week to week. We went to Arsenal and were beaten by a sublime strike after being the better team but with the lesser quality up top. That cost us the win and that alone.
Craig Walker
94
Posted 23/09/2018 at 18:49:48
Fulham at home is by no means easy. We normally beat them at Goodison. Just checked last season's start and we had 8 points from 8 games (wins at home against Stoke and Bournemouth and draws away at City and Brighton) with a far tougher start. We have tough away games coming.
There were some positives today but Silva has a massive task and an increasingly restless fan base. How long can we be patient? My patience is up now. I didn't think Silva was a good appointment and nothing I've seen yet has changed my opinion, unfortunately.
John Graham
95
Posted 23/09/2018 at 18:50:07
Football is a game of opinions, and in my opinion there are too many posters on here who have red-tinted glasses. Analogy of a supporter is someone who actually supports their team.
Great to have an opinion, and great to put your point of view but let's try and be a little bit positive here and get behind the team.
Jim Bennings
96
Posted 23/09/2018 at 18:50:20
You might just have better luck polishing a turd than making Calvert-fecking-Lewin a Premier League striker, he hits a ball like Mary Poppins.
John Keating
97
Posted 23/09/2018 at 18:50:46
Steve,
It's correct that we need at least one top class striker – doesn't every team. The fact is we don't. We therefore have to play a system that suits what we have.
I was most encouraged by today considering the absolute crap the players and management have shown from the opening Wolves game - including pre-season.
We could sign Messi and Ronaldo and still be in our present league position. Until we get our defensive system and play sorted we are a hopeless case.
We have had one of the easiest Premier League openings for years and are still to keep a clean sheet. That is disgraceful and the scary thing is that it appears to be the manager's norm.
George Cumiskey
98
Posted 23/09/2018 at 18:54:57
David Barks, I usually agree with your comments, but to play Calvert-Lewin and Sigurdsson week after week beggars belief.
Steve Taylor
99
Posted 23/09/2018 at 18:55:07
Everton started at 100 mph and were unlucky; when a team does that, they have to score as it will tell later in the game. They made an average Arsenal side look average.
As for Everton in the Community, it is really Liverpool taxpayers in the Community — they pay for it all. It's a con in the Community. No doubt it does do good work but any professional care organisation would do good or better work if was bankrolled by the taxpayer.
Mike Doyle
100
Posted 23/09/2018 at 18:59:07
Totally agree with Steve (#70). It's easy to say who we need / who would improve us but getting proven performers – from the top leagues/teams – here is a different matter.
This is particularly true of finding strikers who can hit the ground running. At the time we signed him, Tosun had a good rep in Europe. This weekend, I read (again) rumours of a January bid for Bas Dost. All of them risks that might/might not work out.
Craig Walker
101
Posted 23/09/2018 at 18:59:33
We have to stop the mentality of being pleased or encouraged by a 2-0 defeat. That mentality means we'll accept mediocrity.
We were better today and showed some effort and attacking play but these aren't kids from a local park. They are multi-millionaire footballers representing Everton FC and we want to see winning football. Anything less is not good enough.
We have too many players who are not good enough for our football club. Different managers have given numerous chances to the same underperforming players. It isn't good enough for me anyway.
Dave Abrahams
102
Posted 23/09/2018 at 18:59:36
I'm unhappy with the result but the performance was a definite improvement on most of last season and some games this one.
Yes, I understand the obvious frustration of some Blues fans but, to me, we deserved something from that game. Arsenal won with a very good goal and one that was patently offside; once they are awarded, all goals count.
Unfortunately, we obviously need a quality striker but he will arrive sooner or later, give Brands and Silva time. I will; and we will improve.
Just a couple of disappointments today for me were Calvert-Lewin and Sigurdsson, not for lack of effort but for not getting hold of the ball properly. Apart from that, there were good performances from most of the rest. I think we will get better and better as the season rolls on, but again I completely recognise the frustration in some of our fans.
Peter Gorman
103
Posted 23/09/2018 at 19:03:43
"It is now 21 years since we won at Arsenal, How long since we won at Liverpool, Chelsea, Man City, Spurs etc."
Liverpool - 18 years (27 Sep 1999)
Chelsea - 7 years (19 Feb 2011)
City - 7 years (20 Dec 2010)
Spurs - 11 years (14 Aug 2007)
Man utd - 4 years (4 Dec 2013)
Peter Gorman
104
Posted 23/09/2018 at 19:05:37
"We HAVE to stop the mentality of being pleased/encouraged by a 2-0 defeat. That mentality means we'll accept mediocrity."
No it doesn't.
Craig Walker
105
Posted 23/09/2018 at 19:10:51
I disagree, Peter. We should be embarrassed by not winning at the Emirates, Anfield, Stamford Bridge etc. Are we happy that we improved on last season and didn't get hammered?
This Arsenal team isn't the Invincibles. They're average. We're not Dagenham and Redbridge in an FA Cup tie. We are EFC. People say Davies had a good game. Did he? By what measure?
Marcus Taylor
106
Posted 23/09/2018 at 19:15:50
For the record, the last time we won at Chelsea in the Premier League was 1994. The 2007 games was in the FA Cup. So one win at Stamford Bridge since 1994 and one win at Old Trafford since 1992. Pathetic.
Ian Lloyd
107
Posted 23/09/2018 at 19:17:10
It's embarrassing that we haven't beaten a top six side in at least 5 years – embarrassing! We seem to be saying that it was an Improved performance? As a previous contributer has said – we are not supposed to be a pub team and "happy with a less goals conceded loss?!? "
There is something seriously wrong here at this club and I've never been able to put my finger on it!
Now we have "millions" to spend it seems to be getting even worse – every other club who have had Money to spend and also top six aspirations have done it. lt looks like we never will have the capability to get there !?
Andy Meighan
108
Posted 23/09/2018 at 19:18:47
Jay (#63),
Plenty to be encouraged about?

What — not having anyone decent who can convert chances into goals?

Having a very average pedestrian midfield who offer nothing defensively or offensively?

Having players who, when conceding the 1st goal, throw the towel in – because, be fair, that's what we did today.

Yes, the 2nd goal was offside but do you honestly think that shower of gutless bastards had the belief that we could get something out of the game after Lacazette scored? No. They just sulk and feel sorry for themselves...

This is going to be a long road ahead for Silva and I actually feel for him because any manager inheriting a squad with the likes of Davies, Keane, Sigurdsson, Schneiderlin, Kenny, Gueye, Lookman, Niasse, and Calvert-Lewin would struggle. Those 9 players are at best Championship material. Yet most of them are first-choice or match day squad players. Only at Everton, hey?

Koeman and his staff set this club back 3 seasons so don't expect Silva to rectify it in one window. I doubt even the greatest coaches in football would get a tune out of the 9 I've mentioned. Added to them an aging trio of Baines, Coleman and Jagielka – magnificent servants, by the way – and you can see why we're struggling.
Fasten your seat belts because the ride has only just begun...
Craig Walker
109
Posted 23/09/2018 at 19:19:33
Marcus. Yes. It was a week after beating the RS at home as well. We won a trophy that season too. Seems like a lifetime ago. My lad is 7 and has never seen us beat the RS. We look as far away as ever from achieving anything. My only sliver of hope is Bramley Moore. It's the only thing keeping me believing in anything positive.
Brian Harrison
110
Posted 23/09/2018 at 19:22:12
How many times have I read over the last 4 or 5 years on here about posters saying why is it whenever we go away to a top 6 team we never play like we believe we can win.
So today Silva sends his team out to play quick pressing football and were by far the better side for 55 minutes. Then they scored a great goal and a minute later were awarded a goal that everybody clearly says was offside.
But the usual suspects come on with the usual comments of this side is shite and are clueless. To try and turn by-and-large average players into a team that can play a more attacking style that we have all craved, will take a lot longer than 3 months.
Have we such short memories that we forget the dross we have watched under Allardyce that brilliant defensive coach whose team got mauled last season by Arsenal. Or better still the now Dutch manager whose Everton side was equally mauled by Arsenal.
Yes, there are things Silva needs to fix, 2 weeks ago it was some posters moaning about zonal marking from corners, well today we looked very comfortable from corners, as we have in the last 2 games. I don't think he needs to be reminded that we haven't kept a clean sheet this season, again something he has spoken about.
So I am not saying everything in the garden is rosy it blatantly isn't, but he has done enough to convince me that when he gets more time with this group and can get Mina and Gomes fit then we will start to see victories in a style we will all like.
I am sure he has seen enough of his 2 main strikers to know they are not good enough but until Jan and possibly the summer he cant do much about that. Those questions about lack of quality strikers need to be asked of our previous 2 managers.
Sam Hoare
111
Posted 23/09/2018 at 19:23:11
"We HAVE to stop the mentality of being pleased/encouraged by a 2-0 defeat. That mentality means we'll accept mediocrity."
No.
This is a team in transition. We still have a lot of average players. These things very rarely (if ever) change overnight. I want to see that the team is going in the right direction. I thought (and others agree) there were signs of that today.
Does that mean we are happy with the result? No! Does it mean we are happy with mediocrity? Of course it doesn't. It means we want to see our club back at the top but understand this will take some time and patience.
Craig Walker
114
Posted 23/09/2018 at 19:29:31
We have s £45 million winger. A £30 million centre half. A £30 million goalkeeper. A £50 million (or thereabouts) Brazilian winger/forward. How much was Schneiderlin and Tosun as well?
Team in transition? For how long?
Peter Gorman
115
Posted 23/09/2018 at 19:30:27
Craig, isn't it all relative?
Are some pleased with the improvement in performance and effort over last year? Yes.
Are some pleased to have lost today? no
Are some pleased to have not won away to Arsenal in 21 years? No.
Does being pleased with the first equate to accepting mediocrity? No
ps: Davies had a good game measured against the other 21 players on the pitch. Not measured against Dixie Dean scoring his 60th goal. Again, it is all relative.
Ian Lloyd
116
Posted 23/09/2018 at 19:31:04
Well over £200 million there, Craig! Unbelievable, isn't it?
Joe McMahon
117
Posted 23/09/2018 at 19:35:25
Marcus (106), you are bang on, also the 2007 match was a penalty shoot-out. We went out next round anyway. Expectations have lowered at speed since Joe Royle was sacked (he tried), the appointment of Howard Kendall for the 3rd time was dreadful. Then comes Walter, Kenwright and 11 years of Moyes never winning at many away grounds, but for an Everton manager to never manage it once in 11 years at Anfield is dereliction of duty. Our low status and image is as bad as it's been since I've been supporting (1977).
Fans of other teams used to like us, now they don't see Everton as having a purpose, and an away match at Goodison Park is a trip to a Victorian Museum. We are still left with the Like of Baines and Jaqs in the Squad, why it's not as if they were Giggs, Scholes and Ferdinand, it's pathetic.
Peter Gorman
118
Posted 23/09/2018 at 19:36:21
Ian, Craig - again I appeal to relativity. £27 million on Tosun would make Kanchelskis blush, but it is almost half what Arsenal payed for Lacazette.
As painful as £200 million rolls off the tongue, that is not considered a king's ransom in today's game.
Oliver Molloy
119
Posted 23/09/2018 at 19:36:42
Very frustrated and very disappointed is all I can say after losing my tenner!
Sam Hoare
120
Posted 23/09/2018 at 19:42:12
Craig @114 we have a new manager, a new DOF and several new players. Clearly we are a team in transition.
As for how long for? A year? Two years? Ask City or RS fans, neither Klopp nor Guardiola hit the ground running. The former's still not won anything but has been given time to mold his team; and what he inherited was a whole lot more coherent than the mess Silva was given.
Too many people on this site (and in this country) want instant success these days.
John Voigt
121
Posted 23/09/2018 at 19:48:08
Not a good result.
Arsenal most likely won't finish in the top 4.
We played even with Arsenal in the 1st half but couldn't finish our chances. The 2nd half we were 2nd best.
6 points from 6 games is not a good sign.
I don't see us finishing in the top half of the league. Our squad just isn't good enough.
Jim Bennings
122
Posted 23/09/2018 at 19:51:18
I wouldn't offer Tosun and Calvert-Lewin to a Sunday League team, most of those fellas have got the basics of the game sorted and would be appalled at how inept the terrible two would be.
Our striking options are as bad this season as I can remember.
Paul Hewitt
123
Posted 23/09/2018 at 19:52:19
Plenty of encouragement today, just needed to score when we had the chances.
Start Bernard and Mina next weekend and let's beat Fulham
Brian Dalton
124
Posted 23/09/2018 at 19:53:32
Sam Hoare,
Is wanting a better return than 1 win in 6 matches now regarded as a supporter wanting instant success? We are 4 points off the bottom 3 and 12 points off the top. We have got 4 points out of Southampton, West Ham and Huddersfield at home. I don't think it's unreasonable to suggest that people would think that return is unacceptable whether we have a new manager or not.
James Stewart
125
Posted 23/09/2018 at 19:55:43
Once again a team doesn't even have to get out of 3rd gear to beat us. Feared the worst when I saw the line-up, there is an awful malaise at Everton.
Quite how we are in another season with Calvert-Lewin starting up front, I will never know. The lad wouldn't get a kick at any other Premier League side. Our strikers are the worst in the league bar none, which is unacceptable given the money we have spent. Embarrassing.
Derek Knox
126
Posted 23/09/2018 at 19:56:10
Unfortunately, I didn't manage to see the game in any capacity today, all links were unfruitful, but did listen on the radio.
We definitely seemed to be an improvement from what I could gather, to the last couple of dire displays but, as Ronnie Goodlass said a couple of times in the first half, if you get an opportunity, you have to capitalise on it!
It's almost unbelievable that the amount of money the Club has spent over the last few windows, that we still basically do not have a striker!
Although Marco Silva was not my personal choice, I don't think we should be demanding his sacking, or exit at this early stage, but I do think he as the Manager, has to get the players more committed to the cause.
I know it's early days, but our points total to date, and our upcoming fixtures do not augur well for the period up to Xmas.
Ian Riley
127
Posted 23/09/2018 at 19:58:09
It is irrelevant what we have spent. Average it out over 15 years, nothing really. Sadly, the market is well overpriced but we are a club whom won nothing since 1995. Paying over the odds will happen. Manchester City did it in the early days. Building success comes at a price.
Today was about putting the ball in the net. Overall, probably our best half (first) all season. We can moan which players shouldn't play, must play, not good enough. We have what we have. Today we moved the ball quickly and decisively. Yes, lessons to be learnt but there was improvement from last week.
Today, we saw two clubs in transition. First goal was crucial and it proved. Biggest factor today for me was we carried on to the 94th minute. We gave all till the end. That shows they are playing for the management team. We will play a lot worse and get three points. It's what drives us mad with this game.
Craig Walker
128
Posted 23/09/2018 at 20:00:27
Tom Davies got the ball in good positions and couldn't pick a five-yard pass. I'm not talking about going round 3 players. It's a five-yard pass! If I did that as an amateur I'd be disappointed. Course, he was better than some of his performances but is that good enough?
We have too many players who can be good once every 5 or 6 games. Schneiderlin is a case in point. Klopp has spent less on players like Salah than we have wasted on some of our flops. I'd take some of their flops like Origi, Ings or Sturridge over Tosun, Walcott and Sigurdsson.
I'm gonna stop commenting for a bit because what is the point? We're all disappointed and want some success but it just seems futile. It's the hope that kills you.
Sam Hoare
129
Posted 23/09/2018 at 20:02:22
Brian @124, we all want a better return that that, no-one is saying it's been great. But it's a new manager and obviously that makes a difference. Some people are prepared to show some patience. Some it appears aren't.
Clive Rogers
130
Posted 23/09/2018 at 20:07:11
Calvert-Lewin's performance today was an embarrassment. What is worrying is that he seems a worse player than when he first played two years ago. His last few games have proved he will never be a Premier League winger or striker.
Eddie Dunn
131
Posted 23/09/2018 at 20:07:46
Well I watched it on a decent stream and listened to 5 live commentary too. Despite the predictable result (I forcast 3-1) I have more optimism for the season ahead.
For the idiots above criticising Sigurdsson, did you not see that it was his incisive passes that opened-up the Gunners on several occasions?Calvert-Lewin should have either scored or passed in the first few minutes, but his touch isn't the best, but given time he will improve.

Walcott always tries too hard against his old team and seemed to lose his way once he had a little bump in the eye. He is a bit of a big girl's blouse.

However Keane showed great bravery clashing with Cech, and apart from the Lacazette cracker, we were good at the back.

The wingbacks are getting caught out, so surely we can reign them in a little, but on the whole we showed promise.

Stick with the manager, get behind the players; good times are just around the corner.

Tony Abrahams
132
Posted 23/09/2018 at 20:14:36
I thought Davies did better, but agree that some of his passing especially in dangerous areas really let him down.
Gana Gueye, is another. He doesn't run with the ball enough, which is definitely one of his strengths, especially because passing the ball seems to be his weakest quality.
Christy Ring
133
Posted 23/09/2018 at 20:16:09
Disappointed, but I have to take the positives. Cech was Man of the Match, we had plenty of chances, but were lacking up-front.
Turning on Silva is absolutely ridiculous, he's been here 3 months, he needs time, and a few more transfer windows. The football he's trying to play, with the players he inherited, deserves credit, and time.
I like Digne, but he needs to concentrate more on defending than bombing forward, and being caught out of position.
Fulham is a big game, but give Silva time.
Steve Taylor
134
Posted 23/09/2018 at 20:18:03
It's a long season and there are obviously some very talented players at the club. Making them into a team and playing with set plans takes time but Everton managers never seem to get there. It should be pretty straightforward.
The thing is for either the manager to play to his players' strengths or the players to conform to the managers' plans and sacrifice their own opinions. Everyone must know their job. playing a system that requires a Lukaku is not the way.
John Keating
135
Posted 23/09/2018 at 20:18:29
I thought Silva was spot on replacing Schneiderlin for whatever reason, injury. ban, personal reasons, whatever. He has been a passenger this season.
Tosun definitely needed taking out the firing line, although personally I would have actually started him and replaced him after 45 minutes if he hadn't performed.
Next week, we need to see Sigurdsson dropped. £45 million of not really much. This guy should be in his prime controlling and dictating games plus scoring goals. His contribution this season does not justify him starting games. Bernard has to start behind the striker.
Oh and just to show how different people see things and have opinions, I thought giving young Tom the armband today was brilliant.
Anthony Murphy
136
Posted 23/09/2018 at 20:19:09
I thought we played well and were unlucky to lose today. Arsenal had an off-day, so were there for the taking.
Worried about lack of characters and leaders – Marco probably is too given he's picked out a 20-year-old to captain the team today – but I guess he wanted to give the lad a boost psychologically.
I was in agreement that Rooney should go, but selling your top scorer two seasons on the trot is going to have an impact. Tosun, Calvert-Lewin and Niasse simply not enough at this level.
Brands must be scouring the globe as we speak looking for a striker. We clearly lacked a bit of quality up front, but Richarlison impressed again.
I'm confident in Silva after today – he'll get it sorted
Henrik Lyngsie
137
Posted 23/09/2018 at 20:22:52
Football is a results game and off course it has been a frustrating start of the season. But, while the Huddersfield and West Ham games very really poor, I actually think we played really well for the first 55 minutes away to a top 6 team. And not by parking the bus, but actually pressing high and controlling the game.
So a lot of positives and a very fragile team and maybe a bit of lack of winning mentality.
Two things I would like to comment on.
1. I don't get why our players are quietly accepting such a blatant offside goal as Arsenal's second goal. We should have the whole team screaming, spitting, mobbing the ref, the linesman and the fourth official. Not that they would have changed the decision. But you are putting something in the bank for the next big decision. We are far too nice. I don't want us to complain to the ref for every single throw-in but, for these big decisions, we should do a bit more. In fact, Arsenal complained more to the ref over an unimportant offside not given than we did after the robbery at their second goal.
2. In many ways, I think that Gana and Davies did well. But when it comes to an important pass, they are just not good enough. Ganas long range passing is not his key competence. And the number of times Davies is making a key pass behind the intended receiver is remarkable. It is a little lack of football intelligence to miss those passes. That's where the big difference is between a player like Davies and the top central midfielders at Man City, Spurs and Arsenal or a player like Gareth Barry. I think it is really a shame because they did a lot of good work. But at least one of the two central midfielders need this ability.
However, compared to the awful football we played last season, it is much more pleasing to the eye what we see this season. But football is a results business and we will have a week of negative posts on TW.
Mark Taylor
138
Posted 23/09/2018 at 20:23:03
That was a better performance than many we've given at Highbury and the whatever it's now called and way better than the dire stuff under Fat Sam.
There are clear weaknesses holding us back but in theory, 3 out of the 4 were addressed in the last transfer window;
● We still don't have a stable centre-back pairing and the defence badly needs a leader. Mina was signed for that purpose. Must admit I was assuming he might be playing by now but he needs to do so asap.
● Central midfield lacks quality. Gana does what Gana does, but Davies is at best Championship quality at this point and the other options are no better. I assume that's why we bought Gomes. Hopefully he does not prove to be a James McCarthy
● We lack ingenuity at Number 10. Sigurdsson is okay but disadvantaged by a price tag that suggests he is more than what he is. I hope Bernard can play this role when fully match sharp. I think he'd be better there than right wing.
● We lack a goalscoring striker. That gap hasn't been plugged. To be fair, that's because it is hugely difficult and not that many teams actually have one and certainly not at our level. I think our best hope is to play a system whereby our current front 3 can share the burden, similar to Liverpool and Chelsea. I think Walcott and Richarlison would be capable of this. I am a lot less convinced about Calvert-Lewin, at least at this stage.
I feel we need Lookman to succeed more than we seem to be implying in terms of how we are managing him. I wouldn't personally exclude Tosun entirely – there's a semblance of a striker there – but we need to forget about bang average players like Niasse if we expect to go anywhere.
It's worrying that until today, we have had 'easy' games and yet are still lower mid-table.
It's a shame to have had the money Moshiri has put in, which has been significant in size, especially compared to the laughable budgets of the past, and yet to be operating where we are, which is actually below where we were when we had peanuts.
Did I ever mention I'm a master of understatement?
Hardip Singh
139
Posted 23/09/2018 at 20:24:48
Not sure where the negativity is originating from, one lethal clinical striker would arguably have resulted in 6 points from the last 2 games.
I can't remember a more offensive performance at Arsenal in recent history. They had one amazing quality finish and a blatant offside goal; otherwise, were they the better team?
We invest in a clinical finisher and watch the points rack up. But Marco already knows this. Probably best to put Richarlison up front for now.
Brian Dalton
140
Posted 23/09/2018 at 20:25:05
Sam,
New manager or not 1 win out of 6 matches is rubbish. Now hopefully silva will come good for us but considering the 6 games we have had so far this season the return has been crap.
Lawrence Green
141
Posted 23/09/2018 at 20:26:46
Since the Premier League began Everton have had a terrible struggle to score goals as our best five goalscorers in the league illustrates.
Lukaku (68/133) better than one in two appearances
Ferguson (60/162) slightly below one in two appearances
Cahill (56/210) circa one in four appearances
Campbell (45/125) circa one in three
Osman (44/295) circa one in five
Not a great record given Cahill, Ferguson and Osman were playing together on many occasions. the next 2 in the list are Unsworth and Baines who predominately scored their goals from the penalty spot. There have been others strikers such as Yakubu, Saha, Rooney and Radzinski with 25 goals or more but none of those played more than 80 league games for the club.
Everton perhaps more than most other clubs are almost totally defined by a single goalscorer or lack thereof, where are the midfield men who aid and abett the strikers? Arteta scored 27 in 166 PL games, Fellaini 25 in 80.
Until we are able to buy and hold onto a proper striker who finds the net regularly we will always be also rans in the Premier League and continue to fail at the venues of the elite.
if the current Everton, don't find a striker to rely on for 10 to 15 goals this season either from our current crop or in January we may find ourselves in a battle at the wrong end of the table. Patience is in short supply from many, myself included, but the overall pattern at Goodison hasn't altered for nigh on a quarter-of-a-century, change of owner or not, changes of manager or not.
Anthony Dove
142
Posted 23/09/2018 at 20:27:18
Not a top Arsenal side but we played okay and some positive signs. Kenny is a proper player and he and Digne will make a top pair of full backs. Bernard for the wretched Sigurdsson and Mina and Gomes to come in.
Goalscorer is a big problem but, for the first time for many years, I feel unnatural feelings of optimism. If a few more could feel that way, it might even rub off on the team.
Hywel Owen
144
Posted 23/09/2018 at 20:30:54
We did a little better this afternoon but understandably, after such a blatant offside goal was allowed, heads went down a bit.
An instinctive striker is needed – someone who can bury a chance without having to think about it. Midfield needs improving and some players need dropping permanently. Tom Davies would be a much better player if he did more thinking and less running about like a blue-arsed fly, ie, slow his game down a tad.
I'm afraid that Calvert-Lewin will never make it as he is not clinical enough for the Premier League. With his lack of credentials, I have always had misgivings about Marco Silva but he should be given a chance to prove himself — but only up to the point where the future of EFC in the Premier League is on the line.
Max Murphy
145
Posted 23/09/2018 at 20:33:56
All this balls about "...Fulham is now a must-win game."
Every game should be a "must-win" game for Everton Football Club.
Jeff Magee
146
Posted 23/09/2018 at 20:38:02
Could one of the stats boys tell us how many times the top six lose at home in any given season? And how many times these losses are to teams outside the top six?
Whilst not happy with our poor away record, I suspect we are in the majority rather than the minority but would like some stats to confirm if true.
ps: That's the second offside goal for Aubameyang in consecutive games against us – is this a record?
Marcus Taylor
147
Posted 23/09/2018 at 20:40:00
Let's face it, Koeman or Allardyce would be getting slaughtered for taking 6 points from this set of fixtures – and rightly so. Why should Silva get a free pass? He's got a poor managerial record in English football. He should be under close scrutiny for that reason alone.
* 29% win rate in the Premier League (from 48 games).
* 2 wins in last 17 Premier League games managed.
* No clean sheets in his last 18 Premier League games managed.
* 91 goals conceded in 48 Premier League games managed.
Dire statistics. The only way he'll gain my full trust as a supporter is by winning games. Simple as that. Blind faith is not my thing.
Chris Jenkins
148
Posted 23/09/2018 at 20:40:40
I could understand the rationale for wanting to give Silva time to sort this mess out if he had the track record which indicated that he had the ability to turn things around.
However, his record at Hull and Watford does not inspire confidence and that's putting it politely.
We are totally dependent on Moshiri continuing to fund this debacle and goodness only knows what would happen if he was to jump ship – stranger things have happened!!!
It's almost 70 years since we were last relegated but I fear that, if this poor run continues and a change of manager is deferred beyond the end of October, then a plunge through the trap door into the Championship may well be difficult to avoid.
Ian Lloyd
149
Posted 23/09/2018 at 20:41:52
Steven Jones
150
Posted 23/09/2018 at 20:43:21
Just back from the game - Lots of Arsenal fans thought we were the better side.
Tom Davies was the best on show from both sides in the middle of the park. He is growing and played his best game for a long time.
Note that Tosun and Schneiderlin were a little cliche in the subs warm-ups … Not impressed with Tosun at all in terms of effort and closing down. Gilfi was doing more work in the last 10 minutes than Tosun.
Rather pleased with our performance and afterwards all the Arsenal players were all over the Everton players shaking hands and spending time with each other in the middle of the pitch. Lots of respect gained for ourselves tonight. I feel so much better watching that team performance.
Peter Cech was MotM, he changed the game for them.
Steve Ferns
151
Posted 23/09/2018 at 20:46:47
Lawrence, Duncan scored 60 in 239 games. How did you shave a hundred games off his record?
Sam Hoare
152
Posted 23/09/2018 at 20:47:41
Brian @140, we were never going to be top 5 this season and I'm not massively bothered whether we finish 7th or 15th. For me, it's more about performance and seeing that this team is being remade into one that can genuinely compete whilst playing decent football.
For me, the results have been poor but the performances have at times been encouraging. Long way to go of course and ultimately it will be the results only that matter but I was there today and left feeling optimistic.
Clive Rogers
153
Posted 23/09/2018 at 20:47:54
Lawrence (#141), Osman scored 44 goals in 352 Premier League games, 1 in 8.
Pat Kelly
154
Posted 23/09/2018 at 20:49:06
Marcus (#147), he's just having a bad moment.
Dave Williams
155
Posted 23/09/2018 at 20:49:09
Anthony (#142), I agree. It's sad to see the Osman/Hibbert haters descending yet again on Calvert-Lewin and Davies. Calvert-Lewin could have scored, I agree, but he ran all game and I bet the Arsenal defenders were pleased to see him depart.
I thought Tom had a fine game as did Gana and the midfield was let down by Sigurdsson who, yet again, tried but does not appear to be the creator we so badly need. Even his set pieces are poor and I would replace him with Bernard as quickly as possible.
Richarlison looked dangerous throughout and the defence looked far more solid to me primarily because the centre-midfield closed the gaping gaps we have been seeing.
All told, I thought it was comfortably our best performance of the season but obviously not very comforting because we lost.
Kenny must keep his place if he continues to play like this and Digne looks like he has been here for years. Some promising signs today but Sigurdsson's place must come under threat – he has nice touches but I just can't see him ever running a game and he is too peripheral for me.
Not a good start by Silva but he needs time to establish his pattern on the team and six games is way too early to have a go. I'm taking on a new guy at work next week and will give him six months to settle in and show what he can do – surely Silva deserves the same at least?
Michael Lynch
156
Posted 23/09/2018 at 20:49:42
Unlucky not to come away with a point or a win, but some encouraging signs (again).
Having said that, Silva's Premier League record is indeed abysmal. I think he can produce a decent attacking team, and buying Richarlison was a master-stroke, but I doubt if we'll ever finish as high under him as we did under Moyes, Bobby Brown-shoes, Koeman, or even Allardyce.
Talking of Big Sam, he'd have been fucking slaughtered if he'd overseen this start to the season. I'm glad he's gone, he was wrong for us, but he didn't deserve the vitriol handed out to him for doing a decent job in difficult circumstances.
Brian Dalton
157
Posted 23/09/2018 at 20:50:55
Steven, just goes to show people can be at the same match but have completely different views.
To me, it just shows how far our standards have slipped as a club. We get beat 2-0 by a bang average Arsenal team and some of our fans seem to be impressed.
David Connor
158
Posted 23/09/2018 at 20:56:03
Any way you dress things, the fact is we are shite and will continue to be so until we have strength in depth. As it is now, this squad is very very poor.
As much as I like seeing youngsters coming through the ranks, Kenny, Calvert-Lewin and Davies are not good enough at this present time and we will continue to suffer as long as they are playing. Who knows... in a couple of seasons, things may be different. But will they be any better in the Championship? Because the garbage we have in our squad will take us there sooner or later.
the attitudes of some players need to change rapidly, along with results, or we will be in another dogfight at season's end. The squad is that bad. No matter what we have paid for certain players – Tosun, Sigurdsson and Schniederlin – if they don't pull their fingers out, they must be fucked off out of our club because they are stinking the club out.
A win and 3 points is a must next week. Talk about putting yourselves under pressure.
Stephen Brown
159
Posted 23/09/2018 at 21:03:02
I thought Tom Davies had a decent game today and spoke well in after the match interview
I fear now he's been branded as 'shite' by many and will be constantly criticised however he plays!
It's a shame.
Brian Dalton
161
Posted 23/09/2018 at 21:06:40
Dave Williams, It's not a case of being a hater, it's just if we want to be a team who can challenge the top 6, then we won't do it with Calvert Lewin. Do you honestly hand on heart think over the next few years he will develop into a 20-plus-a-season striker?
Ivan Varghese
162
Posted 23/09/2018 at 21:07:07
David Moyes said that Everton is one striker away from top six. I believe him. Calvert-Lewin & Tosun, off and on the ball, is questionable.
Raymond Fox
163
Posted 23/09/2018 at 21:08:03
Hands up anyone who thought we would get anything out of today's game? We got beat undeservably 2-0, but still get slated on here by many. Okay, a defeat's a defeat but we were playing Arsenal away!
Plenty of potshots still at Allardyce who got us to 8th position from way below that, where's Silva going to finish? 7th? Not looking nailed on is it at the moment!
I'm not pinning the blame on Silva either, any manager of ours is limited by the quality of players he has at his disposal.

Shane Corcoran
164
Posted 23/09/2018 at 21:11:14
From my armchair, I say relax, lads, at least until Silva gets his first team on the pitch, ie, Mina, Gomes and Bernard still to come.
I have nothing against Calvert-Lewin. Actually that's not true, I think he dives too much, but he does work hard. However, he's not up to it.
I'd have Tosun in ahead of him even if he hadn't scored for six months. He has more ability and seems quite confident in his own ability. I said at the start of the season that Calvert-Lewin and Davies should have been sent out on loan.
Digne and Richarlison are two plus points. We have problems everywhere but we'll probably get enough points to finish mid-table and then see how we are next season. Great isn't it?
Oh, Walcott can be effective but he's so limited technically it's bemusing the career he's had and money he's made.
Lawrence Green
165
Posted 23/09/2018 at 21:11:55
Jeff #146 of course you are correct, those sides outside of the elite don't emerge victorious very often at the homes of those elite clubs.
In the last five completed seasons the list of home league defeats by the big six against non elite teams is as follows.
Arsenal FIVE to Aston Villa, Swansea(2), West Ham and Watford last being in January 2016.
Chelsea SEVEN to Sunderland, Palace (2), Southampton,Bournemouth(2) The last being against Bournemouth in January this year.
Liverpool SEVEN to Southampton, Villa, Palace (3), West Ham and Swansea, the last against Palace in April 2017.
Manchester City THREE to Stoke, West Ham and Leicester City*. The last occuring in February 2016.
Manchester United TEN to WBA(3),Everton, Newcastle, Sunderland, Swansea, Southampton(2) and Norwich. The most recent to WBA in April 2018.
Spurs NINE to West Ham, Newcastle (3), WBA, Stoke, Villa, Leicester* and Southampton. The most recent against Southampton in May 2016
*Leicester City were champions elect when they won at those grounds.
Jerome Shields
166
Posted 23/09/2018 at 21:12:06
I thought that though we created chances; most shots on goal were easily saved by Cech. We did play better, but this wasn't a good Arsenal team. The first goal beat us, the second goal was a dud, but he did put it in the back of the net.
Davies and Richarlison made a difference. Keane played better than expected. I will find it interesting to look at the stats to see how we improved.
Justin Doone
167
Posted 23/09/2018 at 21:17:12
Every loss is disappointing, none more so than against West Ham at home last week. I didn't expect anything from the Arsenal game but, yes, it's still disappointing.
The first goal was just too easy. Call it a defensive error, indecision, or whatever but it stems from the same poor understanding of the situation and being unable to read the game and deal with it.
We were being outnumbered and unable to see what was happening because we had had a couple of minutes good play and thought we were bossing them. Wrong.
They play how we should play. Stay solid and counter-attack. We're as solid as a chocolate teacup. What's wrong with a defender being ruthless and just knowing when to defend? 'If in doubt, kick it out', I was always instructed. Again, I think a back 3 or 5 is needed.
Further fuel for the anti-Silva and shouts of more time needed from his backers. I never wanted him but, despite a few disappointing results and goals conceded, it's the best football we have played for a while.
I never wanted him but realistically all of my other preferences have gone elsewhere so I'll keep hoping for improved results because who would we turn too?
Next 3 Premier League games are against Fulham, Foxes, Palace. 3 losses and Silva's gone, big Sam will be laughing louder and Unsworth will probably get another crack at it. Scary thought... so it's time to back the players and manager with great vocal support in the games.
Lawrence Green
168
Posted 23/09/2018 at 21:17:20
Sorry Steve #151, I don't think it's the first time I've made that schoolboy error and probably not the lasat as the figures I typed are starts not including sub appearances.
Tommy Carter
169
Posted 23/09/2018 at 21:25:07
I thought we played really well in parts of this game. We just need a settled back 4 and we do need Mina in and playing quite soon.
I can now see why Zouma has been overlooked at Chelsea now for some time. He's quite poor. He has some outstanding physical attributes by his reading of the game is generally well below standard and I put him at fault for both goals today. For the first, he was effectively spare and could have stepped forward towards the play and shut out Lacazette. He backed away and allowed the free shot. For the second his poor play led to their break away.
On the evidence of what I've seen so far this season, I'd be tempted to pair Keane and Mina initially, with Holgate going to right back.
I just don't see Kenny becoming a faultless Premier League performer. He does some things very well and he does others poorly. Positionally he is always found wanting for me and he looks on the edge of a goal-costing mistake all the time. I'd like to see him loaned out to another club where he can be tested to see if he can develop and mature.
Davies had a decent game and Gana was outstanding at intercepting play and making some decent tackles. It's then his passing that was quite poor. He needs someone to take the ball off his toe when we win it back. Hopefully Gomes can be that guy.

Pat Kelly
170
Posted 23/09/2018 at 21:30:48
Just seen Niasse tweet that he's looking forward to his turn as Captain next week...
Chris Jones [NZ]
171
Posted 23/09/2018 at 21:33:49
The team is improving, but, bloody hell, we were so shite last season, we're not going to be contenders after a few games!
There are improvements pretty much all over the pitch, but, for me, there are two key areas where we are still lacking quality. First is up front – we don't have a striker with the combination of pace, aggression and predatory instinct that the top teams have. We've got Calvert-Lewin who lacks the instinct and Tosun who lacks the pace. Needs sorting.
The other issue is in central midfield where, for all their passion and effort, neither Gana nor Tom can pass to the level required. I lost count of the number of sloppy passes from those two where we lost possession and either an attacking move broke down or we were immediately put under pressure.
One of the old managers from across the park (Paisley perhaps) said that a midfield needs a buzzer, a cruncher, and a spreader. Perhaps Gomes will be our spreader because we bloody well need one.
Stephen Davies
172
Posted 23/09/2018 at 21:45:16
Chris (#171),
I believe both of these types of players will be found but only when the right players become available... but I'm confident that Brands will find them.
Tony Everan
173
Posted 23/09/2018 at 21:55:12
Lyndon's headline sums it up in a few words. Their cutting edge was a bit sharper.
It matters.
Saying that there is huge promise from the team and better times are surely ahead.
As far as improvements go, Bernard is too good to be left out and neither centre-forward looks threatening enough. Richarlison is so good, I would move him central and have Bernard on the left and Walcott on the right.
It's too early in the day for Richarlison to be there, but he is a tough cookie and would handle it. I am thinking now it is the best option. I think it gives proper quality across the front three, opposing defences would struggle to cope against them.
Jim Bennings
174
Posted 23/09/2018 at 22:00:15
I stand by what I say.
Someone should be held responsible for the fact we sold Lukaku last summer yet we are in what, September 2018 and still, still starting with Calvert-Lewin as striker!
Someone needs to be held responsible as to why we have three strikers at the club, Tosun, Calvert-Lewin and Niasse and they are all bang average... in fact 'average' is being kind.
Richarlison is clearly going to be used as a wide man (today was the perfect chance to shunt him into the middle, chance missed) so we are stuck with the three stoogies up front.
Walcott is very hit-and-miss in front of goal, not reliable enough.
The major concern would be if Richarlison has a similar switch off to the one he had last season at Watford, where November onwards saw him look totally disinterested, that's the last thing we need because, for me, he's about our only hope for a regular goals source.
Utter skank dragon we are at times, so much money spent yet still so many glaring problems nowhere near being rectified.
Koeman and soft arse Walsh wasted too much money in 2017 and too much time invested in chasing Giroud as Lukaku's replacement, rather than moving heaven and earth for Vardy or someone with that type of goalscoring prowess and mobility.
Pat Kelly
175
Posted 23/09/2018 at 22:08:37
Remind me who said Niasse offers us something different off the bench? Fair enough, he was off the bench today.
Kevin Dyer
176
Posted 23/09/2018 at 22:11:01
Firstly, Arsenal are not poor or average. They have weak spots for sure but two class strikers. Aubemayang is an elite forward.
We have a terrible record at their ground. We lost (again), does that justify the hyperbole? Their keeper was MotM against us at their ground – last time that happened? We lost by a combined 10-3 last season so unless we get blown out 5-0 at GP we have done better.
Our players bust a gut and played with spirit. We took it to them at times. Their goal came against the run of play, the 2nd was a mess by us but two blatant offsides missed, dreadful decision that killed the game.
Gana was immense. Our attack had pace and intent. The defence was solid. Our shape was good. Davies played well. Calvert-Lewin is raw and his decision-making needs to improve but he has potential. Kenny had a good game.
These lads can potentially grow into outstanding players, for us, if they are encouraged and given a chance by the fans. Silva sees this. Or we can say they are all crap, Championship players at best and dump them. Let's spend a shit-ton of cash on foreign replacements, who needs home-grown players?
Sounesss and Carragher gave fair assessments. We lack a finished article top centre-forward up top. And a dominant centre-half. Mina should address the latter. The former is a potential major problem. If we carry on misfiring, we'll need to make a big decision in January and nail down a quality striker, easier said than done though.
Paul Birmingham
177
Posted 23/09/2018 at 22:26:31
Very disappointing day, with the result but it's a long work in progress, to get a fully fit team out and build a team that picks itself.
It's uncanny how we buy players who miss chunks of a season when they arrive. The sooner Mina and Gomes are available, then we'll see what this squad can do.
No cutting edge cost us today against a very average Arsenal team compared to recent years. Bernard must surely be starting games soon, else what's the point?
Compared to recent years, a decent shift in the first half, but lack of passion and fight and belief in the second half spoilt by piss-poor officials for the their second goal.
It's not all gloom but deffo the next three matches are gonna be important.
Let's hope Mina is able to play this week.
Brian Dalton
178
Posted 23/09/2018 at 22:36:27
Jim 174 your 100% right. It's criminal that we have spent the money we have over the last couple of years yet we have the following striking options Tosun (not top 10 quality), Calvert-Lewin (not Premier League quality) and Niasse.
To all the people who are impressed with Davies, I would ask in a few years do you honestly see him bossing a game from midfield on a regular basis? Do you see him being a player who could take the game by the scruff of the neck at Anfield or Old Trafford etc?
David Barks
179
Posted 23/09/2018 at 22:38:48
Jim,
Held responsible how?
Did you fail to see Koeman and Walsh get sacked? Did you not see Elstone depart the club? Are you not aware that we have a new manager and new Director of a Football in Brands?
Mike Doyle
180
Posted 23/09/2018 at 22:42:30
Despite being 2-0 down we only used 2 of our 3 sub options.
Can we assume, therefore, that Lookman (also on the bench) has no future at EFC – and will be off in January?
Perhaps those ITK could update us?
Tony Everan
181
Posted 23/09/2018 at 22:45:09
The linesman made such glaring error today, it stuck the boot into us when we were regrouping. It ended the game.
What disturbs me is it wasn't even marginal. It was clear daylight offside, by a yard and a half. He was looking straight at it and still couldn't get it right.
VAR can't come soon enough, Arsenal will probably object to its introduction!
Jim Bennings
182
Posted 23/09/2018 at 22:46:16
Stretching back to January 2017, when we beat City 4-0, we have now gone 18 matches against the top 6 home and away without registering a single win. I don't care about works in progress, that's far too slow progress, that is.
Moshiri must be wondering how serious things are if we don't start to get sorted this season. We should be starting to make a few waves this season but we aren't even making so much a ripple yet.
Steve Ferns
183
Posted 23/09/2018 at 22:46:29
Yes, Brian. I most certainly do. The lad is 20, and he will only get better and better. We need to lay off his back so he doesn't jump ship like Rooney and Barkley. The lad is going to be a top player. I have no doubt about it.
Jim Bennings
184
Posted 23/09/2018 at 22:47:42
Steve
I don't think he's going to be having a massive queue any time soon with Champions League clubs beckoning, he's had one good game in 18 months — take a chill pill.
Steve Ferns
185
Posted 23/09/2018 at 22:52:13
He's been nominated for the Golden Boy award twice in two years. Chelsea made a bid for him. Others all look at him. All the impartial journos all rave about him.
Maybe you need to have another look at him, take into account his age and how he can improve. He's only just turned 20. He plays in one of the hardest positions on the pitch.
Jay Wood
[BRZ]
186
Posted 23/09/2018 at 22:52:33
Jim, you have been venting and frothing at the mouth on this thread for HOURS now... (on TW for days...weeks...months, in truth).
And now you are advising others to 'take a chill pill'..?
Delicious unintentional comic irony.
Tony Everan
187
Posted 23/09/2018 at 22:53:05
Davies was a breath of fresh air today in midfield with Gana. We looked better for it, more fluid more forward thinking. For me, the Gana /Schneiderlin pairing is dead in the water. The penny has finally dropped.
Davies did not look out of place at all and had a decent game, with one or two errant moments. His biggest challenge will be to find consistency.
Steve Ferns
188
Posted 23/09/2018 at 22:56:06
Jim, why not have a friendly wager. I bet you Davies will be called up to the England Squad, before the end of the season. If you lose please make a donation to pancreatic cancer UK.
Jim Bennings
189
Posted 23/09/2018 at 22:56:37
Jay
That's because I've been left untreated by Everton, my symptoms remain.
Gordon White
190
Posted 23/09/2018 at 22:57:03
At the end of the first half, I was encouraged. We were closing them down and creating chances. It felt like we had the upper hand away at the Emirates. I was disappointed we hadn't finished better. But, given the chances we were creating, I genuinely thought, come the second half, we had a chance of winning it. The last time I felt like that at this ground was a long time ago.
The second half was obviously disappointing. However, to put it into perspective, it was a world class goal – the first one. A really good goal. And the second was clearly offside. So even without us scoring, it should have been 1-0 away to The Arse.
Going into the game, I thought we would lose. But I was still bitterly disappointed because I felt we created chances in the game. And for large part's of the match, we handled them reasonably well. It felt a whole lot better than it did against West Ham.
If we had gone down 1- 0 to that first goal, it wouldn't have felt so bad. But a very poor decision allowed a second. Their heads went up and ours down. But I am relieved that we didn't capitulate.
The major difference between us and them was our finishing and a poor refereeing decision – not that we played appallingly. Before the game, we were expected to lose, possibly by a big margin. We were expected to lose but potentially score against a team that have been regularly conceding. And we didn't score.
Therein lies the problem. We were passing the ball with confidence and creating chances. We just didn't finish them. On occasion, the final ball into the box could have been better. But, in my view, we should have been 2-0 up at the break.
Added to this, Petr Cech had a really good game. For me, he was their best player. That says a lot when you're talking about this fixture. Am I right in thinking we had around 9 corners in the first half? Away to Arsenal? Their keeper was their best player. It's easy to say they didn't play well.
So there were many positives from this game for me. (It's all relative.) The one negative is our lack of a decent striker. And that's not going to change anytime soon. Yes, Richarlison, Walcott, Sigurdsson, and perhaps Bernard and even Mina and Gomes (when they eventually play), may weigh in with some goals over the season. But we need someone putting these chances away. Possibly the likes of Deeney, Vardy, Zaha or Grey.
Is that likely to happen in the next window. Unlikely I would say.
Let's not forget we have a new regime in place. The summer transfer window was interrupted by the World Cup and transfer fees went through the roof. At the risk of repeating myself, Brands was quite specific. 3 seasons - not one.
Things will turn around. We just need to manage expectations in the meantime. As the RS have found out, over many years, spending a lot doesn't guarantee anything.
So today turned out better than I thought it would. But am I still disappointed? Yes, of course I am. However, I'm not as depressed as I was a week ago.
At the start of the season, I thought a top half finish and a run in a cup would be a good first season with all the changes and disruption. Some have got carried away though, raising their expectations.
No wonder a lot of fans are so frustrated and upset. Setting yourselves up to be disappointed, I'm afraid.
Brian Wilkinson
191
Posted 23/09/2018 at 22:57:48
If we could bring in Bas Dost or another top quality striker we could be closer than we think to stepping up a level.
To do that, we have to hope and pray we can get McCarthy and Beningame back in place of Ghana and Davies.
Get our settled back line for me as Coleman, Keane, Mina and Digni.
Richarlison looks our only hope in attack at the moment, Walcott is hit and miss.
Be interesting to see what Bernard and Gomes bring to the team when up to speed.
Today we had a go, poor passing and finishing in parts cost us big time.
Steve Ferns
193
Posted 23/09/2018 at 23:06:06
Brian, Bas Dost is utter dogshit. I've seen him in the flesh and I've watched him on telly many times, cheering on the team he plays for. He's Denis Stracqualursi, only without the heart.
He's tall, but does not jump. Against the giant physical defenders of the Premier League he will be far less effective in the air.
He is very, very slow. Maybe the slowest striker I have ever seen.
He has the touch of a rapist. His second touch is nearly always a tackle. Sporting accommodated this by trying to set him up so he hits first time shots. He scores a lot of tap ins and simple finishes.
He's also quite old now, almost 30. He's never been snapped up by a team in a big league, unless you count Wolfsburg, because he is such a limited footballer. Did I say he's utter dogshit?
Brian Dalton
194
Posted 23/09/2018 at 23:07:26
Steve,
What are his qualities? Genuine question.
Does he seem to be a player with genuine pace?
Does he seem to be a player with an instinct to run past the striker and put the ball in the net?
Does he seem the type of player who can spread the ball around the pitch with his range of passing?
Does he seem the type of player who can read dangerous situations in front of the back four and consistently cut out danger?
Does he seem the type of player who can thread through balls to break down a stubborn defence?
In say 2 or 3 years time what role do you see him playing in our midfield. I'm 77 years old and have been watching Everton since 1948 so I would like to think I can spot a player but please educate me on what I'm not seeing Davies do at this moment in time.

Jim Bennings
195
Posted 23/09/2018 at 23:09:22
Bas Dost?
I can't say I've seen anything of him really but he sounds like a shit brand of Hoover.
Right now, I'd take any guy with a proven Premier League track record of just pinching a few goals and putting his arse in defenders' faces.
Jay Wood
[BRZ]
196
Posted 23/09/2018 at 23:11:20
Jim @ 189. You posted that on the wrong thread. I think that belongs on the George Green thread and the debate about mental health.
I think it's reasonable to conclude, given your numerous scattergun posts since your first post way back at 32 (posted four and a half hours ago) - "Really who's arsed anymore?" - that your original post in this thread was a porkie then?
Ciarán McGlone
197
Posted 23/09/2018 at 23:16:48
Davies will be an average Premier League player. Nothing more, nothing less.
He may well get into the England squad... loads of average Premier League players do.
Chris Watts
198
Posted 23/09/2018 at 23:18:32
There is a lot of emotion on here today. I'd like to add a couple of things.
I don't blame Silva for the tactics or the shite squad he inherited. We looked good for a lot of the match and with a decent striker should have won.
But this Arsenal team is the worst I've seen for 20 years. It was farcical the way they were playing it around the back and we eventually kept getting the ball and then stoking it wise it fluffing it.
I do blame Silva for playing Calvert-Lewin up front this guy is never going to make it he is either falling over or not quite getting to the ball or miss controlling it. He adds nothing and nothing sticks to him.
Bernard should have started. I do think, as soon as the first goal went in, we were going to lose there was not one bit of me that thought we would come back. I was saying it to the boy when they scored their shitty second goal.
That is something which was apparent last week as well, so there is something weak about us – probably confidence. We desperately need a decent centre-forward. Nothing else counts now in January. All 3 of the current incumbents can go
Christy Ring
199
Posted 23/09/2018 at 23:23:31
I thought Davies had a good game today. I don't think he should be captain, but I don't understand the abuse. Like Barkley, another local being hounded out?
Soren Moyer
200
Posted 23/09/2018 at 23:25:21
Until we replace Davies, Tosun, Sigurdsson, Calvert-Lewin, Schneiderlin and Kenny, there will be plenty of similar results throughout the season.
These players are beyond coaching and won't get any better!
Steve Ferns
201
Posted 23/09/2018 at 23:25:35
Brian, he is a Defensive Midfielder. That's where he has always played. He used to link up with Liam Walsh. Walsh was the passer. Davies was the tackler. Davies could win the ball and drive the team forwards himself. This is why Koeman played him in a more advanced role.
He's a more defensive player. I haven't seen the stats for him this season, but he's usually in the top 3, for ground covered. He doesn't stop running. His stamina is immense. His strength of character and will to win are the qualities that will underpin him.
That Lyon game at Goodison was a case in point for this. Davies was having a shocker and his passing was particularly poor with many going astray. A lesser player would have hid. Not Davies. He demands the ball and he keeps going. He gets the ball because others do hide. And this is why he had the armband. He's a leader.
His passing needs work. But it can be developed. Too often he looks for a more ambitious pass, when he can play a safer ball. But he's not one to play to the numbers. He's got a good touch, and can carry the ball much better than most other players who play so deep.
I don't see many flaws in his game. His passing is below par, but that is mainly down to being over ambitious. If he was trained into being a crab, he could pass all game long without giving it away. He lacks ability to hit a long pass though, and I doubt that will ever be improved.
He seems to lack power and that filters through to his shooting, which is poor. He's never scored many goals, and he will score less as he gets older and becomes more defensively minded. He is able to read the game well, and to intercept, to tackle and unlike Gueye he can carry the ball himself. He lacks a bit of strength, but he's only a boy, he's got a lot more development to do.
He's got the perfect manager for him now. You saw a bit of that on the sideline on TV. Silva and Davies having a long discussion during a stoppage and trying to make adjustments. The lad is academically gifted and this can help in that regard. He should be able to make these adjustments himself in time, but for now, he has a manager who will micromanage him, telling him where he should be with every step on the pitch.
Tony Everan
202
Posted 23/09/2018 at 23:30:11
If we get a top striker in January, it needs to be someone on the fringes of a top quality side here or in Europe, who cannot get a game. It may have to be on loan.
To procure and buy a really top quality striker in January will be very difficult.
Any ideas? (Apart from Das Boot!)
Brian Dalton
203
Posted 23/09/2018 at 23:32:52
I'm not trying to hound him out and I hope he proves me 100% wrong and Steve Ferns and many others 100% right. However, I've seen every competitive match live that Davies has ever played for the first team and I can't see a player who is going to mature into one of the Premier Leagues most commanding midfielders.
Only time will tell what level of player he will become but, in my opinion, if Tom Davies is still a regular in the Everton team in 3 or 4 years time, then I can't see us being in any different a position as we are now.
Brian Wilkinson
204
Posted 23/09/2018 at 23:32:54
Here are Bas Dost stats Jim since 2010
2010-2013 app 66 goals 45
2012-2016 app 85 goals 36
2016 to now app 63 goals 63.
He went 45 games on the trot scoring with just one touch of the ball without having to take an additional touch.
I await Strachs stats from you Steve to no doubt match his stats.
At 6ft 5 he probably doesn't need to jump Steve.
Are you sure we are talking about the same player.
Paul Mackay
205
Posted 23/09/2018 at 23:38:26
I went to the match today, sat with Arsenal fans in the home end. We were pretty good in the first half, the goal took the wind out of us and then we lost concentration for the second goal (even if it was offside).
We are going to struggle as a team until we have a striker who can score 20+ goals a season. My ratings:
Pickford 7 – not much he could've done about either goal, good distribution.
Kenny 8 – linked up play well. Solid at the back.
Zouma 6 – he's quick but I think he's not the finished article. A little clumsy.
Keane 8 – looked solid throughout
Digne 7 – mobile and probably has the edge over Baines.
Gueye 6 – lost possession too many times
Davies 6 – average
Wallcot 7 – lots of space to move into and should have scored.
Richarlison 7 – if we were going to score you sensed it was going to come from him. Drifted in and out of the game.
Sigurdsson 6 – quiet
Calvert-Lewin 5 – poor for me, wasted a great early chance.
Subs:
Tosun 6 – one shot on target.
Bernard 4 – did nothing.
Rob Halligan
206
Posted 23/09/2018 at 23:39:17
Just home from the match. I've resigned myself to the fact that I will never see Everton win away to Arsenal.
A quick check on Google tells me the Emirates opened in July 2006. So that's 12 league games and one FA cup, 13 games in total, we've played at the Emirates and not won once. I never even saw us win at Highbury, except for the FA cup semi-final against Southampton. So I reckon I've been to Arsenal away about 25 times and not won one.
As for the match today. The first half we could and probably should have been out of sight. Calvert-Lewin in the first few minutes either has to chip Cech or square for Richarlison. The ball squared from the right by I think Walcott, looked a tap in for Calvert-Lewin. Richarlison also had a couple of decent shots saved by Cech. His first one, the one Cech palmed away to his left for a corner, could he have carried on into the box before shooting? Easier said than done sitting in the stands I know, but it seems we are being let down by the final ball or final decision all the time.
Oh to bring Lukaku back!!
As for the second goal, was it offside? Impossible to tell from the opposite end, but various texts received tell me it was. Had that been disallowed, we could have had a bit more fight to grab an equaliser but that second goal clearly deflated us.
David Pearl
207
Posted 23/09/2018 at 23:40:07
We played quite well, Calvert-Lewin didn't take his chance though which cost us, and possibly his place next weekend. Good signs for me:
Davies wasn't at fault and he will get better.
Drop Sigurdsson deeper and play Bernard behind Tosun.
Keane and Zouma not bad either... All-in-all, positive for me but we were all disappointed not to punish a flat Arsenal.
Now that feeling has died down a bit, let's move forward and get some points and momentum going.
Steve Ferns
208
Posted 23/09/2018 at 23:41:25
Brian, you're quoting stats, this isn't top trumps. The parallel to draw is the other Sporting hotshot, Islam Slimani. He scored a shitload for Sporting. He didn't score many for Leicester. He was available for cheap, you didn't see Silva lining up to get him in, and he was his manager at Sporting.
As for Bas Dost, you haven't seen him play. Watch Sporting, make your own mind up. Their games can be seen here: Link.
Let me know if you still think he's all that.
Phil (Kelsall) Roberts
209
Posted 23/09/2018 at 23:48:25
Here is one more for you Steve.
That was the youngest Everton side since Wimbledon at home on 27 February 1999.
There have only been 9 times in the whole of the Premier League that Everton have sent out a younger team than today and 8 of those were in the 1998-99 season (Walter Smith's first with teenagers Ball, Dunne, Jeffers, and Cadamarteri) and the other one in the previous season under Howard Kendall Mk III.
3 20-year-olds and a 21-year-old, Walcott the oldest and still 6 months away from being 30 does have the implication that there is room for learning.
Phil (Kelsall) Roberts
210
Posted 23/09/2018 at 23:53:08
Rob (#207)
So where were you on 20 January 1996? Can you go back there every time we play Arsenal? Superstition is just that, but we will try anything these days.
Previous win, when we last won the league.
Bill Watson
211
Posted 23/09/2018 at 23:53:21
Just got back in from the game to catch MotD and to see if Calvert-Lewin's misses were as bad as they seemed from the other end.
They were even worse and, I feel, finally put to bed any thoughts that he'll ever make it at Premier League level.
Rob Halligan
212
Posted 23/09/2018 at 23:59:49
Phil 211, I missed that game. Can't remember the reason why.
Phil Smith
213
Posted 23/09/2018 at 00:01:11
I have to disagree with a lot on here. Arsenal looking disjointed and in transition, not us. We were the only "team" on the park and thought, until their quick-fire goals, we looked as though we were the home side.
We should have had that match sown up at half-time. Not taking chances cost us dear again. For all the good crossing we did against West Ham, we couldn't cross it at all today.
And I actually thought Davies played very well today and looked like a future captain. Early days, although I'm totally behind a local lad to be the captain. There is no point being the better team and still losing, however.
Last week we were shit and we lost. This week we were good and we lost. We are not scoring, which is the worry.
Gloom-mongers need to relax. We were annihilated home and away by these last season and this was a massive improvement. Next week has to be a win though. Chin up, lads!
Brian Wilkinson
214
Posted 23/09/2018 at 00:03:25
In regards to the strikers we already have, Steve, I cannot think of many options to bring in. Bas Dost was one of the few who I can come up with, seems to be in the right place when a cross comes in or a ricochetted out, he seems to anticipate where the ball is going.
I am sure there are other strikers out there we could go for, I just cannot come up with many options who we could bring in.
Any other posters or yourself, Steve, know what other strikers are out there we could bring in???
Jay Harris
215
Posted 23/09/2018 at 00:09:12
I have seen every one of our games this season and for me that was by far our best performance. I can't understand all the negativity.
Although disappointing to lose, there is no disgrace in feeling hard done by to a 1-0 loss at Arsenal. (The second goal was a mile offside and should not have been allowed.)
Their goal showed everything that we are missing. Someone who can score goals consistently.
If there is one fault you can lay at Everton, it is that we have players that can't score – especially when we are on top.
I was pleasantly surprised by Davies and Gana today. I thought they both showed well. Pity Sigurdsson couldn't complement them.
With the addition of a top goalscorer and midfield dynamo, I think we'll be set to challenge the top 6.
On the other hand, failure to address these 2 key positions will leave us mid-table.
Steve Ferns
216
Posted 24/09/2018 at 00:12:11
Bas Dost plays in a very particular way, Brian. We don't play that way. He will touch the ball less than 20 times a game. He will pass it less than that. All he will do is finish.
Great, you will say. Let him get on the end of stuff. But Sporting are a possession side and other sides sit deep and they work it slowly up the pitch to him. He gets on the end of crosses. He does no link up at all.
In Europe, teams attack Sporting. They don't sit back. So, he's completely anonymous. He's so slow he can't get on the end of any through passes or balls over the top. It's all crosses or drag backs.
So if he played for Everton, he simply wouldn't get a chance. He wouldn't touch the ball, and we'd be playing with 10 men as he doesn't do anything else.
As for me suggesting an alternative, what do I know. I wanted Kasper Dolberg. I'll put my faith in Brands.
Steve Brown
217
Posted 24/09/2018 at 00:29:36
Soren @ 201, I think Calvert-Lewin, Kenny and Davies in particular are coachable. How good they will become is anybody's guess.
Schneiderlin, Gueye and Sigurdsson won't improve and that midfield simply lacks the quality to perform at the top level. It lacks creativity, passing quality and athleticism.
I really think that Sigurdsson gets a pass from fans while the youngsters get hammered. Perhaps his £45 million price tag blinds us, but I could count on one hand the number of truly excellent performances he has put in for us and still have a few fingers to spare.
David Hallwood
218
Posted 24/09/2018 at 00:39:41
Even for allowing for the old cliche, it's a game of opinions, I can't believe the abuse Tom Davies is getting.
Firstly, we're away to a good team, so no team will be open and gung-ho, and for me Tom kept it simple, filled the gaps kept things tight; in general kept things ticking over.
Do people seriously expect 50-yard lung-bursting runs? Have a look to see how the RS setup; the midfield in general just tidy up and give to the front 3 or the full-backs, none of them are silky skills 15-goals-a-season players.
If anything I'm more concerned with Sigurdsson, who offers very little in his favoured position.
But lay off Tom, he's 20 years old and will be a great modern midfielder
Ernie Baywood
219
Posted 24/09/2018 at 01:29:41
The outrage on here seems particularly odd this time around, even allowing for the usual "lose = moan, win = praise" stuff.
If you judge that performance without any pre-conceived ideas about Gylfi, or Davies or whoever your whipping boy is, you would have to see a team that was doing well. Loads of pressure, good shape, attacking intent. We forced Arsenal into mistake after mistake.
Ultimately it came down to quality at both ends. We had the chances and couldn't score. They got a half-chance through a defensive error and finished brilliantly. Arsenal can attract that kind of forward, we can't. It's not even necessarily a money thing, unless we suddenly find obscene (by Premier League standards) coin.
And that's not accepting mediocrity, it's acknowledging reality.
No-one is "raving" or "happy" about that result. If you're about to type that sentiment (and plenty have on here) then maybe consider whether you really need to refute a view that isn't being offered. Football is about results – we get it. But we're all entitled to air and discuss our opinions. If the only opinion you've got is that a win is good and a loss bad then you're not offering much to the discussion.
Soren Moyer
220
Posted 24/09/2018 at 01:39:21
Bas Dost!!? Are you having a laugh?
Jamie Crowley
221
Posted 24/09/2018 at 01:44:21
My fear is Joe Clitherow's post @54 where he sees signs of Silva being Martinez Mk II.
Joe's a poster I've a ton of respect for. He sees the game, pulls no punches, and calls it like it is.
I, on the other hand, crave open football and give managers like Martinez, and now that Joe's pointed it out, possibly Silva (?), a shit ton of rope and defend them to the hilt. It's the kind of football I crave to be successful, and it's enjoyable, in the main, to watch.
In my microcosmic TW world, when I start disagreeing with Joe Clitherow, bad shit happens to the Club.
I thought we played well. It was definably an "unlucky" type of day. There's areas of improvement needed to be sure, but I feel Silva is trying – trying – to address it all and come up with a winning formula that doesn't equate to shite play.
We need some wins. As far as I'm concerned we need to see some posts in the future from Joe stating he likes what he sees.
Otherwise, I'm jumping in a time machine to 2015 and it is Martinez Mk II all over again.
I'm keeping the faith. More play like we saw today while finishing our chances and we'll be fine.
I think Joe has kick-started my second-guessing!
Final thought - we'll be ruing the day Tom Davies is plying his trade for Man Utd, wishing he were still wearing Blue. Captain? Maybe. Good young player? Absolutely in my opinion. We throw this kid into a skillet and fry him up for breakfast. He's going to be a good player. My God please show a little patience with this kid!
David Barks
223
Posted 24/09/2018 at 03:51:20
That game was purely down to a couple of instances of individual quality and, on the opposite side of the spectrum, instances showing individuals lack of quality.
Their opening goal was pure quality, a fabulous strike. The kind of strike that a single one of you could see any of our strikers take. Until that point we were universally viewed by commentators and the like as the better team.
On the other side of the spectrum we had Calvert-Lewin wasting a simple chance in the opening minutes. What a difference that would have made. Minutes later he missed another tap in, but was spared the blushes with the offside flag being raised. After that he was absolutely useless.
But Richarlison was always attacking, Gilfy was able to play some balls in behind, Walcott was getting in behind their defense. Cech was making saves while we were taking it to them for most of the opening 60 minutes.
What happened to the "zonal marking will be our downfall" rants, by the way? Every corner today was easily dealt with. Seems like they are working out that system. People posting on here that our defense is weak and easily cut through clearly we're not watching the game or had preconceived notions.
Nobody wants to lose. I'm sick to death of it. But that performance will only improve the team. With a competent striker we take the lead and could have possibly ran away with that game as their home support turned on them. But we are in the early stages of a complete revamp of the club from top to bottom, including the playing staff.
Seeing how Richarlison is on the ball after being missing for the past three of six games, I could easily see him moving to the center and Bernard coming into the first 11. I'm not judging anything until January, but realistically not until next season.
We went to Arsenal to win the game, and we tried to do that and were the better team most of the game, but lacked that individual quality up top.
Derek Thomas
224
Posted 24/09/2018 at 04:11:59
Cech gets MotM nominations, yet many are down, maybe with good cause because we didn't win and I can see that.
M&M can only address at one time what they see as the most important of the elephants in the dressing room.
But it still has to be said – andex-Capt Pip said it – since 2016 we've spent £350M and no decent striker(s).
It must be about priorities, defenders etc then. Maybe in time it'll come good.. but I think we know where the next lot of cash – if there is any – needs spunking.
A proper Midfield Unit, not a collection of Individuals... oh and maybe a decent striker.
John Pierce
225
Posted 24/09/2018 at 04:27:54
Silva has improved things, we have an attacking edge, it's not yet razor sharp but the intent is there. Teams will and to a certain degree have had to respect it. He has also found it difficult for us to balance that attacking intent and keep us more solid at the back.
Will, like them over the road, it lead to Silva attacking more to rely on the back less? Can we outscore the opposition? As yet, no. So, as much as I see improvement and the credit that comes with it, you cannot ignore some serious issues.
Managers shouldn't get time – they should earn it. Results ensure you get time to implement your vision. Improvement should be measured over smaller chunks to stop the train coming off the rails. Martinez was given so much time, he derailed it almost single-handed.
A strong DoF should ensure the manager knows he has to balance his style with results. 1 win in 6 is not acceptable, it sets a tone, eats at confidence, and puts additional pressure on fixtures supporter see as winnable.
You cannot excuse, or ignore failings because if we cannot win any of the next three, with a visit to Man Utd to follow we could be 1 win in 10 and are like to stay bottom half. At that point, style often becomes a luxury.
For me, Silva needs to apply a defensive solution, quickly to show he can balance style and results. Tricky times ahead for the fella.
Peter Caldwell
226
Posted 24/09/2018 at 04:53:47
What can I say but we are doomed to another season of Premier League mediocrity yet again!
It started with great expectations, new Manager, more positive attacking style of football and the promise of a return to former days of glory for this great club. But here we are, 6 games in, and the same pattern of play is already emerging.
Same old story, I am afraid. It all seems so hopeless. We need help and really quickly as well.
David Barks
227
Posted 24/09/2018 at 05:47:50
It's a wonder they demand that each team play all 38 games in the Premier League season. All is clearly determined after six matches. Must be another example of them screwing us for TV money. I'll just have a look back to last year after week six to see how it all shook out.
Well, Man City won the league with Man Utd second. Chelsea qualified for the Champions League in third and Spurs came 4th. Tough luck for Liverpool missing out on the Champions League this season. But Watford in 6th and Huddersfield 7th, both going into Europe. Alright, that's great.
West Brom in 10th, so we know they're safe for another year in the Premier League. Arsenal 12th, ouch. No European competition for them. Leicester in 17th, flirting with relegation, uh oh. But unfortunately West Ham, Bournemouth and Crystal Palace were all relegated as they sat 18-20th. Tough luck, I wonder who Zaha was sold to since he was never gonna spend a year in the Championship. At least Stoke and Swansea know that they're safe.
Alan J Thompson
228
Posted 24/09/2018 at 06:06:04
So the Mob has decided Davies is no good. They all see the one mistake out of a few hundred touches and that's it, Out Now!
Talk about sheep, and they wonder why nobody wants to come to Everton. And why is it nearly always players who come through the club, those who were Evertonians before becoming players?

Sam Hoare
229
Posted 24/09/2018 at 06:48:34
I always like to post some player ratings when I've had the rare chance to attend:
Pickford: 7 – No chance with either goal. Great save in the first half and not much else to do. Better distribution.
Kenny: 7 – Could maybe have given Lacazette less room for the first? Very solid otherwise despite Arsenal targeting him with their expensive forwards.
Keane: 7 – last season, I wrote Keane off as a fundamentally flawed centre-back. He may yet prove me wrong. Seldom beaten, brave and won most of his duels.
Zouma: 6 – superb physical presence but made one or two slips, one of which led to the second goal. Will be interesting to see who gives way for Mina.
Digne: 7 – pretty impressed by him. Fast, gritty, superb touch at times. Maybe out of position occasionally and his crossing was poo,r unlike previously.
Gueye: 8 – from my vantage point, he was our MotM. Made countless tackles and interceptions and passed the ball much better. Even made one or two runs. He's not a playmaker but disrupted their play and pressed relentlessly.
Davies: 7 – A better game from him though still some of his passing, even the simple stuff, was inaccurate at times and slowed us down. Seemed to form a good partnership with Gueye but neither is a great passer which is problematic.
Sigurdsson: 6 – Harsh perhaps. He worked hard and yet didn't have enough effect on the game. Having a player here who can beat a man (Bernard?) might make a big difference.
Walcott: 6 – worked hard and got into some good positions. Missed a decent chance and faded in the second half it seemed.
Richarlison: 8 – Another impressive showing. Made chances for himself and only the finish was missing. Let's hope the team improved enough to help us keep this gem.
Calvert-Lewin: 6 – I wanted him to start and he kept their defense stretched at times but fluffed his lines and fell over too much. He's got some of the raw tools but at this level you've got to be more clinical in a team with top 6 aspirations.
Subs:
Tosun: 6 – did very little of note. Confidence in need of a boost perhaps.
Bernard: 7 – Sharp on the ball and created a decent opening for Siggurdsson. Looking forward to his first start.
Overall, despite the result, it was the best I've seen us play against Arsenal for a while. How often do we go there and create more chances than them?
The striker problem is an issue. I really don't want to play Richarlison out of his favorite left-wing spot (where he's been excellent) but so far Tosun, Calvert-Lewin and Niasse have really not cut the mustard. It will be a serious concern to Silva and it's hard to get top strikers at any time – let alone the January transfer window. At some point, I'd be curious to see Lookman and Walcott on the flanks with Richarlison through the middle. We can't keep missing chances.
Indicative of our fortune that in consecutive weeks we have conceded superb top corner finishes from Yarmolenko and Lacazette. I noticed the former missed an open goal from 5 yards out against Chelsea. There's some better results coming our way. I hope.
Martin Berry
230
Posted 24/09/2018 at 08:14:23
Give the team a break! they played well and deserved at least a point.
The team will come good, the manager is just getting started and some of his signings haven't even played, yet we get all this negativity.
I despair at some comments when there is a total over-reaction. When we hammer Fulham and Southampton we will see what reaction we get then from the doom-and-gloom merchants.
Jim Bennings
231
Posted 24/09/2018 at 08:45:48
Martin,
I don't think we will be hammering Fulham or Southampton to be realistic.
Fulham will put everyone behind the ball like Huddersfield did a few weeks ago and we didn't have a scooby doo how to break it down, and Southampton have given us two really tough games at Goodison this year and hardly been outplayed by us.
If we did somehow win both, I doubt it would convince anyone anything other than we already know, we can be ourselves when we face lesser lights but put us against a top 6 side and there's more chance of seeing Lord Lucan than an Everton win.
Ian Lloyd
232
Posted 24/09/2018 at 09:06:32
Davies to Man Utd? 😂
I'm not slagging the lad off but if he was put up for sale now - no one in the top 6 would be in for him
Ciarán McGlone
233
Posted 24/09/2018 at 09:16:53
No one is throwing Davies to the wolves or picking on him because hes 'local'... this nonsense is continually used to stifle honest debate.
Davies will be a decent midfielder and he'll have a decent career in the top flight... but, from what I've seen, there's little evidence to indicate he'll be a regular starter in a team that is genuinely challenging for the title.
Victor Yu
234
Posted 24/09/2018 at 09:21:13
Cleverley is a lot better than Davies, just as a comparison.
Dave O'Connell
235
Posted 24/09/2018 at 09:25:48
Jim Bennings, spot on, mate. It's absolutely criminal we haven't replaced Lukaku with a quality proven goalscorer. Calvert-Lewin, Niasse, Tosun are nowhere near good enough for the Premier League.
Clive Rogers
236
Posted 24/09/2018 at 09:39:09
Jim (#231), actually I spotted Lord Lucan last week. He was in the Daily Mail... his brother died.
Brian Hennessy
237
Posted 24/09/2018 at 09:45:51
I see big signs of improvement from last season.
Most of all, we are trying to play some decent football and we saw a pressing game yesterday that Martinez, Koeman and Allardyce all failed to achieve.
It's obvious we need a much better centre-forward than we have and I think Silva & Moshiri will address this, if not in January, certainly in the summer.
Despite the defeat yesterday, I enjoyed the game (as much as is possible when we lose). I'm looking forward to seeing what Mina and Gomes can add.
Steavey Buckley
238
Posted 24/09/2018 at 10:07:29
Everton are now in relegation form and could be favourites to be relegated this season. The defence concedes goals too easily because they don't (or management don't) undertstand the basics of defending of stopping the opposition of getting a sight on goal. The midfield is as poor as last season, while Everton have no striker.
Yet, when a new manager comes in, it is important for all new players to start pre-season to be climatised to the club. Most of the new players have either been suspended, injured or not match fit, as Everton approach October. That is no way to run a football club that wants to go places.
Christy Ring
239
Posted 24/09/2018 at 10:07:34
232 & 233: Guys, everyone is entitled to their opinion, and I know you don't rate Davies; why keep repeating it, trying to drive it down our necks? I for one like Davies, he played very well yesterday, and he's only 20 years of age, and playing in a new partnership with Gueye.
Derek Knox
240
Posted 24/09/2018 at 10:09:28
Jim @231 & Clive @236, there is a belief that the aforementioned and elusive Lord Lucan has successfully been concealed in Everton's Trophy Cabinet, therefore averting any attention or detection!
John Boswell
241
Posted 24/09/2018 at 10:10:46
Some very level heads on here and David Barks at 227, thank you sir, thank you so much. ☺
Justin Doone
242
Posted 24/09/2018 at 10:13:03
In a results driven business, it's easy to say every loss is simply not good enough, sack them all!
But as business driven as football has become its still a sport, 2 teams against one another that brings immeasurable passion, joy, and despair to us fans.
So, Sam, to bring us decent, unspectacular points to be comfortable mid-table or take a risk trying to bring enjoyment and glory. I'm glad Sam has gone, Silva is not top quality but I still feel better for taking that chance. Relegation would probably make me think again, but honestly, if Sam had stayed, I think I would have stayed away.
Anyway, I'm encouraged by the team play, the combinations starting to develop and the chances we are creating. Davies and Sigurdsson both played some excellent through balls (never seen Schnides play 1) but our midfield is still lacking the architect.
Calvert-Lewin has got to shoot more, one touch and fire, I just don't understand what he was thinking but better movement and pressing than Tosun (who's a better finisher) but I'd start Calvert-Lewin again. I think Niasse would have bagged that and that's the problem. We can all see Niasse is a rather uncoordinated striker but, given half a chance, he shoots.
Walcott has blown hot and cold all his career, hat-trick one week, injured or amateurish the next 7. I would 'rest his eye' and drop him.
Watching Bernard he's no flying winger. Quick acceleration but not particularly a fast runner and looks unfit. I like him though, he could be the Number 10 presuming his basic fitness improves.
I think playing 3 at the back, same wing-backs helps keep our width whilst bringing Ric more central to better link play and be in a more dangerous position with licence to find space.
Sigurdsson drops back and keep Calvert-Lewin as main striker. Holgate returning with Keane and Zouma.
In summary, I can see many positives from last season despite the lack of points on the board. Hopefully keep improving and points will soon start to mount. If we can slowly build momentum and go on a good run around Christmas, it may be a Happy New Year to us all!

Pat Waine
243
Posted 24/09/2018 at 10:15:19
Mina now has collected in wages approx £1M — anyone else worried about his no-show again?
It does my head in signing players that are injured from the start. Did we get a discount because him and Gomes were injured???
Ian Jones
244
Posted 24/09/2018 at 10:31:20
I was looking for an article about Tom Davies training with the England squad when he was younger and found this one instead from a few years back. Worth the read if you have time. I didn't realise he had captained teams before:
The making of Tom Davies – the Everton teenager with a style all his own
I'm all for supporting Tom. He probably didn't help his cause by scoring against City in the 4-0 win. Raised expectations very quickly, as did Lookman.
James Ebden
245
Posted 24/09/2018 at 10:36:58
This thread is hilarious. People expecting us to win the Premier League after 6 games because we have a new manager. People saying our entire squad are Championship players at best. Even though these same Championship players finished 8th last season while being managed by apparently the worst manager in Everton's history. So what does that make the 12 teams who finished below us? Are their teams all made up of 3rd Division players, or non-league players?
Some of you lot really need to get a grip. This "must have things instantly or I'm throwing my entitled toys out of my entitled pram" histrionics is hilarious.
People saying we have spent loads so we should automatically be in the top 4? Nonsense. As if the other top teams haven't spent anything to improve their squads? Liverpool: £70M on a defender, £70M on a keeper. Chelsea £70M on a keeper, etc.
We have a whole new regime at the club now, from top to bottom. This summer we shipped out a large number of the weaker players to slash the wage bill, and we brought in a few new players in the positions that were needed. Yes, it would be lovely to have a star striker, but those saying we should go out and sign all these top names seem to overlook one glaring fact – they won't come to us!!!
Saying we lack ambition by not signing them is nonsense. We could approach them, and they will just laugh, saying they want £300k+ per week and regular Champions League football.
It's not like picking something from an Argos catalogue, and going and buying it. It's a two-way thing, and the other players need to want to join us.
The team is playing better football than last season. We are attacking with more threat, although we do need to tighten up at the back. We have a few players to come in from injury before we can see the real state of the team.
Hopefully sign a couple more in January to plug holes, and give the team 6 months to really bed in the structure and tactics and we will see better results. You guys having a fit because we aren't top after 6 games of a new manager are a joke and an embarrassment to the club.
As someone else said, supporters "support" their team, not rip it apart at every chance. Try cheering them for a change, instead of throwing abuse. Who knows, they may respond with more confidence!
Brent Stephens
246
Posted 24/09/2018 at 11:10:46
David Barks #223 - saved me posting in detail. Good stuff.
Dave Williams
247
Posted 24/09/2018 at 11:29:21
Great post, James Ebden. If "supporters" continue in their current vein, the likes of Kenny, Calvert-Lewin and Davies will be destroyed. We are all frustrated by points being dropped, mistakes being made etc, but tearing into our players, let alone the youngsters, is counter-productive.
These lads are rated as the cream of the UK's young talent but they are boys trying to make their way in a man's world. Did any of the more savage critics ever play football at senior level when they were only 19-21 years old? It's not easy when your teammates are playing well so how hard must it be at the moment?
I recall Jimmy Gabriel saying how he used to look after the young lads on the pitch and he would sort out any opposing player who tried to bully them – we have no-one to do this in this current squad so the lads are on their own.
Don't try to justify it by referring to how much they earn – it is a tough task for them at the moment and they have every right to expect true support from their own fans.
As James says, they might play better if they feel encouraged!
Rob Halligan
248
Posted 24/09/2018 at 11:32:03
Just seen the second goal. I mean, it's not just offside, it's miles offside. The linesman is even level with Aubameyang, so how on earth does he not give it?
At the moment, we seem to be making things difficult for ourselves. We don't need the officials making things even more difficult with their incompetent performances and decisions against us.
Had that offside been against any of the so-called "big six", the flag would have been up before the ball hit the back of the net.
Michael Lynch
249
Posted 24/09/2018 at 12:06:53
As Pip Neville has pointed out today, our problem is simple. Marco Silva's sides are not renowned for keeping clean sheets, and we haven't kept one yet so far this season. His style relies on his team outscoring the opposition, who will score in almost every game.
We haven't got a striker who can score goals. Until we find a striker, we will lose more often than we win. I fully expect us to finish mid-table this season, though probably well clear of any relegation struggle, as we're unlikely to pick up a goalscorer in January. We need to offload Calvert-Lewin, Tosun and Niasse next summer and pick up at least two strikers with proven goalscoring records at a high level. I hope Brands is working on it right now.
Personally, I'm not too concerned about the defence right now – we've made signings and with Silva's style of pushing both full-backs up into the opposition half, we're going to concede a lot of goals. That's only a problem if we're not scoring a lot more goals.
Lawrence Green
250
Posted 24/09/2018 at 12:11:52
The issue with the younger players is that they shouldn't be regular starters in a team and club that is supposed to be ambitious, they should be integrated into the side, carefully and pulled out of it when required. Blaming fellow supporters for the performances of players doesn't cut it with me.
All of our youngsters have potential to move on to better things given time, but is the white heat of the Premier League the best thing for the individual players? Particularly at a club that is trying to change direction (again!).
Mental strength is required by all players no matter what is happening around the club or ground from supporters, if any player can't cope or is unable to perform in that atmosphere, then I would advise they find an alternative profession.
Whomever turns out for Everton is a performer and is there to provide entertainment and gain positive results for the paying fans, they should not be treated like a family member who should be given special dispensation because they are local lads, nor should they be so heavily berated for isolated bad performances.
It will take probably three years to build a team to compete at the higher end of the league, and who knows – all or some of the current young crop may play a significant part in that progress, but be warned the road is fraught with danger and as usual Evertonians patience will be tested on that journey, no need to fall out with each other as our football life is tough enough as it is.
Don't blame the young players, don't blame the fans, blame the people who own and run the club, they decide policy and hire the staff, the buck stops with them.
James Marshall
251
Posted 24/09/2018 at 12:31:02
I thought we were okay for bits of the game watching on the TV, and was pleasantly surprised at times with our endeavour; however, as soon as they scored you just knew it was game over.
Yeah the second was offside, but the game was dead & buried even at 1-0. We have zero goal threat from the centre-forward position, and essentially have no focal point for our attacks. Calvert-Lewin is not a centre-forward, in fact I'm not sure anyone knows what he is, not even him. Tosun the same, he just doesn't offer enough to change games.
My fear was and still is, that we've hired Martinez Mk II. Silva's teams do nothing defensively and rely on goalscoring, which correct me if I'm wrong, relies heavily on having a goalscorer in your team. See above.
What are we now, 10th? I haven't even bothered to look at the table such is my interest in it these days, but I would wager we're already around the position we'll finish in this season.
Nihil autem est satis mediocris.
John Hammond
252
Posted 24/09/2018 at 12:40:31
Much better display; we can't really complain much. I was expecting the worst but on another day Calvert-Lewin might have squared the ball rather than fall over his feet and one of those Richarlison chances would've gone in.
We've seen improvement from last season in the first 3 games of this season with the exact same players apart from Richarlison. He then got banned and we've continued with the same team bar Zouma and Digne and regressed but injuries and that suspension haven't helped.
We've then improved massively away at a top 6 team so to me there are signs we are getting better with still not much change in the starting XI. I think we need to continue with Davies because the alternative is Schniederlin. Gueye needs to be left to do what he does best – he's not top of the tackling charts for nothing. I'd like to see Bernard given a chance at Number 10. It's going to be a good while until we see Gomes so there's not much else we can do.
Stephen Davies
253
Posted 24/09/2018 at 12:41:36
Michael @249, thats spot on.
Silva alluded to the probability of getting a new striker during his postmatch comments. As you stated this will prove difficult in Jan and likely have to wait until the summer and I'm sure Brands is working to find out who is available/suitable. I also suspect they maybe on the look out for a commanding midfielder (depending how Gomes shapes up) similar to Doucoure type he had at Watford.
Personally I was encouraged by the performance at Arsenal... we took the game to them...but its clear were over reliant on Richarlison and struggle without him..Bernard will make a positive difference when fully match fit and we may well see more of him at the next home game ( as well as the lesser spotted Mina!) There is more to come, yes we lost and compared to our usual performances against the Arse it wasn't too bad.
Just one thing that niggles me a bit is the lack of protest at their 2nd goal...if that was any of the top 4 (and Man Utd)... their teams would have been right on that ref. >Even Silvas post-match comments about that scandalous decision was very muted.
Klopp, Mourinho, et al would have been frothing at the mouth and I know that whatever was said would not have changed that decision but you have to highlight it at least as a game-changing decision (even the MotD pundits didn't really say that much about it except it was offside).
Eddie Dunn
254
Posted 24/09/2018 at 13:18:39
James Marshall, you point to the lack of a goalscorer, but is it Silva's fault that we haven't got one?
I am heartened by the way we are now creating chances, which we simply weren't doing for much of last season.
Calvert-Lewin is work in progress but his movement up top gave Davies the chance to put him in for that early chance and the forward line closed down the Arsenal defence with a high press.
The team look okay to me and, once we have the rub of the green, some of these chances will be put away.

Steve Barr
255
Posted 24/09/2018 at 13:29:36
James @245, it's not 6 games in – it's over 2 decades in and nothing.
We have patiently welcomed manager after manager positively and given them time to build a winning team. Each one of them demands at least a 3 transfer windows to rebuild and at the end of each charlatan's reign we have nothing to show for it, rather we have been going backwards each time to be frank. The league position does lie in my opinion.
I would argue Everton fans are the most loyal supporters in every sense of the word given what we have had to put up with. I understand the frustration. True fans venting on ToffeeWeb is the least they deserve!
Tony Everan
256
Posted 24/09/2018 at 13:37:44
Rob #248,
The same linesman was supremely eagle-eyed in the first half when he flagged Calvert-Lewin.
John Hammond
257
Posted 24/09/2018 at 14:32:02
Brian #191: A lot of people complain Tosun is slow. They'll lose their minds when they see Bas Dost!
Peter Lee
258
Posted 24/09/2018 at 14:48:05
Steve Taylor #99.
Not sure what Everton in the Community had to do with on the pitch outcomes but can't let your misinformed comment stand.
EitC is not given any funding. Each programme has to be bid for, competitively, from a wide range of funding providers. These include the Premier League and National government neither renowned for giving money away easily. Performance against promises made is rigorously assessed. No bang, no buck is the rule.
EitC is able to lever extra contributions from a range of performers, guests, etc. because of the EFC link. In addition the club supports activities which raise additional funding.
If you want to get a real feel for what/how it does what it does why not volunteer? If you can't manage that, pop in and talk to those who benefit. They'll put you straight.
Finally, to my knowledge, the city council funding of one staff member for two weekly sessions, reduced to one and then zero, is the limit of its involvement. I say that without criticism.
Gordon Crawford
259
Posted 24/09/2018 at 15:00:34
Haven't read all the comments but did anyone see the video of the linesman doing a fist pump after allowing Arsenal's second goal? Truly truly shocking and needs investigated.
Jim Burns
260
Posted 24/09/2018 at 15:03:27
Steavey @238 - you are really funny, although I'm not sure you realise it. Potential favourites for relegation? Do me a favour...
Gordon @259 - where is that footage?
Joe O'Brien
261
Posted 24/09/2018 at 15:27:20
Jim, it was on the NewsNow Everton site. I see Dermot Gallagher was defending the linesman... he put it down to a lack of concentration — totally not good enough for Premier League standard.
I wonder did he comment on the challenge on Digne by Torreira? Surely that was a 2nd yellow...
Mark Taylor
262
Posted 24/09/2018 at 15:33:18
I think it's possible to not get on Davies's back while pointing out the obvious, that we still haven't resolved our central midfield. I think we know by now Gana and Scheiderlin doesn't work, certainly at home and the limitations of that combo do not seem to be alleviated by replacing the latter with Davies. Maybe Davies will work with Gomes, if we ever see him. I do think we should be thinking of this pair as a combination, not two individuals.
If one did look at Tom as an individual, I appreciate Steve and others thinks he has big potential but, right at this moment, we also have to deal with the here and now. His physical pluses are that he has a lot of energy but minuses are that he is fairly slow and seems to lack strength. The latter might come with age, but the former won't. Technically his passing leaves a lot to be desired. Again that might be worked on.
Personally I think he lacks the touch and finesse of Barkely on a good day, and probably his raw talent, but against that, he fights and never gives up. I think his attributes certainly make him more a defensive than offensive midfielder.
I'd agree it is way too early to throw a 20-year-old in the bin but at the same time, it's only fair to ask whether he delivers the quality we need right now, in the context of other available players and combinations. Personally, I think not, for the time being. He is a good back-up as it stands. Hopefully, he will turn into something better.
Brian Wilkinson
263
Posted 24/09/2018 at 15:41:22
John, Bob Latchford was the quickest of strikers, whereas Stuart Barlow was like a whippet, I know which striker I would have out of the two.
In regards to Dost being slow, one thing you cannot dismiss is he gets on the end of a cross or pass, his goal ratio speaks for that.
I have lost count the number of crosses from Digne and Kenny that has gone into the box with no forward anticipating it, the amount of corners we have put into the box with hardly any competition to their defenders or goalkeeper.
You're right Bost is not blessed with pace, but he can sniff a chance a mile out and get himself into that position to put it into the back of the net. None of this extra touch, dribble, just pulls back the trigger and shoots.
I am far from saying this is who we should sign, simply with lack of options in January, it was a player I thought was worth a shout.
I have not heard of other options and would gladly share other posters opinions on other possibilities to fill the strikers roll.
There must be strikers out there that other posters have a view about, after all this is an opinion based forum, let's hear other options available, because the fact is we need a striker to two come in January, any ideas, posters? Who?
Gordon Crawford
264
Posted 24/09/2018 at 15:44:27
Jim try this link, pal
You can clearly see the fist pump. 😡
Brian Wilkinson
266
Posted 24/09/2018 at 16:07:26
Joe @261, Jags got a straight Red for a similar tackle, only difference being Jags got the ball first.
Absolutely no doubt the Arsenal player would have got a yellow only for the fact he already had a yellow card.
Refs should issue a second card to a player regardless if already being on a yellow card or not if they deem it a yellow-card offence.
Tony Everan
267
Posted 24/09/2018 at 16:08:59
Gordon,
The real linesman was bound and gagged in the stadium somewhere, that was an Arsenal supporter in his kit.
Michael Kenrick
268
Posted 24/09/2018 at 16:09:12
I fixed the Twatter link above... can't see it myself, to be honest. He's just holding his forearm out straight from the elbow at waist height. I see no "punching the air" — doesn't that at least need a clenched fist? However, his body language overall and entire reaction to giving an offside goal suggests he has no conception that it was offside.

I also moved a couple of posts to a new thread that talks about Silva's 'unMourinholike" propensities, specifcally with regard to the two fundamentals of the game: scoring goals and preventing goals.
Gordon Crawford
271
Posted 24/09/2018 at 16:12:53
Go to my message number 264 and it's working now. Thanks guys.
Brian Wilkinson
272
Posted 24/09/2018 at 16:14:00
Cheers Gordon, that link works, Jesus that's unbelievable never saw that the cheating bent barsteward, made my blood boil that.
Gordon Crawford
273
Posted 24/09/2018 at 16:14:31
Possible Tony. 😶
Brian Wilkinson
274
Posted 24/09/2018 at 16:18:35
He appears to make a signal as if to say "got that right" by pulling his forearm in a "yes" motion — hardly a fist pump but certainly looks like a "yes" motion, if you know what I mean.
Jim Bennings
275
Posted 24/09/2018 at 16:21:52
It's not Silva's fault entirely that we lost yesterday but it is his fault that he played Calvert-Lewin up front instead of Richarlison.
Calvert-Lewin, Niasse and Tosun have all had their bash now and none are good enough — that's plain fact, so it's time to at least give Richarlison a shot at it.
If barn door Barlow-Lewin would have squared the ball yesterday or just shot then potentially at 0-1 to us it could be a different game especially given how disjointed Arsenal were for 45 minutes.
The big thing I've noticed with Calvert-Lewin is he never has any real conviction in his shooting or finishing, everything is hit like he's wearing slippers.
Anyway it's pointless (like the result) to talk about it any longer as it's just another fruitless trip to Arsenal and another away game without a victory, I really applaud our travelling fans these days because they rarely see an Everton win.
3 away victories in the last 31 away games we have had, how bad is that?
What's maybe even worse though is that the manager in charge of those 3 wins was none other than one Big Sam Allardyce, dear me!

Brian Wilkinson
276
Posted 24/09/2018 at 16:23:57
I am not sure how you can write an article on here and, being honest, there may already be a post about the subject in question. If so can someone send me a link to any previous VAR discussions, certainly a topic worth talking about.
John Hammond
277
Posted 24/09/2018 at 16:27:41
Brian, I think we need someone with stamina and pace. I'd like to see Richarlison given a go. It's a shame Onyekuru isn't with us this season because I think our front 3 would be frightening. Right now I've got no other names to throw into the hat...
Lawrence Green
278
Posted 24/09/2018 at 16:28:27
Brian #276
If you click on 'Feedback' button at the top of the TW homepage and then follow the instructions provided MK and LL will post your article after a little while.
Lawrence Green
279
Posted 24/09/2018 at 16:33:26
As for the assistant referee's non-raising of his flag, I'm aghast as to why he didn't flag offside. A still picture shows he was in line with both Arsenal players and Kenny our only defender was in front of the Linesman, how he thought that the forwards were onside is beyond my comprehension.
VAR has to arrive soon in the Premier League, the big clubs and the FA are complicit in making a mess of it when they trialled it last year; however, the only alternative is to leave major decisions in the hands of incompetent officials or worse still officials who may be competent but are biased either consciously or sub-consciously.

Michael Kenrick
Editorial Team
280
Posted 24/09/2018 at 16:36:56
Brian,
The last VAR discussion we had was early this month. I'm sure everyone agrees that VAR can't come quick enough after that fiasco but, if you feel the need to write an article, have at it!
But if you do post one, be a good lad and do me a big favour: Stop calling it the fucking Premiership!!!
That's Rugby... this is Football. It's called the
Premier League
! 😜
Lawrence Green
281
Posted 24/09/2018 at 16:43:55
Jim #275,
How many away matches has our current boss been in charge of? Ask those who attend away matches, results apart, have they enjoyed watching the Blues this season away from Goodison, I'd be shocked if less than 90% of those faithful fans answered in the affirmative.
Try and forget the previous four years Jim and concentrate on this one, nobody can erase those games from the past; the current regime can only impact on what happens next. Give all of the current staff and players the chance to improve things if they don't then they will also become part of our history and we move on. Wallowing in negative results and performances from before the current managers time, serves little purpose, apart from giving us all a headache and feelings of nausea.
BTW, I'm not having a go at you personally as we all recognise that we have been short-changed when it comes to Everton in the last couple of decades and more, but without hope that things may improve in the future. We are all wasting our time following any sports team — never mind Everton FC.
John Daley
282
Posted 24/09/2018 at 16:56:33
Sorry all, but I am nowhere near as 'encouraged' as some by what we have seen so far.
We may have been getting forward more this season but that should be a given after slipping free of a Sam-sized straitjacket. For all the talk of improvements in our attacking play, frankly, it boils down to a couple of blokes with a bit of pace up top chasing balls knocked forward and the full-backs haring up the pitch before blowing chunks struggling to get back into position.
There's fuck all invention, creativity or a cute coaching master plan enabling us to now cut through stubborn defences that once stood firm and only leaked a bit of slash down their thigh when they laughed at the struggles of a leaden-footed striker trying to skip past them.
Walcott, Richarlison and Calvert-Lewin will cause problems and force errors at times because they can't half shift when they want to, regardless of whether they subsequently capitalise on the chances their harrying coughs up. Sending them out to play on the counter-attack is the only approach that makes any sense to me given the make up of the squad Silva has at his disposal.
It's a tactic he has utilised elsewhere with some success so why he went into yesterdays game like Paulie from Rocky saying "I don't sweat you" to a superior opponent after being sparked out a week earlier by someone half his size is something of a mystery.
"We had some decent chances in the first half but we didn't take them so it once again the pressure was on the defence to keep a clean sheet which just isn't on"
Why isn't it on? They should be going into every game with the pressure of keeping a clean sheet paramount in their mind, regardless of whether or not impromptu clown school tryouts will be taking place in the opposition penalty box.
It's not like this defence is regularly being relied upon to save slapdash teammates in more advanced positions from the shame of having a face redder than Satan's ringer. They are shipping two goals a game regardless of the opposition, making rudimentary errors, look indecisive, disorganised and continually walk a fine line by pushing too far up the pitch when every single one of them lacks the pace to not have to worry about the receding chance of getting back and pulling off a last ditch recovery. They are as responsible for the team failing to pick up sufficient points as any forward squandering a goal scoring chance.
We have a manager without a clean sheet in his last 17 games in charge of two Premier League teams, talking about how he likes clean sheets even more than Cliff Richard likes clean sheets and, prior to the game, calling for his charges to start collecting clean sheets, yet what exactly did he change about his approach to bring a clean sheet any closer to reality? He swapped out Holgate for Keane and then lit up a stogie like Hannibal Smith?
As it stands at the moment all any opposition gaffer has to do is give the same motivational talk Leon gave Larry David and goals are likely to follow:
Allardyce, for all his faults, was correct that the first thing a new coach should look to correct is a chronic leaky back line, otherwise you're wasting your time expending effort anywhere else on the pitch. The problem was that his short cut to becoming stingier was simply to bin off any and all adventure, allied to a history of never looking to move beyond a back to basics approach that should be no more than an initial building block.
To already be pinning our hopes of a half decent season on picking up a proper striker when the next transfer window comes around, and crossing our fingers that the defensive naivete on display thus far will naturally fade away once we're able to field new boy Mina, is providing the manager with an undeserved Get Out of Jail Free card.
I'm all for giving any Everton manager time to get his ideas across, allowing new players to bed in and not predicting Armageddon simply because of a few adverse results that occur in the interim, but conversely I cannot understand the urge to start blowing smoke up the guys arse straightaway, before even being given the faintest sniff of any tangible results following on from his training methods and in-game management.
The first thing Silva needs to show, to be the beneficiary of faith not of the fucking blind kind, is that he is capable of actually picking up three points from games in the Premier League, rather than being prematurely slapped on the back for simply making us less horrendous to watch and having a bit more of a go than a guy who kept his gun firmly holstered, especially when the trade-off is becoming an easy touch for any team looking to nudge their goals for column nearer toward being seen in a better light.
Brian Wilkinson
283
Posted 24/09/2018 at 17:19:23
Cheers for the link Michael, seems split those for and against on the forum.
Personally we need to bring this in, certainly for offside or dubious goals or penalties.
Apologies for bringing Rugby League up but they use it solely for a try or interference, offside etc where the game has stopped anyway; it does not cover a bad tackle.
So, if used right, VAR has to come into the Premier League to review a goal if needed or a penalty review.
Just not sure why people are against having a goal or penalty reviewed?
Trevor Peers
284
Posted 24/09/2018 at 17:52:03
Well done John Daley @282, for bringing some much needed reality and humour to his post about Silva's management style so far.
I'm sure if the Fulham manager watches the link he'll be including it in his pre match talk. Silva really does have to show us he can win points and matches, he must earn his cornflakes.
Ed Fitzgerald
285
Posted 24/09/2018 at 17:57:51
John Daley
Any post that includes a Curb your Enthusiasm link is worth a read and I agree with most of your sentiments. Silva does, however, need time if we want to develop a team, style and culture that is more than playing sterile football, and actually win something.
It was a young team yesterday and for an hour they did well. Their heads went after the second goal but it was still light years better than the maulings we got from Arsenal last season under the management of those defensive maestros, Allardyce and Koeman.
Brian Dalton
286
Posted 24/09/2018 at 18:00:13
James Ebden,
I haven't missed a match home and away in the last 5 seasons and have been going to Goodison Park every season since 1948 so I think I have supported the team.
I don't know anyone who was expecting us to win the Premier League this season or finish in the top 4.
However, I would expect – new manager or not – for us to be picking up more than 4 points out of Southampton, Huddersfield and West Ham at home.
I'm not asking for Silva to be sacked or anything like that; unless it goes terribly wrong, he needs to be given a couple of seasons. However, I'm also not going to blindly support him just because he is a new manager.
His return after 6 games is poor. Hopefully, it will improve over the course of the season but, at this moment in time, one win in 6 matches against the opposition we have faced is poor – new manager / players or not.
Peter Neilson
287
Posted 24/09/2018 at 18:12:27
Sorry Dominic, we're ruthless — you've had your 72 minutes as a centre-forward and that's it, Championship for you now lad. As for you, Marco six games is more than enough, what a charlatan!
But I left the game nowhere near as depressed as after our more recent thrashings there, I think many others felt the same. Some seriously unrealistic expectations being shown, the team needs to be supported and allowed to gel. The mess of the past four years was never going to be cleared up in one summer.
Brian Dalton
288
Posted 24/09/2018 at 18:27:09
Peter, who are these people calling for Silva to go? People like myself are simply pointing out that a return of 1 win out of 6 considering the fixtures we have had is pretty poor. Would you not agree?
Steve Ferns
289
Posted 24/09/2018 at 18:41:22
Brian, a draw against Wolves with ten men away, is a good result. The Bournemouth result was adequate but disappointing considering we were two up. The Saints win was clearly a good result. The Arsenal defeat is not good, but at this early stage of Silva's tenure, and considering the performance, it's palatable. The Huddersfield and West Ham results are the ones that are not good enough. I think that we've dropped five points there.
I do think things will get better. Keane slotted back in and looked alright. If Mina can bring that big personality onto the pitch and dominate the back line then I think we'll see a different defence. The team lacks big personalities. Barca has too many. He'll love it here if we can improve and he can be the big personality. Also, the likes of Richarlison will become a bigger personality if he maintains standards or hopefully improves them.
Exercise some patience, preferably invest some hope and belief, and Silva will reward you with the best Everton we've seen at least since Martinez's first season, but with the ability to maintain those levels and surpass that points total.
Peter Neilson
290
Posted 24/09/2018 at 18:46:46
Brian, the comment wasn't aimed at you. The people slating him and saying he will gone by November are elsewhere in this thread.
I agree the number of points is disappointing and our performance against West Ham was terrible but it's going to take time to coach the players, get rid of the deadwood and get the new players into the team.
Gordon White
291
Posted 24/09/2018 at 19:31:51
Evertonians have had to learn to be patient. It's been a long time since we had something to crow about. A long time indeed.
Right now, we are palpably on the cusp of a new and exciting era in our history. And, God willing, we will all live to witness it. But now, right now, patience is needed more than ever.
Lest we forget, in 1983, fans were signing petitions to have Howard Kendall sacked. And, arguably the most successful manager of them all, Sir Alex Ferguson, was allegedly a game away from the sack too. It was because they were both given time that they became the most successful mana gers in their respective club's history.
Of course time doesn't equal success. But it does give the manager and the club an opportunity. Steve Bruce later said (in so many words), that it was the patience of the club that facilitated the success.
Marco Silva needs time. And not just 6 games, nor for that matter a season, before fans start airing their natural frustrations. Borne out of the long wait and expectations that weigh heavy on such a big club in world football.
Clubs need patience and a long-term plan. Sound decisions are seldom made under intense pressure and for quick results.
And incidentally, during those halcyon days of the '80s, we employed zonal marking. And they were amazing days as I remember them.
COYBs
Paul Washington
292
Posted 24/09/2018 at 19:34:53
Brian @ 263,
Re. Bob Latchford's pace, he won the 100-m in the BBC's Superstars teams in the 70s...
Everton v Ipswich!!!!
Bill Gienapp
293
Posted 24/09/2018 at 19:48:41
I can point to a slew of wins under Koeman that people ripped apart because the football wasn't entertaining enough. But when we play well in defeat, these same people claim "all that matters is the final scoreline".
Likewise, people demanded a response from the dire West Ham match... but if someone dares point out the actual positives or signs of encouragement against Arsenal, they immediately get accused of "celebrating mediocrity".
Lot of Kafka logic on here.
Max Murphy
294
Posted 24/09/2018 at 21:31:00
I thought there were encouraging signs in the first half – and yes, we did miss opportunities. Tom Davies appeared to be having a good game, then suddenly he implodes. Makes 2 or 3 successive 5-yard passes to no-one. Other players started doing the same. If you don't have possession, you'll never score.
Their first goal was a replica of the 2nd West Ham goal last week. The defender shunts the striker across the goal, then stops allowing the striker to curl it in. Last week it was a left-footed curler. Defenders should keep chasing the man until he's out of range, or tries to come inside.

Soren Moyer
295
Posted 24/09/2018 at 21:46:53
I for one don't blame Silva at all. I think his tactics were spot on with the material he's got at his disposal. We just need to get rid of a few deadwood gradually and replace them with a better quality.
John Boon
296
Posted 25/09/2018 at 04:29:02
Question more than a statement: As we continue to struggle up front I wonder if Walcott could play up front?
He has the speed and control to play more effectively in a central role. He often offers so much, but he is inconsistent. I don't think he could be any more ineffective than either Tosun or Calvert-Lewin.
Dave Williams
297
Posted 25/09/2018 at 13:17:24
decent shout John Boon. He drifts out of games far too easily and it may be that up front in his preferred position might just bring out the best in him.
Who would you play wide right - I would play Bernard at No 10 instead of Siggy (who has ability but has kept his place for so long due to his pricetag rather than his performances) - maybe try Lookman?
Paul Kossoff
298
Posted 25/09/2018 at 17:33:24
Who will Silva play as striker against Fulham? Calvert-Lewin is obviously not good enough, Tosun not good enough, Niasse not good enough.
You can't keep doing the same experiment and expect different results! Who said that and how many times? Richarlison has to play central, putting one of the others there won't work.

Ivan Varghese
299
Posted 25/09/2018 at 18:59:40
Look at it this way, DCL was the best option for Everton the way Arsenal play. Data Science analysis would tell you need strong hold-up play and quick creative support (Boys from Brazil and Theo) to get pass their zonal and man-marking hybrid defense . The plan worked well. Evidence? The number of chances created. Final decision making needs to be worked on. Data science works and the next game would require a different formula.
Matthew Williams
300
Posted 26/09/2018 at 12:14:45
What bothers me the most after this defeat is our shocking record down there remains intact...sigh.
At least we gave it a go and still have new players to come in who will improve us overall, in fact a new look side could take shape and look very capable, for me, I'd still go 4-4-2 to begin with...
Pickford
Coleman (Cpt) Mina Zouma Digne
Lookman Bernard Gomes Richarlison
Walcott Tosun
Subs: Stekelenburg, Keane, Baines, Gana, Sigurdsson, Dowell, Calvert-Lewin
Looks good to me folks!
Add Your Comments
In order to post a comment, you need to be logged in as a registered user of the site.
Or Sign up as a ToffeeWeb Member — it's free, takes just a few minutes and will allow you to post your comments on articles and Talking Points submissions across the site.
© ToffeeWeb