Rooney: Ask Everton why I left Goodison Park
Monday, 2 July, 2018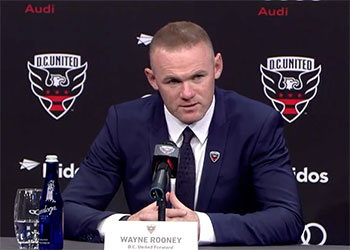 Wayne Rooney was officially unveiled as DC United's marquee signing today in Washington DC and his comments betrayed some of the friction between he and Everton over his departure.
The 32-year-old leaves the Blues a year into the two-year contract he signed when he returned from Manchester United and the inference through the media has been that it was Everton's decision given that he was not to be part of new manager Marco Silva's plans for the coming season.
Rooney came back to Goodison Park from Old Trafford in July last year and although he took a 50% pay cut to rejoin his boyhood club, he was still costing the Blues £8m a season.
He finished the 2017-18 season as the team's top scorer despite not registering in the second half of the campaign but there were question marks over his stamina and ability to suitably adapt to a more withdrawn midfield role.
"It's football," Rooney said when asked about his feelings leaving Everton for a second time. "Everton is the team I grew up supporting and I was grateful for the chance to go back there last summer.
"But in football you never know what's round the corner. I've made the decision to come here and I'm sure there are a lot of questions on why I left Everton and the people who want to know can ask Everton Football Club and let them answer it.
"But I've made the decision to come here and, as I keep saying, I'm excited and I'm just looking forward now to the first game."
---
Reader Comments (97)
Note: the following content is not moderated or vetted by the site owners at the time of submission. Comments are the responsibility of the poster. Disclaimer
Brian Williams
1
Posted 02/07/2018 at 19:42:05
Hmmm not 100% happy in his move is he?
Ken Kneale
2
Posted 02/07/2018 at 19:43:26
How about he failed to live up to the expectation of those that wanted him back and proved the doubters to be rather more hard bitten than Bill Kenwright.
For reasons unknown to many, he allowed our best goal scorer to leave on the cheap and failed to find a replacement of any stature. Instead, he brought in someone who could not hold down a berth in another Premier League club we would seek to emulate in terms of recent success.
He gave massive wages to those coming in and Mr Rooney in particular, then brought himself and the Club into the press with off-the-field behaviour unbecoming of a sports star supposedly setting an example to young players. I could go on.
Kieran Kinsella
3
Posted 02/07/2018 at 19:49:23
Echoes of Gary Speed's remarks when he left Everton.
Joe McMahon
4
Posted 02/07/2018 at 19:52:51
I'm hoping he keeps his trap shut.
I'm unhappy in my job in the NHS and my salary, but I have to keep on going (we all do). My friend is currently doing 12-hour shifts on Winter Hill (he's in the fire service). I live in a small 3 bed semi while Mr Rooney will no doubt be enjoying the riches of a huge American Mansion.
I never wanted him back, and hopefully he will just leave Everton alone. The Kenwright regime has been one of the most damaging in the clubs history.
Jay Wood
[BRZ]
5
Posted 02/07/2018 at 19:54:53
Nowt to see here.
Let's focus as a club and supporters on the present and the future and the players still at the club, or (hopefully!) new faces still to arrive.
Steve Ferns
6
Posted 02/07/2018 at 20:01:42
Come on, he wanted to stay. He felt he was giving his all. I wouldn't argue with his effort. But it comes down to economics and he was on far too much for what he brought to the team as a player, unless the commercial arm would disagree.
I think it's best he left. All the best to the lad. I hope he enjoys what left of his career.
Brian Williams
7
Posted 02/07/2018 at 20:10:37
I believe he wanted to stay too. For him to leave, he must have been told in no uncertain terms that he would be a bit-part player at best next season.
Tony Twist
8
Posted 02/07/2018 at 20:18:38
Things were going fine until his out of hours shenanigans. Very unfortunate but there was also a bit of indiscipline on the pitch also which is surprising for a senior footballer. He should never have been invited back in a deal involving Lukaku which was an absolute steal for Man Utd. Bill Kenwright strikes again.
Karl Jones
9
Posted 02/07/2018 at 20:21:29
Everton are in a right mess, on and off the pitch. Too many dreamers in charge and too many people pulling in different directions.
Christy Ring
10
Posted 02/07/2018 at 20:24:45
Rooney hadn't the legs for midfield, and 30 mins upfront tops.
Clive Rogers
11
Posted 02/07/2018 at 20:28:30
Joe, #4, "one of the most damaging". Without doubt Kenwright's regime has been THE most damaging in EFC's history. No silverware and the greatest decline without a doubt.
Paul Ellam
12
Posted 02/07/2018 at 20:34:39
I'm a sentimental football fan. I wish for the days when football was played by men and not prima donnas and when local lads played for (and sometimes returned to finish their careers at) their local teams.
I wish Rooney was still with us, even in a smaller role, but I guess there are mitigating circumstances for why he left. I'm thinking he wanted certain guarantees regarding playing time that we couldn't give and the club wanted to save on his wages.
Just seems a shame. Totally wasted in the US. [Folds up Rooney 10 Everton shirt and puts in wardrobe.]
Ken Kneale
13
Posted 02/07/2018 at 20:36:09
Clive, spot on that and in a climate of easy money coming in comparatively compared to many previous eras. Do we have any update on speculation he was leaving?

Jamie Evans
14
Posted 02/07/2018 at 20:39:50
Maybe you can tell us yourself Wayne? You know... when you come back as a coach.
Never was the sharpest tool in the box our Wayne was he.
Mind you, we brought him back once before, so who knows.
Denis Richardson
15
Posted 02/07/2018 at 20:44:18
At last.
Also I believe he did NOT take a pay cut as Man Utd were still paying half his salary. Everton were 'only' paying the poor lad £150k/week, Man Utdu also £150k.
Never should have been offered the chance to come back and I still think it's one of the main reasons last season went off the rails as Rooney was not Koeman's choice.
Anyway, time to move one. Who's next out?
Neil Carter
16
Posted 02/07/2018 at 21:10:54
Because you were past it – blowing out your arse after 20 mins and went on the lash – like every 32-year-old footballer looking after their body. Not exactly a great example to young players eh Wayne?
Every dog has their day – enjoy the retirement league.
Peter Mills
17
Posted 02/07/2018 at 21:26:19
Well, if you ever wanted to know Wayne Rooney, here he is.
"I'm bollocksed. Can't hack the pace. I'm off to the USA on an unbelievable contract. But I'd just like to keep my Evertonian credentials vaguely alive, somehow they still linger in the eyes of some fans, so give them a little flutter of 'the club has let me down' ".
Utter bullshit.
Andy Crooks
18
Posted 02/07/2018 at 21:29:50
Absolutely spot on, Neil, he left because he was done. I have like and defended Rooney but changed my mind. He is a greedy, overweight, past it fucker. Good luck to those who have signed him because they are not getting Posh and Becks here.
Graeme Hodgkinson
19
Posted 02/07/2018 at 21:34:23
Clive Rogers 11. Absolutely blinkered view, and selective memory of how much trouble the club was in under Johnson & Smith.
Its' far from perfect, agreed. But please don't pretend that the club was perfect until Kenwright invested.
One of the reasons I don't comment more is that there is rarely a balanced view in comments (articles are almost always balanced).
Point in case: Kenwright is blamed for all that goes wrong (Rooney coming back, for example). Moshiri gets all the credit when things go alright.
For me, Kenwright's done more to earn my trust that Moshiri has, but in reality, they should be both we equally accountable, for better or worse.
Joe McMahon
20
Posted 02/07/2018 at 21:38:53
Kieran (3) it kinda does but I can't imagine Marco Silva drinking the same amount of scotch as Howard did back then.
Joe Clitherow
21
Posted 02/07/2018 at 21:40:48
Anyone who thinks Everton under Kenwright is worse than Everton under David Marsh 1991-94 or Peter Johnson 1994-98, well .....
Dan Davies
22
Posted 02/07/2018 at 21:40:58
Has he got something agreed about coming back to the club as a coach in the future? If he does he shouldn't Rock the boat too much!
Saying that Blue Bill may be gone by then?
Kyle Tombleson
23
Posted 02/07/2018 at 22:49:54
Why can I always trace back every negative occurrence at EFC to Bill Kenwright? My blood boils that his beak is still getting stuck into Moshiri's business.
Sell your stake and fuck off now, Bill lad!
Drew O'Neall
24
Posted 02/07/2018 at 22:59:30
I wonder if he offered to tear up his contract to stay, or should we ask Everton that too?
Jim Bennings
25
Posted 02/07/2018 at 23:00:09
Neil (#16),
Rooney wasn't the only one "blowing out of his arse" after half an hour — try the whole squad!
Tom Dodds
26
Posted 02/07/2018 at 23:00:55
What more can you say; what more can you do...?
When no matter how hard you try to educate our fans that Kenwright is a living, active parasite cum spanner-in-the-works of the momentum integrity and progression of our club when large numbers of slap-brained fuckworths still call him 'Blue Bill', and hire planes with banners to perpetuate his dishonourable, nay, even ongoing legacy.
A shambles and a stain I hope will soon be eradicated from the annals of our recent and diabolically appalling pecuniary past.
Come the dawn, I say.
Jamie Crowley
27
Posted 02/07/2018 at 23:02:46
We moved him on. He didn't want to go seemingly.
Super.
Move on, we're not making "teary-Bill" business decisions any longer.
Nothing to see here. Thank you Wayne, I appreciate you didn't want to leave and love the Club, but it's time for you to move on.
You see, we have an elephant-sized payroll currently that needs a little trimming.
Good luck in the USA. I might go north and watch you play.
Jerome Shields
28
Posted 02/07/2018 at 23:05:03
Everton kept him playing in the Premier League by signing him, when no-one else would. They paid his wages for a year and kept him in the first team, though he wasn't up to the standard required and never worth the outlay. His attitude probably stank in the dressing room and his conduct off the field was all over the news.
Luckily he was able to get a transfer to Buzzard Point as a result of this generosity from Everton and will continue to earn a professional footballer's wage above what he is worth,
With an attitude like that, is he real coaching material for a return to Everton? I think not and good riddance. Bill Kenwright isn't blameless either.
Ken Kneale
29
Posted 02/07/2018 at 23:08:19
No it was not right before Kenwright. However he has presided longer than either Marsh or Johnson and took over promising the earth. This moved to constantly looking out for an investor. He brought no more to the club than being a supporter which we all are. He leaves with the club in little or no better shape than when he took over in real terms with asset selling. That after 19 or so years in post in most eyes is failure.
James Hopper
30
Posted 02/07/2018 at 23:34:03
So we got rid and Wayne's not happy?
Like taking back an ex who dumped you just so you can dump her?
Touché Wayne.
Peter Thistle
31
Posted 03/07/2018 at 00:18:45
You're shit Rooney, that's why you left. Unwanted and useless to us. Don't try n make it about Everton, it's about you being a whiney overpaid hasbeen that can't hack it now you ain't anything other than a chump substitute. Cya, hopefully never back at EFC in any capacity. The caveman can delude the yanks into thinking he's a star, see how long that lasts before they realise they've signed dead weight.
Pete Clarke
32
Posted 03/07/2018 at 00:37:24
Here we are in 2018 with a lot of changes at management level and aspirations to become a top club again.
Getting rid of a player who was finished as a top player 5 seasons ago at Man Utd should be be seen as sign that the club are serious about moving to the next level. There's a few others who are not good enough also but This will do for starters.
Bob Parrington
33
Posted 03/07/2018 at 01:30:11
Best response is "No comment". Let's move on.
Matthew Rigby
34
Posted 03/07/2018 at 01:39:53
Years of drinking and eating crap finally caught up with him. One the highest paid pro's in Europe and one of the worst pro's too all the ability, poor life style... poor decision making. Does he care..!?? I bet he doesnt really care at all.
Andy McNabb
35
Posted 03/07/2018 at 02:03:01
Wow - I was never in favour his return but some of the vitriol on here towards him astounds me. If I'm not prepared to make that comment to someone's face, then I won't type it from the 'safety' of a forum.
And Paul Ellam #12, I feel exactly the same. Not every player is an idiot in the mould of Neymar (and yes, I would say that to his face) but the modern professional game always has that lingering whiff of entitlement, which tends to be the catalyst for players' attitudes and thus our indignation at being taken for a ride.
Victor Yu
36
Posted 03/07/2018 at 03:00:09
Big Sam created more problems instead of solving problems.
Bobby Mallon
37
Posted 03/07/2018 at 05:46:31
He wasn't that bad for us, he was probably the best of a bad bunch until he went on his drinking binge. He helped keep our heads above water so good luck.
John Keating
38
Posted 03/07/2018 at 07:21:45
Graeme (#19),
I appreciate this is a Rooney thread, however, as you mentioned it: "...until Kenwright invested."
Invested what?
Paul Mackay
39
Posted 03/07/2018 at 08:17:50
Joe (#20),
Didn't Gary Speed, as captain, have to pick the side one Saturday because Kendall was too smashed, or is that an urban myth?
Shane Corcoran
40
Posted 03/07/2018 at 08:33:27
Poor Wayne. He thought it would last forever.
Don't worry, you can come back as a coach whenever you want cos Everton are just that nice.
Kevin Prytherch
41
Posted 03/07/2018 at 08:33:28
If the likes of Schneiderlin, Williams, Mirallas etc put even half the effort in last year that Rooney did we probably wouldnt have needed Allardyce.
He might have had his limitations but he was one of our better players in the first half of the season.
Paul Mackay
42
Posted 03/07/2018 at 08:41:28
Agreed Kevin (#41),
I wanted him to stay to see out his contract as I still think he offerred something. In a season where the commitment of some players was questioned, Tosun's comments on Rooney actually show that he actually cared, was committed to us in training and was desperate to win games.
Now he has gone we move on but there are other players you'd want to ship out ahead of Wayne and Funes so let's hope there is a proper clear out of all the deadwood.
Brian Williams
43
Posted 03/07/2018 at 08:41:55
Jerome Shields
44
Posted 03/07/2018 at 08:42:32
Andy (#35),
I agree, because they earn so much money, some (not all) players develop an attitude of entitlement. Their football suffers as a result. Rooney had this aura about him and so has most of the England team.
It's not helped by the media who project every goal they score as if they could only score it. Harry Kane, hopefully for England fans, has his feet on the ground, because he is getting pumped up like Mrs Puff in Spongebob Square Pants.
When Rooney's skill and earning power are gone, he is going to find it difficult. At the moment, he can't see himself. The people who appear to be listening to him now, giving him credence, will disappear like snow off a ditch. Hopefully Everton in their generosity of allowing him a go at being a media pundit, will be a lifeline,
Everton have been very good to Rooney and hopefully he will come to realise that, sooner rather than later. Most fans would wish him good luck in America, though we do sympathise that he will be knackered in the hot sun most of the time and Buzzard Point is going to ruin Coleen's health, which might cause her to stay in England. The media in Washington will be watching him like a hawk.
Richard Jones
45
Posted 03/07/2018 at 09:05:44
John (#38),
You beat me to it!!
Joe (#21),
Didn't Johnson build the Park End and win us a cup?
If you could give me something tangible Kenwright has given us, please!!
Ray Roche
46
Posted 03/07/2018 at 09:22:44
Richard, yes, Johnson built us the Park End. The cheapest, nastiest stand he could build, with foundations which, according to reports I've read since, are insufficient to allow any expansion or upward development.
A second-rate attempt at best. The only thing in its favour are the lack of obscured view seats, but after last season, they would sell at a premium.
Richard Jones
47
Posted 03/07/2018 at 09:43:18
Ray .... and Kenwright built?
Ray Roche
48
Posted 03/07/2018 at 09:56:35
Richard. What has Kenwright built?
A magnificent Empire built of butterfly wings, angel dust and held together with the tears of a Unicorn.
Don't have me down as a fan of Kenwright, I am just pointing out that our owners, historically, have been less than worthy of the club and its fans.
Clive Rogers
49
Posted 03/07/2018 at 10:04:53
Paul (#39), don't know whether it's myth, but I heard that story and that Kendall had to be locked in a room. I still love the guy though.
Tony Everan
50
Posted 03/07/2018 at 10:15:45
Why do they need to ask? He wouldn't have been a starter for us next season.
Amazing as it may sound, even we don't want a sub who is on £150k per week.
Clive Rogers
52
Posted 03/07/2018 at 10:15:58
Graeme (#19), in no way am I pretending the club was perfect before Kenwright. I never said that. But I have watched EFC since 1960 and for me Kenwright's 19 years were the ones that were completely without hope and direction with false promises and outright lies. I hate the guy.
Tony Abrahams
53
Posted 03/07/2018 at 10:21:49
COMPLETELY WITHOUT HOPE INDEED!
Tony McNulty
54
Posted 03/07/2018 at 10:38:16
For his own sake I am glad he has gone. At least he leaves with some dignity.
Next season would have been like watching a drunken, overweight grandad at a wedding, hitting the dance floor to demonstrate to the youngsters how he used to be a dab hand at the limbo.

Paul Mackay
55
Posted 03/07/2018 at 10:53:57
#54 Tony. I'd watch that.
Tony McNulty
56
Posted 03/07/2018 at 10:56:33
You made me laugh there, Paul
Brian Williams
58
Posted 03/07/2018 at 11:43:29
Clive (#52).
A genuine question out of genuine curiosity:
Is your hatred for Kenwright built on what you've read, heard/learned through media or have you been privvy to information from the club or those connected to the club?
Chris Green
59
Posted 03/07/2018 at 12:00:22
I love this poor Wayne isn't happy.. boo hoo.. Everton got rid of me... boo hoo.. I don't remember you feeling at ALL upset when YOU wanted to leave the club "you supported since you were a boy" to join another club and better yourself and earn more!
Well Everton want to better themselves this season, and so we need to get fitter, younger players. IF you could have looked after yourself, you could have stayed.. but you didn't.. and your performances weren't worthy of the club you "love" or the salary you earn.
And before anyone says, yes... but he could be a role model for the other young players.... I think his off field behaviour and training has been discussed at length here.
Jog on...
Ernie Baywood
60
Posted 03/07/2018 at 12:25:47
Absolutely time to go. I still think if we were a team with any kind of direction he could have been an asset. But he's nowhere near good enough to carry the shite around him and not worth keeping around for the regeneration of the team. That's me as a fan.
But if I were Wayne I'd feel let down. Twice he played for his boyhood club – and twice they were more than a mess. And twice he finished as top scorer despite being a kid the first time and over the hill the second time. That's if I were Wayne. I'd be thinking it could have been good if only the club could bring something to the party. And twice he got criticised when he left – once as a traitor, once as a burden removed. Doesn't quite seem fair does it?
Anthony Hawkins
62
Posted 03/07/2018 at 12:34:59
Everton were in a mess this time round because they bought players like Rooney. We weren't in a mess for Rooney, we were in a mess with Rooney.
I felt let down that Everton bought Rooney back. It was a massive step backwards in my view. Couple that with the rediculous othet purchases...
Brian Harrison
63
Posted 03/07/2018 at 12:58:19
I think the time for Wayne to move on was right, but for me he was probably the greatest player this club has produced in our history. But time catches up with even the very best, it was just a pity that it was Man Utd that saw him at his best and not us. When you think how badly run this club has been for decades, founders of the Football League, one of the instigators of starting the Premier League. But now just a club that makes up the numbers.
We no longer sign great players, and if we do produce a quality player like Rooney was, then they are taken away very quickly. I wish Marco Silva all the very best in trying to turn this club around, to again compete for trophies. I really don't see how we can break into the top 6 never mind a Champions League place. Both Arsenal and Chelsea with new managers will improve their teams to again compete for a Champions League spot, plus both will use the Europa league for their second string. So the League Cup or the FA Cup look the only likely trophy we can win. Although, despite many claiming the top clubs aren't interested in these trophies, it's amazing how these clubs seem still to dominate these Cups.
Nick Armitage
64
Posted 03/07/2018 at 13:13:03
How has this turned into a stick to beat Kenwright with?
I'm no fan of Bill, but Rooney's return was on the watch of Koeman, Moshiri and Walsh. Rooney isn't happy but he isn't a player who can cut it at the top level anymore, going out on the piss won't have helped. It was worth a punt, it didn't work out so the club have cut its losses.
He left us when he thought we weren't good enough for him, and now he's not good enough for us we have moved him on.
Unlucky Wayne, such is life.
Jer Kiernan
65
Posted 03/07/2018 at 14:04:40
Delighted this guy is gone but even more so that he has a bee in his bonnet with current regime, he would have been a darling of Kenwright of that I have no doubt and hopefully this signifies a newer more rutless business model to run the club.
"Once a blue, always a blue" — my arse, he used our club like an oil rag twice now. Onwards and Upwards, this is a win-win for both the club and fans alike
Now if Kenwright can kindly fuck off, I will face the new season and the future with renewed optimism and will have less fear we will be butt-fucked by Man Utd at will from now on.
ps: Being fat and out of shape and going on the piss and getting behind the wheel of your car says you don't give a fuck. I said at time of his signing, I fit my jersey better than him, and that's saying something. In defence of Koeman, I would be amazed if this wasn't foisted on him by the teary-eyed fantasist who has plagued this club for decades now.
Step forward, Mr Sigurdsson.
John Hughes
66
Posted 03/07/2018 at 14:07:41
I am sure I posted this info at the time.
After the game against Atalanta back in November, I bumped into a guy I know on the commercial side at Everton. I have known him for 12 years and he has never given me a single nugget of inside info in all that time. However, that night, probably due to the frustration felt by us all after such a mauling, he confided in me that politics and incompetence were rife at L4.
He also said that Koeman was against Rooney's return to Everton and that he had been effectively overruled by Kenwright and therefore Moshiri by default. He believed that Koeman lost interest in his job immediately Rooney returned, and waited for the inevitable pay-off.
He also told me that evening that Joe Royle was extremely upset at the way David Unsworth had been treated and that he was not in the running for the role of coach. Joe Royle resigned a week after Sam Allardyce was appointed.
Now I do realise that we have to take these hearsay reports with a pinch of salt but my contact is not given to spouting bullshit and his version of the Rooney events did seem plausible at the time and very Kenwright-esque... not much value in this, I know, but it might just explain a few things on the Rooney front.
Steve Ferns
67
Posted 03/07/2018 at 14:15:56
Brian, that's a big shout about Wayne being the greatest talent this club has produced. Is that because we didn't produce Dean or Ball or many of the other great names put forward as Everton's best? Or are you putting Rooney ahead of even Dean and Ball?
Steve Ferns
68
Posted 03/07/2018 at 14:26:26
John, I'll take you at your word, but the description of Koeman being overruled by Kenwright does not sit true with me. Did Kenwright then tell Koeman to wax lyric in press conferences about Rooney before he signed him?
It looked to me that Koeman very much wanted Wayne. I believed Koeman's ego was such that he thought he could just change everything and slot things into place and crack the top 6 on account of him being a tactical genius.
John Hughes
69
Posted 03/07/2018 at 14:37:19
I take your point entirely, Steve, but we all know that stranger things have happened in organisations. Would Koeman have had the gumption to fall on his sword over such an issue and give up his £6m a year? Or go along with it and put his own strategy in place for the inevitable pay-off?
I don't know, obviously, but there were a lot of us at the time questioning the wisdom in signing numerous No 10s and Koeman does have history where pay-offs are concered!
Steve Ferns
70
Posted 03/07/2018 at 14:41:38
I don't doubt the truthfulness of what you said, John. You're hardly professing to be "in the know" as they like to say on Twitter, and coming up with things regularly.
John Hammond
71
Posted 03/07/2018 at 14:47:52
I couldn't take another season of him so I'm glad he's moved on. Good luck to him but I can't see him lasting longer than a season at DC.
Ken Kneale
72
Posted 03/07/2018 at 14:50:00
Brian. I agree Rooney was a top-drawer player but never for us in enough games to be in the greats. Even if he scrapes that list by dint of him coming through the ranks, are you saying he was greater than Labone or my own favourite, Colin Harvey?
I do not base my judgement on international caps by the way as you will have worked out although I ponder to this day how players like Emlyn Hughes and Carlton Palmer have more than Colin.
Lee Paige
73
Posted 03/07/2018 at 14:51:37
We need to move forward and stop being the drop off point for players before they move to the MLS retirement village.
Tony Abrahams
74
Posted 03/07/2018 at 15:00:19
Off topic, but how talented would Ross Barkley look if someone made him one of those YouTube compilations?
Just watching the best Premier League goals of 2013-14 and the kid scored some absolute belters, just a shame he could never find consistency, and I would be very surprised if he ever does this with Chelsea...
Sam Hoare
75
Posted 03/07/2018 at 15:02:46
I'd be delighted if we only signed players under the age of 27 this Summer. And in fact moving forwards. Our best chance of success is developing young talents and building a team to move forwards together rather than plucking for 'proven' Premier League players like Williams and Rooney whose abilities are on the Wayne.
Ian Bennett
76
Posted 03/07/2018 at 15:55:38
Ross Rodwell 😁.
Derek Taylor
77
Posted 03/07/2018 at 16:23:27
However bad the Kenwright regime, I reckon Moshiri has made many more mistakes per month than ever the Luvvie did when he was king. Never mind the duff football decisions, I fear the debt to be accumulated over the new stadium at Bramley-Moore Dock will be the greatest error in the Club's proud history!
Andrew Clare
78
Posted 03/07/2018 at 16:41:48
I just hope that now with Brands and Silva on board the club is run properly and efficiently. The big worry is that Kenwright is still around.
Sign young players, get them ultra fit and create a great team spirit.
Get rid of all the old deadwood and offload the players who should never have donned the famous blue shirt.
Darren Murphy
79
Posted 03/07/2018 at 17:28:29
Left too early, came back too late. End of.
Any chance of some talent in soon, please...
Will Mabon
80
Posted 03/07/2018 at 17:34:54
"I fear the debt to be accumulated over the new stadium at Bramley-Moore Dock will be the greatest error in the Club's proud history!"
Agreed. It's a concern to ponder how it may all be structured. Great vulnerability with great debt.
James Hughes
81
Posted 03/07/2018 at 18:02:41
Ernie, second paragraph is my summary too; spot-on sir.

Karen Mason
82
Posted 03/07/2018 at 18:18:38
I, like a few on here, cannot understand the bitterness towards Rooney. He is one of the best players our club ever produced.
Some people are critical and bitter because he left us. He was young and ambitious... and, let's be honest, he could not have challenged for major honours at that time, as our club just wasn't capable. The same people are demanding that our club be business-like and ambitious, yet you castigate Rooney for that?
May I remind you that he was also the top goal scorer, but then you all know that, though you never allude to it. If you have ever played a team sport, you will know that it is impossible to play well on your own. No player comes out of last season with much credit in terms of playing well. They were ALL below par last season.
Accusations of him being permanently 'on the lash', not training hard, and eating crap are things I have read in these comments. So, you are out drinking with him, watch every training session, and are at his house at mealtimes, are you? Unless you know these things for an absolute fact, perhaps comments such as these should not be made on an Everton website.
He was found out – just one occasion – for drinking and driving which I agree is unforgiveable, but that alone does not mean he is a complete and utter piss-head.
Whether you think he can still contribute positively on the pitch is an individual opinion, but to read some of the comments on here, with personal unfounded criticism, disappoints me hugely.
Will Mabon
83
Posted 03/07/2018 at 18:44:47
Karen, aren't you aware? There's only the George Best or Ronaldo lifestyles, and nothing in between.
Jay Harris
84
Posted 03/07/2018 at 23:39:21
Karen,
The club could have been capable. It was just the board who weren't.
Record incomes in the history of the Premier League and yet we were being run like Tranmere... No ambition — just self-fulfillment.
Jay Harris
85
Posted 03/07/2018 at 23:44:31
Steve,
I am also of the view that Koeman threw the towel in because of interference by Kenwright.
It certainly wasn't Koeman who agreed to let Lukaku off the last 2 years of his contract and sign Rooney instead of a top notch goalscorer which Koeman was screaming out for right up to the end of the transfer window.
I know he said publicly what a good player Rooney was but what else could he say?

Steve Ferns
86
Posted 03/07/2018 at 23:57:31
Jay, he was saying it before we signed him. I cannot see Kenwright being able to bring Rooney in, against Koeman's wishes, whilst Moshiri owns the club. It'd be so easy for Koeman to stop that transfer. Sorry Jay, but it seems completely implausible to me.
Paul Mackay
87
Posted 04/07/2018 at 10:48:29
I agree. Koeman would have sanctioned all player moves not Kenwright.
Even though Big Sam was a disaster you could probably argue that his two buys were better than many of Koeman's 2nd season buys. Tousn & Walcott v Keane, Vlasic, Martina, Klaassen, Sandro, Rooney.
Pickford and Sigurdsson (to a lesser degree) his saving grace.
Brian Harrison
88
Posted 04/07/2018 at 11:32:21
Steve Ferns
You asked me the question about Rooney being the greatest player this club produced, and then suggested both Dean and Ball would be ahead of him. We didnt produce Ball who was not only an England International before we signed him and a World Cup winner, so can hardly claim we produced him. And Dixie started his career at Tranmere so again we can hardly claim we produced Dixie.
Rooney is at present Englands leading scorer, and when you think of some of the great players that have played for England thats no mean feet. H e also holds the record at Man Utd despite all the great players they have had.
So I absolutely say he was the greatest player this club has ever produced, in fact I would say he is the best player that Merseyside has ever produced and that includes Gerrard who never ever won a league title. I agree that in a poll he probably wouldnt be in the top 10 most popular players to play for this club, but thats a different argument.
Richard Jones
89
Posted 04/07/2018 at 14:42:41
Ray 48
I wasn't a fan of Johnson and was pointing that even he built a stand and won a cup.
Andy Crooks
90
Posted 04/07/2018 at 21:36:50
Brian Harrison, your posts on this thread are the most ludicrous I have ever read. I am a fair judge of this because I have posted contenders.
We are into semantics here. We can't claim we produced Dixie and Alan Ball. So how far back do you want to go back in our production of Rooney? Wayne is, sorry, was, a fine player. He is a Man Utd legend — not an Everton one.
Oliver Molloy
91
Posted 04/07/2018 at 21:50:50
Wayne Rooney was a Bill Kenwright signing and part of the fee for Lukaku. Kenwright was desperate for Rooney to return to the club.
Rooney's people did not want to see their man show up at Everton with no transfer being paid so it was all done to make it look like Everton paid a fee when in fact no money changed hands.
Ken Kneale
92
Posted 04/07/2018 at 22:27:57
Brian on your logic of trophy haul squalling greatness Emlyn Hughes out trumps Alan Ball as a Blackpool great. Given what I said at my post 72, I cannot possibly go with that judgement. I suspect I would not be alone in that view.
Andy Crooks
93
Posted 04/07/2018 at 23:31:27
Brian, sorry, more semantics here. What is your definition of great? I just find it hard to associate the term to a man who has cheated on his family, has a jaw-dropping sense of entitlement, who has screamed at referees like a spoilt brat, who has driven drunk and insulted good Evertonians in his bid to become a Man Utd legend.
Strictly in football terms, you have raised a debatable point. We have had many fine players, comparable to Rooney in football terms. They have other qualities which, in my view, contribute to greatness.
Class and integrity.

Danny O'Neill
94
Posted 05/07/2018 at 00:47:50
Joe Clitheroe; agree. Too many slate Blue Bill without considering what he inherited from the Dr Marsh & Peter Johnson era. No-one else would have touched us with a barge pole. Has he been perfect? Absolutely not. But he has, in his own mind, had Everton's best interest at heart and kept us in the game when we looked at times like we would were seriously going out of it.
Easy to criticise when not in the seat. Corbynistic style protest politics; slag off those in charge in the safety of never having to be there yourself.

Ken Kneale
95
Posted 05/07/2018 at 08:51:09
Danny, our standing and status within the game is lower than ever. March and Johnson we two decades ago now and those are cash rich decades for the club – sadly none of which was used widely and much opportunity squandered.
As for the support base expecting to be quiet and reverential in such circumstances, John Moores's view was that we were entitled to do so when things were wrong. Given most of us would welcome stewardship of the club in his mould currently, that will do for me. He would never have stood for second best being good enough, like the Kenwright regime has.
Dave Abrahams
96
Posted 05/07/2018 at 09:27:11
Danny (#94), any Everton fan who supports Kenwright is a fan who is very easily satisfied. As for slagging off those in charge, you have to slag them off if they don't come up to standard and Kenwright and Mrs May certainly fall far below what is expected of them.
Anton Walsh
97
Posted 06/07/2018 at 19:04:34
When teenagers, he was ahead of Ronaldo. The only thing Ronaldo had on Rooney was athletism. Oh, and that other thing – professionalism. One has been washed up for years and the other on his way to an £88 million move to Juve.
Ed Prytherch
98
Posted 07/07/2018 at 01:03:29
Brian (#88). Some people think you're wrong but count me as one who agrees with you that Wayne is the greatest player Everton have produced. I think that he has made a good move to the USA and I may start watching his MLS games.
Lawrence Green
99
Posted 07/07/2018 at 01:43:37
Of course Wayne Rooney is possibly the greatest footballer that Everton has ever produced. Is he Everton's greatest player? Of course not — he didn't play enough games for the club and won nothing whilst wearing the royal blue jersey.
Ball, Dean, Southall and a host of others are far ahead of Wayne in the list of all-time Everton greats. Rooney will always be a Manchester United great as he won trophies with them and is their record goalscorer, likewise he will remain an England great given his goal haul for the national side.
Some argue that selling Wayne saved the club and they do have a point, but I will always argue that losing Wayne in 2004, no matter the circumstances, put Everton Football Club firmly into the bracket of also-rans — which we have since occupied with alarming regularity.
Everton had sold star players previously for financial reasons but, when Wayne left for Man Utd, it took something from the Everton soul and I don't think we've quite recovered from it as a club.
Jay Harris
100
Posted 07/07/2018 at 02:33:47
Danny,
No matter what Marsh or Johnson did or didn't do, it is painfully obvious that Kenwright was only ever out for himself and almost ran Everton into the ground in his self-fulfilment. He has now made himself millions while never putting one penny of his own money into the club.
Can you seriously say that anyone who involved Greene and Earl in the control of the club and pathologically lied about Goodison Park and the need to move to Kirkby so he and his cronies could line their pockets has Everton's best interests at heart?
He should have been run out of the club over Kings Dock which he lied about for 2 years saying the money was ring-fenced and then refusing to resign as chairman when Paul Gregg offered to fund Kings Dock if he did.
You and Joe have very short memories of this egotistical megalomaniac.
Add Your Comments
In order to post a comment, you need to be logged in as a registered user of the site.
Or Sign up as a ToffeeWeb Member — it's free, takes just a few minutes and will allow you to post your comments on articles and Talking Points submissions across the site.