Klaassen reportedly rules out Turkey switch
Tuesday, 17 July, 2018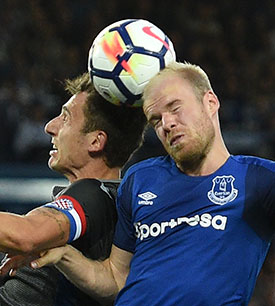 Davy Klaassen has apparently closed the door on any move to the Turkish league following reports he was close to signing for Besiktas on a temporary basis.
Reporter Hakan Gündoğar from A Sports went as far as claiming last month that Klaassen was 99% certain to sign a two-year loan but there doesn't appear to have been much in it.
Cenk Tosun was quoted in the last few days as saying that his former club president, Ali Naibi, sounded him out over Klaassen to see whether the Dutch midfielder would be interested in joining Besiktas.
Having made just a handful of starts for Everton last season, Klaassen has been linked with a move away from Goodison Park just a year after signing for almost £23m from Ajax but it would appear as though he is not interested in moving to Turkey.
"Beskitas director Ali Naibi called me and asked 'would Klaassen come to Turkey'," Tosun told Sabah. "I spoke with him afterwards, but he said he doesn't want to come to Turkey and the case is closed."
Quotes sourced from Sabah via Sport Witness
---
Reader Comments (85)
Note: the following content is not moderated or vetted by the site owners at the time of submission. Comments are the responsibility of the poster. Disclaimer
Kieran Fitzgerald
1
Posted 17/07/2018 at 06:25:40
It's only two weeks into pre-season under a new manager. A lot of this is pointless speculation. I know the transfer window closes a lot earlier this year but it will be the las ten days of the window before we see any majors moves in and out of the club.
Victor Yu
2
Posted 17/07/2018 at 06:49:47
Even the 99.9% done Lukaku contract didn't come through. 99% done means nothing.
Karl Meighan
3
Posted 17/07/2018 at 06:53:15
I expect him to go back to Ajax; from what we saw of him, he's not good enough to play in the Premier League.
No pace, little or no skill, didn't look like he had an eye for a goal, a great engine, or a clever player? Not in a Everton shirt. Klaassen never showed any quality or indicated that he had any strengths whilst in blue.
He never played many games in fairness but I was amazed he was signed – and for £23M – oh dear. Hope he can prove himself but he will have to be a completely different player from what he has shown.
Rick Pattinson
4
Posted 17/07/2018 at 07:12:55
We have to take this one on the chin. We will lose a lot of cash. Get rid as soon as for Klaassen's sake so he can save his career elsewhere. It ain't happening in the Premier League.
Liam Reilly
5
Posted 17/07/2018 at 07:30:33
I wouldn't be letting him go before we have a replacement locked in and I'd be interested to see how he'd do with pace and youth throughout the side.
There's a history of foreign players taking a season to bed in to the Premier League.
Mike Allison
6
Posted 17/07/2018 at 07:40:53
We haven't seen Klaassen yet. Players need games, especially moving from a slow league to a much quicker one.
I for one hope Klaassen and Sandro get a chance under Silva. I don't really believe in writing players off just because they haven't wowed me initially.
Robert Pires was laughably bad when he first joined Arsenal. He was Player of the Year a season or two later.
Mike Gaynes
7
Posted 17/07/2018 at 07:41:19
Wow, Karl (#3), that's a highly detailed scouting report on a guy who played exactly 249 minutes in the Premier League last season. Not even three games' worth. Averaged 35 minutes per Prem appearance. Played most of his minutes in Europa League games.
No, I don't especially rate him either, but to say he has "little or no skill" is just silly... the one thing he did show was exceptional touch. And I respect his willingness to stick it out with us and keep working for his opportunity. Skipping off to Turkey would have been oh so easy.
Tony Everan
8
Posted 17/07/2018 at 07:43:46
100% of these 99% done deals only have a 20% success rate.
Money issues aside I always find it sad that a player in his prime with talent is not playing football. The former Ajax captain who took them to a Europa League Final must be worth a punt to some club in Europe. I would be pleased for him if he could kickstart his career and pleased for us if we could move on from Koeman's transfer debacles.
If Silva got him playing like a motivated Croatian midfielder, and into a driving force for our journey into the top 6, Evertonians would be beside themselves with joy. It would be like the second coming. Miracles do happen and we are due a few.
Jim Bennings
9
Posted 17/07/2018 at 07:44:15
Everton have always had very little success with signings coming in straight from abroad with having never played in the British game.
I can think of only a brief handful of success stories (Fellaini, Pienaar, Yobo, Gravesen spring to mind)
I hope we don't leave everything until the last 10 days, that's another risk because most additions unless Premier League familiar, take much time settling in.
Paul Tran
10
Posted 17/07/2018 at 07:53:04
I'm not prepared to judge any of last summer's signings until we see them under Silva. Better to judge the two managers and the new one at this stage.
Derek Knox
11
Posted 17/07/2018 at 08:10:47
I tend to side with Mike @6, and Tony @8 in that, maybe under a new coach, and a new set-up, we may see a different player altogether.
I also endorse that with optimism, as to date, his limited chances, have produced very little, but glimpses that there is a player in there somewhere, with a football brain.
I half expected him to play in the friendly at the weekend but along with other notable big names, was absent.
Let's face it, whether he stays or goes, we have grossly overpaid for him, and should it not work out, the Club would be lucky to recoup even half the initial Transfer fee.
Gary Russell
12
Posted 17/07/2018 at 08:22:58
Cruyff rated Klaassen in an interview with Voetball International, comparing him to Barcelona legend Xavi and Real Madrid's Germany international Kroos.
"You must have strong positioning, ability to control the ball at speed and also have the technique to deal with the speed of it [in midfield]," said Cruyff in 2014.
"Xavi, Toni Kroos and Davy Klaassen can do it. All three have perfect anticipation and they can play it both left and right excellently.
"You watch, when Klaassen plays from that position for Ajax, the tempo increases immediately. Moreover, he rarely loses possession."
Let's see what Marco makes of him.
Peter Gorman
13
Posted 17/07/2018 at 08:31:34
Okay, it was only a loan deal, but isn't the idea of the Besiktas director gauging the interest of Klaassen via Tosun — the very definition of 'tapping up'?
Bob Parrington
14
Posted 17/07/2018 at 08:37:01
Gary (#12). Interesting. What I've seen of him hasn't impressed me other than a few touches. But... Cruyff is not an idiot! So let's see what Silva's judgement is.
Paul Mackay
15
Posted 17/07/2018 at 08:52:40
I'm not panicking but I also hope we have some deals in the pipeline. I'm surprised we haven't seen a greater off-loading of players with just over 3 weeks remaining in this transfer window.
No new signings at this point. Again, I'm pleased we are not impulse-buying like last summer but, when players like Luke Shaw start turning you down, it becomes a little worrying.
And how did that conversation go?
Shaw's Agent: "Hey, Luke, Everton are interested. I've spoken to Mourinho and he would be pleased to let you go. He said you're unlikely to get any game time. He reckons you're overweight and lazy. Everton said you will get plenty of game time, you can restart your career, get your England place back, and prove to the doubters that you're not lazy. Shall I let them know your keen?"
Shaw: "Nah. I'll just run my contract down here and earn my $5M."

Tony Everan
16
Posted 17/07/2018 at 09:26:25
Paul (#15),
I don't want him either, he has got an attitude problem. The smoking jacket and slippers have gone back on for another season. He will run his contract down then sign another huge one in the new year ready to milk the next mug club.
Clive Rogers
18
Posted 17/07/2018 at 09:42:24
We seem to be struggling to get rid of players like Mirallas, Klaassen, Sandro and Williams. Nobody seems to want them.
It was a big mistake when Kenwright gave Mirallas a big pay rise and a 3-year deal last season. He wasn't even in the team. Now nobody wants to match it.
Rob Halligan
19
Posted 17/07/2018 at 09:47:09
Paul (#15). You say you are surprised we haven't seen a greater off-loading of players with just over 3 weeks of the transfer window remaining.
If the likes of Klaassen, Williams, Mirallas, Besic, and Niasse are garbage (ToffeeWebbers' words – not mine) then why would another club take the risk on signing them – particularly with the ridiculous wages these players are on???
I don't know what these players earn, but I know they won't take a pay cut to move on. They are quite happy to hang around raking in their thousands.
Listen, I'm not saying these players are perfect – far from it, but it's not that easy to move players out. Like a few have said, let's see what they're like under the new manager?
Rob Halligan
20
Posted 17/07/2018 at 09:50:24
I've just seen Clive's post. Exactly my point. No team will match the wages these players are on.
Steavey Buckley
21
Posted 17/07/2018 at 10:13:00
Klaassen probably wants to play for the Everton Under 23s next season.
John Clowes
22
Posted 17/07/2018 at 11:26:18
Like others have said, it's going to be hard to move these players on and if we do, I would expect we would have to pay for some of the wages.
If Niasse is deemed to be not needed for us, I would have thought there would have been some sort of interest as I believe that Palace nearly signed him last transfer deadline but fell through at the last minute.
Brian Harrison
23
Posted 17/07/2018 at 12:02:02
I know on another post some fans are worried that we haven't signed anyone, but I am sure there will be new signings. I just hope that more thought will now go into purchases than has happened over the last few seasons.
Because of the poor buys, Silva and Brands now have the unenviable job of having to reduce the squad. But offloading these overpaid players will be nigh impossible, because of the exorbitant salaries these guys are on it makes it impossible for most of the clubs outside the top 6 in the Premier League to afford them. I expect most will sit tight and see out their contracts, unless we pay them and the buying clubs massive amounts of money to take them off our hands.
We are not talking 1 or 2 players to ship out we are looking at quite a few players, I see Klaassen has turned down a move to Besiktas, no surprise there, and it just highlights my point in how difficult it will be to move any of these players on.
The squad is far too big, and considering we have no European football then, other than the domestic cups, that just leaves 38 league games. So most of the ones we would like to ship out if they are still here next season will hardly get a game. So we will have 6/7 players on between £40-£70,000 a week just to train and spend the weekends at home.
Tom Bowers
24
Posted 17/07/2018 at 12:17:55
Yep, we are all pretty much agreed about the situation. They probably won't sign anyone decent until they can offload some of the overpaid underachievers like this guy Klaassen.
They made their bed; now they must lie on it.
Alan J Thompson
25
Posted 17/07/2018 at 13:01:26
A 2-year loan made little sense but I thought we would have used him as a bargaining chip in a move for Ajax's "Duncan Edwards" like central defender — did he go anywhere?
Paul A Smith
26
Posted 17/07/2018 at 13:32:42
I have to agree with Mike Gaynes. Klaassen did have the technical side of the game from what little I saw. Weakness and speed were always going to set him back. One of them traits is essential otherwise you go through a lot of Leon Osmans trying to get it right.
If only the club had actually scouted last year. If only they had watched the Europa League Final when Klaassen played an English team and hardly got a kick. If only they remember Lukaku rolling Michael Keane like a kid in a playground.
Surely any targets this season have got to be better.
Fran Mitchell
27
Posted 17/07/2018 at 13:45:33
It is quite evident that the failure to offload the deadwood is the root cause of our failure to sign anyone.
The squad (wage bill) is too big and must be cut. Unfortunately, many of our players will only likely be moved on in the final stretch of the window when clubs start getting desperate.
Williams wouldn't be the first choice option for any team but, with the clock ticking, I'm sure clubs will get interested. Same for the likes of Mirallas, Niasse, and Bolasie.
Unfortunately for us, interest in the likes of Sandro and Klaassen will only, probably, come from abroad where the window is open for longer, meaning we will get them off the wage bill but not be able to sign anyone as a result.
I'm surprised at the lack of interest in Besic after a good spell at Boro; I had expected lower level Premier League teams to go for him.
Denis Richardson
28
Posted 17/07/2018 at 14:03:50
I had really high hopes for this guy in our midfield but not sure he'll make it. He hasn't had a real chance to be fair so think we should give him a shot (unless we get a good offer).
He's on a long and massive contract, over £100k/week, so he's not going anywhere that will mean taking a big pay cut. I can't see even a loan covering his wages, never mind getting the £20m+ we paid for him back via a transfer.
We're going to take a real bath with this one. I'm also not really sure where he was supposed to play in a 4-2-3-1 set-up, given we went hell for leather getting Sigurdsson. Was he supposed to be one of the two defenssive midfielders? Terrible scouting.
Si Cooper
29
Posted 17/07/2018 at 14:04:44
Some strange truisms popping up on this thread.
Apparently, we are practically honour bound only to do our transfer business in the last two weeks of the window; we have a poor track record with recruitment from overseas; it's going to be virtually impossible to negotiate deals for some of our surplus players... so?
Are people trying to be realistic or fatalistic? I thought the idea of bringing in someone like Brands was so that we would become better at those sort of things?
Okay, so we got burned a bit by our early deals last year but it still has got to be generally better to get players in early if possible. Michu, Coutinho, Suarez... there are plenty of examples of why we should continue to gamble on players who haven't experience of the Premier League.
Maybe we will just have to write off money in the short term to address our player surfeit – cheap asking price / subbing their wages whilst they ply their trade elsewhere. The club will just have to decide which scenario is better overall – making space at Finch Farm or looking to recoup every last penny they can for the players we won't be using?
Brent Stephens
30
Posted 17/07/2018 at 14:11:31
I don't think this guy has had a chance of playing in an Everton side that plays as Silva will want – quick transition with accurate passing. My suspicion is he's well suited to that.
William Cartwright
31
Posted 17/07/2018 at 14:17:00
Fran, you are quite right. The heritage and baggage left over from Koeman is damning, embarrassing and will be a millstone for years. The recovery plan that seems to be coming through however is tailor-made for the M&M approach. As many have stated, there is a need for patience and reconciliation. Moving people (and players on is part of the process, with the pay-outs being made to players leaving before their contract term, (as well as managers!) is a reflection of the money glut that is still flooding into football.
What I don't get about Klaassen is his total failure to get into the squad / team after his considerable achievements as the driving force on the pitch for Ajax? How can that be. Koeman must have wanted him but even under his management he hardly got a look in? (No point in even referring to Allardyce in any discussion regarding positive football.)
So what will Klaassen be able to give us? And Sandro? And Keane? If anything, because I don't believe in coincidences. Multiple good players don't all turn sour overnight. There must have been, and may still be some lingerings of a footy club completely at odds with itself which has wormed its way into the minds of the players, or some of them...
I would love to see Klassen, and others produce the goods, and then see where we get to.
A worry I see hanging around is the recent meeting with M&M and Kenwright. Soon after that we dropped out of the Teirney chase and Marco is making polite noises that we will get the players in that he wants... Is there a Mexican stand-off behind the scenes? Who knows?
As Steve Ferns recently wrote, if we don't get the new players in we will under good management survive; but will the M&M be committed enough to ride out the disappointment?
There might be more riding on Klaassen and Co than we appreciate.
Sam Hoare
32
Posted 17/07/2018 at 14:19:50
Just so bizarre that we bought Klaassen AND Sigurdsson. In the same window!!
Both I think could be capable playmakers with an eye for a goal but both are very slow and rely on having pace and movement all around them.
The trouble for Klaassen is that I'm not sure we (or Silva) can carry two slow playmakers and Sigurdsson is better suited and adapted to the Premier League. Plus he offers great set piece delivery.
I think if you put Klaassen as an attacking central midfielder with Walcott and Lookman our wide and a mobile and technical box to box player (Loftus-Cheek?) then he could do pretty well. Don't think he'll get the opportunity though.
Brian Wilkinson
33
Posted 17/07/2018 at 14:45:26
Silva for me is the manager who will vastly improve our players, with his training techniques, and his style of football.
We all know the last game was a farce, but that was our first game, getting the fitness levels up, and following out tactics, personally it has added confidence to one or two players, Tosun must have thought it was Christmas the support he was getting in attack.
Some tougher tests to come, but however bad the opponents, what I liked was we did not stop playing, even up to the final whistle, we were attacking for more goals, taking in mind it was the very first 90 minute run out, and granted we used a few subs, those coming on continued following out Silva instructions.
I would see out another couple of friendlies, see how the fringe players do, I am sure after that, Silva will know where we need to bring players in.
Let's not forget, a lot of these players were playing well for their previous clubs, let's see if Silva can work his magic and get them playing, starting with playing them in their correct positions, and getting players supporting them further up, instead of a tight midfield defending just in front of the defence.

Mike Gaynes
34
Posted 17/07/2018 at 14:46:51
Bob (#14) and Gary (#12), yes, that famous column... but remember, Klaassen was only 21 when it was published, and three years later he was still at Ajax. Cruyff was certainly not an idiot, but I don't think he ever wrote about Klaassen again before his death. Lots of highly promising 21-year-olds just don't develop into superstars.
Clive (#18), I don't think we can yet say that Brands and Silva have failed to offload these players – we don't know if they've even tried.
Ray Smith
35
Posted 17/07/2018 at 15:10:16
On what evidence has Klaassen been written off? He hasn't been given a chance, unless the speculators on TW have inside info, that us mere mortals are not privy too?
I was concerned when he didn't feature in Austria, and wonder why?
Nobody is going to rush in to buy our so-called players surplus to requirements. They will sit on the fence and wait for the clock to wind down before making a move for a fee far lower than would normally be acceptable. Should we have publicly declared that we need to sell before we buy?
One thing I would like to see is a statement, stating that Lookman is not for sale, or is there more to this than meets the eye?
Mirallas will promise the earth to Silva and prove his worth for the first 5 or 6 games, then slide back to his old ways. Such a waste of a talent.
Who in their right mind will take Williams off our hands? So he will probably be a squad player we couldn't offload!!
Nobody seems keen on taking Sandro off our hands. I would like to see him given a chance under Silva, you never know!
Although the silence from within is deafening, I prefer the silence to the idle misinformed gossip from the media.
It's a game, but it's all rather boring, but it sells newspapers, and that's how it is.
If nobody bought a newspaper for 3 days, most would go bust. Having hypocritically said that, I continue to buy a paper 6 days a week!
Nick Walsh
36
Posted 17/07/2018 at 16:19:04
Over the years I have read and enjoyed many debates on ToffeeWeb (and similar sights) but never felt the need to jump in and stick up for one of our players (even though many have received awful criticism IMO!)
However, with all the recent talk of the new Manager's plans and which players should stay or go (there's a song there somewhere….), one of the players who seems to be attacked well over the top is Davy Klaassen.
I have lived in The Netherlands for a few years now and follow Ajax as my Dutch team so I watched Davy come through the ranks. Now, I am not for one second saying he is world class, but some of the vitriol aimed at him seems to be well over the top to say the least.
The poor lad was signed by his compatriot who, I think we can now say in hindsight, had no real recruitment plan and ended up buying a lot of players for the same position, and thank god was soon booted. Then came Big Sam, who would not be able to identify a player with a creative streak if they bit him on his rather large behind, and Davy was left to rot in the reserves (I realize I am missing the few Rhino games here but I won't count them based on the chances given to the 'youth' players in that time).
Again, I am not saying that, in his very limited playing time, he set the world on fire, but hearing such phrases as 'coward' and 'waste of space' seems to be very unfair. Unlike The French so-and-so and Kevin Mirallas, nothing was ever read of him complaining and giving up in training; he got his head down and when given a couple of minutes here and there was ready to go.
So, my question, why the intense dislike for him? I really can't fathom it? Let's not forget a couple of years ago he was being linked with Man Utd et al, and some guy called Johan Cruyff seemed to rate him pretty highly.
'According to Cruyff, he shared similarities to the best around, as he wrote in Voetbal International:
"You must have strong positioning, ability to control the ball at speed and also have the technique to deal with the speed of it. Xavi, Toni Kroos and Davy Klaassen can do it. All three have perfect anticipation and they can play it both left and right excellently.
You watch, when Klaassen plays from that position for Ajax, the tempo increases immediately. Moreover, he rarely loses possession." )

Who is Davy Klaassen? The Ajax captain tipped to be a Manchester United success

Michael Kenrick
37
Posted 17/07/2018 at 16:27:48
I think you're overstating it a bit, Nick (#36). I wouldn't call it "intense dislike" — more "intense disappointment" — for all the reasons the more sensible posts present above. Yea, there's always a few OTT... just ignore them.
Of course there's a rush to judgement but, based on his pathetic amount of gametime last season, it's not just the fans who were being mean to him. Three different managers, including the one who (we assume) persuaded him to join us... or was it Koeman's way of challenging the Rooney decision, only to have his hands tied by a ridiculous commitment to Rooney that he would start all home games?
Last season was an almighty clusterfuck and an unfair basis to truly judge a player who might have made a better transition to the Premier League under different circumstances. Maybe under Silva he now has that chance?
Paul Columb
38
Posted 17/07/2018 at 16:28:16
I hope it's not misplaced, but I'm placing faith in Brands and Silva to stage a multi-season rebuild without jumping the gun on unloading players who have cost us a premium and acquiring no more than 3 or 4 quality players in needed positions.
I don't see a fire sale as prudent; let's see what the new coaching staff can get out of them as let's face it, their valuation for sell-on is at rock bottom. Even if they don't reach lofty heights for us, they should at least improve and perhaps increase valuation for unloading later as needed. We'll end up paying a good portion of their wages in any case if sold on prematurely. And some have age on their side buffering related depreciation on that alone.
The squad does need trimming though and so I'd expect Basic, Williams, perhaps Bolaise, Mirallas and Martina to move on. Would also like see the back of Schneiderlin for going missing last season; doesn't deserve to wear blue again...nose-despite face? don't care.
Don't really see where Klaassen fits in tbh, but yet to see Silva's system in action. No idea how they rate him Apparently was carrying a knock for the Austria game...christ knows from what.
No high hopes for the season in terms of where we finish but just really looking forward to some positivity on and off the pitch and something to build on for the following season. Hoping for some positive mutterings regarding Bramley Moore also as the silence from all concerned is too prolonged and a tad reminiscent of the KD run-in.
All the best Blues and here's to the next iteration of our return to glory.
Martin Nicholls
39
Posted 17/07/2018 at 16:31:00
Well said Nick!
Martin Nicholls
40
Posted 17/07/2018 at 16:34:49
Michael#37 - is it not a fallacy to maintain that there was a commitment to Rooney that he would start all home games? In the event, he didn't did he?
Kieran Kinsella
41
Posted 17/07/2018 at 17:12:08
Credit to Agent Tosun for trying to move him on. Everyone was upset when Saha was asking Pienaar about going to Spurs, Tosun is actually helping us offload someone we don't need.
Ray Smith
42
Posted 17/07/2018 at 17:32:10
Kieran 41
Who says we don't need Klassen?
What do you base your comments on?
Tosun needs to be careful in respect of who he speaks too and what he says.
Could be viewed as tapping up, regardless of who it is!
We all know it goes on, but his comments should be unattributable, rather than exposing the shenanigans that actually go on behind the scenes.
Cenk stick to football and stop speaking to the media/press.
William Cartwright
43
Posted 17/07/2018 at 18:07:02
Nick @ 36; Nice report and a very good set of reasons for giving Klassen the respect he deserves. Interesting to read the article refer to how he has evolved from a promising but timid player. . . . I still can't quite get my head around exactly why such a quality performer, captain material etc., just can't get in the team?
It is possible he has reverted to his previous life given the challenges he faced under Koeman, and Allardyce. The full horror show of the spend spend spend mentality will be haunting us for a long, long time. Just how any team manager could balance a squad with Gana, Schneiderlin, (DM's), Davies, (box to box) and Siggy, Rooney, Klassen, as defacto No. 10's? and not forgetting Ross who was still on the books! Bloody crazy and we all knew it except the guys making the decisions!
This is where Marco's man-management skills may bring about a huge benefit. The bottom line is someone has to make the decisions. A benefit of the M+M ticket is if they work well together, it shares the thinking load in addressing a real conundrum over organizing the right squad numbers and balance.

Mark Taylor
44
Posted 17/07/2018 at 18:13:46
Other people have cited the problem we have in offloading seemingly dud players on big salaries. I did a bit of digging and posted an estimate of some of these elsewhere. If the figures I saw are true we will not relaistically get takers for the likes of Klaassen, Mirallas and Bolasie unless we pretty much give them away and maybe sub their wages. As an example, we seem to be paying Sandro in excess of £5m per year. That sort of wage buys someone who can cut it in the EPL. For those we paid big money for recently, it's even harder because their book value in the accounts is unlikely to be met, so will incur a player trading loss.
It has already been made clear that Moshiri's big recent splurge is not going to be repeated and by implication we have to sell before we buy. But we cannot sell.
It's disappointing but I suspect Silva will have to work largely and maybe even wholly with what he's got. At best, we might get a LB and CH but I suspect at least one of those won't happen. I hope Silva is the minor miracle worker that some claim him to be and he can somehow fashion a silk purse from our sow's ear of a squad.
Bill Gienapp
45
Posted 17/07/2018 at 19:23:46
"He wasn't rated by three different managers last season" is a popular refrain amongst the Klaassen naysayers, but I'm not sure how much stock I put in that statement.
If he hadn't been sacked, I fully expect Koeman would have attempted to reintegrate Klaassen into the lineup as he adjusted to the Premier League.
Unsworth, understandably, favored the players he was more familiar with in the short-term.
Allardyce was a complete moron.
If Silva concludes he doesn't make the grade, then fair enough. But until that happens, I choose to hold out hope that Klaassen can prove to be a worthwhile investment.
David Chait
46
Posted 17/07/2018 at 19:53:10
I for one am chuffed that he wants to stay. I don't think he was given a fair shot at all and probably is one of the quicker movers of the ball we have so would suit a quicker more expansive type of football that we believe is coming.
I want to see what a decent manager and some coaching could yield. Plus one year with us should have toughened him up. Hope to see more of him and that he proves his doubters wrong..
Nick White
47
Posted 17/07/2018 at 20:13:34
Based on last season, from the times I watched Davy (albeit limited minutes on the pitch), he came across as a 1 touch player who wanted to keep the ball moving. I'd think, for him to be successful, that he would need players moving off the ball and some pace in the side.

Certainly none of that under Koeman and even less under Big Sam. Whether he will come good for us I'm not sure, but in a pacy team with plenty of movement he would be a star. Let's hope Marco can work some miracles. Certainly didn't seem to be an attitude problem.
Paul Mackay
48
Posted 17/07/2018 at 20:19:29
Call me old fashioned but are there no longer any players who would take a pay cut to transfer to a club where they will play regularly?
Steavey Buckley
49
Posted 17/07/2018 at 20:28:52
Marco Silva the final authority on who stays and goes wants Klaasen gone. So not a good start for the Everton manager with some Everton fans who want Klaasen to stay.
Steve Ferns
50
Posted 17/07/2018 at 20:32:25
Where has Marco Silva said that he wants Davy Klaassen gone?
Mike Allison
51
Posted 17/07/2018 at 20:40:39
Steavey, in 10-15 years on ToffeeWeb that post is the only time I've ever been put in mind of manipulative, 'stirring' teenage girl.
What did you really mean? Because it comes across as you trying to sow discord between fans and manager before anything significant has happened.
Ian Burns
52
Posted 17/07/2018 at 20:45:21
I would like to see Klaasen play before he leaves. Nobody has any idea if he has what it takes because he hasn't been given a run of games to build up his confidence. He wants to stay, let's hope Silva gives him some lengthy minutes in the upcoming pre-season games, particularly the tougher ones.
Ray Smith
53
Posted 17/07/2018 at 20:50:31
Steavey 49
Where do you get your info from?
Perhaps your informed source could make a few more predictions?
If your info is genuine I applaud you, if not why post?
Steavey Buckley
54
Posted 17/07/2018 at 20:54:53
Steve #50 The manager would have to sanction the transfer of Klaassen from Everton to Besiktas, because he does not figure in his plans. The situation is the same with Bolasie.
John Otway
55
Posted 17/07/2018 at 21:02:37
Well at least by #54 you're correctly spelling the name of the bloke you're speaking so knowledgably about!
James Hopper
56
Posted 17/07/2018 at 21:03:58
With regards to Klassen and other recent acquisitions, I can only hope we're in similar position to Tottenham after the Bale sale.
I seem to remember Bale was sold under Andre Villas-Boas, and replacements signed under he and Tim Sherwood failed to set the world alight - players like Christian Eriksen.
It wasn't until the right manager, in Pochettino, was brought in that some of those signings started to make sense and perform on a regular basis.
Can we hope for our own underachievers to come good under Silva?

Mike Gaynes
57
Posted 17/07/2018 at 21:14:02
Stevey #54, you've now been asked three times, and I'll make it four.
How do YOU know Klaassen isn't in Silva's plans?
Or are you just making it up?
Craig Mills
58
Posted 17/07/2018 at 21:19:47
Mike @ no.7 - there's a reason why 3 managers only felt Klassen deservered a grand total of 249 Premiership minutes, that is as Karl @3 has correctly put it - he's not bloody good enough
Mark Taylor
59
Posted 17/07/2018 at 21:40:14
Mike 57, I think the OP has a point. Unless this was just a case of tapping up and the club never sanctioned a discussion with Klaassen, which is of course possible, then there is an implication that the club were willing to let him go and de facto was not in our plans.
I suppose it is also possible that, if the latter is the case, it was Brands' call without Silva being consulted or even being ignored, but I wouldn't have thought that likely.
So although it's not possible to state it as a fact, there is some reasonable evidence here that Klaasen wasn't in Silva's plans.
Though he might have to be now
Gaute Lie
60
Posted 17/07/2018 at 21:44:44
Is he so bad he don't get more time to better himself under New manager??
Steve Ferns
61
Posted 17/07/2018 at 21:53:02
No Gaute. He has featured prominently in the training videos. Silva will give Klaassen a fair crack.
It is important to remember what Klaassen is best at. That is moving the ball quickly, getting forwards quickly, and arriving late in the box to assist or score.
If Silva plays a 433 with a single pivot, ie the Sporting Formation, then Klaassen could play as one of the 2 CMs. I would have doubts over the defensive side of his game, but he could help the rapid counter attack by moving the ball with his exceptional one touch skills (as noted above by Cryuff, who watched him regularly for years). He is not as slow as made out, which is why he was able to effect and participate in swift counter-attacking goals for Ajax.
That said, I don't think he has enough of a box to box game for Silva. Defensively he is lacking. So Silva may see him as a good option, a significant role to play in one formation, but that might not be his default formation. Therefore, Silva may think that if he has to get rid of so many players, and Klaassen is one of the high earners, then if the money is right he'd let him go. That is not the same as trying to offload him.
Mike Gaynes
62
Posted 17/07/2018 at 21:54:03
Craig #58, that may well be true. But you'll excuse me if I don't put as much stock in the judgement of those three particular managers as you do. No single player in the squad (well, except maybe Schneiderlin) produced performances on the pitch that were as poor as the performances on the touchline.
Karl is right about Klaassen's pace and strength, but he also cited a lack of skill, and that's just silly. I personally don't expect Davy to be an impact player, but if Silva and Brands aren't ready to give up on him, I'm fine with waiting to see.

Mike Gaynes
63
Posted 17/07/2018 at 22:07:44
Steve #61, I believe Klaassen did play that deeper-lying defensive midfield role for the entire 2014-15 season under Frank de Boer. That's why he only scored 8 goals that season -- he primarily distributed upfield.
Given his work rate, maybe he wouldn't be a defensive liability after all. I recall him triggering a goal against Split early last season with a very nice tackle and pass.
Tom Bowers
65
Posted 17/07/2018 at 22:23:50
We know that some faces don't fit with some managers.
Niasse was unrated by Koeman for whatever reason and then Rooney was at odds with Allardyce.
Klassen just didn't fit with anyone last season but I am sure the lad has some ability.
Maybe under Silva he may show something we haven't seen yet if he gets a chance.
There will be a lot of competition for the midfield spots however that's not to say Silva's preferred combinations will be good better than last season.
I like Macca and hope full fitness will be beneficial to Everton but Silva may like Schneiderlin and then there is Besic who did well at Boro. Is he coming back?
There is lot's to ponder and we all have our opinions but in the absence of any new faces it's hard to see much improvement, at least in the short term.
Steve Ferns
66
Posted 17/07/2018 at 22:28:59
Maybe, the Ajax fans can confirm Mike? It seemed to me like he had other defensive minded midfielders behind him and played in more of an 8 role. Which is where Silva could use him.
He might not be fast, but to say he has a lack of pace is overstating it. He is not slow. If he was so slow how does he get up the pitch so fast? Just because he lacks genuine pace does not make him slow, or more significantly, too slow to be part of a rapid counter attacking team.
James Hughes
67
Posted 17/07/2018 at 22:47:19
I would still like to see Klaassen given another chance to show if he can make the grade in the Premier League.
He has played under one manager who just couldn't be arsed, the other was here for the money. Neither had a plan or wanted to stay. So it may be time to see what he can do with a manager that cares.
Ray Smith
68
Posted 17/07/2018 at 22:55:45
James 67
Agree 100%
I'm getting somewhat tired of the negative uninformed posts on this thread.
If you have nothing positive to contribute, hold off until you do!!!
Brian Wilkinson
69
Posted 17/07/2018 at 22:58:22
So Klaassen has played a total of 249 minutes and judged by some as not good enough.
Being an older Evertonian, I remember a certain Martin Keown getting hounded for a few years at Everton, we are talking about a player who plied his trade in the English league, it took Keown a few seasons to suddenly become a very decent defender, yet the guy who played in Holland and has played very few games has been judged and passed on the scrap heap.
Not for one minute am I saying he will be a top signing, neither will I write the guy off.
Truth be told, I have not seen enough of the guy to pass judgement just yet.
Steavey Buckley
70
Posted 18/07/2018 at 00:08:27
4 Everton managers can't be all wrong about Klaassen.
Paul Dewhurst
71
Posted 18/07/2018 at 00:32:42
Ray (#68), Let's be honest, the positive posts are just as uninformed as the negative ones. And without negative posts we don't get positive posts either, they would all just become bland posts (a bit like this)
I love this site, but people talk their opinion up as though it's a fact.
When none of us really have a clue.
Steve Ferns
72
Posted 18/07/2018 at 00:34:27
Koeman played slow build up possession. That doesn't suit Klaassen. Allardyce booted it over midfield, that doesn't suit Klaassen.
Silva plays high tempo counter attacking football. That's more Klaassen's style. Therefore, he might show what he can do.
Mike Gaynes
73
Posted 18/07/2018 at 00:53:44
Agree with both posts, Steve.
Just like Sigurdsson. Not speedy, but always gets there.
Ed Prytherch
74
Posted 18/07/2018 at 01:45:53
Apart from the weather, I cannot think of a good reason for moving to Turkey. I don't rate Klaassen but I don't blame him for rejecting that move.
Karl Meighan
75
Posted 18/07/2018 at 03:07:24
Mike @7, exceptional touch, I can't agree with that. In a poor Everton side, he couldn't make the bench. I just say what I see and it wasn't much from Klaassen.
He was bought as a so-called box-to box-midfielder who chips in with goals.
Whilst players can take time to settle they normally show some quality or improvement; Klaassen showed none imo and for £23M, I expect a lot more.
Darren Hind
76
Posted 18/07/2018 at 06:07:45
Good Point Paul T
Silva will not be able to inject pace if it isn't already there, but he has to be better than Koeman and Allardyce. I expect to see a least a slight improvement in just about every player this season.
Will it be enough ? who knows, but you are right.
Its far wiser to judge a player in a team which is being encouraged to play the game, than judge him playing for a manager who forbids it.
This is where I expect the biggest improvement. Playing for Silva will be a joy for most of these players after playing for the last two.
Fresh starts and clean sheets all round
Hugh Jenkins
77
Posted 18/07/2018 at 08:19:10
Slightly off subject - but relevant, I feel to the whole who's coming in and who's going out saga.
I have just celebrated my birthday and Everton have sent me an e-mail offering me a 15% discount on merchandise to help me celebrate the event.
I clicked on the link and am presented with a choice of replica shirts with players names and squad numbers entitled 18/19 "Heroes".
I flick through and find that I can buy a shirt with Funes Mori's name and number, but there is no mention of Lookman.
As ever, I despair of the Everton marketing department.
Clearly Funes Mori should no longer be there - but why isn't Lookman.
Do they know something we don't, about Lookman's future and that is why his shirt and squad number is not available?
Have we been misled over Funes Mori's sale and that is why his shirt and squad number are still available, or is it just another example of the lack of professionalism of Everton Football Club generally and the marketing department particularly?
I truly despair that in this day and age of easily updated databases and high tech websites, we cannot get even the simple things right.
I know we have had a recent "shake up" on the board and in the senior management ranks - but the changes need to be percolating downward at a far faster pace than they seem to be!
Hugh Jenkins
78
Posted 18/07/2018 at 08:40:55
BTW - If I want to, I can also get a "Mangala - 13" shirt for next season!!
Ray Smith
79
Posted 18/07/2018 at 08:52:07
Paul Mackay
80
Posted 18/07/2018 at 10:22:38
First world problems, Hugh.
Dennis Stevens
81
Posted 18/07/2018 at 15:08:53
Why would Klaassen leave for Turkey? If he's got anything about him he must be desperate to prove his worth to the new Manager, who seems likely to play a system that might better utilise Klaassen's abilities.
Christy Ring
82
Posted 18/07/2018 at 17:18:38
Silva has seen his squad in Austria, so if Klaassen is linked with a loan move, it doesn't look like he's in Silva's plans. It's early days, but with the window closing early, Silva needs to make a move on.
Steve Ferns
83
Posted 18/07/2018 at 17:53:27
Christy, Silva says (according to the Echo) that he has given his list of targets to Brands. It is Brands who needs to get a move on.
But as noted above and many places elsewhere, wanting to sell the shite and actually selling them are two different things, especially if you want to avoid still paying some of the wages.
Martin Nicholls
84
Posted 18/07/2018 at 19:23:09
Mike Gaynes (#57) – little point in responding to anything Steavey Buckley posts. He'll ignore your comments and continue peddling same invented line e.g his post #70 in which he now claims that four (yes, four) Everton managers don't rate Klaassen! Couldn't make it up could you, although Steavey does!
Lev Vellene
85
Posted 18/07/2018 at 19:39:08
I hope Silva can find a use for Klaassen! He didn't impress for an Allardyce, or Koeman team, but I really liked the way he got into the middle and quickly fired off passes into areas where there should have been mobile Everton players present...
No, he's not a great tackler, but he's got a fast mind, with a footballing instinct! I'd like to see him in the team we see Silva aiming for, fast and pacey!
Oh, pacey... Curses! Well, there are more transfer windows! :D
Brent Stephens
86
Posted 18/07/2018 at 19:40:58
One of the four must be SB.
Darren Hind
87
Posted 19/07/2018 at 18:58:37
Klaassen:
Koeman signed him, wouldn't play him;
Unsworth wouldn't play him;
Allardyce wouldn't play him.
Silva seems prepared to let him go before he has taken charge of his first competitive game.

Add Your Comments
In order to post a comment, you need to be logged in as a registered user of the site.
Or Sign up as a ToffeeWeb Member — it's free, takes just a few minutes and will allow you to post your comments on articles and Talking Points submissions across the site.