Silva targets core squad of 25
Thursday, 26 July, 2018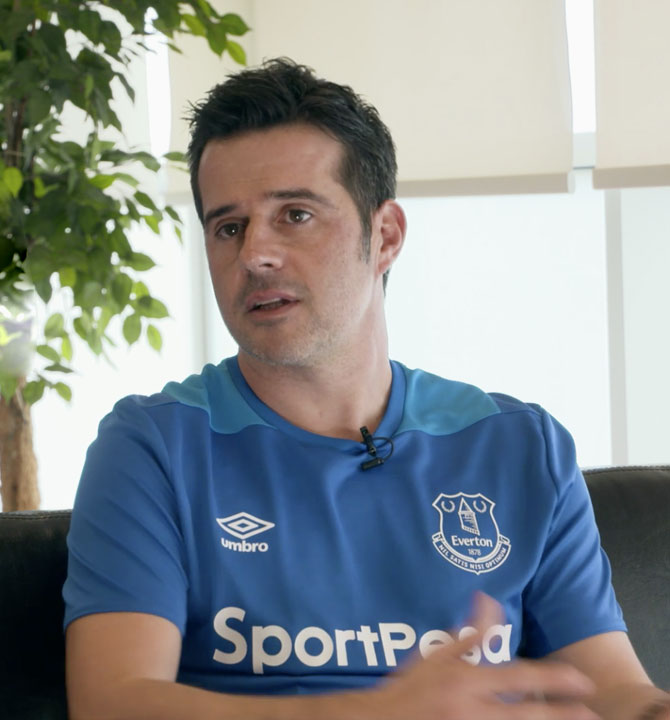 Marco Silva has spelled out his aims of whittling Everton's first-team squad down from current levels to 22 outfield players and three goalkeepers.
The need for the Blues' new management team to reduce the size of the squad they inherited when they came aboard in May has been a dominant them of the close season. With the transfer deadline a fortnight away, however, there is still plenty of work to be done, particularly as Silva has expressed his desire for up to six incoming transfers.
One of them, Richarlison, arrived this week while speculation continues that attempts to land Lucas Digne and Yerry Mina from Barcelona are continuing while Wayne Rooney and Ramiro Funes Mori have been sold and Joel Robles was released to sign for Real Betis.
That still leaves a squad of around 30, 31 players which means the run-up to the new season could be very busy indeed.
"You are talking about [a squad of] almost 30 [players]," Silva told the Liverpool Echo over the weekend.
"We want to do — we have to do — some signings as well; four, five, maybe one more — and of course we need to make some space in our squad to get new signings in our squad.
"I would like to work with 22 players and three goalkeepers."
It is not clear who might be let go. Media speculation has suggested that the likes of Davy Klaassen and Yannick Bolasie could leave before the deadline and claims that Red Bull Leipzig will further test Everton's resolve over Ademola Lookman continue despite Silva's assertion that he is very much part of his plans.
---
Reader Comments (55)
Note: the following content is not moderated or vetted by the site owners at the time of submission. Comments are the responsibility of the poster. Disclaimer
Peter Gorman
1
Posted 26/07/2018 at 07:08:31
Is he including the youngsters in that squad of 25 I wonder.
I'd say Baningime, Dowell and Kenny are all as worthy of game time as Davies, Holgate and DCL, so to sign up to 5 of his own AND trim the squad to 22 outfield players requires a hell of a cull.

Derek Taylor
2
Posted 26/07/2018 at 07:09:43
I guess that is the demand of the Two M&s made by Kenwright at last week's meeting. Trouble is mammoth wages of the plethora of inadequate players wilĺ make the slimming down exercise nigh impossible and no blame for that can be laid at the new manager's door. If they can't shift the dross, new signings may have to be blocked.

Paul Mackay
3
Posted 26/07/2018 at 07:20:13
Makes sense.
Kunal Desai
4
Posted 26/07/2018 at 07:28:06
Five out the door and that number could rise to ten players leaving if he brings a few in. Will be interesting to see just how many leave. I'm expecting many of them to be loan moves.
Liam Reilly
5
Posted 26/07/2018 at 07:39:54
I foresee a number of loan deals where Everton continue to pay a large chunk of the outgoing footballers wages.
Such is the modern game.
Tommy Surgenor
6
Posted 26/07/2018 at 08:15:22
We can still sell and loan to European sides until September.
It's only the English window that's shuts before the season.
Still one heck of a cull to limit it to roughly two players for every position.
Wonder when the squad numbers are released as that would give us a great indicator as to who is in his plans.
Jim Bennings
7
Posted 26/07/2018 at 08:57:45
That is highly unlikely to happen in the space of two weeks, it's been left too late to shift 5 more and sign 4 more!
Mark Andersson
8
Posted 26/07/2018 at 09:17:18
I agree with the realist Jim Bennings... Who ever survives the cull before the season starts will hopefully be moved on at xmass. Cant really see more than a couple of more new players if that...
Good old Everton will have their excuse ready to appease the fans, like the world cup, the new stadium and that no suitors came in with the right bids for the dead wood.
However I am looking forward to seeing if Silva can motivate the players he chooses to keep. Let's hope he gets off to the kind of start that he had with Watford...
Another season of hope beckons and I will enjoy reading the many different polar views on here.
I use to be a optimist, but thanks to Everton FC and been educated by many toffee webbers I feel a bit more like my glass half full is running dry.
Ian Burns
9
Posted 26/07/2018 at 09:24:30
I'm not sure Silva (or Brands) expects this cull and new appointments to be completed by the start of the new season. It is their overall plan which will take a window or two.
I think there is a general agreement on TW on those who should be shipped out and I would be surprised of Silva and Brands didn't have a similar view.
However, my own interest is in the young players he might include in his 25. I have high hopes for Dowell and Robinson; Kenny of course but it will be an interesting list once it has been honed to Silva's liking.
Lewis Barclay
10
Posted 26/07/2018 at 09:26:00
Isn't that about ten outgoing players?
Surely that has to include young players going out on loan.
Jim Potter
11
Posted 26/07/2018 at 09:43:29
Tommy mentioned a 'cull'.
Hmm?
I'll happily bring a club in for Mr Mirallas and Mr Williams - perhaps dress them as seals, and hey presto - we'd have two less parasites to worry about.
I could then be appointed 'Club' Ambassador.
We'd get no money, and the only transfer would be me to Her Majesty's Pleasure, but surely it should be worth considering Mr Silva?
Tony Everan
12
Posted 26/07/2018 at 09:45:17
Making such a statement also concentrates the mind of the players. There is only 22 outfield places.
It is another way of saying
If you are not up to scratch and performing to the required standard you will be out.
Any player going through the motions or coasting will be out.
There will be no hiding place.
Kase Chow
13
Posted 26/07/2018 at 10:02:55
Easier to work out who could be part of a decent first team trying to make a decent assault on the top 6
Pickford
Coleman
Gaye
Walcott
Richarlison
Sigggy
That's 6 players at best

Hence we need 5 players for a decent 1st team never mind a bit of squad depth
What an abject failure Walsh & Koeman were. Just think, we have still failed to sign a PROVEN and reliable goalscorer since Lukaku
Rob Dolby
14
Posted 26/07/2018 at 10:05:09
Does any other PREM team only have a squad of 25?
He will know his core squad already. The ones on the outside of it can be trained by another coach like Jeffers or Ferguson.
We won't be buying 4 new players or selling 5 players before the window shuts. Silva will just have to get on with it like most of his predecessors.
Kenny Smith
15
Posted 26/07/2018 at 10:07:48
Could be a tall order to get rid of some to get it to 25 players capable and able to compete in this window now. Especially as he's looking to bring a few in. It just goes to show he's obviously had a look at what he's got and the senior pro's don't impress him.
If he keeps the youngsters then that leaves 13 or so places for outfield experienced players. Hmm not sure but that sounds a bit thin to me
James Morgan
16
Posted 26/07/2018 at 10:23:06
Rooney, Funes Mori, Robles, Garbutt and Tarashaj have been shifted. I think we should move on Williams, Mirallas, Besic, McCarthy, Bolasie, Klaassen, Martina and Schneiderlin. I think Sandro could potentially come good so I wouldn't mind seeing him stay. I'd like Lookman to stay but he doesn't want to be at the club then sell him.
Kevin Prytherch
17
Posted 26/07/2018 at 10:44:15
Based on preseason so far
GK - Pickford Stek other guy (can't remember his name
RB - Coleman, Kenny
CB - Keane, Holgate, Jags, Pennington
LB - Baines, Robinson
CM - Schneiderlin, Gueye, Davies, Sigurdsson, Dowell, Besic
LM - Richarlison, Lookman
RM - Walcott, Mirallas
CF - Tosun, Niasse, Calvert Lewin.
That leaves Williams, Martina, Klassen, Bolasie to sell
Browning, Galloway and Garbutt to leave somehow.
Vlasic, Connelly, Baningime on loan.
(I've cheated and kept 3 strikers in to make it 23 outfield players)
Then replace with better players as we see fit.
Easy!!!
Kevin Prytherch
18
Posted 26/07/2018 at 10:45:25
Forgot about Sandro who has played On the right in preseason. Either him or Mirallas to sell as well.
David Hallwood
19
Posted 26/07/2018 at 11:00:10
Sneiderlin has to go. Hes doesn't want to play for us, has stated it a number of times, and most of the season he didn't play for us just walked round the field
Ray Roche
20
Posted 26/07/2018 at 11:18:52
David@19
Where did you see that Schneiderlin has categorically stated that he doesn't want to play for Everton? I can't find any evidence to that effect. His on field performances might make us think that way, but where has he actually said it?
Alex Mullan
21
Posted 26/07/2018 at 11:27:45
Kevin #17
That list has terrified me, especially at how toothless we look up front when it's on paper. Tosun is our only hope and from what I have seen of him he's bang average at best. We absolutely need a striker!
CB's are also shocking and if Pickford gets injured we are also in a right mess.
The good news is midfield seems OK for quality, but that's all we ever buy so why wouldn't it be?
Peter Morris
22
Posted 26/07/2018 at 11:29:30
David(19), and Ray(20),
Schneiderlin stank last season,no doubt, which is all the more frustrating, given the ability he showed before he got injured in his first half season.My main concern, and a challenge for the management team, is his attitude around the squad behind the scenes. I am worried that he thinks he's better than he actually is, and that can destroy squad morale.
He is French,after all.
Ray Roche
23
Posted 26/07/2018 at 11:35:48
Peter,
''He is French,after all.''
SHOCKING! Borderline racism! Although in this instance .
Kevin Prytherch
24
Posted 26/07/2018 at 11:38:15
Alex - it is bad to see where we are short on quality in some areas, especially relying on Pennington as a 4th choice CB.
The plus side is that we do have a good core of youth coming through who could benefit from a smaller squad. However this can only happen if we accept that we won't be challenging for anything this year, which I guarantee after one or two indifferent performances will not happen.
Jer Kiernan
25
Posted 26/07/2018 at 11:46:22
The guy is saying all the right things but just cant see how he will be able to achieve this in 2 weeks bar having a fire sale, Was sizing this up the other day and its probably as big a challenge as getting us playing good football and a European place . I am looking for a rutless streak when appropriate from Silva as nice guys never win
Anyway I am optimistic of us playing some good football this season and lets see where we are at seasons end, Nothing could be worse than FS in the dugout on opening.day Sorry for mentioning him wont happen again
Adam Carey
26
Posted 26/07/2018 at 12:10:27
It was always going to be a tough ask to clear out the players that don't fit into M&M's plans in a single, (shortened), transfer window, but as has been said above we only need to buy the players we want quickly. Brands can then spend August clearing players out. I suppose the danger is that we struggle to sell and end up with a bloated payroll, with players getting a salary and not being registered to play. I hope UEFA, (or whoever makes up the rules), moves to try and again make the European transfer windows all allign.
Regarding the 25 player squad. I'm sure it is the case that the "registered" players are all over 21 years old. That means Beni and some of the youngsters from the U23's will be eligable to play in the Premier league but don't have to be in the list of 25. That might give us a bit of breathing room for Marco to have his ideal 25 players without giving the Finance team a headache of paying Millions each month to players who can't actually earn their salary.
Phil Martin
27
Posted 26/07/2018 at 12:16:32
If Silva could get Hull City competitive when he inherited a squad of 12, I'm sure he can do good work for us.
Mal van Schaick
28
Posted 26/07/2018 at 12:31:05
If Everton are top heavy with too many supposed 1st team players and Silva wants a squad of 25, excluding those all ready here and he wants to sign 5 or 6, then Silva will have to offload approximately 10/12 players.
We will have the squad for top 6 but with 5 quality signings Silva wants I'm hoping for top 4.
We have to compete with the usual top 5 and time is running out for any new players to gel.
We can only hope.
Shane Corcoran
29
Posted 26/07/2018 at 12:40:32
It's simple lads. He'll just banish whoever's left over to the youth team. We may get some new lockers in.
James Stewart
30
Posted 26/07/2018 at 12:57:33
Out:
Klaassen,
Sandro,
MIrallas,
Williams,
Martina,
Besic,
Schneiderlin (maybe wishful thinking),
Browning,
Galloway,
Pennington.

That's 10 off the top of my head. Bolasie and Lookman look likely to be part of that list as well.
Jerome Shields
31
Posted 26/07/2018 at 12:59:21
They are trying at least to make a good go of it. I think that money and reducing wages maybe have been a reason to reduce the squad. But there appears to be money available now and a need to get rid of players who clearly last season weren't putting the effort in and as a result affecting the motivation and attitude of the whole squad. They are finding themselves now, very much out of Brands and Silvas plans.
Kristian Boyce
32
Posted 26/07/2018 at 13:01:10
As we don't have much time to shift the amount of players to get down to Silva's ideal size and some of these players will be hard to shift. I would propose the club would look into a Hunger Games/The Purge style cull of the players. They could bus them all into Finch Farm one day and lock the gates. If they survive, they stay. Obviously we'd lose out on transfer fees but you'd have some really committed players. If I was to put a bet on survivors, I don't think Lookman or Schnedierlin would be one of the last men standing.
Fran Mitchell
33
Posted 26/07/2018 at 13:09:20
He's talking of ideals, of course we won't get the numbers down so drastically so soon. Also view it as a warning sign to players.
The list of outs is pretty clear: Sandro, Bolasie, Klaassen, Mirallas, Besic, Williams, Martina. The futures of Schneiderlin (personally never want to see him ib our shirt again after downing tools last year), Lookman (really hope he stays), and younsters like Pennington, Galloway, Browning (not really a problem if we can't shift them) are all up in the air. While McCarthey's role in the squad is in doubt due to his injury proness (if he could return to the McCarthey of 3/4 years ago, that'd be a huge boost). Vlasic too may well be shifted, but feel he would be best served going on loan to a progressive championship side for 2/3 months. There is a talented player in there somewhere.
Also a key year for DCL and Davies (and to a lesser extent Holgate), this is the year for them to really step up and make their mark.
Steve Ferns
34
Posted 26/07/2018 at 13:13:38
It's hard to read into his thinking. We've the World Cup three who have not featured at all. Calvert-Lewin is supposedly Injured. Lookman has also been injured recently and I think his last game was the 22-0, I don't recall him playing v bury. And Richarlison obviously hasn't played yet.
Derek Taylor
35
Posted 26/07/2018 at 13:51:06
Phil @27; Silva may have got Hull motivated but like Martinez at Wigan, his team got relegated.
Only Everton could repeat the folly of such a disastrous management recruitment policy.
Josh Barber
36
Posted 26/07/2018 at 15:05:32
Talk is cheap. They will never do it in time. Maybe they'll work on it more in January.
Josh Barber
37
Posted 26/07/2018 at 15:11:07
Haha @Kristian Boyce #32 that comment made my day.
Marc Hints
38
Posted 26/07/2018 at 15:33:11
I see Klaassen has gone then.
Andrew Ellams
39
Posted 26/07/2018 at 15:48:00
Marc, where did you see that?
Marc Hints
40
Posted 26/07/2018 at 16:15:37
It's on most websites that Everton and he has agreed to go to Werder Bremen. He has been left out of the squad for tonight, Andrew.
Andrew Ellams
41
Posted 26/07/2018 at 16:19:20
Just saw it, Marc. Good for everybody concerned – although if the fee is €13million; I think we could have got more.
Marc Hints
42
Posted 26/07/2018 at 16:20:46
Andrew, I agree, I think we could've got more money for him but then I suppose it is more about getting him off the wage bill.
Alex Mullan
43
Posted 26/07/2018 at 16:21:30
Amazed we got anything considering his wages. I bet we're still paying a sum of those.
Andrew Ellams
44
Posted 26/07/2018 at 16:24:14
I guess having Dowell as a ready-made replacement so we don't need to invest in a replacement mitigates some of the losses.
James Marshall
45
Posted 26/07/2018 at 16:27:42
I see Vida is off to the RedShite. Shame that, I like him.
Sam Hoare
46
Posted 26/07/2018 at 16:50:15
Really, James, I thought Vida was very overrated at the World Cup. Glad to have missed out on him... though I guess him and Lovren know each other pretty well, so he'll probably be great for the RS.
Denis Richardson
47
Posted 26/07/2018 at 16:55:54
Erm...good luck getting shot of 6-7 players in the next 14 days!
Management have known for a long time there's loads of deadwood to shift but we've only managed 2 so far (Robles contract ran out so wasn't exactly difficult to 'release' him). Not an easy task but would be amazed if we managed a further 3 this window let alone as many as they'd like. Not heard any mention of the likes of Williams, Niasse, McCarthy (injured), Martina, Mirallas, Sandro etc being on the move.
Only ones I can see are; Lookman (prob wants to leave), Bolasie (London clubs sniffing around) and Klaason (we are DESPERATE to get rid).
Simon Smith
48
Posted 26/07/2018 at 17:33:27
Can see us loaning a lot of players out soon.
Sandro, no one who wants to buy him will pay him what we are, a loan makes sense.
Youngsters like Baningeme, Robinson, Williams and possibly Kenny should go out.
Besic, Schniederlin, Williams and Bolasie might be players who can be sold as they've shown they can play here in the prem.
Might sound harsh but Baines and Jags could possibly be moved out as I'd imagine they take £150,000 a week between them and if we sign the two lads from Barca then surely we won't need our old stalwarts.
Miralas needs selling but we haven't exactly got clubs queuing up.
Klaassen looks like it's a done deal.
Galloway, Browning and Pennington possibly need moving on too.
Michael Morgan
49
Posted 26/07/2018 at 18:07:02
Denis @47 and several others on this thread,
You all mentioned that we only have till the end of the English transfer window on the 9th August to sell players. The window indeed shuts to English clubs buying players, but as the rest of Europe didn't agree to moving the deadline, we can still sell to clubs in Europe up until the end of August (apart from Italy).
Please read link below:
John Otway
50
Posted 26/07/2018 at 18:15:53
Michael (#49). Please don't start letting facts get in the way of a rantfest!
Steve Ferns
51
Posted 26/07/2018 at 18:17:36
Sam, I think you're right. He didn't look good at all. And he's another short-arsed centre back. We need some height in there, especially with a short keeper.
Brian Hennessy
52
Posted 26/07/2018 at 18:25:51
I second what Casper @50 said...
Denis Richardson
53
Posted 26/07/2018 at 20:15:37
Michael (#49), yes, we can still sell to Europe till end of August but I can't see the likes of Williams wanting to move overseas nor many overseas clubs marching anywhere near the wages we're paying.
It will be a hard push to shift that many even till the end of August without making some big payoffs – which will no doubt be the case for the likes of Sandro, for example.
Michael Lynch
54
Posted 27/07/2018 at 10:23:31
Klaassen gone, but at half the price we paid a year ago.
That's £12M plus his wages blown.
Josh Barber
55
Posted 27/07/2018 at 17:34:19
Michael (#54), that's Everton for you.
Michael (#49), only Premier League clubs can afford to pay what we would like to get for those players. We might still get rid of many but will take a net loss on each of them the way we did with Klaassen.
Add Your Comments
In order to post a comment, you need to be logged in as a registered user of the site.
Or Sign up as a ToffeeWeb Member — it's free, takes just a few minutes and will allow you to post your comments on articles and Talking Points submissions across the site.