Klaassen seals Werder Bremen move
Friday, 26 July, 2018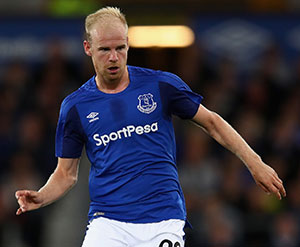 Everton have cut their losses on Davy Klaassen after a deal was reached with the Bundesliga club and the Dutch midfielder signed a four-year contract.
Klaassen flew out to undergo a medical yesterday (Thursday) and concluded a deal a reported to be between £12m and £13m. He went straight into Bremen's team for their friendly against Arminia Bielefeld this evening and scored the opening goal.
That represents a significant loss on the £23.6m Everton paid Ajax for Klaassen's services last year but following a season in which he struggled to demonstrate he could adapt to the Premier League and a fairly unconvincing pre-season this summer, it's a move the Blues clearly feel they need to make.
The 25-year-old almost joined Napoli in the January transfer window but the transfer collapsed at the last minute.
Werder Bremen had been in the hunt for a replacement for the recently departed Thomas Delaney and see Klaassen, who captained Ajax to the Europa League Final last year, as a viable option in the No 8 role.
"It was not a positive year for me," Klaassen said reflecting on his disappointing spell at Goodison Park ... but I did have a great time with my teammates and the staff at Everton.
I want to say thank you to all the players, staff, fans, and everyone involved at Everton. I've always felt very welcome and at home. Wishing the team all the best💙 pic.twitter.com/Y7j3p5N2VX

— Davy Klaassen (@DavyKlaassen) July 28, 2018
"I want to be playing week in week out and prove my abilities as a footballer. I hope I can do that here at Werder.
"I was not happy last year because I didn't play. Before I had played a game every week for five or six years.
"It's hard to say why it didn't work at Everton. The style of play was not my style of play. It's very physical and less about the strategy maybe. Everyone is physical and fast in England. It is just a different style to play. At Werder I can play my game now."
---
Reader Comments (103)
Note: the following content is not moderated or vetted by the site owners at the time of submission. Comments are the responsibility of the poster. Disclaimer
Tony Everan
1
Posted 26/07/2018 at 17:32:27
Good luck to Davy, hopefully a good deal for all concerned.
I for one will be following his progress in Germany and hoping he does well.
James Stewart
2
Posted 26/07/2018 at 17:40:23
Amazed that Brands has managed to get a fee for him, reminds me of the wolf from pulp fiction, cleaning up Walsh and Koeman's mess!
Has to be one of the most hopeless players I have even seen.
Steve Hogan
3
Posted 26/07/2018 at 17:43:38
A real shame this didn't work out for both player and club. I watched his performance's from the start and he struggled dreadfully to make any impact on games whatsoever.
It was always on the cards we would take a heavy loss when his inevitable departure came about. It was interesting that his old club, Ajax, were never remotely interested in taking him back on a similar deal, despite him being club captain?
I wish him well, he never once moaned or sulked about the lack of first team opportunities at Goodison, some weeks he didn't even make the 16 man squad!!
I think in a few years time, we will look back and realise what an absolute tosser Koeman was at Everton, from tactics to team selection, but most of all, the amount of money squandered on players.
Ian Burns
4
Posted 26/07/2018 at 17:44:52
He is one of the more disappointing signings I have witnessed as a supporter for almost 60 years, however, it doesn't stop me from wishing him well for the future.
I will be fascinated to see how he gets on in Germany.
Derek Knox
5
Posted 26/07/2018 at 17:49:11
Ian, I tend to agree with you, will we manage without him? 😂
Ian Burns
6
Posted 26/07/2018 at 17:56:18
Derek - 5 - Yes I think so - just about!!
Sam Hoare
7
Posted 26/07/2018 at 18:05:32
£10m loss that could have been spent elsewhere. On two Joao Moutinhos for example! That's why it's fair game to be upset at us overpaying for players.
Wish Davvy all the best. He never moaned or stopped trying from I've seen. Still think there's a very good footballer in there who will emerge again if well managed in the right team.
We've done well to shift his wages on and must now do the same with Bolasie, Williams, Martina and Mirallas to name a few.
Clarence Yurcan
8
Posted 26/07/2018 at 18:08:57
Better to lose £10M than the full £23.6M. Plus you get his reportedly exorbitant wages off the bill.
Steve Ferns
9
Posted 26/07/2018 at 18:15:18
I wish Davy all the best. If he really is to leave. I think he'll rescue his career and will be back in the Netherlands national side before long. I just hope he bears us no ill will. He seems a good guy, it was just the wrong move for him, and for us he was a square peg that was never going to fit into our round hole.
I think of this as reducing the wage bill and getting some money into the transfer coffers than worrying about what we lost.
Rick Pattinson
10
Posted 26/07/2018 at 18:23:36
Best move for all. Absolute junk... would never make it in the Championship.
Bill Gienapp
11
Posted 26/07/2018 at 18:23:55
Disappointing it didn't work out, but Silva's seemingly given everyone a fair shake this pre-season, and if he determined there's no salvaging Klaassen, then it's in everyone's best interest for him to move on.
Certainly can't fault his attitude, or his willingness to fight for his place.
Christy Ring
12
Posted 26/07/2018 at 18:39:35
It didn't work out for him unfortunately, and to get €15M isn't bad considering, but having signed a 4-year contract and on over £100k a week, there's no way Werder Bremen would have offered the same contract. He had to be given a golden handshake?
Koeman was probably as bad as Mike Walker.
Bill Watson
13
Posted 26/07/2018 at 18:43:20
Steve (#3),
Ajax could never get near his wages due to Dutch wage caps etc.
On an accounting basis we've just about broken even on him and, of course, we get him off the wage bill.
I wish him all the best as he hasn't complained, or moaned.
John Raftery
14
Posted 26/07/2018 at 18:44:32
After seeing Klaassen struggle in the Europa League Final in May 2017 many of us had doubts about his ability to perform effectively in the Premier League. We hoped that Koeman, familiar with the player from Dutch football, would know how to get the best out of him. Our hopes proved forlorn.
We are now in a similar situation with Richarlison.
Dave Older
15
Posted 26/07/2018 at 18:45:11
He had to go. A shame that someone capable of being the captain of Ajax can be so disappointing in the Premier League. I wish him all the best though and I hope he succeeds at Werder Bremen.
John Wright
16
Posted 26/07/2018 at 18:53:24
Steve at #3 – I think you're being over-generous, mate. I don't think we need to wait a couple of years to realise the damage Koeman has done to us; it's there now for all to see. Like you, I wish Davy all the best, a top bloke.

Kristian Boyce
17
Posted 26/07/2018 at 18:57:46
Klaassen makes it 4 down, with 6-7 more to go. Brands is working hard to get rid of the Walsh - Koeman legacy from the club. I can only really see Gana, Pickford and maybe Keane keeping their places.
Dave Williams
18
Posted 26/07/2018 at 19:05:41
Quite who thought he would make it in England, I would love to know. No pace, can't beat a man, not a great defence-splitting passer and very weak physically. He reminds me of a poor mans Scot Gemmill which says it all really. Never moaned... but neither would I on the sort of money he was on.
Good luck to him, though, and I hope things get better for him.
Rob Dolby
19
Posted 26/07/2018 at 19:06:49
Why would he wish us or Koeman any ill will?
Koeman and Everton made him a multi-millionaire where probably his kids and their kids won't have to worry about money.
No doubt he can play in the slower less physical Dutch league – he just wasn't very good for us. Onwards.
Christy Ring
20
Posted 26/07/2018 at 19:09:20
John @ 14, Agree completely about Klaassen, but you can't put Richarlison in the same category. He scored and played in the Premier League last season. Okay, he went off the boil, but Klaassen never got out of the starting blocks.
Mike Price
21
Posted 26/07/2018 at 19:19:09
If we actually get actual money for him, I will be ecstatic!
He was like a really bad version of Naismith. I just don't get all this crap about he was treated poorly blah, blah I'd love to be utter shite at my job, offer nothing, refuse to go to Napoli because it would affect marketing rights, play a handful of games where I'm an embarrassment... and we make him a multi-millionaire!!
I don't want to say what I really think in case anyone is reading in Germany... Ajax made him captain to increase his value – they played a blinder.
Alex Kay
22
Posted 26/07/2018 at 19:21:18
Bad buy – goodbye!
Anthony Newell
23
Posted 26/07/2018 at 20:28:08
John Raftery
24
Posted 26/07/2018 at 20:39:44
Christy (#20),
True, he isn't quite in the same category but we are paying twice as much money for a player who has failed to score since last November. We are hoping but cannot be certain that Silva will get the best out of him and the fee will be justified.
I wonder if any other manager would have paid £35m - £50m for him?
Will Mabon
25
Posted 26/07/2018 at 20:48:45
Now and then against the huge odds in top level football, one still gets through the net. In Klaassen's case, I have no idea how. Cruyff was a world class player but I couldn't disagree more.
I recommend a watch of that 2017 Europa final. It says everything and reveals him as exactly how he looked for us. He'd struggle with the pace and bustle of a library. A perfect display of how to hide from passes by staying static and close to or almost behind the nearest opponent, until the teammate in possession looks for someone else that actually wants the ball.
Not his fault he was brought here but I suspect he was shitting himself from the off.
Peter Gorman
26
Posted 26/07/2018 at 21:39:04
A nothing player. Glad he has gone. Waiting for the likes of Williams, Martina, Keane and Schneiderlin to follow.
Gary Drain
27
Posted 26/07/2018 at 21:39:28
We're lucky that we got €13 million! Not many would pay up that much for a player who played 4 times last season and had 3 managers to impress.
Ian Riley
28
Posted 26/07/2018 at 22:28:20
Compared to the Premier League, the league he came from is miles apart. Sadly, such a high fee and expectation that he never lived up to. I wish him well.
Rob Halligan
29
Posted 27/07/2018 at 09:52:55
Klaassen completes his move to Werder Bremen.
David Milner
30
Posted 27/07/2018 at 10:26:16
With Klaassen gone, the savings on wages are a staggering £17.888 million per year so far minus Richarlison's wages (not known).
Frees up a lot of money for new signings.
Shane Corcoran
31
Posted 27/07/2018 at 10:44:25
That's the deal of the summer for Everton. I'm not being smart, that's one I thought we'd struggle to get rid of for any sort of money. Bolasie presumably is next on the list.
Pat Kelly
32
Posted 27/07/2018 at 10:45:34
£10M loss, plus his wages – all for one assist in a season. Oh well, at least we still have Sandro.

Alex Mullan
33
Posted 27/07/2018 at 10:52:12
Probably go on to be a world beater now.
Mark Dunford
34
Posted 27/07/2018 at 10:54:10
A real disappointment. Just another departee in a cull that will rumble on till the end of all the current transfer windows.
Tony Everan
35
Posted 27/07/2018 at 10:56:23
Good work by Marcel Brands. Still more to do. He is a very busy feller at the minute.
James Newcombe
36
Posted 27/07/2018 at 11:13:31
Deal completed. Sometimes you just have to cut your losses! There's definitely a player in there, but maybe not one suited for the Premier League.
Jim Bennings
37
Posted 27/07/2018 at 11:37:37
Sad it didn't work out.
You know that things aren't going well for you at a club when you can't get into a midfield as mediocre as our current crop of non-performers.
All the best, Davy.
John Kavanagh
38
Posted 27/07/2018 at 11:43:39
More proof of Everton's serial overspending on players. Even before Richarlison (£20 million over top market value), we negotiated deals at £50 million above what we should have paid. Some posters on TW say it's only money – like Leeds and Sunderland supporters said in the past. Look where they are now.
We have massively overspent on players even if they had performed to expectations. Most haven't. We have not been in a bidding war with other clubs in any of the cases where we shelled out huge fees for players. This makes the situation even more puzzling and me question the negotiating strategy and skills of those responsible at our club.
I had expected that the new management team and structure would deliver far better performance in the transfer market, which is why the Richarlison fee has come as such a shock.
The overspend could have been committed to the new stadium or even more players if we had bought at the going rate. I look at the diminishing expectations/specifications for the new stadium where an extra £50 million would make such a difference. If we continue on our present 'buy high, sell low' path, I doubt whether there will be a new stadium at all.
Nonetheless, I hope that Klaassen is successful at his new club and wish him all the best.
Scott Hall
39
Posted 27/07/2018 at 11:45:34
Our midfield is abysmal, currently the worst in the Premier League, in my opinion, and he couldn't get anywhere near it. Amazing really.
I'll be fascinated to see if Werder Bremen can get a tune out of him. Good luck to, Davy.
Alex Mullan
40
Posted 27/07/2018 at 12:24:15
Bit harsh, Scot. Behind the goalie, I think our midfield is the strongest part of the side. I really rate Gana and Gylfi will be in his proper position this season. Nice wingers too. It's the strikers and defence that are shite.
Gordon Crawford
41
Posted 27/07/2018 at 12:30:48
Take care lad, hope it works out for you.
Kieran Fitzgerald
42
Posted 27/07/2018 at 12:50:47
I remember being absolutely flabbergasted when we paid £27m for Lukaku. What would Baines, Jagielka, Cahill and some of the other hidden gems bought by Moyes cost us now, I wonder?
Maybe we could give Moyes a job as head of scouting, player acquisition, and cheque signing. His career and reputation have fallen off the edge of the world so he's available. Thing is though, he wouldn't cost us anything in a transfer fee but Everton being Everton we would probably give him £60M as a signing-on fee.
Tom Bowers
43
Posted 27/07/2018 at 12:53:22
Just didn't work out for him, did it.
Bottom line, he wasn't good enough, as with a number of players they have brought in during the last 10 years, and there are a few more to get shut of yet.
Scott Hall
44
Posted 27/07/2018 at 12:54:48
Alex @40,
I think Gana is okay. He breaks the play up but that's all he's got. For me, we don't have anyone capable of taking the game by the scruff of the neck or that can carry the ball forward and dictate play. Other teams pass through our midfield like it isn't there.
Danny Baily
45
Posted 27/07/2018 at 13:25:51
A couple of managers have looked at this guy and decided he's not up to it. Shame because on paper it sounded like a real coup for us. Best of luck to the lad.
Justin Harris
47
Posted 27/07/2018 at 13:59:40
Good luck to Davy but, at the end of the day, he just wasn't suited to high-paced and physical nature of the Premier League.
I remember seeing an interview with Silva when he took over at Watford and the first thing he said he knew he had to get into the side was pace and energy. This is exactly what we need, in my opinion, from a new midfielder – someone who can carry the ball forward, pick a pass, and weigh in with a few goals.
John Malone
48
Posted 27/07/2018 at 14:06:19
David Barks, have you left the country??
I would love to hear your point view on your beloved Klaassen's exit!
Marcus Taylor
49
Posted 27/07/2018 at 14:11:28
Young Dutch guy, first job in the country, hardly spoke a word of English, but he came to me and he went "Mr Moshiri, will you be the Godfather to my child?"
Didn't happen in the end. We had to let him go, he was rubbish. He was rubbish.
Marcus Taylor
50
Posted 27/07/2018 at 14:16:12
So long, Davy. We'll always have the memories. That 'intelligent' run into the box against Stoke, the shot into the side netting against Ruzemberok... and who can forget his sublime 5-yards sideways pass against Apollon Limassol. Great times.
Mike Gaynes
51
Posted 27/07/2018 at 14:59:00
Joining the majority here in wishing him the best of success. From day 1 he has always treated wearing the Everton shirt as the privilege it is.
Mike (#21), no, Ajax didn't "make him captain to increase his value" – they made him captain because by every account he was a universally respected leader in their club. Even if he wasn't their best player.
It isn't his fault he lacks the natural talent to succeed in the Premier League. And it isn't his fault we overpaid for him.
Phil Sammon
52
Posted 27/07/2018 at 15:00:09
Pretty gutted about this one. This guy has the ability to make a team tick.
I'm not comparing him to these players, as such, but if we were gifted David Silva, Xavi, even Christian Eriksen... we'd end up fucking them over too.
Brian Williams
53
Posted 27/07/2018 at 15:04:56
Haven't read any of the posts but if Klaassen has had the chop there must be more than a few others in that squad who will (or should be) rightly, concerned about their place.
Davie Turner
54
Posted 27/07/2018 at 15:15:20
Having a conversation the other day raised an interesting if worrying thought.
What would the combined loss be selling Williams, Klaassen, Bolasie, Schneiderlin and Keane?
Various estimates came up but all of them basically fell in the £35M to £60M range, Klaassen already started the ball rolling now with a 10M loss.
Personally I would give Keane another season as he is a better player than he has shown but that's by the by.
Anyway, good luck, Davy; I hope and expect you to do well in Germany.
William Cartwright
55
Posted 27/07/2018 at 15:32:42
Steve @ 3...
Why the need to look back and reflect on Koeman's performance? We already know!
David Connor
56
Posted 27/07/2018 at 15:40:34
Huge loss on a very poor player. Let the cull continue. One more of the dross gone. I just hope our new signings give us better value than the Koeman era did.
What an absolute shite squad we've got. Here's hoping the new regime has a bit more up their sleeve than the last two had or we are stuffed. We'll be lucky to finish top 10 with this squad, it's that bad.
Ernie Baywood
57
Posted 27/07/2018 at 15:52:19
Good luck to him but criminal by those responsible at the club. Whoever that may be.
How the hell do you buy young and still lose a fortune?
Derek Knox
58
Posted 27/07/2018 at 15:52:33
Presumably he had to take a wage cut, but if that is the case, he further gains my respect.
The one thing I will not forgive, is that he failed to persuade the other deadwoods to follow a similar path, or follow him Pied Piper style! 🤔
Barry McNally
59
Posted 27/07/2018 at 16:12:50
The more I think about it, the more I'm convinced there was a brown paper bag involved when we bought him.
Paul Myers
60
Posted 27/07/2018 at 16:14:28
Bill finally found the Arteta money.
What a way to spend it!
Steve Carse
61
Posted 27/07/2018 at 16:22:23
I think you'll find that's the case with most big deals these days. The game stinks.
Nick White
62
Posted 27/07/2018 at 16:37:03
Glass half-full, and following David's comment (#30), the wage savings from Davy (and Wayne) must be huge and surely makes the signing of more replacements within Financial Fair Play rules much easier.
David Ellis
63
Posted 27/07/2018 at 16:42:25
Great news. One more less to distract Silva, one less blocking the kids from getting game time. One more spare locker,
Jack Convery
64
Posted 27/07/2018 at 16:59:45
The signs were there in the Europa League Final v MU. He never got a kick, though he wasn't the only one in that Ajax side.
Due diligence is not a strong suit at EFC and he joins a very long list of transfer failures:
Per Krøldrup – couldn't head a ball;
Claus Thomsen – turning circle of a super tanker but not as quick;
Stefan Rehn – came on as a sub and got subbed in same game;
And all the others... too many to mention.
Good luck to him as he did wear the royal blue and white.
Denis Richardson
65
Posted 27/07/2018 at 17:10:55
Wish him well but I wonder what we had to pay to get him off the books. There is no way Werder Bremen are paying him anywhere near the £100k/week he was on with us.
I presume we're covering some wages or gave him a one-time pay-off, so the net fee we receive will actually be much less.
Joe Foster
66
Posted 27/07/2018 at 17:15:56
You can't put a price on those memories Marcus (#50).
Stewart Lowe
67
Posted 27/07/2018 at 17:26:00
I know this has nothing to do with Klaassen but I have been an Everton fan from Sheffield since 1982. I have always lived this way and always felt a little out of it. Does anybody know of a fan club in Sheffield or South Yorkshire that I can affiliate myself to? Or how I go about starting one up? Thanks, guys.
Stewart Lowe
68
Posted 27/07/2018 at 17:35:27
We bought Lukaku for £28m and sold him for a potential £100m. That £72m profit is sadly dwindling away thanks to the huge losses we are going to make on players like Klaassen and Bolasie, let alone the over inflated prices on Sigurdsson and Keane.
I'm guessing we just about come out of it with a zero balance sheet. It's a shame we couldn't have capitalised on it. Nice one Koeman, superb legacy you have left us.
Andy Dempsey
69
Posted 27/07/2018 at 17:49:44
Stewart (#67),
I thought you guys from the 80's were known as Steel Blues, there was definitely a fan club then, when we were winning things. I'm an 'authentic' blue but I have lived in Sheffield for 18 years. Some guys I used to work with told me about the Steel Blues, but I think the 1990's killed it.
Revive it, mate. Go for it. I'll sign up. However, if we sell Pickford to Chelsea I'm out for good. Because seriously, what is the point then? You can't help being negative as an Evertonian but I'm trying to stay positive.
Klaassen needs to be the first of ten departures, and five ruthless, skillful winners need to come in, hopefully in the next two weeks. Even then, Silva will struggle to integrate the team, and I'm prepared for another long hard season. But I believe Silva needs at least two seasons, and that's what I'm ready to give him, even if this campaign is really poor.
But I'm sure it won't be, there will be signs of something progressing. Please, God...
Kev Jones
71
Posted 27/07/2018 at 18:20:43
Farewell, Davy! You just could not cut it in the Premier League — the headless chicken, fast-pace, kick, clog and park-the-bus showcase; drop the beauty and skill and win win win.
Heey, Davy, you know your problem, you just weren't playing for Man City. Instead, you were not man enough for the Premier derriere, too Dutch – not butch. No matter your skills were wasted in a chips, mayonnaise and saveloy of a team, dreamt up in a Moshiri-Walsh-Koeman slow-food diner (let's not forget Bill – he must be in there somewhere).
Thank goodness you never appeared in the black and pink – it would have pushed half of ToffeeWeb to the brink. Some here mocked rumours of your image rights – believe me, the ToffeeWeb "let's be a ruthless, steeely, manly business cut and cull, "Who cares about brutal billionaire oligarchs?" Let's kick everyone in sight, back four are kicking the life out of your afterimage, hacking you down at the back.
But, don't doubt, there are many here who appreciated you, wished we had unwrapped a genuine School of Science toffee transfer and now genuinely wish you the best. Davy, good luck at Werder Bremen. Sorry we wasted your time.
John Wignall
72
Posted 27/07/2018 at 18:22:02
Good luck, Davy, in you career. I thought you needed at least a dozen games in your right position to really judge you but 3 managers can't be wrong.

Well done to to all the supporters on here showing some class. Just another dozen to get shut of...
Lewis Barclay
73
Posted 27/07/2018 at 18:28:14
"It's hard to say why it didn't work at Everton. The style of play was not my style of play. It's very physical and less about the strategy maybe. Everyone is physical and fast in England. It is just a different style to play. At Werder I can play my game now."
If (as we all seem to agree) this is correct... Why the hell are questions of everyone involved not being asked and more heads rolling?!?
Throwing away £10m with such a simple mistake? If this was Walsh's and Koeman's fault, Moshiri and Kenwright should be at least coming out and apologising for the utter shambles that resulted in them employing such incompetent staff and then following it up with the employment of the Gravy monster and some of his purchases.
I remember having some optimism last year for about two weeks. This year, I hope the total lack of optimism I feel is balanced out with some solid management and players who actually give a shit about wearing Royal Blue.
Mike Gaynes
74
Posted 27/07/2018 at 18:33:33
Kev (#71), interesting freeform rant. I nominate you as TW's official rapper.
Brent Stephens
75
Posted 27/07/2018 at 18:36:04
Most posts here have the class to at least wish the guy well. Not his fault if he couldn't hack it here. He has a good eye for a pass, which he generally executes quickly; ideal for a game based on quick transition. Just a pity the rest of his game wasn't there. At least we get that fee for him and his wages off the books.
Good luck, mate.
Paul Birmingham
76
Posted 27/07/2018 at 18:37:59
Like Kev @71, it sums up the disastrous scheme of Koeman and Walsh.
Koeman doesn't use his Kloggs, the club in my view must have deemed Davy Klassen was beyond coaching.
You don't become a bad player overnight... but, day by day, it must have been a massive jolt to his mojo.
I hope he does well at Werder Bremen; interesting to see how he fares.
Good luck in Germany... if only 12 months on and it does feel that the life is being squeezed out the club.
I hope we don't loose Pickford!
Andrew Keatley
77
Posted 27/07/2018 at 18:49:12
Klaassen needs high-energy runners around him to make up for his own chronic lack of pace and strength. Unless he has those sorts of players around him, then he will struggle – and we all know that Everton sadly did not have that last season, and cannot carry any passengers this season either.
Tony Page
78
Posted 27/07/2018 at 18:53:22
Good riddance to bad rubbish, as the saying goes. Overpaid transfer, ridiculous wage paid...
Did Moshiri learn? Nope! Still a few more (waste of space) to get rid of. Mr Sandro, step this way please.
Good luck to them? No way! They have enough of that already.
Kev Jones
79
Posted 27/07/2018 at 18:58:07
Thanks, Mike (#74).
Duncan McDine
80
Posted 27/07/2018 at 19:05:39
Another one filed into the 'expensive dud' folder, keeping company with Per Krøldrup, Bilyaletdinov, and several others from our current squad.
It seems rare recently that anyone expensive plays well for us actually. Lukaku, Fellaini and perhaps Yakubu bucked the trend.
Tony Page
81
Posted 27/07/2018 at 19:43:01
Klaassen will (out of the blue) become a world class player, sold to a top team for £65 million.
Will we get a percentage, Bill? Nooo, this is Everton!
Will Mabon
82
Posted 27/07/2018 at 19:46:59
Only gone and scored in his debut match tonight. Right that he's gone, can't hack the Premier League, so it matters not, but there always has to be some Everton irony... weird.
Rob B Williams
83
Posted 27/07/2018 at 20:00:47
Right, he's gone... Next!!

Jeff Armstrong
84
Posted 27/07/2018 at 20:12:34
For all the technical jargon about quick passes, Premier League quality... blah, blah, blah, Davy didn't hack it, end of.
Goodbye to £9 million... again, waste of money and time.
Darren Murphy
85
Posted 27/07/2018 at 20:24:18
Wish him well, seemed like he only smiled when he went, wasn't good enough, didn't get time. Past. Sign some decent players ffs. We look shite. Basics. Hard I know but I'm bored as well are most of us.
Show us what you got Silva etc. How deep is your pocket Mosh... feel sorry for em.
Kjetil Moen
86
Posted 27/07/2018 at 20:27:53
And there he was, back at his right level, scoring the only goal after 39 minutes to win it for Werder Bremen tonight, in a friendly against Bielefeld! Well done, Davy. (Saw Will #82 post now.)
Bill Gienapp
87
Posted 27/07/2018 at 20:38:27
Will and Kjetil beat me to it, but I saw that Klaassen scored on his debut for Werder Bremen. Good for him.
Gavin Johnson
88
Posted 27/07/2018 at 20:42:01
Klaassen will probably be a success for Werder. Scoring on his debut will help him and his confidence no end.
Erik Dols
89
Posted 27/07/2018 at 21:20:42
I think it could be very funny to read some of the comments in this thread in six or twelve months...
Kev Jones
90
Posted 27/07/2018 at 21:23:27
Davy, you could not pull for toffee but you have scored!
Fellow Toffees, Ever thought (nothing but the best thoughts) about the nightclub where your mate pulls the bird you fancied? (Apologies Everton Women – no real excuse but I'm trying to reach some of my brothers.)
Move on – next! You bought her 9 million drinks! You were robbed! Move on! But she was looking gorgeous wasn't she – let's not be technical, maybe that's part of why it hurts. The German got her. Maybe that's why she had to be a bit below your level, so yes, move on!
Hey guys, I know we are talking Davy here, but show some steel, be strong, use your arms to embrace the loss of what might have been!
Jay Wood
[BRZ]
91
Posted 27/07/2018 at 21:29:12
A very grainy image, but here is his goal from Twitterland:
He was as much a victim of Everton's wasteful transfer policy last season as a symtom of it. Like many, I wanted him to come good for us, but it simply never did.
I saw one live game at Goodison Park last year – the cup game against Sunderland. I wrote of that night that, based on the performances of that game alone, Davies looked a better option than Klaassen.
Now Davies had a poor season second time out, but, over the course of the season, he still remained the preferred option to Klaassen. I think Davy has the ability. Now we will discover if he has the capacity and resilience to rebuild his career elsewhere.
Worth taking a hit on the fee to free up his salary and squad berth.
Mike Jones
92
Posted 27/07/2018 at 21:36:18
There's a rumour Digne has told his teammates he is signing for us.
Keith Harrison
93
Posted 27/07/2018 at 21:43:21
I think Davy would have flourished more in a team like Man City who use the one-touch system. He always acted classily and said nice things about us on the Werder Bremen site when interviewed today, and I wish him the best of luck.
Regarding those comparing Richarlison to him, get a grip. The lad, aged 20, played 67, yes 67, senior league or junior international games in the calendar year 2017, without a week's break. Might explain why he was fucked in late November last year, and carried forward to the end of last season, in which he played every Watford game.
I only saw the last 15 mins last night, and he did enough to convince me he will be a player. We just need another 6 to go with him, Jordan, Seamus, Gana and Gylfi.

Gavin Johnson
94
Posted 27/07/2018 at 21:46:54
I'm sure Klaassen will be a success in Germany. I was one of the posters who wanted him to have proper run in the side last season, but after watching the pre-season games he's featured in, he looked the same player who played in the Europa League Final against Manchester United. The game just passed him by.
Klaassen by his own admission feels that Werder Bremen will play to his strengths. That was never going to happen at Everton last season. It was a side in transition and no-one, the managers included, knew what the best side was. Also having Sigurdsson and Rooney, the record buy and prodigal son, he never stood much of a chance!
I really hope he does well in Germany. I wouldn't normally want a player to prove us wrong after losing £10m on a transfer, but Davy was a victim of circumstance and wanted to succeed at Everton as much as we wanted him to.
Seb Niemand
95
Posted 28/07/2018 at 00:18:16
That's a damn shame. There's a great footballer in Klaassen – it's a pity there was never a manager at the club with sufficient talent or vision to try and bring it out.
Ernie Baywood
96
Posted 28/07/2018 at 03:08:04
Just looking at that goal for Werder and it reminds me of what we saw at Everton early on. Looking for those one touch passes around the corner and drifting forward.
The difference for me is two-fold:
1. He never had anyone looking for that first-time pass. Players needed three touches before they bothered offering themselves.
2. He was expected to do a defensive job and physically wasn't up to that.
I feel like a broken record on this topic but it's very rare that players make it to this level without having ability. The question is whether a team can play to their strengths. Klaassen's strengths never fitted our style of play and his weaknesses were exposed. A total transfer and team management blunder. Bought the wrong guy and then played him wrong.
This is where a DoF comes in. Pick a style of play and then choose players who have those attributes.
It's basically why Leicester were able to do what they did. For example, if you're going to sit deep, have two grocks at the back to clear everything. No point paying for a cultured centre-back there where his skills are negated.
Us? We play immobile defenders high up the pitch! We pick strikers with limited pace and then play long balls over the top. We haven't made any sense for a long time.
Over to you, Mr Brands.
Steve Ferns
97
Posted 28/07/2018 at 03:35:05
Well said, Ernie.
Don Alexander
98
Posted 28/07/2018 at 03:57:37
Ernie (#96), you hit t'nail on t'head lad! We have a very very "imbalanced" squad indeed, stuffed all but full of journeymen weaklings just looking after themselves. To expect M&M to rectify this in one window is a joke. Three will be some achievement.
Ash Moore
99
Posted 28/07/2018 at 04:00:07
A disastrous transfer, and the poster boy for the Koeman - Walsh era. I never understood exactly where he was meant to play or how he was meant to contribute. Turns out I wasn't the only one.
Sean Herbert
100
Posted 28/07/2018 at 05:49:21
Klaassen scored for Werder Bremen in a friendly yesterday, his first appearance for them!! Typical...
Danny O'Neill
101
Posted 28/07/2018 at 07:31:12
Well said, Ernie. A quality player in this lad; just needs those around him to be on the same playing field. The Dutch teach to move the ball quickly, we preach run quick and be direct so was never going to be a good mix.
Remember Beardsley? Always one step ahead of the Everton players around him. It wasn't that he'd played a shit pass; it was actually a great pass, just the player who was supposed to be on the end of it wasn't because they couldn't think ahead.
Good footballers find space on or off the ball. We seem obsessed with pace, power & running with the ball, hence players like Bolasie, Walcott, and Zaha.
Clearly, it's why we are so successful and the top 6 + Euro elites are so jam-packed with English players full of "Premier League experience"(yawn), right.
John Wignall
102
Posted 28/07/2018 at 09:48:11
Good luck, Davy, for the rest of your career.
Well done for the Blues on here for showing a bit a class.
Karl Meighan
103
Posted 28/07/2018 at 13:49:45
Ernie @96 if a player is good enough, they find a way to show their quality, even if a team is not playing to a player's strengths. Is it so hard for a midfielder to find a teammate, pick a pass, not give the ball away, and keep the play ticking over?
Whilst I would agree that we are an average if not below-average team, to excuse Klaassen on this, I cannot agree with. Shou playing with players below Klassens level.
Where he showed up well is playing in a slow-paced league without any pressure applied; that is a level below Premier League standard at Club Ajax who are miles ahead of most other Dutch Clubs.
Lee Paige
104
Posted 28/07/2018 at 16:36:07
Oh look he moves and scores right away on his debut. Typical.
Susong Hermawan
105
Posted 29/07/2018 at 16:06:08
Yes, Lee, he scores on his debut. It is so strange, what's wrong with Everton's style of play?
Well, good luck, Davy.
Add Your Comments
In order to post a comment, you need to be logged in as a registered user of the site.
Or Sign up as a ToffeeWeb Member — it's free, takes just a few minutes and will allow you to post your comments on articles and Talking Points submissions across the site.