Everton sign Gomes in deadline-day loan move
Thursday, 9 August, 2018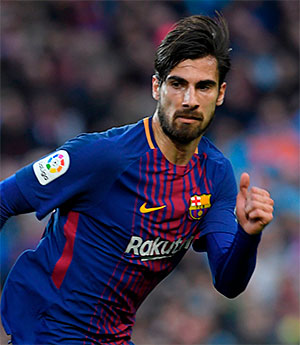 Everton have moved to bolster their options in central midfield with the acquisition of Andre Gomes on a season-long loan from Barcelona.
The 25-year-old emerged as a potential deadline day target with reports last night that Marcel Brands and Marco Silva might launch a late bid to sign him.
The Portuguese, who has been linked with both Arsenal and Tottenham in the past is currently recovering from a hamstring strain and would be unlikely to be ready for action until next month at the earliest.
That has not stopped the Blues adding his talents to their squad before the transfer window closed this afternoon. They will pay a €2.25m loan fee are also believed to be paying his salary for the season.
Gomes began his career in his native Portugal with Benfica before moving to Valencia four years ago, initially on loan. Over the course of 63 appearances over the following two seasons, he garnered the attention of Barcelona who snapped him up for €35m.
Brought in as a replacement for Sergio Busquets, his time at Nou Camp didn't go according to plan, however, despite playing 46 matches and scoring three times.
He is believed to have long favoured a move to the Premier League and almost joined Spurs a year ago, only for the deal to fall through.
---
Reader Comments (41)
Note: the following content is not moderated or vetted by the site owners at the time of submission. Comments are the responsibility of the poster. Disclaimer
Peter Gorman
1
Posted 09/08/2018 at 17:13:01
I know we've left all the business late but this has been a very impressive first transfer window from the new management set-up.
Alan J Thompson
2
Posted 09/08/2018 at 17:15:22
Is he on loan or is a transfer fee involved?
Eoin O D
3
Posted 09/08/2018 at 17:16:00
Hats off to Brands and Silva (and Mosh of course...) Kenwright out!! ;)
Si Pulford
4
Posted 09/08/2018 at 17:16:04
Don't know anything about this lad but if Barcelona think he's decent then who am I to argue? Great window.
Peter Warren
5
Posted 09/08/2018 at 17:16:15
Seems a good window by our new team. Another central defender aside from Mina would have been nice as would have a forward and shifting more the deadwood but seems a good start
Derek Knox
6
Posted 09/08/2018 at 17:17:04
Alan, loan is reported for 12 months !
Eoin O D
7
Posted 09/08/2018 at 17:19:51
There could be another surprise. Loan I hear! Anyone have an idea? Zouma, Drinkwater?
Andy Walker
8
Posted 09/08/2018 at 17:23:00
Richarlison, Bernard, Digne, Gomes, Mina, plus maybe one more. Just shows we really didn't have the players last year.
We've potentially bought or loaned more than half a new team.
David Pearl
9
Posted 09/08/2018 at 17:29:19
Back of the net. Have it!!!

Frank Sheppard
10
Posted 09/08/2018 at 17:29:36
A brilliant day of pulling rabbits out of hats
Alan J Thompson
11
Posted 09/08/2018 at 17:31:09
Thanks, Derek(#6); Have since seen 2.25 Euros for the season plus wages, Cheers.
John Atkins
12
Posted 09/08/2018 at 17:31:47
Best transfer window I can remember and that's all down to Silva & Brands - hats off to them boys - Fat Sam and Koeman would NEVER have been able to attract these type of players
A real chance now to challenge the Sky wankers and at least play attractive football with more than 1 shot at goal at home on occasion
ISWT and COYB
Anthony Hawkins
13
Posted 09/08/2018 at 17:31:52
I want to know how the new team is going to line up!
Fran Mitchell
14
Posted 09/08/2018 at 17:36:48
Anthony, as I posted in another thread:
Look at City, Liverpool, and co and none of them have a none have a set first 11 or best 11. This is something new for us to adapt to, but finally, we have quality options all over the pitch and on the bench.
Brands and Silva have done brilliantly, signed quality, all young but proven. 6 new first team players seemed impossible at the start of the window, and we didn't sell any of our best players (Pickford, Coleman) and as of yet none of our talented youngsters (Lookman, Davies).
Well done Mr Brands and Mr Silva
Andy Walker
15
Posted 09/08/2018 at 17:44:42
It's not over yet, we've submitted a loan deal sheet for Zouma. We have until 7pm to,sort it.
Roberto Birquet
16
Posted 09/08/2018 at 17:51:25
Alan. Loan and a fee. EUR 2.25 mln. All loans have fees, just much smaller fees.
David Ellis
17
Posted 09/08/2018 at 17:54:05
I know nothing about Gomes other than YouTube. However I hope he's the missing link - a deep lying midfielder who can move the ball forward quickly from the back. He seems big and quick with a few great tricks in him. He should stop other teams putting the high press on us - he has the tricks and acceleration to dance past them into space. We have sorely lacked a player who can do this.
He's injured and not had a good time at Barcelona. But hopefully he'll get his confidence back under a Portuguese manager and a less intimidating dressing room (and 2 other native Portuguese speakers fresh in - and 2 Barca team mates also with something to prove). If he doesn't work out its only a loan
Steve Ferns
18
Posted 09/08/2018 at 18:14:58
He's not David. But he's a great passer and maybe Silva thinks he can convert him.
Derek Knox
19
Posted 09/08/2018 at 18:16:51
Over the moon with all the signings but all too late for Saturday I would think, still worried about defence for with Keane and Jags ??
James Marshall
20
Posted 09/08/2018 at 18:23:51
SSN are saying this one isn't actually done yet, but the deal sheet has been submitted. Same with Gomes. 37 minutes to get them both sorted.
James Marshall
21
Posted 09/08/2018 at 18:24:18
Same with Zouma, I mean.
Colin Glassar
22
Posted 09/08/2018 at 18:32:35
James, we've got till 7pm to register both players. Shouldn't be a problem - fingers crossed, praying fervently.
Drew Shortis
23
Posted 09/08/2018 at 18:34:26
What a fantastic window! The three lads from Barcelona may not have made the grade there, but they're all young & will want to show what they can do in the worlds best league. Settling in may be made easier by having guys they know going with them. The new Brazilian lads share a language with the manager & Gomez. Hopefully this will all help them gel quicker than last years intake.
The good thing is we don't seem to have brought in any square pegs for round holes this time & importantly we weren't forced into selling any of our stars.
With Zouma also looking likely we've more than ticked all boxes in terms of covering our weaknesses. I can see a midfield of Gomez-Bernard-Sigurdsson with Richarlison & Walcott wide providing a lot of chances for Tosun who seems clinical if given the right service. I'm over the moon & can't wait to get this season started!

Christopher Timmins
24
Posted 09/08/2018 at 18:37:10
Once things are properly managed over the next 25 minutes or so it looks like we have a vastly improved squad to help move things forward.
James Marshall
25
Posted 09/08/2018 at 18:43:37
Exactly Colin - I mentioned it because the title of the thread and a lot of the posts are celebrating this but it hasn't been confirmed as you say. Same with Zouma and in fact Mina - none of them have been confirmed by Everton yet.
Colin Glassar
26
Posted 09/08/2018 at 18:44:36
Silva did the same at Watford i.e he got a load of late signings and they gelled almost straight away until injuries, and Everton, messed up their season.
Martin Berry
27
Posted 09/08/2018 at 19:04:12
Quality midfield player with size, pace and skill, far better than anything we have at present.
Lost his way at Barca but was special at Valencia and he is still young and can only get better.
Could be a great loan signing
James Marshall
28
Posted 09/08/2018 at 20:04:46
Deal just been confirmed by Everton :-)
Steve Ferns
29
Posted 09/08/2018 at 20:07:10
I see the three confirmed players were saying it's all down to Bill and there he was arm round both of them . or not.
New era at Everton now, for sure.
Lee Paige
30
Posted 09/08/2018 at 20:12:49
Whose Bill?
John Raftery
31
Posted 09/08/2018 at 20:37:40
Drew (23) You say we weren't forced into selling any of our stars. Arguably Pickford, Walcott and Coleman are stars. I am struggling to think of any others who come anywhere near that billing. The lack of interest in most of them would seem to confirm that.
It is great that fans are excited by the signings but let's see what they produce before we hail this transfer window as the best ever. It will be a pleasant surprise if most of the new players hit the ground running. The time to pass judgement on them and the window as a whole will be next spring.
The fact we have found it necessary to recruit eight senior players across the two 2018 windows after signing eight in 2017 confirms the mess left behind by Koeman.
Soren Moyer
32
Posted 09/08/2018 at 21:21:32
I think Steve meant Marco! Might sound odd but I have a hunch that Siggy will be the next one to exit the GP when the window opens again!
Chad Schofield
33
Posted 09/08/2018 at 21:46:24
For me I think this could be the crucial signing of the day.
Yes, we really needed a CB, with Mina and hopefully Zouma, we'll be in good shape.
Bernard is potentially really exciting!
However, Gomes was a really nice surprise. Yes he's injured, but maybe his arrival alone will put a rocket in Schneiderlin's arse - and God knows at times he's needed one.
I'm not sure Siggy in a deeper role will work, but we have options... Really solid options. I hope the pressure is taken off Davies.
What fantastic business by Everton though. I didn't fully expect that much... more a Man U CB chase and Bernard (who I didn't expect until yesterday). I'm also hugely pleased to retain our stars as outlined, but including Lookman. The media on the whole have been pretty woeful in their analysis of the hard work put in to secure these deals.
I am still not getting my hopes up too much, as these players will need time to get used to the prem and Everton. But seriously impressed with Brands, Silva and everyone involved in landing multiple deals in the way they have.
Michael Lynch
34
Posted 09/08/2018 at 22:18:44
I hope we can help this fella regain his confidence and ability. He's had a terrible time at Barca by all accounts, loads of hate from the fans, can barely walk the streets. I think he was desperate to get away, and sees this as a chance to start again. He may be a bit fragile after his experience, so it's definitely good that he'll have a few Portuguese around him, and hopefully our fans will give him a chance and not get on his back too quickly.
If we can rehabilitate him, we could have a gem here and I doubt if he'll be itching to get back to Barca any time soon, so a permanent deal shouldn't be too much of a problem.
Steve Ferns
35
Posted 09/08/2018 at 22:19:09
No Soren, I meant Bill as in Kenwright. It was a little joke at how all the new signings used to name check Kenwright. Yes none of them in this window said anything about him. There's a clear changing of the guard. That's what I meant to highlight with my little joke.
Gareth Ashman
36
Posted 09/08/2018 at 22:27:03
Very excited to see how we progress in the coming weeks. In fairness, we've been blessed with the fixtures, so may not need to be at our fluent best to pick up points early doors whilst the team gels. There's an influx of speed, trickery and hopefully goals in this team. Surely, we can't fail to create more chances than last year? Mr Silva seems to be very hands on on the training ground, which will certainly help. Give it a couple of months and hopefully we'll be flying. With that in mind, I'm fancying a flutter for a a cup win this year. Just looked, 30/1 for FA and 25/1 for league cup.
Peter Roberts
37
Posted 09/08/2018 at 23:04:29
First team of
Pickford
Coleman Jagielka Mina Digne
Schneiderlin
Bernard Sigurdsson
Walcott Tosun Richarlison
2nd team of
Stekelenburg
Kenny Holgate Keane Baines
Gueye
Gomes Davies
Vlasic Calvert Lewin Lookman
And with Bolasie, Niasse, Sandro, Baningime, Besic in reserves.
That all of a sudden looks a really decent squad to go with. Positions of need filled with quality upgrades. The last 24 hours have seen the window grade jump from a B- to at least an A (only slight negative is the lack of a quality 2nd striker to supplement Tosun but I think Two Dads and Niasse can provide the odd one or two off the bench). This is not yet counting Zouma as the deal isn't officially announced and no details emerging until morning (can't help but feel we've missed the boat on this one?)

John Hammond
38
Posted 10/08/2018 at 08:07:46
Peter, personally I'd have Gueye instead of Schniederlin.
Peter Roberts
39
Posted 10/08/2018 at 08:13:06
John
Normally I'd agree but Silva seems to prefer Schneiderlin, and Steve Ferns' analysis on another thread suggests Gueye needs someone alongside him (thus flipping the triangle and having a diamond front four) to hold shape while he goes ball-hawking. While this will be better against better sides, for a normal formation I'd prefer just the one holding mid and that seems to be Schneiderlin.
Robert Workman
40
Posted 10/08/2018 at 21:29:34
I am currently on holiday in Portugal. All the people that I have asked about Marco Silva gave me thumbs up.
I had a conversation with a Porto fan today about Andres Gomes, who I had never heard of before we signed him. I was told that he played well for Benfica and Valencia, but didn't t fit into the Barcelona style.
He is a strong, tall, right footed defensive midfielder, but is quite slow. So some of Schneiderlin's traits. However the Porto fan believes that he will blossom in the English game.

Mike Kennedy
41
Posted 11/08/2018 at 04:37:55
I note that the Barcelona fans are very pleased that we are, in their eyes, paying a lot of money to take their rejects. I hope they are wrong and we haven't shelled out a fortune on players that can't cut it, like last summer.
I will not be getting excited until they prove themselves. This is Everton; we were shocking in pre-season and have a long way to climb to stand still.
Add Your Comments
In order to post a comment, you need to be logged in as a registered user of the site.
Or Sign up as a ToffeeWeb Member — it's free, takes just a few minutes and will allow you to post your comments on articles and Talking Points submissions across the site.