Praise from Silva for battling Blues
Saturday, 11 August, 2018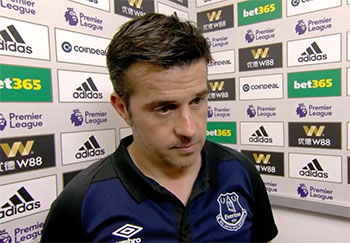 Marco Silva was fulsome in his praise of his players' work ethic and commitment during today's 2-2 draw at Wolves where they almost came away with three points despite playing more than a half with 10 men.
The Blues were leading by Richarlison's debut goal, scored in the 17th minute, but were reduced by a man and had their advantage wiped out when referee Craig Pawson deemed Phil Jagielka's tackle on Diogo Jota to be either dangerous play or the denial of a clear scoring opportunity and sent him off in the 40th minute.
Having been allowed to move the ball five yards closer to goal, Ruben Neves stepped up to curl home the equaliser and he popped up 10 minutes from time to set Raul Jimenez up for Wolves' second goal after Richarlison had put Everton back in front with a wonderful strike.
The Blues had further chances to score and probably should have from one of two good two-on-one breaks but Silva took heart from the overall display in difficult circumstances.
"I saw a fantastic attitude, fantastic spirit in our squad and good organisation even with 10 players," he said afterwards. "I believe we were better with our organisation even with the 10.
[After we scored] we didn't give them any chances and [it was] one really harsh decision from the referee. Of course, not only was there a red card but they score a goal as well so it made a big impact on the match.
"Because we were having a good game but one decision can impact the match.
"We changed some things at half time and organised ourselves well and we did very well in the second half. Some moments we suffered but we suffered together with our good organisation and at the end we had the best chances to score even with 10 players.
"Okay, they had one moment with Raul Jimenez one-against-one with Jordan (Pickford) but we had three chances to score. I think someone [was going] to be our team but, okay, Wolves did very well. They are a good team with good players but it was a pleasure to see our players work like they worked."
Silva was asked if he felt his players felt aggrieved at the decision to send Jagielka off and that gave them extra motivation not to lose the match.
"I told our players, 'whether you perform well or not something has to stand behind our squad — big commitment every time, big attitude, fantastic behaviour and that is our obligation.
"We felt it was not the right decision and where there are moments where something [like this] happens, we are to work together to help each other which is what we did in the second half."
---
Reader Comments (124)
Note: the following content is not moderated or vetted by the site owners at the time of submission. Comments are the responsibility of the poster. Disclaimer
Benjamin Dyke
1
Posted 11/08/2018 at 21:44:20
Great to have a normal manager whose words can be respected and are what we want to hear. Loving this new era already. Well done Marco and well done players after a great 12v10 display today!
Sean Kelly
2
Posted 11/08/2018 at 21:46:11
I like this guy. Twice in the interview he uses the word "together". That's not something we have seen or heard in the last few seasons. Well said lad.
Chris Clark
3
Posted 11/08/2018 at 21:55:49
Still fuming at that incompetent ref.
Tony Abrahams
4
Posted 11/08/2018 at 22:00:40
Great words from our new manager, about big commitment and big attitude being the obligation. If the players actions, can meet the managers demands, then going to watch Everton, is going to become a great pleasure again? Let's hope so because it's been a very long time.
Clive Rogers
5
Posted 11/08/2018 at 22:08:17
Ridiculous red card decision. It wasn't even a foul for me. Changed the game. Silva has got most of the players playing at a level above last season. Have to be a bit worried about Tosun though. He can finish, but struggles with the rest of his game and lacks pace. Walcott also was very quiet, has to do more.
Kieran Kinsella
6
Posted 11/08/2018 at 22:14:20
I thought it was a red. Reckless, studs up, frustrated old man couldn't keep up the pace. Walcott was quiet but the 10 Man dynamic kind of influenced that. Overall a decent point.
Dan Parker
7
Posted 11/08/2018 at 22:15:27
Early days and early to judge of course but I like this guy.
Dan Parker
8
Posted 11/08/2018 at 22:16:48
Not only that but I turn 40 next month and he's only a year older than me. Wtf. Just getting used to the players being younger but the managers too, fucking old!
Pete Gunby
9
Posted 11/08/2018 at 22:28:02
I didn't see it that way Kieran. I thought Jags got the ball and kept his foot flat on the follow through. That said, Jags should have done better.
James O'Connell
10
Posted 11/08/2018 at 22:30:32
2 new defenders to come in and Gomes or Bernard to replace schneiderlin. Still think we need a top striker but this side has potential.
Craig James
11
Posted 11/08/2018 at 22:40:28
Peter (#9), I agree with you, I didn't see it that way too. Yes could say a bit rash but what is the world of football coming too if you can't make committed tackles like that, then we may as well play tag football. Mark my words, you will see much worse that will go unpunished.
That aside, today looked more promising than our pre-season games and we still have the new boys to come in. Future looks bright!
Andy Peers
12
Posted 11/08/2018 at 22:41:46
Second half was a galvanized performance by the boys.
Craig James
13
Posted 11/08/2018 at 22:42:22
Peter #9 agree with you, didnt see it that way too, yes could say a bit rash but what is the world of football coming too if you cant make committed tackles like that then we may aswell play tag football.
Mark my words you will see much worse that will go unpunished.
That aside today looked more promising then our pre season games and we still have the new boys to come in.
Future looks bright!
Craig James
14
Posted 11/08/2018 at 22:44:20
Apologies for resending with corrections new to all this 🙈
Jason Broome
15
Posted 11/08/2018 at 23:07:56
We didn't lose. We got a point away from home with pretty much the same team as last season. That for me is realistic.
Added to that Richarlson played like a dream, Holgate played well and Jagielka's suspension will allow one or both of the new boys to step in.
Ian Riley
16
Posted 11/08/2018 at 23:19:22
Silva is a class act. His analysis of the game was text book. The red card could have gone either way and the player's reaction didn't help the ref. Basic control of the ball cost us the sending off.
Overall, the fitness of the players and hunger was there. It's early days but we look up for the fight. The added quality to the squad will make the difference. The goals conceded came from individual mistakes.
The second goal was caused by not trying to stop the player crossing the ball. Morgan always looks as if he has just finished doing a night shift or just can't be arsed. Good to see players bollocking each other when not doing their job.
Milos Milenkovic
17
Posted 11/08/2018 at 23:31:52
First game and already better than the entire previous season. I am impressed with attacking intent and the way we were stronger and determined to win with 10 men. You could say that we were unlucky with the decision (red card) and also with the free-kick since it was 5 yards from the place where the foul was made.
Feeling sad that we are not having 3 points, but very encouraged to see proper football by our team and hopefully this is the beginning of new, exciting and successful Everton.
David Pearl
18
Posted 11/08/2018 at 23:37:13
I think they all did well. Schneiderlin looks to have a bit more confidence and I wish people would get off his back... clean slate, let's see what he can do instead of hoping he fails. All in all a lot of positives.
Dan, sorry man, welcome to the club. Harsh feeling when at 48 l could still take a better dead ball than most of our squad (as long as it's in walking football).
I thought we'd need a lot more than one transfer window to fix things but we are lot closer already.
Brent Stephens
19
Posted 11/08/2018 at 23:37:19
Got a bit of a soaking on the way back to the station from the ground but I was quite pleased with that result and performance. It did look as if Pickford stepped the wrong way initially on conceding the free kick (which we allowed to be placed 5 yards or so nearer the goal than it should have been; and for which a red card was arguably harsh if it was for a dangerous tackle but not if it was for denying a goal-scoring chance).
Decent games from most though Walcott was quiet (and Keane lost his man for the other goal, though apart from that he played well). Baines, as in pre-season, showed that he's up for it again, as is Gana. Richarlison impressed and the rest were decent (even Schneiderlin – he left that snail for dead on several occasions).
But what caught the eye most were the changes to the way we're being coached. Defence and midfield appear to operating more as a unit, and the defence isn't dropping back too far as it has been the last season or two; and the ball is certainly being moved around more quickly and generally forwards rather than side-to-side and /or back. And Baines is being allowed to bomb forward more.
The coffee and brandy now taste good. Satisfied with today. Roll on the first home game – and the other new signings.
John Raftery
20
Posted 11/08/2018 at 23:47:11
Richarlison made a huge difference today not only with his goals but also with his strong physical presence, pace and skill on the ball. Without him we would have lost that game. One fine debut does not a star make but if he can maintain this evening's level against better opposition he will justify the fee paid for him. Already we can say he is a significant upgrade on Bolasie.
If anything the team played better after being reduced to ten men. Silva deserves credit for keeping both wide men on the field and sacrificing Sigurdsson. We kept a decent shape throughout the match with Gana and Schneiderlin both doing their jobs in midfield. Overall it was an encouraging team performance but much more will be required to come anywhere near challenging the top six.
Paul Birmingham
21
Posted 12/08/2018 at 01:02:17
Refreshingly good and I'm fucking made up, compared to last season.
Well done, M & M!
Clive Mitchell
22
Posted 12/08/2018 at 01:22:48
"Whether you perform well or not, something has to stand behind our squad – big commitment every time, big attitude, fantastic behaviour and that is our obligation."
At long last, we have a manager who talks like a man and represents our club properly. Good luck in the weeks ahead, sir!
David Pearl
23
Posted 12/08/2018 at 01:25:33
I think he might sacrifice Sigurdsson quite a bit in the next few weeks. More so than Schneiderlin. We all want to love Siggy but I think his best days are behind him.
If Bernard hits the ground running and Gomes comes into form, I'm not sure he'll be with us past January's transfer deadline.
Ashley Roberts
24
Posted 12/08/2018 at 02:02:38
I have to say Richarlison really impressed me today. It was not only his goals but his speed in getting back into defence was amazing. I think he could give Shneiderlin 50 m and still beat him in a 100-m dash.
With the new signings, I think both Sigurdsson's and Schneiderlin's positions are in serious doubt as both are slow and ponderous. I was also so impressed with the style of football, with it being such a contrast to last season. So pleasing to watch.
I do not think it was a sending off offence; if you look where the ref was when the incident happened, he was close to the centre circle and so could not have had a good sight of the incident. Poor refereeing to say the least.
I also have to say I thought Keane had the best game I have seen him play in a long while and so, if Silva can have this effect on all the players, I think we are going to be in for an exciting season.
Mike Gaynes
25
Posted 12/08/2018 at 02:22:48
Silva gets a higher grade from me for this game than any of the players except Richarlison. He had the side prepared, confident and highly motivated, and none of those aspects ever waned for the entire 90 minutes – a refreshing change from the previous managers. Even Holgate, who hasn't played in quite a while and couldn't have expected to today, was fully prepared and performed brilliantly.
Silva did make one huge error IMO in pulling off Siggy after the red card instead of Schneiderlin or Tosun, but he got away with it, and even benefited when Tosun did his one good thing today and played in Richarlison for the second goal.
I really like this manager.
Jamie Crowley
26
Posted 12/08/2018 at 02:55:13
Brent @ 19 -
You're analysis of the game and my analysis of the game are in 100% lock step.
Can I join you for a coffee and brandy?
Habib Erkan Jr
27
Posted 12/08/2018 at 02:59:04
David Pearl, I wholeheartedly agree. Gylfi should be worried because we were more dangerous without him than with him. When Bernard is ready, I see Gylfi riding the bench.
I feel really bad for Jags, by the time he returns from serving the red card suspension, he will be the fifth choice centre-back. I would not be surprised to see him in the Championship in January.
Jamie Crowley
28
Posted 12/08/2018 at 03:02:14
Mike Gaynes -
"I really like this manager."
Me too Mike. Me too.
His post match presser, I had mentioned this on the matchday thread, was everything I want from a manager.
Matt Traynor
29
Posted 12/08/2018 at 03:17:14
Watched in a bar in Phuket. My thoughts:
* Red was harsh but I can see why it was given. Theatricals didn't help. Consolation is Jags is out for 3 games – I felt he's been past it for 3 years but I confess I was never a fan;
* Again probably influenced by the red but Walcott has no end-product;
* If Baines is past it, he never got the memo;
* We didn't play like we had 10 – Wolves were glad of a point;
* Neutrals in the bar said Everton look very watchable — it's been a while since I heard that!
Jamie Crowley
30
Posted 12/08/2018 at 03:22:16
If neutrals said we were watchable in a place called FuckIt, we're on to something!
Agree with all your points Matt, except the card.
Never, ever a red. Can't see why it was given.
Matt Traynor
31
Posted 12/08/2018 at 03:39:04
Jamie ,what I meant was by about 3rd or 4th replay I had doubts. By 6th I was certain it wasn't a foul, let alone a red. But EPL clubs voted not to have VAR otherwise it may have been a different outcome and Budget Neymar may have got a yellow for the theatrics.
Phil Sammon
32
Posted 12/08/2018 at 03:41:38
I think Tosun's getting a bit of unfair criticism.
He holds up the ball well when given the chance. He also sent in a cracker of a cross that Richarlison and Walcott couldn't quite finish.
Niasse couldn't be more different in style and technique. I think it's good to have two strikers that are so contrasting. It gives defenders a whole new set of problems to deal with.
Dave Bowen
33
Posted 12/08/2018 at 03:46:20
Ashley @ #24, I'm 55 & a stone overweight, but I'd fancy my chances against Schneids in the 100 metres!
I feel robbed today by a poor refereeing decision & theatricals by the opposition. An admittedly poor touch by Jags, but his recovery tackle was perfect. The ball went towards their goal not ours & it was not an overly rash challenge.
If that's what a contact sport has come to, we may as well watch televised table football.
Gavin Johnson
34
Posted 12/08/2018 at 03:59:16
Schneiderlin did okay today, particularly in the 2nd half. Tosun was also our first line of defence and also worked hard. He also set up Richarlison for the 2nd goal..
Jamie Crowley
35
Posted 12/08/2018 at 05:01:05
Matt -
I showed both of my "older" sons the replay. They're not experts but they've played the game and know better than their old man.
Both were like, "no way."
Jags got the ball. BEFORE he made contact. It was not, in no way, shape, or form, a "stiff leg studs up" challenge. His leg locked at the end but it wasn't with the intent of injury or violent conduct. He could have never, ever stopped a goal scoring opportunity as the attacker never had control of the ball!
A yellow perhaps. I personally thought it was just a strong, good, clean challenge after a glaring awful first touch.
It seriously pissed me off and I can not understand how anyone thinks that tackle is a straight red.
I'm relieved to know you had a re-think. ;0)
The silver lining is we played magnificently and with passion down a man.
Today was a great day. Not in terms of results, but how we responded and conducted ourselves after that call.
Danny O'Neill
37
Posted 12/08/2018 at 06:19:20
I saw a player take an awful touch, lose control and then overstretch to compensate for losing the ball in a dangerous position on the pitch.
I don't buy this "got the ball first" thing. That's used as an excuse for bad touch / bad tackle. He potentially could have snapped the player's leg / ankle.
So regardless of whether he "got the ball first", it was a dangerous tackle, which is a foul.
The debate as to whether it was a red is another argument; however, it was a demonstration of poor touch & control, which led to a foul, which led to a free kick, which led to a goal.
That's how I saw it.
John McGimpsey
38
Posted 12/08/2018 at 06:31:42
Good performance. I was surprised how little Niasse ran to close anyone down. Tosun had ran and ran and was goosed and that's what I want to see.
Well done, Holgate as well – he looked like he had never been away. A good start... now let's smash this next week!
Ajay Gopal
39
Posted 12/08/2018 at 07:39:56
Danny (37), losing the ball is not a crime, it happens all the time even to the best defenders. The question should only be: "Was that a legitimate tackle or not"?
In my opinion, that was a fantastic recovery tackle. The referee was influenced by the theatrics of the Wolves player — Neymar would be proud of that show! The ref was so far away from the action that he didn't even know the exact location of the supposed foul. He gave it a good 5 yards further than the actual crime scene.
I don't know what annoys me more — the commentators trying to justify the wrong decision because it is only Everton, or our own supporters being brainwashed by these so-called football experts who have a clear agenda?
Darryl Ritchie
41
Posted 12/08/2018 at 07:51:59
I thought we played a very good game, even after the red. The ref saw it as a red, so it's a red. What we think is irrelevant. Holgate coming on for Siggy was the correct move. He played very well, and it might be argued that he should've had the start.
This battling draw with 10 men, showed me more heart and desire, than any of the wins did last season. We were the better team, even with a man missing.
The single point, especially the way we earned, makes me believe that we are on our way. Once Silva gets the new signings get up to speed, we will be even better.
Danny O'Neill
43
Posted 12/08/2018 at 08:07:31
I'm not brainwashed Ajay. I saw a dangerous tackle, which is a foul, regardless of the "ball first" argument. It was a foul that would have been avoided had the touch not been poor.
Recovery or "his second touch is always a tackle"?
It was a foul, it gave them a free kick and they scored. Red / yellow / talking to is another argument but it was a foul.
Jason Broome
44
Posted 12/08/2018 at 08:11:59
Not A Red Card.
50-50 if it was even yellow. I've watched the tackle 20 times and feel sorry for Jagielka.
Jagielka was not the last man, it was a single foot tackle and he got the ball before connecting with the player.
You will see that tackle 200 - 300 more times in the Premier League this season so I'm expecting 200 - 300 more red cards.
The referee's post-match (hindsight) excuse of excessive force was also poor.
It was a poor touch though. At this level you cannot afford mind lapses and poor touches (which of course led to the tackle).
Stewart Lowe
45
Posted 12/08/2018 at 08:17:56
Am I seeing this tackle all wrong?? I have watched it was 10+ times now and I see a defender committed to rectifying his initial poor control of the ball. All the media are saying he left the referee with no choice but to send him off. It wasn't a goal scoring opportunity like some are saying.
It's widely claimed that any player will get sent off if the studs are up, but in this case they weren't. The movement and momentum of Jagielka is sliding in a straight line across the grass, with his heel pushing the ball out of the way and behind him. Surely that's an excellent tackle, and in most aspects, a perfect one.
This probably cost us 3 points and I hope Everton look at trying to get it recinded, or downgraded to a yellow at least. The situation felt all too like the now defunct ruling of gifting a penalty to an opponent, and being down to 10 men, the now old being punished twice scenario.
Richard Lord
46
Posted 12/08/2018 at 08:56:08
No way a red, and this is what fifa says about excessive force, we should be appealing...
Careless, Reckless or Using Excessive Force – an evaluatation on reckless challenges and serious foul play
Referees at Select Group level continue to meet up on a regular basis to discuss, review and debate decisions that are made at National List level within the PGMOL. One of the most difficult situations for a referee, for various reasons, is to differentiate between a reckless foul and a challenge that is considered to be one of serious foul play. At a recent seminar referees identified a series of criteria which they believe will help referees at all levels distinguish between these two types of offences.
Firstly, a reminder of what Law 12 states:
"Careless" means that a player has shown a lack of attention or consideration when making a challenge or that he acted without precaution. (No further disciplinary sanction is needed if a foul is considered to be careless)
"Reckless" means that the player has acted with complete disregard to the danger to, or consequences for, his opponent. (A player who plays in a reckless manner must be cautioned)
"Using excessive force" means that the player has far exceeded the necessary use of force and is in danger of injuring his opponent. (A player who uses excessive force must be sent off)
Steve Cotton
47
Posted 12/08/2018 at 09:15:27
I thought Tosun was poor today; I didn't see him win one aerial challenge. Slow on the turn and no threat to the opposition. I hope Walcott will get back up to full sharpness but Tosun is already as good as he gets.
Paul Birmingham
48
Posted 12/08/2018 at 09:23:51
Early days but compared to last season, the players do now seem to care.
Shame about Jags, but all in all a good show of character and they didn't bottle it,
Keane still day dreams and lost his man, for their second goal, but plenty to build on.
Must wins now, in the build up to Arsenal away.
Christine Foster
49
Posted 12/08/2018 at 09:26:10
Richard, Jags lost control of the ball with a poor touch but the tackle was controlled and well executed even at a stretch. Heel on floor, studs down, won the ball.
That his foot met with the attackers stretch after the ball had gone is frankly unfortunate but not a foul, it was a 50/50 ball that one player committed to and the other didn't and ended up getting upended. It was not dangerous play, it didn't warrant a free kick.
Brent Stephens
50
Posted 12/08/2018 at 09:31:34
Jamie #26 - great idea. I'll bring the coffee...
...and
Joe McMahon
51
Posted 12/08/2018 at 09:37:14
I like how Marco speaks. Man, if only we have M&M last summer to spend the money, we would be a different proposition now.
Stewart Lowe
52
Posted 12/08/2018 at 09:39:43
I love how Silva has shifted out what I deemed as trouble makers, and has a no-nonsense attitude.
Then you have a young Richarlison that can't speak a word of English, but already an ambassador to every player at the club as to how they all should be this committed and this determined to win a game if football. I think he will be a legend, and someone who Silva can point to and tell every other player, just do what he does. No ego whatsoever, just a determination to win.
Ari Sigurgeirsson
53
Posted 12/08/2018 at 09:43:52
Away #39 (and #40)
You are right imo when you say that so-called experts have an agenda. They are what they are and that will probably never change.
Paul Merson and sorry to say our own Andy Hinchcliffe are very bad.
But it is Silva's job to change that a bit and I believe that he can do it for us.
Steve Hewitt
54
Posted 12/08/2018 at 09:45:46
Proud to be a toffee again - not said that in a while.
Well done boys,
Great reaction from Marco once the sending off happened, didn't panic, made the right change and did it quickly. Last season it would have been everyone back and damage limitation. I was delighted that Marco made the change but kept to the plan as much as possible.
I'm excited to see what we can achieve this season based on this performance and many of the new signings still to be available. Speaking of which, Richarlison was excellent and lifted the whole team.
They were a revelation after pre-season, clearly the management team know what they are doing. Once again - well done boys - you did us proud!
Colin Glassar
55
Posted 12/08/2018 at 09:51:22
Let's not kid ourselves, the job on hand is enormous. Ever since Moyes left (and I wasn't his biggest fan) the club has lost its identity. Martinez (seasons II and III), Koeman and fat Sam ripped the soul out of the club and it's now up to M&M to restore the pride, identity, passion etc... that every club needs.
The new players will need time to bed in and we might need another 2-3 transfer windows before we start really pushing the teams above us but just to see a pissed-off Everton manager after an away draw (with 10 men) is an encouraging sign for me.
Darren Hind
56
Posted 12/08/2018 at 09:56:01
Please let's not go down the rout of praising what the manager says before, during or after the game.
Martinez was "a breath of fresh air" with his positivity.
Koeman "told it like it was".
Big Sam "gave us the unpalatable truth".
They were all exposed as bullshitters. Let's judge this fella by how his teams perform over the next few months.
Jim Bennings
57
Posted 12/08/2018 at 09:56:59
The team for the remainder of the season (fitness permitting of course) will likely be
Pickford
Digne
Mina
Zouma
Coleman
Gueye
Walcott
Richarlison
Bernard
Sigurdsson
Tosun
Sigurdsson and Tosun however must do better and Walcott needs to be finding consistency on a more regular basis.
Defensively we haven't paid money for Digne to sit on the bench behind a 34 year old left back and you'd hope that we stick with a settled central defensive partnership of Mina and Zouma and not do what we did last season and chop and change every other week, defence is a crucial area for maintaining stability.
Andrew Clare
58
Posted 12/08/2018 at 10:03:30
What about Gomez Jim?
Colin Glassar
59
Posted 12/08/2018 at 10:05:18
That's what I said Darren.
Jim, now we have a squad to really change things around. Bainsey was great yesterday so for the next few games my starting XI would be:
Pickford
Coleman
Keane (needs a run of games with a permanent partner)
Mina
Baines
Bernard
Gueye
Schneiderlin (until Gomes is fit)
Siggurdsson
Richarlison-Silva
Tosun
4- 5-1

Jim Bennings
60
Posted 12/08/2018 at 10:05:41
I'm not sure yet Andrew, who do you see him displacing?
He's a fine player but I can only see him ousting Gueye?
Jim Bennings
61
Posted 12/08/2018 at 10:10:38
Colin
I'm not sure Baines was great yesterday.
Keane has had a run of games and his deficiencies have been laid bare, he gives me constant jitters whenever he plays.
As soon as Mina and Zouma are up and running I want to see a pacy athletic mobile partnership develop.

Jim Bennings
62
Posted 12/08/2018 at 10:12:56
Maybe have you thought it's Keane's presence that makes his defensive partner unsure and not the other way round?
Sean Roberts
63
Posted 12/08/2018 at 10:22:23
Don't want to go on about the red card as what we all should be talking about is the massive improvement we witnessed with basically the same players that performed so poorly last season.
That for me says we have a manager who is managing the players correctly.
Onwards and upwards.
Terry McLavey
64
Posted 12/08/2018 at 10:26:21
To use a horrible political phrase, green shoots of recovery! A lot more watchable than last season's efforts.
Though I am still angry about the shocking bias of the NBC commentators! There should be an investigation, oh yes also the shocking ref that too!
Terry Smith
65
Posted 12/08/2018 at 10:26:57
Happy with the performance. And very happy with the way Marco played after Jag's got sent off. If we still had fat Sam i'm 100% sure it would of been backs to the wall that would of ended up in a loss !
Would of liked to of seen Lookman on the bench to replace Walcott as I don't think he offered anything going forward. I hope Bernard & Gomes fit in strait away as I can no longer put up with Schneiderlin.
Jim Potter
66
Posted 12/08/2018 at 10:31:16
Great to see a tangible team spirit back again - and a willingness to fight with pride for the shirt.
I was gobsmacked by the red; surely a yellow. The ref was influenced by the over reaction of the cheat rolling around like an epileptic being electrocuted.
Richarlison needs to watch his histrionics or he'll find himself accumulating more cards than a royal centurion. By all means copy Neymar as a player, but please, not his joke attributes.
As Ian Dury said - reasons to be cheerful.
Mike Gwyer
67
Posted 12/08/2018 at 10:53:48
Firstly, we were the better team with 11 players and equal to Wolves with ten men. With the players Silva has waiting to play, we will soon see Everton playing some great football.
For me yesterday's game was a total upgrade to last season, attacking with speed and flair and defending well when we had too. The fact that Wolves didn't create that much is testament to a solid defence. Also, I couldn't give a fuck what Merson, Pearson or any of the ex RS loving commentators have to say about how Everton play. I have never heard a more biased commentary that yesterday's BT "Wolves" fest. So they know, we are Everton.
Finally, the blues on the terraces were in total sync with the team, noisy and loving it. Let's hope this is a sign of things to come and teams coming to GP get to see and feel the real "Fortress Goodison".
Anthony Flack
68
Posted 12/08/2018 at 11:28:17
A couple of comments to add
1. I thought Wolves were naive and could have made life a lot harder for us with ten men, they kept 4 at the back and kept kicking the ball out of play, also rarely pressing
2. Sending off was harsh, this rule the media trotted out amounts to strong tackle equals red card
3. We are still way too nice and should have laid down in front of the ball at the free kick when it was moved forward so blatantly, remember Sanchez last year for Arsenal at Goodison?
4. Media remain predudiced against our players, they are desperate for Pickford to fail - contrast this to Spurs, Liverpool players etc.. where they end up aroused when they come out of the tunnel in shorts .
Overall quite encouraging, I thought Keane did quite well, criticism of Tosun is harsh as he worked hard and a blinder from Charlie
Bobby Mallon
69
Posted 12/08/2018 at 11:37:45
Danny O'Neill and all others on here who think it was a bad tackle, I think you all need to stop watching football and watch a none contact sport like table tennis. It was never a bad tackle it was a goal saving tackle (at the time). This great game of ours is being spoilt by the necessity to help the top six stay on the limelight. It's a fix
Simon Dalzell
70
Posted 12/08/2018 at 11:45:41
Christine (#49). Absolutely spot on. The bad first touch is totally irrelevant. I thought it was a fantastic tackle with foot on the deck. Heel making perfect contact with ball. The timing and execution had to be bang on, which it was!!! Followed by pathetic rolling around by the Wolves man.
John Hoggarth
71
Posted 12/08/2018 at 11:47:25
Mike @67, re your last comment about Fortress Goodson. I agree. We've got a great run of winnable home fixtures coming up and need to take the opportunity and get a lot of points in the bag.

Colin Glassar
72
Posted 12/08/2018 at 11:47:53
Could be Jim but I'd still like to see the stats from last season who partnered Keane and for how many games in a row.
Stewart Lowe
73
Posted 12/08/2018 at 12:23:57
Jim#57
Your right we shouldn't have a top French International LB sat on the bench behind a 34 year old, but that's just how fair to every player Silva is. We all know it's a matter of time but, it gives Baines that added fight to keep his place. One slip up and the inevitable will happen, but it's smart Management to make the players make that change.
Darren#56
I think Silva needs to be praised, and praised as someone that doesn't bullshit us fans and the media. It's clear from his media comments and body language that, if it was down to him, he would never speak to the media as he comes across as slightly uncomfortable. It's only because it's a requirement of the media that he does so. He certainly isn't a rose tinted glasses clown like Martinez.
Andrew Clare
74
Posted 12/08/2018 at 12:32:52
Jim, As Colin says Gomez should replace Schneiderlin. We will then have a completely attack minded team.
Stewart Lowe
75
Posted 12/08/2018 at 12:37:56
Pickford
Coleman
Mina
Zouma
Digne
Gueye
McCarthy
Lookman
Bernard
Richarlison
Tosun
Christy Ring
76
Posted 12/08/2018 at 12:45:12
It's early days, but Silva is a breath of fresh air, very encouraging, considering 9 of yesterday's team played under Sam last season, and we played with 10 men for 55 minutes. He made the correct decision, taking off Sigurdsson. I thought Keane played well yesterday, and getting unfair criticism, Neves had loads of time to pick out Jimenez, Schneiderlin was 10 yards away from him, and should have closed him down. Wallcott is clearly lacking match fitness, having missed a lot of preseason.
Frank Crewe
77
Posted 12/08/2018 at 13:16:39
To an extent Jags brought the red on himself. Stretching to get in a tackle is always risky. As for moving the ball. The ref put his spray down where he thinks that kick should be taken from and that's that. Pickford should have saved it and would have done if he hadn't shifted his weight at the last second. More to the point a straight red means a 3 match ban for Jags. Luckily we have ready made, not to mention better, cover. No doubt Mina, Zouma or both will play next week. Maybe Silva will play a back three.
Pickford
Keane/Holgate - Zouma - Mina/Digne
Coleman - Gana - Sig/Shneiderlin - Baines
Walcott - Tosun - Richarlison
Really with the recent additions we can play just about any set up the managers wishes. When Bernard is match fit maybe drop Tosun to the bench move Richarlison into the middle and Bernard on the left. That would give us a lot of pace and movement across the front three. Last season we had so few alternatives the side virtually picked itself. Now with so many different permutations it's all down to what Silva sees in training and the style he wishes to play. Maybe this is why Keane/Shneiderlin/Baines had a much better games yesterday. They know they have competition and their place in the side is no longer assured and there are top players after their shirts. This is how it should be. Nobody should be guaranteed a place without showing commitment to the cause.
Yesterday they all showed that commitment and outside of the forced replacement of Jags I have no doubt it will be a real head scratcher for Silva to pick next weeks side for the visit of the Saints because should any of them get dropped they're going to feel hard done by. Good problem to have though.

Mike Benjamin
78
Posted 12/08/2018 at 13:23:20
Completely different attitude compared with last season. In the same circumstances who would Sam have taken off? Walcott probably. Impressive that we still were going for the win and not simply contain for the draw and we were still well organised to defend.
Ian Bennett
79
Posted 12/08/2018 at 13:30:37
Frank - the length of ban will depend on what the ref puts in his report. Denying a goal scoring chsnce is a one game ban - reckless tackle is a 3 game ban. NBC said the ref sent him off for denying a goal scoring opportunity.
I hope Marco doesn't fanny about in introducing new players into the team. Yes, Keane had a better game - but his error of judgement along with a lack of press from Tosun and Walcott in the build up play cost two points.
Frank Crewe
80
Posted 12/08/2018 at 13:38:53
I don't buy this error of judgement stuff. Did Beckenbauer, Bobby Moore, Ratcliffe, or just about any CB you could think of not had an error of Judgement? If you don't stop crosses then they are always likely to land on a forwards head. We didn't stop the cross.
Brent Stephens
81
Posted 12/08/2018 at 13:43:03
Stewart #73 that's my impression of Silva as well, so far. Quite reasonable to say what you think about a manager, just as you would a player.
Jim Bennings
82
Posted 12/08/2018 at 14:09:33
Frank 80
Agreed!
You can't allow any player in the Premier League (especially one of Neves apparent ability) time and space to look up and pick a space to put the ball in.
Sadly that's something that has long been a major weakness of ours and many of our conceded goals arrive from crosses out wide, I was disappointed that Coleman never went closer to Neves yesterday but I guess it's down to Marco Silva to work on these frailties.
Peter Roberts
84
Posted 12/08/2018 at 14:33:15
Putting my (American Football) referees hat on for a minute on the red card, Jagielka was last man so if the referee believes he's fouled him and denied a goal scoring opportunity (whether you think so or not) then it would a red card. That, combined with the desperate lunge borne out of Jags' poor first touch, makes it a red in my view ( yes he wins the ball and follows through catching Jotas ankle).
People think that the referee on BT (Peter Walton) changed his mind on why it was a red. Only difference was they spoke to Pawson after the game and he had stated it was for denying a goal scoring opportunity (which it would have been had Jota gotten through).
That does mean it will only be a 1 match ban but should also oust Jagielka from the side. Expect Zouma in for Saturday.
Darren #56, you urge for caution about Silvas postmatch comments but I saw from that someone who was satisfied with the outcome based on the game but knows we are far from the finished article. That for me promotes the urge for optimism, someone who praises with one hand but keeps the ship on an even keel with the other. Yes it's early days but given everyone's consternation a week ago, this was a good result and no sense of naivety from the new boss.
Christy Ring
85
Posted 12/08/2018 at 14:51:10
Jim @82 Neves was the playmaker in midfield, Schneiderlin should have picked him up, Coleman was markiing Jota, who was on the left.
Danny O'Neill
86
Posted 12/08/2018 at 14:57:27
Thanks Bobby! I know I'm in the minority but I see a foul. His right foot misses the ball and comes down on the players ankle / lower shin.
It is a contact sport; sometimes that contact results in foul play. I saw a foul.
On a positive note, very encouraged with the commitment and mentality. Think we ruined Sky's day mind (& McNulty on the BBC who has Wolves tipped for 7th big shout), but I was pleased with the display in the circumstances. Never great playing a newly promoted team day 1, especially one so widely admired and down to 10 men for the majority.
Good early tentative signs.
John Pierce
87
Posted 12/08/2018 at 15:01:31
The red card has now been clarified as being issued for both offenses, excessive force & denial of a goal scoring opportunity.
That's is a load of horseshit.
The worse offense will be used to assess the ban for the player. Jags will get 3 games.
Firstly Everton should appeal.
Secondly, his career could be ended by this poor decision. If banned for three games is he likely to get back in?
Potentially a very sad way to bow out.
Tony Abrahams
88
Posted 12/08/2018 at 15:13:15
Does it matter not one bit where the supposed offence was committed? Middle of the park, you might say to a player that there was no need to go in for a challenge like this, but last defender who has just made a mistake, is surely entitled to go for the ball, especially considering he actually gets there first.
We all have our own views obviously, but anyone genuinely thinking this was a sending off, will only really be happy once football becomes 100% a non-contact sport.
David Barks
89
Posted 12/08/2018 at 15:19:02
Danny,
Then you're clearly not watching the incident. Jagielka very clearly wins the ball with the heel of his outstretched leg. That's what causes the ball to go in the opposite direction. The Wolves player never touches the ball.
And as such, his leg is not off the ground. His leg is sliding along the ground, he takes the ball, and in the follow through the toe of his boot scrapes against the left ankle of the Wolves player, sending him into a catastrophic roll that had Neymar jumping out of his seat to enthusiastically applaud.
You cannot say that he missed the ball when he clearly did not, the video proves this. And he did not make contact with the "lower shin", as his leg was on the ground and he made contact with the inside of the left ankle. It was a poor decision by a scared referee.
Wolves commits 8 fouls to our 7. In the first half, they were repeatedly called for fouls on Richarlison yet he gets a card on his first challenge. Wolves did not receive a card all game. We ended with 1 yellow and 1 red, out of a total of 7 fouls. It was a shocking performance by the ref, compounded by placing the free kick more than 5 yards from the damn foul that he apparently could see so clearly while being nowhere near the play.
Jamie Crowley
91
Posted 12/08/2018 at 15:35:23
Sir John @87 -
Jags will play again. There's the League Cup, the FA Cup, there will be injuries, etc.
We have five CBs. Holgate, Keane, Jags, Mina, Zouma. At some point Jags will play again.
Jamie Crowley
92
Posted 12/08/2018 at 15:41:23
The powers that be will defend the ref – they always do.
But privately I'd guarantee Pawson is either getting reviewed or will be reffing some lower tier games for a while.
His performance was terrible by any metric – and I'm not into bashing refs as they have one of the most difficult jobs in the world.
But the red was an awful decision – I don't think the tackle was even a foul(!) – and the placement of the free kick which resulted in the goal affected the outcome of the game. The placement was poor because the ref was nearly back at the centre-circle when he made the call – another AWFUL display and reason to question the call.

James Stewart
93
Posted 12/08/2018 at 15:41:28
Classy from Silva.
Lots of blue tinted specs on here though, if that tackle went in on Richarlison down the other end I would be screaming for a red. Studs up on a standing foot could have easily broke his leg.
Lets be honest though Jagielka is sadly finished. I would rather see him move on than tarnish his fine reputation here. Plenty of mistakes in his game these days.
Paul Hewitt
94
Posted 12/08/2018 at 15:50:44
To anyone who thinks it was a red card. Just look which direction the ball goes.
Danny O'Neill
95
Posted 12/08/2018 at 15:58:22
I still see a foul, David. Ball first doesn't mean it can't be a foul. The card debate is, well, another debate, but I still think it's a foul and therefore a free kick.
The 5-yard steal, I have to admit I didn't even notice at the time. Not quite Gary McAlister-esque but obvious. I Agree with Jamie, with the benefit of hindsight, the ref will probably get supported but then not appear in the Premier League for a few weeks.
Jack Convery
96
Posted 12/08/2018 at 16:03:40
Two errors cost us the points yesterday. Lack of concentration by Jags leading to the red card and Schneiderlin standing like a bloody statue watching Neves cross for the winner – watch Holgate scream at him. A total waste of a player and needs to be dropped for a very long time.
We were EFC once again yesterday – long may it continue.
James Stewart
97
Posted 12/08/2018 at 16:07:37
Keane's error for their 2nd too Jack. Terrible awareness.
Danny O'Neill
98
Posted 12/08/2018 at 16:12:13
Said that to my brother James. He either goes to the ball or stays tight on the man. He got caught between the 2. Shame as he had one of his better games.
Strange as usually centre backs who lack pace will compensate with awareness & reading the game. Stubbs was a good example of this. Keane seems to lack all 3 traits. He's just big!
Brent Stephens
99
Posted 12/08/2018 at 16:14:57
The thing about that Keane blunder was that he and Baines were both lined up nicely on their opposing players, until for some strange reason Keane pulls forward towards where the ball is coming from and leaves Baines looking at two men.
Gerard McKean
100
Posted 12/08/2018 at 16:20:00
From Thomas through Webb to Collina, we Evertonians are well acquainted with the slings and arrows of outrageous fortune. Or does fortune play no part? Are some of these people just paid to cheat (Collina), while others like Thomas, Webb, Reilly and now Pawson see their chance to grab their 15 minutes of fame?
Personally I'm not a big fan of secret societies, which is probably why I refereed no higher than schoolboys level. The way the ranks close around any one of their number criticised is nauseating. Watching the match on BT I was shockingly unsurprised to hear the ex referee Walton deliver an immediate defence of Pawson, explaining to us, the great unwashed, that the red card was justified on the basis of serious and deliberate violent play.
This defence unravelled within seconds when Pawson muttered about denial of a goal scoring opportunity as he walked off at half time. Undeterred, Walton then said that the player could have been shown red for either offence. To which long time observers of rubbish refereeing in this country thought, well forget "either", why not do him for both and suspend him for 4 matches, or maybe 6 as he plays for Everton? I notice that today Pawson has accepted Walton's advice. You couldn't make it up.
Premier League referees are the highest paid match officials in the world. They are full time "professionals". Are we not entitled to better? Should they not be accountable to the world outside the secret society? Why can they not be interviewed for their opinions after the game - so at a time when Pawson was sticking to his story about denying etc the BT anchorman could ask him the question he'd earlier put to Walton: doesn't a player have to have control of the ball before someone can deny him a goal scoring opportunity? Is it a coincidence that the standard of refereeing in the Bundesliga is far higher where referees can be called to explain their decisions?
I'm with Tony Abrahams #88; we're heading towards a non-contact sport.
Jay Wood
[BRZ]
101
Posted 12/08/2018 at 16:21:20
Jags' red card incident is easy to review from numerous sources.
Aside from a personal interpretation of whether it was a foul/red card, what is very VERY clear from the footage available is the following:
* In a wide shot as Keane passes a safe square ball to Jags, the ref is seen at least 25 yards from the action (more like 30 yards or more), near the centre circle.
* Just before Jags takes his poor touch on the ball, Pawson the referee can be seen LOOKING AWAY from the ball in a direction parallel to the halfway line.
* Pawson is no longer in view in the wide shot as Jags attempts his recovering tackle. There are TWO players potentially obstructing Pawson's view - Gueye and a Wolves player - as the tackle is made.
Taking all of the above, which anybody can confirm for themselves, how can a referee at that distance, who is clearly seen looking away from the ball nano-seconds before the tackle goes in, with a minimum of two players possibly obstructing his clear view of the incident, just HOW can he call that as a red card?
It is one thing to call it a foul or not. It is another thing to call it as worthy of a yellow card or not. But given the ref's view described (accurately!) above, how can you call it worthy of a red call and instant dismissal?
Brent Stephens
102
Posted 12/08/2018 at 16:25:01
Jay, I wonder if he the linesman advised him?
Jay Wood
[BRZ]
103
Posted 12/08/2018 at 16:30:41
Forgot to add that point, Brent.
Look at the footage. The linesman is in view as the tackle is made and the player goes down.
He doesn't flag, or stand still in line with the foul. He does what linesman do when 'nothing doing'. He moves towards the halfway line to keep in line with our backline in relation to the ball, which also travels towards the halfway line.
Brent Stephens
104
Posted 12/08/2018 at 16:33:12
Thanks, jay. Interesting.
Andy Finigan
105
Posted 12/08/2018 at 16:35:10
Watching the Arsenal game, I have just seen Cech make contact with the ball studs up and follow through to make contact with the Man City player... no foul. What's the difference?
Rob Halligan
106
Posted 12/08/2018 at 16:35:50
Hi Ged, # 100.
Do you know Steve Stewart at Cheshire FA. I think you might. Steve is / was a referee, and he is 100% convinced that the Mane sending off at man city last season was correct. Whilst we all like to see any RS sent off, I think that sending off was pretty harsh.
As you say, they will always back their own.
Justin Harris
107
Posted 12/08/2018 at 16:48:24
Bobby @69 you're absolutely spot on regarding the tackle.It is impossible to make a sliding tackle and not have momentum afterwards.He takes the ball 1st with studs down and his momentum takes him into the player.Like many have said already the reaction of the player certainly didn't help but it was the wrong decision.
Proud of the boys for putting a real shift in something we couldn't always say last season!!
Darren Hind
108
Posted 12/08/2018 at 16:53:27
Stewart @77
I have no objection to anyone praising Silva. I do however feel that we have too many serial apologist who fawn all over what the manager says as opposed to what he does. If Silva is as reluctant to do interviews as you claim, then he is more likely to say whatever he feels will get him out of there.

Happy clappers have a long history for swallowing soundbites at this club - as I pointed out - and it does nobody any good. I will be more than happy to praise Silva for any good deeds. but I want him to show me not tell me.
Paul Tran
109
Posted 12/08/2018 at 17:00:17
If you're really interested in how good Silva speaks, wait until we've lost a few, then you'll really find out how good he sounds. We've noticed that with the last three, haven't we?
Interesting piece in one of the papers last week, commenting on Silva and his staff speaking to each other in Portuguese when running training sessions. That'll be the first bullet to be fired when the mob turns!
In the meantime, I'm happy with the transfer business and the positive attitude on the pitch. That's what matters.
Darren Hind
110
Posted 12/08/2018 at 17:03:23
Gerard McKean
111
Posted 12/08/2018 at 17:31:13
Yes Rob #106, I know Steve very well. Great lad, great company but we never, and I mean never, talk referees. He knows my views and if he wasn't still earning a good living out of being part of the brotherhood I suspect he'd agree that we deserve better.
Andy Finigan
112
Posted 12/08/2018 at 17:57:49
I was proud of the way we played in spite of the poor referee.
John G Davies
113
Posted 12/08/2018 at 17:58:34
What has Silva said in his interview to get posters on this thread riled?
James Flynn
114
Posted 12/08/2018 at 18:06:02
Silva's view on the foul call:
"No no no. It was no foul. Looks like no foul, no foul. Then why is it a red card? It's not a foul, it's not a red card. Not yellow, not red card.

"Until the red card, they did not have one chance to score, that's the truth. It was a harsh, harsh decision. Looks like no fault, was no foul, and of course not a red card. Not really a right decision by the ref at that moment."
Mark Wynne
115
Posted 12/08/2018 at 18:10:15
I can just about buy that Jags' tackle was a red,
only if
the same consistency of application of the law is carried on throughout the season. The summarisers on BT flashed up the law and yes you could argue that Jags earned a red card for his lunge, even if that lunge got the ball.
My problem is that, if Henderson or Stones do something similar in the weeks to come, there will be no punishment meted out and their efforts will be deemed "last-minute wonder tackles". We either have consistency across the board or we will continue to feel aggrieved when examples are made of our players.
Oh and don't get me started about the placement of that free kick: outrageous!
Raymond Fox
116
Posted 12/08/2018 at 18:26:53
Darren (#56) says it right; let's not go overboard about Silva. He'll have faults, nobody is perfect!
Every manager has to talk 'bullshit' from time to time though.
Rob B Williams
117
Posted 12/08/2018 at 18:49:16
SL 75. Me too, I like that team.
Stewart Lowe
118
Posted 12/08/2018 at 19:55:37
Darren (#108),
Not really, Darren. Silva won't just say anything to get out of an interview. They get sick of reporters asking bullshit questions and questions about rubbish that isn't relevant to the game. They ask the same repetitive questions over and over again, expecting different answers.
Reporters try to pry any but of information you're willing to give up that they might be able to beat you with, so yes, I fully understand a managers reluctance to stay too long in interviews.
Frank Wade
119
Posted 12/08/2018 at 20:41:22
Mike #25, We nearly always agree on all things football but not today. You say
Silva did make one huge error IMO in pulling off Siggy after the red card instead of Schneiderlin or Tosun, but he got away with it
. I say, The huge decision Silva had to make was the substitution and he got it perfectly correct. The wide players kept the Wolves full backs in check. Tosun worked his socks off to keep pressure on their centre backs. The usual reaction to a sending off of a central defender is the withdrawal of a front player and conceding territory, whereas playing the wings more allowed us to stay in the game.
Rob #106 - on the Mane sending off at City. If a player is chasing a ball towards the opposition goal, sprinting at full tilt to knock on a ball that is about 7/8 foot in the air ahead of him, with no view of an approaching player, he uses his head to knock it forward, so he can continue at speed and not lose his balance. Now, in the 'unlikely' event that he sees an opponent coming and wanting to get there first without injuring himself, he will go high with the studs and fall to the ground. I've never seen a player jump 4 feet into the air to try to control a high bouncing ball when sprinting flat out, because he is going to fall to the ground. A definite red card even if the colour matches the shirt.
Tony Abrahams
120
Posted 12/08/2018 at 22:41:03
Great point about why we can't interview these professional refs, right after the game Gerard, but it's alright to interview either the players or the manager.
If the ref told us his reasons why he made such a decision, he might even gain some respect but, more importantly, it might shut up some of these phoney pundits on the telly, and what sometimes feels like their hidden agendas.
MotD, sometimes show the contentious decisions but, as you say, there is never great consistency within these jobs for the boys or as you call them the secret societies!
Is that Steve Stewart, an Irishman by any chance? I used to enjoy my football with him, if it's the same fella, until he introduced a session called "The Irish Sea" named because people usually "threw up" in the middle!
Going back to another Irishman, and Giseppe Conlan, telling his son Gerry, that he fouled the ball, during that great movie "in the name of the father". It always used to make me smile, because although I've seen loads of people murder a football, I didn't think it was possible to actually foul the ball, but now it's written in the laws?
Rob Halligan
121
Posted 12/08/2018 at 22:46:28
He is Irish, Tony. He's a close friend of my brother, and I thought Ged knew him. I've met him a good few times.
Tony Abrahams
122
Posted 12/08/2018 at 23:05:44
He was a sound fella, him Rob, and I remember going to Belfast for the weekend when I was a kid, when Mr Stewart, arranged a couple of games for us to go on tour. We even played in the mud at Solitude, in a one-all game against Belfast, in one of the hardest battles I can honestly ever remember playing in.
Scousers v Belfast, as you can imagine, no quarter given, but I definitely learned a couple of dirty tricks that night, and although it was right in the middle of the troubles, (we were apparently the first team to visit the province in 14 years) I've always kind of felt "a brothers in arms" to that great city, ever since.
John G Davies
123
Posted 12/08/2018 at 23:13:59
Rob,
Did he ref in the Liverpool Sunday League
Justin Doone
124
Posted 13/08/2018 at 03:50:06
Red card should be appealed to help clarify the reasoning.
Some referees are too quick to make hasty decisions. They should count to 10 and have a think about what they actually saw and there's nothing wrong with consulting the assistant even if they saw nothing.
Instead, they think they may have saw something and brandish red cards needlessly without thinking. If they don't see it they can't punish it.
John Boon
125
Posted 13/08/2018 at 05:40:32
Silva has come over as a sensible tactician who knows his football. A far cry from Senile Sam. We would NEVER have been able to attract our new players if Allardyce had been in charge.
I watched Wayne Rooney playing for DC United. He may have had two assists but he really didn't impress, and he didn't seem fit. For some reason of misguided loyalty I was hoping he played well. I was disappointed. He couldn't seem to get into the game and appeared unenthusiastic about the whole situation.
I don't think we missed him in the Wolves game, but from his pregame interview in DC I think he misses us. There are no fans like Evertonians.
Dermot Byrne
126
Posted 13/08/2018 at 06:29:57
John #113: I think the general consensus was that in the first match there was an improvement in spirit and competitiveness in the team.
It seems what got the odd person riled was the reaction by some on TW to the interview by Silva.
Improvement is seen by some as evidence of a brighter future in varying degrees and others will want much more evidence.
C'est la TW! Guess we need something to debate or until next game.
Jerome Shields
127
Posted 13/08/2018 at 06:49:27
I'm very impressed with Silva as a Coach and Manager. The framework is there to build a really good team.
I think most referees would have given Jags a red card. Once a defender miss controls like that and tries to recover in that position, under pressure from a forward in full flight, with the advantage, a foul is seen as the intent and the sending off being the last defender is inevitable. As a centre-back in the Premier League, you can't make a mistake like that.
Keane did play better, but poor defending caused the goal. Nevis in acres of space unchallenged and Keane caught ball-watching, and not positioning himself to mark properly.
Tosun did work hard and provided assists, but did not challenge or beat his marker. Silva identified this problem, Niasse was brought on, had been told to challenge and beat his marker, found it difficult to adjust to not having to chase the ball and harry down players.
Overall a better performance in midfield, more commitment and effort. Better teamwork between defence, midfield and forwards. Richarlison worth the fee. Walcott not up to speed, but competition for places has focused some players, with noticeable improvement in performance and response to better coaching.
It's going to be a better season.
Darren Hind
128
Posted 13/08/2018 at 07:52:45
John G Davies @ 113
"What has Silva said in his interview to get posters on this thread riled?"
I haven't seen anyone riled on this thread, only people calling for caution from people going overboard on manager soundbites. Let me give you an example;
Silva – in line with the view of the overwhelming majority of Evertonians – "No, no, no, it was no foul. Looks like no foul, no foul. Then why is it a red card? It's not a foul. It's not a red card, not a yellow. Not red card."
John G Davies – on the live forum, shortly after Silva's comments – "Ref gives confirmation he sent Jags off for denying a goal-scoring opportunity. Anyone who can't see that, doesn't understand football".
You may want to reassess who it is you think is "riled".
John G Davies
130
Posted 14/08/2018 at 06:27:28
Everton Fc. Not contesting or appealing the red card. Have they looked at it and realised what happened?
Silva spoke in the heat of battle without benefit of seeing it again.
Add Your Comments
In order to post a comment, you need to be logged in as a registered user of the site.
Or Sign up as a ToffeeWeb Member — it's free, takes just a few minutes and will allow you to post your comments on articles and Talking Points submissions across the site.