Boro in talks with Besic and Bolasie but Villa enter race for winger
Tuesday, 21 August, 2018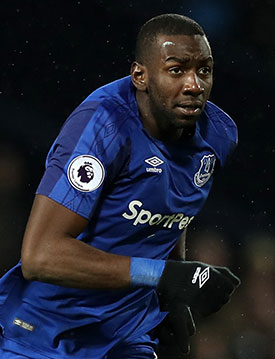 Updated
Yannick Bolasie is reportedly considering a season-long loan with either Middlesbrough or Aston Villa while there is a deal agreed for Muhamed Besic to return to the Riverside.
Despite signing for Everton in a £25m move two years ago, Bolasie is surplus to requirements at Goodison Park under new boss Marco Silva but he was unable to secure a permanent move to another Premier League club before the transfer deadline.
The Congolese winger can still move abroad, where Fenerbahce are said to be interested in signing him on a temporary basis, or drop down to the Championship on loan where it looked as though he would join Boro.
The northeasterners, who now have a deal in principle to re-sign Besic on loan for the season as well, were reported by Sky Sports to be holding talks with Bolasie on Monday to see if they can tempt him to take the step down a division to get guaranteed first-team football.
It now appears as though Bolasie is also exploring an offer from Villa.
---
Reader Comments (64)
Note: the following content is not moderated or vetted by the site owners at the time of submission. Comments are the responsibility of the poster. Disclaimer
Steve Ferns
1
Posted 20/08/2018 at 14:30:21
A seaon in the Championship (with full wages paid) could be a good move. Sadly, he's got loads left on his deal, and so a season of playing, week-in & week-out, and recovering his form will make it easier to sell him next summer, or even in January.
Christy Ring
2
Posted 20/08/2018 at 14:47:33
Hopefully Boro will take Bolasie and Besic on loan with a view to signing both players permanently. They are Championship players at best.
Joe McMahon
3
Posted 20/08/2018 at 14:58:34
The crazy money that has been blasted on players who were overpriced or not up to even Premier League standard is frightening.
Aidan Wade
4
Posted 20/08/2018 at 15:17:54
Good for him (game time), good for them (useful at that level), good for us (reduced wage bill). What's not to like?
I think if not for the injury, we could have got some value from him but as it transpires it was wasted money – no point lamenting it now. Boro can sign him and Besic if promoted.
Derek Knox
5
Posted 20/08/2018 at 15:19:46
Spot on, Joe, and I agree wholeheartedly with Steve and Christy. I remember when it was mooted that Koeman showed an interest in him, I thought then, a very erratic player, who could either be outstanding or totally anonymous.
I estimated @£12M, I was totally gobsmacked when it was revealed that £28M had been wasted in bringing his sporadic talent to Everton.
James Stewart
6
Posted 20/08/2018 at 15:32:23
If Bolasie goes, then Lookman has to stay. Lose both and what happens if Richarlison or Walcott get injured?
Bernard is obviously here now but who knows when he will be fit and firing?
Tommy Surgenor
7
Posted 20/08/2018 at 15:49:47
I believe Boro messed us around a little on transfer deadline day.
They knew we needed to sell, they also knew that if a deal couldn't be done that day that our desperation to offload players would mean loans would be an option. They effectively held all the cards and called our bluff.
I would only loan Besic & Bolasie to Championship clubs as long as it was written into the deal that they were obligated to purchase them for a pre-agreed fee if they get promoted.
I can't see (Bolasie in particular) them having such a stellar season that we would want them back as first-team options anyway.
Kunal Desai
8
Posted 20/08/2018 at 15:56:23
Didn't Middlesborough sell Adam Traore to Wolves for around £20 million. Every chance we would recoup a similar fee if the deal becomes permanent next summer.
Brian Harrison
9
Posted 20/08/2018 at 15:58:15
Tommy 7
I absolutely agree, if they go it has to be with a guarantee that they buy the player or players if Besic goes at the end of the loan deal. I think the Bosman ruling has made life a lot easier for players, who are now in a win win situation.
They all want 3/4 year deals but if they perform they want away well inside the agreed length of the deal, but if they don't and the team get relegated they are guaranteed the same wages that was agreed when they signed. The idea of the Bosman was to stop clubs holding on to registrations of players after their contracts ran out. But with all the mercenaries around football they have made it into something completely different.
Robert Leigh
10
Posted 20/08/2018 at 16:08:39
Does anyone know the extent of Schneiderlin's injury?
Only if he may be out for a few weeks, I'm not sure we should let Besic go, especially when Gomes is a few weeks away from being fit.
Bill Watson
11
Posted 20/08/2018 at 16:22:08
Bolasie was pretty useless even before his injury.
Offload, one way or the other, ASAP.
Martin Berry
12
Posted 20/08/2018 at 16:33:52
I think Everton have done an amazing job in clearing out players surplus to Marco's requirements.
Bolasie will surely move on. A decent bloke from what I have read but limited as a footballer, a kick and run winger with the odd good cross. I wish him well and hope he has a good career at Boro.
Andrew Clare
13
Posted 20/08/2018 at 16:34:26
Bolasie, Besic will be better appreciated at 'Boro. Lookman is probably all potential and no more – just like so many players we have had in recent years.
To my mind, in most cases, if they are not producing the goods from an early age, then they never will.
David Barks
14
Posted 20/08/2018 at 16:41:48
Andrew,
How do you figure Lookman hasn't produced the goods? He wasn't getting on the pitch so went to one of the top clubs in Germany and produced, goals and assists.
He should not be lumped in with Bolasie and Besic who have been around for years and never been good enough. Completely different scenario.
Anthony Hawkins
15
Posted 20/08/2018 at 17:53:37
Stoke didn't want him?
John Cartwright
16
Posted 20/08/2018 at 17:59:44
Robert 10 as far as I'm concerned the longer Schneiderlin is out the better for Everton. Give Davies and or Banningime some match time or even try Baines there if the new guy is up to speed
Bobby Mallon
17
Posted 20/08/2018 at 18:18:18
David Barks @14 Mo Besic is certainly good enough for us and has definitely made it. He has been really good for us at times when he has been fit. He's played at World Cups and Euro Championships and did a decent job on Messi and Bale to name a few. He's as good as McCarthy, IMO.
Pat Kelly
19
Posted 20/08/2018 at 19:09:37
Bolasie has some entertainment value. It's anyone's guess where he'll lob the ball. By all accounts he's a decent fellow. Good luck to him for his effort and making a career out of it. Just not at Everton. Likewise Besic. Seems genuine. His hard man game is better suited to the Championship.
Bill Gienapp
20
Posted 20/08/2018 at 19:20:38
This would be a nice double-swoop for Middlesbrough - Besic already showed what he could do for them last year, and Bolasie would add some pace and punch to their attack (as opposed to Stoke, because god knows what they intend to do with Williams and Martina).
David Pearl
21
Posted 20/08/2018 at 19:32:03
John,16. As far as I'm concerned you need to wipe the slate clean from last season and base your opinions on what you actually see now. That is if you actually watched the game on Saturday.
We have no other player currently fit that can sit in the hole between the back 2 and dictate the play. He broke up play and now there is movement ahead of him let's see what he brings to the team.
Davies didn't have a bad game but we lost our shape a bit when Schneiderlin went off injured. I'm sorry if you can't see that. We got rid of some of our squad players and improved the shape of our play... which wasn't hard.
Christy Ring
22
Posted 20/08/2018 at 20:05:24
Bobby @17 Totally disagree regarding Besic, he played 1 very good game against Man City in the League Cup semi-final in 2016, but never reproduced it unfortunately, give me Macca any day.
John McGimpsey
23
Posted 20/08/2018 at 20:23:18
Chuffed if both are loaned out. If Lookman goes, then I don't think it will be a great loss. Top drawer players are what is required now, not run of the mill.
Mike Gaynes
24
Posted 20/08/2018 at 20:32:58
Spot on, Christy. Besic has given us 90 really good minutes in 56 appearances. He has never been, and never will be, good enough to tie Macca's shoes. But he found a home at Boro last year and here's wishing him a fine career in the Championship.
Jack Convery
25
Posted 20/08/2018 at 20:42:52
I wish them both well and hope it works out. If Besic cannot get in the squad when Schneids is injured he has no cahnce of getting a game. Of the two I would welcome another chance for Besic, if Middlesborough can't afford him next summer.
David Ellis
26
Posted 21/08/2018 at 02:13:18
Wish them both well. It seems we now need and are getting a higher calibre of player.
Victor Yu
27
Posted 21/08/2018 at 02:49:24
I hope to see Dowell go out on loan too.
There is no point keeping him around if he is not playing.
Machiel Barnard
28
Posted 21/08/2018 at 05:36:00
I am sure the first phase is to get us into the top 6. If we want to be in the top 6, then you have to ask if Bolasie and or Besic would be in any of those top 6 teams, the answer is no.
We are in the process of building a team that can compete for a top 6 spot. Some of the players we have are good enough, other players are still not top 6 class. But it is a process and we started.
Jerome Shields
29
Posted 21/08/2018 at 07:27:29
Lookman is looking at less competition for his position. Looks like Silva is determined to keep him, whether he likes it or not.
Leipzig need to come up with the £30million, is the message I think is being sent out to them. Silva was genuine in what he said regarding Lookman
. Besic needs more playing time. He does try but needs to up his standard more consistently.
I am becoming more impressed with the Brands /Silva partnership by the day.
Steavey Buckley
30
Posted 21/08/2018 at 08:12:25
Middlesbrough are trying to get Everton players on the cheap. They have just sold 2 players for £33 million if Bolasie goes out on loan for 12 months, he will be 30 next year with little or no sell on value. It is better to keep him.
Colin Glassar
31
Posted 21/08/2018 at 08:31:25
The Daily Star called Mo a Serbian. I'm sure he's chuffed with that. Anyway, good luck to both of them. Injuries ruined their Everton careers and I hope they can regain their health and form.
Robert Leigh
32
Posted 21/08/2018 at 08:44:14
I agree with those who have said Besic will not get in a top 6 side, but the fact of the matter is that we are left with Davies, Gana, and Siggy.
I know we have Joe Williams, but he's never played in the Premier League. A League Cup game would be ideal perhaps; but if Gana gets injured we have a serious issue until Morgan, McCarthy and Gomes are fit.
Bob Parrington
33
Posted 21/08/2018 at 08:57:58
Along with several others on here, I reckon that Mo Besic is not good enough for Everton. Good luck to him elsewhere but there is no place for him now at Goodison Park.
Same goes for Yannick! Puts everything in but the output is sporadic to say the least.
Interesting season ahead for the True Blues. Not yet used 4 of the new players but heaps of positives already. What a difference a day (season, manager, director, attitude) makes, eh!!!
Pete Edwards
34
Posted 21/08/2018 at 09:00:45
Robert, don't forget about Baningime, top young talent who could do a job short term at the moment.
Simon Jones
35
Posted 21/08/2018 at 09:27:18
I feel like 'Boro did a job on us over Besic, they had the Traore deal done and it was known they wanted Besic before this year's earlier transfer deadline. What was the issue? Surely he was a straightforward deal for them in £5m to £6m range?
Rob Halligan
36
Posted 21/08/2018 at 09:39:56
Simon, from what I remember Everton agreed a deal worth £6M with Boro, but Besic couldnt agree personal terms. That's why the deal fell through.
I'm sure if he goes there on loan and plays well, hopefully come January the deal can be resurrected and they will sign him permanently
Steve Ferns
37
Posted 21/08/2018 at 10:07:57
We have nine players for two spots:
Schneiderlin, Gueye, Davies, McCarthy, Gomes, Baningime, Williams, Connolly, and Besic.
We need Besic off the books. Schneiderlin might be available for the weekend, in any event he won't be out for long. McCarthy was already off his crutches on the first day of pre-season. He's not playing at the weekend for sure, but it's not long now for him. Gomes is similarly not far off, Baningime has had his own issues but should be fit now, Williams played for the U23s last night, Connolly is out on loan.
So clearly we do have a lack of cover, but the simple solution would be to delay the loan for a week until our mini-crisis eases, and then to get him off our books. I wouldn't keep him for the long term (ie the season) just because a number of players are out for a couple of weeks more. If we really are stuck, then we can try Gylfi deep, or even Baines in there. These wages need to get off our books.
The other solution is a free transfer and we have been linked with Marhcasio of Juventus and Veloso formerly of Sporting, Genoa, and Dynamo Kiev. I don't think they are the answer. Veloso is well past his best and his best wasn't that good. We need to drop wages, not to add more on.
Surely, this is the kind of situation where you dip into the youth setup and give someone like Joe Williams a chance.
Stephen Davies
38
Posted 21/08/2018 at 10:32:37
Steve @37,
From reading the reports Joe Williams was impressive last night which was watched by Brands and 1st team coaching staff. I understand the new goalie also impressed.
I do hope that any talent coming through is encouraged and rewarded with 1st team appearances
Scott Mongomery
39
Posted 21/08/2018 at 10:52:16
I was hoping those who believe we should keep Besic could explain the reasons why they believe he adds value to the team. I sincerely cannot see what he does beyond running around like a headless chicken with an unstable explosive in its stomach. He doesn't score goals, create them or stop them at the other end. He doesn't effectively break up opposition attacks or play incisive passes.
If it's just a body which has the physical capacity to take up space required he's okay, but then so am I and I'm available for far less. He tries, and that's admirable, but just effort isn't sufficient for where Everton want to be now.
Aidan Wade
40
Posted 21/08/2018 at 13:29:01
Steavey there is a buy-back clause at £15 mil for Bolasie should Boro be promoted – further, a year of not playing will suppress his value more than a year on loan and, in the meantime, we are paying him £70k a week... It would've been great to sell him but that boat has sailed. It's about cutting losses, not recouping them.
I wonder if we could put a clause in that we have the right to sell him in January if we get an offer from somebody else.
Besic likewise.
Brian Williams
41
Posted 21/08/2018 at 13:35:34
Where did you read about the buy-back clause, Aidan?
Tom Bowers
42
Posted 21/08/2018 at 13:40:50
These two players have lot's of talent but for different reasons are surplus to requirements.
Bolasie looked to be forming a great partnership with Rom. until the injury basically put him into a spiral and he just hasn't had the confidence since.
Besic can be tremendous but wild tackling is a drawback.
Good luck to them both!
Darren Hind
43
Posted 21/08/2018 at 15:19:08
One of those players who seemed to always perform against us, but didn't do it very often for us
Gerry Quinn
44
Posted 21/08/2018 at 19:00:41
Git'er'dun
Brian Williams
45
Posted 21/08/2018 at 19:09:15
That seems to happen a lot to us, Darren.
Brian Harrison
46
Posted 21/08/2018 at 19:16:32
I thought this year with the Premier League rightly deciding to make the transfer deadline day before the season kicks off, that we would know were we stood regarding our squad till January.
But Europe still has till 31 August to sign players, so European clubs can still by our players, which is ridiculous, so why can't our clubs say transfer day means no player after that date can be bought or sold? Now we seem to have another anomaly, the Championship had the same deadline day for transfers as the Premier League, but they are still able to take players on loan... madness.
I would much prefer one window per season and the window closes for everybody on that date. That way, everybody would know that whoever was on their books on that day would be there till the end of the season. So, if a player is having a stellar season, nobody can buy him off you half-way through the season, as happens now.
Dennis Stevens
47
Posted 21/08/2018 at 20:14:25
We should just get back to how it used to be, Brian (#46). The only deadline you need is a few weeks before the end of the season. Transfers can then be made anytime after the season ends. It even might have a slightly deflationary effect on prices if we get rid of these ridiculous transfer windows.
Mike Gaynes
48
Posted 21/08/2018 at 20:45:00
Steve #37, I think it's 8 for 2. I would expect Gomes to be deputizing for Sigurdsson, not competing for the deep-lying mid position. Barca tried him back there, and it wasn't pretty.
Bobby Mallon
49
Posted 21/08/2018 at 20:48:38
Bolasie has gone to Villa on loan.
Mike Gaynes
50
Posted 21/08/2018 at 20:49:42
Guys,
Birmingham Live
is reporting that Villa is about to hijack Bolasie from Boro.
And I'm seeing two reports that Joe Williams will be loaned to Bolton this week, although Birmingham and Bristol were also both in for him. Ideal timing for him, go get 'em young man and come back to us ready for the first team!
Steve Ferns
51
Posted 21/08/2018 at 21:03:18
Mike, Gomes is a Number 8, definitely not a Number 10. I saw him a few times for Benfica and carried the ball from deep. He's not quick, but he can run past players with quick thinking and clever runs. He's not someone who is best on the edge of the box, like Sigurdsson.
Bernard, on the other hand, appears to be best in and around there. He only plays on the wing because people think he's too small and therefore can't play in the middle. If David Silva can play in the middle in the Premier League, then why not try Bernard there? It'll be interesting to see how Silva plays these cards.
Peter Warren
52
Posted 21/08/2018 at 21:12:21
Pity Bolasie not being sold as opposed to loaned.
Brian Williams
53
Posted 21/08/2018 at 21:32:26
Peter (#52).
The move MAY be as good as a sale. There is talk that there could be a clause inserted that triggers a sale should Boro be promoted. Talk is that the amount could reach £15m.
Aidan Wade
54
Posted 21/08/2018 at 22:07:47
Brian Williams
55
Posted 21/08/2018 at 22:30:45
Thanks, Aidan. I found it in the end on Newsnow I think. The story puts the emphasis on having the clause as coming from the Boro side, which I find a bit "unusual". You'd expect those sort of conditions to be coming from the loaning/selling club.
Having said that, I don't care who's pushing for it as long as we get the rumoured £15m for him and get him off the books!
Peter Laverty
56
Posted 22/08/2018 at 00:32:15
A really positive transfer window if this happens. Very strong additions and every single player who hasn't been up to scratch will be out the door, albeit most of them on loan. Still, the wage bill has been trimmed and those on loan should get game time to put themselves in the window for a permanent deal.
I really hope we have better luck with injuries this season and that the new signings have plenty of time to get eased in. It might take until Christmas to have a fully fit, well-oiled squad. I look forward to that day.
Steve Little
57
Posted 22/08/2018 at 15:16:52
Guaranteed playing time?
Yeah until they realise he's crap then he'll be in their rezzies as opposed to ours.
I do feel sorry for Bolasie with that injury he had but he was hardly setting the place alight even before that.
Good luck to the pair of them. Please show me I am wrong.
Roy Adams
58
Posted 23/08/2018 at 08:46:51
Saw him at Villa last night, he's going there.
James Flynn
59
Posted 23/08/2018 at 10:12:22
What Roy said. Bruce talking about "wrapping up" a deal to get Bolasie and that he was at the Villa game last night.
James Stewart
60
Posted 23/08/2018 at 12:15:18
Mail reporting we will still be paying a hefty chunk of his wages. Might as well keep him in that scenario. Especially if Lookman goes.
Tony J Williams
61
Posted 23/08/2018 at 12:54:14
Useless signing, based on the fact he played a couple of Worldy's against us.
Once again, my abiding memory of him is trying to be a smart arse with no-one near him and putting the ball out of play due to said smartarsedniss.
£28m for him??? Feck's sake
Len Hawkins
62
Posted 23/08/2018 at 13:10:12
In the filing cabinet of duff signings, Bolasie will be behind Belfitt and Besic.
Brian Harrison
67
Posted 23/08/2018 at 16:46:58
See Marco Silva said in his press conference today that he will be happy whatever the outcome is with Bolasie. But went on to reiterate that if he stayed he would face stiff competition, I think he would be quite happy if Bolasie went.
He was also asked again about Lookman, he said I have made it very clear he is our player I think he is technically very good. He knows because I have told him he is our present and future. Seems he aint going anywhere if Silva gets his way, however upset Lookman might be now as soon as the window for Europe closes next Thursday that will be it. I am sure he will then get his head round it and Silva will then give him game time. Leipzig must have been sick when we sacked Allardyce as he would have let him go.
Richard Scanlan
68
Posted 23/08/2018 at 18:25:19
Sounds like a good fit for Villa and a platform for him to rebuild his reputation. Real shame about him; I thought he had something before his injury.
Gary Carter
70
Posted 24/08/2018 at 06:28:21
Brian Harrison,
"Allardyce would have let him go" — what are you basing that on? Allardyce stated he didn't want Lookman to go on more than one occasion!
Add Your Comments
In order to post a comment, you need to be logged in as a registered user of the site.
Or Sign up as a ToffeeWeb Member — it's free, takes just a few minutes and will allow you to post your comments on articles and Talking Points submissions across the site.