Silva's honeymoon ends amid defensive collapse at Goodison
Everton 1-3 West Ham United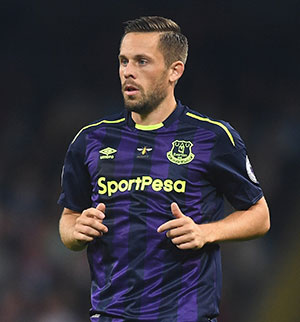 Gylfi Sigurdsson scored what looked to be an important goal in first-half stoppage time but Everton couldn't build on it to level the match
Marco Silva saw his unbeaten record evaporate at Goodison Park as West Ham held on to a two-goal advantage to pick up their first points of the season.
With the Hammers on a four-match losing streak and Andriy Yarmolenko making his first start in the Premier League, the script was written for what would end up being a miserable afternoon for the Blues. The Ukrainian, who came so close to signing for Everton under Roberto Martinez, bagged a brace on his first game on this ground since playing for Dynamo Kiev in the Europa League four seasons ago.
With Yerry Mina still not fit enough to start and both Phil Jagielka and Michael Keane out injured, Mason Holgate and Kurt Zouma partnered each other in central defence. Meanwhile, Idrissa Gueye returned from a knee injury and Morgan Schneiderlin started despite the death of his father.
Both pairings endured a torrid afternoon, however, with Gueye struggling through an abysmal first 45 minutes and Holgate getting badly exposed by Everton's porous midfield as West Ham carved through to make it 2-0 going into first-half stoppage time.
Gylfi Sigurdsson, made captain for the day in the absence of Seamus Coleman, pulled a goal back with an excellent header before the break but Everton couldn't find the answers in attack and the visitors restored their two-goal lead in the second half through Marco Arnautovic.
Everton started with the requisite intensity and Lucas Digne and Idrissa Gueye has a couple of early but wayward sights of goal before West Ham took the lead.
A ball over the top caught Holgate on his heels and Arnautovic slid the ball to Yarmolenko to fire home.
The winger doubled the lead later in the half when Pickford ill-advisedly passed into midfield where Gueye coughed the ball up and, within seconds, Yarmolenko whipped a curling shot around Pickford.
Everton pushed going into the break after Schneiderlin had been replaced by Bernard and the best move of the game from their perspective saw Jonjoe Kenny cross superbly for Sigurdsson to plant a header beyond Lukas Fabianski.
Better finishing from Cenk Tosun — the striker planted a free header into the keeper's arms, shot weakly at Fabianski from a great opening and blasted a clear chance over — or better luck for substitute Oumar Niasse when he cannoned a volley off the bar, might have spurred Everton into a grandstand finish.
But Arnautovic's goal after Everton had been sliced open again by Pedro Obiang had made it 3-1 and there was no way back.
---
Reader Comments (163)
Note: the following content is not moderated or vetted by the site owners at the time of submission. Comments are the responsibility of the poster. Disclaimer
Daz Jones
1
Posted 16/09/2018 at 23:15:01
I think I'm more concerned about this season with Silva there than I was when it started to wrong with Martinez and then Koeman. Why the hell Moshiri and Brands wanted him is beyond me... He certainly wasn't my choice.
Jim Bennings
2
Posted 16/09/2018 at 23:36:47
I do feel for Silva although I'm not sure it's even reached a honeymoon period in his tenure so far.
I say I feel for him because he's come in to a complete shambles of a mess at this club now and, apart from Martinez first season, there hasn't been one ounce of stability at this club since the David Moyes era.
The losers' mentality just seems to run rife at the club (it did even when Moyes was here, just seemed like more better organised failure then).
No matter how much money we spend and it's been the same since summer 2016, nothing ever gets learned, even the smallest progress doesn't seem to develop, it's just a sideways step followed by a backwards step and maybe another sideways one from there.
We are pinning our hopes so much on the returning Richarlison, Gomes, Mina and Bernard and we can only hope and pray that these lads are bloody good and if they can stay fit long enough to actually make a difference before already we are in another bleak midwinter writing off another season.
Mick Conalty
3
Posted 16/09/2018 at 23:37:27
Moshiri has increased his shares in that load of shite???
What's the ulterior motive????

Denis Richardson
4
Posted 16/09/2018 at 23:49:07
Many commented before Silva came that his sides always concede tons of goals. Only been 5 games so far admittedly but the signs are not encouraging.
We'll score goals with Richarlison in the team but I fear we're going to ship them the other end regularly. That's 9 goals now in 5 league game and not a clean sheet to be seen. When you look at the level of the opposition played, it's getting a bit worrying.
Mina should help, especially as he's 6ft-5in! But he's also new to the league so don't expect too much. He'll need a few months to get used to his surroundings.
It was a truly poor result today and I'm just hoping we get at least one win from the Fulham and Palace home games coming up. I have no expectations this season and can see us struggling to make top half, never mind top 7. We have so many truly average players in the side who are not decent on the ball – it's amazing how we signed them all.
We shipped out a ton of dross in the summer but at least another 4-5 need to go in January or next summer. This season is simply about bedding in the new players, getting enough points to be clear of the drop zone and focusing on signing the right players in January and next summer.
Hopefully we'll have a decent cup run or two 'cos nothing special is going to happen in the Premier League.
Mike Keating
5
Posted 16/09/2018 at 23:50:25
Gueye can't pass, can't head a ball and should never be allowed to shoot from outside the area but this wasn't his fault – apart from Digne and Bernard, the team performance stank.
I'm sure the RS can't wait to force-feed Pickford humble pie after that gaff – stupid prick.
John Raftery
6
Posted 16/09/2018 at 00:01:44
As one who had reservations about Silva's appointment – not to mention the lack of real quality among the players he inherited – my expectations for this season were somewhat lower than top six.
Martinez was often criticised for setting his team up to play with style rather than substance. Today we had neither. We looked disjointed with the ball, disorganised without it and bereft of confidence. It is however far too early to write off this season's manager.
The return of Richarlison will make a difference in attack and we can but hope the other new signings establish themselves during the coming weeks. In the meantime, I hope the manager deals with some fundamental issues on the training pitch, notably how to make the team difficult to play against, difficult to score against and difficult to beat. Today, we were a soft touch.
His ability, indeed willingness, to deal with the basics of defensive play will determine how successful he, and we, will be this season. The evidence so far is less than encouraging but he must be given time.
Jim Bennings
7
Posted 17/09/2018 at 00:21:29
Let's just hope we aren't as soft a touch next Sunday; otherwise, we could be facing a cricket score on the venue we like to roll over and die easiest.
Until our defenders toughen up (Holgate needs to get on some weights and stop reading the Ashley Williams book on bad distribution) and learn how to defend then we are always up against it.
Regardless of how patient people want to be with players, it has taken me half-an-hour to realise Bernard is a far superior technically gifted footballer than say Calvert-Lewin or Niasse. It doesn't take two years to spot a good footballer; you either can trap a ball or you cannot.
We should not be relying on Tosun, Niasse and Calvert-Lewin as our hopes for goals if Richarlison is not there, these players are not good enough and it beggars belief with all that money why they are still getting wheeled out.
Si Cooper
8
Posted 17/09/2018 at 01:50:01
John Raftery, parking the debate on zonal marking to one side as it was not a significant factor today, what basics of defensive play do you think Silva should be concentrating on? Personally, I thought the biggest issues today stemmed from our midfield being outplayed by theirs and currently our options for those key positions are curtailed by injuries.
Even though I suspect none of the trio of Gylfi, Gana and Morgan will get into the starting line-up should Gomes, McCarthy and Baningime recover the best of their form and fitness (okay, Gana may still deserve a spot if work rate and disruption of opposition possession are the sole requirements), I don't think anybody expected our midfield to be as ineffectual as it was today and the manager did at least try to alter that with an early substitution.
Lee Brownlie
9
Posted 17/09/2018 at 03:03:44
I'm in northern Thailand... couldn't get the game on my laptop last night, but I went to bed feeling pretty confident anyway... after all, it's only the played 4, lost 4, Hammers, right?
Ha!!...
Still before 9am Sunday here, just sitting down to my breakfast and I get up the result to see this DISASTER!!!
WTF???
ps: The Watford board and fans must be laughing their gleeful bollocks off!!!!!!!
Lee Brownlie
10
Posted 17/09/2018 at 03:08:52
Blowing Bubbles?
Isn't that what our board have been doing up the fans' arses for way too long now???
So.. who's the next managerial target who's gonna – somehow – turn it all around for us???
New stadium? Full of what?.. a Subbuteo flick-to-kick Blues 'dream-team'???
(Sorry.. just every time I start to get hopeful... Yeah, I know, we're all there, too!!!)
Henry Lloyd
11
Posted 17/09/2018 at 03:33:50
Silva is NOT going to cut it at this Club, sorry but it is the Truth. he is completely out of his depth and has no defensive strategy in any way shape or form.
This club will rise again but it will NOT be with Marco Silva.
Everton have zero chance of beating Arsenal away – absolutely zero we all know it and some of us will say it.
I am gobsmacked at how fucking shit we are and it's going to get worse before it gets better.
I challenge anyone out there to tell me that I am wrong and explain in detail why I am wrong...?
Henry Lloyd
12
Posted 17/09/2018 at 03:44:47
Lee 9/10,
I feel for you Lee not even being able to watch the game, I live in Indonesia and have been for 15 years.
You would not have wanted to watch the game as it was pathetic to watch and you would have had no sleep at all.
I looked forward to that game all fucking day and I was horrified at how shit we are.
We are actually worse than when Koeman was here and that is the most alarming thing of all.
Arsenal will absolutely batter us and we CANNOT beat them.
What the fuck can we do?
Mark Andersson
13
Posted 17/09/2018 at 04:37:32
I awoke after having a bad dream that fat Sam had been given his job back, honestly.
So I tune into TW as usual and read how shite we were against the bottom side... Will my dream come true now? That's a scary thought, but nothing surprises me with this club...
Rick Tarleton
14
Posted 17/09/2018 at 05:35:44
The key question is will we learn from this performance? Next time we play, will we still have wing backs with a pedestrian back two? We haven't got a Kevin Ratcliffe at the back with pace, therefore if you have wing backs you need three at the back. Will we still persist in two static defensive midfielders, neither of whom can pass forward accurately or drive forward at pace?
Will our very expensive Number 10 still disappear except to take corners and hit free kicks into a wall? Will we persist in using a static and cumbersome central striker who has no support from midfield and whose two wide strikers persist in staying wide?
The wide strikers should move inside to support the central striker when the attack comes from the opposite wing. Ours don't. Walcott has pace and good feet, but from his days as wunderkind at Southampton, through his Arsenal and England career, he has never shown a sign of a football brain of the nous that a top player has instinctively.
We are a tactical mess we have a system that doesn't work and players incapable of making the system work. The supporters have a blind faith that Richarlison et alia will fix everything, they won't. He had a great start at Watford and then disappeared for 80% of the season.
We've gone out on a limb to sign a manager, risking even a points deduction, whose record with Hull City was relegation and who, at Watford, lost the dressing-room and was sacked.
As Dick Fearon asks — What do they do at Finch Park?
Alan J Thompson
15
Posted 17/09/2018 at 05:53:07
Couldn't get to watch the game but listened to radio commentary.
When the line-up was announced I wondered where the creativity was in the midfield and later when it was said that Schneiderlin's father had passed on during the week I had to wonder which idiot decided he would be in the right frame of mind to play football.
Even when he was substituted it seemed not to be through physical injury and at two minutes to half time seemed a very strange time to let the opposition know where you see your own weakness.
Otherwise, the radio commentator gave the opinion that Everton had enough chances to at least come out with the draw, was that so?
Charles Brewer
16
Posted 17/09/2018 at 07:03:07
When I looked at the fixture list for this season, I saw a complete change from the one that faced Koeman last year. Wolves, Huddersfield, Bournemouth, West Ham, Southampton... I thought there was a realistic chance of winning every one of these ganes. Indeed, it should be just about mandatory that we did to make up for the undoubted slump when we hit Man City, Liverpool, Arsenal, Spurs, or Man Utd.
Instead we have seen a series of collapses possibly even worse than in previous recent seasons where won games were thrown away as soon as the opposition worked out that a) the defence was playing to a plan more suited to curling or chess than football, b), the midfield was without any talent whatsoever, and c) the attack consisted of Richarlison.
It took Allardyce's brain-dead thug tactics to get this team to survive last year, and I was very happy when he left, but there is a very deep-seated problem at this club which may get price terminal.
The difference between us and our neighbours is immense, they buy outstanding players at reasonable prices and then get them to play attractive football as a team, we buy mediocre (if that good) players at vast prices, and then get them to play as isolated individuals. No team which has spent the sums we have should have players out there of the low quality of Gueye, Schneiderlin, Tosun, Sigurdsson, and the homegrown Holgate, Calvert-Lewin, even Davies, seen to have, at best, not improved over their days under Unsworth and mostly got worse.cast
Moshiri has bought what he thought was a decent plot of land for redevelopment, but has found that it has been a secret dumping ground for asbestos, nuclear waste, and old chemical warfare shells for the last 30 years.
I think it will take the likes of Alex Ferguson, or Allardyce with a long-term plan and an actual footballing brain to turn the club round. I have doubts that it is even possible.
Bobby Mallon
17
Posted 17/09/2018 at 07:52:00
John Raftery @6. We had a manager that would of made it hard for teams to play against us made it hard for them to score against us but we let him go cause we wanted pritty football. Well we have pritty football pritty fucking awful football.
Bobby Mallon
18
Posted 17/09/2018 at 07:57:25
I would just like to ask Steve Ferns a question.
Steve: Did you say Silva likes to play the pressing game? Yesterday, not one of them could press a shirt never mind the ball.
Oh, and why was the poor lad Schneiderlin allowed to play football when his dad had just died? My mind boggles at the management incompetence.
Terry McLavey
19
Posted 17/09/2018 at 07:59:06
Charles Brewer – really good post.
I've said it before on various threads and the live forum, why do we employ managers that have been sacked for failing and expect something different?
Would any of us be happy to work with a colleague who had been sacked from their previous job for incompetence?
Jim Harrison
20
Posted 17/09/2018 at 08:34:12
Here we go again. Shambles club and all that stuff.
Shite performance true, but the real cost to us came from individuals making errors.
I am willing to give Silva at least 10 games before really judging. He has yet to put out a full first choice 11 yet.
Neil Pickering
21
Posted 17/09/2018 at 08:40:28
What I learnt from yesterday:
Gana is a headless chicken and has no positional discipline whatsoever. He has no concept of danger and I lost count the amount of times he just chased the ball like a kid at Under-10 level.
Digne and Kenny are both poor positionally as full backs. Both have great delivery when advanced though. In the case of Digne I would play him further up the pitch. Kenny I think isn't at premiership level.
Calvert-Lewin is a centre-forward, and unless u play him there u may as well have him on the bench.
Tosun is not the answer for us and I would either play Calvert-Lewin or Richarlison as our central striker. Tosun's movement is poor, he has poor pace, and he can't link the play.
Peter Neilson
22
Posted 17/09/2018 at 08:42:41
This is a major rebuilding job but Silva needs to concentrate on getting our defence tight. No doubt made more difficult with the injuries. Presumably Mina was expected to be playing by this stage.
At the moment we are so easy to beat, not just crosses but also to play through. Other teams will be licking their lips. Having two defensive midfielders who don't seem to add much means we lack creativity for no real defensive advantage.
The Schneiderlin - Gueye partnership is a major problem. Gueye can tackle all day long but simply can't pass a ball. The only positive point was that Bernard looks classy. And if Calvert-Lewin is going to play put him in the middle and give him a run of games there, pointless having him out on the wing.
John Raftery
23
Posted 17/09/2018 at 08:52:24
Bobby (#17) I could not agree more, but of course anyone who suggested that last season was drowned out by all the noise surrounding that manager.
Si (#8) Defending should start at the front of the team and continue through the midfield and defence and that includes the keeper. It requires players to work as a unit, hold their positions, look after the ball, spot danger and minimise risks.
Yesterday, we were all over the place positionally, looked as though some of the players had only just met each other, careless in possession, unaware of the threat posed by the opposition and cavalier in our approach to the game. The second goal summed up our malaise; a careless kick by Pickford and out-of-position defenders permitting Yarmolenko the time to autograph the ball before rifling it into the net.

Eddie Dunn
24
Posted 17/09/2018 at 08:56:20
Charles (#16), Holgate and Calvert-Lewin are not homegrown; Holgate is from Barnsley and Calvert-Lewin from Sheffield Utd.
Kevin Prytherch
25
Posted 17/09/2018 at 09:01:51
We've had a couple of threads recently. One where Sigurdsson was defended constantly. One where Schneiderlin was in most people's starting XI.
I think it's obvious that the spine of this team is weak. We don't have a leader at centre-back, the best leader at centre mid is a 20-year-old and we have a static striker.
Saying this though, do we deserve any better?
We slated Stones because he was young and made mistakes – he left.
We slated Lukaku because all he did was score – he left.
We slated Barkley because he wasn't Gerrard – he left.
We slate anyone who tries something and loses the ball, to the point where they play safe passes so they don't hear the familiar chorus of boos.
We have to take a big responsibility as fans for turning so short-termist and demanding instant success. There's even people now saying that Silva should go.
Honestly, I used to slate some rival fans thinking that we had a realistic, knowledgeable fan base. Nowadays we're as bad, if not worse, than the rest.
Keep on booing, keep on slating players constantly, keep on demanding managerial changes, keep on demanding massive overhauls of players every year, keep on demeaning every youngster with an ounce of potential because he isn't instantly perfect, keep on demanding expensive imports.
It's worked so far, hasn't it?
Eddie Dunn
26
Posted 17/09/2018 at 09:07:18
John Raferty, you are spot-on about defending. How many games do you see Walcott lose the ball and fail to try to win it back? Toscun does the same and suddenly we are on the back foot with the fullbacks pushed too far upfield.
We are usually set-up with two holding midfielders, much to the annoyance of many on here. However, successive managers have realised that it is the only way to protect our centre-backs.
Previously we had the disaster of Williams who couldn't be trusted, Jagielka on the wane, Keane out of confidence, and now we see a new loanee, Zouma with green Holgate who lacks muscle. If Mina had been there, he too would have come unstuck with the early ball over the top. We need Jags back in to organise them .
At Arsenal, we will be sitting deeper so perhaps we can do a "West Ham" and hit them on the break and beat our bogey side!
Bobby Mallon
27
Posted 17/09/2018 at 09:47:27
Look I'm not saying get rid of the manager. I'm saying that, under this playing system with the players at our disposal, we will ship goals and finish out of the top ten, my opinion only.
I went the game yesterday and I observed a team that just did not try hard enough. I watched Walcott, Tosun, and Calvert-Lewin and I can't remember a single time that they chased back. I watched Pickford shouting at players for not breaking out quickly from a corner, when he knows full well we never leave any players forward at corners.
The manager is to blame for playing Schneiderlin. That lad had just lost his father where else was his head and emotions going to be. Bernard should have started and Walcott should have been taken off at half-time for Lookman.
We will get better – but not by much this season.
Paul Cherrington
28
Posted 17/09/2018 at 09:48:16
I hope all those Everton fans who were so quick to get Allardyce the boot enjoyed that shambles yesterday. Attacking football, easy on the eye style, open approach, 4 goals — shame we lost. And that's the problem: football is about winning as everyone who wanted Allardyce out and is now crying about getting battered is discovering.
Silva has been found out already and will be gone by Xmas. Trouble is, no-one will come to our rescue this time after the way our club and many fans treated the last manager who did.
I hope you're all happy – it could have been a good season if we had hung onto Allardyce and built on what he did last season. Instead, we're in the usual mess and staring into the Championship abyss. Mind you, at least you will all see plenty of goals and end-to-end football as we lose or draw every week.
Marc Hints
29
Posted 17/09/2018 at 09:53:15
Kevin (#25) well said, and about time someone said that. We are quite a lot of moaners on here that wants instant success. Silva has only had one Transfer Windows which also was a short window to get things done. I for one thought this was the best window we have had to get rid of the deadwood and got some quality signings. Let's give Marco Silva time and still have the new signings to settle in like Mina, Gomes, Bernard.
I really don't understand the constant booing from fans and as you said it will affect the players. Get behind the team even if we lose a game. I will judge Marco Silva after next Summers transfer window and we finally get rid of the last remaining deadwood.
People on here saying Niasse should never play again, well he has to because we have no other strikers available and no one wants to buy him on his wages, not Marco Silva's fault. As for getting another quality striker, who wants to come to Everton at the moment?
Julian Exshaw
30
Posted 17/09/2018 at 10:06:24
Thank God the internet didn't exist when the great Howard Kendall started in 1981! I remember very mediocre performances at the beginning of his tenure.
I feel sorry for Silva because already he is being judged. Give the man a break! He hasn't been able to even select his first choice back four yet.
Yes, there are worrying signs, to say the least, but come on, let's give him a chance to get it right.
Sam Hoare
31
Posted 17/09/2018 at 11:39:02
Kevin @25, well said. The toy throwing on here has reached epic proportions. No-one was happy yesterday but most agreed this Summer we needed patience. That remains the case.
Rick Tarleton
32
Posted 17/09/2018 at 11:40:38
It is true that Silva has not had the time to develop his own team or to bed down his team. But the early signs are not promising.
If you go to all the trouble of "tapping up" or illegally approaching a manager (as it should be called), then surely pick one with a proven track record. Not one who, in his two previous Premier League appointments, got one team relegated and in the other lost the dressing room and got sacked.
If Silva is, as we have been led to believe, Moshiri's own choice, then I would seriously question his judgement. Silva's tactical acumen seems limited, (See "Tapping Up!", published on here yesterday), his man-management in picking Schneiderlin, when his father has just died, seems bizarre and his motivational skills limited as the players took 30 minutes to begin to play.
Yes, we should improve when Richarlison (if he plays well for more than half a season), Gomes, Mina and Bernard are all firing and fit, but so we should for the money spent.
Mina's face yesterday when the cameras focussed on him had that look of "What have I let myself in for?"
Silva needs time, but the early signs are depressingly worrying.
Dave Abrahams
33
Posted 17/09/2018 at 12:04:45
For those asking why Schneiderlin was picked yesterday, even though his dad had passed away recently, the answer is, there is nobody else to pick at the moment.
I think he is as poor as a lot of fans think he is, but centre midfield is the biggest failing at the club and will not improve until McCarthy proves his fitness or we sign a solid midfielder in January.
Dave Abrahams
34
Posted 17/09/2018 at 12:07:43
I should have said, centre midfield is the biggest failing at the club along with the striker position.
Steve Brown
35
Posted 17/09/2018 at 12:12:04
Based on the performances of Digne, Richarlison and Zouma (granted he didn't have a great game but then who did?), plus the glimpses of Bernard so far, does anyone disagree that our team will much improved with those player plus Gomes and Mina in line-up? If the answer is Yes then show some bloody patience as we are in danger collectively of putting the jerk into knee-jerk here.
I had my doubts about hiring Silva, but some of the comments here are verging on ludicrous. Apparently his "motivational skills are limited ' when every new player we signed this summer cited talking to him as the reason they signed.
Derek Knox
36
Posted 17/09/2018 at 12:22:46
Kevin @25, while I agree with a lot of what you say, and at the same time, I do not condone the booing of our players after a game.
I can understand why fans are irate and frustrated, it seems to be a never-ending line of Managers, and players, who seem to make the same mistakes, and produce lacklustre, dispassionate performances.
There doesn't appear to be much team spirit either; what is happening behind the scenes is a mystery to me. While I agree, some of the booing may lead to players leaving, equally the fans have little or no say in the Transfer of incoming players.
I am beginning to think Marco Silva (admittedly not my preference) is out of his depth, and while our attacking has marginally improved, our defending has alarmingly got worse, if that's possible.
Brent Stephens
37
Posted 17/09/2018 at 12:26:18
One of the disappointing things is that, to being vulnerable with zonal marking on set-pieces, we've now got vulnerability in open play. I'm not sure which is worse but both together is worrying.
Fran Mitchell
38
Posted 17/09/2018 at 12:26:58
Really poor performance. Sigurdsson is not justifying his selection, Tosun needs to be dropped. And this whole Gueye & Schneiderlin combo doesn't work — never has and never will. One or the other; never both.
Our midfield should be Schneiderlin - Davies - Gomes or Dowell and our attack Bernard - Richarilson - Walcott.
Hopefully Mina is fit asap.
James O'Connell
39
Posted 17/09/2018 at 12:32:37
I'm not sure what miracle Silva is supposed to work with the squad that he has inherited, with several injuries and most of the new signings not fit. It's basically the same team as last season, which was lacking any real quality, creativity or backbone. When the new signings are playing, Richarlison is back, and we have signed a striker that can compete, things will improve.
John Keating
40
Posted 17/09/2018 at 12:47:04
We are only 5 games in and it is – theoretically – early to judge, but as we have been told time after time that Silva will not change his philosophy then things may get scary.
Quite rightly, individual players are getting slated but Silva must also be questioned. So far this season his obstinacy, game management, selection, substitutions and tactics all leave a lot to be desired.
No manager is perfect but we are all seeing the same issues every game and there appears no change. The squad are not good enough but some things do not need massive changes just tweaks here and there.
A great early fixture list for us to get points and confidence has been completely wasted.
Paul Evans
41
Posted 17/09/2018 at 12:54:24
Yesterday was a nightmare result, and it's ruined my coming week, but we need to try and forget it and concentrate on Arsenal away this Sunday. Changes are definitely required, and 3 points there would kick-start us again (although our track record there suggests another beating).
We are still many players short of our strongest team, and I'd go for this line-up on Sunday:
Pickford GK
Kenny RB
Digne LB
Keane CB (Another week's training and hopefully he's given the all-clear)
Mina CB (If he's fit, he starts; we need his strength & height if nothing else)
Gana CM
Schneiderlin CM
Sigurdsson AM
Bernard LW
Walcott RW
Richarlison CF
Subs:
Stekelenburg
Tosun
Baines
Calvert-Lewin
Davies
Hornby
Zouma
I'd send Lookman to the U23s and ensure he's sold in January. His attitude stinks. He doesn't deserve to play for Everton – get rid ASAP.
And Niasse, for all his effort, and big 'chewing gum' smiles, is basically just shite, and needs U23 football and goals to get his touch back.
Brian Harrison
42
Posted 17/09/2018 at 12:58:26
I don't know what has happened to our fans, whether it's because of the poor relationship we had between our last two managers, but Goodison Park has become a very strange place that I don't recognise, there is virtually no atmosphere.
Even when we had poor sides and believe me I have watched some poor Everton teams over the years but even then the fans got behind the team. Were now its very much fans sitting back and saying "Come on, let's see what you have got." And if, like yesterday, it wasn't great, then silence descends over Goodison. I think I have seen more atmosphere at Central League (reserves) fixtures at Goodison.
I would love to hear why our fans have become so quiet at Goodison, yet the same fans away are brilliant. So where playing at Goodison was an advantage, I now think it has completely changed and it's become a harder place for our players to play.
Jay Harris
43
Posted 17/09/2018 at 13:12:11
The good news = when Richarlison is back, we should have the best left-sided operation in the Premier League. The right side isn't too shabby either.
There endeth the good news.
The bad news = we haven't got a centre-forward worthy of the name. Our midfield has the strength of a paper bag with no synergy whatsoever. The spine of our team is... well, spineless.
Arnautovic is the sort of player we need. A real bully who wants to win. Who have we in our squad that even comes close to his attitude?
We are the nice guys of football and it shows.
I just hope Moshiri is ready to empty his wallet in January; otherwise, it'll be Sam time before we know it.
Raymond Fox
44
Posted 17/09/2018 at 13:27:42
I bet our recently sacked managers are having a little smile over their conflakes, thinking "Here they go again" at Everton.
We will have a strong squad if we can get the injured players on the park, strong but not quite good enough to challenge for a top six spot.
While I conced that managers differ in ability, players quality is way more important than the manager for me, imagine two or three of the top teams stars in our team, our results would improve a bungle straight away.
Until we somehow get a top six quality side together we will almost always be a nearly side looking up.
This squad is good enough to be 7th or 8th if their given time to get it all together though, we need to be a bit more patient again. I'll give it till Christmas; if results are still poor by then, maybe then we should worry.
Brian Murray
45
Posted 17/09/2018 at 13:41:08
All this about Gana good at breaking the play up is wearing a bit thin. He's from a relegated club and it shows. At this level, you surely need to know how to pass a ball. Same goes for Schneiderlin. Every time I see their names in the team, we are straight away on the back foot.
Roll on January – and please, no more banging the drum for McCarthy. Unless we hire a proper fitnes specialist, he can't be relied upon in the slightest.
Frank Sheppard
46
Posted 17/09/2018 at 13:41:49
An awful result, obviously... but Silva is nowhere near getting his first choice 11 together yet, our best player was suspended, several players are still bedding in, and it's very early days, so by all means Sunday should make us feel grumpy and disappointed.
But it's not the end of our season... a long way to go, and there are reasons for optimism.
Let's not drag the team down with so much collective negativity.
Steve Brown
47
Posted 17/09/2018 at 13:44:55
Paul @ 41, I like your team apart from playing Gueye and Schneiderlin together. That has to stop as we relinquish all midfield control and creativity when them two play.
Dave Lynch
48
Posted 17/09/2018 at 13:47:20
Raymond.
I'm worried now. We have some top teams coming up starting with the Arsenal; we could easily be in the bottom 4 by Christmas if things don't improve.
Steve Ferns
49
Posted 17/09/2018 at 13:58:09
Why play Richarlison in a position that doesn't suit him? You'll chop his legs off.
He doesn't want the ball back to goal. He can't do that. He can't win headers and have a big centre-half getting digs in in his back. He needs to play as he does, left forward, almost central and off a striker who does all the unglamorous stuff.
I think Calvert-Lewin deserves a go, despite how shite he was yesterday, he's bigger and faster than Tosun. But then again Tosun and Richarlison already have a rapport and a understanding.
You can't call for square pegs in square holes and then put Richarlison in a position that's not his best. He played there for Brazil in a game against weak opposition where he got the ball to feet. Not where he needs to win headers and be big and strong.
Raymond Fox
50
Posted 17/09/2018 at 13:58:42
We will improve Dave, but yes, we will probably lose at Arsenal and away at the usual suspects' grounds, but we will be up the table at the end of the season.
Theres no gimmies in the Premier League; I suspected that the West Ham game could go either way.
John Raftery
51
Posted 17/09/2018 at 14:00:18
Raymond (44) You are right in saying the quality of the players is more important than the manager. Far too much focus is placed on the manager. Better players will certainly improve the team.
Steve Brown
52
Posted 17/09/2018 at 14:05:47
Steve @49,
I think what some posters are suggesting is playing him as a false No 9.
Brian Murray
53
Posted 17/09/2018 at 14:10:08
Jay Harris,
We will continue to be a nice "after you, sir" type of team while the club captain is so timid and couldn't wait to shake and greet Carragher by the hand before a derby. His words, not mine.
Jay Wood
[BRZ]
54
Posted 17/09/2018 at 14:13:59
Given our opening five fixtures, and given our last two home games against the opposition and the form they were in going into those games, nobody should be happy with the six points gained from the 15 available.
That said, it's a tad reactionary from some to compile lists of our squad who they claim are not fit for Sunday League football, let alone the Championship, or start calling for the manager's head already, as some did in the wake of yesterday's game.
In the two away games to date, the team and individuals coped admirably withto playing more than half the game with 10 men. There was no little craft, bags of resilience and plenty to be positive about, in spite of dropping four points.
We were largely dominant in the home win to Southampton. Turgid and lacking in guile to find a way through and around Huddersfield's packed defence. Mostly woeful and abject yesterday against Der Hammers.
But even yesterday, it wasn't all forlorn. There were good moments by players heavily castigated by some.
Theo Walcott showed great trickery 1-2 times in tight situations to open things up in behind the West Ham defence.
Calvert-Lewin had a storming run from the half way line, deep into the West Ham penalty and - with 4 men around him - still managed to get the ball to Tosun who blazed over.
Gana did find our own players with some enterprising passing.
Kenny linked up well with Walcott and put in some blinding crosses.
Digne showed similar on the opposite flank.
Bernard showed teasing glimpses of what he might bring to the table. Even against big grocks, he left one for dead to put in a cross and drew fouls because he shields the ball so well.
Am I papering over the cracks and trying to promote the idea that these wee snippets are enough to have us competing and winning games? Most certainly not. For the most part, we were abject yesterday, and for that, I have to point the finger primarily at the manager.
I don't buy the excuse 'he hasn't been able to play his preferred XI yet.' It doesn't count a jot for me. Player injuries, player suspensions, player loss of form, are all part and parcel of football management. You have to get a tune out of whatever is available to you.
We are told Silva follows a formula. He likes a ball-playing goalkeeper. Two tall centre-backs. Marauding fullbacks. Defensive midfielders who support the back line. Speed in transition from defence, through midfield, to attack. Pacy wide men, supporting a mobile striker.
If that is his template and the one they work on in training every day, then every player in the squad presumably is well versed on what is expected of them in their position if they get on the pitch.
We are now a good 2 months on from Silva's first pre-season game as Everton manager, and the model isn't working efficiently yet. Worryingly for me, as evidenced by the last two home games, the savvy managers of fellow Premier League clubs know how Silva's Everton will set up and counter that accordingly.
West Ham did to perfection yesterday what a more conservative Huddersfield failed to do. To counter Silva's desire to see his full backs push on and for his centre-backs to play a high defensive line, WHU – like Huddersfield before them – sat deep and invited Everton on to them, then hit us on the break. We looked good... until their first goal.
Watch how that goal unfolded. Gana - as he was entitled to – plays a decent ball from the centre spot into the feet of Tosun. It's Tosun's poor touch that allows his centre back to pick off the ball. Some have (unfairly, IMO) placed the blame at Gana's feet that we conceded from here. How, I can't fathom. The ball is still deep in West Ham territory, 70 yards from our goal.
The problem is in the set-up and that clearly comes from the manager.
The West Ham centre back plays it forward to the midfielder Obiang, taking Gana out of the game. Schneiderlin closes in on Obiang who simply dinks it over our man to Arnautovic near the centre circle. We are already in trouble at this point. Why? Because our two full-backs are both way in front of the ball in the WHU half, wide on either flank. Kenny 10 yards behind the play. Digne even further adrift - around 20 yards.
Arnautovic plays a chest pass to Obiang who plays a first time through ball back to Arnautovic, who in the meantime has turned and got the run on Holgate. Zouma, who was 15-20 yards off Arnautovic, tries to get back as cover, but has too much ground to make up. Yarmolenko, in the meantime, exploits to the full the free space he has to run into from Digne's absence and Zouma chasing down Arnautovic. The latter unselfishly rolls the ball across to the Ukranian who finishes with aplomb.
All that stems from how the manager sets up the team.
The second goal starts from Pickford's appalling pass. Now I for one do not wish to discourage him from playing this way. In the long term, I believe we will benefit from this. I also believe his distribution for Everton has improved this season, compared to last. But it was a shocking effort.
Even so, his intended recipient – Digne ~ gets a tackle in on the player who picks up the loose ball. Digne even gets back in front of Yarmolenko with Zouma, but poor player awareness (ehrm... did neither of the Everton defenders know not to allow Yarmolenko inside onto his wizard left foot..?) and we are 2-0 down.
It was bold to introduce Bernard before half-time. Sigurdsson's goal from Kenny's excellent cross gave us hope. There was flickering improvement in the second half, but not enough to convince we could salvage anything from the game.
Arnautovic's second, doing Holgate like a kipper, put an end to any hope.
In conclusion, I'm not ready to make a blanket condemnation of our squad as some have expressed. I'm not ready to label Marco Silva 'Martinez Mk II' as some have already.
That said, Silva has yet to allay for me at least the nagging doubt many expressed about his recruitment, namely, the number of goals his Premier League clubs concede on his watch.
It's nine and counting in five fixtures to date, against 'benevolent' opposition. It's something that very much still needs addressing.
Steve Ferns
55
Posted 17/09/2018 at 14:17:18
Steve, that sees him drop into the Number 10's position, but yet Sigurdsson still makes their side. They can't both play in the same position.
It's also a radical tactical shift. Why not keep simple and let him play where he's excelled?
It's the defence and midfield that needs tweaking the most. They're making terrible mistakes. They can be most easily fixed.
Jerome Shields
56
Posted 17/09/2018 at 14:31:15
John (#40). Agree totally with your assessment. Silva had a dream run of fixtures and does not appear to be heading in the right direction.
Derek Knox
57
Posted 17/09/2018 at 14:33:25
I strongly believe, and I have said it many times on here, that a defeat is reluctantly acceptable if the team has given their all, has been unlucky, goals disallowed, bad refereeing decisions, or, have been beaten by a better side.
The last two home games have shown none of the above, and as a fellow poster mentioned, the atmosphere was subdued, or even absent altogether.
I couldn't get to the match, probably a blessing in disguise, but did watch the whole match via Sky. One thing that did stick out for me that for most of the game, all I could hear was the Hammer's fans singing, that tells me there is something wrong.
Goodison always used to be a fortress, and a ground where opposition teams dreaded coming. The last two games have been like a hunting ground for those who should have had little chance of gaining points, to come in and help themselves!
Mark Taylor
58
Posted 17/09/2018 at 14:44:23
Too early to judge Silva, obviously. That said, I'm not sure he has had a 'honeymoon' as the title of this article suggests. We've had a very easy fixture list on paper and home – draws to the likes of Huddersfield do not a honeymoon make. More like a quickie in a budget hotel...
We are clearly reliant on the incomings working, but we've seen so little of them, apart from Richarlison, who looks very promising. Mina and Gomes are key because the alternatives in their positions, Holgate and Schneiderlin, just aren't good enough. Certainly I've seen enough of the latter with Gana to provide compelling evidence that playing the two together doesn't work.
And Holgate was hopeless on goals 1 and 3, especially the first when he did not even sprint back to the penalty spot to at least try and cover the square ball to Yarmolenko. He just gave up and jogged back and left it an easy 2 on 1.
Sigurdsson has been a massive disappointment, albeit there was no way on earth he was a £40M-plus player, more like half of that, so we are maybe expecting what he simply does not have. He needs some time out, he's achieving precious little and his confidence looks shot. I'd give Bernard a try there.
A lot of the kids just aren't ready for the top level yet. Kenny is like early Coleman, good attacking instincts but defensively weak. Davies and Calvert-Lewin are short on quality and the latter is certainly not a winger or wide left player. Maybe try him in the middle, because unfortunately Tosun looks little more suited than Niasse to this level, game though both are. To compound the matter, we have no real leaders on the pitch, we seem to have a squad filled with shy introverts.
I think we are a mid table side at best with current personnel.
William Gall
59
Posted 17/09/2018 at 15:02:30
Jay Wood,
I think you hit the problem yesterday in the statement of opposing premiership managers are aware of Silva's tactics and are prepared for them. This is what makes the premier league one of the best, as any club are capable of winning on a given day.
Everton had their opportunities yesterday but did not capitalize on them, West Ham did. We all are aware that we needed a competent striker after Lukaku left, but sadly this never happened; until we can get one, we will struggle in this position, unless the new boy Richarlison is tried and proves to be a success.
We have played 5 games and have "unlike Watford" managed to put out the same starting 11, and hopefully we can achieve this soon with a full squad.
This does not give any excuses for some of the poor play yesterday or the manager's team selection or tactics. As you stated, these are professional football players who earn more in a month than most of us earn over years and all train together with Silva as the coach.
Steve Carse
60
Posted 17/09/2018 at 15:04:06
Derek (#57), the main reason all you could hear on tv was the WHU fans was of course because they are virtually underneath the main camera and sound position.
For once, I actually thought the atmosphere was boiling up quite nicely at one stage in the second half. Pity the players never responded by performing any better.
Andrew Ellams
62
Posted 17/09/2018 at 15:27:05
Steve Ferns, they're making terrible mistakes and they can be fixed. So why 4 managers in 4 seasons and 5 games not managed to do so?
I switched off a 2-0 yesterday because all I could see was last season all over again. Aren't we supposed to give him 10 games before we start judging? Well I think yesterday went a long way to guaranteeing that we will be on the bottom half after 10 games and he will not be judged well.
Personally, I think Moshiri is the issue, but unfortunately he's the one with the finger on the trigger and pretty much untouchable.
Tom Bowers
63
Posted 17/09/2018 at 15:29:46
Wasn't the stage set for Yarmalenko? Only Everton can set up these kind of fairy tales.
Okay, first defeat but, in all honesty, they haven't shown that things are much better than last season so far.
Silva has plenty of time to work on the problems and perhaps when all the new boys are up and running it will be a better team.
However, one just knew that ridiculous action by Richarleson would cost the team and whilst one man shouldn't make a difference it's obvious Everton are severely limited up front.
If you struggle to score, then, at the very least, you have to be sound defensively but against a team like West Ham they were amateurish at best.
Now they have to face the Gooners who have some good finishers so one hopes they can sort out the problems. With what was still a comparatively new back four they were all at sea against a team that have had a poor start to the season.
The bad luck of losing Keane and Coleman so early and Mina still unfit is proving to be a big problem and if it isn't sorted out soon then they will be in dire straits — even this early in the season.
Steve Ferns
64
Posted 17/09/2018 at 15:35:35
Andrew, that terrible pass by Gueye to Tosun and the terrible pass by Pickford that never reached Digne, well they simply don't make them next time.
If Gueye was making mistakes because Silva told him to be more adventurous in getting forwards and to try and grab the game by the scruff of the neck, then you have to hope he's learnt his lessons.
If Tom Davies played like Gueye did yesterday, then we'd never hear the end of it. Here's a 28-year-old international that can't pass to a blue shirt. He ran past better ball players and tried passes that weren't on. We needed to keep the ball moving and to pass it quickly. We kept slowing it down and passing it lazily. For me, this is something any manager can fix.
What we also need to remember is that the team trained together after the international break on Friday and Saturday only. So Kenny stepping into the preferred backline happened late. At least we have the full week to get ready for Arsenal now. We can work that makeshift back four, or get Mina into the side, we can get Richarlison back into the side and find a role for Bernard.
I would expect a reaction come Sunday. We've all week to work towards it.
Jay Wood
[BRZ]
66
Posted 17/09/2018 at 15:46:53
Steve, that was NOT a terrible pass by Gueye to Tosun. That was NOT the principal cause that led to the first goal.
Just take a look at the 15 minute highlight reel of the game on the club site. Now of course, it is not completely representative of how the game played out, but in that reel alone count up the number of very good and accurate crossfield passes Gueye sprayed to both wings.
Yet to hear you and others, you give the impression the lad didn't complete a single pass to a blue shirt all afternoon. You – and others – are wrong.
John Keating
67
Posted 17/09/2018 at 16:05:42
Seems to me Silva is getting away with murder here. He is the manager, he picks the team, sets it up and sets the tactics, makes the subs and changes things if needed.
Yesterday, he really did nothing right. We all know he needs time, God knows that's all we hear off some on here, but that should not give him a free pass when things go wrong.
The players, where necessary, should rightly be criticised, but so should the management. We were quick to slag off Moyes, Martinez, Koeman and Allardyce – even before he got appointed – but for some reason, many on here want Silva given an exemption for all his failings so far.
Most Premier League teams had guys away on international duty, not just us. Most teams only trained Thursday & Friday, we actually had an extra day. The difference being most teams didn't embarrass themselves like we did.
Andy Meighan
68
Posted 17/09/2018 at 16:10:38
Steve (#64),
You'd expect a reaction on Sunday? Don't hold your breath on that... Because every realist amongst us knows that will not happen.
Any midfield containing the likes of Schneiderlin, Sigurddson, Gueye, and Davies will struggle at the best of times. Not a creative nerve in any of their bodies. Admittedly Schneiderlin shouldn't have been on the pitch yesterday in light of his circumstances... but he's still not good enough.
Walcott is another who blows hot and cold. Lookman doesn't want to be here so that leaves us relying on Richarlison and, to be fair, he can hardly carry that lot until January at least.
Sigurdsson needs benching and Bernard brought in to see if he can be the playmaker we've been screaming for since Arteta left Up top is a similar story and one that needs addressing next window.
Mark Jolly
69
Posted 17/09/2018 at 16:16:21
FFS, Silva has been in charge for 5 Premier league games, Inherited a large squad and most of his signings are injured or getting up to speed.
Sure the defence is not working right now but, when Mina comes in to Partner Zouma and we get a stable midfield without Schneiderlin in including Gomez, Bernhard, Richarlison, Walcott and Sigurdsson playing as a unit we will improve.
Did we really think top 4? No way, if we finish 7th or 8th and have a decent cup run it will be a good season. Let's stop the negativity and get back to reality of where we are as a club and get behind the manager.

Pat Kelly
70
Posted 17/09/2018 at 16:44:04
Silva will not take Everton into the top four on his 3-year contract. We don't have enough quality players to make up a top four team, never mind a squad. And that isn't going to change in the foreseeable future. Top six might be a realistic target in Silva's term, but it won't be this season.
Kieran Kinsella
71
Posted 17/09/2018 at 16:45:55
Tactics and cowardice cost us the game.
The high pressing didn't work because out left, Digne had no one in front of him and no one from midfield would cover him when he went surging forward so there was a huge hole there. On the right, Walcott was too deep, and Kenny too far up so they kind of got in each other's way.
To compound things, Schneiderlin tended to drift to the right side of the field, and Holgate was running over to right back to cover Kenny. Consequently, in the first half, we basically had four guys lined up within about 25 yards of each other on the right flank, one person down the entire left side of the field and Zouma all alone in his own half.
I say "cowardice" cos us too because on more than one occasion I saw Sigurdsson doing a Michael Owen, eg, receiving the ball near the box, quickly passing the buck to someone else (usually Gueye) then backing off out of sight of the other attackers into a spot where no one would pass him the ball. He wasn't getting into space, he was hiding. He should be pulling the strings but he chickened out.
Up top, Calvert-Lewin and Tosun were getting under each other's feet and neither seemed confident. The only bright spots were Digne going forward, and Bernard actually looking like he wasn't afraid of the ball and doing things such as dribbling, looking for a good pass.
If he starts the next game with Richarlison then at least with Digne too there will be three players who aren't afraid of the ball. Sorry, make that four as Gueye is no coward but he simply can't pass or shoot.
Brian Harrison
72
Posted 17/09/2018 at 16:47:44
Jay
You are right when you say it wasn't so much the pass from Gueye that caused the first goal, it was Tosun's inability to look after the ball. Then having lost the ball where was the other defensive midfield player, and how come Gueye never got back to help his defenders? As regards Gueye's passing, I don't know if you just saw highlights but apart from one or two passes by and large he missed as many as he made.
I also think watching the game on the television often it doesn't show you the full picture, so if a defender has the ball the television can't show you who is making a run off the ball and who isn't. That's why sometimes there is a difference of opinion for those of us who were at the game and those who watched on the television.
David Barks
73
Posted 17/09/2018 at 16:48:12
Jay Wood,
That pass absolutely was poor by Gana and led to their break for the first goal. For five minutes after that he then went on a run of not completing a single damn pass. He continues to be awful with the ball and his poor pass to a man standing still with a defender draped on his back led to us getting caught out of position and their opening goal.
Kieran Kinsella
74
Posted 17/09/2018 at 16:55:21
Bryan and David,
I agree, Gueye's passing was terrible, but he was the only player making himself available for the ball. Schneid and Sigurdsson were hiding, Walcott hanging around the halfway line with Kenny. So it fell to Gueye as the only option to try and control the midfield which is clearly not his forte. But, like Tom Davies in the last few games, I would argue that, while he was ineffective, he was at least brave enough to try and make things happen.
Jay Wood
[BRZ]
75
Posted 17/09/2018 at 17:05:13
David @ 73.
It 'absolutely' was NOT a poor pass by Gueye.
It was a perfectly legitimate pass to make to our – what is it? £23 million target man?
It wasn't misplaced. It wasn't overhit. It was a ground pass accurately played into our striker's feet. It was Tosun, if anybody, who failed in that play when the ball bounced up off his feet, allowing it to be picked off by the centre-back.
It was (another) aspect of yesterday's game that stalled Everton's play. Until yesterday, Tosun had done well in holding up the ball and laying it off. He didn't do that well yesterday.
My playing days are well behind me and I never played to any great level, but I insisted my team mates played the ball into me even when closely marked because I backed myself to draw in and beat my marker.
It is a nonsense to suggest as you imply that you cannot play a ball in any circumstances to a to 'a man standing still with a defender draped on his back'.
Aside from the exaggerated description you apply, David, you most certainly can and should (when it suits) play such a ball to potentially take an opposition player out of the game.
The primary failure in that play was Tosun's, not Gueye's.
Steve Brown
76
Posted 17/09/2018 at 17:10:15
Steve @ 55, agree he would drop into the Sigurdsson's slot. I think Sigurdsson's general performances this season merit him being dropped.
We should consider something more radical as Calvert-Lewin, Niasse and Tosun are not right presently to lead the attack. I still think Cenk is a player and has worked hard for the team under Silva's system, but the lack of goals is sapping his confidence.
Jay Wood
[BRZ]
77
Posted 17/09/2018 at 17:12:04
Brian @ 72.
For my sins, I endured the whole game live on TV, not just highlights.
I referenced the 15 minutes highlights on the club site as evidence that Gueye's passing was nowhere near as rank as some are claiming. I clearly also stated the highlights, obviously, are not representative of the full 90 minutes.
The play for their first goal is exactly as I described it @ 54, which is evident from both the TV images or if you attended the game live. Indeed, I would guess being live at the match very few would have taken in the detail of just how far advanced our full backs were that left us vulnerable to West Ham's counter-attack for the goal.
Brian Harrison
78
Posted 17/09/2018 at 17:26:36
Jay,
I agreed entirely with what you said about the mistake for the first goal was Tosun's not Gueye's. I was at the game as always and I think our fullbacks were pushed on but we had control of the ball in midfield and they only had Aunautovic in our half when Tosun lost the ball. So if we want to play an attacking game in that situation, it was right for Kenny to have gone forward, maybe Digne didn't need to go forward as well.
I, like everybody else, was disappointed with the result, but just seen a piece by Andy Gray and agree with everything he said. He said one man doesn't make a team but if Everton had a Premier League striker then I think we may have seen a different result. He said in his opinion that Tosun or Niasse are good enough to play in a top 10 Premier League club and I wholeheartedly agree.
He also said that that's so far 3 managers who haven't replaced Lukaku, which has to be our number one priority. But, to be fair to Silva, he has had 1 window and I am sure he realizes that we need better strikers.
Peter Neilson
79
Posted 17/09/2018 at 17:33:43
I believe my own eyes at the game but the absolute certainty of some responses regarding Gueye are incredible. For backup, look at his stats: Good at tackling... that's it! Criticism of him isn't wrong. Spraying the ball about to both wings – having a laugh.
Early days and I support Silva but Schneiderlin & Gueye doesn't work. Carrying on with this partnership into the new regime shouldn't be an option.
Phil Smith
80
Posted 17/09/2018 at 17:44:25
We were just awful yesterday. That was as disjointed a performance as anything I witnessed last year. The inexperienced back four were not just to blame though. Tosun should sit out the next one and we should never play 2 defensive midfielders at home. Frustrated still...
Jay Wood
[BRZ]
81
Posted 17/09/2018 at 17:47:26
Peter @ 79.
"[Gueye] Spraying the ball about to both wings – having a laugh."
Watch the 15 minutes highlights and count the number of times Gueye does just that successfully. It should give you 'a giggle'.
For the third time in this thread, I will repeat that the highlights are obviously not representative of the entire game. But brief and selective as they are, they make a nonsense of some of the more extreme denigration some are making about Gueye yesterday.
Ian Bennett
82
Posted 17/09/2018 at 17:55:34
It's clear yet again we are going nowhere until the injuries and suspensions ease. Richarlison, Mina, Coleman, and Gomes will make a difference – but when?
Yesterday, I am afraid the young lads struggled to suggest they're ready, and the older pros proved that they're pretty average.
Cheap goals, poor passing, and no threat from the centre-forward rounded the day off. Calvert-Lewin on the wing was a mistake, and keeping him on over Tosun was yet another. Early days...
Peter Neilson
83
Posted 17/09/2018 at 18:07:44
Jay @ 81,
I'm not suggesting that Gueye is the cause of all our problems but his partnership with Morgan is a major part of it. Their partnership doesn't work, and over 90 minutes Gueye's passing is shockingly poor. Combined, they don't protect the defence enough meaning we setup with minimal creativity for little defensive return.
We were terrible last season and I'm not expecting to Silva to sort this out in 5 games but persisting with a midfield duo that has consistently failed shouldn't be an option. Fixing this is just one of the many issues Silva has to solve but it is an important one. Not sure I'm yet up to watching 15 minutes of lowlights.
Brian Wilkinson
84
Posted 17/09/2018 at 18:15:26
I fully expect posters not to agree with me but for my penny's worth, if we can get McCarthy and Baningime back in the team in the middle, that for me sorts out the middle of the park.
We need to go all out and get a top class centre-forward.
Once we have our quota of defenders back, I fully expect us to knit as a unit.
Martin Berry
85
Posted 17/09/2018 at 19:44:28
Yes, we were sloppy but, on a different day, could have won 5-3.
Marco will have stronger options in defence, and in attack I have every faith in Tosun and, with Richarlison returning and Bernard looking good, we will be fine.
What does concern me is our midfield and, prior to the season starting, I thought we were lacking quality. However, in Gomes we may yet have an exceptional talent. Schneiderlin and Gueye don't work, as I have said several times.
Aaron Mooy is the man for me in the centre but that's next summer's business when Huddersfield may sell as I think they may get relegated.
Brian Murray
86
Posted 17/09/2018 at 19:59:08
Brian Wilkinson,
James McCarthy and Beni Baningime? Can they really make a telling forward pass? They are water carriers – no different from Schneiderlin and Gueye.
Let's hope Gomes is the answer. We just want the manager to start seeing things early and at least try and rectify it. Or we will be looking for manager number six...
Tony Everan
87
Posted 17/09/2018 at 20:22:26
The fault for the goal was a bit of both, I don't think it was the best decision by Gueye to pass it to an under-pressure Tosun. The pass was accurate but it was not a good idea. Then Tosun's control under pressure failed him.
Pellegrini had done his homework on Tosun and knew they could pick him off, when they ball is played into him. Lukaku had more strength to hold the defender back give himself half a yard or roll the defender. Tosun doesn't have that strength or ability as much.
This attribute of a striker goes under the radar but can change the shape of games.
Tony Orme
88
Posted 17/09/2018 at 21:08:18
Well this result should not be too much of a surprise, our defence has been porous all season. I maintain that our "youngsters", Kenny, Holgate, Calvert-Lewin and even Davies, are seeing too much first-team football. They are not ready or good enough for extended Premier League football.
Our problems will not be solved in one transfer window. Give Silva time!
John Malone
89
Posted 17/09/2018 at 21:22:06
Tony 87, I disagree the attribute of a lone striker being a focal point for your team to build attacks from goes under the radar.
It's an absolute must and it was clearly evident when we sold Lukaku that we never had a focal point and someone to hold the ball up that's why Koeman tried his best to sign Giroud.
Tosun was bought under the premise of having these attributes as well as being able to finish. The fact is evidently he's not strong enough to cut the mustard in the Premier League.
I'd give him one more game up top and if he doesn't improve I'd drop him put Richarlison up top and Bernard on the left wing and give that a go. Richarlison has everything to be a top strker as well as a top winger.
Peter Mills
90
Posted 17/09/2018 at 21:35:31
There was an incident in the first half when Calvert-Lewin burst through in the centre-forward position, but failed to capitalise on the excellent through ball played to him.
One moment I was up off my seat thinking "That's a fantastic run", a microsecond later my match-going pal of almost 50 years was shouting "That's shite control". And we were both correct, at Premier League level.
Such fine margins.
Michael Lynch
91
Posted 17/09/2018 at 22:24:41
I'm not desperately concerned with our form so far. Richarlison looks sensational, Digne is easily as good as Baines at his peak, Zouma looks okay, and Bernard looked the real deal when he came on – direct, quick-feet, combatative – and we've still got Mina and Gomes to come. I also think a fully fit McCarthy would be a better option than either Gueye or Schneiderlin.
Pickford-Coleman-Mina-Zouma-Digne-McCarthy-Gomes-Sigurdsson-Walcott-Richarlison-Bernard.
If that side doesn't win us some games, then I'll start getting worried. I think good times are just around the corner.
John Malone
92
Posted 17/09/2018 at 22:48:54
Another major concern is the manager's tactics of playing the backline so high up – almost on the halfway line at times and having both the fullbacks bomb on before the centre-forward has hold of the ball. It reminded me of the Martinez reign were we saw some good attacking football but were so defensively weak and exposed it was unbelievable.
Silva and his tactics have got a lot to prove as well as the new signings and current crop of players playing this way.
Interesting to hear while typing this comment Troy Deeney saying how impressed he was with Marco Silva at Watford and backing him to do well with us; time will tell!
Jack Convery
93
Posted 17/09/2018 at 23:04:15
Silva was right on with his comments after the game on the BBC – we lacked quality. We lacked it upfront, we lacked it in midfield, and we lacked it at the back.
Most of these players have got two managers sacked and a third received his marching orders because the only way he could get points was to keep the team on a tight defensive leash because, if we opened up, we would get murdered.
Enter Silva and Brands. The defence is crap and we needed players – Digne, Mina, Zouma brought in. We lack creativity and goals – Richarlson (Silva was desperate to get him), Bernard and Gomes, brought in too.
All these players will surely improve the first XI: Digne looking okay; Zouma played twice; Mina not at all; Bernard still getting up to speed but he looks good to me; Gomes not played yet; and Richarlison really looks the business but let himself and the club down at Bournemouth.
The rest for me can be assessed as follows:
Pickford, very good but like Keane, is suffering in my opinion from too much football and the mental tiredness it brings with it.
Walcott will do a good job for us, if he stays fit.
Coleman needs this season to get himself back up to speed and his confidence fully restored after his horrific injury.
Baines is a good back-up to Digne now.
Kenny is learning so Walcott has to help him out, as will Mina. His crosses on Saturday were terrific.
The midfield of Schneiderlin and Gueye is finished and will never be the answer to controlling a game – when was the last time we did control a game, by the way?
Davies is learning but the penny has to drop soonest.
Holgate will be a good central defender but not a centre-half who dominates centre-forwards as I expect Mina and Zouma to do when they eventually play together.
Jagielka and Keane are not good enough, sorry to say. Both internationals who make poor judgements and get caught out, leaving attackers unmarked too often for my liking.
I reserve judgement on Tosun until I see him with a proper creative midfield behind him (not two holding) and players who can play him in behind defenders.
Niasse can go but, as he will be around until January, he should play in the Under-23s to get some goals.
Calvert-Lewin is still learning but I believe there is a player in there.
Sigurdsson worries me as he is not getting involved enough. Maybe it's mental fatigue too. Also it could be because the other two in midfield can't pass forwards or, as on Sunday, sideways.
Lookman wants out which makes me sad and I would like to know the real reason why he so obviously hates being at EFC.
Silva needs time and he also needs a lot more quality. Until such times, here is my immediate future should everyone ever be fit at the same time. Some hope, I know, but it's hope that keeps me going, well most of the time anyway:
Defence: Pickford, Coleman, Mina, Zouma, Digne;
Midfield: Bernard, Gomes, Gueye;
Attack: Richarlson, Walcott and Tosun.
Subs: Stekelenburg, Baines, Holgate, Sigurdsson, Schneiderlin, Davies, Calvert-Lewin.
With more quality to be brought in during January.
As regards the way players are treated at Goodison Park: A memory that has long lived in the memory for me is the cat-calling of Peter Reid in his final days at Goodison. Yes, he was not the player he was but god he gave everything for EFC and yet he was booed by fans who once adored him. I have never forgotten it. The fickleness of some so-called die-hard Evertonians can be very hard to take sometimes. Patience, people, please.

Si Cooper
94
Posted 17/09/2018 at 23:14:30
John Raftery (#23), we are seeing very different things. The main impression I got from yesterday's game was one midfield bossed it and the other failed miserably.
Their second goal wasn't really typical of a systemic defensive failing apart from the fact that the ball was needlessly given away and all three of their goals were clinically taken.
Do you think any coach has to teach his players not to give the ball away? For some reason Gana Gueye, Zouma and Holgate seemed to think they had to produce wonder passes whenever they had the ball when I'm sure that wasn't the game plan at all.
Looking at the first goal in detail, it starts to go horribly wrong when Gana decides his best option is to ping in a twenty yard pass to an isolated Cenk Tosun who already has the defender right up next to him. Terrible choice, especially when Digne was following what I thought was the manager's game plan by drifting into acres of space on the left flank in their half.
Unsurprisingly the ball ricocheted away from Tosun to one of theirs who plays it past the on rushing Gana (presumably keen to make up for his error) to Arnautovic. Holgate panics and decides to rush to Arnautovic who simply lays the ball back to a team mate and spins quickly to run behind our defence.
Schneiderlin is too far away to do anything but still takes himself out of the game by attempting to get to the West Ham player Arnautovic played the ball back to. That is Gana, Holgate and Schneiderlin all taken out of the equation pretty much by their own poor decision making in the space of two passes.
Zouma now has Hobson's choice; he has to abandon his reasonable defensive position to cover Holgate. His first step is to try tomatch Holgate's charge up the pitch to see if they can at least put Arnautovic offside but that doesn't work as the ball over the top for Arnautovic to run onto is played quickly. Zouma's really got no chance of getting to Arnautovic and Yarmolenko made the supporting run and got his reward.
So that is two errors by Gana and one by Holgate that were wholly avoidable, combined with good reactions and slick passing by the West Ham players that led to that goal. Do you believe Marco Silva spends his time saying "Gana, ignore the man in space with the capability of delivering good crosses and instead zip it in to someone who has nowhere to go and no-one to play it to in the hope that he can do something miraculous."
Or, "Mason, it is crucial that when you are 4 yards away from a player like Arnautovic when he is receiving the ball on the half way line with his back to goal and no one ahead of him you rush at him in such a way that a simple lay off and spin will take you out of the game."
You are apparently seeing evidence of players being coached to defend badly, whilst I see players continuing to make the same poor choices (that will forever mark them as nearly men) that they have made under previous managers. Gana's never going to learn not to be too ambitious with his distribution which is why he shouldn't be taking on the amount of passing duties he is. I don't know if Mason Holgate can learn to make better choices on holding or committing himself.
Si Cooper
95
Posted 17/09/2018 at 23:41:13
Jay Wood, I think you have me on the accuracy of exactly what happened in the build up to their first goal as I posted above.
I was working purely on memory from yesterday afternoon, but I am certain that it was an awful choice of pass by Gana, and he and Mason Holgate made poor choices following the loss of possession (Schneiderlin and Zouma had no real options but to react as they did following the decisions made by Gana and Holgate) and so I think the general point I was trying to make still stands.
Gana can pass and his work rate is great, but he tries passes that he consistently does not make and his decision making over the options available to him is not perfect either. Like a lot of players, he can clip the ball about to players who have time but he doesn't have the absolute accuracy or timing for precision play in heavy traffic.
Tosun had no real chance with that ball and there were better options available.
Jay Harris
96
Posted 17/09/2018 at 23:58:06
I am one of the biggest critics of our midfield but to blame Gueye for the first goal is bordering on the insane.
Tosun had a perfectly good ball played in to him and one of his asks in the absences of goals is to hold and link play up. He was just like a paper bag just blown away like a schoolboy by the defender.
On top of that, Tosun has no movement and no work rate. He absolutely needs dropping until his confidence returns.
If your forwards aren't moving the defense about, who can you pass to. That was one of the big problems for Holgate and Gueye yesterday. Players are hiding instead of showing for the ball.
A "hard bastard" center-mid wouldn't go amiss in January and a new "goalscoring" centre-forward... if the recruitment staff can remember what one of those is.
Brian Wilkinson
97
Posted 18/09/2018 at 01:07:11
There lays the problem, Jay, we do not have a centre-forward who we can bring in place of Tosun.
None of the others are any better than Tosun, we have no-one who we could put there unless we draft Richarlison there or possibly Walcott there.
It is an absolute must we bring in two quality strikers in the next window, one at the very least.
Stephen Davies
98
Posted 18/09/2018 at 01:30:09
Jay (#96),
Yes I think its generally accepted thats what we are missing and certainly Silvas previous interest in Doucre points to what kind of player he wants in Midfield.
Perhaps Brand is already on the lookout for such a player...and there maybe one available somewhere in Europe that we can get in January.
However, getting a 20-goal striker will be a much more difficult task and beyond even Brands to obtain in the January window and we will probably have to wait until the summer. This then begs the question: Who can we realistically attract?
Every club is after a regular goalscorer and the Champions League clubs will always have first pick of the best; however, other clubs in the past seem to have picked up players that have been under the radar or overlooked... eg, Demba Ba, Vardy, Payet, di Canio... (granted some of these weren't prolific goalscorers but were undoubtedly talented and exciting when in their pomp).
I suppose we did attempt to find one in Sandro who did look a decent prospect after a good spell in Spain but we all know how that has ended.
Personally, I have no idea of any likely candidates but there's sometimes a player at a particular club that just doesn't gell there and moves on to another and then just clicks... (eg, Mitrovic at Fulham; Duncan Ferguson when he was at Rangers; also, when Andy Cole first went to Man Utd, he was woeful and their fans wanted rid... in fact, there were strong rumours he was on his way here).
Maybe there are some here who may have some knowledge of strikers at other clubs abroad... or even closer to home, who may fit that bill?

David Barks
99
Posted 18/09/2018 at 02:16:16
The strategy from Brands and Silva has quite obviously been to bring in new players that are meant to be better than what we have, to go into the first 11. Not adding numbers for depth or taking chances as previous managers had done.
The quality of the player, their pedigree and Club/International background, shows they are meant to be in the starting 11. Digne (Barcelona), Mina (Barcelona), Gomes (Barcelona), Bernard (Brazil International), Richarlison (Brazil International), Zouma (Chelsea).
Our back line should be Digne, Mina, Zouma and Coleman. Our attack should be Richarlison, Bernard, Walcott, with Gomes in midfield.
They were never going to flip the squad in one Summer, never. They addressed a hell of a lot, including clearing out a massive number of players. I would imagine a striker is high on Brands's and Silva's list, but it has to be done over a period of time.
The last thing we want is to take another risk on a striker that we're not fully confident on or doesn't have a well-established pedigree. None of what we have up front right now is anywhere near the quality we need. It will be addressed, but not until next year, finances dictate that.
Gavin Johnson
100
Posted 18/09/2018 at 02:19:27
The honeymoon is well and truly over. We need to bounce back from that result and fast.
As others have pointed out, the midfield and striking options are the biggest problem. Calvert-Lewin isn't the answer, Niasse isn't good enough and, while Tosun has his attributes, he isn't a 20-goal striker. The obvious name to buy is Rashford and I think he'd be tempted to come and be our main striker.
In the meantime, I'd be giving Richarlison a try as a No 9. We have strength in wide areas and it might be an idea to stick Bernard or Lookman out on the left-hand side and play Richarlison centrally. Either are better than Calvert-Lewin who isn't good enough as a wide striker.
As for a midfielder, I have to say we missed a trick not buying James Maddison.
Vijay Nair
101
Posted 18/09/2018 at 03:15:50
With Richarlison back on deck for the next game, I reckon we should just change things up and play him as our striker, with Bernard and Walcott either side of him. He has the pace, can hold the ball, and clearly knows how to put the ball into the net.
Tosun, Niasse and Calvert-Lewin are simply not cutting it at the moment, whether it be lack of skill or confidence.
Henry Lloyd
102
Posted 18/09/2018 at 04:06:17
Mark Jolly (#69),
You must be living in Cloud Cuckoo Land, pal!!
Let's all get behind a manager that has done nothing but FAIL in the Premier League. Why should I or any other Evertonian get behind him???
5 games and we should have won them all except West Ham because they were the better team, more desire, more hunger more class.... Fact!
Get behind the Manager? Fuck him... He's useless!! Gone by Christmas. Mark my words!!
Paul Smith
103
Posted 18/09/2018 at 04:21:09
Good players can receive a ball to feet when tightly marked and bring others into play or still beat a man. With players becoming more athletic, space is at a premium; Rom got shit for his control but its better than Tosun's.
I agree with David Barks assessment apart from Zouma, I prefer Keane in there.
Brian Murray
104
Posted 18/09/2018 at 07:19:14
Henry Lloyd,
When are we going to get a break? It's true that it's 5 managers we have had who are nowhere near top level.
If Brands continues to find us class players but the boss can't fathom a winning system, he will get fed up and be tempted by Man Utd. No doubt they will come sniffing sooner or later because we seem to be their air supply if they go looking for class... or looking to offload a has-been or a crock.
Tony Marsh
105
Posted 18/09/2018 at 07:56:52
I agree with most comments on the state of play this season. And yes, most of the players in this squad are useless. The only decent players we have are the Silva and Brands signings with most of them yet to play.
Koeman, Walsh and Allardyce have made sure that Silva, or whoever it was that took the manager's job, had a mountain to climb. Cut Silva some slack until all 5 of his guys pull on the Blue shirt. I will reserve Judgement untill Gomes, Mina and Bernard join Digne and Zouma on the pitch.
One thing I have noticed this season is the lack of attention being paid by our fans to the dismally poor form Jordan Pickford is showing. We are crucifying everyone that moves yet Jordan is immune from stick and he has been utter shite this season. The free kick Neves scored for Wolves in the first game was the start of the awfull form and, on Saturday, Pickford was abysmal.
So Jordan saved a penalty for England in the World Cup... big deal. I don't think many of us give a shit about England at the moment. I said at the weekend Pickford is too small for a keeper and some bright spark on here reffered to Shilton and Banks being the same hieght as Pickford. Yes, that's great but Shilton and Banks were probably the biggest guys on the pitch at the time. There were no 6ft-6in center-halves and strikers coming up for corners back then.
A bigger keeper would've blocked West Ham's 3rd on Saturday. A big keeper is not just about hieght and coming for crosses – it's also about filling the goal space, making yourself BIG!!! Don't get me started on the West Ham 2nd goal which was disgraceful and a non-English keeper would of gotten both barrells for it.
We all know we have an injury-stricken defence, a slow useless midfield, and no proper striker at the club, so now we can also throw in to the mix a tiny dodgey keeper for our troubles.
Anyone want an Arsenal away ticket??
Jerome Shields
106
Posted 18/09/2018 at 11:35:05
It just occurred to me that Brands may have an opinion on Everton's progress.
Brands was not even started in his job, but was brought in early to deal with the only candidate for the manager's job and the various promises that were made to him. He could do little about the promises, but could at least talk to Silva and see if he was suitable for the job. The contract was agreed with the rest of the Board and Brands would have to wait to see if Silva could deliver on the pitch.
Brands did provide him with suitable players, sort off. He had to risk taking on injured players, given Everton's reputation as a career destination. This seems to be working out. He also reduced the squad by moving on players who were not up to standard, limited by the amount of work that can be done in one transfer window.
Brands will be wanting to appraise progress so far and want all players to play so that he can get an assessment of their ability. He will be drawing up a list of positions that need strengthing and players required. Brands will also be appraising tactics, their implementation and suitability. He will be looking at areas to improve and setting goals regarding this improvement.
Brands won't care who Everton play next or whether its home or away. He will want to see improvement in tactical implementation and selection, with transferred-in players used to good effect, to fulfil the strategic plan. There is no doubt that some players in the first team are on trial, only there because of the limits of one transfer window.
Even a slight improvement against Arsenal in selection and tactics may make a difference; Silva can be sure that Brands will be watching closely and won't hold back on decisions once he has done his assessment. The good thing about the West Ham game is that it was good preparation for the Arsenal game, which will be similar in style.
Arsenal is going to be a big test for Silva in more ways than one.
Clive Rogers
107
Posted 18/09/2018 at 12:04:39
Some observations from Sunday:
Gana and Shneiderlin is still not a good combination.
Pushing Gana forward has been tried before and doesn't work.
We are missing Keane's improved form this season.
Calvert-Lewin is not going to make it. Good athlete, not a footballer.
Tosun lacks pace and his confidence has gone.
Walcott is always going to be in and out of the game.
Sigurdsson is not the creative Number 10 we need, but scores the odd goal.
Dave Abrahams
108
Posted 18/09/2018 at 12:07:43
Peter (90), if that incident is the one I'm thinking of then it could have been a fantastic goal if Calvert-Lewin had hit the ball on the run, instead of trying to control it.
Steve Ferns
109
Posted 18/09/2018 at 12:42:36
I thought so too, Dave. There was no need to control it. Just try to connect and usher it towards goal — unless you hit it straight at the keeper or miss the target it's a goal. Very easy to keep the power on those shots. The technique is tough to pull off though. But, the level of striker we need to be top six would be scoring them all day long.
George Cumiskey
110
Posted 18/09/2018 at 12:44:51
Clive @107
In the words of that old song, you took the words right outta my mouth.
Matthew Williams
111
Posted 18/09/2018 at 13:29:12
Why has our style of play not changed... in 10+ years???.
The ball is always in the air, our passing is woeful, players still slip and slide all over the fucking place or go down way too easy, players played out of position or off form, we persist with systems that don't work every fucking game, we always look so slow in everything we do, we start games at a snail's pace and look so easy to counter and slice open time and time again???
Regardless of manager or players, nowt seems to ever change. Time to think outside the box and try a radical new approach or this shit will continue for years to come.
So, for me... 3-5-1-1:
Pickford
Holgate Jagielka Zouma
Kenny Coleman Gana Baines Digne
Bernard
Richarlison
Try something new! ...nothing to lose down at the Emirates, as our record there is a disgrace as it is.

Bill Rodgers
112
Posted 18/09/2018 at 14:20:21
Here's a genuine suggestion for Silva. If the proposal is that things have sunk so low for years that it's going to take at least a year to put right – then many will buy into that – along with the inevitable hiccups (to put it mildly) along the way.
But if that's the deal then you have to be honest with the supporters, tell them that's what you're doing and what went wrong and, in particular, what radical actions you are taking with players who do not sign up.
we have had a bellyful of false dawns, overrated players, phoney buys and half-hearted time-wasters. Lay out your vision and the process and let people buy in. If you haven't got one, or prefer to keep it to yourself, then I can tell you right now which way this will go.
Kieran Kinsella
113
Posted 18/09/2018 at 14:24:58
Bill Rodgers @112,
It sounds as if you're saying you want Silva to say something along the lines of "we are bringing a knife to a gunfight".
Jay Wood
[BRZ]
114
Posted 18/09/2018 at 15:36:09
Dave @ 108 and Steve @ 109.
Jeez, you boys are being hard taskmasters.
Watch the play again for that Calvert-Lewin run from Gueye's excellent 40-yard pass.
Whilst Gueye takes a few strides forward with the ball at his feet, Calvert-Lewin, looking at Gueye who is right of the centre circle still in our half, starts from just inside the centre circle, again in our half.
It is Calvert-Lewin's sprint and awareness that BEGS for the pass from Gueye, who duly delivers (that's the wee fellah in midfield who can't find a blue shirt with his passing, of course).
It is Calvert-Lewin's run that carries him beyond the West Ham backline.
If you watch the play as the ball falls to him Calvert-Lewin cannot attempt the volley you both say he could have tried because he is in the wrong stride pattern. The right leg is already extending as the ball falls to him and he would not have been able to get any sort of accuracy or power on the volley you say he should have attempted.
You might have a case if his left leg was the extended and supporting leg as the ball fell for him, which would allow him to attempt the volley you suggest with his following right peg.
To offer that up as an example, Steve, of a chance that a top-level striker would be scoring all day long is a tad hyperbolic. Scoring from that type of situation is not commonplace at all, even by the world's elite strikers.
There was much to admire in that play in a game of so much dross. We should be praising both Calvert-Lewin and Gueye for it. Not criticising them.
Steve Ferns
115
Posted 18/09/2018 at 15:43:40
Maybe so Jay, and credit where it's due to Gueye for that pass. I still feel Lukaku would have hit it first time and if adjustments to stride patterns needed making then they'd have been done prior to receiving the ball. I really like Calvert-Lewin and I'm expecting him to make the step up this year. He needs to play much better than he did though.
Kieran Kinsella
116
Posted 18/09/2018 at 15:50:18
Steve Ferns,
I am comparing apples to oranges here style wise, but to your point, I remember Shearer talking about going to Blackburn. He said the biggest thing was that Dalglish spent a lot of time working with him on his running, movement and stride. Consequently, he would be best placed to get the shot away.
We heard a lot about Big Dunc working with Lukaku on holding the ball up and aerial prowess – which was one of Dunc's skills, but do we have anyone in the staff to help with the prowess of other aspects of striking?
Bobby Thomas
117
Posted 18/09/2018 at 16:47:09
Everyone needs to chill.
I don't think that back 4 had played together before and we have been mixing and matching there all season, which has been a problem position for 2 or 3 seasons anyway. I was worried when I saw the back 4. Centre-backs very rarely get thrown together and gel, it's all about combination play and takes time.
However, I don't think Silva helped them by playing it way too open and high up the pitch with the fullbacks bombing. It was asking to be countered.
The mix in midfield has been a long standing problem as well, which I assume is the reason he signed Gomez. We need someone in there that can play ahead of the holder and pass it, control the tempo and make things tick. Davies or Gana – who was awful, aren't an option for that role as far as I am concerned. I guess it's why Silva dropped Sigurdsson in there but the whole thing was a bit of a mess really.
We signed 3 players in the spine (2 centre-backs and a mid) of the side as the whole thing needed sorting. I wanted a pacey striker as well. It was completely obvious we needed it to stretch sides and give centre-backs more to think about.
We will be more than ok but that result and performance is a reality check. We need to get the new lads playing and bedded in.
Peter Neilson
118
Posted 18/09/2018 at 17:20:32
Bobby Thomas (117), I agree. We have been such a mess that to expect a manager to sort this out in weeks or a few months is completely unrealistic.
With our limited options play Calvert-Lewin as center-forward and give him a run of games. Leave Richarlison out wide and cutting in, get more creativity in midfield by dropping one of Gana/Morgan and try to get a consistent defence, although this has proved to be impossible with injuries.
Richarlison looks great, Bernard looked classy, Digne looks good going forward but maybe exposed defensively. Let the team gel.
Dave Abrahams
119
Posted 18/09/2018 at 17:33:27
Jay (114),
I didn't say I expected Calvert-Lewin to score, I said it would have been a great goal. I give Gana credit for a very good pass and Calvert-Lewin for a great run, he's a young lad who I expect to make continued improvement.
As for the incident of the goal-scoring chance, I think it is the mindset of Calvert-Lewin, if he's telling himself "I'm going to get hold of this" (the pass) that's what he tried to do, and it didn't come off, now if he told himself "I'm going to wack this when it comes through" – then he might have beat the keeper with the shot, it will all come with experience.
As John McFarlane might have said, "It's a lot easier looking at it from off the pitch."
Steve Ferns
120
Posted 18/09/2018 at 17:36:13
Dave, did you watch the U23s?
Dave Abrahams
121
Posted 18/09/2018 at 17:52:44
Steve (120),
No, I never watched that game, Everton know I go out for a good drink on a Monday but they still choose that night for a lot of the U23s matches!!!
I didn't miss much by the sound of it, did I?
Steve Ferns
122
Posted 18/09/2018 at 17:57:32
Never mind, Dave. It was shite. Anthony Evans was the only decent player we had. He had a couple of good chances, but Hornby was disappointing.
Jay Wood
[BRZ]
123
Posted 18/09/2018 at 18:25:36
Dave @ 119. Your last line sums it up:
"It's a lot easier looking at it from off the pitch."
That half-chance only came about because Calvert-Lewin took the initiative to create it, starting his run from the centre circle, in our half, anticipating ahead of any other player on the pitch what was 'on'.
His run begged for Gueye to make the pass he did. Calvert-Lewin is running at full speed, looking for a high dropping ball over his shoulder. There was an awful lot to compute in the nano-seconds he had to make a decision.
He didn't fail on poor vision or anticipation, or lack of speed, or poor technique, or poor coordination, or poor finishing, or lack of effort, or lack of experience.
He failed on bad luck that his final 1-2 strides weren't quite in sync with how and where the ball fell.
That play alone shows me once again what an unappreciated player we have in Calvert-Lewin.
I know the overall game was dross on Sunday, Dave, but too many are ignoring some very good things that did happen in that game, seemingly, it appears to me, to beat up on their own preferred 'fall guy'.
Steve Ferns
124
Posted 18/09/2018 at 18:38:42
We all love a scapegoat, Jay.
Brent Stephens
125
Posted 18/09/2018 at 18:45:11
Dave " I never watched that game, Everton know I go out for a good drink on a Monday but they still choose that night for a lot of the U23's matches".
There's the Chang as a temptation.
Dave Abrahams
126
Posted 18/09/2018 at 18:49:33
Steve (122), I like Anthony Evans, he's the one I think who's got a really good chance of coming good at the club, but I wouldn't give up on Fraser Hornby, young players can go from the sublime to looking very poor. Maybe the U23's need a couple of older age players in the team to gee the younger lads up.
Jay (123), not blaming Calvert-Lewin at all, if the move would have
come off we'd be talking about it ten years from now. As for Sunday: well we were poor for long stretches of the game, had good chances which should have been put away and goals scored by West Ham which came from mistakes by our own players that caused the wrath of a lot of supporters, including me.
Football, as you know, Jay, is a very emotional experience and, let's be honest two, or three of the Sunday's team will not be missed, by me at least, when they are moved on.
Dave Abrahams
127
Posted 18/09/2018 at 18:54:01
Brent (125), never tasted it, to be honest. I heard it being described though, and that was enough for me... does 'weak piss' hit the mark?
John McFarlane Snr
128
Posted 18/09/2018 at 19:10:04
Hi Dave [119], I have been offline for 10 days (laptop problems) but you're quite right, I have allowed for human frailty. You probably recall my claim that I've never missed a goal-scoring chance, nor failed to execute the perfect tackle from my seat in the Park End.
Like everyone else, I was disappointed that the chance wasn't converted, but the players are not machines that you can programme, and better players than Dominic Calvert-Lewin have suffered the same fate.
I believe that we as supporters sometimes demand perfection, but when the initial disappointment wears off, we acknowledge the fact that perfection is an elusive thing.
Dave Abrahams
129
Posted 18/09/2018 at 19:49:29
John (128), nice to see you back. I'm better than you John, I've never missed a goalscoring chance or failed to execute the perfect tackle, but you've only done that from The Park End, I've done it from The Upper Bullens – a lot harder, don't you think?
Andy Crooks
130
Posted 18/09/2018 at 20:19:33
Henry, @ 102, you should get behind him because he has been in charge for only five games AND, more importantly, you are an Evertonian, not a trophy-hunting glory hunter.
Five games, for fuck's sake! He will not be gone by Christmas, that is just utter garbage.
Andy Crooks
131
Posted 18/09/2018 at 20:23:07
Tony Marsh @ 105, a fine post.
Christy Ring
132
Posted 18/09/2018 at 20:36:01
Calvert-Lewin is a target man, not a winger. Richarlison is back on Sunday, but I'd start Tosun; himself and Richarlison combined well in the first couple of games.
Joe McMahon
133
Posted 18/09/2018 at 20:38:27
Tony (105) yet again I'm in full agreement with you. I even wanted Joel Robles to stay. Jordan has made many fine saves for Everton, but like you say the Wolves freekick, and away at Burnley last season cost us points, Liverpool in the FA cup also. The penalty save for England does gloss over his performances for Everton.
Also I think you are bang on about Silva/Brands signings, we have to wait untill all fit, but I have a feeling they are gonna be a much higher standard than Klasson, Keane, Sigs, a static midfield and a 49 year old Leighton Baines. The damage done since we've had money is sickening spent by Koeman/Walsh. Lets face it 27 million on Tosun is also a farce.
Paul Birmingham
134
Posted 18/09/2018 at 20:57:48
As stated on other threads I'll judge the team after 10 games and at Chrimbo.
The West Ham result had been on the cards as it was third game at GP, - Soton, Huddersfield and West Ham, were our midfield was done, albeit v Soton we just held on plus some weird ref descisions, but the alarms were there.
In all games the defence resorted sadly to their "default mode" and went missing. This cost us and now from a god fixture list we find ourselves in the position of far fewer points than all thought.
Huddersfield, read the riot act as the worst team at GP in years made Everton look like a Team that was lost and had no direction. Their midfield turned up and out thought and out played ours.
West Ham deserved what they got but in my view this game, highlighted little cohesion and team play in pressing and closing and almost playing like independent formations with little or no communication. We need a real Captain on the pitch, but do we have a charamatic nark, in the mould of Reid, and guile of Ratcliffe, in this team, or even in the whole club?
Hopefully the riot act has been read. Lessons learnt, we hope so!
Silva he's not had a fair chance yet. But fight, guts and spirit, identity he's talked about off the pitch in interviews must be default requirement for every match. Play like their lives depend on it. On Sunday the game feebly was over by 70 mins albeit Niasse miss, but West Ham played with us.
I hope history is written this Sunday and We will allbe made up..but what happen v Fulham, do we have the level to knock out back to back wins against such teams?
I hope the team plays as a team and doesn't put all hope on Richarlison. Hopefully some spark will return and the mental fears are lost.
Let's not get too despondent and hopefully the club dusts itself down and shows guts and character this week.
But as optimistic as I am, I see us getting a good start at Arsenal, and like so many times
Down hill slalom at 12 noon tomorrow, the weekend beckons, All have a good week.
Andy Williams
136
Posted 18/09/2018 at 22:49:59
Henry#102. FFS get a grip!
Andy Williams
137
Posted 18/09/2018 at 22:54:41
Henry#102. FFS get a grip! Howard Kendall's first 5 games: 1 win, 2 draws, 2 losses. You can't judge anything yet.
Brian Wilkinson
138
Posted 18/09/2018 at 23:27:50
With the crosses we are supplying, I think it is time to push the boat out and try and get Bas Dost in.
Trying hard to think of any other forwards we could land who could fit the forwards role better.
Peter Mills
139
Posted 18/09/2018 at 23:34:34
Regarding the incident I referred to at #90, there were a few things in my mind:
I took it as a positive from the match. It was a good move.
DCL possibly showed inexperience as much as lack of technique. It was a difficult ball to take.
Most of all, on a weekend when there have been some pretty strong posts on here against fellow supporters, I was commenting on how the same split second could be viewed so differently by two people sitting next to each other. We didn't insult one another, we ended up
Just laughing at how differently we had seen the same thing.
Tom Bowers
140
Posted 18/09/2018 at 23:36:46
We can hope that some lessons have been learnt but things may not change too much in the foreseeable future.
It will take time as Silva tries out the whole squad in a system that will work best for the club.
Losing Keane, Jags. Charleson and Seamus before all the new guys are fit was quite a blow and hopefully thing will be on track before too long.
John Boon
141
Posted 18/09/2018 at 23:37:02
I am amused and not particularly surprised that older fans such as John McFarlane (128) and myself included, are far more patient and forgiving than younger fans. Part of the reason is that most supporters under the age of thirty have never seen a really good Everton team.
Since my first game at Goodison in 1947 I have seen everything, from dreadful teams in the post war era, to the Vernon, Collins and Labone era of great Everton teams who played football that was admired throughout England. We then had to wait until the eighties to be able to watch another spell of always being near the top of the league and taking part in a number of cup finals.
Since then we have had our ups and downs with some Okay seasons but nothing too super special. Money has become the major factor in success and the Premier league has significantly reduced the chances of ever seeing any teams such as Ipswich, Derby, Portsmouth, Burnley etc etc winning anything except the annual fight against relegation.
I did not include Everton, my beloved "Blues" in that group, not because I am biased, which I am, but because I am an Evertonian and I still think we CAN win the Premier league. Obviously not this season but possibly during the life time of those under Thirties who I referred to earlier in my post.
I think all younger supporters are understandably frustrated and rightly so. They have been given a bum rap and want to see more success than they have been provided with over the past thirty years. This is why they seem to have a difficult time watching such recent games as Huddersfield and West Ham and seeing such poor football along with unacceptable results. I still think and hope that good things may be around the corner.
I also think that younger fans are often tired of hearing older Evertonians talk about the great teams of the past .I do know how you feel because my Dad and Uncles and older brothers used to constantly tell me about Dixie Dean and the unbeatable Everton teams of the nineteen thirties. This was in 1950 and I was eleven years and had only ever seen very poor Everton teams, always near the bottom until we were relegated in 1952. At that time and age I never thought that we would ever win anything again. However things did improve and hopefully they will again.
One final thought in my ramblings. I am so glad I am an Evertonian. It has always been an immense part of my life. I also have Three Evertonian kids plus Evertonian grandchildren. I NEVER envy the red enemy over the Park no matter what they win. We will rise again and we will be great again. We all need to try to be patient even through the most difficult times. CYOB Blue for EVER.
Steve Ferns
142
Posted 18/09/2018 at 23:54:15
What an excellent post John.
Brian Murray
143
Posted 19/09/2018 at 03:39:19
Hope you're right, John. The DNA of Everton suggests otherwise. We are not a blue touch-paper away from success.
Brands and Moshiri have a totally different mentality than anyone around them. Silva so far is making the same mistakes game after game... which, for now, is okay – but is he learning from them??
If Silva is as good as the other two, then exciting times ahead. If not... well, false dawn Number 6.
Danny O'Neill
144
Posted 19/09/2018 at 04:39:47
Such an accurate post John. I was fortunate to have hit my teenage heyday in the mid-80s but prior to that had live off a diet of stories of great teams & whilst witnessing some pretty poor teams. As I have since. I agree, there is a generation out there that hasn't witnessed a domineering & winning Everton side. I don't wish to divide over manager preference, but they are the Moyes generation; lower expectation so that a plucky performance and 8th place finish is deemed success. Expect nothing higher. Sorry, not my Everton.
I too used to wonder if what my father (Kendall, Ball & Harvey) & Grandfather (Hickson & vague Dixie Dean recollection) were telling me the truth. I kept the faith.
Putting it into more modern reality, when we were gloating in the 80s, a certain Manchester United had not won the league since 1968 and actually been relegated in the early part of the 70s.
More recently lesser yet reasonably big clubs (in the traditional sense, not the modern Sky TV classified sense) such as Chelsea & Man City have come from the lower divisions (yes what we now call Championship & League 1) to dominate; arguably a modern version of Shankly's 1960s' into 1970's Liverpool.
So what? It can happen; it will happen; it's happened to us just as it has to others. We just have to keep believing it will!
Our day will come again.
Danny O'Neill
145
Posted 19/09/2018 at 04:39:48
Such an accurate post John. I was fortunate to have hit my teenage heyday in the mid-80s but prior to that had live off a diet of stories of great teams & whilst witnessing some pretty poor teams. As I have since. I agree, there is a generation out there that hasn't witnessed a domineering & winning Everton side. I don't wish to divide over manager preference, but they are the Moyes generation; lower expectation so that a plucky performance and 8th place finish is deemed success. Expect nothing higher. Sorry, not my Everton.
I too used to wonder if what my father (Kendall, Ball & Harvey) & Grandfather (Hickson & vague Dixie Dean recollection) were telling me the truth. I kept the faith.
Putting it into more modern reality, when we were gloating in the 80s, a certain Manchester United had not won the league since 1968 and actually been relegated in the early part of the 70s.
More recently lesser yet reasonably big clubs (in the traditional sense, not the modern Sky TV classified sense) such as Chelsea & Man City have come from the lower divisions (yes what we now call Championship & League 1) to dominate; arguably a modern version of Shankly's 1960s' into 1970's Liverpool.
So what? It can happen; it will happen; it's happened to us just as it has to others. We just have to keep believing it will!
Our day will come again.
Greg Anderson
146
Posted 19/09/2018 at 05:29:17
Lovely post, John. Being a longer-time fan certainly gives you more historical perspective on the woes of the present. As one who first came to love Everton in the late 60s as a lad in Birkenhead, I personally found the 70s a much more frustrating time to be a supporter than I do the more recent years. In those days we were unarguably one of the "big" glamour clubs, with a record to prove it. We had a stadium that was the envy of the land (far more impressive than that dingy pile across the park) and we simply expected to win things. In the years 1974-79, when we had some great, entertaining players and finished in the top 4 three times, we were disappointed . I truly admire the younger Blues who have known no success at all but still bleed for the cause.
Stephen Williams
147
Posted 19/09/2018 at 12:16:03
I have deliberately refrained from posting my thoughts over Sunday's debacle until now in order to let my frustrations subside so that, hopefully, I can give a more measured view.
Many of the posts so far highlight the (widely recognised) inadequacies of a number of players. Whilst, to varying degrees, these criticisms may be valid, they aren't exactly news; most of us have been aware of them for quite some time. This shows just how big a job that the owner, DOF and coaching staff have in trying to develop us into a consistently competitive outfit that challenges at the very top of league. Its also a task that most of us recognise will take a number of transfer windows (and no little money!) in order to transform the squad. Therefore I find it a little pointless to scrutinise the performance of players that may not be here when hopefully we have become competitive.
Instead over the last few weeks I've turned my attentions to the common denominators between the current position and hopefully the 'promised land'.
One must assume that Moshiri and Brands are in this for the long haul (we'd be in real trouble is Moshiri wasn't!). That leaves consideration of the manager. Personally, I've been singularly unimpressed by Silva's start. Although we've played the whipping boys in the first 4 games (although, unlike many, I do recognise that WHU are much better than bottom of the table suggested and was never going to be easy) we've rarely looked a cohesive unit and exhibited no real developed pattern of play with the result of securing only one narrow victory.
Whilst the fans can see the players' inadequacies, I wonder if Silva can because it's clear that in particular our centre halves and centre midfielders aren't strong enough to accommodate the tactics of pushing the full backs (almost negligently) too high with the consequence that when we inevitably cough up possession cheaply (whoever the culprit may be at that particular time) the opposition is straight onto our rapidly back-peddling back three (including GK). This has happened against the whipping boys - goodness knows what will happen against the good sides. To date, based on average goals conceded, we'd need to score 3 goals a game to win - even some halfwit can tell that that's not a sustainable model.
I'm really disappointed and concerned that Silva hasn't addressed this and tinkered with / moderated his tactics to accommodate the quality of the players he has to work with. Unless he does then it will be a long and arduous process until Brands and Moshiri can recruit the quality of player that can make a decent fist of such adventurous tactics. The problem for Silva being that Moshiri may run out of patience with him in the meantime.
Whilst I'm definitely not advocating yet another change of manager not least as we desperately need some stability, Silva needs to perform so much better than he has so far, even if its at the pragmatic expense of reigning in some attacking desire including his idealistic obsession with pushing his full backs so high.
The period to Christmas (by which time we've played everyone once) will tell us much more about Silva's abilities and inform his long term future.
Jerome Shields
148
Posted 19/09/2018 at 18:58:37
Stephen (#147),
Like you, I expected Silva to address in this match the repeated problems that have arisen in the first four games.
Given that there where errors made by individual players, what stood out for me was team selection, implementation of tactics, and coaching thereof.
Silva initially started with a high pressing game, but he did not have the players, particularly with pace, to implement it. Tosun and Sigurdsson where clearly off the pace and ineffective leading the press. The gaps that were left allowed West Ham to bypass the defensive midfield and the defence was left out of position, with pace issues and in a number of cases showed lack of coaching on whether to commit or not. The West Ham midfield trio were able to tackle, overlap and rotate throughout the game largely unchallenged, pressuring the heart of the Everton defence, with success.
The defensive midfield of Everton largely played long passes, which sacrificed accuracy, to the Walcott wing. It must have been to take pressure off the Calvert-Lewin wing, where any forward play was dominated by the excellent Digne. Why was Calvert-Lewin initially put on the wing? And no place made for Lookman was bad omen from the start.
Sigurdsson was bypassed or went missing most of the game. Tosun seems to have a "lay the ball off" role and provides overlap for Walcott, but the fact that he can't seem to turn his marker or take a chance means that opposition defences are able to push up, maintaining a higher line, compressing Everton play and providing support for their midfield to turnover Everton players. I don't think Silva has an overall forward tactical strategy and can't find anyone who can.
The question that I am asking: Is Silva's coaching and tactics so weak that the result is that players don't know what they are doing? West Ham beat Everton with a clear tactical strategy, well implemented by well-coached players. Their playing style is similar to Arsenal. The West Ham success at the heart of the Everton defence is worrying given that Everton weren't tested once by a set piece.
Yes, Stephen, Silva worries me as well.

Paul Birmingham
149
Posted 19/09/2018 at 21:35:57
John at 141, superbly written and endorses the passion and wisdom and virtues of being an Evertonian, hope eternal and belief in that our time will come again soon.
Jim Harrison
150
Posted 20/09/2018 at 04:04:31
Richarlison back this weekend, so at least we can end the suggestions that Lookman should be starting. Calvert-Lewin wasn't great, but at least he was physically up to the West Ham lads. I think Lookman would have been shunted off the park.
David Barks
151
Posted 20/09/2018 at 05:19:31
Jim,
So Lookman would have been "shunted" off the park but Bernard was able to come on and repeatedly skin his man? And is Germany known for being a small league? Because Lookman did just fine there.
One thing I do know is that Calvert-Lewin on the left wing has and will continue to be absolutely useless. Once Bernard came on, suddenly we had a threat on the left. Before then, nothing.
That is the only thing that is concerning me about Silva, that he is doing the same as previous managers and putting the likes of Calvert-Lewin out wide. That problem goes back to Moyes throwing Anichebe on the wing. I just can not understand why the hell a manager won't just put a player in his natural position.
Bernard not fully fit? Fine, throw Lookman out wide. But the next man Calvert-Lewin takes on and beats with the ball will be his first. He's useless out there.
Jim Harrison
152
Posted 20/09/2018 at 06:04:53
David, fair point regarding Bernard, and I did consider that before posting. To me, he looks more niggling and aggressive a player than Lookman.
Calvert-Lewin also offers some height in a track. With Walcott on the other side it's a very short front line. Our full backs were both decent with their deliveries in Saturday.
For me neither of them should be starters. Not to say they couldn't be, but I don't see enough in either of them yet.
Steve Brown
153
Posted 20/09/2018 at 07:04:47
Playing Calvert-Lewin out wide left is one of the great mysteries that all Everton managers seem obsessed with but no Everton fan agrees with. Like playing Schneiderlin and Gueye together in midfield at home, positioning Sigurdsson too close to the striker or inviting both fullbacks to push up high at the same time!
Then, the biggest mystery of all, selling Lukaku and not replacing him with a decent quality striker. Fans can see the bleeding obvious when it is right in front of them.
Steve Brown
154
Posted 20/09/2018 at 07:07:15
The other mystery is how we can tell so much about Lookman's motivation by looking at his face. If he was pissed off when he came on against West Ham, it probably had a lot to do with Calvert-Lewin getting selected ahead of him.
Jerome Shields
155
Posted 20/09/2018 at 15:46:24
Bernard came on for Schneiderlin, leaving Gana to be the only long passer in the midfield. Calvert-Lewin was moved in to partner Tosun; even so, the play still went down the right, Digne providing the supply.
The whole forward line only produced one passing movement all game, originated by Bernard, resulting in a goal, everything came from the wings. Again, there was tactical and coaching inadequacies shown by Silva.
Bernard looks a great prospect, but Silva needs to improve on tactics and their implementation in the performance against West Ham.
Steavey Buckley
156
Posted 20/09/2018 at 16:06:25
Everton have begun another new season not looking like a good team that can beat the best on their day. Silva made the mistake of believing he could go into a new season without a recognisable centre-forward who can score goals regularly while having too many players not fit enough to start.
All this has a habit of catching up on managers that can lead to their demise, as confidence begins to ebb away throughout the squad.
David Barks
157
Posted 20/09/2018 at 16:15:59
Steavey,
And if he's spent the money on some "proven" goal scorer he'd be attacked for neglecting the left side of the attack, or the defense that has been declining for years, or the midfield that needs upgrading.
Almost like the entire team needs to be rebuilt and that's an impossible task to accomplish in one Summer while also having to ship off more than a dozen players. Almost like this is a long-term project that will take more than one Summer and the management is focused on the bigger picture as opposed to the opening 5 matches of this season.
Steavey Buckley
159
Posted 20/09/2018 at 16:51:47
David (#157). It's about the accumulation of a second season of not purchasing a proven goal scoring centre-forward, which led to Koeman's sacking.
Everton have spent huge amounts on other players in the past 2 seasons, yet, under Martinez, even when cash was short, he may sure Everton had at least a centre-forward who could score goals and lead the line.
At the moment, up front, Everton look so desperate, with no-one chomping at the bit threatening the opposition goal. Doesn't bode well for the near future. IMO.
David Barks
160
Posted 20/09/2018 at 17:09:03
The point is that this management isn't focused on the near future.
Paul Smith
161
Posted 20/09/2018 at 17:10:32
Steve, we bought Cenk for £27 million; he is the centre-forward.
Say no more.
Steavey Buckley
162
Posted 20/09/2018 at 19:02:23
Paul (#161),
If your idea of a centre-forward is not scoring goals for club and country this season, if you don't mind, I don't share this particular idea of yours.
Jerome Shields
163
Posted 21/09/2018 at 06:29:28
Steavey (#159). I did think as you and then realised that Tosun is being told to play as a forward to lay off and provide an overlap on the right wing. Silva has set up Everton to score from in-coming players from the wings and attacking midfielders. To some extent, the centre-forward role has been sacrificed. Of course, Tosun could do better at turning his marker and taking chances, but that is not Siiva's priority for him.
The other problem is that this isn't working either, because the shape to hold the high pressing game favoured by Silva isn't holding together, because of lack of pace of the players selected and poorly coached individual players. This leaves the centre-forward position unsupported and isolated.
In the West Ham game, there was only one passing movement involving all the forwards. Any crosses where ineffective, because Tosun was the only forward challenging for them. Calvert-Lewin stayed wide, only coming central when Bernard come on. Even then, all long passes from midfield were played to the Walcott wing. After this change, Digne provided consistent crosses all game from the left wing, with players not set up to challenge for them.
What I am saying is that Silva's tactical plan for the forward players did not exist and any tactical plan for support play failed. This explains the ineffectiveness of the forward players in the West Ham game to some extent.
David Barks
164
Posted 21/09/2018 at 06:46:51
FFS, 5 games in, different lineup every game. Richarlison suspended 3 of those 5 matches. Bernard only just now fit and has yet to start. Digne only inserted into the first 11 the last couple matches. Gomes yet to figure...
Can we just wait to see how the fucking season develops once Richarlison, Bernard, Gomes, Mina, Digne, Walcott actually play together?
Andy Williams
165
Posted 21/09/2018 at 08:41:27
David, David, David. Don't come on here with your common sense. This is no place for such moderation.
Go away, have a good think, find a player or two (especially if it's one brought up through our youth system) that you can tear into, become so inebriated that you forget everything you have ever known about building a football team — all the while watching a constant stream of RS goals, and then, just maybe, you will be ready to come back.
Jerome Shields
166
Posted 21/09/2018 at 11:06:41
The danger regarding Silva's ineffective strategy is that individual players start losing confidence in it.
Tosun, the leader of the high press, providing lay-offs and overlap for Walcott, has come to realise his survival will depend on him actually scoring goals. He therefore will have his own priority and Silva's priority will take second place.
This is the problem Silva has now, on not addressing issues game on game as regards tactics and individual coaching of players. Silva has to play the tactics to suit the players he has. He cannot impose tactics on players who are not capable and not coached to implement those tactics.
Also, his player selection and replacement has to be consistent with the tactics he is trying to implement.
As Lyndon has said, there are questions all over the shop.
Eddie Dunn
167
Posted 21/09/2018 at 11:24:31
Jerome,
Very interesting points but, as for Tosun, despite your assertion of his role as a link man, he found himself in on goal on three occasions (thinking of himself?) and failed to score.
His confidence must be low now.
Add Your Comments
In order to post a comment, you need to be logged in as a registered user of the site.
Or Sign up as a ToffeeWeb Member — it's free, takes just a few minutes and will allow you to post your comments on articles and Talking Points submissions across the site.