Zouma: We are all together
Wednesday, 26 September, 2018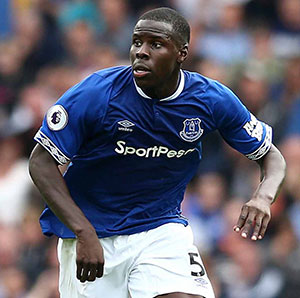 Kurt Zouma maintains that Everton were unfortunate to lose at the Emirates on Sunday and says that the players are working together and for each other under Marco Silva.
The Blues took the game to Arsenal but ended up on the wrong end of a 2-0 scoreline in a tale of superior quality in the final third and chances taken verus gilt-edged opportunities spurned.
Dominic Calvert-Lewin and Theo Walcott both had chances to score in one-on-one situations with Petr Cech but were denied by the Gunners' goalkeeper who also saved twice from Richarlison before pushing Lucas Digne's free kick over the bar.
With the hour mark approaching with the contest all square, Alexandre Lacazette broke the deadlock with a wicked shot in off the upright before a rare error by Zouma allowed Arsenal to swarm into the Everton box and score through Pierre-Emerick Aubameyang, albeit from an obviously offside position.
It was harsh on Everton who had done more than enough to deserve something from the game.
"We came to Arsenal to try to win," Zouma said on evertonfc.com. "Unfortunately, it turned out differently. We played a good game against a good team and it was a determined performance from the whole team.
"We are proud of ourselves but the idea was to win. We are disappointed about the score because I don't think we deserved that but we have to move on and work to try to get a victory next week."
Zouma's comments come in the wake of a scurrilous and uncorroborated tabloid report that tried to suggest that there are divisions within the Blues' squad and players who are bridling at Marco Silva's exacting methods.
The French defender refutes any such insinuation, saying that there is a unity of purpose at Finch Farm and that everyone is looking to Saturday's clash with Fulham to put things right.
"If you watched the [Arsenal] game you can see that everybody is working in the same way," he expained. "We are all together — there is no doubt about it. We want to win games and you can see there is a lot of quality in the team.
"Unfortunately, we didn't get the result we deserved, but it is football. Next week is another game; we are at home and we want to win."
---
Reader Comments (45)
Note: the following content is not moderated or vetted by the site owners at the time of submission. Comments are the responsibility of the poster. Disclaimer
Rick Tarleton
1
Posted 26/09/2018 at 06:30:08
Glad to hear team spirit is high and that the team is united. However, I'd like to see the adverbs efficiently and effectively moderating the participle "working" . Still can't be too picky, it was better than against Huddersfield or West Ham. Thanks Zouma for that soundbite.
Colin Glassar
2
Posted 26/09/2018 at 07:52:27
We've heard it all before Kurt.
Peter Norris
3
Posted 26/09/2018 at 08:27:47
What you insinuating then Colin?

Jerome Shields
5
Posted 26/09/2018 at 09:30:36
Everton where not unlucky, forwards looked poorly coached on taking chances and awareness of supporting players in better positions to shoot. The midfield trio is better, but Sigurdsson still goes missing.
There where less crosses than the West Ham game. The Everton defence was only put under pressure in less than 5 instances. I would dispute that Arsenal are a good side.
Craig Walker
6
Posted 26/09/2018 at 09:40:03
Completely unrelated but why are we only playing our Carabao Cup tie with Southampton next week? Have they split the draw into two weeks like they do with the Champions League?
Jerome Shields
7
Posted 26/09/2018 at 09:40:44
I will add that I never like players being wheeled out on Evertonfc. com to give us this sop. There must be contractual obligations to get them to do it, It really has the opposite effect on me, confidence-wise as it is intended to do.
Dermot O'Brien
8
Posted 26/09/2018 at 09:49:44
Craig, it's because the RS play Chelsea tonight at home and Chelsea also played on Sunday so "couldn't" play yesterday. Not sure why it was us and not them who got moved to next week, maybe there's CL/EL games.

Steve Ferns
9
Posted 26/09/2018 at 09:50:06
Jerome, if you watch the behind the scenes video you'll have seen that Silva, Zouma and Bernard were all talking to the camera, on the pitch, at the Emirates to a fella with an Everton TV mic in hand. I expect that after every game, 4 or 5 of them, including Silva, all speak to Everton TV. They hold these interviews back and drip bits out over the week to try to keep a positive buzz going.
It's not so much "being wheeled out", it's simply interviews after the game and then the Everton spin machine trying to create that positive buzz to build towards the next game.
I would ask, what's the alternative? They club goes quiet between games? The club, themselves, is always going to be positive. I don't see the problem here. It just was not as obvious to me as to how they went about things until I saw that video, wondered why we didn't have the actual interviews on the official site, and suddenly the club are drip feeding parts of the interview out now.
Craig Walker
10
Posted 26/09/2018 at 10:42:14
Thanks, Dermot. I probably should have worked that out. For some reason, I thought the RS were away tonight but I think I'm getting confused with their Premier League fixture this weekend.
Jay Harris
11
Posted 26/09/2018 at 11:07:11
I suggest we park all the cynicism until we see how committed they are against Fulham.
If ever there was a game to show commitment and team spirit, this is it.
Brian Williams
12
Posted 26/09/2018 at 11:21:57
Everton where not unlucky, forwards looked poorly coached on taking chances and awareness of supporting players in better positions to shoot.
You can't coach someone not to fluff a chance on goal just as you can't coach awareness. Sometimes they'll score sometimes they won't, that goes for even the very best strikers.
Awareness occurs, or not, in a split second and is nowt to do with coaching.

Tony Abrahams
13
Posted 26/09/2018 at 11:24:43
Jerome @5, if a player makes the wrong decision, then I'm not always sure that you can blame the coach mate. Lewin should have squared it, Walcott should have lifted it over Cech, Keane should have buried his header, but I don't know how you can blame Silva for those players not doing better in front of goal?
Maybe give him some credit because I don't think I've ever seen Everton create so many chances in one game at the Emirates, but it obviously depends on which way we see the game.
If Calvert-Lewin is through on Saturday, and makes the same selfish wrong choice again, then I would then blame the manager, but again that's just my own view of how I look at football and the players on the pitch.
Colin Malone
14
Posted 26/09/2018 at 11:46:06
After reading threads over the last couple of days, all I can say is fucking unbelievable. Six games in, people are criticising, Calvert-Lewin, Siggy, Tuson, not good enough, we miss Lukaku.
How many successful teams play with an out and centre-forward, goal hanger, who can't score against the top sides? Man City? no, Barca? no. Sanchez would compliment Barca and Man City.
Stop listening to clowns, likes of Merson, Wright on that debate program on Sky, I wish it was a phone in.
Give them time. COYBB.


Brian Harrison
15
Posted 26/09/2018 at 11:46:32
I don't think this side lack commitment or a togetherness, I think like the manager and the fans they are frustrated given some of their performances that they haven't got more points on the board. While Silva said he could understand the fans frustration at losing to West Ham, I wonder does a little bit of him think gladiators in the Colosseum got a fairer crack of the whip.
In only his second home game his substitutions were booed by a section of the crowd, I think Goodison is becoming a tougher gig than comics used to say about Glasgow Empire on a Saturday night.
I like many have wanted us to play fast attacking football both home and away, and to get a manager with that same philosophy, so now we have one. But he is still very early in the process of trying to teach players who have never played that way since they have been at Everton. Did any sane person who goes the game really believe that Silva could impart this new way of playing on what has been a largely under-performing group in a few months.
We even have a local paper asking is it right for some fans to be calling for Silva to be sacked. Now they don't have to scour the City to find someone suggesting this, they only have to scroll down this site over the last 2 weeks.
I am glad we have a manager who wants to play in a similar style to the successful clubs, he could have come in and played a defensive game like we did under the ex Bolton centre-back and just hope Richarlison and Walcott could pinch something on the break a bit like Koeman did for the last few months of his tenure. But he didnt he was brave and he knew the risks trying this way of playing. So I would suggest to my fellow match going fans lets give the guy a break and really get behind the team against Fulham.
Gareth Evans
17
Posted 26/09/2018 at 12:22:17
Unfortunately Brian (15) some people in this world just like to moan and they're never going to change. I honestly believe that even if we managed to win the league but lost 1 game in the entire season some people on this site would fixate on that 1 defeat!
Marco needs time but some people just arent willing to give it.
Personally I'm a lot happier with the performances (West Ham game aside) than I have been since Martinez's 2nd season and think we're improving (slowly).
James Marshall
18
Posted 26/09/2018 at 12:29:23
If you don't have a decent striker in your team you'll struggle to score goals. This is not rocket science, nor is it news to anyone since football began.
We have Tosun, who while he runs about quite a bit and can finish, he just isn't going to score many over a season and his link play leaves a lot to be desired.
Calvert-Lewin is a square peg in every round hole he plays in – I can't work out what he does well, but it isn't scoring goals.
I hear we're going to play with 3 centre-halves on Saturday – watch this space.
Liam Reilly
19
Posted 26/09/2018 at 12:55:21
Spot on Brian #15.
I'd rather see the team have a go at the so-called 'top sides' and lose, than batton down the hatches and try to nick one on a set piece.
We've spent too many years hearing how plucky Everton's place is in the second tier of Premier League clubs and it's time that record and the 'knives to a gunfight' nonsense was put to bed.
Look at Derby last night; fearless because they'd nothing to lose and ruffled some feathers.
I reckon Silva (given time) could make us believe once again, but he and the players need the supporters behind them.

Michael Williams
21
Posted 26/09/2018 at 13:37:56
I agree completely with James and William at number 18 and number 19. We are in attacking club once again and the squad especially will take time to come together. I will judge Silva when he is able to put together his preferred team and play them for a while.
Derek Taylor
22
Posted 26/09/2018 at 14:34:43
So, as long as we are an 'attacking side' everything is rosy, eh?
Points lost now are just as valuable as those garnered later when Silva' s crocks are all fit to play... if ever!
Too many people seem relieved that we have reverted to being a Martinez team in which performance counts for more than results. I bet Big Sam is having to smile at the direction we appear to be heading. Downwards.
Evertonians — get real!

Denis Richardson
23
Posted 26/09/2018 at 15:07:47
The manager needs time but anyone saying our start to this season hasn't been shit is delusional.
We've had the easiest first few games to a season start that I can remember and averaging a point a game for the first 6 is crap in any language, especially given the opposition.
We need to pick up wins and points in the next few games. Just because this season is transitional doesn't excuse 1 point at home to Huddersfield and West Ham.
Harry Hockley
24
Posted 26/09/2018 at 15:36:49
Derek, Agreed, people forget it's a results business! I don't care if we have 2 shots on goal and win 1-0 – it's a win.
Can we try and buy a striker that can score a goal in January, please? Maybe that would help... just a thought.
Our style of play is very good and I'm pleased on the whole, apart from a few who aren't good enough. In time, this will surely be taken care of with more signings, which are definitely needed, but not of the injured crock type this time.
Daz Jones
25
Posted 26/09/2018 at 16:06:10
Just a thought here everyone: Silva was chased by a Chairman and Director of Football, despite having a not so great defensive record with either Hull or Watford. Sacked from one and oh yeah, relegated with the other.
Did we not learn our lesson when we employed a similar manager, Martinez? Defensively poor record proved when taking Wigan down, but given the top job at a better club? First season was a fluke, and sacked two seasons after that. And, lo and behold, another manager whose CV says 'relegated' appears in the hotseat!
I was a massive Moyes fan, and was heartbroken when he left to go to Man Utd, and despite how all his jobs have ended up since, I would have him back in a flash. Man Utd straight after Ferguson was always an impossible job; Spain was always the wrong job for him; Sunderland were at the time a basket case club; but he showed his skills were still there at West Ham by keeping them up quite comfortably in the end.
"Yeah, yeah," you all might say. But just look where we were when he came in in 2002, staring the Championship in the face... but in those 11 years with us, he got us to the brink of the Champions League proper, got us to the FA Cup Final, consistent top eight finishes, and all that whilst feeding off scraps of money Kenwright could find him to spend. And I would take him back tomorrow...
I know Moshiri won't as he's 'not sexy enough'. But I think Moyes loved Everton, understood Everton, and was right when he said the Man Utd job was the only one he would leave for. I bet he turned down the Tottenham and Newcastle jobs whilst with us.
So, after all that, yes, I am prepared to give Marco time, as I did Moyes when he inherited the crap squad that he did all those years ago, but Marcos defensive reputation goes before him, I'm afraid, and I don't think we will finish top ten if I'm honest this season and maybe 9th at best next season.
If you give Moyes the money Silva and Koeman have had, I bet he would get us top six. Has anyone realised that two of Moyes's few signings at Man Utd are still there, nearly five years after his sacking? Mata and Fellaini kept by both the two managers after him? Just saying like so he does know what he's doing.
I would take David Moyes tomorrow and trust every decision he made. Again.
Chris Locke
27
Posted 26/09/2018 at 17:02:13
Derek #22
I don't understand your point. Unless of course you've enjoyed the last 3 seasons of woefully negative football Everton have been playing?
Allardyce did nothing positive for our club. He took us to the Emirates last season where he used all of his tactical nouse and years of experience to inspire the worst performance of the season (if not decade).
I think most fans that contribute to this site have gotten real and have realistic expectations of the manager and team.
Its likely that we'll finish top half this season and I think the majority would rather get there playing exciting attacking football in which we take the game to all opposition, irrespective of who they are, than grinding out results against the 'lesser' teams.
Everton has been broken for many many years and needs fixing. Silva has been chosen to try to do exactly that and I say we suport him for as long as we can.
So far the evidence suggests we're heading in the right direction and starting to find a playing style and team strategy. Something which has been lacking for a long time.
If you think the last 4 years of rubbish can be reversed in a few months with a few signings then you're nothing other than wrong.
COYB
Andy Sommer
30
Posted 26/09/2018 at 19:33:40
Pickford obviously believes in what Silva's doing. He's just signed a new 6 year contract. And yes I know that contracts aren't worth a whole lot but it's a really good sign of intent. Personally, I wasn't expecting amazing things from a heavily revamped team this year. We need to bed in and we need to show patience. I for one would like Silva to be given time to be able to move the club forward. I'm sick of the manager revolving door.
https://www.bbc.co.uk/sport/football/45658520
Karl Meighan
31
Posted 26/09/2018 at 20:59:31
Worst Arsenal team in years and they were there for the taking was my view of it. Missed chances and after halftime the result almost wrote itself.
Proud of being beaten 2-0, players hiding and a baffling decision to make a lad captain who wasn't good enough to make the first team last week.
I don't find these results and performances as easy to get over as some of our players seem to. The manager needs time but making the same mistakes as the last sacked 3 does not fill me with confidence.
Dave Evans
32
Posted 26/09/2018 at 21:09:03
Chris @27, Great post.
Not sure what Everton fans are supposed to 'get real' about either. You explain very well the reality situation we are in now.
In periods of the last game, I was actually proud of the team and how they were trying to play. Much more so than in any watching of the previous 100 hours.
We still badly need a centre-forward and a central midfielder though.
John Malone
33
Posted 26/09/2018 at 00:06:53
For me, the key elements which are still missing in our squad which – regardless of who the manager is – need to be rectified asap is the weak spine.
The one thing that stood out for me against West Ham, especially for their third goal, is how physically weak we are through the middle. We desperately need power and strength through the spine of the team strong up top, strong in centre-mid and a dominant centre-half the keeper is the only safe bet at the minute and he still isn't the finished article.
I'm really looking forward to when James McCarthy is fit I thought we improved a lot in our tempo and tenacity when he came back in the side last season. He will definitely give us some steel in the midfield.
Jim Bennings
34
Posted 27/09/2018 at 08:28:50
We can't keep blaming luck and injuries.
Basically if we had a bitch of a striker then Arsenal would have been walking off 3-0 down at HT on Sunday because that Arsenal defence looks like it's going to ship plenty of goals this season.
The sooner we stumble across a defensive partnership the better and the sooner January arrives and we properly do our homework on the type of centre forward we need the better.
Marcel Brands here's the situations when you need to really earn the biccies.
Jerome Shields
35
Posted 27/09/2018 at 09:35:50
Steve #9. I suppose I got sick of it last season, when we were repeatedly told by players on Everton TV we were getting it together, but we were obviously not. I suppose you are right, since it is obviously better than being iPhoned on the training ground and subtitles added.
Jim Bennings
36
Posted 27/09/2018 at 09:37:38
I get where Jerome is coming from.
I just hope there's no mid-season warm weather break in Dubai again after we've been elimated in the third round of the FA Cup!
That really does do my nut.
Jerome Shields
37
Posted 27/09/2018 at 09:45:29
Jim, #36. I suggested on first hearing of the break that they be sent on a cold-weather break, the colder the better. Last season, it was proved in the week after they got back, that I was right.
Tony Everan
38
Posted 27/09/2018 at 10:15:08
That'll be the Vostok station training complex in Antarctica . It's minus 89.2 degrees Celsius there. Don't forget the bobble hats.
Jim Bennings
39
Posted 27/09/2018 at 10:43:20
Jerome
I remember when Moyes took them cycling up hills in the Lake District in middle of winter, it coincided with a better end to the season.
I've never got those jaunts to Dubai and then coming back in the freezing weather, it makes nonsense to train somewhere where the climate is totally different to where you are going to be playing.
Jerome Shields
40
Posted 27/09/2018 at 10:43:28
Tony #13,
I got these stats from another site. Everton this season don't complete enough attacking passes in the 20 yards around the opponent's goal. Stats prove this.
Arsenal 15 - 5 Everton
Everton 5 - 6 West Ham
Everton 2 - 2 Huddersfield
Bournemouth 11 - 4 Everton
Everton 6 - 7 Southampton
Wolves 4 - 2 Everton
Cech was widly heralded for his performance. I say that overall Arsenal where poor and Cech was not tested. In fact, it looked as if he was on the training ground.
Arsenal won the game because firstly, their defence were able to channel Everton forwards into shooting positions that were favourable for comfortable Cech saves, preventing any attacking passes that created any movement in the last third in front of Cech, or that threatened his positioning in goal and any unmarked player on the ball. They had clearly identified this as an Everton weakness.
Arsenal then capitalised on this weaknesses in Everton's third and comfortably won 2-0. How did they get 15 forward passes in the final third? The midfield trio was not fully functional and there was no link play, with Sigurdsson going missing as usual and Schneiderlin's link play missing, which meant that no passing movement came from midfield or crosses from the wings.
The confidence of a defence increases as their system works and the introduction of Tosun increased it further, because he will pass back and won't take on and beat his marker and is easily channeled.
It is widely held that Silva got his tactics right and his high press was effective, but Arsenal's defensive tactics neutralised the Everton forwards.
Jerome Shields
41
Posted 27/09/2018 at 11:03:28
The offside goal importantly ended in the back of the net and at least someone had to take a decision. vWith stats of 15 completed passes in the final Everton third, a good Arsenal side would have hammered Everton.
Tommy Carter
42
Posted 27/09/2018 at 11:35:20
No need to review progress yet. Bottom line is that we should have much more than the likes of Cardiff and Huddersfield this season. So unless we are going to be the third worst side in the league, relegation shouldn't be a worry.
Hopefully with a system bedded in and a fit and consistent team selection we should see an upturn in form. Hopefully that will mean a climb up the league table and hopefully at least one decent cup run. Should this go according to plan I expect Mina, Gomes and Richarlison to form a highly talented backbone to the side.
We have drawn away to Bournemouth and Wolves which are two good results. Very good considering we played with a man less in each game. Not many teams will go to Molyneux this season and take 3 points. We were also desperately unlucky in both games.
We played West Ham and Huddersfield without our main attacking threat. We have played with inexperienced players and a player in Kenny who simply isn't good enough.
When the team looks like:
Pickford
Coleman Keane Mina Baines
Gana Gomes
Walcott Bernard Sigurdsson
Richarlison
I expect us to do very well
George Cumiskey
43
Posted 27/09/2018 at 12:00:53
Tommy with Gylfie — you must be joking.
Tommy Carter
44
Posted 27/09/2018 at 12:11:20
George @43,
Works his socks off. Creativity will come from deep with Gomes and further forward from Bernard. Supported by Coleman and Digne from the flanks. Directness and par from Richarlison and Walcott as well as decent finishing ability.
I expect Gylfi to be pressing the opposition and keep the ball moving. Which he is decent at.
Colin Malone
45
Posted 27/09/2018 at 12:52:53
The days of the Lukaku type of centre-forward have gone.
Tony J Williams
46
Posted 27/09/2018 at 13:05:41
"Worst Arsenal team in years and they were there for the taking "
Fuck's sake.
I would suggest the phrase "there for the taking" should be banned from this site.
The Arsenal team that had just won three on the spin and at a ground where we haven't won since last century on the back of a demoralising 3-1 defeat to the leagues bottom team Yeah, "there for the taking".
Arsenal would have been looking at this fixture thinking, easy 3 points that, but they "were there for the taking"...
Jim Bennings
47
Posted 27/09/2018 at 13:47:25
Tony
Arsenal were there to be shot at there's no argument to that.
Maybe not the worst ever Arsenal team that might be stretching it but as soon as I saw their back four it made me think or rather rue, the fact that we didn't have a better striker capable of finishing at least two of the clear chances we created.
We can't keep accepting losses at the grounds we can't win at, that mentality means we will never see another victory at Anfield, Stamford Bridge or Arsenal again.
Martinez reiterated in the build up before our win at Old Trafford in 2013 that it was important Everton Football Club had the belief that we could win at such venues.
We might not have agreed with much that Roberto said after that, but he was bloody spot on that day.
Jim Bennings
48
Posted 27/09/2018 at 13:56:32
P.S
It's 19 years to the day since we last won at Anfield.
27 September 1999.
Ian Jones
49
Posted 27/09/2018 at 19:41:20
Slightly off topic, and apologies for it, but sometimes, you need a laugh. Karl Pilkington's feelings about supporting Liverpool has it nailed as he reveals that growing up he was told "not to talk to strangers and don't support Liverpool".
Tony Abrahams
50
Posted 27/09/2018 at 19:53:50
Interesting stats Jerome@40.
Karl Meighan
51
Posted 28/09/2018 at 01:15:45
Tony@46 the chances created tells me with better finishing we may well have got a result. They may have won 3 on the bounce but if we cannot beat them this season when they are likely to improve then just when will we have a better chance of turning them over on there pitch?
Add Your Comments
In order to post a comment, you need to be logged in as a registered user of the site.
Or Sign up as a ToffeeWeb Member — it's free, takes just a few minutes and will allow you to post your comments on articles and Talking Points submissions across the site.