Anderson remains optimistic over funding deal for docks stadium
Friday, 26 October, 2018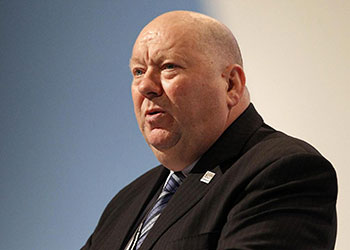 Liverpool Mayor, Joe Anderson, says that he has not given up on the prospect of arranging a funding mechanism between the city and Everton for the proposed new stadium at Bramley-Moore Dock.
Anderson unveiled a proposal last November whereby Liverpool City Council could borrow £280m of the estimated £500m cost of the Blues' new ground at low interest rates from the Public Works Loan Board and loan the funds in a securitised deal to Everton at a fixed rate over 25 years.
That was seen by both parties as a simple way for the club to find more than half the funds needed for the project while also benefitting the city to the tune of £8.5m a year when business rates are added to the equation.
Political divisions and fear-mongering mean that the plan has not received the recognition the Mayor believes it should and there were suggestions made in the media yesterday, following the announcement of The People's Project public consultation in the Bramley-Moore Dock scheme, that Everton were now looking to fund the stadium entirely through private investment and sponsorship deals.
Anderson says that he has not received any indication from the Royal Liver Building, where Everton's team directing the stadium project is headquartered, that the club have gone cold on the idea of using the council as a loan vehicle.
"I have a great dialogue with the club and I haven't been informed that they are not seeking to have an arrangement with the city, where we take a partnership arrangement in loaning the club some money for the development," the Mayor said in an extended interview with journalists Greg O'Keeffe and Tony Scott for the All Together Now podcast.
"It's speculation. I remain committed to having an arrangement with the club that benefits Liverpool and the people of Liverpool.
"So, I won't say it's ruled out and it would generate a great deal of income for the City that we desperately need. We are virtually in a place where we could do the deal and we've got all the arrangements and promises in place from Everton that secures that arrangement.
"If we go ahead with it, it will generate an income of about £7m, just on the commercial loan that we give, plus £1.5m in business rates. So, I'm not downbeat about it because whatever happens, the regeneration of north Liverpool and the docks and the Ten Streets [initiative] will bring in massive business rates for the city.
"But I do want this opportunity to get more revenue into the city and I'm not going to give up on it and I'm pretty optimistic that we can still have a financial arrangement with the club.
"So the speculation is not being led by me and I certainly can't believe that the club would have given any information out that the potential of a deal is off the table."
As part of Everton's announcement of the consultation period next month, it was suggested that the submission of a planning application and the revealing of artist's renderings of the Bramley-Moore Dock stadium would be delayed until the second half of 2019.
Anderson says, however, that he sees no reason why the fans couldn't be given an idea of the design that Meis Architects have in mind for the look of the new ground before the end of this year.
"I, personally, hope that Everton release some of the CGIs and any images of the stadium. I don't think it would do any harm. Because at the end of the day, they are images of how you want it to look, not to the exact detail.
"I will certainly encourage Everton to put it out there and let them see."
Asked what his initial reaction was to seeing the preliminary renderings, Anderson said: "Wow! Wow, because it wasn't your typical vision of a stadium like a bowl or what have you.
"It's complementary to the developments down there and it's iconic. It looks great; it looks stunning. The brickwork… you know, the framing of the stadium and what have you is really complementary to what we have down there.
"So, I don't think Everton should be restrictive of giving fans some idea of what it looks like. I really don't see any problem from a planning point of view."
---
Reader Comments (42)
Note: the following content is not moderated or vetted by the site owners at the time of submission. Comments are the responsibility of the poster. Disclaimer
Brian Williams
1
Posted 26/10/2018 at 07:19:10
Hmmmm.......... it seems like
The Lucas Oil stadium
might just have an influence as some of us suspected it might bearing in mind it's design and how, if any design would, it would compliment what's already in and around Bramley-Moore Dock.
Should it be like the Lucas Oil Stadium, that would be outstanding!
Si Pulford
2
Posted 26/10/2018 at 08:11:46
Heard a few dissenters recently about the stadium. It is happening. The funding is a minor issue. Joe wants it because it makes money for the council; Everton don't need to use that funding model and now Joe is panicking, by the looks.
One way or another, we will be moving to Bramley-Moore Dock.
Peter Gorman
3
Posted 26/10/2018 at 09:20:52
Brian - that Lucas Oil Stadium looks from the outside like a massive Home Depot. Can't say I like that at all.
On the inside, however, it is another story. That little 'window' to the skyline is great.
What could we see from the docks?
Joe O'Brien
4
Posted 26/10/2018 at 09:21:32
While it's only a hint, it's a fairly big clue to the design. Not a bowl shape but brick framed. That's the first indication we're after getting of what it will look like... and we get it from Joe. I wonder, will the club be okay with this? Was it with their blessing?
Brian Williams
5
Posted 26/10/2018 at 10:10:08
Peter #3,
I suppose it's all down to taste and opinion. The Lucas Oil Stadium was really lauded when it was built and if our own Bramley-Moore Dock was similar, I certainly think it would not only be iconic but something totally different from other recently built or almost built stadiums.
I think, with the World Heritage status at stake, the stadium would have to "fit in" as much as possible and something similar to the Lucas Oil Stadium would certainly do that with its brick facades.
I think, and this is only my opinion, that everyone involved is looking to have a stadium that, when built, will look as though it's been there forever and not something totally out of character. One that, rather than sticking out like a silver and concrete sore thumb will blend with the "appropriate" surroundings.
Personally, I'm very excited, and feel positive about Bramley-Moore Dock. I think the club will get it right and I think we'll be more than pleased.
Brian Hennessy
6
Posted 26/10/2018 at 10:25:47
I think, if Joe has seen the renderings, it's only a matter of time before they are leaked online somewhere.
I for one am massively excited about having something similar to the Lucas Oil Stadium. Bowl type stadiums are everywhere. I want something different, iconic and that will still look great in 50 years time.
A four-sided stadium will also mean fans close to the pitch which is what we all want.
Phil Martin
7
Posted 26/10/2018 at 11:52:52
A Lucas Oil type stadium would be my ideal. Fits well with the surroundings and the internal setup looks amazing. Love the Window at one end too. Imagine a large single tiered stand (bigger than the kop) underneath that.
Richard Pike
8
Posted 26/10/2018 at 12:28:06
I'm with Peter (#3) on this, from the outside Lucas Oil Stadium does just resemble a giant shed. I'd hope we can manage to build something that fits its surroundings and yet still looks like a stadium.
Apropos of nothing here in this discussion, of all the NFL stadiums I particularly like Arrowhead (Kansas City). Something of the 1960s-70s space age about it that for some reason appeals to me. Totally inappropriate for Bramley-Moore Dock, I just like it.
Paul A Smith
9
Posted 26/10/2018 at 13:04:02
The Lucas Oil Stadium is classic. As it is, it would fit in with the heritage around Bramley-Moore Dock but even a few tweaks could add our own stamp on the place and would be fine.
Blue brick columns...
Dermot Byrne
10
Posted 26/10/2018 at 13:04:46
I am another who loves the Lucas Oil Stadium. Industrial outside and a big "wow!" inside.
Tony Everan
11
Posted 26/10/2018 at 13:38:27
The Lucas Oil Stadium looks spectacular on the inside, the outside looks like a Victorian train station.
It looks like we will get a rectangular shape which I would prefer.
In my imagination, it has 4 granite and brick piers (2 each end) with echoes of the bricks in the Albert Dock and Tobacco warehouse. Incorporating the use of the old, hard 'Blue Bricks' would be a great design feature for obvious reasons. Maybe some sort of blue glass or reflective blue crystals in the mortar .
The giant granite bases of these piers are inspired by Bramley-Moore Dock entrance. The granite is a message: hard and resilient, quality that is here to stay for the long term.
Ed Fitzgerald
12
Posted 26/10/2018 at 13:48:35
The AT&T stadium in San Francisco has a brick skin and is a modern stadium that fits in with its surroundings.
The design brief will have to include traditional materials to satisfy some of the stipulations placed on us by building on a World Heritage site. Dan Meis said as much in the April briefings.
It will be a great fillip for the club on and off the pitch if(?) and when we get to Bramley-Moore Dock. I don't care what hoops we have to jump through to get it built – it will be a giant poke in the eye to the RS. Let's be frank – without some fairly vocal dissent from Evertonians, we could be playing in a soulless stadium in Kirkby.
Will Mabon
13
Posted 26/10/2018 at 17:03:08
I agree re the Lucas Oil Stadium. A classic design over modern would surely be the ideal to complement the area and the city, on the outside at least. "Futuristic" bowl designs are kind of passé by now, and anyway don't provide the kind of interior layout most would desire.
I'm not a fan of the myriad institutions that poke into almost every activity today but would hope that the presence or involvement of World Heritage as mentioned by Ed, or other relevant bodies would help suitably influence the result for the best. The "Shed" type silhouette could actually be quite in keeping if styled to suit (the warehouse connection).
I have my own thoughts about the use of and interaction with "Public" money by private interests depending on context, but in the case of the stadium, all that can go into a convenient box if it means the right result here. I would still happily settle for a Goodison makeover but since that isn't going to happen...
Colin Metcalfe
14
Posted 26/10/2018 at 17:12:46
I guess it's a matter of taste but I think the Lucas Oil Stadium is just plain ugly. It is so old-fashioned and just doesn't have that wow factor from the outside. You can imagine the comments from the cruises coming down the river "What's that big red brick building?"
Sorry but it's a thumbs down from me.
Joe O'Brien
15
Posted 26/10/2018 at 17:18:36
Colin I don't think it'll look exactly the same. Just the same style. It'll be more modern looking for sure. But with some brick finish. I think it sounds good. As Will has said, 'bowls' have been done so much they all look the same.
I'm really confused how Joe felt it okay to give this snippet of information. Will it prompt the club to give us sample designs faster than expected?
Frank Crewe
16
Posted 26/10/2018 at 17:54:25
The first look.
Ray Roche
17
Posted 26/10/2018 at 18:06:31
Rather exceeds expectations, Frank, don't you think?
Will Mabon
18
Posted 26/10/2018 at 18:14:12
Good one, Frank. It's the well judged use of blue that makes it.
David Pearl
19
Posted 26/10/2018 at 19:26:02
Looks great, Frank. Now we just need a Batman as manager for the opening game.
Rob B Williams
20
Posted 26/10/2018 at 19:32:23
J O'B: 'I'm really confused how Joe felt it ok to give this snippet of information.'
Akin to Hain naming our old friend and ex-substantial shareholder, Green, I suppose.
There will be a lot of debate about the validity of both outpourings.
Michael Lynch
21
Posted 26/10/2018 at 19:52:28
Spurs now say they won't be playing at the new White Hart Lane until 2019.
I'm now looking forward to taking my seat at Bramley-Moore Dock sometime in the 2027-28 season
Tony Abrahams
22
Posted 26/10/2018 at 20:53:42
This new consultation with the fans, and at the same time we hear Joe Anderson talking about Bramley-Moore Dock again.
I dream of Usmanov taking over the Blues but, even if he does, Moshiri made his fortune on the back of being a great advisor and accountant for the big fella, so I expect that borrowing off the council is still a major part of their agenda.
A lot of bitter Liverpudlians will kick up a fuss and, even though it's great business for everyone involved, this is the bit that concerns me the most.
Let's unite and fight for our stadium on the banks of the Royal Blue Mersey!
Rob Halligan
23
Posted 26/10/2018 at 21:05:53
Tony, I wouldn't worry about them bellends. They won't be able to come up with one reasonable objection as to why the scheme should not to ahead.
Tony Abrahams
24
Posted 26/10/2018 at 21:30:32
I never worry about Liverpudlians, Rob, I can see right through them mate.
I was talking to one the other night by text, and mentioned how ironic it would be if Everton scored their 7,000th top-flight goal at Anfield.
"Why would that be ironic?" he asked? "Because it was Everton's first ground," I replied. "Argh, your fuckin at it" he texted, "youse are all the same."
I wasn't at it, I was stating the truth, but the truth is, they love to fanny us if they can because they think they are so superior.
The only fuss they can kick up is if Everton borrow the money off the council; with Joe Anderson continuing to be the mouth-piece, then I still think that this is what Moshiri wants to do.
I might be wrong but the man is a top accountant so he, more than anyone, will know that you should always try and borrow money at the cheapest rate possible, simply because it makes the most sense.
They call us Bitter Blues, but don't want us to build on the docks, even though the City of Liverpool as a whole is going to benefit so much from this incredible scheme?
Mark Andersson
25
Posted 26/10/2018 at 23:16:20
Liverpool FC along with the media will try there best to put a spanner in the works. Simply because they don't want Everton to become successful again...
I watched an interview with Graham Souness and, for all the clubs he worked with, the guy interviewing him kept coming back to his time at Liverpool... time and time again.
Every match seems like the refs give more to the opposition than us. So, if we are to have a new stadium, expect a long drawn-out fight to get it...
David McMullen
26
Posted 26/10/2018 at 00:01:22
Brian Williams – some good points. Talk about influence from the Lucas Oil Stadium, let's hope so.
I get how some are not overly happy with the exterior but we wouldn't get a carbon copy of that, I'm sure.
The interior design of the Lucas Oil Stadium would be out of this world for an English football stadium.
In addition,what I'd like from the Lucas Oil Stadium is the size, 60,000 plus, and a retractable roof!
Laurie Hartley
27
Posted 27/10/2018 at 00:29:46
From what I have read so far the pitch on our new stadium will run length ways parallel to the river, therefore the facade facing the river is going to be quite large. With that in mind I reckon Dan Meis intends to make a big statement about his work and the history of the Liverpool waterfront on that elevation in particular. Expect something spectacular.
I also believe because of the orientation of the pitch / stadium that the capacity will be limited to 55,000. I am okay with that.
As far as the inside of the stadium is concerned, I think the Lucas Oil Stadium is fantastic as is: Borrusia Dortmund's Stadium
Mike Galley
28
Posted 27/10/2018 at 00:55:55
This is something I've been thinking about for a while with regards to the new stadium. I'm hoping there are plans to get the fans in to the stadium, or the area of the stadium, early on matchday.
Like a lot of Blues, I would imagine, we have a fairly fixed matchday routine which involves going to a pub first. I'm in the top balcony and the catering facilities aren't great, and to be frank, you'll never get me in Goodison (as much as I love the arl girl) more than five minutes before kick off.
If the pitch is parallel to the river, and you can sit in a place inside the ground overlooking the river, or the city for that matter, I'm sure it would encourage more people to get there early. This might seem like a moot point, but I think there must be massive income potential for the club with regards to this.

John Atkins
29
Posted 27/10/2018 at 05:08:01
Mark #25
Couldn't agree more mate, I'm convinced that shower will do all they can to prevent us progressing.
How dare we have a world class, state of the art, iconic waterfront stadium which would be a City landmark envied around the world which will eclipse theirs - I'm convinced eventually it will happen but it will take much longer than it should as I'm sure after the designs / drawings are announced then just wait for the protests, the marches, petitions and banner waving to begin
Tony Everan
30
Posted 27/10/2018 at 08:19:17
Any biased complaint by a red would be a bit rich after their KFC box of a ground expansion got seamlessly waved through planning.
Our stadium will be one of the world's iconic stadiums, sympathetic to its surroundings with influences from historic dockside buildings and materials.
It will fuel the regeneration of the northern docks area and bring in much-needed investment, creating jobs for the long-term and improving the local economy.
As a world-renowned architectural masterpiece, the stadium would be a draw for tourists and visitors from all over. The hotel and tourism sector for Liverpool would be strengthened.
There is so much to be gained by this project that any objections need to be properly balanced by the exponential positives.
It would be to the city's eternal shame if the development was grounded by biased and spurious objections. Expect some. I'm sure common sense will win the day for the good of all the people of Liverpool. Remember, not everyone is a football fan, but everyone is affected by the long-term strength and stability of the city's economy.
Tony Abrahams
31
Posted 27/10/2018 at 10:09:00
The newer German stadiums are fantastic, Laurie. They have copied the old English stadiums, that were great at keeping the atmosphere inside the ground, whilst the newer English stadiums have gone completely the other way.
I hope it's steep, because it's freezing cold down there during the winter, and this is why Frank @16 stadium would be an absolute disaster in my opinion!
Richard Pike
32
Posted 27/10/2018 at 14:30:01
On top of any of the day-to-day economic benefit to the local area, let's not forget that, if we get this right and it receives UEFA category 4 rating, it would be in line for hosting Champions League and Europa League finals. Big boost for the city's prestige and the club's image.
Dennis Stevens
33
Posted 27/10/2018 at 15:26:30
I really like the look of the interior of the Borussia Dortmund stadium & wouldn't mind something along those lines – especially if we can have a substantial safe standing area by then. The exterior appearance would, of course, be totally inappropriate for the location we're going for.
Derek Taylor
34
Posted 27/10/2018 at 20:27:13
It seems to me that were Everton to 'go down the Council rote' for finance there would be little scope for 'the money boys' who hover round all projects of this kind to make a killing.
Whilst that is of little interest to us as mere 'speccies,' it will be vital for those who call the shots at our club to keep their backers – and those on their backs – sweet throughout the process. Why otherwise should they get involved as they have done via Moshiri?
Thus, my money is on Everton Joe to lose out on his Council loan plan as the Everton Board opt to fill the pockets of those a little closer to 'the cause' than the poor old local authority. I do, however, hope they will be decent enough to acknowledge the key role our Mayor has played in kickstarting this mammoth project.
Steven Jones
35
Posted 28/10/2018 at 07:27:33
A soulless bowl it does not have to be; all agreed.
However, on the Mersey Estuary, the wind will be a big factor and having gaping spaces in each of the corners would not be a good design for the comfort of watching.
So along with making the most of the footprint for numbers and keeping in the noise, it should be as enclosed as possible.
Stephen Davies
36
Posted 28/10/2018 at 09:14:56
https://www.bbc.co.uk/programmes/b0bp1118
BBC NortWest tomorrow doing an article on Bramley-Moore Dock.
David McMullen
37
Posted 28/10/2018 at 09:49:14
Totally agree Steven (35). I'd have a tailored Everton / soccer version of the Lucas Oil Stadium. Meis said it wouldn't have a retractable roof. He must know it'll be cold and windy on the docks! Why not be unique in the Premier League?
John Cook
38
Posted 31/10/2018 at 13:02:33
The Independent today reporting Tottenham have had to raise a further £248 mil for their new ground. It is a worry that delays mean costs spiral dramatically. Hopefully we are monitoring this very closely!
Kieran Kinsella
39
Posted 31/10/2018 at 13:36:05
John Cook,
Good info. The article is very sparse on details but says the original cost was £373 million but the extra £248 million has been raised to cover any shortfalls due to the delays. I know it is always wise to have a bit of a cushion but the extra cash amounts to 66 percent of the original budget for the whole stadium.
I am just puzzled on a practical level what the money would be needed for? Extra wages for workers, wires, maybe safety fines etc... but an extra £248 million??? That just seems like something major is needed.
Lawrence Green
40
Posted 31/10/2018 at 13:55:51
Hopefully, Everton FC will avoid many of the issues that Spurs and Roma are having, when they start in earnest on providing a new stadium for the Blues.
Prosecutors in Rome wrapped up their investigation on Tuesday, nearly five months after the stadium's main constructor, Luca Parnasi, and eight other people were arrested for alleged wrongdoing linked to bureaucratic matters involving the proposed venue.

Prosecutors also allege that payments were made illegally in cash, along with bills for non-existent job hires and counseling.

Other likely charges include criminal association and illegal financing.

Roma's American president, James Pallotta, first presented the stadium plan in March 2014, saying that it would be ready for the 2016-17 season — yet construction has still not started.
The massive project — set to include a training center, entertainment complex, office space and extensive transportation works — has been delayed by environmental concerns, bureaucracy and criticism over public funding.

The project's cost was originally estimated at 1.6 billion euros ($1.8 billion), including more than 200 million euros in public financing

.
It also seems that the politial landscape in the City of Liverpool is changing rapidly, this may or may not affect Everton FC but it shows how quickly things can change, when the club is trying to make major decisions about funding etc.
Phil Martin
41
Posted 31/10/2018 at 14:58:55
At 52-55,000 capacity, it would never host a Champions League Final. A Europa League final, yes. Which probably aligns with our ambitions.
John Cook
42
Posted 31/10/2018 at 14:59:54
Lawrence, good points above. Re corruption concerning Roma when talking about projects of this size, everyone jumps on the bandwagon and wants their cut. I hope Moshiri has the right people around him to justify every pound spent.
Back to Spurs, this rise is one of the reasons they spent sod all on players... lucky for them, they have a good squad but, sooner or later, they are gonna have to spend to stay in the top six.
Add Your Comments
In order to post a comment, you need to be logged in as a registered user of the site.
Or Sign up as a ToffeeWeb Member — it's free, takes just a few minutes and will allow you to post your comments on articles and Talking Points submissions across the site.