Mirallas not impressed by Allardyce
Wednesday, 31 October, 2018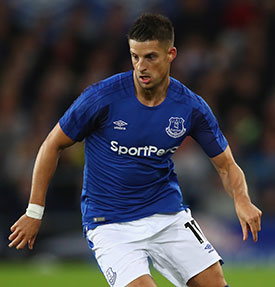 Kevin Mirallas has been speaking of his disappointment at missing out on the World Cup and his difficulties last season with Sam Allardyce.
The Belgian, currently on loan with Fiorentina, looked to have found himself mired in no-man's land this past summer after a much-vaunted return to Olympiacos fell flat and he ended up being sent back to Everton before the end of his six-month loan term.
Mirallas had fallen out of favour with interim Blues boss, Allardyce, and over the course of the 2017-18 season, he would start just two games in the Premier League. Indeed, the last match in which he was named in an Everton starting XI was for the Europa League dead rubber in Cyprus against Apollon Limassol.
He tells SportFoot in Belgium that Allardyce, who missed the trip for health reasons, barely spoke with the players, many of them youngsters, who featured in that game upon their return
"For his first training session, he spends five minutes looking at the guys who didn't play the game the day before," the 30-year-old says of Allardyce. "Then, he basically only plays English players.
"A few times, he picks me for the first-team before sending me to the stands on game day, which almost never happens in England.
"Sometimes, I found myself playing left-back in training. In December, Allardyce calls the six players to the U18s and tells us that we would all go to Cyprus to play the final Europa League game, which counted for nothing. Seriously? Six pros with U18s for an official game?"
Ultimately, his lack of game time cost him a place in Roberto Martinez's Belgium squad for Russia but he says he genuinely believed he would still be selected as there were other players he felt who had had less playing time than he did.
"I was sure 1000% to go there (to the World Cup)," he explains. "Firstly, in relation to my relationship and my discussions with Roberto Martinez, secondly because he continued to take me back even when I was not [in] good [form]…
"[T]hree weeks before the announcement of the [squad] list, Martinez phoned me to ask me to follow a program to stay in shape. On the day of selection, I was at the beach with my wife. In my head, I was relaxed as I know the coach.
"I tell myself that he would have already phoned me if he did not [want to take me]. But when my phone rings, I have a bad feeling.
"He talked about my complicated season and the fact that he has to do without one or two forwards to make up the number of defenders. But it was useless for him to explain a thousand things to me. It was complicated for 3-4 days; the time to understand that I would never play in the World Cup [again] in my life.
"[After the season I had], I did not deserve to go there. What I have a hard time understanding is that Martinez picks up guys who have not played a lot [either]."
Mirallas is contracted to remain in Serie A with Fiorentina until the end of this season when he hopes he will have done enough to earn a permanent contract. So far, he has made six appearances for La Viola but has yet to score.
If he doesn't stay in Italy, he will still have a year left on his Everton deal after he was curiously offered new terms last year.
"Seeing my son happy at school, my wife's joy and how good I felt led me to sign,"he explained. "The club warned, using Ross Barkley as an example, they'd sign new players if we didn't sign new contracts.
"I could have easily turned down the new deal and earned more money elsewhere, but I didn't want to leave Everton like a thief after all they'd given me.
"The priority was to replace Romelu Lukaku. The manager bought, bought and bought and we had six catastrophic months. When I arrived, the club felt like a family. When I left, I felt it became a business."
Some quotes provided by Sport Witness
---
Reader Comments (81)
Note: the following content is not moderated or vetted by the site owners at the time of submission. Comments are the responsibility of the poster. Disclaimer
Kristian Boyce
1
Posted 31/10/2018 at 18:25:22
So he was "not impressed with Allardyce" – sums up the view of all football fans.
Mike Gaynes
2
Posted 31/10/2018 at 18:29:01
Much as I'd love to blame that effing Allardyce for everything, the only way Kevin Mirallas would ever have gotten on the Belgium plane to the World Cup was if he volunteered to carry the bags. And maybe do the pre-flight safety demonstration ("put the mask over your nose and mouth and breathe deeply").
Yeesh.
Bill Gienapp
3
Posted 31/10/2018 at 18:34:45
Mixed feelings reading this, as I'm beyond fed up with Mirallas, but I never get tired of hearing players taking shots at Allardyce.
Lawrence Green
4
Posted 31/10/2018 at 18:38:31
Mirallas also said, according to the Echo, probably from the same interview, that Everton FC were now a business and are no longer a family club. He also said he didn't want to leave like a thief in the night.
Pity the Belgian didn't show full commitment to the cause on far too many occasions, now that's what I call stealing a living.

Brian Williams
5
Posted 31/10/2018 at 18:45:36
*Sings*
"It's never your fault" etc
Still not getting it, eh, Kev?
Eddie Dunn
6
Posted 31/10/2018 at 18:46:16
He has all of the tools but he uses them only now and again. Arnautovic lite.
Des Farren
7
Posted 31/10/2018 at 18:50:52
I could give a fiddler's about Allardyce whose time here was the lowest in the club's history.
If he thought Martinez would offer him a place in squad for the World Cup, he should first have looked in the mirror at his own performances.
Michael Kenrick
8
Posted 31/10/2018 at 18:53:14
What a whinner! This would have been his seventh season with us but he really has not been effective for a long time.
I was surprised to see he actually got into double figures for goals scored back in 2014-15, when he seemed to benefit from partnering with Lukaku.
Never really scaled the heights with us, we're well rid.
Gerry Morrison
9
Posted 31/10/2018 at 18:59:26
Morrison not impressed with Mirallas.
Rob B Williams
10
Posted 31/10/2018 at 19:04:25
I think Allardyce probably got the measure of him in one!! Free loader.
Tony Abrahams
11
Posted 31/10/2018 at 19:12:14
Could have been a contender, but he's still filthy rich beyond our wildest dreams!
Jason Wilkinson
12
Posted 31/10/2018 at 19:12:20
Any worse than what we have now? I'm not saying he is Eden Hazard. I don't see much better with Bernard or Lookman.
Bill Gienapp
13
Posted 31/10/2018 at 19:16:53
Yeah, he's not even close to Lookman or Bernard.
Joe McMahon
14
Posted 31/10/2018 at 19:24:49
Sorry, Kevin – Sam Allardyce cannot be blamed for everything.
It's so frustrating as the kind of money these players are on for not even a full-time job, you think they would put a little effort in.
Gavin Johnson
15
Posted 31/10/2018 at 19:28:05
While there might be something in what he says about Big Sam's training methods, the pervading feeling that comes from this interview is bittiness on Kevin's part.
He needs a reality check. He never was going to be in the first 11 last season. His ability has diminished since the 2014-15 season. Even then, his attitude was questionable but a lot of people let it slide because he was one of our most creative players. Albeit an inconsistent one.
He's now a shadow of his former self and we have much better players. He needs to get his head down and try and get some kind of form because I'm sceptical that Fiorentina will want to keep him beyond next summer.
Harry Hockley
16
Posted 31/10/2018 at 19:33:56
Kevin, no-one gives a rat's arse what you think.
I for one am grateful for Sam's time here. Yeah, the football was dire but he done a good job.
Martin Berry
17
Posted 31/10/2018 at 19:37:30
A frustrating type, often an analogy of a horse who doesn't put it all in, that was Kevin Mirallas. You were never sure of whether he was on a going day and rarely did himself any favours. I doubt a change of scenery will change for him either.
Allardyce and Mirallas? Pleased they will not be seen anywhere in the vicinity of L4 again. We move on and are better for it.
Derek Thomas
18
Posted 31/10/2018 at 19:55:00
Bill @ 3 sums this up.
Allardyce's attitude, Keane's foot, plus all the other stuff we didn't hear about. A toxic lack of proper leadership...are all clubs like this behind the sences to some extent.? Or is it just ours?
Dermot Byrne
19
Posted 31/10/2018 at 19:57:44
To me a player from the past in so many ways. We are moving on folks.
Jay Harris
20
Posted 31/10/2018 at 20:16:51
For what its worth, Kev at his best was better than anything we've seen since, including Richarlison.
He scored some great and important goals for us but his ego ultimately let him down and now he is trying to look for excuses.
Les Moorcroft
21
Posted 31/10/2018 at 20:20:28
This lad had no heart for Everton. It was all about him. Got a tit on when it never went his way.
Move on, lad... we are. COYB.
Aidan Wade
22
Posted 31/10/2018 at 20:20:57
Harry, 16, you are definitely one, as in minority of. The only people I've talked to who think Sam did a good job are Reds winding me up.
Eddie Dunn
23
Posted 31/10/2018 at 20:28:31
It's funny, but even in everyday life you meet folk who up-sticks and travel around and, wherever they go, they encounter problems... and it is always someone else's fault!
Colin Gee
24
Posted 31/10/2018 at 20:29:38
Up until that cheating diving racist Suarez stamped on his Achillies in the derby, Kev was looking like a decent player. The only thing he did after that, that I can remember, was kick him in the following season derby.
The lad had all the talent but not the desire it would seem apart from wanting to kick that cheating diving racist tosser, we should at least praise him for that!
Chris James
25
Posted 31/10/2018 at 20:43:06
Not directly related but as I've just checked my FPL standing could I interrupt the Mirallas kicking to just say "Top, top, top TOP of the (fantasy) league!"
Won't last of course but nice to give the old trumpet a little air!
Marcus Leigh
26
Posted 31/10/2018 at 20:44:53
Mirallas has real talent, but has been a pretty consistent disappointment because the lad somehow has this innate ability to underperform and underimpress at almost every opportunity. Meanwhile, old flabby jowls lived up to everyone's expectations in every way. And by that I mean he was totally consistent in injecting his dour, passionless, soulless demeanour into everything he touched at the club.
So I'm incredibly sorry Kevin never set the world on fire at Goodison, but you can only imagine that Fat Sam wasn't in the least bit interested in anyone who had passion. Meanwhile, £6m later...
Kieran Kinsella
27
Posted 31/10/2018 at 20:58:00
Allardyce was here six months, Mirallas can hardly blame him for his slow demise over multiple years. I am tired of hearing about Sam. The club knew what they were getting, he did what was asked, he has gone. I don't see why we need to keep harping on about him as if he did us wrong. He did exactly what everyone knew he would do.
Dennis Stevens
28
Posted 31/10/2018 at 21:10:11
Aye Harry #16, Allardyce did as good a job as Unsworth had as caretaker, but for a far greater fee, of course.
Jason Wilkinson
29
Posted 31/10/2018 at 21:22:30
Kev scored 38 in 127apps. 50 odd as a sub. Not exactly a poor return in a team that struggled to create chances.
Would I have him back? Probably not as the game has moved on and he is knocking on a bit now.
I think Bernard could be a Kev Mirralas (flashes of brilliance but very frustrating). I don't think Lookman will be with us for long enough to find out.
I hope Silva has plans to have a more fluid attack the likes of Man City, Spurs and dare I mention them the RS. If so then Theo and Cenk's days are numbered.
Bobby Mallon
30
Posted 31/10/2018 at 21:36:53
I just think Sam made the correct Choice and got the measure of the winging prick. Won't ever forgive the tosser for that penalty.
Andy McNabb
31
Posted 31/10/2018 at 22:01:22
Jay Harris #20 - that really sums it up. Which is actually very sad but there it is.
Harry Hockley
32
Posted 31/10/2018 at 22:11:52
Aidan, please don't mention me in the same sentence as the RS. I take offence to this! Lol.
I kind of admired Sam when he was at Bolton and his tactics how to beat Arsenal, at the time I thought was genius in a way as Arsenal were pretty much invincible at the time.
Don't get me wrong, Sam is a dinosaur of the modern game and we were under no illusion when he arrived here as to what to expect.

PG Malcolm
33
Posted 31/10/2018 at 22:26:12
Kevin Mirallas. Prize prick.
Gary Russell
34
Posted 31/10/2018 at 22:33:39
Won't be seen again around L4? Really?
http://www.evertonfc.com/news/2017/05/12/Mirallas-signs-new-contract
John Raftery
35
Posted 31/10/2018 at 22:44:00
Allardyce is just a convenient target of course. Sam arrived at the end of November. Mirallas departed on loan on 7th January. That is just over five weeks out of a season of over nine months. Seeking to pin his personal underachievement on Allardyce is stretching credulity. Mirallas failed to impress under Koeman, Unsworth and whichever manager he played under at Olympiakos.
Mirallas was a very good player in his first three seasons with us.
Kase Chow
36
Posted 31/10/2018 at 22:56:55
Aiden #22,
Sam DID do a good job for us.
His remit was to keep us up and he did. Job done.
For me, we looked crap before he came and relegation was a genuine possibility. He steadied the ship and banished talk of relegation.
As for Mirallas, he should tell his grandkids, sincerely, 'I could have been somebody' cos he really could have.
Such a waste of talent.
Chris Corn
37
Posted 31/10/2018 at 23:29:59
Can't agree Chase. By time we beat West Ham with Unsworth in charge, then Huddersfield in Allardyce's first game we were pretty much done in terms of safety.
Please correct me if I'm wrong but Unsworth's Premier League record was W2 L2 D1. It was the heavy defeats in the Europa League that done him in especially the one after the Saints defeat. There was every chance we'd have been comfortable if Moshiri had not have panicked.
Allardyce's alleged defensive qualities saw us beaten by half time in games against Man City, Arsenal and Tottenham and saw some of the most woeful football I've seen and an atmosphere that ranged between complete apathy and the most toxic since the lowest days of Johnson's reign .
Finishing 8th with 49 points will take some doing again and is more to do with the dearth of quality in the Premier League than anything Allardyce did. We finished 14th with a similar tally under Walter Smith.
Dennis Stevens
38
Posted 31/10/2018 at 23:33:04
Kase #36 Allardyce DID NOT do a good job for us. He did keep us up - wow, what an achievement!
Although you may have felt relegation was a genuine possibility, Unsworth had pulled us out of the relegation zone & Allardyce's subsequent performance was almost identical to that of the caretaker manager he succeeded.
John Raftery
39
Posted 31/10/2018 at 23:34:04
The fact that Brands and Silva saw fit to sign half a team within weeks of arriving suggests that most of the players they inherited were deemed totally inadequate. The team needed a total revamp. It has had it.
Including Coleman, who was still recovering from injury last November, seven of the starting eleven in our last two matches were not playing with us twelve months ago. That Allardyce managed to get us to 49 points and 8th in the table with such a bunch of misfits was a minor miracle.
It will be interesting to see if the money spent on improving the squad and the playing style is reflected in points and league position this season.
Andy Crooks
40
Posted 31/10/2018 at 23:37:42
Sam Allardyce was never needed at our club. He was appointed by a man desperate to protect his investment. His appointment was shameful and a blight on our club. We were never, never, going to be relegated under Unsworth and can anyone believe that the turn around against West Ham was due to Allardyce?
He didn't save our club, he fucking robbed millions off us... By the way, I believe Mirallas is just as big a robber.
Dennis Stevens
41
Posted 31/10/2018 at 23:43:49
John #39,
Unsworth took 7 points from the 5 League matches he was in charge of. At the same rate over the subsequent 24 League matches Allardyce would have been in line to get 33.6 points – he actually got 34. A miraculous improvement indeed... of 0.016 points per match.
Mind you, Allardyce did have more time to work with the players & a transfer window to improve the squad, so I suppose a small improvement is perhaps slightly short of a miracle.
Eddie Dunn
42
Posted 31/10/2018 at 23:51:56
Andy,
I honestly think you are wrong there. We were heading the wrong way under Unsy and I think the players got the message, with the new boss watching (and talking to them before the game). It could well have been a goodwill send off to Unsy, but it begs the question why they left it too late to save him.
We will never know what might have happened but, despite the standard of the football, and the whole Allardyce ego trip, I was mighty relieved that we came through it with our Premier League status intact.
It may have been a year wasted, but it could have been a lot worse.
Simon Smith
43
Posted 01/11/2018 at 00:08:57
Mirallas has bags of ability but a terrible attitude towards hard work.
Talked about a move away any time he was in any sort of form, wanted sympathy any time it wasn't going right.
Lazy and over rated is my verdict.
Kieran Kinsella
44
Posted 01/11/2018 at 01:55:32
Unsworth apologists, he was the genius who a) played Michael Keane and b) refused to sub him at half time in the Southampton game when his near amputated foot issue finally reached breaking point.
Davie Turner
45
Posted 01/11/2018 at 02:20:26
@Kieran Kinsella 44
Unsworth apologists?
All things being hypothetical now, but if the whole point of last season was to 'not get relegated', I still reckon Unsworth would have achieved that at a much lower economical cost to Mr Allardyce. Don't think anyone argues David was a long term option, just a far cheaper stop gap.
I mean, where there any other 'highlights' last season beyond the West Ham game?
Even thinking about last season is enough to consider wondering who owes me a refund. I know people have complaints about the current campaign but up to last season. For the money spent, even Big Sam got what £50million there abouts, it made Walter look competent and exciting.
Peter Thistle
46
Posted 01/11/2018 at 04:16:57
He was boss for 2 seasons then went up his own arse. The club might have put him off his game a bit but it's not really an excuse for so many poor seasons and his poser spoilt brat attitude.
Gavin Johnson
47
Posted 01/11/2018 at 04:29:14
It was Moshiri's call and Moshiri's money. So how can people be still quibbling over Big Sam and Unsworth. My take on it is, that we would have stayed up under Unsworth but we wouldn't have finished 8th.
In that scenario Sam would have paid for most of his wages in a higher league placing. Of course that's conjecture and my opinion and we don't where Unsworth would have finished for sure, but I saw enough after the thrashing away at Southampton to think bringing someone in was the right call.
After the rollercoaster ride of a season 8th was a very good finish. Big Sam did a good job on paper and did what he was paid to do. But let's not pretend that the football was enjoyable at any time. It was the worst I've ever seen. It makes me appreciate what Silva's trying to do. We're now playing good football again and seem to be forging an identity. Something that was lost in recent seasons.
Phil Sammon
48
Posted 01/11/2018 at 06:41:20
Mirallas reminds me a lot of myself as a footballer. Glimpses of brilliance overshadowed by long periods of shitness and a bad attitude. Both capped 60 times for Belgium too.
Darryl Ritchie
49
Posted 01/11/2018 at 06:47:37
A player, who most games, never seemed able to showcase the talent with which he could occasionally dazzle us, criticizing a manager, whose claim to fame is saving clubs from relegation.
One was a disappointment; the other should never have been hired.
Alan Fordham
50
Posted 01/11/2018 at 06:52:32
For me, we were still in trouble when Allardyce joined and I definitely didn't see Unsworth taking us to 8th. With an additional £1.9m per finishing place in the Premier League, Allardyce may not have cost us as much as we think (net).
I'm glad he's gone, I don't think he or Mirallas were/are the future for our club but, at a point in time, they were what we needed.
Gerry Quinn
51
Posted 01/11/2018 at 07:08:30
Need your vote
https://www.skysports.com/football/news/11661/11541068/vote-premier-league-goal-of-the-month-for-october
Robert Leigh
52
Posted 01/11/2018 at 08:17:54
Darryl #49 - I wasn't disappointed with Allardyce...
Mark Neary
53
Posted 01/11/2018 at 10:09:32
I remember being really pleased that he chose us over the Gooners, citing the allure of more regular football at Everton. An undoubted talent on his day but the required commitment, attitude, and mindset to get back to his best just didn't seem to be there.
Shame really, he should've been an important creative force for us. As for his recent travails... you can't run away from yourself, Kev!
Derek Taylor
54
Posted 01/11/2018 at 10:55:23
Never at Everton has a man got so much for doing so little. If he performs like that on loan, we will never get rid of him — and he knows it!
Justin Doone
55
Posted 01/11/2018 at 10:58:59
Mirallas was always a player I wanted to see on the team sheet. He played forward in a positive attacking way and carried a genuine threat. He was a good player but, like a lot of our attacking players, frustrating to watch and never reached their perceived potential.
In hindsight, he was never as good as he thought he was but to be successful you need confidence and a strong mentality and he still has that going for him but ultimately he's no longer good enough for us.
After Moyes, our club has been pooped upon and his attitude and performances have suffered more than most. I'm surprised he's still at the club but thought Silva may have been able to get the best out of him.
Clearly Silva didn't fancy him or he had demanded Richarlison be brought in and Mirallas moved on.
Gerry Quinn
56
Posted 01/11/2018 at 11:12:50
:) Gylfi is winning on 39% now...
Tony Abrahams
57
Posted 01/11/2018 at 11:33:40
Andy@40, I believe the turn around against West Ham, was 100% down to Allardyce.
Maybe the players were relieved to be getting rid of Unsworth and Ferguson, but as bad as the hammers, were on the night, Everton were on their knees before this game.
We all have our own opinions, I've read people saying Allardyce turned Rooney, into a midfielder, but was this because he picked the team and watched Wayne, score a hat-trick, or because Unsworth had suddenly decided to give Rooney another try in a different position?
Kunal Desai
58
Posted 01/11/2018 at 11:48:06
Hmmm let me get this right, Mirallas having the audacity to take a swipe at someone else.
Clearly this coming from a professional who himself is a bad fucking bellend with a stinking attitude and work rate problem.
People in glass houses etc...
Jerome Shields
59
Posted 01/11/2018 at 12:29:13
Kevin you where two years into your decline anyway. We all know about Big Sam, We have shouted it from the roof tops all of last season.
Gerry Quinn
60
Posted 01/11/2018 at 13:46:01
Talking of Allardyce - is this him with his make-up removed?
https://www.bbc.co.uk/news/av/entertainment-arts-46059236/halloween-2018-celebrities-show-off-costumes-for-the-cameras

Tony Waring
61
Posted 01/11/2018 at 15:44:42
Gerry at 51 - Gylfi is now at 50%.
Terry Riley
62
Posted 01/11/2018 at 16:49:11
*move on, he should be forgotten!
Brian Harrison
63
Posted 01/11/2018 at 17:26:42
What is it with the Liverpool Echo, they have run a piece about the massive under achiever in Mirallas, now today its a piece about Andy Van de Meyde.
You have to laugh at the audacity of these 2, Mirallas claiming the club is no longer a family more of a business. This is how it should have been run from the beginning not a comfortable bolt hole to earn millions for doing very little. He doesnt mention why Olympiacos cut short his loan spell no doubt that was Evertons fault as well.
Now the self confessed cocaine addict is saying how badly he was treated at Everton and having a go at Phil Neville, saying he didn't know how he played so many games for Man Utd and England. Because unlike you he made the most of what he had and always gave 100% again something that was alien to you.

Brent Stephens
64
Posted 01/11/2018 at 17:38:05
Now Andy Van de Meyde getting sniffy?!
Mike Gaynes
65
Posted 01/11/2018 at 18:49:01
VDM putting his nose in the air is an improvement over some of the other things he did with it.
Will Mabon
66
Posted 01/11/2018 at 19:04:59
Adding this little lot to the Keane foot injury debacle (with the caveat of assuming enough of it to be true), I might have to reconsider my perception that Premier League football has become more professionally executed in recent years.
Lawrence Green
67
Posted 01/11/2018 at 20:16:24
Brian #53 It's the Liverpool Echo in name only, its sister newspaper the Mirror usually breaks these type of Everton stories first, the Mirror has always been pro Manchester United and to a lesser extent pro Liverpool FC but it has never been a great friend of Everton FC. The Echo should be renamed the Liverpool Mirror.

Aidan Wade
68
Posted 01/11/2018 at 20:27:06
It's illuminating that Mirallas, chilling on a beach on the back of a woeful season thought he would be picked for a stellar Belgian squad. Clearly he has delusions about his ability that reality cannot breach - it explains why he often appeared so half arsed, he thought he was killing it.
Simon Smith
69
Posted 01/11/2018 at 22:38:38
How is this guy still on our books !?!?!
Don Alexander
70
Posted 02/11/2018 at 00:51:47
Reading about Mirallas and VDM brings to mind other dross "star-signings" regularly visited upon us by Kenwright under the "Mozart-of-Money" years of Phillip "Fucking" Green (Royston Drenthe anyone? Or Christian Atsu?) and after tonight's defeat, again, by the red shite at schoolboy level it leads me to conclude, again, that everyone, and I mean everyone, appointed by that blubbing tosser needs to be relieved of their duties asap to enable M&M to really get to grips with imposing a winning mentality from top to bottom.
Oh but wait, Mirallas had his contract extended pre M&M didn't he? Pure Kenwright that.
Phil Sammon
71
Posted 02/11/2018 at 01:01:17
Don 70
So one loss in an U18 derby is enough for you to go well and truly off the rails is it?
I don't think Drenthe or Atsu we're ever described as 'star signings'. In fact, both were loans that had great potential. Drenthe was a worthwhile acquisition and was a player who could get you off your seat at a time when flair was badly lacking at the club. Ultimately he proved too much of a loose cannon.
Atsu was completely different. Martinez just couldn't find space for him and I didn't see enough of him to agree or disagree with that decision.
Neither deal was particularly costly to the club. I don't know why you'd cite them as an issue. There's plenty of reasons to have a go at Kenwright and I think you've missed the lot of them.
Nicholas Ryan
72
Posted 02/11/2018 at 01:54:02
So, Kevin, you should have been in the Belgium World Cup Squad. Just remind me, which player was going to be dropped to accommodate you: Eden Hazard, Dries Mertens, or Kevin de Bruyne?!
Alan J Thompson
73
Posted 02/11/2018 at 03:41:55
Yeah, Mirallas, Barkley, Deulofeu, Lukaku, Fellaini — all useless or lazy bastards everyone.
David Barks
74
Posted 02/11/2018 at 04:32:26
Nicholas,
You neglected to mention, Januzaj, Nacer Chadli, Carrasco. I think those are the players he was thinking of, don't you?
Harry Hockley
75
Posted 02/11/2018 at 07:47:29
Even Eden's brother Thorgan is miles better than moody Mirallas.
His really improved since his world cup stint for Belgium and has been in great form for Frankfurt in Germany, definitely worth brands having a look at him but I expect other big clubs are watching his devolopment.
Colin Glassar
76
Posted 02/11/2018 at 18:48:11
Big Sam has many faults and committed many footballing atrocities but dropping this lazy bugger was not one of them.
Kev, you've taken is for a ride for far too long. I hope you enjoy the millions you swindled us for.
Danny O'Neill
77
Posted 02/11/2018 at 19:47:25
Not impressed with Mike Basset Eng-ur-land manager. Resonates with most of us Kevin but stating the obvious.
How anyone can be grateful for luddite Sam's time here is beyond me.
We were never going down & panicked. We somehow finished 8th in a shockingly poor league playing shockingly poor football.
We'd have done that with or without Sam.
He's gone now breathe calmly move on again .pretend it never happened.
John Davies
78
Posted 02/11/2018 at 22:07:14
Allardyce didn't impress Kevin Who? Long since forgotten. Both of them.
Don Alexander
79
Posted 02/11/2018 at 23:03:42
Phil (#71), fair enough on VDM/DRENTHE/ATSU if they floated your boat when they were signed but I really hope we do way better under M&M when it comes to signings, devoid of Kenwright's influence.
As for missing the mark with that tosser Kenwright I simply didn't want to here repeat, again, the litany of complaint against him that I've previously many times spelt out, together with loads of other contributors.
I just thought signing dross like those three justified condemnation of the cheque-signer at the time, and any bent bastard who he'd invited to guide his hand, that's all.
Tony Cheek
80
Posted 04/11/2018 at 09:36:24
I remember the story that Mirallas had just signed his first contract with us and next day turned up at training in a brand new gold Bentley — says it all really!
Quite a good finisher on his day; I would have liked to have seen him play more games as striker in that period. But, for me, he will always be remembered for possibly the worst tackle I've seen in Premier League history (and probably the best tackle in Premier League history) when he pole-axed Saurez in that derby. At least he got that right!
Ian Riley
81
Posted 04/11/2018 at 19:17:37
Oh bless, Kev. Not happy with Sam! I'm not happy with the individual who gave you a three year contract. We must have money to burn.
Add Your Comments
In order to post a comment, you need to be logged in as a registered user of the site.
Or Sign up as a ToffeeWeb Member — it's free, takes just a few minutes and will allow you to post your comments on articles and Talking Points submissions across the site.