Coleman: We have to turn up
Monday, 26 November, 2018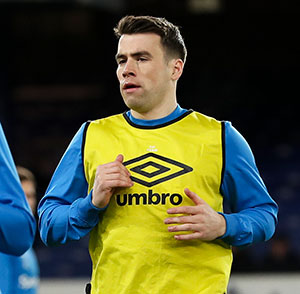 Seamus Coleman says that Everton have to do themselves and the fans justice on Sunday when they travel to Anfield in search of a rare Merseyside derby victory.
The Blues haven't tasted victory against the reds since 2010, a record that Coleman describes as "embarrassing" but he insists that Marco Silva's approach means that the team will be going into the game looking to win.
"Mikel Arteta and Tim Cahill scored. I remember it so well," Coleman says reminiscing about that last derby win, a 2-0 triumph in October 2010. "It was a great game and a great atmosphere. It is quite embarrassing that that is the last time that we beat them.
"Look, I don't want to say the same old things I have said before every Derby and then we don't turn up. We don't want to make all the headlines and the fans go, 'we have heard that before'. We have to turn up.
"We are full of confidence. We won't change the way we play, like maybe we have in the past. It won't be a case of going for a draw. Marco Silva sets us up to win every game and hopefully the lads will step up."
---
Reader Comments (59)
Note: the following content is not moderated or vetted by the site owners at the time of submission. Comments are the responsibility of the poster. Disclaimer
Jim Bennings
1
Posted 26/11/2018 at 08:08:45
Absolutely spot on Seamus.
Words won't cut it this time, it's all about turning up and leaving everything out there on that pitch at the final whistle.
Too many times at Anfield we have gone there and lost that match in the tunnel listening to YNWA and you could visibly see the trepidation and fear in many of our players' faces.
October 2010 is an utter disgrace since our last win against them.
We have not won any of the last 17 Merseyside derbies since, SEVENTEEN!!!
That's a sick joke and it's something that this club desperately needs to end this season so another summer doesn't pass with that embarrassment hanging over us again.
Drew O'Neall
2
Posted 26/11/2018 at 08:22:28
I think Mickey Blue Eyes said it best: it's just that durge from Carousel!
Kim Vivian
3
Posted 26/11/2018 at 08:58:06
Talking of Mickey Blue Eyes - of Bluekipper fame. Where has he gone? Do we know him under a different name?
Martin Berry
4
Posted 26/11/2018 at 08:58:57
Spot on, Seamus, there is no reason why we can't go there and get a result.
This team is very good and strong in every department with no weaknesses that I can see. I think our midfield will be the key, we have pace and the ability to score. But it is important that the players stay calm and we keep our players on the pitch.
No doubt Marco will have a "cunning plan" and we should come away with a win at last.
Thomas Lennon
5
Posted 26/11/2018 at 10:08:41
We stopped Chelsea so we can stop them – but it might depend on one or two players staying calm in the atmosphere... I am looking at you two, Yerry & Charlie.
Gary Hart
6
Posted 26/11/2018 at 10:54:34
Someone mentioned to me recently that Seamus has never played against them at Anfield in the league. I find that hard to believe. Does anyone know if this is this true?
Rob Halligan
7
Posted 26/11/2018 at 11:12:53
Gary, Seamus played in the 0-0 game at Anfield in season 2012-13 season. He also played in a 3-0 defeat at Anfield in the 2011-12 season.
Jim Bennings
8
Posted 26/11/2018 at 11:13:15
Not true, Gary
He played in the 2-2 in January 2011.
Not sure about afterward if he's played again but I remember that one clearly because he had our first shot after 2 minutes.
Gary Hart
9
Posted 26/11/2018 at 11:25:18
Sound. Thanks.
Ajay Timothy
10
Posted 26/11/2018 at 12:17:55
Anyone know who the ref is for the game?
Jim Bennings
11
Posted 26/11/2018 at 12:38:49
Every time a Merseyside derby occurs nowadays, I always think back to words I saw on the box of a Matchbox Rubik's dice when I was a kid.
"To complete the task it requires a steady hand and a cool head"
I think cool heads are something that we haven't had enough of in this fixture and it's time to start using our heads to give ourselves a chance.
Frank Sheppard
12
Posted 26/11/2018 at 14:31:24
Strongest squad we have been able to take there for a long time. But
this fixture still fills me with dread; I would be very happy with a scrappy draw!
Joe McMahon
13
Posted 26/11/2018 at 14:58:35
Jim, didn't Moyes win 3 out of 24? One in the 2009 FA Cup run.
Andrew Clare
14
Posted 26/11/2018 at 15:02:01
I am sure we will give them a good game this time. What we have to remember is that we are a work in progress and they are the finished article. Our poor recent history has meant that we have fallen well behind the top 6 teams so it is going to take at least 3 years of rebuilding to get to the required standard.
Like every other Toffee, I want to see us win at the weekend but, although I hate to say it they are second only to Manchester City in quality this season. It's going to be a tough game.
Richard Lyons
15
Posted 26/11/2018 at 15:05:32
Ajay, I think the ref is Liverpool's 12th man... He usually is anyway... He certainly was when his name was Clattenburg, and he was ably assisted by the refereeing consultant commonly known as Steven Gerrard.
Frank, I think a win is what's required – nil satis nisi beat the RS – it's about bloody time!
Jim Bennings
16
Posted 26/11/2018 at 15:05:42
Joe
I think so yes!
3 league derby wins (plus the 2009 Tic-Tac Cup match) Moyes had in 11 years, at the time I thought that was bad but looking at the last 5 years I'm not sure I'd say no to 3 wins in the next 11 years lol.
Gerry Quinn
17
Posted 26/11/2018 at 16:41:22
Shaqiri commented...
"It's my first derby so it's going to be very special. I want to see and to feel the atmospheres in these derbies. I'm looking forward to it. I know just one Evertonian. He said to me when I was at Stoke, 'You have to come to Everton.' I said, 'No!'"
Does he live in Norway then?
Harry Hockley
18
Posted 26/11/2018 at 16:42:17
Had a lot to say lately, has our Seamus... but he is right – we have heard it all before.
Brian Harrison
19
Posted 26/11/2018 at 17:27:04
I am sure Marco Silva will send us out in a more positive manner than our last few outings at their ground. But I still think we lack enough cutting edge up top to turn the results around at Anfield.
We have been to the Old Trafford and the Emirates and failed to get anything because of our failure to be clinical in the final third. Even against Cardiff, we were again guilty of not finishing off moves that would have killed the game off.
I would move Richarlison out to the left for this game, and play Lookman on the right with Calvert-Lewin in the main striker's role. Neither Walcott nor Bernard have played well in their last 3 games; even though he helped contribute towards the goal, I think Walcott was mainly anonymous against Cardiff. Lookman has shown enough when he has come off the bench to warrant a start, he seems to have a calmness in the box that Walcott doesn't.
I would also be tempted to bring in Zouma for Mina as I think he is a bit quicker than Mina and Liverpool are all about pace in their front 3.
Kunal Desai
20
Posted 26/11/2018 at 17:44:06
Don't we have the worst derby record in Europe?
We need to find a solution on the right side. Walcott in front of Coleman isn't the answer. We will get ripped apart by Robertson and Mane if that's the case.
I seriously would consider Lookman starting in place of Walcott.
Jack Convery
21
Posted 26/11/2018 at 18:02:34
Yes, Seamus – you do have to turn up; otherwise, you will be docked points and fined. What I want you and the others wearing Blue on Sunday to do, is to go there and beat them up – beat them up badly.
Salah is a shithouse – Ramos proved that. Firminio is a cry baby. All I ask is for a level playing field, a decent fair ref, and EFC to run amok. Not a lot to ask for after WAITING NEARLY A DECADE, IS IT!!!!!
Pick Lookman – he'll have their left back on toast.
Lev Vellene
22
Posted 26/11/2018 at 18:14:40
And to think that, during the latter part of the 90s, my RS mate hated to watch the derbies with me! There were 8 years or so without an LFC win, I think he said.
At least I can remember that time when we went toe-to-toe with the RS and won, or at least drew, while always fighting to avoid relegation at the same time.
I feel the (natural) influx of employed mercenaries that the ever more moneyed Premier League have experienced since its inception, have watered down all the age-old approaches to the traditional derbies for the players, if not the fans.
This is why I always feel hopeful when new players seem to 'get' the Club and its supporters. Heartfelt attitude will always win me over!
Liam Reilly
24
Posted 26/11/2018 at 18:22:32
Not a game for Lookman to start; don't change a winning team.
They'll come out of the blocks at pace as as they do in every game, but they don't have the capacity to keep that up for 90 minutes.
Expect some 'Rope-A-Dope' from Silva and hit them on the counter.
Bring Lookman on at 60 minutes when they are running out of steam.
John Keating
25
Posted 26/11/2018 at 18:57:58
As normal, the derby has nothing whatsoever to do with the quality of the team, squad, individuals, coaches... whoever. This has everything to do with mentality.
We have appeared in the past to go out on the pitch in the wrong frame of mind; once the game starts, we just appear to accept we are second best.
Maybe now we have a coach that can get the players organised... but, unless every one of those players goes out and plays with no fear and with a belief, then the result will be as per usual.
Oh yes, and we need a lotta luck!!!
John Raftery
26
Posted 26/11/2018 at 19:06:34
Possibly one reason why Bernard and Walcott have not played well in the past three games is that Richarlison does not lead the line as a natural centre-forward.
Instead of bringing the wide attackers into the game, he prefers to drop off, turn and run at defenders. That is fine in the right situation but, if overused, leaves the wide players feeding off scraps in the final third.
Jim Bennings
27
Posted 26/11/2018 at 19:13:28
Lev #22,
Possibly a good point and I'd also add that, during the 1990s, referees tended to let a lot more go in terms of getting stuck in, imagine Barry Horne, Joe Parkinson and John Ebbrell in today's game of zero contact?
I think, whilst we were fighting relegation a lot back then and Liverpool were near the top, I never felt in terms of fitness and athleticism there was as much of a gulf as there has been in the last decade between us and them.
You would always fancy your chances of kicking the likes of Jamie Redknapp and McManaman out of their stride while the likes of an ageing John Barnes was hardly going to outrun anyone and at the back Liverpool wheeled out some serious pie-arsed nobodies back then: Ruddock, Harkness, Dicks, Kvarme, they weren't exactly cream of the crop.
Whilst we have more talent now, we must accept they have super fit athletes now as well as good players and mountain-like defenders that aren't so easy to bully anymore.
I feel we should have won more derbies when Moyes was here and Liverpool were at times in a mediocre moment again with some average players.
We are asking to break this hoodoo now against a team that is getting stronger with the year but we must keep on trying and we simply must end this run.
Harry Hockley
28
Posted 26/11/2018 at 19:41:21
Liam #24 – I'm with you on that. Don't change a winning team.
I also expect Mr Silva to approach this with the counter being the outlet, at least to begin with.
Fran Mitchell
29
Posted 26/11/2018 at 19:45:14
Just want to see us go toe to toe and give them a game.
This game is huge for them: December is a huge month that could make or break their season. They play Man City in January and know that ,if they remain close to them, they just may have a chance at the title. However, if things go badly and they lose or draw 1, 2, or 3 games in December, they could be 10 points behind them come January and enter the game knowing that the title is lost.
So we must go into this game hoping to rip their season, and dreams, apart.
For the game, I'd take off Bernard, leave him on the bench, and play either Calvert-Lewin (pushing Richarlison to the left) or Lookman. The rest of the team picks itself.
One thing about our wide players is they will have a big job on the defensive side: Liverpool attack quickly, and both Robertson and Alexander-Arnold both have electric pace and excellent delivery. We have to do a job on them.
David Connor
30
Posted 26/11/2018 at 20:18:20
Heard it all before, Seamus. Just get on with it. I think we may just have a manager who doesn't shit his pants when derby time comes round. As for the players... let's wait and see.
Josh Barber
31
Posted 26/11/2018 at 20:45:29
My friend is a big Barcelona fan and I remember, every time Andre Gomes touched the ball, he would shout at the TV: "Oh My God, You Suck!" when he would mis-play a pass or have a bad touch, haha.
I've really enjoyed telling him that, for us, Gomes has been huge. I hope he continues his form in the derby!
Dermot Byrne
32
Posted 26/11/2018 at 20:49:36
True David. But us fans?
Nappy bought.
Tony Abrahams
33
Posted 26/11/2018 at 21:06:04
It looks like we now have a manager who respects the opposition but tells his players to go out on the pitch and make sure their opponents respect them!!
Lev Vellene
34
Posted 26/11/2018 at 21:40:58
Tony #33, I think I read on the Echo that 'fear' was a word they never used in the dressing-room now!
Still, I'd like Lookman on for Walcott or Bernard this next game! Lookman was even awesome while playing for Allardyce (!) on his last outing at Anfield!
Let's give the boy a chance well before the closing 15 minutes!
Mark Andersson
35
Posted 26/11/2018 at 21:56:46
A win for us will see Klopp going nuts as he is a sore looser...
Composure is the key to getting a result there... Gomes needs to dominate the midfield.
Tony Abrahams
36
Posted 26/11/2018 at 22:09:13
I gave up on Allardyce after this game, Lev, when he dropped Ademola for our very next game at Wembley against Spurs and hung Sigurdsson back out to dry by putting him back on the wing after both of them had nearly transformed us at Anfield the week before.
Lookman couldn't wait to get out the door after such a stupid managerial decision and who could really blame the kid? Gomez had been excellent for Liverpool until Lookman showed him up for what he was which was a centre-half playing full-back.
I was asked by a kopite today, "Are you looking forward to the game?" And when I replied "Yes," he said it was because it was our cup final. "Some cup final, mate, considering I wasn't the one to bring the game up," is what I said, after also telling him, "I look forward to every game right now."
Fuck fear, it gets you nowhere. Work hard, be calm, and make sure your opponent knows he's been in a game... It's the new Everton, hopefully!!
Rob Dolby
37
Posted 26/11/2018 at 22:48:34
Definitely rest Bernard for this one. Lookman did more in 5 minutes than Bernard he has done in 5 matches.
We know they will come at us strong for the first 20 mins; after that, it's anyone's game.
Coyb

Don Alexander
38
Posted 26/11/2018 at 23:53:31
In fairness, David (#30), I think Seamus in his quoted press statement said what you rightly mean. To me, the lad would have walked into any previous team of ours in terms of heart and attitude. (He has competition for an all-time right back spot admittedly though!)
I just hope we find our newest signings aren't yet swamped by the Kenwright miasma that's permeated the club for all of this century and more. No more "knives to a gunfight" bollocks might just see an occasional 3 points at the grounds of the "top six". It can't come quick enough... as my wife repeatedly tells me for some reason.
Simon Smith
39
Posted 27/11/2018 at 09:14:05
We're a Premier League side, they're a Premier League side, we're both in form, we both have pride at stake, there's no reason why we shouldn't win.
Ffs, there are bang average sides taking 4 points out of a possible 6 off Liverpool every season, we have no reason to fail to do this, especially this season with such an expansive manager.
This has to be our season to turn the tide in derbies or it simply never will be our season.
Matthew Williams
40
Posted 27/11/2018 at 11:01:07
We may have turned things around after last season's shambles, but I just can't see a win at Mordor on Sunday.
We still lack real composure in the final third, we have no killer instinct yet, our passing in general is average at best & sloppy at worst, our set plays never yield goals even with decent delivery into the opponent's box, we always seem to go missing in big games that really count, vital crunch games we need to win always end in disappointment.
I not only want us to beat them, I want an Everton team that fucking destroys them, heaps misery on the fuckers, I want us & only us to completely shatter any slim title hopes they have on Sunday by giving them fuckers a severe defeat at our old home ground.
Sadly, as it stands, we are simply way too nice as a club, so expect the usual outcome & go again against the Toon at home for our next three points.
If we were truly going places, folks, we'd be traveling down to Leicester tonight!
Jamie Evans
41
Posted 27/11/2018 at 13:29:56
Just win.
I don't care how we do it and neither should any Evertonian, not with a record like ours at Anfield.
Lie, steal, scratch, cheat (yes, I said cheat), surround the referee, contest every decision, time-waste, feign injury, stand on their toes at corners and pinch them under the arms whilst pretending to pick them up.
Leave something on them after every tackle. Hate them passionately no matter what until the final whistle. Remember what they are and what they've done to our great club over the years, particularly in 1985.
Don't talk to me about 'the Everton way' either. That way hasn't succeeded at their place since 1999. We can go back to the Everton way once this monkey is off our back.
Just win.
Harvey Miller
42
Posted 27/11/2018 at 23:03:22
Every long streak will break sometime... why not now? We got a good manager, good squad, so why not? They have not lost once this season and for ages against us so now it's about time if ever. I say that the skill that we have, will and determination it will be enough.
But the most important thing is: you have to want to more than the other lot and for that, you need passion. If we got that, our boys will win the game at Anfield, our old own ground where we won the first of our Championships – and I got a medal (though a copy) to prove it.
Lee Courtliff
43
Posted 28/11/2018 at 00:28:16
Trying to be confident but I'm preparing myself for yet more misery.
Jim Bennings
44
Posted 28/11/2018 at 11:52:07
Whatever way we do it, this record has to end soon.
Looking at the record books in the head-to-head in the last 20 years in the Merseyside derby is a horror show for Everton FC.
Since Kevin Campbell scored the winner there in 1999 we have won just 3, yes THREE, Merseyside derbies home and away.
That's 3 wins for Everton from the last 37 Merseyside derby matches.
That's a sick joke and a measure of how we have suffered in this fixture now for too long and you would struggle to find a more regularly played one-sided local rivalry anywhere in Europe than this, it's embarrassing.
Brian Harrison
45
Posted 28/11/2018 at 13:14:03
Jim
I think of all the local rivalries we must have the worst record of any club has against our nearest neighbours. I think they have won more derbies at Goodison than we have, and let's not even talk about our record at their ground.
Will it change on Sunday? Well despite the great strides Marco Silva has made with this team it will still be a tough ask. I know Jim Bennings said this record has to stop soon, but I thought when Rush left we might have a chance but seems whoever they play they seem to be able to get a result against us.
I think for many years the thoughts of us Blues whenever we played there was lets hope we don't get battered, and sometimes we did get an honourable draw but that seemed the best scenario. When you have such an appalling record as we have against them its hard after so many defeats there to feel optimistic.
What I do know is that, unlike many of our recent managers, Silva will have a go and it won't be 10 men behind the ball and hope we can keep them out. We will create chances as we have in nearly all our away games, let's just hope that when the chances come along we take them. unlike at Arsenal and Man Utd were we squandered far too many chances. Let's hope on Sunday evening we will be celebrating our first win there in a long time.
Anthony Flack
46
Posted 28/11/2018 at 13:23:54
What's the odds of
Competitive start, all equal until they get one or all of the following:
1. Dodgy sending-off;
2. Offside goal;
3. Crap penalty awarded.
Sorry but experience makes me pessimistic!
I have booked Monday off work, just in case...
Jim Bennings
47
Posted 28/11/2018 at 13:38:58
Brian
I felt the same though when Steven Gerrard left them as when Rush left.
I stupidly put two and two together and our worst record ever in derbies was when Mr Redshite Gerrard was there between 2000-2015 but even since his departure we still can't make that game our own.
Our record is abysmal and it's gone on for too long now to bemoan even bad luck, it's just bizarre now.
We have not won a derby that Liverpool have scored in since 1995 (2-1 at Anfield).
We have not come from behind to win a derby since Peter Beardsley's winner in December 1992.
It's unreal really.
Even when Man City were ordinary and light years behind Man Utd, they won their fair share of Manchester derbies.
Everton's record in derbies has become quite repulsive reading.
Peter Gorman
48
Posted 28/11/2018 at 14:30:47
To add to that Jim, we mostly had Man City's number in recent years, going back to Moyes. Just never their red neighbours or ours, the two teams everybody loves to beat. It is indeed embarrassing.
Jim Bennings
49
Posted 28/11/2018 at 15:19:28
Peter
It seems to be a real problem with teams in who wear red, doesn't it?
Terry McLavey
51
Posted 28/11/2018 at 18:36:07
Like most on here, I tend to dread this game but I think we're in a better shape than we have been in the past. But talk's cheap, and it does have to be done on the pitch.
Their defence has had some dodgy moments but, as we know, their attack hasn't, so we need to take any chances we get – instead of squandering them, as we have in previous games.
At last, we don't seem to roll over anymore and now have some quality on the pitch. The tide has to turn someday? ... Please!
Steven Kendrew
52
Posted 28/11/2018 at 21:17:24
We have a big chance on Sunday. The Red shite are going to be drained after tonight's match in Paris. We should try and take advantage of this by trying to play as fast and furious as possible.
Kim Vivian
53
Posted 28/11/2018 at 21:31:30
And hopefully Richie can be our Neymar and by Sunday night they will be sick of the sight of Brazilians. ...so to speak!
Dave Williams
54
Posted 28/11/2018 at 22:28:59
It is set up perfectly — we haven't won at Anfield for 19 years, they are unbeaten this season in the Premier League.
Was it 1987-8 when they were unbeaten in 32 games and going for a record and we beat them 1-0? (Wayne Clarke or Dave Watson?)
If we have the right attitude, then we will win this as we have the better midfield. Big test for Marco — if ever a team needed the right approach and attitude, it is the one that plays on Sunday.
Go for them boys — no surrender!
Don Alexander
55
Posted 28/11/2018 at 23:26:17
I just think that to EXPECT a win is way too premature in the M&M regime. Like everyone else, I HOPE for one... and, come what may in terms of the result, I expect the M&M signings to be free of the miasma that has for too many Kenwright-years engulfed the Finch Farm attitude.
If we perform with the balls, heart and soul we Evertonians expect, rather than the oh-so-convenient "rationale" of the "knives-to-a-gunfight" mentality pervading Finch Farm for decades now, I'll cut them some slack – even if we get beat.
Let's see, lads... Over to you.
Jim Bennings
56
Posted 29/11/2018 at 09:07:52
Don
To an extent I think you are correct.
I think it's almost got to the stage now where my mindset before Merseyside derbies is "I wonder can we get a draw today".
Whereas years ago we went in and hoped for a win, these days it's all about just trying to hope we don't get annihilated and a draw is celebrated like a win almost.
Neil Cremin
57
Posted 30/11/2018 at 14:42:44
Harry,
I detect a little cynicism.
Would you expect the captain (on the field) to say nothing and show no leadership?

Harry Hockley
58
Posted 30/11/2018 at 16:20:41
Neil,
No shit, Sherlock!
I detect you're a "fan" that hasn't watched many derbies over the last 20-plus years.
Neil Cremin
59
Posted 30/11/2018 at 20:46:48
And Harry,
I detect a sense of superiority
From a fan of 50 years since the 1966 FA Cup Final.
Harry Hockley
60
Posted 01/12/2018 at 12:46:55
Neil, there is no such thing as superiority when it comes to supporting your team.
It's not the years that matter, it's more personal to each fan as the next and it's us fans that give our club such a wonderful sense of togetherness.
You are one I am ashamed to share the moniker of "Everton fan" with.
There's no comparison here, nice try though.
Dermot Byrne
62
Posted 02/12/2018 at 14:12:25
Rude, Kim, but funny!
Add Your Comments
In order to post a comment, you need to be logged in as a registered user of the site.
Or Sign up as a ToffeeWeb Member — it's free, takes just a few minutes and will allow you to post your comments on articles and Talking Points submissions across the site.