Silva: Blues didn't deserve cruel finish
Sunday, 2 December, 2018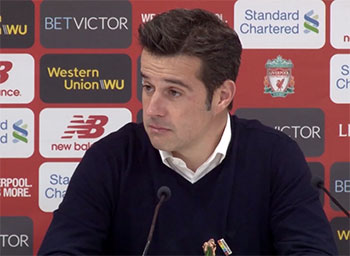 Marco Silva says he is proud of his players' performance in today's cruel derby defeat and admits that Everton did not deserve to lose what was a very even match.
The Blues were looking to see out a 0-0 draw at Anfield as they defended a free-kick with five minutes of stoppage time already gone but when Virgil van Dijk looped a speculative ball towards Jordan Pickford's goal, the keeper's attempt to catch it over his bar ended with the ball bouncing off the woodwork to Divock Origi who nodded it over the line.
Everton had the better chances in the first half, Yerry Mina heading a great chance wide in the third minute and a combination of Allison Becker and Joe Gomez denying André Gomes his first Premier League goal in the 21st minute when the Portuguese stopped to head home Theo Walcott's header back across goal, while Pickford saved well from Xherdan Shaqiri.
Liverpool went close through Sadio Mané after the break and Origi hit the bar late on but, as Silva said after the game, a draw would have been a fairer result than the disaster that befell his goalkeeper at the death.
"It as a cruel finish for us but that is football," Silva lamented. "I know that in football the result is always most important but I can tell you I am proud of our players.
"They did really well, they performed well. It was a tough, tough match for both teams.
"We had good moments to [finish] in a better way. I think we were [lacking] with the [final] decision but we did really well and we didn't deserve this result.
"But it's football and we will learn from it like we have always done and like we will in the future."
Silva would not criticise his goalie who has been one of his most consistent and reliable players this season.
He intimated that the prevailing feeling is that the team wins and loses together and that no-one will be singled out for blame.
"What I told Jordan must stay between us," he said in his post-match press conference. "But we started the match all together, like from the first day, and we will analyse the match together.
"He played well until that moment and no-one expects what happened in that moment and it is easy to understand how the stadium celebrated the goal like that in the last minute.
"Even they didn't expect anything more than the draw at that moment."
One of the most controversial moments of the game was Jürgen Klopp's over-exuberant celebration of Origi's winner when he ran onto the pitch to celebrate the goal with Becker.
The German insisted afterwards that he said sorry to Silva for a moment of disrespect but the Portuguese denied having received any apology for what he assumes was a reaction to an unexpected result.
"No, he didn't apologise to me," Silva said. "All of your colleagues asked me about this situation but, to be honest, I didn't see what happened. I didn't see it. I don't know what he did and the way he did it.
"I think he didn't expect [the result]. It was a lucky day for him this afternoon. It's football. I cannot tell you if it was disrespectful because I didn't see it.
"Maybe when I see that moment I can speak more about that situation."
---
Reader Comments (80)
Note: the following content is not moderated or vetted by the site owners at the time of submission. Comments are the responsibility of the poster. Disclaimer
Paul Hewitt
1
Posted 02/12/2018 at 22:50:15
Let's not dwell on the result. Yes, we lost, but much to be proud about.
The RS never won it, we chucked it away.
Gordon White
3
Posted 02/12/2018 at 22:56:11
I would agree with Marco. I was very proud of the team. I thought we were really unlucky not to get a point and could even have won it, if only for a goal-line clearance and a bizarre goal.
The team deserve a lot of credit. They are a team that's going places. I don't want to pick out individual performances because I thought we played really well as a team.
There were spells out there today where Liverpool looked frankly ordinary. That's the way we were handling them. It won't be long before we're going to top 6 sides and taking 3 points.
Looking forward to the Newcastle game.
Andy Crooks
4
Posted 02/12/2018 at 23:07:35
Gordon, I have been looking for a silver lining all evening. Your post has done it. Also, the stoicism and balance of the admirable Tony Abrahams on other threads sends me off to bed feeling much better. We are tested because we can take it. Proud to be an Evertonian, as always.

Tony Byrne
5
Posted 03/12/2018 at 01:20:04
We played well today, a content style that I have not seen us play for many a year, at Anfield especially. A freak goal has undone us which was a sickener. We have always had a bit of class as a football club, their manager at the end, showed us all that he & his club know fuck all of the word "class".
We will have our day, ladies & gents. In the space of four months, Silva has transformed us into a team who can firstly compete, then move onto the next step of standing toe to toe at away grounds of the top 4-6. Klopp has had three years & shit loads of money to put them in contention of the top honours; we've only just started. He's won the same as Silva has.
Let's keep our peckers up, Jordan will be sicker than all of us tonight, us loyal fans will back him to the hilt, not like them bastards with Karius!
If we are to improve quickly, we need to replace Gueye with the likes of Loftus-Cheek to play alongside Gomes, if we can secure his signature.
I understand the frustration after that tonight, reading the likes of Dave & Tony Abrahams & John Mc etc makes me feel more positive. We are on to something with Marco & Marcel, please keep the faith, the tide is turning, believe me.
Karl Meighan
6
Posted 03/12/2018 at 01:27:24
Even in defeat today, the RS know they were in a game. The days of rolling over and being frightened have gone, I only see improvement in this Everton team. All seem to get along and we have some quality players who are capable of competing and getting results against the best.
Wayne Maher
7
Posted 03/12/2018 at 01:31:56
Silva said Klopp didn't apologise. No class. They won't win sweet fuck-all under Klopp.
I was very proud of the way we played. All people moan about is injury time – it's a minimum, not maximum.
Joseph Terrence
8
Posted 03/12/2018 at 02:57:41
Cruel, but I do hope that Silva will start Lookman over Walcott. Theo has so much potential, but his decision-making is very often lacking and he's not exactly young. When Lookman has the ball at his feet, you get the feeling anything can happen; I hope we keep hold onto him and see him flourish. He will only get better with game time.
Nitesh Kanchan
9
Posted 03/12/2018 at 05:36:13
Liverpool are the best defensive side in the league right now. So it was going to be difficult to score against them. We played a perfect away game at a top side, created chances, kept theirs to a minimum – just like at Chelsea; it was a bizarre moment that ended in a defeat. We have the best midfield in the Premier League right now after Man City and probably the best left-back and centre-back partnership.
So let's stay positive. We are easily creating chances because we've got the players who can get past players and create spaces. The only problem is the striker right now, who can not only hold the ball but also makes fox-in-the-box runs, and you are looking at the side that can win anywhere.
Dave McDowell
10
Posted 03/12/2018 at 06:21:49
Klopp, the classless clown, in his post match interview had to have an apology dragged out of him and then he said it was justice that Origi scored having had part of his career taken from him by the tackle by Funes Mori. No mention of Suarez, Gerrard, Kuyt, Case and all the other assaults that the RS have committed in derby games.
The more I hear from Klopp, the classless clown, the more I appreciate just what a grade one, shithouse prick he is. Now we hear he lied about apologising to Marco. No surprise.
Let's see what actions the authorities take on his pitch invasion. I guess he had that 'run on' planned for last season's Champions League Final and just wanted to use it.
Anyway, the good news is Man City will march on and Napoli will do a job on them in the Champions League and then watch his head explode again blaming they ate too much pasta the night before.
Onwards and upwards Blues, performances getting better every match and with two additions and Gomes secured we will have a title contending team.
Shaun Robinson
11
Posted 03/12/2018 at 08:00:38
We seem to be very creative in finding ways to lose. Is it only us who do this?
Keith Gleave
12
Posted 03/12/2018 at 08:04:26
This was one of the unluckiest defeats and unwarranted. There are though many good things to take from the game.
What should come from this though is hurt, hurt taken from the way they lost, hurt in that they could and maybe should have won the game. Taken the right way, this should improve them as a team and tighten their mentality.
Jim Bennings
13
Posted 03/12/2018 at 08:33:54
Keith,
That hurt will remain no matter who we beat between now and facing those Red demons again.
I don't think any of us will be able to rest until we exercise the demon of beating Liverpool; at the start of each season it hangs over us like a curse.
Liam Reilly
14
Posted 03/12/2018 at 08:37:42
Just 1 point is a poor return at 4 of the top 6 (2 still to play) but it doesn't tell the story.
I'd rather watch the side play fearlessly against these so-called superior sides and lose than play the Allardyce way and sneak an undeserved point.
Silva is doing a great job in such a short space of time and some of the negativity on the other thread is lunacy.
Jim Bennings
15
Posted 03/12/2018 at 08:52:02
Liam,
I'm afraid it does tell the story, the points and goals return doesn't lie.
It doesn't matter how we played, the record books suggest we lost these games and Marco Silva is an intelligent enough man to know that pats on the back don't get you results.
We failed to score more in these matches because we aren't clinical in front of goal and we lose them because we make schoolboy mistakes like yesterday.
Pats on the back make nobody feel better after losing a derby. We need better players if we want to beat the top sides – not just match them over 90 minutes.
Gerard Carey
16
Posted 03/12/2018 at 08:52:21
Gutted that we didn't get at least a point. But first time in a long time that there's a different feeling after this game.
We finally have a team that's getting better and better. We have a young manager that oozes class and a Director of Football likewise. The players are good enough too, to learn and adapt as the season goes on.
I'm sure there's a striker being lined up either for January or in the Summer too.
Also, we have all the top six at home in the second half of the season so it will be another chance to see if we can keep on improving.

Danny Baily
17
Posted 03/12/2018 at 09:20:35
There is no positive spin that can be put on this to make the outcome more palatable. The RS themselves couldn't have dreamed up a better script. If the league is won by them by a fine margin then we will be able to pinpoint our contribution to that (and I very much doubt they'll ever let us forget).
There's no blame to be apportioned either. It's just a sickening blow.
Jim Bennings
18
Posted 03/12/2018 at 09:29:45
You can't strive to match the best unless you have massive aspirations.
As I mentioned yesterday, Alex Ferguson was never content during a summer in which Man Utd has just won the double – he went out and signed a better striker or defender to ensure that his team kept improving. Guardiola is the same now at Man City.
At Everton, we have improved in a way that we can fend off the mediocre teams in the Premier League, which – given our finances – you would expect us to beat these sides... but we haven't really beaten anyone again so far this season, 10 man Leicester probably the best win to date.
Silva and Brands will take no positives privately from good performances but not results and they will be looking at signing better players than what we currently have in January and also in summer.
The team is improving but I think, with this current squad lacking a true goal scorer and also more sources of regular goals, then there's only so far it can go before that glass ceiling reappears.
Let's hope for a productive transfer window in January with maybe two outgoings and at least one incoming quality striker.
Phil Lynch
19
Posted 03/12/2018 at 09:56:53
Absolutely nailed it, Dave, #10.
Let's get them at Goodison in the 3rd round of the FA Cup and see if he fancies a jog on the pitch then. I despise everything about that club
Robert Leigh
20
Posted 03/12/2018 at 10:15:00
Feeling a lot of the things other Blues are feeling this morning; disbelief, pride, optimism, etc.
Also, it was nice to see Marco emotional about losing – he clearly 'gets' this Club and feels strongly that we are going in the right direction.
One thing is for sure though, we need to sign Gomes ASAP – the man is fast becoming one of the best midfielders in the Premier League.
Keith Gleave
21
Posted 03/12/2018 at 10:25:38
Jim, I totally agree, the hurt has been there for many years with all us Evertonians. Generally, with a team in whatever sport, you see a moment which gels them together; this could be it, let's hope so.
This result, however much it hurts, came from a far better performance than for many years and surely signals better things around the corner if the rate of change continues as it has under Silva this season.
Matthew Williams
22
Posted 03/12/2018 at 10:29:12
I only have three real hopes for midweek... we bounce back big time against Newcastle at home in the Premier League, we send a scout up to Ayr to watch the scoring sensation that is Shankland, and we get an easy Cup draw on Monday night, 'cos if we draw a top six side away from home, like last season... we're heading out early again!
Carl Waldron
23
Posted 03/12/2018 at 10:56:06
Much as it hurts right now, I genuinely think that – at some time in the future – this result will be seen in a positive light. Not exactly a Kevin Brock moment, but perhaps a Bobby MacDonald one (for the youngsters amongst you, he scored the opener for Oxford on that famous night).
This team – already completely transformed from the disaster that was Fat Sam's idea of the way to play – will use this as a rallying call, as a shared experience that binds them together.
For too long, we have looked like we did not believe we belonged on the same pitch as any of the top 6. Yesterday, we proved we were every bit as good as a fantastic team that remains unbeaten in the Premier League. Of course it hurts to be beaten by the Reds, but long-term this should be a real confidence boost. In Silva and Brands we trust! COYB's!
Rob Halligan
25
Posted 03/12/2018 at 11:51:20
Dermot Gallagher saying on SSN that a manager is not allowed to leave the technical area during playing time.
So we can expect NO punishment to be dished out to Klopp.
Brent Stephens
27
Posted 03/12/2018 at 12:07:10
As for Klopp running on the pitch – it's Silva who will get a ban for not stopping him.
Dave McDowell
28
Posted 03/12/2018 at 12:15:01
I know I am bitter but I couldn't resist writing to the FA under the subject matter "Pitch invasion":
Good day,

I would be grateful if you can confirm the punishment for a manager who steps out of his designated technical area and takes to the pitch while the match is in progress?

Yesterday the Liverpool manager, Mr. Klopp seemed to run across the pitch to celebrate with his goalkeeper. I am sure there is television coverage of it.

I did not see Mr. Klopp receive a warning or sent to the stands so I would be grateful if you can confirm what the regulations are?

I understand he was delighted at the late goal being scored but equally I'm sure a number of LFC fans were also delighted and I didn't see any of them invade the pitch.

My view is surely the manager has a responsibility to set an example and not encourage wreckless behaviour.

I am sure your team are on top of this matter as you are fully aware of the perception that the "bigger teams" receive preferential treatment and this is a perfect example to prove this is not reality.

Kind regards,
Dave McDowell
James Marshall
29
Posted 03/12/2018 at 12:25:46
I don't agree that Klopp should be banned for running on the pitch. The game is already over-sanitized; if you start to discourage emotion then the game dies a little more.
Yeah, it was annoying that it was against us, but had Silva done that at Goodison, we'd all be laughing our heads off at the RS.
Steve Brown
30
Posted 03/12/2018 at 12:29:25
James, I don't think Klopp should be banned. Just shamed as the absolute tosser he was for doing it. He looked rightly embarrassed in interviews and the post match conference, but lying about apologising to Marco Silva didn't help his cause.
Lawrence Green
31
Posted 03/12/2018 at 12:33:25
James #29,
No problem with a manager or his staff celebrating a goal but the rules state that club officials have to stay within their technical area during the match — did Klopp really have to run to the centre-circle to show how happy he was to have seen his team gifted a goal?
Imagine the uproar had an opposition manager done the same thing at the other place. I actually despise all of this faux involvement by club managers during the game, it makes good copy for the media but does it serve any real purpose?
Dave Williams
32
Posted 03/12/2018 at 12:43:58
I see more and more similarities to 1983-84 when we couldn't buy a goal and then gradually the team evolved. In the Milk Cup Final, we were robbed of victory by Hanson's hand but went on to be the best team in the country if not Europe for the following three years.
We are fast getting there; we all know we need a striker so Richarlison can revert to playing wider. Whilst Gueye is having a good season, we need a better defensve midfielder who can pass the ball. Theo is on borrowed time — he is doing what he has done all his career and won't suddenly become a consistently good player and I think Lookman will get his chance this week.
All that said, it was a sickener yesterday but I feel sorry for Pickford – the guy made a bad mistake but that's what happens when you play in goal. Our time is coming; Silva knows what he is doing.
Oh, and Gomes must be signed!!!
Gordon White
33
Posted 03/12/2018 at 13:45:31
I think it's worth bearing in mind how long Silva has been at the club. How long these players have had. Everton under Silva are a project which has only just started.
What we've achieved already, as demonstrated by the overall performance yesterday, and at Chelsea, is amazing.
Liverpool have been completely outplaying teams and have the best defensive record. And yet there was parity for virtually 90 minutes out there. And we made them look ordinary. It was desperation measures for Klopp towards the end with those substitutions. With all their hundreds of millions more being spent, how long has it taken Liverpool to get to a point where they can challenge for the title? And how long has Silva and Brands had?
Our time is coming. The team are improving – it's so palpable. We just need to remember – it's only just started!
I can't tell you how happy I am having watched us yesterday. To hell with a single result. We'll have our time. And there are bigger things in the offing.
Martin Berry
34
Posted 03/12/2018 at 13:52:49
Gordon, #33, Spot on.
A lot of people are now aware just how good we really are and our reputation is growing.
Marco and Marcel have done a marvelous job, I just hope we can bring in some real potential cover for the midfield should Gueye or Gomes get injured; they're becoming a formidable pairing.
Dave O'Connell
35
Posted 03/12/2018 at 13:55:56
I'm hurting still after yesterday but I agree with the comments — we display well and are showing signs we can be a top 6 team.
What we desperately need is a top class striker in January. I would go for Wilson from Bournemouth.
Phil Bellis
36
Posted 03/12/2018 at 14:19:06
Me also, Dave (32) re echoes of 1983-84.
As Paul Tran also recalls in another thread, the performance in the undeserved Quarter Final defeat at Old Trafford in '83 made me feel the team was gelling and moving forward.
Similar to how I feel about the current team and management.
Phil (Kelsall) Roberts
37
Posted 03/12/2018 at 14:20:31
Like Dave, I see similarities to 83-84 where we were coming good and robbed. We then became the premier team on Merseyside for a few years at least.
But my sincere hope is that there is no action from the FA about the pitch invasion. Then, when we beat them at Goodison Park next spring and Marco runs on to celebrate and the FA charges him... oh wait, that can't be; otherwise, it is one rule for their darlings and one for the rest.
Andrew Clare
38
Posted 03/12/2018 at 14:27:20
We are a work in progress and looking better every game. In a few short months, Silva has transformed the team. On the other hand, our neighbours are the finished article — challenging for titles on all fronts.
We have suffered years of mismanagement right from the very top of the club; meanwhile, our neighbours have spent millions and millions of pounds every season developing their team.
If we continue to progress in the manner that we have so far, it won't be long before we are back challenging for major trophies.
Jim Harrison
39
Posted 03/12/2018 at 14:36:23
As for Klopp? Who cares? If the FA charge him, what good is it? He apologised, many wouldn't. If we do them over at Goodison Park, I hope Marco does the same, and Big Dunc runs across the pitch and crowd surfs his way back around.
Klopp in his interview made the point that the improvement at Everton since last season is remarkable. We went and, but for a fluff by our normally game-saving goalkeeper, we were good for the draw and even when created enough chances to justifiably think we could have won the game. Less than half a season. Imagine where we could be with a striker!!
Dave Evans
40
Posted 03/12/2018 at 14:38:45
On other threads, some posters seem to think all we need to beat the top six is 'a winning mentality'... Whatever that looks like.
What we need to is this manager and another 3 committed, skilful players.
Man City at home would be shitting it.
Mark Taylor
41
Posted 03/12/2018 at 15:22:40
On the Klopp thing, I would expect him to be charged but, bitter though defeat was, I think it's a waste of energy to get too offended. I hope our manager would have the passion to do the same.
And I'm far more focussed on us being in a position for Marco to enjoy his own pitch invasion. The good news from yesterday is we have taken an enormous step towards doing that compared to the dross of 12 months ago under Fat Sam.
David Israel
42
Posted 03/12/2018 at 15:28:18
As for Klopp's celebrations, only people like Jose Mourinho take offence at such things. I don't see any harm in it, given how close the game was and the last-gasp winner.
James Marshall
43
Posted 03/12/2018 at 15:33:56
Klopp has been charged by the FA
Michael Kenrick
44
Posted 03/12/2018 at 15:48:52
Dave Abrahams
45
Posted 03/12/2018 at 15:54:53
Only Evertonians will get pleasure out of Klipperty being charged; it's all part of the game to most neutral supporters.
Who could forget the young Mourinho dancing and running down the touchline at Old Traffold when Porto scored the winning goal to knock Man Utd out of the Champions League? Marvellous, and I have a soft spot for Man Utd.
Klipperty is a bit of a nutcase, something like Tommy Gravesen – no harm in them, just naturally round the fuckin' bend.
Jamie Crowley
46
Posted 03/12/2018 at 15:55:42
Klopp's been charged and has until Thursday to respond.
Lovely.
What's the fine / ban? What's the repercussion of the action?
No word of that.
I agree with James' sentiment about the over-sterilization of the game on the whole, but have to disagree with this particular action. Coaches shouldn't be running on the fucking pitch. It's a circus, respectless (not a word, go with it...) act that should be governed out of the game.
Now taking your shirt off after a goal? Hell, allow that all day long.
Eddie Dunn
47
Posted 03/12/2018 at 16:23:19
James Marshall and others... you may not mind Klopp running on the pitch ad our manager, keen to diffuse the situation, said he might have done something similar. I don't think Marco would.
Now imagine that we got a last minute goal and Marco did it. What do you suppose our lovely fair-minded Kopites would be all over the media saying today? We would have been lambasted. Remember, everyone loves Klopp and our media darling neighbours can do no wrong.
Klopp will get a 3-match touchline ban and that will be that. A fan doing this gets banned for a season or for life. Not a good example.

Michael Lynch
48
Posted 03/12/2018 at 16:25:19
Klopp trades on his "I'm just enthusiastic, I can't help myself" schtick, and loads of people fall for it and think he's loveable and a wonderful antidote to the sterile game of professional football.
I don't buy it. The guy is a turd. I know for a fact he tortures puppies and has a huge collection of chicken porn. He's worse than Suarez. The teeth are a clue.
Jamie Crowley
49
Posted 03/12/2018 at 16:31:40
Eddie, I do not believe he will receive a touchline ban. I don't think he should.
The team will get fined. It should be a hefty fine as to discourage this type of behavior from occurring in the future.
But banning the guy for a braindead moment of delirium? Not for me.
It's unacceptable behavior from a manager. Fine the shit out of them.
Paul Kelly
50
Posted 03/12/2018 at 16:35:31
Blues didn't deserve cruel finish?
Well we didn't exactly go for it in the second half, did we? Whilst they were putting on more attacking options and fresh legs, we seemed content with a draw. They had played in midweek so probably couldn't believe their luck we didn't push them more.
I don't think Silva trusts many outside the starting eleven; Lookman maybe being that exception to the rule. I thought we would've seen a target man sooner as Richarlison seemed to be very deep at times which nullified them, but gave us no outlet.
Calvert-Lewin coming on a minute before the 90 was up? Zouma 2 minutes later? Seems only one team went for the win and it wasn't us. The more things change, the more they stay the same.
Still gutted, still sick to my pit. Roll on Wednesday so I can put this behind me.
Stephen Driscoll
51
Posted 03/12/2018 at 16:39:28
There was a time when he first arrived that I didn't mind Klopp quite so much. Now, three years on, he really does grate on me and has no saving graces after yesterday.
I hope we trounce them at Goodison Park. I can't see any reason why... maybe we will get them in the FA Cup again.
Rob Halligan
52
Posted 03/12/2018 at 16:45:19
Jamie #49. Klopp will more than likely get a touchline ban, but will be suspended, and told not to do it again.
Wes Ray
53
Posted 03/12/2018 at 16:48:44
Everyone so convinced that we are moving forwards. Compared to last season, clearly so; however, neither our league position nor our record versus the top 6 is showing much improvement.
The team is good enough but is Silva the man? I'm not sure at all. Same old "unfair, deserved more, etc, etc" ...heard it so long and fed up. Twenty years... and counting.
Stan Schofield
54
Posted 03/12/2018 at 17:20:20
Forget about the opposition manager, it's irrelevant.
Wes @53: I'm absolutely convinced we're not only finally moving forward, but doing so rapidly. That Everton side is a very fine one, full of skill, flair, panache, pace, and fighting spirit.
It's just another game, you'll need to get used to that under Silva, and it's an essential part of having a winning mentality to complement the ability we have. What happened was disappointing in the extreme, but that's all it was. Perspective.
Gordon White
55
Posted 03/12/2018 at 18:20:32
Stan @54 – nail on the head.
About Klopp. What he did was wrong but it was spontaneous. He didn't think before he did it and thus he showed us his true feelings.
These were the actions of a manager that was thoroughly relieved. NOT someone who nonchalantly thought it's what they deserved. (If they had lost – the consequences for Liverpool would have been far greater than falling behind by a few points to Man City.)
He had taken off his star players (we had seen them off), and replaced them, more in desperation than anything. Seconds before that bizarre ending, he had accepted a draw in his mind and was likely hoping they wouldn't lose it themselves at the end.
If he hadn't been so relieved and grateful, he would still have celebrated, of course, but it wouldn't have been anything like that.
So I guess what I'm saying is that his actions were open, tangible relief – an unconscious compliment.
Stan Schofield
56
Posted 03/12/2018 at 18:31:01
Gordon, absolutely. Not to excuse such childish behaviour and lack of self-discipline, but he showed relief rather than arrogance, which is truly a compliment to us. Performances like this will inevitably change perceptions of Everton, our status, and the way we're reported in the media.
Tony Marsh
57
Posted 03/12/2018 at 19:23:13
Nothing to be proud of and no positives for me. We lost yet again at Anfield, even though it was obvious that Liverpool were drained from Wednesday night's game in Paris.
Pickford, like I said on here months ago, isn't the answer. He is another Joe Hart waiting to happen. Good shot-stopper but always error-prone and too small. The goal yesterday was a combination of stupidity and not being big enough.
England the other week where Pickford messed up, pissing about with the ball is further evidence of his docile attitude.
Walcott and Gana definitely not good enough for where we want to be. Whenever we play a top 6 teams these two players go missing or make pathetic mistakes and errors of judgement.
Gana's poncing around fiegning injury allowed the referee to add more time to added time. I knew, once I saw the referee pointing to his watch, that they would score.
Silva bringing on Zouma, trying to hold out for a point as they threw forwards on, was another mistake. I would sooner lose going for it than sitting back asking to concede.
All-in-all, another loss across the park due to idiotic decisions being made by players and manager. People saying "Let's batter Newcastle on Wednesday" just don't get it.
A point yesterday kept us on the heels of teams chasing 4th place. Now we just add another statistic to the club's miserable record in the Sky 6 games.
This season is starting to follow past seasons:
Arsenal – lost
Man Utd – lost
Chelsea – draw
Liverpool – lost.
One goal scored in total... I don't see any positives in any of it.
Pickford to Man Utd? Yes, Please.

Karl Meighan
58
Posted 03/12/2018 at 20:59:04
Let's have it right: we were the away team so don't think the "we didn't go for it" comments are fair; a point would have been a good result, as it is at any of the top 6 teams' grounds.
At 90% of Premier League games, I would say the home team will be pushing for a winner come injury time. I don't buy they were tired after playing midweek either. They are fit men and, in there case, very close to top, surely playing two or three times a week not only comes with success but with ease.
I was dissapointed with Gana who has been superb in the last 5 games, then goes over the park and struggles with basic passing. Harsh maybe but the standards have to remain high.
Jack Convery
59
Posted 03/12/2018 at 21:16:15
I see a Klippetty around the earhole for Klopp from the FA. "He's a very naughty boy... now Fuck Off" to paraphrase Terry Jones in The Life of Brian.
On another note, I now realise why Klopp celebrated they way he did – 'Our Cup Final' is the only Cup Final he can ever win !!
Gordon White
60
Posted 03/12/2018 at 21:24:43
Tony @57,
Best not join the Samaritans.

Jerome Shields
61
Posted 04/12/2018 at 00:54:16
To keep a consistent momentum going, Everton need to beat Watford at home. This is the test that will let us know that Everton have finally got the wagon on the road.
Stan Schofield
62
Posted 04/12/2018 at 10:28:08
Jerome, it's true that beating Watford will help maintain momentum. But it is not 'the test'. It is just another game.
It is absolutely clear that Everton has finally got the wagon on the road, certainly as far as I can see. I think that Silva believes we can beat anybody, and he's making the players believe it. I believe it too. The quality and commitment in this side is the best I've seen since the 1980s.
Brian Murray
63
Posted 04/12/2018 at 10:35:13
It's not just the running on the pitch, it's the lies to wiggle out of trouble, saying he apologized to Silva. Sky bastards, always have been, always will be.
Terry Farrell
64
Posted 04/12/2018 at 11:11:10
Even just after the heat of the battle, Marco shows leadership and chooses his words carefully whereas their clown invades the pitch. Not encroached, invades at least 50 m and chest-bumps their keeper!
Olsen, ex-West Brom and a pundit on SwedishTV, said it was disgraceful and if he'd have been playing for Everton he would have knocked Klopp to the floor.
Derek Knox
65
Posted 04/12/2018 at 13:24:45
I see Klopp has admitted his charge, and been fined the sum of £8k, wow!
If that had been a fan, whilst the game was still in play, he would probably have received a lifetime ban, plus the ignominy of having his name brandished across the local papers, or even the National Tabloids.
This fine to someone of Klopp's financial standing, is the equivalent of 50 pence to the average Joe in comparison. I expected a touch-line ban of at least six weeks, possibly longer.

Jamie Crowley
66
Posted 04/12/2018 at 13:48:48
They just opened the door for every coach with no class to storm the pitch after a goal.
$8k (pounds — not dollars... someone get me an "international" keyboard, please) is nothing to these managers.
Well done, FA. Fucking stupid. Just set a precedent as there's no deterrent.
Pete Edwards
67
Posted 04/12/2018 at 13:53:37
Wonder what the FA do with the fine money?! probably needed a top-up for their Christmas party fund!
And anyway, the club would pay this for him, I'd guess.
Eddie Dunn
68
Posted 04/12/2018 at 14:02:57
A ridiculous punishment for a man earning mega-bucks. This sort of behaviour encourages fans to do the same, but of course, they would be severely punished.
Interviewed on Radio 5 live after the game, Klopp said he had never done it before and was immediately reminded that he had done it at Dortmund. He then said, "Ah, but that was seven years ago". He has previous.
To me, it was disrespectful to Everton, and especially to Pickford. It was also bringing the game into disrepute, by potentially igniting emotions of our fans.
This is why these things are against the rules... they can lead to other unruly behaviour.

Brent Stephens
69
Posted 04/12/2018 at 14:22:12
Derek #65 says it all. Fans get banned for running on the pitch but managers get a fine. Sends a great message.
Derek Knox
70
Posted 04/12/2018 at 14:26:21
Eddie @68, I totally agree, but the bit that I can't get my head around, is that a lot of high profile managers and pundits alike are more-or-less endorsing his juvenile and inane actions.
Danny Mills was the only one I have read to date that was calling for a lifetime touchline ban but, as you alluded to Eddie, how is this a deterrent when it is being treated in this manner to someone who has proved to be a liar?
Let me qualify: after the match, he declared on television that he had apologised to Marco Silva; when interviewed, Marco said that he had not mentioned it.
Also, he publicly declared that he had never done that before, when reminded that at Borussia Dortmund he did exactly the same, his response was that "Ah, but that was seven years ago" — as if the Football World had somehow all suddenly developed amnesia.
He was never my favourite character for obvious reasons, but I had a certain respect for his managerial prowess; that has now diminished considerably, and I wish him all the bad luck that hopefully come his way.
James Hughes
71
Posted 04/12/2018 at 14:27:47
Yet another example of double standards set by the 'we know FA' board. They might as well pay Klippety the £8k as it literally won't be noticed by him either way. They really are clueless and useless.

Hugh Jenkins
72
Posted 04/12/2018 at 14:41:54
Tony (#57). I think the feeling that most of us get is that, whilst, as you rightly point out, we have again lost to Arsenal, Man Utd and Liverpool and have drawn with Chelsea, in each of those games we have performed much much better than we have in recent times and were unlucky to either lose or draw.
More significantly, perhaps, each of those games has been away and, as we improve (and hopefully strengthen further in January), they have to play us at Goodison in the second half of the season.
In the past, we would probably have only been able to look forward to a further loss to these teams – but I do not believe that is any longer the case.
I am confident that in the second half of this season we shall start to pick up maximum points from some of these encounters and next season I expect to be picking up many more points at the away fixtures too.
Silva and Brands have made a remarkable start to their reign at Goodison Park. Long may it continue.
Rob Halligan
73
Posted 04/12/2018 at 14:42:57
This paltry fine has now given licence for every Premier League manager to run into the middle of the pitch and celebrate a winning goal, knowing the most they will get is an £8k fine and a warning not to do it again.
Jay Wood
[BRZ]
74
Posted 04/12/2018 at 14:47:56
The Klopp issue was the first thing Marco was asked today in the presser ahead of the Barcodes game tomorrow.
Pure class. Shrugs it off, said if it had been Everton scoring a last-minute winner, he has no idea if he wouldn't react in the same way, that it is an issue for the FA, not for him.
Whilst an £8,000 fine is peanuts to Klopp and a bit limp-wristed by the FA, let's take our lead from our manager and let this one drop.
On other questions, he says Jordan has trained and reacted well in the wake of the game. That Lookman is 100% in his thoughts to possibly start. That, less than 72 hours after Sunday's game, he needs to take into consideration fatigue and knocks. That Morgan Schniederlin has a problem 'in the leg' (not head!) and, other than that, nothing serious injury wise.
When asked about buying Andre Gomes in January, Silva swerved the question about securing him next month, but that securing such a high-quality player as Gomes would be really important for Everton. The journo said Gomes might be expensive. Silva replied philosophically: 'Sometimes the most expensive player over time is the cheapest player [for what he gives you]. Buying a number of £5-10 million players who then don't play [can be more expensive].'
On signing a 20-goal striker, he said everyone is looking for that, but right now he is too busy with the December schedule to worry about the January window.
He's not concerned about the top 6 now, but more concerned on continuing good habits and consistency which will bring the results and goals he wants.
See the full presser here:
Skip to around the 7 minute mark to avoid sitting through the 'filler' stuff before Marco appears.
Brent Stephens
75
Posted 04/12/2018 at 14:54:25
There's one main reason for not allowing people to run on the pitch - and that is for the safety of the players and officials, as well as opposition fans.
In one fell swoop, Klopp and the FA have undermined the whole rationale for not allowing pitch encroachment – the safety of all involved. Sweet FA.
Michael Lynch
76
Posted 04/12/2018 at 15:31:20
Not sure how Klopp avoided a minimum three-match touchline ban for that piece of nonsense? Surely managers have been sent to the stands for far less than that?
I'm sure it's nothing to do with the fact that it's the loveable scamp Klopp and not Jose, for example.
I hope his teeth rot and fall out at his next press conference.
Terence Connell
77
Posted 04/12/2018 at 15:48:46
Tony Marsh (57), I completely agree with you. In sport, as in life generally, it's the quality of decision-making that makes all of the difference. I'm not impressed by the Samuel Beckett arguments "If you fail, try next time and fail better".
Dead right about Pickford; and extra time is not the time to start wasting time. We need more good decision-makers in the team, like other teams have.
I don't know whether anyone remembers a game during the Moyes era when a substitution was made in the last couple of minutes (as you do). We were winning at the time but the substitution only succeeded in disrupting Everton's concentration, not the opposition's, and the opposition went in to score a last-minute equaliser. Only with Everton could this happen...
Brian Murray
78
Posted 04/12/2018 at 15:51:49
Not sure Marco should be quite so understanding. If the other way round, there's no way Klopp would take the same stance.
I hope Marco is not catching the "Nice Guy Jags" syndrome!! Time to be ruthless on and off the pitch, Blueboys!!!
Brian Williams
79
Posted 04/12/2018 at 15:56:14
With regard to the "Klopp incident", lads, it's time to let it go and get on with things; I'm looking forward to tomorrow's game.
They won, we lost, their knobhead of a manager pissed us all off by "rubbing our noses" in it — end of story.
Let's not be like those supporters of a certain club that are offended by everything and ashamed of nothing. We lost the derby and we're all gutted, no-one more so than me, but forget about Klopp now because going on and no about it makes us look very small-time and biitchy. Don't lower yourselves to "their" level. Just ignore him, and ignore them.
Or take a leaf out of Marco's book and react with class and dignity. But, either way, let's take it out on the Geordies!
Eddie Dunn
80
Posted 04/12/2018 at 16:14:42
My final thoughts on Klopp. I recall fences being put around us fans, presumably to keep us off the pitch... Should the clubs put little picket fences (made of rubber) around the technical area from now on?

Jerome Shields
81
Posted 04/12/2018 at 22:17:49
Stan #62, I should have included Newcastle as well. These two games before the Man City game are important. Everton have been in this position before, where they can progress in the Premier League and Bank the gains of all round progress that has been made.
In the past 20 years, Everton have never been able to display this type of consistency. The next two games are important, to get the consistency wagon on the road and reverse the trend of 20 years.
Terry Farrell
82
Posted 04/12/2018 at 22:20:41
Brian, if you listened to his presser today he is laughing all the way through it and saying there maybe shouldn't be a rule and then all managers could do it. That is undermining the FA big time and also showing him up as a clown.
Imagine if he did it at Old Trafford? They'd need 25,000 stewards to stop the fans getting to him. He should be in the stands for 3 months.
Jon Ferguson
83
Posted 05/12/2018 at 19:06:27
I'm happy Klopp celebrated like he did, it contradicts the nonsense put about by reds that the derby isn't as important to them as it used to be. Its clearly important to Klopp.
Add Your Comments
In order to post a comment, you need to be logged in as a registered user of the site.
Or Sign up as a ToffeeWeb Member — it's free, takes just a few minutes and will allow you to post your comments on articles and Talking Points submissions across the site.