Pickford vows to bounce back from derby mistake
Sunday, 2 December, 2018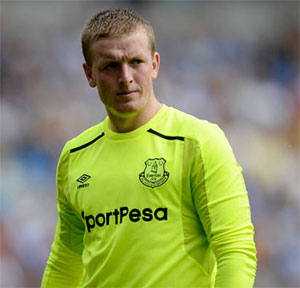 Jordan Pickford says that he has the mental strength to get over the incident that cost Everton a hard-earned point at Anfield today, vowing to return a stronger player for it.
The Blues' goalkeeper misjudged a looping ball that was dropping onto his crossbar and inadvertently sent it onto the woodwork and then to the waiting Divock Origi who nodded a 96th-minute winner into the empty net.
Pickford was consoled by his opposite number, Allison Becker, at the final whistle before he went over to the away fans to apologise for the error.
He reiterated that apology after the game and said that he has little option but to put the whole thing behind him and be ready for Wednesday's game against Newcastle.
"I will say sorry to the Everton fans again, because I know how much it means to them," Pickford said. "As players, we know how much it means to us.
"Look, you make mistakes every now and again. The ball spun and as I tried to flick it over, my hand hit the bar. I think it is the Everton luck when we come to Anfield.
"It's not something you can learn and train and get better from. It's just a freak incident. You move on and get better.
"There is always a case as a goalkeeper — if you make an error it will lead to a goal. Unfortunately, it has been me today. There's nothing I can do about it now. I'm strong mentally and I will get over it.
"I will be ready for Newcastle on Wednesday. We know we held our own against a good Liverpool side for 96 minutes."
"I don't sleep well after many games, really, but we have got a game on Wednesday and I will show people what I can do. You can't practise what happened there in training. You just have to get on with it and I will show you my character."
---
Reader Comments (71)
Note: the following content is not moderated or vetted by the site owners at the time of submission. Comments are the responsibility of the poster. Disclaimer
Iain Jones
1
Posted 02/12/2018 at 22:26:32
Fair play but I still can't bloody believe what I've just seen. Only hope it's a nightmare and I'm going to wake up in the morning!
Harry Hockley
2
Posted 02/12/2018 at 22:33:39
He'll bounce right back, don't worry, he'll learn from this mistake. Let's not forget how many games he's kept us in in the past. It was an error, no doubt, and he knows it, but let's move on.
Joe Hurst
3
Posted 02/12/2018 at 22:35:49
It will hurt for a while of course, but it is the reassuring knowledge that we have a blimmin' good keeper that allows me to move on from this.
That and the far better showing we put up to a watching audience and to us faithful – it is some comfort for now.
Jamie Crowley
4
Posted 02/12/2018 at 22:36:48
Amen Harry.
And I'd add, get behind the kid. He'll need the support now more than ever.
Paul Hewitt
5
Posted 02/12/2018 at 22:50:54
Head up, son.

Steve Carse
6
Posted 02/12/2018 at 22:53:35
A surreal couple of seconds. And it could only happen to the benefit of the Devil's Own Team. Absolutely unbelievable.
Jim Bennings
7
Posted 02/12/2018 at 22:57:42
You do get sick of these so-called learning curves, you can only learn from things if you don't repeat mistakes but our players make the same mistakes on a yearly basis.
What went through Pickford's head, I'll never know... and it's sad really that the lad will be remembered for this blooper – no matter what he goes on to achieve; it's moments like this that stand out.
Why do our players always pick the biggest games to do it?
Tony Abrahams
8
Posted 02/12/2018 at 22:57:53
Silly mistake, but I honestly think that Pickford's penalty save against Palace turned our season around and was worth more than the one point he's cost us today.
Klopp said that Liverpool played with a lot more intensity today than they have for a while, so maybe we are not as far away, as some people think.
Take it on the chin, Everton, and go and get six points from the next two home games, and let's just keep on improving whilst we learn the Marco Silva way.

Peter Mills
9
Posted 02/12/2018 at 22:58:42
I like this lad, and will eventually forgive him for today, but the last thing he needs to be talking about is "the Everton luck at Anfield". He's a character, we want him to be taking the Peter Reid "This is Anfield" - "So fucking what?" approach.
Eddie Dunn
10
Posted 02/12/2018 at 23:04:43
Trying too hard is our Jordan. I hope he doesn't "Show us what he can do" on Wednesday. Time for a quiet game, concentrating on the simple things. Perhaps he needs to calm down a bit. A bit less Joe Hart and a bit more Big Nev.
Karl Meighan
11
Posted 02/12/2018 at 23:11:01
Pickford probably saved us the points against Palace, saving the penalty as well as saving us many other times; he is young already top quality and, as gutted as we feel tonight, it's just a point.
We're improving and a victory would not have flattered us today, never mind a draw. When their luck runs out, let's hope it's against Napoli in the Champions League, the jammy fuckers.
Tommy Surgenor
12
Posted 02/12/2018 at 23:22:27
I hope Jordan reads the posts on here and sees how much support he has from us.
Top quality keeper who saves us more points than he costs us.
This mistake apart, he is fastly becoming the best keeper in the Premier League.
Sod's law that it's Newcastle next. They are already very vocal towards him without giving them this extra ammo.
Brent Stephens
13
Posted 02/12/2018 at 23:26:17
Just watched MotD and the slomo looks to me as if Pickford hasn't got his hands cupped, as if trying to catch the ball, but fingers arched and hands pointing back as if trying to tip the ball over. Not clear-cut but I'll go with his explanation that his hands hit the bar.
Don Alexander
14
Posted 02/12/2018 at 23:57:54
To me, it wasn't "a howler" of an error, and that takes some saying given it gifted a winning goal to them. The whole episode was bizarre; a faffed cross/intervention by Van Dijk spiraling upwards, Jordan aware that we were by then content for a draw that may have been threatened by the unnecessary concession by him of a corner, and then the freakish unforeseeable (for a young keeper such as Jordan) complication of his own fingers colliding with the crossbar.
I applaud his instincts. I hope in years to come he never varies in seeking to minimise danger to his/our team by choosing the option to concede corners to preserve his own reputation at the peril of the final result.
Tony Twist
15
Posted 03/12/2018 at 00:07:23
Unfortunately, this mistake sums up the life of a goalkeeper. Their errors can cost games and even ruin reputations. I do think he has a lot of errors in him and is a flawed diamond, good enough for now but we need to upgrade if we want to go to the next level.
I think he is overrated as his size is a handicap (that he is desperately trying to cover up). I like the lad and hope he has absolutely nothing to do next match because that means we are crushing Newcastle.
Simon Smith
16
Posted 03/12/2018 at 00:11:59
One thing that wasn't noted, and I may sound like I'm clutching at straws, but the free-kick was taken 10 yards further forward than it should have been. The ref should really have told them to push it back to where the offence took place!
Pickford saves us more points than he costs us, he's still learning and improving, this has to be put down to them jammy fuckers having the devil's luck.
Happy that we had ago, felt we need to become a bit more clinical, but happy that we had the bottle to play football.
The games all about fine margins, Jordan saved us from what should have been an easy goal for Shaqiri, Allison saved then from Gomes, Theo and Richarlison both went through and mixed up there feet at vital times etc but, even after all this, I can swallow that defeat much easier than most that have gone before.
Paul Birmingham
17
Posted 03/12/2018 at 00:22:51
Jordan Pickford is our best player so far this season. There's no issues, he's the best by far! Still learning — and part of life's cycle is to bounce back.
Lawrence Green
18
Posted 03/12/2018 at 00:23:03
Pickford's reputation is constantly undermined – not so much by his own errors but rather by the media who are constantly looking to highlight his flaws. But, if Tony's advice @ 15 is taken and Everton cash in on him by allowing him to leave – to Man Utd or some other monster club – suddenly, the very same media will be highlighting his abilities and putting him in the world class bracket.
If I'm honest, I'm still not sure about him, but having seen a whole host of Everton goalkeepers in the last 30 years since Big Nev, very few of them, in fact, perhaps only Nigel Martyn would cut the mustard at the very top level.
Jordan has the potential to be a top class keeper for a very long time and I'd rather he did that at Goodison than elsewhere; plus, who would Everton buy in order to obtain a keeper that would improve on him?
If the club has somebody in mind who fits the bill and there is a profit to be made, they will act, but until that time arrives, he is Everton's first-choice keeper and should be supported to the hilt, it's a crucial position and can't be treated lightly.
Peter Gorman
19
Posted 03/12/2018 at 01:01:02
I'm sick as a dog about the result but fuck all this 'get rid' emotional stuff aimed at Pickford.
When the venting subsides, I'll console myself with how much Everton competed in this game, which I have not been able to say for years.
Arsenal, Man Utd, Liverpool – all defeats on the record books and the last one the hardest to swallow. But it doesn't tell the story. Silva is turning this around; given time, we'll be putting these teams away.
That said, I am expecting a massive reaction from the players – that would really put the stamp on their identity. I feel so sorry for fans in the city having to listen to the inevitable shite this week.
Jamie Crowley
20
Posted 03/12/2018 at 02:21:07
Peter Mills at 9 -
I won't pile on Jordan, but agree with you regarding the "luck at Anfield" quote / garbage.
The Red Sox sold Babe Ruth to the New York Yankees just after their 1918 World Series win. From that time up and until 2004 when they finally won one, the inability of the Sox to win, ALWAYS losing to the fucking Yankees, was called "the curse of the Bambino". As selling the home run king of baseball was the stupidest thing ever, and clearly there had to be a curse involved with such a brain dead thing. The Red Sox always, always lost to the Yankees, and in the most gut-wrenching, painful ways.
When interviewed about "the curse" in 2004 when the Red Sox were playing the arch-enemy Yankees in the playoffs, a reporter asked star pitcher Pedro Martinez if there was something to the curse.
Pedro replied, "bring the Bambino down here, maybe I'll stick one in his ear."
Basically a gigantic fuck you to curses, the Yankees, and the attitude needed to break a hex. Fuck you, I'll throw a 97 mph fastball at his noggin! Curse my ass!
We need the fuck off, fuck your curses and omens type of attitude. Not, "well that's our luck at Anfield, ho-hum."
Just a tiny bit more "attitude" would go a long way. We'll get there.
John Pierce
22
Posted 03/12/2018 at 02:48:22
Whenever the conversation turns to Pickford it is not the technical error that for me is the issue, but his temperament.
Whilst that should change with time and experience, he is currently way too rash. I feel he feels the need to intervene in the game. Someone said he tries too hard, I think that's right.
Goalkeepers should be in the main calm and balanced, and inspire confidence in his back line.
Just maybe Pickford should be more measured in his approach?
Whilst it's great he will get over it, let's try not to have too many errors like that to have to get past!
John Boon
23
Posted 03/12/2018 at 03:11:23
He has given us a stream of top class appearances since he arrived. I hope we keep him for a long time.
The whole incident was bizarre and no goalie could really practise for such a happening. It could only happen against Liverpool who may be able to accept the three points, but surely even they couldn't accept the win with any sense of pride. Their luck doesn't seem to have any boundaries. It is endless.
Amit Vithlani
24
Posted 03/12/2018 at 05:13:08
He has the character to do so. Unlike a blubbing Karius, Pickford has way more self belief. De Gea made some horrendous errors in recent seasons (and the World Cup) whilst even the legendary Nev made the odd rick.
Thomas Lennon
25
Posted 03/12/2018 at 06:24:06
They didn't beat us with their play or their superior quality, they were done. The most attacking, free-scoring side in the league (bar one) had been matched in their own backyard. Putting all the hoodoo rubbish aside, that is hugely encouraging after 3-4 months versus 3 years of their development. I'll gladly take that after last season.
Tony Abrahams
26
Posted 03/12/2018 at 07:39:49
Good post Jamie C, except for one thing mate. A tiny bit of attitude will only take you so far, and we need players with fucking loads of it.
If I would have played for Everton yesterday, I wouldn't have come off the pitch feeling that much different because of Pickford's error.
Contradiction? Life's full of them, but to have matched Liverpool at Anfield, three weeks after matching Chelsea at Stamford Bridge, I would be only interested in getting up to a level to now beat these teams, because that is what we are going to have to do if we are to become better than them.
Neil Cremin
27
Posted 03/12/2018 at 08:50:08
Not sure I buy Pickford's explanation. But I do agree with John Pierce's assessment. Too often, Pickford needs to be the centre of attention... which is his fatal flaw,
James Hughes
28
Posted 03/12/2018 at 09:19:29
Some great supportive posts on here with people showing the class of TW.
On the other hand, I thought Pickford was a liability and his ego took over from the first minute. Too many errant kicks into touch and he was told off by Sigurdsson just prior to the goal for his rashness. That was for launching the ball forward instead of holding on to it. As for the goal itself, I don't think even Pickford knew what he was trying to do.
We were seconds away from giving the RS a point they didn't deserve – instead, we gifted them all three. So again we come away from Mordor with nothing apart from fake commiserations. I couldn't believe my eyes yesterday and still can't today. Cheers, Jordan.
So anyway, if anyone needs me I will be in the Pissed Off Club, the table in the corner reserved for sore losers. Easy to spot: the guy acting like a bear with a sore head. I will be replying to texts from my RS colleagues who can only find my home town if the put it in the Sat Nav.
Jer Kiernan
29
Posted 03/12/2018 at 09:41:01
I am soo glad to hear him come out with this type of statement and that his confidence and character are not dented. This lad is a great keeper with real strong down-to-earth attitude bereft in soo many of today's professionals.
I have already forgiven him for it, it is the poxed luck we have and have had for so long now, Any other team but the RS and that ends up in the crowd or in the keeper's gloves but the only 6 inches in the stadium it could land to cause us problems – guess what?
My fear was this would affect the lad's confidence but, listening to that, I am hoping it will re focus him as, like most keepers nowadays, they are not concentrating on the basics of being a goalkeeper and that their first job is to keep the ball out of the net.
Mike Gaynes
30
Posted 03/12/2018 at 09:57:44
Unfortunately, he'll remember that moment until the day he dies. But I'm confident that he, and we, will get past it.
Paul Kennedy
31
Posted 03/12/2018 at 10:10:53
He will get over it.
Still positives: Gomes — Man of the Match by a mile... pure class!
Joe McMahon
32
Posted 03/12/2018 at 10:16:12
Just wish his biggest 2 gaffs of his Everton career so far hadn't ended up the winning goals for Liverpool in the dying seconds — twice this year.
James Lauwervine
33
Posted 03/12/2018 at 10:19:32
I can't believe anyone would criticise Pickford on here. He is an excellent goalkeeper, passionate and dominant as well as a superb shot-stopper and already England's No 1 at 24.
He's conceded 5 goals in the last 7 games now and that includes away games at Man Utd, Leicester, Chelsea and the RC (yes, they've graduated from the RS in my eyes now). However, one unfortunate error through a slight misjudgement and all the crap about him being too rash or not tall enough comes out. There were many other errors made by Everton players in yesterday's game – notably by Gueye.
Jordan, you have my 100% support. Ignore the bollocks, hold your head high and look to the future because yours is extremely bright.
Vinny Garstrokes
34
Posted 03/12/2018 at 10:50:35
Head up, son — Shit happens!
James Newcombe
36
Posted 03/12/2018 at 11:05:13
He's made some outstanding saves this season, he really has. It was such a bizarre mistake but the fact it was so late, and completely undeserved, is why it truly hurt!
As if I could hate Satan's team even more.
John Davies
37
Posted 03/12/2018 at 11:18:56
Eddie Dunn #10. Spot on, pal. Exactly right.
Lee Brownlie
38
Posted 03/12/2018 at 12:13:04
Jordan Pickford is – absolutely deservedly - both our and England's #1. I personally think this was a freak spinning ball which our man tried to deal with; unfortunately, on this occasion, it resulted in our team's heartbreaking detriment in the last moments of the game.
"He's only good enough for us for now"? "We'll soon need him moved on"? ... Well, of course everyone's entitled to their own opinion, and by that very token, mine is that such words are just needlessly snide nay-saying bullshit.
Jordan Pickford is, for me, an integral part of our ever improving team, and a young man who's already proved his worth for club and country many times, including in yesterday's game way before the incident now being used to snipe at him.
Come on you Toffees!!!.. Come on you great young English goalie!!!
Daniel A Johnson
39
Posted 03/12/2018 at 12:20:11
Pickford made an error that cost us a point with about 10 seconds left to play. I will forgive him but typical that his latest howler comes against "them".
I'm gutted but I do hope that Pickford now realises he needs to keep it calm, clean and simple. He needs to knock this super sweeper keeper persona on the head. Even against Spain he dropped a bollock by being too clever.
Everything he does – even his dives at times are Hollywood and a bit "look at me" attention-seeking. Keep the clean sheet, son – that's your first priority always.

James Marshall
40
Posted 03/12/2018 at 12:34:27
What are you talking about? Do you honestly believe that Pickford dives for the ball thinking "look at me"? Seriously, and with respect, but that's bollocks.
He's agile and shows it in the way he dives – there's a good reason why he's first choice for England and reportedly being looked at by Man Utd to replace De Gea if he leaves.
Honestly, I wonder where some of our supporters get their views from sometimes. Pickford is the best keeper we've had since Big Nev; he's 24, still young for a keeper and yeah he sometimes makes mistakes, all players do.
I was a keeper myself for many years, and errors in judgement happen. The flight of the ball, and your perception of it are not always 100% so you make mistakes. So do outfield players yet theirs are not always highlighted so glaringly because they have the cover of 10 other players and distance from goal.
Castigating your keeper every time he makes an error, is entirely unfair when you balance out the occasional mistake vs consistently positive outcomes to things he does on the pitch across 90 minutes.
Yes, he also made some kicking errors, but so do all goalkeepers. The kid made a mistake, and at the time I was annoyed (he likely could have let it go out off the bar) but he also made some vital saves in the game which nobody appears to mention or think about when looking at the final outcome.
Daniel A Johnson
41
Posted 03/12/2018 at 12:49:21
James Marshall, a good keeper, yes... But overly theatrical and with the tendency to over-complicate things... definitely.
That's my opinion and I'm sticking to it.
James Marshall
42
Posted 03/12/2018 at 12:52:58
Daniel – I'll wager that his career will prove you wrong.
John Keating
43
Posted 03/12/2018 at 13:34:21
I'm sure Jordan will get over it and move on.
Obviously going home to his £2 million mansion in his Bentley to look at his £500 Christmas tree will help take his mind of it.
Meanwhile. we'll just not go into town for the next few week to get abused by a bunch of arseholes who haven't been to a game in years.
Sorry, Jordan – you might be able to move on but we won't be allowed too.
Dave Abrahams
44
Posted 03/12/2018 at 13:43:28
Peter (9), that throwaway line "It's Everton luck at Anfield" did my head in as well. Yes, we'll get over it. It will take me longer than you.
In the meantime, I hope he realises what a monumental cock-up he made of dealing with a basic save.
Chris Gould
45
Posted 03/12/2018 at 13:45:14
There really are some knee-jerk posters on here. Some were suggesting yesterday that he should be dropped, others said to sell him.
Someone said that it would do him good to be dropped!!? Wow!
Is that how we should treat our best players? One mistake and you're out?
Thankfully, Silva is a fantastic man-manager and wouldn't consider such counter-productive nonsense.
Pickford would walk into most teams. He is a special talent, but sadly only human. His kicking was at times erratic yesterday, he made a heart-breaking, mind-blowing mistake, but now it is our job to get behind him and give him our support. He is 24 and will likely become one of the best in the world. He is a baby in Goalkeeping terms.
I was shattered yesterday but am now upbeat. We will turn over some of the so called top 6 at home. This team has improved more than any other team in such a short space of time. I believe we will bounce back with a vengeance. Other managers are starting to fear us and take note.
Dickhead pundits will continue to say we're a million miles away from the top 4 because they don't follow us closely enough and don't care. Klopp knew, Guardiola will know, Pochettino will know. We're knocking on the door and very close to breaking through.
David Connor
46
Posted 03/12/2018 at 14:06:48
Pickford is a very good keeper, we know that. But I wouldn't say he is world class purely down to the fact that he pisses around too much. Classic example was yesterday's howler which was a schoolboy error.
He needs to learn from these errors and improve or more fans will get fed up with him. It would just have to be against them bastards across the park that he fucked up. If it was against any other team, it wouldn't have been as bad... Typical!!!
Jay Wood
[BRZ]
47
Posted 03/12/2018 at 14:58:00
Like many, I'm sure, I was left numb and dumb-struck by events in the 96th minute of the game yesterday.
I certainly couldn't do with reading the more extreme knee-jerk reaction — emphasis on 'jerk' - such as 'F-off Everton & Pickford'. 'Sell him! Drop him!'
Told-you-sos coming on claiming this proved what 'they' always believed...he's too short, too hot-headed, technically unsound.
I understand the raw immediate reaction in the moment, but if those same posters still hold those views nearly a full 24-hours later, then I think it says a lot more about them and their judgement than it does about Jordan Pickford or our football club.
It was a gross, gross error that will form part of his biography, for however long he plays the game, to whatever level. It is likely to be the worst moment in his career to date.
But to turn on the lad and condemn him as some have seem fit to do, that's not my way, nor, I believe, is it the majority of Everton supporters' way.
Jordan made a couple of good saves during the game, even though I thought his performance was not to the standard we have come to expect, even before that dreadful moment. He badly sliced a couple of back-pass clearances. His kicking wasn't as crisp or accurate as in previous matches. THAT moment was so bizzare that I have yet to hear a single former pro commenting on the game be able to recall a more freakish goal to conclude a game.
No-one needs to tell the lad what a gross error it was. I am sure it will be looked at and analysed at Finch Farm, but you really can't train and prepare for that scenario.
At 24, despite counter claims by some, he is still very young, particularly so for a goalkeeper who is the undisputed #1 for his club and country.
I agree he could do with more ice rather than fire in his veins at times, but then, maybe that is simply not his character or personality and to change that would make him a lesser keeper.
Marco Silva made the point post-match that we win and lose as a team. Thankfully, we have two quick home games coming up to put things right.
It will be interesting to see not just how Jordan Pickford reacts against Newcastle on Wednesday – I'm sure the travelling Geordies will give him plenty of grief – but how the entire team reacts.
Sunday's dying seconds may dent and derail our progress and confidence a little, a lot, or not at all. It may have the opposite effect and rile us into putting teams to the sword more.
I certainly will not be adopting the totally bizarre desire of one prolific poster on this site who wrote: "I'd personally rather Napoli put those smug false bastards out of the Champions League than us win another game this side of Christmas."
Said poster at least got it right in his next four words:
"It might sound stupid."
Yes, Jim Bennings, it was and is an incredibly stupid statement to make.
Mark Taylor
48
Posted 03/12/2018 at 15:12:44
I'm definitely in the camp that says you don't blame your own player for one mistake, especially goalies for whom mistakes tend to be more high profile than for outfield players.
On the other hand, I'm not entirely convinced by his explanation. If he was genuinely trying to tip it over the bar, it was truly awful technique. You do that positioning yourself side on and effectively swipe it over. We'll all have seen keepers do that to looping balls hundreds of times.
The alternative explanation was that, with only seconds to play, he thought he could catch the ball and not concede a corner which might lead to a goal or maybe he thought it was going over the bar and it was only at the last minute it became clear it might not.
So it's either a bad technical error or an error of judgement. My own suspicion is the latter. It's important Jordan is honest with himself about this because, if I'm wrong and it's technical, he needs the goalie coach to show him how you do it, and it certainly isn't by facing forward, trying to arch your back.

Derek Cowell
49
Posted 03/12/2018 at 15:23:43
Is it possible that he is so confident and positive, he thought he could catch the ball and quickly set up one last attack with a directed kick upfield to try and snatch a win rather than a draw?
Still an error of judgement as even the manager had settled for a draw by that point, as evidenced by his late subs.
Pete Edwards
50
Posted 03/12/2018 at 15:28:24
Tony Twist, I'm sorry but you need to give up following football if that's your opinion of Pickford!!
Alan J Thompson
51
Posted 03/12/2018 at 15:53:58
Pickford needs to be taken aside and told that most players making a mistake will get away with it nine times out of ten but a goalkeeping mistake will appear on the score sheet nine times out of ten. So, in future, safety first.
Now, get on with it, there's another game next week.
Rob Halligan
52
Posted 03/12/2018 at 16:01:21
In the time between Van Dijk slicing his shot, which I thought at the time was going into Row Z of the Norwegian end, and the ball coming down above Pickford's head, which cant have been no more than 2 or 3 seconds, a million and one different scenarios would have gone through his head.
Will it come down either side of the crossbar?
Do I catch it?
Do I push it over the bar?
Will it hit the bar and bounce out?
Will it hit the bar and bounce back into play?
Will there be an attacker coming in to challenge?
It looks to me like he's made his mind up to push the ball over the bar, which he should have done with the palm of his hand before it got anywhere near the bar, but his fingers are pointing directly up and his hands do appear to be caught between the ball and the crossbar, resulting in it hitting his fingers, bouncing back onto the bar and back into play.
Unfortunately, goalkeeping is one position where you very rarely get a second chance to rectify an error. He will get over this and be ready for Wednesday.
Stan Schofield
53
Posted 03/12/2018 at 17:24:23
It's one mistake, that's all, no more significant than that. Shit happens occasionally. Just keep on doing what you're doing, Jordan, that'll do fine.
Frank Crewe
54
Posted 03/12/2018 at 17:42:51
You make a point-blank save and everyone thinks you're great. Make a mistake that costs a goal – you're the worst in the world and everyone forgets the save. Such is life.
I remember when De Gea started at Utd he was rough as toast. Mistake after mistake. They stuck with him and it paid off. Now he's probably the best keeper in the Premier League. Kept them in numerous games when they should have been well behind.
Stick with Pickford. All keepers make mistakes and I haven't seen any that haven't. We don't gripe half as much when strikers miss sitters so it's unfair to come down on keepers.
Making rickets seems to be something goalies do these days. Leno cost Arsenal a goal in their derby before ours. It happens.
It's not like we were winning. 94th minute. The best we were going to get was a draw so we only dropped a point. What galls me is that it keeps the reds hanging on to Man City's coattails.
Lee Brownlie
55
Posted 03/12/2018 at 18:53:53
Agree totally with James (#40).. Jordan Pickford is an extremely AGILE keeper, not a diving-to-impress kind of goalie. I mean, ffs, as I've said before on TW, diving full-length as our man does is called covering the flight of the ball, as best you can, meaning that even if its probably going just wide a top keeper is not going to get caught out by only going half-hearted across his goal line towards the ball.
Who doesn't get that? Really? Oh yeah, the same crap-talkers who'd - again - turn on our keeper if he DIDN'T cover the shot. Again, using a word James has already mentioned about such - needless - sniping, the word 'Bollocks' comes to mind.
Neil Copeland
56
Posted 03/12/2018 at 19:08:46
Southall, Ratcliffe, Reid and Trevor Steven were average when they first played for us. Look how they turned out!
Mistakes happen, Jordan Pickford is a fantastic keeper who will relish the banter provided by barcodes on Wednesday, he will be fine.
We will be fine, we are still in 6th place and playing like a top 6 team. In fact, when you look at the points we have dropped against lesser teams it can be argued that we should be top 4 now despite results against the Sky 6 thus far.
Jordan has done easily as much as anyone else to get us into the top 6. The reason we are not in the top 4 is our finishing power or lack of it. Had Bernard, Walcott, Gomes, Siggy, Richarlison, Keane, Zouma and Mina put away the opportunities that came their way we would certainly be top 4 if not top of the table. There is no doubt a quality striker will help but practically the whole team needs to sharpen up on finishing.
So, let's get off Jordan's back, yes it was a howler but it only cost one point whereas our poor finishing cost us 3 points.
I for one am looking forward to seeing us destroy Newcastle on Wednesday.
Andy Meighan
57
Posted 03/12/2018 at 19:48:11
I hope this doesn't upset anyone, but I can't forgive Pickford for this. That's two derby draws he's cost us in under 12 months. The Van Dijk one was bad enough but that yesterday was unforgivable. I still can't believe what was going through his head.
He says he knows what it means to us... He doesn't. He doesn't have to put up with the snide and patronising remarks off them cretins. They wouldn't have opened their mouths if it ended up a draw, would they? We wouldn't have heard that German prick praising us – not a prayer...
Sorry, but I can't forgive Pickford for that.
Matt Woods
58
Posted 03/12/2018 at 20:37:16
Pickford for me is a little too cocky and he made his bed opening his trap about Allison's showboating earlier in the season. Well, Jordan, there you go lad you have just placed yourself in derby day folklore right next to Glen Keely. Why don't you just shut the fuck up and do your own job?
That being said. Has anybody ever seen a ball bounce on the crossbar twice like that??? Seriously, how can something that rare happen in the 96th min of a derby?? It is so ridiculous. The nature, the timing and the occasion??? Only always us!!!
I would just like to finish by saying I was so proud to be an Evertonian yesterday. We played with style and courage and won back our respect. Considering Liverpool were Champions League finalists, unbeaten in the Premier League and supposedly in a two horse race for the title, we made them look ordinary for solid periods of the game.
The progress is being made; a couple more transfer Windows and Gomes permanently signed and Everton are going to become a very exciting and dangerous side.
Gomes, Mina and Digne have all contributed to a huge lift in standards. Well done, Marco and Marcel; keep up the good work.
Ian Bennett
59
Posted 03/12/2018 at 20:45:52
No point having Ferguson on the bench if he's not going to give that clown a poke for running on the pitch. Still fuming.
Colin Grierson
60
Posted 03/12/2018 at 20:47:53
Come on, fellas. In reality, it cost us a point. It's not like it happened in the Champions League final or anything. 😉
He's a good keeper and it was a freak event. Those who are lambasting the lad are clueless. A defeat is short-lived. Giving up is permanent. COYB!
Neil Copeland
61
Posted 03/12/2018 at 21:02:57
Colin #60, well said.
Bill Gienapp
62
Posted 03/12/2018 at 21:14:58
Andy (57) – meaning what, he's off your Christmas card list?
Colin Glassar
63
Posted 03/12/2018 at 21:15:27
Pickford can sometimes be a nob, like his sliced clearance early doors but the lad is a top, top goalie. He's still a baby in goalie terms so he'll learn (hopefully) from this.
I wanted to run on the pitch and nut him yesterday but I've watched the match three times now (live and recorded) and I'm 100% certain he bashed his hand against the cross bar and lost control of the ball.
The Red Shite are jammy twats. I was sitting in the Kop (nephew's ST) and they were shitting themselves. Leaving the dump, most of them were saying how impressed they were by Everton, especially Gomes, and Mina — who's a fucking giant!!
Neil Copeland
64
Posted 03/12/2018 at 21:24:06
Slightly off topic but I see the echo are reporting that supporters from other Premier League clubs are disgusted by the bias of Sky's live commentary. The list included a comment of "shameful" from Elton Welsby.
It seems we are not alone in our views.
Andy Meighan
65
Posted 03/12/2018 at 21:28:50
Bill @62,
To be fair, he wasn't on it in the first place. Honestly, and I know hindsight is a wonderful thing, but I've never been really that convinced by him. A great World Cup doesn't make a great player and our loveable neighbours would know all about that, wouldn't they?
I remember Tim Howard being absolutely lambasted on these pages for a couple of mistakes, yet I can't recall Tim costing us 2 derby games within 12 months. If Pickford gives us half the service Howard gave us then I'd be happy. Unfortunately, I think – as soon as De Gea gets off from Man Utd – he 'll be up the East Lancs Road like a rat up a drainpipe. Just saying like!
Kevin Prytherch
66
Posted 03/12/2018 at 21:34:52
That was the first error leading to a goal in 52 games for Pickford.
I appreciate that doesn't tell the full story, but every other keeper makes mistakes. We just hound our own players (again).
Like the lazy shithouse, Lukaku; that waste of space, Barkley; that defender who'll never be as good as Ashley Williams — Stones; that right-back who'll never make it as a defender, Coleman; that carthorse, Keane; that headless chicken, Gueye...
On a positive note — Everton Ladies beat Liverpool ladies.
Billy Roberts
67
Posted 03/12/2018 at 21:49:27
I just watched the highlights as I wanted to forget the match completely as I was sickened by the nature of our defeat.
Are we the unluckiest or unsuccessful team in top flight world football? Are they the luckiest or successful team in world football?
To me, this was a howler by Pickford who is directly under the crossbar when he attempts (to my eyes) to retrieve the ball which is suicidal; however, it is a frigging mistake and some Evertonians need to remember how much derision we aimed at Liverpool when they let Karius walk alone.
Jamie Crowley as usual nails it in his fantastic post of how you deal with gypsie's curses, bad luck, intimidation blah blah; you say, "Fuck off, cunt, I'll show you what we've got."
Mike Gaynes, like you, Jordan won't ever forget that mistake but, like you, it will be intermingled with great memories. No-one in football is exempt from that – even the greatest players and fans.
Oliver Molloy
68
Posted 03/12/2018 at 22:08:18
It is the stupidity of what he did that is most annoying. I have watched it over and over and still can not understand his thinking, it is just plain crazy.
Pickford is a good keeper but he is not as good as the English media made him out to be during and after the World Cup, and I think he might be liking the limelight and believing the hype a little too much; he's a little bit cocky for me.
Without doubt he is a good solid shot stopper, decent with his feet and is quite accurate with his distribution, but he is suspect with crosses.
Yes, he is young and hopefully will learn and quickly; these moments of madness need to be eradicated from his game.
In saying this, our three big defenders (especially Zouma who closest) were all guilty of switching off and letting the Liverpool striker get a free header.
Richarlison couldn't even look at Pickford, it seemed to me, at the end of the match, waving a "What the fuck?" arm at him.
As for Klopp, he knows exactly what he's doing, he is an attention-seeking person who has won sweet fa with this crowd, and I don't think he ever will.
Our next two home fixtures are very important, we need to bounce back from this. Revenge at Goodison now has to be high on the agenda for the team and Silva after yesterday.
Billy Roberts
69
Posted 03/12/2018 at 22:20:35
I need to add also that I was heartened by Pickford's words, almost arrogant to say "I'm tough enough to deal with this, so let's get on with it."
I find this reassuring, for all the strange criticism about him being on an ego trip seems to be missing the point that being a Premier League goalkeeper is always going to be about "Look at me" – it comes with the territory of most top athletes.
The Newcastle fans will be giving him loads, do you think Jordan will be arsed? I don't think so.
Ray Griffin
70
Posted 03/12/2018 at 23:09:14
Everyone makes mistakes & this one might make him a bit less cocky, the apology seemed genuine enough but appeared to be blaming the crossbar for hitting his hands!
There's no way he was trying to knock it out for a corner otherwise he'd have just flicked it over the bar with one hand; he tried to over-elaborate in trying to catch it and messed it up completely – another example of his cocky attitude getting the better of him. Hopefully he'll learn from it.
James Lauwervine
71
Posted 04/12/2018 at 10:17:59
Neil #64, there's a simple solution to that. Just mute the TV, get your laptop or phone out, and put the Everton commentary on from the OS. It will require a little synchronisation as the commentary is about 30-40 secs behind but, once you get it, it makes any Everton game so much more enjoyable. Darren Griffiths is an excellent commentator.
Of course, you can't beat going to the match itself, but for those of us who don't often get that option, this definitely helps.
Having said all that, the commentary bias on Sky (and BT and to a slightly lesser extent the BBC) is disgraceful. I've long held the opinion that viewers should have three live commentary options – one for each team and one neutral. The technology is there I'm sure.
Gaute Lie
72
Posted 04/12/2018 at 16:12:57
Pickford is a good keeper and a team player who shows his commitment to Everton every game he Plays.
A mistake is made and so what? Everyone makes mistakes.
I do remember al the shit that Howard was given by the supporters.
Did he deserve all the crap? No, he did not..
Somehow keepers seems to get shit if they make one mistake in a game. How many mistakes does the other players make?
Only one in the team that deserves shit is Schneiderlin, and that is because he did not care for Everton. At all. Glad he does not play nowadays..

Neil Copeland
73
Posted 04/12/2018 at 18:03:15
James #71, thanks I might try that if I can figure it out, if I will ask my daughter for help.
I have a season ticket so not a problem for the home games but they really piss me off when watching away games live.
I like your idea about commentary options.
Add Your Comments
In order to post a comment, you need to be logged in as a registered user of the site.
Or Sign up as a ToffeeWeb Member — it's free, takes just a few minutes and will allow you to post your comments on articles and Talking Points submissions across the site.