Vlasic is happy in Moscow
Tuesday, 11 December, 2018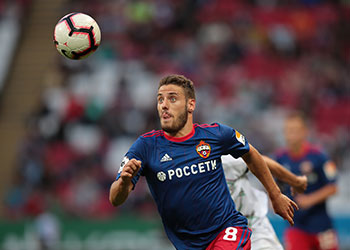 Nikola Vlasic says that if it were up to him, he would stay with CSKA Moscow beyond the length of his season-long loan from Everton.
The Croatian international joined the Blues in August last year from Hajduk Split in what had the potential to be a dream move but it quickly soured as the club's season came off the rails under Ronald Koeman and Vlasic was largely ignored by interim boss, Sam Allardyce.
In a conversation with Marco Silva this past summer, it was made clear to the 21-year-old that he would struggle for consistent playing time in the first team and the decision was taken to send him out on loan.
CSKA duly signed him and Vlasic has been a revelation in Russia, scoring seven goals in 19 appearances, including some crucial goals in the Champions League, one of them the winner over holders Real Madrid.
While Silva's hopes and plans for the player over the long term aren't clear, Vlasic himself has been speaking of how happy he is in Moscow and that he regards CSKA as home now.
"I am very happy and glad I'm at CSKA," he told Bob Soccer. "I truly believe that I am at home, this is my team, and if the decision depended only on me, it would be a very easy choice. I'd say yes and remain a CSKA footballer, but, unfortunately, there are several other interested parties.
"It's particularly necessary to understand Everton's position, how it relates to the situation, what they think. It's not up to me. Let's wait until the summer and see what the decision is."
---
Reader Comments (45)
Note: the following content is not moderated or vetted by the site owners at the time of submission. Comments are the responsibility of the poster. Disclaimer
Mike Jones
1
Posted 11/12/2018 at 19:24:08
Bye
Anthony A Hughes
2
Posted 11/12/2018 at 19:33:06
Enjoy your footy in that third-rate league, Nikki!
Peter Gorman
3
Posted 11/12/2018 at 19:33:48
I wonder what his father has to say?
David Pearl
4
Posted 11/12/2018 at 19:44:16
He is not your bird that wants to dump you and move on. As he said, let's wait till the summer and see what the decision will be from all parties. Us being the party holding his contract.
Gavin Johnson
5
Posted 11/12/2018 at 19:44:24
If the rumour's true, that Inter want him, a straight swap for Barbosa might suit all parties.
Christy Ring
6
Posted 11/12/2018 at 20:20:08
Niasse looked impressive with Lokomotiv Moscow also, so being a revelation in the Russian league??
Minik Hansen
7
Posted 11/12/2018 at 20:55:26
Niasse was in mid-twenties when at the Russian league... I think he should be loaned out again and play in a bigger league next season to be sure he cuts it really sharp enough.
We're covered on his position, so why spend on another player, when we've got one with possible potential. If we get Lozano and that kind of player, surely we will sell from the first team, and not a young loaned out player.
Liam Reilly
8
Posted 11/12/2018 at 21:18:47
I don't think he'd get into any of the top 6 sides as yet, so he is not what we need.
Try loaning him to another Premier League side to get experience and see how he stands up.
Steve Mink
9
Posted 11/12/2018 at 22:55:51
I think he's a better player than some think. He was unlucky to be part of a shambolic squad.
Steve Ferns
10
Posted 12/12/2018 at 00:06:52
"I truly believe that I am at home, this is my team, and if the decision depended only on me."
Translated: I'm going to blame Everton for leaving because I won't accept the severe paycut it would take for me to stay, because it's all about the money.
Peter Gorman
11
Posted 12/12/2018 at 00:11:24
He might well be a better player than some people think but I've always got the impression he is a bigger prat than some people think.
James Flynn
12
Posted 11/12/2018 at 01:51:43
He's under contract for 3 more years after this one, so the Club needs to figure something out.
Ed Prytherch
13
Posted 12/12/2018 at 02:11:43
Another player who left in the summer for greener pastures is in the news today:
Wayne Rooney: DC United midfielder visits White House and meets Barron Trump
https://www.bbc.com/sport/football/46532721
Former England captain and DC United midfielder Wayne Rooney has visited the White House, the home of US President Donald Trump, for a Christmas party.
The 33-year-old was pictured with Trump's 12-year-old son Barron, who is a football fan and has played for DC's youth team.
Manchester United's record scorer Rooney moved to the US capital to join DC from Everton in June.
He scored 12 goals as they reached the MLS play-offs in November.
It was reported that Rooney was accompanied by wife Coleen and his four sons and they were given a guided tour.
James Flynn
14
Posted 12/12/2018 at 02:19:35
Pretty sure CKSA Moscow can cut him a deal that won't badly alter his £30k per wages.
I'll guess he's been told he's surplus to need and wants to keep his career moving. Which is fair all-round.
We have 14 players out on loan with only Ashley Williams dropping off the books this Summer. Vlasic thru 2022.
So if he and the Club are happy with it, let's move him along. No hard feelings, everyone's happy.
It would be fine with me if we hear like comments from all of our loaned-out players — except young Henry Onyekuru.
Fran Mitchell
15
Posted 12/12/2018 at 02:44:17
The lad's a good player: young, skillful, vision and an eye for goal. I'm pretty certain that if he had been on the bench in the last 2 games, he'd have offered more than Tosun.
He could provide real competition for Sigurdsson, who has none, whilst he could also be an alternative to the still-failing-to-impact-games Bernard.
I was impressed by him last season in a woeful Koeman team, then Big Sam Allardyce imposed his "I'd prefer 28-year-olds or older, who have played in the Premier League 200 times over any youngster, no matter the form or results" policy and he got shafted.
Those judging him, despite his horrific treatment and experience at our beloved club, should look through his eyes.
At the 'great Everton, in the Premier League', he got dropped and ignored, whilst the likes of Rooney, and Bolasie got chosen ahead of him. As a result, he missed out on the World Cup, and with hindsight, the chance to play in a World Cup final.
Now, he is playing, scoring against the European Champions along the way, receiving rave reviews, and back in his nation's squad and getting caps.
Yet, it is us who talk badly of him? Considering everything, he is still rather respectful. And I feel the lad will have a big career, probably away from us, but I hope we can convince him to stay, because talent he has.
Alan J Thompson
16
Posted 12/12/2018 at 02:50:48
Good luck to the lad. If he's happy there and a deal can be done, then so be it; if not, then he comes back to find out if he's needed or not.
Why so much bitterness about him stating the obvious?
Paul Kelly
17
Posted 12/12/2018 at 02:53:46
Good points, Fran, but, "He could provide competition real for Sigurdsson, who has none."
I think the reason Sigurdsson has no competition is Silva's reluctance to mix it up. Lookman or Bernard could play Sigurdsson's position, but Silva is sticking to his front line... rigidly so.
Paul Kelly
18
Posted 12/12/2018 at 03:18:59
Glad he's doing well, Champions League and domestically, could be a bit biased as I fancy his sister, but oh well.
On the playing front, he's producing the goods in the league he's in; as his parent club, we can't ask no more.
He's gone abroad to get playing time and if he doesn't figure in Silva's plans, well, so be it, but I'd like to see him play in an Everton shirt again as I think the lad has something about him.
Justin Doone
19
Posted 12/12/2018 at 08:06:02
Isn't this the point of the loan system? Not quiet ready for the Premier League so go and enjoy playing regular football and we will reassess in the summer.
IMO he's much better and better suited than Sandro. Good talent but attitude and work ethic needs improving.
Simon Smith
20
Posted 12/12/2018 at 13:34:28
Alan 16.
Spot on, mate, the lad wasn't playing at us last season, was allowed to leave by the current manager, and is now playing Champions League football and has just secured Player of the Month for the 3rd month on the run! I can't understand the bitterness shown to Vlasic.
Hopefully his loan deal puts him in good stead to come back to the Blues (as Lookman has) and fight for Bernard's or Sigurdsson's position.
There's certainly a player there somewhere.
Ajay Gopal
21
Posted 12/12/2018 at 15:43:34
"I am very happy and glad I'm at Everton," he told so-and-so. "I truly believe that I am at home, this is my team, and if the decision depended only on me, it would be a very easy choice. I'd say yes and remain an Everton footballer, but, unfortunately, there are several other interested parties."
Ahh... it would be nice to hear those words from our own loanee from Barcelona now, wouldn't it?
Simon Smith
22
Posted 12/12/2018 at 23:05:08
In the Champions League this season, Vlasic has played vs Real and Roma and hit 2 goals and 4 assists; he scored the winner at home to Real and assisted today whilst playing the full match in a 0-3 away win vs Real.
Seems like he's doing something right.
Mike Gaynes
23
Posted 12/12/2018 at 23:23:27
He was outstanding today at the Bernebau, maybe MotM.
Lev Vellene
24
Posted 12/12/2018 at 23:50:44
Vlasic didn't really show he could be a valuable player for the previous managers, so although we all hoped for him to come through early, it's no surprise Silva wanted to focus on other players after he came in!
But as Vlasic is doing well in Russia, and especially in their Champios League games, is there a place for him at Everton next season? We used him on the wing, but he's mostly been playing as a #10 in Russia from what I heard?
Dan Davies
25
Posted 13/12/2018 at 00:12:30
Well, only an idiot cannot see this boy would bring more to Everton's match day squad than either Davies, Calvert-Lewin or Lookman. C'mon... give credit where it's due!
Tom Bowers
26
Posted 13/12/2018 at 00:17:13
The lad, like many others, had his chance but didn't impress.
Sam Hoare
27
Posted 13/12/2018 at 01:15:10
Lev and Tom, no-one really impressed last season though, did they? I'd be very curious to see how Vlasic would do given a run of starts in Silva's Everton but I'm not sure it will happen.
Mike Gaynes
28
Posted 13/12/2018 at 02:04:28
Tom -- "had his chance but didn't impress"???
19 appearances? A total of 1000 minutes? Playing for three different managers, out of position, in a total train wreck of a season? All at the age of 20?
Had his chance — my left nut.
If you didn't see how he played today, pull the game up online and watch it. I guarantee you will be impressed. He's taking his chance right now. And I say we need to bring him back this summer. And give him a real shot.
Phil Smith
29
Posted 13/12/2018 at 02:51:47
Spot on, Mike. I can't wait to have him back next season to see what he can really do for us.
Gavin Johnson
30
Posted 13/12/2018 at 03:11:10
Let's be honest, Vlasic had little to no chance of playing in his favoured No 10 position last season. Even Sigurdsson was being played out of position. Things could have been different this season but Silva opted to keep Dowell over Vlasic because he did a decent job at Forest and earned a recall.
From the noises Vlasic was making last season through his dad and sister, in the event that he had stayed this season and he'd have had as much game time as Dowell, we would have had one unhappy player on our hands.
We need a striker. A swap deal with Inter for their Brazilian, Barbosa, or sell him for double bubble – £18m. I don't want an unhappy player back at Finch Farm. For me, either of the aforementioned deals will be very good business.
The remote possibility of keeping him next season will surely mean Dowell is moved on to the highest bidder.
Mike Gaynes
31
Posted 13/12/2018 at 04:11:23
Gavin #30, I would point out that last summer we brought back an "unhappy player" from an ecstatic loan spell who wanted to stay where he was. And now he's playing like he's very happy to be here. To the delight of the rest of us.
Lookman got over it. Vlasic would too. I think Silva has that effect on people.

Drew O'Neall
32
Posted 13/12/2018 at 05:25:52
Fran,
What do you think of Tosun?
Mike Allison
33
Posted 13/12/2018 at 07:06:06
'Had his chance'?
Utterly staggering. I'm pretty much lost for words at how stupid a comment that is. The reasons, although obvious enough, have been pointed out by others.
Let's judge all players by the age of 20 when they're not picked regularly and the team as a whole is playing poorly.
After all, there are no examples ever in the history of football of players having a poor spell of form, or struggling to adapt, but then making significant improvements and becoming top class players. That has definitely never, ever happened.
Oh wait...
Gavin Johnson
34
Posted 13/12/2018 at 07:21:08
Mike - You could well be right, about Silva having a similar effect like he did on Lookman in changing Vlasic's mind. That said, the best he would get in the short-term would be coming on off the bench for Sigurdsson or Gomes.
Also, if there was a turn around in Vlasics attitude and he stayed next season, where does that leave Dowell?? Dowell's nowhere near the team as it is. If Vlasic returns, my bet would be that he would be sold. I don't think Dowell has much left to run on his existing contract.
Derek Knox
35
Posted 13/12/2018 at 11:15:11
Having read most of the comments above, it can't be denied that the lad has seemingly had a new lease of life, since going on loan to CSKA Moscow.
It's all very well saying that the Russian league is third tier, but to outplay Real at the Bernabeu, although Real are not exactly at their best, is still some feat.
It's a difficult decision for Marcel Brands to make come the summer, but that may also depend on how many other suitors throw their hats in the ring, and for how much.
I don't think it was any secret that the lad wasn't overly happy after his transfer, but like MG said he had three different managers playing him in different positions, so there was no settled run for him to show his worth.
He appears to like it in Moscow, or playing for CSKA, it's a difficult one really, he has age on his side, we would be kicking ourselves if we let him go for a moderate sum and he turns out to be World Class. If he stayed with us, he would be back up for Richarlison surely, and spend more bench time than playing time.
Alex Gray
36
Posted 13/12/2018 at 11:16:43
I struggle to understand some of the posts on here that say Vlasic has had his chance based on last season. The lad is 20 and was played out of position and with limited minutes.
When he played against us in the Europa League he played as a number ten and stood out on the pitch despite us winning. Granted playing in a poor league but he's won Player of the Month, three months running, has been scoring goals and making assists and has just done the double over Real Madrid scoring the winner in one and assisting a goal in the other.
However people seem to prefer keeping Dowell? Based on what exactly? Everytime I've seen the lad play, he's been a luxury player who has one nice pass and then does absolutely nothing for half-an-hour and based on his loan move to Forest last season, despite starting well, the fans wanted him dropped for over half the season as he was lazy and didn't actually do that much.
Vlasic is far superior to Dowell at this moment in time and, just in my opinion, we would be fools for selling him. I'm fairly certain if he keeps improving physically too, he will be ready for the Premier League next season.
Sam Hoare
37
Posted 13/12/2018 at 12:15:32
Vlasic apparently came back last Summer and said he expected to be playing because in his opinion he was the best creative player at the club. Maybe he was right?
I wonder if having overpaid so greatly for Sigurdsson has put us in a bind somewhat? Does Silva feel required to play him? The Icelander has been much better this season and probably one of our best players but I do sometime wonder if having a quicker player in that position, someone able to beat a man, would open up this system offensively for us?
I'd be interested, certainly against weaker opposition or at Goodison, to see Sigurdsson played alongside Gomes (who would maybe sit a little deeper) with Vlasic (or Bernard) in that AMC role.
Fran Mitchell
38
Posted 13/12/2018 at 12:25:18
Drew, I think Tosun is a decent goal poaching type striker. Waiting in and around the box, waiting for knock downs. He's not quite imposing enough to be a target man, not quick enough to pull defenders out of position, not the most skillful.
IMO, he ain't good enough for a top-6 team, and he doesn't fit into the style of play we are trying to adopt. I imagine that at a team like Palace or Newcastle he would do a decent job, score about 10-12 goals a season and fair play to him.
So it would suit all parties if he were moved on.
Derek Knox
39
Posted 13/12/2018 at 13:13:38
Sam @37, not sure what goes on behind the scenes, none of us do, but I have noticed with Silva, once he has an idea, he seems to persist too long with it, when it clearly isn't really working that well.
He has stuck the last few weeks with Walcott who has been way below par, and as many have suggested, with our shortage of genuine goalscorers up front, why not try him there?
Like you say with Vlasic, he doesn't seem to have given the lad many opportunities, yet he is pulling up trees in Russia, a strange one to say the least.
Mark Andersson
40
Posted 14/12/2018 at 06:14:55
Fran,
How come a lot on here are saying we need more goals from other players other than Richarlison and Sigurdsson yet you think Vlasic ain't good enough for us but claim he would get 10 to 12 goals for the Barcodes or Palace... why not get 12 goals for us?
Tony Cunningham
41
Posted 14/12/2018 at 13:41:55
Well I couldn't blame him if he wants to stay. Sounds like he's having a great season, playing Champions League football and playing well. He seems like a good player to get back if we could, or alternatively turn a nice profit on his sale.
Mike Gaynes
42
Posted 14/12/2018 at 16:01:37
Gavin #34, I do not share -- and have never shared -- the enthusiasm many on TW have for Dowell. I think he has a great future... at Reading. Maybe Brentford. Oh, hell, let's get wildly optimistic and say Forest would have him back. But that's it.
Look at it this way. Vlasic and Dowell are exactly the same age (six days apart). Can you imagine Dowell ripping up the Bernabeu the way Vlasic did the other day? No, neither can I.
No comparison.
Derek Knox
43
Posted 15/12/2018 at 01:31:20
Mike @42, I share your views on Dowell to a degree in comparison to Vlasic, but what I see in Dowell is a talented player, but totally lacking in self-motivation.
This is reflected in his appearances when either playing a cameo role for us, or whilst on loan, he is one of these players, you know he is part of the 11, but where is he? He morphs into Houdini too often!
Alan J Thompson
44
Posted 15/12/2018 at 15:48:04
When did it become a matter of Vlasic or Dowell? Each to be judged on their best and Everton's requirement, no?
Ernie Baywood
45
Posted 19/12/2018 at 09:37:41
Don't care what he says. If he's good enough, and motivated to play for us, then I'll welcome him back.
Add Your Comments
In order to post a comment, you need to be logged in as a registered user of the site.
Or Sign up as a ToffeeWeb Member — it's free, takes just a few minutes and will allow you to post your comments on articles and Talking Points submissions across the site.