Reports: Everton open to Holgate loan move
Tuesday, 18 December, 2018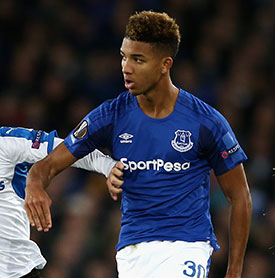 Mason Holgate has reportedly been given the green light to seek a temporary move away from Goodison Park for the second half of the season.
Sky Sports and the Liverpool Echo are among the outlets claiming that Everton have told Holgate that he is unlikely to figure in Marco Silva's plans in the short term and that he can look for potential loan suitors that could give him first-team.
An England U21 international who followed John Stones to the Blues from Barnsley, Holgate has four years remaining on the five-year contract he signed last year.
He played 40 times for Everton in all competitions last season but only has six appearances this term as the arrivals of Kurt Zouma and Yerry Mina have combined with Michael Keane's form to limit his chances.
---
Reader Comments (53)
Note: the following content is not moderated or vetted by the site owners at the time of submission. Comments are the responsibility of the poster. Disclaimer
John G Davies
1
Posted 18/12/2018 at 07:46:55
Best deal for both parties in my opinion. Mason can get game time and hopefully develop into a good defender.
At the moment, he is stuck in between being a right-back and a right-sided centre-half. Nowhere near the finished article in either position. Hopefully a loan move would progress his development.
Tony Abrahams
2
Posted 18/12/2018 at 08:04:18
"Thunder only happens when it's raining — and players only love you when they're playing!". Except Pistone and Schneiderlin, of course?
But if a young player is not playing regular football, then he's not developing, so either start using our kids, Marco, or let them out to play.
Robert Leigh
3
Posted 18/12/2018 at 08:05:32
As said in the Rumour Mill last week – get him to a team that's winning for his confidence.
So important for a young centre-half – Leeds, if they want him, would be my preferred destination as they play the right way under Bielsa and they're short at the back currently.
John G Davies
4
Posted 18/12/2018 at 08:47:32
It will get more difficult for the kids to get game time Tony. Brands made a statement last week: "Transfer policy for January is one out one in."
Niasse, Schneiderlin, Tosun are amongst those he would move on permanently. Holgate looks likely to go out on loan, joining Bolasie, Ramirez, Martina, Vlasic, Besic, Onyekuru, Williams, Mirallas and Garbutt.
After the summer transfer window is the time to judge Silva. Not a day before, in my opinion.
Darren Hind
5
Posted 18/12/2018 at 08:48:36
I don't get this one. We are determined to play out from the back (which I love)... Yet we are talking about sending our best footballing defender out on loan? What The Fuck? Still, I guess it will please the "avit" advocators.
Mina is in the middle of a complete Weston at the moment: hacking balls to the opposition, missing sitters, running under crosses, and being bullied by Jimmy Crankie. That said; you can bet some expert will come on and claim Holgate isn't ready because although the whole team was crap... it was him who really cost us the game against West Ham.
We only need a knock to Zouma or Keane and Mina, despite his current form, would be guaranteed a start... Scary!
John G Davies
6
Posted 18/12/2018 at 08:55:21
As you say, I think it would need two of them to get a knock at the same time, Darren.
Mason is (at best) 4th, probably 5th in line for two starting positions. Unless you would be happy playing three centre-halves?
Jim Bennings
7
Posted 18/12/2018 at 08:56:42
Darren,
"Holgate the best footballing centre-back we have".
I think the jury is out on that one.
He's hardly in the John Stones category and from what I recall of Holgate his distribution at times would have come under scrutiny more if his name was Ashley Williams.
Derek Taylor
8
Posted 18/12/2018 at 09:32:30
How many ever come back to establish a place in the team? Most loans mean you are halfway out of the door and I'm sure that applies to Mason. And Dowell.
Jim Bennings
9
Posted 18/12/2018 at 09:37:21
Osman and Barkley are probably the most notable lads that went on loan and came back to forge decent careers, Derek.
I actually think a lot depends on the hunger and desire to do well from the player; in Barkley's case, it was evident the lad at 19 was very very talented and physically strong for his age.
Dowell doesn't look strong enough and that would be my concern with him making it at Premier League level.
Osman was never that big physically but he was a tough cookie, Leon, and could take the ball under control in tight positions and take the knocks, a bit like Pienaar.
Mark Andersson
10
Posted 18/12/2018 at 10:04:35
Can we trust this manager to evaluate the younger players or has he been promised funds with Brands identifying better options long term...
Terence Leong
11
Posted 18/12/2018 at 10:12:41
Holgate is a ball playing defender who can possibly do as well as John Stones.
The 3 ahead of him now means that he is unlikely to play unless due to injuries and suspension.
The fact that he will be out on loan means that the club sees value in keeping him.
When Zuoma returns to Chelsea, Holgate would have hopefully improved enough to rival Keane / Mina for a place.
James Stewart
12
Posted 18/12/2018 at 10:31:48
Strange one this in my opinion. Holgate has considerable potential but doesn't have the physicality for centre-back at present, surely an option at right-back though.
Zouma is by far our best defender and Keane is solid. After that Mina is a liability and Jagielka is approaching 40, so letting Holgate go could prove very dangerous.
Darren Hind
13
Posted 18/12/2018 at 10:43:03
Dear me: "from what I recall of Holgate his distribution at times would have come under scrutiny more if his name was Ashley Williams."
The biggest problem for Holgate is that he has spent most of his fledgling career trying to play with internationally renowned hoof merchants, like Williams and Jagielka, for internationally renowned anti-football merchants, like Koeman and Allardyce.
Unfortunately our new managerial partnership have spent big on Mina and they are obviously feeling they have to play him. He'd better improve, because they wont put up with this for long.
Steve Ferns
14
Posted 18/12/2018 at 10:47:52
I'm with you, Darren. But over Marco's seven years as a manager he's never signed any centre-backs under 6'-4". He has played a couple, particularly at Sporting, but these were already there.
This would surely show that Silva has a height requirement for a centre -back. Presumably linked to the zonal marking system.
Silva has always had a type of centre back, starting with Steven Vitoria. Vitoria was a 6'-5" monster he signed for Estoril and he once scored over 10 league goals in a season. Mina fits this profile, although he's yet to score for us, he got 3 goals in 5 games in the World Cup.
Mason may be deemed to be not of the profile Silva likes. I think Silva should assess him as he has many other qualities and so he should have a role to play. There's some confusion as to his height, because some sites have still got him down as his height from 18, but having seen him up close I'd say he's 6'-2" now, and that's not short.
I think Mason might not be as good as Stones in terms of being a ball playing defender (and I'm talking potential here) but I do think he's better in terms of being an actual defender.
I still hold out hopes that he will be at least as good as Michael Keane, ie, international class.
Dean Johnson
15
Posted 18/12/2018 at 10:48:58
I've never been convinced by this kid, let's hope he improves his attitude out on loan.
When someone accuses someone falsely of racism to hide their own shortcomings, I take issue.
He hasn't really played since that "incident" with Firmino.
Steve Ferns
16
Posted 18/12/2018 at 10:55:44
So let's get this straight, Dean, you are sure he made up a racism allegation, and this means he's got a bad attitude?
First off, Mason is said to be a lovely lad by everyone and anyone who works for the club. No one has a bad word to say about the kid.
Second, the Firmino incident went no further because you can't see the entire incident. Don't be fooled by the 5 second clip you saw on Sky Sports News, that's not the entirety of the incident.
Third, maybe Firmino did say nothing racist and Mason misheard it and reacted accordingly. Is that a bad attitude?
Fourth, Mason has never done this before or since, so he's not one for making things up.
Frank Crewe
17
Posted 18/12/2018 at 10:58:39
I posted this in the Davies loan thread but with a few edits it's just as apt here.
I don't see the benefit of loaning players out other than it gets them off the books and makes the squad smaller for a little while. I can't imagine how playing in a lower league with a bunch of journeyman players will make you a better player.
Everton have loaned many young players out over the last few seasons and they have come back no better than when they left. Half the time we loaned them out and they didn't get many games with the club we loaned them to or got sent back early because they weren't good enough.
We loaned Lookman out and he doesn't look any better but just more resentful that we insisted he come back when the loan was up. Loaning improved Pennington so much we brought in Zouma and Mina to replace him. Not. Anyone remember Galloway?
Loaning has just become a ploy big clubs use to manage overly large squads and keep young players on the books while their transfer value hopefully goes up.
If we keep Zouma that will effectively kill any chance Holgate has of becoming a first-team regular whether we loan him out or not. Holgate knows this. He's had his chances and he failed to live up to his promise. Something a lot of young players do. Holgate will go the way of Pennington and Lundstram. Lots of loans and eventually out the door entirely.
Unfortunately football is a business and big Premier League clubs have neither the time nor the inclination to wait for young players to get better. They need ready made players now. Managers jobs are dependent on it after all.
If a player is good enough we would know it. If he's not we can loan him out till the cows come home but he won't get any better at all.
John G Davies
18
Posted 18/12/2018 at 10:59:21
How do you know it was a false accusation, Dean?
Tony Abrahams
19
Posted 18/12/2018 at 11:08:59
So it's better to keep them playing in the Under-23s than let them go on loan and play proper competitive football, Frank?
I understand some of your points, but I'm of the opinion that players will only improve, or even just find their niche by playing regular competitive football, especially once they've already had a taste.

Steve Ferns
20
Posted 18/12/2018 at 11:17:32
It's a tough one though Tony, and one that only someone who's been through it can give an informed opinion on.
On one hand, is it better to play with world class players in training? To be around them, day-in & day-out, watching them, competing against them, playing with them, getting the occasional game, etc? Now sure we don't have world class players, but think of the top few clubs.
On the other hand, is it better to be playing, week-in & week-out, but with lesser quality players, in a different style, on worse pitches, and maybe having 7 shades of shit kicked out of you?
David Unsworth is perhaps the best places to answer the question. He's in charge of our kids after all. He said he's a big fan of the loan system.
I'll defer to his judgement but I won't forget the highly rated players who have gone out on loan only to see their promising futures evaporate (and there's a longer list then just Galloway and Garbutt, even Barkley struggled on loan playing for that dinosaur Warnock and it took a second loan to get him some actual playing time, so perhaps the key, short loans and maximise the playing time).
Alan J Thompson
21
Posted 18/12/2018 at 12:50:26
Leaving aside for the moment that going out on loan may not be beneficial, and I can't see any lower teams who are doing well in their Division giving him a regular game, would it not be better if he stayed with us for the rest of this season?
It looks more than likely that we won't qualify for a spot in European competition and If as Zouma has been reported as saying that he does not wish to leave Chelsea and Jagielka is in his last year, wouldn't it be better if he stayed at least as cover for Keane and Mina with the chance of a full game here and there with a view to a fuller assessment – or has the Manager already been here long enough for that?
Andy Meighan
22
Posted 18/12/2018 at 13:05:27
Steve @20,
Who are the world class players we've got?
Derek Knox
23
Posted 18/12/2018 at 13:49:14
While I agree it's better to be playing regularly for the development of a young player, I hope it doesn't come back to haunt us. You only need a couple of injuries in the winter months and we're struggling for cover.
I quite like Mason, and can't remember him having too many bad performances, if any at all. As a previous poster mentioned Leeds would be a good destination if he were to go on loan, under the tutelage of Bielsa.
It will be another interesting window come January, as there is no doubting we have a few who need to be jettisoned, Schneiderlin, Niasse, and possibly Tosun.
Tosun the striker, who appears to have been 'on strike' for the most part of the last year he has been with us.
I have a lot of faith in Marcel Brand's dealings in the transfers in and out, as he proved in the last window, not only with quality brought in, but the ones he managed to offload too, even if some were only on loan.
Steve Ferns
24
Posted 18/12/2018 at 14:10:13
Where did I say we did, Andy?
Mike Gaynes
25
Posted 18/12/2018 at 14:27:19
Darren, Holgate is not our "best footballing defender"... and James, he is not remotely a right back... and both for the same reason. Holgate is a truly awful passer at times, not nearly as good as either Keane or Zouma. His crossing from RB has often bordered on the hilarious. He may be our best
dribbling
defender, but he's not even close to being our best footballer back there.
However, I'm wholeheartedly in favor of this loan. Darren's right that his train-wreck West Ham performance was no worse than some others that day, and it's extremely unfortunate that he hasn't seen the pitch since. The loan to a quality club will help him regain his confidence, and that's important because I believe there's exceptional talent in him. He's an outstanding tackler, chooses his angles well, and has blistering pace -- I think the fastest of any of our CBs, certainly over a short distance. With Zouma heading back to Chelsea, Mina obviously raw and Jags heading into the sunset, we may well need Holgate next season. And this loan is the best way to get him ready.
Frank #17, I couldn't disagree more. Lookman looks much improved and more confident after his successful loan, and I certainly don't see the slightest sign now of any resentment. Pennington and Galloway (and Browning and Forshaw and lots of others) simply weren't good enough -- they were loaned out in the hopes they would improve enough to play for Everton, and they didn't. Osman and Coleman sure as hell did, didn't they?
Whether a loan is a good idea or not doesn't depend on the loan system. It depends on the individual player and the individual situation. In this case I think this is the best way to try to save a career worth saving, and I wish Holgate all the best and a Seamus-like return next summer.
Frank McGregor
26
Posted 18/12/2018 at 14:28:41
To be honest, players like Kenny, Dowell, Holgate, Davies, Browning, and Besic should make a permanent career move away from Everton as they are wasting there time there.
If anyone should be going out on loan, it should be Mina. I don't believe he will adapt to the Premier League style of play.
Peter Gorman
27
Posted 18/12/2018 at 14:32:05
Dean @15 "When someone accuses someone falsely of racism to hide their own shortcomings, I take issue".
Hear, hear, how very admirable of you.
But since none of us have an actual clue what happened between Mason and old toothy, I'm not sure how it applies to whether or not the kid goes on loan.
John G Davies
28
Posted 18/12/2018 at 14:53:57
Frank 26,
Early days for Mina. A shock to them when they first play in England. One of the best centre-halves I have seen had this to say:
"He explained: "I suffered. My ego got smashed. I really suffered, honestly. Playing against Dion Dublin, Duncan Ferguson – big guys. The flick, the fighting spirit.
"Playing against Coventry, Sunderland – the long ball. I was unable to intimidate them. In France and Italy I was a strong guy – I would look the strikers in the eye and show 'there is nothing for you today' – and the player would look down and accept that I had won. But in England, no. The guy is ready for a fight. The striker will tackle you! I was depressed for four months."
Justin Doone
29
Posted 18/12/2018 at 15:09:33
If they can mentally adapt and learn to look after themselves in the lower leagues, playing regular football, then I think both Holgate and Galloway have all the basic qualities to be good defenders.
They read the game well, have good pace and can tackle. However, both are on the small side to be centre-backs but may bulk up a little. In that respect, Jagielka is a prime example of how smaller defenders adapt and develop their game.
Forget the Premier League or the Championship for now, get first team football in League One (3rd tier) and continue to learn. By the time they're 24 or 25, they may be ready for the Premier League but it may not be with us.
Zouma is already better than them at a similar age and I think we need to sign him and Gomes on permanent deals ASAP.
Darren Hind
30
Posted 18/12/2018 at 15:31:11
Mike
Have you been exceeding your daily one pint of Guinness allowance?
Watch Zouma and Keane: they are 100% focused when a ball is coming to them. Neither of them are the worst footballer we have had in defence, but both are very careful not to mis-control. Holgate, on the other hand, is thinking about what he will do when he controls it. He is so much more assured. Light years ahead in terms of natural footballing ability.
As for poor distribution, show me a player who played under Koeman or Allardyce who did pass the ball well? difficult to pass well to team mates who don't move because they have been ordered not to break ranks
Good to cross swords with you again, Mike. I was disappointed I didn't meet you when you were over. Perhaps next time...
Alasdair Mackay
31
Posted 18/12/2018 at 15:35:28
The crazy thing is that, in the days before the window closed on the eve of the season, Holgate was many Evertonians first-choice centre-back, including mine.
Keane found some form he severely lacked last season, Zouma came in and did well, Mina was signed for big money and suddenly Holgate is out in the cold.
When he has played this season he has done well – didn't he get man of the match a couple of times early on?
I think we would be foolish to let him go (even on loan). He is not pining for a move; if we did get an injury to two from the three currently ahead of him, we would be desperately short.
Kieran Kinsella
32
Posted 18/12/2018 at 15:42:21
Holgate is at a crossroads. Reminds me of bit of Galloway and Browning a few years ago. They both had good stints in the first team, fell down the pecking order, went out on loan. The loans didn't work out, they regressed. Now they are virtually unemployable.
My worry is where do we send him. Would he go straight into a decent prem team? Probably not. Case in point, Oxford at West Ham – cannot get a game.
Strugglers may like him but Warnock did nothing to improve Barkley. Fulham are overloaded with inexperienced kids would they want him? If he drops down to the Championship and does well, so what? It hasn't done much to help Williams, Dowell, even Garbutt and Lundtsram if you go back a few years.
It seems like a decent Championship spell isn't taken seriously as showing someone is Premier League ready. So I am not sure really where we can send him to get a positive outcome. Ultimately, it looks like his career is over.
Ajay Gopal
33
Posted 18/12/2018 at 16:01:40
I rate Holgate highly, he can be our John Stones (as ironic as that may sound). The article says Mason will be 'allowed to look for' loan options. "Look for"??? Shouldn't the club be trying to loan him to a club that can see him develop further and come back ready to step up for the team next season?
Think big - why not Germany (where so many young English talents are being snapped up)? Don't laugh - why not Barcelona or Arsenal?
Apparently, both clubs are facing a Central defensive injury crisis, they would be happy to have a young, pacy, ball-playing defender who has played at the highest level against the best forwards in the world (and acquitted himself creditably).
Ajay Gopal
34
Posted 18/12/2018 at 16:15:48
Kieran (32), I am flabbergasted by your last sentence – surely, you were joking? I hope Mason doesn't come on these forums and read that, he would get seriously depressed!
Central defenders are usually late bloomers and tend to have longer careers – think Shane Duffy.
Michael Kenrick
Editorial Team
35
Posted 18/12/2018 at 16:24:25
Mention of Brendan Galloway — there was an article that appeared at the end of November which I failed to post:
Brendan Galloway wants to get healthy to force January loan move
He's not played for the last 2½ months, after featuring in almost all the U23s games up until that point, when he went off in the first half against West Ham in the PL2. That's a sure sign of injury and indeed this piece says he's been suffering with a damaged hamstring.
We currently have 14 players out on loan, with a few more set to join them next month. I wonder if we'll actually shift any of them?
Frank Crewe
36
Posted 18/12/2018 at 16:36:28
There's a mention of Coleman and Osman improving after loan moves. Out of those two, I would say that only Coleman genuinely improved after a loan move.
Osman I'm not so sure. He was a Bovril player all his career. He had his moments but overall whether he was loaned or not I doubt he would have been any different than he was.
Outside of those two, I can't think of any youngsters who came back better players than when they left. Maybe it's because we tend to loan them out to lower league clubs because we think it will "toughen them up".
Maybe what we should be doing is loaning them to better Premier League or continental clubs to improve their technique, passing, ball control, etc. Chelsea loaned Lukaku and Zouma to Premier League clubs, including us to improve them. Maybe we should do the same. Less toughening, more skills.
Frank Crewe
37
Posted 18/12/2018 at 16:43:56
Michael Kenrick @35.
The problem with Galloway is the same as the problem with Garbutt. They were both in the era of Baines. Neither of them could shift him and now that age has caught up with Baines, we've bought Digne.
This is one of the problems youngsters have. How do you shift established players, especially if they still a good few years left in them?
Does Holgate have a realistic chance at all of shifting Keane or Mina considering both of them are still in the mid-twenties and were both big money buys?
Mike Gaynes
38
Posted 18/12/2018 at 16:49:08
Darren #30, I actually agree with you! (Pause to savor the moment.) Holgate has the best first touch of any centre-back on the club, and as I mentioned he's very confident with the ball at his feet, and can beat people off the dribble very neatly.
But he can't pass. At all. Granted his previous managers all wanted him to hoof it out of the back, but we've seen his passing capabilities, or lack thereof, during his 16 appearances (I checked) at right-back. It was catastrophic. Couldn't cross the ball, couldn't find a teammate. Often sent his own teammates sprinting back to recover from his turnovers. Keane and Zouma are, as you say, very careful not to do that.
Kieran, there is no comparison at all between Holgate and Browning or Holgate and Galloway. Browning and Galloway were never good enough. Holgate is.
Ajay, you're dreaming. Holgate has 48 career appearances for the first team, and almost none of them were at the "highest level" against the "best forwards in the world". His last seven appearances, for example, have been against Hammers, Huddersfield, Bournemouth, Southampton, Wolves, Stoke and Brighton.
His last outing against a top side was the 4-0 loss to Spurs a year ago, and Son ate him alive in that game. No Champions League club is going to be in for a youngster who hasn't been playing.
Mike Gaynes
39
Posted 18/12/2018 at 16:50:48
Frank #37, the bigger problem with Galloway and Garbutt is that they're simply not very good players.
Frank Crewe
40
Posted 18/12/2018 at 17:02:46
Mike 39. I remember when Galloway came in for a few weeks under Martinez after Baines got an injury; he played well. Everyone was saying he would be a big player for us.
But, as soon as Baines was fit again, he was dropped and that was that. As I said, the senior player gets preference. As you say, Garbutt just wasn't good enough.
Brian Harrison
41
Posted 18/12/2018 at 17:08:37
For a spell, a season or so back, Holgate was playing well... but, after that altercation with Firmino, he was hardly picked again. I don't know why but he just seemed to disappear from the scene.
Mike Gaynes
42
Posted 18/12/2018 at 17:59:36
Frank #40, yes, Galloway had some excellent performances in that long stretch (14 games I believe?) when Baines was hurt in 2015. And then the opposing scouts discovered his weakness. He was totally one-footed defensively. Could not tackle with his right at all. So opposing wingers began swerving inside on him with impunity. His effectiveness dropped off even before Baines returned.
Unfortunately, he has apparently never been able to resolve that weakness. He's been flatlined by every manager he has played for since.
He's still only 22, and he still has all that pace and talent, so maybe he can still salvage his career. If only he can learn to tackle with his right.
Frank Crewe
43
Posted 18/12/2018 at 20:31:05
"Could not tackle with his right at all."
And Baines could? Look guys we've discovered Galloways weakness. He's a left-footed left-back who can't tackle with his right foot. Who'd have thunk it? Have they caught on that Coleman can't tackle with his left foot yet?
Maybe what really happened is that Baines regained fitness so he just got dropped in favour of the senior player.
Mike Gaynes
44
Posted 18/12/2018 at 21:24:53
Aw, c'mon Frank, yes, most top professional defenders – certainly including Baines and Coleman – can tackle with either foot.
And maybe what really happened is Galloway got dropped in favour of the better player. History bears that out.

Tony Abrahams
45
Posted 18/12/2018 at 22:00:20
Who was the player who said this, John G? Another thing nobody seems to have mentioned, was how cold it was on Saturday. From Columbia to Brazil, to Spain, and then to a freezing cold Manchester, must have been a culture shock for Yerry Mina?
Not making excuses for Mina, but like an English player would struggle in the heat (something most might never really adapt to). Then when I heard Guardiola describe Saturday, as the coldest day since he arrived in this country, then I'm sure this might have been one of the things to affect him, although I'm sure some people might say they've heard everything now!
James Flynn
46
Posted 18/12/2018 at 22:36:43
Tony (45) - I went and looked.
John G was referring to Chelsea's Desailly. Not sure why he didn't mention his name.
Ed Prytherch
47
Posted 18/12/2018 at 23:06:53
Zouma is a Chelsea player and it is no surprise that he wants to play for them again but he has time to change his mind, just like Lukaku. I hope that he stays with us.
David Thomas
48
Posted 18/12/2018 at 23:15:54
Holgate has got potential but I personally would have him as 5th choice at the moment, so I can't see any problem with him going out on loan and getting some game time.
James Flynn
49
Posted 18/12/2018 at 23:53:45
Well, our manager brought in Zouma and Mina to go with Keane. Push to shove, Jagielka is playing out the string, yet healthy.
All for Holgate going out on loan.
And enough on Galloway and Browning. They're nowhere near good enough. Like Besic, Dowell, Stekelenburg, Pennington, Bolasie, Connolly, Mirallas, Ramirez, Martina, and whoever else Brands needs to move on, we need better players.
Holgate could develop. But he'd better hurry. He's already been pushed down the pecking order simply by new signings. We should keep that in mind.

Jason Wilkinson
50
Posted 19/12/2018 at 00:15:17
Anyone think Mason might want to test himself rather than hang around waiting for an injury to another pro?
John G Davies
51
Posted 19/12/2018 at 06:22:51
Morning Tony,
It was Desailly as James said. Another one was Robert Pires at Arsenal. After his first game he told Wenger "he didn't think he would be able to play in this league".
Most of them have never played at such fast a pace. We have to allow them time to settle.
Frank Crewe
52
Posted 19/12/2018 at 14:39:13
Mike 44,
A defender should not be tackling at all. These days a tackle is the last resort because it will almost certainly end up as a foul and possible booking. The idea of full backs is to try and shepherd the attacker away from the goal and hopefully block any attempted crosses. Then if they get the opportunity get forward and put in crosses of their own.
You're right. Galloway was dropped in favour of the better player. But how do young players ever get to be the "better player"? I don't think loaning them out to lesser clubs in lower leagues improves them at all. They need some sort of natural progression to the first team. But this is constantly stymied because managers won't risk it. As I said they want ready made 1st team players not untried youngsters so eventually they drift off to other clubs.
Really it brings into question whether the U23 system is working at all. It just seems to exist on the off chance it may burp out the odd Rooney from among the endless stream of bog standard dross.
Is there a better way of producing top class youngsters than this?
Mark Andersson
53
Posted 20/12/2018 at 09:10:22
Ian Wright, to name just one player to come through from lower divisions and become successful.
If a player can't get into the first team, surely it's better to be playing on a regular basis than warming the bench?
Add Your Comments
In order to post a comment, you need to be logged in as a registered user of the site.
Or Sign up as a ToffeeWeb Member — it's free, takes just a few minutes and will allow you to post your comments on articles and Talking Points submissions across the site.