Jagielka not likely to go anywhere next month
Friday, 21 December, 2018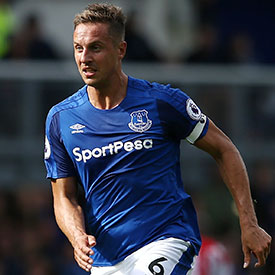 Marco Silva says that he doesn't envision the likes of Phil Jagielka moving on next month despite their lack of game time.
The Portuguese was asked about the club captain's situation as well as that of Kieran Dowell, who has been linked with Rangers and is reportedly close to joining Sheffield United on loan, but he stressed that all his attention is on the busy festive schedule.
Now reaching the end of his lengthy playing career and stellar service to the Blues, Jagielka has lost his place to the trio of centre-halves that arrived in the past 18 months, Michael Keane, Yerry Mina and Kurt Zouma.
"I answered in the last press conference about Phil," Silva said. "Phil is our captain and he's an important player for us even if he is not playing [as much as he] was in the past.
"It's my decision but he's an important player for us and an important player at the club and I don't see anything changing in the next month.
"About the other players, I don't want to talk about the situation. Like I told you, our focus is just on the next game against Tottenham and too fast comes the next one.
"We have four games until the 1st of January and we have to keep the focus there, with all of our squad. For sure, we will be not just 11, not just 15, we need all of them to play the four games."
In terms of potential incomings in the winter transfer window, Silva cited the challenges of trying to recruit at that time of year but reiterated that his conversations with Marcel Brands are ongoing.
"We do what we did in the summer," the manager explained. "We improved our squad. It is my opinion that the January market is difficult. Even when you try and do something normal you spend more money than in the summer. It is a tough market.
"Me and Marcel are speaking every day about our squad, like we do always. We are aware of everything. Let's see what we can do or not."
---
Reader Comments (28)
Note: the following content is not moderated or vetted by the site owners at the time of submission. Comments are the responsibility of the poster. Disclaimer
John G Davies
1
Posted 21/12/2018 at 18:12:29
This is the main reason Holgate will be going out on loan.
Jagielka is the 4th choice centre-half.
Mike Gaynes
2
Posted 21/12/2018 at 18:37:59
Jagielka still has a role to play in this club.
Colin Glassar
3
Posted 21/12/2018 at 18:38:54
Jagielka is still our best defender.
Paul Kelly
4
Posted 21/12/2018 at 18:41:18
That goal!!!!!!!!!!! Oh that goal. First thing that pops in the head when I see his name.
Joe McMahon
5
Posted 21/12/2018 at 19:27:15
Mike @2, the trouble is we already have enough ex-players at the club and get too emotional about ageing players. We have to move on and learn from clubs that actually achieve something.
Kieran Kinsella
6
Posted 21/12/2018 at 20:30:21
5. Joe
True but in Jagielka's case, he is very experienced and nearing the end of his career. If we have an injury crisis, with his experience he is a safer stop gap than Holgate. There's no harm in keeping around a Jags, a Terry or an O'Leary until their contract runs down. Even if he is not playing, he is an influence in training for our other youngish centre-halves.
The foolish sentimentality is when we turn around and offer him a new 5-year deal as he is about to hang it up. Hopefully we won't do that.
Paul Birmingham
7
Posted 21/12/2018 at 20:30:59
The Vatican ref, at the Wolves games, has adversely impacted Jagilka's chances of game time.
You know he will always give his best. It will be interesting to see where Jagielka and Baines are at the end of this season.
Andy Crooks
8
Posted 21/12/2018 at 20:37:05
I think Dowell and Holgate to Rangers would be fine for them, us and Rangers. They will get game time in a bitter title battle and it could make them. Jagielka came on recently and did a job. He has been magnificent, apart, perhaps, when Moyes thought he was a midfielder.
Even with hindsight that was a belter, up there with Moyes's decision to play Lescott ahead of Baines at left back. Before this sounds like a go at our former coach, and I had many a go at him, he did make some bloody good choices as well.
Paul Birmingham
9
Posted 21/12/2018 at 20:38:49
Sorry I was referring above to the very poor ref at the Wolves game, and nothing to do with the Vatican.
I'll not be using abbreviations any more. No offences meant to any one.
Kieran Kinsella
10
Posted 21/12/2018 at 21:02:21
Andy Crooks 8,
I cringe when I remember that season opener in 2008 versus Blackburn with Jags center-mid alongside Rodwell with Baines on LW.
Everton: Howard, Neville, Yobo, Lescott, Nuno Valente (78' Baxter), Arteta, Rodwell, Jagielka, Baines, Osman, Yakubu.
Subs Not Used: Turner, Jutkiewicz, Gosling, Agard, Kissock, Wallace.
Kieran Kinsella
11
Posted 21/12/2018 at 21:05:38
Classic Moyesy quote after that Blackburn loss too. Everton manager David Moyes:

"Our defending at times was rubbish. We had experienced players, internationals, who were not at the races."

"On the balance, Blackburn probably deserved the win, but we had enough chances and once we were ahead we should have had defenders out there who could have hung on to the victory."

Defense was rubbish when we had a mere SEVEN defenders in the starting line-up.
Andrew Merrick
12
Posted 21/12/2018 at 22:45:28
That's classic, Trevor. Thanks for sharing that pearl.
Andy Williams
13
Posted 21/12/2018 at 22:57:24
Brilliant, Trevor!
Mike Gaynes
14
Posted 22/12/2018 at 00:45:21
There's an undercover Blue inside Google, no question about it.
Jamie Crowley
15
Posted 22/12/2018 at 04:06:45
HAHAHAHA! Brilliant Trevor! Too funny.
Paul Kelly @ 4 -
That goal!!!!!!!!!!!
I was at Mulligan's Irish Pub here in Ponte Vedra, Florida, with two fellow Blues - one from the Wirral (great dude, if the Wirral gets stick it certainly isn't because of this fine fella) and one from uppity Formby (played for the Blues in the U18 FA Cup final moons ago, best FL friend, fantastic human being, best "Proddy" friend as he often points out).
Great company, what a moment, I'll never forget it.
I screamed. I ran around. What a strike. A laser beam that saved the day.
With a draw. Here's hoping for a win this Spring at Goodison. ;0)
Jags has a part to play in the September of his years. I've often been critical of him, especially with his tunnel antics - all friendly and not ready for the pending war as it were.
But a great player and true Blue in my opinion. I'll always wish him the best and hope he finishes his career Blue.
Jamie Crowley
16
Posted 22/12/2018 at 04:14:37
Andy @ 8 -
I think Dowell and Holgate to Rangers would be fine for them, us and Rangers.
The thought of strengthening Rangers for a title run with our players makes me a bit sick to my stomach.
Let's find another Club to loan them to.
Mark Andersson
17
Posted 22/12/2018 at 05:16:35
I've been working since the age of 12, now 58... sounds strange to read that young men like Jagielka are coming to retirement age and will be set for life financially.
The average Premier League player earns more in one season than I have or will earn in my lifetime.
Jagielka has been a great captain; shame he never won anything
Interesting times ahead — both on and off the field...
John Raftery
18
Posted 22/12/2018 at 07:52:46
I guess Jagielka and Baines will both play against Lincoln. Their experience should ensure there is no complacency.
I wish one or two of current central defenders could score as many goals as Lescott did, albeit some of his came when he was playing left back.
Rob Dolby
19
Posted 22/12/2018 at 10:09:11
The decision must be with Jagielka himself. Players hold all of the cards, no matter how old.
He has been great for us and would get into an all-time 11 who had never won the league for me.
Do we still need him at the club? I would like to think that he could have a role somewhere.
Simon Smith
20
Posted 22/12/2018 at 14:56:38
Jagielka has been a magnificent servant to our club but, if he wants to play football beyond 2019, it won't be at Everton.
We need to keep moving out players who get good wages but don't play; this may sound cold but let's be honest, all these loyal players are multi-millionaires so their loyalty has been rewarded.
Jagielka, McCarthy, Schneiderlin, Pennington, Browning, Garbutt, Besic, Niasse, Tosun, Williams, Martina, plus possibly Galloway and Walcott – all need moving on in the summer. The biggest plus is the above would save us around £700k per week, the only downfall is we will only get around £50M to £65M in for them which currently buys you just two first team players.
Minik Hansen
21
Posted 22/12/2018 at 17:54:08
Joe McMahon #5 In Juventus, they still use their routined defender, can't remember his name, occasionally. No need to offload Jagielka, at least this season, better choice than Holgate in the centre at the moment.
Liam Reilly
22
Posted 22/12/2018 at 19:53:27
Walcott, Simon?
He's a great footballer, works hard but needs to improve his finishing which hopefully Silva can help him with; but move him on? No from me.
McCarthy neither. A fit McCarthy would challenge Gana and that's what we need in every position.
Simon Smith
23
Posted 22/12/2018 at 20:42:20
Liam I agree that both lads you mentioned (Theo and Jimmy mc) are good players, I've always been a fan of Walcots, but his lack of goals bares heavy on other, plus his poor defensive work isn't doing Coleman any favours.
Theo has scored how many this season ?
The answer is not enough, if we want to really kick on we need 15 prem goals from all 3 of the front men, currently only Richalison looks like getting anywhere near that number.
If we buy a goal scoring forward who can hit in or around the 20 mark, then get Richalison and Lookman or another (a future signing) to get close to 30 between them, add 10/15 more from Sigardson then we may compete for the top 4 places.
Top 4 sides have wide men with goals, city have Sterling and Sane. Chelsea have Hazard with William or Pedro, the shite have Mane and Salah, and Spurs have Son and Erricson.
Hand on heart can you see Walcott replicating there numbers ?
I honestly can't, he's had loads of game time under Silva and not done enough, if anything he's missed huge chances in big games.
Onto McCarthy and he's a player that when fit has energy and power, plus a lot of heart. He's a player I have always liked, I believe he gives his all, but he's limited in terms of goalscoring, creating chances and picking forward passes. When even fully fit can you see him taking Gana's place ? Sigardson's place ?? Gomes place ???
I believe McCarthy has been a good player for us, I just think his injuries may have finished his Everton career and he will want to play football. I don't believe he will be lined up for many games in our team. Also McCarthy getting games will slow the progress of Davies and Beningami, this is something we can't allow from a lad who isn't going to get into the first team but takes first team wages.
Another reason I have no qualms about moving these lads on is that Silva and Brand have managed to recruit excellently this season, so with these squad places and wages avaialble I'd be confident that the management will again recruit and better the squad.
Andy Crooks
24
Posted 22/12/2018 at 21:29:17
Jamie@ 16, I'm tiptoeing around this one a bit. I lived in Glasgow for some time, saw Celtic more than Rangers, because my friends supported them, but watched both. I was a bankie at heart (Clydebank, Kilbowie). But, your post intrigues me.
Of course, tribalism remains but it seems to me, as an Evertonian first and foremost, that the loans I suggested would be good for OUR club. What are your reasons for your antipathy to such a move?
Things have changed, Jamie, and if I thought they hadn't I would be endorsing your post.
Jim Wilson
25
Posted 25/12/2018 at 13:59:45
Baines and McCarthy especially (but Jagielka too) are as good, if not better than anything we have in the first team. We have missed Baines all season for his set-pieces and experience.
Digne is struggling, like Baines did at times, not because he's a bad player but because the team as a whole is struggling.
McCarthy is essential to the team if Gueye is injured and I can't believe Davies was asked to play in the Gueye role on Sunday.
Shane Corcoran
26
Posted 25/12/2018 at 15:16:53
Andy, I imagine Jamie's also a Celtic fan, as am I. I can see his point but I'd still back Celtic to win the league with these two heading north so I'm happy with it.
On another note, before our beloved Seamus is dropped and eventually sold, there's a brilliant write-up on him in last Sunday's Irish Mail on Sunday. I can't seem to find it online to post the link and I'm also aware that we're near saturation point on the lavishing of praise on the Killybegs man, but he is on the wane and I think it's worth reminding ourselves of the man as well as the player.
Denis Richardson
27
Posted 25/12/2018 at 15:53:29
I have to say, I find the big support for McCarthy a bit odd. This being a player who hasn't played regular football (of any standard) for about 3 years and had his best and only decent season for us in his first year with the club, some 5 years ago. Sorry, I just don't get it.
If people think McCarthy's the answer, I really would like to know what the question is. He's an average hard-working water-carrier at best who also happens to be incredibly injury-prone. We should have sold him to Celtic when we had the chance a couple of years ago.
Sorry, but he's another one who should have been shown the door a while back. Add the likes of Besic, Niasse and half-a-dozen more to the list. Jagielka has been a great servant but I'm glad he only has this season left on his contract; otherwise, he'd still be here next season. His Premier League career was done before this season.
Still a lot of deadwood drifting at the club; hopefully, a few move on in January to free up space on the wage bill for new faces.
Paul Tran
28
Posted 25/12/2018 at 18:01:33
It's not odd at all, Denis. The merits of most players who don't get a game get magnified on here. Then they get picked, disappoint and get pelters. The merits of half-decent ex-players and managers get magnified too.
Add Your Comments
In order to post a comment, you need to be logged in as a registered user of the site.
Or Sign up as a ToffeeWeb Member — it's free, takes just a few minutes and will allow you to post your comments on articles and Talking Points submissions across the site.