Silva: The players and fans deserved this win
Wednesday, 26 December, 2018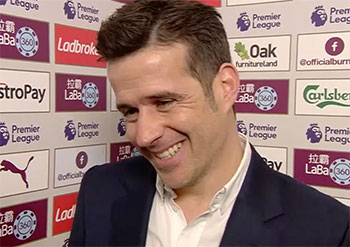 Marco Silva praised his players for the manner in which they bounced back from Sunday's humiliation by Tottenham and thanked the fans for their support after today's thrashing of Burnley at Turf Moor.
Everton registered what was, statistically speaking, their biggest away win since 1985 when they hammered the Clarets 5-1 thanks to a brace from Lucas Digne, a penalty by Gylfi Sigurdsson, Yerry Mina's first goal for the club and a stoppage time, cherry-on-the-cake strike from substitute Richarlison.
Silva was asked in the tunnel afterwards whether he agreed that you can learn a lot from you players in how they respond to such a bad result but the Portuguese insisted that life in the Premier League is a continuous education.
"We learn every time, not just when we have a bad result," Silva explained. "We had a really tough result in the last game and even today we won the match clear but we learned as well, for sure. It's part of our process as a team.
"My first words are for our fans and for our players The fans welcomed our players before the match [which was] fantastic after a really tough result.
"And our players deserved this win and the three points. It was a good win for us. We got three important points for us and now is the time to rest and prepare for the [next match].
"I think the best solution for us to the last result was you want to play as quickly as you can. Luckily for us we played after three days, so quickly, and [we produced the response]. We should [have won] and we did. We showed our quality and I don't have doubts, our players don't have doubts about our quality or our attitude as a team.
"Our last game wasn't a normal one from us but we are here to fight, to compete and to show the ambition we have as a club."
Silva was asked specifically about Bernard and Digne who played particularly prominent roles in the win. The Brazilian had perhaps his best all-round display since arriving from Shakhtar Donetsk, weighing in with two assists, while the French fullback scored another stunning free kick before rattling home a brilliant 30-yard strike with 20 minutes to go to make it 4-1.
"It was a fantastic performance from Bernard," Silva said. "Bernard and Theo (Walcott) did really well this afternoon. Bernard showed his qualities and his confidence is growing. He's a player who needs confidence to take the right decision on the pitch because his attitude and commitment is always 100%.
"I know him very well and he's growing as a team [player]. He had a very good performance and he showed his quality in important moments of the match and this is Bernard.
"I think the credit has to go to all of our squad, not just one or two or three but, of course, Lucas did really well. He has settled fantastically well at our club and in the Premier League but we didn't have doubts about that when we signed him.
"Now he can show his quality, his personality and his character — he never gives up, he's always fighting, and his left foot is fantastic."
---
Reader Comments (29)
Note: the following content is not moderated or vetted by the site owners at the time of submission. Comments are the responsibility of the poster. Disclaimer
Joe O'Brien
1
Posted 27/12/2018 at 00:54:37
We needed that result; Marco, you did, the team did and especially us supporters needed it. Looks like you got the tactics spot on today. Even tho I'm not a fan of 3 at the back, Maybe it's the formation to use against certain opponents.
Keep the momentum going now. A lot of winnable fixtures coming up.
Stan Osborne
2
Posted 27/12/2018 at 01:45:26
I think our last two results are probably indicative of the highs and lows we may well experience during the transition to Marco Silva's version of Everton FC. I like the fact that he is honest enough to admit that both he and his squad are still learning.
No-one, including Silva himself, is getting carried away after today's result against a struggling Burnley, just as most people weren't panicking when we lost so heavily to a resurgent Spurs team who are currently looking the most likely challengers to Liverpool for the Premier League title.
It is going to be up and down at times so we might as well enjoy the ride, be patient when we need to be and trust that the club is being taken in the right direction.
Ajay Gopal
3
Posted 27/12/2018 at 03:33:04
Playing 3 at the back was a good strategy against Burnley, whose full-backs aren't the best in the world. But when you play against the likes of Trippier, and other world-class full backs, I am not sure how that would work. But certainly today, it worked like a dream, freeing up Coleman and Digne, in particular, to maraud forward and also support the attacks and provide extra support while defending.
Good job, Silva, and I like that you say that the team is constantly learning. Hope Silva and the boys get a couple of days of rest and recuperation.
Derek Knox
4
Posted 27/12/2018 at 04:42:31
No doubting that he got the strategy correct for the Burnley game, now let's hope that he doesn't just think that same formation will work for the game away to Brighton.
He has in the past seemed to persist with a team/formation that clearly didn't work, and expect it to, against different opposition.
Having watched the Brighton v Arsenal game, they kept Arsenal reasonably quiet, while managing to equalise the score, and maintain that to the end.
Machiel Barnard
5
Posted 27/12/2018 at 06:32:15
It was one of the live games shown in South Africa and I was so proud of the Everton supporters, they were fantastic, well done to all of you who went to the game.
Derek Knox
6
Posted 27/12/2018 at 07:02:16
Machiel @5, a name I have not seen on here before, but nevertheless a welcome one, I am glad you managed to witness the game in SA.
As you so rightly pointed out the travelling blue support, were in full voice, hope it was not just due to the alcohol imbibed during the festive period. I don't know how many games you manage to watch, but recently Goodison Park has been relatively quiet, mind you, they haven't had a lot to sing about.
Hopefully that is condemned to the past, but I wouldn't get over-hopeful until they can prove to do it on a regular basis.
Jim Bennings
7
Posted 27/12/2018 at 07:26:07
Wonderful result and quite unbelievable that it's our biggest away win since 1985, just shows the struggles we've had away from home over the years.
Everything finally clicked yesterday and it was about time.
The big test though is as others state, we have got to do it against Brighton and Leicester now and start mounting a series of results to keep pressure on the teams around us.
Brighton at the Amex is a real tough test as they have acquitted themselves really well at that place since they won promotion, and Leicester are coming to Goodison off the back of two mammoth results.
Let's see what we can do.
David Pearl
8
Posted 27/12/2018 at 08:28:53
I think if the shape works and it gets the players playing to their potential, why wouldn't he stick with it. Only once did he try that before from the start and that was against Man City.
This formation brings the best out of our squad and I'd be disappointed if he changed back to 4-2-3-1. How much better did the full backs look? How much better did Bernard and Walcott look not stuck to the sides?
With 3 strong centre-backs and a strong midfield this gives us a base to win every game. The only change to make against stronger opposition would be with Gana coming in to help win the ball back in midfield. This will also help to improve Calvert-Lewin.
I've been worried about Silva over the last few games if he could watch and learn. The last game he stood on the sidelines and it didn't seem as though he had any answers. This surprised me.
I wouldn't be surprised to see the same formation against Brighton but with a few changes that won't weaken us. Like Richarlison and Gana coming in. Maybe even Jagielka and Baines. We are a team and squad in transition but learning. It's a good sign to see a performance like that after our recent run.
Benjamin Dyke
9
Posted 27/12/2018 at 09:38:28
Glad to see him shove my criticism back down my throat as I was seeing all the negatives of the season summed up in the last match and yesterday we witnessed a lot of the positives.
Mina played brilliantly, Bernard was near his best, Walcott was sharp, Digne played like we know he can, the tactics worked, we played to nullify the opponent's strengths, and so on...
Let's hope we can keep the momentum going against our next two opponents who have both had pretty good results recently.
Andy Meighan
10
Posted 27/12/2018 at 10:44:29
Funny how Puel's job was allegedly on the line only 3 or 4 games ago. And then they go and win at Chelsea and come from behind to beat Man City.
Maybe we should threaten Silva with the sack next time we face the sky babes? You never know what might happen. Just saying like...
Gio Mero
11
Posted 27/12/2018 at 11:09:27
Ups and downs. In a season which is bound to be of transition, you go to a match and never know which Everton is going to show up (or after the interval for that matter).
Highly entertaining work in progress; let's hope the good players buy into our project and don't leave us in the summer or we'll have to start from scratch again...
Tony Abrahams
12
Posted 27/12/2018 at 11:23:16
I agree with that David @8, especially because watching the highlights on MotD, it looked like Brighton like to play a lot of long and long diagonal balls to try and get in-behind their opponents.
Derek, give Evertonians something to shout about and they will back their team as good as anyone. It's something we both know, mate, and it saddens me that so many of our younger supporters (fuckin* thousands) have never seen the joy that winning trophies brings.
They still stick with their club though; they suffer loads of pain but they always come back for more, and this is what makes Everton FC special imo, it's because of our fantastic support.
I'm glad Silva mentioned both the players and the fans in the same sentence because, if we are to become successful again, then it will be a joint affair.
Paul Swan
13
Posted 27/12/2018 at 11:40:40
Much better. I questioned his tactical ability after the Spurs game but I have to say he got it right for this game. Much better energy levels for this game and we got right at them from the kick off.
I also like his after match interview where he addressed the dire performance at Spurs in his first few comments, showing he appreciated the hurt from that performance and got on with addressing it. A refreshing change from recent years when a succession of players would have been sent out to media to explain 'how they were going to put it right for the fans' whilst the manager ducked any responsibility. At least he is showing he can change things between games.
Interesting to look at some of the Burnley forums after the game calling for Dyche to be sacked and, amazingly, some even calling for Allardyce. For sure there will be some setbacks and maybe Silva may ultimately not be the final answer but I would rather be watching the current football than the rubbish we were served with last season. Hopefully more of the same in the next two games but the Leicester game in particular will be a real test.
Brian Harrison
14
Posted 27/12/2018 at 11:55:32
Whether 3 at the back is the way forward, I don't know but when Conte changed from a back 4 to a back 3 they went on to win the league. Obviously I am not expecting that sort of miracle, but it does give us options.
With playing 3 at the back it allows the fullbacks to play in a more advanced starting position which in turn allows Bernard to play more inside which plays to his strengths. As he can hurt teams a lot more than he can when stuck out wide.
I said a few weeks back the time to judge Bernard is next season; this season is all about him getting used to the pace and physicality of the Premier League. We have seen some really gifted players struggle in their first season Henry and Courtinho spring to mind again both forward players.
I would also add that if we had been playing with a back 4 yesterday, Lucas Digne would not have been in that position to score his second goal.
Dave Williams
16
Posted 27/12/2018 at 12:47:34
I think you have it spot on, Brian. In addition to giving us the height and physicality in defence to cope with them, the formation allowed the fiull-backs to push up which meant that the wingers could move inside and Bernard looked two yards quicker and much sharper for it. Maybe he is now finding his feet and is getting fitter.
I haven't read anything from the Calvert-Lewin knockers yet – he has started to play pretty well in the last few games... keep it going, lad!!
Fran Mitchell
17
Posted 27/12/2018 at 13:08:03
An interesting one regarding formation. 3-4-3 is of course what Conte used, and very successfully for a period, and was also the basis of England's World Cup run.
If we did opt to use it more often, then maybe we could do worse than look to bring in Moses from Chelsea who is available. To use 3-4-3, Coleman would need to improve.
It also brings doubts about midfield. Gana can't be dropped as he is so important for us to win the ball back, especially against teams with stronger midfields. But where would that leave Sigurdsson?
Hopefully, over time, we are able to switch formations depending on the opposition, or how a game is panning out.
Steve Ferns
18
Posted 27/12/2018 at 13:27:13
Fran, as you know better than most, the Chelsea 3-4-3 was under pinned by David Luiz. He's a centre back who may be questionable as a centre back, but he's world class with the ball at his feet charging out from the back. We don't have that. Gomes is to bring the ball out from the back and if he has three behind him, then he has three behind him. Think about it. We're effectively a man down.
Then there's how it defends. The Liverpool front three would go man for man on our back three and the wing backs would be pinned back by the Liverpool fullbacks. There's no spare man back there.
In a back four there's two centre backs, marking a the central striker and the full backs dealing with the wide men with support from the wingers who stop the fullbacks. We've got an extra man back there. Whilst also having gueye and Gomes dropping in to help and to bring the ball out.
4-2-3-1 is a more solid formation that deals better with a 433 and it gives you more men in defence and more men in attack.
Also, what's the big deal about 6th? We got 5th under Martinez. What did that get us? 4th is what we want. Champions league football, the money and the glory that brings. I couldn't care about breaking the top 6 cartel as breaking into the champions league is what matters. So, for me, it's all about closing the gap, in terms of points and not position, on 4th. 55 this season. 65 or 60 the season after then on for 70+ the season after that.
Andy Crooks
19
Posted 27/12/2018 at 13:29:14
Jim @ 7, excellent post. You call it when it's shit and praise when it's good. That's what we do.
Jay Wood
[BRZ]
20
Posted 27/12/2018 at 13:38:54
There isn't, and shouldn't be, a 'one-size-fits-all' formation which should be our default line up, regardless of the opposition.
The 3 centre-backs vs Man City and the similar set up vs Burnley were NOT the same. Against City, the fullbacks kicked on too far and Gomes and Sigurdsson – in the absence of the protector Gueye – were swamped in midfield and we were over-ran. Added to that, the centre-backs were not in sync as to where their default position should be in such a set-up. We only got a foothold in that game after going 2-0 down and reverting to a flat back four.
Yesterday against Burnley, the three centre-backs played much more in sync and out of possession, the full-backs 'stayed at home' and Gomes and Sigurdson also sat deeper. We were far more compact than against City and for the most part comfortably repelled all Burnley could throw at us.
On the offensive, Calvert-Lewin led the line well and offered an out ball, whereas when we won the ball Bernard and Walcott did not stick to the flanks, but came inside and went in search of the ball.
The tanking to Spurs and yesterday's opposition persuaded Silva to make these changes. I don't see the need to go with 3 at the back again against Brighton at the weekend, recalling what we did to them in the game at Goodison with a flat back four and Silva's more familiar midfield and forward set-up.
Steve Ferns
21
Posted 27/12/2018 at 15:11:29
Good post, Jay.
Tommy Surgenor
22
Posted 27/12/2018 at 15:55:02
First of all, I am delighted that we bounced back with that result. However, I felt it was a very disjointed performance. Perhaps it's lack of familiarity of the system to the players? Nothing seemed that fluid or snappy.
Perhaps it's because we were more direct with our possession rather than constantly recycling the ball. That might of given me the illusion that it was a fairly even battle. (Btw, I'm all for getting the ball forward at pace before a defence has time to retreat and set into position.)
We conceded a number of good opportunities but for once we got the rub of the green.
I don't know. I just don't think it was as dominant a display as the score line suggests.
But a win's a win and I'm happy with that.
I'd be cautious about declaring "this is the system". If we are to play this system away to lower positioned clubs, I think we might be better suited with Jonjoe Kenny at right-back as his delivery seems better and he doesn't have to be as defensively disciplined.
John Pierce
23
Posted 27/12/2018 at 16:01:25
I'd find it as tough as the play with three against the better sides. Any team pass the ball well will destroy that back three, turn it into a back five and kill us in midfield.
It 'worked' yesterday due to Burnley's limitations. Poor passers in the middle of the park and often bypassed by long diagonals.
Steve's point about the quality on the ball of the three at the back is key. A back three needs balance and at least one left-footed centre-back. Personally, I think one genuine centre-half and hybrids that play between full-back are the better, more modern version. It gives mobility and better passing.
I would expect, against a better ball-playing side in Brighton, we see a formation change.

Benjamin Dyke
24
Posted 27/12/2018 at 16:10:52
Thanks for the tactical input. I reckon it takes a season or so for players to really know their roles in new systems. I say systems because as we've already seen this season we need to be able to play well with either 3 central defenders or 2.
I've always thought of 3 central defenders as meaning an extra defender when defending (i.e 5) and wing backs that play higher up the pitch when attacking, which means the best of both worlds when you get it right, but it really needs 2 great wing backs and Coleman is not at that level at the mo.
The central midfielders need to know their jobs when we play 3 at the back. I don't know how Silva managed to include Sigurdsson, Bernard, Walcott and Gomes in the central areas yesterday as I've only seen the highlights but it worked well. Sigurdsson must be the hardest working number 10 with the ground he covers!
If you look at the players' average positions yesterday, Sigurdsson and Gomes have classic 8 and 10 positions. Interestingly Walcott's average position is more central than Bernard and Coleman's is higher than Digne!
Andy Crooks
25
Posted 27/12/2018 at 16:13:53
Steve, if you could find the time, I think many on here would enjoy a tactical analysis of the last two games. From getting a thumping to giving one. I would appreciate an article but I know it takes a lot of work.
Hope you have got through Christmas okay, by the way.
Matthew Williams
26
Posted 27/12/2018 at 16:15:03
It's good to see Marco smiling for a change!
Jay Harris
27
Posted 27/12/2018 at 16:22:57
Very good points Steve and Jay.
On principle I do not like a back 3 as it leaves so much space behind the wing-backs.
It is okay against a team like Burnley who are poor this season and tend to play long balls up to the big forwards but Brighton with Knockeart, Marsh, Izquierdo etc are very prominent on the wings so I believe we must start with a flat back 4 and I would even consider bringing Bainesy in to play just in front of Digne.
I know Silva must find it hard to leave Mina out but our best centre-back pairing has been Keane and Zouma.
Seamus has struggled the last few so I would also consider Kenny or Holgate to tighten up defensively.
Our strength has been hitting teams on the break so it will be important to keep it very tight in the ball-winning department.
I rest my case; over to you, Marco.
Tony Everan
29
Posted 27/12/2018 at 22:12:08
The two photos of Marco on the front page are the Comedy and Tragedy masks of ancient theatre.
What will we get next?
Tottenham was a shock to the system and they boys deserve great credit for bouncing back . Tottenham are a really good side at the moment, the best side we have played this season Liverpool and Man City included, and will give the title shot a damned good go. Against Burnley we showed we have quality to rip into any team outside the top 4, so despite the 2-6, I think we are still on the right path.
Hari Singh
30
Posted 28/12/2018 at 07:35:47
It is good to see our team winning by a large margin making up for the terrible loss against Spurs. We are now only playing catch up with Leicester City.
We are yet to see where we end up for the remainder of the season. I hope we can finish above Arsenal and Leicester. To put it plain and simple, Leicester is our closest rivals and perhaps even West Ham.
Karl Meighan
31
Posted 28/12/2018 at 12:52:40
Great to put 5 past Burnley but still think we make it easy for opponents to create against us. I would like to see the keeper helping the defenders by commanding his area, we will keep conceding scruffy goals from corners and wide areas whilst Pickford refuses to catch crosses imo.
As for the formation it worked well, this may have been as Burnley like to play direct route one football that bypasses midfield and give the ball away often. We used the wingbacks well and were able to get them involved in good forward positions. How well we keep the ball is the important thing.
Its nice that teams are kept guessing and maybe concerned with how we lineup rather than us being concerned with opponents formations.
Add Your Comments
In order to post a comment, you need to be logged in as a registered user of the site.
Or Sign up as a ToffeeWeb Member — it's free, takes just a few minutes and will allow you to post your comments on articles and Talking Points submissions across the site.