Silva insists Brighton result wasn't a fair reflection
Saturday, 29 December, 2018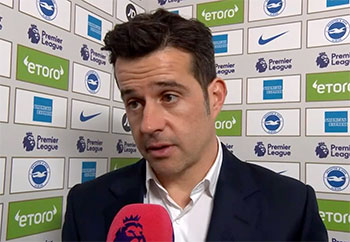 Marco Silva expressed his belief that, despite not playing well at Brighton today, his Everton side did enough to win the game rather than losing.
The Blues went down to their third defeat in four games and extended their recent run to just one win in seven in the Premier League after Jurgen Locadia's strike punished Silva's men for not putting their chances away in the first half and then for a flat second-half display.
"It wasn't the best performance, for sure," Silva said. "It was a tough match, like we expected. It's always tough to play Brighton here. They keep doing well at home, they take most of the points that they have at home.
"We didn't start the game like we want or how we planned it. They started it in a better way, faster and more aggressive than us as well. Then we started to balance the game a bit more and finished the first half playing more in our way and creating some moments to finalise the action.
"When they created moments, it was just off set-pieces, nothing more.
"When you analyse the match, even if we didn't perform really well, we still had the best chances to score. This is the truth — we had one ball off the crossbar, one off the post and in one moment from a corner, one deflection of our player gave Locadia the chance to score.
Silva was asked if his team's inconsistency is frustrating and he admitted that his side was not on a good run of form but still maintained that Everton were unfortunate not to win today.
"Of course it's something you don't want," the Portuguese replied. "We had a very good run [at one stage] and stability in our performances and in our results as well. Now we are in a different moment and we have to react.
"The result wasn't fair — we created more chances even if we didn't perform well but that's football but now we have to prepare and do everything to beat our next [opponents]."
Meanwhile, defender Michael Keane, who planted an early header wide but otherwise had a decent game, blamed missed opportunities and, perhaps, tiredness for the defeat.
"We've got to take [our chances]," Keane said. "If we go 1-0 up, we can control the game. We had a win against Burnley and wanted to build on that.
"Maybe the loss was down to fatigue, but also they have got a good defence, solid, hard to break down. So do we so there were never going to be too many goals. Maybe fatigue played a part, on our day we could cause them problems.
"We need to put things right, ensure we start the year with a win and get up the table back to where we belong."
---
Reader Comments (91)
Note: the following content is not moderated or vetted by the site owners at the time of submission. Comments are the responsibility of the poster. Disclaimer
Mark Murphy
1
Posted 29/12/2018 at 21:49:34
Tiredness? My arse. Playing a back three. No Sigurdson and no desire. That's what cost us the game!
Shite formation;
Shite tactics;
Shite attitude;
Shite support;

[Sorry but it's easy to sing when you're winning — today was shite!]

Denis Richardson
2
Posted 29/12/2018 at 22:24:11
Silva: "creating some moments to finalise the action".
Had to quickly check the year after reading that as I thought for a second Martinez was talking. May as well be 2015 as fook all has changed.
Leicester (H), Bournemouth (H), Southampton (A) & Huddersfield (A) to come next month. That's got to be one of the easiest January league fixture lists I've seen in a long time, with na FA Cup game at home to Lincoln in between.
I'd be expecting an easy passage to the 4th round and a 10-point haul from those 4 league games – we live in hope.
Paul Somerville
4
Posted 29/12/2018 at 22:33:03
Tiredness is a pathetic 'reason' for contributing to a loss. Marco is like a stuck 45 record in that he repeats after every poor show that "we started badly", "it wasn't our best performance", "it was a tough match like expected" etc etc etc.
There are no easy games in the Premier League. Well there are for our opponents but I digress. We lost because we couldn't hit a barn door or have the desire to hit the barn door. Brighton could and did.
I'm not a Marco Silva fan but I do believe, like his predecessors, he is being let down by the players and to some extent his own tactics before and during matches.
We have to start matches in control and endeavour to keep that control – especially against 'lower' place teams. Until we do then most results will end in tears.
We do, badly, need a striker, and that means we should certainly not rule out buying during the January window.
Attitudes need to change quickly otherwise.
Jim Bennings
5
Posted 29/12/2018 at 22:43:40
You do have to laugh the way Silva talks about fatigue when you look at the December that the likes of Wolves have just had, beating Chelsea, Newcastle and two trips to London with four points in the bag.
Idiots who blame tiredness and fatigue without even being in Europe this season or having any notable Carabao Cup run.
I'm sorry but I'm not buying that spin.
We've basically been shit since the arse end of November and even prior to that we had a poor September and a half decent October nothing more nothing less.
December has just been a pure right off.
Joe McMahon
6
Posted 29/12/2018 at 22:45:46
Everton, are falling faster than Liverpool Players in the penalty box. Sort it out, Marco, not good enough at all. Mr Brands – find us some winners, please!
Gary Willock
7
Posted 29/12/2018 at 22:51:53
Playing a back 5 plus Idrissa is like playing a back 6. Net result = blunt attack and no goals. Playing no genuine striker, or at least not playing one who's going to take the battering is criminal.
4-3-3 from now on please, drop people when they play poor. For Leicester, I'm hoping for:
Pickford
Kenny Keane Zouma Digne
Sigurdsson Gana Gomes
Lookman Calvert-Lewin Richarlison
Walcott and Bernard coming off the bench on 65 mins.
Jay Harris
8
Posted 29/12/2018 at 23:44:43
I totally agree, Gary.
Keeping Mina happy is less important than proper team selection and tactics.
Liam Reilly
9
Posted 30/12/2018 at 00:18:39
Are we ever to rid ourselves of the inconsistencies that have plagued the club for 30+ years?
All whilst across Stanley Park, Armageddon looms!
Paul Birmingham
10
Posted 30/12/2018 at 00:47:05
It's reality time, and it bites deep and hard, and now the time is nigh and the Devil's curse is taking shape again.
EFC, must decide what it really wants to be rather, being a stalwart of the community, as over decades and well after my time, it will be a different generation and different values, over football club virtues and history.
Waterloo, and EFC, could just become famous names from the past, EFC, must be a relevant now of present, future and past.
The more you analyse the situation, the worse it seems to get, with each passing "poor season".
There's a 1000, many ifs, whats, and maybes, but let's give Marco Silva time, transfer windows, and make rational judgements this time next year, assuming there's no Capitulation in form worse than now, in 2019.
Hywel Owen
11
Posted 30/12/2018 at 01:10:55
I hate to say this but I do not think that Marco Silva has the experience, ability or tactical know-how required to manage Everton FC. The quicker he is gone, the better.
Laurie Hartley
12
Posted 30/12/2018 at 01:12:05
I have become comfortably numb.
Chris Watts
14
Posted 30/12/2018 at 01:26:51
As others have mentioned fatigue seems a very poor excuse. 6 teams have had constant Champions League or Europa League games – those and others had longer Carabao Cup games.
Also we weren't really hit by the World Cup, only Pickford and I think Gana has even remotely long runs. Many others teams had virtually a whole team with only 2 weeks rest.
We should be one of the freshest teams in the league. Mina was injured for 6 weeks. Bernard, Gomes, Digne, Gana have all had periods of injury
Our 3 centre-backs have been rotated. Richarlison was suspended for a couple of weeks, we weren't hit massively by the three international breaks.
Spurs I think we're hit worst. A team full of World Cup semi-finalists, constant Champions League games, Carabao Cup run, culminating in their local rivals just a couple of weeks ago.
I'm calling this excuse out for bulshit.
Paul Kelly
16
Posted 30/12/2018 at 04:11:26
"The result wasn't fair" says Silva, really? Was I watching a different game? And how much does he sound like El Bob?
John Boon
17
Posted 30/12/2018 at 05:15:03
I'd really like to look on the bright side but I can't find it.
Machiel Barnard
18
Posted 30/12/2018 at 05:40:12
Brands admitted that they do not want to buy anyone in the January window. I am telling you – we will stay mid-table for as long as we do not have 2 wingers that can score goals and a world-class striker.
Paul Kelly
19
Posted 30/12/2018 at 05:51:53
Even the optimistic must be getting edgy, maybe. Silva is not filling me with confidence whatsoever, he's repeating his record at previous Premier League clubs:
Hull – W 8, L 11,;
Watford – W 8, L 13;
Everton – W 8, L 7.
Let's pray he doesn't repeat history for the third time!!!!
Gary Fenton
20
Posted 30/12/2018 at 08:09:53
I have supported Everton since I was about 4 (Park End with my Dad) so for over 55 years now and we have had mainly bad times. I work away, watch every game online whatever the time of day or night; if am at home then I take in a game or two.
I still cannot understand how one week we are playing well, scoring goals, playing like a team, putting passes together... then, this week, all we seem to do is give the ball away or overhit a pass. What goes on at Finch Farm, very little changes to the team this week and all goes tits up.
Something is wrong. We need someone to get a grip, fatigue is not a suitable excuse – many of our team did not play until the season was well under way. If all we have to save us is the enigma Niasse, whose touch is like a baby elephant, then god help us.
We have to splash some cash on a proven centre-forward now – no excuses, please, Everton. I will never stop supporting you as I was born an Evertonian but getting older each day... it would be great to see Everton collecting a trophy before I go.
Karl Meighan
21
Posted 30/12/2018 at 08:24:36
Half a season and going into a New Year and we still can't defend corners? Players that react and don't ball watch would be a start. He said himself "it was a tough match as expected" and "their danger comes from set pieces".
Knowing all this and still unable to stop it has me asking: (1) Can the players defend against bog-standard direct route-one basic football? And (2) If the players are prepared as Silva says, how well are they taking onboard his instructions and tactics?
Jerome Shields
22
Posted 30/12/2018 at 08:26:11
Sadly, Marco, it was a total reflection of your poor team selection.
Simon Smith
23
Posted 30/12/2018 at 08:50:57
You've got to be honest with the fans and yourself, Marco, if you want us to respect you; that's how it is (imo).
Calvert-Lewin is a young lad who easily had an hour in him, he's playing well and finding confidence; he had to start.
If Sigurdsson was tired then Bernard could and should have played Number 10, with Richarlison on the left and Walcott on the right.
Also, from the minute Lookman is back, we simply have to play him. Walcott can't just keep having one decent game in eight as it's not good enough.
We all know the squad's in transition but, if Marco wants our support, he has to be more honest in his assessments.
We simply were not good enough.
Mark Dunford
24
Posted 30/12/2018 at 09:49:59
A very strange game. It was the fourth time in this recent run when we've lost a freak goal – two against Spurs, the derby, and now this one. Each one has cost us dearly.
We lacked any real threat during the game and tailed off badly during the second half to a point where we never really looked like equalising against a team with a rookie keeper. I'm not convinced by three defenders – Keane is best of the trio while Mina could be great but is a bit reckless. Zouma seems to be good yet somehow not part of the team.
Given that we're now likely to finish mid-table and the best we can look forward to is decent FA Cup run, I'd be up for playing Lookman ahead of Walcott and giving Calvert-Lewin a decent run of games up front. Nothing to lose from testing the potential properly.
Digne's passion is a welcome addition, but he needs to control his temper.
On a positive note – lovely gesture from Pickford at end of game. He came to acknowledge Everton fans and searched out a kid in a goalie top he'd probably spotted in the first half and then called him to front so he could give him his gloves. Very impressive.
Danny Broderick
25
Posted 30/12/2018 at 10:03:07
A decent first half, rubbish second half. Nothing in the final third, and no obvious way of playing.
In the end, we were launching it forward and it almost came off when we hit the bar, but why can't these players play joined up football? Why can't Walcott and Coleman figure out how to play in the same team, for example?
Very frustrating. Brighton had Murray on the bench and their reserve keeper in goal. They were there for the taking and we didn't turn up.
David Connor
26
Posted 30/12/2018 at 10:24:21
Give Silva time. Most of this shit squad are not his purchases. For me, the jury is out. Is he shit as well as the squad? Time will tell. He has till this time next year to improve the squad. If it's just as shite as this one, then he will have to go.
Bill Watson
27
Posted 30/12/2018 at 10:24:49
I've been to all the games this season bar Chelsea away. Did I miss Walcott's good game?
I really don't buy into this fatigue excuse. The reasons for yesterday's shambles was poor team selection and set-up, consistently giving the ball away, and the lack of a centre-forward who can hold the ball up and score goals.
Silva is correct in that, even though it took the team 30 minutes to sort themselves out, and despite constantly giving the ball away, we still had the better chances to score but didn't take them. How many times have we said that, this season?
The one consistency has been the piss-poor passing and the inability to get shots on target. Bernard was clean through and his shot went for a throw-in!!! Coleman took another touch and the chance was gone. Walcott got himself into good positions but, as usual, failed at the crucial moments.
Players who, for whatever reason, regularly fail to deliver, shouldn't be selected. I put Walcott and Coleman in this category together with Mina who is the most disappointing of the summer signings. Richarlison is not a centre-forward, and never will be, so why is he played there? Play him in his most effective position which is wide left.
So, yes, I agree with Silva that this was a game we should have won but the reason we didn't was his poor team selection and tactical set-up and his failure to remedy this during the game.
Anthony Murphy
28
Posted 30/12/2018 at 10:33:26
We need patience but I have concerns about Silva's mental strength when things aren't going to plan. This is apparent during games but also his departure from so many clubs over a short period would suggest a drop-off in focus and application when the going gets tough.
Clive Rogers
29
Posted 30/12/2018 at 10:49:14
How long will Silva put up with Walcott and Bernard being good one game, then going missing the next? That was the problem yesterday, those two were anonymous and their no-show, especially in the 2nd half, cost us the game.
Also, Calvert-Lewin didn't play because he was really poor against Burnley when everyone else played well and was anonymous also when he came on yesterday.
Kris Boner
30
Posted 30/12/2018 at 11:11:58
I'm not sure what game he was watching. From the first five minutes of the second half, it was clear we were second-best in midfield, and his entire plan to change the game was to reduce the number of bodies in midfield for strikers who never received the ball.
Davies, Schneiderlin, McCarthy, Sigurdsson... any of them in the middle of the park, with instructions to control the ball, would have changed the game from minute 45-55. Waiting and watching the pressure build like he did was criminal, and his decision-making afterwards was equally as poor.
Unlike most of the negative reactions on here, I refuse to give the manager one window and six months to apply their theories to the team. Regardless of points totals and comparisons to last season, I have certainly enjoyed more of our football this season than I did last season.
If we get to next summer and find that Walcott isn't first choice on the right, and we have a first team striker who scores goals, then maybe we will feel better about what Silva is trying to do.
John Keating
31
Posted 30/12/2018 at 11:54:48
This guy has to be an idiot? He sounds more like Martinez every week.
Yesterday, we got exactly what we deserved: nothing.
Instead of making truly pathetic excuses, the prize one of which is tiredness, he needs to have a good look at himself as the reason our season so far has been so poor. We've played 22-23 games so far this season and, apart from Digne, I don't think anyone else has played in them all completely.
I am no master tactician as Silva, and a few on here make themselves out to be, but surely if you are going to play the front 3 we played yesterday, then we had to play Sigurdsson. I could possibly understand Sigurdsson being rested if Calvert-Lewin had started.
To me, he is a bit like Koeman in trying to play all his favourites together and making an arse of it.
Whatever Silva's master plan is, and I think he himself as no idea, we don't seem to have the players at this time to carry it out. Unlike some, I just do not see any sort of tactical nous or motivational skills from Silva. As to our fitness, a bloody disgrace.
For me, he has this window and the Summer to sort the team and himself out. If we are still in this situation this time next season, then we need to see if we can get him a job alongside Roberto. They can talk "phenomenal at this moment" shit to each other.
Brian Harrison
32
Posted 30/12/2018 at 12:02:35
I am sure all Evertonians are as frustrated as hell with yesterdays result, and our inability to put away the chances we created. But some calling for the manager to be sacked is just a frustrated knee-jerk reaction — surely nobody can realistically thinks the answer to our problem is to change the manager on a regular basis. We need to let Silva and Brands carry on with what they have started; most of the summer signings have been good players.
I think he has a dilemma over having Zouma and Mina as well as Keane and I think that's why he is seeing if we can play with the 3 of them at the back. Now if he decides 3 at the back isn't working then he has a major headache, because it looks to me like Brands signed Mina and Silva sorted the Zouma loan deal. So he has a permanent signing in Mina who at present isn't as good as Zouma who will probably go back to Chelsea in the summer. But, if he continues to pick Zouma over Mina, he has a very disgruntled player, who will still be here next year.
As the BBC pundits were quick to point out, we have the same number of points as we did this time last season, but they did qualify that with Shearer and Murphy agreeing that the style of play was much better. They also said what good players we had bought.
I think this season was a bedding-in season for the new players and manager and Director of Football. I also don't think we will need to buy 5 or 6 players to go directly into the first team come the summer. We (like Silva and Brands) know that we need a centre-forward and at least one wide player; hopefully both will have records of being goalscorers. But I still hope to see progression for the rest of this season, with a settled line up and a more settled team than we have had in the first part of the season.
The only way Silva will know his best team and formation is to do as he has done, that is, change formation and players. I know this frustrates us as fans but he needs to see who and what works and what doesn't and, by the end of the season, we will see a more settled side with an improved points tally.
Ciaran O'Brien
33
Posted 30/12/2018 at 12:08:20
People only liken him to Martinez because he is from the same part of Europe. I see nothing in him that is like Martinez. For one thing, he's not overly positive about everything and our football isn't as open. It is in fact Eddie Howe who's the most like Martinez out of all the managers in the league who everyone loves here because he's a supposed blue, Bournemouth are doing well this year but they could be this season's Burnley.
People are having a knee-jerk reaction with wanting him out. Look at Klippitty and Pochettino, both were inconsistent in their first seasons just like Silva. The fact they've both been given time to get the squads they've wanted has paid dividends in that they are two of the best teams in Europe.
It also helps when you can spend over £150 million on new players with high wages like Klopp and that Pochettino inherited the best Striker since Shearer in Harry Kane.
I'm as pissed off as every Blue but let's have a bit of perspective. Brighton are a good team, they're hard to beat at the Amex, Man Utd and Arsenal struggled against them.
Give Silva and Brands two or three more windows and we should see the benefits. We need to make Gomes and Zouma permanent ASAP and sign two top class powerful strikers. A right winger is a must too alongside a right back.
John Audsley
34
Posted 30/12/2018 at 12:13:39
Silva and the players don't sound too bothered to me. Whatever the result they are all millionaires and as long as we finish 10th they will all be safe.
The performance yesterday really fucked me off as they couldn't be arsed. I don't mind losing as long as you work your balls off and try but some players barely put a basic shift in.
We are going nowhere as long as this attitude is accepted. I would be surprised if Brands didn't have a small word with Silva, it's amazing you go from the Burnley result to this level of performance.
Anthony Murphy
35
Posted 30/12/2018 at 12:20:13
Brian, I agree but I do think 'better football' is something of a myth. I would agree that our style of play under Sam Allardyce was far from pleasing on the eye, but I've not really seen a lot of 'better football' this season.
Yes, at times we look attractive, but defensively we are often a mess and quite often we lack potency up front. Under Martinez, we were often labelled (by the likes of Shearer/Murphy) as an attractive team to watch. This used to infuriate me as sitting in Goodison was often witnessing something less appealing – just seemed like lazy media punditry to me.
Same now. We excuse what we see as being 'better football' but I'm not so sure. I will be patient with Silva but, for me, 'better football' needs to be played over 90 minutes and on a regular basis as any team in any league can turn it on every now and then.
George Cumiskey
36
Posted 30/12/2018 at 12:25:53
"It wasn't a fair reflection on the game."
Was he sitting with his back to the pitch watching the crowd?
Matthew Williams
37
Posted 30/12/2018 at 12:32:48
If we ever manage to do what Wolves did yesterday, then I'll finally believe we have the makings of a decent team that could possibly challenge the greatness of the 80s teams we once had.
As it stands now and for the foreseeable future... we plod on.
Frank Crewe
38
Posted 30/12/2018 at 12:36:48
Professional football, like any other professional sport isn't just a test of skill. It is also a test of character. All the skill in the world won't help you if you don't have the will to win no matter what. On the test of character Everton's manager and players are failing and it's costing us games.
Compare the likes of Walcott with Shaqiri. A player I thought we should have bought. Similar players, both wingers, both quick, both skilful. but Shaqiri is a battler, he scores, he doesn't go missing in games. He is consistent. Whereas Walcott has followed a pattern all his career, great one game rubbish the next six. This is why Arsenal eventually saw the light and let him go. He's not consistent because he lacks character.
Van Dijk and Mina. Again similar players. Both internationals, Big, Strong, not particularly pacey but there is a gulf in character. Van Dijk is a regular scorer, he intimidates his opponents and organises the defence. He expects his side to win. Mina has all the attributes but he's a powder puff in defence. Waiting to be told where to stand and what to do. No decent forward is going to be worried about playing against him. We lose and Mina strolls off exchanging pleasantries with the oppositions players. I doubt he sees himself at Everton for the long term at all. But now we know why Barca let him go.
Gomes is beginning to fade in games as he did at Barca. Started off great when he first went there but let it slip away so he was dropped.
Richarlison doesn't like getting knocked about, can't play with his back to goal, can't hold up the ball, and won't stay on his feet. Although he is no centre-forward and shouldn't be getting played there. That's Silva's fault. Calvert-Lewin may not be the best centre-forward in the Premier League but he's better in that position than Richarlison is so he should get the nod and Richarlison should play wide left.
Then there is Silva and Klopp. By their demeanour you can see the difference. Klopp has his players fired up. He is animated on the touchline. He inspires his players. Silva just doesn't seem to me not to do any of these things. Whenever the cameras are on him he has a hangdog expression on his face and looks like he's about to burst into tears. Now he's turning into Martinez Mk 2. He has to buck up his ideas and attitude. Failure is not an option. We need more fighters in the side and less tinkering.
Claudio Ranieri won nothing with Chelsea yet won the Premier League with Leicester City. Because at Leicester he had a small squad so couldn't make changes like he could at Chelsea so his side gained cohesion and played for each other. Silva needs to do the same. Pick a side and as much as possible stick with it and get some backbone into it.

Dave Abrahams
39
Posted 30/12/2018 at 13:45:37
Most fans say we need a good genuine striker as soon as possible; I agree with that.
I also think at the moment that we need a good strong midfielder who can not only bully the opposition but also bully our own players into playing for 90 minutes. Someone who can cajole them into getting out of their shells and playing for the team and the fans, especially in games like yesterday where there didn't seem any will to really have a go and win the game.
The manager seemed to be a big part of this mood as well.
John Audsley
40
Posted 30/12/2018 at 14:35:54
Totally agree, Dave — attitude and leadership are two of the things we are missing.
Terry McLavey
41
Posted 30/12/2018 at 15:16:47
"We didn't start the game like we want or how we planned it. They started it in a better way, faster and more aggressive than us as well."
Well, Marco, isn't that your job to plan and get them fired up in your pre-match talk? As John Keating says, he sounds more like Martinez every week!
Too many people on the gravy train at this club. We are lapsing into the apathy of previous seasons; they get their obscene money, win or lose, and it's starting to show in their play.
How the hell does Walcott get 90 minutes? Or was he subbed? To be honest, I'd glazed over by then so I didn't notice.
It might be slightly better football to watch but the results (apart from a freak result last week) remain the same. Brands says we're not buying anyone in January, so everything must be fine... Words fail me!
Rom was right — a club with no ambition or pride for that matter, just happy to take the money and tread water!
Terry McLavey
42
Posted 30/12/2018 at 15:20:43
Also about tiredness, my wife is a dancer and she trains so that she doesn't get tired. Maybe they should try it?
Pat Kelly
43
Posted 30/12/2018 at 15:36:26
"The result wasn't fair" — boo hoo!
Sod off and take some responsibility. This guy is another Martinez.
What about saying "We didn't play well enough to deserve anything and I'm going to change that."
Tom Bowers
44
Posted 30/12/2018 at 17:18:53
Some fair comments here in reply to Silva's inane post-mortem.
Obviously we don't expect him to criticize his own strategy and players but the fans have heard all this before from his predecessors.
Woulda, coulda, shoulda — after so many games this season — just underlines that the squad, no matter what eleven starts or formation is used, is simply second-rate.
The rest of the season just promises more of the same unless new players are added.
They do not play as a tight unit even wheñ they have ten behind the ball. Too many teams look dangerous with every attack. Midfield has to be strengthened right now.
Paul Tran
45
Posted 30/12/2018 at 17:24:08
You're right, Dave, but these players are hard to come by. Look at how City struggled without Fernandinho, the only player they have with no replacement.
Colin Malone
46
Posted 30/12/2018 at 17:59:33
I can't believe what I'm reading. Silva been here for half a season, with a very good first transfer window... Unbelievable.
Dave Abrahams
47
Posted 30/12/2018 at 18:34:46
Paul (45), true enough.
We just have to hope Brands comes up with someone suitable to do the job. In the meantime, James McCarthy could fill in if he stays fit; he mustn't be ready yet or I think Silva would have used him.
Chris Jenkins
48
Posted 30/12/2018 at 18:38:08
Silva's record in the Premier League hardly inspires confidence in his managerial ability.
Matches 62: Wins 20 [32%] Draws 14 [23%] Losses [45%]
Goals for 84; Goals against 110
Source of the figures [with the exception of the percentages]

Premier League website
The harsh fact is that the buck stops with him – sooner rather than later, hopefully.
John Davies
49
Posted 30/12/2018 at 18:38:16
Mr Silva has made himself look very daft this weekend with his after-match comments.
I don't mind some of the stuff he comes up with but to claim tiredness and not getting a fair result from this game? Really, Marco? Wind your neck in, lad.
John Boon
50
Posted 30/12/2018 at 18:43:46
Despite disappointment with the result we still should have won. We are so inconsistent, but we are far too quick to start a "Fire The Manager" petition. He still needs time to find his team and adapt to various systems.
If you look at recent results, the whole Premier League is a hodgepodge, of inconsistency. Unfortunately the only team that has been consistent are the RS who always seem to get every bounce going their way. I know it is difficult but I decided long ago to totally ignore how they do. I can't be bothered to be critical or even caring. They are just one more team in the league.
Today, Burnley won after getting swamped by us in their previous game. Leicester lost to Cardiff after beating Man City and Chelsea. These are just to give two examples. Unexpected results happen every week.
I am sure there are many supporters claiming that their team is the most inconsistent team in the league. Some supporters over analyse games and then vent their anger because we lost by not doing what they thought Silva should have done. We must stay with what we have at least until the end of the season.
Kris Boner
51
Posted 30/12/2018 at 18:59:14
Ah yes... the freescoring centreback Virgil Van Dijk who has scored the single solitary league goal since signing for Liverpool. We should all remember that as it was against us.
Wait... a singular goal in 34 league games you say? Pretty sure Mina managed that. Van Dijk is a better defender sure, but cut the goal scoring crap that gets wheeled out. He hasn't been for Liverpool, and I'm sure they get plenty of corners and freekicks.
Dave Abrahams
52
Posted 30/12/2018 at 19:09:41
Kris (51), I think the goal that Van Dijk scored against us was in the FA Cup, so maybe he hasn't scored a league goal for them, this can't be true, can it?
Kris Boner
53
Posted 30/12/2018 at 19:25:35
The stat is from Wikipedia. Could be a different goal but I feel like we lost the FA Cup game to a penalty and he scored in the league. [Correction: he scored against Wolves in the league and against us in the FA Cup. No goals in the Champions League; 1 in the Premier League and seemingly 1 in the FA Cup.]
Further aside: Van Dijk has had several years in the Premier League to reach the point he is at. Top quality or not, he wasn't the same top drawer in his first 20 games at Southampton. Picking on Mina with Van Dijk is a terrible comparison at present.
George Cumiskey
54
Posted 30/12/2018 at 19:33:52
Despite the disappointment in the result we still should of won ! It beggars belief in what match some posters are watching.
Soren Moyer
55
Posted 30/12/2018 at 19:42:10
We had 3 very good chances to score in the first 20-30 minutes but we squandered those. We urgently need a decent striker. Surely if we get rid of many dead wood we have in our disposal, we can afford to get one!
George Cumiskey
56
Posted 30/12/2018 at 19:49:07
Soren, according to a lot of ToffeeWebbers and Brands we don't need a striker till the summer as Calvert-Lewin will do.
I hope Brands had his tongue firmly in cheek when he said it.
Paul Tran
57
Posted 30/12/2018 at 19:49:53
Van Dijk is top drawer, has been since he was at Celtic. Everton must be the only club who would prefer Funes Mori to him, though the stick I got for suggesting we buy him may say otherwise.
I'd give Mina a bit of time to get used to the pace and intensity of the game here. It would help him if he had a regular partner(s). He showed plenty of character on the biggest stage against England.
Stephen Williams
58
Posted 30/12/2018 at 19:56:14
Contrary to a number of claims above, Silva is hardly anything like Martinez.
Martinez lost his way after a full season but still had a pattern of play when sacked after 3 years (flawed, I grant you, but his playing style was very clear to see). Silva has lost his way after half a season and has absolutely NO pattern of play. Its just a mess!
The argument that he needs time to build his own team is also flawed; he has almost his own back 4 (including 3 new signings), a centre-midfielder and two strikers (ignoring all the other players that were already here – there's no evidence that he wouldn't want ANY of them). This recruitment is his at significant investment in both fees and salaries. In fact there isn't a single other manager who expects to get all his own signings in before he is expected to oversee an improvement! For that there can be no excuses. But that's all I hear from him – pathetic excuses.
The very least I expect from a manager is team clear and effective organisation and tactics. But this fella offers none of this. He is tactically barren. He has been comprehensively outfoxed by Howe, Pellegrini, Gracia, Benitez and Hughton – all managers of teams with far less ability than ours. And he has been embarrassed by Guardiola and Pochettino who, despite them having better players than us, Silva's tactics handed over the 3 points on a plate without their sides having to break sweat.
Indeed only against Burnley (and their shit players and dinosaur of a manager) did our tactics prevail. More good luck than good management.
I said weeks ago that Silva will stand or fall by his results in the 12 games from Newcastle onwards through to Watford (20 to 24 points minimum required). That's still the case. He's made a terrible start and is already behind that target. There's absolutely none of my money going on it improving (apart from paying to go to every game home and away like I always do – what a mug!). If he can't do it, then he will have sacked himself. If he can, then he will have earned a temporary reprieve. Don't forget – it's a results-based business.
Andrew Presly
59
Posted 30/12/2018 at 19:57:34
There's a grimness to yesterday's result that deserves to linger for a long time.
Like the Saints League Cup loss. A stink.
When a home stinks, most people do something about it. I worry with us it's that nasty house smell we just get used to then pretend isn't there.
Robert Pullan
60
Posted 30/12/2018 at 20:06:17
I'm as frustrated by many but I'm still backing the players and the manager to improve our consistency. What's the alternative? Sack the manager and start again!?!
We are already paying the salaries of 3 other managers currently! Plus it'll be another 2½ to 3½ years before we get the wages of Bolasie, Klaassen, Sandro and Mirallas of our books. This is holding us back from signing a Lukaku-like replacement.
We have to be patient as much as it kills us. Brands is impressive and correct when saying we need to invest time in Calvert-Lewin and Lookman. They have the potential to get better and should be given more game time.
Keep the faith!
Paul Tran
61
Posted 30/12/2018 at 20:11:36
Thing is, Stephen, Martinez had an effective style of play for one season and rightly realised we needed better players. He made the mistake of publicly saying he needed seven players. Very naive, considering Kenwright was in charge and I think that statement lost him the dressing room.
We went from a defined, effective style of play to a complete mess, not dissimilar to what we saw yesterday. If that's repeated Silva won't last as long as Martinez did.
Bet he wishes he'd got the backing Silva's had!
Oliver Molloy
62
Posted 30/12/2018 at 20:18:11
What's that saying... "fail to prepare"?
You get what you deserve most of the time in football, if you don't take your chances – and we rarely do – and concede, then that's that, isn't it!
Everton just are not at the races so far, so Silva is talking with a forked tongue.
I didn't think Silva would be the man to take us forward, but I am not going to be roaring for his dismissal. I think he needs a season at least with these new players before any judgement can be made.
What I do hope he is doing as a matter of urgency is having a word with Richarlison about his antics at the sight of anybody challenging him, it's nailed-on we will miss out on a penalty or two with his carry on.
Andy Meighan
63
Posted 30/12/2018 at 21:44:55
Silva is alking through his arse. We deserved nothing. Brighton weren't much better but didn't need to be. My lad went and said, as soon as they scored, everyone around him more or less said "Game over, 'cos we won't score."
Why change the side that won so well at Burnley was beyond me... and as for Keane blaming fatigue — words fail me!! Fatigue???? They wouldn't know fatigue if it sat up and smacked them in the mouth!!! Pampered shower of overrated pricks...
And Oliver @62 hit a great point about Richarlison and his antics. It's getting quite embarrassing now. The thing is, some people at Finch Farm seem to be telling this kid he's a superstar. Honestly, he's not that good – just a decent player; nothing more, nothing less.
John Boon
75
Posted 30/12/2018 at 22:29:37
George (36) and (54). A forum is a means for fans to give their opinion on a game. You always seem to assume you alone are right. I feel that your typical egotistical one-liners are only there to allow yourself to revel in your innate belief that only you were able to view a game correctly. It must be wonderful to be so correct all of the time.
George Cumiskey
76
Posted 30/12/2018 at 22:41:10
It is, John, it is.
Mike Gaynes
77
Posted 30/12/2018 at 22:48:31
Gotta disagree, John #75. I've never agreed with a single word George has written -- IMO he's the Prince of Pessimism, besting even Jim Bennings for Tony Marsh's abandoned throne. However, I've never seen him be personally derogatory of those holding other views (unlike others here), and he cheerfully accepts being teased for his opinions. I've learned to enjoy him very much.
As for egotism, that's pandemic here. If TW banned everyone who thinks their opinion is solid gold and the others are tin, a lot of us (me especially) would have to find less harmless ways of filling the empty hours in our drab, wretched lives.
(That's a Tom Lehrer line, for those old enough to remember him.)
Brent Stephens
78
Posted 30/12/2018 at 22:52:00
Tom Lehrer a very clever guy.
Brent Stephens
79
Posted 30/12/2018 at 22:58:03
The Elements by Lehrer was superb.
John Boon
80
Posted 30/12/2018 at 23:06:55
You win, George (76). I am an eternal Optimist and you made me smile.
So there are things other than football, as my wife tells me daily. And she too is "Always Right" . As the Beatles say, "Try to see it my way".
Mike Gaynes
81
Posted 30/12/2018 at 23:07:21
Brent, he's still alive at 91 and I'd love to know what he thinks of the world today.
Can you imagine what his new lyrics would be to the "Vatican Rag" and "National Brotherhood Week"???
Brent Stephens
82
Posted 30/12/2018 at 23:11:05
The blue folks hate the red folks, Mike.

Lev Vellene
83
Posted 31/12/2018 at 00:31:48
I really like what Silva has done for us, so far! Pressing high, being positive when that works!
What does worry me is that he does not seem to have a Plan B for when we fail to kick-on early! And he seems to have an aversion to making substitutions until at least 60 minutes have passed. I really hate that! And I'd think any other teams will already have noted that habit!
I feel like Silva is too predictable, here.
Don Alexander
84
Posted 31/12/2018 at 01:18:48
John (#75), as Mike Gaynes (#77) says, there's many a TW poster denying George (and due respect to George too, as Mike also points out, for not being derogatory of other Toffees) a place on the podium for the most self-righteous, opinionated and boorish TW poster.
Have you never read anything from the all-too-real TW creature the JayHind for instance? It can gross out on self-indulgence whilst also boring the balls off a buffalo in the process.
Just saying.
Neil Carter
85
Posted 31/12/2018 at 04:51:38
Team for 2019:
Pickford — best around despite the recent clangers. Cover: Virginia
Coleman — still working hard and going forward; those who want him out can't be going to Goodison? Cover: Kenny
Keane — improved this season. Cover: Jagielka
Zouma — sign him in January. Cover: Mina
Digne — great buy. Cover: Baines
Gueye — the tackler, play deepest. Cover: McCarthy
Bernard — play more central and feed Gomes. Cover: Davies
Gomes — sign in January; play as number 10 or free role. Cover: Sigurdsson
Richarlison — wide left. Cover: Lookman
Wide right — look for new signing in January. Cover: Calvert-Lewin
Forward — need two new signings in January, including cover.
Outgoing: Tosun, Niasse, Walcott, Schneiderlin, Ramirez, Mirallas, Bolasie
Review at end of season: Vsalic, Besic
Bill Watson
86
Posted 31/12/2018 at 09:47:39
Neil # 85
I'm a great fan of Seamus and you can't fault his effort which is 100%, week-in and week-out. Since his horrendous injury, he has lost his pace and with it, his effectiveness. He is no longer the player he was and, with Walcott also not up to scratch, our right-hand side is being targeted by opposing sides.
I go to Goodison and, so far, all away games, bar one.
George Cumiskey
87
Posted 31/12/2018 at 11:43:10
Love the comments, boys – brings a smile to my face on a miserable New Year's Eve, keep them coming. Lol.
Darren Hind
88
Posted 31/12/2018 at 11:49:41
Miserable New Year's Eve, George? No such thing, mate.
Get a drink in your hand — it's nearly 12:00.
Eddie Dunn
89
Posted 31/12/2018 at 12:05:26
Neil, here we go again! So you've been to Goodison Park. Are you suggesting that the TV footage is picking up images from somewhere else?
Poor Coleman has been pretty average this season. I have watched him live and on TV this term, and it's the same either way. He has lost his ability to go on the outside, and is struggling to get back from forward positions, and as gutted as I am for him, he is no longer the Seamus of old. He could do what Baines did and stop on halfway and let Walcott do the wing play but I presume Silva's plan is to use the wingbacks to stretch play.
Got to disagree with your idea of playing Gomes at No 10, Sigurdsson is more mobile and fitter. Gomes fades in every game, and looks like he is running in porridge. He needs Gana alongside to do the donkey work.
Who would play Calvert-Lewin wide on the right? Walcott may be inconsistent but he is a winger. Calvert-Lewin is a striker and should either play at nine or sit on the bench. If you want a different option on the right, then why not put Lookman there?
Jim Bennings
90
Posted 31/12/2018 at 12:20:51
Why do people suggest players like Gomes (and I've even heard calls for Davies) to be played as a Number 10? To be in that position you need to have the ability to shoot, a decent goal record, and find creative forward passes. Neither Gomes or Davies would thrive in this role and it would be detrimental to our performance.
Sigurdsson might not be blisteringly fast but he can shoot, he can score and he can play forward passes. I've seen nothing in 18 months to suggest Davies is a number 10 with a forward-thinking brain and so far Gomes doesn't look like a player with too much to offer going forwards.
Mike Allison
91
Posted 31/12/2018 at 12:31:46
Usual over reactions to a defeat. We're decent but inconsistent. It's frustrating but not disastrous. We need stability and continuity to improve, not an impatient, impetuous attitude where we chuck the toys out of the pram every time something goes wrong.
Having said that, we nearly all hate the back 3, and with good reason. Our best formation is 4-3-3 (or however you want to arrange the numbers). We had a good run whilst playing that and have had 4 games without it, losing 2 of them.
If Silva persists with a back 3, it will be very difficult to be optimistic, but if he goes back to what we all know works, then it'll be a case of building better consistency over time.
Sam Hoare
92
Posted 31/12/2018 at 12:48:08
I wonder if people still think we should pay £30-40m for Gomes? He's a great talent but I'm on the fence.
Our midfield seems to consist of players who are either comfortable on the ball (Gomes, Schneiderlin, Sigurdsson) or players with great energy and or athleticism (Gueye, Davies, McCarthy). Most of the top teams have central players who are comfortable on the ball but also able to get around quickly and dominate physically (Alli, Dembele, Fernandinho, Kante, Fabinho, Pogba, Herrera, Torreira, Wijnaldum etc).
Gomes is certainly capable of good things on the ball (and we've missed that) but I worry about his pace and energy. Having him and Sigurdsson in the middle makes for a slow-moving centre and renders the press and recovery less effective. In the recent poor run, we have been out-fought too easily in the middle. Perhaps Gomes is carrying a knock or maybe the system as a whole has been flawed but matches are won or lost in the centre in my opinion and that balance does not look quite right to me currently.
Jim Bennings
93
Posted 31/12/2018 at 13:24:06
Sam
I think we need to see more of Gomes the rest of the season yet before deciding if parting with £40 million is a smart move.
He's got real good close control and looks a good passer but I recall one time when Morgan Schneiderlin was thought of in similar high regard by Everton fans.
Schneiderlin started off the same, Rolls Royce performances spraying passes but I asked a question at the time and as usual was shot down.
How many strings to his bow did he have?
I'm not saying Gomes will go the same way as Schneiderlin but I think we need the rest of the season before we make such statements of him being a priority signing just this minute.
I think Gomes needs to show more to his repertoire to convince me he's as good as everyone is raving.
A bigger priority for me is a whole new right side and a proven quality centre forward.
George Cumiskey
94
Posted 31/12/2018 at 14:57:26
Darren, what to drown my sorrows and try to blot out that terrible December. I will have a good go, mate.
All the best, everyone.
Eddie Dunn
95
Posted 31/12/2018 at 14:58:50
I don't understand why people (apparently including Brands) don't think we can improve the front line this window.
The current situation is that, excluding the obvious top 6, there are many teams with better strikers than ourselves. Look at this list:
Saints — Ings & Austin
Fulham — Mitrovic
Leicester — Vardy
Bournemouth — Wilson
Newcastle — Rondon
Watford — Deeney
West Ham — Arnautovic, Carroll
Brighton — Murray
Wolves — Jiminez
All of these guys could arguably do a better job than any of our strikers. Only Huddersfield, Cardiff, Burnley, and Palace have worse options.
Therefore, I would argue that a stop-gap signing in January is just what we need. Not a player for the future, though some on this list would qualify, but just a seasoned pro who can hold it up and pop a few in.
Tom Bowers
96
Posted 31/12/2018 at 15:03:37
Is there any evidence so far that the team has improved since last season? Not much, most of us will say and many of us will also say Silva needs at least a season to build his own team.
That may be true. Sometimes things fall into place suddenly when a good run sparks belief in the players that they are good enough to compete every week.
There are obvious weaknesses that have to be ironed out such as midfield superiority which Everton has lacked in many games this season and not just against the big clubs.
Gana works hard and Gomes has shown some good stuff but Gylfi, despite goal or two, is inconsistent, as are Walcott and Bernard.
Seamus has lost his turn of foot which set him apart and Mina has yet to show his World Cup form.
If any of these players can improve then the team may be better as a unit but it seems they have had every chance so far.
I am one of those who believes the January window provides little in the way of quality available players at the right price but the alternative is to plod along and hope that some winning consistency comes along.
Jim Bennings
97
Posted 31/12/2018 at 15:21:53
Eddie,
The harder part is convincing the clubs to let their players leave.
In hindsight, we'd have been better getting Mitrovic or trying for Danny Ings (although we don't normally sign players from them anymore) rather than spending ridiculous amounts on Tosun who I had reservations about straight from the off and reiterated last summer, mainly due to him coming from a weaker league.
But hindsight is a great thing... I hope we do eventually sign a player to propel us on to that next level, though.
John Boon
98
Posted 31/12/2018 at 15:59:34
Always great to get on Toffee Web and be able to agree to disagree with all those who have been cursed or blessed to be a Blue.
Whatever your point of view, I do feel that all TW Posters have one thing in common and that is obvious. I am sure you all think the answer is "Everton" which is probably Number 2. Number 1 has to be Patience. Number 3 is an intense dislike of anything in Red.
And Number 4... a touch of insanity — which I have had for 70 years since my Dad took me to see my first game.
Happy New Year to a great TW writing staff and all Posters, particularly those who always agree with my point of view. 'Cos I too am always right. Just ask my wife.
George Cumiskey
99
Posted 31/12/2018 at 17:23:10
John, what a coincidence as I too am always right, just ask my wife.
On second thoughts... better not or I'll get a good bollocking.
Kieran Kinsella
100
Posted 31/12/2018 at 17:33:00
Eddie Dunn @95,
I don't think any of the players you mentioned, bar Vardy, are better than what we have. If they are better, it is very marginal. I think the club are trying to improve with genuine talent, rather than replacing mediocre with marginally less mediocre, as we did with Tosun coming in for Niasse.
Yeah, we could spend £20 million on Rondon or Mitrovic but neither one is top 6 material so, if that is where we have set our sights, why bring them in if, a year from now, we will be getting frustrated with them and wanting to buy again?
Eddie Dunn
101
Posted 31/12/2018 at 17:52:25
Kieran, I think both Mitrovic and Rondon would bang in plenty in our team.
James Flynn
102
Posted 30/12/2018 at 22:14:05
Moshiri cannot keep chopping and changing.
He just hired a professional in Brands who will need a couple of seasons to clear out all the dead weight, while bringing in new talent.
Unless the wheels fall completely off (relegation-threatened), Silva stays for 2-3 seasons. He has to get that chance. If in May 2020 or 2021 Brands feels the Club needs a new manager, then fine.
We're approaching 3 years in with Moshiri. The last few months it appears he finally has his full team in place; financial level and player management level. Brands and Silva the latter.
We have to sit still and see what happens over the next 2-3 years under this current regime.
Rick Pattinson
103
Posted 02/01/2019 at 18:22:36
Eddie@95. Vardy and Mitrovic are the only two strikers on your list that I'd let anywhere near the club although I do agree that a striker is needed asap..I don't believe any on your list are any better than what we have. Mitrovic is unhappy at Fulham he's 24 and knows where the net is and would be my number 1 target
Robert Leigh
104
Posted 02/01/2019 at 18:30:18
Eddie -95
I'll reiterate what I said on another thread; Defoe would do a job until the Summer.
We can then get a new man in properly, rather than mess around and end up with another Tosun (who is well behind DCL in my book).
Brent Stephens
105
Posted 02/01/2019 at 18:42:19
Robert, Rick (etc) do we know that the likes of Defoe would come for just 6 months in the knowledge that they were stop-gap until we signed a bigger name in the summer (substitute other names you're aware of who you know would come)?

Add Your Comments
In order to post a comment, you need to be logged in as a registered user of the site.
Or Sign up as a ToffeeWeb Member — it's free, takes just a few minutes and will allow you to post your comments on articles and Talking Points submissions across the site.