Silva denies fresh PSG bid for Gueye
Wednesday, 30 January, 2019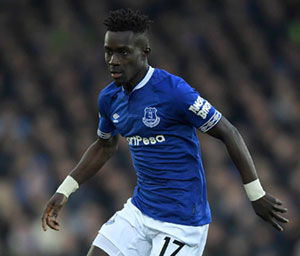 Marco Silva was insistent last night that he was unaware of any second bid for Idrissa Gueye from Paris St Germain but speculation persists that the midfielder wants the move to happen before tomorrow's transfer deadline.
The Everton boss confirmed that a bid, believed to be for £21.5m, was rejected by the club over the weekend but there were fresh reports last night that a second offer from PSG in the region of €30m had been lodged.
In addition, Sky Sports have claimed that Gueye submitted a transfer request prior to yesterday's match against Huddersfield, a possibility lent credence by the Senegalese midfielder's absence from the matchday squad.
Silva explained that Gueye was omitted because of a groin strain but there are now suggestions from France that the Portuguese threatened to resign as the Blues' manager if the player was sold this window.
A tweet by the Paris United Twitter account has it that Everton officials were close to agreeing a deal until Silva expressed his strong opposition to selling Gueye.
Furthermore, the Liverpool Echo's reporting indicates that Gueye does want to make the move to Paris which could ultimately tip Everton's hand if they receive an offer in the region of £35m.
"He had a minor problem with his groin," Silva said last night after the 1-0 win the John Smith's Stadium, "but to be honest with you and our fans, but after the match I found out if something new had happened because I expected your question about him.
"There is nothing new. He had a minor problem in his groin but the feedback I got after the match was there was nothing new, no new offers for him, he keeps being our player and I hope he can continue with us.
"I don't know about a transfer request or not because, as you know, we were in the hotel last night.
"About the new offer of £30M? Nothing new has come to our club. There is nothing new about this situation."
---
Reader Comments (62)
Note: the following content is not moderated or vetted by the site owners at the time of submission. Comments are the responsibility of the poster. Disclaimer
Dermot Byrne
1
Posted 30/01/2019 at 18:38:28
Sell him. He wants to go. He cannot pass creatively and just runs around tackling because of that. 29 years old?
There may be big teams that want him but most have creativity to accommodate him.
Jamie Crowley
2
Posted 30/01/2019 at 18:41:42
I don't want him to go, but it appears it's done to my eyes.
The power people are just starting the "Transfer Waltz" and won't stop dancing until there's a signed contract and a medical.
The only reason this might not work out is time. PSG are seriously up against the clock here.
Jamie Crowley
3
Posted 30/01/2019 at 18:45:13
This reminds me, if we're forced to watch the transfer deadline craze on stream / television - and let's face it most will - can Sky please, please bring back Natalie Sawyer?
My God she's missed.
Darren Hind
4
Posted 30/01/2019 at 18:48:41
Money can make time stand still, Jamie. Pay a guy enough and he will stomp on the clock.
If he has set his heart on going to Paris, we have to let him go.
Peter Warren
5
Posted 30/01/2019 at 18:51:14
Obvious he will be sold, what price is issue.
EFC have created rumours of Arsenal, City and Silva will quit in order to drive a hard bargain
Peter Mills
6
Posted 30/01/2019 at 18:53:29
I've just been reading that Silva has threatened to resign if Gueye goes!
Mark Murphy
7
Posted 30/01/2019 at 18:55:22
"I don't know about a transfer request or not because, as you know, we were in the hotel last night."
Yorkshire still without WiFi then??
Jamie Crowley
8
Posted 30/01/2019 at 18:56:50
Peter -
We, I say judiciously, have been discussing that on the other Gueye thread.
Not sure if it's tabloid nonsense, truth, or what.
We may lose Gueye and a manager by midnight tomorrow!
Step up Unsy and Davies!
Jamie Crowley
9
Posted 30/01/2019 at 18:58:39
Or cell service! Seriously the bullshit that needs to be waded through with these transfers is at least knee-deep.
Silly Season is raw entertainment.
Mike Gaynes
10
Posted 30/01/2019 at 19:03:39
Threatening to resign? Seems highly unlikely to me. Unprofessional and overly dramatic, neither of which are characteristics Silva has previously displayed. Not buying it.
John Keating
11
Posted 30/01/2019 at 19:04:37
Seen far better players come and go and we're still here.
Rather have him stay but if he wants away, same as any player, get the most we can for him and wave him off with thanks.
Jim Bennings
12
Posted 30/01/2019 at 19:05:50
Once a players head has been turned it's hard to get the best focus from him.

Michael Kenrick
13
Posted 30/01/2019 at 19:05:55
I feel certain of two things:
1) Gueye will be sold to PSG;
2) Marco Silva will not resign.
However, I've been wrong before and am very poor at 'predictions'.
Jamie Crowley
14
Posted 30/01/2019 at 19:07:40
Mike hang on a second.
Silva left Hull, having his head turned, then completely went on mental vacation at Watford while we tapped him up. I mean. . . . reached out to him.
Both fairly unprofessional and dramatic, no?
Or were you being sarcastic? I can't tell.
Phil Sammon
15
Posted 30/01/2019 at 19:09:28
Sell Gueye and get rid of Silva without a payoff. Not a bad deal after all.
Jay Harris
16
Posted 30/01/2019 at 19:10:04
Mike,
Silva has quit a few jobs in fact he has a reputation as a short term manager.
Resigned from Hull after taking them down, for all intents and purposes threw the towel in at Watford when he couldnt get his own way and I'm fairly sure he quit at least one of his Portugal jobs over a fallout with the board.
Personally I would be disgusted if this is true and they sell Gueye despite the managers stance but I don't hold Silva in particularly high regard anyway.
Steve Ferns
17
Posted 30/01/2019 at 19:22:50
Jay, not quite.
Estoril - left for Sporting.
Sporting - sacked days after winning the cup by the recently ousted nutter who set the fans on the players, for wearing the wrong suit.
Olympiacos - resigned after winning the league for "personal reasons" aka thought he'd get a better job
Hull - resigned to get a premier league job
Watford - sacked
Jamie Crowley
18
Posted 30/01/2019 at 19:27:04
Steve, should read:
Watford - sacked because he stopped doing much of anything while awaiting a payday and job at Everton Football Club. Sacked due to quitting his primary functions and responsibilities.
I know lawyers are a bit hesitant to use such language and stick to "facts", but let's be clear. The dude stopped doing a single thing and was taking Watford no where because we had told him we wanted him.
He quit. Let's not say it was anything else. Officially it was "sacked", but they only sacked him because he stopped working and gave them no choice in the matter.
Sam Hoare
19
Posted 30/01/2019 at 19:33:30
Now rumours that we are bidding for Batshuayi. Think he might be a decent purchase around the £15-20m mark but not for the £35m mark being quoted.
The Gueye saga is perplexing. Sounds to me like PSG planting stories to excuse the fact that they won't pay the £35m we are demanding.
Peter Mills
20
Posted 30/01/2019 at 19:34:37
Jamie #8, thank you. Once again, I am a bit slow out of the blocks!
Jamie Crowley
21
Posted 30/01/2019 at 19:36:07
Sam -
Selling Gueye to bring in Bats is a decent dollar-swap (pound-swap?) for me.
If Bats comes in, Gueye is definitely gone as we'll use those funds to facilitate that deal, and the Silva tossing his toys out of the pram stories are 100% bullshit.
I love the transfer deadline. Conjecture makes the world go round.
James Stewart
22
Posted 30/01/2019 at 19:38:42
If you are Gana, why on earth would you stay here? He's 29 and a Champion's League team are calling, one of the elite at that.
No player in their right mind would turn that down. Wish him all the best. His path isn't going to cross ours anytime soon.
Neil Copeland
23
Posted 30/01/2019 at 19:41:47
Also rumoured that West Ham are trying to sort a loan deal for Batshuayi.
Steve Ferns
24
Posted 30/01/2019 at 19:43:07
You'd also wonder why the stories come out of FRANCE. They are instruments of PSG. It's a leak at their end. But to what end? What are they trying to achieve.
If PSG have leaked this with no ulterior motive, could it be a negotiating ploy? Brands has said to his counterpart, "we can't sell at that price, Silva's threatening to resign, you need to double it, that's the only way I can sell it (to Marco)". If so silva may have done nothing of the sort and Brands is just playing the game. We all know he is a tough negotiator.
Or maybe BK is involved. He was known to pull theatrics in negotiations. Alex Ferguson tells how he had his mum on the phone in the Wayne Rooney transfer! We got a good price on a few players, so maybe that stuff does work?
Stephen Brown
25
Posted 30/01/2019 at 19:48:45
James #22,
100% correct! Take the money if it goes over £25M and good luck to him.
His stats are very good but he's far from irreplaceable – even from within our current squad!
Lev Vellene
26
Posted 30/01/2019 at 19:48:49
Cash in on him! He's good at what he does, but he can't find a good forwards pass half the time!
Sorry, I love his work, but if he wants to move, then let him! We have to weigh good/bad vs money offered, any time!
Kim Vivian
27
Posted 30/01/2019 at 19:49:12
Smoke and fire, Jamie - smoke and fire.
If it is total BS then why does Silva not just get on Twitter, or whatever s/media shit they use, and categorically deny the slander?
Darren Murphy
29
Posted 30/01/2019 at 19:54:02
Obviously during this time of the month, you have to take things with a pinch of salt. But them rumours of PSG wanting to pay in installments have to be a joke. I mean if we do sell him then if, being a big if, how would we bring in a replacement or striker... oh we wouldn't.
Steve Ferns
33
Posted 30/01/2019 at 19:56:58
Darren, PSG have to pay in installments. PSG cannot pay the fee upfront. There is no room in their FFP.
It's not an Everton type never-never deal, £1m a year for the next 20, it'll be £5m and the rest in the summer or something like that.
Obviously PSG have the cash, it's their FFP that's the issue.
Lev Vellene
35
Posted 30/01/2019 at 19:57:03
Does Silva have Twitter? I don't even have a smart-phone! Our dad bought me and my brother a c64 in 1984, and I've kept up-to-date on PC's since then. I still insist on keeping only a dumb-phone for plain calls and SMS.
It's never looked to me that I missed anything, since I have Skype on the PC for my family to reach me at any time... Well, privacy..., as they know how to reach me... Oh well, the sacrifices we make for our loved ones!
Mike Allen
37
Posted 30/01/2019 at 19:58:19
I don't think Silva has looked... shall we say, enthusiastic in his press conferences for a few weeks now. I'm not saying it's about Gueye but I think something has gone on or is going on.
We are playing now only for pride and the prize money for being Best of the Rest. Anyone who wants to leave – and that includes Silva – let them go. Just don't spend any money this window because spending another £30 million now will not make us any better this or next season.
Darren Hind
38
Posted 30/01/2019 at 20:00:19
So if "Silva" resigns, will he owe us compensation?
Darren Murphy
39
Posted 30/01/2019 at 20:04:19
Yeah, I know, Steve, just reminded me of the Rooney installments. I say a straight swap for Cavani is fair. As likely as me winning the lottery without a ticket.
If they offer £35 mill and upwards sell as he wants to go and he's 29. I'd want him to stay personally but what's the point so cash in now. Unfortunately, Doucoure wants Champions League football and probably wouldn't leave Watford for us because...obvious.
Darren Murphy
40
Posted 30/01/2019 at 20:07:42
Lev I still got my C64 and C128 in the loft. My daughter just rolled her eyes when I said I must bring that down at some point haha.
Kim Vivian
41
Posted 30/01/2019 at 20:13:49
Further to my post at 27. I missed Steve's at 24 somehow but reading back now, the silence does add some credence to a ploy initiated our end to engineer a higher price. Does all sound a bit 'soap operish' which would, of course, be right up Kenwright's street.
Lev Vellene
42
Posted 30/01/2019 at 20:17:14
Darren #40
Haha, I sanctioned my younger brother to sell both the c64 and the c128 to a friend who was obsessed with collecting the old machines! I never asked for money, I just liked someone having them and valuing them, who cared if anyone found a use/market for those later!
And these last few years GOG.com have made most of my old c64 games available for the PC again! I've spent too much money on that! But it's still as fun as it used to be before graphics conquered content! :)
Dave Abrahams
43
Posted 30/01/2019 at 20:28:23
Steve (24), that might be a good story about Alex Ferguson and Kenwright but we definitely never got a good price for Rooney.
I imagine Ferguson from the shipbuilding yards of the Clyde rolling his eyes at the antics of soft arse from the lovie world of the theatre.
Neil Copeland
44
Posted 30/01/2019 at 20:31:50
Dave, that made me laugh out loud, thanks! Yonks since I have heard the term "soft arse".
Dave Abrahams
45
Posted 30/01/2019 at 20:36:36
Neil (44), Yonks, there's another one, thanks.
Chris Gould
46
Posted 30/01/2019 at 20:40:14
So, Brands stated that we needed outgoings before he could sanction any incomings. A reliable Guardian journalist says that we are trying to buy Batshuyai. Maybe Brands thinks a striker is more important than Gueye, and is negotiating his departure to fund Batshuyai's arrival?
Maybe Silva disagrees that a striker (or specifically, Batshuyai) is more important to this team than Gueye and is unhappy that he hasn't had the final say?
Maybe the 2 potential transfers aren't dependent on each other, but they may well be. And, if any of these reports are to be believed, they appear to be Brands' decisions.
Neil Copeland
47
Posted 30/01/2019 at 20:40:37
Dave, you are welcome. I also meant to add that's the most fitting description I can think of for Kenwright.
Derek Knox
48
Posted 30/01/2019 at 20:40:56
As per usual, it will be deadline day helter-skelter in the madness of the Transfer Window, but I feel the Gana deal will go through, it makes sense to get that sort of money for a 29-year-old, who looks like he wants to go anyway.
As for the reported £35M for Bats, well it is simply Bats! There may be a surprise or two but won't be holding my breath. Jim White is laundering his yellow tie as we speak.
Tony Everan
49
Posted 30/01/2019 at 20:44:56
Gana will be sold I think, Everton are getting into position to bring someone in to help the club so the two deals can seamlessly happen simultaneously.
This is a new Everton with Marcel Brands running the show, a professional operator. So I think he will do good business for us in the end. It's looking like Gana out and Batshuyai in for similar money give or take a bag of change.
I would have been happy to have kept Gana, but my feeling is he wants to go to PSG, and all things considered its probably best to let want-away players go if their valuations are met.
Paul Hewitt
50
Posted 30/01/2019 at 20:52:00
Sell Gana, Silva resigns. Result.
Mike Gaynes
52
Posted 30/01/2019 at 21:21:00
Jamie #14 and Jay #16, resigning after poor results or a battle with the board or wanting another job, per Steve's comment, happens all the time. Resigning over the transfer of one player? Not hardly. Any manager who would do that has to be certifiable. Which Silva isn't. So that French report is BS. I now think Silva leaves this club in May, one way or the other, but it won't be over the transfer of Idrissa Gana Gueye.
However, I may resign. I'm definitely certifiable.
Neil #44, YONKS?
Mike Gaynes
53
Posted 30/01/2019 at 21:21:47
Justin #51, that's been said so often here, but never better than you just did.
Neil Copeland
54
Posted 30/01/2019 at 21:28:05
Mike #44 - scouse term for "in ages" or "for ages".
Don Alexander
55
Posted 30/01/2019 at 21:30:27
You've definitely got scouse humour Mike (#53)! Ha-ha!!
Darren Murphy
56
Posted 30/01/2019 at 21:33:07
Yonks as in "yonks ago" aka "ages ago"... Recently used to summarise our team when the word 'great' was used.
Robert Williams
57
Posted 30/01/2019 at 21:47:08
This sale could solve FOUR things.
1. Sell Gana & Everton get wonga to buy a striker.
2. Sell Gana & Everton get a striker & rid of Silva.
3. Sell Gana & Everton get a striker, rid of Silva and get in a decent manager.
4. Steve Ferns relocates to the Algarve to write his memoirs titled 'Hey-ho Silva' — a fantasy based on Zonal Marking and the need for a sound defence with sketches and tactical analysis.
Jerome Shields
58
Posted 30/01/2019 at 22:12:26
Silva not surprisingly may have the hump over Moshiri's AGM comments and Brands parroting Moshiri's January transfer line. I think that Silva possibly expected to sell Niasse and Tosun and get in replacements.
The selling of Gueye was never in his plans and Gueye was probably central to Silva's Everton rebuild. No 3-year plan being worked on.
Silva probably thinks he is being left out to dry! I would agree, he is right.
Chris Gould
59
Posted 30/01/2019 at 23:06:58
'Yonks' isn't Scouse. It's slang derived from 'Donkey's years'. Heard it a lot growing up in the West Country.
Neil Copeland
60
Posted 30/01/2019 at 23:48:01
Chris, cheers always thought it came from Liverpool.
Steve Ferns
61
Posted 31/01/2019 at 00:13:26
Mike, why do you think Silva will resign?
And if you were Everton, with Brands as your Director of Football and you were even just considering changing manager, wouldn't you keep your old mate Phillip Cocu available?
He's out of a job after his ill fated spell at Fener. If he's still waiting patiently come the summer then maybe so, but if he quickly gets a new job, then it's obvious we're going to stick with Silva.
Derek Thomas
62
Posted 31/01/2019 at 00:35:15
Sell Gana, sign Zouma, loan Batshuayi... it's good feng whatsit
John Daley
63
Posted 31/01/2019 at 00:49:28
If Silva were to resign, he would effectively be committing career suicide. At least when it comes to forging a career in the top flight of English football.
Previously, he has been given the benefit of the doubt due to double short-bursts of decent form (which, let's face it, even Alan 'alpha prick' Pardew can point to), with the subsequent 'drop off a cliff' being swiftly dismissed due to Everton sat waiting... whilst doing a brazen Shazza Stone style uncrossing of the legs in front of the salivating Silva's lolling tongue.
He has never shown he can turn round a serious slump in form and come out the other side (despite presiding over a few to date in his three Premier League gigs) as, apart from his first managerial job which played out on a straight upward trajectory, he's never stuck around anywhere long enough to have to truly dig in.
When things went to shit at Watford, his inability to turn the tide was too readily written off as a simple case of someone at the top having their head turned and his troops losing all focus. The fact he couldn't simply give his head a fucking wobble and instead feebly pouted as his team dropped point after point after point and any previous good work was freely pissed away, was far too readily perceived as 'just one of those things', rather than a big flashing warning sign screaming "Whoa, whoa, whoa! Wait a fucking minute, Farhad".
Now he's meant to be coming out with that very line himself, in a last stand to stop the 'vital' leaving acres of space lad who doesn't even suit the system he wants to play from from doing one? Don't buy it myself and very much doubt it would wash with any prospective Premier League employer if he did laughably tender his resignation for such a limp reason.
Steve Ferns
64
Posted 31/01/2019 at 00:52:14
You have such a way with words John, always great to read your posts!
Ray Roche
65
Posted 31/01/2019 at 09:25:05
Chris @59
I don't know about the West Country but I am pretty sure it was in common use in Liverpool end of the fifties early sixties.
Brent Stephens
66
Posted 31/01/2019 at 09:28:06
Yonks. Remember it from the early sixties in Liverpool.
Chris Gould
67
Posted 31/01/2019 at 09:52:54
Ray, Brent, I don't doubt you, but I do doubt it originated from Liverpool. It's rhyming slang and more likely from London or the Midlands. In saying that, I'm only surmising and could be completely wrong.

Ray Roche
68
Posted 31/01/2019 at 10:01:24
Chris, doesn't really matter, we're still yonks away from winning the League.
Colin Glassar
70
Posted 12/02/2019 at 22:12:04
PSG totally outclassed Man Utd tonight but, is Thomas Tuchel Gordon Lee's long-lost grandson?
Add Your Comments
In order to post a comment, you need to be logged in as a registered user of the site.
Or Sign up as a ToffeeWeb Member — it's free, takes just a few minutes and will allow you to post your comments on articles and Talking Points submissions across the site.