Moshiri says Silva needs time
Tuesday, 5 February, 2019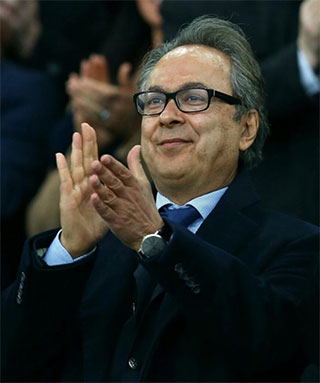 Farhad Moshiri says you have to "hold your nerve" in relation to Everton's faltering form as discussion over the manager Marco Silva's long-term future at the club intensifies amid a lengthening run of poor form.
Everton have lost six of their last nine Premier League games and won just one of their last six at home while also being dumped out of the FA Cup by Championship Millwall, a sequence that has ended any realistic prospect of success this season.
Talking to Jim White of talkSPORT, however, the Blues's majority shareholder says that Silva is building and moulding a young team which takes time, indicating that he will be affording the Portuguese some leeway.
"It is a project," White relayed based on his conversation with the Iranian-born businessman on Monday evening.
"The Everton fans quite rightly demand young football. We want young players to develop, they need to play.
"Marco Silva is a talented coach, but he's planning long-term. He will coach and develop those young players and every year those same young players will become stronger.
"In this business you have to hold your nerve."
This article has been amended to reflect that these quotes were not from Moshiri speaking on White's talkSPORT programme but were recounted by the presenter.
---
Reader Comments (110)
Note: the following content is not moderated or vetted by the site owners at the time of submission. Comments are the responsibility of the poster. Disclaimer
Christy Ring
1
Posted 05/02/2019 at 22:45:22
I reckon he's lining up Jim White.
Mark Williams
2
Posted 05/02/2019 at 22:58:06
Used the word 'young' 4 times in 5 sentences. Might be preparing expectations for transfer policiy whilst BMD gets paid for.
Ross Edwards
3
Posted 05/02/2019 at 23:05:29
He gave Koeman a similar vote of confidence last season before sacking him a few weeks later.
James Stewart
4
Posted 05/02/2019 at 23:12:29
Translation: I'm not prepared to look like the fool I am by sacking Silva after such a protracted appointment just yet.
For all Moshiri's business expertise he is a complete novice when it comes to football matters, evidenced by his horrific track record of appointing a succession of truly inept football managers.
Silva would have been sacked from pretty much any other EPL club for his horrendous current record coupled with huge summer outlay. So now we are in limbo until our dithering owner decides to own his last mistake. Tick tock
Kunal Desai
5
Posted 05/02/2019 at 23:24:48
I just wonder if this is a season where Silva gets a free pass.
Unlike both the previous managers who were in charge beyond a full season (Martinez and Koeman) both finished 5th and 7th respectively in there first seasons and then fell away the season(s) thereafter.
Here is the free get out of jail card for Silva to play and thereafter next season and season after we get an upturn in results and higher finishing positions. It's wishful thinking and the chances don't bode well for him.
Moshiri has to stick by him as he won't want to look a fool for getting rid of another costly and wrongful appointment.
Tony Cawson
6
Posted 05/02/2019 at 23:25:37
I'd love to see Moshiri 'hold his nerve' in my house.
Try explaining to a football crazy 9-year-old, to wait till he's about 18, for the 'project'...
Absolutely drained, and lost for words every game.
YouTubing the 1985-87 seasons can only go so far.
Man City on Xbox.
Man City in the park and street.
Man City recordings on the telly.
Just glad it's not the Premier League leaders.
Iain Johnston
7
Posted 05/02/2019 at 23:32:39
A young team, really?
Walcott, Gylfi, Gueye, & Schneiderlin are all 29. Seamus is 30. There's also another 4 over 25.
By the time Oumar comes back he'll be 29 & Bolasie 30.
Kase Chow
8
Posted 05/02/2019 at 23:35:45
So why weren't proper funds made available to buy a proven striker in January Farhad??
Such a wind up. I don't care about a new ground, I don't care about the transfer kitty and I don't care about young developing players I want to see good attacking football that could result in a goal
I'd like to know why we haven't bought a proven striker since Lukaku has left
I'd like to know why we ship so many goals in all the same way
I'd like to know why our attacking play is so blunt
Actually I know: because we don't have a striker (or 2 or 3). It's ridiculous. Don't give me DCL is the next Greame Sharp. Please. The kid may end up decent but the next Greame Sharp?!? Get real. Even Vinny Jones said Sharpie didn't let anyone take liberties from him. DCL doesnt look like he's playing half the time
'But we have Tosun!' Oh yes. How could I forget our saviour?!
Wake up Farhad. This atmosphere will get more toxic the more games we don't turn up in and the more we just roll over and surrender
You ballsed up mate and ppl are spending your money on the wrong acquisitions and you're letting it happen
A fool and his money are easily parted...
Mark Andersson
9
Posted 05/02/2019 at 23:45:25
If going by each previous managers and their 2nd season disaster, we should all be worried about relegation next season.
I can not see this team improving any time soon, both in terms of results or performances.
The Goodison faithful and the amazing away fans can see what this fool cant and thats a team that lacks passion or direction.
Mr Money is taking a big gamble and what a excuse it can be for not building a new stadium if were playing in the Championship...
John Kavanagh
10
Posted 05/02/2019 at 23:49:17
Ah, so it's all down to using young players seems to be the official line now being peddled based on Silva's pre-match comments and Moshiri's backing. Nope, it's been down to bad big money signings (managers included), combined with a rotten system and poor tactics/coaching in my book. Like last season, the youngsters have shown something approaching the required amount of energy and commitment, as exemplified by Kenny last week. It's been the experienced pros who have really disappointed.
It feels like the last paragraph of Animal Farm. I look from Martinez to Silva and from Silva to Martinez and back to Silva and can't see any difference - apart from brown shoes and a bald patch. Moshiri's revolution, for all its promises, has only resulted in the same old fodder being fed to the masses.
Steve Ferns
11
Posted 05/02/2019 at 23:49:48
I should really write an article and put pieces I have scattered onto various threads together, but I doubt anyone wants to read it. Note the author of this comment and skip on if you're not interested in what I have to say. This will be long.
Guardiola came into City, inheriting Pellegrini's side. They are both more attacking than defensive, and significantly so. Pellegrini's style is different though, less possession based, less ball retention, less pressing. Guardiola made small but significant changes and the first season they did not work. He was called Fraudiola. He's Guardiola and he's at City, he had almost unlimited funds, and off they went and signed a load of players. Look at City last season. He'd only been there a full year, but it was a different side. How many of Pellegrini's players were still being used?
Next we move on to Liverpool. Brendan Rogers had Liverpool finish 2nd, almost top but for Slippy G. He fell away from there and in came Klopp. Rogers and Klopp are both attacking. The big difference is Klopp is the Kaiser of the high press and Rogers is in the Martinez mould of possession based football (he learnt his trade at Swansea playing the Martinez way and if you want him to manage Everton and think he ain't Martinez mark II then look more closely). Klopp finished 8th, 4th and 4th. Note they were 6th in Rogers last season. Now things are going well for Klopp, how many of the players are Rogers' players?
Next we look at Chelsea. Let's go back to Mourinho (mark II). Champions then sacked and then Conte, champions and sacked. Boom and bust. Conte to Sarri. Sarri is for my money the best coach in world football after Guardiola. That was a very popular thing to say 6 months ago. Now, people will look at you funny. Is he really doing much worse than Silva? Chelsea fans on twitter want him out as much as Everton fans on twitter want Silva out (from what I can see). Conte is an Italian and plays in a very Italian way. Very defensive. Back 3. Counter attacking football at it's best. Sarri may be Italian, but he is very un-Italian. He's almost the opposite of Conte in every way. Therefore, is it really any wonder that things are not working? You cannot come into a Conte side and suddenly have them playing beautiful football. Even if you can bring Jorginho with you. And Jorginho was one of the most sought after players in the world, not least by Guardiola. He could have walked into any side in the world in the summer. I mean that, any single one.
Man Utd next. Mourinho is correct that he did an excellent job last season. 2nd with that side was no mean feat. Player for player they were no better than Liverpool, Chelsea or Spurs. The form was unsustainable, his man-management was failing him, and it was no wonder it all fell apart. Solksjaer has come in and like Martinez after Moyes, he's simply taken the handbrake off and the team has roared into life and momentum has gathered speed and confidence is sky high. The wheels will come off Utd soon, because that midfield is poor, and Pogba is a very streaky player. The Defence is dreadful too.
Spurs. Pochettino is the man we want. Of course, we can never get him, and I wonder if his results would be significantly different to Silva's if we got the Pochettino Spurs did, ie the one leaving Southampton, with a limited reputation, and everything to prove. He's been there a long time and built a side steadily. I think he's great, but not everyone does and there is criticism over "bottling the league" the year Leicester won it. He changed every facet of the club, but was lucky to inherit some good players, badly used. After years of a revolving door, he brought stability and a vision for the players to buy into and go from strength to strength. He shipped a load of people out that he did not like, not just because of playing ability, but also because of attitude.
Arsenal. Unai Emery was winning everyone round a few weeks ago, but they've stuttered since and United have gone past them now. The jury is still out on Emery. A parallel for him is he appears to be at war with his no10, a player on a colossal wage that makes him untransferable. Unlike our number 10, he hardly plays.
West Ham. Some wanted Pellegrini in the summer. He went to West Ham. West Ham backed him financially and he signed a load of players that made you think, "if only". Particularly Yarmolenko. Felipe Anderson looks a player. Pellegrini has struggled really, more so than Silva. They sit 12th and have a -7 goal difference.
Wolves. I said it before the season started, Wolves look a good side. I figured that they'd be top half and would push us for 7th. They've been better than that. Mostly down to the form of Moutinho (love the guy, thought he was past his best at Monaco), Patricio (Portugal international signed on the cheap after he initially moved for "free"), Raul Jiminez who is really looking like a bargain, the excellent Docherty. Anyway, Wolves need to be judged in a few years rather than just now. Jorge Mendes is one of those dodgy agents and Wolves agreed a deal and really only sign his players, and they seem to play them too. Mendes is, of course, the agent and friend of Nuno Espirito Santo. So, as I said, It'll take a few years to see the long term Mendes effect before you can really judge this (ie was selling your sole to an agent worth it?)
Bournemouth. Eddie Howe is always put forward for a big job. He may well be a very good manager, but Bournemouth get regular spankings as their -7 goal difference (-22, -12, and -16 in the previous seasons) suggests. I'm not convinced on Howe.
Leicester. Claude Puel is the French Moyes. He's a good manager. He's beaten some of the top sides. But his football is dire. The fans aren't happy and they want him out. Saints got 8th and a cup final and they sacked him, such was the dire football. He won't survive the next downturn in form and without the fans on board, they won't challenge for 7th.
Crystal Palace are another side worth considering. Allardyce came in and saved them. He spent a fortune on limited and aging players. Palace replace Allardyce with De Boer. I wanted him instead of Koeman. He won more trophies at Ajax then Koeman. As we all know, Frank lasted 4 league games, lost them all, didn't score a goal, and was sacked. He was expected to take the shite Allardyce left and have them playing football by September. It was unrealistic and foolhardy, but they made a very astute appointment. They went with "Woy". As close to Allardyce as anyone but say Warnock. He just took them back to their old ways and got instant results and so they bob along in lower midtable and easily stay up every season. Woy, like Allardyce, is limited and so they will never get higher than that, and god help them if the diver gets badly injured.
What all this shows you is these things take time. Brands knows this. Luckily so does Moshiri. I was wrong to think Silva would hit the ground running. I wrongly thought these players are better than they are. We're trying to get Allardyce's side to play a completely different way. Not Allardyce's side you think, ok then Koeman's complete dog's dinner of a side that got him sacked.
Silva does not play the same way as either of them. He's changing a lot. It's not working, of course, but he's trying to change it nethertheless. It takes time. It's wrong to think otherwise.
Darren Hinds was wrong in the summer. He said Silva would not play Gylfi Sigurdsson as a number 10. I said he would. Darren, I've never wished you were right and I was wrong so much in my life! Gylfi is a big problem here. Everton cannot sell him. Gylfi is going nowhere. No club will buy him. We couldn't give him away for free as no club who can afford his wages would want him. Can we make Gylfi into an Ozil? No, we cannot afford him to be like Schneiderlin. Not in terms of finances, but also in terms of what that does to the side. Do we think him and Schnides would just work hard and try and get back into the side? No, they will undermine the manager and hope to displace him and get back in with the new guy. They probably also carry a lot of kudos with the other players. Silva has no choice but to keep Gylfi front and prominent. I bet he's hoping for an injury.
Silva has a really hard job in trying to manage the players not playing. Schneiderlin, McCarthy, Tosun, Bolasie, Davies, Baines, Jagielka, Mina, Stekelenburg, Lookman, as well as Williams, Holgate, Mirallas, Niasse, Besic, and Vlasic. The latter list are all out on loan of course. But who's to say they aren't on what's app groups and bitter that they're Premier League careers are over? The first list are at the training ground and can sow negative seeds actively.
Silva wants a squad of about 20 proper players and a load of promising kids. He likes to be up close and personal with the players, small group, all getting game time and able to be part of everything.
I was wrong about a lot this summer, sure. But despite that, I still have faith that Silva is still a top quality coach. Moshiri will give him time, as this article says, and Silva will prove his ability. So will Sarri, if he gets time. And remember that coaches are human. They have good days, they have bad days, they get things wrong, they get things right. Silva is only 41, and he has a lot to learn. It's important that he does learn. If he does, then he will be all the better for this season.
Steve Ferns
12
Posted 05/02/2019 at 23:55:14
Iain, yes young. The team that finished against Wolves:
Pickford 24
Kenny 21
Keane 26
Zouma 24
Lookman 21
Davies 20
Gomes 25
Sigurdsson 29
Richarlison 21
Tosun 27
Calvert-Lewin 21
That's almost a side that could play in the Olympics (age wise) and has 6 players eligible for the u21s. When's the last time we had a side this young?
Trevor Peers
13
Posted 05/02/2019 at 00:00:54
Either Moshiri is bluffing or more likely, he's getting bored and has had enough of putting huge funds of money into the blues with no improvement. That has to be the message from his latest outburst.
It was only a few weeks ago he was telling us Silva was a big gamble and he was looking for a big improvement. Now he's saying he will back him for the long term.
It will be interesting to see what Moshiri has to say if the rest of the season turns out to be a car crash, as looks extremely likely.
Mike Gaynes
14
Posted 05/02/2019 at 00:02:39
James #4, no, Silva would NOT
"have been sacked from pretty much any other EPL club."
Premier League managers are sacked midseason if the club is dramatically underperforming its talent (ManUtd) or spiraling towards relegation (Southampton, Huddersfield). Not if a club picked for 7th is currently 9th. I think Moshiri is absolutely right not to panic and pull the trigger now. Time enough after the season when the wreckage can be properly analyzed, and we'll have more than leftovers from which to choose a replacement.
Kase #8, I can't wait to hear which striker you think we should have overspent to buy with "proper funds" during the January window. By all means share with us all who you would have bought, how much you would have spent, and how many goals they would have scored for us without proper service. We all need the laugh.
Mike Gaynes
15
Posted 06/02/2019 at 00:12:18
Steve #11, whattya mean you "should" write an article? You did!
Most of it is spot on, but I think your acidity towards Gylfi is wildly misplaced, almost to the point of absurdity. Undermine the manager? Who works harder, with more commitment and less complaint, than Sigurdsson?
Criticize his talent if you like, or his fit as a #10, but never, never his attitude. And I think your comment that Silva is hoping he's injured is one of the most ridiculous statements I've read here, and certainly far and away the most bizarre ever from perhaps TW's most sensible contributor. Get some sleep, mate.
Karl Masters
16
Posted 05/02/2019 at 00:13:06
Agree Steve 11. Very good point. You need to give him time to mould his squad and he is also weighed down by deadwood.
I know it's a cliche, but remember Kendall Mk1.
Dave Southword
17
Posted 06/02/2019 at 00:15:52
This is where Silva's boss comes into play:
Brands: "We're too soft at set-pieces. What are you going to do about it?"
Silva: "More intensity and concentration in the moment-"
Brands: "Shhh. Man mark."
I think if we sort out the defence everything gets better. It must feel like there's no point if you're Richarlison etc because even if you score it's going to be a cluster-fudge of disaster every time we face a corner. The lack of confidence is glaring.
And I think it's possible to set your team up to defend corners whilst still being progressive going forward. Most top teams do. A point Silva must reflect on and improve.
Danny Broderick
18
Posted 05/02/2019 at 00:16:47
If it's stick or twist time, it has to be stick. We are not going to qualify for Europe, and we are not going to get relegated, so there's nothing to be gained from sacking Silva. If anything, that decision would cost us multi millions and would put us back to square one. There's no outstanding candidate out there that could replace him anyway in my opinion.
What Silva needs to do between now and the end of the season is address some of our issues - mainly the team shape, our lack of creativity and our defending from set pieces. He's basically got until the end of the season to show that he can be the man to take us forward. Any review of his position should be done in the summer at the very earliest, because it could all yet click. We are in the process of integrating 5/6 players into the team, let's not forget.
I'm hoping Silva can tweak 4 things:
1) Defending at set pieces. Something needs to change. We can defend zonally, but we should at least man mark the opposition's main men.
2) Our right hand side. Coleman needs to adjust his game. He dribbles up the pitch when he gets the ball, invariably gets closed down, then he turns and passes the ball backwards. It often goes back to Keane, and then Pickford, and any momentum is lost. He's struggled to link up with our right wingers all season. This is much less of an issue with Digne on the other side. We need more from the right-hand side of the team, Coleman needs to be doing better.
3) Balance in midfield. I believe Sigurdsson is a problem. He doesn't link up well with midfield or attack. The midfield 2 are overrun, yet the striker is isolated, so something's not right. He has to play as an orthodox midfielder – like he has on occasions this season – or not at all. I know Sigurdsson has scored 9 goals, but his general play has been disappointing. Games pass him by, other than the occasional flick or set piece. He is a trier who covers a lot of ground, so maybe it is his role that is wrong, and he might improve if he plays deeper.
4) Tempo. If Silva can get the shape of the team right, the tempo should improve. All of our attacking players have struggled, even Richarlison for me. We need faster play, with the ball zipped across the pitch. On Saturday against Wolves, every time we attacked they had time to get everyone back behind the ball. Our attacks flitter out all the time.
Silva's got his work cut out with this lot. Some of them have been crap for 4 managers now. I believe there's a lack of leaders in the team, and an undercurrent of underperforming players who are earning big wages and are happy to be back seat passengers whether they play or not.
It can't be easy for Silva to whip these players into shape when the players can look across the dressing room and see the likes of Schneiderlin sitting there earning £120k a week for doing nothing, We need to get through this season and have a cull. We are still topping up the wages of Williams, Bolasie, Niasse, Sandro, Mirallas etc.
Silva needs to give us some hope that he's the man to take us forward, because there's an even bigger job to do in the summer than the mess we are in currently, and how we get on in the summer is likely to dictate how we are going to progress as a club for the next few years. Massive crossroads in the summer.
Steve Ferns
19
Posted 06/02/2019 at 00:24:40
Mike, there's a lot of supposition in there. Allow me to clarify. I do believe Darren was right. Silva did not want to play Gylfi as a number 10, but feels he has no choice. Gylfi cannot be dropped. Not just because he is indeed one of our better players, but also because of his effort, and certainly because of his wages. I also believe, supposition in the extreme for sure, that Gylfi is a massive influence in that dressing room.
We cannot have Gylfi sat on the side-lines for a prolonged period. It may be ridiculous to suppose that he will be a bad apple like Mirallas or Scheiderlin, but do you think such a player will just take being out the side as his career ticks towards it's end.
Supposition again, but I do believe Silva got the job on his promise to coach the players he inherited. Promises must have been made and no doubt Silva had a plan for Sigurdsson. If so, Silva can't just turn round to Moshiri and say I give up on him. Schneiderlin is different. Moshiri probably knows all about what he's been up, and I'm guessing it's more than the odd (unconfirmed) thing we hear.
As for the injury comment, I don't mean a leg break, I mean like right now, apparently he's a doubt for city as he rolled his ankle against Wolves. If he's out for a couple of games, then it gives Silva a chance to change the formation. Without Sigurdsson and Gueye, he ain't playing 4-2-3-1. With them both, he has no choice. I would like to see him play Sigurdsson deeper more often. I actually think he's not a bad player. £45M and almost £175k a week he is not.
Nicholas Ryan
20
Posted 06/02/2019 at 00:24:42
One thing that baffles me is, how come our form before and after the derby match has been so completely and utterly different. Is it all down to the 'Hand of Jordan'?!
Steve Ferns
21
Posted 06/02/2019 at 00:27:21
Excellent, Danny. I can't argue with what you said.
Mike Gaynes
22
Posted 06/02/2019 at 00:39:08
Fair enough, Steve, and agree. Personally I still think Silva is trying to shoehorn the 4-2-3-1 without the proper personnel, where an old-style 4-4-2 (diamond) or Barca-style 4-3-3 suits our talents better because it doesn't require a true #10. It's one of my many complaints about Silva.
As to Sigurdsson's cost and salary, I know people love to bang on about that stuff, but personally I disregard the price tags once the purchase is completed... never look back because to me it's utterly irrelevant now. I care only how they play. Siggy would still have the same strengths and weaknesses if he had cost £25m, and I have absolutely no faith we would have gotten anything out of the other £20m anyway.
Agree, Danny, top post.
Steve Ferns
23
Posted 06/02/2019 at 00:40:07
Nicholas, confidence is one reason, then as the bad results came, and snowballed, momentum took hold. Momentum is a massive thing in football, ask Leicester or any of those midtable sides that hit a bad run and drop and go down the last day of the season.
There is also something of propaganda campaign against Everton / Silva, from Talksport, and other associated media platforms that use Sam Allardyce and his friends, and generate content by talking about all things football and so can easily put Everton in the spotlight and the microscope on our many failings.
There is a narrative the media wants to write that Silva is a bad guy who did the dirty on Watford and then got what he deserved by failing badly at Everton. It is very hard to rail against that, and with the results as they are, the narrative fits the events perfectly.
Things can change quickly in football, and a toxic dressing room can unify with a few wins, especially a big one like Man City and the Kopites.
Rob Marsh
24
Posted 06/02/2019 at 00:41:42
I haven't read all the above posts so please excuse me if this has been said already.
I don't think what Moshiri said was aimed at us (the fans). It was aimed at the players, "I'm not going to sack him, so get on with and start playing!"
It might be quite a decent psychological ploy this on the eve of a game were the scoreline could become a bit psychedelic.
Andy McNabb
25
Posted 06/02/2019 at 02:19:47
Thanks, Steve and Danny, for your well presented and carefully thought-out posts.
I sincerely hope you are both right and I don't want to see yet another manager sacked but I just wish something could take away this nagging doubt I have that Silva is simply Martinez all over again. I cannot move past our inability to defend from set pieces. Football is made up of basics and before producing flowing football, we have to be masters of our own penalty area.
I am about to start the season once again coaching my son's team in Melbourne. I doubt whether there would be much of a clamour for me to be Everton's next coach but if we start conceding from bread and butter situations, I will change what we are doing. It's a no-brainer.
To answer Nicholas's question – I don't believe we were playing all that well before the derby catastrophe. As success-starved supporters we will cling to any slight improvement, desperately hoping we have yet again 'turned the corner'.
My wife keeps quoting the Chelsea game where "we deserved something". Surely the very essence of that reasoning shows how desperate we are? Well the fact is, we got nothing from the game and subsequent form has shown us that you never know which Chelsea will turn up. I suggest that 'bad Chelsea' turned up when they played us but they still scraped a result.
Steve, Danny – I truly hope you are right and this situation turns around. After watching 'Sunderland 'til I die' (I find it quite bemusing how many of our players ended up there) my fear and lack of expectation senses are on high alert.
Paul Columb
26
Posted 06/02/2019 at 02:27:23
Steve (11).
I like your appraisal at large, and your conclusion. I'm with Mike G on the Sigurdsson front.
Silva's had more than one opportunity to 'rest' him for Bernard in the No 10 role (and tbh, he looks like he could do with it... and I think Bernard might be a revelation there). I don't think you can doubt his effort and commitment but he's looked a little jaded of late and would likely appreciate a breather.
Good timing on the Moshiri comments even if it was through the Jim white mouthpiece. Though he was giving that up.
Gavin Johnson
27
Posted 06/02/2019 at 02:29:49
As Kevin Campbell pointed out today, Silva has players from 3 different managers so it's going to take more time for Silva to mould the side to his liking. Campbell also pointed out the obvious that we still need to replace Lukaku.
Imo there's one striker we should sign but he'd be one for the future and that's Kevs son who's now on the periphery of Stoke's 1st team. An ex work colleague of mine who supports Stoke reckons the lads mustard.
One part of me thinks we have to give Silva more time. This season we'll finish anywhere from 7th (if we're lucky) to 9th place in the league and then Silva will need to trust Brands to offload the likes of Schneiderlin and Tosun while hopefully keeping Gomes and Zouma and buying a new right back and the elusive Striker who can score 20 goals a season.
The other part of me has major reservations that Silva won't be able to get this team to defend from set pieces. Most teams use zonal marking these days, including Wolves last Saturday. Silva was bottom and 2nd bottom of the league with Hull and Watford respectively for conceding goals from set pieces. It seems like Silva and his coaches don't know what they're doing defensively because the same thing happens at every English club he manages.
On the matchday thread on the weekend someone pointed out that the rot set in with Roberto when we hired Duncan Ferguson. Yes, we've been shit since he was appointed. I loved big Dunc as a player, I even have the testimonial shirt signed by Dunc and Rooney framed in my living room, but what does he actually do?! Him working under 4 managers in 3 years reeks of sentimentality. I wish we'd just get rid.
I really don't whether we should stick or twist with Silva. I now regret his appointment but we do need some stability so maybe we should give him the summer and see what happens next season. That all said, he's going to have to do something radical tactically or with formation to stop this side conceding from set pieces. It's ridiculous, and other clubs won't have to do any spying or much research to know that's where we're weak, and there for the taking.
Mark Andersson
28
Posted 06/02/2019 at 02:38:59
Steve Ferns I always enjoy your posts.. Informative and honest from your research you put together strong case for the defense of keeping Silva in a job.
But as Mike Gaynes points out, Silva is trying stubbornly to shoehorn players into a system that simply are not working.
Your optimism is commendable, however the truth is were not winning matches, playing unattractive football and there seems to be a lack of desire by the players to work hard if only to appease the fans.
The media conspiracy is just yet another excuse to hide behind the simple fact that Everton are just very average at best.
Liverpool have a crazy enigmatic manager, have bought and sold better than Everton over the last few years and as the old saying goes, the league table dose not lie.
The only good result against City is a good performance and once again we live in hope that the green shoots of progress are growing. All I can see is weeds of doubt by everyone associated with EFC at present.
I just watched Marco's pre match conference, his body language seem to me that he is lost looks like Koeman and Martinez before they got sacked.
Then there was talk of giving the old guard Baines & Jags new contracts. How can that be if Mr Money sack is saying were going to build on youth, pathetic..
I would agree with your very informative breakdown of other managers and clubs by giving Silva more time however the fans are once again becoming restless because they can not see us moving in the right direction.
As pointed out, why have we not brought in a proven striker...
Stick or twist for next season could see us relegated coz Silvas track record is BAD so unless the remainder of this season see's a vast turn around in form then we are in a fight to stay out of the bottom...
These players lack the professionalism to do a decent job and Marco is clearly struggling to motivate them to perform.
So if and it's a BIG IF, Mr Money bags sanctions another spending spree, then there will be those saying he needs more time for the team to gel no matter what his tactics are.
So there you have it, yet another manager, with no progress on the field of play, off the field more dangling carrots of BMD to appease the hopeful.
But we are a nice club in the community, even though the media hate us the refs are against us and the Kopites laugh at us season after season.
I really do hope that some miracle happens and live to see us just beat Liverpool once more in my life time...
Everton 1 Man City 4
Jay Wood
[BRZ]
29
Posted 06/02/2019 at 03:07:08
Steve @ 11.
An interesting study and hypothesis of other teams, their management recruitment and why it takes time to change and improve a team.
Equally interesting is how you apply all that to Everton and Marco Silva.
As you say, Silva hasn't made a great or even marked improvement in his tenure to date. You (in particular) and I had hoped for more from him, and sooner, than he has delivered thus far.
I think you are on wobbly ground, however, attempting to excuse him because he inherited an Allardyce - Koeman side that didn't play the same way as Silva's team and that it 'takes time' to change all that.
Well actually, he did initially change things very quickly and effectively, both the style and the mindset.
Right up until game 14 – away to Liverpool – the team was playing nothing like an Allardyce - Koeman side. They were solid and compact from back to front. They played an effective high press. They were slick in the counter-attack. They were creating lots of chances. They were conceding very few - chances, that is - and very few goals.
The Gomes-Gueye axis was working very well. The front four were interchanging well. The movement and passing was impressive. The set up was bold, focusing on our game and challenging the opposition to counter us, rather than us set up to stop the opposition.
The player you single out for particular criticism (Sigurdson) - some of it quite bizarre I have to say, Steve - was extremely effective in this setup. Not only was he the most creative force at the sharp end of the pitch (scoring goals and making assists), he was also doing the fetch and carry from Gomes and Gueye and helping out even deeper when required.
However, since the 96th minute at Anfield, in the 11 Premier League games and 2 FA Cup games since, everything that was good and functioning well has unravelled.
It is all the more curious and frustrating as arguably, the fixtures in the post-Liverpool game have been more benevolent than the earlier fixtures.
As was pondered on at the time of his appointment, Silva has not been able to arrest a bad run of form and his side concedes far too many goals for which the opposition does not have to work very hard to create and score.
So rather than get better with time, which is basically what you are claiming, the team has regressed and got worse THIS season under the same manager, Marco Silva.
He has persisted with the same formation, but at the same time the formation has lost the compactness and fluidity it showed in earlier games as the opposition found ways to combat it. He has yet to find an effective counter to the opposition's counter.
He has persisted by and large in fielding the same starting XI in many games, even over the congested Xmas-New Year period.
He persisted in playing Richarlison as #9 when there were alternatives available. He persisted in playing a style of football with Richarlison leading the line ill-suited to the player's skill set.
He persisted in playing Gomes in every game when it was apparent he needed a breather.
He persisted in organizing his defence in such a way that the whole of Evertonia now holds its collective breath whenever a ball comes into our penalty area.
This week Silva has come out and challenged the players to step up their own game. For me, the application of the players justifiably needs questioning. Clearly, we simply do not have enough narks and winners in the squad. This has been the case for a number of seasons now and is something Brands and Silva needs to address and recruit in the summer.
But there is talent in the squad that needs to be brought out, but simply isn't showing.
I for one think calls to dismiss him now are extreme. We are not going to make a European spot. We are not going to be relegated (THIS season). You will not find a manager of the required calibre to replace him at this time of year.
Farhad Moshiri's 'vote of confidence' today signals Silva will get to the end of the season, minimum.
Whether he will be retained beyond that is surely in Silva's own hands.
If he is the world-class coach you label him as Steve, he really needs to start showing it in our remaining 13 games, or risk losing even more support from the fan base than he already has.
Ivan Varghese
30
Posted 06/02/2019 at 03:30:21
I agree that Silva needs time, but Silva has
mostly
his own defense. I still think that this team is good but need a striker. I also think that Everton fans are too quick to let the team know their displeasure.
Everton need to give up zonal marking, allows unmarked players to slip through with no one tracking and cause havoc in set pieces. I know that Everton would probably go down against City tomorrow. but let's fall gracefully. Show esprit d'corps and incredible talent.
Mark Andersson
31
Posted 06/02/2019 at 04:09:36
Great Post J Wood...
Laurie Hartley
32
Posted 06/02/2019 at 04:32:57
Nicholas # 20 - the difference in our form and attitude before and after the derby game baffles me also. I think you would be hard pressed to find an Evertonian that wouldn't agree that the difference is chalk and cheese.
I was gutted when that goal went in but I thought the reaction from the players would be something like "sod this, we are going to batter the next lot we play".
Instead it has been completely the opposite and they seem to have gone to water. Most definitely not what I expected. I am having great difficulty getting my head around this.
Looking past the fact that they are all ( with the possible exception of Kenny and Davies) £millionaires after just one season in the Everton first team squad, as individuals they must have all had a high level of motivation, guts, and determination to reach this level of football.
For that reason I can't buy into the theory that they are just deflated. It has to be more than that. Purely conjecture on my part, but isn't it far more likely that that clanger caused a rift in the dressing room?
In some ways, I hope that that is all it is because if so it can be fixed by someone tearing strips off them and telling them to behave like men and comrades.
I think it was Oliver Molloy who suggested yesterday that, according to someone he new in the club, Silva might have done just that (in Portuguese) after the Wolves game. I really hope so.
Let's see if he gets a reaction tonight.
Mike Gaynes
33
Posted 06/02/2019 at 04:48:16
Laurie #32, I understand your skepticism, but deflation is exactly the right word. I was at Anfield. I watched this side play a passionate, disciplined, confident match, profoundly rattling the Prem leaders and crushing their fans to the extent that around minute 70 they began leaving in droves so as not to see their side lose.
And when that ball went in, our guys collapsed on the pitch. Literally just sat down, drained and grief-stricken at having come up empty. No anger, no recriminations directed at anyone, just devastation. And the passion, discipline and confidence haven't been seen since.
I'm absolutely convinced that it was deflation I saw. Not that rifts couldn't possibly have appeared in recent weeks as the frustration increased, but I saw no sign of them that day and I've seen none since.
Alan J Thompson
34
Posted 06/02/2019 at 05:04:26
Silva needs the time? Then somebody tell him, "Two minutes to midnight!"
Jay Harris
35
Posted 06/02/2019 at 05:11:07
Jay #29,
You have said much of what I wanted to say and put it across very well.
I respect Steve's knowledge of the game and various coaches but while initially wanting to give Silva a chance I always had the nagging doubt in my mind that he didnt have the track record to "sort" us out.
Now for those defending him saying he inherited a Koeman/Allardyce team he has been in the unique position of bringing in 6 players of his own choosing.
As you rightly point out when the going gets tough Silva gets going (into his shell).
I have been saying for a while now no player goes out to have a bad game and GP is becoming a library and the answer was some inspiration and a rallying call from the manager to unite the players and the crowd but Silva does not seem to have that in his locker.
The players look like a bunch of strangers just showing up for a kick around at the park and as for defensive coaching most of the crowd could do a better job.
I hope I am wrong but I see Silva doing irreparable damage to the club as Martinez did before him.
Laurie Hartley
36
Posted 06/02/2019 at 06:21:59
Well Mike # 32 - if deflation it is then that is very concerning because it means they don't know how to fight their way out of a corner or have a leader. A much more serious problem that can only be sorted in the next transfer window.
However, Jay Wood has mentioned on a couple of occasions that we need more "narks" in the team. I agree with him but also suspect we already have a few of them.

The problem is none of them have been prepared to stand up and say " look here you lot he might have the armband but I am going to sort this out - follow me". Maybe because they are new to their new dressing room?
I would be very surprised if there aren't two individuals in that dressing room who fit the following description:
1. A boisterous hard case who you wouldn't want to cross.
2. The other a less boisterous individual who number one wouldn't want to cross but,most importantly, would follow.
I reckon number 2 is the man we are looking for - the one who "walks quietly but carries a big stick".
You were surprised when I suggested making Gomes the captain, but I have seen the nark in him bubbling to the surface and I think we will see more of it in the coming weeks. Pity he is only on loan. I think Wolves will come for him in the summer - we have to sign him permanently.
My Narkometer readings are as follows:
Gomes - 9 potential 10
Mina - 8+ going by his World Cup appearances
Bernard - 8
Digne - 8
Pickford - 8 ( but thinks he is 10)
Gueye - 7
Kenny - 7
I wish we had "World Cup" Mina back in this team.
Derek Knox
37
Posted 06/02/2019 at 06:22:07
Having read all the posts I tend to agree in the most part that the blame for the downturn in performance since the Derby, has to lay solely with Silva.
I don't for one minute believe that the players were that psychologically damaged by that result, that it has turned them into shadows of themselves.
Surely the motivational side is down to the coach, the refusal to alter a system that is clearly not working in it's defensive application alone, smacks of total arrogance to me. The ' I am right and everyone else is wrong' attitude is neither helping or encouraging the players to believe in, and follow.
Many are saying we are safe from relegation, are probably right, but at the rate we are dropping points, that can all change after a few games. Especially where teams at the bottom are fighting for survival and often unexpected results happen.
I think James Stewart @4, has hit several nails on the head, and I tend to share his interpretation of Moshiri's stance and subsequent explanation of the current situation.

Paul Setter
38
Posted 06/02/2019 at 07:30:08
Moshiri is as clueless and stubborn as the man he headhunted of which we could still be deducted points for that.
I've got to stage where I won't be watching again as season if the board and manager don't care about the performances why should I care? It's not exactly enjoyable watching that muck each and every week with no different outcome to the previous game.
Jim Bennings
39
Posted 06/02/2019 at 07:51:01
I think Mr Moshiri you may find that Everton fans want a team that works hard and busts a gut wearing the shirt regardless of age, we want young players that are actually good enough not just for the sake of it.
We should have long since replaced Lukaku by now, we are talking about a striker that we sold in August 2017 for Christ sake, it's now 2019 and exactly one year in which time one striker has been signed who is not the answer (Tosun).
I also think there's a bit of a myth about our form prior to the derby being that good.
Yes we were doing a bit better but the results were still rather inconsistent and we were pretty shaky at times, the derby loss just seems to have hit home that we are fragile mentally.
Marc Hints
40
Posted 06/02/2019 at 08:00:25
Mark Anderson #28,
My thoughts exactly — if Moshiri is saying we are to build with youth, why the hell are we giving Baines and Jagielka new contacts? I think maybe that is to do with Kenwright again and the sentimental side of things.
John G Davies
41
Posted 06/02/2019 at 08:23:22
Well said Mr Moshiri.
The ONLY way this club will develop and evolve into a decent team is by giving a manager time.
PROJECT is the operative word.
We can not hope to get anywhere by changing managers every season.
Look what Silva took over.
It's like giving a master painter old tins of emulsion and asking him to create a masterpiece in 6 months.
Giving a stone mason a skip full of half jockers and asking him to build the cathedral.
Give a manager time and a few transfer windows.
We may see some results then.
The way we have been operating over the last years we most certainly will not.
George Cumiskey
42
Posted 06/02/2019 at 08:27:51
Steve Ferns another brilliant long in-depth analysis but no explanation why we are in this predicament.
Why Silva can't get a performance out of so many international footballers.
Why we seem to be getting worse week by week.
Why he stubbornly refuses to change his tactics when they clearly aren't working.
Why it's the same like for like substitutions every game without ever trying a plan B.
Keep it short and to the point Steve, look you've got me being long-winded now. Lol.
Tony Abrahams
43
Posted 06/02/2019 at 08:31:34
A lot of supposition Steve, but I agree with what you are saying, and this manager definitely needs time imo.
He will only get time though if he can tighten us up and make the players roll up their sleeves, and go and fight for the shirt.
I think for most Evertonians, then it's got to be all about passion in the next few weeks? Let them show us how lucky they are to be playing for the blues, instead of not looking interested once it stops going their way.
If they fight, then it will change, if they don't fight, then it's going to be another manager picking up his paycheck, and back to the drawing board once again.
Martin Berry
44
Posted 06/02/2019 at 08:44:25
The Manager will be given the summer and adequate funds, but what if that does not change the tactics that everyone can see are wrong ?.
If the personnel are provided to bring about that change then we could kick on, but if the same mistakes are repeated then he will be gone.
This time next year will be very interesting to see where we are headed.
Jim Bennings
45
Posted 06/02/2019 at 09:05:39
I agree Silva needs time but whilst it takes time to develop a really good football team it should NOT take time to get 11 men busting a gut and working hard for the team.
Fans can tolerate limitations in players but we always want to see work ethic, running and passion despite not being a great team.
Look at Hasselhutl the new Southampton manager.
A very very limited football team but he has instantly got them working their bollocks off week in week out.
Why aren't we doing that?
John Reynolds
46
Posted 06/02/2019 at 09:08:16
If I ever find myself seriously on the wrong side of the law, I'll be flying Steve over to Ireland to defend me.
The problem for many of us who were either fully supportive of Silva from Day 1 or were convinced that he could be the man by Derby Day, is that we're now suffering a form of cognitive dissonance, where our beliefs are being challenged by the evidence of our own eyes, game after game. It's hard to keep the faith when things are falling apart on the field.
I'd been leaning towards replacing Silva with a steadying hand manager like Benitez, who would be able to maximise the resources we currently have and avoid the potential Villa/Leeds death spiral we could find ourselves in unless things change, but I'm persuaded by the argument to stick with Silva. For now.
Anyway, I'll be in Goodison Park tonight, hoping for a big performance and looking forward to seeing Seamie putting Sané in his pocket.
Eddie Dunn
47
Posted 06/02/2019 at 09:15:02
Steve Ferns, you make some very good points and you are always worth reading, but Mike Gaynes is spot-on. I am sure Silva doesn't want him injured. Take him out of the side and all you do is lose his work rate, his knack of putting in the killer pass and his ability on deadballs. It's like somone needs a liver transplant but you think he needs an ingrowing toenail sorted first.
Darren Bailey
48
Posted 06/02/2019 at 09:20:46
"He will coach and develop those young players and every year those same young players will become stronger."
We sent four of our brightest young players out on loan in January!
Holgate no doubt should have been given game time before January even at right back which is where he's been playing for West Brom. We all know what Benni can do and I think most of us wanted to see him play more this season. Dowell, although not set the world alight in the first team when given the chance, should be considered and even though Evans hasn't featured in the first team, if developing these young players is the aim then get him involved.
We currently have Holgate, Robinson, Connolly, Bennigime, Joe Williams, Dowell, Vlasic, Evans and Onyekuru (work permit issues obviously) out on loan while the likes of Coleman, Keane, Mina, Schneiderlin, Walcott, Sigurdsson and Tosun are all stinking out the first team.
I'm not saying the youngsters out on loan would have faired better but if the issue and long term plan is to develop these players then they need to be involved. Ok, they will get game time at their loan clubs (hopefully) which will aid their development but when senior players are underperforming then maybe the likes of Gibson, Feeney, Adeniran, Bowler and Hornby should be given a go.
The Under 23's could well win the League 2 title again this year but we're not making the most of this bright talent. Is this where our next big thing is going to come from?
James Marshall
49
Posted 06/02/2019 at 09:32:55
We're 9th, we aren't going to go up or down a great deal in the league and we won't get relegated so Moshiri is right to stick by Silva.
I've been quite vocal in my displeasure with this manager from day one, and still don't have a lot of confidence in him, but much like tonight's game, this season needs to be viewed as a free-hit for Silva.
He's inherited a lot of players so should be given time to work on the project, as is inferred by Jim White and Moshiri. We, as supporters, of course want instant results, but we also need stability so I reckon we need to stick with Silva for the time being, support him and the team (despite being shite at the moment) and hope it all comes good in a year.
My biggest concern is his tactics – we're useless defensively, and not many of us appear to be fans of zonal marking. Suck it & see.
John G Davies
50
Posted 06/02/2019 at 09:33:12
Jim 45,
100% correct.
The easiest crowd in the league to please are Everton fans.
Run around, tackle and fight they will love you.
It's not happening at the minute from too many of them.
Dave Abrahams
51
Posted 06/02/2019 at 09:35:05
Jay (29), says it all for me and I suspect a swarm of Everton fans, good post Jay.
John Hammond
52
Posted 06/02/2019 at 09:46:59
Iain Johnston #7: None of those players were brought in by Silva and Brands. Have a look at the ages of the players they did bring in.
We all know that a big chunk of the squad that's been around for the last few years need to go. We saw the clearout start last summer and it'll continue this summer and we'll see young, hungry players come in to replace them.
Paul Cherrington
53
Posted 06/02/2019 at 09:49:46
i can see the logic in what the Chairman is saying to some extent but at what point do you decide enough is enough? When we are 1 point above the relegation zone, actually in it or already down? It is easy to say there is no way we will be relegated but with how we are playing right now, I can't see us picking up many more points! is it wise to just cross your fingers and hope for the best?
Also I think it is quite a contradictory attitude to take from him and some of our fans. managers like Moyes and Allardyce were hammered constantly for not being competitive enough and settling for second best. and yet now this manager is in the hot seat we talk about being happy to write a whole season off and it not really being important where we finish or the results we have. it does not make any sense.
If challenging for honours and winning is the key measure for fans previously, why is that being forgotten about now? It's not like the football is good to watch to make up for it. People talked about Moyes not being competitive enough in certain games but then are happy to give Silva a free pass when we have just got rolled over 1-3 at home by Wolves.
Mads Kamp
54
Posted 06/02/2019 at 09:52:37
I actually agree. Let's hold our nerve. Let's get behind Silva. Let's get behind the project.
I also agree that the need for a striker is imminent! A striker is exactly what the team lacks. Not only to score goals but to create fear and havoc in front of goal. Someone to aim for. Someone to create space for the rest of the pack.
Get a World Cup striker and everything else will be sorted out.
James Marshall
55
Posted 06/02/2019 at 09:56:36
John@50
That is exactly why Everton have been left behind, and why we're never going to become a force again - we have too many supporters happy to see effort, even if it brings no reward. With respect, I detest that attitude - it's not park football, or the 70's anymore, we need quality footballers, not 11 blokes who run about and put in a hard tackle.
That's the Everton museum talking.
John G Davies
56
Posted 06/02/2019 at 10:07:22
James,
I wholeheartedly agree.
Effort without skill will get you nowhere.
Equally, skill without effort will get you nowhere.
I recall Sharpie when he was co-commentator on the radio after a defeat.
"Well Sharpie, a defeat but the lads give 100%"
Graeme "What's so special about that? That should happen every time you go on the pitch."
Peter Mills
57
Posted 06/02/2019 at 10:33:26
Jay #29, I agree with nearly all you say. My one addition to your words is that even though we were more compact and conceding fewer in the first few months of the season, the goals we were letting in were still soft.
For me, the warning bells were ringing about Silva's defensive acumen long before he arrived. I mentioned those concerns to Steve when he and I met on World Cup Final day; the bells turned into a loud alarm when I saw the ease with which Bury scored against us pre-season.
These defensive frailties have now turned into a crisis. It's no wonder morale has plummeted, conceding goals is like a kick in the guts, you can only take so many.
Marco Silva has shown no evidence of being able to stop this malaise. Why should we have any faith that he will do so?
Mike Allen
58
Posted 06/02/2019 at 10:56:43
Young? Great bringing young players through — love the chance to prove himself on the big stage... pity you lost your nerve with Unsworth.
James Marshall
59
Posted 06/02/2019 at 11:14:04
John, that's a fair comment from Sharpie too. All the blood & guts football we see people crying out for on here will get us nowhere. Modern football isn't about that, it's about skill & tactics with effort & desire. It's not about hard tackling & lots of running about unless you're a relegation level team with limited players.
We do clearly have some limited players ourselves – I just wish our support wasn't so stuck in the past.
Kevin Prytherch
60
Posted 06/02/2019 at 11:27:02
Eddie Dunn – personally I think one of the problems with Sigurdsson is that he's not creative enough to play the killer balls.
Sigurdsson is a dead ball specialist, with a good work rate and a good shot on him. However, whoever told him he was a "Number 10" was deluded. He should have trained as an all-round midfielder.
Curiously, how many top "Number 10s" who are essentially attacking midfielders can you name in successful sides? I don't mean withdrawn strikers (ie Cantona, Bergkamp etc), but those who are more midfield than strikers.
Rob Dolby
61
Posted 06/02/2019 at 11:32:20
Results will dictate Silva's future.
If we get battered tonight 0-7 will he still have a job? Get stuffed against Watford then humiliated in the Derby, will he still have a job.
Regardless of how many players he is managing from previous regimes his current tenure besides a couple of decent performances have done little to convince me that he can take us into the top 6 nevermind top 4.
Brands should have a Plan B up his sleeve if Silva gets the sack this month.
I can put up with getting beaten by skill, flare and the odd bit of bad luck. I cannot abide the school boy errors by senior pros under the guise of tactics.
We gifted Wolves three goals and scored a wonderful goal ourselves. It isn't a one-off – it's a regular thing that we are doing.
I won't lose any sleep if he gets sacked tomorrow.
Daniel A Johnson
62
Posted 06/02/2019 at 11:37:23
We have simply got to get rid of this group of players, lower the wage bill, and let's give Marco time to build and play the type of football he wants to play. The only problem I see is we don't have the cash for the scale of rebuild required.
As for picking youngsters... who? For example, how long are we going to keep saying Calvert-Lewin is young and will come good... tick, tock... it's not happening.
Charles Barrow
63
Posted 06/02/2019 at 11:39:51
I hope Steve Ferns and others who are cautiously optimistic are proved right. Yes, he has inherited a disjointed and arguably demotivated squad and he needs time etc etc – but the big issue for me is why he hasn't fixed obvious problems, like defending at set-pieces!
Surely you need to introduce your ideas gradually and take account of how far you think the team can do the things you want them to do. You should assess whether the players are capable of, for example, bringing the ball out from defence (which they are not, but he persists in his penalty-box tactic, which causes palpitations for the fans).
Surely a good manager adjusts his tactics and style when necessary and motivates his players. The evidence is Silva is not doing this. I want him to succeed and I don't want him sacked at the moment but I do wish he would wake up and realise his approach isn't working and things need to change!
Bill Watson
64
Posted 06/02/2019 at 12:13:24
I don't think many would argue against Moshiri's wish for young players to be gradually brought into the first team.
Perhaps he needs to ask Marco why Kenny was dropped for an out-of-sorts Coleman and a patently out-of-form Walcott was preferred to Lookman for the Wolves game.
Like all managers, Marco Silva seems to go for the safe option.
Jerome Shields
65
Posted 06/02/2019 at 12:14:14
The problem is Silva's is not coaching the defense, the midfield or the forwards. Most of the young players are loaned out. Some don't want to come back.
Moshiri seems to have been sold a development policy to reduce transfers that does not exist.
Jim White and his yellow tie again. .
Bob Parrington
66
Posted 06/02/2019 at 13:19:55
Steve #11 "This will be long" How true! But I started to read it in the departure lounge in Adelaide and I decided to copy and paste it so that I could read it on my flight to Sydney. I'm glad I did. As usual, you put a lot of thought and analysis in to it.
To be honest, I can't argue with much you have written either about Everton or the other clubs/managers. Some club board's have very short fuses. I was glad to read Moshiri's supporting comments, as well as those from Guardiola on Soccernet.
I am not for sacking Silva. But I would like to see a couple of changes. One is that his body language on the side line is awful. He looks like a lost child. Nobody can convince me that the players don't notice this. I don't want to see him be complete Klopp-like but I would like to witness some passion.
The second comes down to being pig-headed (and he wouldn't be the only manager out there that suffers this). Clearly, the current squad have zero idea of how to zonal mark from corners and free-kick crosses. So, change to man-for-man in these situations to get results, at least until he can get the right blend of players in to suit his ethos, build some confidence "undsoweiter" as Klipperty would say.
A good number of the players we have are not as bad as they're being made out to be but they do need leadership like any good team or business. One bad egg…!
Again, well done Steve!

Paul Le Marinel
68
Posted 06/02/2019 at 13:37:54
Kase Chow #8, regards why weren't proper funds made available to buy a proven striker in January, that's a very good point.
I think that our best striker at present is Richarlison, having so far this season scored 11 goals. Considering he is still only 21, I think that's pretty good and he has done exceptionally well in his first season at Everton.
But however, he can't do it all by himself and it should have been identified that in the January transfer window, that we needed to strengthen our attack up front and therefore it should have been made a priority to have brought in a striker.
I know that progress is being made with regards to a new stadium, but that is not going to happen until 3 or 4 years time (unless any delays may suggest otherwise). I don't know if that had anything to do with why Farhad Moshiri didn't provide any funds for the January transfer window but, whatever the reason, I would hope that the main focus will be on the team and finding ways of resolving our struggles at present with our poor run of form.
He says "in this business, you have to hold your nerve" and at present I do question as to whether Marco Silva can hold his, that is to say if he hasn't already lost it.
We need a manager who can bring stability, consistency and the right mentality to the team and get the players to put their heart and Soul into every game. If they really do want to play for Everton, then they should show it on the pitch and prove their worth.
Is Marco Silva the right man to do that and finally win us some trophies in the next season or two? Based on the current season thus far, I would say not, but I think for the remainder of this season will be a tough test of seeing if he is a good enough manager to turn things around.
Is he up to the challenge? Can he deal with the pressures of his managerial position? As to whether or not he is capable of that, I guess we'll find out soon enough.
Jerome Shields
69
Posted 06/02/2019 at 13:46:03
The players against Wolves where a young squad, but where was the evidence of coaching.
Zonal marking. . .
Defending set pieces. . .
Defending midfield. . .
Playing in midfield and final third. . .
Finishing. . .
Thomas Lennon
70
Posted 06/02/2019 at 13:51:14
After the derby, we played 8 games in 4 weeks; prior to the derby, we played 3 games in 4 weeks and one game a week before then.
Liverpool was merely the beginning of a period of time we couldn't cope with. The squad lacks quality in depth, so while top 6 teams rotate in fresh legs we lost our edge, then our confidence.
The Premier League is no place to have to find your confidence back in, as we have seen. It will take a big win, probably starting the weekend after next as this Saturday will be our fifth game in 2 weeks.
We haven't got the squad. 6 or 7 really good quality? Needs to be twice that.
On squad development, Brands has said several times his job is to develop younger players rather than buy the finished product, it is not news when Moshiri states that too.
nb: Brands also has a history of selling on at big profits.
Steve Ferns
72
Posted 06/02/2019 at 14:17:48
Thanks for the positive comments. I take what Jay wood says on board.
To answer Tony A, and others, who make the point about fight, or passion for want of another word, then this comes from the players. What we are seeing across a variety of clubs is that good coaches are unable to change mindsets.
I think a good word to sum things up is malaise. I was naive to think that Marco Silva could come in and shake Morgan Schneiderlin out of whatever has taken hold of him and get him back to his very best. I doubt many here would argue that his very best would not be of use to us.
Southampton were going down. They new guy came in and gave them a kick up the arse. But there's motivation for them. If relegated, they get a wage cut. If you were told to work harder at your jobs and perform or have a wage cut you would.
Where's the motivation for our multi-millionaires? We're talking about working harder just to claim 7th or 8th. I suspect early on, before the Derby it was different, they'd started to buy in and were expecting to keep above Man Utd and bask in the (relative) glory of 6th. Since that was lost, we've just given up.
The problem is how do you motivate this group of guys? And the illustrations show it's not limited to us, and Silva needs to get his own guys in.
Back to supposition, but I suspect that the players are making half hearted attempts at zonal marking. So it's not that they don't run around enough, it's their execution of the plan. The general malaise around the club that successive managers can't smash.
We'd all love to see Silva go in and tear a strip off them all, but it's 2019, not the 1980s. You can't do that anymore. Not in any job. So think about it. How can you turn around demotivated staff in a failing business?
I think there's a Premier League wise problem and we need to address how players are paid and financially motivate them to perform. You can still earn your £150,000 per week, on average, but certain things need to be done. The problem is the players just won't sign for us and will go for the easy guaranteed money.
Premier League wide, the players are fat and lazy (financially speaking) and we need players hungry and with something to prove.
Jay Wood
[BRZ]
75
Posted 06/02/2019 at 14:49:59
'Premier League wide, the players are fat and lazy (financially speaking) and we need players hungry and with something to prove.'
Agree with you there Steve. That is an individual and personality trait of the player.
That's why I advocate Brands (Silva...Moshiri) need to do their due diligence on future signings and ensure we sign more hungry – angry, even – narks that simply don't quit, whatever the game situation or whoever the opposition is.
That doesn't equate to recruiting lesser players, of poorer ability than the top teams.
Look at the very best talent at the very best clubs. Many of them are multiple trophy winners. They could relax on the laurels. But they don't. They are still driven, still hungry, to win more and be the best they can be.
It's not just their ability to see the cream rise to the top: it is their desire, too.
Unfortunately, we still have a whole raft of rotten deadwood to get off our books in the summer which continues to restrict who and what we can realistically recruit to better the team. And buyers know this. As many keep repeating, you can't sell if there are no buyers.
But to end on a positive note, Brands did very well in a very foreshortened transfer window last season (due to the World Cup and the earlier-than-usual closing of the English transfer window).
Let's hope he can weave similar magic this summer and clear out the Augean Stables of the bloated Everton squad.
Paul Smith
76
Posted 06/02/2019 at 14:57:23
Is it about money though, Steve? Afterall what come's next when you have all that money can buy and most Prem footballers have bundles.
Surely the buzz, adulation, exhilaration of winning, scoring, being part of a side going places, is what comes next.
Feelings and purpose just like Bill fuckin Gates he's minted and still motivated, and not to make money anymore. Yes, players aren't in his wealth brackett but they have more than they need.
What I'm trying to say is that players should be motivated by more than money – success in their career with Everton would be a start.
Mike Gaynes
77
Posted 06/02/2019 at 15:03:56
English lesson request: What the heck is a "nark" in this context?
I've seen this particular noun before but I thought it meant an informer.
Michael Kenrick
78
Posted 06/02/2019 at 15:22:27
nark
in British:
(nɑːk ) slang noun
1. British, Australian and New Zealand:
an informer or spy, esp one working for the police (copper's nark)
2. British: a person who complains irritatingly
an old nark
3. Australian and New Zealand: a spoilsport
Mike, there's more here: Collins Dictionary, which I think is one of the better online sources because it separates English and American usage, and does all the colonial nuances too.
James Marshall
79
Posted 06/02/2019 at 15:37:11
In context on here though, a nark is someone who enjoys a bit of aggro.
Dave Abrahams
80
Posted 06/02/2019 at 15:37:30
Mike (77), There is a saying in Liverpool when talking about someone. "He'd cause an argument in an empty house" that is what a nark is, someone always causing a fight over the least thing.
So if some of our players are not doing their job or continually making mistakes, the nark would be on to them immediately and making sure they bucked up, he would also be onto the referee and linesmen when they
wrongly ruled against us.
That's why we need a nark as a captain, to keep everyone on their toes, for example, in your time as a Toffee, Tim
Cahill would be a nark.
Jay Wood
[BRZ]
81
Posted 06/02/2019 at 15:42:11
On a lighter note, here's a great story of a team in the 6th tier of French football in which 2,000 subscribers can make 'Football Manager-like' team selections and in-game decisions, fed live to the manager, to make tactical changes and substitutions.
Imagine the chaos at Everton if this was allowed just to TW posters with its broad church of opinion!
John G Davies
82
Posted 06/02/2019 at 15:45:28
Mike Gaynes.
Peter Reid = Nark.
Steve Ferns
83
Posted 06/02/2019 at 15:54:32
Paul, no, not just about money. Hence I said about the glory of 6th. Not much financial incentive for that, directly anyway, but that would be a goal for the team to achieve. Now 6th has gone, what's left to play for.
Millenials like the phrase: Meh!
That seems to sum our team up in so many ways, particularly in terms of attitude.
Mike Gaynes
84
Posted 06/02/2019 at 15:59:52
Michael, yep, that's what I found as well, but Dave explains how it applies in this case. Thanks to both of ya.
So Dave, in your opinion we need a Mark Noble type of captain. But it seems to me that Cahill didn't wear the armband all that much for us. The ability to get up in people's faces, while valuable, doesn't necessarily connote leadership.
My feeling is that, while we certainly need a captain with toughness, we also need one who can inspire his mates to follow him. A Kompany type.
One thing is certain -- neither toughness or inspiration is currently represented anywhere on the Everton roster. And that's a major problem.
Mike Gaynes
85
Posted 06/02/2019 at 16:05:07
John G, 20 years ago I figured he was destined to be our manager someday.
John G Davies
86
Posted 06/02/2019 at 16:17:55
Read his autobiography Mike.
What a man.
On and off the pitch.
Kieran Kinsella
87
Posted 06/02/2019 at 16:21:49
Jay Wood 81
Where have you been mate? We have been using a "Britain's Got Talent" like fan survey to pick the team since 1997. Me and all my mates got drunk one night and called in hundreds of times to demand the purchase of Tony Thomas and Mitch Ward.
Mads Kamp
88
Posted 06/02/2019 at 16:56:06
Note to the editor regarding #54:
WC=not World cup, but World Class!
Dave Abrahams
89
Posted 06/02/2019 at 17:00:08
Mike (84), yes Mark Noble, that sort of player, they don't have to wear the captain's armband, just make sure no one slackens but stays on the job.
Jay Harris
90
Posted 06/02/2019 at 17:37:12
If the players lack motivation surely that is what the manager is paid to sort out.
If he is incapable get a manager who is. All this shit about the modern footballer is avoiding the issue. The majority of players want to win things and be idolised. They just need sold on the dream.
Everton are a prime example of a rudderless ship. Individuals looking to get through a game as quickly as possible with no idea where their team mate prefers a pass or who is covering for them if they venture forward and as for set pieces don't even start me.
Silva's approach to set pieces is a disgrace and has been for 3 teams in the prem now. If he hasnt learned by now he never will and as for blaming the players that is a pathetic cop out.
The majority of the crowd could coach set piece defending better than Silva.
James Power
91
Posted 06/02/2019 at 19:01:21
Great comments coming thick and fast. I like Danny's at 18 but I would say that Silva (jury out for me) has said he does exactly as you suggest, some of the team mark zonally, but a few go man to man (on key threats).
Secondly, as a general comment, Kendall's teams were zonal markers, with the odd player going man to man where needed tactically. Thirdly, I love Sharpie, but for f*** sake, talk about giving 100%! he may have given 100% with his verbal invective and when he fancied it, but (Derby screamer aside) my abiding image of him is stood with his hands on his hips (he wasn't the only one to do this of course - just how many players did that in the 80's was quite staggering). Great thread anyway, keep it moving...
Tony Twist
92
Posted 06/02/2019 at 21:55:00
Moshiri, the man who expects us to lose against the big teams is very blinkered. Relegation is a possibility. This team could quite easily not win another match this season. Is our points tally enough, no, I don't think so.
Minik Hansen
93
Posted 06/02/2019 at 22:00:13
The next fixtures indicates that it's time to release an interview with that message. Personally, I want to see how this little run against the top sides go, and then the rest remaining fixtures against lower sides before illiminating Marco Silva. Surely he is different than brown shoes Bobby, will Silva sort the defence out?
Neil Carter
94
Posted 06/02/2019 at 23:37:48
Likely a battering in the derby may bring down the curtain if we get no points in the next 2 games
Rob Marsh
95
Posted 06/02/2019 at 23:58:19
Minik #93
He's still using zonal marking?
If he hasn't dumped this by now the chances are he going to keep playing the way he plays and if results go against us and Cardiff win a few we could be right in the brown stuff upto our necks!
Clive Mitchell
96
Posted 07/02/2019 at 19:33:28
Steve, 72 - I agree. It would be daft to sack Silva.
Colin Wordsworth
97
Posted 07/02/2019 at 23:43:37
Why daft to sack Silva? Where is he taking us? What has he learnt? Where is the improvement?
Answer: I don't know, he doesn't seem to and there isn't any! Despite over £100 million.
James Stewart
98
Posted 08/02/2019 at 00:19:42
A very detailed analysis Steve @11. Lots that not many would argue with but I would ask you one question. This was tweeted by Richard Keys during the City game I believe and it is an alarming stat.
"Everton concede another set-piece goal. Only 2 teams in Premier League history have had a worse record conceding from set-pieces at this stage of the season – Hull and Watford – both managed by Marco Silva."
A leopard can't change it's spots and however much time we give Silva I just don't see his flaws ever being acceptable. Especially defending set pieces. It is clearly a massive chink in his armour.
Justin Doone
99
Posted 08/02/2019 at 00:56:08
This time last year, I just wanted Sam out. I got that wish. I also wanted several other managers, I didn't get any of those several wishes.
I had stated Silva had proved to be a decent manager, some Premier League experience with mixed performances but in general his teams played attacking football. As long as there were no relegation fears I'd be happy.
This season has been a mixed bag but in general on a par to where I thought we would be and I'm prepared to give him another season, presuming we do pick up a few more wins before season close.
Moaning Morihno would probably win us a piece of silverware within 2 years but within 3 years we would be back to where we were last season, not as bad as Sam but similar negative football and under-performing players.
Would it be worth it just to win a League Cup? I'm 50:50. Yes, silverware. But a manager I can't stand. I honestly don't don't think he'd come, maybe with a £200m guaranteed spending allowance but I'm not sure he's worth it and I don't want another negative manager.
So stick with Silva for now, reassess at the end of the season and again in November.
Phil Sammon
100
Posted 08/02/2019 at 02:10:30
How has Silva garnered this reputation as an 'attacking manager'? As far as I can tell, it seems to be because he can't organise a defence.
We're currently lucky if we have 3 shots on goal in a game. All hail the attacking manager. I dread to think what a defensive manager is like.
Alexander Murphy
101
Posted 08/02/2019 at 06:09:59
Albert Einstein is broadly credited with stating "The definition of insanity is doing the same thing over and over again, but expecting different results".
The corollary to the above is "If what you are doing isn't working, then try another way."
Hull defended set pieces poorly.
Watford defended set pieces poorly.
We defend set pieces poorly.
This "zonal marking" malarkey, no-one on the front & back posts? So are they not zones then?
If Marco won't try another way, then we'd be insane to expect different results and should try another manager.
Paul A Smith
102
Posted 08/02/2019 at 20:54:51
I find it strange that some people think £100 million in the premiership is a lot of money to seriously improve a poor side.
2 of our regular performers don't even belong to us and Bernard was free.
West ham must have spent around the same to improve their poor squad and they're as bad, if not worse than us.
Players not being fully settled in the Premier League has contributed to the money looking poor value but £100 million is nothing in the top half of the prem.
I want us to win the league and right now it would cost about £500 million to do that or some amazing out of this world luck with scouting.
David Currie
103
Posted 09/02/2019 at 04:22:20
Steve @72, You are correct when you say we need hungry players with something to prove.
More important is we need a manager/coach who is hungry and highly motivated to improve his team's obvious weakness. It is shocking the amount of goals we are conceding from set-pieces and Silva has to show strong leadership and take responsibility.
The excuses that he needs his own players by the way he has 6 of his and two were centre-backs won't wash. His salary of £3 or 4 million a year may mean like the players high wages that he is not that bothered about fixing a basic problem.

Peter Warren
104
Posted 09/02/2019 at 06:36:42
Silva s record in the premier league with zonal marking is terrible. However, Hull were rubbish and he wasn't there long. Watford were good to begin with but again he was only there half a season. With us, it's still early days.
Liverpool's big problem was defending set pieces, took an age for Klopp to sort out (much more than 2/3 of a season) but they look the best in the league now at defending. He also spent around £150m on defenders (including goalkeepers).
I have doubts, huge doubts, but if Silva is a good manager it will take time. As Trevor Steven mentioned I'd give him til November.

Alexander Murphy
105
Posted 09/02/2019 at 08:57:53
Peter @104, reading your comment I so want for you to be right and Me to be wrong. I do..

Like Marco's defending atrocity record, I too have previous. Namely, one Howard Kendall.

I sat there frozen to the marrow watching us and Coventry produce probably the least ever entertaining football match of all eternity. Head in hands, I concluded that, despite so many reasons of love & loyalty that "Chrome Dome" just had to go. This was the utter nadir of "Nil Satis Nisi Optimum".

My walk home was agonising. Far worse than a 36-0 Bon Accord marmalising. The wind moved the ball with more passion than all 22 forgettable. It was beneath contempt, pitiful.

He just had to go. It would surely be a kindness. No more of this direction less drivel. Heartbreaking. "Your taxi is ready Mr. Kendall. Have a safe journey. Farewell.".

Legends now tell that HK's turnaround was down to this or that. Whatever.

Under MS we really are just as bad as with HK's clueless crew. Talking Heads "Road to Nowhere".

However, the difference betwixt then and now is that Howards Blues ended a barren spell of fourteen years. Our current "silver phobia", will be a minimum of twenty five years. Twenty Five. A quarter of a century. And counting.

As Evertonians, we are now accustomed to NOT winning. Not lulled but bludgeoned to know our place. Time and time again.

We have even allowed a vile heresy to take root "be careful what you wish for", scorning ambition. As though expectation and passion are behaviours of damnation.

We cower in the shadows like sad villagers in a Hammer Horror movie. Preyed upon by some fell terror, afeared to stand up and fight.

Seemingly, our worst fear is relegation. Really !
Relegation.
Our greatest fear should be that we don't WIN !
Win the next game !
Win the next derby !
Win the next trophy !

Relegation ?
We are ALREADY relegated.
Worse than Championship, League One.
Mentally we have been culled into dross for approaching two and a half decades !

Time to choose Blues.
"Nil Satis Nisi Optimum" v "Be careful what you wish for".
(Out track: Billy Bragg "Which Side Are You On").

(Final thought: "If I call for Marco's taxi, will the fates rub My nose in it as we win trophy after trophy after trophy for the next ten years ?". Oh pleeeeease, pleeeeeeease ! Let Me be the most mocked Blue ever. As we return yet another bounty and fathers point Me out "See him lad, that softshite wanted us to sack Marco Silva !!!!!!! And he blamed Lord Kenwright as well !!!!).

"Your taxi awaits, Mr. Murphy, in your own time".
Paul Burns
106
Posted 09/02/2019 at 17:09:57
The only time Silva should get is behind bars and take Moshiri and Kenwright with him. For a long time.
Joe McMahon
107
Posted 09/02/2019 at 20:01:04
Dear Farhad, I and many other fans of this once "Giant of a club" have been holding our nerve (as you say) for donkeys years.
Jimmy Salt
108
Posted 10/02/2019 at 18:49:56
Those of you who want Moshiri out,,,,,,,, Really !.
And who would replace him, and sponsor finch farm for x millions and build a stadium.
Wake up ffs.
Jay Harris
109
Posted 10/02/2019 at 19:04:19
Alexander,
A lyrical insight into our recent woes and those responsible which is not the supporters I hasten to add.
I somehow feel it will not be you waiting for a taxi and it wont be that long.
Goodbye, Marco, and thanks for nothing.
Steve Lundberg
110
Posted 10/02/2019 at 19:48:18
Unfortunately, my fellow Blues, we are just gonna have to suck this one up (like so many other seasons in our recent past). I think Marco will get another shot at this with a chance to 'build' a team to play whatever his 'style' of football he thinks he's trying to have our boys play. I can't see Moshiri caving in already with him, hence his 'patience' quotes lately.
He will no doubt take a lot of advice from Brands as to whether he thinks Silva has a sound approach given the players he may identify as right for his method of play.
In terms of the structure they've put in place now, Silva reports to Brands and Brands reports to Moshiri. He will be held accountable for all things football related and I'm sure will carry the can at board level. So it is he who owns Marco's arse these days and he who will no doubt influence mostly how our beloved team develop and progress going forward.
The remainder of the season will be coasting to the finish line exercise I reckon, and once we are out of danger (hopeful) planning will be well underway to prepare for the next attempt. I foresee a lot of the current players will be moved on unless they can show they can fit into the Silva philosophy, assuming that Brands recommends another attempt.
Silva was brought in for a long-term vision as a young and developing modern coach. We've had a few glimpses of that early in the season, but if he stays in post there is a hell of a long way to go even if his philosophy actually starts to work.
It seems he's had this season to check it out with the players he inherited, bringing on board some of those that he and Brands also identified as of the right fit. It remains to be seen that if he does survive the next couple of months whether this vision starts to become a reality. Or whether we go back to the beginning... Again!
Paul Burns
111
Posted 11/02/2019 at 17:37:23
Jimmy Salt, Moshiri's spending Everton's money, not his own.
All of it from Sky and selling our best players.
Jay Harris
112
Posted 11/02/2019 at 17:47:10
Paul,
That is not strictly true.
Moshiri cleared off all the exorbitant loans that Kenwright had arranged, costing us £10s of million a year in interest to his buddies.
He has underwritten (i.e. responsible for) over £200 million in loan and no doubt engineered the USM sponsorship deal which benefits the club financially.
He might not be the brightest brain in football but don't underestimate his value to the club.
Derek Taylor
113
Posted 12/02/2019 at 09:47:26
Jay, if you are happy with things under Moshiri's reign, you are very easily pleased. The influx of TV money wisely handled would have been enough to clear most of the Club's debt — which has merely been rearranged rather than paid off.
Footballwise he has been a bloody disaster as has all his appointments to Board and staff. Forget Bramley-Moore Dock — we are doomed!
Tom Bowers
114
Posted 16/02/2019 at 16:57:29
Steve Lundberg you are so right all good Blues fans will have to suck this season up as Silva won't be going anywhere soon and change right now will only serve to be a big embarrassment to Moshiri. Having said that, there is no point as Everton are going nowhere with this bunch of crap – no matter who takes charge.
Sadly it seems we have been sucking it up for so many seasons that it has become a blase expression we are all too familiar with.
Each new season brings fresh hope only for that hope to be crushed pretty soon after the start and we are getting used to being called ''also-rans'' by Christmas.
It has been a season marred with so many inept and lethargic performances, one doesn't know where to start.
Money talks but it would appear Moshiri's is all being directed to the new stadium for the time being and so we will have to ''suck it up''.
Add Your Comments
In order to post a comment, you need to be logged in as a registered user of the site.
Or Sign up as a ToffeeWeb Member — it's free, takes just a few minutes and will allow you to post your comments on articles and Talking Points submissions across the site.