60s hero Fred Pickering passes away
Saturday, 9 February, 2019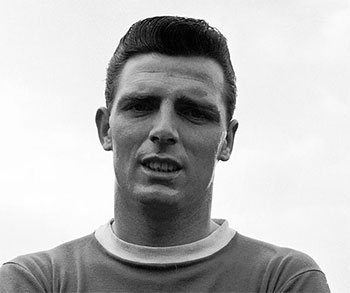 The Everton community has been saddened by the death of Fred Pickering who passed away this morning at the age of 78.
The Blackburn-born striker joined the Toffees in a record-breaking Everton £85,000 transfer in 1963 from Rovers where he had made 123 league appearances and would spend four years at Goodison Park before moving on to Birmingham City.
Capped three times by England, for whom he scored five goals in 1964, Fred scored a hat-trick on his Everton debut against Nottingham Forest and would go on to notch 70 goals in 115 appearances for the club.
He was a vital member of the team that won the 1966 FA Cup Final, firing important goals on the road to Wembley that year.
Sadly for him, a troublesome knee injury kept him out of the semi-final against Manchester United and he wasn't selected for the final which Everton famously won 3-2 over Sheffield Wednesday.
---
Reader Comments (54)
Note: the following content is not moderated or vetted by the site owners at the time of submission. Comments are the responsibility of the poster. Disclaimer
Mick Conalty
1
Posted 09/02/2019 at 20:44:40
As a boy I saw his debut hat-trick. He missed a few sitters before the first of his goals on that grey rainy afternoon. All credit to him for not being phased by the early misses and going on to score a great debut hat-trick.

If I remember right Everton signed him because of him scoring a hat-trick against us for Blackburn Rovers at Goodison. How we could do with him now.
Rest in peace, Fred.
Derek Knox
2
Posted 09/02/2019 at 20:50:55
Thanks Lyndon for drawing his demise to our attention. I remember Fred well, but apart from Black and White television, never actually saw him play at Goodison.
When you look at those sort of statistics 70 goals in 115 appearances, it is phenomenal, especially when you consider that the ball was a piece of leather, or many pieces sewn together. Nothing like the beach balls they play with today! It is even more incredible.
Without tarnishing his memory, I heard from a very reliable source that Fred ended up with very little money from his playing career, and often took solace in indulging in alcohol, and could often be seen in many a bar in Blackburn, a lonely man and a shadow of his former self. So sad!
God rest his soul, he will always be fondly remembered by us older guys, and for his unstinting contribution to the Everton cause.
Andy Meighan
3
Posted 09/02/2019 at 21:04:46
I'm nearly 60 now but I never saw him play but remember where I was growing up just by Great Homer St and someone had painted a goal on a wall with the words Fred Pickering painted in the middle. 70 in 115, my God. Fred come back, all is forgiven. RIP Fred
Tony Heron
4
Posted 09/02/2019 at 21:05:23
Sad news. Mick I too remember his debut and his hat trick. It was against Notts Forest and we won 6-1. Like you said, before he scored he missed a sitter and I can still hear the groans from the Gladys st as we wondered if he was a dud. I went to Blackburn the following week where he was marked by Mike England the Rovers centre half and he never got a look in. He was also very unlucky to be sidelined through injury from that famous Wembley F A cup final when we came from 2 goals down to beat Sheff Wed 3-2, thanks to 2 goals from his replacement Mike Trebilcock. RIP Fred, thanks for the memories.
Peter Howard
5
Posted 09/02/2019 at 21:19:40
I had a black and white photo cut out of the paper of his header against Bedford ( yes, Bedford ) in the 3rd. Round.
I think we played in black and white that day.
Our scorers always seemed to be: Pickering' Young and Temple.
George Cumiskey
6
Posted 09/02/2019 at 21:26:28
I remember his debut I think it was against Forest he knocked himself out scoring one of the goals.
Oh god could we do with him now.
R I P big Fred.
Tony Hill
7
Posted 09/02/2019 at 21:29:48
Yes his record with us was excellent on pure goals scored, but there was always something just a touch off key with him, never knew what it was really. A fine player for us, may he rest in peace.
Peter Mills
8
Posted 09/02/2019 at 21:29:51
I was present at Fred's hat-trick debut, and at some of his goal-scoring matches in the FA Cup winning run in 1966. As a club, we have much to thank him for.
George Cumiskey
9
Posted 09/02/2019 at 21:38:45
Tony Hill what the hell does that mean ? .
Tony Hill
10
Posted 09/02/2019 at 21:44:58
It means that I think he never quite fulfilled himself as a player with us, George, for reasons that I was never able to fathom given his ability. I'm not sure why that merited your response.
John Keating
11
Posted 09/02/2019 at 21:59:46
Tony, I think you might be right about him not achieving what he was capable of.
I'm sure he was fit or declared himself fit to play Wednesday but Catterick decided to go with a relatively unproven Trebilcock – proved right, I suppose.
Alan McGuffog
12
Posted 09/02/2019 at 22:04:14
I'll not forget Fred. I'll be delighted to forget all the tossers who turned out for us today.
Anthony Dove
13
Posted 09/02/2019 at 22:07:45
When he hit the ball, you could hear it. Happy memories. He did not deserve not to be picked in the 1966 FA Cup Final.
Paul Birmingham
14
Posted 09/02/2019 at 22:22:19
My dad used to mention Fred, as reliable and put in a shift when he played.
If the spirit that the likes of Fred and his team mates showed could shine down now.
RIP, Fred Pickering.
Barry Johnson
15
Posted 09/02/2019 at 22:30:09
The word 'Legend' is often abused today, but Fred was a true legend. Gone but not forgotten.
Rest in peace, Fred.
Tony McNulty
16
Posted 09/02/2019 at 22:30:48
He came into my grandad's pub one day. My Dad told me he wasn't too happy when one of the RS community shouted out, "Hi Fred. Still hitting the woodwork?"
RIP
John Raftery
17
Posted 09/02/2019 at 22:45:07
Fred lived near Town Green Station after his move from Blackburn. We used to walk past his house in the hope of seeing him and getting his autograph but never did. He had niggling knee problems which affected him before the '66 final and he was never quite the same player before he eventually moved on to Birmingham.
Earlier in his career at Blackburn he had been a defender before being converted into a free-scoring centre-forward.
Brent Stephens
18
Posted 09/02/2019 at 22:55:44
Remember that three-goal debut. A clumsy looking player but knew where the back of the net was.
Bill Watson
19
Posted 09/02/2019 at 22:59:40
John; yes, he was a full back who was moved upfront as an emergency measure, by Blackburn, and was an instant success.
I saw his debut hat-trick and his overall goals ratio with us was excellent.
Martin Nicholls
20
Posted 09/02/2019 at 23:03:46
Mic k#1 you – beat me to it! I could have written that myself.
I started going to the game in early 1963 and saw the likes of Alex Young and Taffy Vernon in their prime but Freddie Pickering (the best centre forward in the land!) was my first footballing hero.
I know he was a real Blackburn man but our Club must commemorate this guy properly – as Andy #3 points out, his goals-per-game ratio is almost beyond compare.
Martin Nicholls
21
Posted 09/02/2019 at 23:06:19
ps: I seem to remember him doing his cartilage in a derby game at Goodison that effectively finished his career with us. Am I right?
Peter Fearon
22
Posted 09/02/2019 at 23:09:38
I was at the Nottingham Forest game for his hat-trick. He was a devastating striker on his day. Catterick was right to leave him out of the Cup Final.
He was theoretically fit to play but there were no substitutes in those days and the Wembley pitch took a dreadful toll on players. Catterick had to consider the consequences if Pickering had not lasted 90 minutes. Even so, it was a tragedy for him.
He was a man out of his time, however. Football was changing in the Sixties and he was Fifties-style player, a single-minded upfront target man in the Dave Hickson mould.
Dick Fearon
23
Posted 09/02/2019 at 23:53:31
What a sad, sad morning after the Watford debacle I now find one of my all-time favourite players has passed on.
I also was at his Everton debut that was during a period when our goals had dried up.
Our post-match bevvies in the 'Abbey' were usually noisy affairs but on that day there was a kind of stunned silence.
A voice called out, "Hey George, what do you think about this Pickering lad"
George replied, "He's big, slow, can't dribble or head and can't or won't pass"
Then to a mighty roar, almost in awe, George said "He scored a hat-trick." The beer flowed that night.
RIP, Fred, thanks for the memories.
Dave Williams
24
Posted 10/02/2019 at 00:28:40
Martin — you are! The Charity Shield against Liverpool in 1966 when he did his knee and that was curtains. A week later, a certain player was signed from Blackpool and Fred was forgotten. A fine striker and one of our best.
RIP Fred
Derek Thomas
25
Posted 10/02/2019 at 00:51:24
Fred claimed he was the only player to score a hat-trick in consecutive games at Goodison Park... once for Blackburn (when they ripped us a new one with Bryan Douglas pulling the strings); then at his debut vs Nottm Forest.
They still remember him at Blackpool, where, iirc, he scored the goal (amongst many) that got them promoted.
But by the start of 1966-67, the new order was replacing the old. He played the first 3 games, got injured in the derby, missed a few (came back too soon?) Got injured again, then didn't play until near the end of the season. Leaving in the close season.
John Dean
26
Posted 10/02/2019 at 03:03:09
I was there on his debut, standing next to the Boys Pen with my dad and his mates.
When I hear his name mentioned, I always picture one of his three goals, the one where he collected the ball way outside the box, ran forward and swerved to the right of a defender before crashing in a head-high rocked from 25 yards. But don't bother telling me if it was actually a little dribbler that bobbled over the goalie's foot.
Alan J Thompson
27
Posted 10/02/2019 at 05:48:55
Dick(#23); That was rather my opinion of Fred, a full back who when played at centre forward couldn't stop scoring.
RIP
Paul Ward
28
Posted 10/02/2019 at 06:12:32
I remember the debut hat trick against Forest and many of the goals he scored. Agree with most poster's about his wonderful goals to games ratio, he was a natural goal scorer. Just before we signed him he scored 6 in one game for Blackburn against West Ham. A player you just expected to score each game.
RIP Big Fred.
Laurie Hartley
29
Posted 10/02/2019 at 06:22:28
Another of my boyhood heroes passes from this life. My condolences to his family and friends.
His name brings back memories of many happier days following The Blues.
Tom Evans
30
Posted 10/02/2019 at 06:48:32
Add me to those who saw him on his debut.
That being the second time I had seen him, the first being when I attended my first ever game when he scored a hat trick for Blackburn six months prior.
My first hero in blue.
Sad loss. RIP
David Hamilton
31
Posted 10/02/2019 at 07:19:28
I saw the Blackburn game at Goodison. Fred was immense and we lost 4-2.
A horrible little man called Bryan Douglas was running round kicking everyone in sight, the ref doing nothing about it. Tony Kay took action, punching Douglas in the back. Needless to say, he was sent off.
RIP Fred. A big centre-forward in the Everton tradition.
Brian Porter
32
Posted 10/02/2019 at 07:24:56
One of my boyhood heroes. I couldn't believe it when he was left out of the team for the 1966 FA Cup Final (no subs in those days), but Harry Catterick was proved right when Mike Trebilcock came in and famously scored twice to help us come from two down to beat Sheffield Wednesday.
How we could do with a player like him today. Rest in peace, Fred.
Terry Hayes
33
Posted 10/02/2019 at 08:37:04
The first time I met Fred was when he was working on the cutters at Star Paper Mill in Blackburn in the late 70s, He gave me a bollocking for slagging off Ron Yeats.
A few years ago, Fred took me as his guest to the home match against Man Utd (the Rooney badge-kissing game). I asked him whether he'd received an FA Cup Winners medal in 1966 and he said No, because only 12 were given out as there was only one sub and that Sandy Brown got the twelfth.
Thanks for a great day out, Fred, and for introducing me to some of your old teammates.
Derek (2) — "without tarnishing his memory"?
Fred wasn't a drinker at all, he'd stopped drinking years ago and well before he took me to the match that day. I offered to buy him a few pints but he refused and insisted on buying my ale instead. You'd only see him with a glass of orange juice or having a cuppa on Friday mornings on Blackburn market, chatting away.
RIP, Fred, and thanks for my souvenir.

Chris Hockenhull
34
Posted 10/02/2019 at 09:51:09
Tom 30. My very first game too in 1963. Remember more about the occasion than the actual game sitting with dad in the Gwladys Street stand.
I was denied going to his home debut v Forest a few months later as I put the living room window through with a ball on the Friday night and a furious dad said no game as he then drove round Bootle for glass to repair the window whilst we should have been at game... sick when I saw the score.
RIP, Fred.
Tom Evans
35
Posted 10/02/2019 at 10:51:25
Chris #34.
I was mesmerised by the amount of people walking down the valley to the ground, never mind the 49,362 who were there. I'd never seen so many people in one spot in my life.
His debut coincided with my birthday and I treated myself with using some of my birthday money to go into the Park End stand.
Fred's goalscoring feat that day was the best present I could have had.
Robert Workman
36
Posted 10/02/2019 at 11:11:22
The defeat by Blackburn was the first time that I had seen Everton lose. I remember that we were 2-0 up after around 10 minutes. Young scored at least one.
I was also present to see the 6-1 thrashing of Nottingham Forest. A joyous occasion to see so many goals, including a hat-trick from our new instant hero!
Alan Unsworth
37
Posted 10/02/2019 at 14:19:41
I was just a kid when I saw Fred make his debut against Forest scoring a hat trick thus becoming an instant hero in our house. Forest had Grommit in goal and I swear he ducked when Fred smashed the ball in from the edge of the box. In fact, the Echo photographed the moment and it seems to confirm it.
Sad he couldn't play in the Cup Final but Harry was proved right in his selection with us winning 3-2 and his deputy grabbing two goals.
Steavey Buckley
38
Posted 10/02/2019 at 16:57:37
Fred Pickering, 1963–1967.
Everton: 97 appearances 56 goals, a goal scorer, who averaged 1 goal every 2 games during his professional career, a great legacy to leave behind.
There is nobody at Goodison who is near equaling his goalscoring record.
Ray Roche
39
Posted 10/02/2019 at 17:27:19
Add me to the list of fans who saw his debut, and the Blackburn home game when they beat us 2-4.
Fred was an underrated player who had his Everton career cut short by injury. In those days a cartilage injury could ruin your career, not like nowadays. He was, as I understand, big friends off field with Mike England. I think they were "best man" at each others weddings.
I have had the pleasure of playing golf with Mike on several occasions and he talked about Fred, when asked, in glowing terms.
Ray Atherton
40
Posted 10/02/2019 at 18:37:28
I met Roy Vernon in Maghull, he was going into a Betting
shop, I knew Roy, going to the away games. He was with
Fred Pickering and introduced me to Fred, two Ex Blackburn
players.
I was at Goodison against Nottm. Forest, great debut.
Before Fred signed for us, he played for the England under
23"s at Anfield. I was in the Kop, mix of Blues and Reds every
time Fred touched the ball the RS supporters were cheering,
because he had scored a Hat Trick at Goodison versus the
Blues.
Fred scored lots of goals for us, some crackers, he scored
two brilliant headers I think it was against Blackpool.
The headline on the Echo was "Fred"s jack knive headers"
Steavey 38
Fred wasn"t signed untill 1964 about March.
Ron Marr
41
Posted 10/02/2019 at 19:11:29
RIP Fred Pickering.
My cousin lived in Town Green, and me and a mate were fortunate to get his autograph on our footballs when we knocked at his door. I remember reading before he moved into that house that RS fans had painted slogans all over the walls and garage door.
He scored a lot of goals for Everton, and I was a big fan, but he was never the same after that knee/cartilage injury which forced him to miss the Cup Final and also the World Cup in 66; he was in the provisional World Cup squad.
Dave Abrahams
42
Posted 10/02/2019 at 20:07:31
I was also at Fred's debut game which was a week after we had battered Spurs 4-2 at White Hart Lane, if I'm not
mistaken.
David (31) Bryan Douglas, a horrible little man kicking everyone in sight? Don't think so, Bryan was a brilliant little player, think he was making a fool out of a few Everton players that day and Tony Kay ( who was one of my favourite players) was well out of order when he elbowed Douglas in the back and was correctly sent off.
David Hamilton
43
Posted 10/02/2019 at 22:12:37
Must be a false memory I have then, Dave!
Paul Ward
44
Posted 11/02/2019 at 06:31:05
Dave and David, I think you are both right. In my humble opinion, Bryan Douglas was one of the most horrible and niggling players of the sixties.
He was also, as you say, Dave, a brilliant player who excelled against Everton.
Jonathan Tasker
45
Posted 11/02/2019 at 07:32:25
Fred Pickering's stats were impressive. He was just before my time.
Rather disrespectful comments about Bryan Douglas. He played 36 times for England and one of Blackburn's stands is named after him.
Terry Hayes
46
Posted 11/02/2019 at 08:10:21
Fred and Bryan Douglas both worked at Star Paper Mill in the late '70s – although in different departments.
Mick Ord
47
Posted 11/02/2019 at 08:20:20
Fascinating stuff re Brian Douglas who I met at a sportsman's dinner years ago. He told me about the Tony Kay incident which he said was done "for no reason"!
He also said Catterick nearly signed him but he got injured in a Blackburn reserve game and was never really the same player again... we bought Alan Ball and the rest is history.
I recall going to watch Fred Pickering make his Everton comeback after a knee injury and 14,000 fans turned up, if my memory is correct...
Can anyone verify this?
RIP
Derek Thomas
48
Posted 11/02/2019 at 08:21:09
Paul @ 44; Bit harsh there on Douglas. What we wouldn't give to have a niggly, horrible, midfielder, who won loads of England caps when it was a miracle to get 5 if you lived North of Watford and didn't play for Man Utd etc.
He played in that game for Blackburn when Fred got 3 and bossed it so totally, that not only did Harry buy Fred, paid Douglas the ultimate compliment of having Denis Stevens (no dummy himself) do a man-marking job on him, the next time we played them. Douglas bossed that game too.
Robert Workman
49
Posted 11/02/2019 at 09:39:49
Those days Bryan Douglas was the one player I feared playing against us. He should have played more often for England and would have done so had he played for a London team.
David Peate
50
Posted 11/02/2019 at 16:34:34
I was at Fred's debut match and recall vividly his hat-trick.
Supporters of that era may recall that, whenever Fred was fouled and fell to the ground, the crowd would chant "Fred's dead, Fred's dead".
It is sad to hear that this friendly joking has now come to reality. Fond memories of you, Fred.
John G Davies
51
Posted 11/02/2019 at 16:48:17
Sung to the Beverly Hillbillies tune:
"Let me tell you a story 'bout a man named Fred.
He scored goals with his feet and goals with his head
Then one day, when playing against the 'Pool...
My dad used to sing it to me when I was a kid but I can't remember the rest.
Dave Abrahams, please, mate?
Tom Evans
52
Posted 11/02/2019 at 18:22:45
John #51.
The name associated with that song, for me at least, was for Bob Latchford. Thinking about it, Fred fits nicely. Apologies to those who I may have relayed this to but.
Come and listen to a story 'bout a man named Bob
He could score goal with the end of his knob
Then one day while playing against the 'Pool
He skipped past Emlyn and scored a great goal.
Well the next thing you know the Kop is in despair
All the Evertonians threw their hats up in the air
Then Bob Paisley said to Bill Shankly
I think Penton Park is the place for me.
I'll get my coat.
Dave Abrahams
53
Posted 12/02/2019 at 11:18:59
John G (51),
Sorry mate I haven't got a clue about songs to Fred, as much as Iiked him. My favourite was a song to Davie Hickson to the tune of "Davie Crockett" but that was long ago.
Another was a song about that biting bastard Suarez to the tune of "That's Amore". I can just give you the first verse of that one:
"When you live on a farm,
And you bite someone's arm,
That's Amore"
There was about ten more verses along the same lines. I loved trying to sing that to my "loveable" red mates, who unsurprisingly loved the mad dog.
Brian Harrison
54
Posted 12/02/2019 at 12:10:10
Yes, I saw Fred make his debut. If memory serves me correctly I think he started off as a full back at Blackburn and they converted him to a Centre forward.
When he played for us I used to see him quite regularly at Guiness Exports club in Skelmersdale. When you look back now and think how many talented players for a whole host of clubs, were now most are spread around 5 or 6 clubs.
As was mentioned, Brian Douglas and Ronnie Clayton at Blackburn, Pointer, McIlroy, Adamson, Angus and Elder at Burnley. You could go on and on with how many great players played in that era. How lucky were those of us old enough to see those players.
Add Your Comments
In order to post a comment, you need to be logged in as a registered user of the site.
Or Sign up as a ToffeeWeb Member — it's free, takes just a few minutes and will allow you to post your comments on articles and Talking Points submissions across the site.