Keane backs Silva and Bernard targets goals
Friday, 15 February, 2019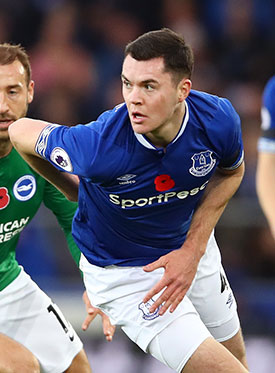 Michael Keane has spoken of the benefits of stability in the Everton camp as speculation around Marco Silva's future as the Blues' manager increases in the wake of 10 defeats in 16 games in all competitions.
The Portuguese endured an uncomfortable return to Vicarage Road last Saturday as his side were beaten 1-0 by his former club, Watford, a result that means Everton have won just three times in the Premier League since late November.
That has inevitably led to talk of Farhad Moshiri perhaps having to contemplate another change in the Goodison Park hot seat and a pronouncement from the majority shareholder via TV and radio presenter, Jim White, that Silva will remain the man charged with building a young team at Everton.
That will have come as welcome news for Keane based on his comments in the Liverpool Echo earlier this week. The defender has already played under four different managers in his short time at Everton and sees continuity as an important factor if the Blues are to turn things around.
"Stability is important at any football club," Keane said, "because the routine becomes more normal, more entrenched, players and staff get to know each other a bit more and, as that unity takes root, you grow more as a team.
"The manager has brought some brilliant players in and he's laid some good foundations. We're right behind him."
Meanwhile, Bernard has said that he is determined to start weighing in with goals to do his bit to help the team.
The Blues have struggled to score regularly since the wheels came off their season after the Anfield derby at the beginning of December and since the start of the League season, more than half of Everton's goals have been scored by just two players, Gylfi Sigurdsson and Bernard's compatriot, Richarlison.
While not a prolific goalscorer, the Brazilian is capable of chipping in and says he wants to build on the solitary strike he has managed thus far, the second goal in the 2-1 FA Cup third round win over Lincoln City last month.
"Without a doubt, the position I play demands goals," he said. "So I go on the pitch wanting to score and to help the team.
"I have that desire to score goals, before I go on the pitch I think: 'I need to score'. But I do not let that pressure me because it could harm my game.
"Hopefully the chances will come, and I can help the team by scoring goals.
"We have a lot of players who can create opportunities to score and players who score goals. But we all need to contribute."
---
Reader Comments (64)
Note: the following content is not moderated or vetted by the site owners at the time of submission. Comments are the responsibility of the poster. Disclaimer
Ken Kneale
1
Posted 15/02/2019 at 07:33:54
A bit like Smiffy from the Bash Street Kids backing the Teacher because he knows how to control them. These are ridiculous pronouncements given our performances and lack character shown all season
Anthony A Hughes
2
Posted 15/02/2019 at 08:03:26
Ok Bernard how about not being Jigsaw mark 2 and maintaining some composure when you get in the box. Talk us cheap boys.
John Keating
3
Posted 15/02/2019 at 08:19:57
It will never happen but just for once wouldn't it be great for one of these guys to come out and talk sense.
Bernard. "We have a lot of players who can create opportunities to score" so why don't they?
"And players who score goals" Where?
"But we all need to contribute" so why don't you?
As for Keane's comments. Well they certainly don't come across watching.
I just wish these guys would just shut up rather than talk shite
Colin Glassar
4
Posted 15/02/2019 at 08:29:55
Heard it all before Michael. May I suggest you take up ballet or yoga to improve your flexibility? A half-sunken super tanker turns quicker than you do. Your reading of the game, positioning, awareness, calmness on the ball etc... is all wrong.
Plus, you need the corners of your head smoothened out so you can head the ball properly. You've got more right angles than Herman Munster!
Derek Taylor
5
Posted 15/02/2019 at 09:05:39
I've just placed a significant (to me anyway) sum on Everton finishing 12th this season. That 'comfortable' position is more or less the lowest we can expect if the pattern of results of the last eleven games is repeated over the final fixtures.

The 'owners's 'apparent expectation of a continuing reign for Silva - at least for the present- is around that mark as he talks of this very limited 30%er being given time to build. Those who expect more will have to wait.

Meanwhile, we all know that the pronouncements of players, particularly those of such limited ability as Keane, are pure claptrap, fashioned by the club's media team at management's request. Our response, as always, is 'for gawd's sake show you can play - don't just spout about it !'
Bobby Mallon
6
Posted 15/02/2019 at 09:08:19
I think you lot above need to stop moaning, Collin, I usually like reading some of your comments but to say jean is a bad defender is wrong. That kid has had a fractured skull and if anyone epitomised fighting spirit it's him. Bernard is correct he does need to start scoring what's wrong with him saying it. The team are going through a bad patch, let's ride it out and see where we end up. I think we have the wrong manager for our players at the moment. But give him next transfer window and let's see. I have said he needs to go but I say that after every defeat 😂
Alan J Thompson
7
Posted 15/02/2019 at 09:09:06
It's just his turn; look, we can score goals so take your eye off the defence. Although I do think Bernard is one of the few, possibly only, who is thinking two moves ahead.
Bobby Mallon
8
Posted 15/02/2019 at 09:10:04
Kean not jean😂
Tony Abrahams
9
Posted 15/02/2019 at 09:19:05
I actually agree with everything Michael Keane says, but must also add that if Everton want to improve, they have got to sign players of a better standard than this distinctively average centre-half?
Martin Nicholls
10
Posted 15/02/2019 at 09:39:55
Nice list of "benefits" of stability from MK - pity he doesn't include winning the odd game in that list!
Clive Rogers
11
Posted 15/02/2019 at 09:47:01
The fact is that Bernard is just not a goal scorer. He got 14 goals in five years at Shaktar and has stepped up to a higher level in the PL. It's not going to happen. I would be happy with a few more assists.
Mal van Schaick
12
Posted 15/02/2019 at 11:06:11
Perhaps a few drawings of what a set of goal posts look like might help, or a team talk like " any chance of a shot on goal lads, and by the way a set piece isn't 4 cups and saucers".
Paul Cherrington
13
Posted 15/02/2019 at 11:22:16
I think if we are now relying on Bernard for goals, we really are in trouble. As noted above, he is not what you would call prolific – but then again, it is not is job to be fair. I think we would get on much better with him in the No 10 role, behind a mobile striker to feed.
We would be more dangerous then I feel and pose more threat. The problem is we still seem intent on playing Gylfi in that role who is just not up to the standard every game to make it work. I know Gylfi weighs in with goals and the odd moment of amazing skill each game but it's the way he stops the whole team playing for the other 85 minutes that is the problem. For me, he is too slow in thought and action to be a modern No 10.
Keane is a funny one – sometimes he looks great but then the next minute he looks like a Sunday league player. often in the same game! He is a good squad player if we pick up injuries but not good enough as a regular starter I think.
Tony Everan
14
Posted 15/02/2019 at 11:23:22
Bernard is assuming he is picked, the end product is not good enough to justify his selection at the moment.
Silva has given him more leeway than most and his faith has not been repaid. Bernard is a senior player, no excuses after 6 months, and needs to step up to the plate fast. More importantly not just a one off successful performance, we need it consistently .
Derek Knox
15
Posted 15/02/2019 at 11:49:30
I can't exactly remember if it was Mandy Rice Davies, or Christine Keeler who said during the Profumo Scandal " Well he would say that, wouldn't he? " it sounds like a desperate attempt to save Silva from the Gallows. I guess Michael has been nominated as his Saviour Spokesperson too.
It's doubtful if Silva will escape the Gallows, but in the unlikelihood of him doing so, he will not escape the wrath of ToffeeWeb!
Despite some of the criticisms of Bernard, I actually like the little guy and as Alan J Thompson stated I think he is a few moves mentally ahead of most of his team-mates, I still believe with the proper coaching he could be our Silva (Man City that is, not the clown with the same name) but there lies another question.
Terry McLavey
17
Posted 15/02/2019 at 12:40:12
More "fine talk", I also can't believe they get taken away for warm-weather training! Quite a nice reward for the dreadful performances we've had to endure! I'm sure it will be business as usual when they return, has it made a difference in the past?
What is it with football and big business and politics? You fuck up, get the sack and have loads of money given to you? These must be the only institutions in which this happens!
Here's a novel thought, let's show some interest and try and win a game, shall we, then you might get listened to!
Rob Marsh
18
Posted 15/02/2019 at 12:44:28
Whenever there's a break in play they role these players out who make generalised facile statements.
Of course Bernard targets goals, he hasn't scored any for the offensive player he is, then again they should all be targeting goals, that's how we win games?
Keane backs Silva, what else is he going to say? He's mis-managing us, we're clueless how to win games and keep conceding easy goals, we don't want him?
Nicholas Ryan
19
Posted 15/02/2019 at 13:01:02
Derek [15] It was Mandy Rice-Davies, who in the trial of her landlord, Dr. Stephen Ward for 'living off immoral earnings'; had it put to her by defence counsel, James Burge, that Lord Astor denied sleeping with her: she replied: 'Well, he would, wouldn't he?!'
John Mortimer, writer of Rumpole of the Bailey; later said, that James Burge was the 'model' for Rumpole.
Jimmy Hogan
20
Posted 15/02/2019 at 13:06:33
Oh for a leader. Someone like John Terry, who supporters of other teams hate and who scares our players into performing to the best of their abilities. Only when we have one, will Silva be able to build a team.
Peter Gorman
21
Posted 15/02/2019 at 13:24:17
"Stability is important at any football club," Keane said, "because the routine becomes more normal, more entrenched, players and staff get to know each other a bit more and, as that unity takes root, you grow more as a team."
Yet to see any evidence of this.
Terence Leong
22
Posted 15/02/2019 at 13:35:43
There is obviously a dent in their confidence. Gomes, having started losing the ball a few games back, started be more fidgety when challenged.
The winter, playing through the Christmas season is not something that the newer players are used to.
There is much to be desired with regards to how the link up play is.
Everyone from the midfield upwards seems to be playing as individuals rather than a team.
Hopefully they get that right, because we ever only saw glimpses of it at the start of the season. Now, it's even more scarce.
There is a natural striker in Tosun (see how he turned to hit that powerful shot with his weaker left foot), something that DCL hasn't been seen to do.
Twelve more games to still salvage some pride.
Fran Mitchell
23
Posted 15/02/2019 at 13:50:35
Don't see Bernard making the grade tbh.
Derek Knox
24
Posted 15/02/2019 at 13:52:28
Jimmy Hogan @ 20, I don't know if it was my post you were referring to about having a leader, like John Terry, which is very true, although unpopular.
I was referring to a leader in terms of coaching, tactics, team play/passion and desire, which seems to be sadly lacking with our current arrangement.
In the words of the Lone Ranger " Aye, Go, Silva "
Matthew Williams
25
Posted 15/02/2019 at 14:23:00
To those that still doubt Tosun... sigh.
The lad has scored goals in that piss-poor competition known as the Champions League!!! He even bagged goal of the tournament a couple of years back, he scores for his country too... so maybe, just maybe, the real problem lies with our club's training methods!?
It wouldn't be the first time, after all, would it folks!
Jeez... if this lad bagged the winner in the home derby and then did the cutthroat gesture to Klippity and the other plastic flag-waving red bastards (he did it playing for his country), you'd all fucking fall in love with the guy.
Everton is the problem at the moment, not this lad, and definitely not our young lads either!
Dave Evans
26
Posted 15/02/2019 at 15:15:06
I read this piece and thought Keane and Bernard were talking sense.
A gullible mug, I suppose. I even thought Stones, Lukaku and Barkley were good enough for Everton.
Paul Cherrington
27
Posted 15/02/2019 at 16:36:28
I rate Tosun personally and think he is certainly the best striker we have at the moment. He should be playing most games as he can at least finish when given the chance. I know he has missed chances but show me a striker who hasn't. In general, though, he comes alive around the box and can find the net when he gets the chances.
Mind you, I wouldn't have let Niasse go either – I know he is not the most skilful player we have ever seen but he had a knack of scoring at least.
Chris Donnelly
28
Posted 15/02/2019 at 16:52:50
Keane is the square root of most of the problems, he hasn't a clue, every time the ball goes anywhere near him he looks she'll shocked, gormless. His first touch is shameful for a player on such a sizeable wage.
Every set piece is a nightmare, they just look to see where Keane is and aim the ball there, end result goal!!!
As a professional footballer that is a half-back, the basics should be second nature to them, but in Keane's case, it's just hope for the best.
The sooner Silva gets the permission to get rid of this excuse of a footballer, the better. We need to build the spine of the team on a platform of two absolutely solid centre-halves.
I'm enjoying my 17 days off, it's like a cruise!!! Everton at the moment feels like a really bitter divorce!!
Frank Sheppard
29
Posted 15/02/2019 at 16:59:04
The need and desire for continuity and stability makes perfect sense.
I do wonder if the players still have confidence in Silva, because continuity and stability in someone you don't have confidence in, is likely to lead to very poor results, or at best inconsistent results. so perhaps no coincidence there. All things considered, I think it's too early to dump Silva, he does need more time, to develop this consistency and to change things.
And a lot of people on Toffeeweb should stop slaughtering our players and being so negative.
James Stewart
30
Posted 15/02/2019 at 17:48:44
I think Bernard needs to play in the middle just as Bernado Silva does for Man City. He's wasted on the wing.
Gordon Crawford
31
Posted 15/02/2019 at 18:26:53
I hope Bernard comes good and is able to score more goals and make more assists.
As for Silva I just don't care if he goes now. I really do hope he proves me wrong though, as I'm tired of us starting over and over again.
Also, did anyone hear what Gueye has supposedly said about his failed PSG move? If you haven't read it, then it's in the Echo:
Idrissa Gueye hints at Everton exit as he eyes future Paris St Germain transfer.
It's the line about working harder to get his dream move that really bothers me. If he can work harder, then it means he isn't working hard enough and that's just not good enough.
Derek Knox
32
Posted 15/02/2019 at 18:39:07
Gordon @ 31, good point, I did read that too, and Gana is one of the harder working players, so what does that say about the others?
I believe that the players are not really happy under Silva, hence players wanting moves, and others coming to the fore and defending him publicly, smacks of discontent to me. No doubt I will be labelled a Conspiracy Theorist, but believe me I have been called a lot worse, the words "water" and "duck's back" spring to mind.
Steve Ferns
33
Posted 15/02/2019 at 18:49:54
A new name to add to Phillip Cocu in terms of likely alternatives to Marco Silva emerged today.
The BBC do a Euro Leagues podcast and this week, Guillem Balague met Julen Lopetegui for a long chat. Very interesting as he talks about Spain, losing the job before the World Cup, it all going wrong in Spain and he hints furiously that he wants a job in the Premier League.
My first thought was he speaks very good English, that's interesting. Then as it develops and turns into an advert for him it sounds very much like a come and get me plea.
So who could he go to, certainly none of the top six, except Man Utd and they'd want better. Wolves if Nuno leaves. A guy managing Real Madrid doesn't end up in a small team 6 months later, he has kudos to get a decent job.
The written article but the podcast is better and Balague entertains the suggestions that Lopetegui is in the country for Everton. Also note that his "team" is assembled and ready and waiting.
Is he any good? His coaching is renowned. He did very well at youth levels and he had rebooted Spain in the run up to the World Cup. But his club career is terrible. No doubt about it. Sacked by a second tier Spanish side as they dropped another league. Then got a great chance at Porto who always win the league, spent a fortune and won fuck all. But did well in the champions league. Then came Spain. Then Real where he must be the only full time manager for decades not to win more than he lost. So three club jobs, all disastrous. Hardly inspiring.
But you can't disregard his coaching ability so easily. I hope Moshiri swerves him to be honest, but he's an interesting guy to watch what happens to next.
Michael Kenrick
34
Posted 15/02/2019 at 19:11:49
Gordon, that is atrocious, but I guess there's not much the club can do about it.
Does the player's contract contain any limitations or constraints on players blabbing their mouths off like this? Sure, from Gueye's perspective, he's just expressing ambition about his own career, and we should all be understanding that's how players look at things in these days of disloyalty, and applaud his desire to reach a peak with some other club.
But if it were me, I'd have a Mission Statement (you could laughingly call it a Loyalty Clause!) written in to every contract that expresses the ethos of the club that is paying them their massive wages, and that requires them to do nothing that is disrespectful of or derogatory to that club, its management, and fanbase.
But I guess the only sanction is the 2 weeks wages fine.
Of course, if this goes any further, we'll hear the good old excuse about "comments taken out of context" or "lost in translation"... Sorry, but No. That is bullshit.
Gordon Crawford
35
Posted 15/02/2019 at 19:13:42
Thanks for the link guys, I couldn't get it to work. Derek and Michael I agree. Also, I am putting you forward for manager Michael :)
The minimum I expect is for everyone to give it their all when playing for or managing our great club, but that's just not happening. I have never been so unattached to any Everton team as I am to this bunch. I wouldn't care if we sold all but three of them.
Oh and the three:
Jagielka
Baines
Coleman
Derek Knox
36
Posted 15/02/2019 at 19:17:09
Steve @ 33, I read that too, but on the Internet, Chinese Whispers can distort the original story and what's more the truth, although the old saying in Journalism "Don't let a good story get in the way of the truth" but the version I heard, again through Guillame Balague.
He was very interested in managing an English Premier League Club, not in the top six but a 'Club like Everton' smacks of jobhunting and putting the feelers out, but there again, I don't think he would be a bad shout at all.
I felt Real Madrid were too quick to pull the plug on him in November, after all said and done you don't get picked for National Team & Real Madrid manager without warranty.
Oh, but wait a minute Sam Allardyce did have a brief spell as England Coach/Manager, I suppose there are exceptions to every rule.
Seriously though Steve, if we are to part ways with Silva (which I believe is only another couple of poor results away) we could do a lot worse. His playing days were as a Goalkeeper, so he must know how to organise a defence, he likes to play from the back with possession football and slick passing (a little bit of work needed in that department. (methinks)
He is renowned in World Football and respected, so should have his finger on the pulse with respect to players. He should also be able to attract a decent calibre of player should he be 'enthroned'; just good food for thought!
Steve Ferns
37
Posted 15/02/2019 at 19:22:31
Derek, if you think he can organise a defence, please go and watch his Real Madrid, Spain, or Porto sides. It's Roberto Martinez but with a little more flexibility. He is all about possession. No pressing to his style of play. I've seen nothing to show he can grind out a 0-0. Look how many times he received an absolute thrashing. Madrid's worst defeat to Barca for years (5-1), Porto's worst defeat in Europe (6-1).
He's interesting, but not defensive at all. And remember Silva was a left back.
Jay Harris
38
Posted 15/02/2019 at 19:52:18
Gordon and Michael,
I think that comes from the Daily Mail who also started the story about Richarlison leaving. Probably some rednose with nothing better to do.
The story also suggests that Gueye spoke with Tuchel and, if that was true, I would fully expect the club to report PSG for illegal approaches.
Rob Marsh
39
Posted 15/02/2019 at 20:00:28
Gordon #31
There's a Lukaku inside every one of them just waiting to bust out as soon as an offer comes in.
Dave Ganley
40
Posted 15/02/2019 at 21:14:37
Michael #34, could always sanction them by giving them a playing ban for a couple of games. Let's face it, we wouldn't miss some of the players at the moment and would give some of the younger players a chance. They at least would make an effort to impress.
Dave Abrahams
41
Posted 15/02/2019 at 21:22:20
Nicholas (19), Ah, The trial of Dr Stephen Ward, starring Mandy Rice Davies, Christine Keeler, with many famous names kept out out of the trial.
What marvellous entertainment that trial provided, with poor Dr Ward the scapegoat, it gave much more fun than we Evertonians have received in the last few years.
Trevor Peers
42
Posted 15/02/2019 at 22:25:23
This is the usual pathetic rallying call of a club in the throws of a coming crisis, select a few players out to raise a fake morale-boosting message. Not a smart move when you have no games to be judged on.
This time it's Bernard and Keane, they back Silva because he's a very easy guy to please, while earning your undeserved millions. Bernard doesn't look like scoring more than 4 goals this season, hardly top class. What a farce.
Mike Gaynes
43
Posted 15/02/2019 at 23:51:01
DK, gotta go with Steve on this one. I very much doubt we could "do a lot worse" than Lopetegui. Yes, he has had some temporary success handling world-class talent. But we'd have to search far and wide to find a manager more ill-suited to a mid-table club in the Premier League.

Dave Evans
44
Posted 15/02/2019 at 00:05:18
So Trevor @42 (the meaning of life?)
Now that you have wised up the rest of us mugs on what's going on, what's your positive take on the club you support, and how they take things from here?
Because I thought Keane and Bernard talked a bit of sense.
Ken Kneale
45
Posted 16/02/2019 at 00:28:30
Dave Evans. Have you seriously thought about your comments or is that a wind-up?
Mike Gaynes
46
Posted 16/02/2019 at 01:44:45
Ken, I didn't see one wrong word in Dave Evans's comment.
Mark Andersson
47
Posted 16/02/2019 at 05:31:26
Frank Sheppard... Silva, he does need more time, to develop this consistency and to change things.
He is consistent already sending out teams who lose more than they win... gift goals at set pieces... and getting team formation wrong. What a manager!
Eddie Dunn
48
Posted 16/02/2019 at 08:21:03
Bernard is an enigma. He clearly has lots of talent and is quick. I too would like to see him used in a central role, in and behind the striker. Little guys like him that have done well in the very physical Premier League are players like Sterling, who is renowned for his strength, Shakiri, who is like a little weight-lifter and Fraser at Bournemouth, who is also well-muscled.
The only slender one I can think of is David Silva, but I bet he is 10 pounds heavier than Bernard. Is the answer regular scouse with dumplings?
Frank Sheppard
49
Posted 16/02/2019 at 08:38:15
Mark Anderson, I agree Silva looks consistent at many of the wrong things at present, but we can't keep "throwing the baby out with the bath water" as much as we have done recently, as it's expensive and really disruptive.
I am not convinced with Silva, but it's not uncommon for good managers to have ropey starts and phases early on. Here's hoping I don't have to eat my words.
Ken Kneale
50
Posted 16/02/2019 at 09:15:54
Sorry, Mike, I take a contrary view. These players need reminded talk is cheap. I would be more impressed if they showed some character on the field and help the club regain some credibility.
Trevor Peers
51
Posted 16/02/2019 at 09:18:19
Not trying to wise people up, Dave @44. That's my take on the situation, you've got yours!
When the Russian billionaire joins us, or we unearth the new Brian Clough, I might start feeling optimistic about our future; otherwise, we've missed the boat, I'm afraid.
Alan J Thompson
52
Posted 16/02/2019 at 09:59:35
Is it just me or do we only look good when on holiday on the Iberian peninsula? No, I take that back, who would be on holiday in Europe during January, February and didn't own a pair of skis.
Yeah, buggered if I'd know either.
Henry McDonald
53
Posted 16/02/2019 at 10:31:26
The need for stability, Mr Keane? How about starting with the Everton defensive line and the ability to cope with set pieces?
Or what about you learning to compete for the ball in the air more, man mark the opposition in the box and actually throw yourself into the fight a bit? That would be a start, eh!
Michael Lynch
54
Posted 16/02/2019 at 10:58:08
I wish our players would tell the press "I'm sorry, but until we've done some talking on the pitch, we're not going to be doing any talking off the pitch".
I just don't want to hear a word any of them have to say right now. It's bullshit at the best of times, but at the worst of times it's just fucking annoying.
Peter Gorman
55
Posted 16/02/2019 at 12:59:55
Dave Evans, I can't speak for others but your comment that they are talking sense seems very at odds with my interpretation.
The whole bit about the virtues of stability; "unity takes root, you grow more as a team."
That is belied by everything we are seeing on the pitch. The team is regressing to the point they can't really play football.
Steve Ferns
57
Posted 16/02/2019 at 15:43:24
John, I still have faith.
I think you can only class him as stubborn if you think his idea does not work and so he is refusing to change it. I believe that he thinks his idea does work, but it is not being properly implemented.
For me, the next three games will indicate a lot. He will have had over 2 weeks preparation. He may have had that time before, but he actually has not. Either internationals or friendlies or other things got in the way. This time, for the first time, he has all this time to get the players on the training ground and work with them properly.
If I'm right, his coaching will shine through and we could be a team transformed. He could also have tried a tactical shift or two as he has had both the time, the opportunity and the necessity.
If I am wrong, and he is not the coach I think he is, and the time between the games makes no difference, then the performance will remain the same and in addition we would lose those next three games.
The reason I am still confident I am right, is the performances before the derby error, the lack of "leaks" from the players about his methods, the complete absence of any previous player criticising him, and the past I detailed so thoroughly before he came in.
My biggest frustration though, and something I cannot fathom one bit, is why does he not go back to Estoril "underdog" tactics, and play on the counter attack, focusing on defence and using our pace to his sides on the break. Sure, we should be better than Watford, we should have better players, but they were at home, above us in the league, and so we should have let them have the ball, defended mostly, and picked them off on the break. That's the side of Marco Silva that has yet to emerge and one I hope we see in the Derby. I wish he would watch Estoril beat Porto 1-0 (for Porto's first domestic home defeat in 5 years) as an example of how he can set up a team to defend comfortably and can control the game without the ball.
Bob Parrington
58
Posted 17/02/2019 at 06:11:10
Maybe some of the anti-Bernard comments in here miss the point that you cannot deny Bernard's effort, heart and soul. I wish more of the players would show some of such qualities.
As for Gana Gueye, I think we should have let him go to PSG. Not because I think he is a bad player but because we have lost the window to grab some decent cash for his sale. He is 29 and will start to lose value to the club sooner rather than later.
Simon Smith
59
Posted 18/02/2019 at 00:17:17
Anyone who doesn't think Bernard is a big improvement on what we have in our squad is nuts.
Bernard is a class act, he is lightweight and it's his first season in the Premier League, also he's spent his last few seasons in Russia were the level is a mile behind the Premier League, people need to remember this.
Silva is at fault at times for Bernard's lack of goals: every time he looks good, he's dragged off and left out the next game. How can he gain momentum like that?
If he is given as much time as the likes of Walcot he will score more, assist more, defend more and overall contribute much more.
Peter Gorman
60
Posted 18/02/2019 at 00:36:56
Not really, Simon. I was aware of the qualities of Bernard long before he came to Everton but I'm still waiting for him to show them for us. He has done remarkably little of note, though I think he puts the effort in. Watching him repeatedly fail to beat his man is getting painful.
Marcus Taylor
61
Posted 18/02/2019 at 00:41:42
I like Bernard, but the reason why he hasn't scored in the Premier League is simple – he hasn't had a single shot on target so far. Zero shots on target (12 off target) in 23 appearances. Not sure how Silva can be blamed for that.
For comparison, the much-maligned Theo Walcott has managed 15 shots on target, 14 off target and 3 goals in 26 appearances. Assists, for the record, Bernard 3, Walcott 2.
Simon Smith
62
Posted 18/02/2019 at 09:55:08
I'd bet Walcott doubles Bernard's minutes. Also, Bernard is new to the Premier League, Theo is a seasoned get in this league.
Paul Cherrington
63
Posted 18/02/2019 at 10:05:17
Bernard should definitely be playing in the No 10 role – we would see much more from him then. Not lots of goals, to be fair, but I think he would create much more and help other score.
Marcus Taylor
64
Posted 18/02/2019 at 10:50:05
"I'd bet Walcott doubles Bernards minutes." Wrong.
Walcott: 1,774 minutes = 19 full games and 118 minutes per shot on target.
Bernard: 1,274 minutes = 14 full games and n/a minutes per shot on target.
"Bernard is new to the Premier League."
So he hasn't managed a shot on target because he is new to the Premier League? Sorry, not buying that. As I said in my original post, I like him but he's been poor in front of goal so far this season (bar his goal vs Lincoln) and he knows it. His comments suggest he is determined to put that right. Feeble excuses actually do him a disservice.
Lee Brownlie
65
Posted 18/02/2019 at 13:41:06
"I'm backing the beleagured – or incoming, whatever – manager" is just player speak for "I'm wid you TC!!! (Please play me!!!)"...
Simon Smith
66
Posted 18/02/2019 at 15:32:44
Marcus, you may call it a feeble excuse, but imo players need a consistent run in the side to gain confidence.
I agree, he needs to shoot, I agree he needs to score, but imo he offers more than Walcot, he's more hard working than Walcot, and if given a run of 10 games he would look good for us. I also think a run in the side would do Lookman some good.
Bernard has only twice completed 90 minutes in the Premier League (away to Huddersfield in a 0-1 win, and away to Leicester in another win and he got an assist) and he has 4 assist ( 2 v Burnley, 1 v Leicester and 1 v Fulham).
Anyways while I don't overly want to argue any Everton players argument atm, I'm in total agreeance that anyone in the forward positions need to score, I just feel we are a better side with Bernard in it; I fully believe he helps us play better football.
Add Your Comments
In order to post a comment, you need to be logged in as a registered user of the site.
Or Sign up as a ToffeeWeb Member — it's free, takes just a few minutes and will allow you to post your comments on articles and Talking Points submissions across the site.