CSKA in talks over Vlasic transfer
Monday, 8 April, 2019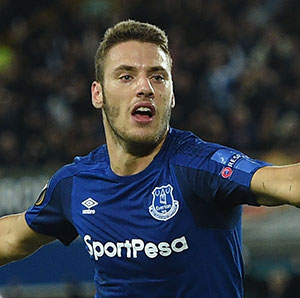 Nikola Vlasic appears to have his heart set on remaining with CSKA Moscow after his agent admitted negotiations are underway over making his loan move from Everton permanent.
The Croatian was an £8m signing by Ronald Koeman after impressing during the Blues' Europa League qualifying ties against Hajduk Split but he struggled to settle during a turbulent first season and was largely ignored by Sam Allardyce over the latter half of the campaign.
Marco Silva agreed to let Vlasic go out on loan this season and he has been a success in Russia and has indicated his desire to stay in Moscow.
"So far, there is no agreement, but talks are ongoing between the two parties. Nikola likes the club and the coach so we will see," said the player's agent, Tonchi Martic.
Silva has spoken this season in terms of welcoming Vlasic back to Goodison where Everton could benefit from his season abroad in a different league. He has also gained Champions League experience but Vlasic's desire to make his temporary switch permanent could prove to be decisive.
Quotes sourced from Championat via Sport Witness
---
Reader Comments (45)
Note: the following content is not moderated or vetted by the site owners at the time of submission. Comments are the responsibility of the poster. Disclaimer
Fran Mitchell
1
Posted 08/04/2019 at 18:35:03
This would be a real shame, the lad would be perfect competition for Sigurdsson next season. Feel we could really regret this if he does go, and in 2/3 seasons we could well see him playing amongst the best.
David Pearl
2
Posted 08/04/2019 at 18:38:39
If we do sell him I wonder what the fee will be. Other way around they'd now be wanting 20m plus from us. I've not seen enough of him to know if he'd make it here. Last season he was hopeless. I think him and Onyekuru should be kept through pre season to see what they can show Silva. Of course he'd be a lot easier to get rid of than Sandro and Mirallas if we needed to bring in some cash.
Derek Knox
3
Posted 08/04/2019 at 18:57:17
I am somewhat ambivalent over Vlasic, I feel for the lad in many ways, he was coaxed over here from Hadjuk Split, then seen 3 managerial changes, which could well be unsettling, and not given too many chances.
Having said that when he has been given a run out he hasn't pulled any trees up, but that could be because of the different styles of non-football, he was asked to participate in.
However he seems to have been a major success in Russia, and allegedly wants to stay there, while I have always advocated that keeping a player against his wishes, will rarely work out, as Fran says let's hope we don't regret letting him move, but if he does, let's get top dollar for him.
Fran Mitchell
4
Posted 08/04/2019 at 19:11:53
David Pearle, to say he was hopeless is hugely unfair and over-the-top.
In his first 10 games or so he looked skilful, scored a couple of goals, was exciting but of course, as the whole team, became less influential as the season developed and then got cast aside by Big Sam - but seriously 29 year old Walcott for 20+ million and 110k a week, or 21 year old Vlasic for 8 million and 30-40k a week - who deserves more chances, who is worth a punt and who got more chances?
He was also played on the left wing, when he is clearly a central attacking midfielder.
Skill, eye for a goal, great ball control and just 21 years old, croatia international, CL experience - sounds like the type we should be aiming to keep, imho.
Les Moorcroft
5
Posted 08/04/2019 at 19:14:15
Brass tacks is fuck him if he wants out get as much as we can and move on...

Richard Mason
6
Posted 08/04/2019 at 19:18:13
Yeah I agree with keeping him. Brands and Silva should be on the phone to him now telling him he is part of the plans, brands has said he is looking for players the exact profile of vlasic
Dave Williams
7
Posted 08/04/2019 at 19:20:03
Fran- absolutely right! Let's see what he can do in a team playing like we did on Sunday- he may turn out to be a bargain!
If not then by all means sell.
Kieran Kinsella
8
Posted 08/04/2019 at 19:24:38
Rumors today that CSKA have competition for him from . Besiktas . who want him on loan. Now, I realize it is just rumors but the lad is 22, and so far hasn't shown anything at international level or a major league. Plus, Brands keeps going on about having the "right personality." Vlasic and his entourage have ben publicly whingeing since the minute he joined the club. He also claimed last Fall to be the "best midfielder at Everton" which isn't exactly going to endear him to his team mates if he returns. That said, I am with David Pearl #2, and think he and Henry should be given the once over in pre-season, along with Williams, Dowell, Pennington before we make any major decisions.

Terry Farrell
9
Posted 08/04/2019 at 20:05:35
Motm and scored the winner in CL against Madrid. Yes let's right him off!
Phil Smith
10
Posted 08/04/2019 at 20:33:37
He could be Arteta mark II. Skillful, eye for through ball, scores goals and likes to take on players. Imaging him and Lookman in the middle. If City can have Mahrez, De Bruyne, Silva, Silva, Sane, Sterling and Gundogan I am sure we can have Walcott, Lookman, Bernard, Richarlison, Gomes, Sigurdsson and Vlasic. Gana looks like he's off, as do Bolasie and Kevin le sulk.
Christy Ring
11
Posted 08/04/2019 at 21:25:54
He was very inconsistent when he did play for us, he's still young and playing well in the Russian League, so did Niasse, but his attitude leaves a lot to be desired.
Justin Doone
12
Posted 08/04/2019 at 21:32:44
I hope we keep him but happy for another loan if not doing it in preseason.
He's got a ability and massive potential. The big Q is he yet ready for the Premier league, Physicly and mentally?
Time will tell but he's no doubt a good player.
If we do sell let's be smart about it. I want double money min £15 M+.
Also follow what Barca do.
Exclusive buy back clauses years 1-3. £20M after 1 year, £23M, £26M. Plus 25% of any future sell on fee. Etc.
It's about time we got tough and smart about our outgoings. Other clubs get multiple millions for kids that have never played for their parent club. We give them away.
We need to learn to say no. Offer players to other clubs etc. I'm happy to loan out our under 25s if selling them isn't needed and valuations not met.
Can we not partnership with Tranmere, Southport or some such club to reduce their cost's whilst giving game time to our youngsters?
Mike Gaynes
13
Posted 08/04/2019 at 21:42:45
Do not sell this player.
We've been begging for a playmaker in the middle of the pitch. He may well be one. Give him the summer to show it.
Plenty of time to sell later if necessary.
Simon Smith
14
Posted 08/04/2019 at 22:05:49
For me Vlasic is one I'd keep, if he insists on a move I'd be looking around Europe for the top price.
Jerome Shields
16
Posted 08/04/2019 at 22:16:23
Everton will ask the same for Vlasic of CSKA as they asked Leipzig for Lookman, with Silva insisting he will be coming back after the loan,
Vlasic will be coming back to Everton and will be expected to have improved and put a lot of work in trying to get himself up to speed to be able to play for the first team.
Both Brands and Silva are hard-nosed about these things. . . ask Lookman and his agents. Leipzig would give you a similar conclusion.
Neil Copeland
17
Posted 08/04/2019 at 22:48:33
I can't really make my mind up about Vlasic. He seems to have an attitude problem but sometimes foreign players are misquoted. On the field he has been hit and miss but as others have already stated that is hardly surprising given the turmoil we have been through as a club.
It's difficult to ignore his performance against Real Madrid though so I think we should hero through at least pre-season and make s decision before the summer transfer window closes. There are most certainly plenty of others we should ship out before this lad though.
Chris Corn
18
Posted 08/04/2019 at 23:40:11
Average player playing at his level in an average league. CSKA Moscow finished bottom of their group in the CL if memory serves me. But because he scored against Real Madrid, who frankly have been gash post Ronaldo, we must keep him.
Another Walsh blunder we are still paying for. Get him off the wage bill along with Sandro and the others we are paying £750k a week to offer nothing .
Also let him have a career where he is effective and happy if that's what he wants. Suits everyone.
Mike Jones
19
Posted 08/04/2019 at 23:52:50
He is disruptive and has a family that is of a similar ilk. Not needed. We are rebuilding.
Steve Ferns
20
Posted 09/04/2019 at 00:23:08
Vlasic will not sign for CSKA, this is a load of bollocks. CSKA cannot afford his wages, let alone the transfer fee. Vlasic will either return in the summer and have another chance to impress or he'll be sold to Western Europe.
Mark Andersson
21
Posted 09/04/2019 at 02:20:23
Steve Ferns do you know something we don't... not that I doubt you it would just make more of a interesting read if you would eleberate...
I am hopefull that Brands and Silva have plans for every twist n turn of the crazy world of footie...
Alan J Thompson
22
Posted 09/04/2019 at 05:22:05
It seems to me that he is and will continue to be a victim of poor management that has left the position of having to move players out, possibly on an initial loan, until the wage bill is reduced to a more manageable level and a more stable coaching team is in place.
On the few occasions he has got a game for us, I've noticed several times that he came away with the ball and looked up almost wondering where the hell everyone else was and then lost or played a difficult ball looking for support. I suppose he too will be sacrificed in the name of running the wrong way that is known as "back-tracking" as seems to be the case with Lookman and was with Deulofeu.
Similarly, it might depend on who Silva and possibly Brands see amongst our own youngsters who will be a part of the first team squad next year so that we don't end up with 4 or 5 players all vying for the one position without being able to competently play another position. Whatever, it is about time that English clubs insist on transfer fees that continental clubs seem to expect so that the underwriting of wage bills is shared around.
Peter Gorman
23
Posted 09/04/2019 at 07:49:23
A talented young footballer is Vlasic but then again so was Davy Klaasen. Not sure he has the right traits for the league as he only seemed to play well in our stuttering European games.
His personality can best be described as 'Mirallas' which will split opinions on TW and elsewhere no doubt.
Sam Hoare
24
Posted 09/04/2019 at 08:10:21
They can't afford him. This lad is the best player in Russia this year, outperforming Paredes who recently cost PSG £40m. I don't know if he will fit Everton or the PL but he's a serious talent and could likely get better and better. He's also getting game time for the World Cup finalists now.
Let Brands and Silva have a good look at him this Summer and if not right then sell or loan him to Italy or Spain.
Kevin Prytherch
25
Posted 09/04/2019 at 08:16:15
Alan 22
"Sacrificed in the name of running the wrong way"...
I reckon that's a big reason why we've been a lot better in the last few games, because Bernard and Richarlison have been "running the wrong way" when we haven't got the ball, therefore limiting the gaps in midfield.
I would hazard a guess that any wide player who isn't prepared to "run the wrong way" would now struggle to get into the team and would upset the balance we have.
Martin Berry
26
Posted 09/04/2019 at 08:58:51
Marcel Brands is looking to bring in young talent therefore Vlasic could be an interesting decision for our DoF.
If he keeps him does he do it because he believes he can become a top talent, but also he has to look at his "fit" as this has been mentioned when profiling suitable players for Everton.
Perhaps these matters that come with the player may mean him being moved on.
Personally I think we should keep him a while longer and give him a fair shake under a settled regime now at Goodison, as he just could turn into something special, lets not be too hasty to condemn !
Marcel and Marco will have to convince the lad that he will get game time at Everton and have a plan,however if the player wants the move then no use keeping him.
Chris Corn
27
Posted 09/04/2019 at 09:04:15
Kevin 25, you beat me to it. To me "Running the wrong way" = "luxury player." None of the names Alan describes have ever done anything to justify inclusion in the team to be allowed to just flit around as they please. They and we are simply not good enough.
Deulofeu has found his level. He has done well for Watford but doesn't get a start every week. Amokachi netted a brace off the bench for us in the 95 semi. Still never made him a world beater. It happens and good for him but it doesn't mean we have made the mother of all mistakes because we let him go.
Alan J Thompson
28
Posted 09/04/2019 at 10:08:40
Kevin(#25) & Chris(#27); The point I was trying to make is that we didn't buy players like Richarlison, Bernard or Lookman for their defensive abilities and that players with the ability to beat an opponent are at a premium, so give them licence to do that.
For me today's football suffers from possession priority, you've got to keep your stats up, and rather than try something exciting, speculative and risky a lot would rather forsake a forward position by something that ends up with your own keeper. Yes, "luxury players", it is no coincidence that they bring in the crowds but then I also believe that midfield players are known as the engine room as they do have to both start and support the attack and cover back when not in possession. It is noticeable that the better teams seem to get so many players forward when on the attack and without playing three across the back which seems to fail more times than it succeeds.
On which basis do you think Vlasic first attracted Everton's interest?
James Stewart
29
Posted 09/04/2019 at 10:26:56
Has to be a better option in midfield than Davies.
Chris Corn
30
Posted 09/04/2019 at 10:50:16
Alan, I think our forward players recently have been given licence to get forward and the rewards are there for all to see. We have been scoring regularly and despite being 9th we are in plus for goal difference. Other than the Newcastle game we have been relatively solid at the back. We have also taken the appalling top six record monkey off our backs in good style.
Successful teams throughout history all defend from the front. The modern top teams press the opposition and win the ball back quickly and use pace to get forward in numbers . That is how we have played for the last three games and hopefully it will continue .
If the likes of Lookman and Vlasic want to be successful premier league players they will need to put a shift in. Not be allowed to roam around doing what they like because we are worried they may go to a second tier European team to 'express themselves.'

Derek Thomas
31
Posted 09/04/2019 at 11:50:23
Alan J @22; This running the 'wrong way' isn't a new thing, all the good players do it...even some of those 'luxury' players, well the good ones, the ones who actually win stuff.
Get out your DVD of the Bayern game, when they went 0-1 up, theres a guy in a blue kit sliding in despairing attempt to keep it out, Stevens? Mountfield? PvdH? No, no and no. It was Kevin Sheedy.
Google the Aug 1967 EFC Vs Untd on vimeo, see Alex Young by our own corner flag, both on the right and Left covering Wright and Wilson, making tackes, winning the ball, then setting off up the wing to start off the counter.
I can still see Bobby Charlton and Denis Law, one on each post, defending their goal during a Real Madrid
corner.
But that was 50 years ago, so old fashioned this defending as a team lark...it'll never catch on...even if it does help you beat current League Champions and the soon to be European Cup Winners. Or help you win the 2 premier European Competitions of the day...Or for that matter was Alan Ball running the 'wrong way' in the World Cup final.
Alan J Thompson
32
Posted 09/04/2019 at 15:47:21
Other than "running the wrong way" you all agree with the rest then? It's just that other teams televised games I find quite boring and those teams now relegated or still involved with the 3rd relegation place seem to make so many mistakes trying to play what seems unnecessary possession by which I mean passing to others in no better position and making terrible errors in so doing as this seems to be the trend required by coaches.
Derek(#51), Charlton and Law on the post at corners vs Real was probably in the days when losing by no more than 2-0 away from home in the European Cup was considered the norm hence the introduction of the away goals rule. I remember Utd beating Benfica 5-1 in Lisbon after, I think, winning 1-0 at Old Trafford. George Best scored four including one on a run from nearly the edge of his own penalty area and after I think it was Bobby Charlton who said that they came for a 0-0 draw but somebody must have forgotten to tell George.
Which brings me back to the criteria used in assessing players from a buying point of view. Wenger's teams were never the best defensively and his first requirement was that they had more than their fair share of pace. Should we be buying players who "back track" well or have other facets to their game. Stand back and wait for the answer that it is, "all of that". I wonder what part it played with those managers who have signed Ronaldo and how it might have affected Brazil 1970. Give me flair and flamboyance any day.
Kieran Kinsella
33
Posted 09/04/2019 at 16:07:04
We've had a few "young stars" who either themselves or through surrogates (mum, Dad, brother, agent, Pogba) made it known that they had set their sites elsewhere. Rooney (wanted to go to Man U), Fellaini and Lukaku (Chelsea or Man U), Jeffers (Arsenal)
even Mirallas when he was halfway decent mouthed off about going to Barcelona. Vlasic is now mouthing off about going to CSKA. Isn't this a pretty good clue that despite his protestations of his own brilliance that he realizes the limits of his ability?
Steven Telford
34
Posted 09/04/2019 at 18:42:20
It seems an ailment of many fans to expect INSTANT results. Quite a few players/managers get judged before they get a chance to bed into the team. Bernard and Keane stand out as 2 prime examples. The initially appeared, at best, average (less than even), but AFTER they were given FAIR run-ins to prove themselves .
On Sunday, we offered much more down the left than down the right. Mentally it may be too late for Vlasic now, his mind has been turned, but it's a pity because clearly there is talent there.

Ian Hams
35
Posted 09/04/2019 at 18:53:42
I do remember thinking this lad looked half decent at times when the team were god awful last year, and it would be madness not to give him a pre season with us.
If it works out great and if were still unsure give him another season for a decent loan fee and his wages covered.
If we have someone better lined up then sell but put in the buy back option as mentioned earlier.
John Boon
36
Posted 10/04/2019 at 14:00:48
Absolutely should be looked at more closely. Often difficult for a young player from another country to feel at ease and to fit in immediately. He showed lots of promise at times.
Simon Smith
37
Posted 10/04/2019 at 14:23:22
James 29:
Why does he have to be a better option than Davies ?
For me we should look at keeping all talented youngsters at the club.
As for Davies the lad is still only 20 years old, just 6 months out of his teens and has played at the top level in English football comfortably for over 70 games, that's some going for a centre midfielder.
Davies position is one of the most difficult positions to play in our league, if your out wide or up top you can sneak away with being a bit small, but in the centre of the park, that is where the big lads play and there ain't nowhere to hide.
Tom doesn't hide, not ever, he's always willing to take responsibility, he's always willing to take the ball even when marked, go into any challenge, and he will continue to improve as a footballer, and grow as a person within his own body.
I've said it for a while, we as a club are lucky to have the youngsters we have, some of them can go on to be anything they want to be, they will also save us hundreds of millions in both first team regulars and squad players, allowing our manager to spend his transfer kitty on big players who will lead our team on.
Holgate, Davies, DCL, JJ Kenny, Vlasic, Benigeme and Lookman have already shown there not out of place in the prem.
Onyekuru, Dowell, Connerlly, Williams, Holby, Virginia, Robinson, Feeney, Sambou, could also show over the next season or two that they could become an answer.
Then we have Simms, Anthony Gordon, and Gibson getting rave reviews not far behind the others.
We need to get behind these lads as they could create a dynasty at the blues, I know it's a big jump but we have a core group of players that have won a world cup at there level, something no other group have done before, so what's to say they won't do what Ferguson's lot done up at United and bring Everton back as a major force in the country !!!
Jack Convery
38
Posted 10/04/2019 at 17:08:00
Another loan for a season then make a judgement - there's something there in Vlasic but whether its enough to be an effective EPL player remains to be seen. I'd like him to go on loan to Spain or Germany if anyone's interested. Either way I'd want at least £18m plus for him and a clause to sign him back as Barca always insist on.
Offer CSKA Mirallas, that should sort Kevs attitude out.
Jack Convery
39
Posted 10/04/2019 at 17:08:00
Another loan for a season then make a judgement - there's something there in Vlasic but whether its enough to be an effective EPL player remains to be seen. I'd like him to go on loan to Spain or Germany if anyone's interested. Either way I'd want at least £18m plus for him and a clause to sign him back as Barca always insist on.
Offer CSKA Mirallas, that should sort Kevs attitude out.
Kieran Kinsella
40
Posted 10/04/2019 at 17:12:10
No relevant post to add this to so forgive me but City are set to buy Brazilian striker Everton. I hope he sucks otherwise I'll get my hopes up every time I hear "Everton ! What goal!"
Roger Sunde
41
Posted 10/04/2019 at 17:24:26
The Times reports Ander Herrera is ready for PSG, I hope this means they give up their pursuit of Gana.
Steve Ferns
42
Posted 11/04/2019 at 22:22:12
Mark Anderson @21. Sorry mate, I missed your post. I thought it was common knowledge that CSKA where screwed financially. If not, have a look at this, and google them to see their tale of woe is ongoing:
Indie Article
Gavin Johnson
43
Posted 11/04/2019 at 22:28:08
A fee of of just £13m is being mooted for Vlasic in today's media outlets. He will be a player very much in demand this summer. I think we should be looking to at least double our money and ask for £16m for this kid.
Steve Ferns
44
Posted 11/04/2019 at 22:34:54
Gavin, I expect Vlasic will end up in Italy, and we will also sell Lookman. We'll probably bring in £30m for the pair, and live to regret it. Neither have forced their way into the side and neither seem determined to do so, so we have to sell them and we won't get good value unless there's a bidding war.
Simon Smith
45
Posted 12/04/2019 at 02:22:32
£13m isn't enough for a young lad with the ability Vlasic has.
Jay Woods
46
Posted 12/04/2019 at 15:11:52
Russian sports press is saying other Russian clubs are apparently interested in him now too: Zenit, Krasnodar and Lokomotive Moscow.
Add Your Comments
In order to post a comment, you need to be logged in as a registered user of the site.
Or Sign up as a ToffeeWeb Member — it's free, takes just a few minutes and will allow you to post your comments on articles and Talking Points submissions across the site.