Blues plan summer decision on Baines and Jagielka
Monday, 15 April, 2019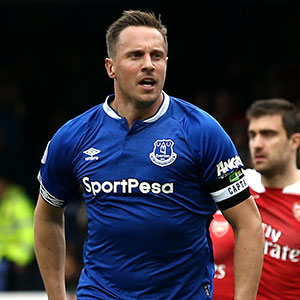 Everton were set to decide the futures of veteran defenders Phil Jagielka and Leighton Baines during the close season but it appears as though the club skipper is seeking clarification sooner than that.
Both players have spent more than a decade at Goodison Park but are out of contract at the end of this season.
Jagielka, who turns 37 later this year, has started just three games this season due to injury and the success of the central-defensive partnership of Michael Keane and Kurt Zouma.
Baines, meanwhile, has battled injuries himself but effectively lost his place to Lucas Digne who ranks among the most effective and consistent of Marcel Brands's first batch of signings.
There have been suggestions that Jagielka and his agent have held talks with Everton over the possibility of extending his contract by another season at least but nothing has yet been decided.
"You would prefer to know as quick as possible," Jagielka told the Liverpool Echo after Saturday's dreadful 2-0 at Fulham.
"We've got a lot of players out on loan and a lot of players we may be interested in and I'm sure there is going to be another sizeable turnaround in the summer so you have to be patient.
"I'd would like to have [heard] some concrete stuff yesterday but, at same extent, it's not playing on my mind too much. It's case of just getting on with things and hopefully knowing sooner rather than later."
---
Reader Comments (71)
Note: the following content is not moderated or vetted by the site owners at the time of submission. Comments are the responsibility of the poster. Disclaimer
Tony Everan
1
Posted 15/04/2019 at 07:00:11
These two have been fantastic servants to the club and deserve respect for their commitment over some turbulent years.
The time has come to say goodbye, they may still have something to offer but as that beautiful Neil Young song says ''There comes a time''. For these two that time is now.
We need to be looking ahead, bringing in fresh legs, players with their careers and ambitions in front of them . Either promoting the likes of Mason Holgate to challenge for the CB places and to promote or bring in a new young deputy for Digne.
There is no room for sentiment in the dog eat dog world of the Premier League. It is survival of the fittest. Tough decisions have to be made, at the right times, with regards to aging players.
Mark Andersson
2
Posted 15/04/2019 at 07:08:40
Give them new contrasts it will be like two new signings. They will help us stay mid table...
Let's hope the club do the right thing by them, let them leave gracefully along with blue Bill.
Sad to think that these two players never won anything in their long careers.
Colin Glassar
3
Posted 15/04/2019 at 07:11:50
Out with the old and in with the new imo. Love both of these lads but their time is up and there's no room for sentimentality in this game.
Both of them have been great servants to the club but at the same time epitomise the weakness of Everton as a club ie they are too nice!
Watching the rs game yesterday it just goes to show how far being nasty little shits can get you. They moan about every decision (crowd included) that goes against them, they are always in the refs ear and they cheat and dive at every opportunity, they never give up.
Jags and Bainesy look like they're from another century with their spirit of sportsmanship. Smiles all around, handshakes, pats on the back etc We need a few nasty little bastards like Gerrard, Keane or Viera who through sheer strength of character would pull their teams over the finishing line.
After Saturdays game it's more than clear we need to clean house and get rid of at least 6-7 players and bring in players who are not only class but who have a winners mentality. Sorry lads, your time's up. Thanks for the memories.
Terry Farrell
4
Posted 15/04/2019 at 07:21:01
Colin both Jags and Bainsey are hard as nails pal.
Colin Glassar
5
Posted 15/04/2019 at 07:34:36
I'm sure they are Terry. Shame for both of them that they played for a club that seems to accept second best.
Keith Gleave
6
Posted 15/04/2019 at 07:46:13
Although Jags and Bainsey are long in the tooth now and they probably have no future, treat them with the respect they deserve as long term servants of the club. Tell them where they stand, be classy Everton.
Frank Crewe
7
Posted 15/04/2019 at 08:16:28
These days when it comes to players it's all bigger, faster, stronger, younger. Jags will be 37 in August and Baines will be 35 in December. If they plan on staying in football it won't be as players unless they are prepared to drop a league or two. They don't meet the physical demands for the PL anymore. Experience will only get you so far. But age catches up with every player in the end. Even the greatest players have to hang up their boots eventually.
The salaries Everton are paying them should be going to players who are going to be serious contenders for a first team spot. Football is a business and with the money involved no club can have players who no longer have a chance of playing regular football.
I'm sure the both of them have seen many other players reach the end of their careers in the top flight and now it's their turn. Although when you have been at one club for such a long time as they both have I'm sure it will be quite a wrench to finish.
Jerome Shields
8
Posted 15/04/2019 at 08:28:52
They both have been good servants to Everton. They have done well to still be playing in the Premier League till the age they are and get the appropriate extended contracts to do so
But life goes on and a footballer's life is short. As they say, there is no such things as a shop boy's funeral.
Martin Nicholls
9
Posted 15/04/2019 at 08:35:02
No room for sentiment. The Club is trying to cut it's wages bill and I would be amazed if it did not take the opportunity to do so by allowing both players to leave.
Joe McMahon
10
Posted 15/04/2019 at 08:40:33
Sounds like we are talking about a couple of horses, going to an easier life. They have both been good pros, but multi millionaires with Everton, so life's not been to tough on them. Shame they didn't experience a win at a field or a trophy. Personally I think like Leon and Hibbert both will retire as the Championship is a fast competitive League.
Gerard Carey
11
Posted 15/04/2019 at 08:43:13
As others have said, both great servants to the club, both on and off the pitch.
Their time has come to move on, whatever about Jags, I def think Baines could do a job for a lower Premier league time for another couple of years.
I wish them both only the best in the future.
As for copying that shower across the park, never. Don't think I'd ever wish to have eleven Richarlson's in the team, falling to the ground at the slightest touch. Don't think Brian Labone would approve, would he!?. Then I suppose I'm old fashioned.
Jim Bennings
12
Posted 15/04/2019 at 08:49:52
How time has passed so fast, it seems like yesterday that Baines was the best left back in the league between 2009-2013 and Jags was simply immense next to Lescott and Distin.
Sadly just two more long serving members that never played in an Everton team that achieved anything noteworthy like won a trophy, played in the Champions League etc.

Christopher Timmins
13
Posted 15/04/2019 at 09:03:09
Two loyal servants who deserve to be treated properly.
Hugh Jenkins
14
Posted 15/04/2019 at 09:10:34
Terry (4).
Regrettably, you can be "as hard as nails", physically, but a pushover mentally.
I thin what Colin was referring to is the need for such players to be "snide" to use a favourite Liverpool word, as well as "hard".
Dave Williams
15
Posted 15/04/2019 at 09:23:56
Well put Colin. RS are truly horrible but we do need some of that " got to win" attitude and Jags and Leighton won't improve our team by playing any more.
Great servants and great players but it's time the club became more ruthless whilst not descending to the depths of that shower across the park- I certainly don't want to see tackles like Gomes on Saturday become commonplace- but some guts, fight and determination would be good regardless of who it is we play.
Nathan Ford
16
Posted 15/04/2019 at 09:38:56
2 of my favourite Everton players through the years but shame to say both need to move on now. Between them they are earning over 100k a week which is 5.2mill a year but have barely played because of either injury or father time catching up on them. Money should be invested in the future of the club when all said and done Everton should be run as a business not a charity
Mal van Schaick
17
Posted 15/04/2019 at 09:43:08
Keep Baines on as a squad player and keep Jags on as a coach. They haven't been the problem over the last two seasons, the mediocre shite brought in have. Clear those out.
Derek Thomas
18
Posted 15/04/2019 at 09:44:22
Let them both go only if we have better AND younger cover...if we can't get anybody decent in, we have to keep them, because who else is there.
Rob Dolby
19
Posted 15/04/2019 at 09:56:43
Both fantastic players who were more than capable of playing at a higher level.
Both deserve a testamonial as a send off and job at the club if we have any vacancies.
I don't agree with there isn't any sentiment in football anymore. As long suffering fans sometimes that's all we have.
Jags is one of my fav ever centre backs, the lad defended like his life depended on it.
Baines quality was always there to see. He showed a lot of class when Moyes came calling from Utd.
All good things have to come to an end I just hope the club show class in the process.
Tony Hogan
20
Posted 15/04/2019 at 10:42:58
If Duncan Ferguson, Snodin and Graham Stuart and a few others can earn nice wages from Everton without really contributing anything noticeable, then so should these two, in particular Jags who openly professes his love for the club.
I think Baines will propably end up working in his first love, music, like Tony Hibbert with his fishing.
Andy Meighan
21
Posted 15/04/2019 at 10:55:29
Rob (#19),
There's always vacancies for ex-players while Kenwright is around. That said, these teo have given the club tremendous service and deserved more than anyone to have won a trophy or two in their time at the club.
Sadly, Everton don't seem to exist to win trophies anymore.,, Premier League survival will suffice for Billy-boy and his cronies because that's the cash cow these days. Going out the cups hasn't seemed to bother a succesion of managers and players as much as us long-suffering fans...
Simon Jones
22
Posted 15/04/2019 at 11:05:20
I can see Baines getting another year, but Jags future will probably be decided by whether Zouma can be signed.
John Graham
23
Posted 15/04/2019 at 11:23:42
Both have played their hearts out for the club and been very loyal players but there comes a time when every player has to look towards either moving on or hanging their boots up.
As a few people have suggested, I believe Jags would be an excellent addition to our coaching staff and could possibly be a future manager in the making.
I don't expect any of them to be at the club as players next season as the policy has now turned to developing our youth setup and we need to be playing the younger players to encourage them that there is a path to the first team if they are good enough.
Whatever they end up doing, I hope they have lots of success and thank them for all of their time at the club.
COYB

Pat Kelly
24
Posted 15/04/2019 at 11:35:51
They've made a massive contribution to the Club and been rewarded handsomely. But if Everton want to move on they have to move on.
Roger Helm
25
Posted 15/04/2019 at 11:58:56
They have indeed been good servants but at the same time very well-paid servants - not many servants end up as multimillionaires.
I would say thanks and goodbye. I don't think they should be kept on as coaches. We've never looked good as a team since Duncan Ferguson joined as a coach. Coaches these days need to be employed on merit, not sentimentality; we need to source the best and winningest coaches we can.
Derek Knox
26
Posted 15/04/2019 at 12:06:26
While I agree that both have been brilliant servants to the Everton cause for several years, I also think that as a Club we have overplayed the sentimentality card too often, I doubt whether either would be retained in a coaching role.
Having said that we have lacked aggression for far too long, and I would like to the likes of Tim Cahill added to the Coaching set-up in some capacity. The guy loved Everton and displayed the sort of raw passion that has been sorely missed for far too long.
Slightly off topic, but I was very disappointed in Andre Gomes's stamp on Mitrovic, which after looking at it several times, does appear to be deliberate, and I don't consider that to be aggression, but downright snide nastiness.
He, or anyone stamping on an opponents leg could easily end a player's career, I know it goes on, but I will be very surprised if there are no repercussions from that incident. I think he was probably more agitated at his own, and the team's collective inability to deal with a relegated Fulham side, but the only way to vent that, is by playing better and fairly.
Eric Myles
27
Posted 15/04/2019 at 12:10:01
The Club stood by Baines when he had his bad injury and extended his contract even though. I think that can be some justification to cut ties if there's no need to extend him for 1 year as cover / mentoring.
Jags, definitely too old even though he gave his all against Arsenal.
In the end it's down to they won't get regular playing time so do they want to move downwards and still play? Retire and move into another role? Or ride the gravy train one last time?
Brian Williams
28
Posted 15/04/2019 at 12:25:08
They should be given the respect they deserve, thanked for their outstanding contribution to our club, and assisted in any way possible to find a new club next season.
People should be treated properly for what they've done but should not have jobs created for them or be kept on for sentimental reasons.
They both know that a player's career at a certain level is finite and as "sad" as it may be to see the end of an era ( if that's the right way to refer it) it IS the end.
The club must, just as they must, move on and look to the future.
James Flynn
29
Posted 15/04/2019 at 12:56:03
Agree with the sentiments above on them both being wonderful servants and first-rate players and professionals.
But they have to go without question. Their contemporaries Distin, Pienaar, Neville and Ossie went without fanfare. Even Cahill was here one day, gone the next.
It's the way it goes.
We still have 8-9 players who are on the books for the next 1 or 2 seasons who Marco does not intend to play. Can't see Marcel re-signing either Baines or Jags, given those circumstances.
Bill Watson
30
Posted 15/04/2019 at 13:08:07
Mal #17
"Keep Jags on as a coach".
Isn't keeping ex players on the payroll as coaches one of the perceived problems at this club? By all means do so if he has the qualifications and shows some indications he may become a good coach. To do so solely because he's been a good servant to the club would be madness.
Dave Abrahams
31
Posted 15/04/2019 at 13:15:22
Sometimes it would be better if players kept their mouths shut and said nothing over their contracts, Jagielka is reported to have said " I'm not panicking or getting angry". ( over his contract being extended or not).
Not getting angry !!! He has done well for Everton and always given 100% fair enough, he's been here twelve years, earned a conservative £15M during that time, played three matches this season, on full pay and must realise, if he's honest with himself, that his premier league days are over. Count your blessings comes to mind.
Dan Parker
32
Posted 15/04/2019 at 13:25:59
We made the mistake of letting Alan Stubbs go thinking he was too old but then missed him badly. That said, I think we have the finances now to have enough coverage in those positions. If Holgate can't fill Jags position at this stage, we should be moving on. Solution at left-back, not so sure?
Mal van Schaick
33
Posted 15/04/2019 at 13:32:56
Bill#30. As a people's club, keeping some ex players on enables the club to keep its identity and close links with the fans, or else you buy the league like Man City. I'd prefer Everton to keep its status as the people's club.
Sam Hoare
34
Posted 15/04/2019 at 13:45:31
Jags I think we have plenty of cover for with Mina and Keane plus Holgate to return and the likes of Feeney and Gibson looking promising. Plus Silva has said the club are trying to recruit Zouma full time (if they don't get him I expect Brands to target another faster CB).
Cover at LB is less impressive. Digne obviously has first place but after that it's Baines and then maybe Antonee Robinson who has been very decent at Wigan but is very unproven at top level. Kenny could possibly play LB at a push but i'd be tempted to give Baines one more year while Robinson improves (unless we want to buy a new second choice LB). I think Galloway has been mostly the U23s left back and not sure whether he might have a shot at being the Digne back up?
Bill Watson
35
Posted 15/04/2019 at 13:48:52
Mal; #33
The People's Club is another myth. The majority shareholder, and de facto owner, is a billionaire just like so many other clubs. We have many small shareholders (of which I am one) but we have no say in the running of the club.
We should try to employ the very best coaches. Anything less is to accept mediocrity.
Kevin Molloy
36
Posted 15/04/2019 at 14:01:51
everyone saying' send them on their way with thanks' etc, er, they will take about 40m to replace (players who can when required go straight into the first team). if we can squeeze another year out of both then we absolutely should.
Justin Doone
37
Posted 15/04/2019 at 14:03:59
Top players in their prime and yes all players should be given respect and they should be told if they are likely to be offered new contracts as players or not.
Neither is first choice so the club needs to be confident that they bring in better than the current first choice or better cover than both of these who will be happy as back up.
I predict youth will be promoted as much as possible but the two situations are different.
I don't regard any of our centre backs as top class. This year's best and most consistent CB is a Chelsea player. Until that is resolved Jags may be kept on, presuming on lower wages and / or possibly as a youth team coach.
Ideally we would be looking to bring in a new first choice top class experienced CB to partner Keane, Mina or 'other' defender. Mina has proved less reliable than Jags and I have not seen enough of him to be convinced that he will resolve our defensive frailties.
Result = Jags to be let go only upon bringing in proven quality. Zouma being a possibility but ideally someone better. Vermaelen?
Digne is without doubt first choice left back and IMO top class. I do not think we will bring in better so therefore its as back up only.
I don't think we can bring in better back up than Baines knowing they will not play often.
Result = extend for another season.
Sadly I think both will be let go with Robinson and Holgate the new backup. IMO reducing the quality of the squad.
Fran Mitchell
38
Posted 15/04/2019 at 14:07:28
Will they accept pay-cuts? Their wages are wages of first teamers, of club captains. Both players can have a role to play, it is always good having experienced heads in the squad - especially as we are building a young squad - but our wage budget needs cutting and 120k per week for 2 non first team players is not viable.
Also, do they want to play. I'm sure that for a second tier team, or scotland, or lower level PL team, they would be a valuable player and maybe they would like to finish their careers playing 30 games a season.
We have Robinson to be promoted as Digne's back up, Holgate and Feeney as back up centre backs, or maybe sign someone young and cheap if the former are not seen to be up to it.
Either way, our focus is getting rid of dead wood, there is a lot of it to remove, and build a young, streamline squad. Jags and Baines are not dead wood, they can be valuable players in a small young squad.
Joe McMahon
39
Posted 15/04/2019 at 14:16:02
Is Sammi Hypia still at Liverpool, no. Off the top of my head the only CB/defender worthy of keeping for years in recent times is Rio Ferdinand or Company. Leighton Baines ain't suddenly going to stop crosses coming in or stop turning his back of shots. They are both multi millionaires, they need to leave. The mentally of this club needs to change. It's not the 80s anymore.
Derek Taylor
40
Posted 15/04/2019 at 14:25:41
Colinat 3 and 5, if so much appeals to you about that lot over the road, how come you chose to be an Evertonian ?
Derek Taylor
42
Posted 15/04/2019 at 14:41:44
All this talk of 'dead wood' takes me back to the example set by one
of our greatest managers. After the most exciting team ever to grace Goodison won the league at a canter in 1970, Harry Catterick could hardly wait to get rid of them.
Look where that got him- a very stolid 14th just a year later after which he was soon a gonner, himself !
Show respect, please.
Derek Knox
43
Posted 15/04/2019 at 14:50:28
Sam @34, you mentioned Galloway there, I think he came when Bobby Brown shoes was manager, and as I remember Baines had a longish injury, where Galloway deputies.
I for one, was impressed with the lad, and believe taking into account his rapid ascent from MK Dons to holding down the LB slot for a period of weeks, he did better than expected. Since then, he seems to have either fallen out of favour, or his confidence has been severely dented.
I am a firm believer that form can be temporary, but class is permanent, and the lad showed enough to hint that he does have what it takes, if only he could be given another chance!
David Pearl
44
Posted 15/04/2019 at 14:56:26
Well once again I'm in the minority. It doesn't matter what contract they are on currently. They are now older and will play less frequent but both can still be relied upon to do a job on occasion as it's a squad game, not that Silva knows who flogs his best current 11 instead of using them all.
I'd give them both new contracts on reduced wages to recognise their current squad status. Or we can pay over the odds for other players on bigger wages and cross our fingers they work out.
Lets keep them and save those wages for the striker we need to bring in. Let's look at the bigger picture for once. Get shut of all the dead wood as in Mirallas and Sandro first and keep them around the club. They will do a job both on and off the pitch.
Peter Thistle
45
Posted 15/04/2019 at 15:02:38
Baines is on silly high wages thanks to a clause in his contract to match the highest earner at the club, he has to go. Can't be paying a squad player that much. Jagielka is simply too old. Both been great for us but have to go. Thanks but we need to build a new team without sentimental shit holding us back.
Derek Taylor
46
Posted 15/04/2019 at 15:14:01
Peter @45, Just have to be careful that 'the shit' that replaces them is not of a more pungent air ! We've had plenty of less than capable replacements since Moyes moved on !
David Midgley
47
Posted 15/04/2019 at 15:34:16
David #44,
If we replace them we might not necessarily be
paying over the odds or inflated wages.
MB probably has the brief to find younger, hungrier
players for less money and less wages.
I'm sure the staff are all well aware of their ages and
situation

Joe Corgan
48
Posted 15/04/2019 at 15:35:02
Well it looks like I'm in the minority. I see no reason to let them go this year.
Jags came in with 15 minutes notice against Arsenal and did a great job despite his age. Mitrovich ran him ragged at Fulham but it seems to me there's still an occasional performer in there. His influence over other players on the pitch is very noticeable too.
As for Baines, he's now our second choice left back. I don't see a third-choice knocking down the door. Antonee Robinson is nowhere near and Luke Garbutt is 26 next month yet only good enough for Oxford United. When Baines has played this season he's done a fine job.
I don't quite understand why we would get rid of two "go-to guys." They're straight in the side as soon as the first choice options are ruled out. Yes, we need to buy and improve but letting these two in the hope of bringing in unproven replacements seems a risky strategy to me.
Offer them a fair wage on a one year "take it or leave it" deal.
Jay Harris
49
Posted 15/04/2019 at 15:51:01
Derek,
Galloways form plummeted when he was taken out of the first team picture.
His concentration and awareness fell apart and he has not shown any kind of form at lower levels since. That is not a "class is permanent" situation.
Before deciding on Jags position we need to establish Zouma and Mina's situations because if both go we will be left very short of experienced cover.
Bainseys situation is similar. Unless we bring in cover for Digne it is worth a 1 season extension.
Sam Hoare
50
Posted 15/04/2019 at 15:58:24
Derek@43 Galloway had two pretty disastrous loan spells in the championship with WBA and Sunderland. My feeling is that if he couldn't get into their first teams he's unlikely to be much use in ours. That being said he's been pretty decent in a very tight U23 defence this season (he may well start tonight in crucial match with Brighton). He's only just turned 23 so still has his career ahead of him. Silva and Brands will be aware of his work and will maybe give him a closer look in pre-season (if his contract does not expire this summer?!).
Joe@48 and others, I agree that Jags and Baines probably could do a decent job for another year but Brands and Silva want a younger squad. The only way the likes of Robinson and Holgate etc will improve is with match time and I think there's alot to be said for trusting in youth where talent has been shown. Yes, they could make mistakes but then so could the pros as we saw with Jagielka against Fulham.
Eddie Dunn
51
Posted 15/04/2019 at 16:11:33
Well, they are both model pros and I have appreciated them throughout. However, time rolls on and it's time for them to move on. I wouldn't go offering coaching jobs on the back of decent football service..we would be knee-deep in nice ex-players if we did that.
Good lads, earned loads of dosh, they can ride off int the sunset and never work again, or do a bit in a lower league. Whatever.
Jags though really should have mentioned this after he played well against the Arsenal, not after losing to the bottom basement team. It's all about timing Phil.
Mike Doyle
52
Posted 15/04/2019 at 17:31:48
2 very good players. Baines in particular has been one of the best 'footballers' I've seen at Everton in almost 50 years of watching. But their time is over. Time to pass on the baton and move on.
Mal van Schaick
53
Posted 15/04/2019 at 17:33:42
Bill#35. As a life long supporter (55 yrs), I have seen some of the highs and lows of this club. What is the point of employing the very best coaches if you have mediocre players to coach. We will be resigned to challenging for the top six all the time. The idea is to break into the top four with better quality players. Our billionaire owner should be able to make that happen given his ambitions.
Paul Burns
54
Posted 15/04/2019 at 17:43:10
Can't believe new contracts are even an issue.
No wonder the club's in a state, its become like a sentimental, scenile old fool.
Get rid and move on, its the football way.
If some people had their way, we'd end up with 500 old players as coaches.
David Pearl
55
Posted 15/04/2019 at 18:30:41
Age shouldn't be an issue. When called upon they have done quite well, they haven't let us down. Every successful team has players from all ages. Creating a more youthful squad has and is being achieved. We will bring in some new players and of the right age this summer but we should be keeping them, they still do a job. If we get 7th I'm expecting them to sign. If we don't then I'm still expecting it. Actually we need 7th place do that then likes of Lookman and and Davies get the game time they need.
Alan J Thompson
56
Posted 15/04/2019 at 18:35:07
It has been fairly well summed up but Jagielka's and Baines present contracts have no bearing on the situation as they expire 1st June, is it? So the wage bill can be reduced and these two retained although Jagielka looks a lot less likely given we might sign Zouma and if not then Holgate may deputise for Keane or Mina. Left back is different in that we need only cover when Digne is unavailable and the juniors (Robinson) are not considered ready for 1st XI. The other factor is the wage bill and what transfer funds will be available for those positions which replacements are seen as more of a priority, that is first choice to start games.
Otherwise, Everton perhaps should give these players the respect they deserve and allow them all the time they can to find positions at other clubs or on coaching courses.
Joe Parkinson
57
Posted 15/04/2019 at 19:58:15
Just on a side issue, see the F.A have charged Gomes regarding the incident at Fulham, not complaining about that, he will get what he deserved, But, YET Again Tom Daley over at the Devils Club, gets away with clearly Diving to deceive the officials at Analfield, for the umpteenth time this season, Bias ? Nah he is just a lovable little rouge who plays in red...
Oh and anybody out there see any mention of the flare being thrown into the Chelsea end injuring a Child ? No me neither, Echo does not mention one single word about it...
Same old same old at that shite club, Do as we say.. Not as we do... Should have that as their motto...
Wonder why we are Bitter ?
COYB
Roman Sidey
58
Posted 15/04/2019 at 23:05:22
Play for pay contracts or thanks but no thanks, in my opinion. Both players have the old mentality that has seen the team bend over for very weak opposition for too long.
Jags says he isn't angry about the contract situation. The man has never shown a single emotion since being at the club, so this is no surprise.
Baines was all to happy to have a chinwag with his mate Scott Parker after the match on Saturday rather than tear strips of the 14 players that had just taken part in one of the club's worst performances in years.
Jags hasn't been the same player since his knee injury in 2009, and Baines would have been moved on by a brave manager in 2010 when he talked himself out of World Cup contention talking about home-sickness. That was nothing but a lack of ambition.
Don Alexander
59
Posted 15/04/2019 at 23:28:24
They have to go, for ever, if we're serious about wanting CL qualification and not remaining "a museum".
And I've never heard of multi-millionaire "servants" who deserve testimonials. Give me a break.
Mike Littler
60
Posted 15/04/2019 at 23:42:54
We need to be ruthless to be successful, we haven't won anything worth celebrating in years. Jags and Baines have had their time and made millions from never winning anything. Why are we talking about keeping hold of has-beens? No more retirement contracts.
Sean Kelly
61
Posted 17/04/2019 at 07:50:14
I don't accept the "servant " mentality. They had a few good years earned crazy money for kicking a ball but their best is long gone. Goodison or Brantley should not me a nostalgic museum. It's thanks lads from me but there's the door.
Kevin Prytherch
62
Posted 17/04/2019 at 08:04:11
While there's no room for sentiment, there's also no room for anti-sentiment. Decisions should be made purely on footballing reasons.
Currently Baines is our 2nd choice left back, if we're convinced that Antonee Robinson has what it takes to be our 2nd choice left back then we let Baines go, if we don't then we keep Baines.
Same with Jags, if we sign Zouma and decide that Holgate is now ahead of Jags (making him 5th choice), then let him go. If he's still 4th choice then keep him.
There's absolutely no point crying to get rid of them both without adequate replacements.
Similarly there's no pint shelling out millions for back up players when we have 2 decent players already here.
Jim Harrison
63
Posted 17/04/2019 at 14:18:37
A club looking to the future moves forwards. Retaining these two amazing servants for the club would constitute standing still at best.
They could both go on to enjoy a season or so at another club, and it would be easy to say we got it wrong to release them, but all it would be doing is delaying the inevitable.
Bring in players who challenge the current first choice. For too long we have had a good first 11 but been woefully prepared for injuries.
Across the squad there are plenty of good players, macarthay for instance, who from memory seem good, but the reality is they are yesterday's men for a team aspiring to challenge at the top.
Daniel A Johnson
64
Posted 17/04/2019 at 14:44:28
A sensible 12 month take it or leave it deal otherwise they can chance their arm somewhere else. We are over burdened by high wage taking players who don't play. These two are defo on a fair chunk of cash a week between them.
Mike Gaynes
65
Posted 17/04/2019 at 15:20:53
Kevin #62, nailed it. Best post in this string.
Derek #43, Galloway did in fact do a fine job deputizing for Baines during that stretch of late 2015, then was himself injured, but he was also found out for a major weakness -- he could only tackle on one side, the left. Once the Prem scouts got the word out, attackers started cutting inside on Galloway instead of trying to beat him to the outside, and they ate him alive. He has barely seen the pitch since -- his loans to WBA and Sunderland were complete disasters as his managers abandoned him. At WBA he played the first three games of the season and was dropped permanently. At Sunderland the following year he was banished after five games.
This year he's had a dozen appearances for our U-23s, including the title-winning game the other night, but it's hard to imagine he's good enough for the senior side.
To those who mentioned Antonee Robinson, the news is finally good... he hasn't missed a minute for Wigan since returning seven games ago after a three-month absence due to ankle surgery. He'd been injured in November while on international duty with the USA. I'm sure Silva/Brands assessment of him this summer will determine Bainesy's fate. Is Robinson ready to be Digne's deputy or does he need another loan season? We'll see.
Lev Vellene
66
Posted 17/04/2019 at 22:16:47
The Blades really wanted Jags back before last season started, and he still elected to stay put with us!
He did really well for EFC when asked to step into the breach this season, but that was too far between! So if he elects to take the step(s) down below the PL to help his parent club in any way, I really applaud that! He's got many more active years left in him below what regular PL availability can offer him! I'd miss his reliability as a proven sub, though!
Lev Vellene
67
Posted 17/04/2019 at 22:31:41
Mike #65, I'm not really sure if I want Antonee to come back right now! Lucas Digne is too much the LB we need for now, and Baines is his backup (especially if his contract gets extended for another year...). I'd still want Antonee to have another year out on loan to hone his skills, instead of getting shackled to the substitutes bench for a season of "ouch/almost", just in case Digne or Baines both get incapacitated...
Paul Birmingham
68
Posted 20/04/2019 at 19:39:10
It's time to plan for the future and be ruthless, so whether the players get new clubs or are given ambassador type roles, remains to be seen.
But unless there's very good reasons for giving then new contracts, it should be the end of their playing careered at GP.
I hope the club will treat with dignity and sincerity and go about what happens, better than they did with Hibbo and Ossie.

Don Alexander
69
Posted 20/04/2019 at 20:04:37
Mike Gaynes (#65) I haven't watched Galloway as much as you seem to have but if your observation on his right-side weakness/liability is correct I once again have to wonder just what the coaches do at FF.
Terry Underwood
70
Posted 23/04/2019 at 10:26:19
I remember wanting Jags a year or so before we got him, I was really chuffed when we signed him. If any 2 players gave full value for their transfer fees, it is these guys. I am sure that they could still do a job in the lower leagues. If they do leave, they go with my thanks and best wishes. In years to come, young Blues will be told the story of Jags injury time rocket at Mordor and the pen shootout v Mancs. sweet memories
Kevin Dyer
71
Posted 23/04/2019 at 11:33:21
A bit late to the party here but I got halfway down the comments and had to chip in.
1. Jags making public comments about his contract (presumably answering a journo question) - bad timing considering he'd just had a shocker against Fulham, where he'd been blown past by Babel and manhandled by Mitrovic. Granted the whole team was off but he was particularly bad. Mitrovic beat him like a drum, no disrespect to a once-outstanding defender but it is what it is. Yes he had a good game vs Arsenal but come on guys, he'll be 37 in August. Much like youngsters, ageing players struggle for consistency, but unlike raw players inconsistency will increase until it becomes the norm.
2. At his age genuine first-rate central defenders like Ferdinand and Terry were finished at top level. If he wants to actually play then he needs to step down a division and maybe eke out a final season at a lower level, like Terry did at Villa. When a player is no longer useful to a club then it's time to say thanks and goodbye. Jags is no longer even a reliable backup. We will sign a starting-calibre CB in the summer, maybe Zouma and Holgate (or one of the kids) can serve as no.4 next season.
3. Crikey Justin (#37) Thomas Vermaelen as superior to Zouma? He's 34 in November and has been plagued with injuries since 2013. He was a cracking player at Arsenal but we're going back a long time. He's been enjoying a semi-retirement jolly on Barca's payroll for the past 5 years since they bizarrely signed him. If he carries on after his contract ends in the summer no doubt he'll be off to China or the Gulf.
4. Baines too, is done at top level. His position in the EPL demands a good engine and decent pace, neither of which he has anymore. If he can stay fit then he'd be best advised maybe look to play in a less physically demanding league, like Spain or Italy as he still has technique and can play intelligently. As cover for Digne we should evaluate Robinson and if he's not ready yet then bring someone in with the required physical attributes to step in when needed. Baines is too injury-prone even to provide reliable cover now.
5. As regards staying on in non-playing roles, I've not heard either express this as a goal. I highly doubt Baines will move into coaching. Jags, maybe but has he even taken his badges? Maybe Silva wants to assemble his own staff and not get lumbered with rookie would-be coaches put in place for sentimental reasons? If Jags, at his age and with almost zero game-time was interested in making the transition to coaching at Everton it would've been wise to start this season and try and impress Silva enough to be brought onto his staff. No indication this has happened.
Julian Wait
72
Posted 24/04/2019 at 03:47:12
As defenders they might struggle in the MLS against the youth and pace, but you have to think with their experience and innate talent they could both do a job for someone, perhaps Baines in a holding midfielder role and Jags in a 3 man defence? Perhaps that's why a decision sooner rather than later would be welcomed?
Add Your Comments
In order to post a comment, you need to be logged in as a registered user of the site.
Or Sign up as a ToffeeWeb Member — it's free, takes just a few minutes and will allow you to post your comments on articles and Talking Points submissions across the site.