Gomes handed three-match ban
Tuesday, 16 April, 2019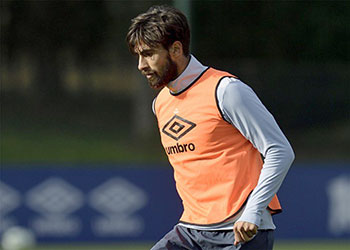 Updated
As expected, the Football Association have charged André Gomes with violent conduct for his late challenge on Aleksandar Mitrovic on Saturday.
The Portuguese has been retroactively censured by the domestic game's governing body based on video evidence of his stamp on the Serbian striker's ankle during Everton's 2-0 defeat at Fulham.
Gomes had until 6pm this evening to appeal the charge but sensibly declined to do so and now faces a three-match suspension which will sideline him for the games against Manchester United, Crystal Palace and Burnley.
The midfielder is currently on loan at Goodison Park from Barcelona and the Blues have been making efforts to sign him on a permanent basis at the end of the season.
---
Reader Comments (189)
Note: the following content is not moderated or vetted by the site owners at the time of submission. Comments are the responsibility of the poster. Disclaimer
Stephen Brown
1
Posted 15/04/2019 at 20:39:06
Has Salah been charged with diving ?
Martin Mason
2
Posted 15/04/2019 at 20:52:44
Stephen, there is really no connection is there? Surely it was a terrible foul?
Bill Gienapp
3
Posted 15/04/2019 at 20:53:55
Hey, remember that time Zlatan kicked Coleman in the head?
Drew O'Neall
4
Posted 15/04/2019 at 20:57:27
Stupid boy. Will miss the United game - needs to apologise to the fans and his team mates.
Joe Parkinson
5
Posted 15/04/2019 at 21:06:49
No one disagreeing with Gomes getting what he deserved, what is the issue is that Tom Daley over the road at Anfield continues to try and Cheat the officials week in week out, and yet not one single charge against him No wonder all fans up and down the Country Hate that bastard club, their motto should read "Do as we say, Not as we do..."
Floppy not come out to defend him yet, or defend the flare incident injuring a Child, No didn't think so, neither has the Shite programme the Echo Not one single word mentioning it
All football fans want is Fairness, but while we have Sky, BBC and the press having Orgasms waiting for them to win the league, that ain't going to happen...
COYB...
Simon Dalzell
6
Posted 15/04/2019 at 21:07:21
Fair enough decision, very stupid behaviour. If only all clubs were judged equally. That's what sticks in the throat.
Graham Coldron
7
Posted 15/04/2019 at 21:15:02
It was a stupid thing to do but the most galling aspect is that other players i.e. The Sky darlings get away with more or less everything that it beggars belief.Richarlisons fake head butt was just the same as Harry Kane's and Walkers but they both get off scot free.The Niasse incident for example, no one else has been banned but there is move diving at the moment in the premier league than there is at the Olympics.Warnock has a point in that the referees are either suite or scared of upsetting the Sky Apple cart.
Andy Meighan
8
Posted 15/04/2019 at 21:30:12
How anyone can come on here and try and justify that, by going on about diving cheating, the Sky 6 etc needs to take a long hard look at themselves... I hope they throw the book at the shithouse; an absolute cowards challenge that could have seriously harmed the lad. Thank God it never did.
But hey, he plays for Everton, doesn't he? So let's not be quick to condemn him. If only him and the rest of the cowards playing on Saturday had showed any sort of fight from the first minute... we might not have been beat by an already relegated side who had just lost 9 on the spin!
Sam Hoare
9
Posted 15/04/2019 at 21:30:19
Silly boy. We need him for the next few games as there's still a chance of 7th especially if we can beat United this weekend. An opportunity for Tom Davies perhaps?
Jeff Armstrong
10
Posted 15/04/2019 at 21:32:26
Gomes has a nasty streak, especially when he loses the ball or makes a mistake, he needs to control his discipline or he will become an easy target for the wind up merchants.
Rob Halligan
11
Posted 15/04/2019 at 21:54:16
Fair enough, it was a dangerous challenge by Gomes. However, I've not seen or heard anything about Salah getting a retrospective ban off UEFA for his disgusting over the top challenge on the Porto defender last week
https://m.youtube.com/watch?v=0DE78t79DQ8
Justin Doone
12
Posted 15/04/2019 at 22:32:02
No complaints other than the lack of consistency. Anyones who thinks VAR will make it fairer will simply get more annoyed as the clear lack of consistency continues.
They will simply choose to ignore it but double check for the slightest eye of a shoe lace looking the wrong way in favour of you know who.
Gomes being suspended gives someone a chance to prove they are good enough and against an attacking in form Man U will be up against it.
I hope its Davies. If not Siggy dropping deep, Bernard Central and Lookman left. Unfortunately I think Schnitzel gets another chance to do nothing.
But I'm sure some fans will say he played well because he didn't mess up or give the ball away to often. Not hard when you don't try a forward pass!
James Stewart
13
Posted 15/04/2019 at 23:08:24
Did any of us think he wouldn't get a ban? Derserving yes but it's the same old story. Everton get punished, the sky darlings go Scott free.
Gomes was embarrassing at Fulham so it's unlikely we will be missing him anyway but a shambolic end to a very frustrating season.
Jerome Shields
14
Posted 15/04/2019 at 23:48:57
Gomes sometimes loses it in the dying embers of a Everton defeat. This time he got caught and the team has been let down as a result.
Simon Dalzell
15
Posted 16/04/2019 at 00:35:16
Andy #8. Nobody (Well maybe one person ) is trying to justify it. People on here are unanimously condemning him. It is simply a fact that clubs are treated differently.
David Pearl
16
Posted 16/04/2019 at 00:37:05
Yet Schnitzel played very well in 90% of eyes in the couple games he played recently only to be forced out again by injury. Never a moment wasted to put the boot into certain player is there.
Mark Andersson
17
Posted 16/04/2019 at 01:14:53
Oh the drama of it all.. Maybe he done it deliberately so he can go on his holidays early... Last few games not worth sweating for he has cemented his place for next season if he decides to stay...
Personlaly I feel its all a waste of time supporting any club other tgan the sky backhanded crook teams...
Christine Foster
18
Posted 16/04/2019 at 18:18:57
Look guys, it was a bad challenge and it certainly looked premeditated. Is a ban out of place? no, three games? if it was a straight red it would have been three game ban. He deserved the card.
However as rightly pointed out by various others, where is the consistency and why (oh why) is it Everton who pay the price?
If the spineless FA want to show their teeth on any point of order, they leave the Sky six alone and come after the next in line.. Everton to be precise. If its a manager, if its a player, it doesn't seem to matter. I only hope that next time someone wants to make an example of an incident, its defended vigorously by the club.
There are countless examples every week of players breaking the rules or deceiving referees but nothing ever happens..When exactly was any Sky club player made an example of ?? Can anyone remember?
The sad thing is, we are in the wrong, (well our player was) and yes he deserves what he gets, just give us a level playing field, some honesty, sadly lacking from the FA.
Ben Attwood
19
Posted 16/04/2019 at 20:14:23
We have to be careful of the "bitter blue" label.
I agree with most on here. Gomes got what he deserved. No issue. Terrible tackle. Worse, is it was at the end of a game already gone and he now misses bigger games.
The inconsistency is terrible however.
Premier League referees are poor which is why they did not feature at the World Cup. There is clearly a bias towards the more fanciable sides. The Chelsea v Cardiff offside the obvious. Would the goal have stood at the other end? How about against Liverpool who seem to get all the decisions at the moment?
For so long we have been the victims of newly introduced refereeing decisions - Ferguson for jumping with arms v Arsenal, the Cahill red at City for shirt off celebration, the Rodwell "over the top" Derby tackle.
This season, Jags at Wolves never a red. Recent examples now get a yellow eg Mustafi when DCL in on goal.
Richarlison saw red v Bournemouth and now most games have handbags and little gets done - North London derby an example.
Zouma saw red for approaching the referee. Nearly every match sees players doing this.
Now we have to contend with retrospective suspensions. What about the big 6?
It is not just us. Leicester got charged with failing to control their players. What happened to Klopp when he ran on the pitch? Didly squat.
8 red cards out of 40 this season are for the so called big 6. 32 reds for the other 12 teams. Are the lower teams more dirty, more competitive, more likely to cheat? Of course not. The ref finds it easier to give a red when the game is not on Super Sunday.
No consistency and a clear bias towards the big 6.
Andy Meighan
20
Posted 16/04/2019 at 20:23:27
Christine (@18).
They're all Sky clubs. We get our share of televised games like any other club in and around us. Yes, of course, the top 6 get favoured but invariably they throw up the best entertainment.
It absolutely pains me to say it but who would the viewing public rather watch? Liverpool v Chelsea or Burnley v Bournemouth? The big games draw in the biggest audiences. So I just wish posters would stop seeing some conspiracy against Everton — there isn't one.
I happen to rate Gomes highly and, given a pre-season and if we buy him, he'll become a big player for us. That doesn't excuse the naughtiness of that cowardly tackle but he should be punished.
Andy Crooks
21
Posted 16/04/2019 at 21:30:05
As you say, Ben, Gomes was a cretin who got what he deserved. However, I suspect that referees favour the bigger teams. Who would most refs like to be on first name terms with and have their existence acknowledged by, Pep, Klopp or Warnock and Dyche.
I imagine that some become refs for altruistic reasons. Start at the bottom and do something good. I would suspect that some do it, not for the money, which is not great, but to be somebody for a while. To have Pep know their name, to be in the Sunday papers, to have influence, to be important.
It seems to me that is why the big six get the big decisions, not consciously or deliberately. Who wants to be Warnock's mate? Unfair but part of the vanity that makes refs want to become refs.
Bob Parrington
22
Posted 16/04/2019 at 21:51:27
It was a bad tackle! No doubt! But would this have been done to RS, Manure, Citeh, Chelski, the Arse or even Spurs? This is an important issue.
Simon Smith
23
Posted 17/04/2019 at 03:10:57
Pretty poor game has been capped off with this ban, we now don't have Gomes in our last home game which is a shame.
A stupid foul, reminds me a bit of Felliani type of behaviour, in my opinion you need a bit of this to be respected in the prem, Keane done it, Gerrard done it, Vierra done it and Scholes done it, they kick on !
Let's get Gomes signed up and draw a line under this season as it's been a shambles if we're honest.
For me Davies has to play these 3 games to show what he's learned throughout the season.
Jamie Crowley
24
Posted 17/04/2019 at 04:21:59
Simon -
I couldn't agree more.
It's time for Tom Davies to step up.
I love the kid, I believe in his ability, and I think if we afford him some patience we'll have one hell of a player.
The only positive from this - and I use that word loosely - is that we'll have a loan player unavailable, and a young talent and prospect has been given the opportunity to show his worth.
I know this kid can make the grade. I hope Marco gives him three straight games to get out there and get 'er done.
Ajay Gopal
25
Posted 17/04/2019 at 05:30:25
Hopefully, it chops off a few million from Barcelona's price for him. On another note, if we aspire to be a top 7 team, we should be able to overcome these injuries/suspensions and still maintain a certain level of performance. I agree that Tom Davis should grab this opportunity with both hands and show why he should be part of Everton's long term plans.
Alan J Thompson
26
Posted 17/04/2019 at 05:43:12
Apart from Moyes sending a tape to the head of referees pointing out penalties that Everton weren't given, what has the club done to challenge the discrepancies and bias over those reviewed and banned and those who aren't? Nothing will change if you just go quietly along with the current practice or lack thereof.
John Pierce
27
Posted 17/04/2019 at 06:01:47
Andy Crooks!
That's the biggest load of 'codswallop' I've ever heard. What on earth drove you to figure out the drivers behind 'being a referee' and you came up with that lot?
A deep seated bias sits there! A touch ironic based on subject of the post.
The rest of this rant is not aimed directly at you, the post was just trigger for me! 😃
Referees get more decisions right in a game than most of the players put together. If you treat the officials like a third wheel then you get what you deserve. Football in general looks upon officials as a barrier to success, something to lean upon when things go awry, someone to carry the can for a players weakness, an unequal partner.
I'd argue the strength of character to do that job far outweighs any vanity, it's certainly not for money and the integrity they have puts players who goad, cheat and feign their way through the game to shame.
The culture of football and the laws within it are outmoded and have created room for players to do and treat others and officials with absolute distain, the officials have only a limited gamut of sanctions. So commonplace is the dissent and cheating in the game, it's become accepted, because if you penalized it to the letter then we'd have 5-a-side, the players know it and exploit it. The root of the problem is not with the referees.
With VAR looming there has been a hugely disproportionate scrutiny on English officials this year. Totally out of whack with reality. Lots of 'this would or wouldn't have happened with VAR', rather interpreting than the current rules. I'm just as guilty to be fair.
Poor decisions are just that, put them into context and move on. Do we keep bleating on about the errors players make six months on?
The level of preparation that goes into refereeing a game is mind boggling. The temperament not smack the idiots who prance around the field and bawl at you to contest a throw-in knowing full well it came off them. They dig away at every little decision, in order to 'win' a bigger one when it counts. It's laudable anyone would want to do it.
The goal of an official is to not make a key mistake. Can you imagine that? They have no time to even think about previous games, and 'favoring' of the bigger teams.
It's this simple; the bigger teams get more decisions because they attack more, have the ball more, spend more time in the opposition penalty area, and have to tackle less. It is just a numbers game!!!, not some weird conspiracy.
Well that feels better!! Thanks Andy!!

Paul Tran
28
Posted 17/04/2019 at 06:49:36
He deserved the ban. It was a indefensible, shocking, deliberate challenge. Take the punishment and move on. And it's a good opportunity for someone, if they want to take it.
Gerry Ring
29
Posted 17/04/2019 at 07:44:59
Perfect opportunity to see James McCarthy back in action! If he's up to it, super, as Gomes will be gone at the end of the season anyway. I'd hate to see us letting him go without affording him the opportunity to prove himself again. Like Walcott, it appears that the bigger your salary, the better chance you have of playing so I'd say we're back to Schneiderlein who continues to be given chance after chance while others like McCarthy are not. We have feck all left to play for so let's use the players that are likely to be with us next season!!
Eddie Dunn
30
Posted 17/04/2019 at 08:06:45
Gomes deserves the ban. He still tires in the latter stages of games and this compounds his frustration and leads to emotional meltdowns and rash tackles. He needs to be 10% fitter next season.
As for the even-handedness of governing bodies, the Salah studs-up on the Portuguese lad is under Eufa jurisdiction and so can't be compared.
However the refs do seem to give the benefit of the doubt to the so-called big six. I think we probably got the same benign treatment in the mid-eighties when playing thugs/minnows.
The only way to get past it is by breaking through that glass ceiling and joining the club.
Kevin Prytherch
31
Posted 17/04/2019 at 08:14:34
Andy 21 and John 27...
I would say there's a lot of truth in both of your arguments.
Referees undoubtedly favour some of the bigger teams, you only have to look at the disproportionately low number of penalties given at Old Trafford during the Ferguson era. However this is likely to be more down to peer pressure than vanity.
A penalty given at Old Trafford is scrutinised by 70,000 fans and all media outlets for days.
A penalty given at Cardiff is scrutinised by 20,000 fans and hardly a mention in the media.
You have to be 100% sure to give a penalty (or big decision) against the bigger teams, you only have to be fairly certain against the rest of the teams (that's not a slight on refs, nearly all decisions will have an element of doubt involved).
Refereeing is a ridiculously difficult job and the refs do not get the credit they deserve.
The root of the problems though, lie at the FA. If all diving, dangerous play and other forms of cheating were dealt with retrospectively and consistently, then it would make their jobs easier.
Jim Bennings
32
Posted 17/04/2019 at 08:26:09
Huge loss for Sunday's match as he's the only midfielder who can carry the ball from a deep lying position.
Davies, Schneiderlin or McCarthy can't do that but these three are all likely to be playing for their Everton futures.
If things don't start happening soon for Davies then I believe like many other players we've had at a similar age, he will realise he has to move on.
Schneiderlin probably has no long term future and McCarthy has already been told as much.
Jimmy Hogan
33
Posted 17/04/2019 at 09:12:33
There are three indisputable truths in life. "Other people are selfish", "There's nothing wrong with my driving" and "the ref was shit".
As for Gomes, I suspect we won't see him at Goodison again, which is a real shame.
Darren Hind
34
Posted 17/04/2019 at 09:39:45
John Pierce.
Andy Crooks is bang on the money mate. The standard of refereeing and assistant refereeing in the EPL today is absolutely abject and it favors the top clubs far too often to be coincidence.
Like or loathe The Cardiff manager, his team were recently robbed blind against Chelsea. Only a proper pinball wizzard could have missed that offside. Poor, poor decisions like that regularly cost teams their premier league status. Sure they have to be poor sides to be down there in the first place, but that doesnt make them any less entitled to fair decisions.
Reading your post John, I suspect you have done a bit of refereeing yourself. Fair play, if that is the case, you will have a greater insight than most of us as to what inspires people to go and pick up the whistle. . but I still agree with Andy.
I can accept that those in on the ground floor do it for the purest of reasons, but the higher up the ladder these guys go, the higher their profiles become. There are several referee's out there who seem hellbent on making the game all about them - attention seeking fuckers. There are also a number of them who seem desperate to ingratiate themselves with the "superstars".
You say they make less mistakes than the players (a dead giveaway that you are a ref) but they don't have eleven opponents trying to force them into errors, in fact they don't have opposition. . and there are four of them these days. . why should they make so many glaring errors ? Stevie wonder would do a bettter job than most of these Lino`s.
Why are some players sent of for innocuous challenges, while others regularly get away with leg breakers ?.. . how come Salah is always deemed JUST onside when he is clearly a yard off ? How on this earth did that gormless twat miss FIVE players offside when we went to St James a few weeks ago ?
This is a multi Billion pound industry. unless a guy has played professional football himself, he should not even be considered to referee a top game. Former players will not be immune from mistakes, but at least they will understand the difference between a clumsy challenge and a nasty one.
I understand these guys are asked to make calls under intense pressure, but 95% of them clearly cant stand the heat. . they should`nt be allowed anywhere near the kitchen.
Paul Birmingham
35
Posted 17/04/2019 at 09:48:11
No complaints, and fully deserved. Gomes should be fined as he'll miss key games that could impact our slim chances of Europa League next season.
United in a slump but how will Everton react and which team will show up?
I hope that Salah gets a ban as well as surely he must if UEFA is about fair play? His foul was as bad as Gomes so there must be parity in the punishment.
Steve Carse
36
Posted 17/04/2019 at 10:05:11
John (27), defending refs you ask do we bleat on about players' mistakes 6 months on. The answer is of course that yes we do. And if the gobshites across the park win the title next month by anything less than 3 points that monumental cock up by Pickford at Anfield will be talked about beyond the next 6 years!
On the issue of how many decisions refs get wrong, I'd put it at around half if we're talking free kick awards.
Tony Everan
37
Posted 17/04/2019 at 10:09:34
It was daft by Gomes. A moment of madness but hopefully he will learn to control his frustration and channel his energy in a positive way.
We have too many players who cannot react to adversity, I have seen it too many times this season when we go a goal down. We never seem to have the mentality to continue with our game plan or confident play.
More often than not when a goal is scored against us we have no reaction or lose the plot. It is something, and another thing, Marco has to address.
Peter Thistle
38
Posted 17/04/2019 at 10:35:05
Notice nothing happened to the RS player who blew a snot rocket at the Chelsea player down on the ground receiving treatment, which to me is much worse. Bans for all, or bans for none. Keep it fair like.
Brian Harrison
39
Posted 17/04/2019 at 11:16:26
John 27
Your post would indicate that you may have or still do referee games. Without doubt the hardest job, and the most criticized position on the field. I used to run a couple of teams and know the flack that refs get especially at grass roots level. I recently watched a game between a group of 9 year olds in Manchester, and they have a respect area where parents and others can watch from. All the boys shook hands with the referee and their opponents after the game, and the respect area seemed to work or it did for this particular game.
Having said all that at the very top level I think our refs are often found wanting, and maybe no coincidence that FIFA chose not to take any refs from this Country to the last World Cup. If you are or have been a ref I would be interested to know how come all the refs who operate in the Premier league before it became a full time job were people from professions or self employed people. Yet at grass roots level I only see working class guys refereeing. Now I know having the ability to travel and get time off work makes it harder for refs in normal jobs to progress, is this the reason.
I think until the FA introduce a system which fast tracks ex players who would not only understand the rules but more importantly would understand the game. Seems to me most modern refs lack the understanding of the game.
Kunal Desai
40
Posted 17/04/2019 at 11:30:21
The Gomes ban was deserved and rightly so, it was a shocking tackle.
Two things here, if we want to become one of the Sky Darlings then we need to become a snide of a club. That means changing our mentality and, more importantly, the culture of the club. Get away from being sentimental and doing things quietly, make it known that you are Everton and you want people to recognise you as a big club, not one of these shy and passive clubs that sits in the corner like a mouse without a peep.
Secondly, get yourself known out there, get players who are going to ruffle feathers and get stuck into referees and linesman, get a manager who is a lot more animated and vocal on the touchline. You need a little arrogance about you and that will only come with confidence and having relative success.
If Everton feel small and feel hard-done-by, then perhaps the outlook of the club needs to change and they need to start putting in strategies in place as to where they want to be in the next three to five years. Think big and people respect you; if you're immune to change and remain silent, you will be walked all over. I'm afraid that's been happening to Everton for at least three decades.
Dave Abrahams
41
Posted 17/04/2019 at 11:40:10
Darren(34) a good post Darren, I imagine a lot of fans will agree with most of your points.
Brian (39), the last line of your post was spot on.
Most fans recognise that referees have a very hard job to do, not helped by cheating players at every turn of the game,andhonest mistakes are made by them some of the time, but too often guesswork and poor judgement are made as well, doubt if any fans can say that biased
towards the top clubs doesn't happen, and these poor decisions can effect,not only the result of one game, but promotion and relegation as well.
Andrew Ellams
42
Posted 17/04/2019 at 11:43:29
If you want an example of refereeing bias towards the top 6 the best example this season is the lack of action taken against Klopp for his reaction to the goal in the Anfield derby and the red card given to the Wolves manager for his stepping just over the line to celebrate a late goal vs Leicester. The referee for both of those games was Chris Kavanagh.
Frank Crewe
43
Posted 17/04/2019 at 12:25:15
It's a shame but such is life. We'll get over it and so will he. One good thing though. After watching Barca walk all over ManU last night I can't see Gomes getting into that side. That might help us to keep him at Goodison.
Craig Walker
44
Posted 17/04/2019 at 12:56:57
I'll tell you what sums up a RS fan who I work with. I came into work on Monday fed up with football. What did he want to talk about? Not their win against Chelsea or Sallah's goal. No, his first words were about how Gomes should have been red carded and how we can't beat Fulham. I hate them and am praying they win nothing but I think they're gonna win the league now.
Derek Knox
45
Posted 17/04/2019 at 12:58:06
Andrew @42, spot on there mate, it really does piss us off this disparity amongst the Officials, I know it's not an easy job and decisions have to be made instantaneously, but so many are blatantly obviously wrong, it defies logic.
Ray Smith
46
Posted 17/04/2019 at 13:26:15
Brian39
I believe (unsubstantiated) that FIFA didn't select any British referees for the World Cup as they had/ have no experience of VAR.
John27 does this ring true with you?
Andrew Ellams
47
Posted 17/04/2019 at 13:29:46
Ray Smith. Cameroon had a referee at the World Cup, do they have VAR in their domestic football?
Sam Hoare
48
Posted 17/04/2019 at 13:52:58
Is anyone else unconvinced by Gomes?
I still can't decide whether he is worth the reputed £30m. Some sublime moments and yet too many ineffectual games. I wonder if he just looks good because we've had such a paucity of flair and creativity in the middle for the last year or two? The reality is that he has 1 assist and 1 goal in 24 matches. Superb against Chelsea, West Ham and Arsenal; woeful against Fulham and Newcastle.
If we do get him, and I think we will, I feel he could go either way next year.
Andrew Ellams
49
Posted 17/04/2019 at 14:04:08
Sam, in the current climate £30million doesn't guarantee anything. If want a consistent world beater you need to double that at least.
Tony Everan
50
Posted 17/04/2019 at 14:15:53
Sam 48
I think when he has an off day, it is not just him. It is a combination of that and other players around him being bullied and less aggressive. Especially our wide men in tight away grounds. They seem to be affected by the away supporters down the lines.
For 20-30m I think he would be a good buy, but as you say, he still has work to do to find top level consistency.
Jay Wood
[BRZ]
51
Posted 17/04/2019 at 14:45:54
I'm with you Sam @ 48. I remain far from convinced about Gomes for actually the reasons you list.
On the question of referees, only the truly gormless could fail to recognize it is an extremely challenging task, be it at grassroots level (where physical and verbal abuse is extremely commonplace), or in the professional leagues.
I have huge respect for park referees as they are out there all alone against a potentially very hostile crowd.
I consistently see great refereeing across all the major leagues and competitions, even the English PL. However, in the main, I personally feel the standard of refereeing in the PL week on week is as low as I can recall it.
The 40-odd cameras catching every possible angle, replayed in super-slow-mo, leaves them no hiding place. But what concerns me more is their live in-game calls. And the linos must be included in any evaluation. There have been some truly shocking offside calls this season, not only in our own games, but other teams also.
I understand a game situation, whilst judged by the rules of the game, may be differently interpreted by different referees in the split second they have to make a call. For that reason, it is difficult to expect universal consistency across all games.
However, it is the inconsistencies of individual referees in their management and application of the rules which so riles supporters.
I get the argument that better quality teams who attack and are on the front foot more are likely to be rewarded more free kicks and penalties as an overrun lesser side look to hold them at bay.
But if you take just one statistic - the awarding of penalties to the opposition playing away in the Mersey Derby - since the 2nd World War, Liverpool have been given 11 penalties at Goodison. Everton at Anfield...a miserly TWO!
Given the 1000s of minutes played in those 70-odd years, it is IMPLAUSIBLE to believe that in that time that in the white heat intensity of the Merseyside derby, Liverpool has committed just two fouls in their own area against Everton worthy of awarding a penalty. So, what influences are at work here..?
As for the question of encouraging or fast-tracking ex-players to be refs, that's a non-starter for me.
1) what's the incentive to them, having earnt big bucks as a player?
2) given how late many players retire now, together with the compulsory retirement age of referees, they would have very few years to prove their mettle and work their ways up through the leagues
3) many players are not familiar with even the most basic of rules!
I remember back in the 1970s my one and only all-time hero Alan Ball missed a penalty at Goodison. I'm pretty sure it was in a 2-2 draw with Ipswich. His penalty rebounded back to him off the post without any opposition player touching it. Bally stuck the rebound home, but the referee correctly disallowed it because he played the ball twice. I knew that as an 11-12-year-old spectator at the ground.
On the way home, listening to the tranny, they interviewed Bally post-match and asked about the penalty miss.
His reply? "I hit it well enough, but of course when the ball came back to me I was offside."
I was left dumbfounded that my hero, the great man himself, was so ignorant of such a basic law.
John Pierce
52
Posted 17/04/2019 at 15:50:04
Some very decent input and all very valid stuff.
Darren my post didn't say that the premier league standard was the best or couldn't be better, absolutely it can. I can agree with that without denigrating what does into being an official. Most posts on here go beyond criticism of a 'decision' to a hatchet job on the individuals.
That really was my key point. Fans and coaches take no interest in what preparations take place to let them have a game of football. There is no empathy there.
It's interesting you think referees have no opposition. I'd argue they do! The attitude prevails that both teams, plus the coaches act grinding at every decision to wear down the officials. Why? Because they is zero respect for them, none. They very much are the third team and have to stand firm whilst grown men act like children, testing the boundaries. The oppose a referee no cooperate with them.
Until players, fans and coaches treat officials as equals in any sport, not just football, then you won't see the improvement you want. There are excellent referees out there, but the toxic atmosphere that top level players have created which filters down to grass roots has completely stopped the production line of officials.
In all sports the pool of those available to 'do a game or two' has shrunk, so there no way you will generate a pyramid big enough to get potential to emerge.
It's a situation that's being prevalent since the 90s, we've done nothing about it and is now clear, 25years what the result is.
The quality of referees is down the to culture we've allowed to fester, we all need to recognize we play a part in stopping someone participating in a game because we couldn't control ourselves as a player fan or coach.
Jim Bennings
53
Posted 17/04/2019 at 15:51:04
There's a few things to remember with Andre Gomes though before making a judgement oneway or the other.
1) He has no preseason with Everton so couldn't really build up much rapport or blend with how things worked.
2) His first appearance for Everton was October 21st.
3) He has games where's he's anonymous and looks like a £5 million player and you can perhaps see the mental fragility that saw Barca want rid, they prefer strong minded winners.
4) Equally and against very point number three above, when Gomes is good he's bloody very good and looks like a £30 mill bargain, he's the only central midfielder we have that can carry the ball and I think we will appreciate him more in a bizarre way when we miss his presence on Sunday.
Who knows if we'll sign him or not but I think the Andre Gomes that turns up is a very good player and offers something that none of our other current midfielders have.
Mike Gaynes
54
Posted 17/04/2019 at 16:01:00
John #27, love that rant! And yes, Brian #39, John is a working referee.
So am I. And I have an entirely different theory about why the big teams get the calls over the smaller fish (and they definitely do). It's not intentional bias, or trying to be pals with the superstars. It's intimidation, much of it unconscious. The big clubs have the massive fan bases, the huge media coverage, the world-class players, and the "big club" aura. The also have world-renowned managers with media platforms and certain sway over what games you get in the future.
And officials are unconsciously swayed by all that, just as they are in other sports and other venues. Debatable calls in the final minutes of NBA and college basketball games almost always seem to go the way of the top teams. We all feel it. Good officials are aware of it and acknowledge it.
Mike Gaynes
55
Posted 17/04/2019 at 16:09:26
Sam #48, count me among the unconvinced as well. And add another reason to the list -- his propensity for poor defensive positioning and the resulting dumb fouls. While his defensive play overall has improved over the course of the season, as this incident shows he is still prone to these errors.
I'm right with you.
Jim Bennings
56
Posted 17/04/2019 at 17:08:05
We will see how much we miss Gomes on Sunday when we have replaced him with "help or just hook the ball on with no real incisiveness or brain" Schneiderlin or Davies.
Jesus we might even get to see Lord Lucan, James McCarthy, somehow I doubt it though!
Christopher Timmins
57
Posted 17/04/2019 at 17:08:49
Of the loan players we need to nail down Zouma, Gomes and Bernard are more problematic, it could go either way with them next year.
Brian Williams
58
Posted 17/04/2019 at 17:14:33
Christopher#57.
Bernard's not on loan you know?
Mike Gaynes
59
Posted 17/04/2019 at 17:15:07
Bernard is all ours.
Rob Halligan
60
Posted 17/04/2019 at 17:16:45
Christopher, not quite sure if you are classing Bernard as a "loan player", but we signed him permanently on a four year contract. Apologies if I misunderstood your post.
James Flynn
61
Posted 17/04/2019 at 17:24:51
This:
"It's intimidation, much of it unconscious. The big clubs have the massive fan bases, the huge media coverage, the world-class players, and the "big club" aura. The also have world-renowned managers with media platforms and certain sway over what games you get in the future."
Tom Bowers
62
Posted 17/04/2019 at 18:26:18
Most of us cannot wait for yet another poor season to end after that showing at feeble Fulham. Are we sure they were the relegated team?
The Gomes incident just adds to the disappointment.
By the way, why did Will Hughes of Watford only get a yellow for deliberately putting his studs right down his opponents calf in the last 5 minutes of their game. Absolute awful refereeing and not actioned further by the stupid F.A.
Dermot Byrne
63
Posted 17/04/2019 at 18:31:04
I just have a sense we may be improving strangely. Team spirit improving which I think is key and fans feeling that. Am I madly over optimistic?
Paul Tran
64
Posted 17/04/2019 at 18:55:39
I'd say the standard of refereeing has markedly declined in the last couple of years.
Mike Gaynes' point about subliminal intimidation is interesting. My take is that subconsciously, referees give 'better' players the benefit of the doubt. Certainly in the 80s we got away with a lot more when we were a successful side. That's why Richarlison and Barnes get sent off for innocuous stuff and 'better' players from 'bigger' teams don't. That's one reason why, with strong reservations, I'm in favour of VAR.
Regarding Gomes, I'd be in favour of us buying him, but there's one thing him and Bernard have in common; they don't score goals. And we need them badly.
Am I the only one wondering what Lukaku would have been like with these players around him? I'll be thinking about that till we buy someone who knows where the net is!
Paul Hewitt
65
Posted 17/04/2019 at 19:14:51
Well I didn't see anything wrong with Gomes stamp. I remember when football was a man's game. To much diving and rolling about now.
Sam Hoare
66
Posted 17/04/2019 at 19:15:26
Jim@53, I think we may well miss Gomes as he is better than what we have and we lack any other ball carrying midfielders but I don't know if that means we should dish out £30m on him. There might be others out there who can carry the ball and more.
Not that i'm his biggest fan but I think Loftus-Cheek who may possibly be looking for a club who'll give him starts this Summer would bring the same ball carrying threat and elegance but with more end product, he has 8 goals and 5 assists this season despite only starting about 10 games. Also keep an eye on Ibrahim Sangare who has been awesome in France this year, more of a defensive player than Gomes and one of the few players in Europe to almost match Gueye's tackle stats and yet also has more dribbles per match than Gomes.
Martin Mason
67
Posted 17/04/2019 at 19:17:37
Only the next game will tell but I think that Fulham, newly relegated with a new head coach to impress, did what freedom to play in those situations can do and they played exceptionally well. Often, playing to avoid relegation can cause otherwise potentially good sides to play badly and this goes when the shackles are released. I have a feeling that this wonderful Ajax side has destroyed the fallacy that only physically strong and organised sides can survive in the modern age as they have passed around and made idiots of such sides. I'd love Everton to go that route.
Gomes? We mustn't pay too much for him, he has weaknesses in his game and obviously nasty character flaws. If he is keeping Davies on the bench then I'd prefer that we passed on him and played our youngsters.
Bill Gienapp
68
Posted 17/04/2019 at 20:00:21
There are definitely some question marks surrounding Gomes... at the same time, I believe he has genuine class and we desperately need players with genuine class who are actually willing/excited to play for us, which seems to be the case here.
Mike Gaynes
69
Posted 17/04/2019 at 20:14:15
Anybody else watching this insane CL game? 10 minutes, 2-2.
Rob Halligan
70
Posted 17/04/2019 at 20:16:34
It's crap Mike. There hasn't been a goal for 5 minutes.
Mike Gaynes
71
Posted 17/04/2019 at 20:28:00
Spoke too soon, Rob!
Rob Halligan
72
Posted 17/04/2019 at 20:31:18
Yep!!
Darren Hind
73
Posted 17/04/2019 at 20:33:11
John
For me the answer is a simple one. The football governing bodies have to stop paying amateur wages to amateurs. Half of these guys have never kicked a ball yet they are controlling (sometimes dictating) games being played by people at the very top of their profession.
There are hundreds of ex pro's who still need to earn a living and I do mean hundreds. They need to be enticed back into the game and the way to do that is to pay a rate befitting of what would be a high profile profession.
Your are right when you say referees don't get respect, but so many of them do very little to earn it. . simply turning up isn't enough. Most people who play the game (at any level) look at referee's with suspicion. They wonder why they do it ? why would anybody put themselves up for such abuse ?. . for little or no reward ?. . what sort of person would want to do that ?. . You see I'm an arl cynic. I don't believe they volunteer to suffer all that abuse just so everyone else can enjoy themselves.
I knew most of the local referees by name and sight when I played and managed, but I have only ever known three properly. . and all three had a touch of the doctors receptionist about them.
I don't believe a pyramid cannot be created. The EPL should start the ball rolling by offering big money for the best. anyone found wanting could and should find himself sliding down the order.
I think most fans and players would have far more respect for a guy who has actually seen the game from the other side
Joe McMahon
74
Posted 17/04/2019 at 20:33:46
VAR assists Liverpool again. If only we could have 10% of the luck they get. VAR won't change a thing i'm afraid, the same teams will benefit.
Mike Gaynes
75
Posted 17/04/2019 at 20:49:01
Darren #73, and of course another eloquent argument for higher referee pay is that it reduces the possibility (and the appearance) of corruption. Of course, pay is relative -- there was a period in my life when I was unemployed and working 5-6 games a week at $45 bucks per game paid my rent. And I do still like getting the checks after the season.
You overlook some other reasons that we referees enjoy it. In my case, I liked being involved in games of a far higher level than I could ever have played in. It's a much more fun way of staying in shape then jogging on a treadmill. And most of all I'm a self-important old fart who likes to be in charge.
But I don't think your idea of hiring ex-footballers as referees can work. You can't pick up a whistle for the first time at age 30 and be ready for the Prem at 35.
Jim Bennings
76
Posted 17/04/2019 at 20:54:32
Sad as it is to admit, I can see the English game being dominated by City and Liverpool for the foreseeable future, a bit like the United-Arsenal battles of the late 90' to mid 2000's.
They are both just so strong, fast, athletic and basically fuckin hard to beat,
Darren Hind
77
Posted 17/04/2019 at 20:56:12
You'd make a great Doctors receptionist Mike.
Rob Halligan
78
Posted 17/04/2019 at 21:07:00
Joe # 74, as much as we all hate them bastards, the goal they scored was just about onside. It was originally flagged for offside but VAR got it right and the goal awarded.
Mike Gaynes
79
Posted 17/04/2019 at 21:07:49
Up yours, Darren. (Fondly.)
Darren Hind
80
Posted 17/04/2019 at 21:21:24
I'll take that as a yellow rather than a red, Mike.
How good is this Spurs/City game ?
John Pierce
81
Posted 17/04/2019 at 21:37:06
Darren, from behind my desk at the local GP the game looks great!
Paul Tran
82
Posted 17/04/2019 at 21:41:33
Darren, it's just fantastic. If it was a boxing match the crowd would be throwing money into the ring.
Dave Abrahams
83
Posted 17/04/2019 at 21:48:03
Paul (82), Nobbins, if you are a boxing fan, you'll know that's a compliment, to your post.!!!!
John Pierce
84
Posted 17/04/2019 at 21:52:39
This should ruin Spurs for Saturday.
Paul Tran
85
Posted 17/04/2019 at 21:55:26
I'm up for a Cruyffian final; Barca v Ajax. Who's with me?
Paul Tran
86
Posted 17/04/2019 at 21:56:42
Cheers Dave!
John Pierce
87
Posted 17/04/2019 at 21:56:55
Astounding stuff.
Mike Littler
88
Posted 17/04/2019 at 21:58:22
Well done, Spurs — just shows what a good transfer policy can do... plus Harry Kane. New ground built, youngish team, and we were their betters only a few seasons ago.
Jim Bennings
89
Posted 17/04/2019 at 22:01:46
It's do or die for Guardiola and City in the next two matches now, City simply have to win the title now and Pep knows that!
Otherwise our worst nightmare of the Shite winning the two big ones are becoming more and more real as each day passes.
Jay Wood
[BRZ]
90
Posted 17/04/2019 at 22:06:40
Cracking game of football.
VAR worked very well tonight, didn't it?
Without it, City not Spurs would be in the semi-final tonight.
John Pierce
91
Posted 17/04/2019 at 22:07:18
You'd hope Poch rests players Saturday, they will be shattered from tonight.
Dave Abrahams
92
Posted 17/04/2019 at 22:07:32
John (84), I hope it doesn't ruin City, I haven't got Sky TV, so knew City had scored, on latest scores, but with the long delay, about who had scored, I knew it had gone to VAR, disappointed the goal was disallowed, don't know if this was the correct decision because I never saw it, wouldn't have liked to be a City fan waiting for the verdict.
Chris Leyland
93
Posted 17/04/2019 at 22:10:15
Hopefully this allows City to concentrate on the league now.
Dave Abrahams
94
Posted 17/04/2019 at 22:10:48
John (91), so will City ( be shattered) hope it is only physically and not mentally as well.
John Pierce
95
Posted 17/04/2019 at 22:13:10
By the way what a game the Doctor's receptionist had tonight, absolute blinder. Calm, clear and with empathy.
👏👏👏
Darren Hind
96
Posted 17/04/2019 at 22:15:05
Didnt see anyone appeal Dave. The Spurs manager players and supporters were all on the floor. A jammy win for Spurs given the nature of the deciding goal, but fair play to them.
City will murder them at the weekend.
PT Barca/Ajax ?. . please let it happen
John Pierce
97
Posted 17/04/2019 at 22:15:57
I wonder after Laporte's performance whether he gets too many games this season? Had a 'mare that fella, 'fookinel!
Darren Hind
98
Posted 17/04/2019 at 22:16:44
With Empathy John ?. . or with his replacement ?
Michael Lynch
99
Posted 17/04/2019 at 22:22:29
Didn't hear the commentary, just watched the pictures, but can one of you refs out there put my mind at rest - in City's disallowed goal, wasn't it a pass by a Spurs player, albeit deflected off a city player, and therefore wouldn't the attacker be onside? Obviously, the answer is no because it was disallowed, but what is the rule?
Paul Tran
100
Posted 17/04/2019 at 22:24:49
Both VAR decisions were correct. Great game.
Phil Sammon
101
Posted 17/04/2019 at 22:28:22
Michael 99
The offside is judged the moment the ball deflected off the City player. It doesn't matter if it was unintentional or a mere deflection.
Michael Lynch
103
Posted 17/04/2019 at 22:38:23
Cheers Phil, I was under the misapprehension that it had to be deliberate to count.
Rob Dolby
104
Posted 17/04/2019 at 22:52:01
Great game of footy for the neutral.
The talk after the game is about var not about how good both teams were. We had Peter Walton revelling in the attention whilst talking about the ball hitting llorente's knee.
The instinct, reaction, euphoria and celebration of a goal is now dampened by a minute or so whilst the TV ref makes the decision.
I can just see in a couple of years time when a goal goes in at Goodison and the already tepid atmosphere is strangled until a flash on the scoreboard confirms VAR has awarded a goal and half arsed celebrations commence.
I am just not a fan of the system and think it detracts from the spectacle. I am a neutral watching a fantastic game but feel VAR has stolen the spot light away from the game.
Michael Lynch
105
Posted 17/04/2019 at 22:55:57
Rob, I agree with you but at the same time it is undeniable how much drama can be whipped up by the kind of VAR moments we saw in the match tonight, and in the World Cup finals. But as you say, I can imagine it being a pain in the arse and a passion-killer in a more run of the mill league game.
Bill Gienapp
106
Posted 17/04/2019 at 23:10:35
You're not wrong, Rob... though, by the same token, if we were victimized by an offsides goal with a spot in the Champions League semifinals on the line (perish the thought), wouldn't you rather they get the call right?
Chris Gould
107
Posted 17/04/2019 at 23:26:01
So now both sets of supporters can celebrate after a goal. One set go crazy when their team score, and the other lot get to celebrate just as hard once it's disallowed by VAR.
I agree with Rob. I was all for VAR, but it just doesn't feel right. In time the initial reaction to a goal will be muted until you're sure it's going to be given. Everyone has always had a quick glance at the lino during celebrations of a goal that looked tight, but VAR may well take the fun out of the greatest part of the game. The sheer euphoria and joy that every fan feels when his/her team scores will now be hesitant and held back while we wait for confirmation.
I don't think I want the correct decision from VAR. I want it from the officials while it happens. If they miss it or get it wrong, it's part of the game. Nobody's perfect. VAR certainly isn't.
Paul Tran
108
Posted 17/04/2019 at 23:35:57
I would have loved VAR:
at the Etihad semi when the cross from behind the by line led to their goal.
at Wembley in 1984. Handsen.
at Villa Park semi in 1980 when Kidd was sent off for fighting with an opponent who was already booked and stayed on the pitch
at Maine Road in 1977
I'm not bitter.
Rob Dolby
109
Posted 17/04/2019 at 23:37:15
I do want correct decisions who doesn't?. I also want to be entertained and enjoy the spontaneity of the game.
In trying to obtain refereeing perfection within a fast paced, reactive and tactical game with overly complicated rules. The game is in danger of becoming too sterile.
We will undoubtedly lose the immediate joy of celebrating a goal knowing that it could be cancelled for an infringement that may or may not have happened in the previous phase of play.
One man's meat is another man's poison. VAR just isn't for me.
Jay Wood
[BRZ]
110
Posted 17/04/2019 at 23:40:38
Rob @ 104.
Whilst I agree in some games I've watched VAR decision-making has been too tardy and taken too long, I can't agree with your post in reference to tonight's game.
Yes, VAR was naturally discussed given how central it was to awarding Spurs the deciding goal and denying City a late winner. But overwhelming the talk WAS about the drama and high quality of an outstanding game of football that both teams and all the players (and officials) contributed to.
I can't agree with you that "the instinct, reaction, euphoria and celebration of a goal is now dampened by a minute or so whilst the TV ref makes the decision."
It very much ADDED to the drama, especially the call to rule out City's 'winning' goal. You had the Spurs players on their knees, heart-broken. Their fans with their heads in their hands. The City player and manager going ape-shit. The blue half of Manchester being even more ape-shitier.
And then...the drama. Everyone on tenterhooks, both in the stadium and the global watching audience. Everyone of the refereeing team got it right and a HUGE, result-changing call was made.
In an instant, the Spurs players and their fans are disbelieving and estatic. The City players and their followers desolate and forlorn.
This is what VAR can add to the game.
I also liked how the ref 'humanised' the whole process when, after seeing nothing to rule out Spurs' third goal, he spread his arms out, gave a down-turned mouth expression to effectively say, "Phtt! How can I rule out the goal on that evidence?"
Great theatre!
Derek Thomas
111
Posted 18/04/2019 at 01:03:46
Ask yourselves this. When VAR comes in will Everton be a net benefactor over a period of say 5 seasons.?
Answer; a) Yes. b) swings and roundabouts. c) In your 'kin dreams sunshine. d) Clive Thomas on a bed of Peirluigi Collina with a Clattenberg jus on toast.
(Clue; a & b, probably won't be right.)

Steve Carse
112
Posted 18/04/2019 at 01:26:18
Jay, I think you speak as an armchair fan, and yes it makes for fantastic TV viewing, particularly for neutrals who just want some entertainment whatever form it comes in. But football will be dead if VAR results in the diminishing of the intensity in the emotions resulting from a goal being scored.
Steve Carse
113
Posted 18/04/2019 at 01:26:18
Jay, I think you speak as an armchair fan, and yes it makes for fantastic TV viewing, particularly for neutrals who just want some entertainment whatever form it comes in. But football will be dead if VAR results in the diminishing of the intensity in the emotions resulting from a goal being scored.
Jay Wood
[BRZ]
114
Posted 18/04/2019 at 02:11:47
Steve (so good he posted twice) Carse.
First up, feck right off with your condescending labelling of me as 'an armchair fan'.
Secondly, you evidently weren't paying attention to the game tonight (presumably from your own armchair) if you believe "football will be dead if VAR results in the diminishing of the intensity in the emotions resulting from a goal being scored."
It ELEVATED 'the intensity in the emotions', not diminished it.
And the correct decision was arrived at both times VAR was used tonight. What's not to like?
People such as yourself seem predisposed to oppose VAR on presumptions.
I acknowledged already I have watched games when VAR decision making was too tardy and slow. That included last summer's WC, but by the end of the tournament it was working very slickly. It was/is inevitable there will be teething problems as all involved become familiar with it.
Those still complaining about VAR's implementation, I wonder if you have considered this: yes, the game is paused whilst the referee reviews the call. But so was the game 'paused' in mob protests under the 'traditional' way of doing things.
As much time - even more! - was lost with players from both sides surrounding the harassed referee, trying to influence his decision, leading to bookings, expulsions and bad feelings for the remainder of the game, oft times ruining it as a spectacle with the referee struggling to keep a lid on heightened emotions.
Whilst VAR is being reviewed, do you see mobs of players surrounding the referee? No.
Do you see mass bookings as can result from said mob protests under the 'traditional' way of 'doing things'? No. There is acceptance. The immediate heat has been taken out of a possible mob protest because the ref goes off the field to consult the replay.
I note a few posters opposed to VAR lean towards favoured conspiracy theories, that it will only further benefit the 'Big Six'. As already evidenced, the main issue with VAR is that the decision still comes down to personal opinion and one man's (the referee) interpretation of a play.
But I take a more optimistic view, that the all-seeing eye of VAR has the potential to make it a much more level playing field for all.
As Paul Tran writes @ 108, I certainly would have liked VAR to have been implemented in the Everton games he lists.
Andy Meighan
115
Posted 18/04/2019 at 07:17:59
Like everyone else on here, I'm still shellshocked after that unbelievable game last night. Personally, I'm not a massive fan of VAR but it has got its pros.

I will say this, though: there's a certain regular poster on here that said only in December (just before we played them) that we are not that far behind Spurs...

Judging on what I saw that day and in their performances in the Champions League since, we are light-years behind them and look likely to stay light-years behind them and others while this current regime is in charge.

I'll bet he's feeling rather sheepish today...
Kevin Prytherch
116
Posted 18/04/2019 at 07:38:03
Jay 114...
I don't think Steve was calling you an armchair fan, but pointing out that VAR is good for those watching on TV.
If the people in the ground could see what we can on TV then it would solve these problems.
That's the biggest issue, all anyone in the ground can see is nothing while it is being reviewed. Stick it on a big screen like rugby, keep the supporters who have paid a fortune to attend the game in the loop, and VAR should work.
Andy Meighan
117
Posted 18/04/2019 at 07:38:14
Also, will it get to the stage with VAR where, when we score, will you celebrate? Because now your first reaction is to jump up, punch the air, hug your mate, kiss someone etc... will you just sit there now and stay still in case one of the opposition turns to the ref and says, "Hey, check that In real time."

City's 5th looked a good goal; he was offside but it was tight so can you imagine how City fans must be feeling this morning? Think it would take a long time to get over that.

As others have said, let's hope it doesn't have an adverse effect... I've got a feeling it just might! Praying...
Mike Benjamin
118
Posted 18/04/2019 at 07:41:58
The way VAR is being implemented in the CL and in other countries is different to how it will be done in the PL. The VAR official will make the decision not the match referee so in effect the game will be officiated by different referees at the same time.
Alan McGuffog
119
Posted 18/04/2019 at 07:49:52
Talking of armchairs, I am informed that the DFS sale will end about 5pm on Monday. You heard it here first.
Walker out !
Rob Dolby
120
Posted 18/04/2019 at 08:34:12
Jay 114
Think you have highlighted that VAR is taking the emotion out of the players in heated situations with your comments.
Take the emotion out of the players you reduce the emotion from the crowd and reduce the experience.
It will get to the point we're a player will score and not celebrate until the goal is ratified by a panel of refs in a room analysing 6 screens.
I must have seen 20 replays of Llorente's goal last night and still the decision was inconclusive. In this case did VAR 100% prove no arm was involved. No it didn't.
VAR is here whether I like it or not.
It has been used in Rugby and Cricket for years. Hopefully it will improve the experience and engage better with fans. I just won't hold my breath.
Jim Bennings
121
Posted 18/04/2019 at 08:36:32
VAR is a sack of horse shit, no other way of putting it.
The introduction of it could have been really useful but not the way they are currently going about it I'm afraid.
You just can't stop the game for 60 seconds or sometimes longer after a huge goal has been scored, it's basically taking away the excitement and everything that makes football special for match going fans.
Imagine scoring what we think is the winning goal at the Gwladys Street End in the Merseyside Derby and before actually celebrating when the ball hits the net, we have to wait over a minute while the referee trots over to the touchline and starts watching the telly and canoodling with his officials knowing that he's going he disallow it anyway and cancel all of our celebrations?
It's simply another nail in footballs coffin in my opinion, if it's not bad enough that the game has been jacked off by the money clubs dominating the top six, it's just gonna get worse with the introduction of this slow motion video doctor.
The difference with Hawk Eye in tennis is that's actually working and seems to fit in with the fast motion of the game as it doesn't require officials running across the pitch and discussing it, it's just up on the screen end of.
James Hughes
122
Posted 18/04/2019 at 08:58:42
I hope they use VAR to stop the players pretending to be mortally wounded when they have been nudged slightly.
all that rolling over clutching their faces is pure shite
Anthony Murphy
123
Posted 18/04/2019 at 09:03:50
VAR hasn't made decision making easier. For me the Llorente goal is open to interpretation. I think the cons massively outweigh the pros but each to their own. A solution of sorts would be to allow each captain a couple of VAR calls each. I can't think why that wouldn't work. VAR was meant to reduce controversial decisions and it clearly is not doing that. Offside is less open to interpretation than a handball, but even this isn't straightforward is it. We've seen VAR chalk off goals for offside where the so called expert pundits can't decide after the game with all the time in the world. Replaying a foul or handball or offside or elbow to the face time and time again in slow motion will always look more intentional. It solves fuck all if you ask me.
Eddie Dunn
124
Posted 18/04/2019 at 09:03:56
Last night was a great game, I wanted City to win and thought they were by far the better team. VAR can't be blamed for getting those two crucial decisions correct (although I could see the ripples on Laurente's flesh from the nick of the ball).
The big picture is good. City can now concentrate on the PL. They will be doubly determined after this game.
Martin Nicholls
125
Posted 18/04/2019 at 09:16:07
We have all seen the way in which junior football is influenced by what kids see the "professionals" doing e.g. rolling around feigning injury etc. How long before officials (who are already in a very vulnerable poison) in such matches find themselves being bullied by aggressive parents with mobile phone footage who each see themselves as Video Assistant Referees?
Martin Nicholls
126
Posted 18/04/2019 at 09:18:45
It is obvious from the recent debate on here that there had been no clear (and obvious) error in relation to the Llorente goal. Why then was VAR used anyway?
Jim Bennings
127
Posted 18/04/2019 at 09:31:09
Unlike in tennis where nobody can argue with the tv screen decision, or goal line technology, VAR is still open to huge human error as it all comes down to a bunch of people on the touchline deciding if a decision is right or wrong.
So basically instead of the referee making the decision on his own, it's just now a groupee fuck up.
Does anyone seriously think Don Hutchison's goal against Liverpool would have counted even if VAR was used back then?
Like hell it would, four or five corrupt officials would still have sided with Westerveld that night even after a long discussion.
It's shite.
John Raftery
128
Posted 18/04/2019 at 09:49:56
VAR will complete the evolution of top level football from a spectator sport for people standing on terraces to a commercial TV sport for people watching on screens. I suspect most of us who attend matches will grow to detest VAR if we don't already do so.
The only hope might be that the lawmakers decide to scrap the current offside law. It was surely never intended by the game's forefathers to measure an advantage or disadvantage by a stray appendage.

Stan Schofield
129
Posted 18/04/2019 at 10:35:56
VAR might well improve some decision-making. However, if there is systemic corruption in the game (and there does appear to be), then expecting VAR to have a significant benefit seems like expecting the Titanic not to sink by rearranging the deck chairs.
Jay Wood
[BRZ]
130
Posted 18/04/2019 at 11:16:48
Kevin @ 116. Agreed. Show the process on the big screens at the stadium like they do in rugby. Full transparency
and
it adds to the drama (and 'emotions').
Mike @ 118. Your post is simply wrong.
Rob @ 120. Your post affirms what I said earlier. Some folk are predisposed to see ill in VAR and so find any means they can to oppose it.
You contrive a way to argue that taking negative, aggressive emotions out of the game and decision making as a case against VAR. That is completely different from dampening down the positive joyous emotions of players and fans alike you originally complained about. And last night's VAR decisions did no such thing for the latter, anyway. It added to, and elevated, the emotions.
You then let your imagination run away with you and predict some dystopian world when players will no longer celebrate goals and the live audience will be numbed blank-faced emotionless cattle.
I really don't know what you are arguing for in your offering of the VAR call on Llorente's goal last night. If you insist every VAR call must be 100% conclusive, then be prepared to be disappointed. It is intended to overturn clear and obvious errors. The (excellent) referee's reaction (as I pointed out earlier) on making his decision said everything: he didn't see enough to not allow the goal to stand. Correct call.
Jim @ 121 and 127.
Billious nonsense, Jim. Another one given to imagining a future form of 'dystopian football' due to VAR.
Martin @ 126. Seriously..?
Stan @ 129. The good ole 'systemic corruption' distractor to a debate, implying (I can only presume) there are dark forces eternally at work favouring certain clubs.
The transparency of VAR will make it harder to sustain such 'systemic corruption,' surely?
Is VAR and its implementation perfect and working efficiently? Not yet. But with time, experience and tweaking it will improve. I for one am willing to give it time, rather than be predisposed to opposing it with fabricated fantasies predicting its dire consequences for our future viewing pleasure.
Stan Schofield
131
Posted 18/04/2019 at 12:52:09
Jay@130: In answer to your question, I don't know, but I suspect it won't make it harder. If the corruption is systemic, any new systems introduced can be administered in a way that makes no improvement materially.
Jay Wood
[BRZ]
132
Posted 18/04/2019 at 13:23:57
Delicious, Stan! Conspiracy theory at its very best!
You 'don't know' but you 'suspect' etc.
Taking your view to its ridiculous conclusion, there is no point in inventing or introducing new technologies, evolving society or combatting crime and corruption 'cos the crooked beneficiaries of 'the system' will only find ways around it.
Thankfully, the history of the world doesn't tally with such a passive submissive view.
Soren Moyer
133
Posted 18/04/2019 at 13:27:22
Did they ever ban Jorginho for his tackle on Sigurdsson at Chelsea!!!?
Martin Nicholls
134
Posted 18/04/2019 at 13:27:45
Jay - care to expand on your "seriously?" remark? I didn't see the game (I go to the match and will not pay for Sky Sports) hence my indicating that my post was based on comments on this thread. Anthony#123 (for example) thought the Llorente goal "open to interpretation" ie arguable. I am not one for dismissing other people's opinions lightly so concluded that as he thought the matter arguable, it could not have been "clear and obvious". So yes, my post was serious and a flippant response was unnecessary!
I went to a Porto game back in October in which 3 (maybe 4?) goals were disallowed after VAR review. I've not replays of the incidents and none were shown at the ground so I have no way of knowing whether the VAR calls were correct or not. What I do know is that on the first one the crowd were unaware that the matter had gone to VAR and became increasingly agitated during the FOUR minutes it took to decide. That suggests to me that there was nothing "clear and obvious" about that refereeing error either. Has the "clear and obvious" requirement been formally revoked or are officials simpy ignoring it when it suits?
Rob Dolby
135
Posted 18/04/2019 at 13:28:35
Jay 130
We all have differing opinions on VAR. I do respect your views even if I don't agree with them.
Being a natural cynic, I can't ever remember being accused of letting my imagination run away with itself.
Think I will go and watch the replay of the llorente goal again for another 20 times that should heighten emotions or maybe listen to the new found star of bt sport Peter Walton talking about how the ball hit his knee before going in.
Wonder what the city and spurs fans were doing whilst Mr Walton got back into the spotlight for a couple of minutes.
Stan Schofield
136
Posted 18/04/2019 at 13:48:18
Jay@132: I haven't actually offered any theory, let alone a conspiracy one. I've offered only possibilities on the effects of VAR, IF (note the IF) there is systemic corruption. But you win the prize for being the first one to raise the old chestnut of effectively calling someone who raises such possibilities a conspiracy theorist.
Are you an anti-conspiracy theorist by any chance?
Fran Mitchell
137
Posted 18/04/2019 at 13:52:42
VAR waa hugely vindicated yesterday. In all normal circumstances, Sterling would have got a hat-trick, won the tie, maybe City would have gone on to a historic quadruple and everyone would forget that they actually didn't deserve to as the goal was offside.
It was offside, and Spurs (the underdogs of the tie) won, deservedly so.
I have in general been a sceptic, but yesterday proved VAR can become a valuable part of the game - many creases to be ironed out.
But imagine if we had VAR when McCallister chose to walk the ball 30 yards forward for a last minute free kick, or if we had VAR when Carragher rugby tackled Lescott.
There is potential, and of course gratuitous over use will need to be clamped down upon.
And at the end of the day, VAR is here and is here to stay. It is part of the game nowadays. So how we adopt it ia what needs to be discussed.
Steve Carse
138
Posted 18/04/2019 at 14:08:11
One massive issue with VAR is that of how far back a review can be taken. I can't recall ever hearing an explanation. So, for instance, if Sterling's shot had been tipped round the post for a corner and City proceeded to score from that corner, would the goal have still been disallowed? Logic suggests it should since the refereeing error had still been made and needed correcting. Or would it have been allowed to stand on the basis that the corner constituted a different 'phase' of play? And anyway, what defines a phase of play? If City had proceeded to play a dozen or more passes before crossing the ball in for Sterling to score, what then?
Jay Wood
[BRZ]
139
Posted 18/04/2019 at 14:18:15
Martin @ 134. Read your own post again @ 125. Do you
seriously
believe this is a likely consequence of VAR?
Rob @ 135. And I respect your views but don't agree with them. I'm not denying your right to hold such an opinion - never have, on TW. I'm contesting your views with my own.
And you do yourself a disservice. In this thread you've imagined a number of future scenarios that you believe will result from VAR.
Stan @ 136. Nice editing of your own words, Stan.
In your original post @ 129, YOU were the first in this thread to imply linkage between VAR and 'systemic corruption in the game.'
Your use of the conditional 'if' there is systemic corruption in the game was immediately followed by these words in brackets: (and there does appear to be).
It's not unreasonable to conclude from your own words that you believe there is systemic corruption in the game.
Your further comment 'expecting VAR to have a significant benefit seems like expecting the Titanic not to sink by rearranging the deck chairs' reinforces the impression you believe that new innovations are futile because (as you offer in your post @131) 'If the corruption is systemic, any new systems introduced can be administered in a way that makes no improvement materially.'
All very vague assumptions which you yourself acknowledge in your own words 'I don't know' and 'I suspect.' To me, you are presuming a causal link and consequence based on little or no evidence.
James Stewart
140
Posted 18/04/2019 at 14:20:17
@137 Except it wasn't really was it.
Reverse angle(not used by VAR) of the Llorente goal clearly shows it hitting his arm. City should feel hard done by, and I'm saying this as a neutral.
It also kill the game for me if after every goal/major decision the game is stopped. Not against VAR, but it isn't working for me as yet.
James Stewart
141
Posted 18/04/2019 at 14:23:37
https://twitter.com/MailSport/status/1118775858938904576
Chris Corn
142
Posted 18/04/2019 at 14:23:41
Jim Bennings @121, re the Hutchinson goal, wasn't that disallowed as the game had allegedly ended as opposed to a rule infringement by the player. ?
Fran Mitchell
143
Posted 18/04/2019 at 14:29:21
James, according to the rules that is not hand ball.
So the issue is not VAR, but rules of the game.
It seems as of next season it will be considered hand ball, but this season it is a valid goal.
Stan Schofield
144
Posted 18/04/2019 at 14:30:13
Jay@139: I haven't actually made any assumptions, merely offered possibilities. You are entitled to interpret these offerings in any way you wish, but they're your interpretations, not mine.
Are you an anti-conspiracy theorist?
Jay Wood
[BRZ]
145
Posted 18/04/2019 at 14:44:00
Possibilities...assumptions. Mere semantics, Stan.
As for being pro or anti-conspiracy theorist, I'm neither.
I'll consider, evaluate and reach my own conclusions on matters and information that interest me, rather than hold fast to a starting position that tends to dictate what a final assessment will be.
I'm also open to changing my opinion if and when compelling new information or evidence comes to light.
What about you, Stan..?
Stan Schofield
146
Posted 18/04/2019 at 14:53:58
Jay@145: I'm reminded of the Black Knight from Monty Python and the Holy Grail. You are persistent, I'll give you that.
Brian Harrison
147
Posted 18/04/2019 at 15:43:05
Rugby League a very poor relation in money terms to football, yet they have no problem in showing exactly what the third official is looking at when there is a dispute on the field. Yet the Premier league with all the money any sport could wish for, still hasnt got round to showing to the PAYING public what VAR is looking at. But hey if you watch via the Internet or through Sky they will let you see exactly what VAR is looking at. I thought when it was discussed about using VAR many thought it would just decide on as they said clear and obvious decisions, like the Chelsea goal against Cardiff. The player was at least 2 yards offside, so if VAR had been in operation it was clear to everybody except the officials the goal was offside. But now it looks like every goal thats scored next season when VAR is used at every Premier league match, then every goal will be scrutinized to make sure it was a good goal.
But there will be many many occasions were the decision will still be up to the interpretation of the referee once he has watched it back on VAR.
Also I understand next season the handball rule changes, next season if the ball hits your arm or hand in the box it is automatically a penalty. Doesnt matter if your hands were down by your side and you didnt make any movement to the ball, if it hits your arm or hand its a penalty. So I am sure clever attackers once inside the box will look to flick the ball onto the defenders arm knowing a penalty will be given.
I think the only rule changers that have improved the game over the last 20 years has been the back pass to the goalkeeper.

Martin Nicholls
148
Posted 18/04/2019 at 17:12:26
Jay #139 - yes I do. I appreciate you live in Brazil and I don't know what junior games are like there but you really have to see the antics of parents on the touchline over here to believe them.
PS - I don't post to raise a laugh so please stop asking if I'm serious. I have different opinions to you but they are every bit as valid.
Martin Nicholls
149
Posted 18/04/2019 at 17:21:34
Diametrically opposed opinions on VAR being expressed on this (Gomes!) thread but it seems to me (and I stand to be corrected!) that as a generality matchgoing fans are against it whilst those who are unable to attend are generally supportive of it. Anyone agree?
Martin Nicholls
150
Posted 18/04/2019 at 17:27:47
Chris#142 - you're right. When Skies Are Grey carried a photo taken from the far end of the ground taken as the ball hits the back of the net. In the foreground you can clearly see the referee's whistle In his hand, down by his side. The same ref who claimed he had blown that whistle! The picture was rightly captioned "Liar and a cheat".
Dave Abrahams
151
Posted 18/04/2019 at 17:54:29
Martin(149), as a match going fan, I can only speak for myself, I'm against it, that and the new rules they keep bringing into the game,don't see the purpose of them, and if Brian (147) is correct, there will be some fun with " If the ball hits your hand in the penalty area it's a penalty," I presume if the ball hits the attackers hand it's a foul, no questions asked in either case?
The game is very simple, or it was, it's getting more complicated by the fools who introduce these new laws or rules, who are these fools? do they have names?
Martin Nicholls
152
Posted 18/04/2019 at 18:10:39
Dave - I think we're roughly the same vintage and I couldn't agree more with you. I go with 10+ other lads and I think all (including the younger lads) are all on the same wavelength.
Would love to meet up with you guys on Sunday but I have my 10-year-old grandson with me so that and it being Easter Sunday (family commitments) make it impossible. I'll be there in spirit - have a great time! COYB
Joe Corgan
153
Posted 18/04/2019 at 18:20:17
Martin - I'm a season ticket holder and I think it's deserved. I'd expect the same to happen if it was an opposition player who did it to Gomes so I see no reason to defend him because he's one of our own.
As for the lack of consistency (and Everton always being on the receiving end) I have no time for that either. It serves no purpose for us to whinge and whine about what punishments other teams' players receive.
If we truly believe that the big boys get away with murder than our goal should be to become one of the big boys.
Martin Nicholls
154
Posted 18/04/2019 at 18:45:26
Joe - I think we're at cross purposes here! I'm not and have not defended Gomes! My
post's concern VAR rather than "trial by television" - I disagree with you however on the subject of unfair treatment and could, as others have done, quote numerous examples in support. I do however agree to an extent that if we became a part of a genuine "Big Seven" things might change.
Tony Hill
155
Posted 18/04/2019 at 18:56:25
I understand the argument from reason that VAR delivers justice, or is more likely to. My worry is that football has a uniquely intense and spontaneous culture built up over more than a century (much more than tennis and rugby) in which the moment of the scoring or decisive coup, or the settling event, has an overwhelming, immediate, rather primitive significance.
If the spontaneity and immediacy of the game are to be set aside routinely, if the moment of ecstasy is to be stifled in the throat, then (with acknowledgement to Jane Austen) it may be much more rational but it will not be near so much like football, or at least the sort of football most of us have learned to love and to love moaning about.

Stephen Bird
156
Posted 18/04/2019 at 19:06:38
So in summary BT use an ex referee who consistently, like most of his colleagues, fucked up regularly, who with the aid of VAR still sees the wrong picture ( ball struck the player on the knee ) !!
Further technology will still rely on human interpretation.
I say lets do without it and at least retain our sanity and ability to be moved emotionally by a continuous landscape.
What say you ??
John McFarlane Snr
157
Posted 18/04/2019 at 19:16:38
Hi Dave [151] and Martin [152] I am in complete agreement with you. The Laws of the game were prefixed, if my memory is correct [If in the opinion of the referee]. .
There appear to have been more alterations in the last few years than there had been since 1888, when League Football was first played. I am firmly in the ANTI VAR CAMP, we have all witnessed goals conceded by Everton that should have been disallowed, and goals scored by Everton that also should have been disallowed, but we tend to forget the latter.
Like you Martin, I believe that the match going supporter appears anti VAR, while the TV supporter appears to be in favour of it. I have stated on this site many times, that I embraced the introduction of goal line technology because the decision is instant.
Eddie Dunn
158
Posted 18/04/2019 at 19:22:27
Rob Dolby- yes how funny was it to hear Peter Walton (once a PL ref) tell the world that it simply "hit his knee". Poor peter really didn't pay attention during his biology class.
As for whether the ball grazed Llaurente's arm on the way to his thigh, if an outfield player had a ball flick into him whilst on the run, most refs would deem it accidental. Ball to hand. Unlike our Fellaini who I recall twisting his torso and popping one in with his upper arm. That goal stood.
I do think that the poster above (sorry for not scrolling back) is right in suggesting that the crowd see the replays too. They need to be kept in the picture, just like in rugby.
James Stewart
159
Posted 18/04/2019 at 20:37:33
@143 nonsense that is handball under any rules.
Paul Tran
160
Posted 18/04/2019 at 20:52:01
Whats with this 'match going fan' vs 'armchair fan' bollocks?
I live in the Scottish Highlands, so I don't get to many games. My humble apologies to one and all.
That issue is irrelevant to me. There are numerous cases of us being hard done by over the years, most of which would have been sorted by VAR. I'd have happily waited a minute or two for the right decision to be confirmed and seen us get to cup finals, take the lead in cup finals, etc.
Or has my mind been corrupted by a few years of watching most games on the telly?
Ray Smith
161
Posted 18/04/2019 at 21:02:37
Paul 65
I remember when you gave as good as you got not necessarily fairly, but stamping is out of order.
You surely can't defend Gomes for that stamp, the ball was nowhere near.
Nobody else seems to share your view.
Si Cooper
162
Posted 18/04/2019 at 21:33:24
Ray, I'll join in. Nasty, late challenge with studs on the top of the foot. Stamp? I'd reserve that for challenges where the leg is pistoned up and down and generally delivered with more force than Gomes used.
Bad challenge, deserves a red but let's not make out it was that bad that there was either intent or likelihood that it would cause serious damage.
Jay Wood
[BRZ]
163
Posted 18/04/2019 at 21:57:17
Martin Nicholls @ various.
Let's clear some things up, Martin. I gave a one-word response to your original post (@125) in this thread. You took two posts to respond you were being serious about your fanciful claim (and that's being kind) in your original post.
I give you full marks for imagination that you dreamt up the highly speculative scenario you predict for grassroots junior football as a direct consequence of VAR. I don't score you very highly on logic, reason and rational on implying it is inevitable your imagined scenario WILL come to pass.
Nor do I score you highly on a number of presumptions you make, about others and yourself.
I have coached junior sides, both in the UK and Portugal, so false presumption #1 you make is that I'm not aware of parents' antics at junior games in the UK. I am. Furthermore, the implication in your words is that poor parental conduct is rife and apparent at the majority of junior games. That is far, FAR from the case.
False presumption #2 (and I will extend this to John Mc @ 157).
You and John are making a HUGE claim that you simply cannot validate. Namely, that match-going fans are against VAR whilst TV supporters are for it.
In making the claim you do, you know nothing (taking myself as an example) of my own match-going history. I've done my time following Everton up and down the country and abroad, attending 100s of matches in my day.
I continued (and continue) to be a live match attending supporter on pretty much every continent on the planet. I've been in a stadium at a fierce local derby where the supporters of the losing side started ripping up the terracing and stoning their rivals. I've been at matches where I thought 'bugger me, those fireworks are loud!' only to realise scores of supporters were shooting hand-held pistols into the air.
To quote Paul Tran @ 160 (who labels the match-going v armchair fan comparison you make as "bollocks!"), "Or...has my mind been corrupted by a few years of watching most games on the telly?
That leads me on to false presumption #3 you make about yourself. I don't care for your sleight of hand by which you (and John) attempt to elevate your opinion on VAR as superior to non-match goers simply because you are fortunate enough to attend live games at Goodison Park.
As is evident every week on TW there is rarely, if ever, a consensus on any issue related to Everton. Opinion is diametrically opposed regardless of whether you are a match goer or not.
In closing, in answer to your PS addressed to me @ 148, namely: "I don't post to raise a laugh so please stop asking if I'm serious. I have different opinions to you but they are every bit as valid."
A couple of things Martin. Have I denied you the right to post, or claimed your opinion is invalid? No. I raised an eyebrow at your original post. Nothing more.
You, on the other, are trying to be prescriptive and instructing me on how and when to post and who I am 'allowed' to post to.
Ain't gonna happen, Martin. I will continue to exercise my right to post how, when and to whoever I care to. A right that quite correctly extends to everyone contributing to TW.
John Pierce
164
Posted 18/04/2019 at 22:04:33
The law is clear you can score accidentally with your hand. You do have to ask though, did the touch and for me it was clear, you see the forearm flex, give him and material advantage or disadvantage City. It's so marginal that you cannot be equivocally day either way. Therefore I thought the goal should stand.
Note referees are given interpretation outside the laws for each competition, each season. This season UEFA asked referees not to allowed a goal 'scored' accidentally with a hand. I believe that's the more the issue with this particular goal.
From next season handball will effectively be just that. It's likely any contact other that from a defenders body onto their hand will be given. It's quite likely the skillful players will just shoot at defenders arms. Pretty much they want a subjective law to become binary. That's one very slippery slope. ☹️
I still think they will fudge it in some way or have a re-think or the number of 'expected' penalties will dramatically rise. However that's what the TV guys want, and the game becomes ever more anodyne. That's it pure and simple.
I'm all for VAR where the issue is binary. Beyond that the project has over reached, too many marginal decisions being classed as clear and obvious errors.
I cannot wait for VAR to stoke the TW pages
Gerry Ring
165
Posted 18/04/2019 at 22:04:52
Might be an idea to put a limit on the number of lines per post. Some of these posts are like short stories and after 10 sentences one generally moves on swiftly😉
Paul Jones
168
Posted 18/04/2019 at 22:26:21
Gerry - you're a symptom of the internet generation where people can only read 3 sentences before they... before they... what was I saying? 3 pints please bartender!
Mike Gaynes
169
Posted 18/04/2019 at 22:38:04
Gerry #165, that's why the scroll button on the mouse is one of the greatest small inventions of the 21st century. A couple of the posters here have helped make my right index finger the most muscular part of my body.
Paul #160, great post, great laugh. Love ya mate.
Michael Lynch
170
Posted 18/04/2019 at 22:48:32
I don't read any post longer than about ten lines. I have no evidence for this, but my experience leads me to think that the longer the post, the less it has to say of any interest. Keep it short, it's not rocket science, it's football.
While I'm within my ten lines rule, I'd like to add my vote to those who say match-goers are less likely to be in favour of VAR than those watching it on TV.
John Pierce
171
Posted 18/04/2019 at 23:00:49
It's takes VAR less time to clear a decision than some of the posts on here! Mine included. 😀
John McFarlane Snr
172
Posted 18/04/2019 at 23:04:13
Hi Jay [163] Martin seems to have opened a can of worms, and I would like to clarify my remarks on the VAR discussion. I merely stated "that it appears that the match going supporter is anti VAR, while the TV supporter is in favour of it" I did not claim that this was the case, I was referring to the reaction on the thread, and if I offended anyone I apologise.
You appear to me Jay, to be someone who relishes a verbal contest, but I have no intention of being involved in a war of words.
Rob Halligan
173
Posted 18/04/2019 at 23:22:45
For what it's worth, I think it would have been very harsh to disallow the Llorente goal for a handball. His arm appeared to tucked well inside and flat against his stomach, so I really don't know what else he could have done for him to prevent the ball hitting his arm. It's not even as if he moved his arm towards the ball. Pretty soon players will be going onto the pitch with their hands tied behind their backs just to stop a possible handball being given against them.
Having said that, no doubt if we had scored that goal then it would have been disallowed!! 😕😕
Chris Gould
174
Posted 18/04/2019 at 23:23:12
The introduction of VAR is huge and is understandably controversial. It will undoubtedly change the game more than it has other sports.
Rugby, cricket, tennis, baseball, American football, and basketball all have many more natural breaks in the action. All of these sports use VAR without appearing to disrupt the natural flow of the game. It is used quickly and efficiently, and that is the challenge football faces.
It may have added drama to those of us watching the City game on TV, but to their fans it would have been traumatic, confusing, and unsatisfactory. They would have been left wondering what the hell had happened and would have been shell shocked and bewildered. It just didn't feel right.
Unlike American sports, where games are high scoring and points are sometimes barely applauded, football often gives fans one moment to celebrate. And when it happens it is an eruption of euphoria. It just feels a bit sad to know that you can't truly celebrate until you're sure that it's not being reviewed by VAR.
And undoubtedly that affects the match going fans more than those watching on TV.
VAR needs more clarity but a big screen at the match won't provide it. It may actually make it worse because people in the ground will interpret handball and offside so differently. It's going to take some getting used to and may take a few seasons of trial and error.
Mike Gaynes
175
Posted 18/04/2019 at 23:47:59
Chris #174:
"Rugby, cricket, tennis, baseball, American football, and basketball all have many more natural breaks in the action. All of these sports use VAR without appearing to disrupt the natural flow of the game."
Um, no. You are mistaken.
I can't speak to rugby or cricket, but of the other sports you cite, only tennis deploys VAR without disrupting the "natural flow of the game." In American football, baseball and basketball, VAR is not used within the natural breaks in the action. Almost all reviews must be called for, and all require the officials to either come to the sidelines to look at a monitor or wait for someone else to do so (and in baseball that "someone else" is in New York). The delays can often stretch into several minutes. A recent NCAA basketball tournament game required nearly 19 minutes to play the last minute of the game because of two lengthy video reviews. This remains the most controversial aspect of replay here.
And as for "points are sometimes barely applauded", no again. Only when a game is already long decided. Trust me, college football fans celebrate touchdowns just as long and loud as Prem supporters celebrate goals.
As you point out, VAR will definitely change footy, especially in those early seasons of "trial and error", but I cannot see how the impact will be greater than in other sports.
Alan J Thompson
176
Posted 19/04/2019 at 05:45:04
So next season a ball hitting a hand will be considered a deliberate breach of the rules. Makes standing in the wall with your hands clasped over the family jewels sound like presenting a target.
Mike(#169); No problems with your sinuses then?
Mark Andersson
177
Posted 19/04/2019 at 06:07:13
Once again TW is a source if entertainment and polar views...
Each has its merrits and its fasaniting that no matter what the subject is... there is always a counter argument of some kind...
David Ike maybe right in as much as we create our own elusion were living in our own reality like a movie that has already been writen and were just playing it out...
Well I would like to do a editors alternitive ending and see the red shite relegated to none leauge an the blues become the biggest name in football history...

Ray Robinson
179
Posted 19/04/2019 at 07:21:26
Alan #176, I don't know what the handball rules are for next season but it was my understanding (perhaps wrongly) that only any attempt to extend one's body area - i.e. an outstretched arm - would become a penalty, in addition to deliberate handball of course! Surely there will still be accidental handball when the hand /arm is not unnaturally extended?
Any "goal" scored off the hand / arm will be disallowed though - whether accidental or not - that bit I am sure of.
Chris Gould
180
Posted 19/04/2019 at 08:32:39
Mike #175,
That part of my post was maybe a little simplistic and generalised. In cricket, rugby, and tennis VAR is used in the natural breaks of the action. In the American sports I mentioned there are so many natural breaks in the action that stoppages for VAR have little impact. These sports are stop start by nature.
I have been to Major League Baseball and Basketball games in America and many fans barely seemed to acknowledge some of the baskets or runs scored, in particular in basketball. It appeared to be a social gathering for some. Lots of cheering and chanting but too many points scored for them to celebrate any with real intensity.
My point was that in football you may only have that one moment to celebrate, and when your team scores every single fan celebrates with everything they have. That is not often the case in American sports or tennis, cricket, or rugby because so many points are scored so regularly.
With only one or a few moments in a game of football, it would be shame for fans to become hesitant when that moment arrives.
Michael Lynch
181
Posted 19/04/2019 at 09:31:33
Chris Gould, I think your points were well made and I tend to agree with them. It will take getting used to, and VAR isn't a natural fit for a game like football which, as you say, often has just one moment of "release" for the fans in 90 minutes of free-flowing play. On the other hand, the game has already become more stop-start over the years. Breaks for injuries seem to go on longer and be more frequent than they used to be, and the same goes for time-wasting. Throw-ins, corners and particularly attacking free-kicks often slow down the game, while players deliberate over who will take them etc. Watch Ronaldo build the tension before his free-kicks and you get a glimpse of how a delay can work in favour of the atmosphere sometimes.
I'm very much in two minds about this one. I may have to request VAR to make a decision.
Steve Carse
182
Posted 19/04/2019 at 11:09:15
I understand that VAR will be used to review every goal from next season. But what about disallowed goals? Presumably they'll all be looked at too. So what if a player is clean through but gets called for having been offside only to find that it was an incorrect call? VAR will not be brought into play presumably unless the player continues his run and puts the ball in the net. If this is so then managers will now be telling their players to ignore any whistle and score (risking a booking of course). Likewise managers will instruct defenders to play on until the danger is over. The old adage 'play to the whistle' becomes redundant.
VAR is a mess. For so many reasons, of all the sports it could be applied to, football is the least appropriate.
Chris Gould
183
Posted 19/04/2019 at 11:40:00
Steve, in that situation the ball would be dead as soon as the ref blew up, so no point in the attacker continuing his run. It would make a mockery of the game if VAR was used in such a way. It may end up that close calls are not flagged even when the attacker appears offside, and then VAR is reviewed afterwards. The benefit of the doubt given to the attacker for close calls until the ball is dead?
The linesman's task may become more uncertain.
I can certainly understand why some fans are opposed to VAR. I believe there's a place for it but don't want to see it have the influence it appears to in the CL.
Jack Convery
184
Posted 19/04/2019 at 11:45:35
The ban is correct what is not is the inconsistency of the FA when dealing with other clubs players. I would like to see the 14 clubs who are not treated with kid gloves get together, produce the evidence we all know is there ( Cardiff could write a book on it this season ) and tell the FA, not ask but tell them, to sort it or they'll refuse to play matches away v the top 6 - that should get their attention. It will also mean we don't have to go to Hell on Earth next season - now that's a brucey bonus if there ever was one.
Happy Easter TW and have toffee this Easter instead of Chocolate - you know it makes sense.
Steve Carse
185
Posted 19/04/2019 at 12:00:43
Chris (183) I would agree that what is likely to happen is refs being told to let close offside calls go and then review later if a goal is scored as a result (although that again begs the question of how far back you go looking for the incorrect call - what if the goal is scored some number of passes later?). For me the lack of symmetry in the application of VAR defeats the objective of it all.
VAR is here for one reason only -- football is now big business and a bad decision can now cost a club a small fortune. But I for one would rather the complaint 'we wuz robbed' remained only as a reference to an emotional cost.
Dave Abrahams
186
Posted 19/04/2019 at 12:27:51
According to a report in the papers today, English clubs
playing in Europe next season will face two different types of VAR, one for the European games run by EUFA and one for the premier league which will be overseen by Mike Riley the referees chief here, going by Riley's past reputation that will cheer a lot of people up and their confidence in the English VAR will go sky high !!!!!
Geoff Cadman
187
Posted 19/04/2019 at 12:29:09
Firstly, Gomes deserved the ban, and retrospective punishment has been the forerunner of VAR for years. When it comes to VAR, the 50/50 calls will still come down in favour of the so-called big six. If you watch Ref Watch with Dermott Gallagher, he usually backs the sky favourites.

The original Idea behind VAR was to right obvious mistakes, any decisions not conclusive after 30 seconds, then the original decision should stand. How far should they go back, Liverpool's equaliser at Southampton would still stand, despite Sallah obvious offside, due to the time between the offence and the goal.

How many times has a late flag spoilt a goal celebration? If VAR had been in full use this season, then we would all probably be looking forward to a repeat of the 84 Cup final having beaten Swansea in the Semi
Roger Helm
188
Posted 19/04/2019 at 13:45:50
VAR works well in my other sport of rugby league; it takes a minute or two to review a try/no try decision and its actually quite an exciting wait.
Football is a bit different because the decisions are more subjective (other than did the ball cross the line, which is different technology); was the offside player interfering with play? Was the player in control when he tackled? Was the handball deliberate or not? The body position "natural" or not? That is why I am not really in favour.
By the way I agree with Michael @ 170 ; I tend not to bother reading long posts. If you can't make a point in ten lines, use fewer words.
Matthew Williams
189
Posted 19/04/2019 at 14:20:45
Take a bow, boys, at least we still have some Winners at our club.
Hoping to see a few of these lads get a chance sometime soon in our first team... they deserve it.
Kudos to Rhino and his backroom team too.
COYBB... Champions!!!
Matthew Williams
190
Posted 19/04/2019 at 14:35:27
Jeez... the game was done and he goes and does this,as for signing him... LOL.
As for signing Zouma also... no thanks; it seems Leicester are looking to off-load Schmichel and Morgan... worth a shot to me, both got plenty of experience and are both WINNERS! Captain material too.
I still believe our team needs major surgery, sorting out our back line would be a good start, then add some skill with a little bit of nastiness and will to win.
Then again, all I ask of any Everton team is to win six (ideally all seven) League Cup matches... our road back to glory begins there... AT WEMBLEY!
Paul Birmingham
191
Posted 19/04/2019 at 20:05:36
The FA, need to get consistent, as there's too much double takes on VAR standards, so called, with the same incidents being dealt with differently across all clubs but the top six, get away, with murder, based on events this season.
There's a catalogue whereby we've been done, and the same offences committed by Arsenal, Spurs and RS players, don't get mentioned.
What's the point in having an event selective radar system in football?
I still hope that the RS get a late ban applied against Salah, for his blatant shin break in the first leg v Porto.
That stunk the place out, so did Harry Kanes, attempted Kirkby Kiss, but neither got a slap on the wrist.
Footballs integrity and future is at stake, money talks, but fans and supporters, make the atmosphere, in the stadiums.
Mike Berry
192
Posted 22/04/2019 at 19:15:40
Gomes should know join Liverpool next season instead of us, and there would have been no ban or fuss
Anthony Hanlon
193
Posted 25/04/2019 at 13:05:48
And David Silva will not face retrospective punishment for his tackle last night.
Add Your Comments
In order to post a comment, you need to be logged in as a registered user of the site.
Or Sign up as a ToffeeWeb Member — it's free, takes just a few minutes and will allow you to post your comments on articles and Talking Points submissions across the site.