Silva determined to do all he can to keep loan duo
Monday, 13 May, 2019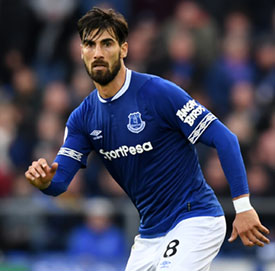 André Gomes is reported to have held talks with Tottenham but Marco Silva insisted again yesterday that he has received no indication from the player that he has decided his future
Marco Silva has reiterated his desire to keep his loan stars, André Gomes and Kurt Zouma, but admits that he has no clear idea if either will be staying with Everton on a permanent basis.
Both players were on the field in the second half for the Blues during their final game of the season at Tottenham Hotspur Stadium in what could have been their final performances for Silva's team.
That is unless Gomes is persuaded to sign a permanent contract at Goodison Park after a successful spell on loan from Barcelona and Chelsea agree to sell Zouma this summer.
Gomes has made no secret of how much he has enjoyed his time at Everton but now that the season has drawn to an end, there is inevitable speculation regarding his future. A report in Sport in Spain last week had it that Spurs had agreed personal terms in principal with the Portuguese but there have been no further indications in the press that this is the case and Silva insists he hasn't had any indication from the player that he has reached a decision about his future.
"I know all the rumours around but the most important thing is what comes from André and what comes from our club, our board, is also important," Silva was quoted as saying by the Liverpool Echo yesterday.
"But what comes from Andre is the most important thing for me at this moment.
"He didn't have anything new for me to say now. I am 100% sure when something is decided in his mind I will be one of the first people to know and this is the most important thing.
"We, as a club, have to do everything to sign him."
The Zouma situation, meanwhile, could be at the mercy of Uefa and their decision to uphold Chelsea's two-year transfer ban for contravening the rules over player trading and acquisition.
The Londoners intend to lodge a further appeal in the hope that they can have their ban frozen pending final resolution of the matter one way or the other which would allow them to make signings this summer.
The fact that defender David Luiz has already signed an improved contract to tie him down suggests perhaps that the Stamford Bridge hierarchy aren't confident of that and given Zouma's form for Everton this season, they may be keen to retain him.
"It is not something in my hands," Silva said of the French international. "If it was, I would do it now. Or two months ago.
"In August I didn't have doubts about Zouma. Some people maybe had doubts, but I didn't. When I decided to sign him it's because I believed in his qualities, even if he didn't have a good season at Stoke.
"It will be tough. We are talking about a good player and the situation at Chelsea didn't help us also. But let's see what we can do.
"I'm sure we will do everything we can because he will be a key player for us. He was this season and could be a key player to reach that level we want."
---
Reader Comments (84)
Note: the following content is not moderated or vetted by the site owners at the time of submission. Comments are the responsibility of the poster. Disclaimer
Jim Bennings
1
Posted 13/05/2019 at 09:03:33
I believe if Zouma had partnered Keane yesterday then we would have kept the clean sheet again, that pairing has simply been rock solid.
Hopefully Mina comes good but he has his work cut out and the Columbian desperately needs a full preseason under his belt because right now he's no further down the line than when he walked through the door in August last year.
I'm desperate to sign Zouma, I'd go as far as saying he would pip Gana as my Player of the Year to be honest.
Let's hope we can weave a minor miracle and pull that one off for next season.
Jerome Shields
2
Posted 13/05/2019 at 09:16:59
The best luck to Brands and Silva in their quest. Everton, Everton, Everton.
Mark Burton
3
Posted 13/05/2019 at 09:20:51
Gomes took a while to settle but really showed his skill after a few games. Zouma fitted like a glove, but I'm afraid the bad results against the Barcodes and Fulham may just persuade them that Everton are going nowhere.
Jim Bennings
4
Posted 13/05/2019 at 09:36:18
Mark,
I hope you are wrong about that and I'd like to think that both Gomes and Zouma would have a wider perspective than just those two games against Fulham and Newcastle, if anything I'd be more worried if they looked at our bleak midwinter run and mini-crisis.
We must as a Club always strive to be better and sign better players to attempt to progress ourselves.
It's always been the way and one of the main reasons why this club has stood still or gone backwards is because it's lost players of quality and replaced them with lesser talented men, right back to when the management was breaking up the side of the mid '80s, players with class and character were replaced with just squad men, the same happened to a lesser extent in the mid '90s, selling off the likes of Kanchelskis and Stuart replacing them with Oster, Ward, Tiler etc.
Its crucial we don't stand still and just pay ourselves on the back but we move forward and seriously take advantage of the decline in the likes of Manchester United.
Sam Hoare
5
Posted 13/05/2019 at 09:38:19
Gomes, I think, will come. I just hope we don't overpay for him. I think, as much as his composure on the ball in the middle has been something we have lacked, there are other midfielders out there who can do the same... and better. He does not get enough goals for my liking. But, for continuity's sake, I suppose it makes sense.
Zouma I strongly suspect will return to Chelsea. I don't think they have a better centre-back than him apart from Rudiger maybe who is now injured. He will be harder to replace though I do think we will see more from Mina next season once he gets a run in the team.
I still think we need strong centre-back with pace (like Zouma); some may suggest that Holgate will be that player but I'm not totally convinced yet. He needs a season where he plays 25-35 games as centre-back, it's a shame West Brom played him at right-back.
Barry McNally
6
Posted 13/05/2019 at 09:44:48
If Chelsea decide to sell Zouma, how much would they demand, £45m?
Brian Harrison
7
Posted 13/05/2019 at 09:46:41
Zouma is vital to keep this team moving forward. Should he decide his future is with Chelsea, then there is nothing we can do, which is why I am totally against loan signings. I know he hasn't played a lot but I don't have anywhere near the same belief in Mina as I do in Zouma. All good sides are built from a solid defence and with Zouma and Keane at the heart of it it looks a solid base.
Gomes is another loan player and again no control over his future, and if he did choose Spurs it wouldn't be a surprise as all players now want to play in the Champions League so another reason why we might lose both Zouma and Gomes.
Derek Knox
8
Posted 13/05/2019 at 10:13:06
While I agree with fellow TW'ers regarding Zouma being important to sign, if possible, I am less worried if we don't get Gomes.
He knows how the fans and the club want him to stay, if he is waiting for better offers, maybe he is not the player we thought he was. While he was suspended was he really missed?
While I wouldn't be averse to him signing with us, if it is for silly money forget it, there are other players who would cost about the same, and would get more goals than he contributes.
While there is no doubting his technical ability, he does 'give away stupid fouls in dangerous positions' and that stamp on Mitrovic made me think twice about his temperament.
Yes we want players to have passion and a certain amount of aggression, but downright snide nastiness, No!
Tony Everan
9
Posted 13/05/2019 at 10:21:36
Agree Zouma is vital to our top 6 , or better, aspirations, rock solid and a good understanding with Keane. They are a good combination, one of the best pairings in the league in 2019. Long may it continue.
If not, for whatever reason, we need to find a just as solid player to slot in there. Mina's fitness cannot be relied upon and Mason Holgate, whilst he has a touch of class, is a bit too lightweight and inexperienced at the moment.
Dave Williams
10
Posted 13/05/2019 at 11:52:59
Jim- you are absolutely right. I blame our decline on buying Cottee, Nevin, McDonald, Newell, Beagrie and others at inflated prices and they were nowhere near good enough to replace the 86-7 title winners. Selling players at a profit is part of the business of a club but they must be the right players at the right time.
Brands is right in his philosophy to buy under 25s who we can improve. Zouma has to be signed if Chelsea allow it. Gomes has been excellent at times and poor at others and I'd be careful on price with him. As Derek points out, he has given goals away with needless fouls and we played very well during his suspension. I like him but no more than £20-25m max.
Jer Kiernan
11
Posted 13/05/2019 at 12:57:02
I hope I am wrong on Mina but to me he looks "Oafish" at times and seems to get himself into trouble a lot, and if VAR is going to Clean up our game (which I hope it does especially the accident-prone front line across the park) then it will eat him alive some of his antics at corners clumsy looking tackling etc etc.
I expect to see some "intent" from the board they should offer Chelski £50M for Kurt, If they turn it down fine but make it hard for them to refuse at least give them something to consider.
Gomez for me would be a nice to have as opposed to a must-have, I would be happy if we got a Top Drawer striker in 20+ a season required. I would go for Lukaku myself but I think Brands and Silva will make good purchases, just depends on what which market they are competing in, a net spend of £100M + is needed at a minimum to progress
Sam Hoare
12
Posted 13/05/2019 at 13:22:15
Jer @11, I think Mina will undoubtedly give away a few free kicks and the odd penalty. It's a shame he has not had more match time to get used to the Premier League. He will still be learning next season.
But I also think with a run of matches we will see his true qualities emerge. His strength, his composure, his leadership. He's only 24 and has years and years ahead of him. I worry slightly that his partnership with Keane may be too slow on the turn (both lack acceleration) but I have no doubts that given time Mina will become a fine player.
As for Lukaku, much as his goals would be nice his all round play does not suit our new style. Silva wants a striker who can run the channels, work his ass off for the team and implement the high press. That has never been and will never be the Belgian's game. Brands's challenge will be to find someone with that work ethic who is also a bit more clinical in front of goal than Calvert-Lewin (who I think has earned the right to start next season in possession of the striking role).
I highly doubt we will have a net spend of £100m+ and, for that reason, I doubt we will be able to offer £50m for Zouma. The late season form of Schneiderlin and Calvert-Lewin may have changed Brands's thinking. It will be very interesting to see which positions they prioritise. And who is sold and retained.
Jim Bennings
13
Posted 13/05/2019 at 13:33:43
Sam,
I can't go along with Calvert-Lewin earning the right to start next season despite his overall game improving – he's only scored 6 goals in the league and just 3 since December, it's not enough to be where we want to be and we can't allow sympathy or sentiment to come into it.
Jon Withey
14
Posted 13/05/2019 at 13:37:20
It's going to be an interesting summer - at worst we could lose Gomes, Zouma, Gana, Richarlison, Digne. At that point Silva might as well be starting again !
I'd agree that Zouma could be the best investment - which makes him the hardest to sign.
I like Gomes a lot and think he brings an extra bit of class to our play.
If Gana stays, great, if not then perhaps that is some money for Gomes and we have to find another high-energy tackling midfielder to try and compliment him.
We've done well with loans so I don't think we should complain too much - e.g. Pienaar, Lukaku.
Transfers and loans - both are about a gamble - Chelsea are the masters of the spread-bet but don't seem to cash in.
Kevin Prytherch
16
Posted 13/05/2019 at 13:39:55
Jim 13
In 10 consecutive games, Calvert-Lewin has been part of a team that has won 6, drawn 2 and lost 2, scoring 16 and conceding only 5 in the process.
That includes games against 4 of the big 6.
I hardly think that is sympathy or sentiment.
Jim Bennings
18
Posted 13/05/2019 at 14:00:14
Still doesn't score enough goals though, Kevin, that's why we finished 8th and not closer to 6th, we need to strive for better than that.
Would Manchester City have won the league without Aguero?
Would Liverpool be second with Salah and Mane?
Steve Brown
19
Posted 13/05/2019 at 14:12:04
At the end of the season when he turned 22 years old, Salah had netted 6 times in the league. Aguero netted 12 times at the same point. Isn't that the right point of comparison for Calvert-Lewin given he is the same age?
Steve Brown
20
Posted 13/05/2019 at 14:13:53
We've needed a top striker since selling Lukaku, but Calvert-Lewin has been a trooper given the situation and improved a huge amount.
Tom Bowers
21
Posted 13/05/2019 at 14:21:52
Calvert-Lewin has been a good stand-in with Tosun and Niasse not being any real threat but obviously not scoring his fair share of goals is a problem and one wonders if he will ever be a goalscorer at the higher level. Walcott and Tosun both scored yesterday and will get the odd goal or two but neither of them give me any confidence if they are kept on the payroll.
Silva has a lot to muse on during the Summer and – much like Koeman, Martinez and others – he will be scrutinized big style after his first season.
He is sure to lose one or two decent players but will have the money available to try and improve the squad. Other players have not really shone and others have been really not been favoured by Silva such as Davies and Lookman so one wonders if these players will get a fair shake next season. The rumour mill will abound with possibilities over the coming weeks especially regarding Zouma, Gueye and Gomes and what happens to them could influence Silva's next moves.
On reflection, the season ended decently without being spectacular. They could have made the Europa League but the results at Fulham, Spurs and Palace put the kibosh on that (all games they could have gotten more points in). However, I think at this stage it's best to have a team that can prove itself in the Premier League among the elite before worrying about playing in Europe.
Sam Hoare
24
Posted 13/05/2019 at 14:23:54
No Jim@18, we finished 8th because we were dire for the middle section of the season.
Kevin is right, it doesn't matter who is scoring so long as the team is winning and getting points. Of course we'd all like a striker who works as hard as Calvert-Lewin and scores a shed load but those strikers tend to cost the world and play in the Champions League. If Brands can find someone of that ilk, then great... but even so, they will need time to adapt.
Calvert-Lewin will be our starting striker, I expect, next season and, given how well the team have played in the last two months or so, I am happy enough with that. I also expect him to get more goals next season.
Kevin Prytherch
25
Posted 13/05/2019 at 14:43:09
Calvert-Lewin does need to score more goals. The big thing that appears to be missing from his game is that instinct to be in the right place and composure in front of goal.
However, currently he plays a big part in both our attack and defence. He closes down from the front, is instrumental in the high pressing game we have and regularly occupies 2 centre-backs as they are aware of his pace and physical attributes. He also brings others into play with his unselfish work and gets the likes of Sigurdsson and Richarlison better scoring opportunities.
Compare that to Tosun, who only occupies 1 centre-back and, despite his effort, doesn't create half as much space for others.
Compared to Lukaku (mentioned by someone), Lukaku used to occupy 2 centre-backs, such was the fear of his pace and finishing ability. However, despite his goals, everything ultimately came through Lukaku, so when he didn't score, Everton struggled to score.
If Calvert-Lewin plays regularly next season, like he has done at the back end of this season, I'm confident he'll get 10-15 goals, while Richarlison and Sigurdsson would also get a similar amount.
He definitely doesn't get picked on sympathy or sentiment at the moment.
PS, Steve @19 – compare him to another former league winner in Drogba, who scored exactly 0 top flight goals at 22!!

John Pierce
26
Posted 13/05/2019 at 14:44:03
For those optimistic about Zouma, Luiz signed a contract extension this weekend, his contract due to run out this summer I believe.
That would suggest him and Rudiger will still be first choice with Christiansen and Ampadu as back ups. I'm sure with the amount of football Zouma has played he's not going to be happy with the bench.
Sam Hoare
27
Posted 13/05/2019 at 14:47:51
John@27 I wouldn't be sure of that. Rumour is that Chelsea only offered him a new contract due to the transfer ban. I suspect they see him as experienced back-up next season. But I hope i'm wrong. I'd say what small chance we have on Zouma will depend on him asking for assurances on being first choice which they may or may not be able to give. Even if they can't is he the type to rock the boat and force through a transfer? I'm not sure.
Paul A Smith
28
Posted 13/05/2019 at 15:09:30
The club knows what it has to do to improve.
Anyone with half a brain knows it takes more quality. We have just had Silva finish 8th like Allardyce did.
The board need to back him quickly and see he gets what is required to push the top 4.
Derek Knox
29
Posted 13/05/2019 at 16:10:25
Kevin @25, I do like DCL and can't fall his work rate whatsoever, but like you say, he does need to score more goals.
The worrying part for me is when he does have a shot at goal, I reckon only 50% or possibly less are on target, at the keeper, or saved doesn't bother me that much, that can be fine tuned.
It's the shots from distance, that invariably head towards row Z, and I'm afraid at the moment they are all too often, to be corrected easily.
John Pierce
30
Posted 13/05/2019 at 16:20:04
Sam, my post indicated 'I' wasn't sure at all. I just pointed to the contract extension and perhaps the more optimistic amongst us might feel there a better chance because of it.
If Luiz signs do you think it will be on the condition he'd be third centre back behind Zouma/Rudiger? Very unlikely I think!
Zouma has played regular football for two years. If he was that good, and this is the key point, he'd already be a Chelsea regular.
Sam Hoare
31
Posted 13/05/2019 at 16:40:39
John, Luiz is 32, i'm sure he's just delighted that someone is still willing to pay him top whack!
Zouma has not been that good. Until this season where he has been very solid. This last few months especially he has looked like the defender people thought he was going to be. And they have seen that. At worst he is as good as Luiz. And alot younger.
Our only shot I reckon is that their ban is overturned and they buy a hot new CB. Even then i'd only put our chances at 50/50.

Mike Gaynes
32
Posted 13/05/2019 at 16:48:24
John #26-30, Rudiger will almost certainly not be available for the start of the season. His knee surgery will keep him out for 3-4 months at least, according to Sarri. As to Zouma not being a Chelsea regular, I think everybody in the Prem would agree he vastly improved this season over what he showed last year at Chelsea. I would be astonished if they didn't bring him back. And as to whether he's happy about it... well, his contract runs through 2023 at £40,000/week, so his feelings about perhaps being on the bench are irrelevant.
Sam #12, completely agree on Mina. In addition to his physical talents, the kid has bollocks like basketballs -- he's fearless. Remember, he made his debut AT CHELSEA, not where most rookies would want to begin, and turned in a man-of-the-match performance, including that tackle on Hazard. Result: shutout. Then, after a fine showing against Cardiff -- another shutout -- he was outstanding again at Mordor, which we all know was yet another shutout... until...
Anyway, yep, we'll see lots of raw mistakes from him, but I'm convinced that a year from now he'll be a star.
Brian Harrison
33
Posted 13/05/2019 at 16:59:39
Chelsea having Fifa uphold their ban have now gone to the Court of Arbitration for Sport. Chelsea have also asked the CAS to suspend their ban until CAS have made their decision, and there decision will almost certainly as they have in other cases made the decision after the window closes. So if the CAS suspend the ban till they make their decision then Chelsea will be able to bring players in.
Sarri has said that he would like to bring in only 2/3 players to improve his squad, but if the ban isn't suspended he might have to recall the players who have been on loan.
Jay Harris
34
Posted 13/05/2019 at 17:03:18
For me Zouma is the glue that holds us together and I would break the bank to get him.
Gomes I am indifferent about. He looked good when he first came but has been a shadow of that since. We should look for better options IMO.
A goalscoring forward is a must in this window.
Bernard is great on the ball but like a certain Stuart Barlow, nicknamed Jigsaw for good reason, he falls apart in the box. Walcott is not motivated enough and Lookman has yet to justify the faith we all have in him but I doubt he's a 90 minute player. Tosun is not up to it and DCL puts a great shift in but is not yet ready for the burden of being our leading goalscorer.
Mike Gaynes
35
Posted 13/05/2019 at 17:16:46
Brian #33, yep, and the only other experienced CBs that Chelsea has out on loan are Kalas at Bristol, who has been loaned out to Championship clubs pretty much nonstop for the last five years, and Miazga at Reading, who sucks. (I'm painfully familiar with him from the USA national team.)
So if Sarri isn't allowed to buy a CB, Zouma is his only realistic option.
Derek Knox
36
Posted 13/05/2019 at 17:46:06
Mike G, I forgot about Rudiger's injury status, so I will send him a 'Get Well Soon' Card to speed things up a bit. :-)
Seriously though Mike, Chelsea have taken their Appeal to the Court of Arbitration for Sport, as you probably are well aware. I have tried to 'ferret' some information as to their success/failure rate of Claimants, without much success, I don't suppose that you have anything to give us some hope in this direction.
Like I have said before, I think Zouma would possibly be our most important signing next to a regular goal-scorer, I am not that bothered whether we get Gomes or not, if he does fine, if he doesn't, we can, I'm sure do better for the proposed fee/wages.
Jamie Crowley
37
Posted 13/05/2019 at 17:47:05
Paul @ 28 -
We have just had Silva finish 8th like Allardyce did.
Yes, we finished in the same position as last year. This is true.
But it's nothing, zero, like "Allardyce did".
We're playing much, much better football. We're on the up. Under the big fella we were playing the worst football, embarrassing football, I personally have ever witnessed in my (no longer short) time.
The only comparison is the finishing number and place. And while you can indeed make an argument that's all that matters, I'd argue that's very short-sighted. We're on the up, and this season we were actually fun to watch at many points.
Unlike the paint-drying, obligatory viewing we were forced to endure under Allardyce.
Our trend is up. Our trend under Allardyce was hell.
Stephen McNally
38
Posted 13/05/2019 at 17:54:36
I must admit, I wanted Gomes to stay but his silence on this makes me believe he feels he can find a bigger/better club than Everton. At the moment, Tottenham are exactly that, with a fantastic stadium and regular Champions League football.
That said, Gomes came to Everton in a real psychological state from his difficult spell at Barca, and was very unhappy as a consequence.
I was of the opinion that Everton were good fit for Andre to rebuild his career, and thought that both Everton and him could grow together in the coming seasons and challenge the best.
With a new stadium in the pipeline, and a few more quality signings to complement a decent squad, I still see a bright future for Everton; even if Andre doesn't.
To use an old quote: "be careful what you wish for".
In Moshiri, Marcel Brands and Silva I trust. COYB.
David Thomas
39
Posted 13/05/2019 at 17:55:43
As much as I have been impressed with DCL's improvement in the second half of the season I've got to agree with the posters who are saying if we want to have a chance of getting into or close to the top 6 next season then DCL unless he dramatically improves in front of goal can't be our main forward.
I think he can still have a big role to play over the course of the season but we must bring in someone more prolific who DCL can learn from if we are to have any chance of competing with the top 6 over the course of a full season.
Ajay Gopal
40
Posted 13/05/2019 at 18:09:48
I like Zouma, but not signing him may not be the disaster that some are making out to be. As someone pointed out, when Mina came in, we kept a lot of clean sheets, but then his season was blighted by injuries, and Zouma grabbed his chance with both hands. With a good pre-season, and providing he can improve his fitness, Mina could be a great partner to Keane. Many people are writing off Holgate, but I have been impressed whenever he has played for us. He is quick, a fearless tackler, can head the ball pretty decently, he is 6'3" (not bad for a CB) and can play the ball out of the back. Plus, we have a couple of good emerging talents in Feeney and Gibson. Provided we can keep Gueye and sign Gomes, Brands and Silva can focus their attention on finding that elusive 20+ goals/season striker.
Stephen McNally
41
Posted 13/05/2019 at 18:11:19
Btw, while I am here, Digne for me, was the best of our new recruits last season, but I do think we should do our very best to keep Zouma, because he came a close second.
Tom Bowers
42
Posted 13/05/2019 at 18:25:04
Certainly lots of preferences about who's good and who isn't.
Generally most of the regular team acquitted themselves okay but the biggest problem seemed to be the lacking of intensity from the start of some games which more often than not manifested itself for the whole of a game such as Fulham away.
It's hard to explain away why this was happening.
It could be the coaching, of which Silva is the head or the lack of a Peter Reid type midfield captain. I think Seamus is too nice a guy.
Injuries to key players don't help when there isn't much depth but some of the more experienced players had lulls in their form during that middle part of the season especially after that late winner by RS in the first Derby match.
Gomes and Gueye played a big part in the recovery but offensively Everton are still found wanting when teams are parking the bus.

Paul A Smith
43
Posted 13/05/2019 at 18:32:14
Jamie 37 I love the way you quoted me to suit your point.
It would be as equally ridiculous to compare the quality we have had this season to last seasons squad as it would be to compare style of play.
It could go on forever and I like Silva as a person more than I like Allardyce but we finished 8th two years on the run and that is my point.
Forget the managers because they all do different things to end up where they end up.
We have ended the season great but I am not daft enough to pretend whatever manager we have will do no better unless we break the bank more often.
And that was my point. Nothing against Silva as you would have liked, just a heads up for the board.
Believe me i love the fact you say we are on the up but substance matters to me more than anything.
I feel exactly the same if come August, every player we want is still here and we have improved.
The amount of times we have been "on the up"to see the squad stripped and ruined teaches me to wait and see.
Fingers crossed.
John Audsley
44
Posted 13/05/2019 at 19:06:42
DCL has improved and works himself into the ground but he doesn't score enough goals. We need a top striker and have done since Lukaku left the club.
Unless we do get more firepower it will be the same as this year.
Mike Gaynes
45
Posted 13/05/2019 at 19:10:00
Ajay #40, you're mistaken. Holgate is a fraction over 6'1".
And clearly Silva does not agree with your assessment. He ran the rule over Holgate for five straight starts at the beginning of the season and then promptly banished him -- first to the bench, then the stands, and finally to the Baggies. And he never played a single minute at CB for West Brom. Always on the right.
Holgate may well have a bright future here, but I see no reason to believe it will be at CB.
Stephen Brown
46
Posted 13/05/2019 at 19:15:53
Will be the biggest statement to keep Gueye, Gomes and Zouma! The side is starting to look settled and not far off top 6 quality!
Lots of deadwood to shift though !
Jimmy Hogan
47
Posted 13/05/2019 at 19:18:15
I strongly believe we need to look at getting a 20 goals a season striker in on loan. It worked with Lukaku and we were then able to purchase him. I trust Brands to find him.
Darren Hind
48
Posted 13/05/2019 at 19:24:16
I smile when I read the same old people coming up with the same old criticism of Calvert - Lewin. His biggest and most determined detractor has come up with some beauts this season.
He told us;
Everton would not win any of their home games after the Liverpool game - We won them all
We never win in London - Just before we beat West Ham
We would have a disastrous last day with us getting hammered at Spurs while the shite lifted the title at Anfield.
Told us we were in a relegation scrap.
Produced stats of where we would be WHEN we lost the games he thought we would lose - we won them all
Told us DCL should never be given a run up front - just before he was and we produced a run, which, if spread over a season, would surely have seen us qualify for CL
If I was Dominic Calvert-Lewin, Tom Davies or JJ Kenny I'd be far interested in informed opinion that any nonsense spouted by crank crystal ball merchants who seem hell bent on being eternally wrong
Brent Stephens
49
Posted 13/05/2019 at 19:38:46
Zouma, for me, is by far the more important of the two (Zouma and Gomes) for us to sign if we can. And I hope we can keep Gana.
Much of this thread has also turned to an examination of DCL. I'm one who has said before that he's improved significantly this season - in his work rate, winning possession (largely in the air), in his hold-up play and distribution. But that missing ingredient, goals, he has to sort soon, an issue many others on this thread have flagged. Times running out if you're not careful, lad.
Paul A Smith
50
Posted 13/05/2019 at 20:40:12
I think Brent has just nailed the DCL debate.
I love the lad but the game is about substance and results.
I truly hope in the next 18 months its him that becomes the forward we need.
He needs more aggression in his game. And its hard to make a nice lad aggressive.
Tony Everan
51
Posted 13/05/2019 at 20:52:34
Why does DCL have to be the finished article now ? He needs encouragement, good coaching and support. Over the next 2 seasons he will continue his upward trajectory and then from the age of 24 he could really kick in and become a top striker, leading the line and contributing enormously to the team effort and getting in the region of 15-20 goals.
He needs support to do that, he has the attitude to make it in abundance.
In the meantime it is wrong for him to be in the firing line 24/7 at his age, we do need another proven quality attack player to share the duties of an arduous season. I am sure Mr B will be lining one up.
Jamie Crowley
52
Posted 13/05/2019 at 20:59:57
Paul @ 43 -
"Nothing against Silva as you would have liked..."
No. I wasn't seeking an anti-Silva argument, creating joy in my being for the opportunity to point it out. You miss my point.
You seem to lean towards the bottom line. Eighth is eighth and it's the same as eighth.
I just saying last year's eighth was lightyears from this year's eighth.
A more enjoyable eighth. An eighth with more hope for next year's improvement on this year's eighth. Despite all the false dawns we've (you more than I) endured.
If you take my meaning.
And yes, I just used the word eighth eight times. Well, now nine.
Brent Stephens
53
Posted 13/05/2019 at 21:01:24
Tony, I don't think DCL has to be the finished product right now. But we do need more goals and I'm not sure we can rely on Richarlison and Siggy as main goal scorers. So DCL has to start getting some more - his weakness really is his shooting. I hope somebody can get him sorted on that front.
Mike Gaynes
54
Posted 13/05/2019 at 21:04:35
Paul and Brent, it's about results, all right... but what results?
How many goals he scores or how many games we win when he's leading the line? Neither gives us clear answers.
Just for grins, I looked it up. In Prem games where DCL started at striker this season (not LW), we were 7-2-6. Without him up there we were 8-7-8. Pretty much the same.
We had two stretches of excellent play this season. In the outstanding run in from March to May, DCL was leading the line. But during that eight-game, 16-point purple patch in October/November, he barely got off the bench. So no clear picture of his contribution there either.
To me, nobody can "nail" this debate yet. It's an open question. Like the player himself.
Brent Stephens
55
Posted 13/05/2019 at 21:17:19
Yes, Mike. All open at the moment. I think it's interesting that in terms of goals scored and conceded:
- we conceded 46, as did Wolves; MU and Arsenal conceded more, as did those below us. So a pretty solid defensive record.
- we scored 54 (a goal a point average), more than Wolves! (47) but fewer than MU (65), Arsenal (73), Spurs (67) etc.
More goals, please!
Paul A Smith
56
Posted 13/05/2019 at 21:42:24
Mike Gaynes they are all fair points mate and on the flip side you could say its been better for the team to simply have a natural forward in front of them?
At some point though and possibly very often, he is going to be the man we need to score when the game is going the other way.
IE Fulham away. He had the chances to win that game and I hope that turns for him.
He will need the substance a striker needs to continue playing for Everton when all is said and done.
Simon Smith
59
Posted 13/05/2019 at 21:50:59
The way I see it is it's about priorities, for me its Gomes before Zouma. The main reason for this is we have 3 good centre halfs, Keane is now an established international, Mina has had a full year to get himself prem ready, plus Holgate has had almost 20 games extra out on loan to bring him on even further.
We have absolutely nothing like Gomes in the centre of the park, I genuinely believe hes built for this league. He has the flair of Arteta and the strength and nastiness of Fellaini, that mix isn't easy for a none champions league club to find.
Both players will be around the £40m mark, imo Silva can turn Mina or Holgate around as he has with both Keane and Zouma who struggled massively at Stoke last season.
I cant imagine us having much more than £80m to spend no matter who we move out, therefore I'd rather we spend money on an attacking player who can add 15+ goals to our league total.
Paul A Smith
60
Posted 13/05/2019 at 21:55:32
Jamie 52 I don't think it was me who missed the point. 1st is 1st no matter how you play mate and 20th is 20th for the same basis.
Your too right in how we have been playing lately and I have loved watching us since the fixture list slowed to a pace we could handle.
The last couple of months have been great for us and that has been down to having the best 11 for different reasons we have had since Martinez was manager.
The hunger has give me pride for a couple of months and the football is improving all the time
Going back to my original point lets hope Silva gets the backing he needs to start better and finish higher.

Andy Crooks
61
Posted 13/05/2019 at 22:03:09
Jamie# 37, insightful post. Comparing 8th under Silva to 8th under Allardyce is just silly. That was as good as Sam could do. That's it with him. He could get us 8th for eternity. I hope that 8th is no longer acceptable. Silva will do better, much better.
Allardyce (Fireman Sam) had some admirers on here. I don't knock them, by the way, because I had the fear my self at one stage. However, I think we are looking good. I think that David Unsworth got a raw deal but he has been magnificent since.
Jamie Crowley
62
Posted 13/05/2019 at 22:29:15
Paul -
Going back to my original point lets hope Silva gets the backing he needs to start better and finish higher.
Amen friend. Amen.
Tom Bowers
63
Posted 13/05/2019 at 22:57:35
I think it's only fair that Silva gets all the encouragement needed during the next six months which includes holding on to the players he wants, letting go the ones he doesn't want, getting in some new blood and 10-12 games into the new season to see if he really can spark a new era with a special team.
John Boon
64
Posted 13/05/2019 at 23:04:15
I feel that most of the posts reflect the general feelings that we are on the right track. It would be great to keep all of the players mentioned, such as Zouma, Gomes and Gueye. Others mentioned such as Digne and Richie are probably just senseless rumours, as are 90% of off season media hype. However, if we do lose some of the players mentioned, I have faith in Brands and Silva, backed by Moshiri to bring in excellent replacements. We just cannot continue to sign useless players like we have done in the last few years. We also need to get rid of baggage.
I am one who also thinks that Calvert Lewin has the ability to be a very good player. Unfortunately he does not seem to be the striker that we desperately need. Can he be trained to be a better striker is still questionable.
One more point. Stephen (38) said that Gomes might want to go to a bigger club. As a supporter of Everton since the early fifties I strongly suggest that with 9 championships and a great History we are a far far better and bigger club than Spurs. They do have a better team right now but they will never be a bigger club than my Blues. They will only become bigger in my eyes if they beat the RS in their next game Even then my support will only last for one game.
Ashley Roberts
65
Posted 14/05/2019 at 04:16:43
I believe we need to keep Zouma, Gomes and Gueye for next season. This will probably cost us all of the money we potentially have in the pot for transfers and let's be honest with ourselves this just brings us stability and an outside chance of top 6 next season.
With the money the other top clubs have we won't be able to compete for the top players to give us the potential of a top 4 place we all crave and that is long overdue. I think the only possible way of breaking in to the elite group in the modern game is through developing a squad of young players who want to die for the club. A little like the Ferguson squad of '92 and this years team at Ajax.
We can go and pay a bucket load for a player like Lukaku who is a mercenary and has no affinity for the club and uses us like a stepping stone and in reality poisons the well in the process just like I think he and Pogba have done at Man Utd. You might get one or two good seasons out of them and then they are on their way. For this reason alone we have to persevere with the likes of Calvert-Lewin and Holgate etc. If we are able to hang on to Zouma and Gomes do we really think Moshari will fork out another £50M for a decent striker?
I just don't see it. Calvert-Lewin will come good as will Davies and some of the other youngsters if they get game time. While this does not bring instant success, I have to think it is the only way. So I do hope that Silva will start to nurture some of the young talent in the club rather than flogging dead horses like Tosun and Shneiderlin.
The U23s won both the league and cup this year and so there must be some talent there for the future. At least I can dream!
Darren Hind
66
Posted 14/05/2019 at 05:44:27
"so pretty solid defensive record"
I had to read that one twice... This place is becoming a hangout for people who prefer stats to facts. Foolish statements to considered opinion.
"So a pretty solid defensively record" ???.. . 'kinell.
We saw a big improvement throughout the team during the last dozen or so games especially in the protection given to the back four, but those Einsteins who seem to believe could finish no higher than 8th because Calvert-Lewin missed a couple of chances at Fulham need to give their heads a wobble.
Pickford, Coalman Mina, Zouma Keane have taken turns to throw away points this season Digne even managed to get us turfed out of the cup. Keane and Mina are woeful footballers.
No doubt the stattos will feel the the three goals we conceded in the games against Liverpool, Leicester and Brighton, represent decent numbers, A goal a game is quite respectable Right ?
Bollox. These games were all in the balance and we surrendered all three, not because the opposition broke us down, but because we gifted them the points with defensive horror shows. we did it week after week. I could still weep when I think of the game at St James.
There is no DCL debate. Baring injury he WILL start up front for Everton next season. Those naive enough to believe the club will be forking out 60-70-80m for a goal scorer are in for a very log and frustrating summer.
He's the least of my problems. I have every confidence that he will show natural improvement - he works too hard not to - I'm just as confident we will see no further improvement Keane and Mina and we have already seen the best of Coleman, Baines, Siggurdson and Gana.
"Lets get a new striker, get into the champions league the league and win a cup" . .Yeah ok
Bobby Mallon
67
Posted 14/05/2019 at 06:36:08
Darren Hind, I'm disappointed in your post.
Simon Smith
68
Posted 14/05/2019 at 09:03:17
I agree Bobby, pretty pathetic.
Stephen McNally
69
Posted 14/05/2019 at 09:38:39
66 Hind your comments are contradictory.
The reason why Evertonians are optimistic and look forward to the new season is not because of issues you have raised; but, because, they are beginning to see general improvement throughout the team which you stated in your second paragraph.
Thing is, the new players needed to time to adapt to Silva's football philosophies, as well as develop an understanding between each other on the pitch.
Everton are by no means the finished article but, whether you like stats or not, thd statistics reveal improvements in all areas of Everton's play: which is encouraging.
As for DCL, I expect to see natural improvement in his game which will mirror the teams natural improvement in the later stages of last season.
As for buying an £80 million repl6for DCL, Evertonians are not daft enough to think this will happen. That's said, I have complete confidence in Brands (which has been founded on his transfer business to date) to find the talent to take us up a level.
Kevin Prytherch
70
Posted 14/05/2019 at 09:44:40
For the middle part of the season we had a shambolic defensive record.
For the last 11 games we had a pretty solid defensive record.
Depends where you want to focus your attention.
During winter we had a number of players not necessarily used to the wet weather, the amount of games and the physicality of some winter games (ie Millwall). We also had a fairly new team who were always going to hit a bad spot at some point while they got used to each other's style of playing. Add in a manager with a completely different philosophy from the last 2 and it's not hard to see why we struggled.
I am optimistic that the last 11 games will tell us more than the mid season slump, and next seasons slump won't be half as bad.
Martin Nicholls
71
Posted 14/05/2019 at 09:51:54
Bobby, Simon - I understand where you're coming from however there is substance to much, perhaps all of what Darren says. He is clearly frustrated, as I often am, at the relentless way in which a significant number of posters focus on DCL's deficiencies rather than his attributes and potential. He is however correct in pointing out that errors by Pickford, Coleman, Keane, Zouma and even Digne (and in my own opinion, also Gomes) have cost us games/points this season. Similarly, he is probably correct in stating that the likes of Coleman, Siggy, Baines and Gana are unlikely to get better whereas DCL almost certainly will or at least has the potential to do so. I don't agree Darren's opinion of the footballing abilities of Keane and Mina but of course, that is only his opinion.
Perhaps it is the tone rather than the substance of his post that you object to?
Simon Smith
72
Posted 14/05/2019 at 10:11:30
Darren,
Regarding Keane and Mina. You simply don't play for England or Colombia by being a woeful footballer.
I played against some great footballers at county level and none of them got close to being international footballers. A bit of perspective please.
Steve Ferns
73
Posted 14/05/2019 at 10:14:56
There's some substance to what everyone is saying. Most on here have good points. There's substance to what they say, they just see things from different angles.
I think we have a lot to be optimistic about. Let's be clear though, this was not as good as Koeman's 7th. We had good reason to be optimistic that season, and the club appeared to be making the right moves in the transfer market, that was until Giroud turned us down and it all went tits up.
So this summer, we need to learn lessons. Too much disruption to the first team will undo all the progress. We need less than 5 signings. No, not because we only need a few players to make the top 4, but because we need a few players to close on the top 4, and continue with our progression.
Pickford, Coleman, Keane, Zouma, Digne, Gomes, Gueye, Sigurdsson, Richarlison, Bernard, Calvert-Lewin. That's a very good first XI. I'd say better than Wolves and Leicester. I'd also say that it's better than Utd's. Two of those players aren't ours. We need to sign them or sign better.
This season has been tough. Not just because we fell apart between the Liverpool games, but because the standard of the sides in and around us was much better than last season. Whilst Burnley were a shadow of last season, Wolves proved to be better than they dreamed of, Leicester were much improved, West Ham were better, Watford looked very good until they got in FA Cup mode at the end of the season. Without these sides, in a league with a middle section as weak as last season, we'd have got 7th easily. But that would not mean we had a better season.
We've improved in a lot of areas. Most importantly points won, games won, games lost, goals scored, and goals conceded. Whichever way you want to look at it, there's been an improvement. However, there is still much more improvement needed. Question marks still remain against Silva. Those who doubt him could argue a variety of things, as clear from what is posted above. What those who doubted him will now accept is that Silva does have a backbone, he is not a quitter, and he will work hard. Sure, they can doubt his overall quality for good reason with the mid-season slump, and despite all the reasons to be optimistic, that will cause doubts.
I'm a glass half full kind of guy, so I can see lots to be optimistic about. It's a real shame the season is ending now as I feel another 19 games could see us keep climbing the table and overtake more than just Wolves.
Paul A Smith
74
Posted 14/05/2019 at 10:31:46
Andy 61 that is just pure comedy.
You say thats the best one could do over what? 5 months while the other signs more, has longer and finishes the same place with the sides just above us have their worst season.
Why do people have to be so soppy and take anything as a go at Silva.
We all love to miss the point when it matters don't we and just so everyone knows, I will never be stupid enough to have affection for any manager or let anything cloud my judgement
Until Silva gets a wage bill like a top 6 side we will very likely miss out on the top 6. Its dead simple and I haven't been wrong when suggesting the same thing since Koeman came when most people thought he had bought a crop of class.
Forget managers and agendas and put your hopes and energy towards the board.
Dave Abrahams
75
Posted 14/05/2019 at 10:40:07
All I can say about Keane is that when Arsenal and Spurs were supposed to be ready to offer £50M for him it made me happy, even though I knew it was a load of nonsense.
As for Mina I'll wait and see, he didn't play often enough last season to make a decision on how good he is.
Mike Berry
76
Posted 14/05/2019 at 19:07:25
I ccannot see Gomes staying. Spurs will be dangling the Champions League at him while Chelsea will be keeping Zouma. They would be daft not to.
Darren Hind
77
Posted 15/05/2019 at 04:38:38
McNally 69
My post is not contradictory. You've just missed the point.
I'm probably more optimistic than you about next season. I thinke we are on the right track. If you had read the post properly. .
It was claimed that we didnt finish higher than eighth because Calvert- Lewin didnt score more. it was also claimed our defence was "solid"
There is a determination by some people on here to hammer and lay the blame at the youngsters doorstep for our problems, "JJ's poor". "Tom Davies is crap" . . "DCL is championship". Davies and JJ havent even been playing and they're still getting stick.
I was sickened to see the usual suspect hammer away at DCL after our abject performance against Watford - He only came on as a late sub ffs. . The real culprits (the ones who played) never got a mention.
I'm not saying the young players shouldnt be criticised or shoulder their share of blame. They get paid enough. My post was about apportioning blame where it REALLY belongs. The simple fact of the matter is we finished no higher than 8th because big money signings and High earning loan's have systematically thrown points away leaving us with a mountain to climb.. . Now we're been told they're "solid"
Since that Watford game, DCL has been given a run up front and we have shown an improvement that has thrown his detractors into a state of utter confusion. We have been creating more chances, playing far better football, beating, even hammering the teams they claimed we could NEVER beat.. . Those detractors look complete mugs. If our defenders hadn't so meekly surrendered healthy leads at Newcastle and Spurs, our form since that Watford game would have resembled that of title challenges.
"yeahbutnobutyeah. . we might be hammering teams who have been used to hammering us, Bullying their defenders, instead of them bullying ours and DCL might be responsible for most of that, but HE isn't scoring all the goals. . If HE'd have scored, we might have got six points instead of three".
Sigh
Darren Hind
78
Posted 15/05/2019 at 05:03:16
BTW
One of the reasons English football has lagged so far behind that of our European counterparts is that they have produced wonderful ball playing center halves who can step out of defence and distribute the ball intelligently.
We, on the other hand, have produced a steady line of stoppers. Light houses who only know how to "get rid" Yard dogs who are only getting paid to play because they are bigger, stronger and more Athletic than the rest of us.
These stoppers are not exclusive to the English Game. Mina is walking proof of that.
If you are unsure which category Mina and Keane fall into, just listen to the collective sharp intake of breath from all around Goodison next time an awkward ball comes their way as 40,000 people dread to think how far their first touch is going to bounce away from them
Mike Gaynes
79
Posted 15/05/2019 at 06:26:06
Darren, Mina has fine ball skills and he can distribute. Had some rough touches on occasion this season due to lack of playing time, but he's a real footballer. And Keane moved past the "get rid" category late this season with some fine passing out of the back. Neither will ever be Pique, but IMO the "light houses" designation is unfair and inaccurate.
Dave Abrahams
80
Posted 15/05/2019 at 12:19:47
Mike (79), Michael Keane was awarded "The Dixie Blue Blood Award" by Bill Kenwright who compared Keane to Brian Labone.
I don't know if he was referring to them as men or footballers, there is a very large difference between them in footballers, in my opinion.
Bill Griffiths
81
Posted 15/05/2019 at 12:25:41
Dave, while I agree that Keane falls somewhat short of Labone's standards as a footballer XX I do think he'd better than what you rate him.
I also think Mina will turn out better than what many posters seem to think.
Dave Abrahams
82
Posted 15/05/2019 at 12:40:01
Bill (81), no problem with that Bill, that's what ToffeeWeb is about, opinions.
Like you, I'm hoping that Mina will turn out to be a good signing. I don't think I've seen enough of him up to now to make a judgement.
Brian Harrison
83
Posted 15/05/2019 at 12:54:33
Dave
Like you I saw Brian Labone and also had the pleasure of meeting Brian socially on many occasions. Labby was a great centre-half but, like Keane, lacked a turn of pace. I do think Keane has come on leaps and bounds this season and looks more comfortable on the ball, but I don't think he will be a ball-playing centre-half (sorry, centre-back).
I always think it's difficult to try and compare players from different eras, also sometimes our memories often remember all the good things from players of the past and tend not to remember their weaknesses.
Dave Abrahams
84
Posted 15/05/2019 at 13:54:24
Brian. (83), I never compared Labone with Keane, I was saying Kenwright did. It would never have come into my mind to compare them until Everton's chairman did.
I can't say I noticed Labone lacked a turn of pace, maybe it was because the game was definitely slower. Keane's lack of pace is standout, especially when he is turning. His awareness of where he is, or lack of awareness, also is evident every game he plays. He made five basic mistakes in the first minutes of the Man Utd game, giving them, in one incident, one of their rare chances of scoring.
He will never do for me, I'm afraid; he has my heart in my mouth every time the opposition attack, but each to their own.
Brian Murray
86
Posted 15/05/2019 at 14:39:51
Not a Bill bashing exercise but everything he concludes to either business or personal is based on emotion or totally the wrong call (Rooney, ground moves, transfer bungles).
Keane has improved despite his lack of pace... also, his reading and positional sense. Whether he turns out anywhere near as good as the skipper I was named after is another matter. As for Mina, there is a colossal centre-half in there somewhere (in both boxes). Here's hoping.
Roger Helm
87
Posted 15/05/2019 at 20:44:20
Everyone agrees DCL has improved a lot, so why, at the age of 22/23, should he not go on improving for several years yet?
As for not scoring many, check out his goals/minutes on the pitch stats - you may be surprised. And how many good chances are his team-mates creating for him? I don't recall him missing many sitters.
Also - he carries the burden of being the sole striker; pressing, target man, link-up play, all by himself - and you want him to bagging hatfuls of goals as well, at his age? If he did, he would be worth £100m! Stick with him and he will turn out to be our Harry Kane.
Tony Hill
88
Posted 15/05/2019 at 21:10:09
Roger @87, I was looking back at his finishing over the last couple of years before his dryish spell this year, and it was fine. He did it without thinking most of the time. He needs to find that freedom of mind again and he will.
I accept that he needs to improve sharpness but I don't accept that he's not a natural finisher. He has an ungainly look about him sometimes and he can seem right off it, which understandably makes people think he's going to struggle longer term. But I think that's a mistake.
We'll find out.
Darren Hind
89
Posted 16/05/2019 at 06:00:51
Dave he has "your heart in your mouth" ? You and 40.000 others. People like Vardy, Aguero, Salah love playing against centre halves like Keane. They know he will do the basics, but at some stage he will have to take an awkward ball. . and they're in.
Mike
Mina - fine ball skills ? You're joking right ? The guy poses a threat to the opposition for dead ball situations, but he poses a even bigger threat to us when he is the last line and he has the ball at his feet. The guys looks clumsy even without the ball.
Mike Gaynes
90
Posted 16/05/2019 at 07:07:03
Darren, you're all about looks, aren't ya? He may look clumsy, yeah, because he's so big. But not clumsy at all.
Rather than submit my own examples, which you will dismiss in your certainty, I quote from the club website regarding his debut at Stamford Bridge (repeat, debut at Stamford Bridge):
"One fleeting episode inside the opening 10 minutes told us about the giant Colombian's cool under fire. With Willian bearing down on Mina at the edge of the Everton penalty box, the defender simply feinted - Willian completely removed from the picture in an instant - and nudged a pass forward. The Evertonians stacked behind the goal emitted a throaty roar of appreciation."
I saw him do that several times this season.
And another:
"It was an early ball from Brazilian Luiz, in fact, that enabled us to have an early glimpse of Mina's comfort in possession. The obvious - and easy - move when Luiz's errant pass alighted with Mina was to plant his foot through it. He controlled first time and then steered a pass left for Digne..."

Hmmm, seems I'm not the only one who thinks Mina is nice and comfy on the ball. But if you see "clumsy", hey, whatever.
Jeff Armstrong
91
Posted 16/05/2019 at 07:40:20
Darren and Mike, I think your both right about Mina, one minute cool, calm and a nice pass, the next minute a reckless push or tackle in the box, invariably brought on by his own limitations, unfortunately that's why he's at Everton and not Man City or still at Barca.
Add Your Comments
In order to post a comment, you need to be logged in as a registered user of the site.
Or Sign up as a ToffeeWeb Member — it's free, takes just a few minutes and will allow you to post your comments on articles and Talking Points submissions across the site.